We hope you're all coping fine during these unpredictable and unusual times. And, it's no doubt challenging for some of you, especially if you hate being constantly inside!
Thus, one of the things we've been doing is going through our travel photos… sorting them, and deleting photos and videos we don't want.
Plus, it's given us time to reminisce about our travels abroad. And, we've had times where we've been laughing, cringing and debating over some of our travel experiences.
Yet, when it comes to travel inspiration… one of our most favorite places we've been to so far is Malta.
So, we did plenty of sightseeing to finally witness some of their amazing history. Plus, we had the opportunity to relax and indulge in their mouth-watering food and wines.
Thus, in this blog post… we wanted to put a smile on your face during these tough times.
So, for one of the many inspiring vacations we could talk about… today we're featuring top 5 things to do in Malta.
So, let's get some travel inspiration going now!
1. The Barrakka Gardens
The Barrakka Gardens are in Malta's capital city of Valletta. And, they're actually split into 2 sections… the Lower Barrakka Gardens and the Upper Barrakka Gardens.
Yet, they each have a different atmosphere when you go there. The Lower Barrakka Gardens is far less busy. And, there are seats beneath the shade of the trees to enjoy the quieter atmosphere… as well as the views over the waterfront.
Yet, while the Upper Barrakka Gardens have more tourists visiting it… it does provide for a different experience. Thus, we recommend you visit both when in Valletta so you can understand for yourself what we mean.
So, it's only about a 10 minute walk between the two gardens making them easy to get to.
Yet, while both gardens give locals and tourists alike amazing, breathtaking views of Malta's Grand Harbour… IF you had to choose just 1, we'd suggest the Upper Barrakka Gardens.
And, with views like this you can understand why…
2. Have A Maltese Pastizzi Or Two Or More!
Now, one of the top 5 things to do in Malta is to have a pastizzi.
So, when Paul and I were in Malta and Gozo, we were on a quest to find the best pastizzi. And, between us we indulged in over 100 pastizzis… LOL!
Discover more about our adventures in finding the best pastizzi in Malta HERE.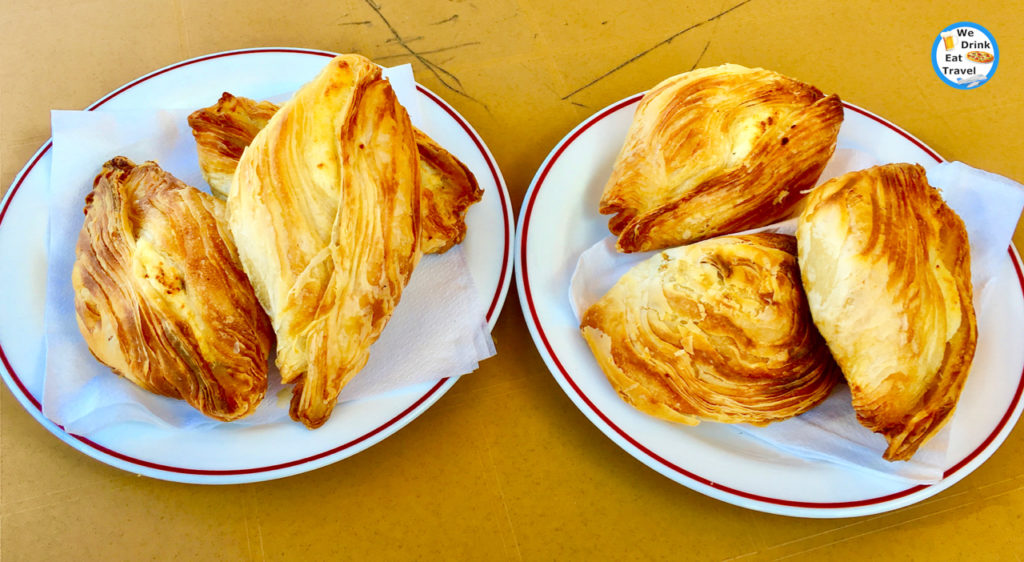 So, pastizzis would have to be one of the Maltese favorite street foods. And, when you take your first bite into the flaky, buttery pastry you'll understand why.
Now, the traditional fillings are ricotta or pea. Yet, these days some places are being creative… and producing ones like Nutella pastizzi!
But for us, we're in complete heaven chowing down the traditional pastizzis any day.
And, the best part is, depending on where you go… 1 pastizzi will set you back a measly 50 Euro cents! Cheap and cheerful. Now, for travel inspiration check out this…
3. Head To Malta's Old Capital City
The third on our list of top 5 things to do in Malta, is to visit the country's former capital city… Mdina. So, Mdina was built high on a hill, back around 1000–700 BC by the Phoenicians.
And, over time the design of the historical sites were by the Arabs and Normans. Then, in the 1500's The Order of The Knights of St John took reign over Mdina. Yet, the city was struck by an earthquake in 1563.
So, from that time… The Knights were re-building Mdina with beautiful Baroque architectural design.
Plus, what's unique about this "Silent City" is… it has strict rules about keeping the noise levels down. So, keep your rave parties at home!
Now, when you stroll through the laneways of Mdina, it won't be hard to follow those rules.
And, that's because your mouth will be open in awe, as you marvel at Mdina's unique beauty… as well as the breathtaking views over Malta.
So, as we continue on our inspiring vacations blog… we're now at number four on our list of 5 top things to do in Malta.
4. Take A Peak Inside One Of Gozo's Most Elaborate Churches
Did you know that there are over a whopping 350 churches in Malta and Gozo!
From tiny countryside chapels, to the remarkable Mosta Dome… there's one church in particular we want to highlight from our experiences. And, this is the Xaghra Parish Church.
So, if you get the chance to go to the island of Gozo, make a pitstop to this Parish Church in Xaghra.
And, while you may think it doesn't look as amazing as other churches from the outside… when you go inside, you'll be gobsmacked.
So inside, the walls right up to the ceiling have elaborate and intricate detail. And, everywhere you look there is gold… lots of it! Plus, there are huge crystal chandeliers.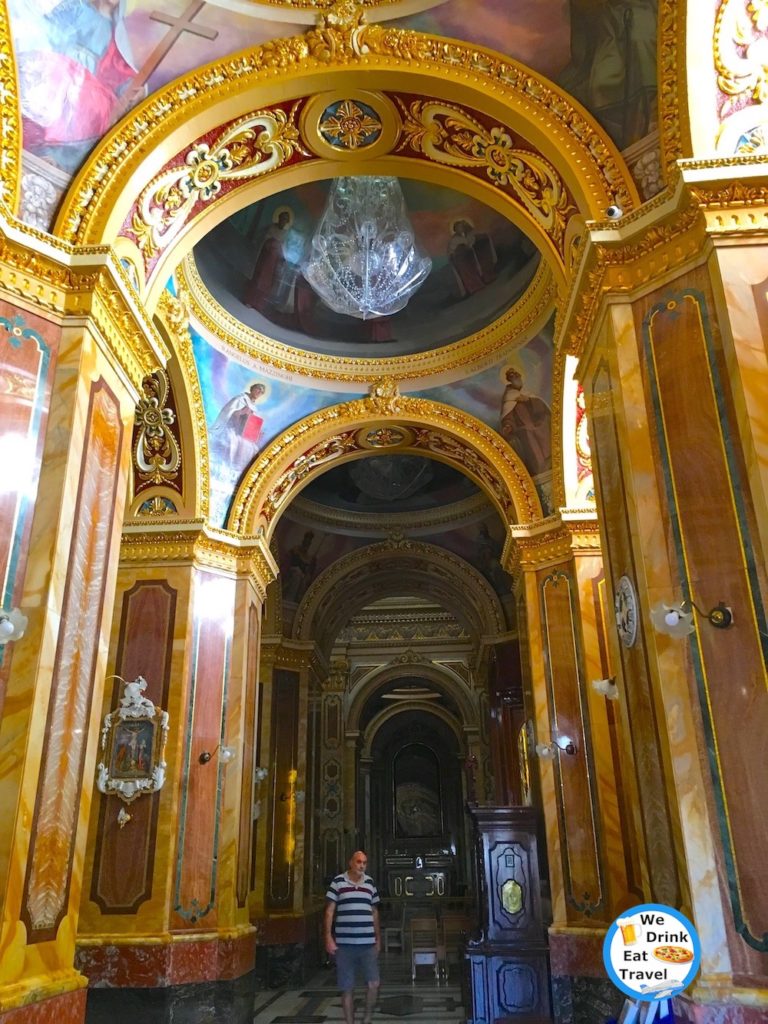 Thus, it makes you wonder how much money was spent to adorn this small church in Xaghra… which mind you has a population of just over 4,000 people!
And last, but not least on our top 5 list of things to do in Malta is this…
5. Swim In The Crystal Clear Blue Waters With An Incredible View
So, when you travel to Malta a MUST DO is to swim in the gorgeous blue waters. Now, we understand that there are some of you who can't swim. So, if you can, at least go into the water knee deep, or wherever you feel comfortable.
Because, unlike many places around the world… we found that there was hardly any rubbish in the waters. And, it's incredible how crystal clear the water is! Plus, the temperature of the water is perfect.
Now, there are many spots around Malta and Gozo to swim in, so take your pick.
And, many of the spots have amazing views, where you can chill and have a drink or feed. Yet for us, on our bucket list was to swim in the mighty Grand Harbour.
And, while it was refreshing especially after sightseeing in Malta's blistering hot Summer weather… it was the gorgeous landscape views of Malta that will hold in our memories forever.
So, with that, if you're looking for some inspiring vacations around the globe… we highly recommend you put Malta high on your list.
And, although we went through a list of top 5 things to do in Malta… there are HEAPS more things to see and do in this magnificent country.
To find out more about Malta and what we got up to, CLICK HERE.
Have you been to Malta? What were the top things you did while you were there?
Like This? Share it and comment on it!
Note: All of our reviews and comments are our opinions and no-one else's. Even if we receive complimentary goods or services we share our opinions honestly.
You Might Be Interested In This Too..
How To Get FREE Accommodation While Travelling
Attractions
Touring The Charming Back Streets Of Victoria, Gozo
15 Top Things To Do In Gozo Malta
10 Places To Visit In Gozo For Breathtaking Views
The Best Megalithic Temples Of Malta And Gozo
A Self-guided Walking Tour Of What To Do In Floriana Malta
Top 10 Things To Do In Valletta Malta
Food and Drink
Malta Food – The Grand Finale Of The Best Pastizzi In Malta
A Sneak Peek At 10 Bars We Went To On Our Valletta Pub Crawl
Malta Food – Part 3 In Search Of The Best Pastizzi In Malta
Part 2 – Malta Food – In Search Of The Best Pastizzi In Malta
Malta Food – In Search Of The Best Pastizzi In Malta
Transport and Other Stuff
How To Use The Gozo Ferry And Transport Options Within Gozo
Air Malta Business Class Review
5 Top Tips For Using The Malta Buses
Getting A Taxi From Our Sliema Hotel To Malta Airport
If You Need A Money Changer In Malta Read This First
5 Things You Need To Know When You Visit Malta
Need Accommodation?
How To Get FREE Accommodation While Travelling
Airbnb Apartments Review – Marsalforn Bay Gozo
Airbnb Gozo Apartments Review – Cliffview Xlendi Apartment
Valletta Hotels Review – Vallettastay Casa Zoe
Hotels Review – Sliema Marina Hotel Malta