There are many hotel rewards programs out there. And, as I'm a rewards program junkie, I am a member of many of them!
Yet, when Paul and I were staying at the Prom Ratchada Residence and Spa in Bangkok… this hotel wasn't linked to any of the main hotel loyalty programs I usually use.
So, I made the decision to book this accommodation via Hotels.com. Plus, as we were staying for at least 10 nights… it'd be a great opportunity to take advantage of their hotel rewards program.
Now, while many hotel rewards programs seem confusing… the Hotel.coms rewards program is somewhat easier to understand!
Yet, what are the benefits of this hotel rewards program?
Thus, in this blog post I'll run through the Hotels.com rewards program.
Plus, I'll give you examples of how to use it, how to redeem a free night and more… as well as my thoughts on if it's worth using in the future.
What Is The Hotels.com Rewards Benefit?
So, when you stay 10 nights in a participating Hotels.com hotel, you get 1 reward night.
Thus, you could get a free night with… 1 booking of 10 nights, or 10 bookings of 1 night each, or a combination of bookings to total 10 nights.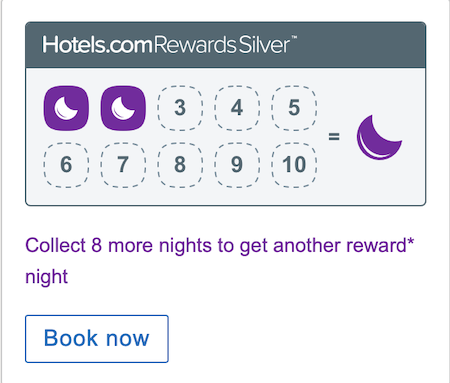 For example, you could stay 3 nights at a participating hotel in Sydney… then 7 nights at a hotel in Bangkok. Thus, the total is 10 nights and you'd get 1 reward night.
Plus, there are over 500,000 hotels you can choose from around the world. Thus, making it easier to earn reward nights.
So, the value of your reward night is the average price of the 10 nights, of your previous booking. Plus, this excludes the taxes and fees.
For example, I made a booking of 10 nights at Prom Ratchada Hotel. And, the price per night was $48.17, excluding taxes and fees. Thus, I had 1 reward night of $48.17 I could use towards a future booking.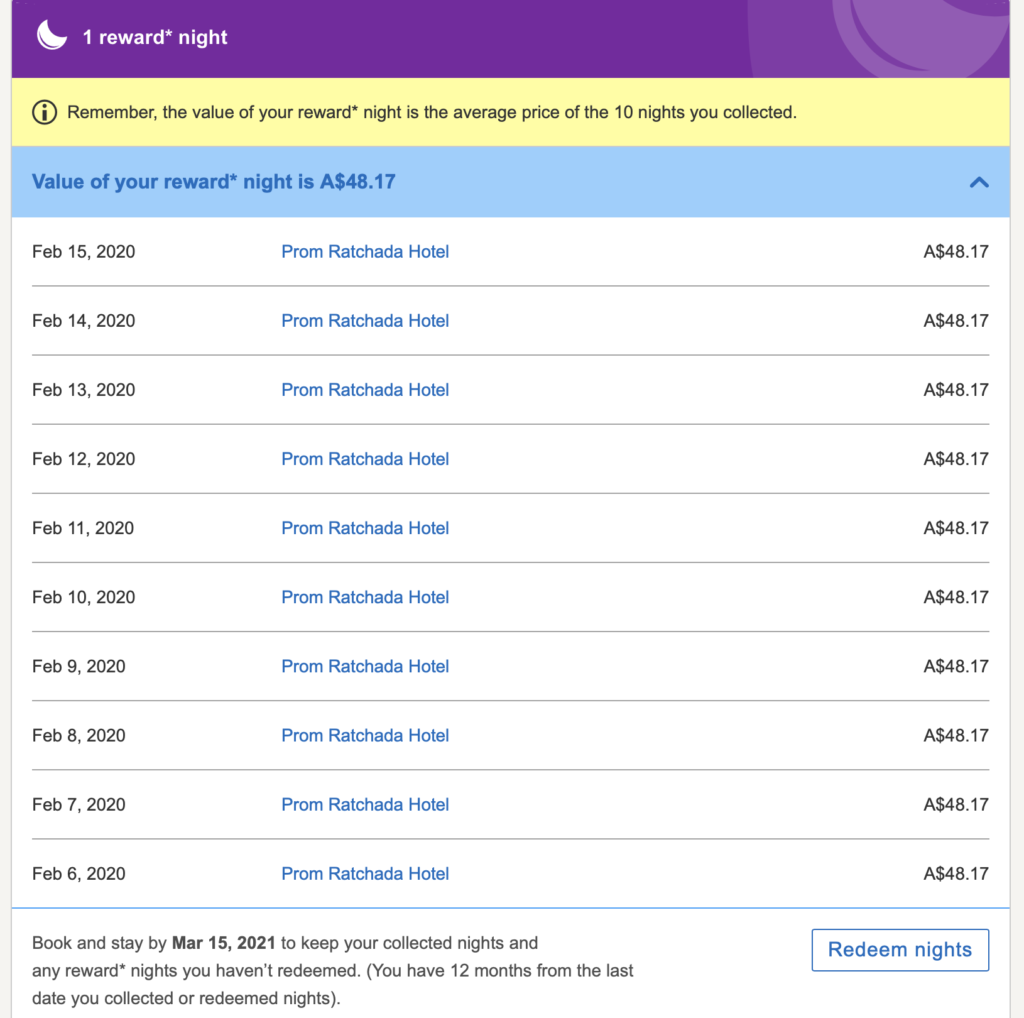 And, in another example, let's say you were to stay in a Sydney hotel at $100 per night for 3 nights. Then, you were to stay at a Bangkok hotel at $50 per night for 7 nights. So, the total amount you'd spend is $650 for 10 nights.
Thus, you'd earn 1 reward night. And, the value of that reward night is $65. So, you can then use $65 towards your next 1 night booking.
Yet, a word of warning… When you go to redeem your free night, you still have to pay taxes and fees. And, your reward night doesn't include covering taxes and fees.
So, this is a good lead in to explaining how to redeem a reward night.
Redeeming Your Hotels.com Reward Night
Now, one of the great things about this hotel rewards program is… you can use your reward night anytime! Thus, there are no blackout dates, giving you more flexibility when booking.
Yet, don't hang onto your reward nights for too long, as they can expire. So, to avoid this… book your reward nights within 12 months of your last completed booking.
So, to redeem your reward night, make sure you sign into your hotels.com account.
And, you can do this via the Hotels.com website or via their app. Be aware though, there is a fee for redeeming your reward night on their website.
---
TIP:
To avoid paying an AUD $7.00 fee, for each reward night you redeem… do your redemption via the Hotels.com app.
---
So, when looking for an eligible hotel to stay at, you'll see something like this…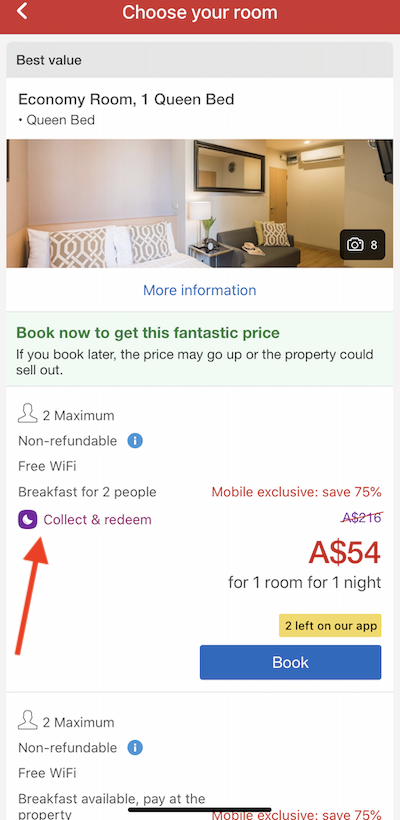 Then, once you're ready to book your hotel, make sure you click the reward night like this…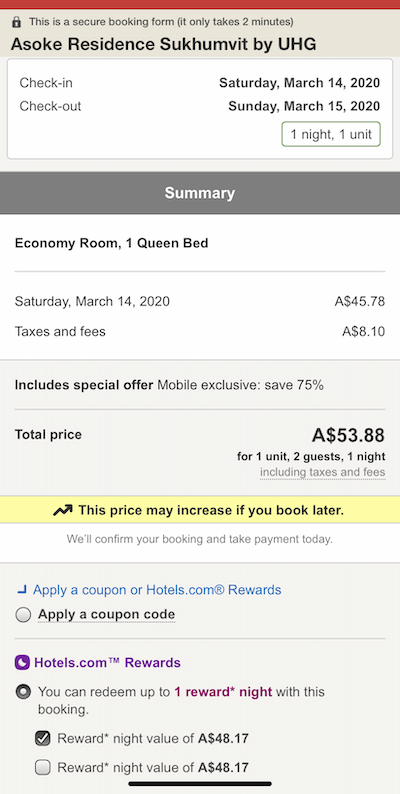 Then, you'll be able to see the remaining amount you need to pay, like this…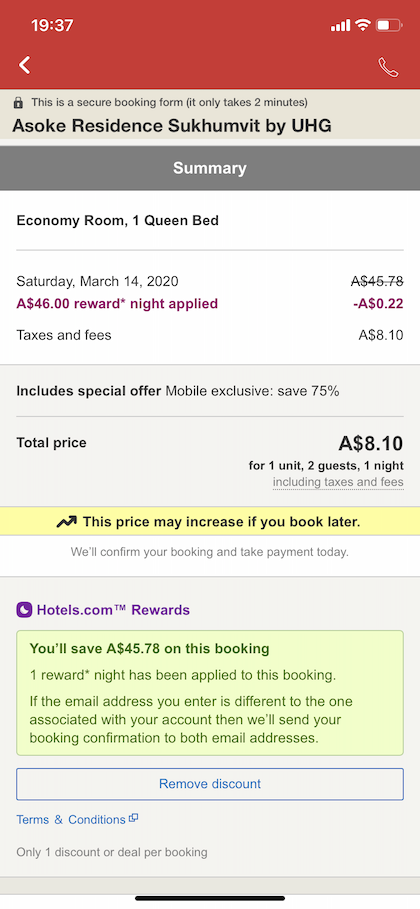 And, if you're happy with that, you need to confirm your booking. Woo hoo! A Hotels.com reward night redeemed :)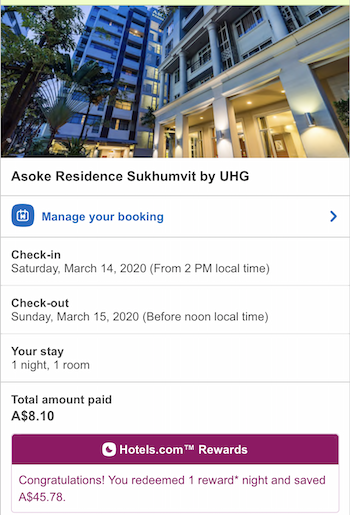 But take note fo this. If you book a night where the cost is more than the value of your reward night… then you'll have to pay the difference.
For example, if your reward night value is $50, and you make a 1 night booking of $80… you have to pay the difference of $30, as well as taxes and fees.
Other Things You Should To Know About The Hotels.com Rewards Night
Now, you can apply more than 1 reward night to your booking. Yet, 1 rewards night will cover 1 night of your booking only.
So, if you have 3 rewards nights at $100 each, thus totalling $300… you can't use this to cover say 1 night at a hotel. That's a bit of a bummer!
Now, I want to highlight something for you with the booking example I made earlier. So, I had 1 reward night that I could redeem to the value of AUD $48.17.
Then, I made a booking… where the price for 1 night EXCLUDING taxes and fees was AUD $45.78.
So, the reward night value can't be used to cover the taxes and fees of the booking.
Plus, my reward night value was more than the cost of my hotel booking. And, I can't carry any unused amount over.
So, in this example, I lost out on a couple of dollars. Yet, it was no big deal for me for this booking.
So, another thing to note is… You can't collect or redeem nights on package bookings, or bookings using a discount coupon.
Now, if you're a member of another hotel loyalty program, for example ALL Accor Live Limitless… If you use the Hotels.com rewards nights to book an ALL hotel, you will NOT get the benefits of your status with ALL.
So, this is something to take note of… especially if getting hotel loyalty program status benefits is important for you.
Plus, if you prefer more apartment or home style accommodation… then something like Airbnb or VRBO may be more suitable for you.
Yet, if you're keen to find out more about the intricacies of the Hotels.com rewards program… you can go through their terms and conditions HERE. And, f you do read them, let me know if you find anything else of value!
Statuses With Hotels.com
So, with hotels.com there are 3 status levels including Rewards, Silver and Gold. And, to get Silver status… you need to book and stay a minimum of 10 nights during your current membership year.
Then, to get Gold status… you need to book and stay 30 nights or more during your current membership year.
And, in the table below it shows the 3 different status levels with benefits for each.
Yet, being a member of several hotel loyalty programs… compared to other hotel loyalty programs, the Hotels.com benefits are less attractive.
So, when booking your accommodation, if there are no hotels with loyalty programs in the regions you're looking to book… then, this is when it may be worthwhile booking with hotels.com
Yet, of course, it's all dependent on what is most important to you… such as location, price and type of accommodation available.
So, there was some insight into the one of the many hotel loyalty programs out there. The Hotels.com rewards program is easier to understand, in comparison to others.
And, while getting cash discounts on future bookings may be attractive for some… my preference would be to use other loyalty programs, where I get many more perks.
So, do you use hotels.com rewards or other hotel rewards programs? What are your experiences with them?
Like This? Share it and comment on it!
Note: All of our reviews and comments are our opinions and no-one else's. Even if we receive complimentary goods or services we share our opinions honestly.
You Might Be Interested In This Too…
Check Out Our Thailand Photos And Information
How To Get FREE Accommodation While Travelling
Bangkok Public Transport: All Aboard For The Khlong Boat On Saen Saep Canal
VAT Refund Bangkok: How To Get Money Back On Your Shopping At Suvarnabhumi Airport
Thailand Food – Being Vegetarian In Thailand
Night Market Bangkok: All Aboard For The Ratchada Rot Fai Train Night Market
Shop Until You Drop In Ratchada, Near Thailand Cultural Center MRT
Bangkok Public Transport: How To Use MRT Bangkok
Things To Do In Bangkok – Visit The Camp Flea Market With Surprising Relics!
Getting A Grab From Suvarnabhumi Airport Bangkok With Pro Tips
7 Free Things To Do In Bangkok
3 Parks To Visit In Bangkok Thailand
We Didn't Know There Was A Walmart In Bangkok!
How To Go To Platinum Fashion Mall Bangkok By BTS
5 Things You Should Know About The Scarlett Wine Bar & Restaurant Bangkok, Thailand…
The Best Chocolate Eclairs In Bangkok, Thailand
One Of The Best Places To Visit In Bangkok For Your IT Needs & More…
Shop Until You Drop In Bangkok… With Over 2,000 Stores Under The One Roof
How To Get To Chatuchak Weekend Market In Bangkok
Other Stuff
How To Use The Grab App For Ordering Food With Helpful Tips
Thai Airways Review: From Melbourne Australia To Bangkok
My Carry On Luggage Must Have Item
3 Reasons Why Travel Is Important
Need Accommodation?
How To Get FREE Accommodation While Travelling
Bangkok Hotels Review – Asoke Residence Sukhumvit by UHG
Bangkok Hotel Review: Prom Ratchada Residence And Spa
Hotels Review – Pullman Bangkok Hotel G
Accomodation Review – Ibis Bangkok Sukhumvit 4 Hotel
Accomodation Review – Ibis Bangkok Sathorn Hotel