Is This The Best Pizza In Bangkok For Home Delivery?
In Bangkok there are a range of cuisines to choose from, if you ever get sick of eating Thai food! Yet, during the time of "lockdowns" in Thailand, we could still get take away food or food delivery.
So, one night Paul and I were craving pizza. Yet, we weren't sure what would be the best pizza in Bangkok to satisfy our tastebuds. And, after doing a search, we found a place that brought back memories… LOL!
So, in this blog post I'll review this pizza place that we got for home delivery. Then, you can decide if you want to try it or not.
So, let's tuck in…
Grab Food For Bangkok Pizza Delivery
So, to help us work out where to get our pizza from in Bangkok… I had the Grab App on my iphone. Thus, I could easily order via the app, in the Grab Food section.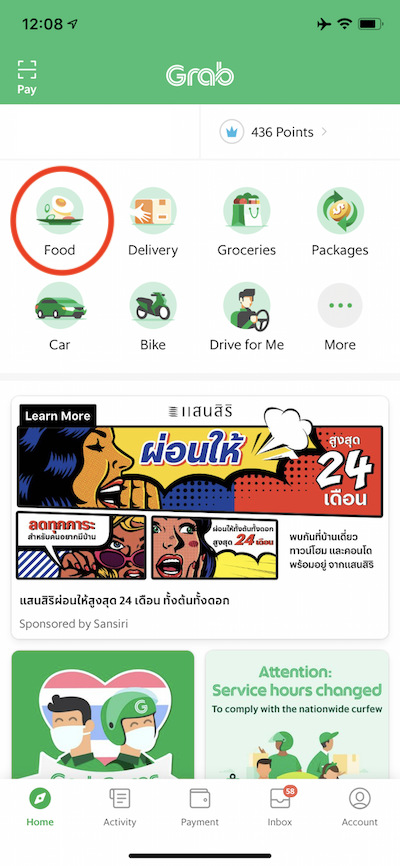 And, I recommend you download the app as it's easy to use, with lots of other benefits too. To find out more about Grab Food, check out our blog post HERE.
So, when I was doing a search for Bangkok Pizza delivery places, there were many to choose from! Thus, thanks to the app I could narrow it down by looking at things like… people's review ratings out of 5, distance to my location, delivery fees, and time to deliver.
Thus, in the end we chose a place that brought back mixed memories! And, this place was, The Pizza Company.
Now, if you haven't heard of it before, this place has been around for many years. And, the funny thing is, we'd had it before.
So, we had it once in Patong where it was below average.
Then, another time we were desperate to find pizza outside the city centre of Hua Hin. And, we found The Pizza Company on our walk. So, we were hesitant to have it, yet it was surprisingly good!
Thus, we thought we'd give it a try in Bangkok… third time lucky?
So, they had an offer of Buy 1 Get 1 Free… BONUS!
And, not knowing how big the pizzas would be here, we ended up ordering 2 large pizzas. Thus, because of the offer, we'd end up getting 4 large pizzas between the two of us. Ha ha ha!
So, the total price for these was 889 Baht (about USD $28)… including an 11 Baht delivery fee from that particular store. NOTE: Delivery fees vary per store.
Our Home Delivery Order From The Pizza Company Bangkok
So, from ordering our pizza using Grab Food, to getting it at our door… the total time was about 40 minutes on a Saturday night. Thus, it was reasonable.
And, you may be wondering why we didn't order direct from The Pizza Company?
So, although we could save on the delivery fees, which are low anyway… we would get Grab rewards points. Thus, we could redeem them for other things in the future. Yep, I'm a cashback and loyalty program junkie!
Now, when we got our 4 large pizzas for home delivery, this is what the packaging was like…
And, the aromas coming from the pizza boxes smelt sooooooo incredible!
Then, when we were opening the plastic bag, there were a tonne of small packets. And, in these packets were ketchup, oregano and chill.
Now, I don't know about you… but we don't add any seasoning onto our pizzas! Yet, this is supposedly normal for the Thais.
Even so, the seasoning would come in handy for other meals we'd make at home. So, they'd come into good use and no wastage.
So, the large pizzas we put an order in for was vegetarian and double cheese. And, we decided to try 1 each of a thin style pizza, and a deep pan style.
Then, after opening the pizza boxes, they were looking scrumptious!
Now, if you're wondering what the size of the pizzas were like… they were about 12 inches or so (30.5cm). Thus, they were bigger than what we thought!
Time To Taste Our Pizzas From The Pizza Company Bangkok
So, now comes the taste test!
And, first up was the double cheese pizza, which was oh so cheesy and thick. Thus, that was a big thumbs up! Then, the vegetarian pizza had onion, spinach, tomatoes, cheese and mushrooms. And surprisingly, the taste was delicious.
Plus, the crust and pizza base was crispy for the deep pan pizza.
And, for the thin base pizza, it was OK and held its shape. So, unlike a New York style pizza. Thus, if that's the type of style you want… The Pizza Company is not for you!
Yet, in comparing the thin pan pizza versus the deep pan pizza, the winner for us was deep pan. Now, that's unusual for Paul, as he normally prefers the thin style pizza base.
And, needless to say, we had way too much pizza for the 2 of us… LOL! So, did the pizza taste good the next day? Yep, it did. But, I prefer it re-heated, and Paul didn't care!
So for us, we would order pizzas again from The Pizza Company Thailand. Yet, our base of choice would be the deep pan style. Thus, for a thin style pizza we'd choose somewhere else.
Now, we can't say that it's the best for Bangkok pizza delivery, as we need to try more places.
Yet, the flavor and quality was excellent, which was a surprise to us. And yes, we'd order it using Grab Food again too… so I can get my Grab rewards points.
So, in the end, a big thumbs up to The Pizza Company Bangkok for yummy pizzas!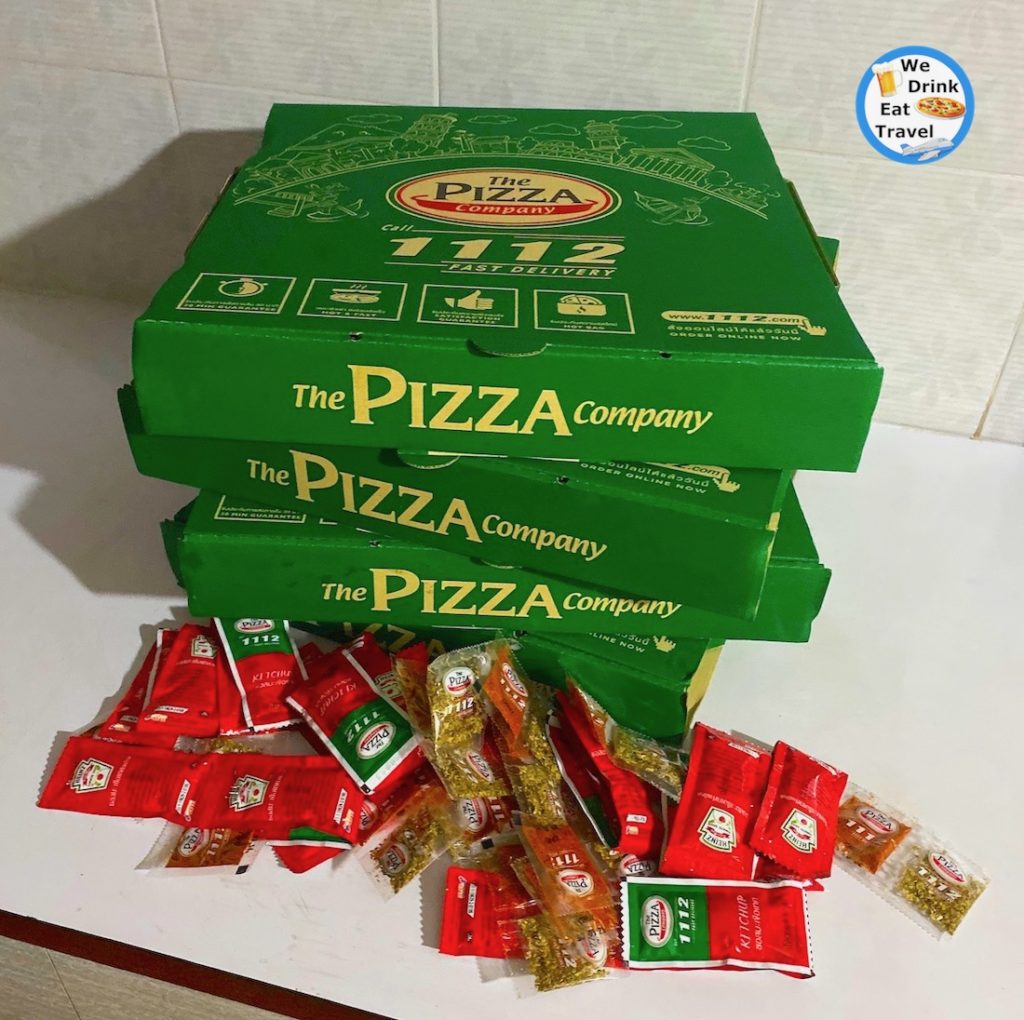 You Might Be Interested In This Too…
Check Out Our Thailand Photos And Information
Bangkok Public Transport: All Aboard For The Khlong Boat On Saen Saep Canal
VAT Refund Bangkok: How To Get Money Back On Your Shopping At Suvarnabhumi Airport
Thailand Food – Being Vegetarian In Thailand
Night Market Bangkok: All Aboard For The Ratchada Rot Fai Train Night Market
Shop Until You Drop In Ratchada, Near Thailand Cultural Center MRT
Bangkok Public Transport: How To Use MRT Bangkok
Things To Do In Bangkok – Visit The Camp Flea Market With Surprising Relics!
Getting A Grab From Suvarnabhumi Airport Bangkok With Pro Tips
7 Free Things To Do In Bangkok
3 Parks To Visit In Bangkok Thailand
We Didn't Know There Was A Walmart In Bangkok!
How To Go To Platinum Fashion Mall Bangkok By BTS
5 Things You Should Know About The Scarlett Wine Bar & Restaurant Bangkok, Thailand…
The Best Chocolate Eclairs In Bangkok, Thailand
One Of The Best Places To Visit In Bangkok For Your IT Needs & More…
Shop Until You Drop In Bangkok… With Over 2,000 Stores Under The One Roof
How To Get To Chatuchak Weekend Market In Bangkok
Other Stuff
How To Use The Grab App For Ordering Food With Helpful Tips
Thai Airways Review: From Melbourne Australia To Bangkok
My Carry On Luggage Must Have Item
3 Reasons Why Travel Is Important
Need Accommodation?
Bangkok Hotels Review – Asoke Residence Sukhumvit by UHG
Bangkok Hotel Review: Prom Ratchada Residence And Spa
Hotels Review – Pullman Bangkok Hotel G
Accomodation Review – Ibis Bangkok Sukhumvit 4 Hotel
Accomodation Review – Ibis Bangkok Sathorn Hotel