It's no secret that the corona virus / Covid-19 has had a devastating effect globally… not only on people's health and sanity, but on their finances too.
Yet, who knew that this pandemic would happen, causing chaos to everyone's lives. Thus, during these uncertain times, if you can find ways to save money… then this will help provide some relief.
So, while a lot of flights are on hold, hotels, restaurants, and gyms shut down… you still have to live, right?
So, that's why in this special We Drink Eat Travel blog post… I'll run through one of the best cashback sites to help you save money. And, to make your money go further in the long run.
Plus, the best part is, you can shop from the comfort of your own home. So, not only is it convenient, you're doing social distancing!
And, when you can get back into traveling and living a normal life again… this cashback site will be great for those times too.
So, let's get right into it.
Shopback – One Of The Best Cashback Sites I've Been Using
Now, if you haven't heard of Shopback then listen up!
ShopBack is an online cashback rewards program… which began in Asia Pacific and now services over 5 million members. So, on this cashback site, you could get money back on your purchases through various merchants.
And, these merchants are from a range of categories including… fashion, technology, beauty, health, groceries, automotive, dining, travel and MORE.
Plus, often times, these merchants will offer discounts on top of their cashback. Thus, helping you save even more money.
And, when you accumulate enough cashback in your Shopback account… you can withdraw the money into your bank account or via Paypal. So, that's right, you get cash back into your own account. No, gift cards or vouchers, just real cold hard cash!
And, depending on how often you shop, or what you shop for… you could get back hundreds, if not thousands of dollars. So, imagine what you can do with that extra money!
Now, at the time of writing this blog, Shopback is in… Singapore, Malaysia, Philippines, Indonesia, Taiwan, Thailand, Vietnam and Australia.
NOTE: I'll mention some other cashback sites in other areas of the world, later in the blog post… as they may be more relevant for where you are.
Yet for this blog post, I'll go into the Australian version of the Shopback cashback site.
How Does the Shopback Site Work?
So, when you head on over to the Shopback website, you'll see something like this…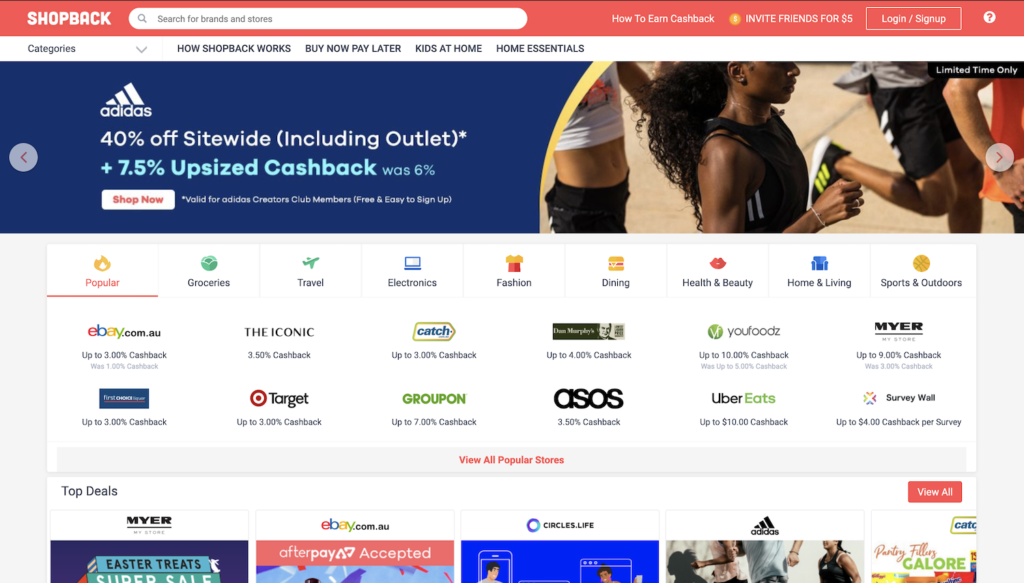 And, straight away you can see some of the merchants, their offers… as well as the cashback percentage you can get.
Yet, before you start to earn cashback, you'll need to create your Shopback account.
Setting Up Your Shopback Account
1. When you click on the "Login / Signup" button, you'll see a pop up like this. And, you can sign up using an email address or your facebook account.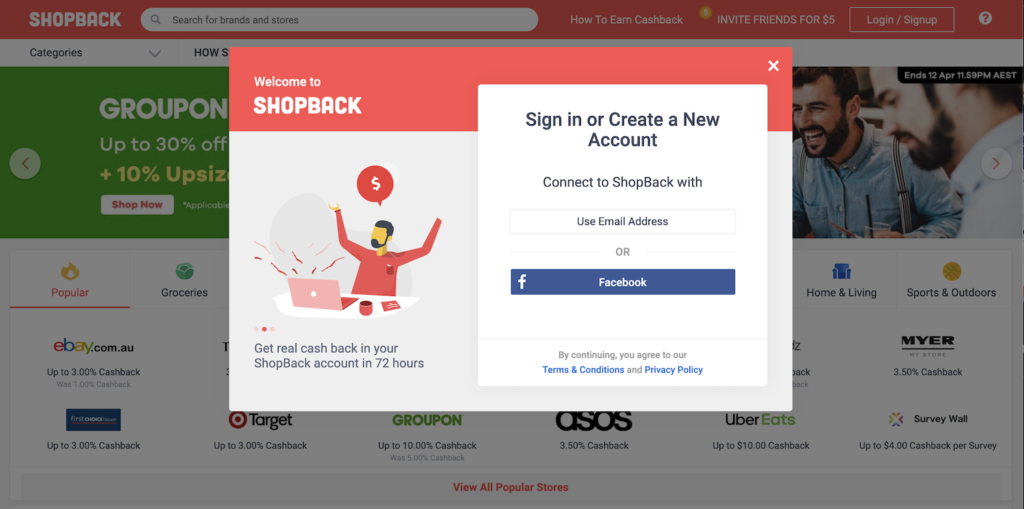 2. If using your facebook account, you'll need to enter your email address or phone number. Then, enter your password and select the "Login" button.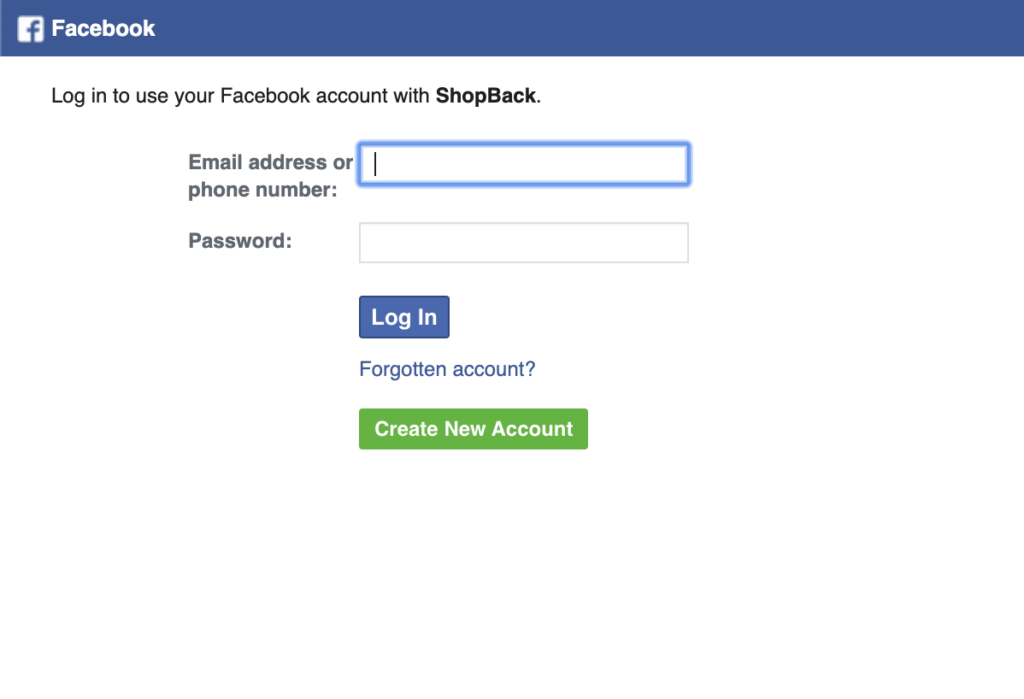 3. Yet, if using an email address, enter your email, hit next. Then, you'll need to enter the other information to complete your profile.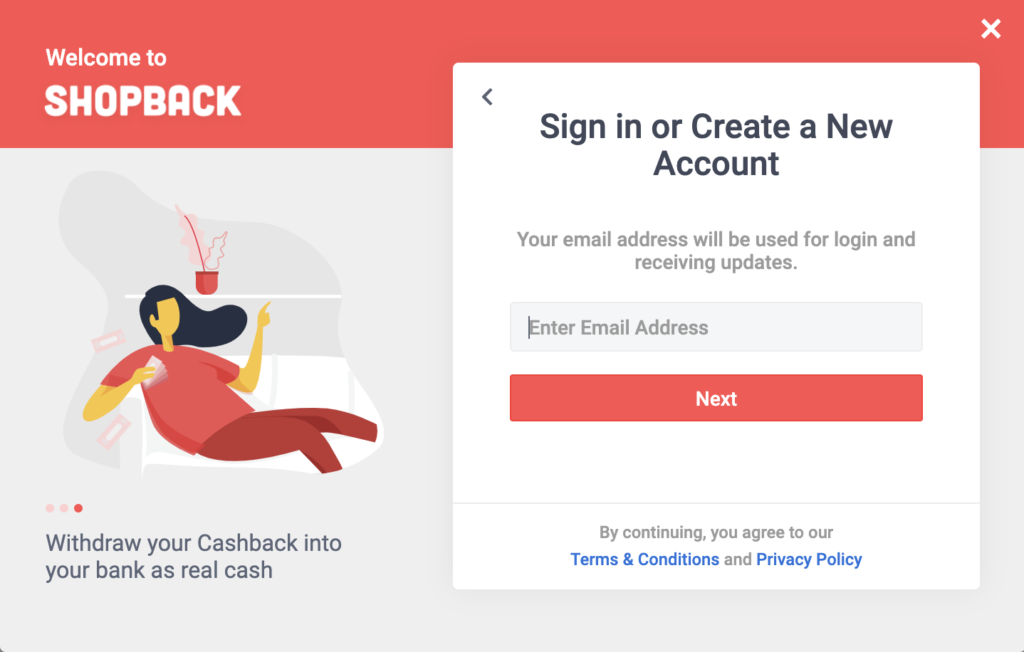 NOTE: You'll need to enter a proper phone number… as you'll need to enter the validation code to finish creating your Shopback account.
Then, once that's all done, it's time to start spending and get some cash back!
---
TIP:
Before even shopping on Shopback… download the Shopback extension for Chrome or Firefox.
And, I recommend you do, as it's a handy tool to have. So, this tool will help you to see which merchants are offering a Shopback cashback. Thus, saving you the time and effort of having to search through heaps of merchants.
And, you'll know when the extension has been downloaded properly, as you'll see something like this next to your search bar…

Plus, here's something really cool about Shopback…
Let's go to a Google Search page, and as an example… I type in "kids shoe shopping online"
Then, the results will show on the page. And, check this out… it shows which merchants are on Shopback. How awesome is that?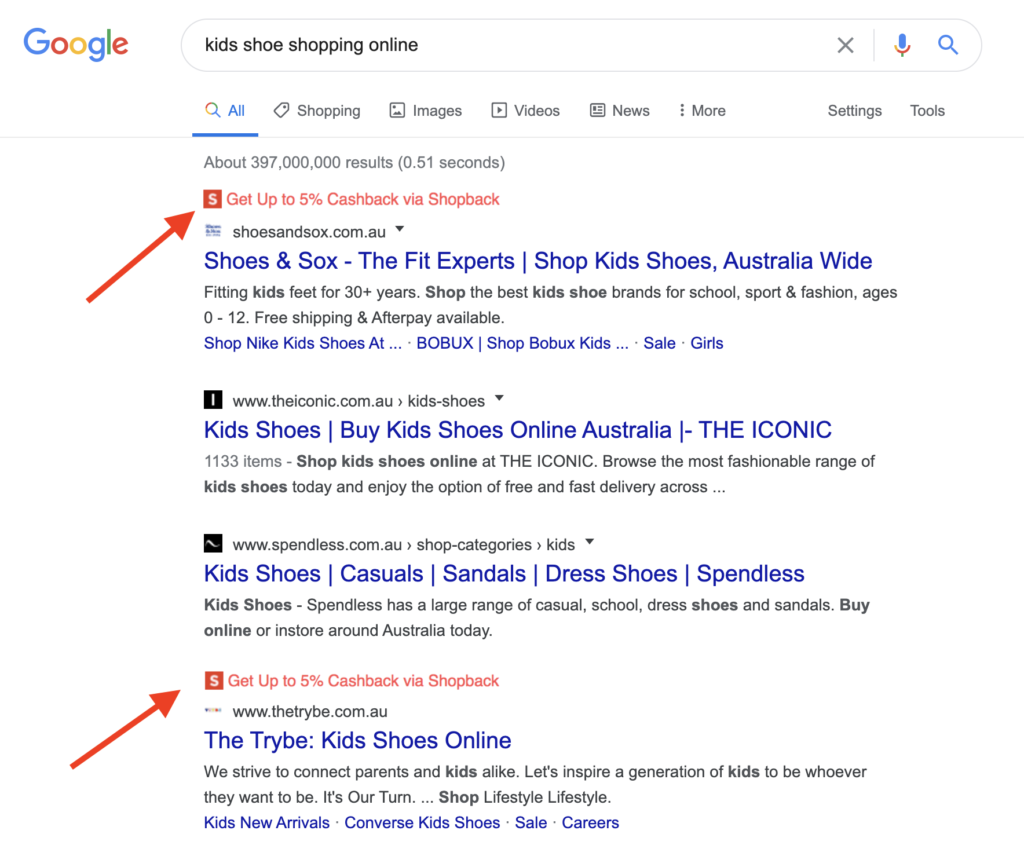 So, then you can find merchants more easily to earn cashback, and see what they're offering.
How To Get Your Shopback Cashback
OK, let's get into the exciting part about shopping and getting some money back.
1. Log into your Shopback account
2. Search For Your Merchant To Shop With
So, there are several ways to find the companies to make your purchase with.
And, one way is to type in a specific brand or store in the search field. Or, you could search for them by category in the left hand navigation. Otherwise, you can search by category by selecting one of the icons on the page.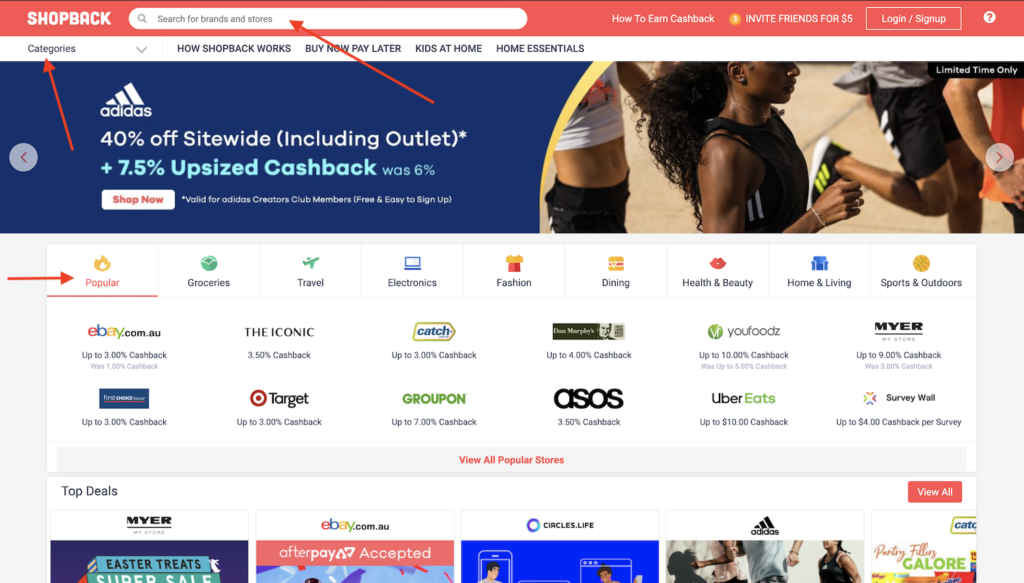 So, for this example, let's search for a merchant in the Travel category. And, after clicking on the icon, it shows some of the more popular merchants.

Yet, after selecting "View All Travel Stores" option… there were over a hundred merchants to choose from.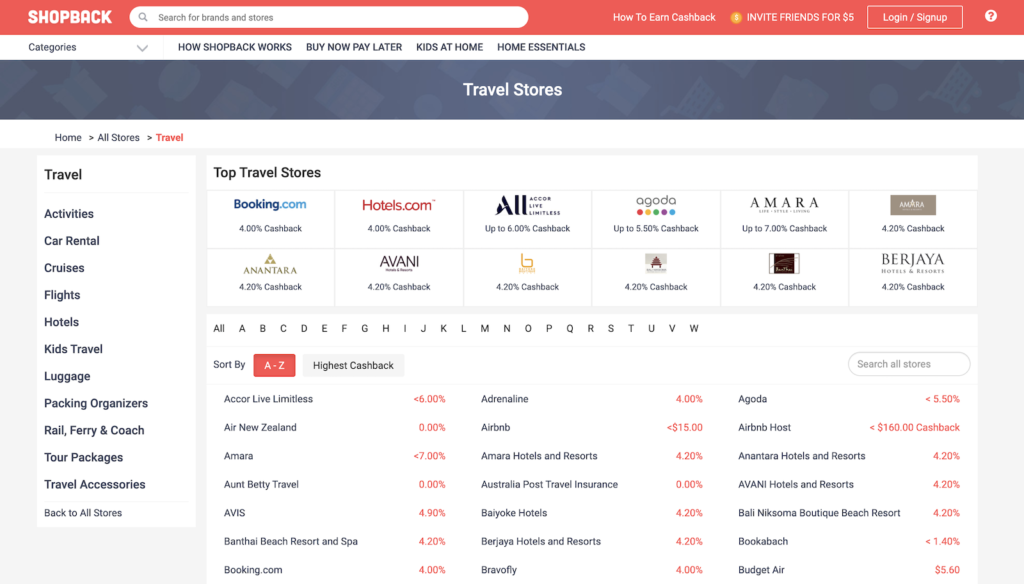 And, it automatically defaults the list in alphabetical order of the merchant's name. Yet, you could also search for them by selecting the letter of the merchant's name.
But, if the highest cashback is more important, then you can sort the results from highest to lowest cashback… by selecting the "Highest Cashback" option.
So, for this example, let's check out Hotels.com. And, you can see that they were offering 4% cashback. And, after clicking on the Hotels.com icon, you'll see a page like this…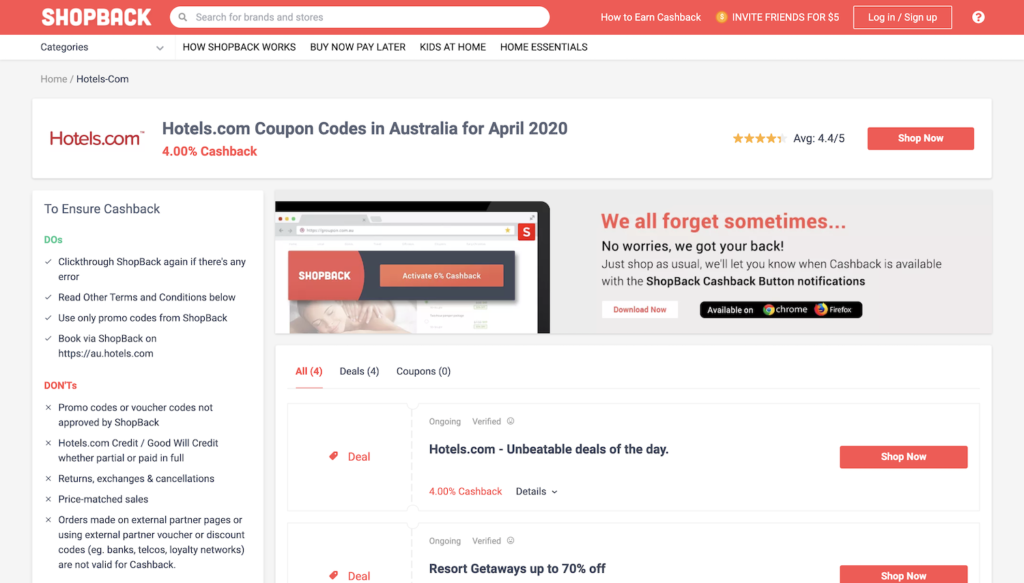 So, while you're on this page, on the left hand side… I recommend you check out the "DOs" and "DON'Ts" so you can get your Shopback cashback. Plus, it'll show how long it will take until you get your cashback.
3. Activate Shopback To Get Cashback
Now, once you've found the merchant to shop with, hit the "Shop Now" button. And, after doing this you may see some terms and conditions, like this…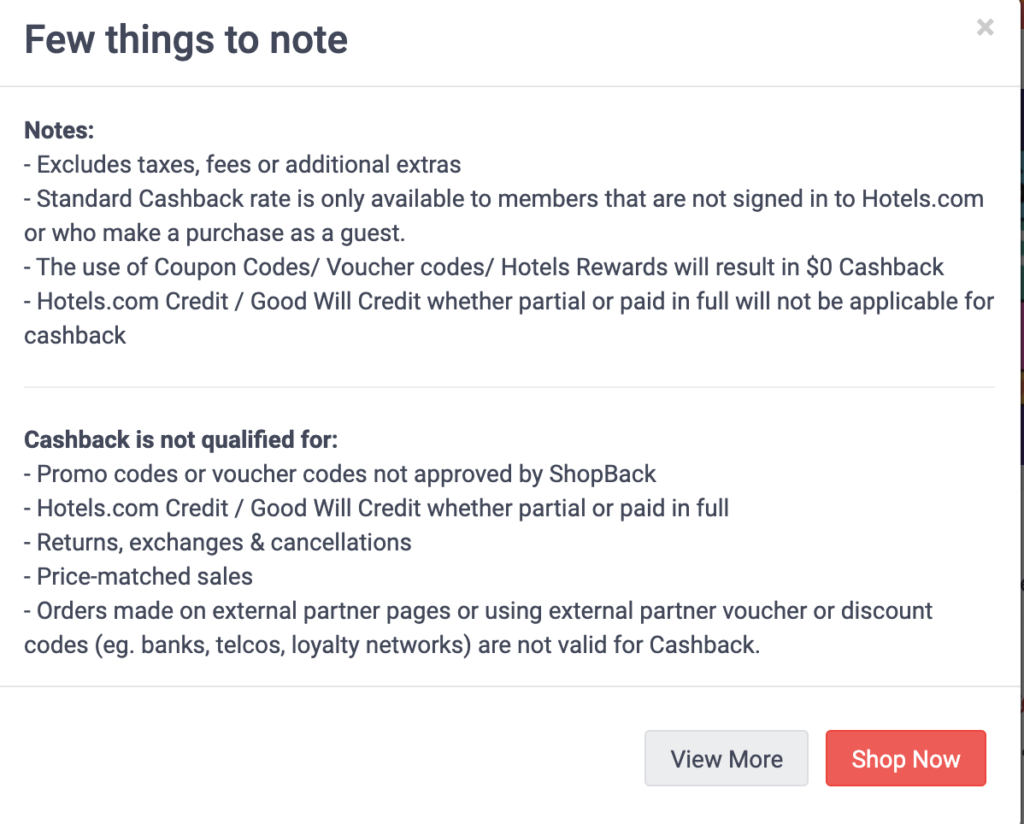 So, after reading it, and it's fine with you… click the "Shop Now" button. Then, you'll see a page like this, re-directing you to the merchant's store…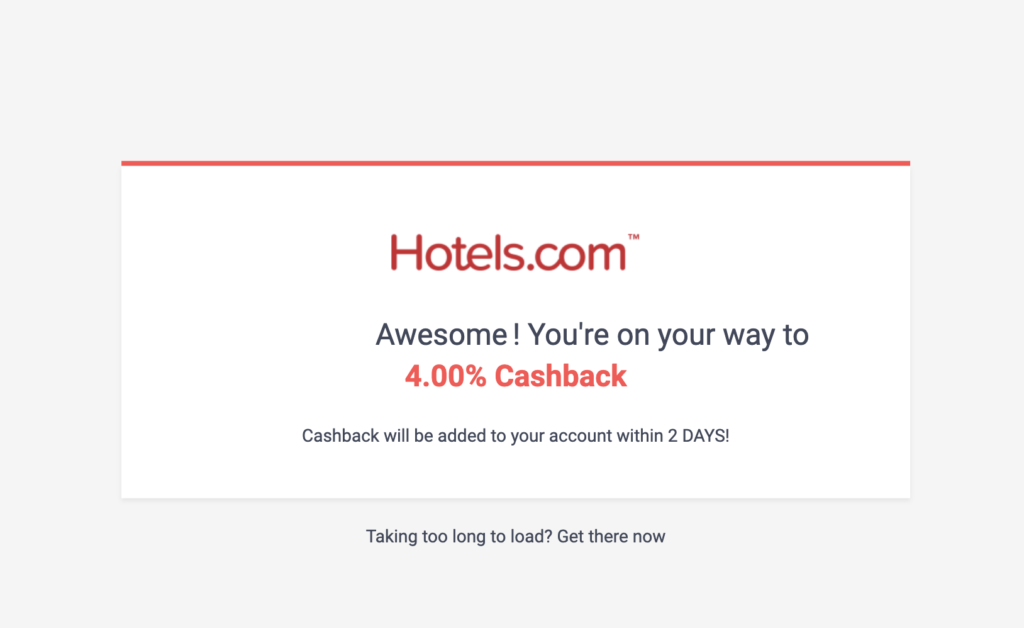 ---
IMPORTANT:
DO NOT close this page, otherwise your cashback will not be tracked!
---
And here, you can see that the current cashback offer is 4%. Yet, they do have promotional offers throughout the year, including say 10% cashback. So, keep an eye out for those!
Then, you'll be taken to the Hotels.com website. And, to ensure that you'll get the cashback, check that the Shopback extension is green, and NOT red.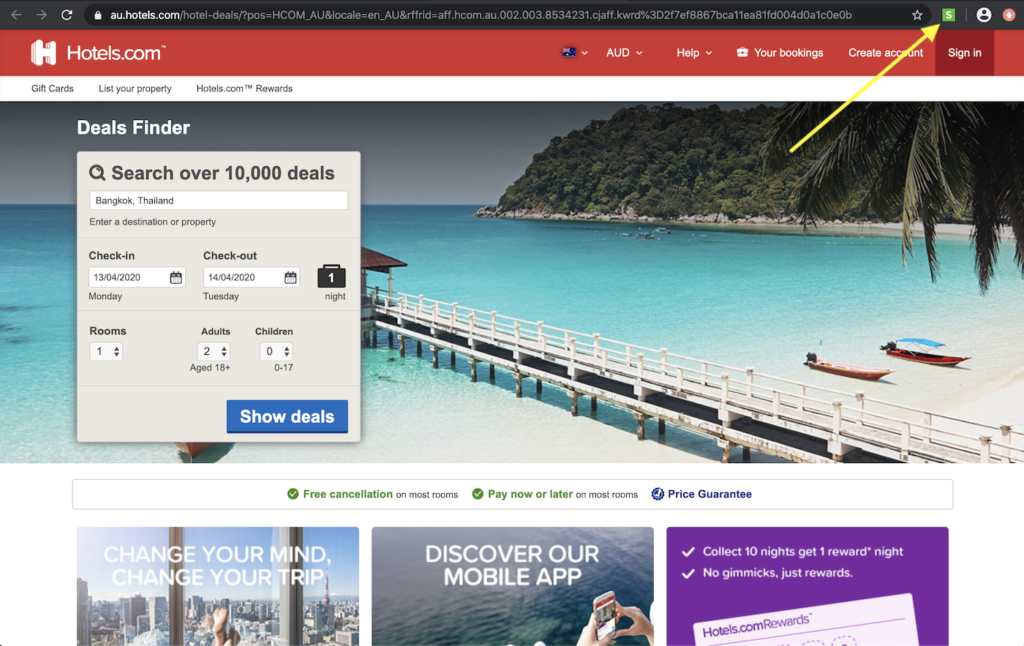 Yet, if for some reason you see something like the below image… click on the "Activate Your Cashback button."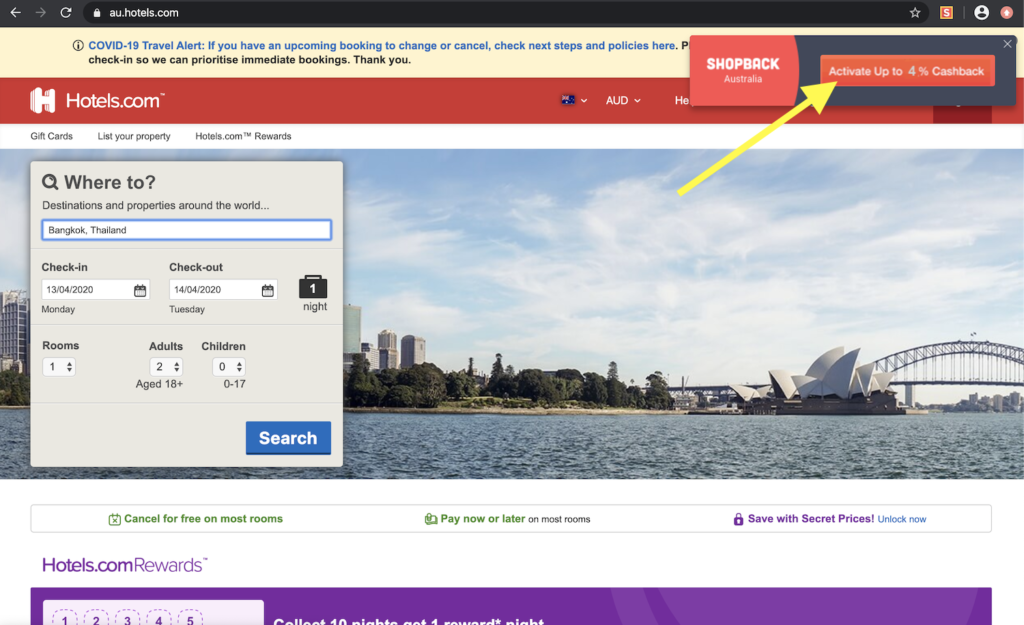 Then, it will activate your Shopback cashback offer. Thus, the Shopback extension symbol, and "Activate Your Cashback" button will turn green. So, green is GOOD!
Now, when you're looking for something to buy… make sure you stay on this page and DO NOT open a new tab or browser. And, that's so Shopback can track your purchase, validate it, and organise for your cashback.
So, if you want to buy something else… you must go back to the Shopback website and repeat steps 1 to 3 again.
---
TIP:
If you prefer shopping on your mobile phone, you can download the Shopback App… for shopping and cashback on the go!
---
Tracking Your Shopback Cashback Purchase
So, within 48 hours you'll get an email from Shopback with your purchase. Plus, it'll show the amount you'll get as your cashback.
Yet, if you want more detail, such as when you should expect your cashback… head on over to your account. Then, select the Cashback Overview option. And, you'll see something like this…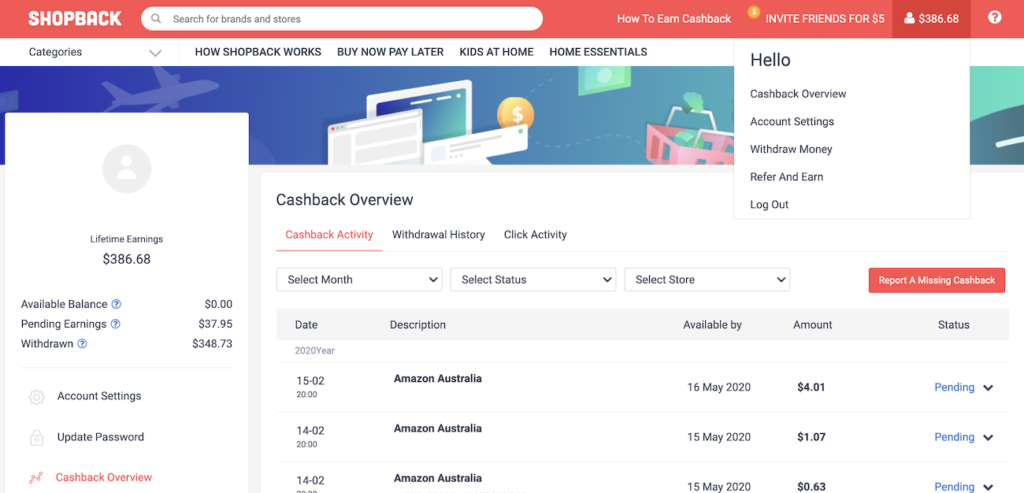 So here, you can see the date of your purchase, the merchant, when your cashback will be available by… as well as how much cashback you'll be getting. And, if you're purchase is still in the validation stage, you'll see that it is "Pending"
Yet, once it has gone through the validation process and it's OK, you'll see it "Confirmed"
So, in the left side of the "Cashback Overview" page… you can see how much cashback you've earnt over the lifetime of your account.
Plus, you can see the available balance of how much cash you can withdraw… as well as the amount of pending earnings you have. And, you can see how much you've already withdrawn to your bank or PayPal account.
How To Withdraw Money From Shopback To Your Bank Or PayPal Account
So, when it's time to withdraw money from Shopback, log into your account. Then, select the "Withdraw Money" option.
And, you can either have the cashback put into a bank account or PayPal. So, make sure you have set up the option you prefer.
Plus, another important thing to note is this… you must have at least AUD $10 in your cashback account. Then, you can withdraw the money to your bank account or PayPal account.
And, it will take about 3-5 working days for your cashback to go into your account.
TIP:
---
As you need to have at least AUD $10 in your Shopback account to withdraw money… you can keep at least this amount at all times in your account. Then, keep topping up when you shop, and keep getting cashback to withdraw! Yet, if you'll be shopping often, then you may not need to do this.
---
What's the Catch with this Shopback Cashback Site?
So, it all sounds too good to be true… merchants give you discounts, promotion codes, and you get money back! Thus, many of you are probably sceptical, wondering what the catch is, right?
Well, so to speak there's none.
But, in some cases you'll need to wait anywhere from 1 to 120 days to get your cashback. And for some people, this is where it may be a negative aspect of this cashback site… especially if you're waiting 120 days!
So, this may be because of the merchant's returns policy, for example.
Let's say you bought a pair of shoes from a merchant. And, their policy is that you can return the item within 30 days if you're unsatisfied. Thus, you won't get the cashback during this time, in case you return the item.
Now, if you're willing to wait it out, you can get hundreds… if not thousands of dollars of your hard earned money back. And, if you were going to buy something anyway, you may as well get some cashback. So, you get a reward for my normal shopping. Great, hey!
Plus, unlike other rewards programs, you get actual cash back… and not in the form of a gift card, for example. Thus, you're not stuck having to use a gift card or vouchers that you may not want… or forget to use.
Yet, when it's actual money… most people would place more value on it, don't you think?
NOTE: Remember this page?
If you have a look more closely, you can see the words… "Cashback will be added to your account within 2 DAYS!" So, in most cases this doesn't mean you'll physically get the cash into your Shopback account.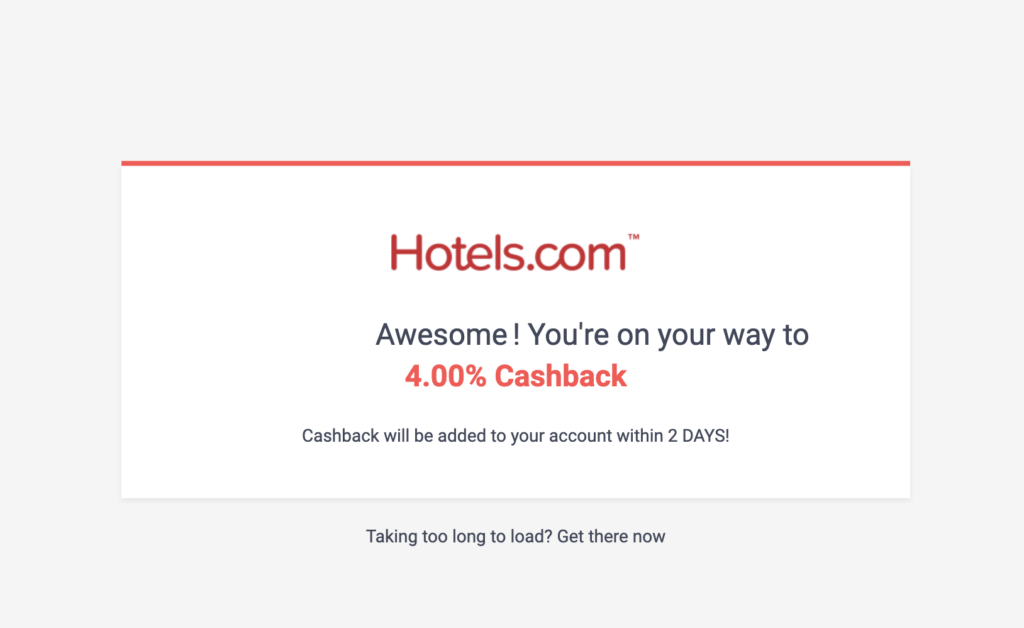 And instead, you'll get a notification of the Shopback transaction, with the cashback details. So, you may want to read up about the specific terms and conditions of using Shopback and getting your cashback.
Get AUD $5 Cashback Instantly!
Now, I know you're itching to get some cashback on your shopping. And, Shopback is one of the best cashback sites around.
So, to get you started on getting money back on your shopping… I want to give you AUD $5 towards your first cashback right NOW.
So, all you have to do is sign up to Shopback, and follow the rest of the process. Yes, it's that easy. Simply CLICK HERE NOW!
Other Cashback Sites Globally
Now, when you have a look into it, the Shopback cashback site may not be for you. Thus, here are some others you can check out…
ShopAtHome.com
CouponCactus.com
TopCashback.co.uk
Rakuten.com
Please note, I haven't taken a good look at or used the above sites before. Yet, check them out as they may be better for your situation.
So, there you have it… an overview of what I believe to be one of the best cashback sites, Shopback. It's easy to use, and you get actual money back, so no vouchers or gift cards.
And, if you can, why not get money back into your pocket. Plus, you could end up getting hundreds, or even thousands of dollars back. So then, you can spend it on things you really love or need.
Happy Shopping!
Like This? Share it and comment on it!
Note: All of our reviews and comments are our opinions and no-one else's. Even if we receive complimentary goods or services we share our opinions honestly.
You Might Be Interested In This Too…
Check Out Our Asia Photos And Information
Need Travel Inspiration, Have A Look At Europe…
My Carry On Luggage Must Have Item
3 Reasons Why Travel Is Important
Need Accommodation?