When you're traveling or living like a local… sometimes you just want to stay in your accommodation and chill out.
Thus, while you could contact restaurants or supermarkets directly to order… there's a one-stop shop where you can order food and more. And, the one app I often use is the Grab app.
Now, call me crazy, but I like using the Grab app. Yes, I think it's fun! And, as I love loyalty programs and getting rewards… Grab has a good rewards program.
Thus, when ordering food on the Grab app, you can earn rewards points. And, this can be redeemed for lots of things… from discounts on Grab taxis, shopping discounts, donations, airline lounge passes and much more.
So, in this blog post I'll run through how to use the Grab app for buying food. Plus, I'll share some tips.
Now, while the Grap app is in many Asian countries… this blog is specifically about my experiences using it in Thailand. So, let's start!
How To Use The Grab App To Buy Food
So, when you're in the Grab app, near the top of the screen will be a several service options.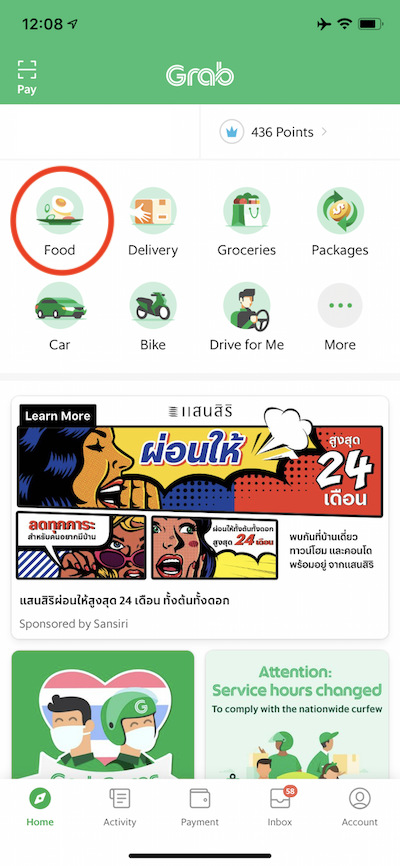 To get food delivery or to pick it up, select the option "Food." Then, you'll see something like the below pic.
Now, you can scroll down the page to see what's on offer. Or, if you already know what you want, you can type it into the search section…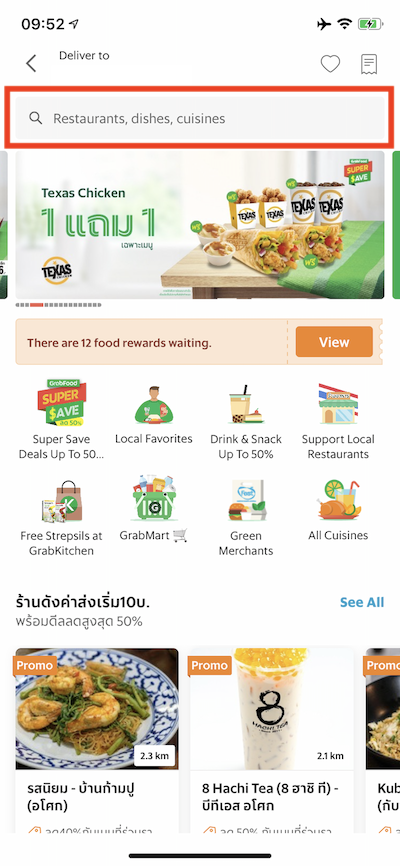 2. For example, let's put an order in for Burger King. So, type in Burger King in the search bar…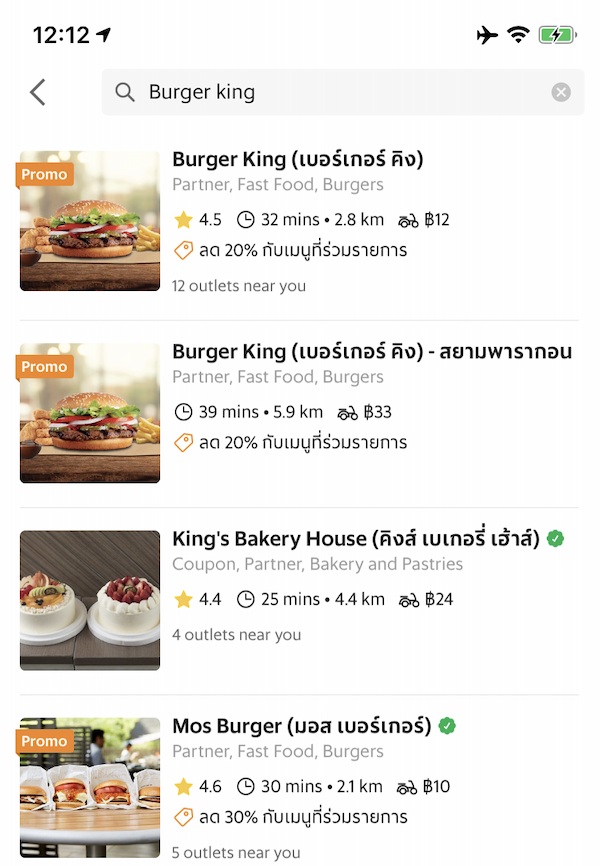 3. Then, choose the Burger King outlet you want to have your order delivered from.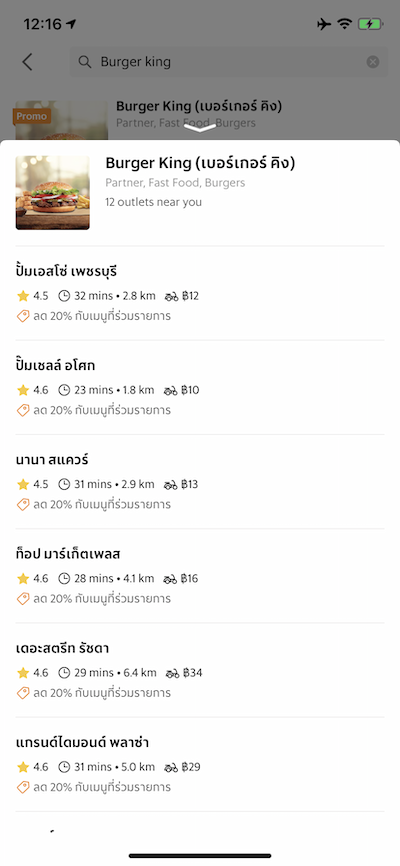 4. And, after that select the food items you want.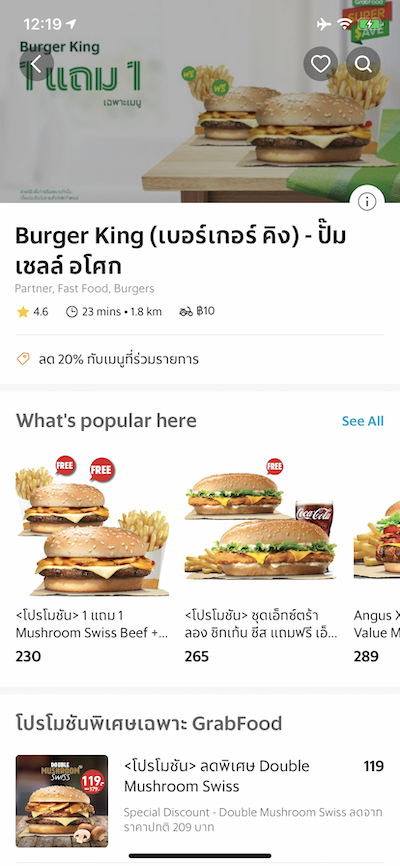 5. Now, you can choose more of the food items by pressing the "+" sign.
Plus, if you want to give special instructions for the eatery, like no mayonnaise… then you can type it into the comments section.
Then, hit the "Add to Basket" button. Yet, if you change my mind and don't want that food item anymore, hit the cross button.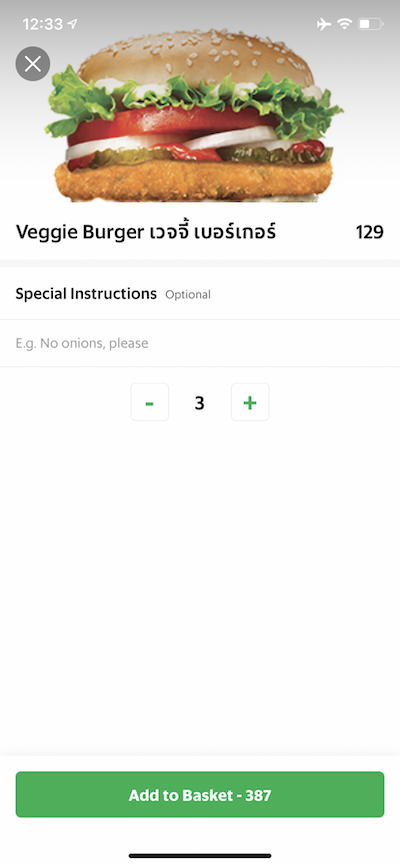 So, repeat steps 4-5 until you have all the items you want.
6. Then after you have selected your meals, hit the "View Basket" button.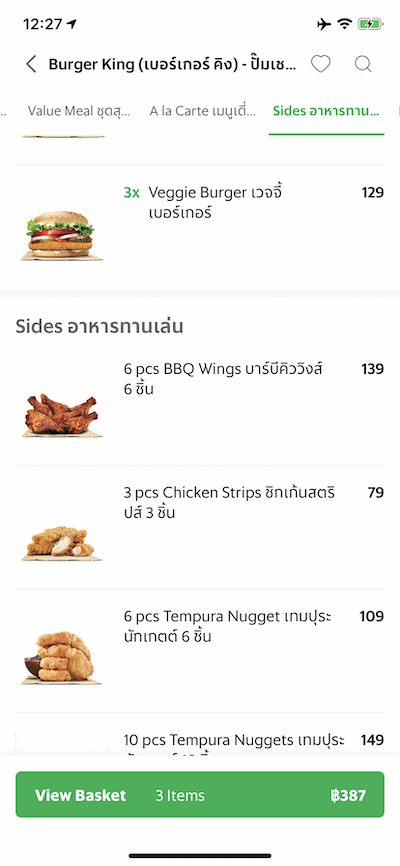 7. Then, you get to the order summary section.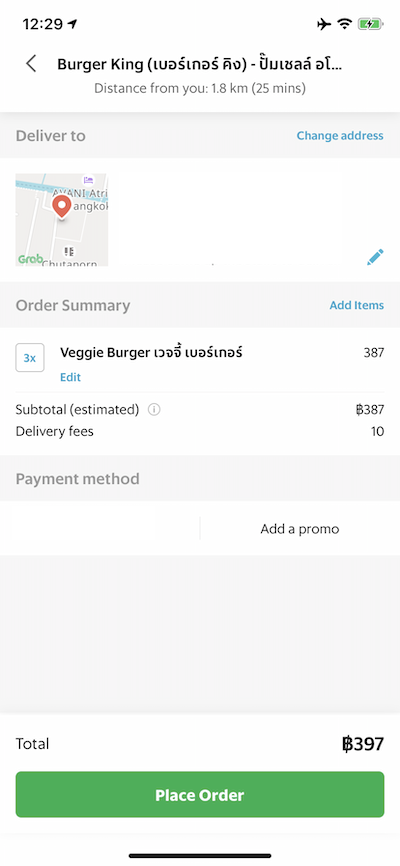 So here, check your delivery address details and any comments for the Grab driver. Here's where you can edit these details.
And, double check your food order. So, if you want to change anything you still can here.
Now, with the payment method you can choose to pay by credit card, cash or GrabPay. Note: You can only use GrabPay if you have a Thai phone number.
So, if you have a promo code then you put it in the "Add a promo" section.
Once that's all done, hit the "Place Order" button.
Checking the Status of Your Food Delivery on the Grab App
So, after you place your order… the app will need to find a Grab driver to deliver your order.
Then, once a driver has been found, you'll see a screen like this.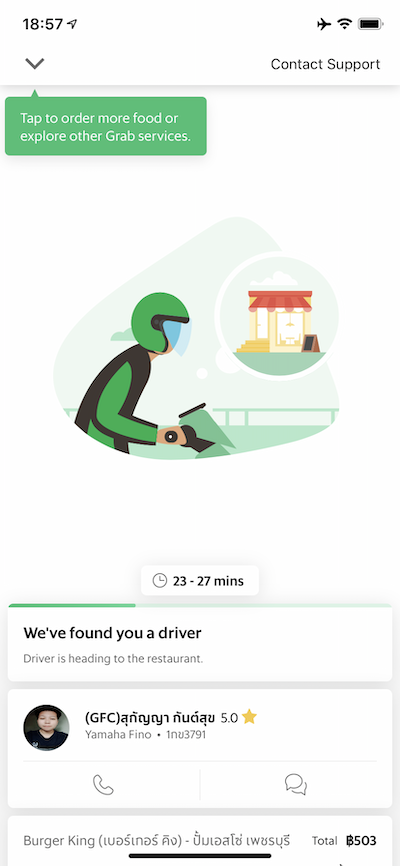 And here, it'll show approximately how long it'll be until you get your food delivery. Plus, you'll see the Grab driver's details.
After that, you'll need to confirm that the order you put in is correct. Then, a screen like this will appear, showing that your order has been placed.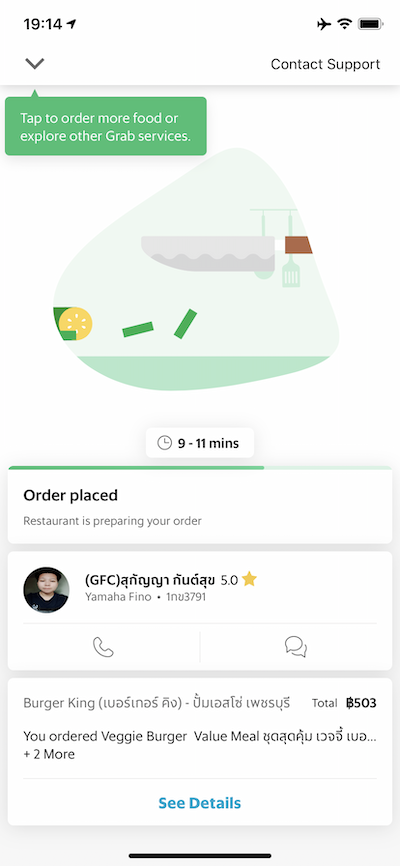 Then, once the order has been done, another screen will pop up like this. And, you'll see that the Grab driver has got your food order, and is on their way.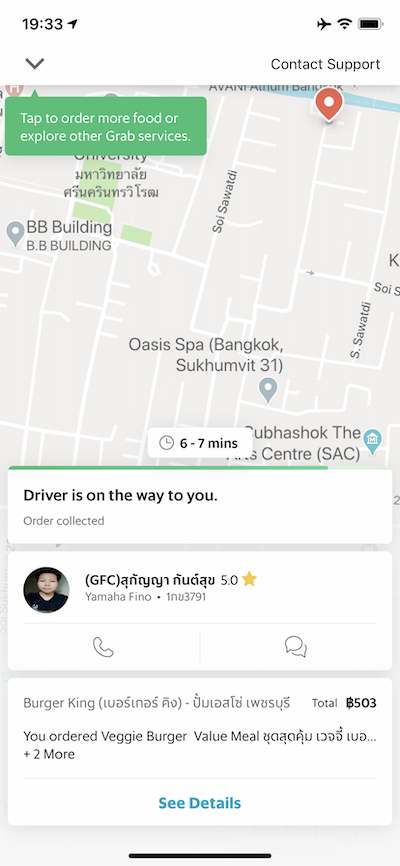 ---
TIP:
While this process is happening… you can contact the driver via phone or chat. Yet, be aware that if you want to speak to the Grab driver… they may not be fluent in your language, or even speak it. So, you can use the chat option… which gives a rough translation to and from the delivery person.
---
So, then it's a matter of waiting for the Grab driver to arrive. And, when they're at your place, you'll get a notification.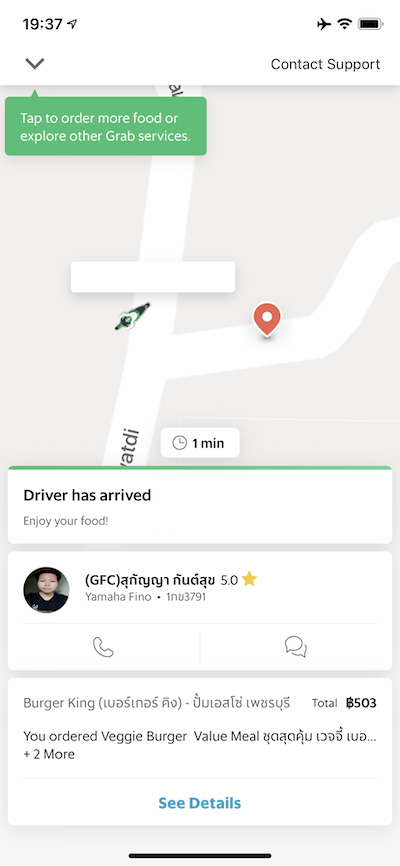 So, after that you can rate your delivery person, and give them a tip if you like. Then, sit back, relax and enjoy your food!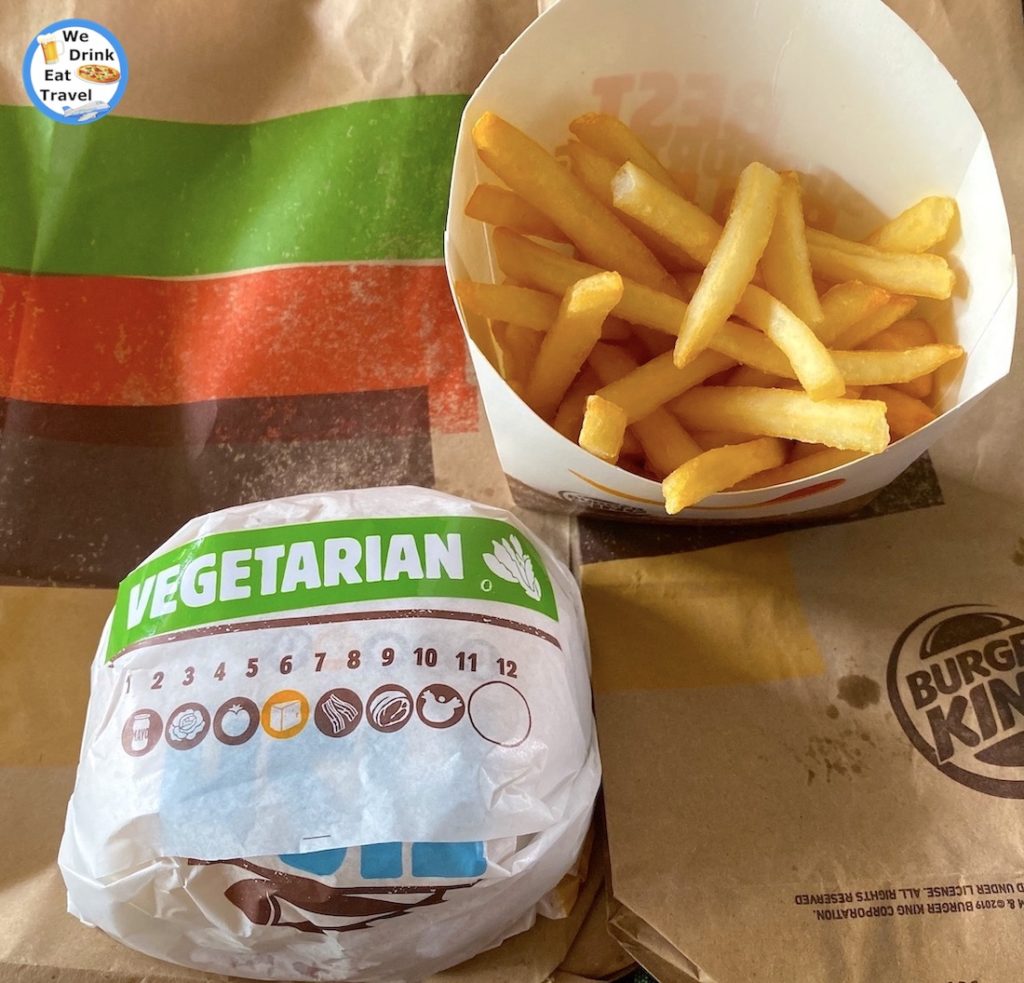 Special Tips On How To Use The Grab App For Food
If you want to re-order a previous food or drink order, select this option. Then, from the list, select the order you want again.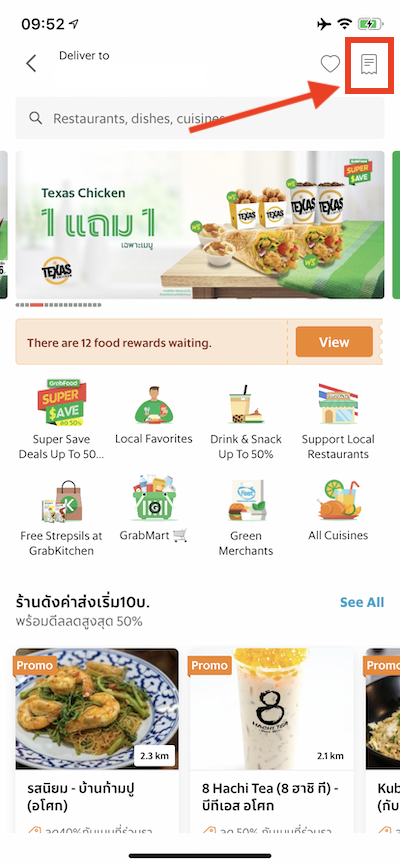 2. So, sometimes there are limited time offers, that are specific to you. And, you can find these offers by selecting the "View" button.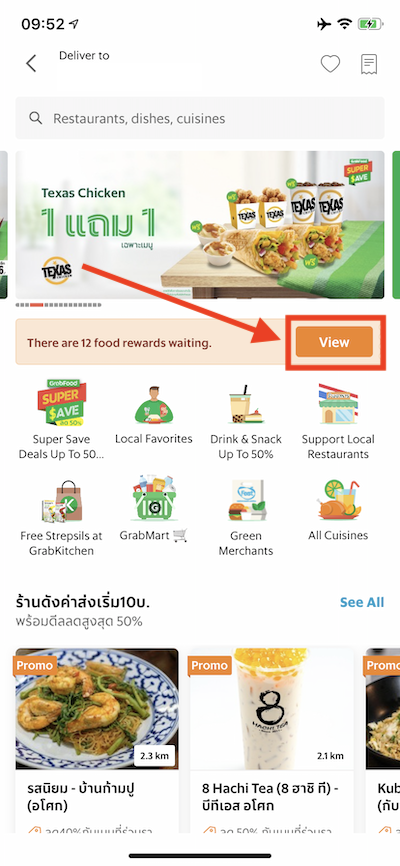 3. Plus, when you're on the Grab app home page, click on the Inbox.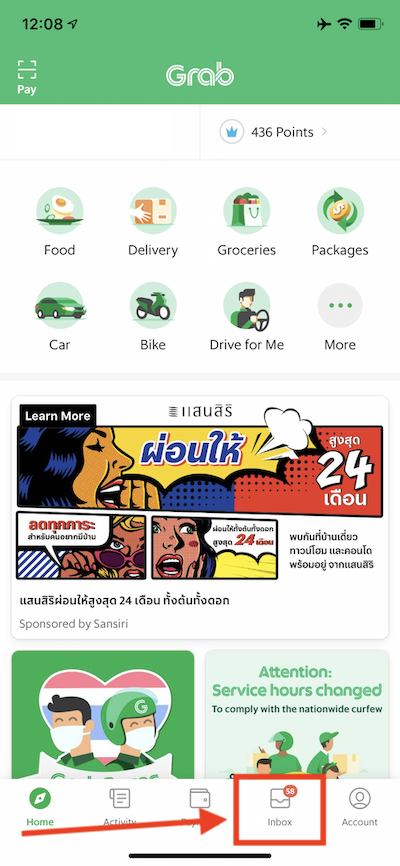 And here, there are all sorts of offers. Even though many of the offers are in Thai, you can copy and paste the words into Google translate. So, it won't be perfect translation. Yet, you'll get an idea of what the offer is about.
4. So, if you have rewards points, there may be some special deals you can redeem them for. Thus, when you're on the Grab app home page, select the rewards icon.
Yet, in this section it'll show all the different types of rewards, even if you don't have enough points. So, to make it easier for you to search for rewards you could redeem… Select the "All" icon.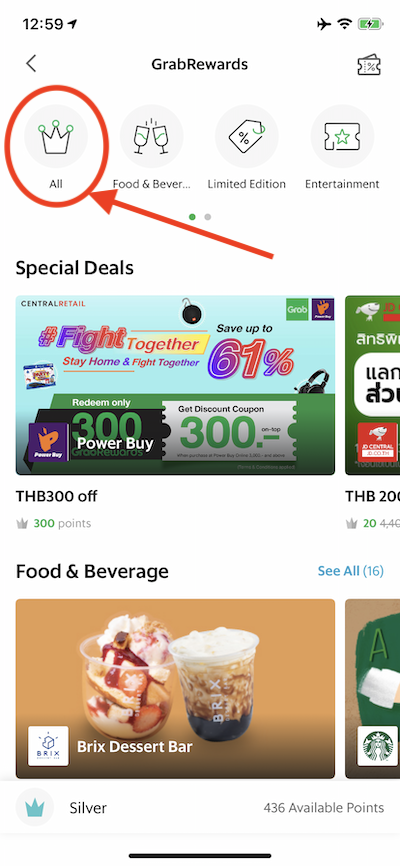 Then, select the "Sort and Filter"option.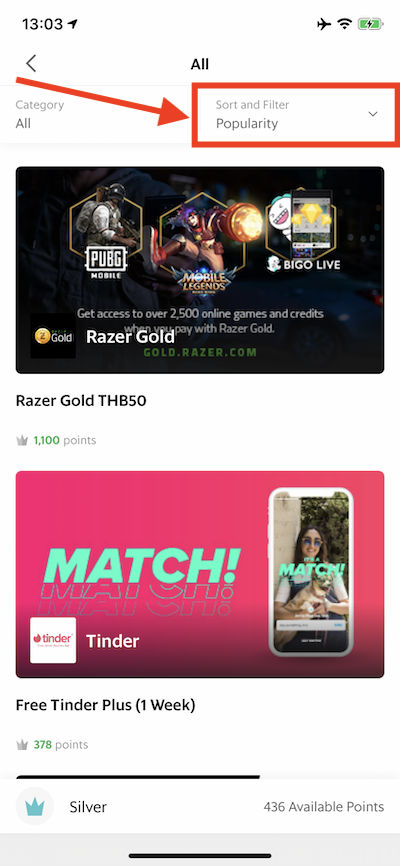 And after that, tick the box the says, "Only show rewards I can redeem." Then, hit the "Apply" button.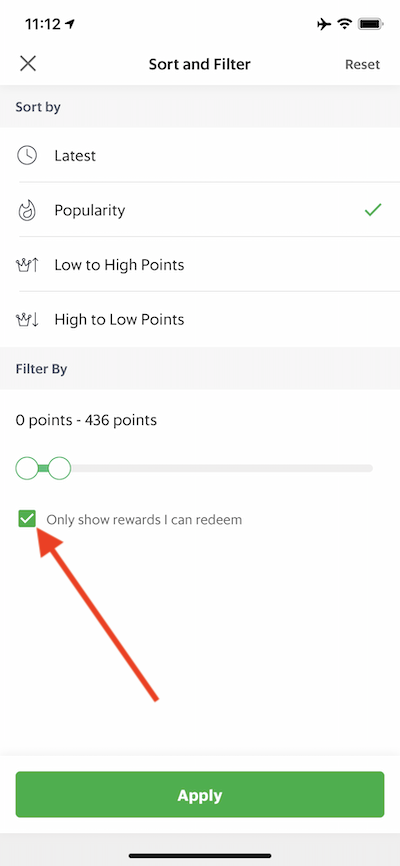 And, the results will then show the rewards you can redeem based on the amount of points you have.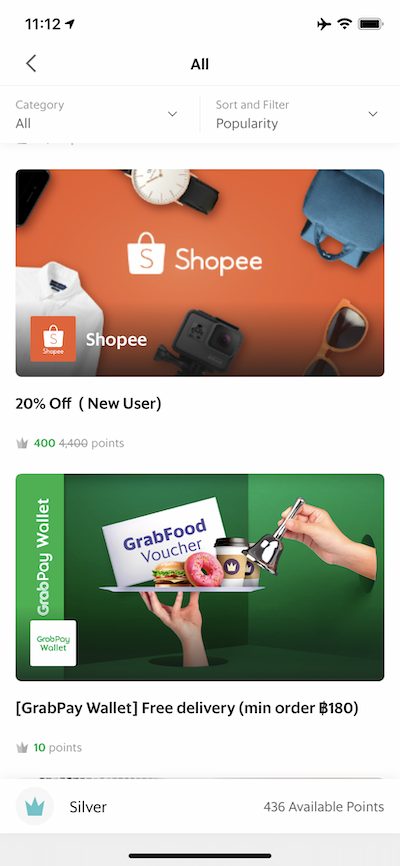 So, there you have it… my experience on how to use the Grab app for food delivery. Plus, some helpful tips along the way to get discounts, offers and more.
So, like I do, have fun using the Grab app. LOL!
Like This? Share it and comment on it!
Note: All of our reviews and comments are our opinions and no-one else's. Even if we receive complimentary goods or services we share our opinions honestly.
You Might Be Interested In This Too…
Check Out Our Thailand Photos And Information
Bangkok Public Transport: All Aboard For The Khlong Boat On Saen Saep Canal
VAT Refund Bangkok: How To Get Money Back On Your Shopping At Suvarnabhumi Airport
Thailand Food – Being Vegetarian In Thailand
Night Market Bangkok: All Aboard For The Ratchada Rot Fai Train Night Market
Shop Until You Drop In Ratchada, Near Thailand Cultural Center MRT
Bangkok Public Transport: How To Use MRT Bangkok
Things To Do In Bangkok – Visit The Camp Flea Market With Surprising Relics!
Getting A Grab From Suvarnabhumi Airport Bangkok With Pro Tips
7 Free Things To Do In Bangkok
3 Parks To Visit In Bangkok Thailand
We Didn't Know There Was A Walmart In Bangkok!
How To Go To Platinum Fashion Mall Bangkok By BTS
5 Things You Should Know About The Scarlett Wine Bar & Restaurant Bangkok, Thailand…
The Best Chocolate Eclairs In Bangkok, Thailand
One Of The Best Places To Visit In Bangkok For Your IT Needs & More…
Shop Until You Drop In Bangkok… With Over 2,000 Stores Under The One Roof
How To Get To Chatuchak Weekend Market In Bangkok
Other Stuff
Thai Airways Review: From Melbourne Australia To Bangkok
My Carry On Luggage Must Have Item
3 Reasons Why Travel Is Important
Need Accommodation?
How To Get FREE Accommodation While Travelling
Bangkok Hotels Review – Asoke Residence Sukhumvit by UHG
Bangkok Hotel Review: Prom Ratchada Residence And Spa
Hotels Review – Pullman Bangkok Hotel G
Accomodation Review – Ibis Bangkok Sukhumvit 4 Hotel
Accomodation Review – Ibis Bangkok Sathorn Hotel