So, if you've been following our blog posts about finding the best pastizzi in Malta and Gozo… this blog covers the next batch of places we visited.
So, we've tried 13 places so far, and in this blog we cover another 7 pastizzerias. Thus, making a total of 20 pastizzerias, and at least 80 pastizzis between Paul and I!
And, if you haven't read the blog posts yet, head on over to HERE and HERE so you're up-to-date.
Yet, have we had enough of these delicious, Maltese savory treats? Hell NO!
We're almost inspired to open a pastizzeria back at home in Australia, but with so much effort in making them by hand… we'll leave that up to the experts! So, we will miss these Maltese "cheesecakes" after leaving Malta.
But, we know that our waistlines will be better off for it… LOL!
So, when we get pastizzis, Paul usually has more cheese ones than the pea pastizzis. Whilst I have both, I tend to like the pea ones more. But in saying that, it does depend on the pastizzeria. And, in this blog post you'll find out what I mean by that.
Yet, there's one thing about pastizzis that I'm not sure if you've had happen to you… And, that's when the crispy, flaky pastry is angled a certain way, so that it cuts into your gums. Ouch! Have you had that happen to you before?
Anyway I digress! So, let's get back onto the topic about… finding the best pastizzi Malta and Gozo have to offer.
So, let's check out the next batch of pastizzis we tried and tested around Malta.
Four T's Gzira
Address: Triq Ix-Xatt, Gzira, MaltaPrice: 0.40 Euro each

Price: 0.40 Euro each
So, while Paul and I were in Malta, we were going to head out to see Fort Manoel. And, the timing was great, because while we were there they had an Open Day. So, the Open Days are great as they are free for the public to see the sights.
Paul and I were taking one of the Malta public transport buses to get there. Then, when we got off at the Ponsonby bus stop, we were starting our walk to Fort Manoel.
And, just before we were turning the corner to walk down Triq Il-Fort Manoel to get there, we saw this…
So of course, our eyes lit up and we both said that we had to try them. Plus, we'd never been to a Four T's Pastizzeria before. But, we decided to wait to try their pastizzis… as we'd just eaten breakfast and wanted to get to Fort Manoel early.
Yet, when we did try them we had the pea pastizzis first. The flavor was fine, but it wasn't worthy of any high placing in our rankings. Then, after trying the ricotta pastizzi, again it tasted fine, and we preferred this over the pea one.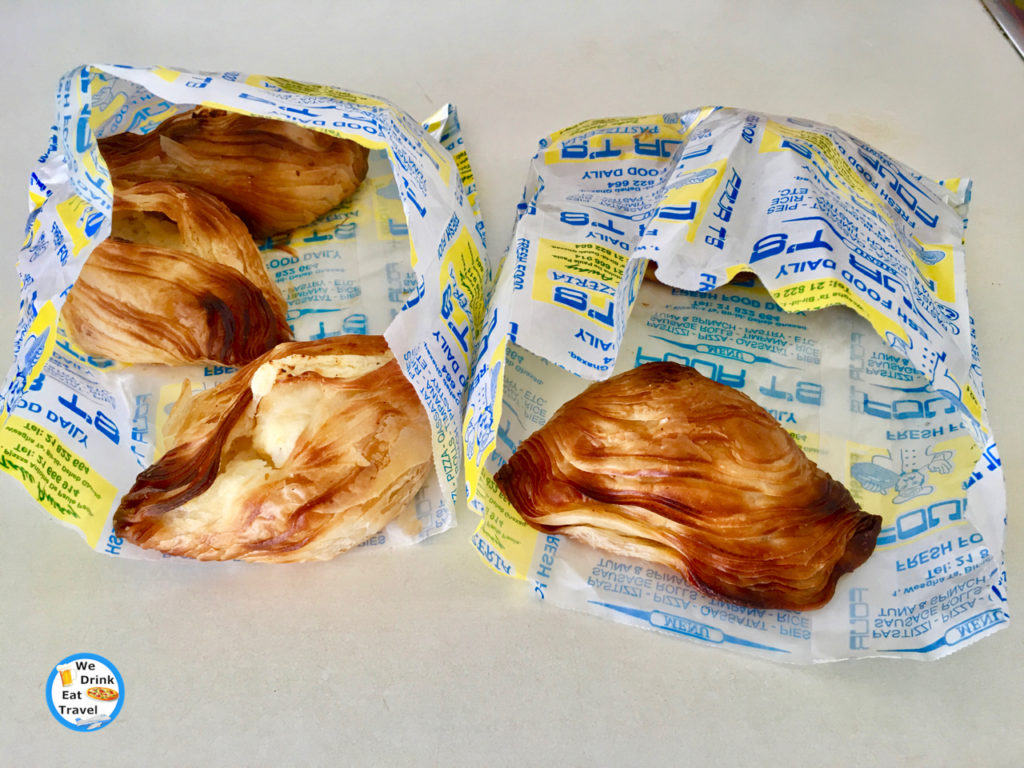 So, it was a new pastizzeria that we tried but it didn't WOW us.
D'Fresh
Address: 13 Triq il-Wilga, St Julian's, Malta
Price: 0.50 Euro each
So, Paul and I decided to go out for a morning walk around the St George's Bay area. Then, as we were wandering around St Julians, we saw this place called D'Fresh. And, in the food display cabinet we saw a fresh batch of pastizzis being put out.
So, of course we had to try them. Then, we ordered our usual cheese and pea pastizzis.
So, these ones were a tiny bit more than most others at 0.50 Euros each. No big deal, just thought you'd like to know.
Then, as the staff member was putting the pastizzis into the paper bags, my heart was beginning to sink a little. And, that's because on the bag was the word, McSims.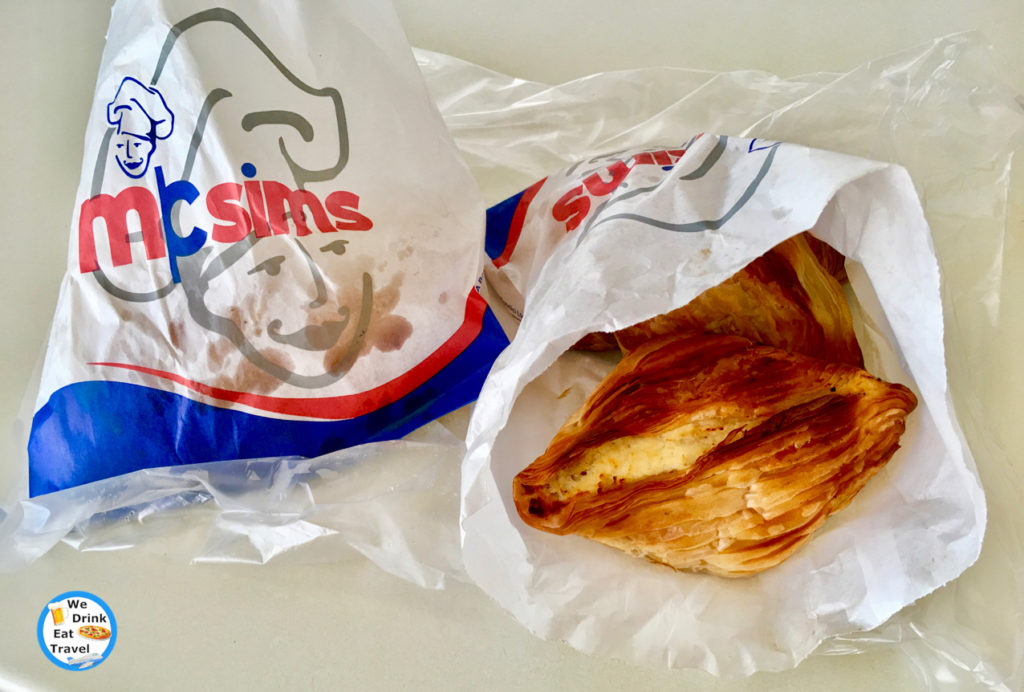 So, when we were in Victoria in Gozo… we tried our very first batch of McSims pastizzis and we weren't that impressed.
Yet, we were hoping that the second time round it would be different.
Then, as I bit into the pea pastizzi, the flavor was OK. But, the pastizzi had several peas in it that were hard.
So, I don't mean hard in that they were going to break my teeth… but like the peas had been taken out of the freezer, but not left long enough to be defrosted. So, hope that gives you an idea of the pea texture that I mean.
Plus, the ricotta pastizzi flavor was dull compared to others we tried. So for us, it wasn't going to be the best pastizzi Malta has. And sorry to say, but we hope that we don't get another McSims pastizzi again.
Roger's Bakery & Pastizzeria
Address: Triq il-Kanonku Dedomenico, Zejtun, Malta
Price: 0.40 Euro each
Paul and I made a special trip to Roger's Bakery & Pastizzeria… after hearing so many great things about Roger's pastizzis. So, we had to try them for ourselves.
And, after we saw the amazing Hagar Qim and Mnajdra temples in Qrendi, we made the trek out there.
So, to get there we were taking the Malta buses, which took us about an hour and a half to get there. Now, is that dedication or what?
But, we forgot that when we went it was a public holiday in Malta, so we were hoping that Roger's Pastizzeria was open.
Then, as we were turning the corner towards Roger's bakery I saw that the door was closed. So my heart sank.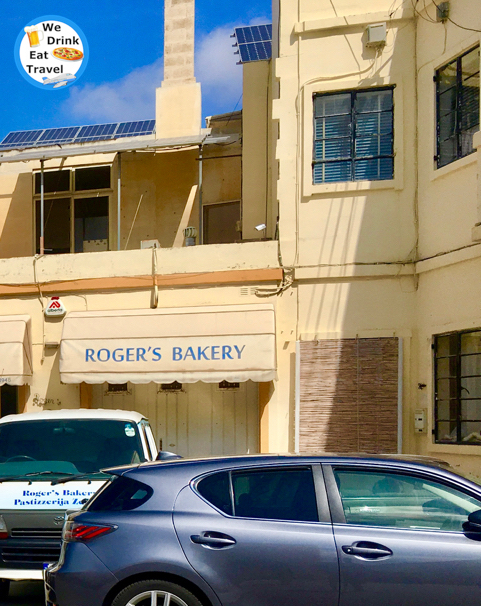 Yet, as Paul got closer he said there's another door that was open.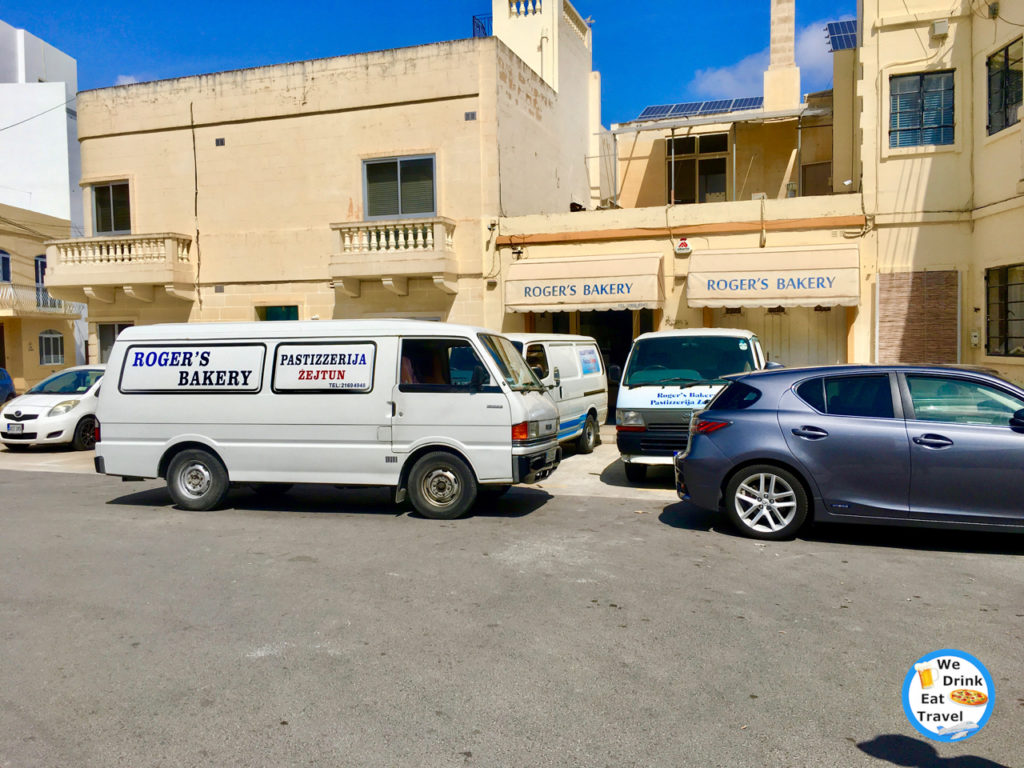 So, we rushed on over to check it out. And, to cut a long story short, there was Roger in the bakery. And, we weren't sure if the bakery was open to the public, yet thankfully it was.
So, we got our usual ricotta and pea pastizzis, and stood outside the front of the bakery at the table.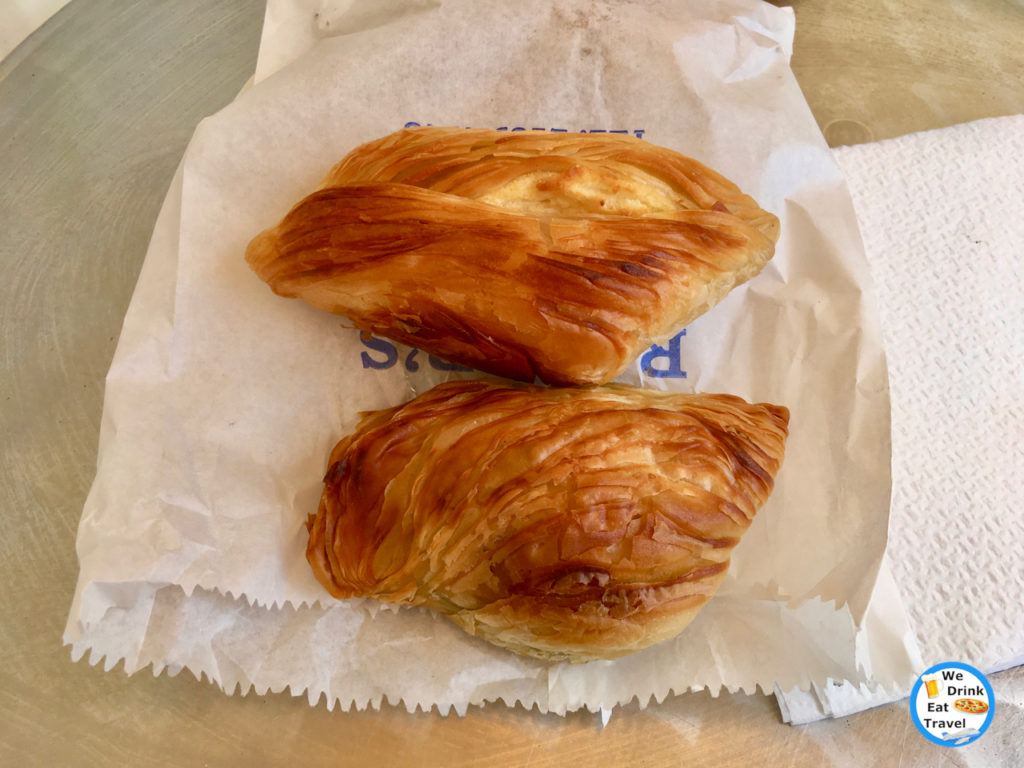 And, after having a couple of mouthfuls of the pea pastizzi… we were looking at each other with raised eyebrows. So, it had a robust curry flavor and what we thought was a hint of cinnamon!
Yet, Roger's pea pastizzi wasn't like any other we'd tasted on our journey. And, it was a big thumbs up for us.
Then, we bit into scrumptious flaky pastry of the ricotta pastizzi. And, while it was tasty it didn't have as strong a flavor as others we'd tasted. We prefer saltier ricotta pastizzis. Even so, it was still yummy.
Plus, with Roger's pastizzis they were a decent size too, with lots of filling.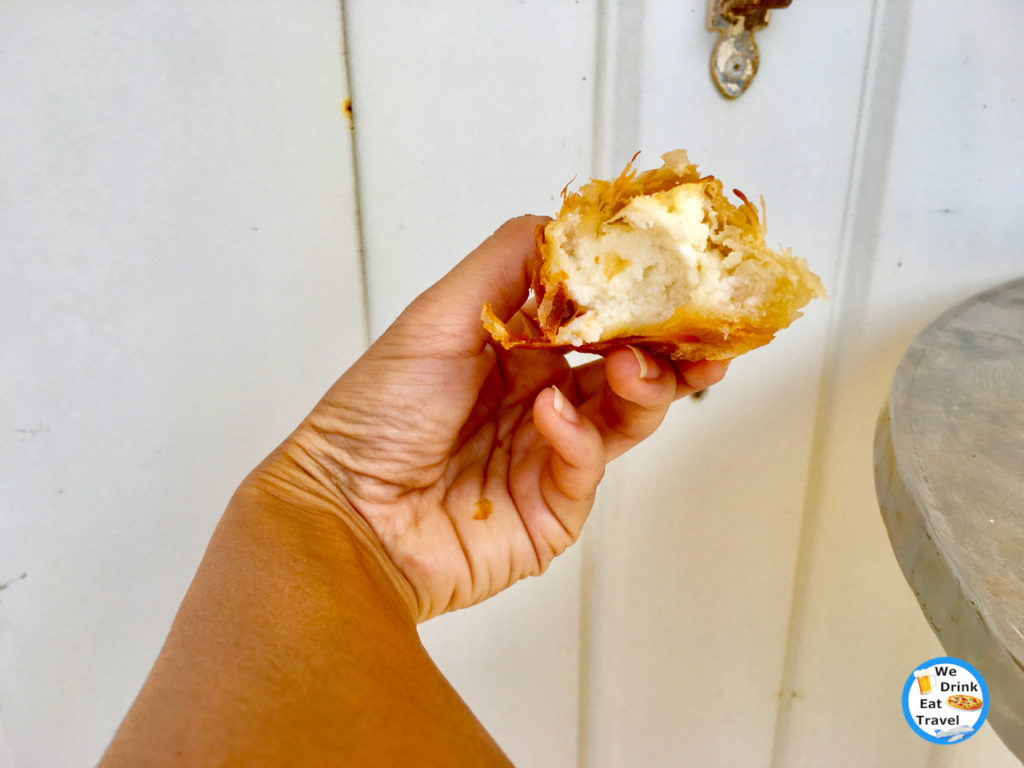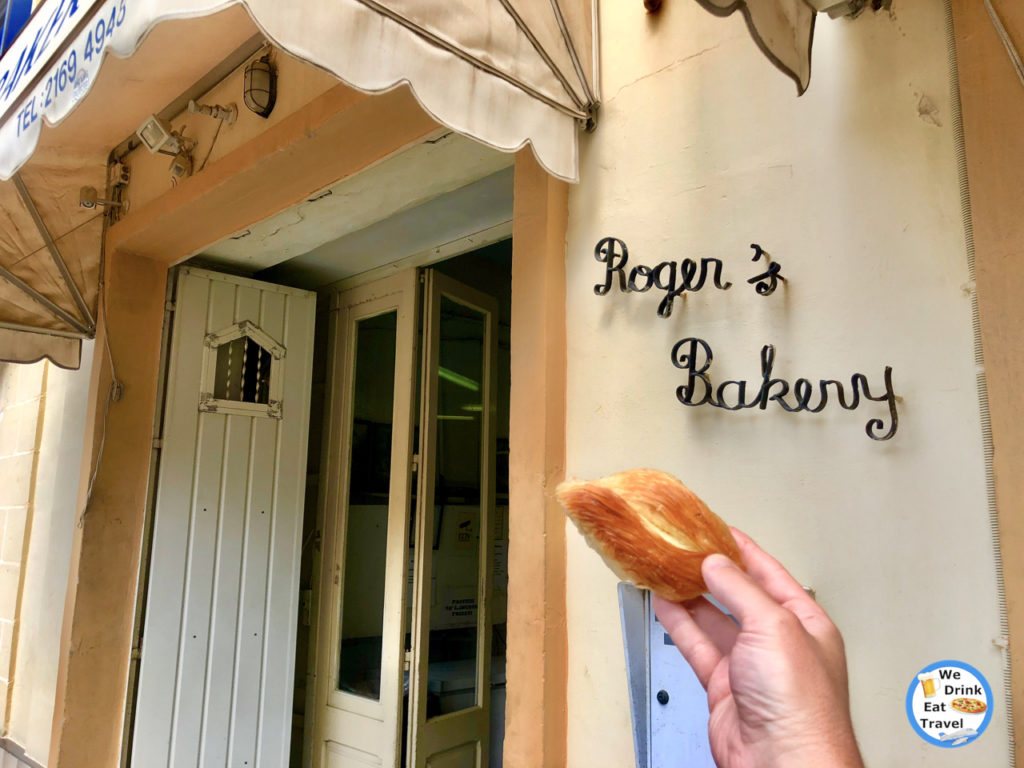 Sphinx Snack Shop
Address: 65 Misrah Arcisqof Gonzi, Kalkara, Malta
Price: 0.40 Euro each
One day, Paul and I were venturing out to explore Vittoriosa (Birgu). And, we spent an entire day out seeing the amazing sights. Yet, to end our day trip, we decided to wander up to Kalkara to have a sneak peek at this city.
And, we're so glad we did as we found Sphinx Snack Shop near the waterfront.
Now, we'd already tried pastizzis from Sphinx and we loved them! So yes, we did have big expectations from the Sphinx in Kalkara.
And, the young guys serving us in the pastizzeria were pleasant… providing us great service.
So, once we got our ricotta pastizzis and pea pastizzis, we took them over to the waterfront to eat. Well, if we're going to have them we may as well enjoy the view too!
So, we tried the pea pastizzi first and it was scrumptious! The curry flavor was bold, like the pastizzis at Sphinx in Sliema. The pastry was so rich and flaky, and I made a mess all around me.
Yet, the one in Sliema may have just had a hint more curry flavor than this one.
Then, after taking my first mouthful of the ricotta pastizzi, again like Sphinx in Sliema… it was melt in my mouth delicious. The ricotta was flavorful and I wanted more. Yet, as it was getting close to our dinner, I had to use some self-control!
So, huge thumbs up to Sphinx for bloody awesome pastizzis.
Mr Maxims St Julian's
Address: 129 St George's Road, St Julian's, Malta
Price: 0.40 Euro each
Paul and I were heading out one morning to check out the Spinola Bay and Portomaso areas.
And, on our way back we were hoping to find a pastizzeria, so we could have pastizzis for breakfast.
Then, we saw Mr Maxims in St Julian's, on the corner of St George's Road and Ross Street.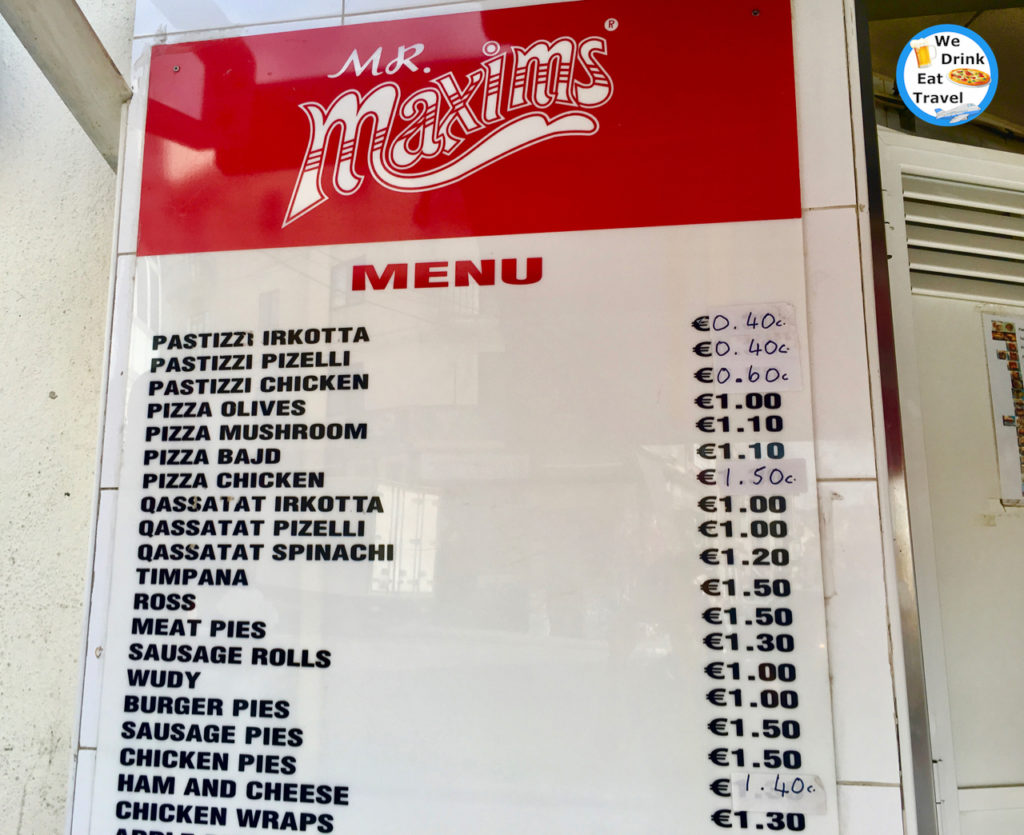 Now, we were confused about if Mr Maxims was the same chain as Maxims. And, as an after thought we should have asked. So, if we remember we'll ask someone at either pastizzeria chain. But, if anyone can tell us can you please let us know!
So, as we were taking the pastizzis out from the paper bag, we were immediately disappointed. Because when looking at the pastry, it was like they weren't fresh. Plus, they looked overcooked. Take a look at the photo…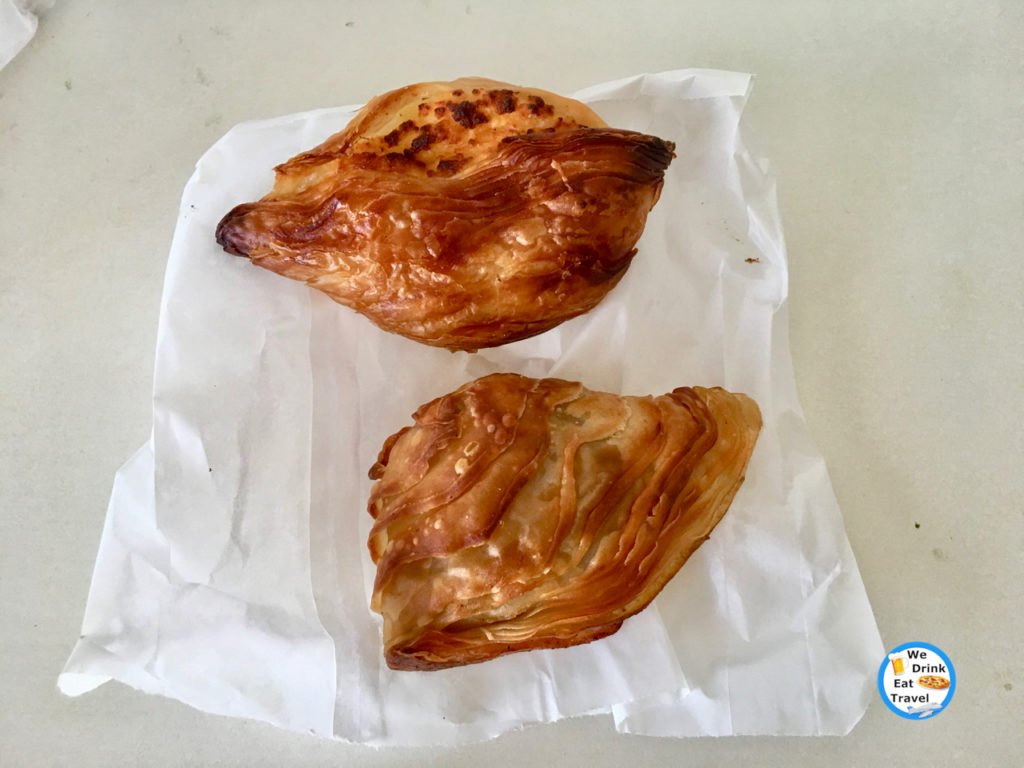 And, they were smaller in size than some other places we'd been to. Then, when I took a couple of bites into the pastizzi, the pastry was definitely horrible. And to us, it was as though they were like last night's batch of pastizzis re-heated.
So, the pastry was not crisp, flaky and buttery like other pastizzis we'd had. Plus, the texture and taste was dry and lacked a lot of flavor. Furthermore, the ricotta had hardly any flavor.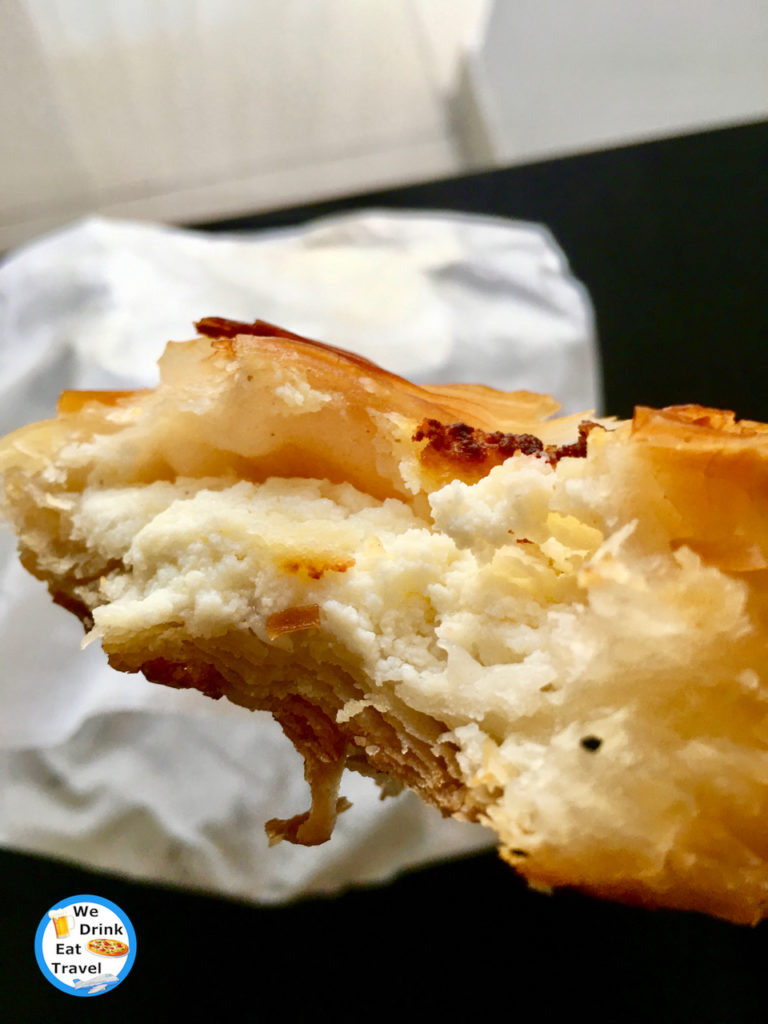 Then, when we took a couple of bites out of the pea pastizzi it tasted less than average. Again, the pastry was terrible.
So, both Paul and I agreed that these pastizzis were the worst we've had. And, we even would go so far as to say that… even the frozen Borg's pastizzis we get in Australia are better than these.
So, if they weren't fresh then it makes sense why they were underwhelming. And, if the pastizzis were fresh, then shame on you Mr Maxims! So, needless to say, they will not get the crown for the ultimate pastizzi in Malta.
The Convenience Store Snack Shop
Address: Dawret Il-Gzejjer, St Paul's Bay, Bugibba, Malta
Price: 0.40 Euro each
So, Paul and I were out and about in Xemxija and keen to check out the St Paul's Bay area. And, after we wandered around the Xemxija Heritage Trail, we went on a bus and had no idea where to stop next in St Paul's Bay.
Sometimes having no plans can end up being great. And, on this occasion it was fantastic for us, as we got off the bus and were roaming around. Then, we discovered we were in Bugibba.
And, as we were wandering to the waterfront we saw how beautiful it was around here.
So, as we kept walking around Bugibba we were working up an appetite. So, from the Wignacourt Tower area… we were following the road on the waterfront called, Dawret Il-Gzejjer.
No Pastizzerias In Bugibba?
Then, as we kept walking we couldn't find a pastizzeria, which was surprising to us. So, we kept walking along the waterfront and still no luck. Then, we found this snack shop, which was under the sign of The Convenience Shop…
So, what to do when we're craving for pastizzis? We just had to go on over and get some! And, it was great to see these little snack shops across Malta on our travels… especially the more traditional ones.
Then, there were only a few pastizzis left and we decided to get them all! And, there were both pea and ricotta pastizzis. Then, when he gave us the pastizzis in the paper bag, we saw that it had McSims on it. Arghhhhhhhh!
So, our pastizzi taste tests at McSims haven't been that great. Thus, we set our expectations low. Then, as you can see from the photo they didn't look as delicious as others we'd had. Yet, sometimes looks can be deceiving.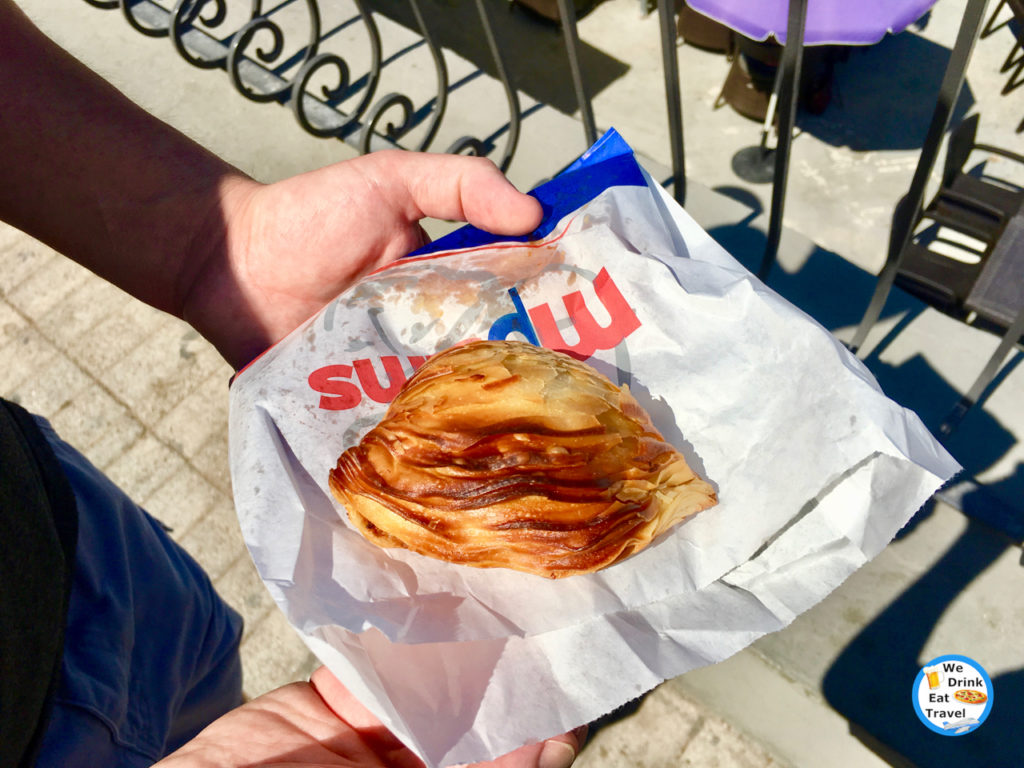 Then, after having the pastizzis it was like the other McSims ones we'd tried. So, they're not the worst that we had, and it was good to fill the belly when we were craving pastizzis. But, we wouldn't go out of our way to make a special trip to McSims pastizzis.
Now, moving on to the next place in our quest of finding the ultimate pastizzi in Malta!
Malta Pastizzi
Address: 57 Merchants Street, Valletta, Malta
Price: 0.50 Euro each
So, when Paul and I spent a few nights in Valletta, we were excited about our short trip there. That's because we did a one-day self-guided tour, and we loved what we saw with Valletta.
Thus, while we were in Malta we made plans to come back to Valletta and explore it further.
And, in doing this, we had to get some pastizzis of course. So, in our research a lot of people raved on about a place called, Malta Pastizzi. And, naturally when we were in Valletta we went to do a taste test ourselves.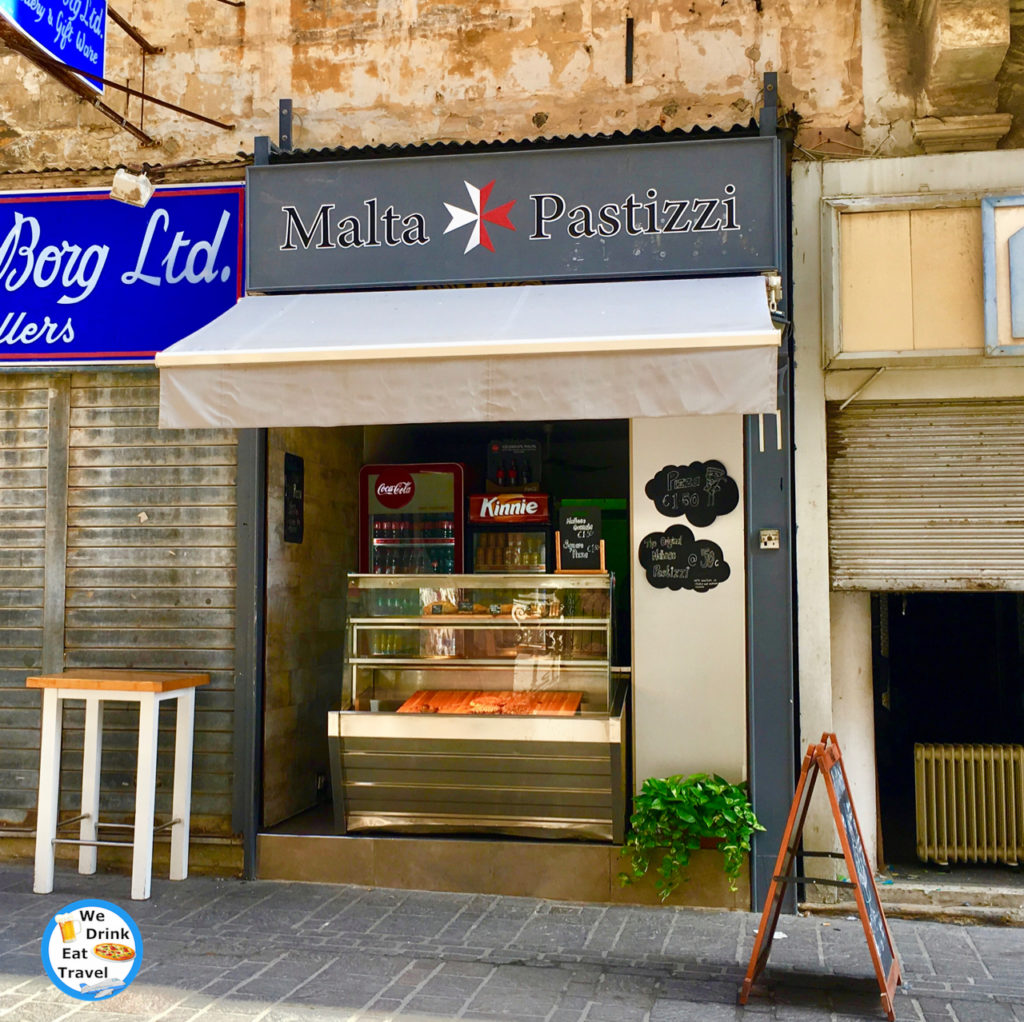 So, from the get go, the staff who we assumed were the owners were lovely. And, we got the pea and ricotta pastizzis as per usual.
Then, as we stood outside the front of their snack shop, removing the pastizzis from the paper bag… we noticed that they were smaller in size compared to others we'd had. Yet, we wouldn't let this get in the way of our taste test!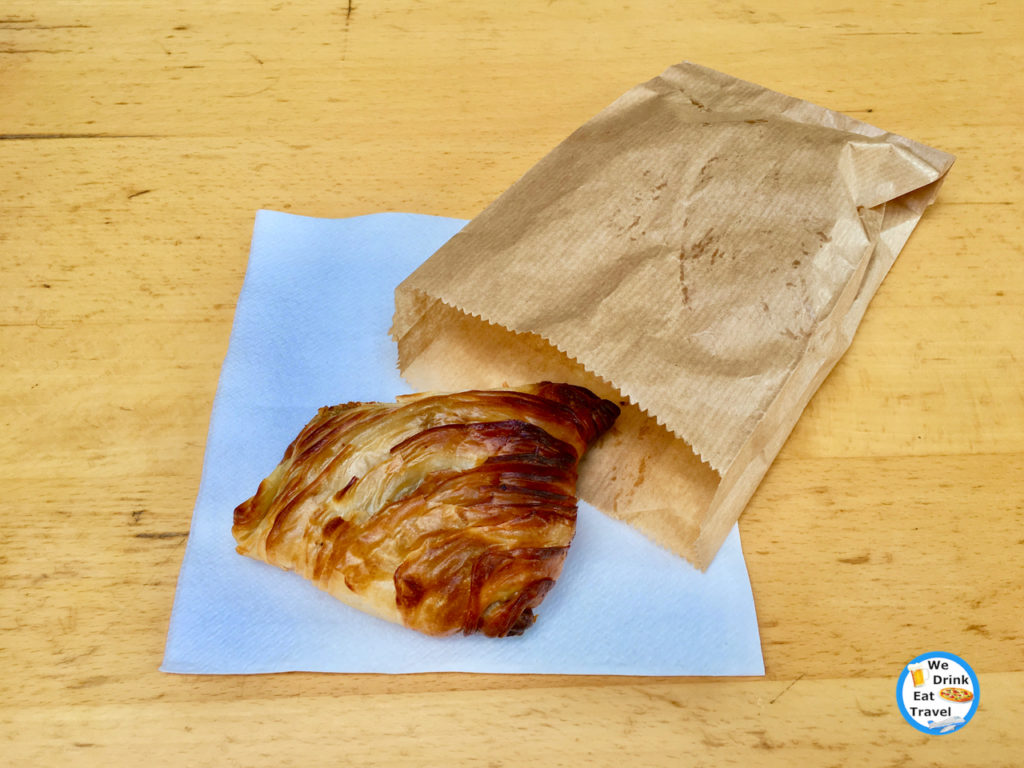 So, we tried the pea pastizzi first and on the first mouthful we were shocked! While the pastry was flaky, and crispy… it tasted like it had been drenched in smoky bacon!
So for us, it wasn't that appetizing for both the pea and ricotta pastizzis. Even so, when we were looking at their display cabinet of food, the other items looked delicious!
So, maybe if we come back we might try something else.
And with that, we've now been to 20 pastizzerias across Malta… to find the best pastizzi Malta and Gozo have to offer.
So, with this latest group of places we had quite a few misses rather than hits. Yet, there were a couple of surprises, such as Roger's Bakery pea pastizzi.
But, who will take the crown? Stay tuned because the next blog about the pastizzis will be the last one and the decider.
So, get those boxing cooking gloves on as the battle continues!
TO BE CONTINUED…
You Might Be Interested In This Too..
Top 10 Things To Do In Valletta Malta
Part 2 – Malta Food – In Search Of The Best Pastizzi In Malta
5 Top Tips For Using The Malta Buses
Air Malta Business Class Review
Malta Food – In Search Of The Best Pastizzi In Malta
If You Need A Money Changer In Malta Read This First
5 Things You Need To Know When You Visit Malta
Getting A Taxi From Our Sliema Hotel To Malta Airport
3 Travel Mistakes People Make And Tips On How To Avoid Them
My Carry On Luggage Must Have Item
3 Reasons Why Travel Is Important
Need Accommodation?
Valletta Hotels Review – Vallettastay Casa Zoe
Hotels Review – Sliema Marina Hotel Malta
Hotels Review: Hotel 1926 Sliema Malta
Want Cheap Flights and Accommodation?