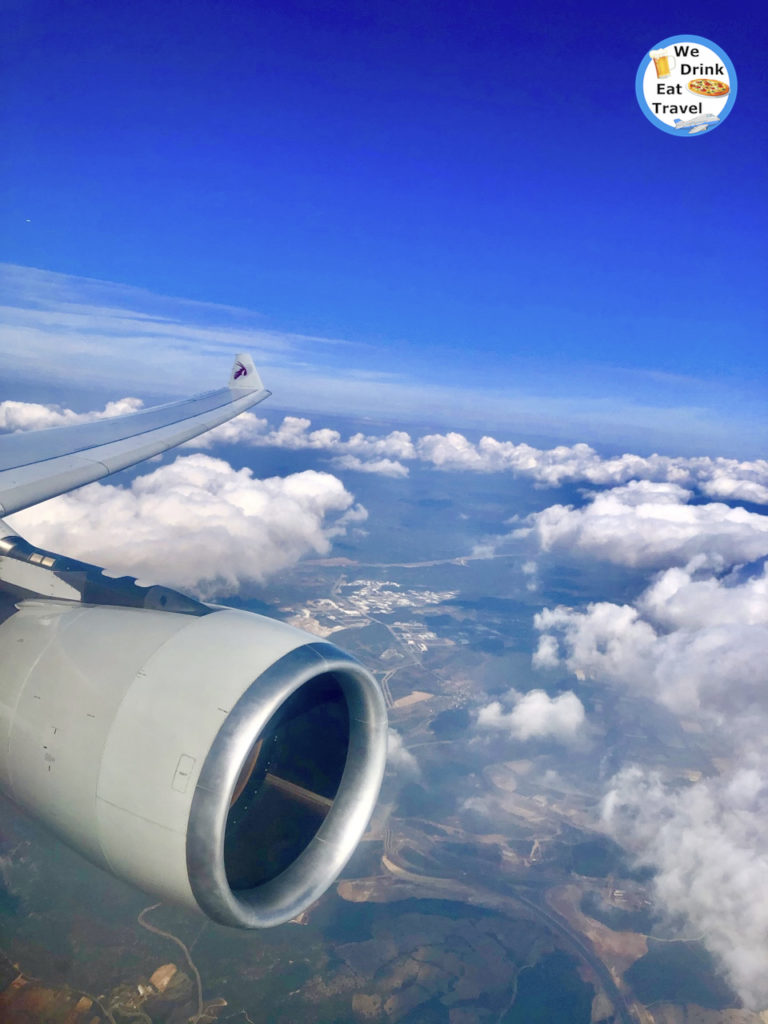 Route: Istanbul (SAW) – Doha (DIA)
Flight: QR244
Aircraft: Airbus A330-300
Depart: 1:10 PM
Arrive: 5:15 PM
Journey Time: 4 hours, 5 minutes
Seat: 4A and 4B
Using Our Qantas Frequent Flyer Points
Paul and I have been on several business class flights on our travels. And, we mostly fly the Oneworld Airlines as we were racking up frequent flyer points and status credits.
Furthermore, we appreciate that Qantas Airlines has the best safety record of all the airlines. And, several of the Oneworld Airlines have a great record for safety too.
Yet, we were considering giving the Oneworld Airlines group a flick, due to poor service and lack of attentiveness. So, we were thinking of starting afresh with the Star Alliance Group.
Yet, we thought we'd give Oneworld another go.
So, when Paul and I were in Malta, we knew the weather was going to get cooler during the end of October. Thus, we would then go elsewhere to continue following the sun and warmer weather.
And, around this time, parts of South East Asia are a fantastic time to go. Thus, I was checking where we could head to.
Then, to cut a long story short… we found some flights that would work well from Istanbul to Ho Chi Minh City, Vietnam.
Plus, as both of us hadn't been to Turkey before, it'd be a great opportunity to explore there.
And, the airline that we would take these flights with was Qatar Airways. Now, neither of us have been on a Qatar flight before. Yet, we'd heard great things about them. Plus, they'd won many awards, especially for their business class.
And, as we'd flown Emirates business class before, it'd be great to compare. So with that, we were going to fly Qatar Airways business class… from Istanbul to Doha on our first leg.
Although it would be a short journey of about 4 hours, it'd still be interesting to see how Qatar's business class stacks up. So, let's begin!
Checking In To Our Qatar Airways Business Class Flight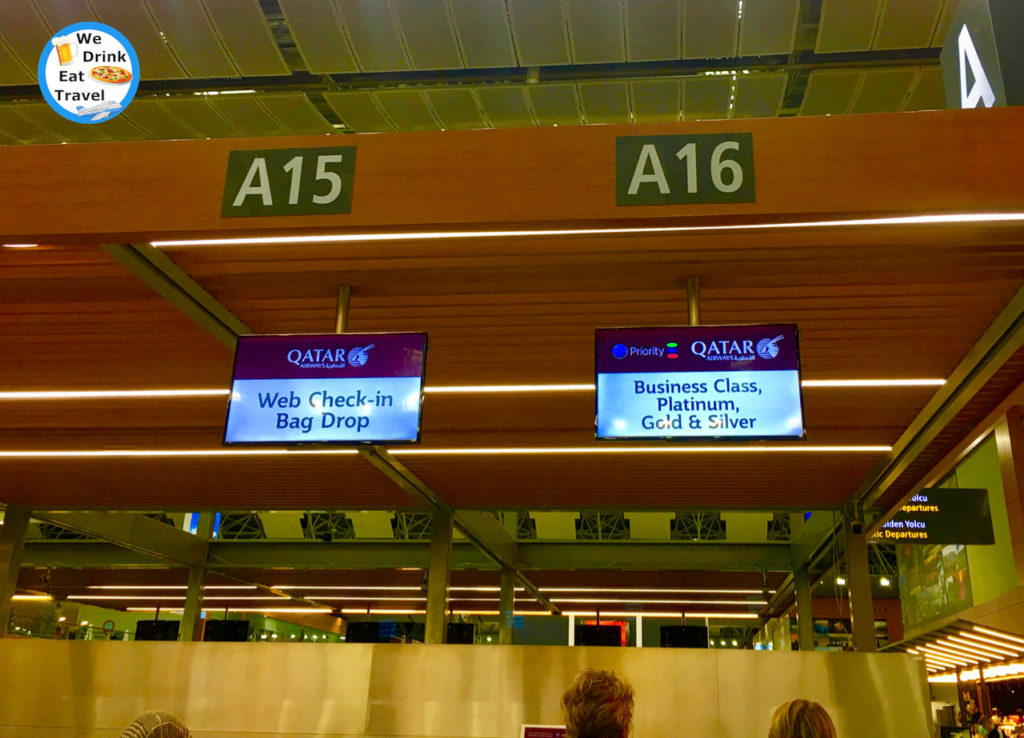 Now, when we were at Istanbul airport… we didn't see any staff wearing Qatar Airways uniform when they got to the check in counter. And, this brought back memories of our business class check in at Vienna with Malta Airways… where the service was lackluster.
You can see what we mean in our blog post HERE.
So, we were hoping that the check in process would be far better at Istanbul… especially as was for the award-winning Qatar Airways business class.
We Can't Leave The Country!
Then, everything was going well, until the service officer said that we couldn't check in for our flight. And, that's because she said that we had to have a flight out of Vietnam.
WTF? Ah, no we don't have to!
So, we were questioning what the service officer was saying… as we've never had to book an outward flight from Vietnam. Plus, we had checked the rules as they can change at any time. But, no outward flight needed as far as Vietnam immigration were concerned.
Then, she had to call over a supervisor, who this time was wearing a Qatar Airways uniform.
And, he was explaining the same thing to us as the service officer.
Yet, we were relatedly confirming with the staff that we didn't need an outward flight from Vietnam. And, you know the funny thing… my mind was focusing more on getting to the airline lounge – LOL!
So, the supervisor then had to consult his superior. And, in the end we could check in so long as we would sign a disclaimer… that Qatar Airways would not be at fault, if we could not get entry into Vietnam.
Wow, what a rigmarole!
Yet, thumbs up to the Qatar Airways supervisor, as he was pleasant and calm throughout.
So then, it was off to the lounge. Yet, at the Istanbul Sabiha Gocken Airport… Qatar doesn't have a dedicated airport lounge, which was a bummer. Thus, we had to go to the ISG Airport Lounge.
You can find out more about our experiences at the ISA Airport Lounge HERE.
Boarding Our Qatar Airways Business Class Flight
So, after our Istanbul airport lounge experience, it was time to make our way to board the plane.
OK, at the time it was more exciting for me than Paul… and he was telling me to take a chill pill! But, I had high expectations for Qatar Airways business class. And, I was eager to finally experience it for myself.
So, before we even got to the counter where the staff would scan our tickets… a Qatar Airways staff member was looking at the tickets we had in our hand. Then, instantly she came toward us, asking us to follower her.
Then, after a warm greeting, she was checking us through to immediately board. Now, that's what premium flying is all about!
So, before we get into detail about our seats and amenities, I have a little story to tell about our seat booking…
As we had made our Qatar Airways flight booking redeeming Qantas Frequent Flyer points… we were unable to choose our seats in the Qantas system.
Thus, we were trying to find our booking via the Qatar Airways website to choose seats. Yet, it was becoming difficult. Then, we were looking for a live chat option to interact with a Qatar staff member. But, no luck in finding anything.
Then, after doing some research… people were saying that it was easier to call Qatar to make changes. Hmmmm… hello, are we back in the 1970's? So, it was surprising that we had to call… rather than being able to self-service our needs online.
Yet, once we spoke to a Qatar agent who was polite and friendly… we were able to choose our seats with ease. Plus, we put in our special meal requests.
So back to our Qatar Airways Business Class review…
Our Qatar Airways Business Class Seats And Amenities
On board, we were noticing that in business class it was only about a quarter full.
So, as it was an Airbus A330-300 aircraft… the configuration of our Qatar Airways business class section was in 2-2-2 format. And, there were just 5 rows of business class seats. So, at the time of booking we chose seats 4A and 4B.
Then, when looking at the furnishings of the seat and surrounds… it was looking relatively sophisticated and polished.
So, here's a pic of my aisle seat when I first saw it. And, on the seat was a blanket and pillow…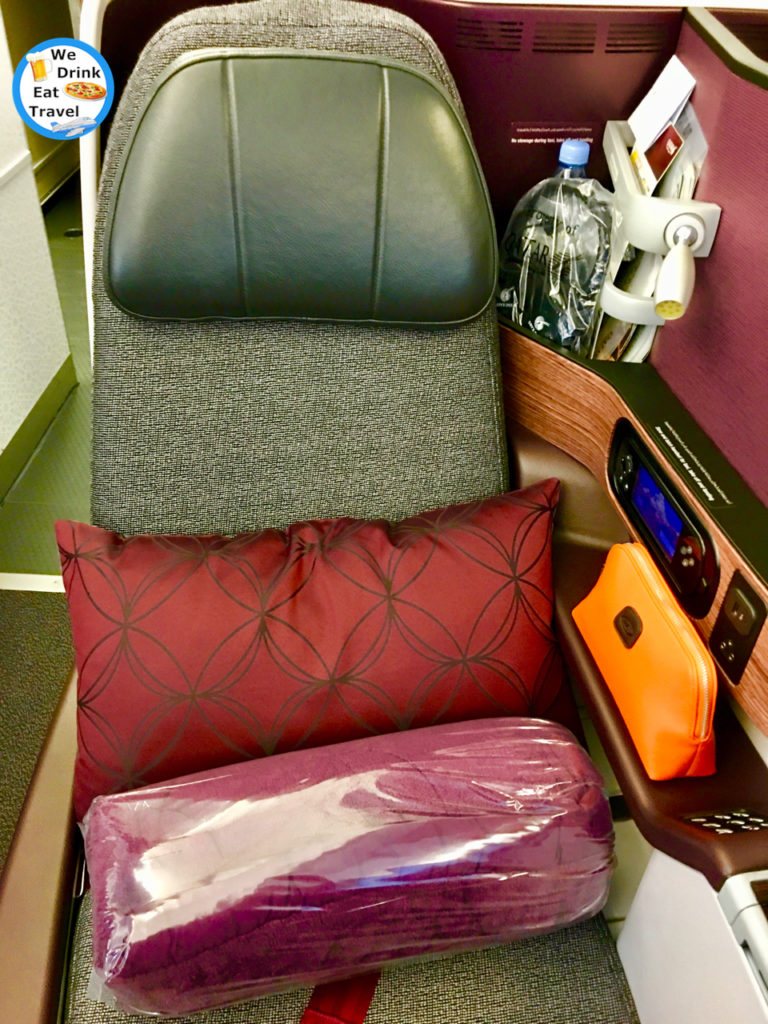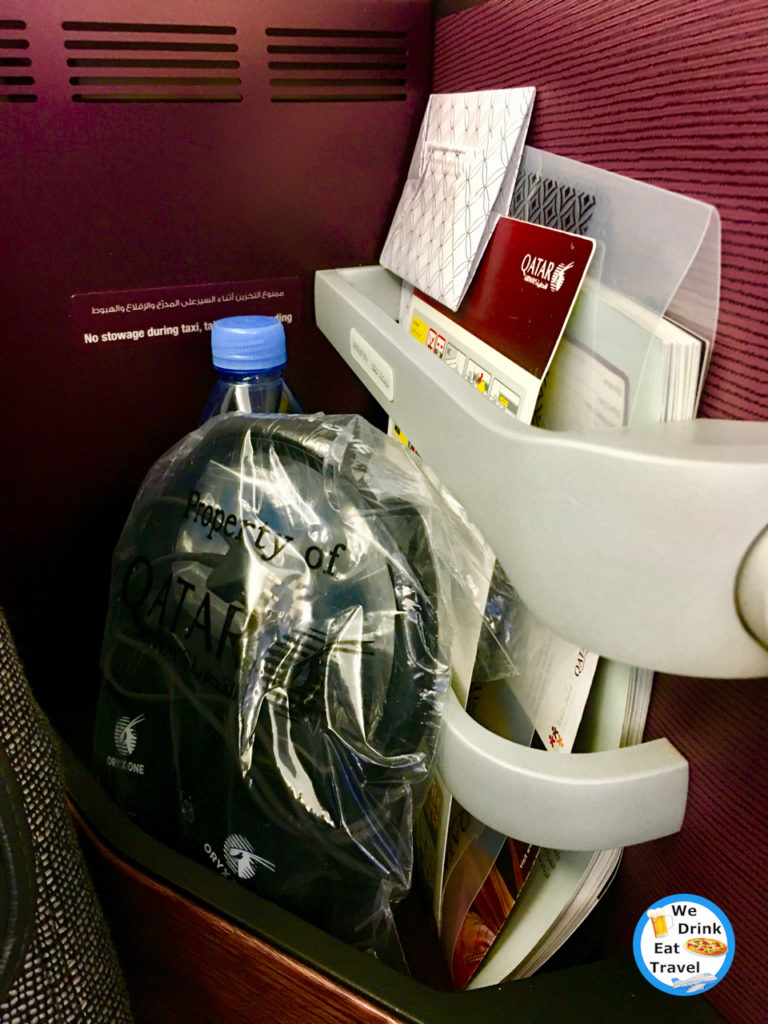 Plus, the remote control for the entertainment system, usb ports, and seat controls were next to the seat.
And, at the rear was a reading light. Plus, there was a compartment containing a bottle of water and noise reducing headset…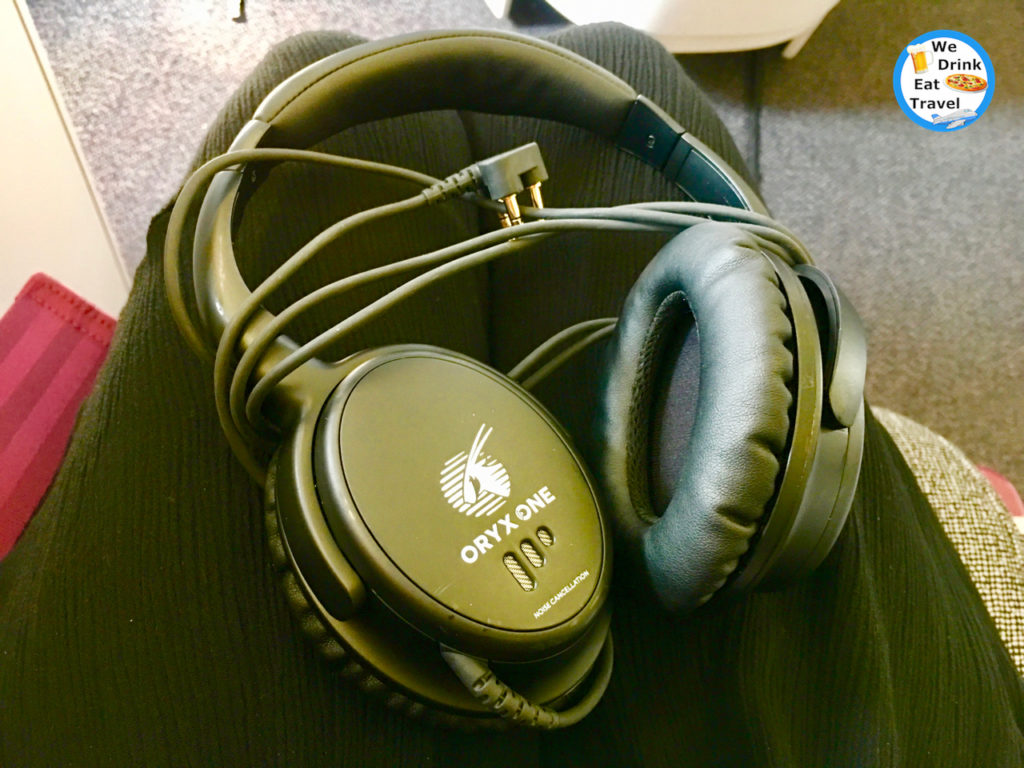 So, the entertainment system was excellent.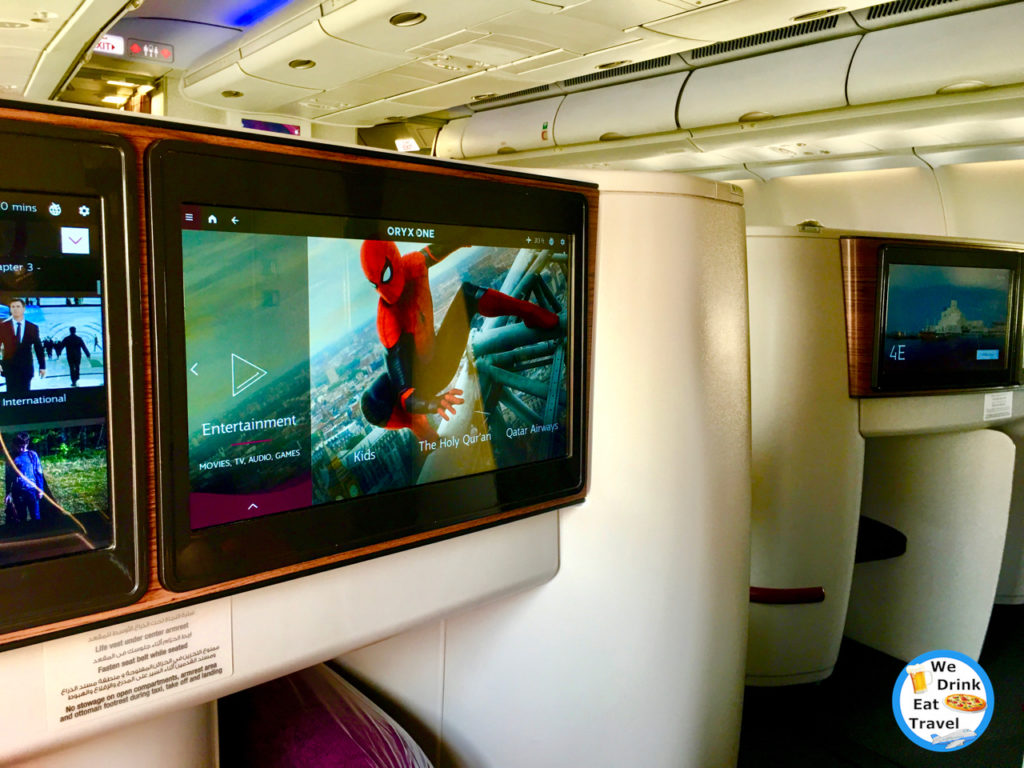 And, there were heaps of movies, TV shows, audio channels, as well as games. Yet, it was surprising for me that they had one of my old time favorite movies… Grease! So, that was huge thumbs up.
Plus, unlike our Emirates Business Class flight, we each had an amenity kit at our seats!
And, the amenity kits included… facial mist, lip balm, anti aging moisturizing cream, socks, eye mask and ear plugs. The amenity bag was by Brics, and the beauty products were by Castello Monte Vibiano Vecchio.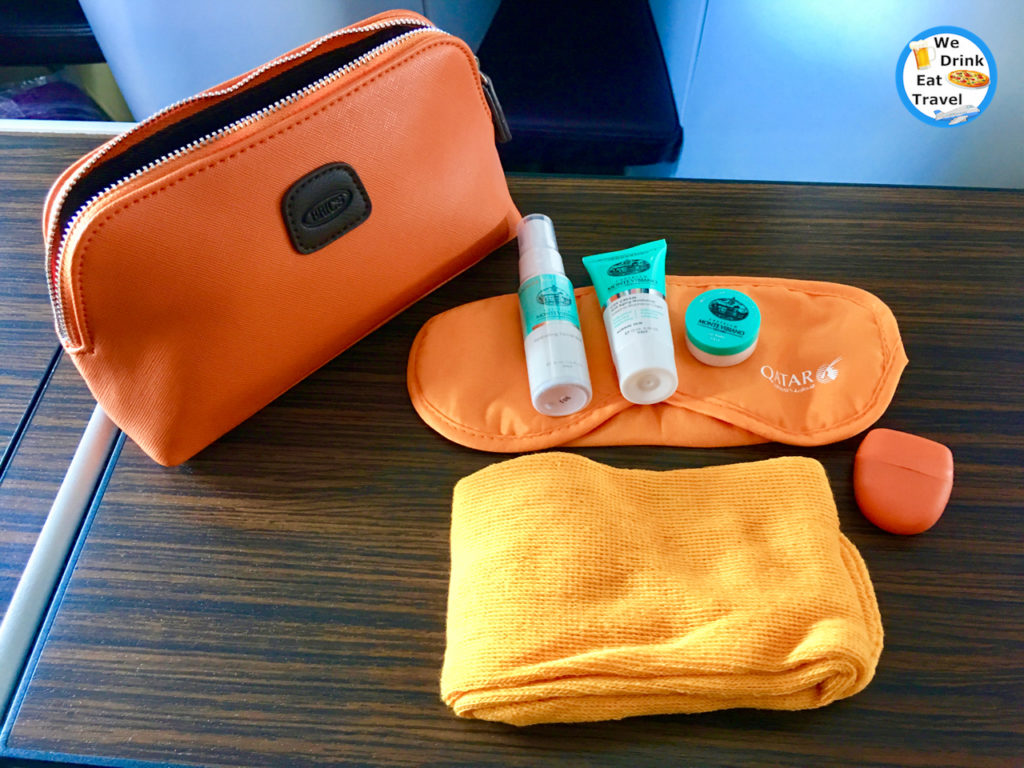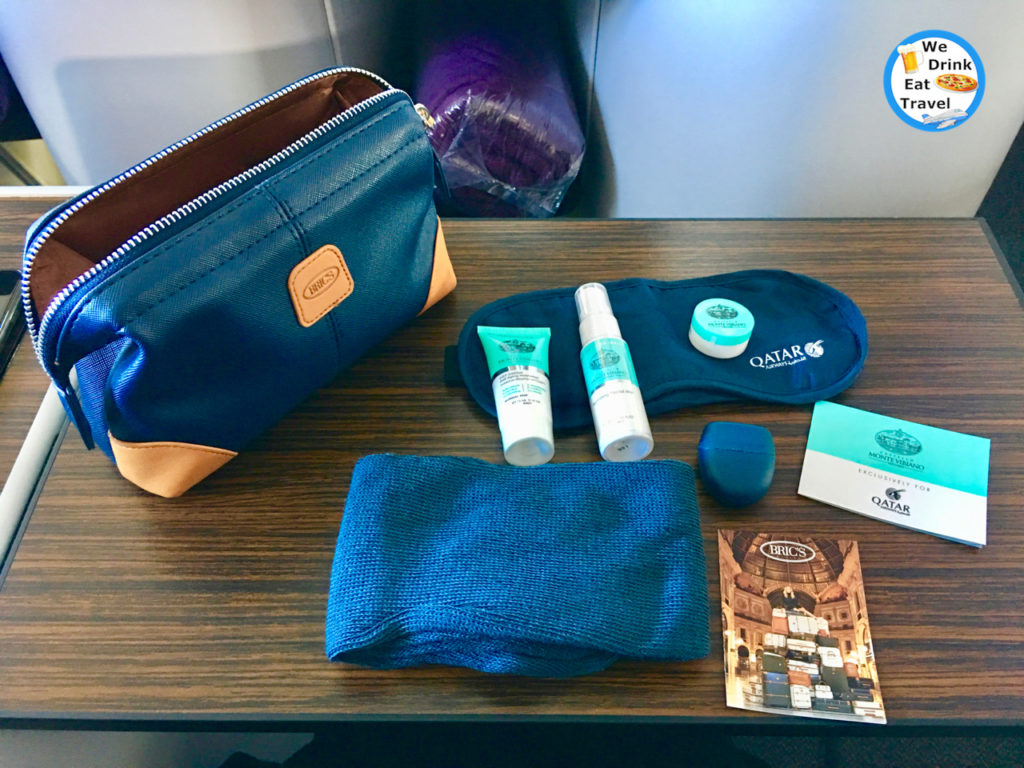 So, while there were no toothbrush kits in our amenity kit… in the toilets there were shaving kits, and toothbrush kits there. Thus, we had our "beauty" needs sorted on our Qatar Airways flight.
And, as we kept looking around our seat area… there were several other compartments to store our belongings, which was great.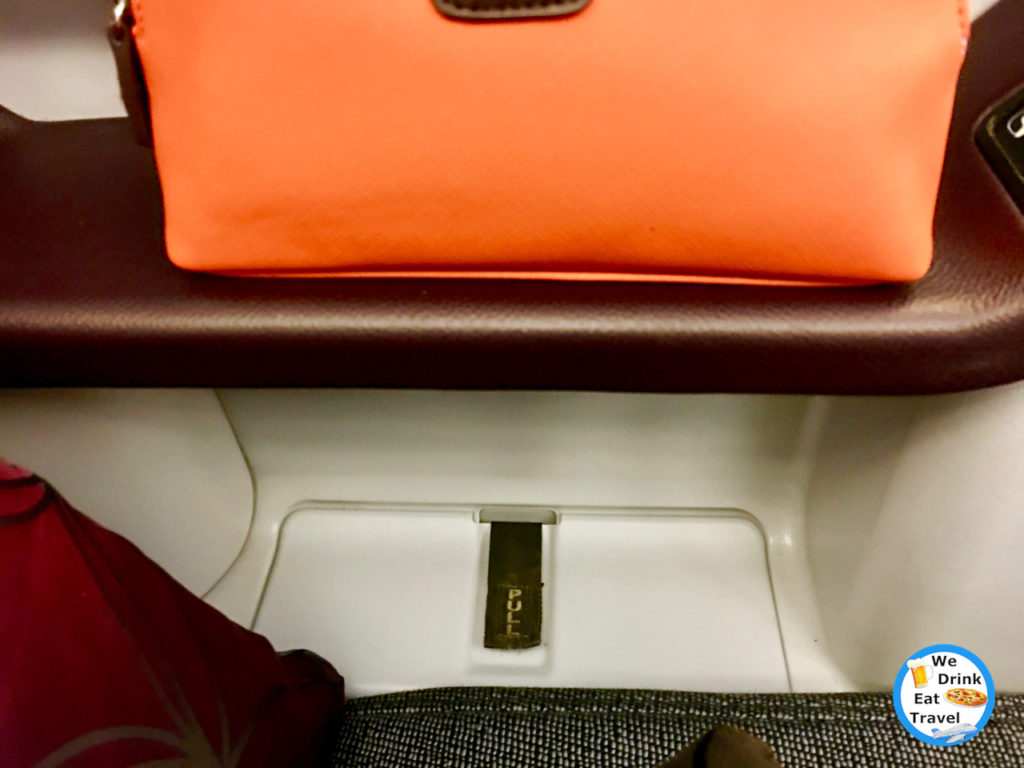 Plus, there was a divider between the 2 seats for privacy.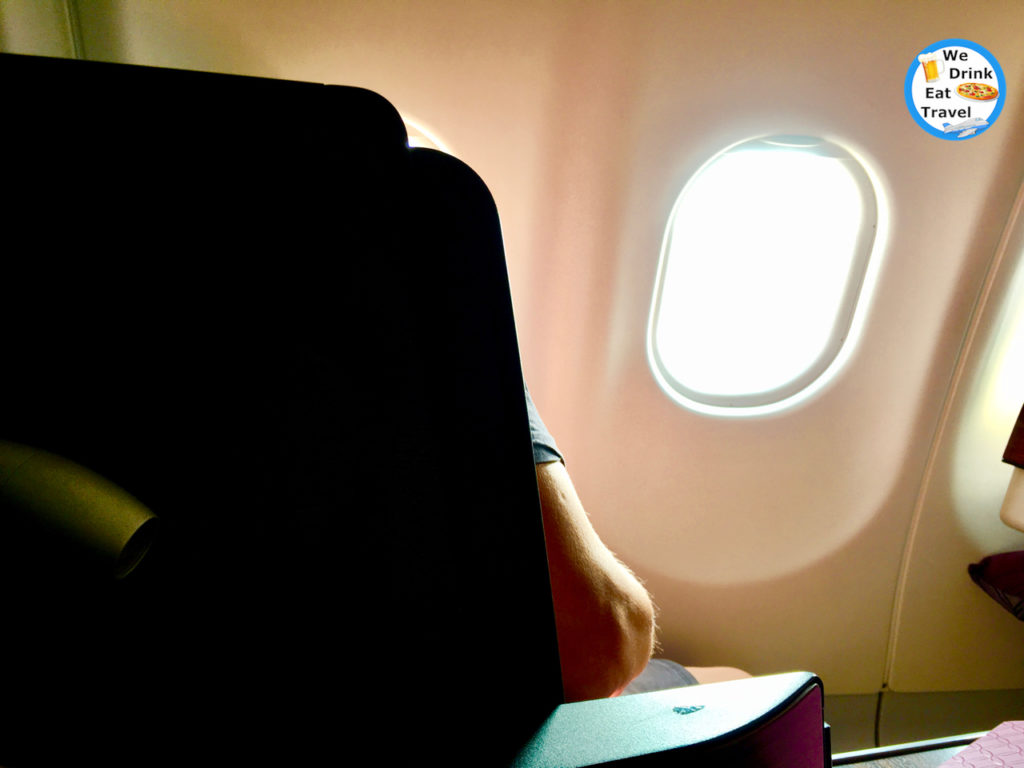 Take Note Of The Window Seat!
Yet, after Paul sat down at his window seat, he immediately saw that it had less leg room than the aisle seat.
So, while the window seat may have its advantages, on this occasion the downfall was a reduction in leg space. Yet, in saying that, Paul who is just over 5'11" could still stretch out comfortably.
And, as it was a day flight of only about 4 hours, we didn't fall asleep. Yet, I did test out the lie flat bed to relax, and it was comfy. But, a couple of times when I was adjusting the seat it was like the control pad had a mind of its own!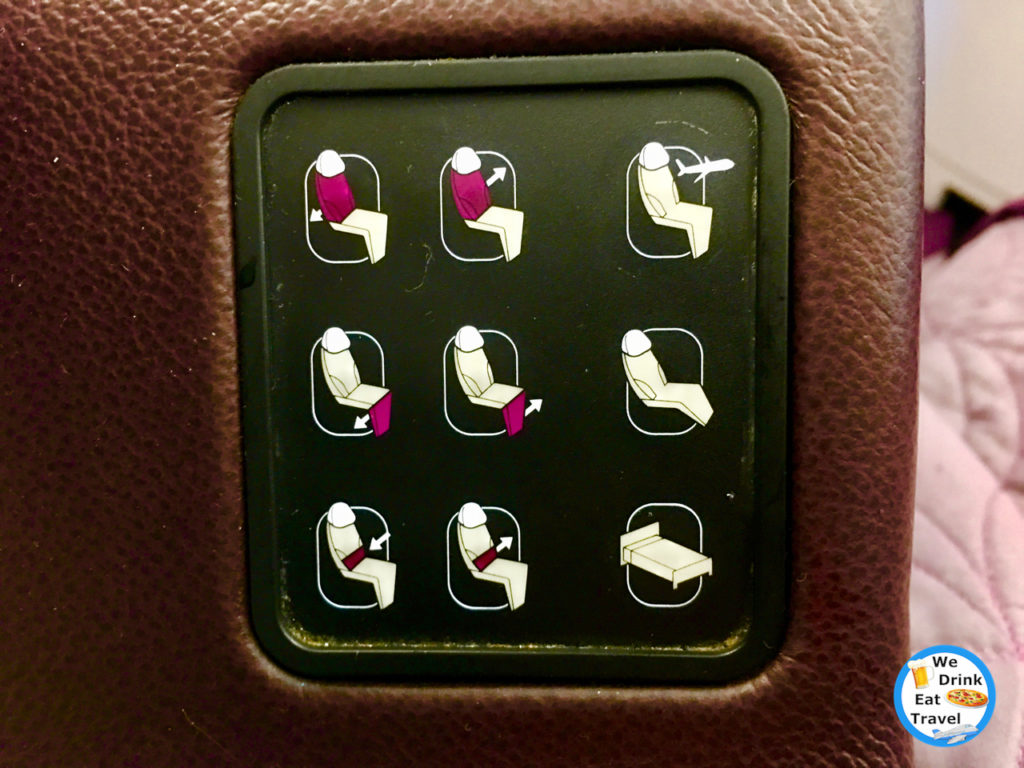 So, when I was pushing the button to stretch the seat out into a bed… I forgot that I'd had some belongings in the foot area. Thus, as I was pushing the button to stop the seat from lying flat, my legs got wedged!
Then, the controls wouldn't work so my legs were starting to feel pain. Yet, thankfully just moments later I could bring my seat back up. OMG, remember to take out any belongings BEFORE adjusting your seat to lie flat!
So, not long after we got comfy in our seats, the supervisor Alice was introducing herself… and was asking if we had our welcome drinks ordered.
And, that's when our onboard food and beverage experience began.
The Food And Drinks On Board Our Qatar Airways Business Class Flight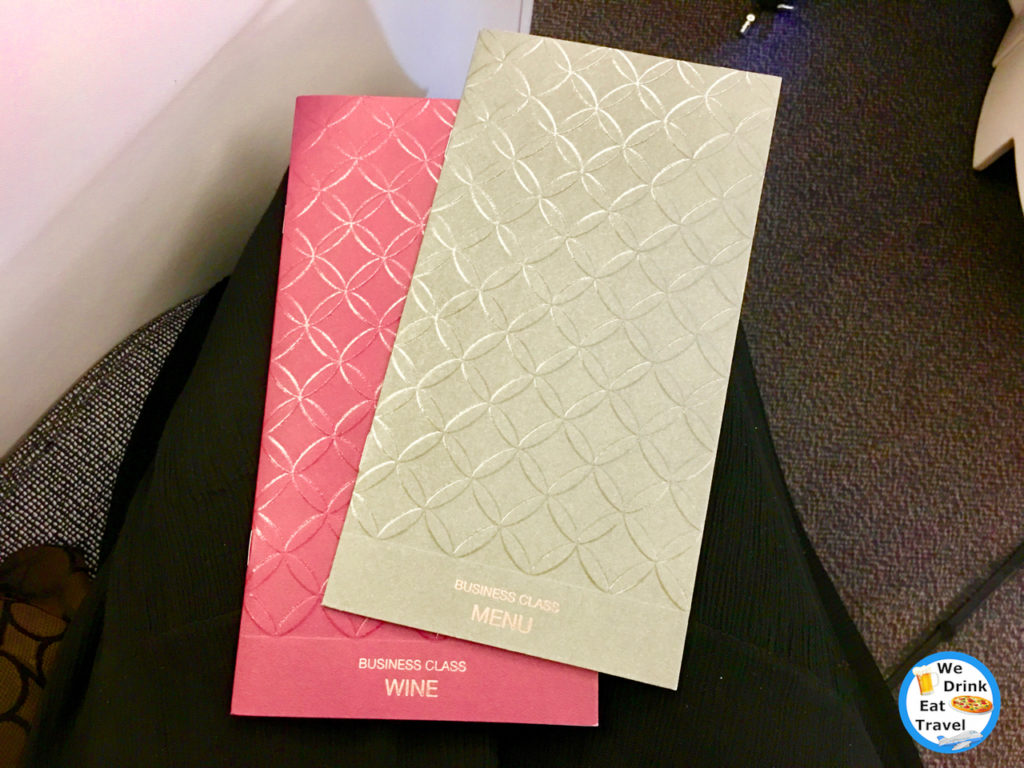 So, we were given our hot towels and the welcome drinks we chose were champagne.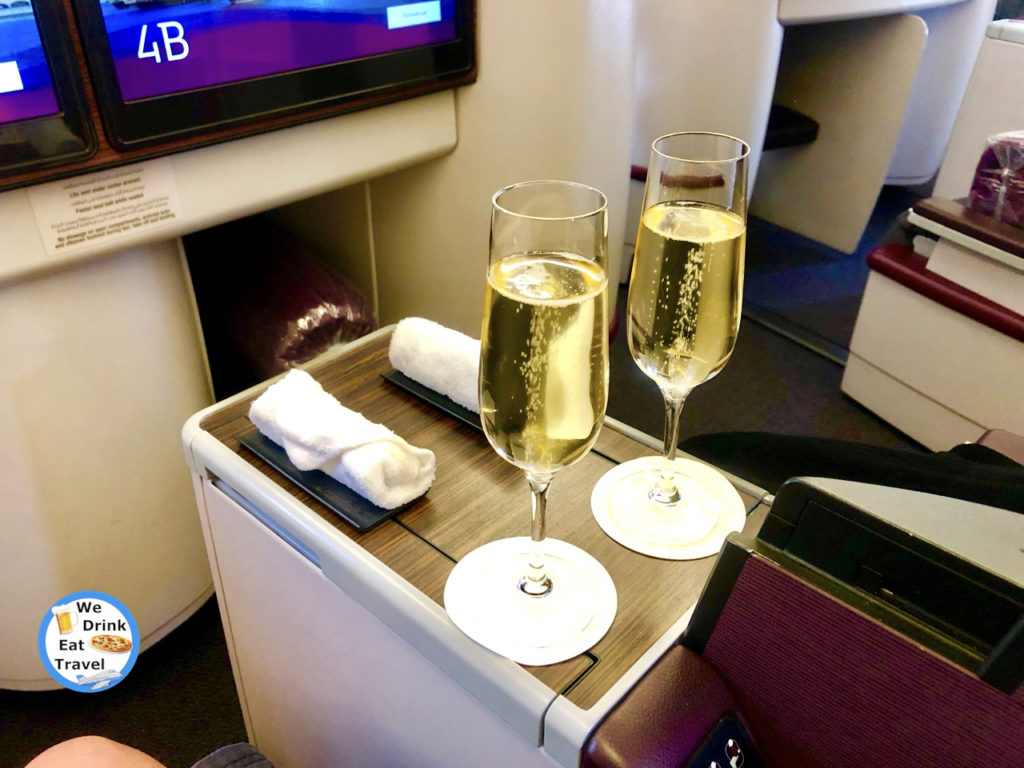 And, the great thing about these Qatar Airways business class seats… is that it felt like there was lots of space around us.
And, the tray table was a decent size too…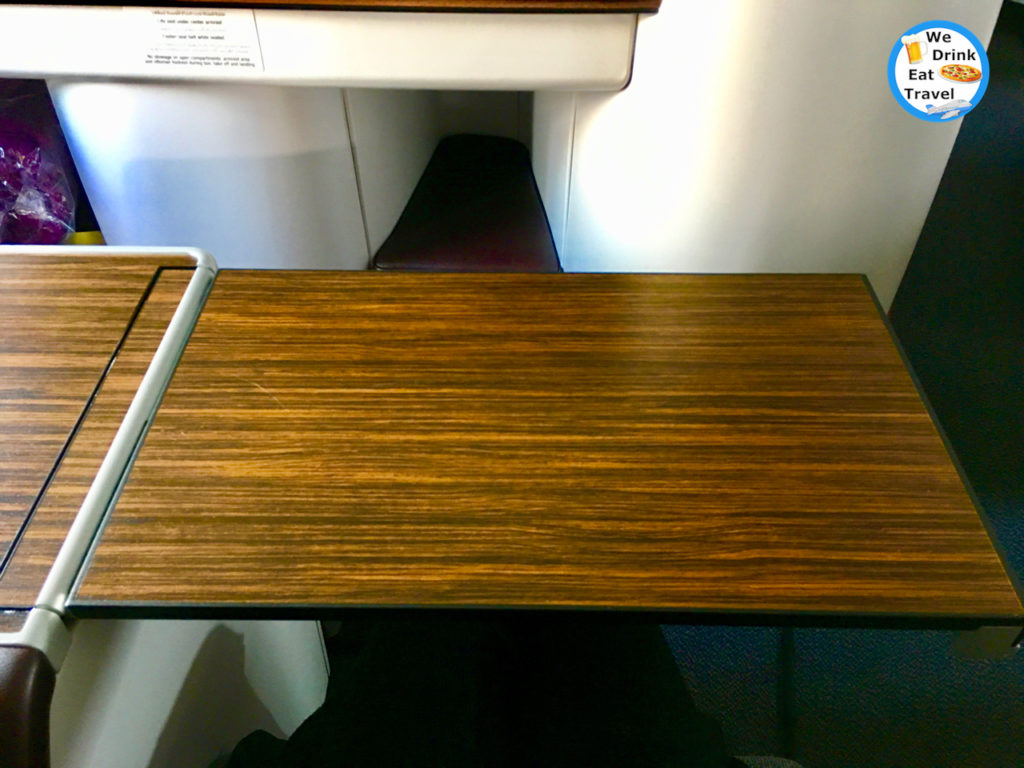 Then, we had a look at the food and wine menus. So for us, we had pre-chosen special meals.
Yet, when the staff came over to explain the meal process, they said that there was no set time for meals. Awesome!
Plus, they acknowledged our dietary requirements. But, they said that if there was something else on the menu we would prefer, then we could have that instead. This experience was getting better each time!
So, the drinks were extensive and there was a great selection…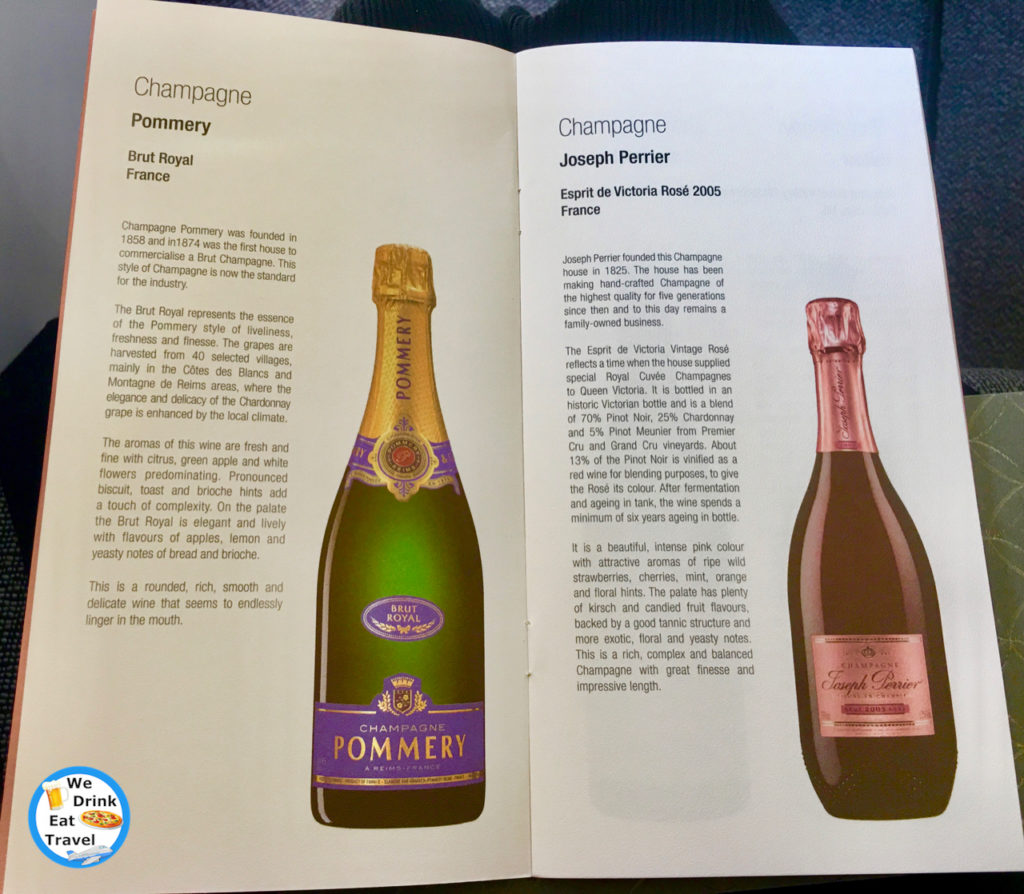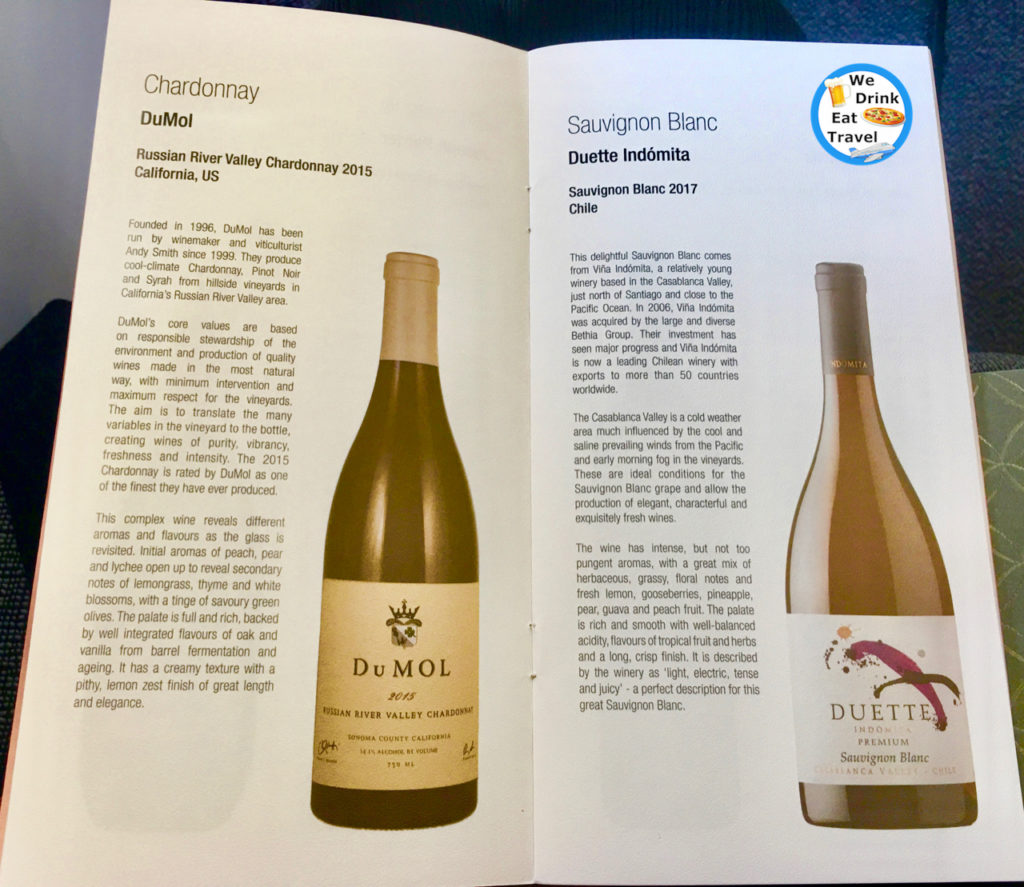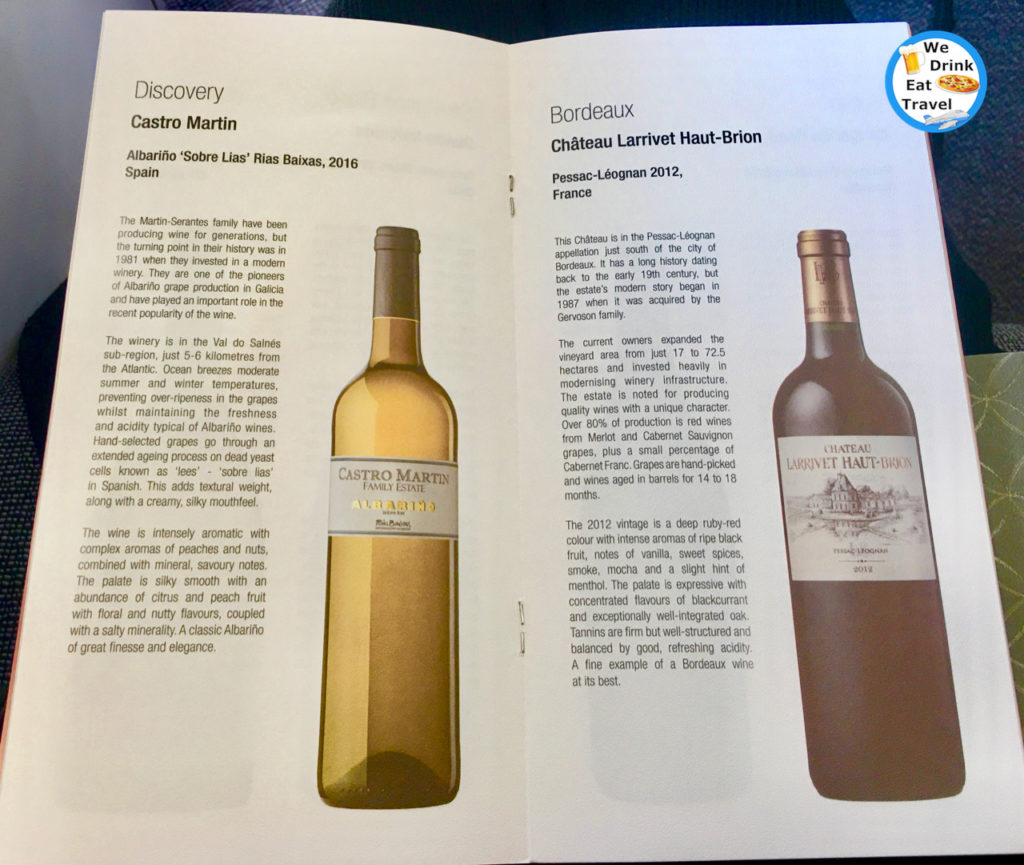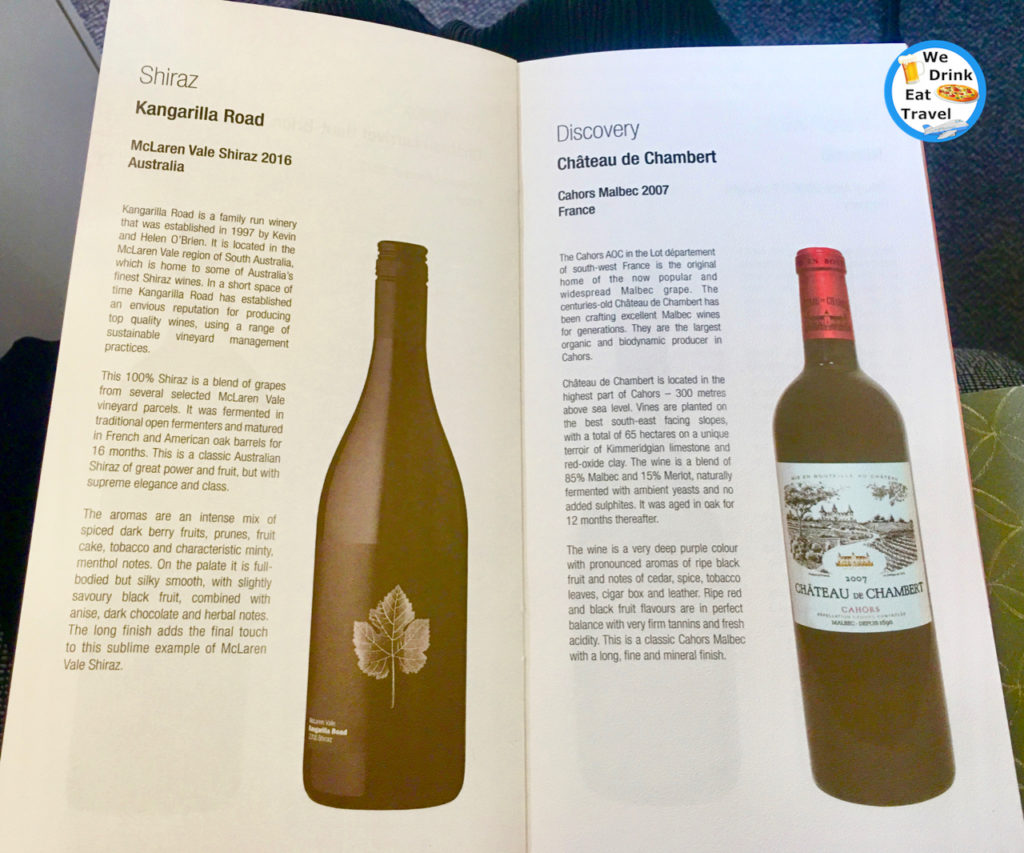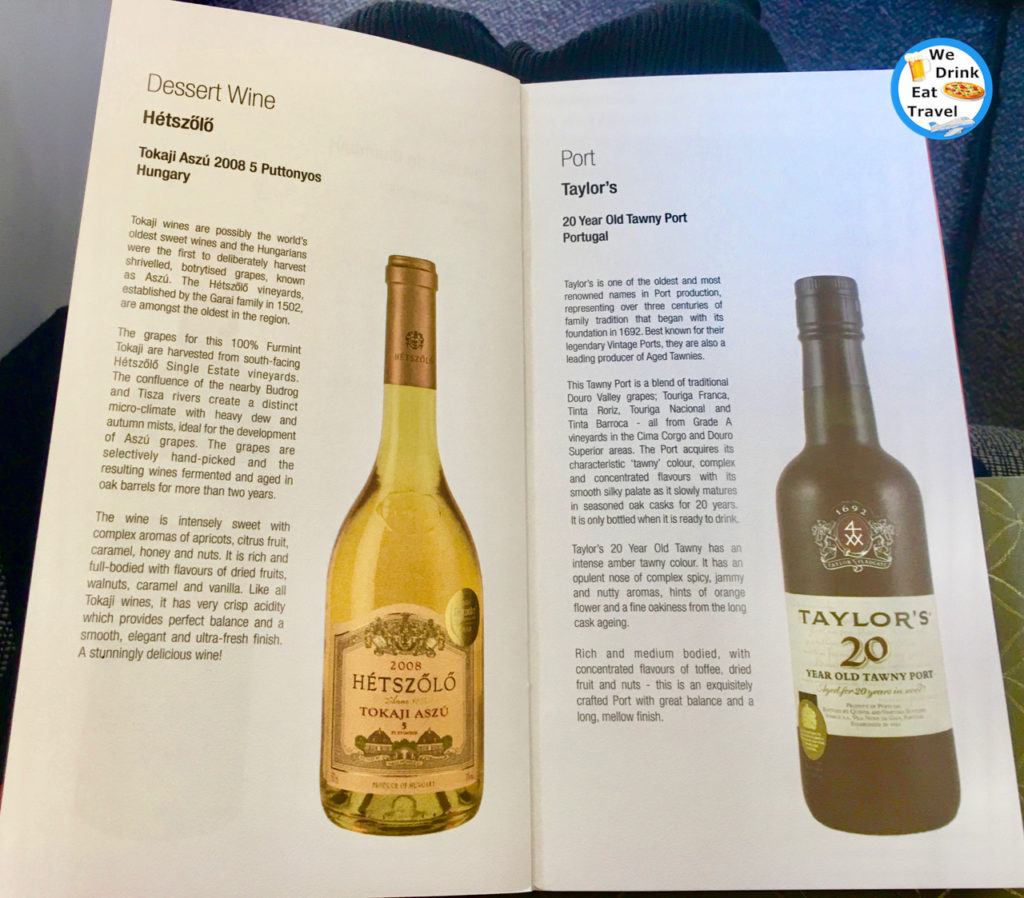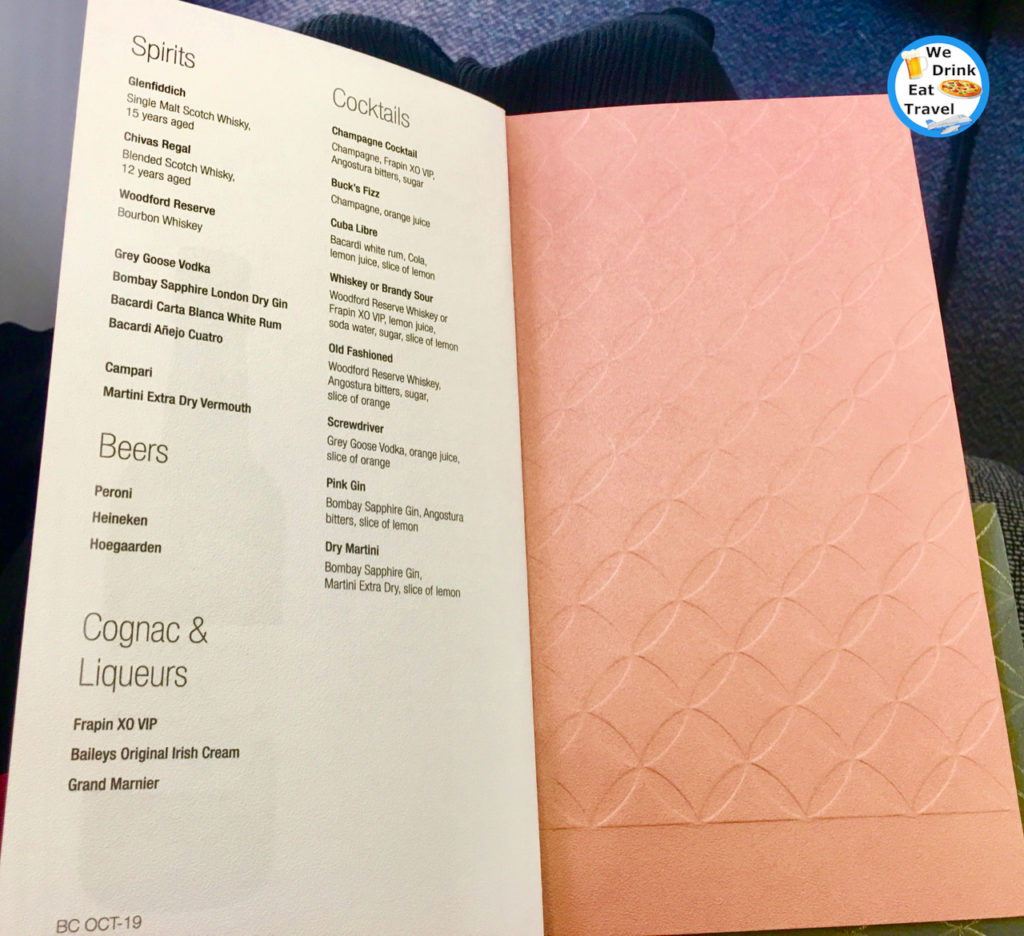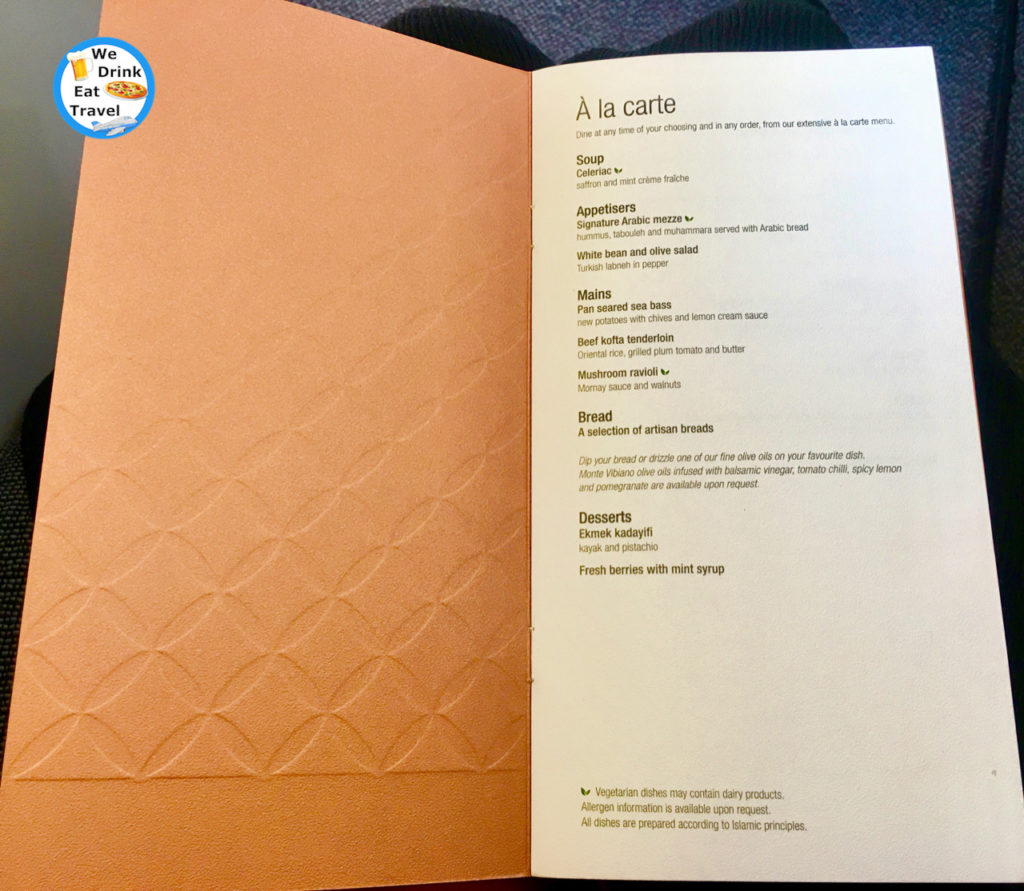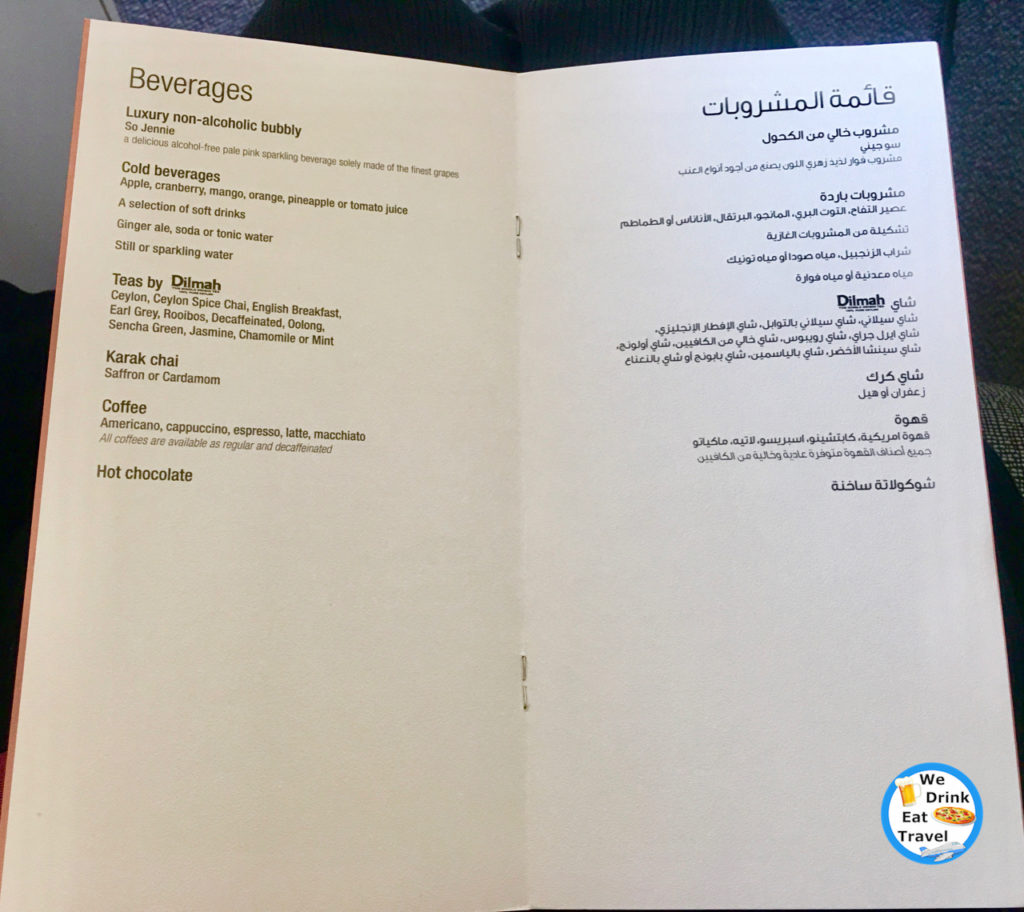 Then, after we had taken off, a staff member swiftly came around to ask what drink we'd like.
Paul's choice was a whisky, whereas I had chosen a champagne cocktail. And, when our drinks came out, along with them we got a serve of warm nuts each.
So, after downing our take-off drinks, a little while later a staff member came over to dress our table for our meal. But, we weren't ready to eat yet, as we were wanting some more beverages.
Thus, we were requesting our meals later, which she was fine with.
Appreciate the efficiency though!
Our Meals On Board The Qatar Airways Business Class Flight
So at our leisure, Paul and I were enjoying having our drinks and meals on demand. It's a great idea for the passengers. Yet, I wonder if the service levels would drop if the flight was full?
So, the staff came round to dress our table, which included… laying a tablecloth, adding some mood lighting, proper cutlery, and salt and pepper shakers. Yet, they were just any salt and pepper shakers… as they were the grinders. So, how's that for excellent quality?
Then, the staff were asking what condiments we would like to have with our meals And, with several choices it was a little difficult to decide. Thus, in the end the staff gave us a variety on our table. Nice!
Check out our food…
So, to start off our special 3 course meal, we had a bean salad. And, along with this we were given 3 bread rolls and butter.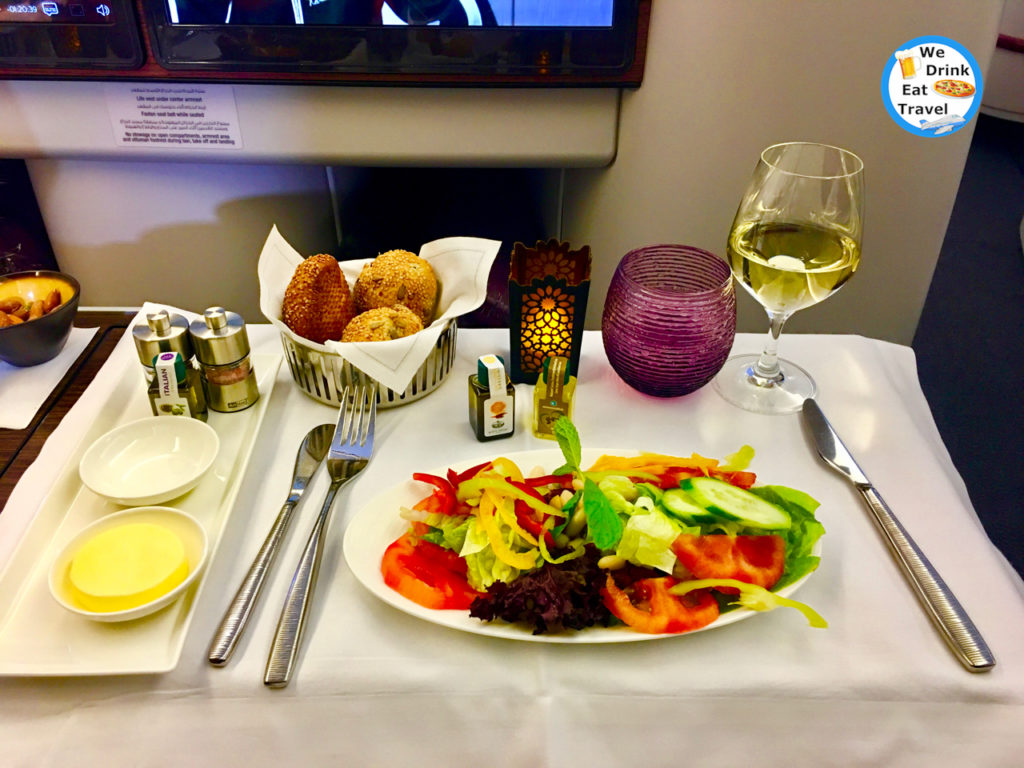 So, from an aesthetics perspective, I thought it was looking intimate and high class… as one would expect in business class. I wonder how much better it would be in first class? Something to try out in the future!
Then, our main meal was a cannelloni dish, with a topping of a tomato vegetable sauce. And, this had broccoli as well as more condiments. It was delicious.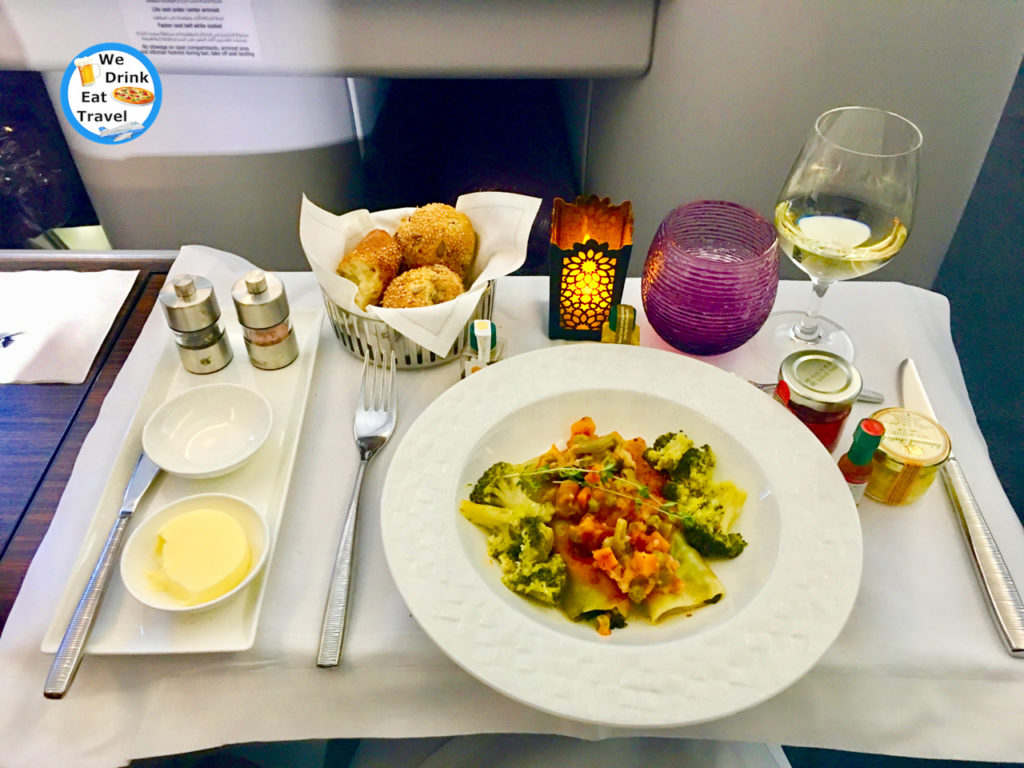 Then, for dessert it was a fresh fruit salad with yummy Godiva chocolates.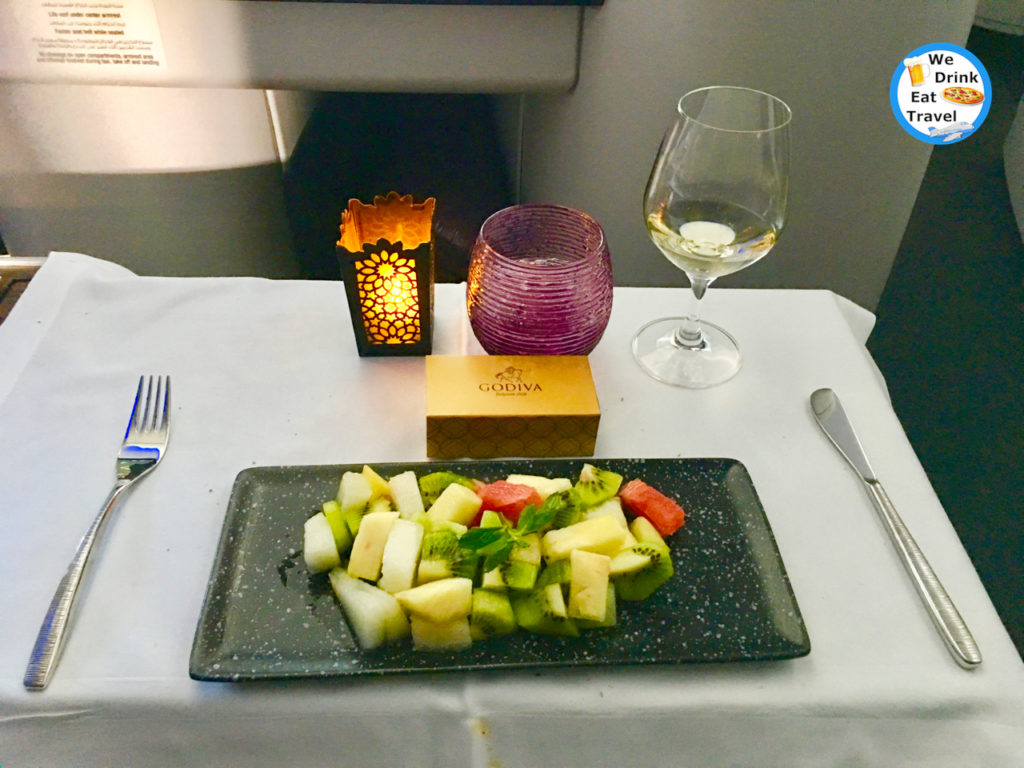 So, the meals were fine. But, I was hoping for something more spectacular for the first course and dessert.
Yet, the flight was relaxing. Plus, with plenty of space it was an environment where I was getting a lot work done. So, I could chill out and churn out work in total comfort… along with some alcoholic bevvies to get the creative juices flowing!
And, Paul was enjoying the movies and whiskeys on demand.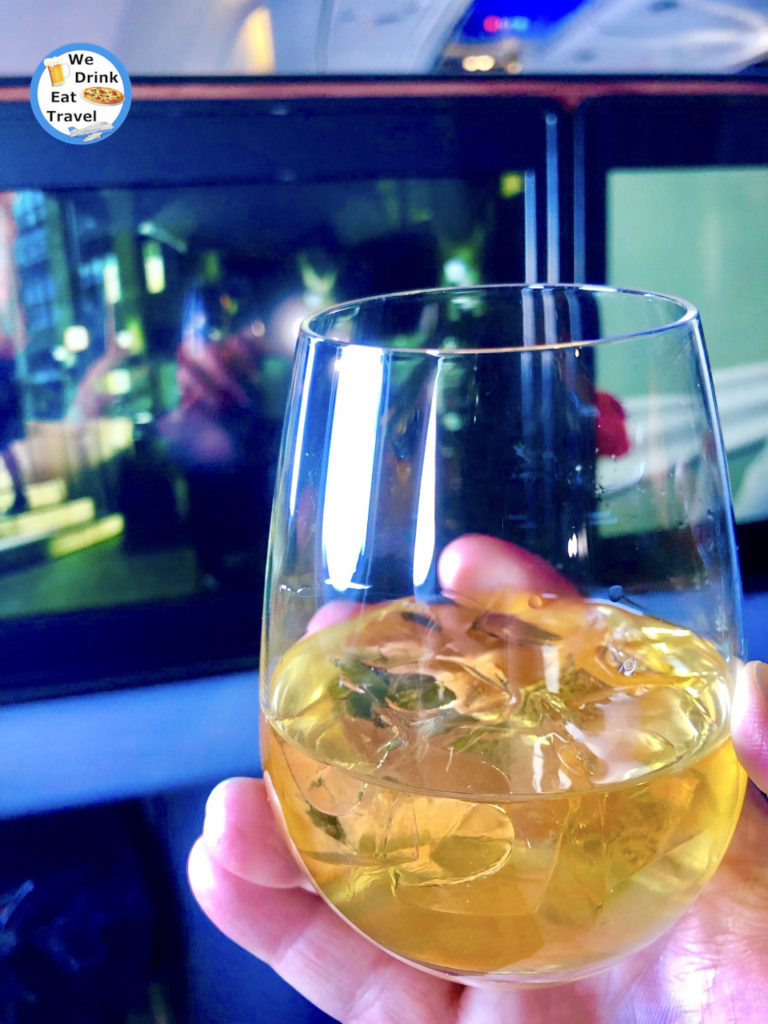 Then, it felt like time had flown as we were descending into Doha. And, the staff came round thanking us for flying with Qatar. Plus, they were asking for feedback on our flight, as well as any areas for improvement.
Then, with a few hours or so layover in Doha, we had access to the Qatar Airways Premium Lounge. So, that was an experience in itself!
Our Qatar Airways Business Class Review Summary
So, after the small hiccup at check in… our first Qatar Airways business class flight experience from then on was excellent.
The service from staff was impeccable. They were professional, polite, friendly, and we never felt rushed.
So, when trying to think of negative aspects it was challenging! Yet, a few minor ones are:
There is less leg room for the window seat, although it was still comfy overall
The food tasted fine, yet there could've been more pizazz considering we were in business class
My poor legs got jammed as I was trying to lie flat… with controls that had a mind of their own
And, key positives included:
Meals on demand, meaning we could truly relax
The lie flat bed was comfy
There was plenty of storage space and it felt roomy
The quality of the alcoholic beverages was excellent
And, the service from staff was exceptional
Thus, our Qatar Airways business class flight experience was fantastic. And, as a result, we can understand why Qatar have won numerous awards.
Needless to say, we would fly Qatar Airways again. Plus, we had the opportunity to fly with them from Doha to Ho Chi Minh City. Yet, that's for another time!
So, have you had the opportunity to fly business class with Qatar? What was your experience like?
Watch the We Drink Eat Travel Youtube video about Qatar Airways Business Class…
Like This? Share it and comment on it!
Note: All of our reviews and comments are our opinions and no-one else's. Even if we receive complimentary goods or services we share our opinions honestly.
You Might Be Interested In This Too..
Travel Destinations – Our Top 3 Capital Cities We Visited In 2019
3 Travel Mistakes People Make And Tips On How To Avoid Them
My Carry On Luggage Must Have Item
3 Reasons Why Travel Is Important
Need Accommodation?