When Paul and I were in Hanoi, we wanted to do something different that we couldn't do back home in Melbourne, Australia.
And one thing to do in Hanoi that was at the top of our list was to visit the infamous Train Street.
OK, so it may not seem that interesting going to see a passenger train. Yet, when you come here to the Train Street Hanoi… you'll experience the rush of being there.
Let's see what I mean…
Why is Train Street Hanoi So Popular?
In Australia, and many first world or developing countries… passenger trains and the surroundings are people movers rather than a tourist attraction…
Yet, when we compared this to the Hanoi Train Street… the vibrant colors, and small cafes with tiny seats, one after the other was quaint. And they were right next to the train tracks!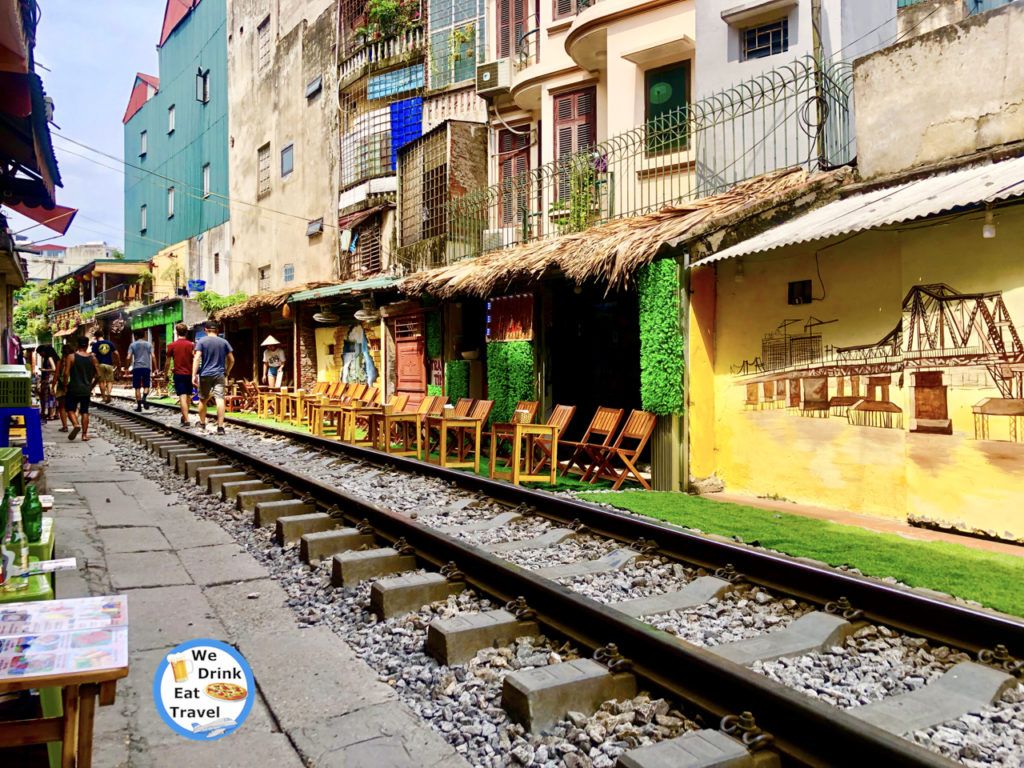 The first time we went, we were at Hanoi Train Street about 1:15pm. When we asked when the next train was, the owner gave us a time table to look at.
Unfortunately we had other plans, and couldn't be around to see the trains for the rest of the day.
Plus, we found out that the cafes had different times for when the trains would be passing through! And, when hearing from other tourists, the train didn't always go past at the scheduled times.
However, there was one time that we were 99.9% sure that the train would pass through. And that was on the weekend at 3:20pm. So we made our plans for that!
Now, what we weren't sure about was if the train would be early or later than 3:20pm. So to be sure, we got to the Hanoi Train Street about an hour or so before the train was scheduled to arrive.
There were so many cafes to choose from, so Paul and I just plonked ourselves at this one called Coffee 78, to have a few beers. Some of the cafes could also make food if you're feeling peckish.
While we were waiting for the train, I decided to wander along the train line to see what else was around. And I saw tourist information places, tattoo parlors, cooking classes, massage parlors, and plenty more cafes.
Once I got to point where the shops and cafes had stopped, this is what the train line looked like…
Then, when I was walking back to Coffee 78, it was around 3pm and it was really busy!
Choo Choo… Time To See The Hanoi Train Street Whiz Past!
Here's a photo of along Train Street Hanoi about 10 minutes BEFORE the train was arriving…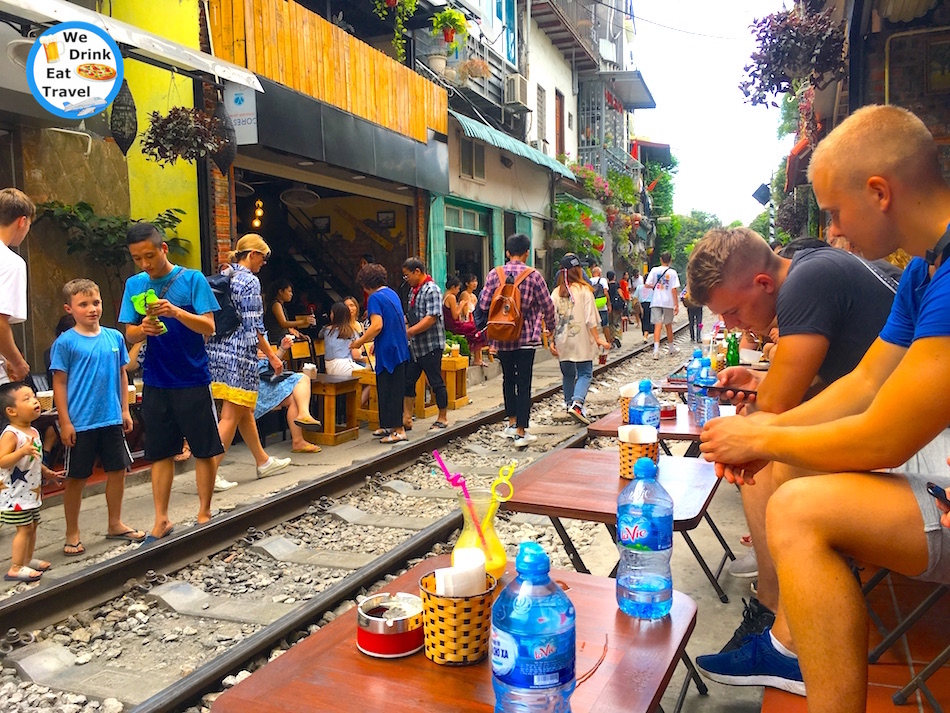 So, with about 10 minutes before the train was scheduled to arrive, it was pretty much standing room only.
Everyone knew when the train was about to pass through… as the staff as some of the coffee shops were yelling out that the train was coming and for everyone to stand back.
They also pulled back some tables and chairs that would be too close to the train, which meant that for us, we had to stand up before the train was coming.
Plus, they blow a whistle to let you know too that the train is approching. And if you're standing too close to the train tracks, they'll yell at you to get back!
This is what it was like just before the train was coming through…
See how all the tables and chairs on the right hand side of the photo have been taken away?
Then, we could hear the train blowing its horn, and we caught a glimpse of it approaching…
The horn of the train continued to blow loudly as it was coming through. And as it got closer it was getting more exciting…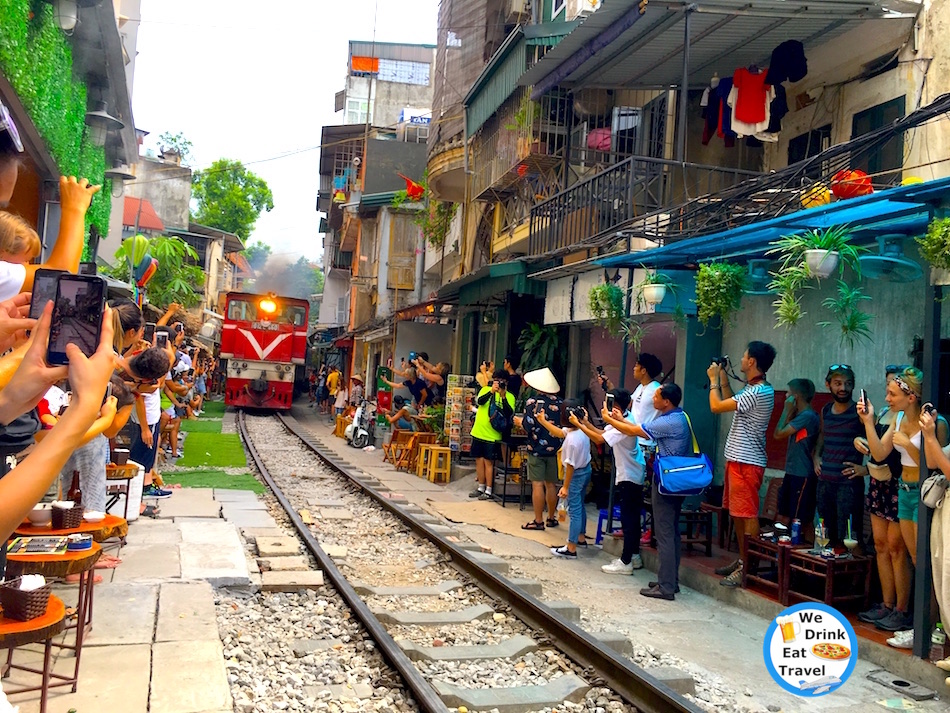 Then, as it was passing us it was loud and the ground was thumping. It seemed like it was passing by quite fast, and some of us were cheering in excitement!
It was such a rush of a feeling and awesome. Even for just a minute or so, it's worth experiencing the Train Street, as we'll never get that in Australia!
Then, after the train went on its journey, everything was going back to normal.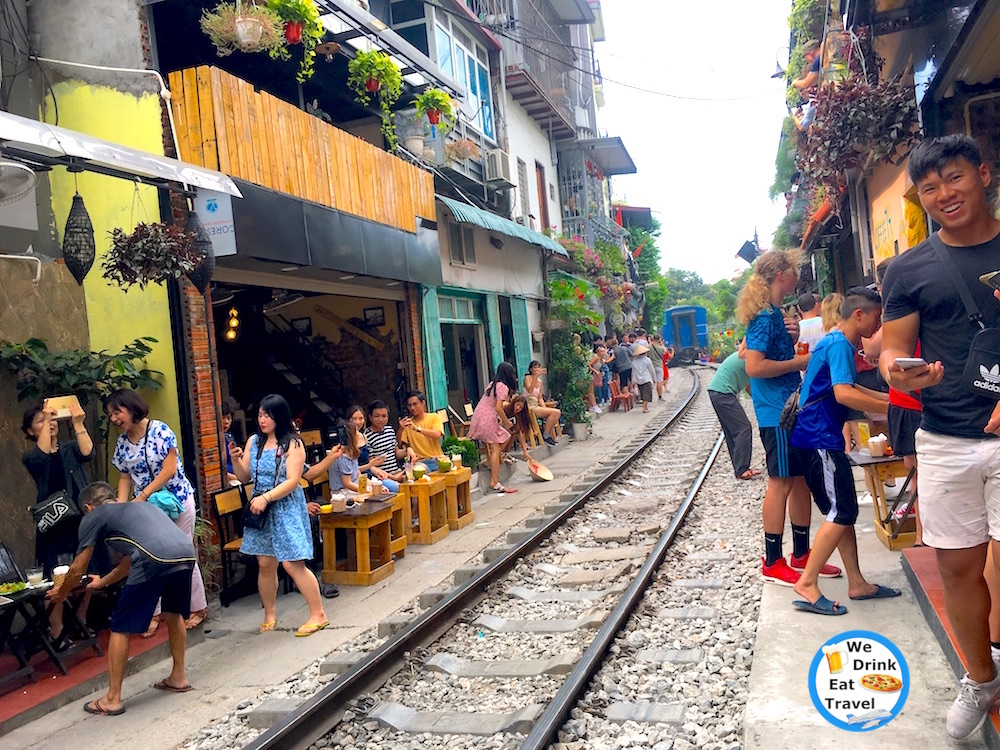 It really is a great experience and one of the best things to do in Hanoi. If you have time, chill out at one of the cafes. And have a wander up and down the train tracks in between trains.
So, go out there and explore one of the best things to do in Hanoi. Enjoy your train experience!
Watch the We Drink Eat Travel Youtube Shorts video about Our Train Street Experience…
Like This? Share it and comment on it!
Note: All of our reviews and comments are our opinions and no-one else's. Even if we receive complimentary goods or services we share our opinions honestly.
Below are some of our top Vietnam Blog Posts
10 Free Things To Do In Vietnam
Would You Be Game Enough To Try A Vietnamese Egg Coffee?
You'll Kick Yourself If You Miss This Street In Ho Chi Minh City
5 Top Tips Before You Do A Vietnam Currency Exchange
Our Horrible Hanoi City Taxi Scam Experience
7 Tips For Handling A Vietnam Taxi Scam
Ho Chi Minh Nightlife – If You Love Beer This Is A Must Visit Bar
My Shocking Experience At A Vietnamese Market
3 Travel Mistakes People Make And How To Avoid Them
How To Make A Vietnamese Coffee With A Phin Filter
Looking For A Dentist In Hanoi, Vietnam? Read This First
Hanoi Food And Drinks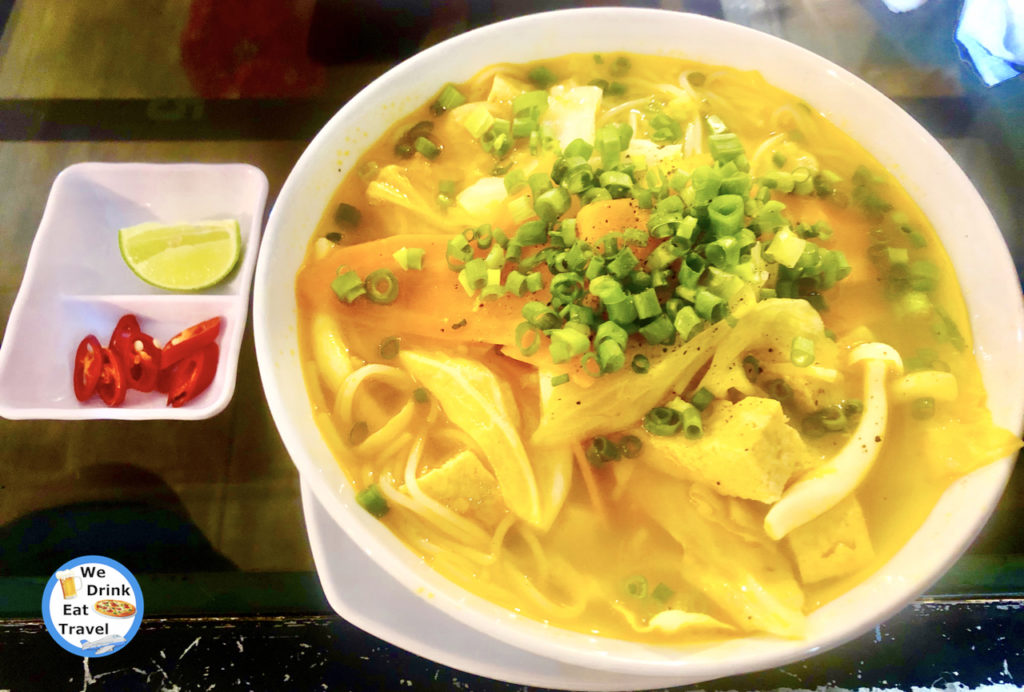 The Best Vegan Restaurant Hanoi
Hanoi Nightlife: 7 Bars In West Lake Hanoi To Check Out
The Best Banh Mi In Hanoi Old Quarter
Check These Out For Some Real Food Adventures
Is This The Best Hanoi Café To Get Pastries, Breads And More?
Check Out These Bars In The Hanoi Old Quarter
4 Banh Mi Vietnamese Sandwiches For About USD $1
Need Accommodation?
How To Get FREE Accommodation While Travelling