Having stayed in Tirana for about 6 weeks, then along the coast in Vlore for 1 month… our time in Albania was almost up. Yet, we wanted to go somewhere special before continuing our Balkan adventures.
And, we discovered that about 1.5 hours away from Vlore, was the charming town of Berat. What's so special about the town of Berat, you ask?
Tucked away amongst steep hills, is one of Albania's Unesco World Heritage Sites. Berat is otherwise known as… "The City of 1,000 Windows." Where, in this mountain region, rows of traditional houses from the Ottoman period.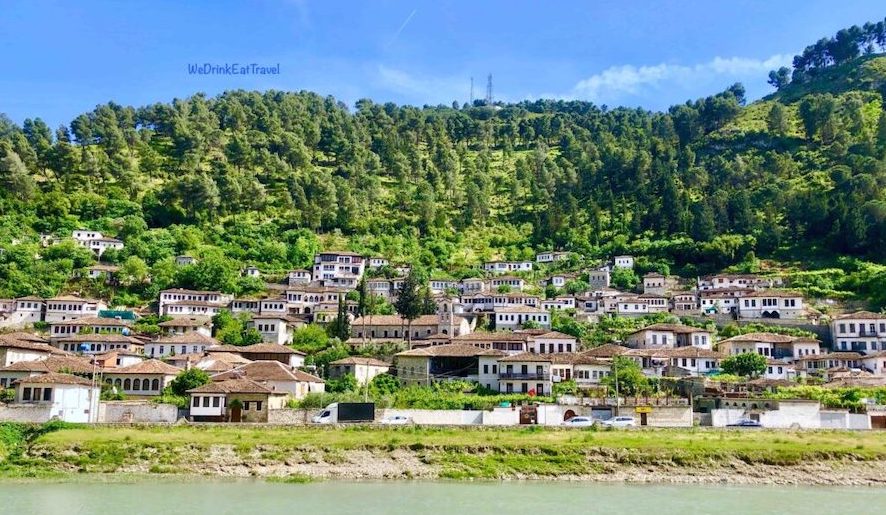 And, it's this landscape that makes Berat so beautiful and picturesque. Plus, having seen photos of this wonder… we had to go see Berat's beauty for ourselves.
Plus, we could tick off another of the UNESCO sites off our list. Yet, taking in the view of the 1,000 windows is not the only reason to visit Berat.
So, in this travel blog post, we'll run through 7 top things to do in Berat Albania.
Let's get cracking!
Get Breathtaking & Unforgettable Views From Berat Castle
One of the top places to visit in Berat is, Berat Castle (Kalaja e Beratit). And, here we discovered one of the most striking views on our travels so far! Yes, that's a big claim. Yet, unless you go, you'll never know.
So, here's a couple of tips before making the trip to Berat Castle.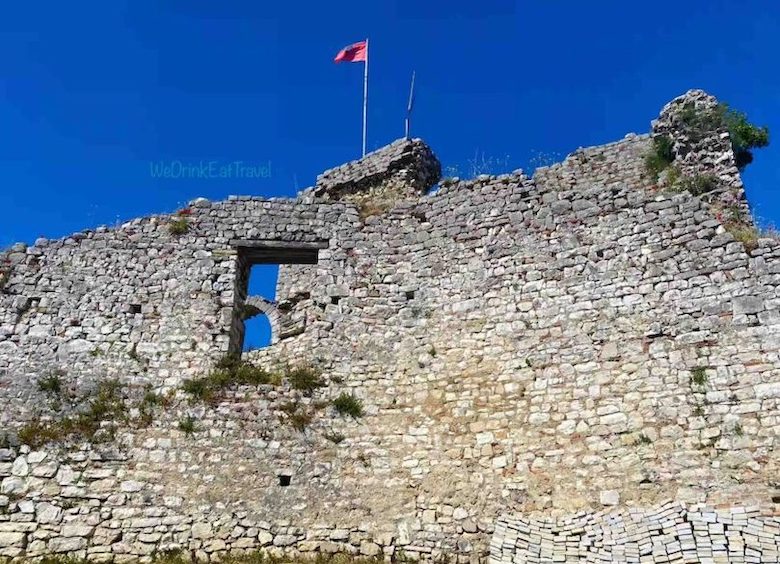 The day we decided to check it out, there were already tour buses galore. And, that was around 9:30am.
Thankfully, our accommodation was close to the Castle… plus we were spending a week in Berat. So, we had time on our side to visit it another time!
So, if you don't want to be amongst the crowds… get to Berat Castle right on time when it opens at 9am. Or, even better, here's another tip…
We found out that if we got to Berat Castle before 9am or after 7pm, we didn't have to pay an entry fee – BONUS!
And, as the grounds are not closed off with barriers or the like… we could literally go there anytime we wanted outside of the opening times.
Yet, if time is an issue for you… the entry fee is only a couple of dollars anyway, so still cheap.
So, we did explore Berat castle very early one morning, to beat the crowds… and get photos without people in them!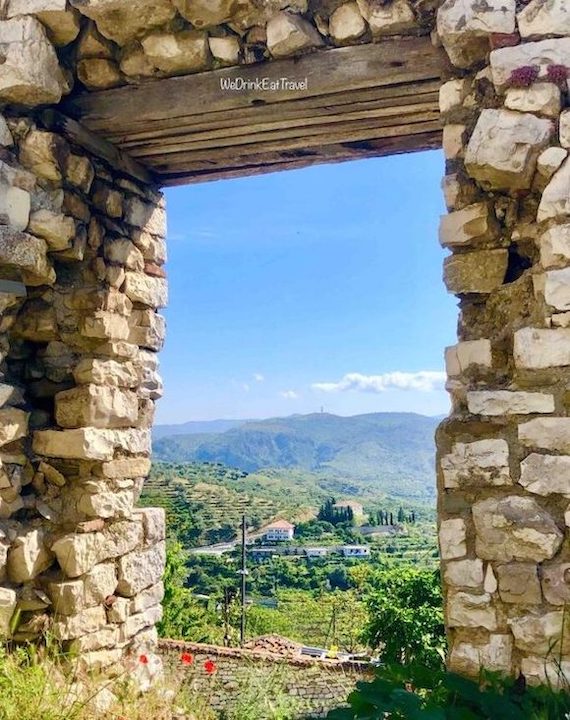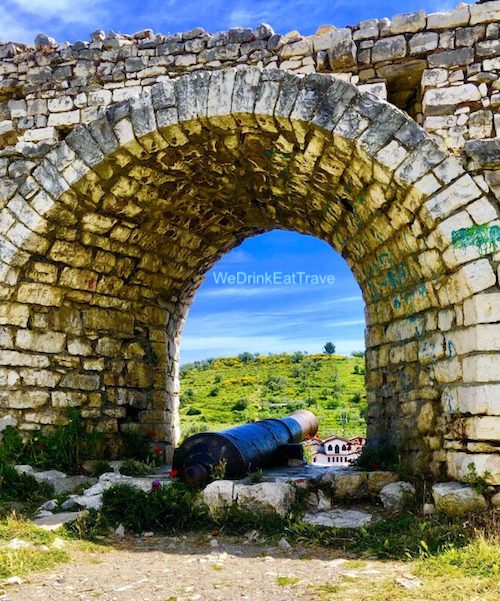 We took our time and spent about 1.5 to 2 hours there. Plus, there are several shops, cafes, and restaurants… to quench your thirst or fill your belly in one of Albania's most amazing UNESCO sites.
Yet, here you'll get one of the best views of Berat, which is absolutely jaw-dropping…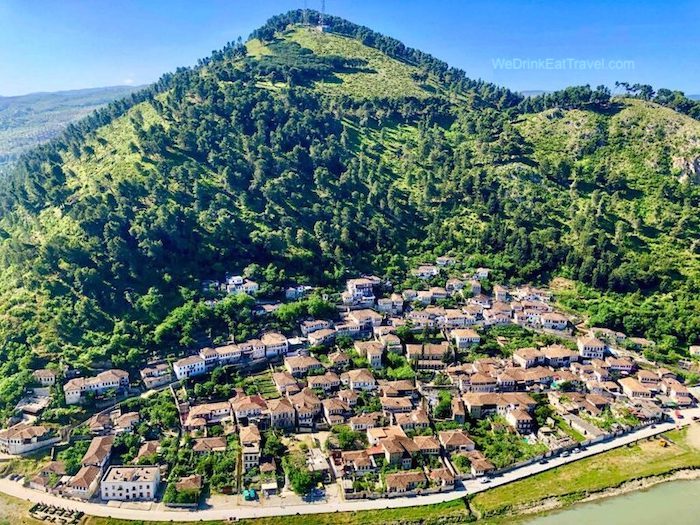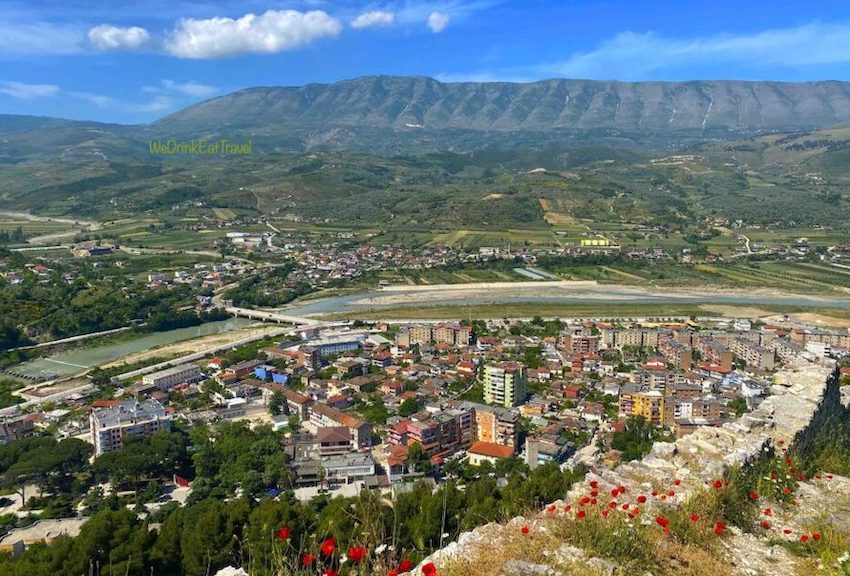 So, one of the other things to do in Berat, which is an important landmark is this…
Walk Across the Historic Gorica Bridge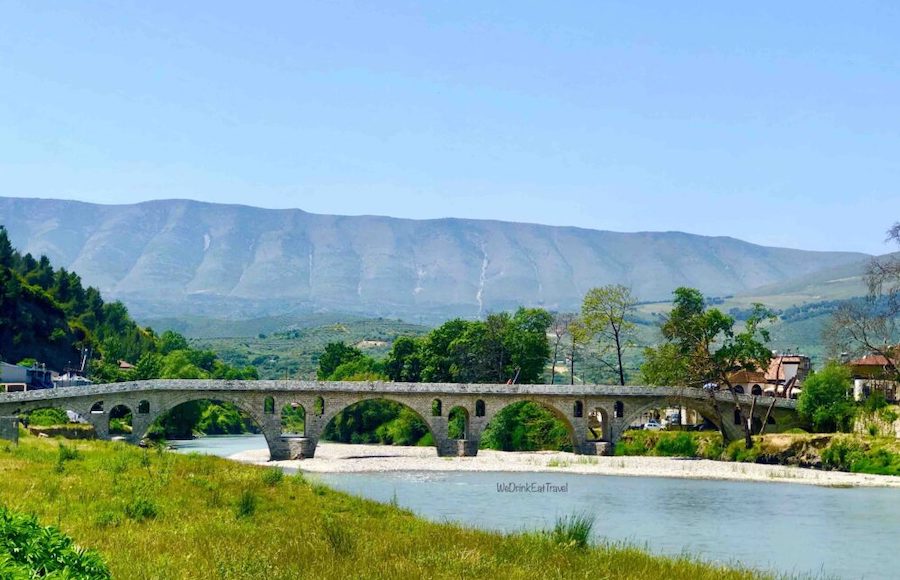 Connecting the Old Town area of Berat to Gorica, over the Osum River… is an impressive bridge, first built in 1780 using wood. Then, in the year of 1918, Gorica Bridge was damaged during the war.
Yet, this historic bridge was rebuilt in the 1920s, this time using stone. This Ottoman bridge is not only iconic for the people of Berat, but for all Albanians. It's said to be one of the oldest Ottoman bridges in Albania.
So, after crossing over Gorica Bridge, we had one major plan that day…
See a Different Perspective of Berat from Gorica Hill
So, after doing some research, we discovered that we could hike up Gorica Hill. And, we believe this is one of the top things to do in Berat, to get stunning views from a different perspective.
Yet, it doesn't seem to be high on most the list of many tourists. And, as you read on you may discover why.
So, finding the start of the walking track to hike up Gorica Hill was challenging. Yet, after some hand signals with the locals, they pointed us in the right direction! And, as we were walking… we found a spray-painted red arrow along one of the stone walls.
Now, I'm not a huge fan of heights. So, hiking up Gorica Hill was nerve-wrecking at times for me! Plus, hearing a few noises in the bushes gave me shivers up and down my spine.
There aren't any markers directing where to go to the summit, let alone a proper paved walking track. So, we had to follow our instincts to get to the top. In saying that, if I could hike to the top, then many others can too!
And, after hiking to the top we discovered incredible views…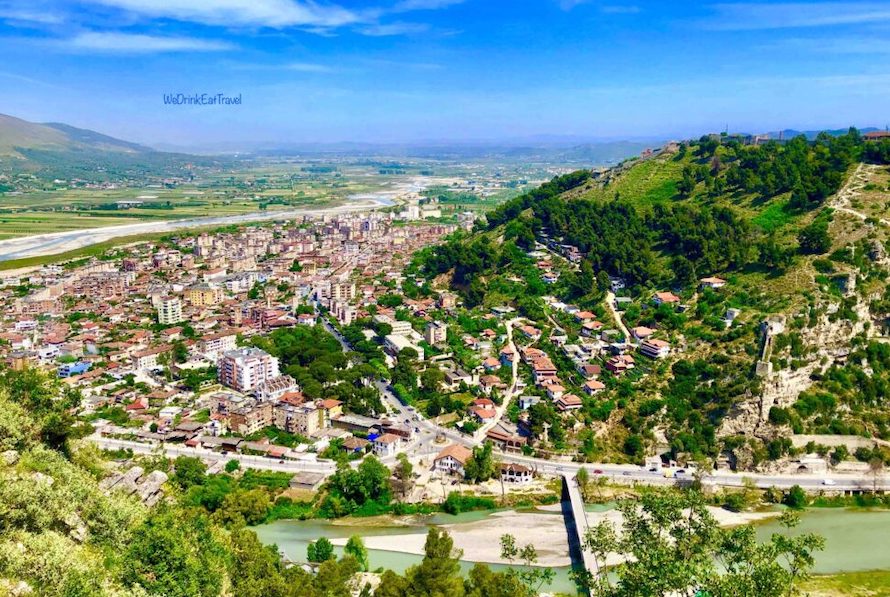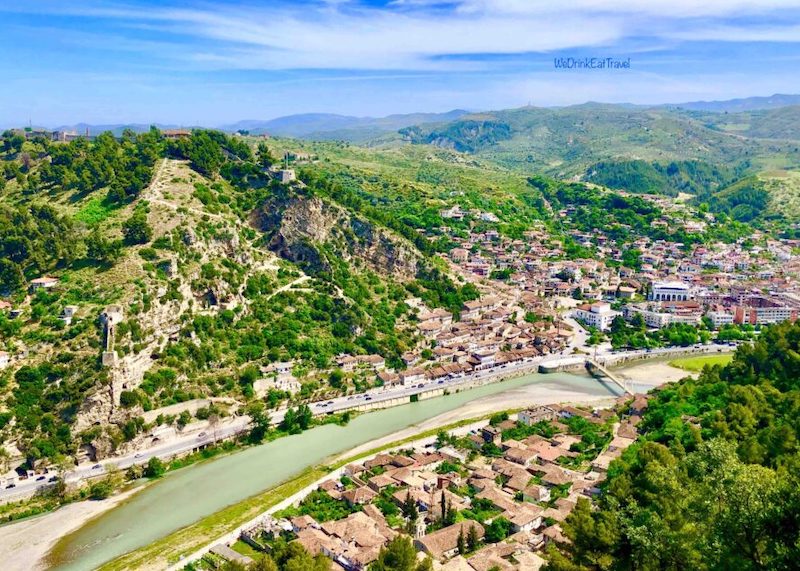 So, on our trip up to Gorica Hill, we saw no-one else. And, we believe if we'd packed a picnic, we'd be there for hours on our own.
We recommend hiking up Gorica Hill as part of your list of things to do in Berat.
Now, as you could imagine… with all that walking we needed some liquid replenishment! And, this is what we did, while enjoying the atmosphere and views.
Relax with Some Bevvies While Soaking Up the Scenery
When getting back down to town, we were thirsty after our hike up Gorica Hill! And, beer was calling out to us to quench our thirst.
There are plenty of places to drink in Berat. Yet, after the hike, it was important for us that time to beer would be short!
So, only a few hundred meters after crossing Gorica Bridge towards the Old Town area… we found a small bar with wooden seats outside.
The owner was friendly and could speak some English. He even offered us some complimentary chips to munch on with our beers. And, more importantly the pints of beers were ice-cold. A great reward after walking many kilometers!
Now, we have no idea what the name of the bar is called. Yet, it's on the main street next to Osum River, called Rruga Antipatrea. It's only a small place. Yet, when we went the bright yellow umbrellas helped to make it stand out.
Plus, the bonus is that we awesome views of this UNESCO site of Berat, whilst enjoying some bevvies.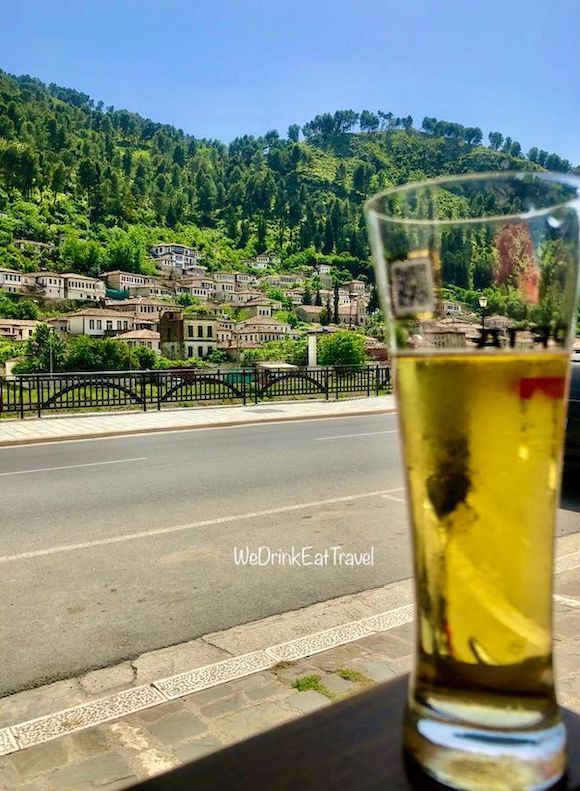 Yet, if you're wanting a different area to relax, head over to this place in Berat…
Check Out the Popular Locals Hangout of Bulevardi Republika
The main pedestrian street of Berat is, Bulevardi Republika.
So, this is a popular place where from young to old… everyone flocks together in Berat old town.
And, from day until night, this is the place to be… for eating, drinking, shopping or strolling to soak up the atmosphere.
Plus, on the other side of Bulevardi Republika is Lulishtja Park… which is a pleasant spot to relax amongst the trees.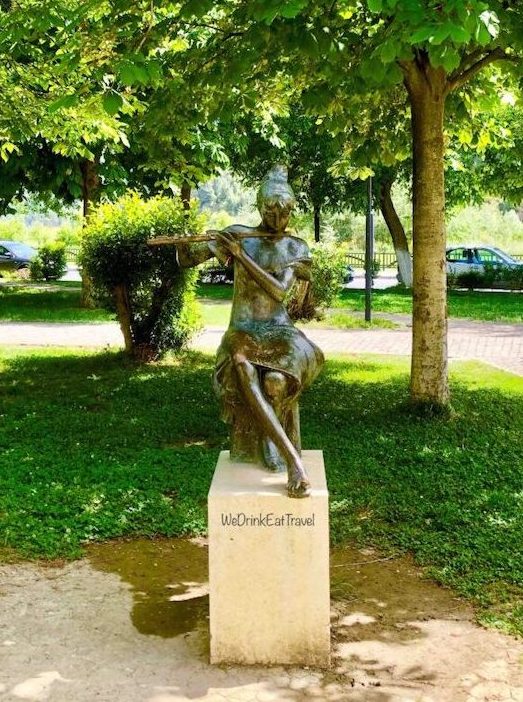 And, while strolling down the boulevard, there are more beautiful views of Berat to take snapshots of…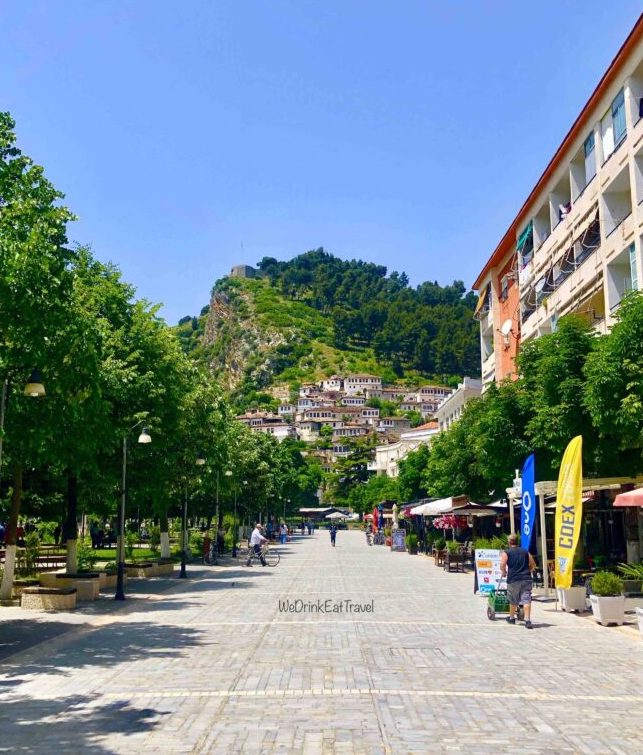 Explore the Churches & Mosques of Berat While Getting Lost
For such a small town of about 50,000 people, we thought that Berat has a surprising amount of churches and mosques.
One of the most iconic is the Holy Trinity Church. And, this church is in the grounds of Berat Castle.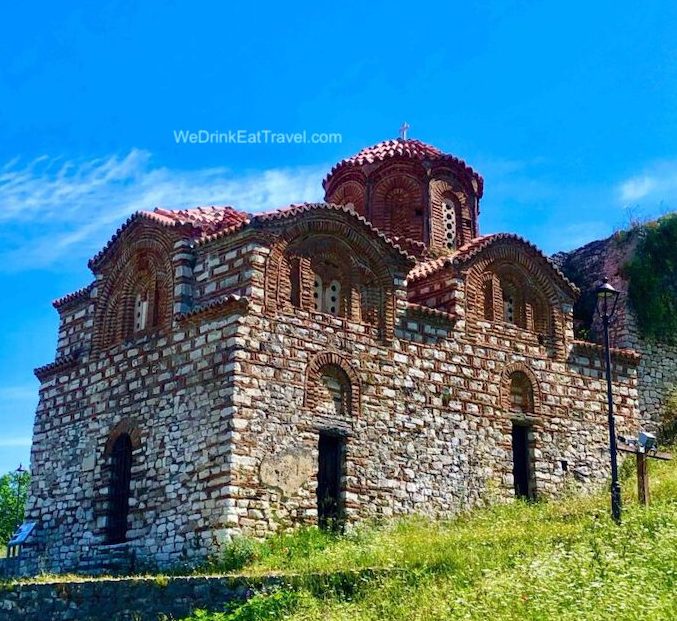 If you don't explore every nook and cranny of Berat Castle, you may miss out on discovering this church!
The funny thing is… when we were there, a busker was sitting slap bang in front of the Holy Trinity Church. Yet, we were intent on getting a pic without anyone in it. So, while he was happy to pose for the photo… we had to kindly ask him to move aside!
There are other churches and mosques in Berat to see…
Yet, being in a mountainous region, expect some elevation while exploring Berat. So, make sure when visiting Berat you have good footwear.
Plus, when exploring Berat, there are many little alleyways like this to get lost in…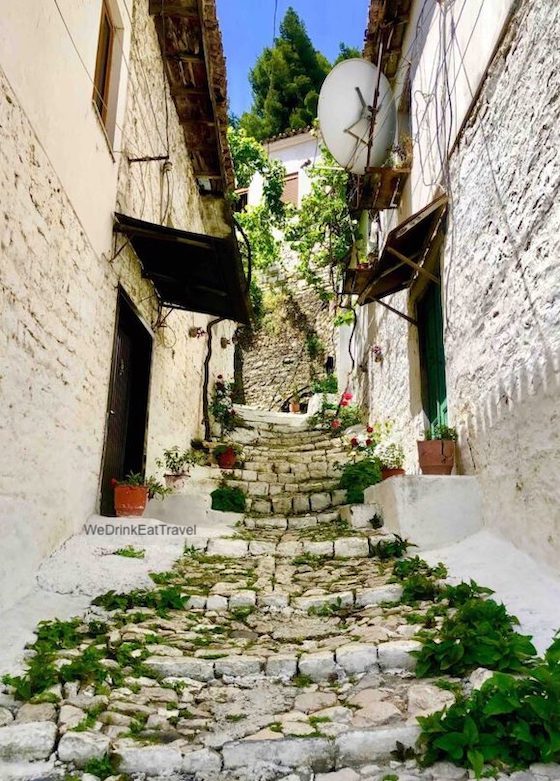 All this walking up and down hills burns a lot of energy! So, we need to fill our bellies to keep the energy levels up.
Dine at One of the Best Restaurants in Berat – Friendly House
Of course, as foodies, one of the things to do in Berat is sample the local cuisine. And, this is one of our most favorite things to do when exploring a new city.
There are many places to choose from for delicious, traditional Albanian cuisine. Note, that some places can be difficult to find, because of those quaint alleyways.
Plus, be wary that opening times may vary… despite what may be on the websites or Facebook pages.
Now, one of the best restaurants in Berat we found… was a cute place by the name of, Friendly House.
Once we wandered into the restaurant, we weren't sure if it was open for service… as there were no customers inside. Yet, we found an outdoor area and that's where everyone was!
And, we realized why, as there were lovely views from the alfresco rooftop.
The waiter was run off his feet. Yet, when he saw us… he acknowledged us while looking after other customers.
Then, to help give us some liquid inspiration on what food to order… we ordered a couple of refreshing beers to start. And, with that came a complimentary small plate of nibbles.
As we pondered over the menu, the friendly waiter offered some suggestions.
In the end, we chose some Albanian delights including… stuffed mushrooms, corn bread, and flavorful fergese.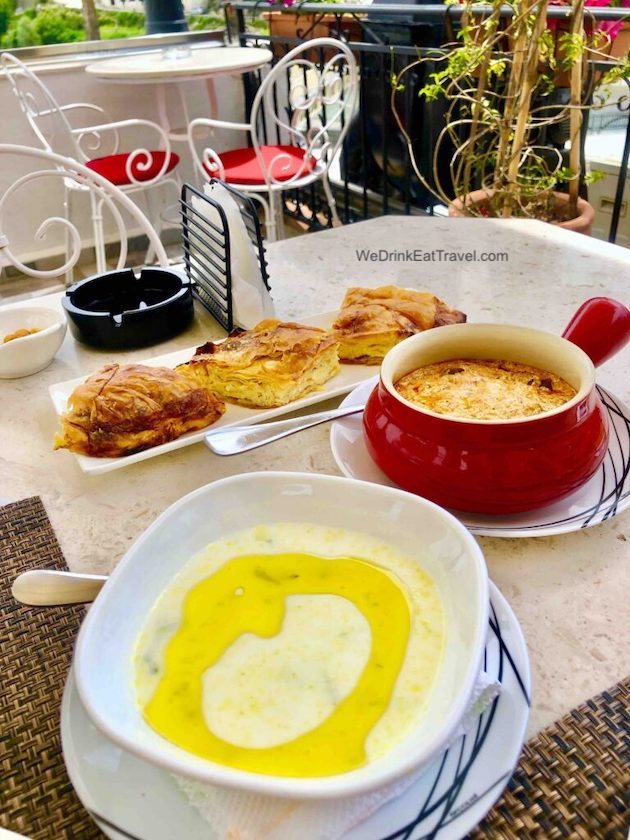 Needless to say we were happy and full, and re-energized for our walk up the hill back to our accommodation.
So, this place sure does live up to its name of Friendly House! Great service, cozy atmosphere and delicious food made with love.
How To Get Berat
Traveling from one place to another can get frustrating with lots of luggage. So, while we could get a bus from Vlore to Berat, which would also be the cheaper option… we chose to travel in comfort with a private car transfer.
So, the cost for that transfer was a total of 6,000 Lek (about USD $56 / 49 Euros). And, the travel time was about 1.5 hours including a couple of hiccups along the way…
Most of the journey was smooth sailing from Vlore. Yet, once we got to Berat, trying to find our accommodation was a challenge!
Our apartment was in a hard to find area of Berat. Yet, even with a map and contacting our host… confusion was overwhelming our driver. He had to make stops along the way to ask locals, where the heck this place was!
Yet, we finally got to our accommodation, and it was worth the stress getting there.
Because, here were the spectacular views that greeted us from our apartment…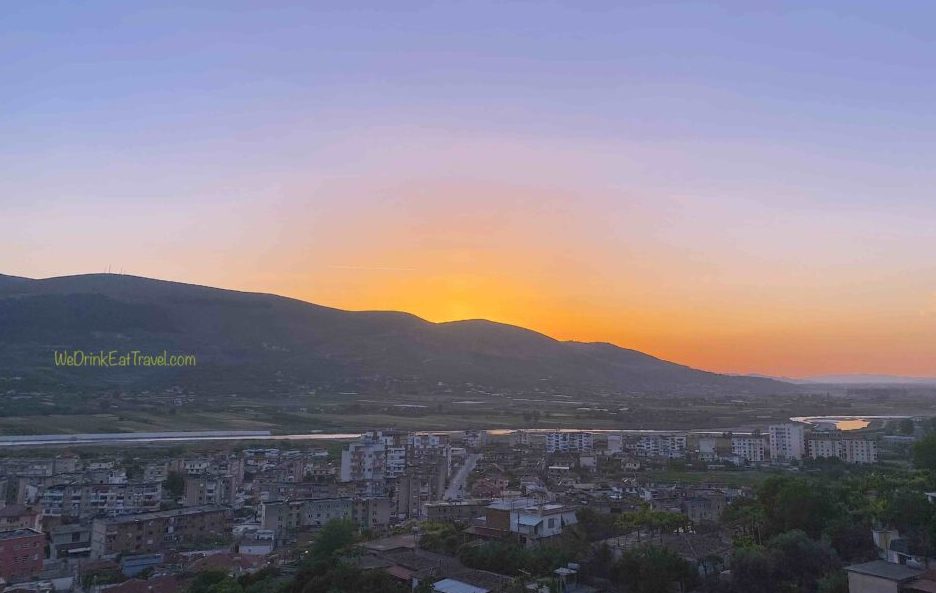 We had the privilege of enjoying the views from this balcony for 1 week. Sadly, the time went by so quickly.
Yet, now you have 7 ideas for remarkable things to do in Berat Albania. And, we were glad we included Berat on our trip to Albania. It truly is a magnificent place, almost fairy-tale like.
It has a certain charm about it, the locals are friendly and the food is delicious.
Plus, it was exciting to experience another UNESCO World Heritage Sites on our travels. So, when in Albania, we recommend you visit beautiful Berat… "The City of 1,000 Windows."
You Might Be Interested In This Too…
How To Get FREE Accommodation While Travelling
10 Popular Drinks & Food In Skopje To Make You Happy
10 Awesome & Surprising Things To Do In Skopje Now
7 Top Reasons Why You Should Visit Bansko Bulgaria
Inspiring Vacations – Top 5 Things To Do In Malta
Thai Airways Review: From Melbourne Australia To Bangkok
7 Free Things To Do In Bangkok
Bangkok Public Transport: All Aboard For The Khlong Boat On Saen Saep Canal
Accommodation Review – Mercure Pattaya Hotel