Well, after about 3 months in the Czech Republic, it was sad to have to leave. We had such an awesome time with lots of fun and memorable experiences.
Yet, it was exciting to be going to our next destination… Bucharest! Now, we haven't even been to Romania, let alone Bucharest. So, this was something to look forward to.
Now, having done some research on how to get there. We didn't want to spend hours… and we mean like over 15 hours getting from Prague to Bucharest. Although it was cheaper, in the end we were happy to spend the money to fly.
So, to cut a long story short… we flew Business Class with the Romanian airline carrier, Blue Air. We did plan to write a blog about our "interesting" experiences with Blue Air. Yet, as they have been forced to shut down operations… no point in giving you irrelevant info!
Even so, we did make it to Bucharest. And boy, it sure is a striking and surprising place in many ways.
Now, come on the journey with us as we share with you… 27 of the best things to do in Bucharest, Romania.
Let's kick off with this…
1. Unirii Fountains
We have seen some tremendous fountains on our travels. Yet, when we were in Bucharest the fountains that we were told to see by locals… is not what we were expecting. You ain't seen nothing yet, until you see the Unirii Fountains.
It's said that a mind-blowing 7 million Euros was spent to re-develop Unirii Square… which is one of the largest squares in Bucharest. Woah, that's a jaw dropping figure by any standards!
Even so, if you want to witness t sound and light Unirii Fountains extravaganza… come in the evenings to see a grandiose display like this.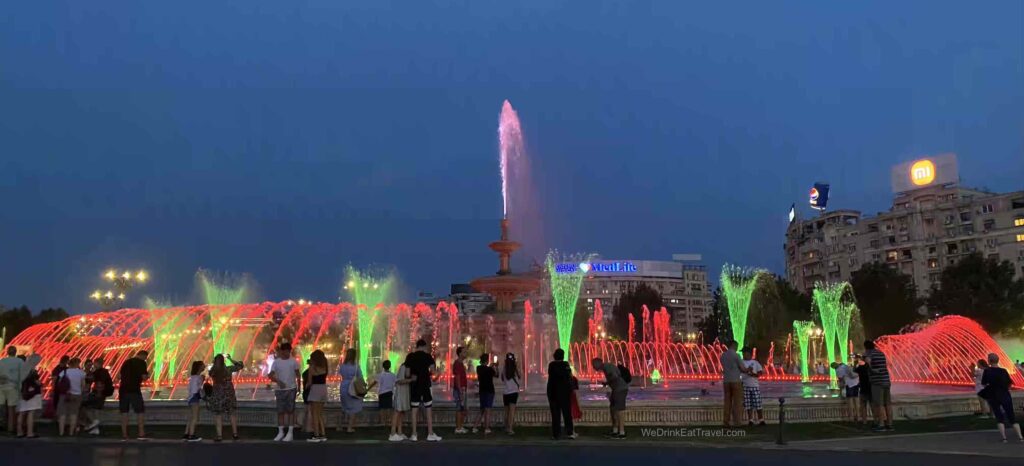 2. Bucharest Old Town
Now, we don't want to destroy the magical impressions you may have of Bucharest Old Town. Yet, it wasn't until we got there to learn more about Bucharest… that is was shocking to discover this…
Unlike many "Old Towns" around the world… the Bucharest Old Town is not not old! What? We felt deflated… like someone popping a balloon, and all the air was being sucked out. Yet, we do have to clarify something.
The history of the Old Town area in Bucharest dates back to the 1400's. So yes, the area is ancient. Yet, many of the buildings you see were built in the 21st Century!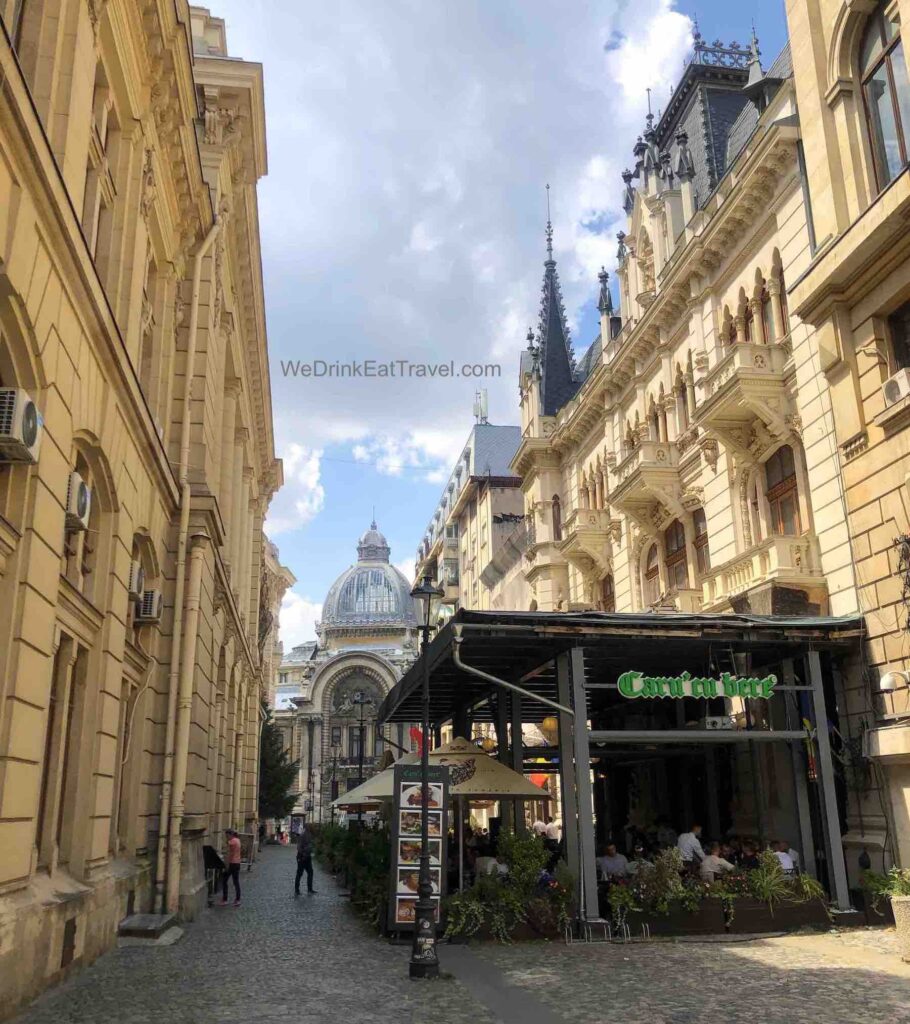 Don't let this deter you though. It's one of the ultimate places for tourists and locals alike to gather in. As there's something for everyone to enjoy in this city hub… from restaurants, shops, ancient landmarks, to the vibrant nightlife.
3. Calea Victoriei (Victory Street)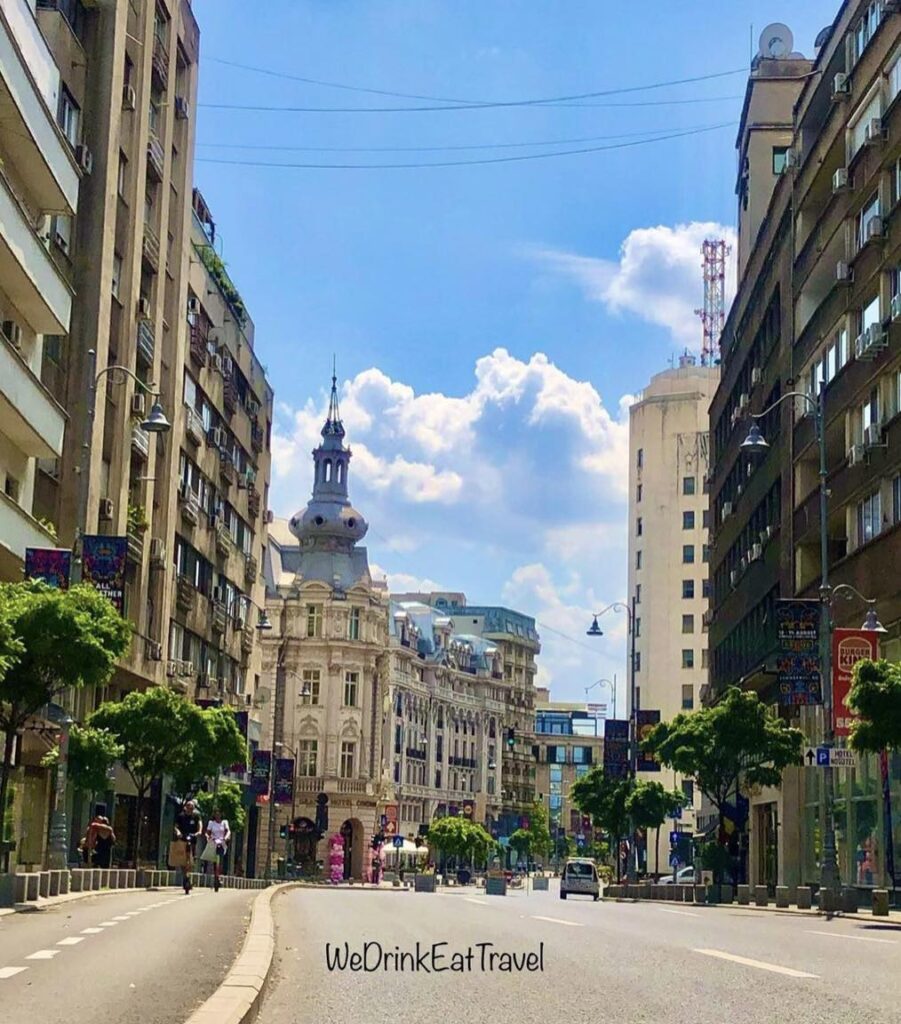 In Bucharest, one of the most significant roads you'll have to wander down, is Calea Victoriei. Its history dates as far back as the 16th Cenutry. And, spanning almost a length of 3km, as you stroll through here… there are many magnificent sights to see along the way.
And, that includes this striking place…
4. Palace of the Deposits and Consignments
When traveling throughout Europe, there are so many magnificent buildings to see. Plus, it blows us away at how institutions like schools and banks… have some of the most breath taking architecture. And, one of the places in Bucharest is the 19th Century Palace of the Deposits and Consignments …
You may see signs out the front showing CEC Bank. And, that's because this Renaissance-style palace was originally built to house a bank. Now, opposite this remarkable building is another architectural delight…
5. National History Museum of Romania
How eye-catching and magnificent is this building?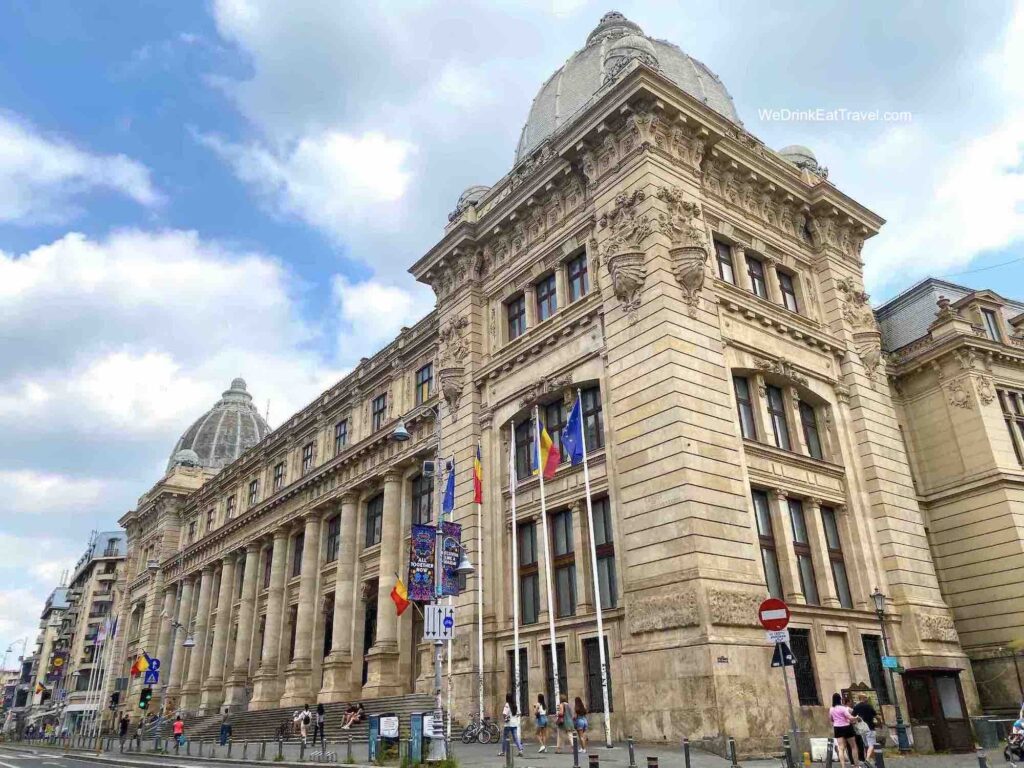 This majestic National History Museum of Romania was built in the late 1890's. And, the architect Alexandru Săvulescu had a vision for the design… basing it on the Federal Post Palace from Geneva, Switzerland.
And, if you're eager to see hundreds of historical and cultural artefacts on display… there are various exhibitions held throughout the year. At the time of writing this travel blog… the ticket prices for adults are 20 RON (about USD $4.20 / 4.05 Euros / GBP 3.50). Plus, discount prices apply for seniors and students.
6. Stavropoleos Monastery Church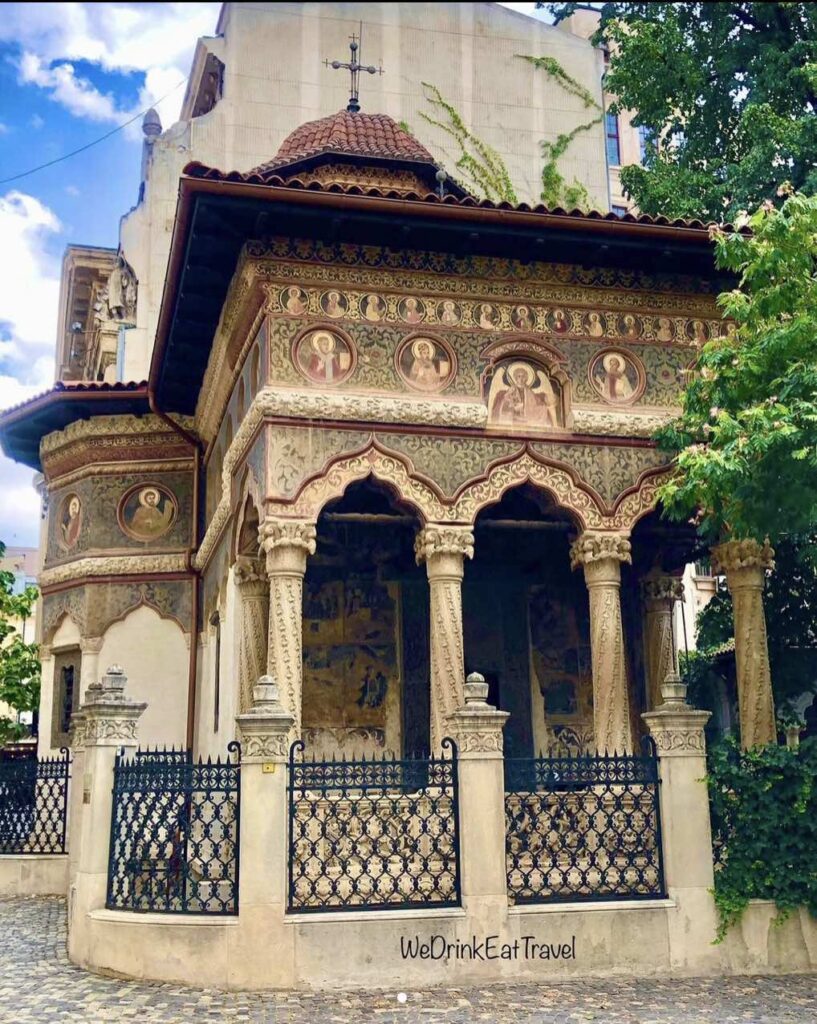 When you're in the Bucharest Old Town area… you must go and see the astonishing Stavropoleos Monastery Church.
While its history dates back to the 1700's… due to ravaging fires the original building was decimated. Thus, in the 19th Century, it was rebuilt in the majestic Brancovenesc style that you see today… that came from the South of Romania.
The Stavropoleos Church incorporates a mixture of striking designs… from Baroque through to Oriental. And, the level of detail that makes up its exterior and interior is captivating.
Now, this is one of the unique and best things to do in Bucharest Old Town…
7. The Macca-Villacrosse Passage (Pasajul Macca-Vilacrosse)
When exploring Bucharest, there's an exquisite arcade that you need to see. And, if you only wander the main streets of Bucharest you will miss it. Tucked away in Bucharest Old Town is, Pasajul Macca-Vilacrosse.
This U-shape arcade with its fascinating glass roofing, was built in the late 1800's. And, it was to connect the National Bank of Romania to Calea Victoriei. Take a look at how awesome it looks…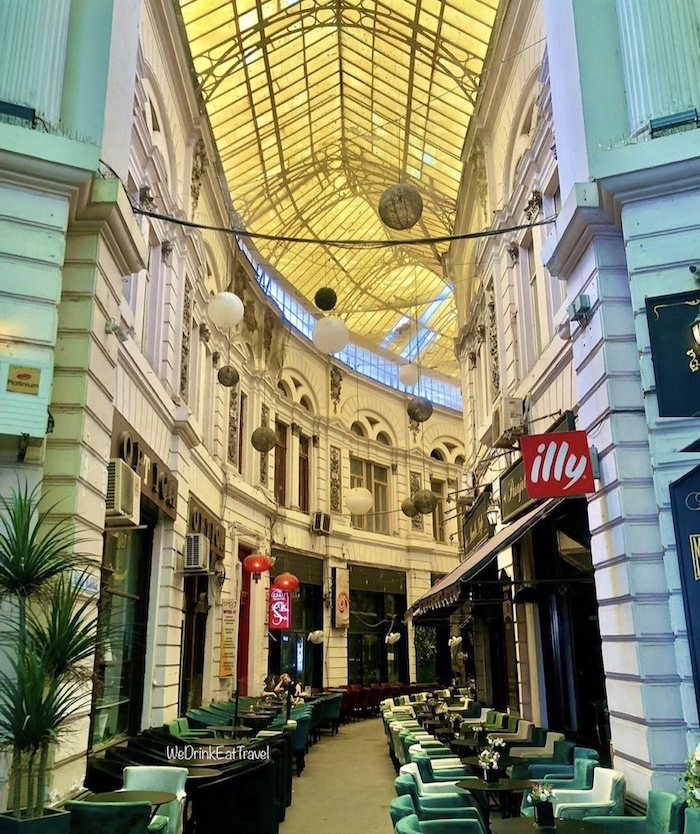 And, you can take a break in the delightful surroundings, enjoying coffee or a bite to eat… in the many cafes that line this arcade.
8. Romanian Athenaeum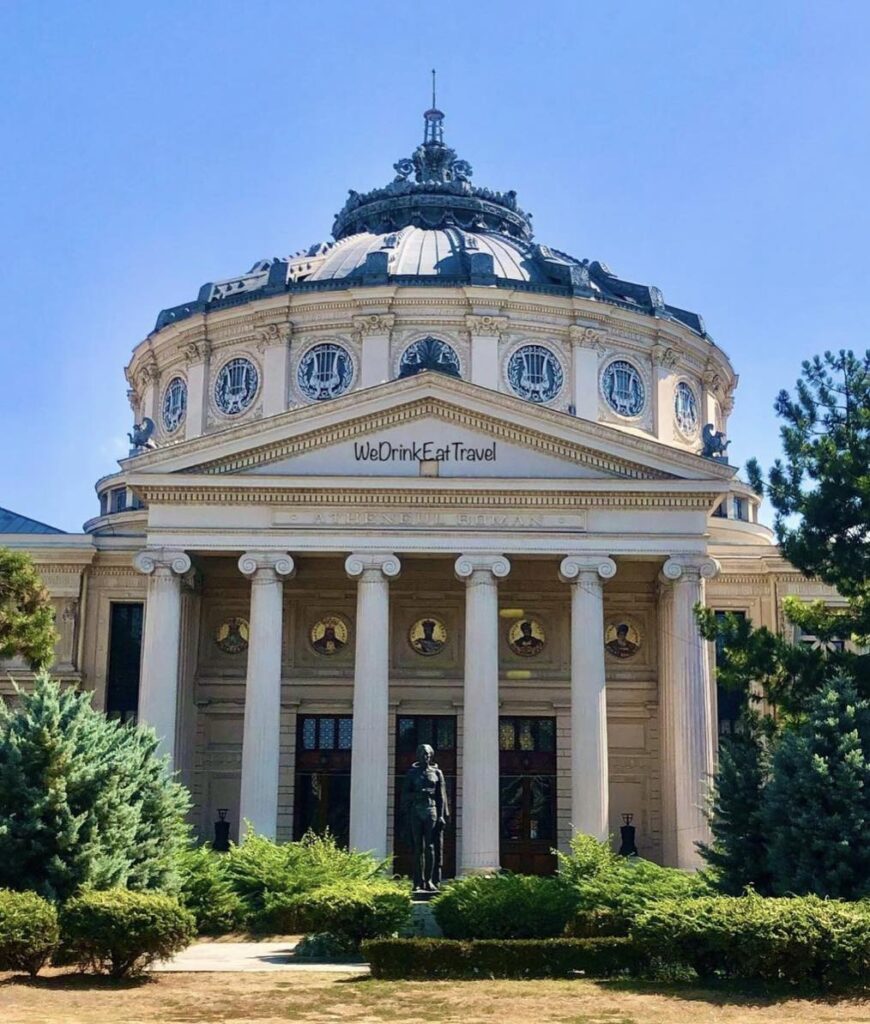 This grand building that you can find while strolling on Victory Street… is the Romanian Athenaeum. It's a monumental part of Bucharest's history… being one of the oldest and most cultural institutions.
Within this building is a main stage and halls, whereby artists would perform and flaunt their talents. And, this would include artists such as famous Romanian composer, George Enescu.
For discounts and cashback on attractions, tours and more CLICK HERE
9. Carol I University Foundation
Remember how we were saying earlier… that even educational instituions were in some of the most amazing buildings? Well, this one is no exception! This is the Carol I University Foundation.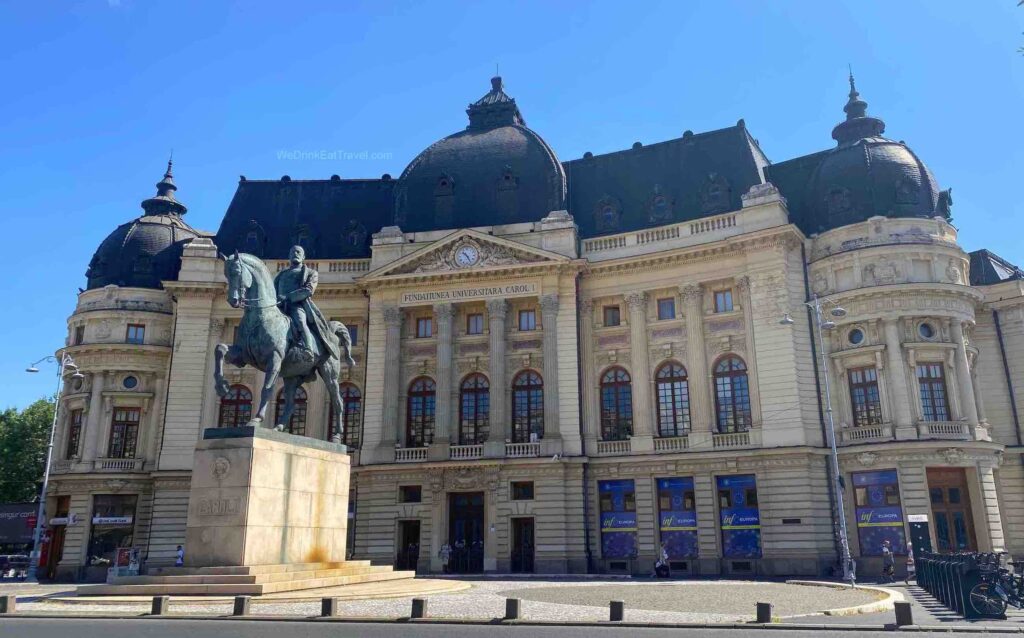 And, in front of this fascinating building is a statue of King Carol I. He was adamant about improving the education of students. Thus, establishing this University Foundation… which primarily houses the Central University Library.
10. Pasajul Victoria (Victoria Passage)
Wouldn't you agree that there's a captivating feeling that is brought about… when it comes to seeing a kaleidoscope of rainbow colors? Well, when you head on over to Pasajul Victoria, take a wander down this alleyway, as you'll see this magical display…
The best part is, there are a few cafes and restaurants in the Victoria Passage. So, you can admire the view and surround yourself in this wondrous setting… while having a drink or bite to eat.
11. Arcul de Triumf
Did you know that Bucharest is also known as, the Little Paris of the East?
It was given this nickname back in the 1900's… as some of the buildings had the resemblance of French architecture. Plus, there was a population of local Romanians who also spoke the French language… due to the influences of the time.
And, one of the popular French inspired landmarks in Bucharest… is their gigantic Arcul de Triumf…
Now, the traffic going around it… was nowhere near as crazy as that around the Arc de Triomphe in Paris!
12. Cișmigiu Gardens
When you're looking for a place to chill amongst the greenery in a peaceful environment… head on over to Cișmigiu Gardens.
From our perspective… it's one of the prettier and better maintained gardens near the Old Town area. And, not only that, this gigantic 16-hectare garden… is the biggest and oldest in Bucharest.
Now, even if you're not religious, we believe this is one of the top things to do in Bucharest…
13. Mitropily Hill (Dealul Mitropoliei)
When venturing just outside of the Bucharest Old Town Area… make your way to Dealul Mitropoliei, which in English is Mitropily Hill. And, as you walk up a winding path… it will astonish you when you get to the enclosed complex at the top.
Here is the 17th Century Patriarchal Cathedral of Saints Constantine and Helena, one of the most sacred Romanian cathedrals…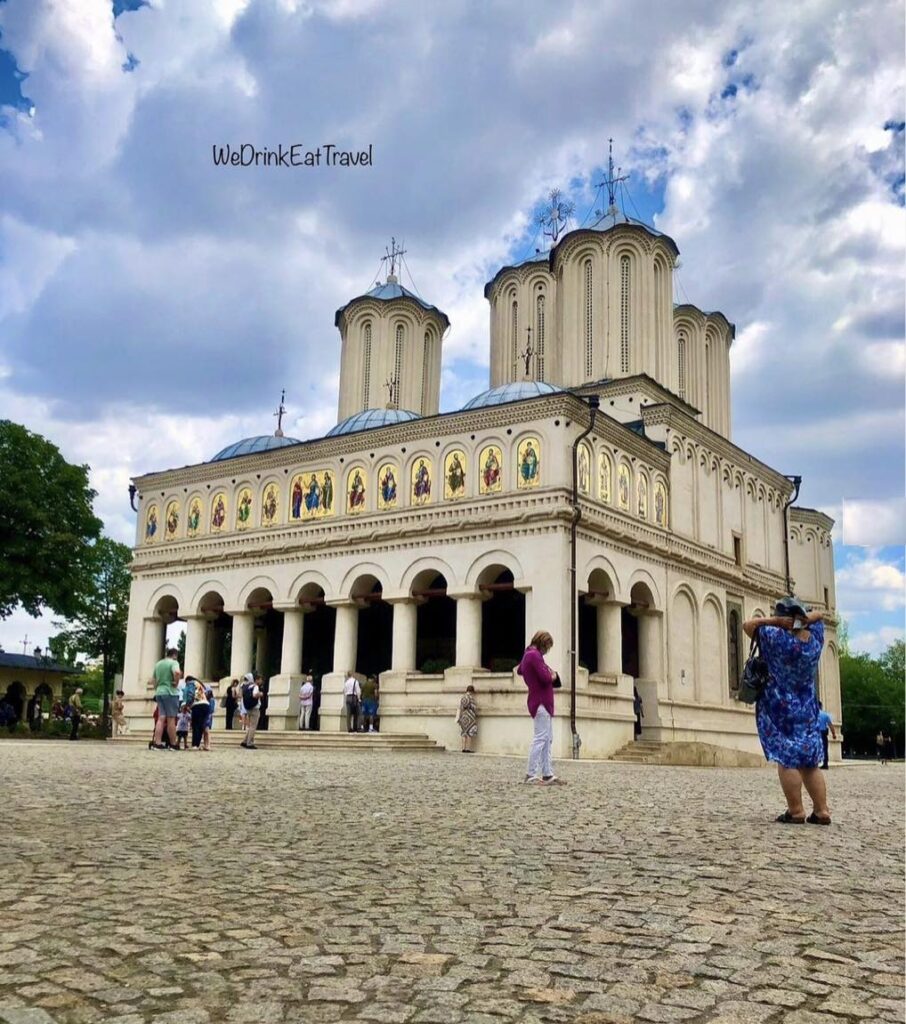 When we were there, plenty of tourists were flocking to this monumental landmark. And, surrounding this are other landmarks including the Patriarchal Palace and Bell Tower.
Now, there are signs showing that photos cannot be taken. And, there were several security guards roaming around the complex too.
Yet, there were many people taking pics in the complex. So, we guess that as long as you're considerate and respectful… you shouldn't have any difficulty with the guards.
14. Palace of the National Military Circle
If you want to see a double-whammy of awesome historical Bucharest attractions in the one go… then head on over to the Palace of the National Military Circle.
And, instantly you can see in front of this grand building, is a fountain. And, this is the Sărindar Fountain… which got its name from the Sărindar monastery that used to occupy this area.
15. Experience the Vibrant Nightlife in Bucharest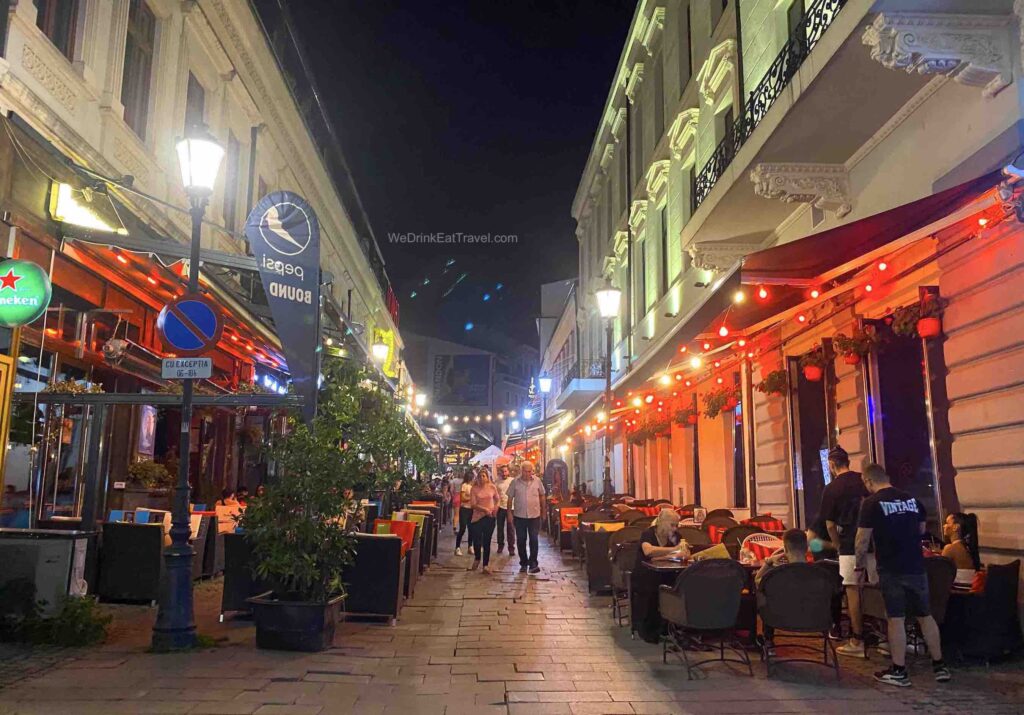 When you're in Bucharest, make sure that when the sun goes down… you make your way to the Old Town. You need to experience how entertaining the nightlife gets in this area! There are bars and even nightclubs booming music out onto the street.
There are many choices of where you can go. And, if you're not sure, as you walk towards many of the places… there'll be staff in front of the establishments, trying to lure you in. Otherwise, go without a plan and bar hop, in the happy and upbeat atmosphere.
16. Constitution Square (Piața Constituției)
There are many open squares in Bucharest… where you can take a break and enjoy the surrounding jolly atmosphere. Yet, there is a square in Bucharest… where it isn't the best environment to sit around drinking beer!
And, that place is Constitution Square. Here, there are many government-type premises.
Yet, one of the main reasons we recommend you come here… is to see the colossal Palace of Parliament…
17. Go Vego
Bucharest, let alone Romania has a hefty amount of meaty meals. Yet, when we were in Bucharest… it was surprising to see some places that did offer tasty vegetarian meals.
And, one of the top places we recommend is, Aubergine. It's in the heart of the Bucharest Old Town area. While there are plenty of seats inside… there are also seats in front of the restaurant to soak up the surrounding joyous atmosphere.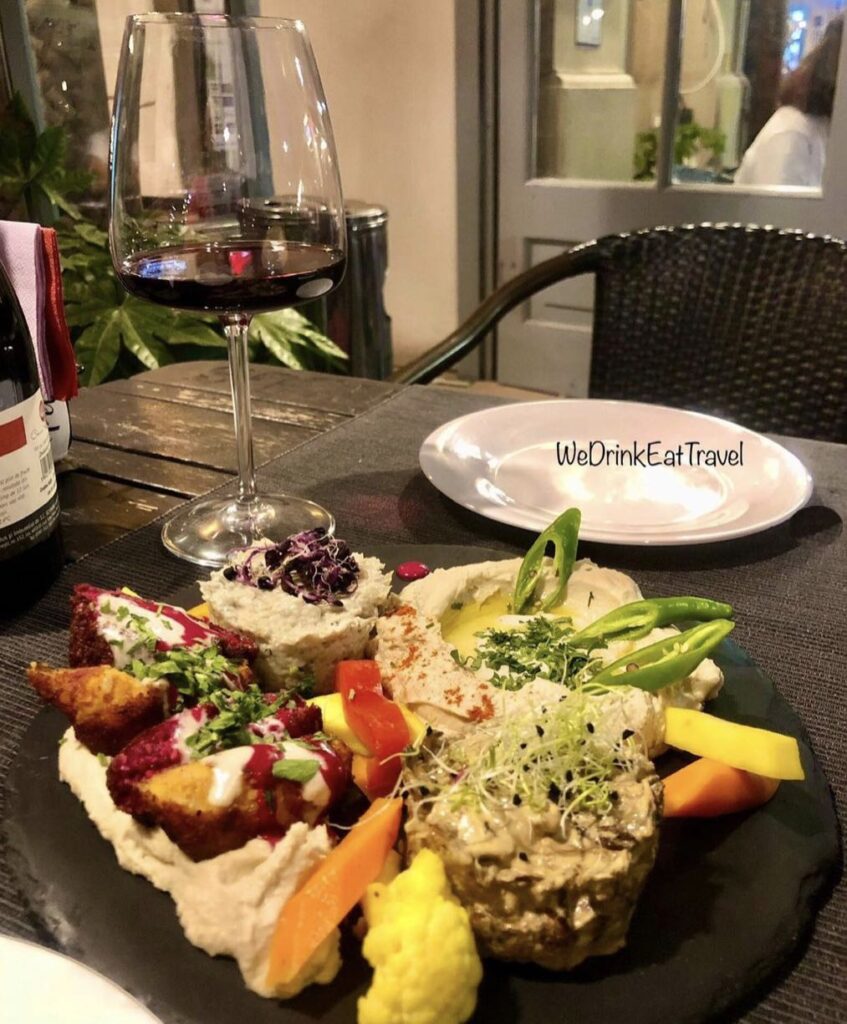 So, to kick off our meal we got a local bottle of 2017 Merlot… which was only 120 RON (about USD $25.40 / 24.40 Euros / 21 GBP). Plus, we had a vegan platter with an assortment of local breads. Look at the tremendous colors within that gourmet platter!
We sure did go to flavortown at Aubergine… as with each bite it was mind-blowing at how delicious the food was. And, for the great quality of food we had including the wine… the total bill only came to 182 RON (about USD $38.60 / 37 Euros / 31.80 GBP). Plus, the service here was outstanding. So, make sure you check it out!
18. St Nicholas Church
You may have heard of the saying, "All that glitters is not gold." Yet, when you're in Bucharest, you will see gold. And, what we're talking about is the majestic, St Nicholas Church.
Now, when we were there… a large part of the church had scaffolding covering its beauty. That was sad as it is a remarkable looking church. Yet, we did use our imagination so you can see how magnificent it is…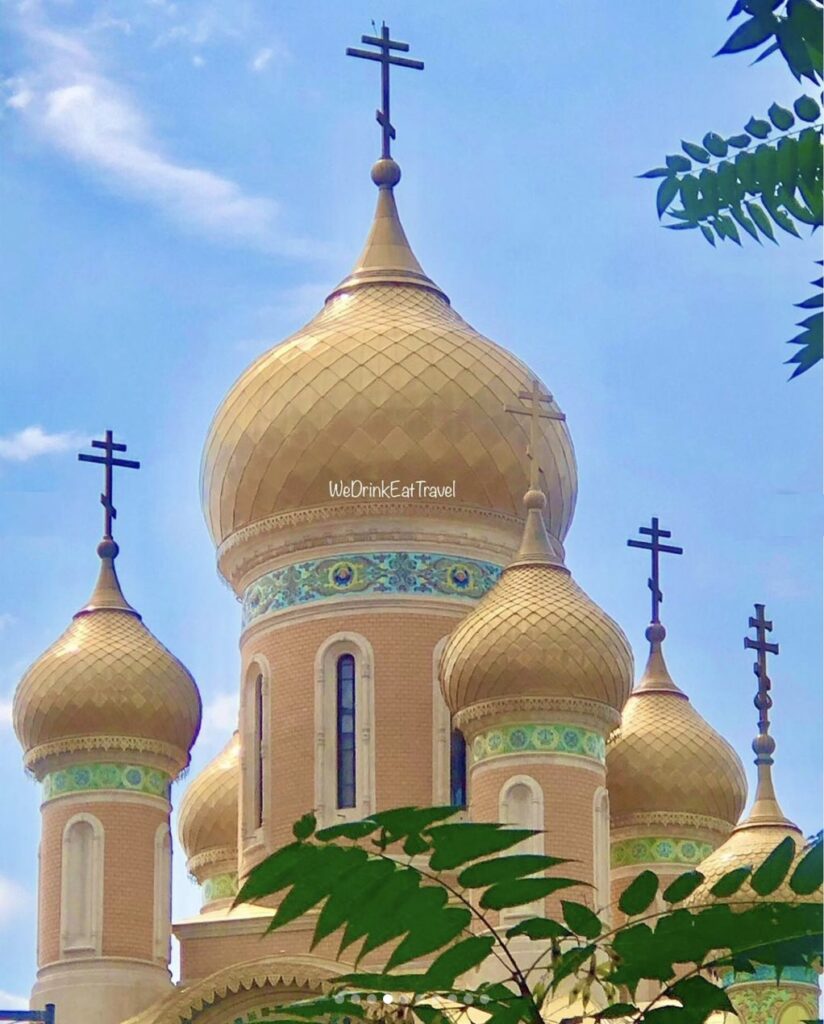 We hope that when you visit Bucharest, you'll have the chance to see St Nicholas Church… in all its golden glory from top to bottom, without any obstructions.
19. Walk in the Middle of Major Streets
Yep, you read that correctly. No, it's not a dare or some creepy challenge!
On our first weekend in Bucharest, we set out to explore more of this capital city. And, when we did, it was very odd. We were curious and thought that there was a major event happening… as we saw people walking down the middle of the usually busy Calei Victoriei.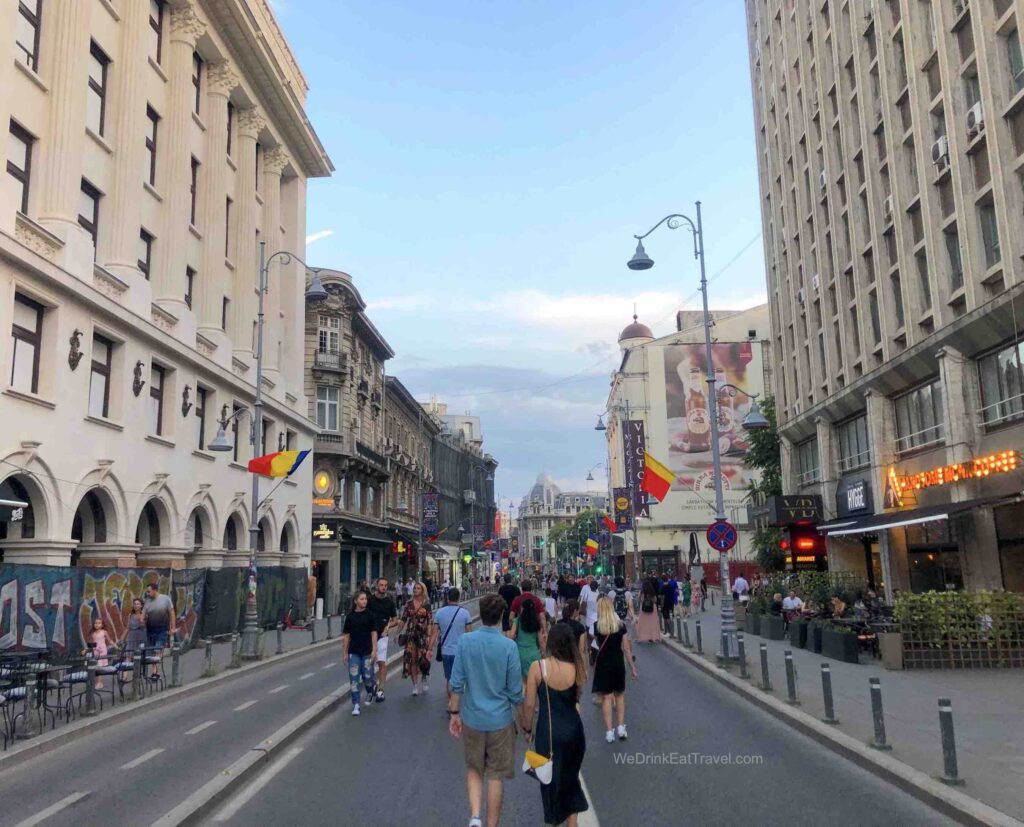 Yet, something we found out was that on the weekends… over 30 streets are blocked off so traffic can't pass through. So, they become "Open Streets" for pedestrians only! Please take note though, that it doesn't happen all year round.
20. King Mihai I Park (Herăstrău)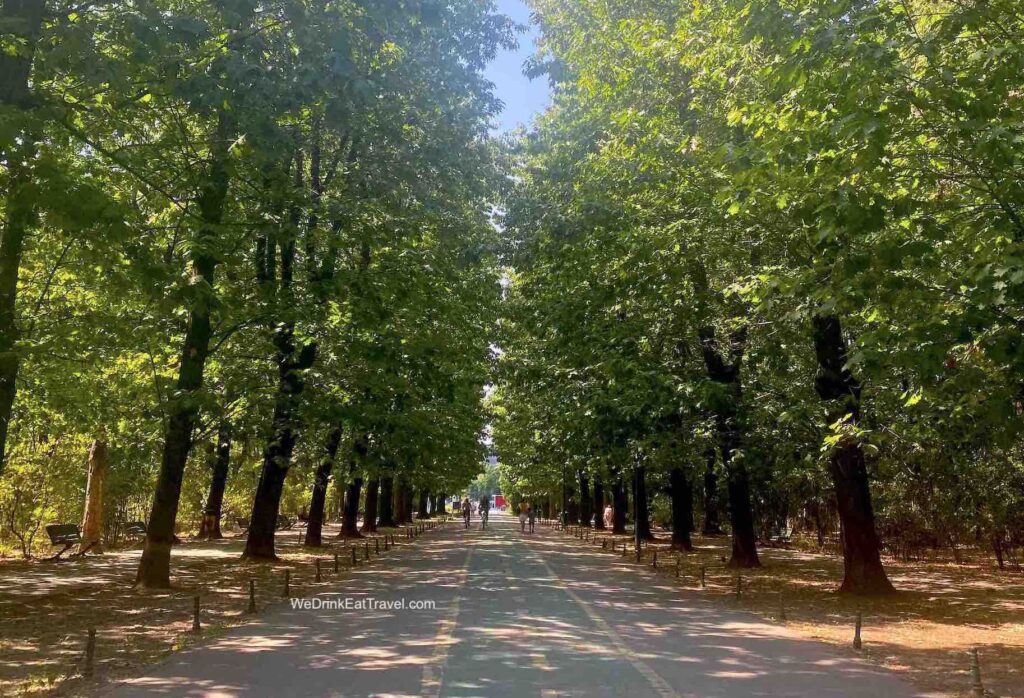 Now, speaking of things that are gigantic, the biggest park in Bucharest is Herăstrău. And, it's that huge spanning over 180 hectares, you could spend a day out here. So, whether that's enjoying a relaxing picnic… through to cycling around to explore what this beautiful park has to offer.
21. University Square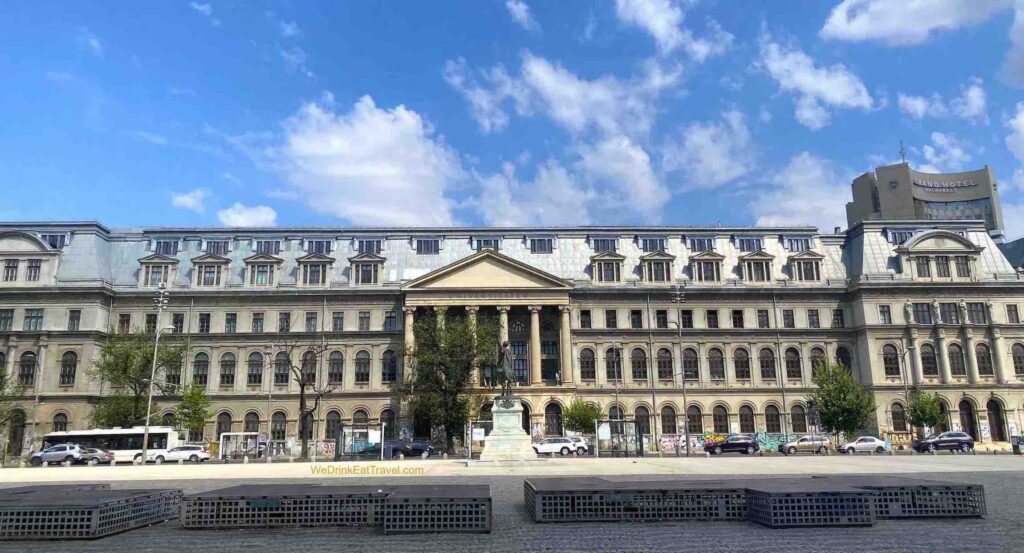 Nearby St Nicholas Church is University Square. And, when you're here, whichever way you look… you'll have stunning views all around. Marvel at the magnificent buildings including Sutu Palace, the National Theatre… as well as the Intercontinental Hotel.
Plus, as you stroll through the tremendous University Square… you'll wander past giant statues of key icons, such as Ion Heliade Rădulescu, and Gheorghe Lazar.
22. Strada Lipscani
This is one of the oldest and most significant pedestrian streets in Bucharest. Because back in the 19thCentury… it was a bustling place for traders to undertake their commercial activities. Thus, becoming an active wealth building hub.
Yet, one of the astonishing things is this street was going to be demolished… under the rule of the Communists! Yet, this didn't happen. And, instead work was put into the area to revitalise it.
So, while you wander down this pedestrian street… you can check out some of the restaurants, bars, shops and landmarks that line it.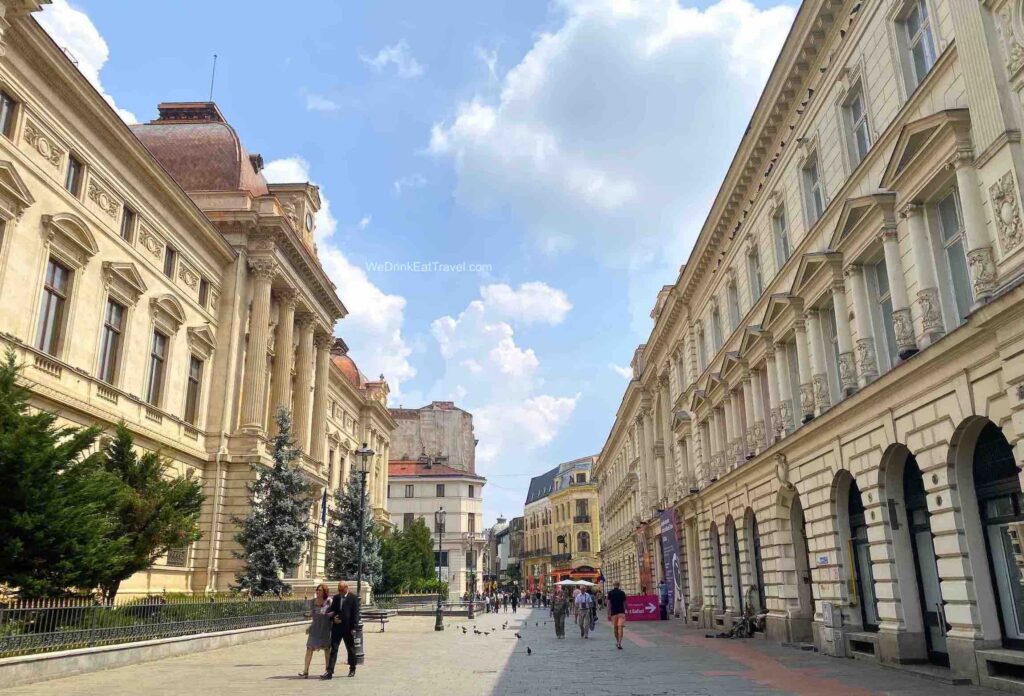 23. Monument of the Romanian Infantry
When exploring Bucharest… there are many statues and monuments that line the streets and city squares. Yet, nearby Victory Square in Kiseleff Park, is this captivating monument…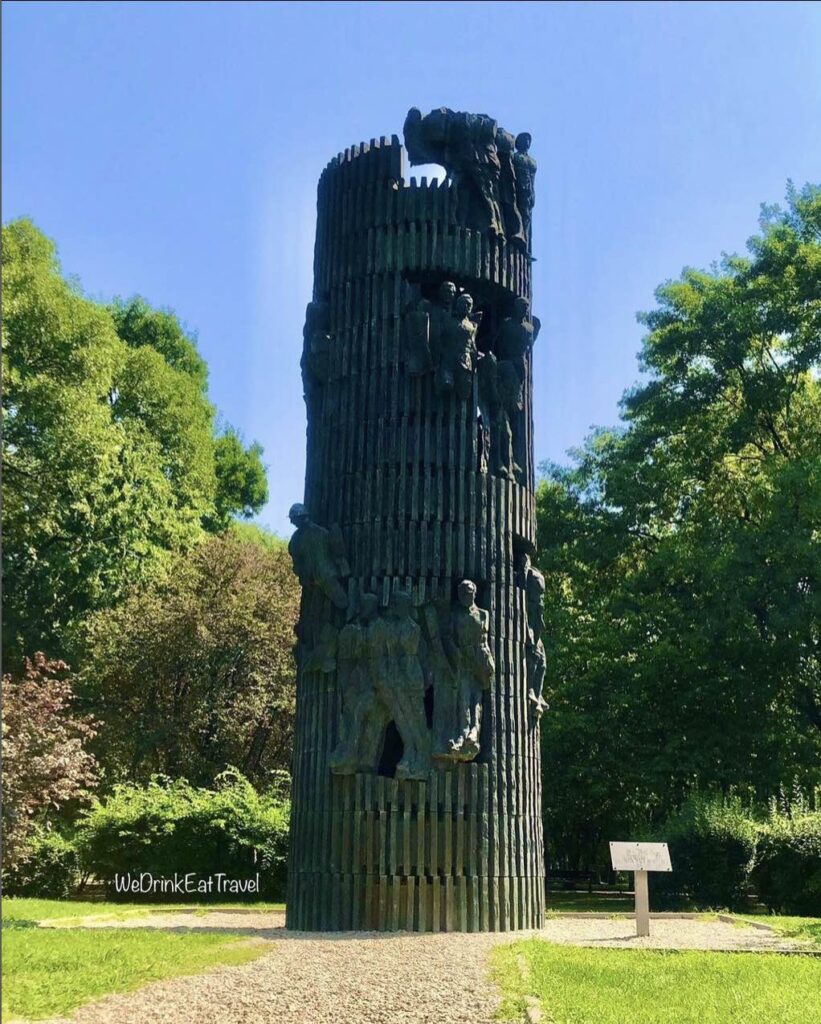 This 10-metre high column, is the Monument of the Romanian Infantry. And, the figures that are in this column… represent the Romanian infantry who lost their lives in WWI and WWII.
And, what makes this monument even more striking is when you look closely at the figures. Each body is different, yet the main similarity is that the figures are disfigured… portraying the sacrifices that they suffered in battle.
24. St Anthony's Church (Biserica Sfântul Anton)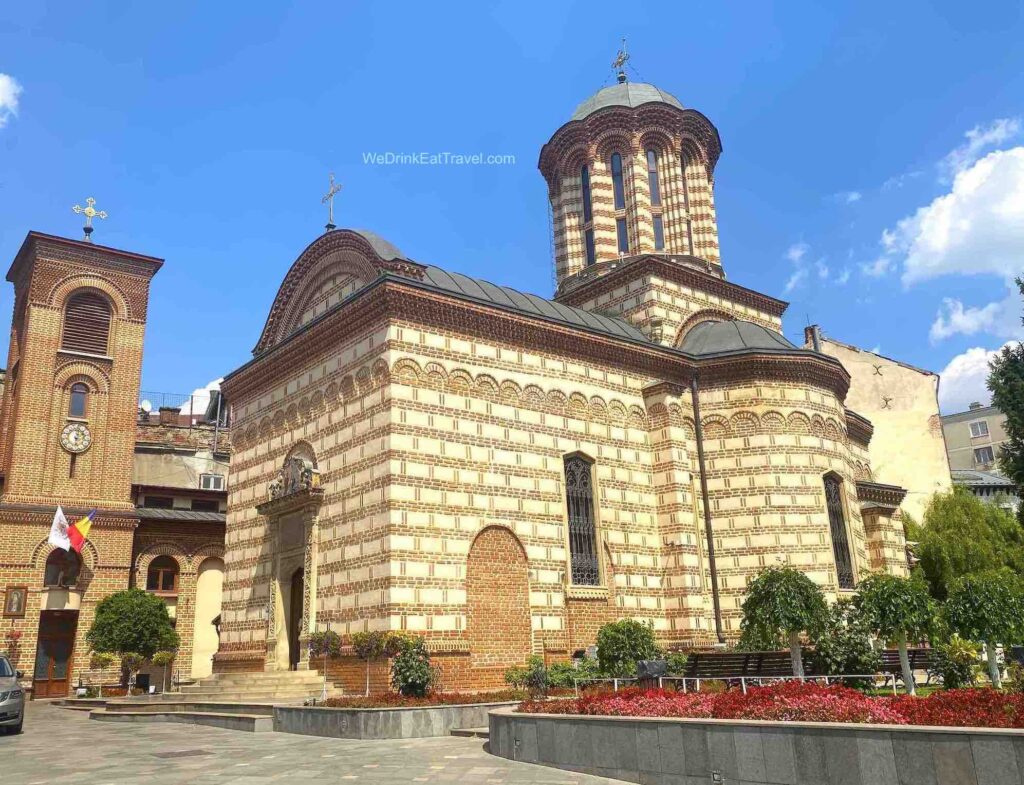 When you first look at St Anthony's Church, its design is so quaint and stunning. And, it does look smaller than many other churches, covering a size of about 25m x 8m. Yet, its said to be the oldest surviving religious complex in Bucharest… dating back to the mid 1500's.
25. The Linden Tree Inn (Hanul cu Tei)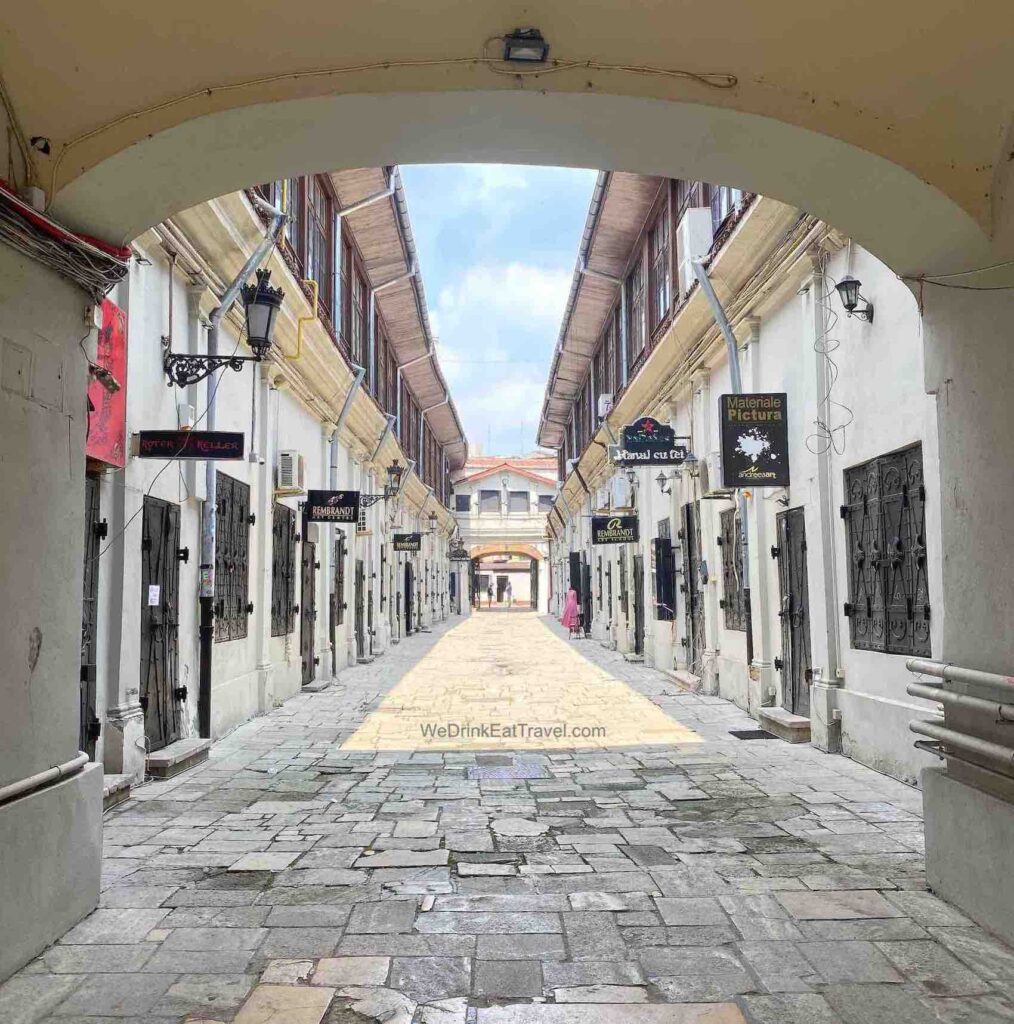 The Linden Tree Inn is one of the few Romanian Inns that is still standing in Bucharest Old Town. Plus, it's said to be the only inn of its type where it still has the old world shape as it was built originally, way back in the 1830's.
Nowadays, the "Linden Tree Inn" hosts one of the biggest art galleries in Romania. Here you can find vintage art like furniture, paneling, tapestries and rugs, paintings, photos, albums, old documents, watches, cameras and gramophones, coins, medals, and icons.
26. Odeon Theatre (Teatrul Odeon)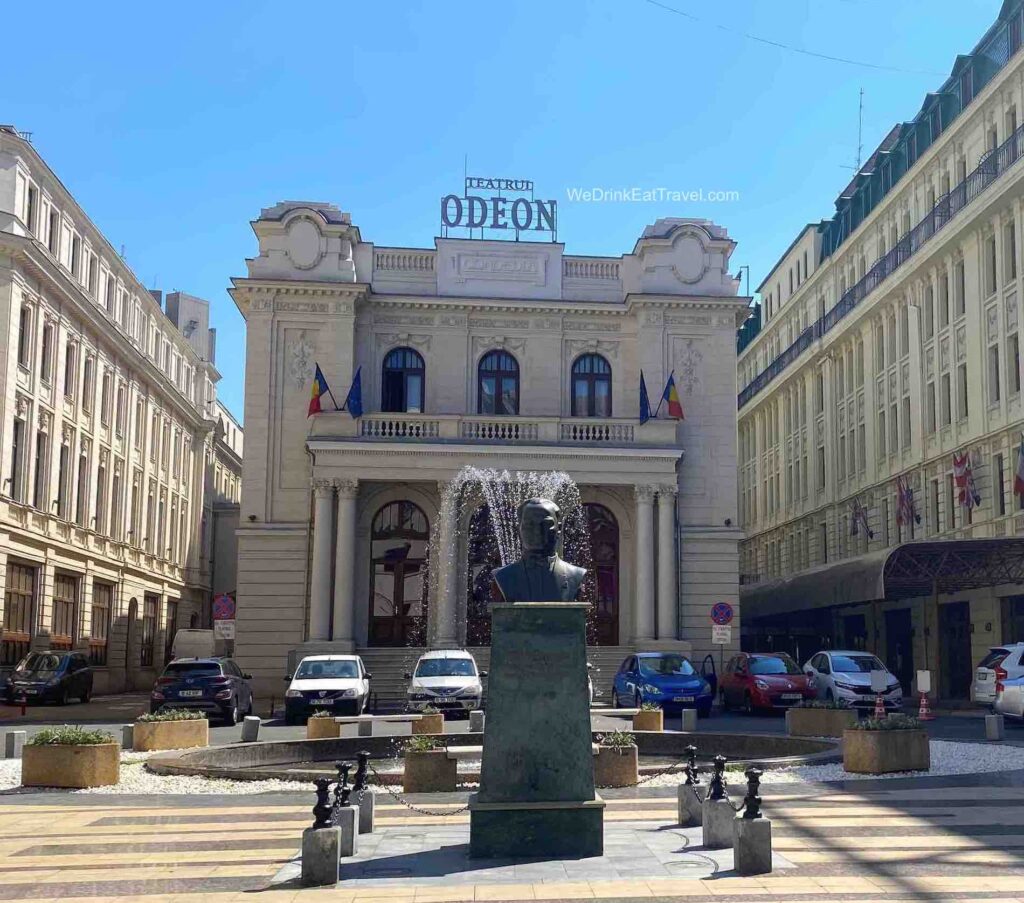 This stunning place is the Odean Theatre, which sits along Calea Victoriei. Founded in the mid 1900's, it was then known as Giulesti Theatre… until 1990 when it had a name change to the Odeon.
Although smaller in comparison to others we've seen… this is one of the leading theatres in Bucharest. And, to this day, there are performances held here, if you're eager to be cultured.
And last, but not least is a predicable thing we recommend you do in Bucharest…
27. Drink Romanian Beer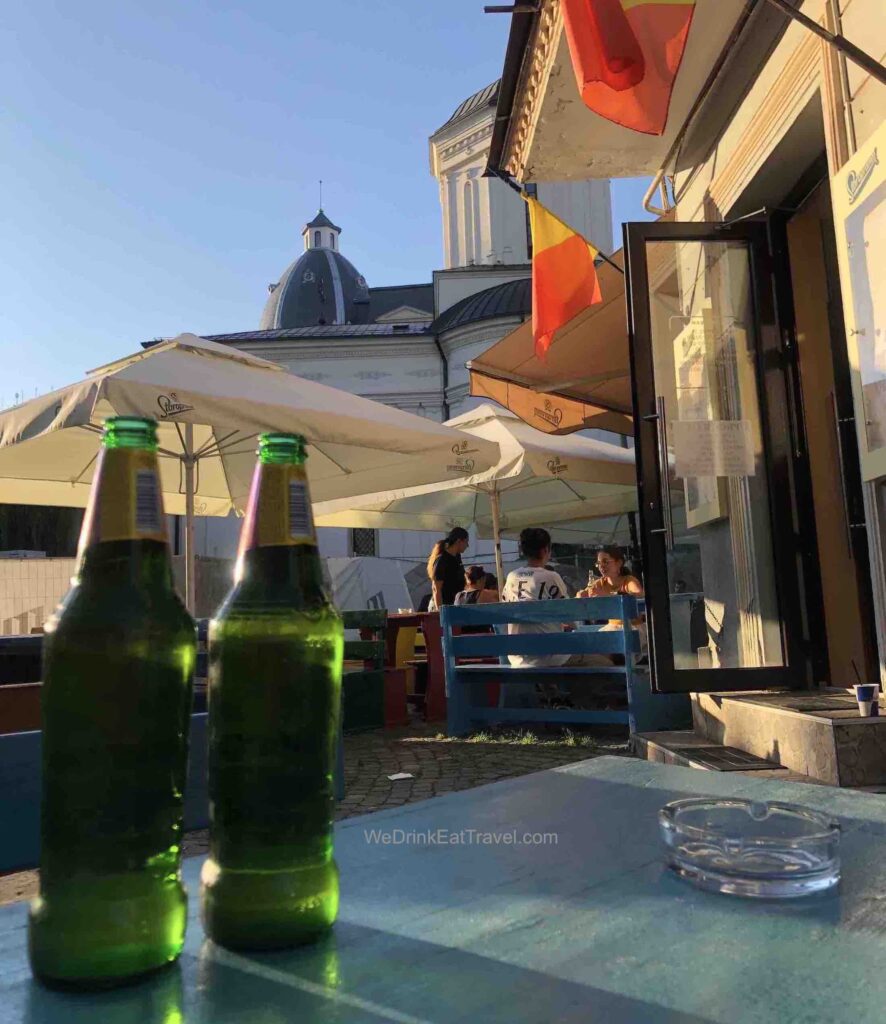 Whether you go to a bar, pub, café or restaurant… why not taste the different Romanian beers. Now, we were spoilt for choice in Prague with so many beers. Yet, we always enjoy trying the local brews.
In Romania not only can you quench your thirst with their standard beers… they also have a variety of craft beers too. So, a 500ml beer can be around 10 RON and upwards, of course… depending on where you go. That's about USD $2.15 / 2.05 Euros / GBP 1.75). Cheap as!
Well, now after sharing 27 of the best things to do in Bucharest, Romania… it's time to quench our thirst, by having some brews!
We trust that this We Drink Eat Travel blog… has given you many awesome ideas of where to go when you visit Bucharest. So, whether it's to see majestic buildings, or surround yourself in stunning unique atmospheres… through to experiencing an upbeat nightlife, or witnessing ancient relics.
There is lots to do in Bucharest that will leave you with happy memories forever. Until next time… CHEERS!
You Might Be Interested In This Too…
Discover The Best Website To Book Flights And Hotels
20 Of The Best Things To Do In Karlovy Vary
25 Of The Best Things To Do In Kotor Montenegro
30 Awesome Free Things To Do In Prague, Czech Republic
10 Free Things To Do In Hue Vietnam
25 Amazing Things To Do In Dubrovnik Old Town
15 Interesting & Surprising Things To Do In Sarajevo Now
Check Out 15 Amazing Things To Do In Budva, Montenegro
Perast, Montenegro – Why You Need To Visit This Town
---
27 Of The Best Things To Do In Bucharest, Romania
Unirii Fountains
Bucharest Old Town
Calea Victoriei (Victory Street)
Palace of the Deposits and Consignments
National History Museum of Romania
Stavropoleos Monastery Church
The Macca-Villacrosse Passage (Pasajul Macca-Vilacrosse)
Romanian Athenaeum
Carol I University Foundation
Pasajul Victoria (Victoria Passage)
Arcul de Triumf
Cișmigiu Gardens
Mitropily Hill (Dealul Mitropoliei)
Palace of the National Military Circle
Experience the Vibrant Nightlife in Bucharest
Constitution Square (Piața Constituției)
Go Vego
St Nicholas Church
Walk in the Middle of Major Streets
King Mihai I Park (Herăstrău)
University Square
Strada Lipscani
Monument of the Romanian Infantry
St Anthony's Church (Biserica Sfântul Anton)
The Linden Tree Inn (Hanul cu Tei)
Odeon Theatre (Teatrul Odeon)
Drink Romanian Beer