Kotor is one of the oldest towns in Montenegro… which is said to be more than 2,000 years old! We'd never been to Kotor before. Yet, having seen many photos and watched some vlogs… we were looking forward to exploring a new town.
Located on the Bay of Kotor, when driving in from Tivat… the views of the surrounding mountains are spectacular. And, as we were going to our accommodation… the scenery took our breath away.
Now, we were staying in Kotor for about 1 week. Yet, for half the time we were there, the weather wasn't great… cold, rainy and windy. So, when we did get some good weather, we made the most of it.
In this We Drink Eat Travel blog post, we will be sharing with you… 25 top things to do in Kotor Montenegro. So, let's start with one of the most famous of landmarks…
Kotor Old Town
In 1979, Kotor made it onto the UNESCO World Heritage List. And, one of the most popular Kotor attractions is the Old Town. So, when you head on over to the Old Town… you can see the charm, culture and beauty it oozes.
And, whilst it did suffer destruction through numerous earthquakes and conflicts… it's great to see that many of the Kotor attractions have been re-constructed and restored.
Now, there are many sites to see and things to in Kotor Old Town. So, here we list some of them to give you travel inspiration.
Walk The Old Town Walls
We did do the amazing walk along the Old Town Walls in Dubrovnik. And, while we were in Kotor, we decided to do the same. It's nowhere near the scale and grandeur of Dubrvonik. Yet, it's great to get some different vantage points of Kotor.
When we went to walk along the Kotor Old Town Walls, we didn't see anywhere where we had to pay a fee. More on that below. So, up some stairs we went and took some great pics along the way…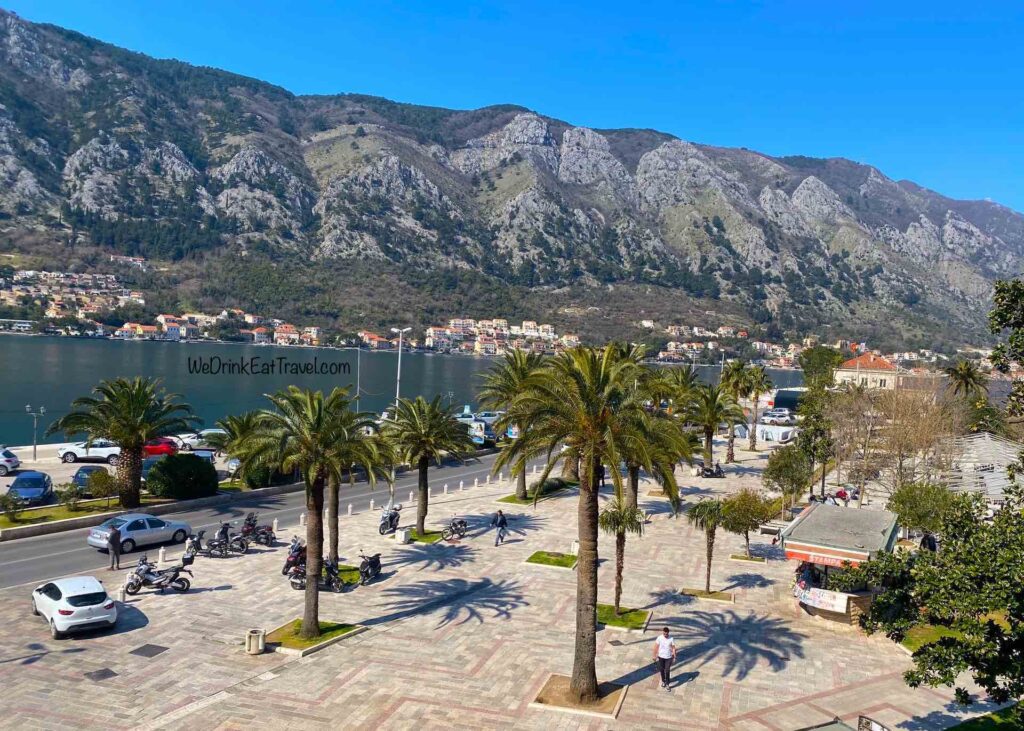 Gurdic Gate (South Gate)
Now, we were talking just before about walking along the Kotor Old Town Walls. And, to do that we went to the South Gate entrance. Once we went through the gate… we soon found a stairwell which eventually led up to the walls. We weren't sure if we had to pay a fee, or it was for free. Yet, when we went up there was no ticket office, or anyone telling us we had to pay. So, the South Gate is the one that looks like this…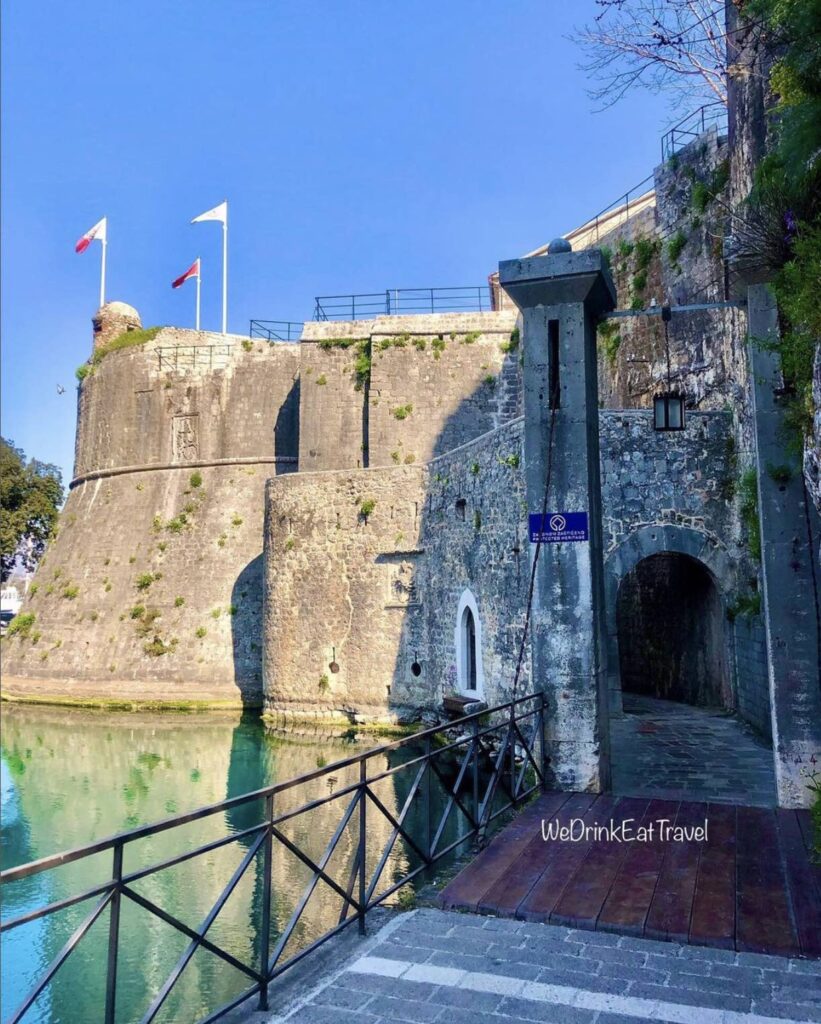 River Gate (Northern Gate)
Built in 1540, the River Gate crosses over the Skurda River… linking the Old Town to the northern side of Kotor.
Yes, it is a smaller gate and not as striking as the other 2 gates. Yet, it sure served an important purpose back in the days… to help protect the town and people from numerous attacks.
Now, once you walk through this gate, one of the first things you'll notice is…
Church of St Mary Collegiate
Built in the 1200's, St Mary's Church is within the area of Trg od Drva. Unfortunately the church wasn't open when we were there. Never mind! So, here is the first glimpse of St Mary's Church after passing through the River Gate…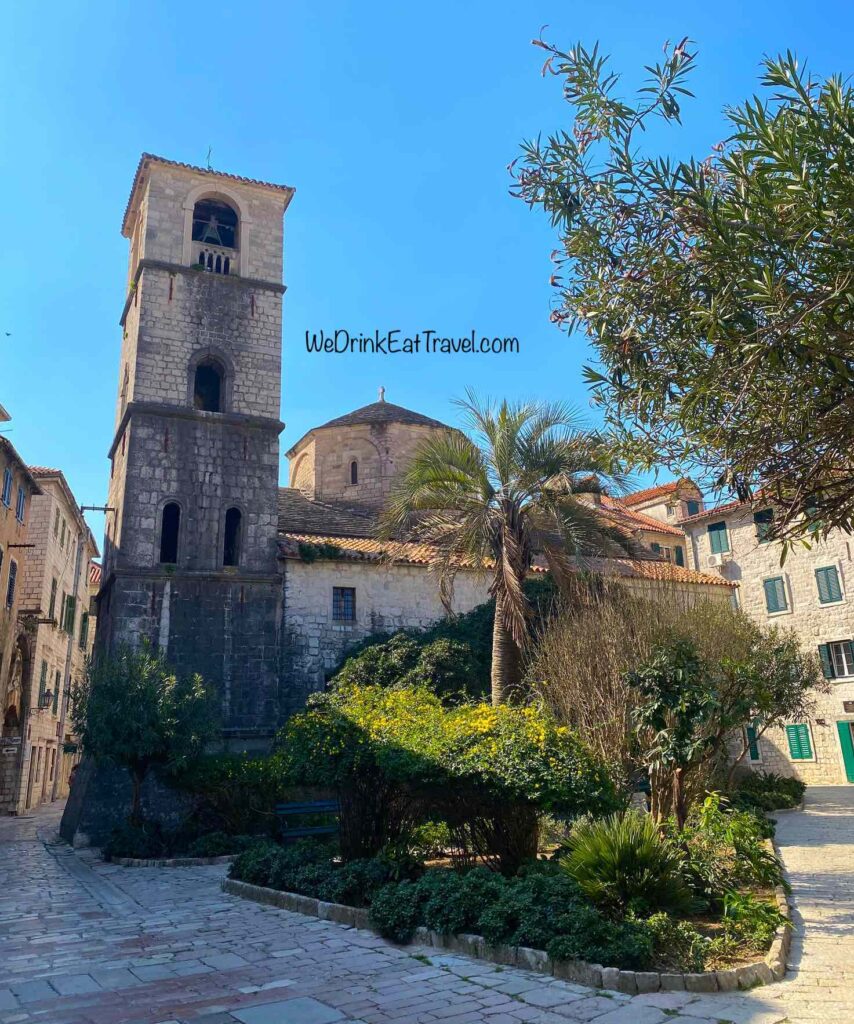 Sea Gate (Western Gate)
The Sea Gate is the main gate of Kotor Old Town… and what we would consider the grandest looking of the 3 gates.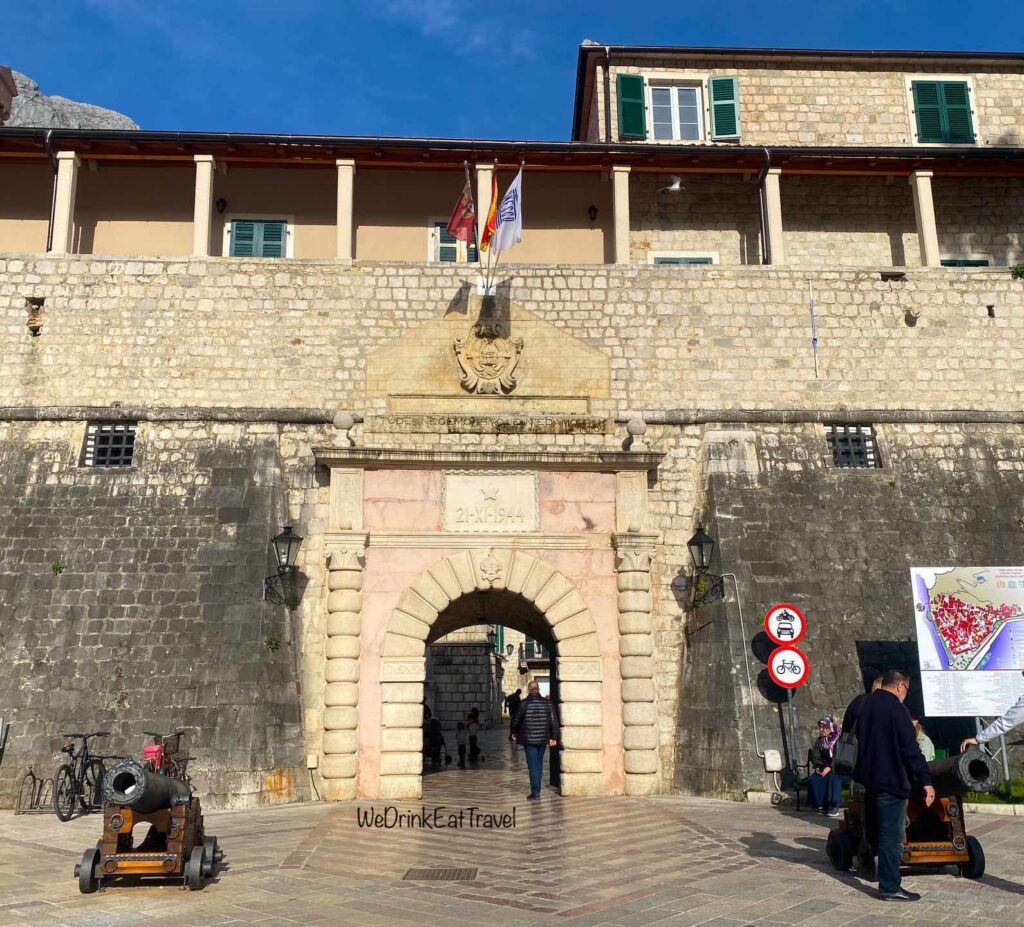 Yet, it's the busiest gate, with many groups gathering here before their tours start! Built in the mid-1500's, it leads directly into one of the main areas in the Old Town. And, this is another of the top places to visit in Kotor…
Square of the Arms (Trg od Oružja)
Now, when you come through the main gate of Kotor Old Town… you'll enter the biggest and main square in Kotor called, Square of the Arms.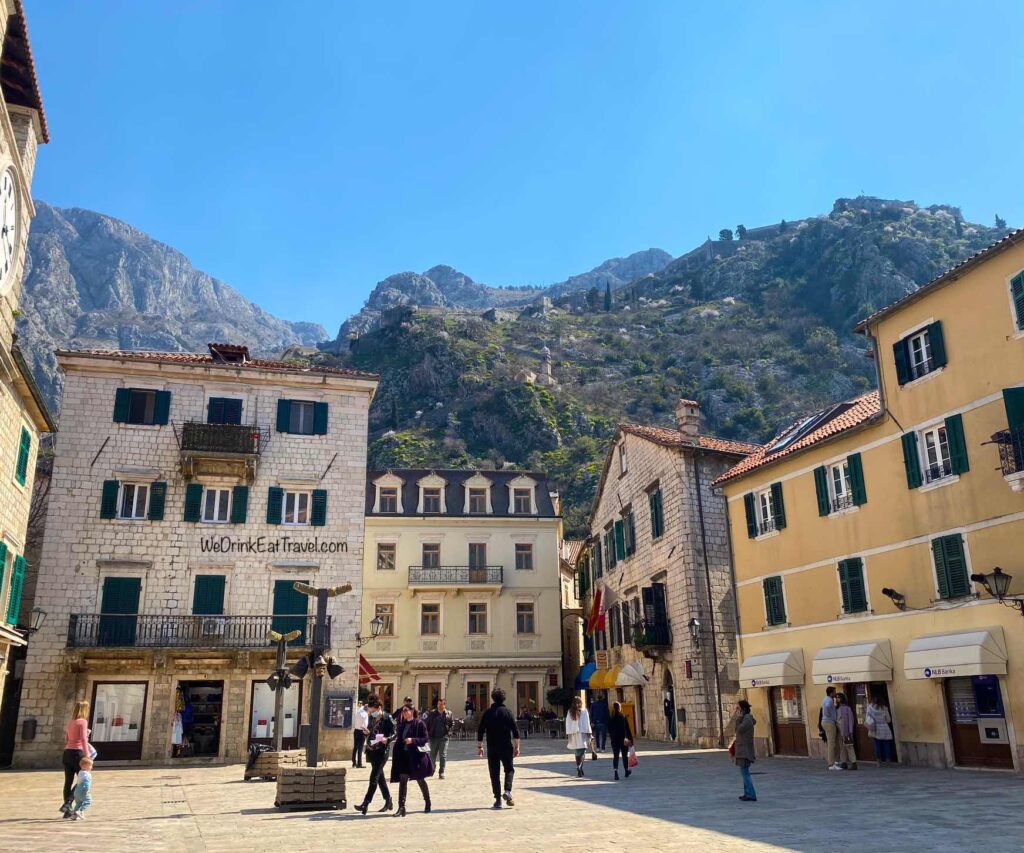 And here, there are many shops, banks, cafes, restaurants, and important historical Kotor attractions including this one…
Old Town Clock Tower
This is the most prominent landmark in Arms Square, dating back to the 17th Century. And, while it was in construction… an earthquake destroyed and damaged many historical sites, including the Clock Tower.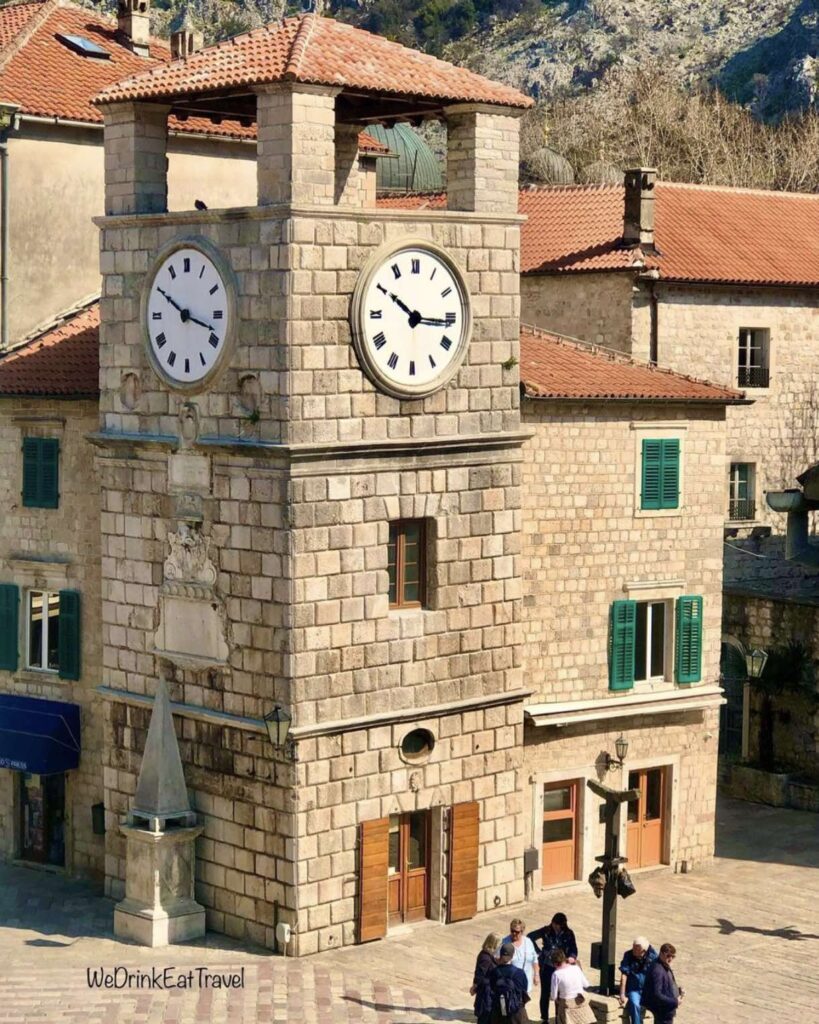 Now, it's said that the Clock Tower leans slightly to the West as a result of the earthquake! You'll want to get there early if you want photos of the Clock Tower… WITHOUT multiple tour groups crowding round it.
The next on our top things to do in Kotor, is a popular one…
Cathedral of Saint Tryphon (Kotor Cathedral)
Now, when it Kotor you'll notice that there are many churches for such a small town! Yet, when in the Old Town, one of the most important is Saint Tryphon Cathedral. This cathedral was originally built in the mid 1100's… yet due to multiple earthquakes, it had to be re-built numerous times. And, if you want to go in and see the intricacies of Saint Tryphon Cathedral… you'll need to pay 3 Euros (about USD $3.25).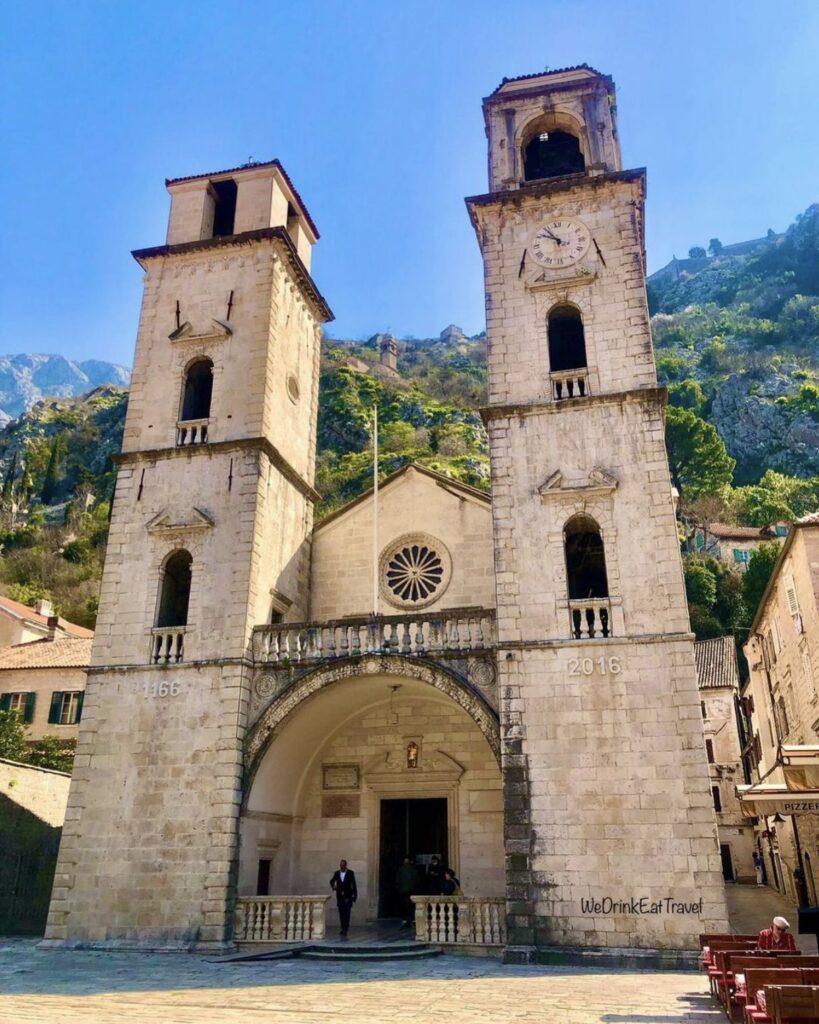 Get Lost in The Old Town
One of the things we love about exploring ancient towns… is roaming down alleyways and seeing where we end up. It's all about getting lost, and finding new places to eat, drink, or see… which may be "off the beaten path." There are many cute alleys, and we felt like we were going through a maze. Yet, that's all part of the fun!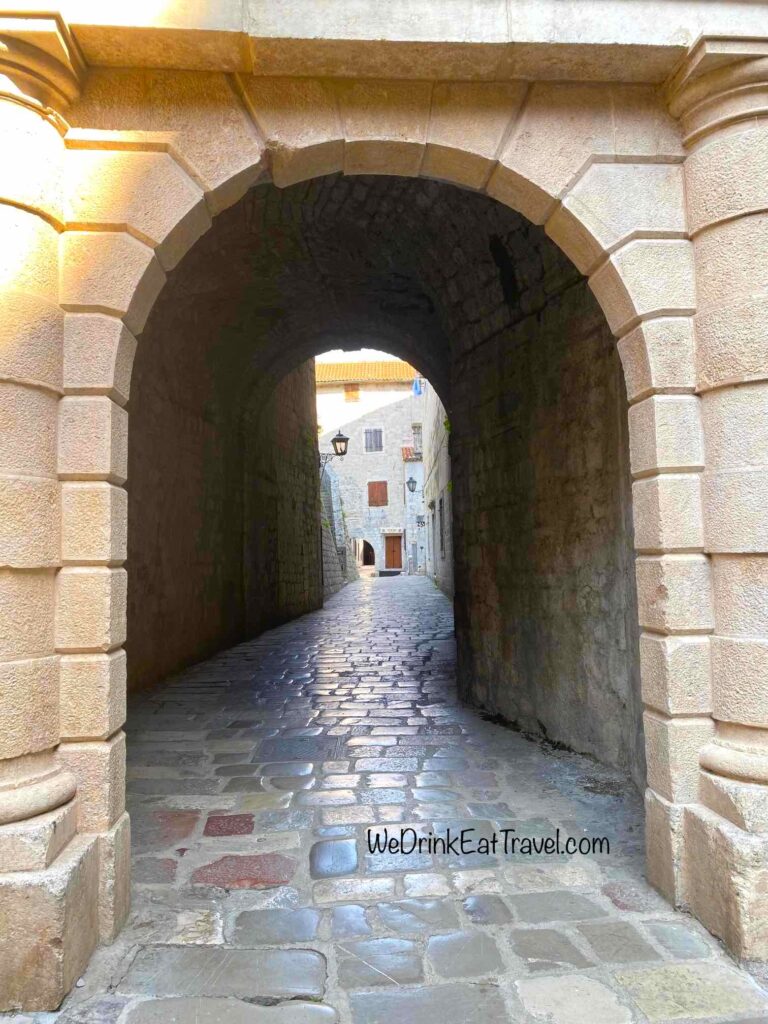 Kampana Tower and Valier Bastion
If you're going to Kotor Old Town from the northern side… you will see a huge, long wall connecting the Kampana Tower and Valier Bastion.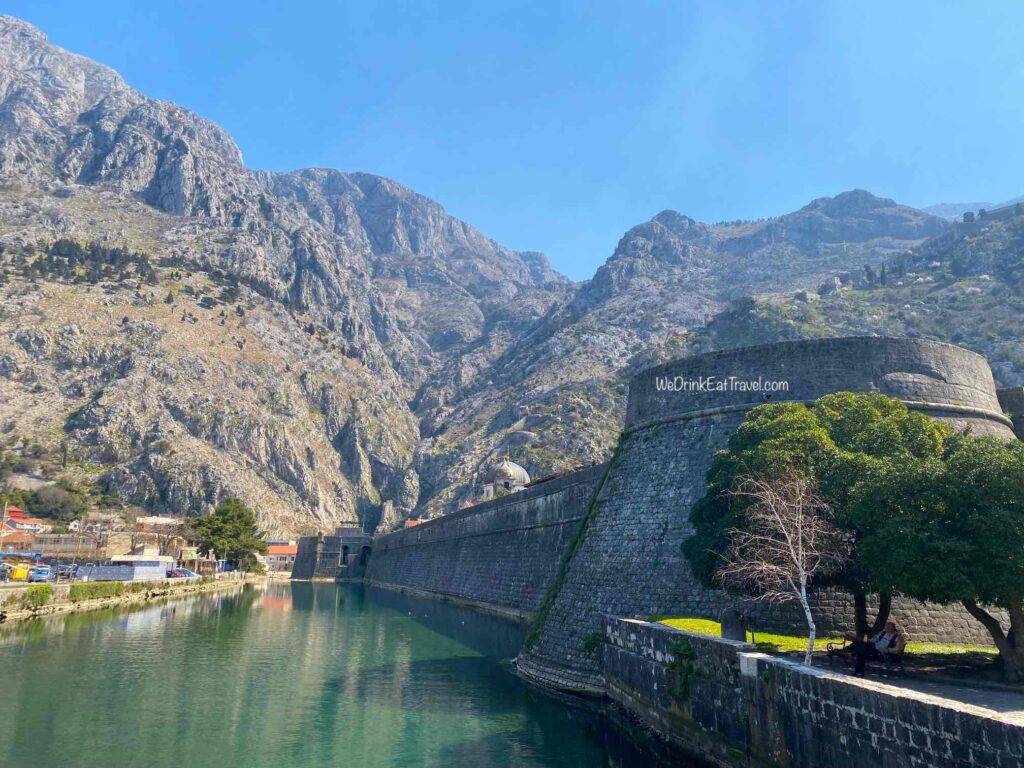 The big circular structure was a prominent defence structure, giving 360 degree views. It looks amazing with the river, and picturesque mountains as the backdrop.
So, another one of the places to see in Kotor is this…
Church of Saint Nicholas
The Church of Saint Nicholas is a Serbian Orthodox church, that was built in the early 1900's. And, what stands out with this church is not only the main dome, but the 2 big bell towers in front… also topped by the same black dome structure and golden cross.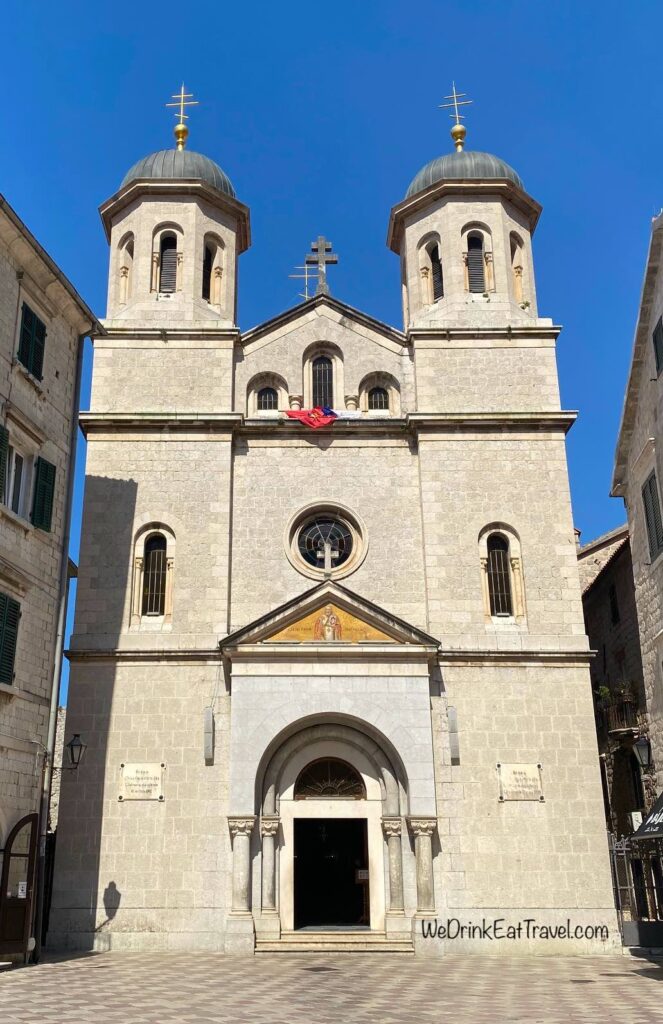 Now, for a smaller scale church with a different charm… head on over to St Luke's Church, a stone's throw away from Church of St Nicholas.
Church of St Luke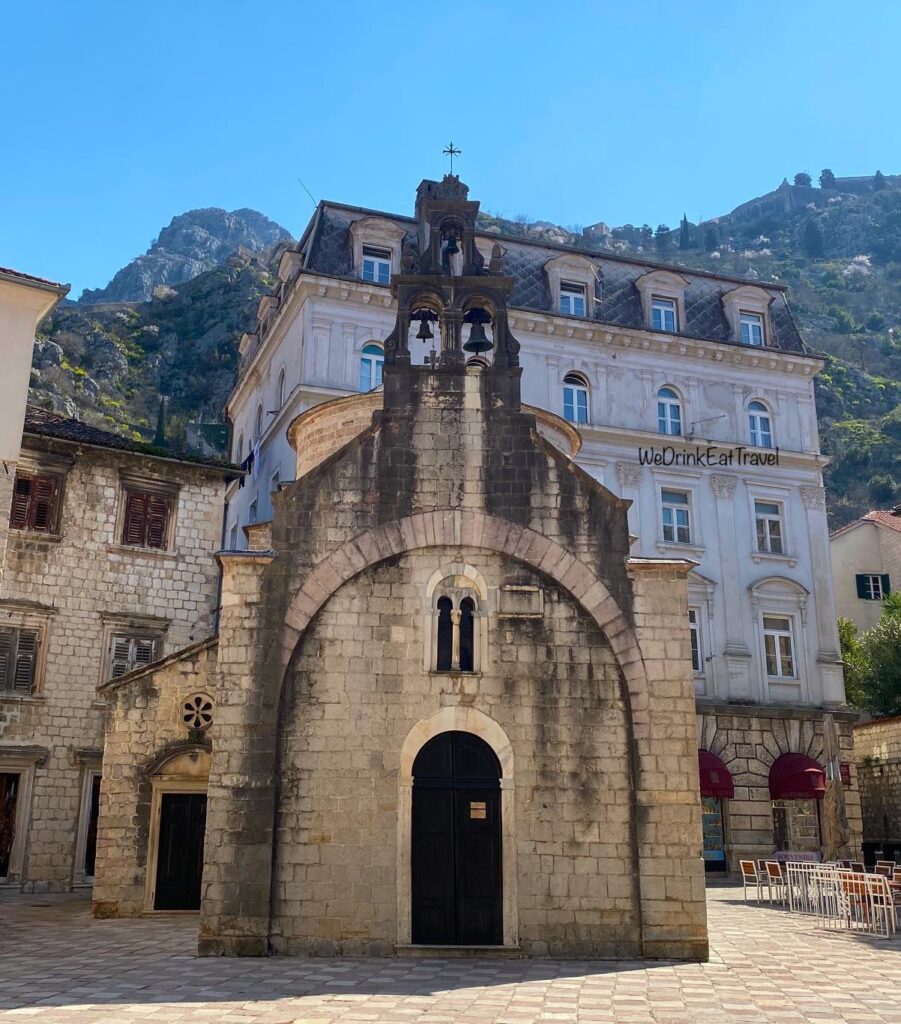 Can you believe that this small church was one of the few structures that suffered little damage… as a result of the earthquakes?
This resilient little church dates back to the late 1100's… and was originally built for the Catholic religion.
Yet, what makes St Luke's Church different… is that it eventually housed a Catholic and an Orthodox altar. So, history has it that this church is an important symbol of harmony… between the Catholic and Orthodox people.
Now, while we've highlighted a few of the churches in Kotor Old Town… there are plenty more that are quaint and deserve a look too. Outside of Kotor Old Town and beyond are many other churches you can visit, if that takes your fancy.
Pima Palace
When you're strolling around the streets of Kotor Old Town, you will likely come across this building…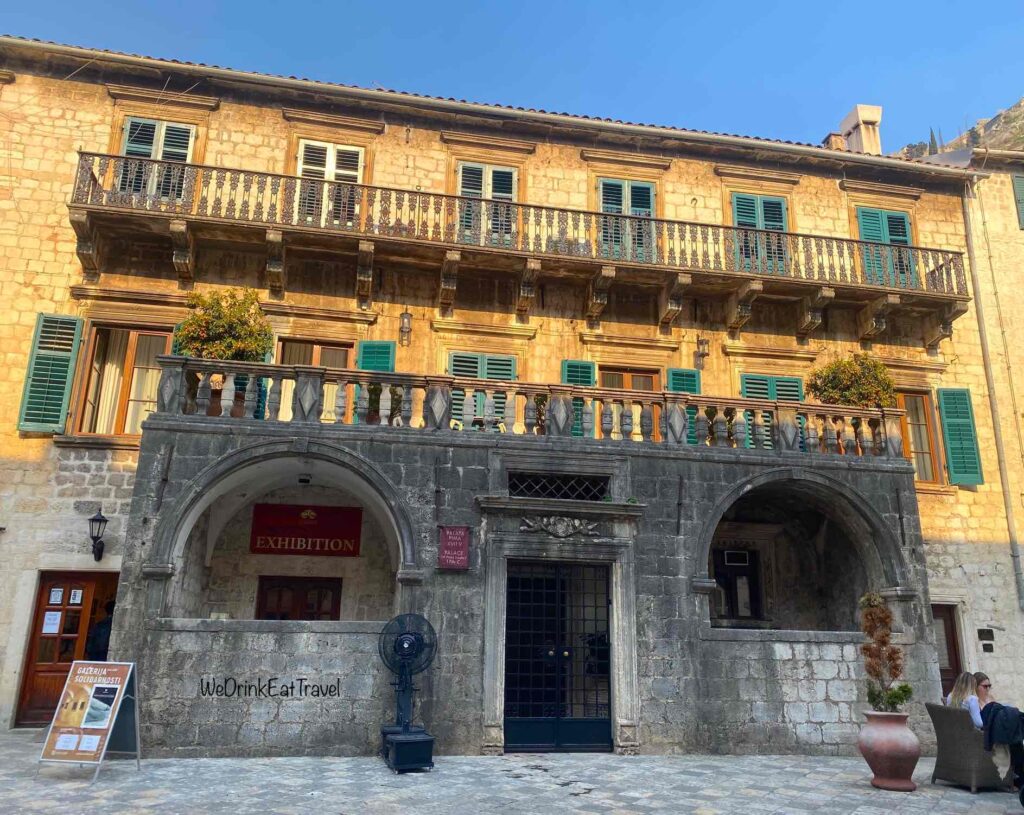 This is Pima Palace, which was said to have been built in the 17th century. It has these eye-catching distinctive green shutters and patterned railings. And, above the main entrance of the Palace… you'll see 2 angels holding the coat of arms of the Pima family.
So, if you want to gaze at this historic building… there are restaurants in Flour Square surrounding the Palace.
Gregorina Palace – Maritime Museum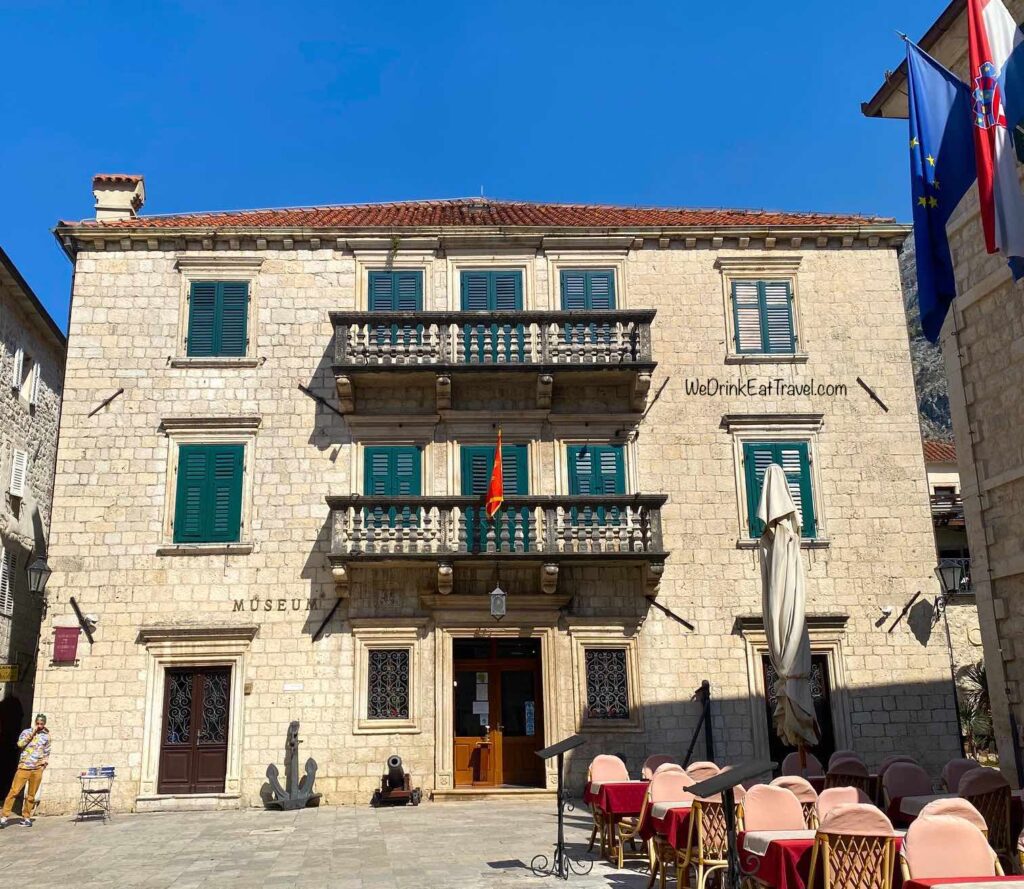 You can find Gregorina Palace in Museum Square. Like many of the squares in Kotor, this is also an enchanting little area. The Baroque style Gregorina Palace, was built in the 18th Century, yet is now home to the Maritime Museum. And, as you can see in the photo there are 2 cannons at the entrance. And, this was to symbolize the battles between the pirates and seamen.
Souvenir Shops
If you love looking at souvenirs and buying for yourself, and family or friends… then there are plenty to choose from in the Kotor Old Town. It felt like that almost every second shop sold souvenirs!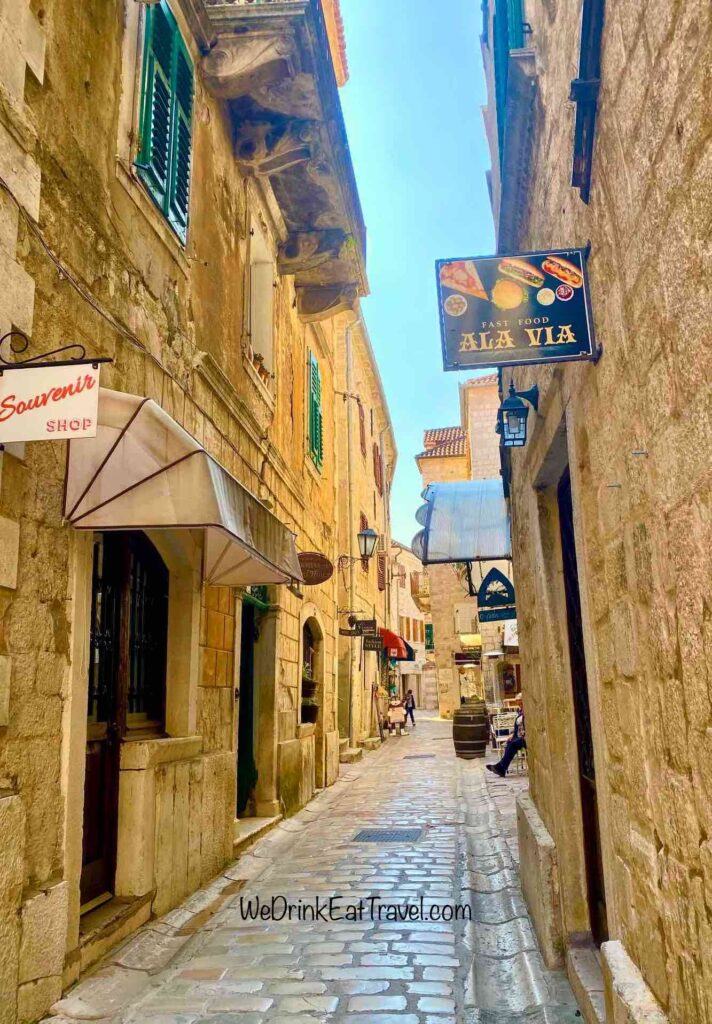 Now, there are other things to do in Kotor outside of the Old Town, including…
Kotor Farmer's Market
Between the Sea Gate and Gurdic Gate is a section for the Kotor farmer's market. Here, various owners would put their produce on display in the hopes of selling them. From homemade rakia, fresh fruit and veggies, meats and slabs of cheeses… it's worth taking a stroll and having a look.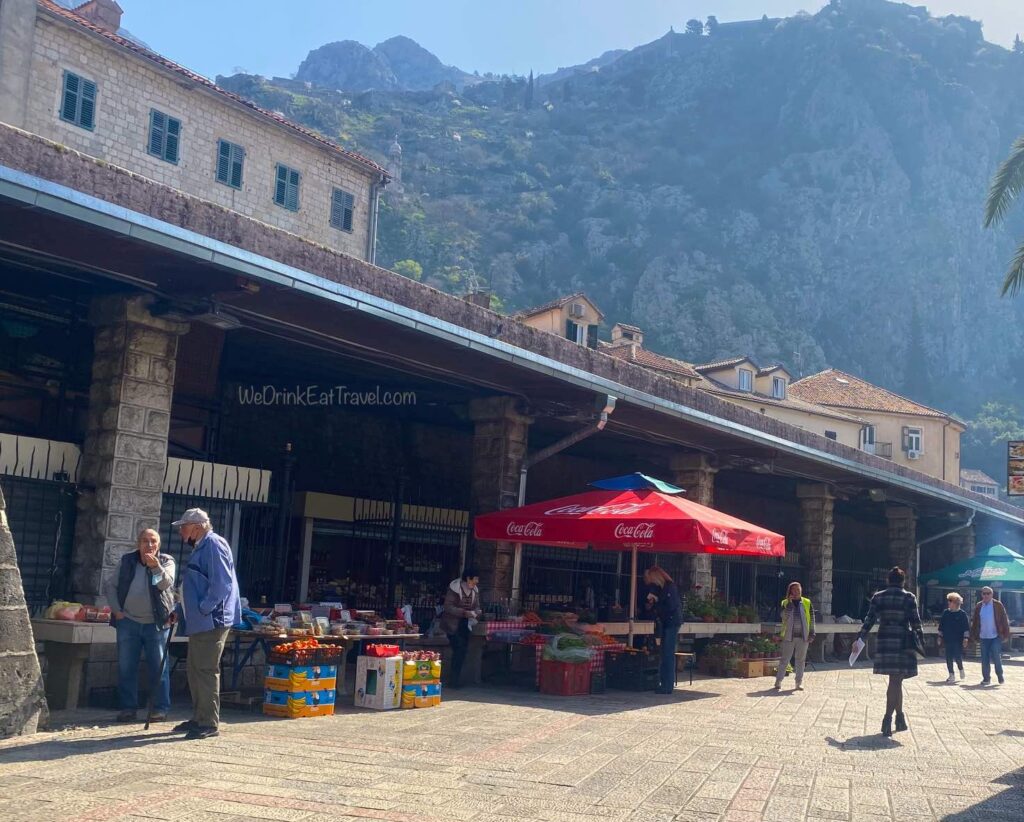 When we were in Kotor, we saw that this farmer's market was open every day. Yet, Saturday was when it was bustling. On other days only a handful or so of stalls would be open, but that may be different in Summer. And, if you're wanting some other treats, there are other food carts opposite the stalls… selling things like pancakes, corn and fairy floss.
Now, this next one is of course, one of the top things to do in Kotor…
Eat and Drink in Kotor
There are many places to eat and drink in Kotor, including the Old Town area. From 2 Euro pizza slices, ice cream through to fine dining… there is sure to be something to suit everyone. Yet, as our avid readers / followers would know, we love our bureks. And, of course we were hunting down some bakeries in Kotor. So, one that was nearest to our accommodation was, Pekara Armac. And, OMG, we're so glad we found it.
Not only are the bureks yummy and big, the owner was lovely. She was always busy, and often times there was a line of people… mainly locals. Yet, once we bought our bureks, which were only 1.60 Euros each… we would walk across the road, sit down and enjoy the incredible view.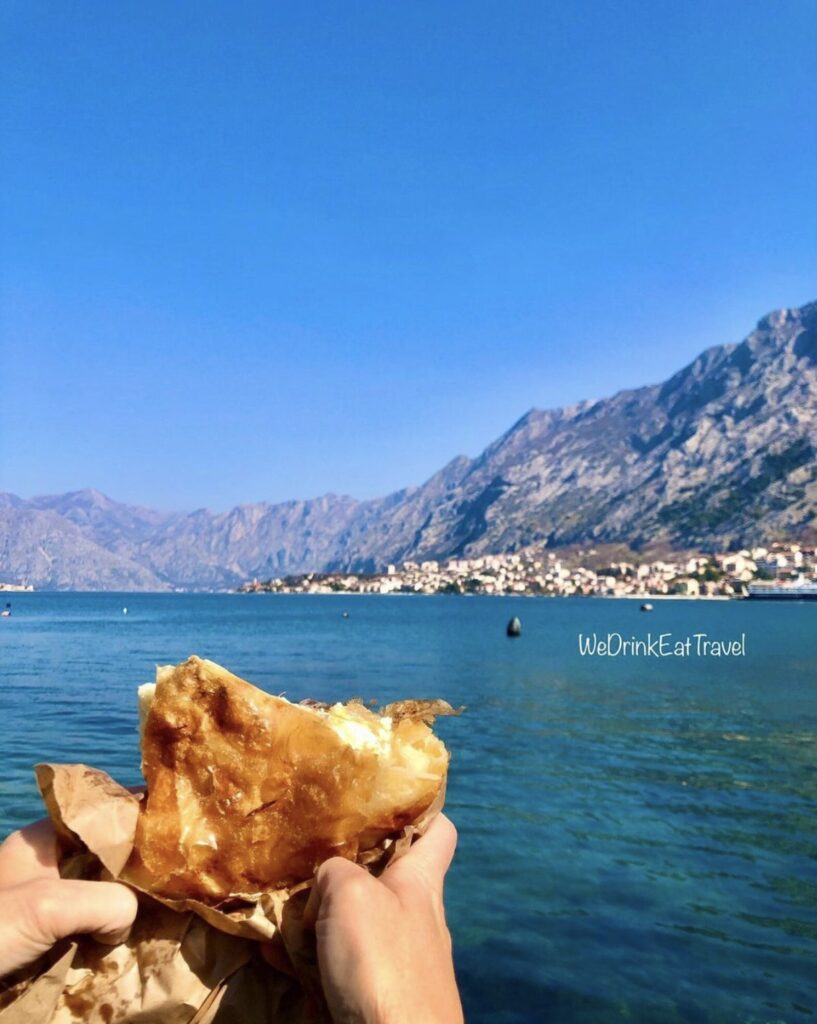 The bakery that most tourists would likely go to is nearby the River Gate, called Pekara AS. The bureks here were slightly more expensive at 2 Euros each, and we believe not as good. Having been to Pekara Armac… we highly recommend you stroll on over there for not only bureks, but breads and sweets!
There are several places to drink in Kotor if you want to quench your thirst. Yet, there's one place that we did prefer as seemed less touristy… and away from the main squares. And, this place was called, Pub Bandiera, which is nearby the Gurdic Gate.
The draught beers were cold and cheap at only 3 Euros for a large one… and 2.40 Euros for a small draught beer. The service was friendly too. It definitely is a locals bar, and can have a chilled atmosphere or lively… depending on how much alcohol the locals have had!
CLICK HERE for some suggestions on best places to eat on your travels…
Now, when it comes to ice-cream we have to say we were disappointed. Because of all the hype and positive reviews of Cattarissimo… our expectations were high. Yet, after getting ice-cream there, we wouldn't go back. We have to admit, while the chocolate and hazelnut flavor of the ice cream was good… for 2 Euros it was a rip off, from our point of view. The tiny scoop of ice-cream would make even the smallest of children cry. And, it wasn't even in a waffle cone. Yet, you'll never know unless you go try for yourself.
This is another of the popular and top things to do in Kotor…
San Giovanni Fortress
So, when we were researching about going to San Giovanni Fortress… there were 2 main ways to go up there. First, there was the route that you could access from within the Old Town. And, if you do it this way the entrance fee is 8 Euros per person! Plus, what we found out later is that the path up can be slippery on some of those stairs. And, the path really only caters for one way traffic comfortably. So, when you see people coming up or down, one of you will have to make way to allow the others to pass through.
Now, the second way is going via an old track that the locals would use to go up the mountains. And, this is the route that we preferred. There were less people, not slippery, and the walk up was a steady incline… unlike going through the Old Town path, which is quite steep. Plus, there is a "secret" window to get into the Fortress. Yet, this is NOT for the faint-hearted! What's more, it's for free. We'll explain it in more detail in another travel blog post.
Yet, whichever path you take, there are beautiful views over Kotor and beyond…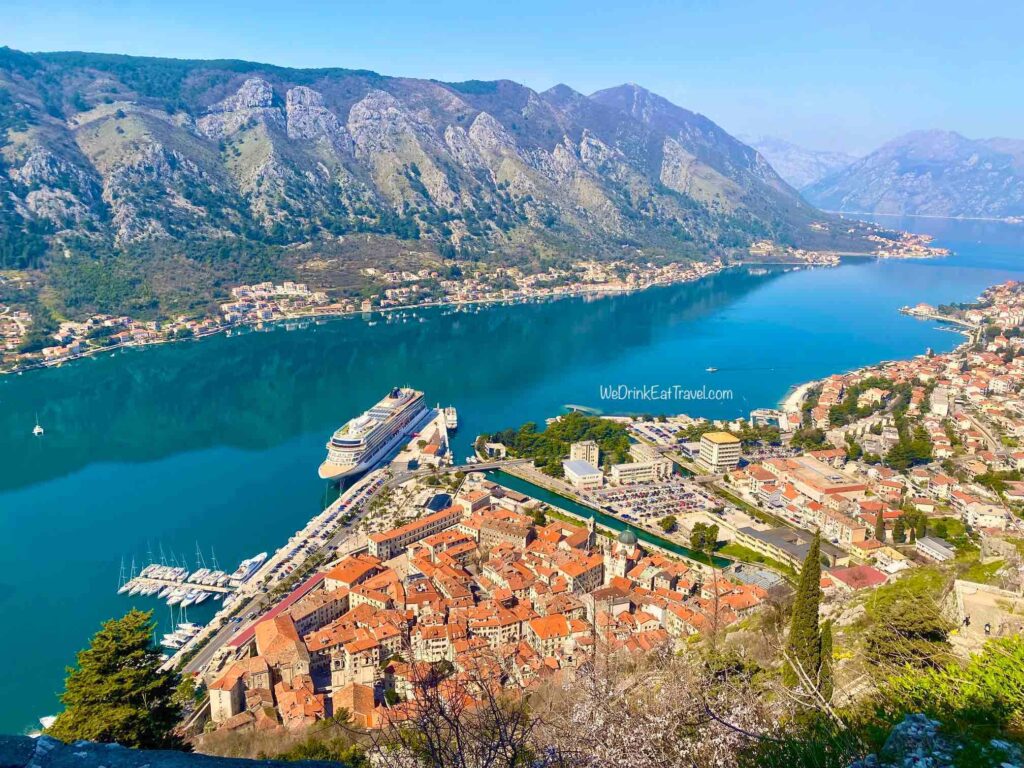 Stroll Through Park Slobode
If you're looking for somewhere to sit back and relax amongst the trees… then head on over to Park Slobode. With a playground as well, it's a hit for families with young children. Plus, if you walk further out towards the waterfront, you'll see a tall obelisk structure… which is the Freedom Monument, in memory of the end of World War II and those who lost their lives.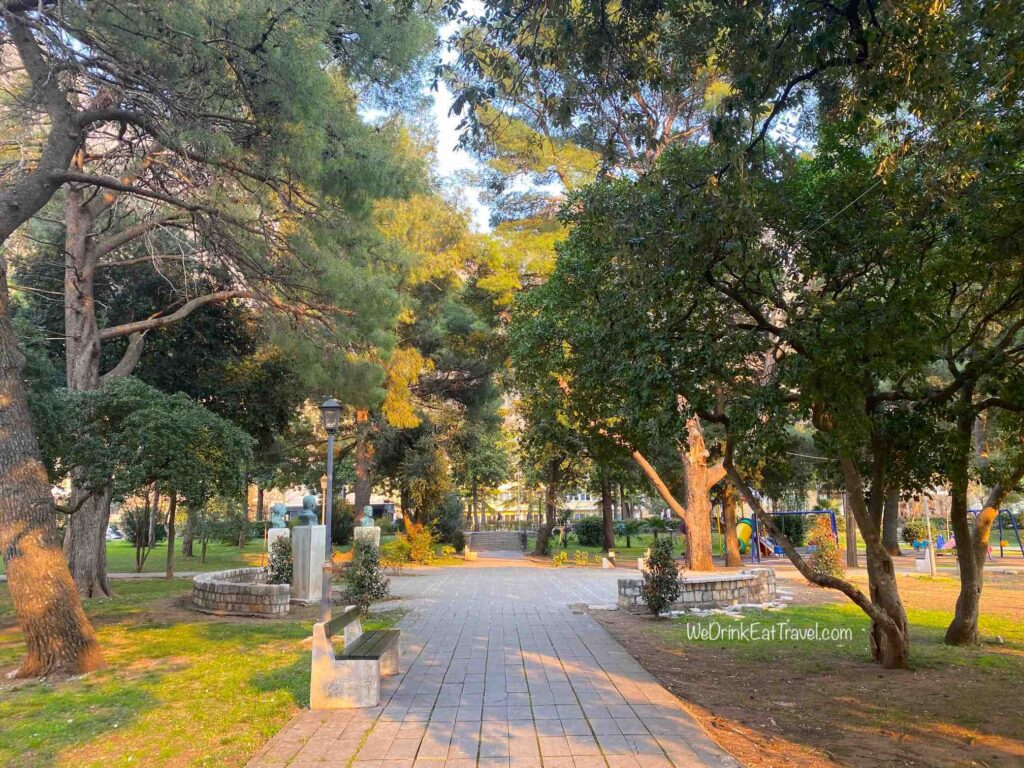 Kotor Beach
If you're looking for somewhere to soak up the sun and relax… head on over to Kotor Beach. Now, when we were there it wasn't the weather to be wearing swimsuits… and none of the lounge chairs had been set up.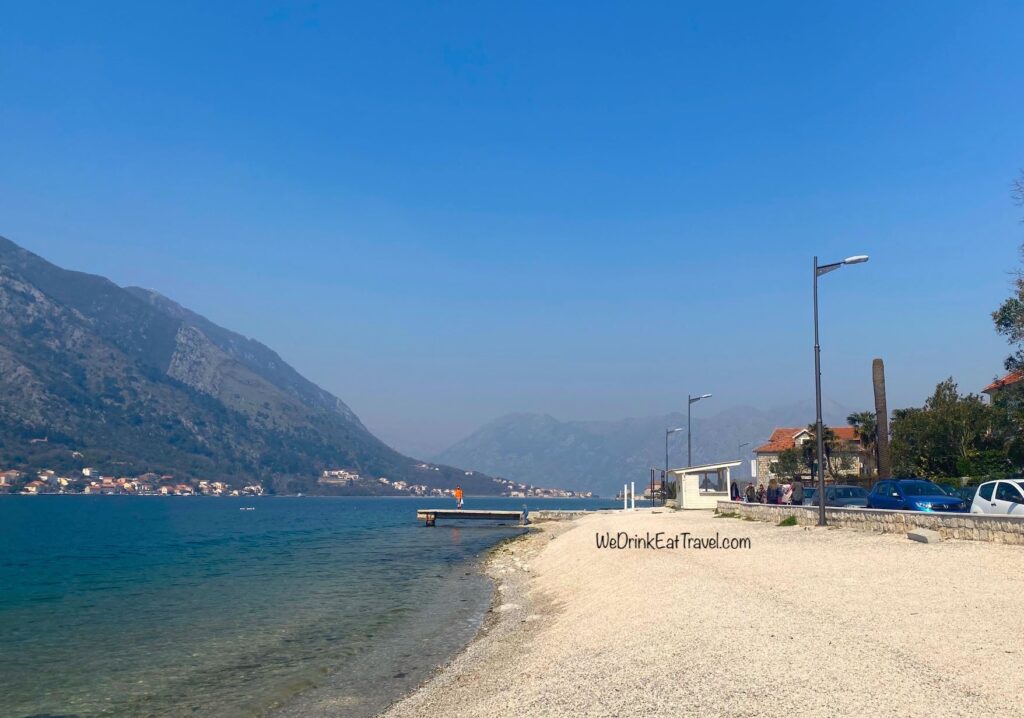 Although, if you walk along the Riva there are many places to eat and drink… enjoy the scenery, and people watch.
For some amazing beaches to visit CLICK HERE
Dobrota
Kotor is a relatively small town, so rather than just spend our time exploring the Old Town… one day we made our way north past the Old Town, about a couple of kilometres out.
And, by walking this way we reached the township of Dobrota. The more scenic route is to walk along the Riva. And, after walking past several restaurants and cafes… you can see the tiny St Elijah Chruch, nearby the grounds of the Institute of Marine Biology. Plus, the cross in Kotor Bay. And, if you keep walking further, you'll reach St Matthias Church.
Now, in our opinion, this would have to be one of the best things to do in Kotor…
The Rakia Man
If you've been researching hikes to do in Kotor… you may have come across blogs mentioning "The Rakia Man." Now, we were wondering if he was a myth or legend… as we never saw any photos of him!
Yet, one day we went hiking up the mountains to find this elusive "Rakia Man." And, if your plan is to hike to the Fortress, it's a small detour left. I'll explain it in more detail in another travel blog post. Yet, we did find him and he was so lovely. And, he was very proud of his homemade produce and alcohol, like wine and rakia. It is so relaxing up there, and the views are amazing.
Kotor at Night
If you're spending more than just a day in Kotor, check out the town at night. It is lit up in certain areas, although not as much as other places we've been to. Yet, it still is a beautiful sight to witness…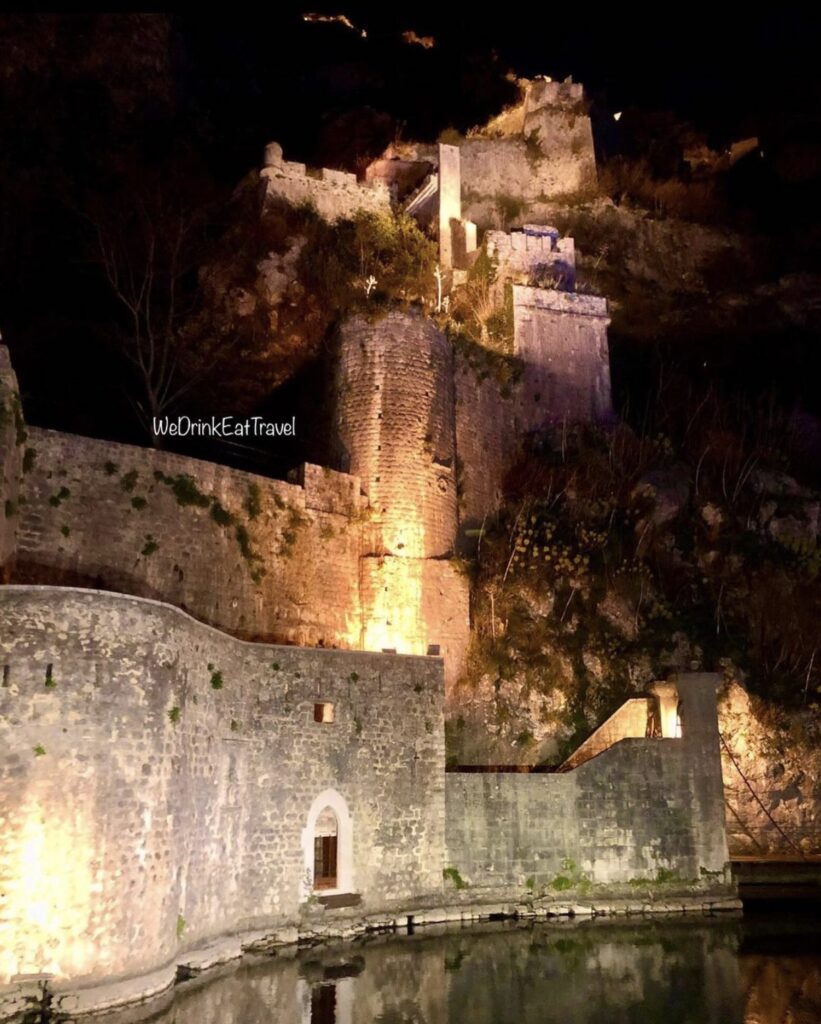 And last but not least on our list of things to do in Kotor Montenegro is…
The Cats of Kotor
On our travels through Montenegro, we have seen many cats roaming the streets. Yet, in Kotor there are even more cats everywhere! Plus, though there are many stray cats, they look like they're fed well.
When we were exploring the Old Town, we saw that there was a Kotor Cats Museum! At the time it wasn't open, but maybe in peak travel season it may open for you cat lovers. Plus, there's a Cats Shop! No, not to buy cats, but cat souvenirs, and cat related trinkets.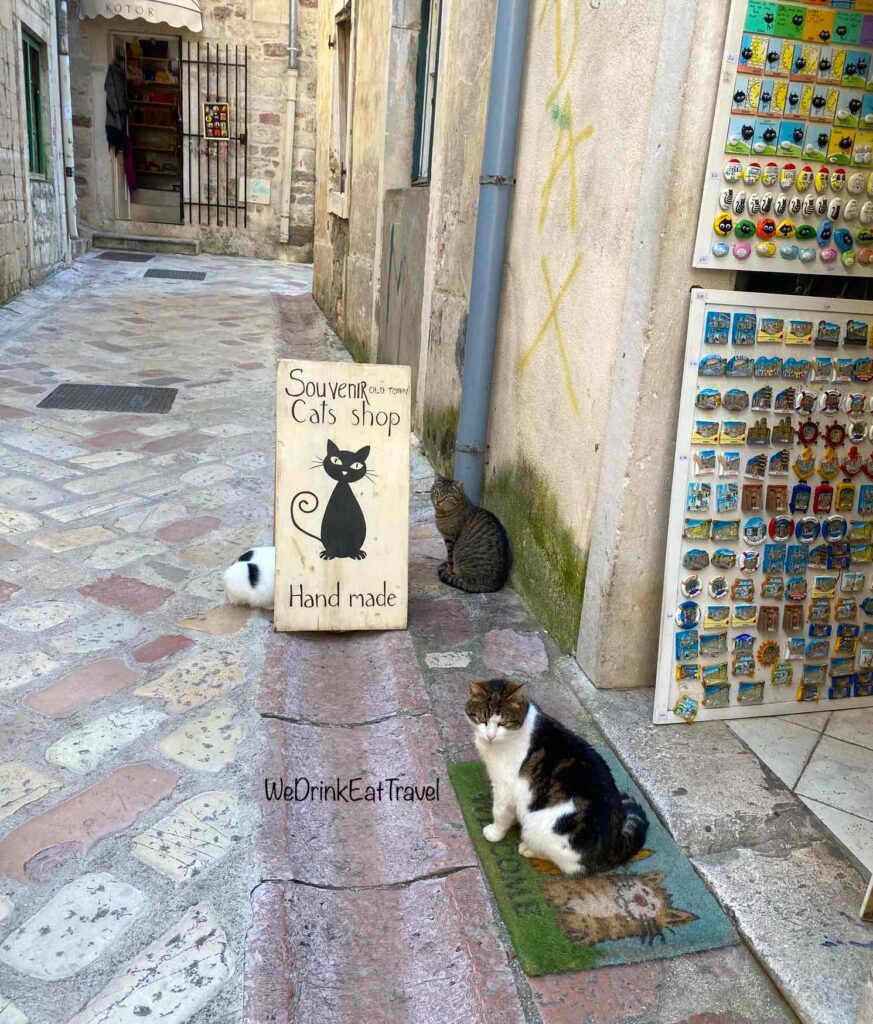 So, that's a big list of 25 things to do in Kotor Montenegro. And of course, there are many other things to do depending on what time of the year you go… as well as other things like your budget, and how much time you have to spend there.
If you only have a limited amount of time to explore… we highly recommend you put Kotor as a priority on places to visit in Montenegro.
Have Fun!
Watch the We Drink Eat Travel Youtube video about Kotor, Montenegro…
Like This? Share it and comment on it!
Note: All of our reviews and comments are our opinions and no-one else's. Even if we receive complimentary goods or services we share our opinions honestly.
You Might Be Interested In This Too…
How To Get FREE Accommodation While Travelling
Where To Eat In Tivat For The Best Fast Food
Ultimate Tivat Hiking Trail For The Most Breathtaking Views
Check Out 16 Things To Do In Tivat Montenegro
13 Interesting Places To See In Podgorica Today
Here Are 7 Remarkable Things To Do In Berat Albania
7 Free Things To Do In Bangkok
10 Places To Visit In Gozo Malta For Breathtaking Views
7 Top Reasons Why You Should Visit Bansko Bulgaria
10 Picturesque Churches To See In Vienna Austria
How To Make Your Time In Tirana Albania Fun And Memorable
Shop Until You Drop In Ratchada, Near Thailand Cultural Center MRT
10 Popular Drinks & Food In Skopje To Make You Happy
Spotlight On Albanian Drinks And The Best Bars In Tirana
10 Awesome & Surprising Things To Do In Skopje Now