One of our new favorite capital cities is the beautiful capital of Czech Republic, Prague. The historical centre of this city, made it onto the UNESCO World Heritage Sites listing in 1992.
And, once you see this amazing city, which is said to have a history of over 1,000 years… you'll be awestruck at the architecture, food and cultural delights it offers. Plus, one of the iconic features of Prague… are the many colorful buildings that line the streets.
What's more, you must come around the Summer season… as there are so many festivals, exhibits, and things to do. You will never get bored in Prague!
And, while Prague is part of the European Union, it can get expensive. So, the great news is, you can enjoy many amazing attractions and sites Prague has to offer… WITHOUT costing anything.
So, in this We Drink Eat Travel blog post… we'll run through 30 amazing free things to do in Prague.
Let's get started with…
Prague Castle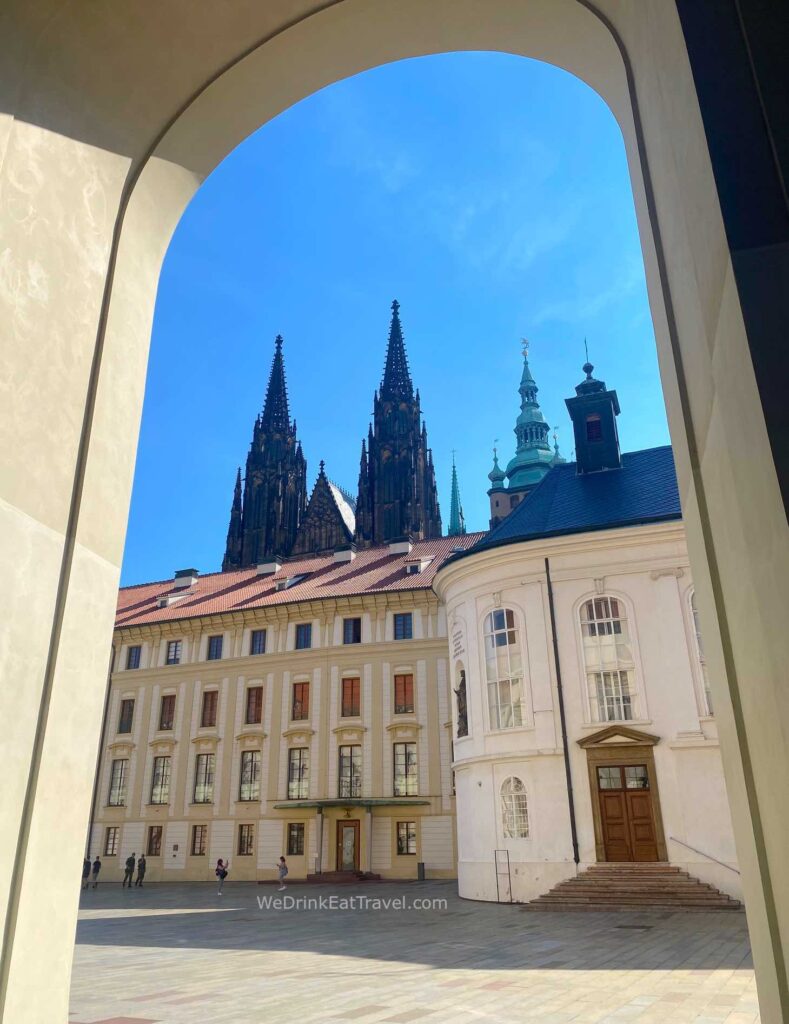 One of the most popular attractions you'll most likely have at the top of your list is… to visit the UNESCO World Heritage Listed, Prague Castle. The great thing is, you don't need to pay an entrance fee to see this ancient castle… which is said to have been founded in the 9th Century.
So, you could spend hours taking your time, looking at all the incredible historic buildings, gardens, and the complex… as it covers an area of about 70,000 m²!
Now, while you're at Prague Castle, time your visit to see this…
Changing of the Guard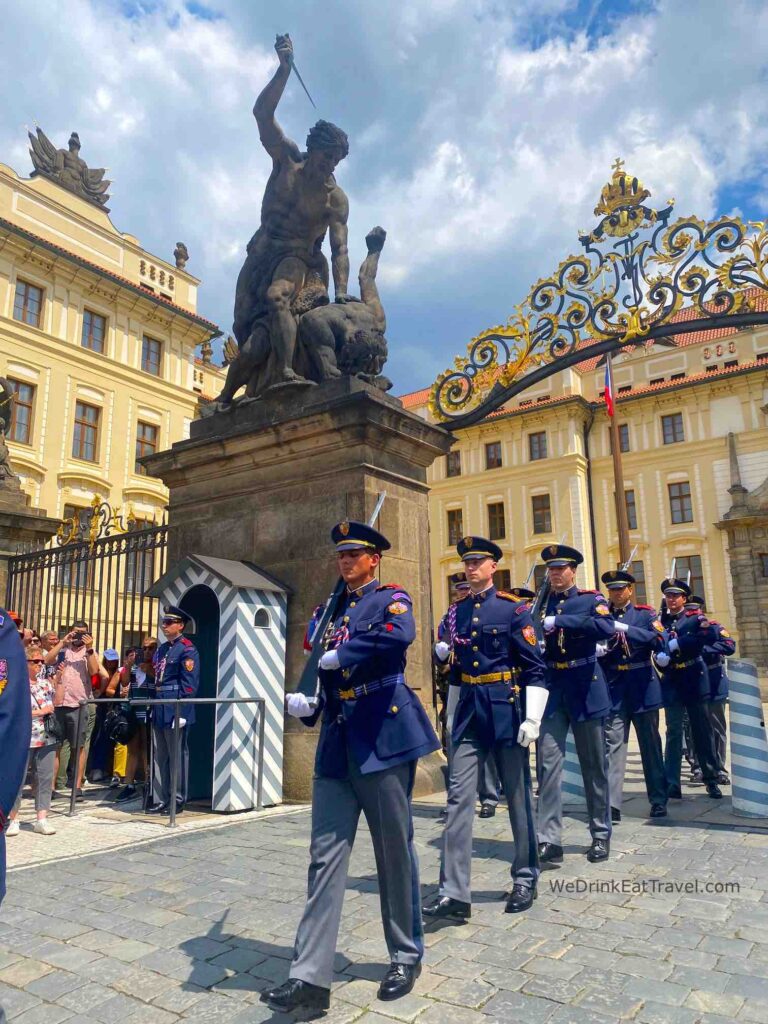 If you want to see some fanfare with the Changing of the Guard… head on over to the main courtyard at Prague Castle. Yet, make sure you go there at 12 midday, as this is when the full procession happens… where it includes a band. Good luck if you can get one of the guards to crack a smile or laugh!
Charles Bridge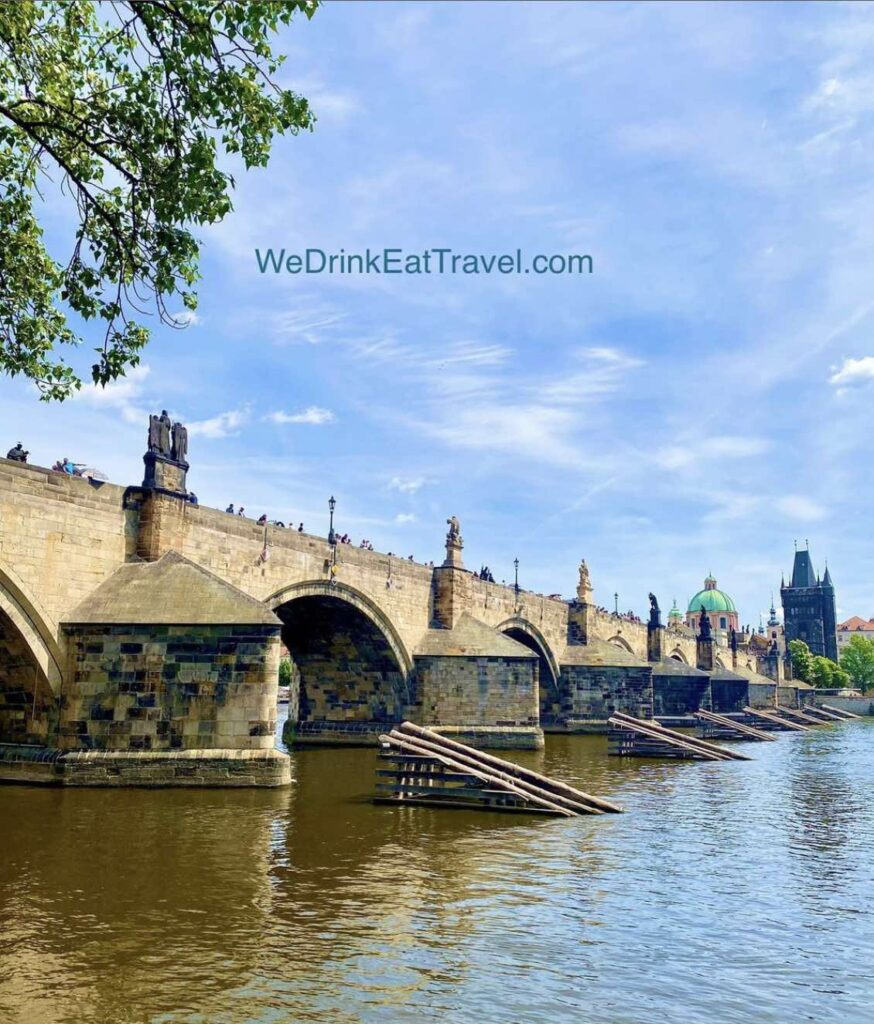 We got up early a couple of times, so that we could walk across Charles Bridge and admire the views… without having hoards of tourists around.
Each time, we got to this historical 14th century bridge by around 8am. While we didn't have the entire Charles Bridge to ourselves… we were still able to get some great photos without anyone in them, or with far less people.
Střelecký Island
There's so much to do in the beautiful city of Prague. And, when you spend time in the Old Town and surrounding area… you'll discover that it does get super busy with lots of tourists.
Yet, if you want to escape the hustle and bustle, while still being close to the city centre… then head on over to Střelecký Island. Yep, that's right, an "island."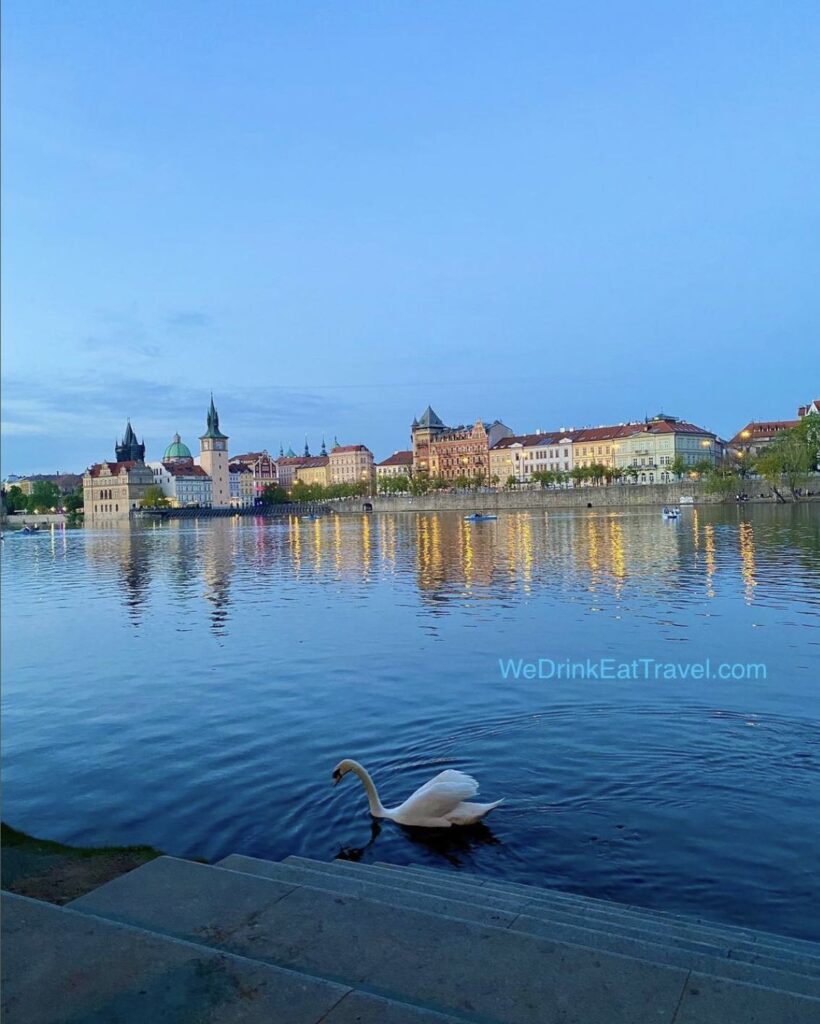 This is a great place to relax amongst the trees, watching the world go by. It's great to hang out by the water with breathtaking views… watching people trying to steer the peddle boats on the Vltava River. Oh, and you may have an encounter with some giant rats!
Now, next on our list of amazing free things to do in Prague is this…
The Prague Astronomical Clock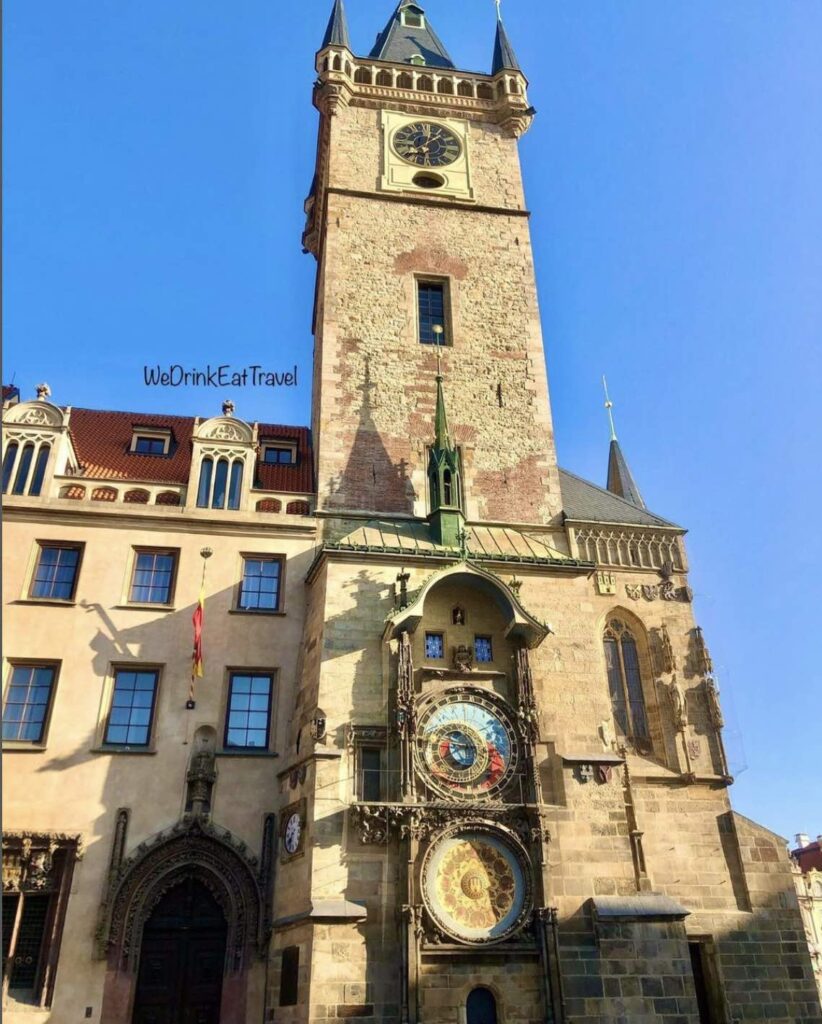 Every hour between the hours of 9.00 am to 11.00 pm, not only does the Prague Astronomical Clock chime the hours… a little theatrical display happens. Now, you have to remember that this clock was built in the early 1400's. So, it was ingenious back then.
Yet, while you're in the Old Town… seeing the Twelve Apostles do their procession in the medieval clock tower is quaint. And, for one of the oldest working astronomical clocks in the world… we're lucky that we can witness it for free.
Letna Park
There are so many vantage points around Prague, to get incredible views of this capital city. Yet, if you're after some breathtaking views, especially of the bridges lined up one after the other… then you must go to Letna Park.
While there are other sites to see such as the Metronome and Hanavský Pavilion… one of the main reasons we went there was to see views like this…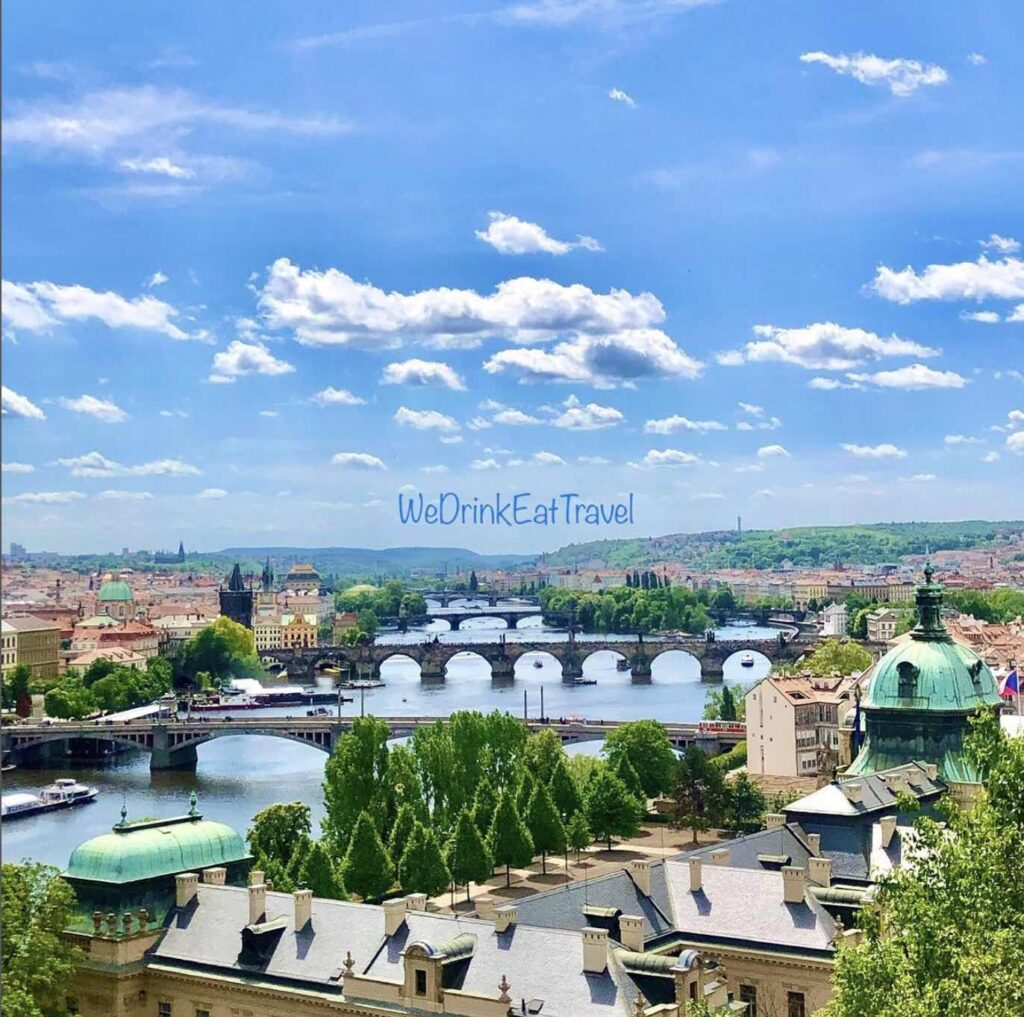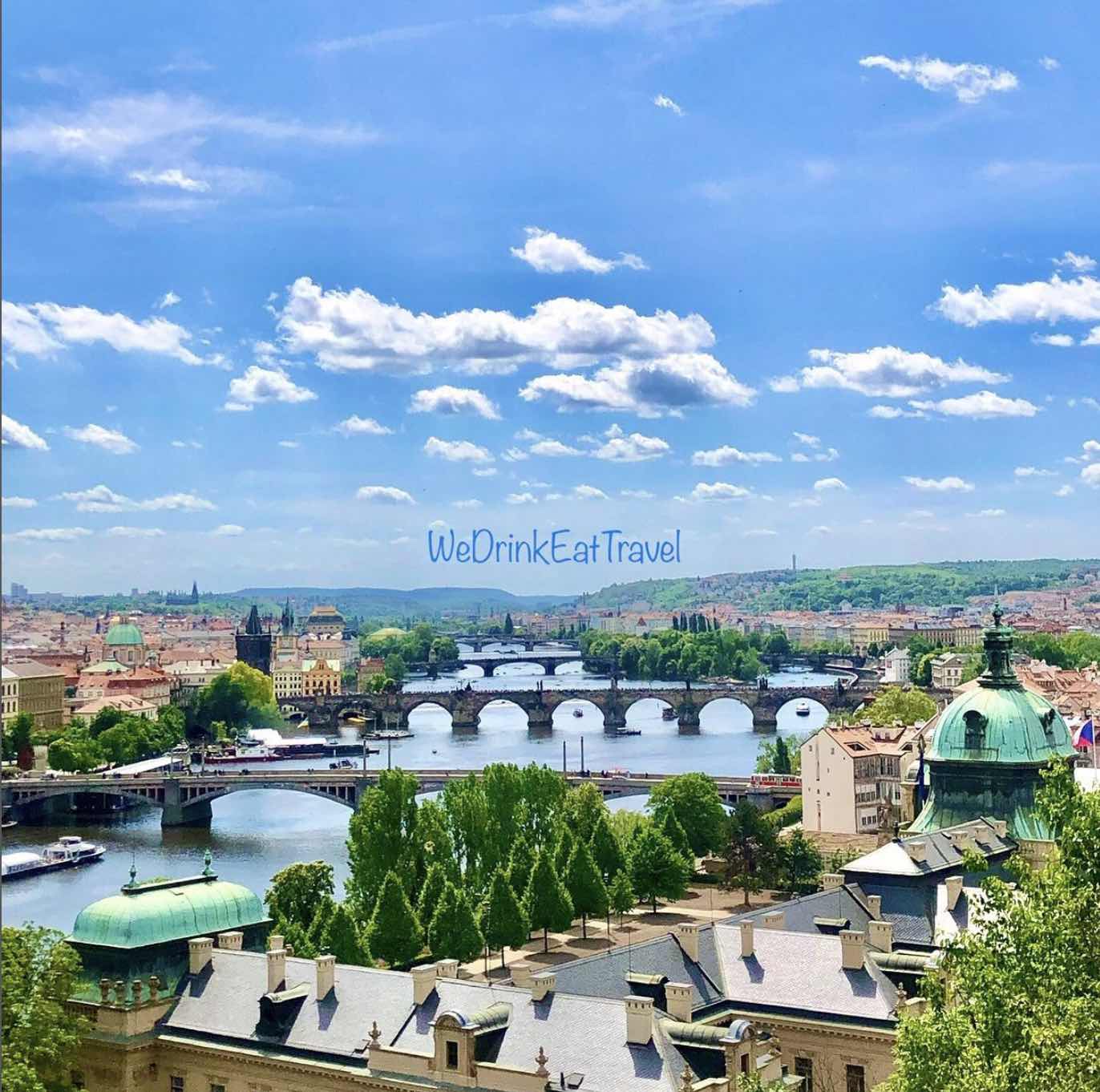 Be Awestruck at the National Museum
Throughout the year… there are days when the magnificent National Museum opens to the public for free. That's right, you can see inside this incredible building and not pay anything. And, you could literally spend hours in here, as there are many different exhibits to look at.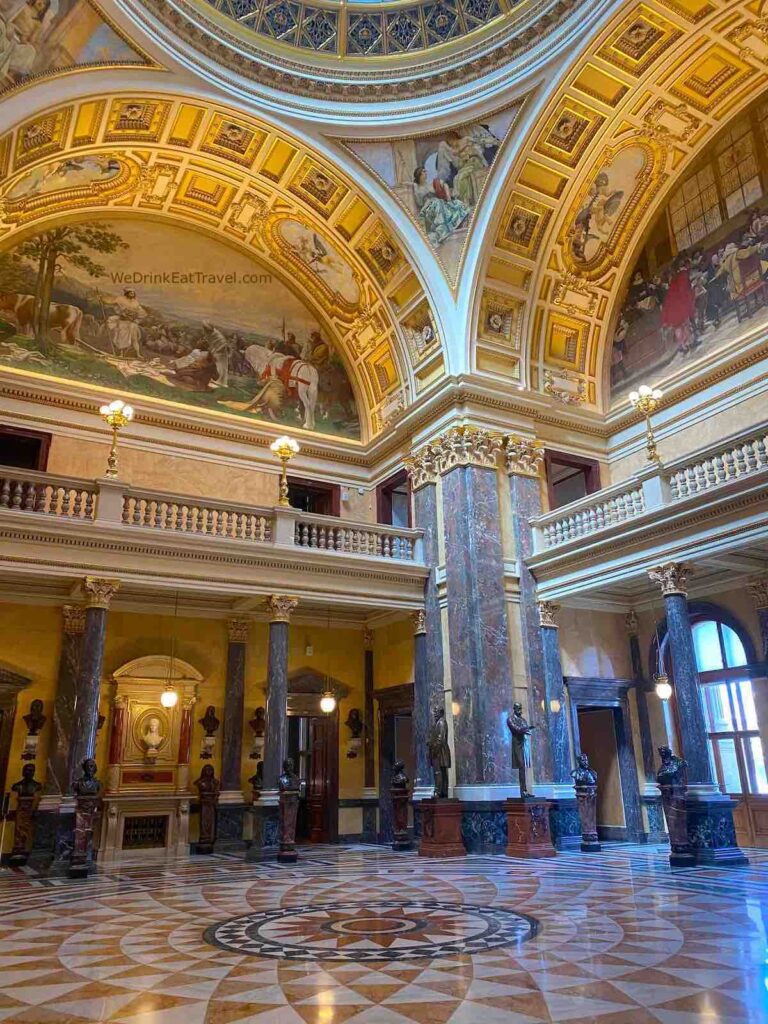 Now, here's a travel tip… On the free open days, make sure you get there at least 30 minutes BEFORE the museum opens. Because if you get there just before opening, you'll have to queue up with LOTS of other visitors. And, this is NOT a great use of your time, especially if you only have a short amount of time in Prague… as there's plenty to do.
Next on our list of free things to do in Prague, is this little wonder…
See the Narrowest Street in Prague
This street, which can be found in Mala Strana near Ulicka Lužického semináře 24… is only about 50cm wide. Yet, one of the cool things about this narrow street is… it has pedestrian lights at either end of it!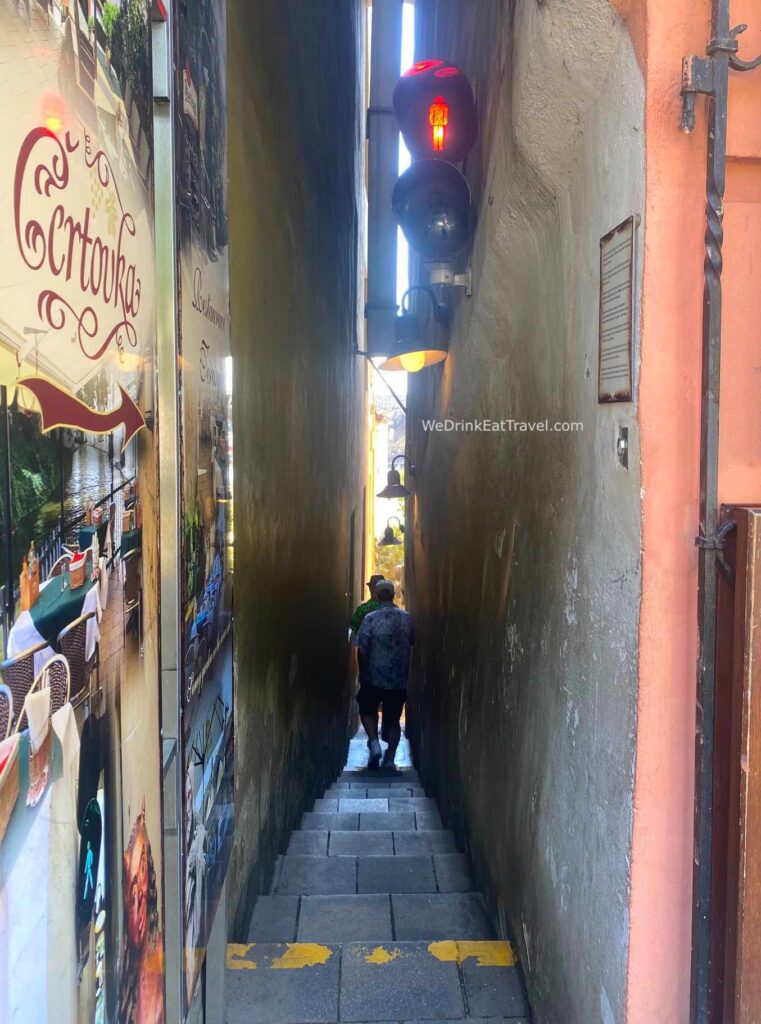 For more travel ideas and inspiration in Prague, CLICK HERE.
Petrin Hill
If you want to relax amongst the greenery to see amazing views of Prague… or even to see some historic landmarks, then head on over to Petrin Hill. While you're at Petrin… you can see old fortifications, monuments, churches, gardens and more. Or, you can simply relax and take in the wonderful views.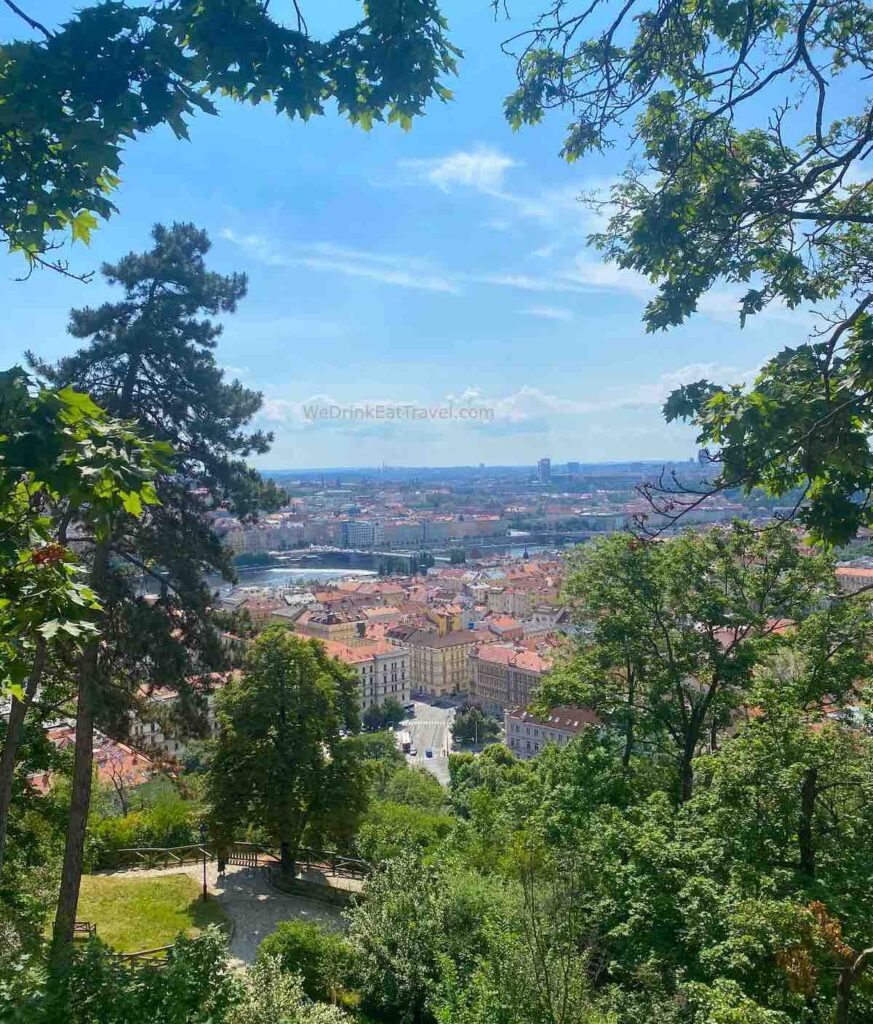 See the Many Moving Monuments
Prague is a very old city, of which it had many various rulers including… the Celtics, Germans, Romans and Austro-Hungarians. And, as you could imagine, there were many battles that took place over the centuries… as well as revolutions, and other significant events.
So, it's no surprise that there are many monuments erected around the city… in honor of the people who helped shape Prague and the Czech Republic. Here are some of the monuments you can see…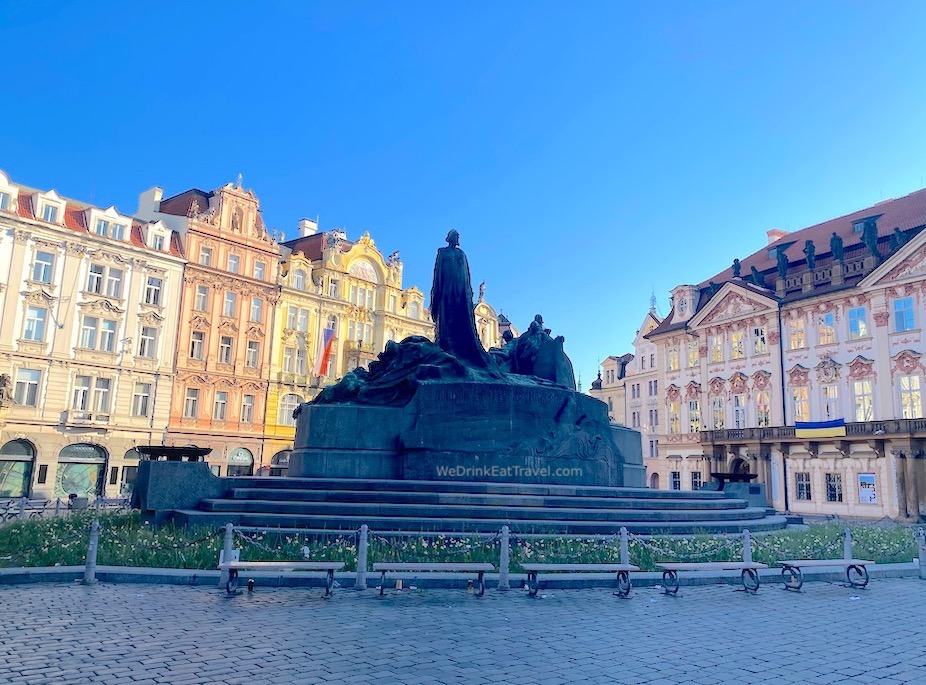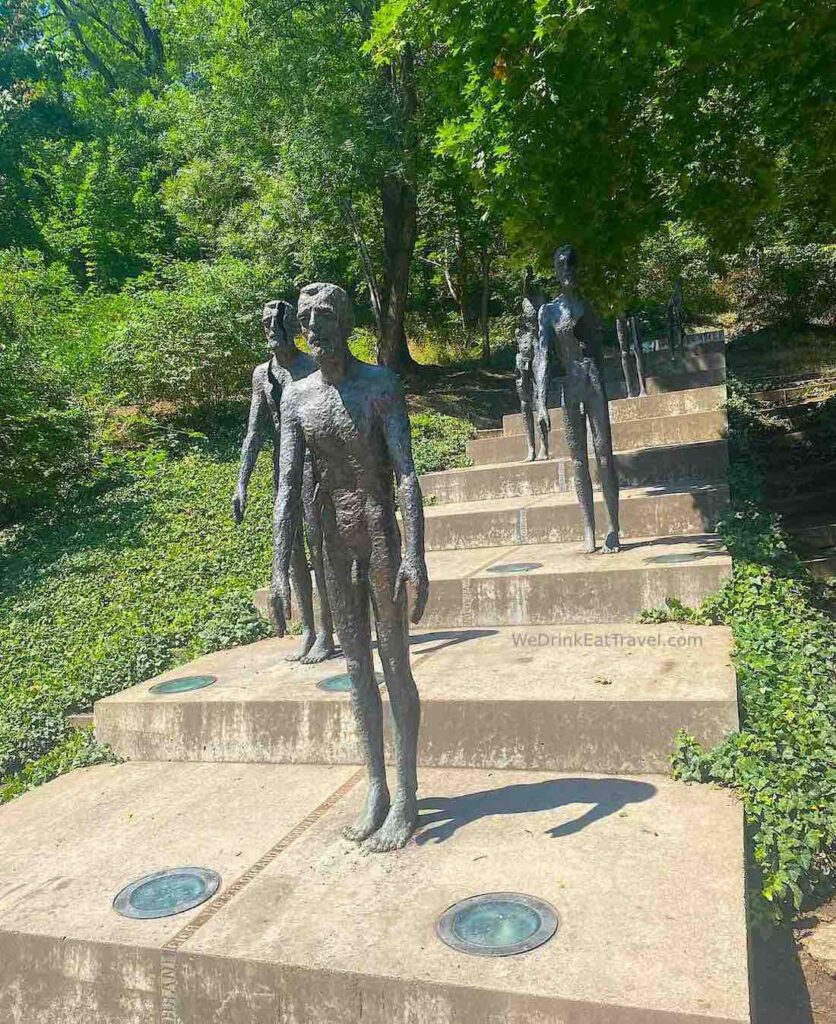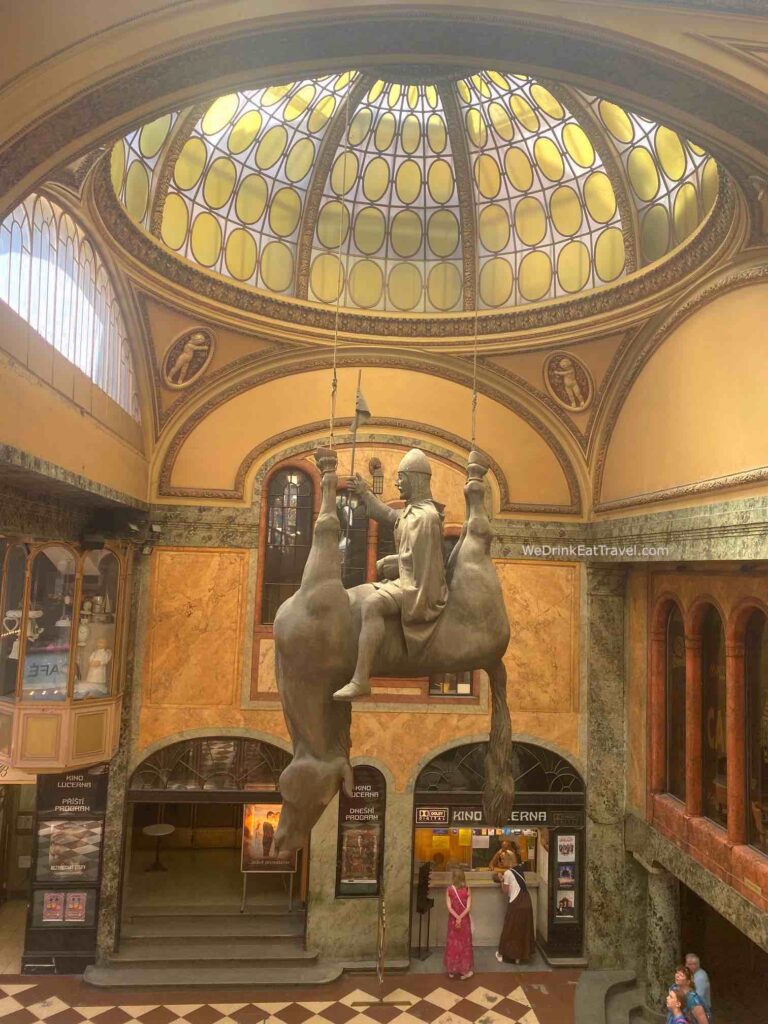 Now, next on our list of free things to do in Prague, is something we'd say most tourists don't see… yet, you should!
Vyšehrad
About 3km South-east of Prague Castle, is the 10th Century Vyšehrad complex… which we highly recommend you make the time to see. It is far less busy than Prague Castle. Yet, it does have its own charm and beauty.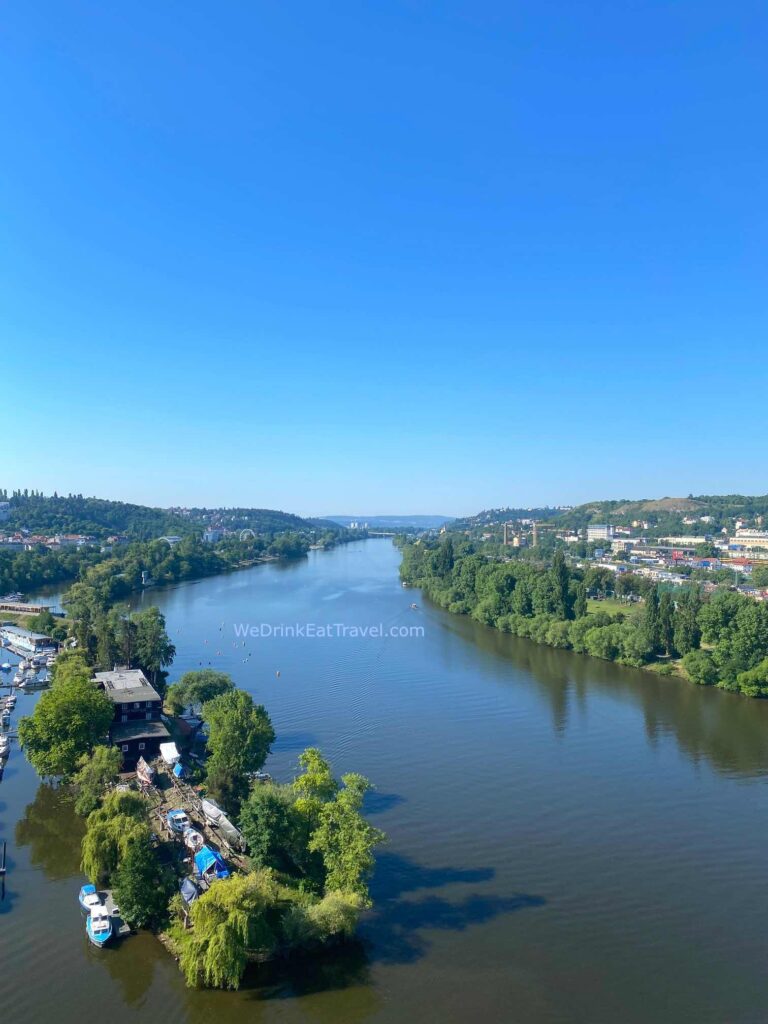 Not only can you see different amazing views over Prague… when you stroll around the complex you can see the incredible Gothic St Peter and St Paul Church. Plus, there is a remarkable cemetery, beautifully manicured gardens… as well as one of the oldest buildings in Prague, the Rotunda St Martin.
Dancing House
While there are so many ancient architectural delights to see in Prague… a more modern building that is popular to see is the Dancing House.
This building, built in the 1990's… was inspired by the infamous, Fred Astaire and Ginger Rogers. And, when you look at the front of the building, the two towers resemble a dancing couple.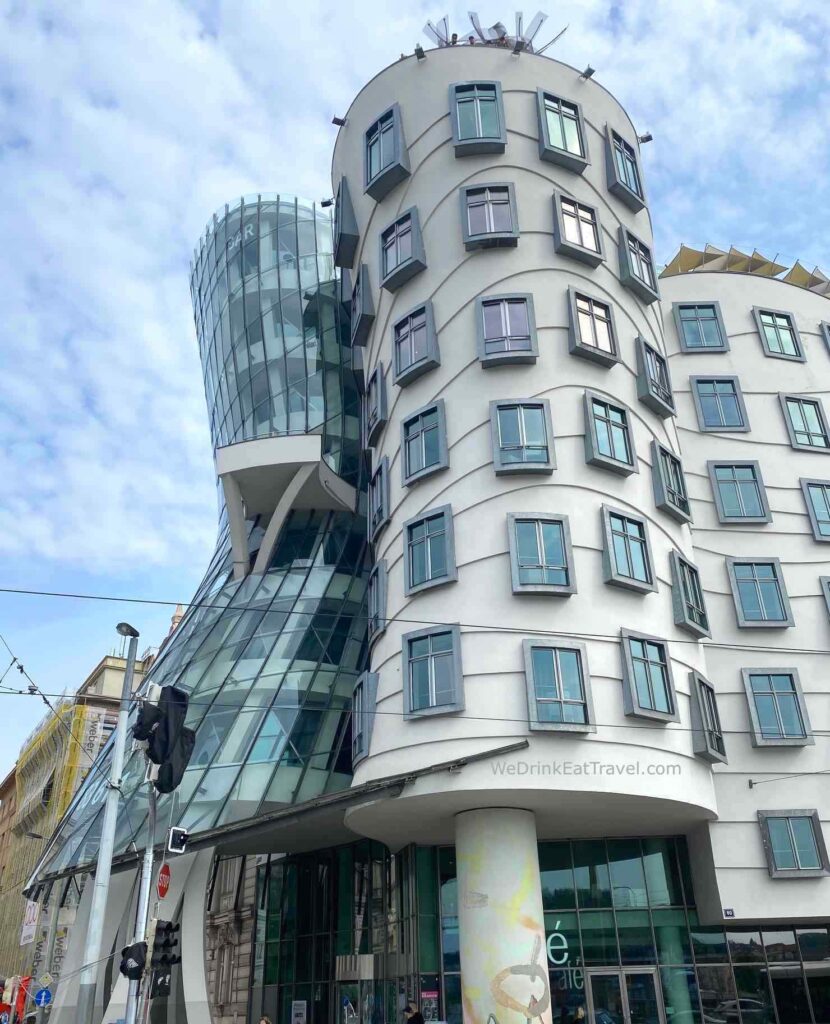 Take Advantage of the Free Open Days
When you're in Prague, there are many museums, cultural and historical sites to see. Yet, many of them you will need to pay to see… or they are generally not open for the public to view.
Even so, make sure you keep an eye out for open days throughout the year. And, many of them happen during the Summer season… where places will open without an entrance fee.
For example, while we were in Prague, there was an open day for Waldstein Palace (Wallenstein Palace)… which now houses the Czech Republic Senate. And, it was free to get in. The surroundings were elaborate… with its perfectly manicured gardens, ornate buildings, and grand statues.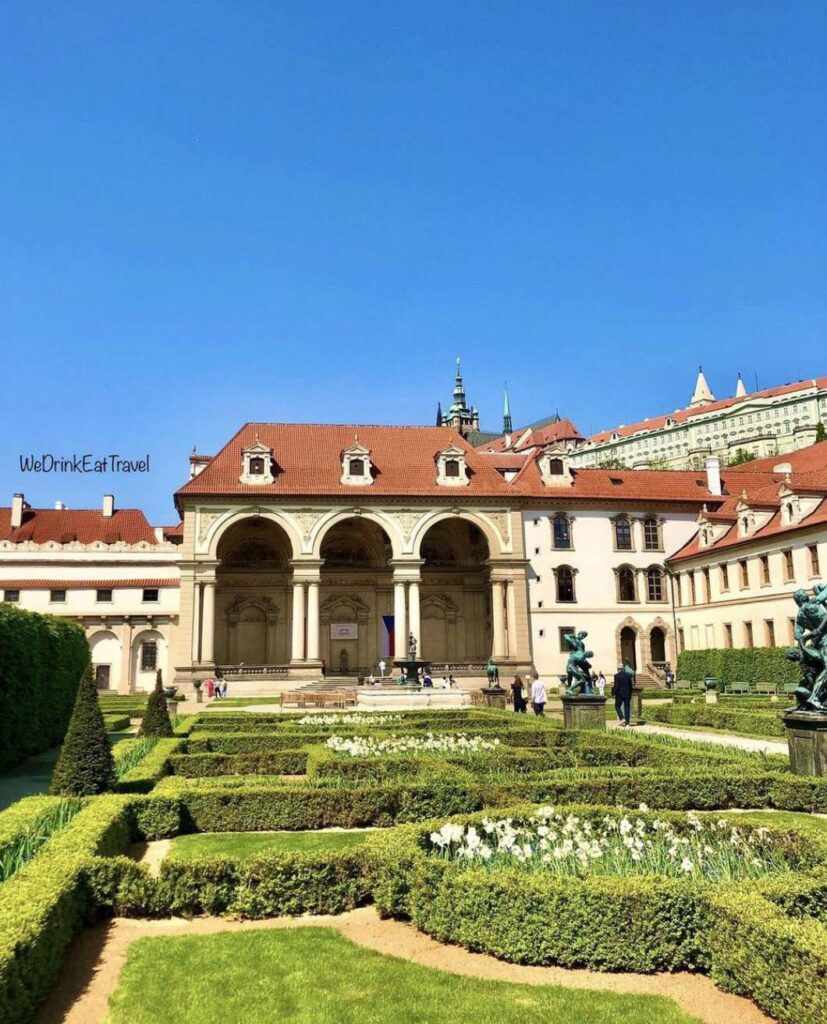 Speaking of statues…
See the Many Quirky Statues of Prague
When you're strolling around Prague, you'll come across some weird and wonderful statues. And, one of the talents behind some of these quirky statues is, David Cerny. So, one of his most infamous statues is of the giant crawling babies in Kampa Park…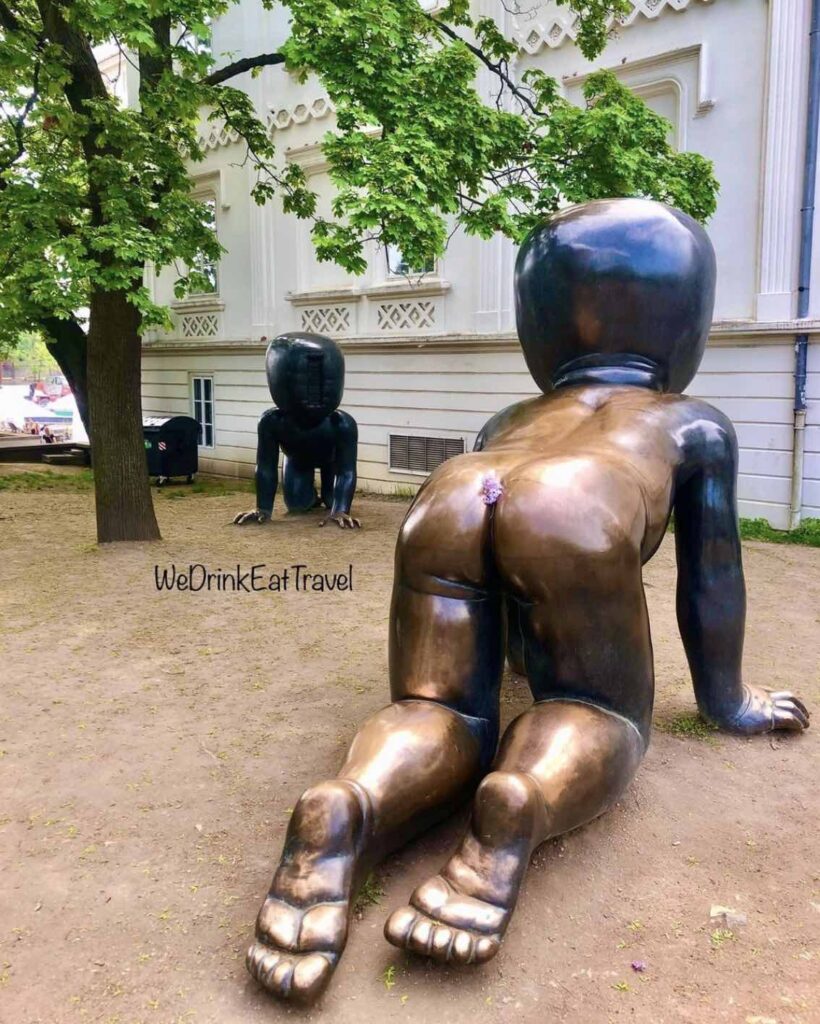 And, other statues that you may come across include these…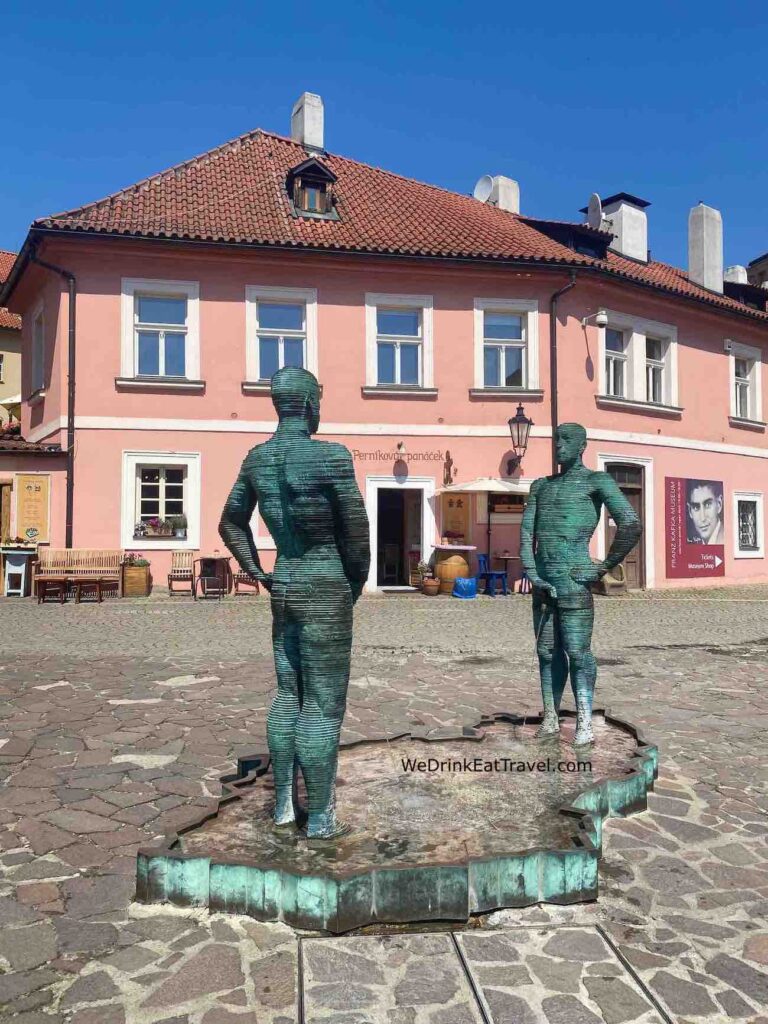 Next up on our list of free things to do in Prague is to go here…
Old Town Square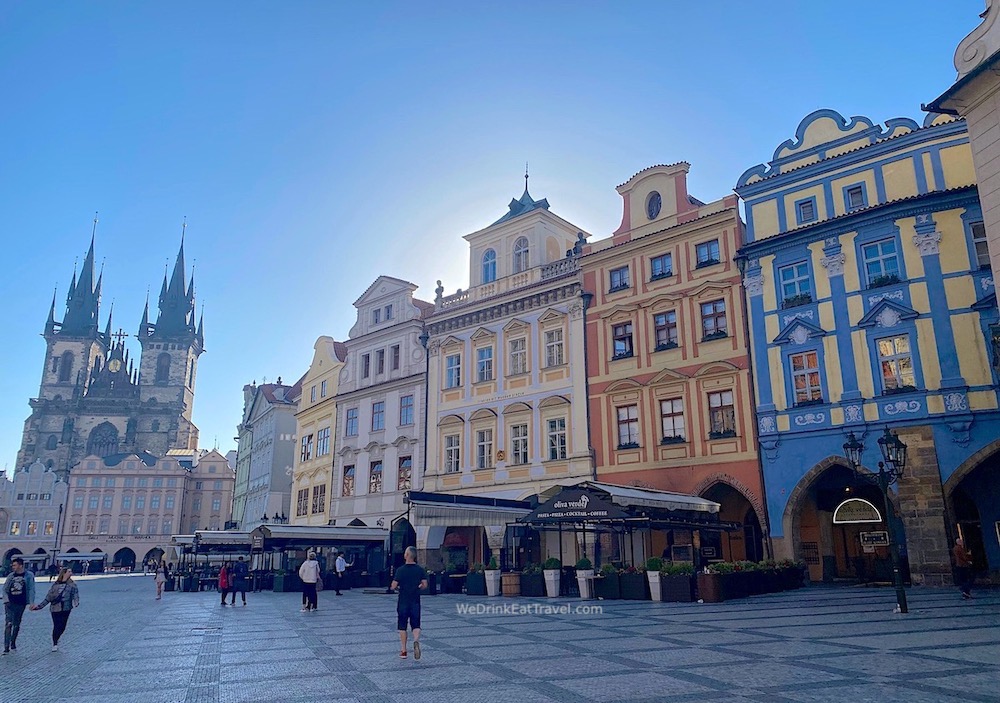 This 12th Century Old Town Square is one of the most important squares in Prague. And, as you do a 360-degree twirl in the square, it's such a beautiful and colouful display. Here, you'll see many significant buildings. And, these include The House at the Minute, the Old Town Hall, Kinsky Palace… as well as the Astronomical Clock, and St Nicholas Church.
Lennon Wall
For another colorful display with a difference, head on over to Lennon Wall. Originally, this was known as the Wailing Wall… where people would pour out their anger and frustrations, during the Communist era.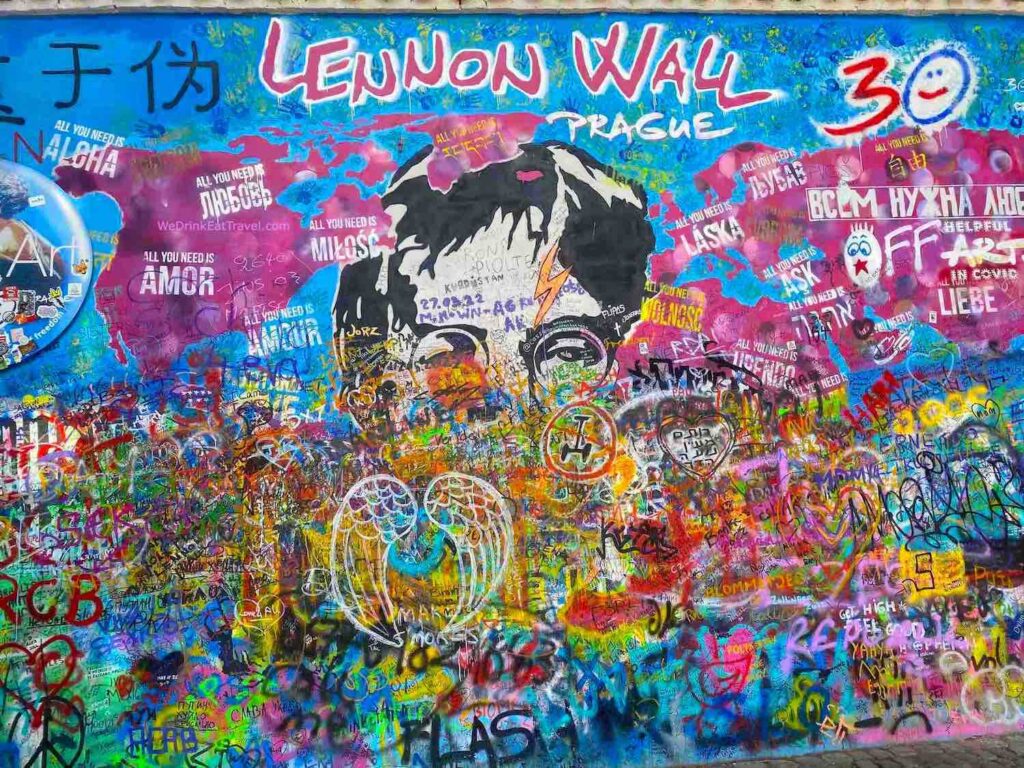 Yet, nowadays, what you'll see is an area with lots of graffiti… where it symbolises freedom, love, peace and resilience.
Marvel at the Incredible Churches
If you love seeing amazing churches and their incredible architecture… then you'll be spoilt in Prague. From Gothic, to Romanesque to Baroque styles, dating back to the 10th Century… you'll be mesmerized by the beauty of the Prague churches.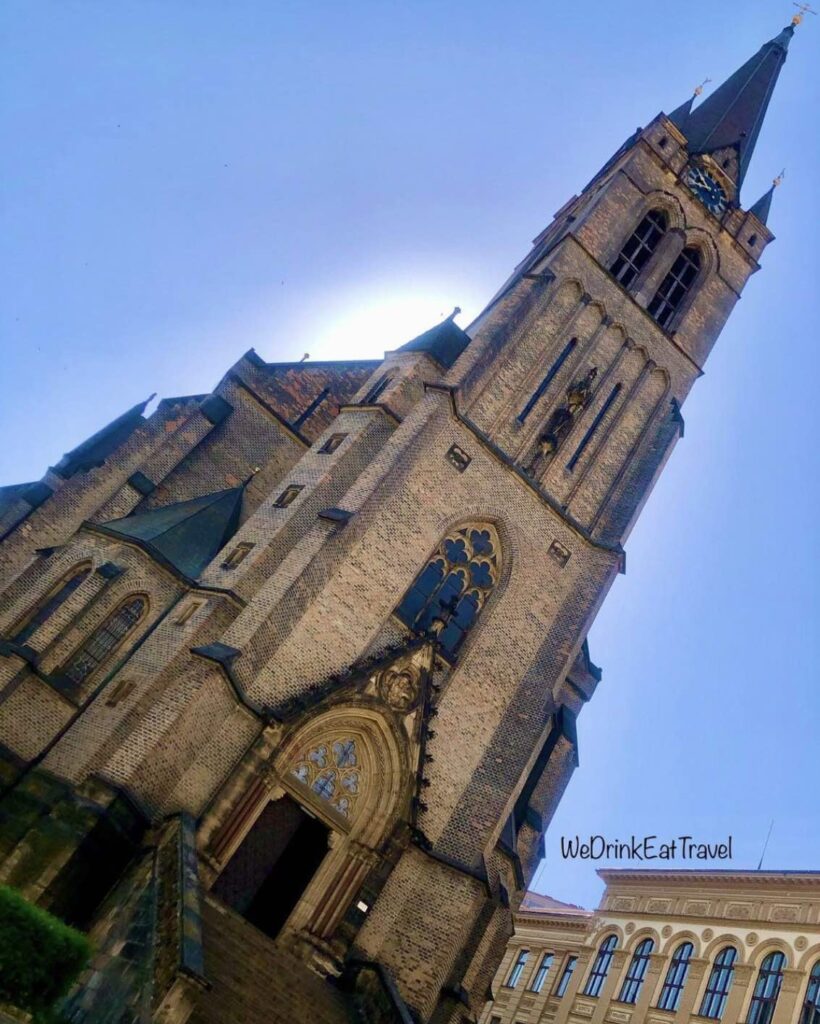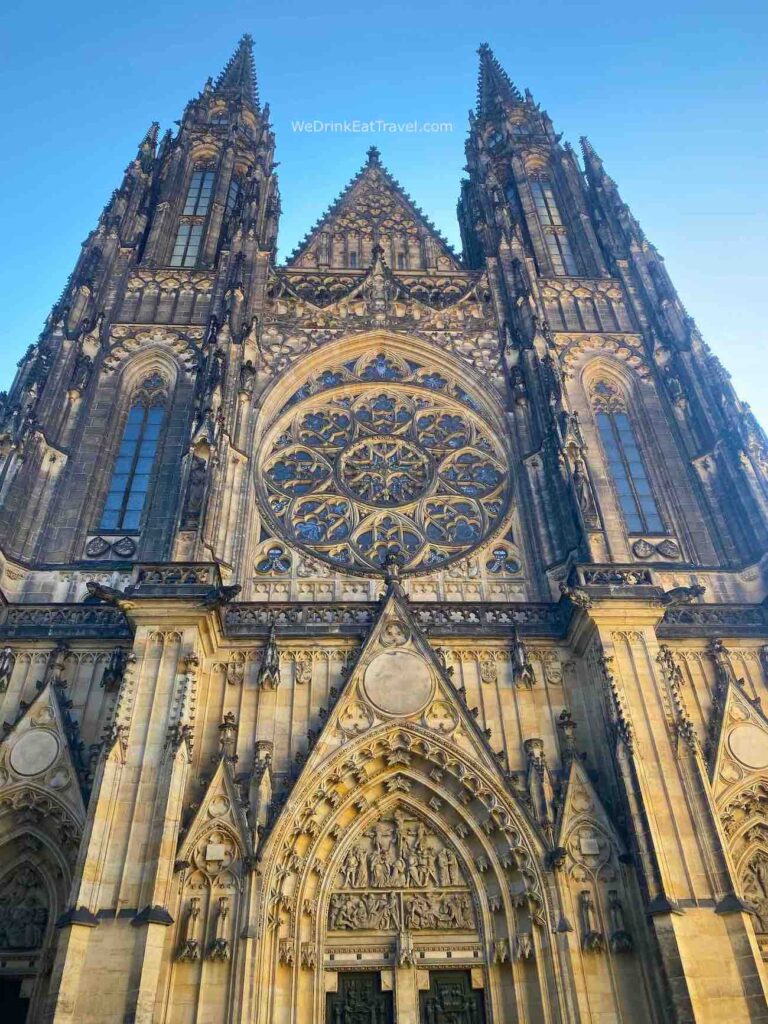 Next on our list of free things to do relates to a particular church in Prague. Yet, there's something unique about it…
Witness the Largest Glass Clock in the Czech Republic
The suburb of Vinohrady is a diverse and fun suburb in Prague. Now, while the Astronomical Clock has boasts old-world charm… in Vinohrady you can see the largest glass clock face in all of the Czech Republic.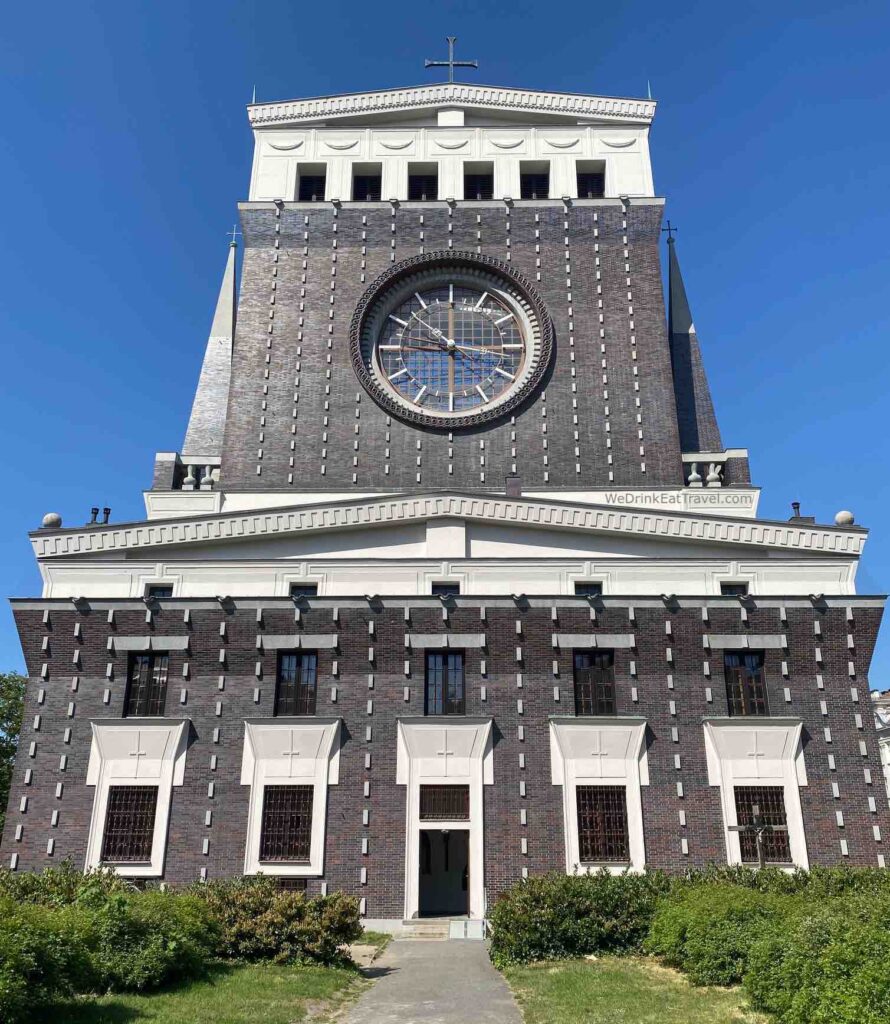 Spanning 7.6m in diameter, the clock face was built within a 42m high tower… and forms part of the Church of the Most Sacred Heart of Our Lord.
Discover a Little Bit of Venice in Prague
Nearby Kampa Park and Charles Bridge is a man-made waterway by the name of, Devil's Stream. Yet, it's also referred to as, 'the Prague Venice."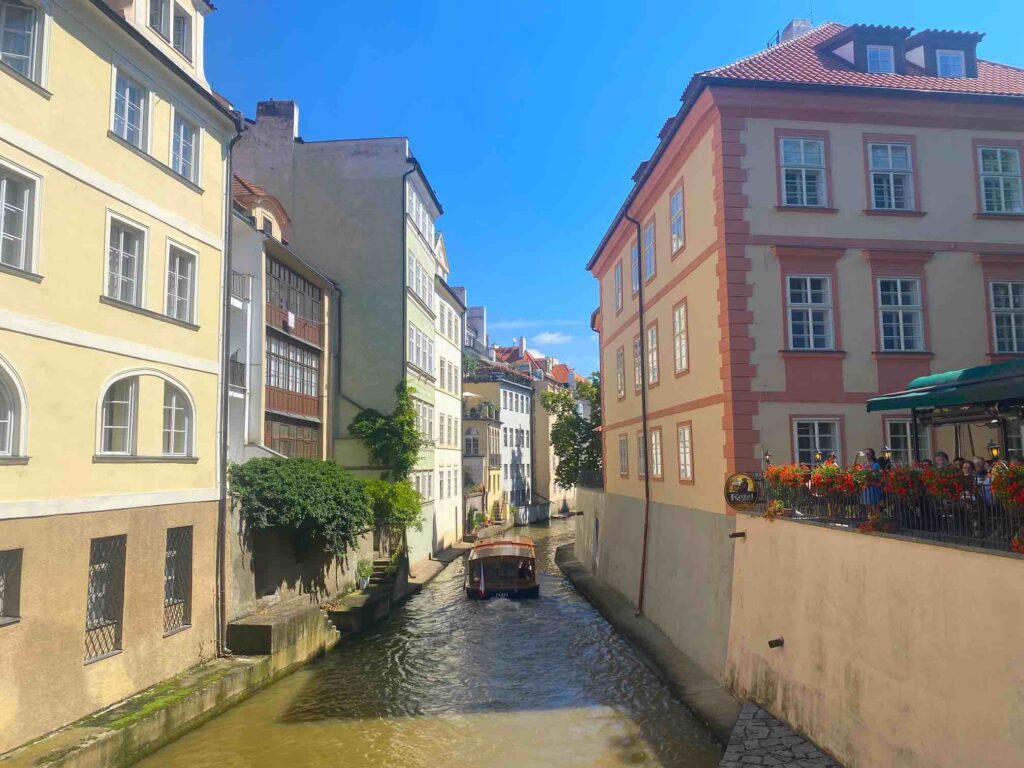 And, it does somewhat have a resemblance to its namesake… with the tall colorful buildings on either side. What do you think?
Now, the main reason for building this canal, was to provide water for the mills. And, one of them which still exists today is the Grand Priory Mill… which has a hobgoblin type character in front of it!
Wenceslas Square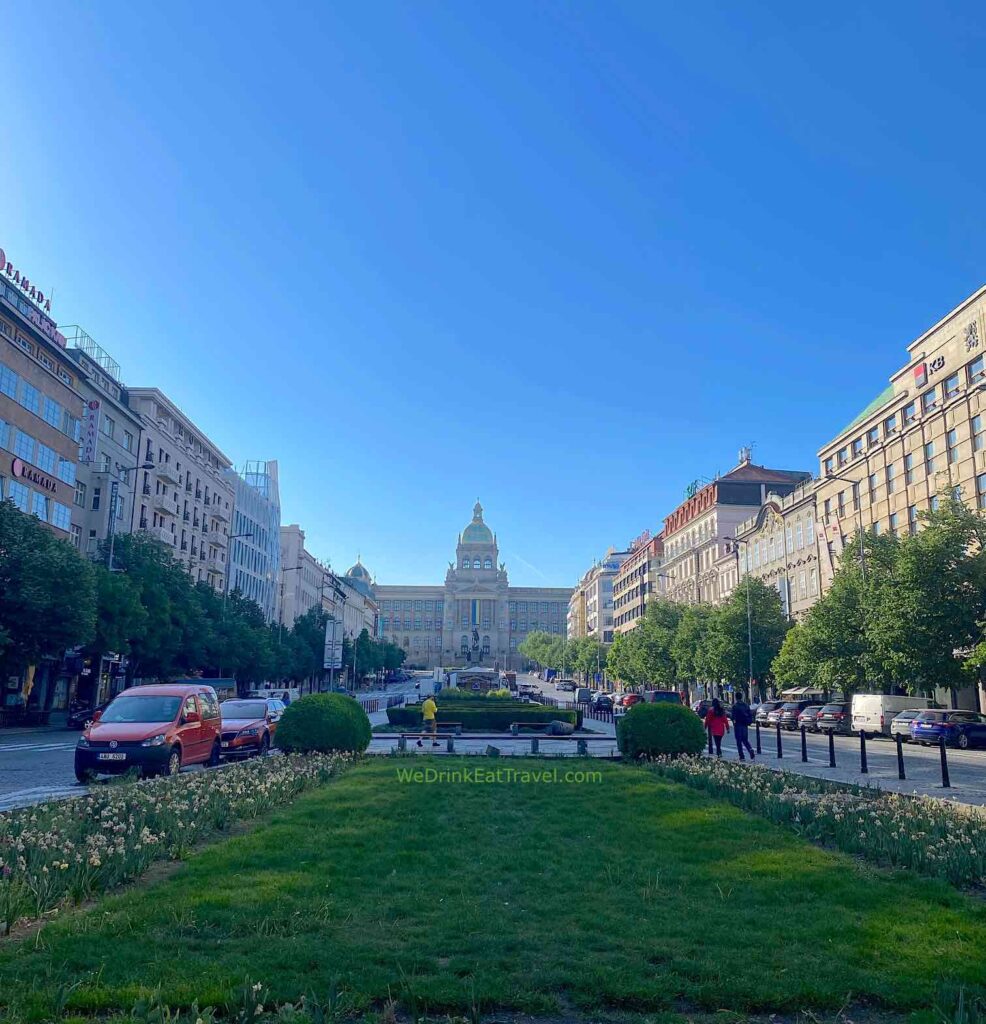 Wenceslas Square, originally built in the 1300's is a popular area in Prague city. It spans a length of about 750m, a width of about 60m in the upper square… and about 48m wide in the bottom section of the square.
Surrounding Wenceslas Square are lots of shops, eateries, and hotels… to name a few establishments. And, dominating the area is the Statue of Saint Wenceslas… along with the grand National Museum at one end.
Do what the royals did, with the next attraction on our list of free things to do in Prague…
The Powder Tower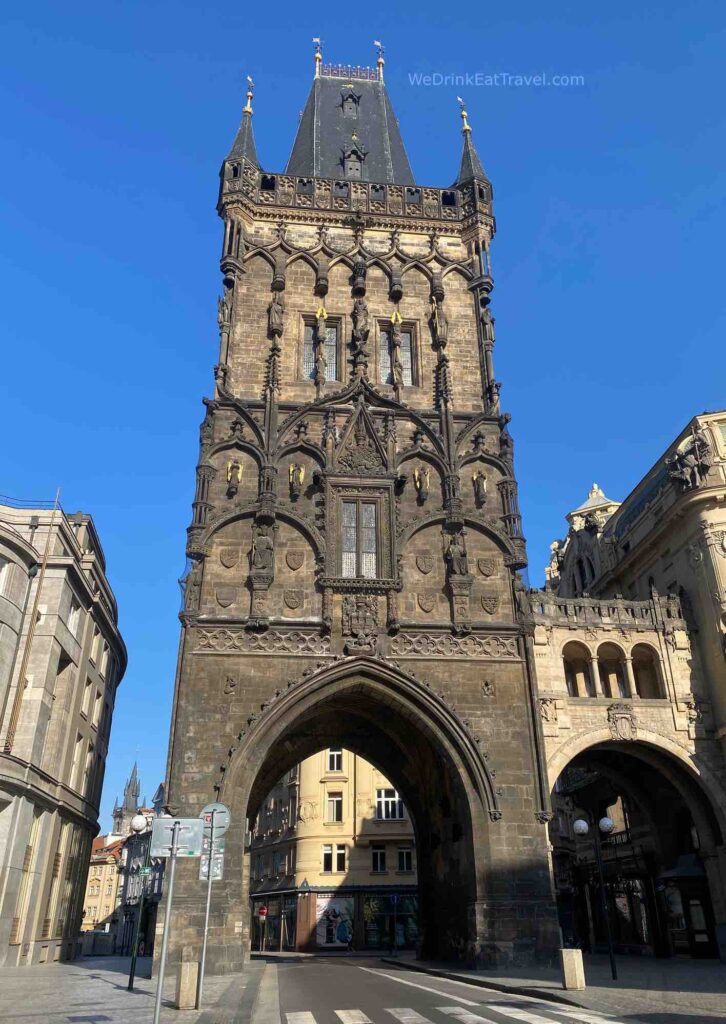 This majestic tower was built in the mid 1400's… where it's main purpose was as a gunpowder store, hence its name. Yet, this commanding tower with such intricate detail, was also used as an entrance… for the start of the Royal Route to the Prague Castle complex.
Discover an Ancient Fresh Market in the City Centre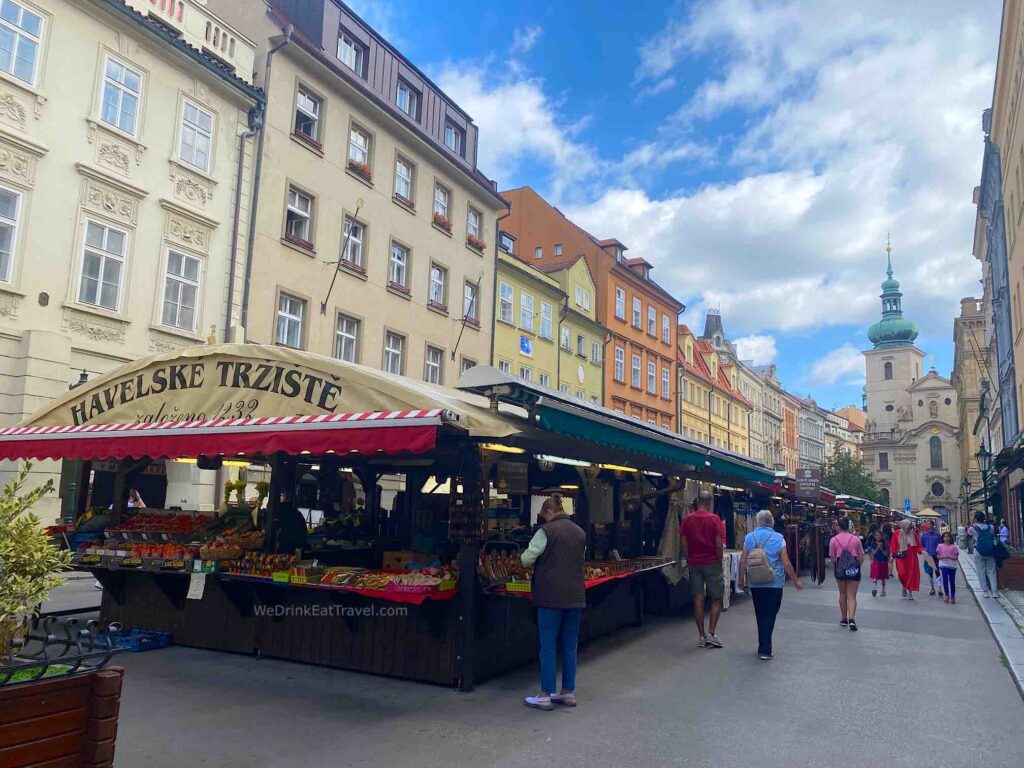 Havelský Market is the only preserved market in Prague's Old Town area… dating back to 1232. And here, there are many stalls selling items including fresh fruit, vegetables, household items… through to fresh flowers, toys, jewelry, and souvenirs.
See the Biggest Head in Prague
If you enjoy seeing art and culture with a difference… then go see the Franz Kafka head. This massive head, weighing in at around 40 tons… is made up of 42 stainless steel layers. And, not only is this head huge, it rotates! Well, at least that's what we're led to believe.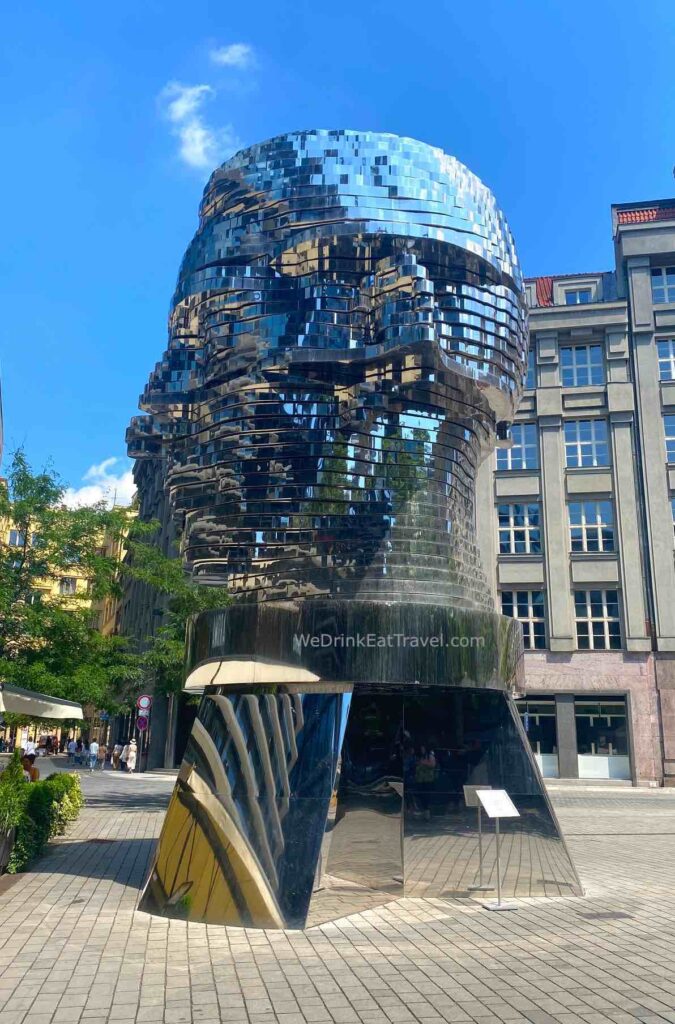 Unfortunately, when we were there, Franz's head didn't rotate. We're not sure if we didn't get there at the right time, or it just wasn't functioning. So, we hope that when you see it, the head rotates… as it looks great on the videos we've seen!
Gawk at the Amazing Architecture
When walking around Prague, it exudes beauty all around wherever you look. Even when outside of the Old Town… there's so many wonderful buildings to look at. From the bright and colorful, through to intricate detail on the inside and outside… there are so many magnificent buildings to photograph and admire when in Prague.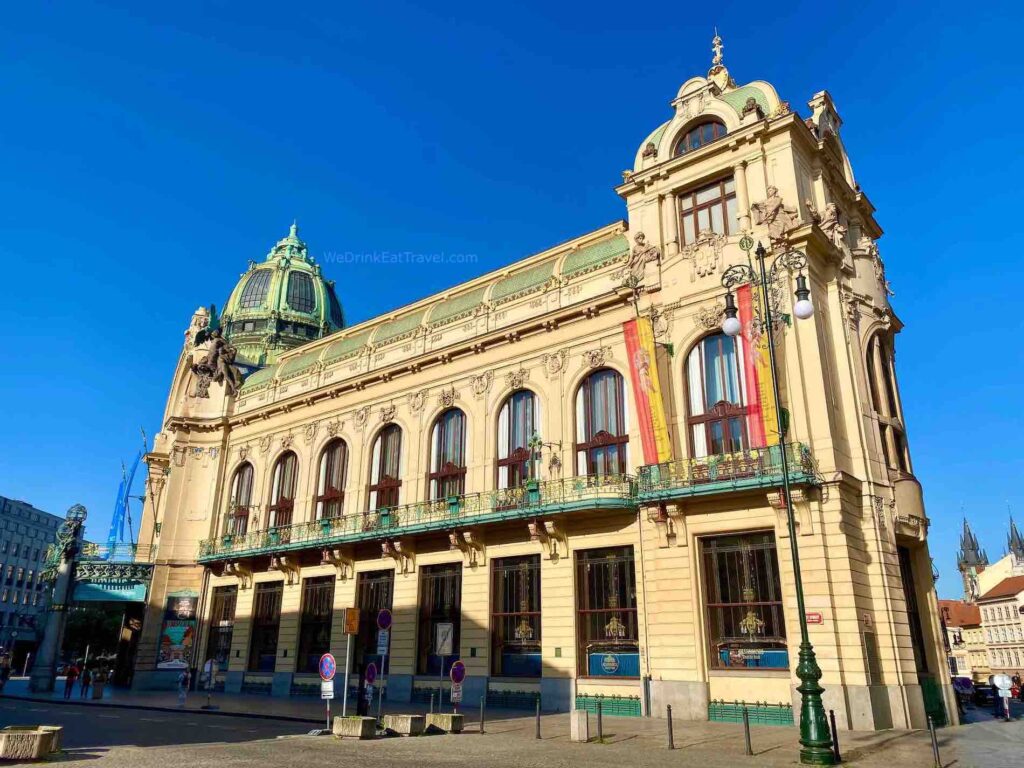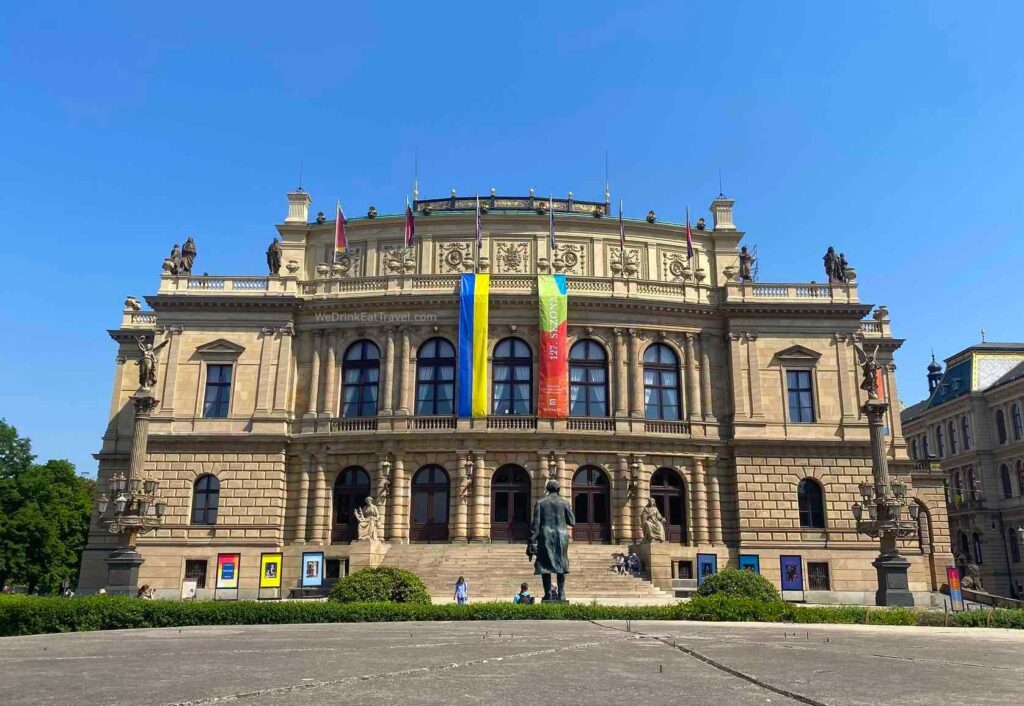 Prague is such a liveable city, and in Summer time there's plenty to do! So, next on our list of free things to do in Prague, is something you can experience regularly…
Enjoy the Vibrancy at One of the Many Festivals and Events
It had been a very long time since we first went to Prague. Yet, on this trip it was surprising to discover the number of festivals that were held here. It felt like that every weekend there was a new and interesting festival that would pop up.
Now, while lots of them would be food or drink festivals… some also included arts, cultural and crafts events. Sometimes there'd be live bands too, of which you didn't have to pay a fee to listen to. So many festivals to choose from all over Prague, it's great!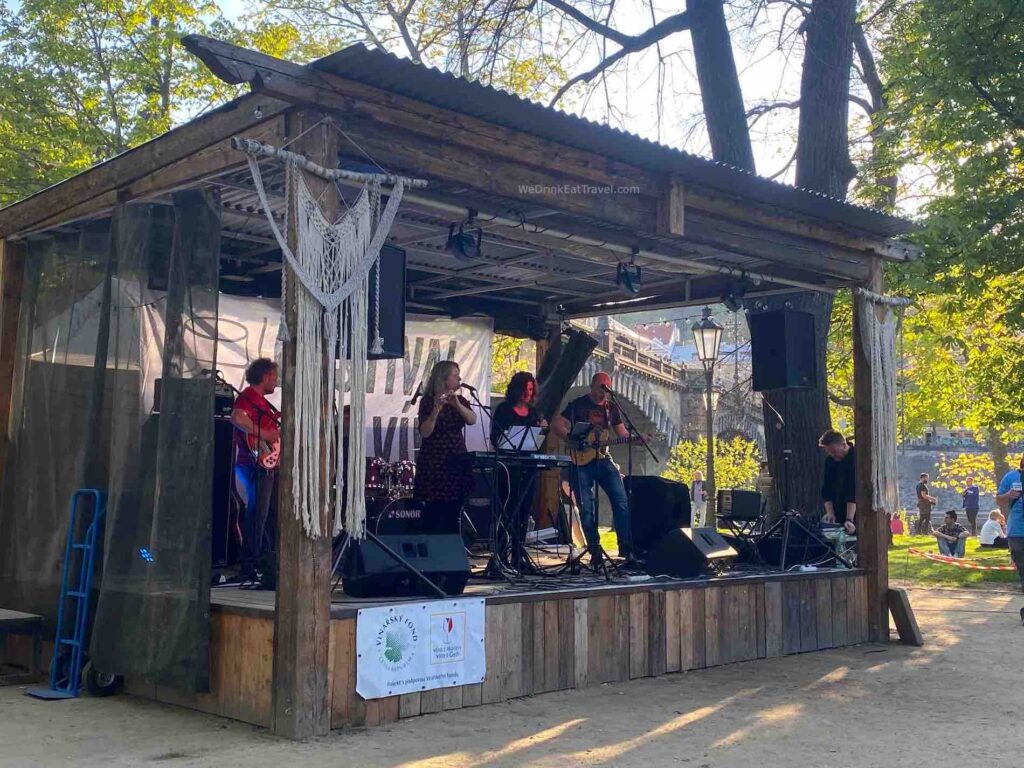 National Memorial on Vítkov Hill
To see an important landmark in Czech's history, head on over to Vitkov Hill. Here on display is the National Memorial, built in the late 1920's… in honour of the Czech legionnaires. Plus, it features the "one-eyed" military leader Jan Zizka… who was triumphant in many demanding battles, including at Vitkov Hill.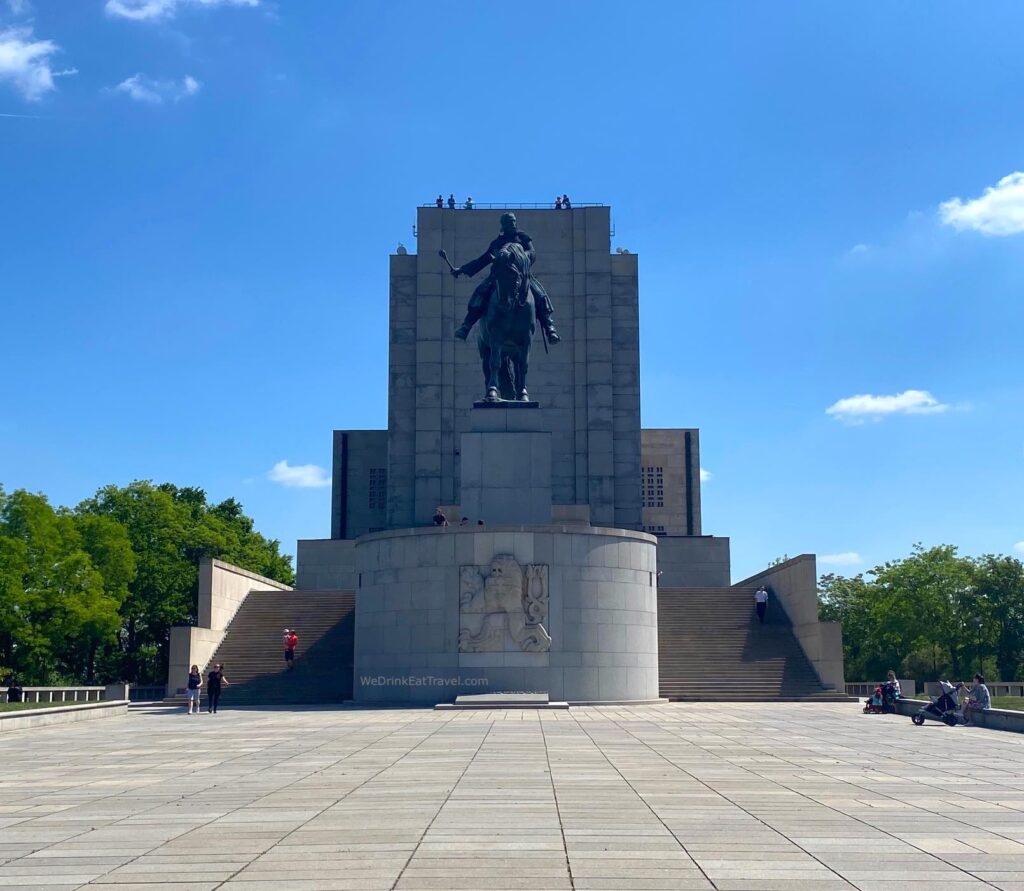 And, it's this statue that is one of the biggest bronze equestrian statues in the world! Plus, while you're there, you can see magnificent views over Prague again… yet, from a different perspective.
Chill Out at One of the Many Beautiful Parks
One of the great things about Prague is that there are plenty of parks to relax in. And, it's particularly lovely when it's hot, as you can sit under the shade of the trees… hopefully with a cool breeze flowing through. So, surround yourself with nature at parks such as these…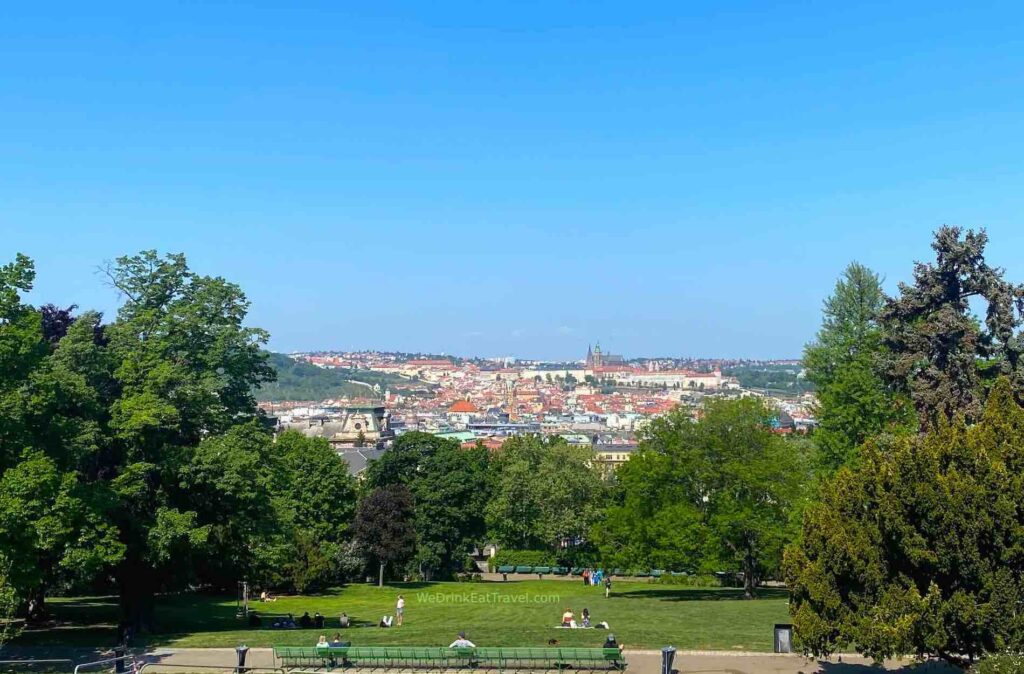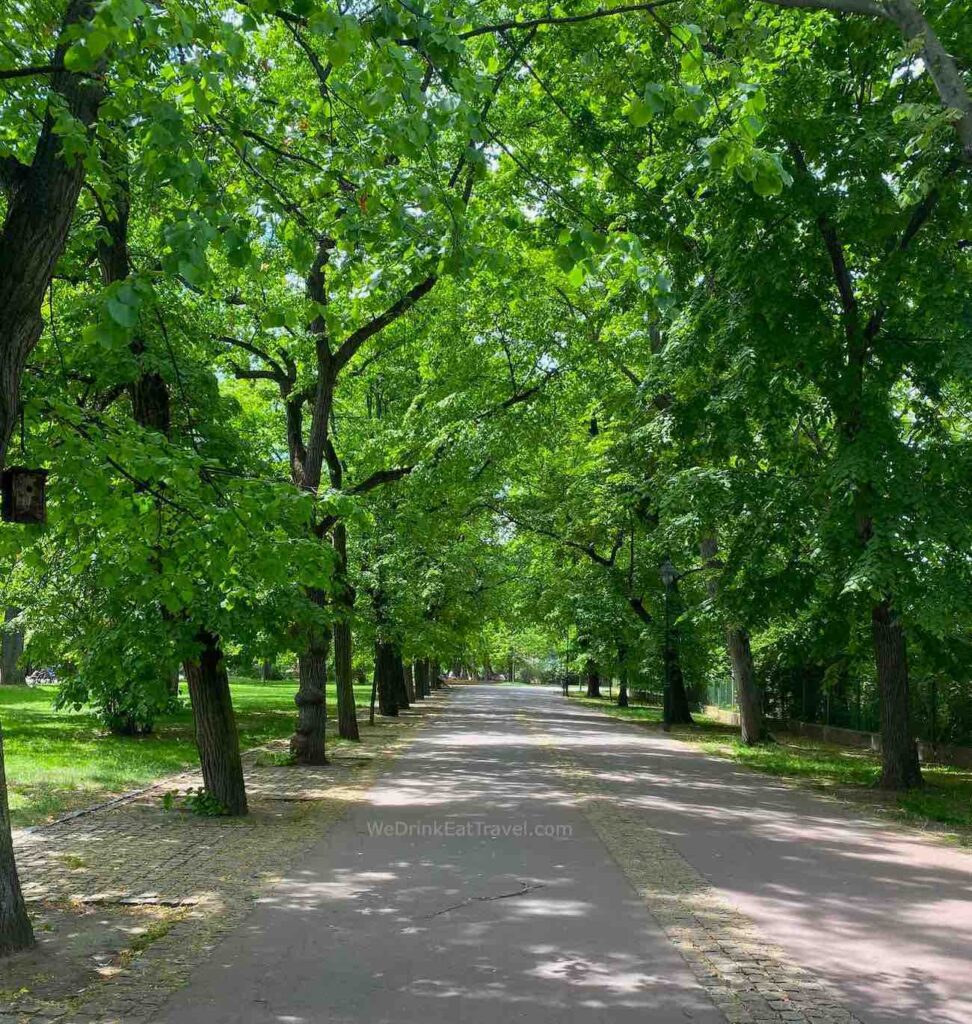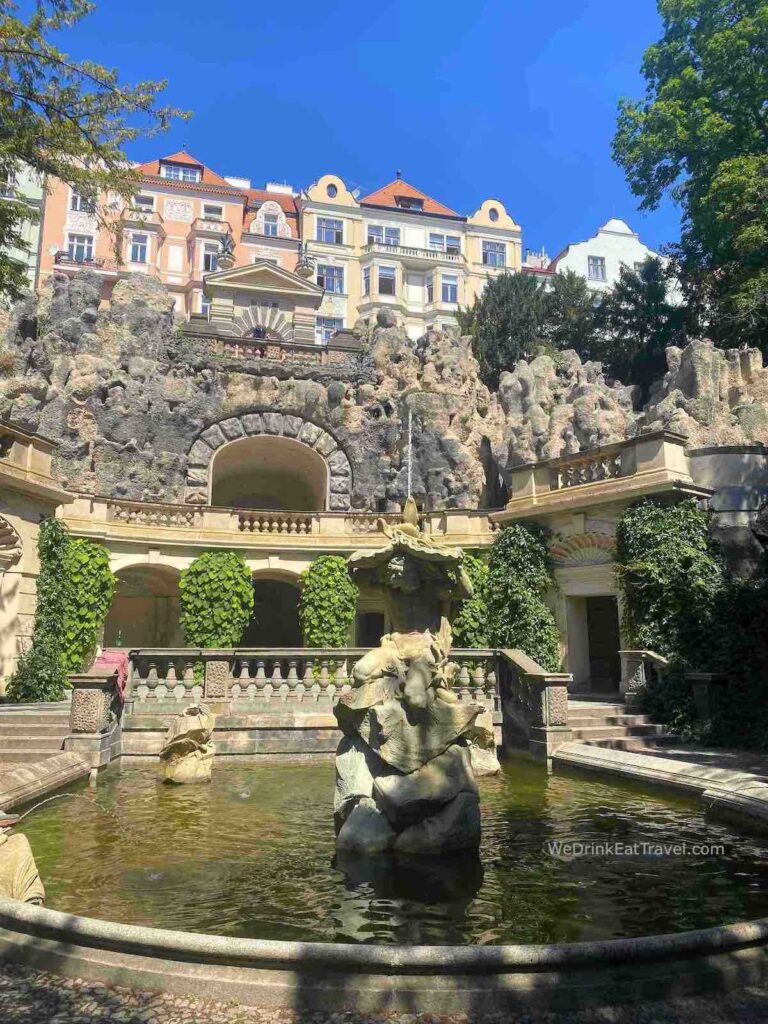 Next on our list of free things to do in Prague, is something you may not have thought about doing…
Prague Station
If you're planning on doing some day trips from Prague… then you may end up starting your journey at Prague's Main Station (Praha hlavní nádraží). Yet, even if you're not planning any trips from here, we recommend you go see it, and here's why…
While this station dates back to the 1870's… over its history it has undergone several renovations. And, while it may be a bustling transport hub… you need to see inside the station as it looks amazing. You'll be able to see some original features of Prague's Main Station… including the massive dome, and the intricate stained-glass windows.
Stroll Along the Waterfront of the Vltava River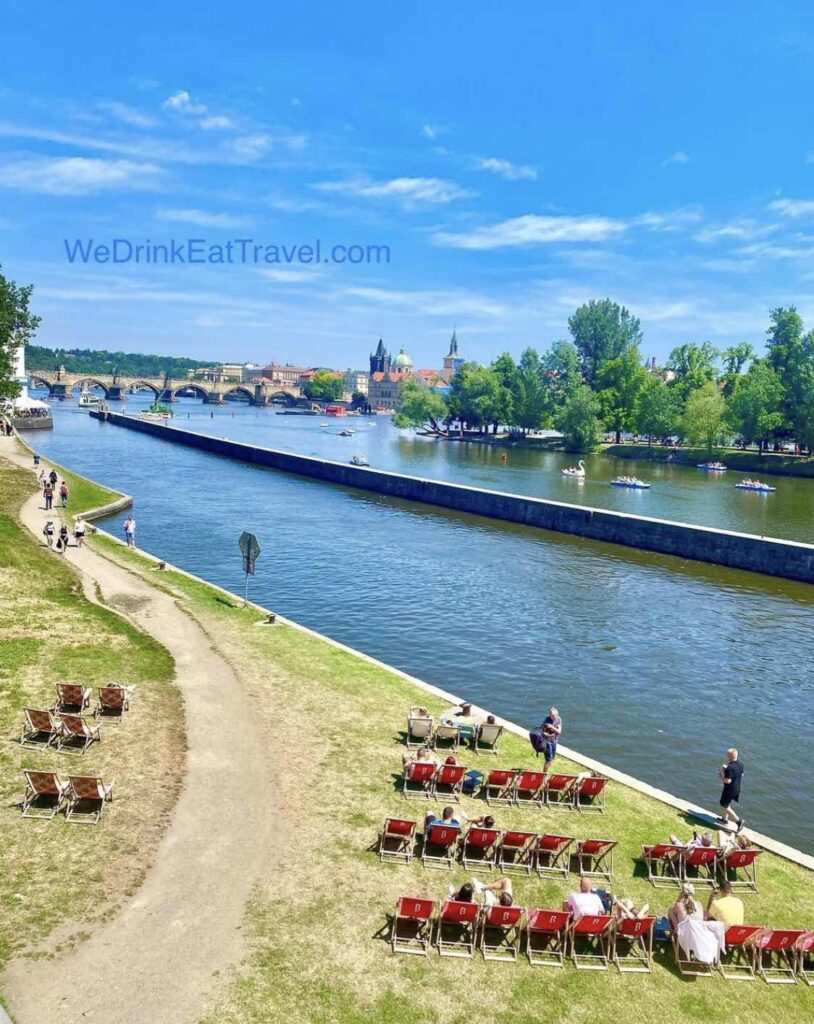 The Vltava River is the longest in the Czech Republic, spanning a distance of over 430km. And, as it passes through Prague, why not enjoy a stroll along the waterfront. Not only can you see people rowing down the river, or having a go at the pedal boats… you may hear blaring music, and see lots of happy revellers on the party boats!
Zizkov TV Tower
Remember the giant crawling babies we were mentioning earlier? Well, if you head on out to the suburb of Zizkov… you can see them crawling hundreds of metres up in the air, on the tallest building in Prague city! And, the landmark we're talking about is, the Zizkov Television Tower.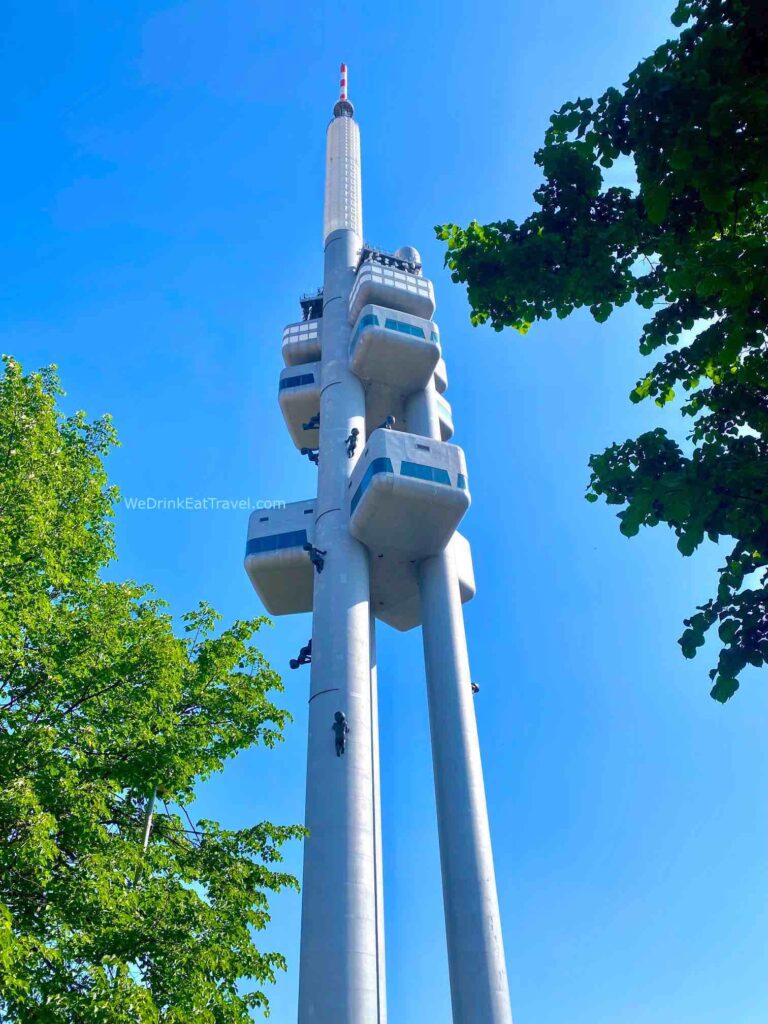 It's said that the babies were put there temporarily. Yet, due to their popularity… the giant babies became a permanent fixture of the TV Tower. You have to admit, they are damn cute!
Wow, so there you have it… 30 free things to do in Prague, Czech Republic!
There's so much to do in beautiful Prague, and you could never get bored. From witnessing incredible ancient architecture, to relaxing in the beautiful parks… through to enjoying a buzzing atmosphere at the many festivals.
There is something for everyone to experience for free… which is great if you're on a strict budget. We loved our time in Prague and in the Czech Republic, and we hope you do too.
What's on your list for the top things to see in Prague? And, if you've already been, what were your favorite free things that you did?

You Might Be Interested In This Too…
21 Of The Best Things To Do In Belgrade, Serbia
25 Amazing Things To Do In Dubrovnik Old Town
Check Out 15 Amazing Things To Do In Budva, Montenegro
Perast, Montenegro – Why You Need To Visit This Town
Travel Hacks – 5 Ways On How To Travel Cheap In Malta
One Of The Amazing Things To Do In Kotor Montenegro
10 Free Things To Do In Hue Vietnam
Here Are 7 Remarkable Things To Do In Berat Albania