It's been a while since we were at the massive Chatuchak Weekend Market, in Bangkok. And, while its location is about 8km (~ 5 miles) from the central Bangkok region… it's still a popular destination for tourists, as well as locals.
Now, you may see signs or words stating, "Jatujak." Yet, we assure you that is the same as Chatuchak… it's simply the Thai version.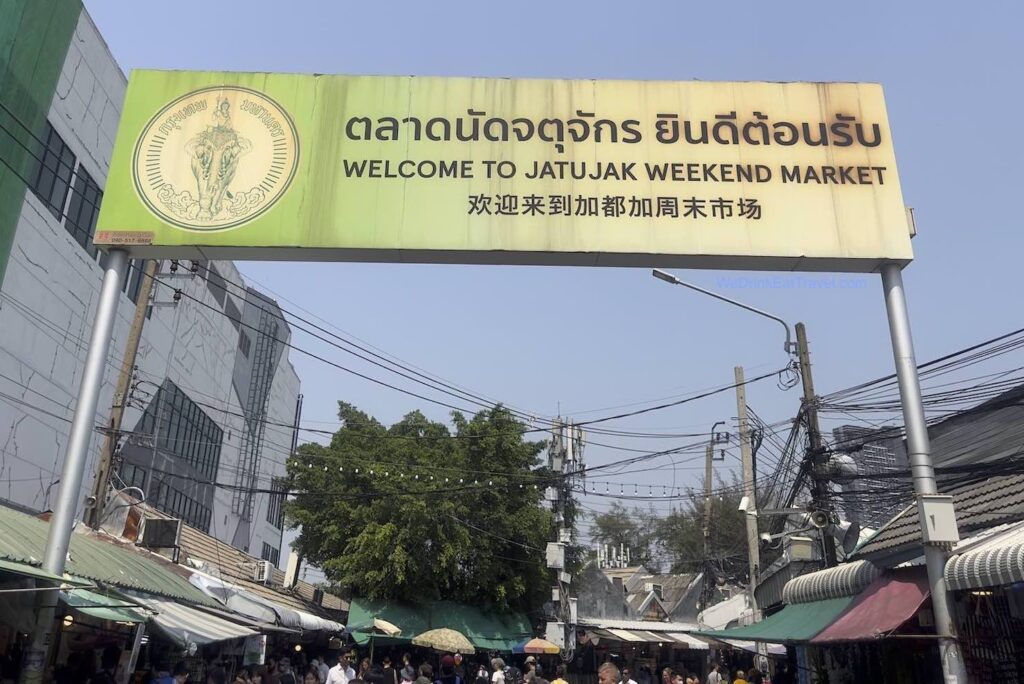 There are thousands of people who eagerly come to visit this market each weekend. And, with lots of stalls to explore… there's sure to be something to captivate your interest.
If you want to find bargains in clothes, shoes, or accessories… through to interesting souvenirs, or homewares, it's at Chatuchak.
And, being in Thailand, there's the ever predicable… tremendous amount of food stalls.
So, one Saturday morning we made the decision to check it out… and to see what changes we would discover.
Then, after going there, we had to write this travel blog, to share with you… 7 things you need to know about the Chatuchak Weekend Market.
1. Chatuchak Weekend Market is Gigantic
Now, if you want to explore all that the Chatuchak Weekend Market has to offer in a relaxing manner… we recommend that you set aside at least half a day. And, that's because this market is HUGE!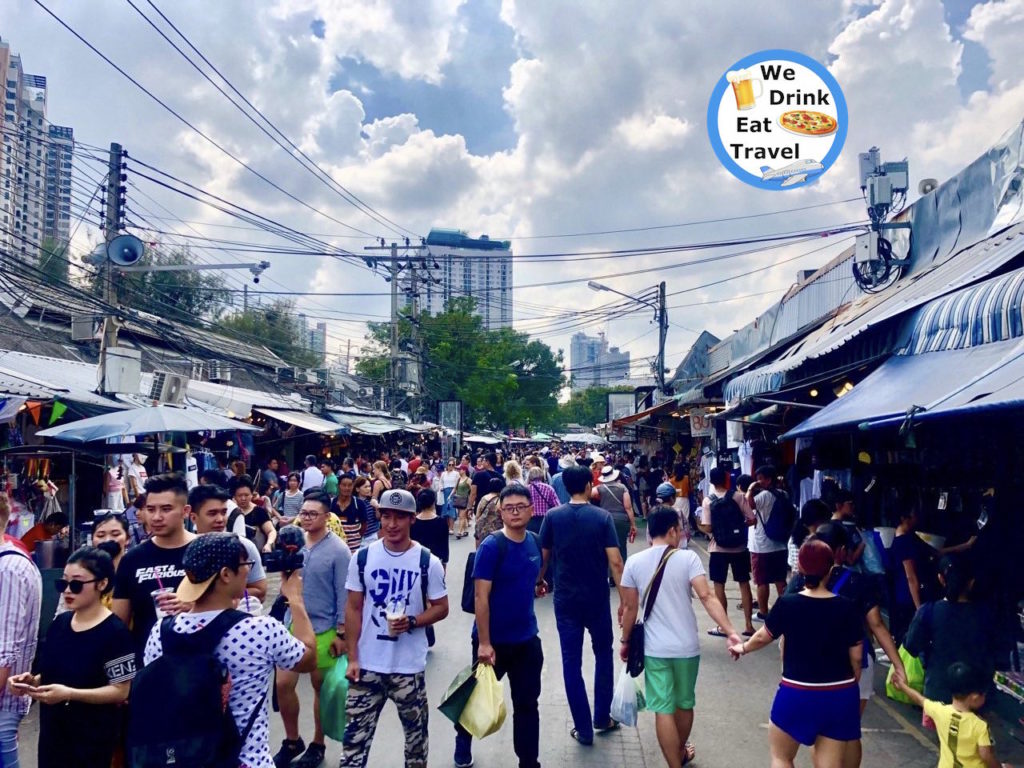 Chatuchak is an open-air style market that covers a colossal 27 acres. And, within the area is about 30 sections encompassing a phenomenal amount of stalls. It's said that there are more than 10,000 stalls!
The various sections include toys, clothes, art, homewares, silk, souvenirs, and books… through to handicrafts, massage places, bars, food stalls, and more.
It's said that on the main days of Saturday and Sunday… over 200,000 people visit the Chatuchak Weekend Market, on each of those days. So, it's not just massive in terms of size… but also from the amount of people that visit.
Now, there's always been lots of shoe stores at Chatuchak. Yet, this time round we found that there were plenty of second hand shoe stores. And, they were selling genuine used brand names… like Converse, Vans, Nike and Polo Ralph Lauren.
Be aware though… there are places that still sell the fake clothes, shoes or accessories. So, you better have a keen eye for that level of detail… as you don't want to pay lots of money for an inferior product!
Plus, you need to know that some places will not allow you to try on their clothes. And, many of them don't have change rooms either… especially as many of the stalls are small. So, if in doubt, and you don't want a sombre experience afterwards… don't buy it.
Yet, if you're willing to take the risk for the sake of a cheap 150 Baht t-shirt… then go for it! When you think about it… that's only about USD $4.45 / 4 Euros / 3.55 GBP).
And, if you want to use your charm or negotiation skills… have fun bartering with the stall owners, persuading them with the price you want to pay!
2. Chatuchak Weekend Market Opening Hours Vary
Now, while the Chatuchak Weekend Market is popular… did you know that the market opens outside of Saturday and Sunday? So, the opening times, which are subject to change of course, are as follows:
Wednesday and Thursday: Plants and Flowers from 7.00 am – 6.00 pm.
Friday: Wholesale Market Day from 6.00 pm – 12am.
Saturday and Sunday: All sections are open normally from 9.00 am – 6.00 pm.
So, while these are the opening times for the market stalls… there are bars in the vicinity too. Yet, some of them don't open until later in the day or early evening. Thus, after you've been shopping… you can quench your thirst at one of those bars.
Yet, we do recommend that the best time to go to Chatuchak Market is on Saturday or Sunday. Plus, if you want to avoid the crowds and sweltering hot weather… head on over when it opens.
And, keep reading because after you're done at the market… there's somewhere else you can go, which is a stone's throw away! Plus, this place will give you some comfort to chill out, and provide relief from the heat.
3. Forget About Using the Chatuchak Weekend Market Map!
When you get to Chatuchak Market… there are maps available to help you navigate your way around. In case they run out of maps, which does happen… there are big billboards displaying a map of the sections.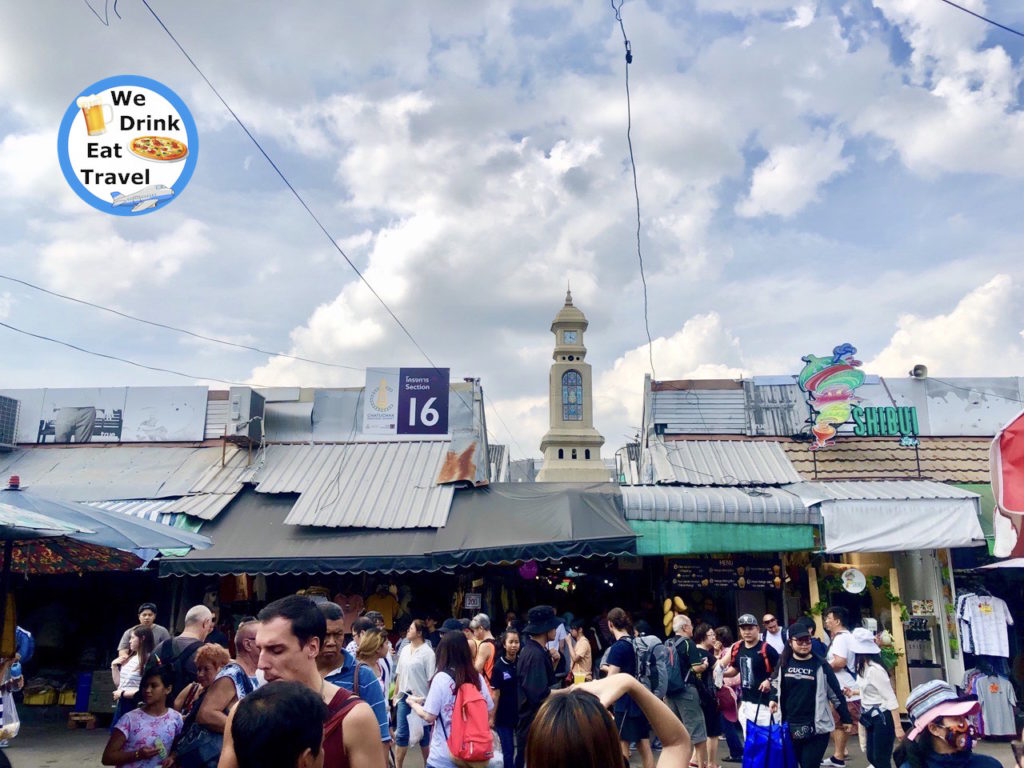 So, before you start your grand shopping expedition… you can take a look at the different areas to explore.
In saying that, our recommendation is to forget about using the map! You may think we're going crazy.
Yet…
One major reason is, if you've never been before… then it can get confusing and frustrating trying to work out the different sections.
As an example, on this trip we had specific stalls that we were keen to check out. Then, when we went to that section, there were homewares! So, we found that not everything matches up with what you see on the map.
And before you ask… yes, we did have it the right way up! Ha ha ha! So, in the end, we gave it the flick.
Even so, once you start going through the market… you'll soon discover that it's like a labyrinth. Then, when you combine that with stopping every minute or so, to explore the enormous amount of stalls… it won't surprise us if you disregard the map.
Yet, keep it as a guide if you so desire. Or, for a momento of your trip to the Chatuchak Weekend Market!
4. There's a Huge Variety of Food and Drinks
Before you even enter the main area inside Chatuchak Weekend Market… you'll already discover that there are some food and drink stalls. Then, once you go further in there are plenty more. Hey, it's Thailand, where food and snacks are so important!
Plus, there are many places where you can drink. And, we're sure that you'll need hydration, especially if you go when it's hot… as you'll be sweating it out. Yes, there's the usual water and soft drinks on offer. Yet, if you're hankering for something different in terms of liquids… there are fresh juices and even smoothies.
Now, there are places where you can get alcohol. So, if you're hankering for a beer or cocktail, there are some stalls that'll satisfy your thirst. And, there are some stand-alone bars… but this is a small percentage of the entire market.
Remember, there are bars around the market… yet some of them don't open until late afternoon or early evening. Who says you can't have beer before midday? Even the Thais do it… LOL!
So, to give you an idea, a large bottle of local beer at 620ml, will cost around 120 Thai Baht… (about USD $3.50 / 3.20 Euros / 2.80 GPB).
And, if you're considering seeking out cheaper prices… we suggest that you don 't bother. Most places charge similar prices… unless you're going to a more unique stand-alone bar, where prices will be higher.
Food, Food, Glorious Food at the Chatuchak Weekend Market…
Now, when it comes to what's on offer regarding food there's a big variety. You could choose from local Thai cuisine, Western staples, fried foods, fruits… through to ice cream and bugs!
Yet, if you couldn't be bothered wandering around trying to find individual places… there is a section where it's stalls upon stalls for a monstrous foodie haven.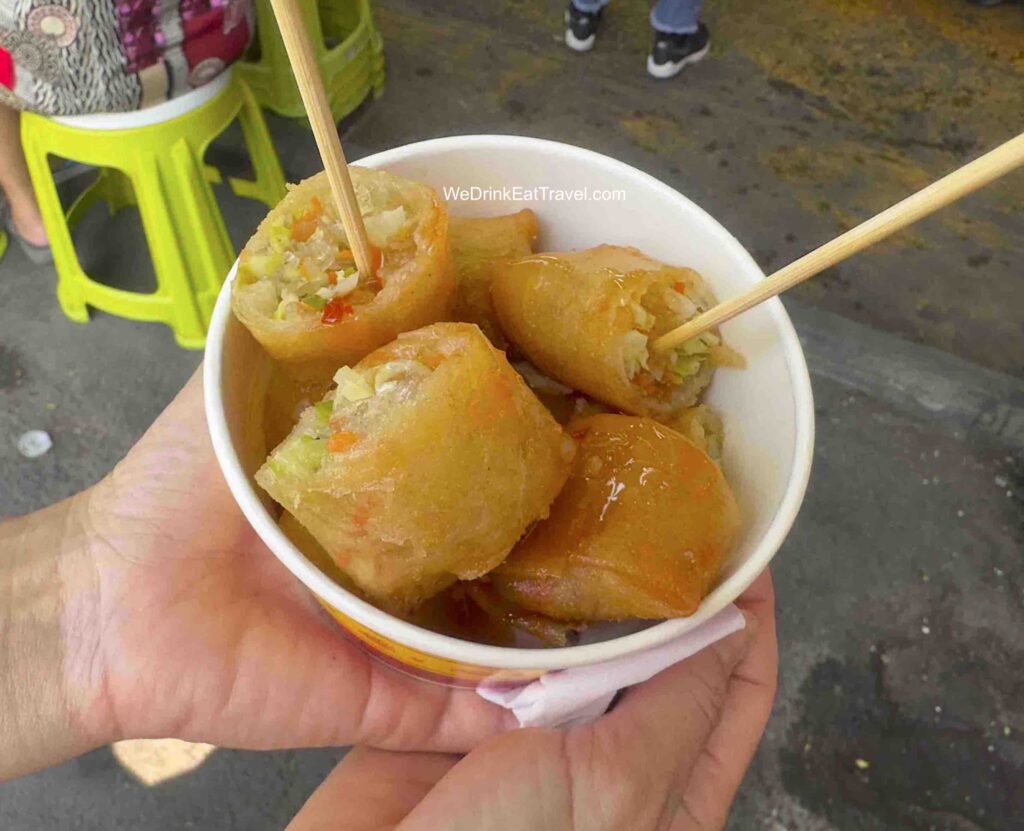 Now, even though there's a tremendous amount of food… sadly, if you're a vegetarian, you need to know it's challenging to find something suitable. And, for vegans, it's even more difficult.
Even so, some places will try and cater to your needs.
The great thing about the food in this market… is that you can try many different things for as little as 20 baht, for example. That's like around USD $0.60/ 0.55 Euros / 0.45 GPB). Crazy cheap!
5. Chatuchak Weekend Market is Not for Claustrophobics
When you first get to Chatuchak Market, you may think that it looks spacious.
Yet, when you make your way inside the stalls, and wind your way through the alleys… you'll discover that the congestion increases. And, as the day goes on, it gets even more jam-packed.
So, sometimes you'll be traveling at a snail's pace, behind others. And, sometimes the pedestrian traffic will be at a stand-still… because people will be stopping to look at stalls. Thus, making it tricky to get around people to overtake them.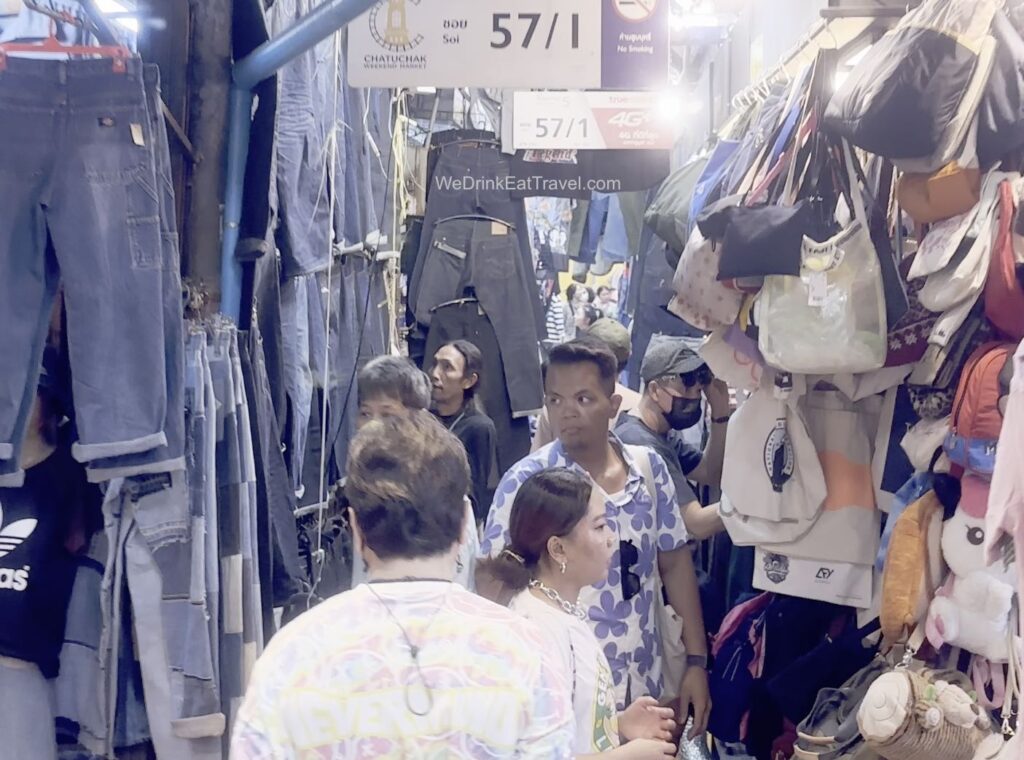 And, as it's an outdoor market, there's no air-conditioning. So, you won't be able to get relief from the hot weather, that can overwhelm Bangkok.
Thus, if hate feeling claustrophobic, thought we should let you know. Yet, it doesn't mean that you can't visit the market. You'll simply need to plan ahead and arrive earlier.
So, for example, you could start by looking at the inner stalls. Then, you can explore the outer stalls, which will have far less congestion. Another solution is to go here…
6. Top Tip To Escape the Extreme Weather or Crowds
Since we were last at Chatuchak Weekend Market… we found that there's been a big addition to the area.
And, you'll be happy to know that if you want some relief from the extreme weather conditions that can hit Bangkok… or even if you want to avoid some of the crowds, there's a shopping centre beside the market.
The name of the Shopping Centre is Mixt Chatuchak.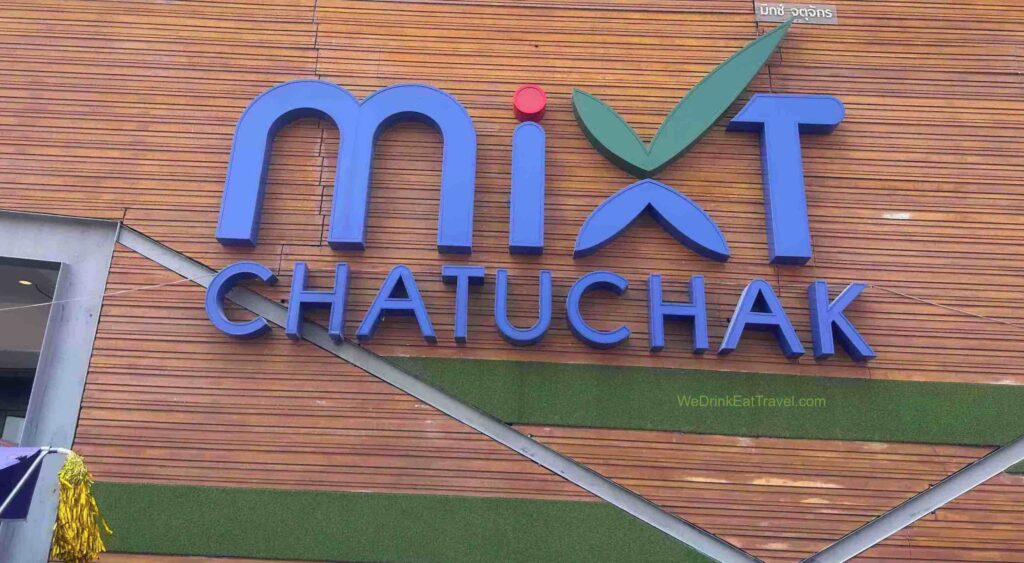 Before you even go inside, out the front of it are plenty more food stalls… where you can tantalize your tastebuds. So, they call this area, the Walking Street Food.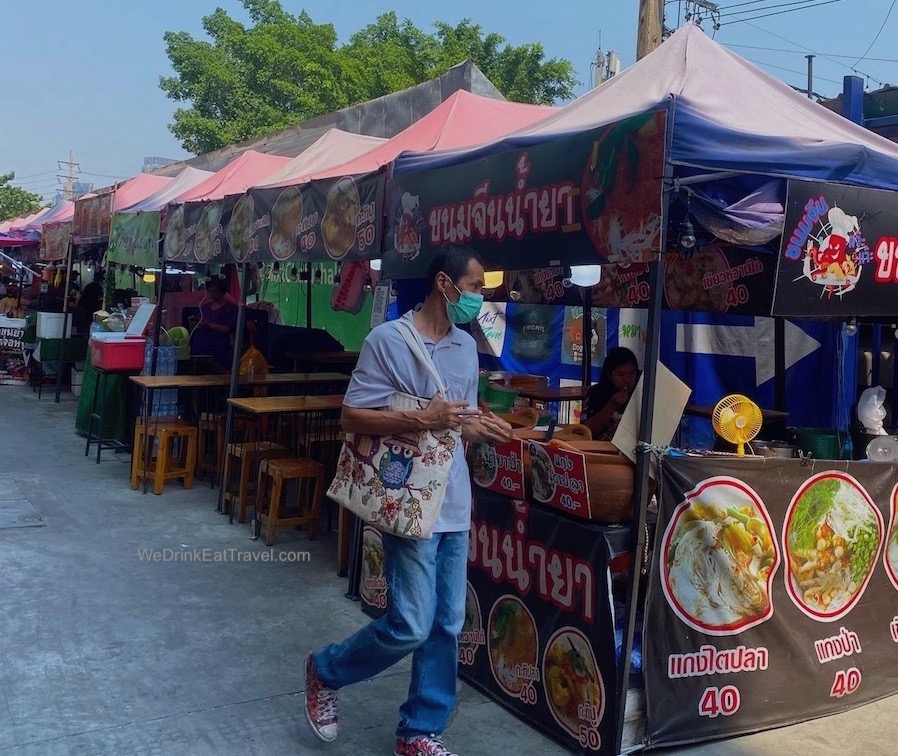 Now, Mixt is a modern multi-level shopping centre… with hundreds of stores and services within it. You'll be able to find places that sell souvenirs, clothes, books, plants, homewares, and more.
And, of course, as you're in amazing Thailand… it will be no surprise to you that there are even more food places!
So, unlike Chatuchak Weekend Market… this shopping mall is open every day of the week. Thus, if you're keen for more shopping and want to come back to Chatuchak… you can shop until you drop at Mixt.
Yet, as we had already been wandering around for hours at the market… we did appreciate the comfortable air-conditioning to escape the heat. Plus, there are free toilet facilities there, in a more comfy environment.
Whereas, at the market area… you do need a pay a fee to use those toilets. Even so, it's only around 5 baht per use.
However, we didn't spend a lot of time at Mixt, as the stores didn't appeal to us. Yet, if you've never been before, we recommend you explore it yourself. As everyone is different, and it may have something you've been longing to buy.
7. One of the Best Ways to Get to Chatuchak Weekend Market is by Train
Now, when in Bangkok, one of the most popular ways to get around for tourists and locals alike… is via the efficient public transport system. And, to get to Chatuchak we have taken different forms of transport.
Yet, one of the most effective and cheap ways to get there is via train. And, the great thing is, Bangkok has 2 main train systems… which is the BTS and MRT.
The BTS, which stands for, Bangkok Mass Transit System, is a skytrain network. Thus, the trains run above ground, higher than the standard traffic.
Whereas the MRT, which stands for Metropolitan Rapid Transit… runs underground.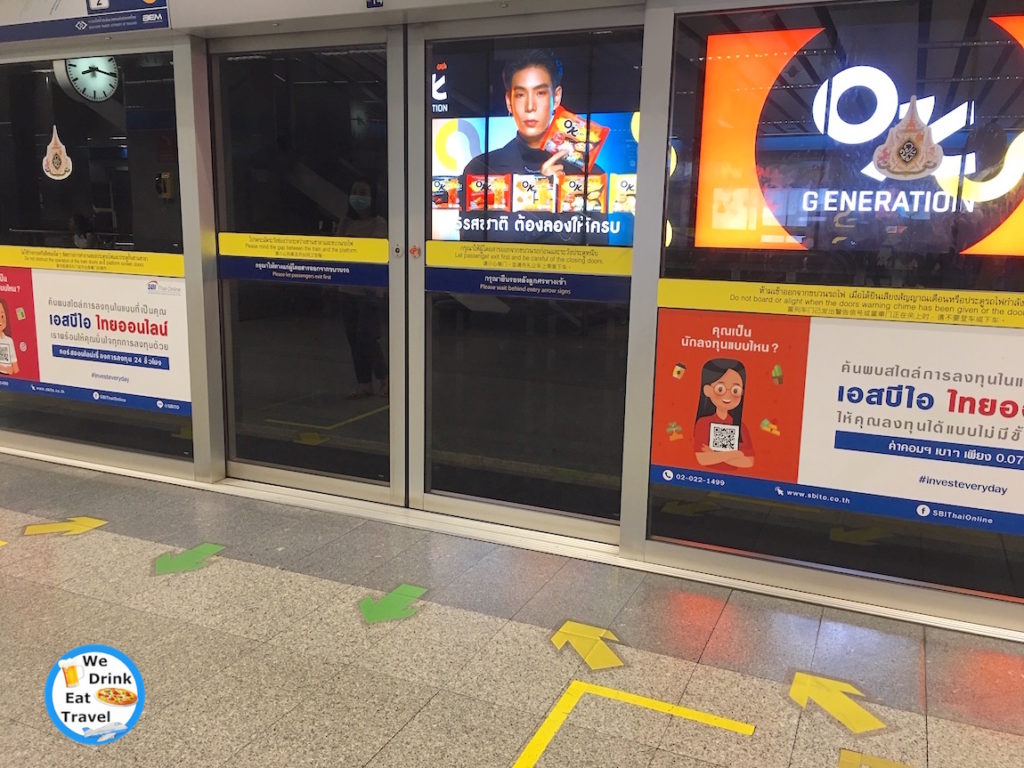 Plus, if you've never been to Bangkok before… then you need to know that the traffic can get chock-full. So, if you're going by road in a Grab car, taxi, or tuk tuk, for example…. it can be boring or even frustrating, waiting in the traffic.
To find out more detail on how to get to the Chatuchak Weekend Market… check out our blog HERE.
So, there you have it… 7 top things you need to know about the Chatuchak Market. It sure is a massive place, not only in terms of size… but with the huge amount of people that visit.
If you enjoy markets, shopping, eating, and finding bargains… then you should definitely take a trip out to explore it. We do recommend that you plan your time accordingly, as you could spend around half a day here.
Plus, we find that the most effective and efficient way to get to the market is by public transport… and, more specifically by train. Of course, this does depend on where you're staying in Bangkok.
We trust that this We Drink Eat Travel blog has been helpful. Have an awesome time at the Chatuchak Weekend Market!
You Might Be Interested In This Too…
How To Get To Chatuchak Market In 2 Ways
How To Go To Platinum Fashion Mall Bangkok By BTS
What You Need To Know About The Bangkok Canal Boat On Saen Saep
Getting A Grab From Suvarnabhumi Airport Bangkok With Pro Tips
VAT Refund Bangkok: How To Get Money Back On Your Shopping
Is Kuala Lumpur Worth Visiting? 15 Interesting Things To Know
27 Of The Best Things To Do In Bucharest
Thai Airways Review: From Melbourne Australia To Bangkok
3 Travel Mistakes People Make And Tips On How To Avoid Them