Once you're at Bangkok one of the easy transport options is to get a Grab from Suvarnabhumi Airport. And, if you've ever been to this airport, then you'll know how big and bustling it is. Yet, if you haven't been before… then it can feel frantic and even frustrating for new comers.
As this is a popular topic for our followers and fellow travelers… we had to re-d0 this travel blog post as an update for 2023. Plus, there are some helpful travel tips.
So, we've been to Bangkok many times. And, while we did pre-book some accommodation… we didn't book an airport transfer to get from Bangkok Airport to our hotel.
Now, aside from Grab… there are several options from the airport to get to places in and around Bangkok city. And, these include public taxis, the Airport Rail Link, public buses, and renting a car, for example.
In the past, we've often caught the efficient Airport Rail Link. And, this can be a great option… as it's an easy ride into major areas of Bangkok, on an air-conditioned train.
Plus, it's cheap if you're wanting to stick to a certain budget. And, one of the bonuses is that you don't get stuck in traffic!
Yet, on this trip we did have a hefty amount of luggage with us. Then , when we got to Bangkok we made the decision to get a private transfer. So, let us share with you our experience of how to get a Grab from Suvarnabhumi Airport… to help make your transfer into Bangkok stress-free.
The Grab Bangkok Airport Pick Up Point
Often times we're tired after a flight. So, to make our travels more easy… we don't wait in line to buy a sim, and try to work out what plans are on offer.
Instead, at Bangkok Airport, there is free wifi that you can connect to. And, this is common when arriving at most airports.
Thus, this was going to be handy when booking our Grab taxi. Yet, when we were connecting to the wifi to book our Grab car… the app wouldn't work. Argh!
So, here's a tip…
TRAVEL TIP:
When you get to your airport destination… turn your phone off, and then back on again to refresh the Grab app. Do this whether you arrive in Bangkok, Vietnam, Malaysia… or any other destination that supports the Grab app.
---
Then, once you're at Bangkok Suvarnabhumi Airport… you can choose from several pick up points. Yet, there is one that we find is the most effortless. And, after picking up your luggage, you'll go through the sliding doors.
Then, all you need to do is stay on that same level… and head to Gate 4 / Exit 4 of Arrivals.
---
Grab From Suvarnabhumi Airport Transport Options
When you're booking a Grab from Suvarnabhumi Airport… there are different types of Grab transport options. These include a Grab Car, Grab Taxi, Grab SUV or Grab Bike, for example.
And, the big difference with the Grab Taxi versus other Grab options is… the fare can vary.
Now, the great thing about using a Grab Taxi in the app, in comparison to hailing a normal taxi…. is that the app will show a fare estimate. Yet, when you get into a standard taxi you don't know what the fare will be… unless you try to negotiate with the driver.
Plus, with the other Grab transport options… the fare is fixed on the app, as you can see in the above picture. But, you must be aware that in most cases the fare that you see in the Grab app… does NOT include tolls, for example.
So, we didn't realize this in previous trips… until after we did a full Grab ride in Bangkok. And, we found out the fare was more than we were expecting.
Then, after contacting the Grab customer service… they were explaining that other tolls and fees are not part of the quoted fare when booking.
TRAVEL TIP:
If you want to avoid paying extra fees like tolls… communicate to the driver that you want to avoid toll roads. And, you can either do this using a translator app… or ask someone at the airport to write down the translation in Thai for you. Otherwise, here's another feature making it easy to get a Grab…
Communicating With Your Grab Driver
When in another country where English is not their first language… sometimes it can be challenging communicating.
Yet, getting a Grab from Suvarnabhumi Airport gets even more easy! Because, another awesome thing about the Grab app is… you can chat with your driver.
And, when you chat with a driver who can't speak English, or they can't speak English well… the Grab app translates the chat! An amazing feature, right?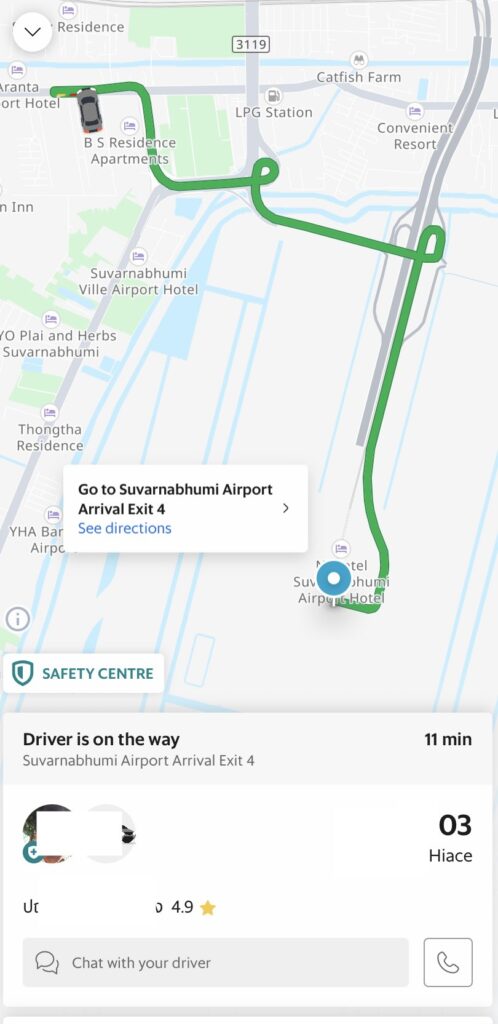 ---
Now, the traffic in Bangkok can be hectic. So, don't worry if you find that your Grab driver cancels the booking… as they may get stuck in traffic. Then, rather being 10 minutes until they can pick you up… it could double!
So, rather than have you wait 20 minutes for a driver… they'll cancel and the Grab app will automatically find another driver for you.
Then, in a matter of seconds or a minute or so… another driver will come to pick you up. And, the app will show about how long it will take… for them to get to your pick up point.
TRAVEL TIP:
Another travel tip we can give you when using the Grab app is… you can also take a photo of exactly where you are and send it to the driver. Thus, there's no confusion as to where the Grab driver needs to pick you up from.
You can also call each other… yet, that's a challenge if either of you can't speak each other's language!
Grab Bangkok Airport – A Cheap and Effective Transfer Option
On this occasion… getting a Grab from Suvarnabhumi Airport was a great choice for us. The driver was fast yet safe. Plus, we were traveling in air conditioning from door to door.
You must remember though… that the Bangkok traffic can get congested especially around peak hour. Thus, if that's a concern then taking the Airport Rail Link may be a better option for you. Yet, this does cover only certain parts of Bangkok.
If you have lots of luggage, no time restrictions, or want a quiet, relaxing ride after a flight… using the Grab app is a great option.
Plus, while it's not as cheap as getting public transport like buses or trains… it sure is more convenient. Yet, if you are traveling in group, it may end up being more cost effective… as the cost of taking several forms of public transport adds up!
Even so, we trust this is helpful… for when you're thinking of getting a Grab from Bangkok Airport. ENJOY!
You Might Be Interested In This Too..
Chatuchak Weekend Market: 7 Top Things You Need To Know
How To Get To Chatuchak Market In 2 Ways
How To Go To Platinum Fashion Mall Bangkok By BTS
What You Need To Know About The Bangkok Canal Boat On Saen Saep
Bars In Danang – 7 Of The Best Places
VAT Refund Bangkok: How To Get Money Back On Your Shopping
Is Kuala Lumpur Worth Visiting? 15 Interesting Things To Know
27 Of The Best Things To Do In Bucharest
Thai Airways Review: From Melbourne Australia To Bangkok
Thailand Food – Being Vegetarian In Thailand
Need Accommodation?
Find Your Perfect Vacation Accommodation
Want Cheap Flight Deals?
Looking For The Latest Flight Deals? Click HERE
Get Real Cashback From Your Vacation!
Discover How You Can Get Cashback From Your Vacation Bookings