In this We Drink Eat Travel blog, we'll run through how to get to Chatuchak Market in Bangkok. This is updated for 2023.
When visiting the bustling city of Bangkok… Chatuchak is a popular destination for tourists. Thus, we want to make it easy for you to get there. So, then you can spend more time shopping!
As you may know, Chatuchak is a massive place. Yet, did you know that it covers an area over 25 acres? Now, that's gigantic!
And, within that complex are thousands of stalls. Yep, that's right, you read correctly… thousands! And, these stalls are selling things like souvenirs, clothes, plants, shoes… through to accessories and homewares.
There are also a tremendous amount of places to eat and drink. So, you can relax your feet from all the walking… as well as give your arms a break, from all the goodies you may carrying!
Plus, it gives you the opportunity to try a variety of delicious Thai cuisine… as well as other tasty treats.
So, if you love shopping and open-air markets… then Chatuchak is a place to visit. And, the awesome thing is, it's only about 8km (about 5 miles) north of the city centre… making it easy to access via different forms of transport.
While you could get a car or tuk tuk or bus to Chatuchak Market… we have to warn you that the Bangkok traffic congestion can be atrocious. So, even though it's not that far from central Bangkok… it could take you 30-40 minutes in peak traffic times to get there! Crazy, right?So, let's kick off the 2 simple ways on how to get to Chatuchak Market.
1. How To Get To Chatuchak Market Using the BTS
Many tourists stay in the Sukhumvit area of Bangkok… as it's a great base for sightseeing, shopping and nightlife. It's a vibrant place with lots of amenities within easy reach.
And, a superb way of getting around, especially to avoid the heavy Bangkok traffic… is to catch the BTS.
The BTS is the Bangkok Mass Transit System… which is a skytrain that soars above the ground level. Thus, it's a no-brainer to use, as it avoids other vehicles and pedestrian traffic… giving you a stress-free and efficient mode of transport.
Yet, as it's above ground… you do have exposure to whatever the Bangkok weather decides to bring on the day!
And, there are many different train lines that cover the city centre… through to the outer areas of Bangkok. You can take a look at an example of the BTS lines and routes…
So, there's a BTS stop that is easy walking distance to Chatuchak Market… where you can stroll there in around 5 minutes.
Now, you need to know that even though this is a "famous" and gigantic market… there isn't a BTS train stop by the name of Chatuchak. Instead, you need to get to the BTS station by the name of, Mo Chit.
Mo Chit Station is on the Sukhumvit Line… which on the map is shown by a light green color.
For us, we were getting to Chatuchak Market from Nana BTS Station. And, this was already conveniently on the light green Sukhumvit line.
So, from Nana BTS station (Stop E3) to Mo Chit BTS station (Stop N8)… for 1 person it cost a measly 47 baht (about USD $1.35 / 1.25 Euros / 1.10 GBP). And, it only took us around 20 minutes, with 9 stops in between.
Plus, when on the train we could travel in air-conditioned comfort. Yet, a word of warning though… this is a popular train line for locals and tourists alike. So, at peak times… you could be standing on the train, crammed in with many others.
Even so, in popular times the trains run every few minutes or so.
Now, when you get to Mo Chit BTS station, take exit 1.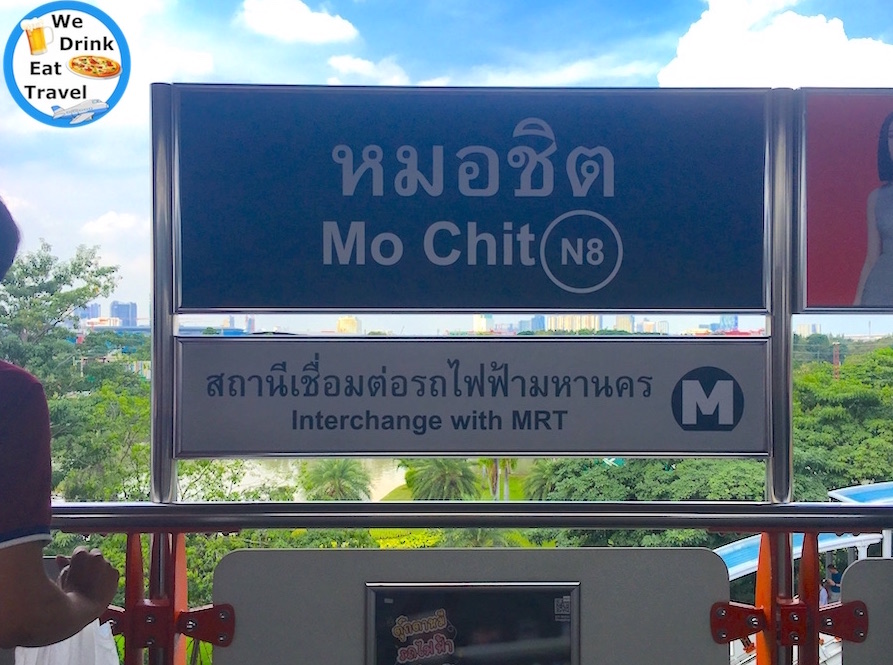 And, as you're on your way to the market, you'll see Chatuchak Park…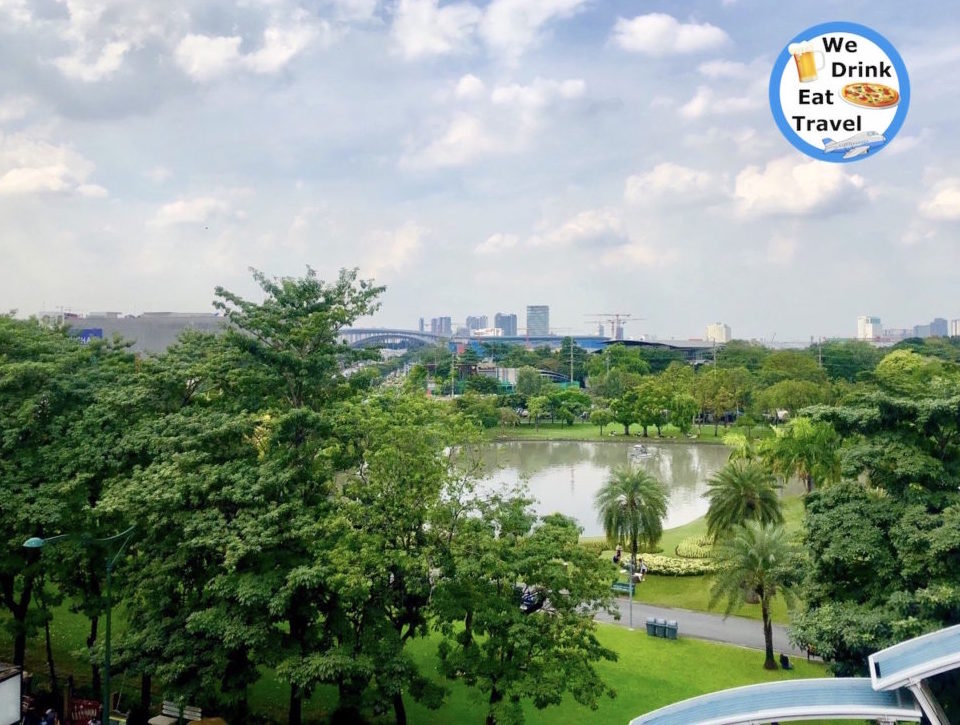 So, after exiting Mo Chit BTS, you'll have no concerns about if you're going the right way. And, that's because there'll be plenty of other people heading in the same direction. Thus, all you need to do is follow the crowd!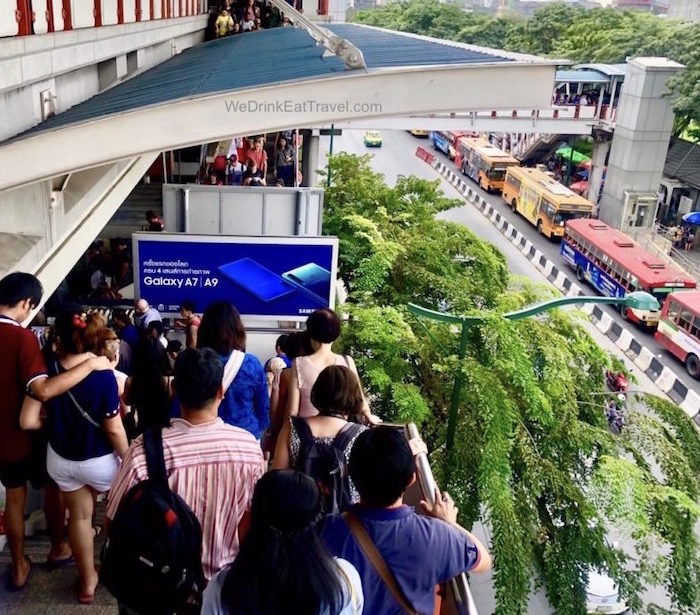 So, while the BTS is one way of how to get to Chatuchak Market… next up, is another simple alternative for getting to Chatuchak.
2. How To Get To Chatuchak Market Using the MRT
On one of our recent trips to Bangkok… we were staying in different areas of this fun city. And, that's so we could get a feel of what's it like… outside of the main tourist areas.
And, one of the areas we were staying in was Huai Khwang… which is about 8km north west of the central Bangkok region.
So, while we were here, we made the decision to take another trip out to Chatuchak… to see if we could pick up any bargains, and to see what was different.
Now, in Huai Khwang, to get around on public transport there's no BTS. Yet, instead, there's the MRT, which stands for Metropolitan Rapid Transport.
The MRT is the Metropolitan Rapid Transit train system in Bangkok. And, unlike the BTS, the trains for the MRT lines run beneath the ground.
It seems that every time we come back to Bangkok, there seems to be new stations being made! I guess that's a great sign for Bangkok and Thailand… in that they are greatly expanding.
Now, if you think that the fares are cheap using the BTS train network… then you'll be happy to know that the fares using the MRT are cheaper.
Plus, the lines are underground. So, when waiting for the trains, you escape the environmental elements. Thus, you can escape the extreme Bangkok heat and humidity! And, there are some big heavy-duty fans along the platform… blasting air for some relief.
So, from our accommodation in Huai Khwang… we were about a 7-minute walk to the closest MRT station. Thus, it was a convenient option for us.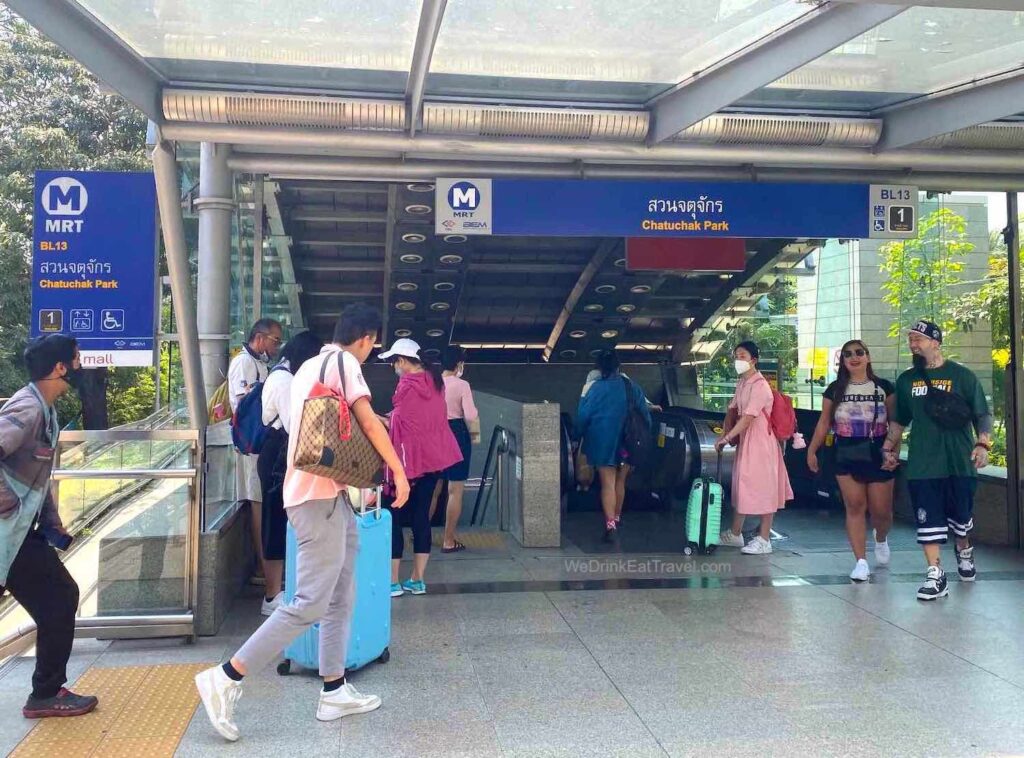 And, for getting to Chatuchak Market, we had to get the MRT from Sutthisan Station (BL17)… which is on the dark blue line. And, from here it would be only 4 stops until we got to Chatuchak Park (BL13)… which would take about 8 minutes.
Plus, the fare for one adult is only 24 baht (about USD $0.70 / 0.65 Euros / 0.55 GP). So, that's super cheap! Then, when you get to the Chatuchak Park MRT stop… you'll need to take exit 1 for Chatuchak Market.
And, like the BTS, don't worry if it seems confusing when you get there. Because, all you need to do is follow the throngs of people who are going in the same direction!
Are We There Yet?
Now, regardless of if you're catching the BTS or the MRT to Chatuchak Market… both ways will lead you to a path beside Chatuchak Park.
So, on your way to reaching one of the entry points to Chatuchak from the station… you'll get a taste for the what this place has to offer. And, there'll be some locals selling their goods on the footpath! Like a multi-pack of socks for 100 baht (about USD $2.95 / 2.65 Euros / 2.35 GBP).
Then, as you get closer to the Market… you'll be able to smell the aromas, wafting from food stalls.
And, soon enough you'll come across a sign that looks like this…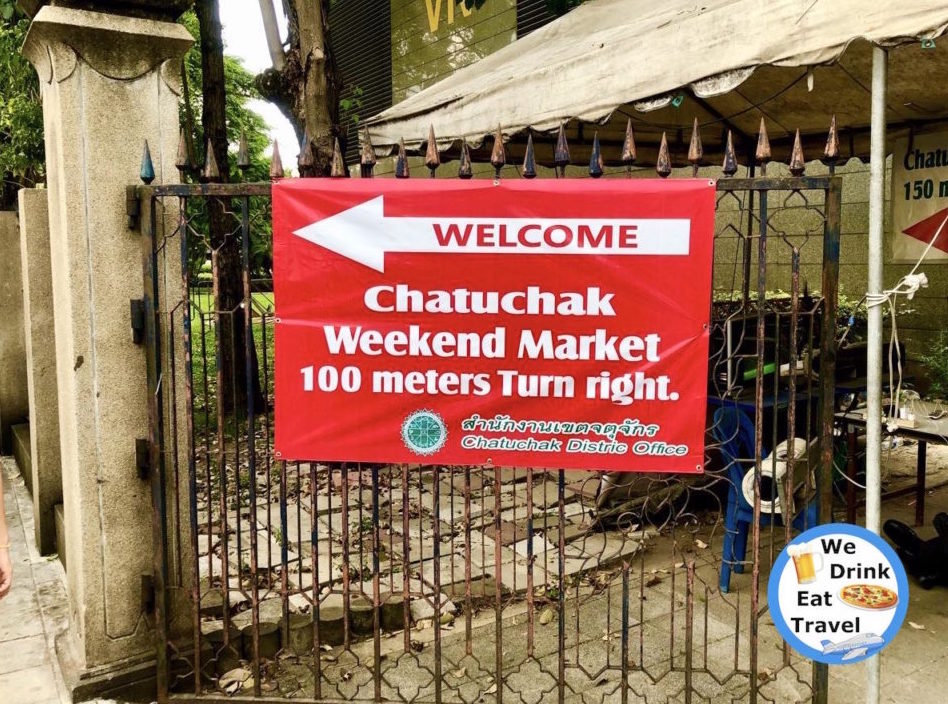 You'll then reach one of the many entry points into Chatuchak Market.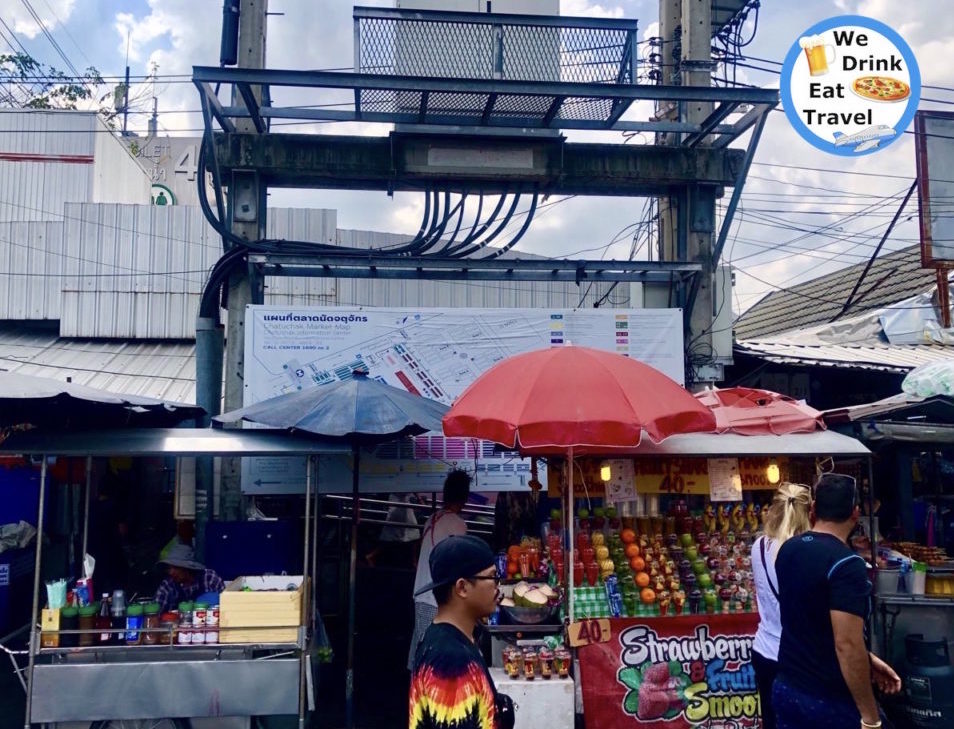 And, from here, you can start your exploration of the market… which could take hours if you want to check out all the stalls!
Now, if you're eager to find out more about what's in Chatuchak Market… then check out our other travel blog about it. And, make sure you allow at least half a day to explore it… as it's MAMMOTH!
Buying Tickets for the BTS and MRT
Whether you're buying ticket for the BTS or MRT, the methods are similar. When you get to your station… there will be vending machines that you can buy tickets from.
Otherwise, at most stations… there'll be attendants serving customers at a ticket office.
Plus, you'll either be given a card or tokens like these…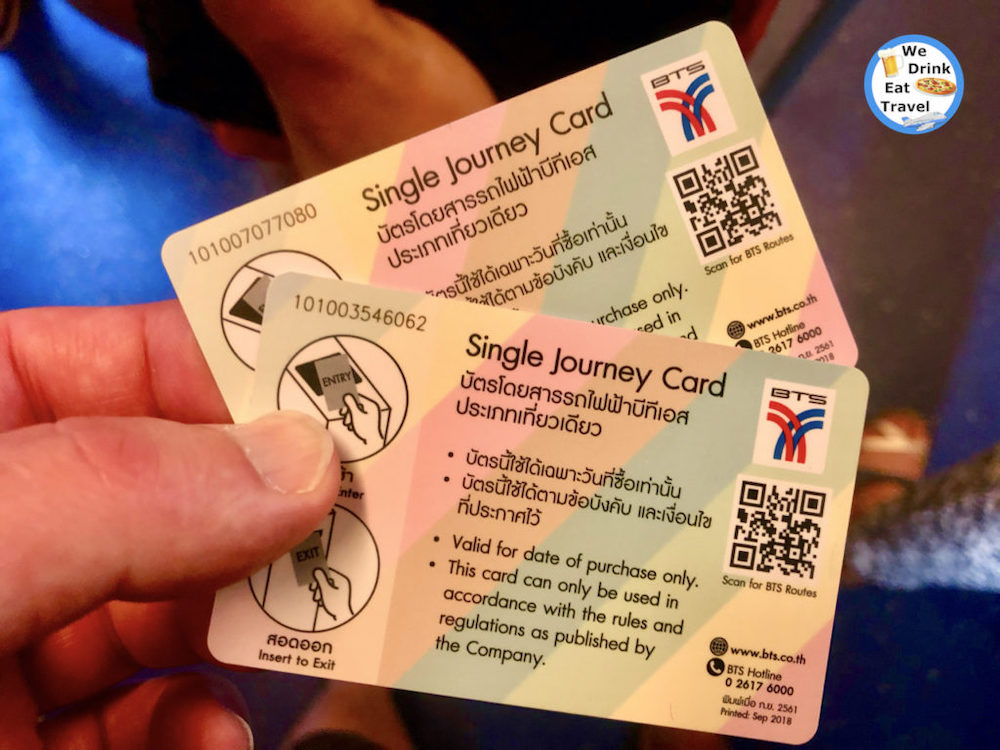 Then, once you get to the turnstiles… you put them in the slots, or tap in the area on top of so that they can open. If you have any problems, there's usually an officer nearby who can help.
The process is easy!
So, there you have it, 2 different ways on how to get to Chatuchak Market… via the BTS or MRT. And, both of these methods are cheap and convenient forms of transport.
And, depending on where you're staying in Bangkok… either of these options will get you efficiently and easily to Chatuchak Market. Plus, we do recommend these options over taking a tuk tuk, Grab or taxi… because the Bangkok traffic can get terrible.
Yet, if you don't mind potentially being stuck in traffic… then choose the options that suit you best.
We trust that this has been helpful, and we hope you enjoy your time there!
You Might Be Interested In This Too…
How To Go To Platinum Fashion Mall Bangkok By BTS
What You Need To Know About The Bangkok Canal Boat On Saen Saep
Getting A Grab From Suvarnabhumi Airport Bangkok With Pro Tips
VAT Refund Bangkok: How To Get Money Back On Your Shopping
Is Kuala Lumpur Worth Visiting? 15 Interesting Things To Know
27 Of The Best Things To Do In Bucharest
Thai Airways Review: From Melbourne Australia To Bangkok
Bangkok Public Transport: How To Use MRT Bangkok
3 Travel Mistakes People Make And Tips On How To Avoid Them