Many people come to Bangkok just to shop. With thousands of options from local market style stalls to high end shopping centers… there's something for everyone.
A popular shopping destination is the Platinum Fashion Mall. It claims to be Thailand's largest wholesale and retail shopping destination… with over 2,800 shops!
There are many ways you can get here…
Going by Skytrain is common. In one of my other blog posts I went through how to get to Platinum Fashion Mall from Sukhumvit using Chit Lom BTS. You can see that blog post HERE.
Yet, in this blog post I'll go through another way to get to the Platinum Fashion Mall. I still used the BTS. Yet this time, it was using the Silom line.
With the route I'm about to share with you… there are other options along the way to get to Platinum Mall! Read on to see what I mean…

On the Silom line (dark green line), you'll need to get to Ratchadamri BTS (S1).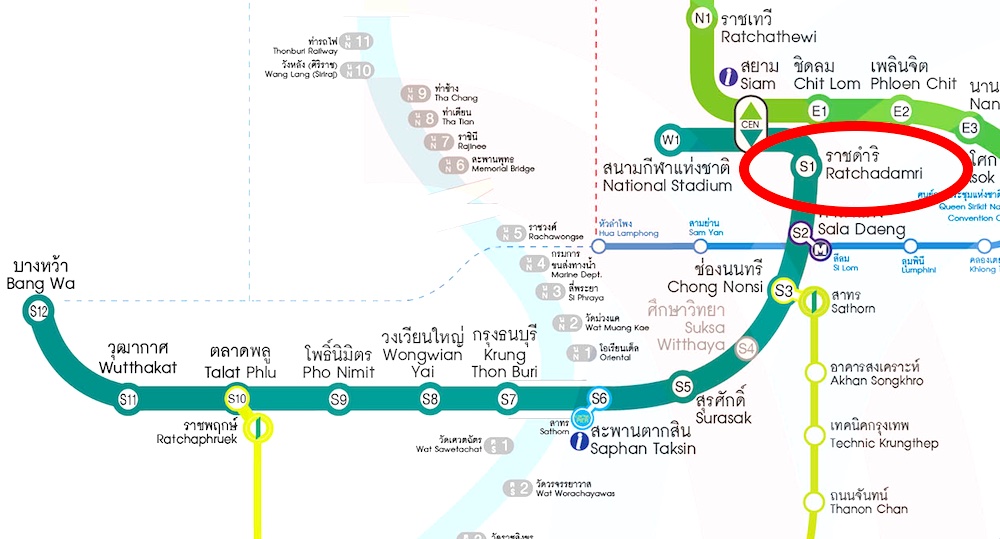 Once you get off the skytrain at Ratchadamri BTS stop, look for the signs for exit 4 and exit 3, for Ratchadamri Road.
NOTE: There is no Skywalk. You'll have to walk on the footpaths on the sides of Ratchadamri Road.
Therefore you'll be exposed to the elements of the weather… whether it's sun, heat, rain, humidity or wind, with no cover!

If you take exit 3 on the left hand side, this is the side that Platinum Fashion Mall is on.

You'll then walk past the Police General Hospital. Then further on you'll walk directly past CentralWorld Shopping Center.
Later on after that will be Isetan Shopping Centre. So if you're interested in seeing the shops here before you get to Platinum Mall take exit 3.

But if you take exit 4 on the right hand side… You'll initially walk past many hotels. These include Anantara Hotel, Courtyard Marriott Hotel, and Grand Hyatt Erawan.

Next to Grand Hyatt Erawan is the busy Erawan shrine….

By this stage I was sweating like a pig and hadn't reached Platinum Mall yet.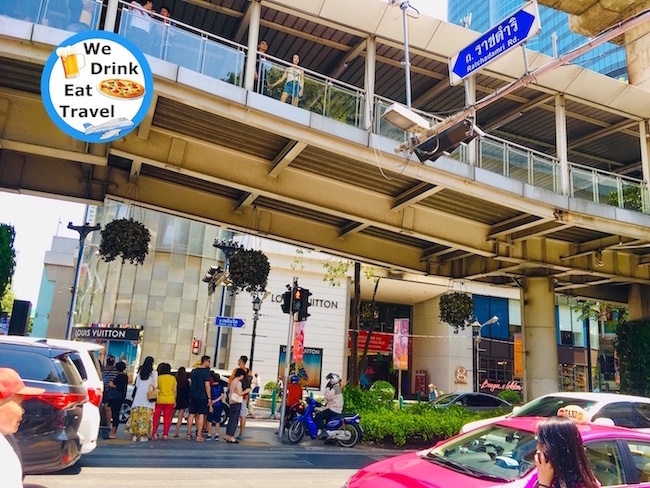 As you walk across the intersection of Ratchadamri and Ploen Chit Roads… you'll walk towards Gaysorn Tower. Gaysorn Tower and Village is full of high end shops and is air conditioned.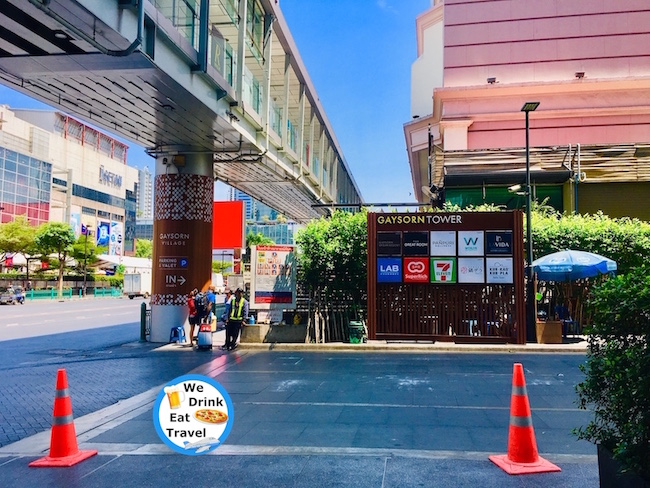 In my other blog post I explain how to go to Platinum Fashion Mall, going through Gaysorn Village. You can check it out HERE.
For you wine lovers there's a Riedel Wine Bar and Cellar in Gaysorn. It looks nice from the outside. Maybe if I'm in the area again, I'll check it out and have a cheeky wine or two!
Now, you're still on Ratchadamri Road in the heat!
Once you walk past Gaysorn, you'll see the Big C Supercenter with the mega supermarket. There's a big bus stop in front. There's also lots of food and other stores inside the Big C Supercenter.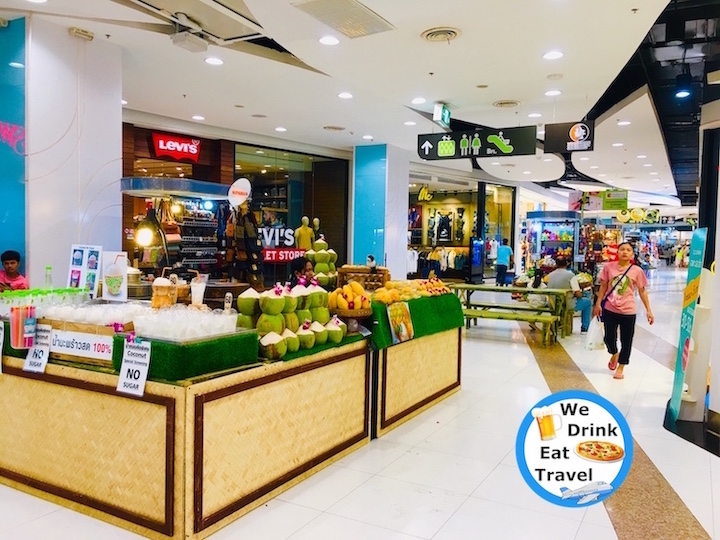 After Big C, is The Market. This is a huge complex full of mainly food places.
---
You will need to walk across Ratchadamri Road to get to Platinum. So next to The Market is a set of stairs leading you up to the Ratchaprasong Skywalk.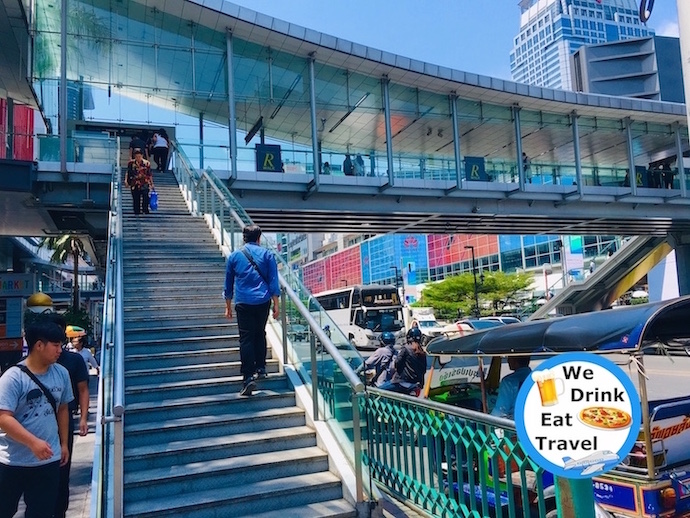 Now, you can take the Skywalk to go undercover to Platinum Fashion Mall for the rest of the way.
Otherwise, keep walking on Ratchadamri Road and you'll walk past a massive orange sign on your right… This is for SuperRich Money Exchange. By the way, I've found that they usually have the best money exchange rates.
You'll then reach a huge intersection of Ratchadamri and Phetchaburi Roads…
You'll need to cross over on your left. You have to have your wits about you if you're going to cross here! There's lots of traffic… and some motorbikes and tuk tuks will just scream out in front of you without any warning.
So my suggestion is to take the Ratchaprasong Skywalk route.
So once you go up the stairs from Ratchadamri Road to the Ratchaprasong Skywalk route, you'll see this view. Plus, you'll see signs for Platinum Fashion Mall…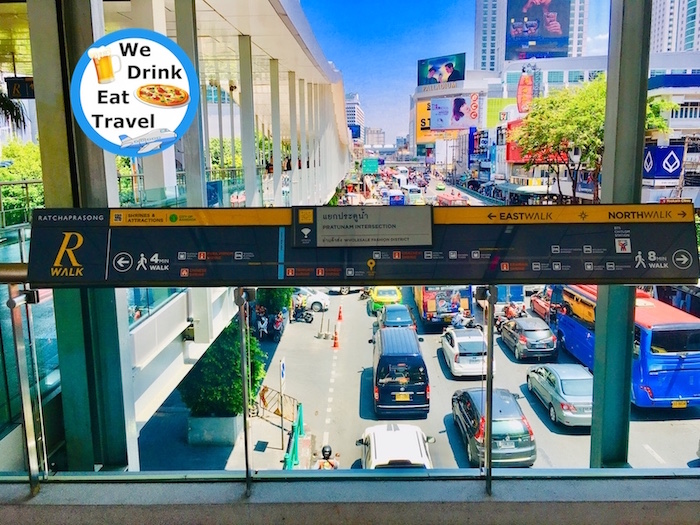 Follow the signs to Platinum Fashion Mall and keep walking along the Skywalk. Eventually you'll see the Mall…
Then, there are several options at the end of the Skywalk… Choose the one that suits your needs best…
If you take the stairs down, this will lead you outside the Novotel Platinum Pratanum Hotel. As you walk on the path ahead, you'll see a variety of food trucks and stalls.
So if you want a feed before you shop 'til you drop, take a look at these food stalls. There are lots of food options once you get inside the Mall too.
Otherwise, head left and follow the signs to the other entrances.
I personally chose to follow the route to take me to Zone 3 first. Zone 3 is in a separate building…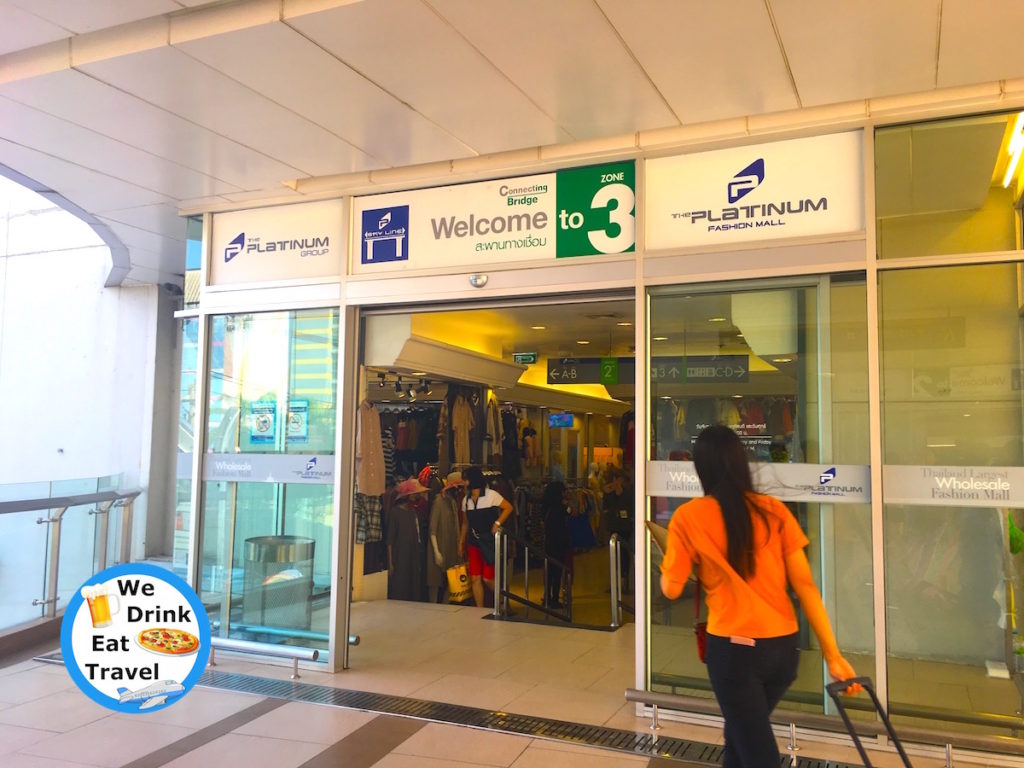 Then once you're done shopping there, you can head on over to Zone 1 and 2, which are in the same building.
TIP: If you want to stay in air conditioned comfort… you can cross over from Zone 3 to Zones 1 and 2 via the walkway on the second floor.

TIP 2: Zone 3 is smaller, yet if you're looking for shoes I'd say this is far better than Zones 1 and 2.

Take a sneak peek at a few of the shops in Platinum Fashion Mall…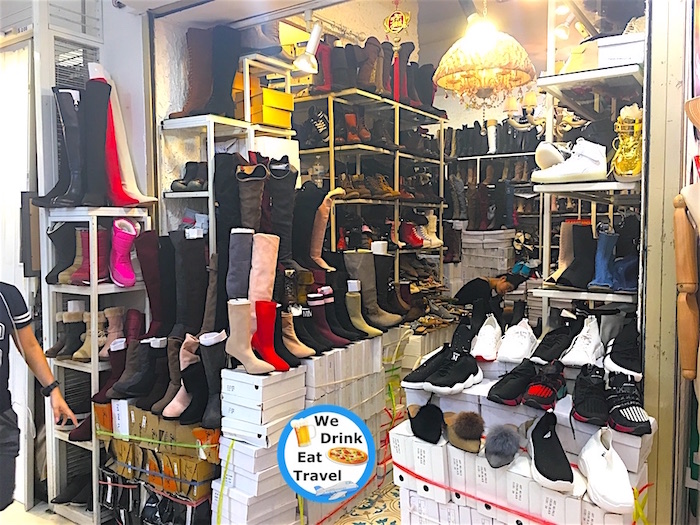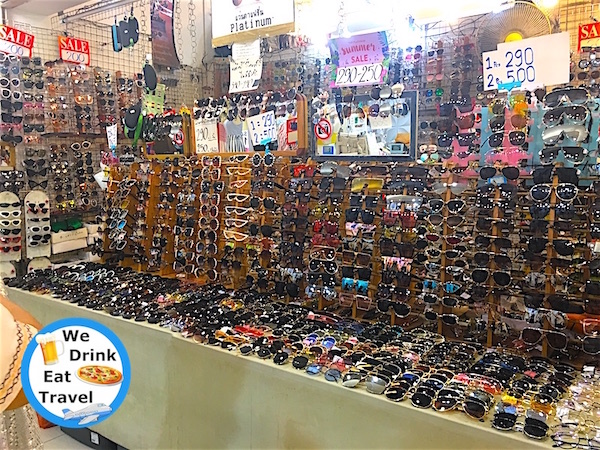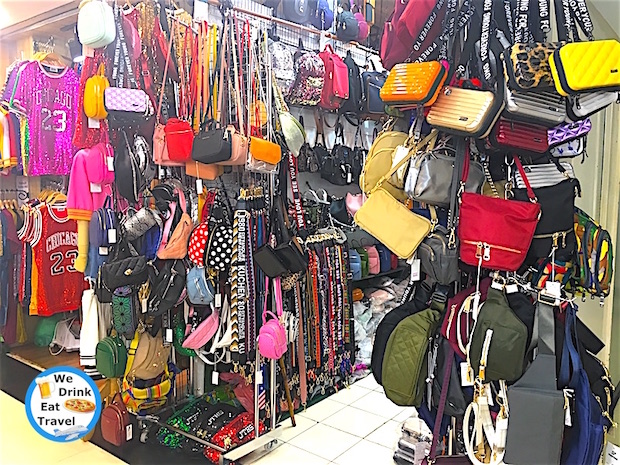 Here is the directory for each of the zones…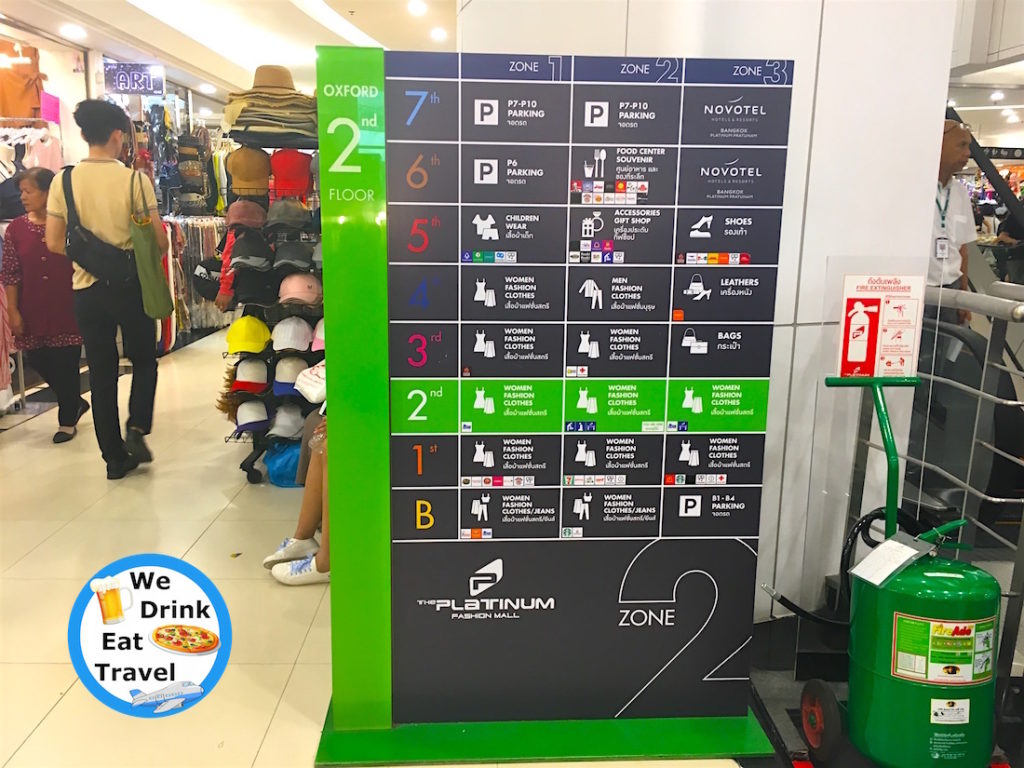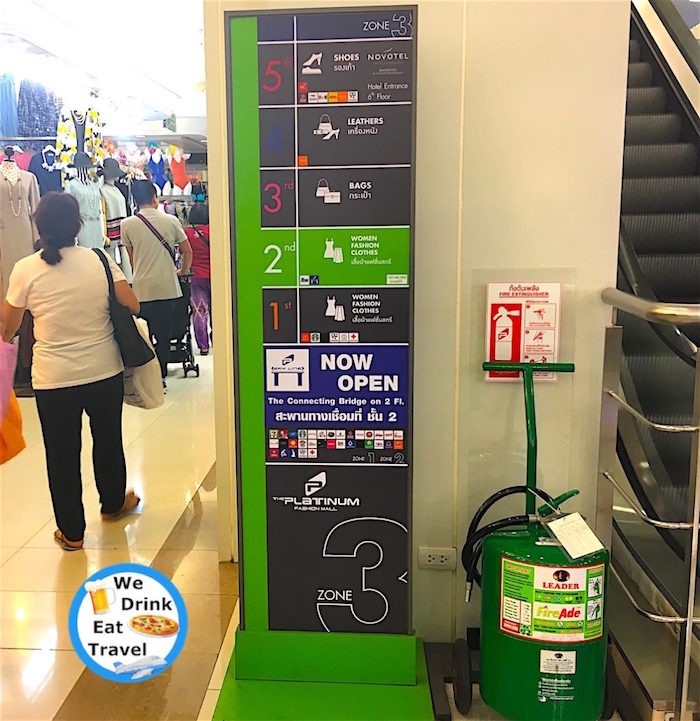 Be aware though… even though it says Shoes are on the 5th floor in Zones 1 and 2, unless I've completely missed it there aren't any… just for kids.
So if you've been to Platinum Fashion Mall and found women's shoes on the 5th floor of Zones 1 and 2… can you let me know please!!
You can get some bargains here. And if you buy in bulk you may get a better discount.
I bought 12 pairs of monthly contact lenses for 1600 baht (about USD $50.20). Bargain!
I could also get contact lens cases at 20 baht a piece (about USD $0.65). Yet, I chose to get 6 cases for 60 baht (about USD $1.95) in total.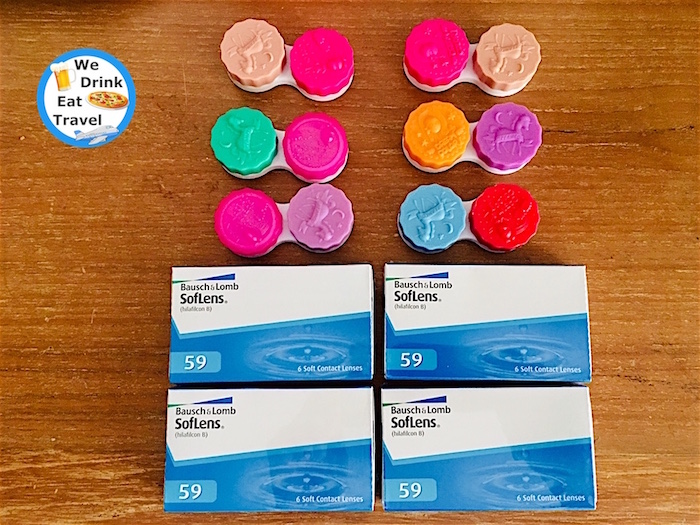 For me that's so cheap compared to what I'd have to pay in Australia! I got all these items at Dazzle Me Lens in Zone 2, on the second floor. They also sell contact lens solution, coloured contact lenses and more!
I also bought 3 singlets for 240 baht (about USD $7.55) in total. Normally they're 100 baht each, which is still cheap anyway.
So if you take the Ratchadamri BTS skytrain route via the Silom Line, it is the most direct route to the Mall… all you have to do is walk up Ratchadamri Road and you're there.
Yet, you will be exposed to all the weather conditions. And I'm sure you'll be drenched in sweat before you get to Platinum Fashion Mall! If that doesn't bother you then try this route.
You could always catch a mototaxi or tuk tuk or other transport from Ratchadamri BTS to shorten the trip.
There really are plenty of options. Just choose the one that suits your needs on the day.
HAPPY SHOPPING!
You Might Be Interested In This Too…
Discover The Best Website To Book Flights And Hotels
20 Of The Best Things To Do In Karlovy Vary
25 Of The Best Things To Do In Kotor Montenegro
30 Awesome Free Things To Do In Prague, Czech Republic
10 Free Things To Do In Hue Vietnam
25 Amazing Things To Do In Dubrovnik Old Town
15 Interesting & Surprising Things To Do In Sarajevo Now
Check Out 15 Amazing Things To Do In Budva, Montenegro