Talk about slow travelers! We've been exploring the Balkan region for over 1 year now, and it shocks us how quickly time flies. It must mean that we're having lots of fun! And, one of the best things we love about traveling… is trying the local cuisine.
We've had the opportunity to sample some scrumptious food through to hard core drinks! Yet, on the other hand, we've also had some average food too. And, that's to be expected.
Plus, everyone's palate when it comes to taste differs. So, when one person suggests a restaurant and rates the food highly… when we experience it, we may not like it. Yet, that's all part of the adventure in traveling… trying new things.
So, we're real grateful that fellow travelers and foodies share their stories, as it helps to discover new places… and of course, new food and drinks.
Now, getting back to Albanian food…
Having never been to Albania before, and then being there for about 3 months… we sure did try lots of different food, drinks and places.
Yet, how does the food in Albania stack up to where we've been so far?
Well, in this travel blog post, we expose some drinks and food in Albania that we loved… and didn't love so much. Plus, we'll highlight some things we discovered on our Albanian food adventures.
We hope you've already eaten… otherwise you'll be hankering for some food and drinks after this!
Food In Albania
When it comes to Albanian cuisine, we suspected it'd be heavy meat based… and, we were correct. So, for all the meat lovers out there, you'll be in heaven. It'll be a smorgasbord of options.
Feast on qofte (grilled meatballs) to zgara (mixed meat platters) to ocean fresh fish… through to surprising dishes such as tavë kosi (lamb baked in yogurt).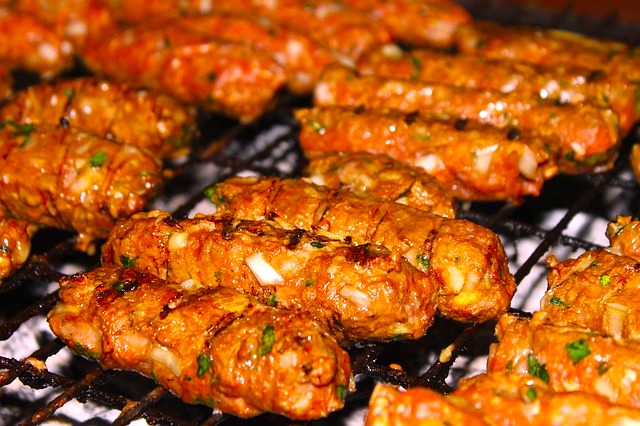 Now, for vegetarians, depending on where you are in Albania there can be many tasty options.
So, in Tirana, and other touristy places like Berat… there were more options for vegetarians. Yet, when we stayed in Vlore on the coast for about 1 month… we did lots of cooking.
When we were looking to try the more traditional Albanian food in Vlore… we didn't have much success when it came to vego food.
And, it was shocking when at one restaurant… they said that the only vegetarian food they had was soup. Even then, I'd be wary as the stock was probably meat based.
Plus, another restaurant turned us away as they said they had nothing for vegetarians!
So, our food adventures stopped short in Vlore. Yet, we did discover different traditional Albanian food on our travels. And, here are some of them…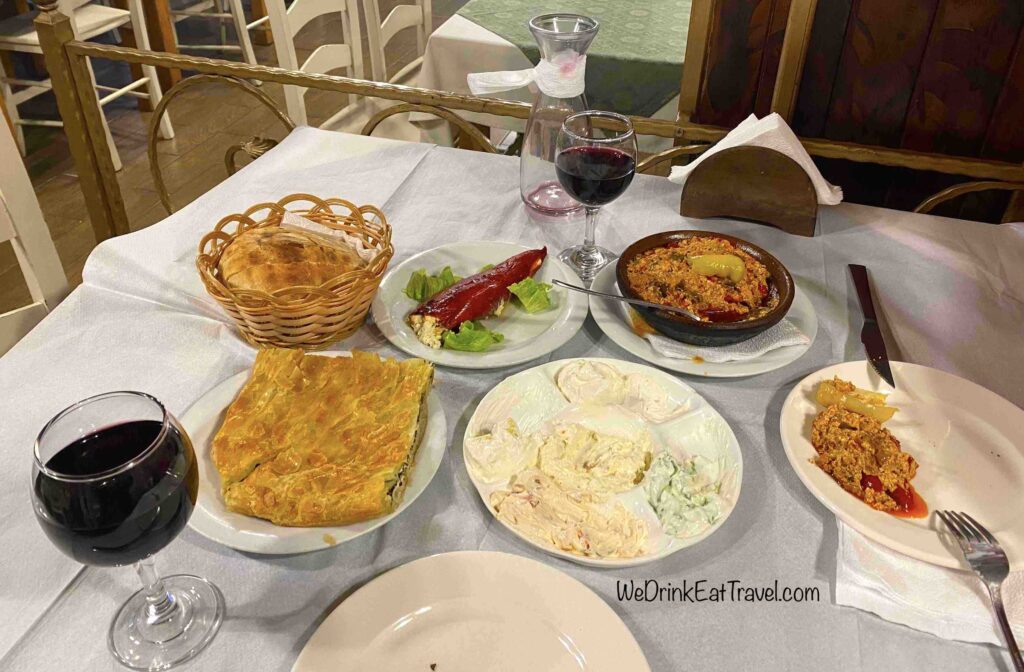 Fergese
Our most favorite food in Albania that we discovered in Tirana… is the scrumptious traditional Albanian food of fergese. Imagine devouring roasted red peppers, with flavorful herbs and lots of feta cheese.
Now, when we were in Skopje we had bucket loads of ayvar. Yet, having fergese took a delicious red pepper dish to a whole new level.
There are 2 versions – a vegetarian fergese and the non-vegetarian version… which is traditionally made with liver. So, fergese is definitely one of the top Albanian dishes to try on your travels.
Dips
It was surprising to discover that at some of the zgaras (meat grill restaurants)… there were options for vegetarians too.
So, when we were taking a sneak peek at other people's dishes… we saw that along with the meat platters, they were devouring plates of colourful dips with bread.
And boy, did they look yummy. Then, when we tried to find dips on the menu we couldn't!
So, we ran through the menu again in case we overlooked it. Yet, here's a foodie travel tip that may help you in Albania… the "dips" are called, sauces.
And, in some places they had up to a dozen different dips! So something for everyone.
Corn Bread
We absolutely love bread. And, on our travels we've sampled many types… from loaves, to rings, to flat breads. Yet, one type of bread we hadn't tried in the Balkans, is a corn bread.
We normally wouldn't go for this type of bread. Yet, when we found it on a restaurant menu in Tirana… we decided we had to sample this traditional Albanian food.
Now, the corn breads we tried in Albania did have a heavier texture. And, while they tasted OK, it wasn't on the top of our list for must have foods in Albania. Yet, give it a go and you may love it.
Stuffed Peppers
Being in the Balkans, we noticed that peppers are a staple in their cuisine. And, one delicious traditional Albanian food is stuffed peppers.
Now, they're usually stuffed with meat and rice, and roasted.
Yet, depending on the restaurant, they can make vegetarian versions. And, when they're stuffed with cheese they are to die for! It may sound so simple, yet sometimes the simple things in life are often the best.
Plus, not only did we try the Albanian stuffed peppers… we discovered stuffed mushrooms and stuffed eggplants, for example. Boy, were we "stuffed" after eating so much delicious food. LOL!
Tarator
One thing that did surprise us when looking at the restaurant menus, is that tarator was a common option. Now, we don't recall ever having tarator before. So, when we were in Berat, we decided try this cold yoghurt soup.
And, this would go down well to help cool us down, after walking up and down hills sightseeing. Plus, one of the best we had was at one of the best restaurants in Berat, Friendly House.
It was so garlicky and so yummy. And, it didn't bother us having major garlic breath afterwards. Plus, we traditional Albanian bread to dunk into the tarator. OMG, it was so tasty.
Byrek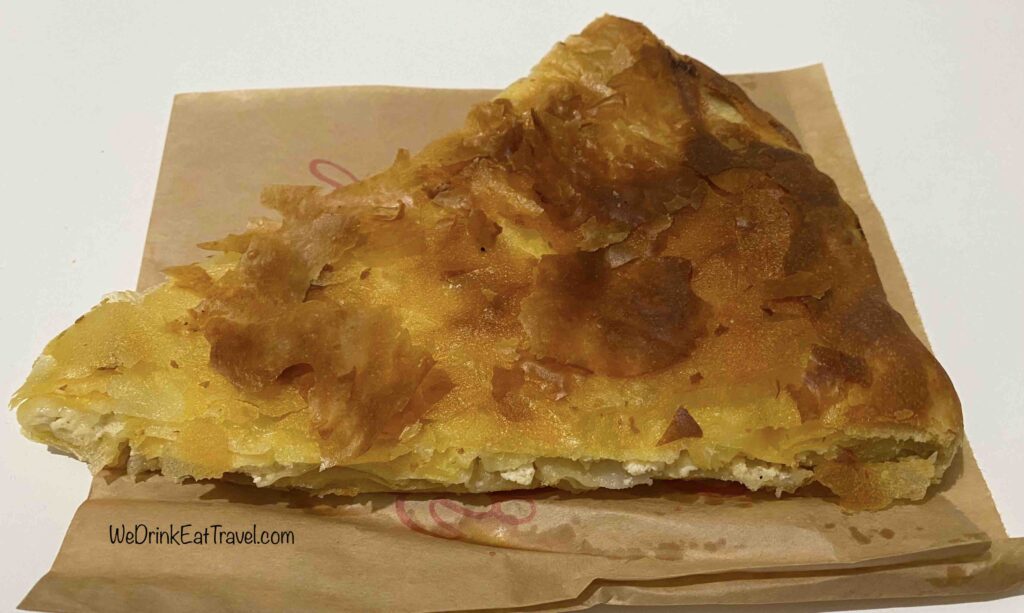 Now, this can be considered an Albanian fast food item for a quick and delicious breakfast… or it can be enjoyed in a restaurant setting. Whichever option you choose, the Albanian byrek or pie is a MUST try.
There are a couple of main differences we noticed eating byrek on our travels in Albania. Firstly, many of the Albanian byreks are in a whole triangle shape. And secondly, the amount of filling is less than other places we've had through the Balkans.
We discovered that there are several different flavors too in Albania. There was the usual meat byreks, cheese, spinach… and it had surprising tomato byreks.
Yet, many of the byreks we sampled lacked that strong, salty, robust flavor… that we've been spoilt with on our Balkan food adventures. And, in some places the cheese in the byreks we tasted was almost flavorless.
Even so, we did find a few places in Tirana to get good Albanian byreks.
Baklava
When we were in Istanbul Turkey, we were spoilt with choice for baklava. And, it was the best baklava we'd ever had.
So, in Albania there were several bakeries and sweet shops that had homemade baklava. And, it was like each time I walked past, gazing through the windows… the baklava were calling out, "Eat Me!"
So, when we were in the Blloku district of Tirana, I decided to some baklava. Now, I have to say when comparing it to the baklava in Turkey… it sure was heaps better in Istanbul.
For me, the syrup used in the Albanian baklava I tried, wasn't as sweet or flavorsome. Yet, as mentioned earlier, you gotta give these things a go… otherwise you'll never know! And after trying them, no longer were the baklavas calling out to me!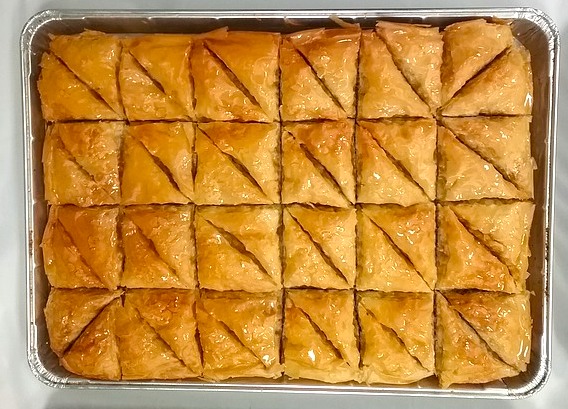 Kaçkavall Cheese
One food that is a MUST try when we travel round the world is cheese! And, having been in the Balkans we've had some of the best cheeses ever. Yet, a delicious yellow cheese that we fell in love with is kaçkavall.
If the truth be known, we did discover kashkaval in Bulgaria. Yet, we have found that each country has their own distinct flavors.
Plus, there were even some differences amongst the various regions within each country too… where some would be a harder texture and others quite stringy, for example. Plus, the flavors would be different too.
On some occasions, we could taste strong earthy flavors from the cheese… because of the type of grass or grains the cows, goats or sheep were feeding on.
And, we found that when buying the cheese from farmers markets… that earthy flavor usually was more robust.
Sometimes we'd be absolute pigs sometimes and buy whole wheels of kaçkavall. Hey, we know we're not the only ones who do it. Put your hands up if you've bought wheels of cheese before… ha ha ha!
Now, speaking of farmers markets and fresh produce… as we mentioned earlier, we did cook sometimes. So, we did check out different places in Albania for fresh produce.
Fresh Markets in Albania
Now, having stayed in Albania for about 3 months… we stayed in some accommodation with kitchens. And, it was great sometimes to chill out, making delicious homemade meals.
And, getting fresh produce was easy and relatively cheap in Albania.
Everywhere in Albania there are lots of places to get fresh fruit and vegetables… from supermarkets, through to large farmers markets and road side stalls.
Yet, we found that even though sometimes the produce in supermarkets can be cheaper… the quality may not be as good. So, if you plan on buying from supermarkets, you may need to look around, be choosy… or sacrifice quality for price.
In addition to the supermarkets are large outdoor markets, like the New Bazaar in Pazar i Ri, Tirana. And here, not only can you get fresh fruit and veggies… there's honey, lentils, olives, dried herbs, cheeses and more.
Sometimes those big markets aren't convenient to get to. And, what we discovered in Albania is that there are small pop up stalls on many street corners.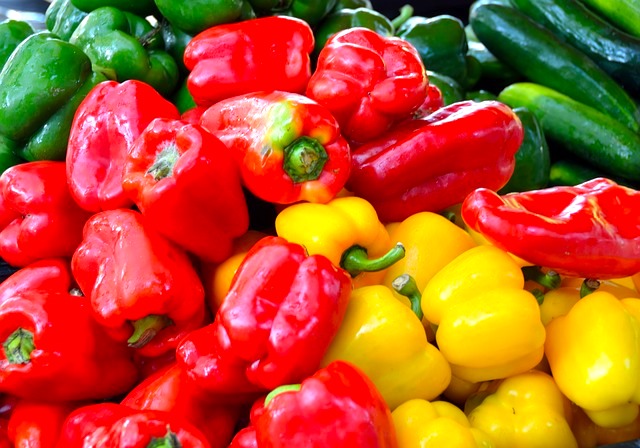 Supporting the Local Farmers
So, the small local farmers or people who grow produce from their own home… find a street corner and set up their goods for sale. Yet, at these types of places, many of them don't show what the prices are of their produce.
So, if that concerns you, get an idea of what things cost by checking out supermarkets first… otherwise you may end up paying the tourist price.
And, this is different to when we were in Bulgaria… as there were prices on everything even at the farmers markets. Our understanding is that by law in Bulgaria, prices of goods have to be displayed.
Even so, prices of produce in Albania is cheap… compared to Australia, the UK, USA, or other parts of Europe.
So, for example, in Albania a kilo of tomatoes can cost about 150 Lek (about USD $1.40 / 1.25 Euros). Now, that's damn cheap, and the vibrant red fresh tomatoes were yummy.
Once we found a local market or stall that we liked, we became loyal to them. And, this would often turn out to be a win-win situation.
For example, when we were in Vlore… we found a local Mom and Pop fresh produce stall only a few minutes walking from our apartment.
And, almost every day we'd be there buying up their fresh and tasty produce. While they couldn't speak any English… it was like we became one of their best customers during our stay in Vlore.
We felt great being able to spend our money with a lovely local couple, and help them out.
Plus, every now and again they'd throw in some freebies, which was kind of them. And, this also allowed us try some foods we hadn't tasted before.
So, where you can, support the local farmers and enjoy the goodness of their fresh produce.
It's a "Wrap"
Well, it's time to "wrap" up this travel blog post about food in Albania… as we've "dished" out what we needed to. OMG, don't you just love the Dad jokes? I can hear Paul saying, "No!"
Even so, we trust that this has given you some insight into traditional food in Albania… and given you a "taste" of what to expect.
OK, before I keep going on with the bad Dad jokes, I'm going to end the blog right now!
Enjoy your food adventures in Albania… and let us know what your favorite traditional Albanian dishes were.
Until then, we'll continue to drink, eat and travel around this beautiful world of ours.
Like This? Share it and comment on it!
Note: All of our reviews and comments are our opinions and no-one else's. Even if we receive complimentary goods or services we share our opinions honestly.
You Might Be Interested In This Too…
How To Get FREE Accommodation While Travelling
How To Make Your Time In Tirana Albania Fun And Memorable
Here Are 7 Remarkable Things To Do In Berat Albania
10 Popular Drinks & Food In Skopje To Make You Happy
10 Awesome & Surprising Things To Do In Skopje Now
7 Top Reasons Why You Should Visit Bansko Bulgaria
Inspiring Vacations – Top 5 Things To Do In Malta
7 Free Things To Do In Bangkok
Bangkok Public Transport: All Aboard For The Khlong Boat On Saen Saep Canal