Food, food, glorious food!
Having been slow traveling around the Balkan countries for over 12 months now… we've been tantalizing our tastebuds with some amazing food and drinks.
And, if you haven't read our previous travel blog post on "Things About Albanian Food You Need To Know"… then check it out here. As this will give you some insight about what to expect with Albanian food… before you get there.
When it comes to choices for restaurants in Tirana, there are plenty. You can choose rom traditional Albanian food in rustic places… through to international cuisine in modern settings, and even degustation!
There's something for everyone in Albania's capital city of Tirana.
So today, I want to share with you some top places in Tirana for delicious food. Plus, I highlight some unpleasant experiences too! Yes, unfortunately it happens.
So, let's dive right in…
Albanian Byreks in Tirana
In Tirana we tried heaps of byreks. And, we did discover that they were different to those we'd tried in previous Balkan countries.
We understand that each country has their own way of making, shaping and flavoring byreks. And, to see what we thought overall of Albanian byreks, check our blog post HERE.
So, in Tirana we found that depending on what type of byreks you get… expect to pay around 40 Lek each (about USD $0.40 / 35 Euro cents).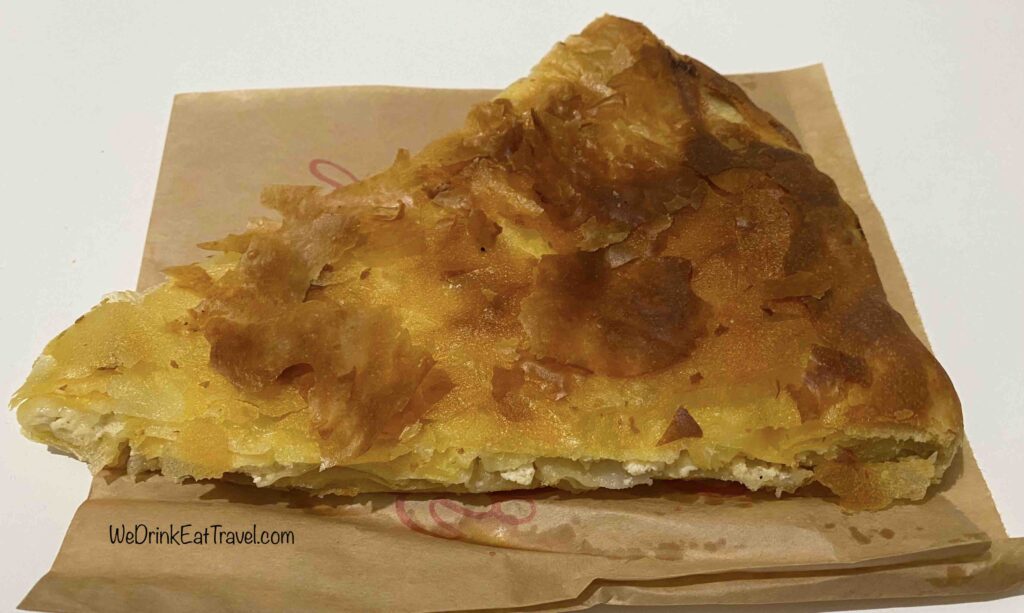 Now, out of the places we tried byreks in Tirana, our favorite byrektore is here…
Someg Bakery and Pasticeri
When it comes to the major chain type places… some of the better Albanian byreks we had was at Someg Bakery and Pasticeri. And, there are several of these outlets dotted around Tirana.
Yet, the one we liked the best was on Rruga Abdyl Frashëri.
Not only did the byreks have a decent amount of filling compared to many other places… the service from the ladies was excellent. Each time we went there they greeted us with smiles. And, sometimes the ones who speak English would have a chat when they weren't busy.
Plus, make sure you leave some room in your belly after having the yummy savory byreks. And, that's because they have sweet treats too. As well as absolutely amazing and to die for ice-cream.
Now, for "hole in the wall" type byrektores… check out these to see if they take your fancy…
Byrektore Avdyli
Now, you most likely won't find this byrektore on sites like Tripadvisor, Restaurant Guru or Foursquare.

And, that's because this place is in the Komuna e Parisit neighborhood of Tirana… which may not be on the list of top places to visit in Tirana for many. It's about 2.5 kilometers from the city center and main attractions like, Skanderberg Square… and is more of a local neighborhood than tourist destination.
Yet, as slow travelers we were spending about 6 weeks in Tirana. So, we had plenty of time to explore. And, if you do happen to visit this area, or even have accommodation here… I recommend you check out Byrektore Avdyli.
This hole in the wall tiny byrek shop in Tirana had so many different byrek flavors. And, it had a long line of people… showing it was a popular place with the locals, which is always a positive sign.
Byrektore Avdyli had the usual meat byreks, cheese, spinach… and it had a surprising tomato byrek, that we haven't seen on our travels through the Balkans.
Now, while the flavor of the Albanian byrek with tomato was delicious… I had food envy at Paul's cheese byrek. And, after tasting it I had to be greedy and buy a cheese byrek… LOL! So, give this place a try if in the Komuna e Parisit area of Tirana.
The ? Byrektore
OK, so I've called this byrek place the "? Byrektore." And, that's because I have no idea what's it called, even after going there a few times.
So, let me try and explain where it is…
When you do a Google Search… type in Burger King Blloku. And, opposite this Burger King is a place called, Magic Shop. Then, beneath that is a tiny byrek shop.
You should be able to see it in the picture when you do the 360 view, if you look carefully. And, if you blink you may miss it!
The great thing about this byrektore is that for such a small place… they make all different types, sizes, and flavors, including the big pie slabs!
Our Traditional Albanian Food Experiences at these Restaurants in Tirana…
When we go to a new city, sometimes we look up other people's reviews on the internet… via sites like TripAdvisor, Foursquare or Restaurant Guru. This helps to give us inspiration and ideas of where to go, or avoid.
And, when the overall review scores seem good, sometimes we give it a try. Mind you, we also like to seek out other places just by walking around… or asking locals.
Yet, here are 2 restaurants in Tirana for traditional Albanian food that rated well. But, in the end we were shocked!
Oda
Oda is a popular restaurant in Tirana to try traditional Albanian food. And, while we also like to try obscure places… we did have Oda on our list of places to visit in Tirana.
You can find Oda at Rruga Luigj Gurakuqi 3. So, it's just a slight left turn off the main road.
So, when we got there it was around 2:30pm. And, from what we could see we had the entire restaurant to ourselves.
We weren't sure where to sit in this quaintly decorated restaurant… full of traditional Albanian artefacts. So, the lovely lady motioned us to sit in a cute little room… all to ourselves.
There were many choices, even for vegetarians. And, she was helpful in pointing out options… so that we could sample different Albanian dishes. So, we were grateful for her help!
And, in the end we chose dishes including fergese, stuffed eggplant, homemade spinach pie and rice balls.
Of course, we had to have a beverage with our meal. So, we had a small bottle of Korce and a Tirana beer.
So, while we were admiring the Albanian relics and our beers, there's one sound that shocked us!
And, that was the sound of a microwave. We felt devastated. We don't use microwaves ourselves. Then, to hear it being used in a highly rated restaurant, it shattered our expectations.
No wonder our food was served super quick!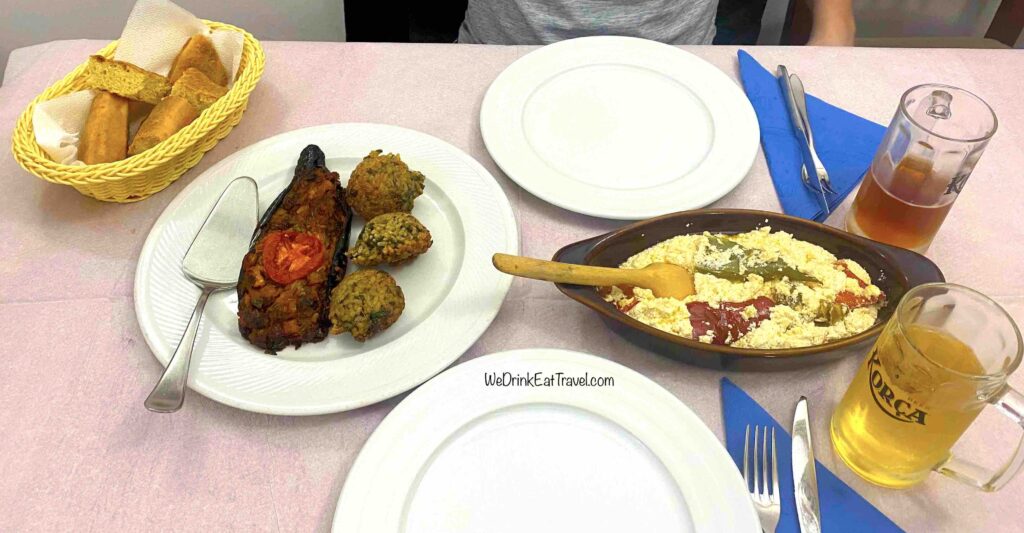 If the meals hadn't of been zapped by microwave it may have tasted better. For example, with the spinach pie, the pastry was soft… and, not crispy like we had imagined.
In saying that, the flavors of the fergese and stuffed eggplant were tasty.
So, for us, we made only 1 trip to Oda. Remember, this is our review. And, everyone has different experiences. So, go there and try it for yourself, in the hope that you don't receive microwaved food.
There was another restaurant in Tirana high on our list, to try for traditional Albania food. And, we had mixed mixed feelings. Read on to see what I mean…
Tek Zgara Tironës
Now, before I go into our foodie adventure, here's a travel tip about Tek Zgara Tironës. There are actually 2 restaurants by the same name. And, I found this out when we were making the trip there!
One of the restaurants has the name, Tek Zgara Tironës 2 Le Noir. And, when we got there I had the feeling this wasn't the right restaurant. Then, when we stepped inside I realized it wasn't the one we planned to try.
Both of the Tek Zgara Tironës restaurants are on Kavaja Street. Yet, the main difference between the 2 from a building perspective… is that the Tek Zgara Tironës 1 exterior is lots of wood, and the interior is more traditional.
Whereas Tek Zgara Tironës 2 has more of a modern atmosphere. So, take your pick. But, read on before you make the trip…
Tek Zgara Tironës 1 is definitely a popular restaurant for locals and tourists. Plus, we couldn't believe how cheap it was! This was our feast, which included flat bread, mixed dips, fergese, and traditional byrek pie…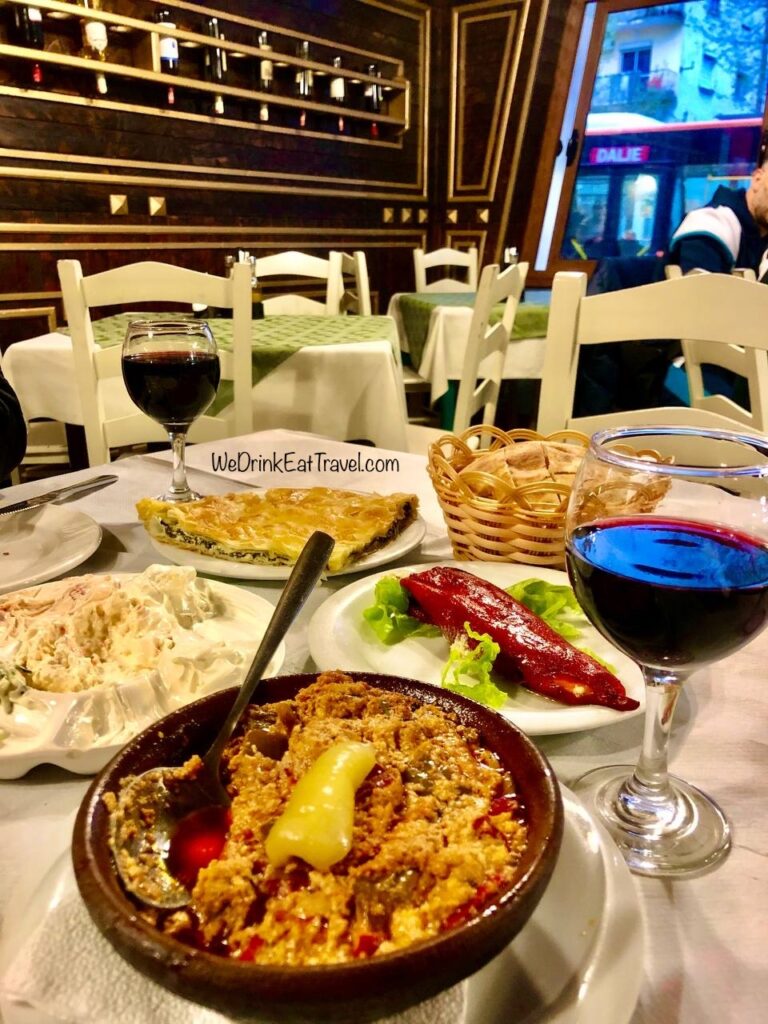 All up including a half liter of wine, that entire meal cost 1,080 Lek (about USD $10 / 8.90 Euros).
Not only was it crazy cheap, it was tasty. The fergese was amazing and the flat bread was delicious.
And, as we felt so satisfied with our first time at Tek Zgara Tironës 1, we had to go or a second time! Yet, the next time we had a shocking experience. And, I was at war with myself about if I should write about this.
But, here it is…
What the Heck is in Our Food?!
On our second visit to Tek Zgara Tironës 1… we were excited to have another feast of traditional Albanian food. The service again was quite good.
And, everything was going well, until we ordered a second round of flat bread. We didn't receive a big, full round flat bread, like we had before… and like everyone else in the restaurant.
Instead, it looked like the remains of other people's leftovers. We just thought they'd chopped up the flat bread into pieces for us. So, at the time we didn't think anything of it.
Then, at the end of our meal we were given a plate of fresh fruit. And, the waiter told us that it was complimentary. So, that was a pleasant and unexpected surprise.
Yet, what we discovered next, stopped us from going back to Tek Zgara Tironës 1…
The first few pieces of fruit were tasty. Then, after picking up another piece of fruit, underneath it was a hair. Blah! So, after seeing that we stopped eating the fruit.
So, when we looked at the bill the fruit was complimentary, like the waiter said. And, the mish mash of bread that we received was complimentary too… making us believe that they were leftover bread pieces.
Unfortunately, the hair was a turn off, and maybe an innocent mistake. What a shame!
When you look online, Tek Zgara Tironës 1, has many good reviews. All we can do is share our experiences and then you can consider trying it for yourself.
Just be sure to check every piece of food before putting it in your mouth!
Restaurants in Tirana With Delicious Non-Traditional Albanian Food
Have Delicious Pizza in Tirana at Artigiano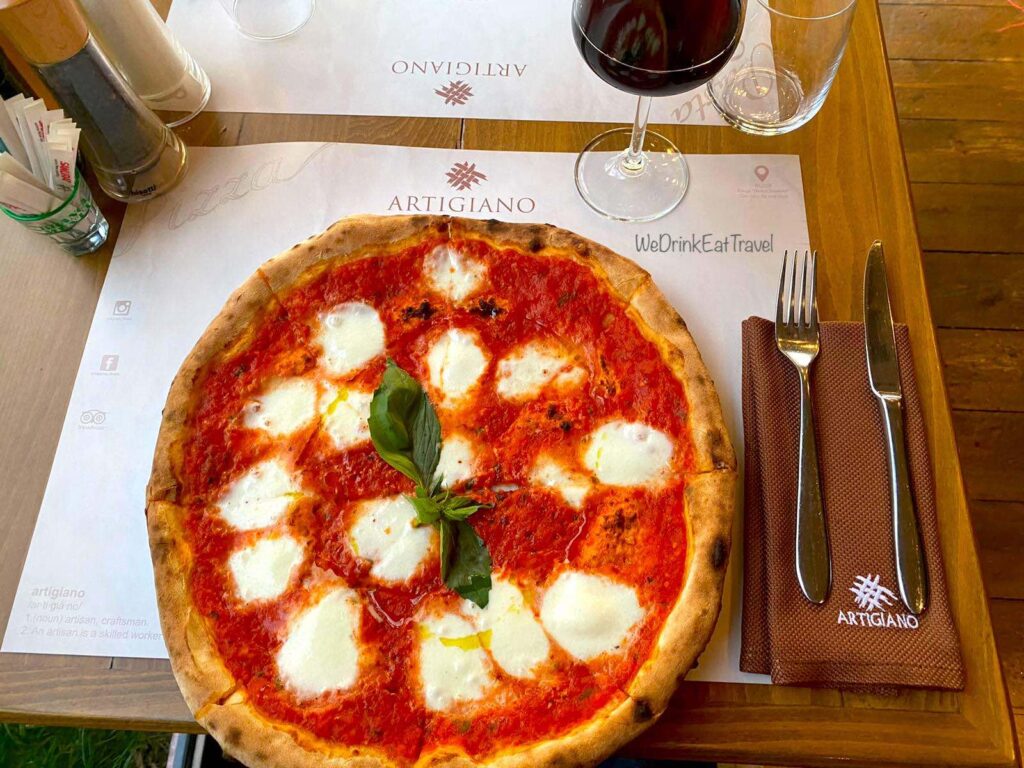 While in Tirana, the locals were telling us that there aren't a lot of good work opportunities for the young. So, some of the younger Albanians would head overseas to seek work… such as crossing over the Adriatic Sea to Italy.
Then, some seeking a career in food would learn the secrets of traditional Italian cuisine… then return to Albania to hopefully make it big back home. So, that's why you may wonder why there are many Italian food options in Tirana.
Not only that, some Italians move to Albania, with cost of living being much cheaper.
So, one of our favorite foods is pizza! Yet, sometimes we like our comfort foods when traveling around different countries. I can imagine many of you nodding your heads in agreement.
And, one of the best restaurants near Tirana city centre for delicious Italian… is at Artigiano.
Artigiano has 2 venues in Tirana. And, the one we liked was Artigiano Vila on Rruga Papa Gjon Pali II 9. And, this was mainly due to the quaint building and environment… rather than the modern feel of its sister restaurant in Blloku.
The service is attentive, with an extensive wine menu. And, the wood fired pizza is scrumptious. Our only gripe was that they have a mandatory cover charge that we had no idea of. In the scheme of things, it's only 50 Lek (about USD $0.45 / 40 Euro cents).
Yet, we weren't told about this beforehand, or even when they gave us the menus.
Instead, it appears in the Classic Appetizers section of the menu, labelled "COPERTO." To me, that's a little deceiving. Just thought I'd let you know so you don't have an argument with staff afterwards!
Even so, the prices are very good here considering the high quality. For example, a flavorful and filling margherita pizza cost 520 Lek (about USD $4.80 / 4.30 Euros). And, a glass of herbaceous red wine only 300 Lek (about USD $2.75 / 2.45 Euros).
Now, while we're still on the subject of amazing Italian food… when you're in the area of the Grand Park, make your way to this restaurant in Tirana.
Crust Pizza Parlour – What a Surprise!
I had to include this pizza place as it did surprise us. When we were staying at an apartment nearby the Grand Park and Artificial Lake… we discovered Crust Pizza Parlour.
You can find it on Hamdi Sina Liqeni i thate. The restaurant is cute, with comfy alfresco seating too when the warm weather hits.
By the way, unless they've changed the menu… Crust Pizza Parlour don't serve wine, so we had beer instead.
So, first up for an appetizer we had the bruschetta. And, when it came out it sure didn't look anything like what we were expecting…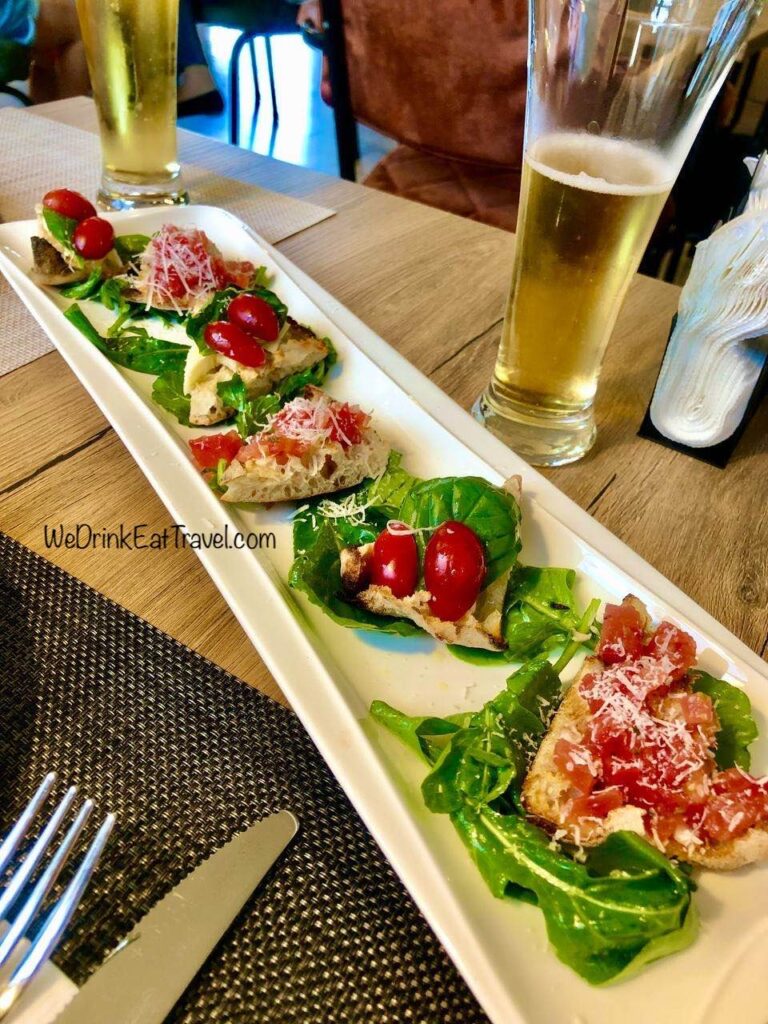 It was like a modern twist on the bruschetta and I have to say… we were blown away at how delicious it was.
We could taste the rich, flavorsome olive oil that had been drizzled across. And, the ingredients were so fresh. It was so yummy that it rates on our top list of bruschettas!
Then, being at a pizza parlour, of course we had to try their pizzas. And boy, did the pizzas look amazing when they came to our table.
Yet, what about the flavor? OMG, just when I thought Artigiano had amazing pizzas… I'd have to say that the pizzas at Crust Pizza Parlour just edged out Artigiano. And, that's saying something.
Plus, the price of our pizzas was ridiculously cheap! For a marinara it cost 250 Lek about USD $2.30 / 2.05 Euros), and for Paul's margherita, of which I had food envy… it only cost 350 Lek (about USD $3.50 / 2.85 Euros).
Cheap and cheerful for some of the best pizzas in Tirana.
Indulge in Heavenly Truffles at Tartuf Shop
So, I got your attention by mentioning truffles! Now, I warn you that I'm not talking about the chocolate type of truffles. And instead, this will be about those rich, earthy, savory truffle delights.
You can find the Tartuf Shop in Toptani Castle (also known as Tirana Castle). And, in this converted castle is a variety of eateries and places to have a relaxing drink.
A word of warning, this place is popular and gets real busy. So, if you want to sit outside while soaking up the sun… I suggest you plan your trip here outside of the normal peak meal times.
You can also buy lots of truffle produce here… to take back and indulge when you have the urge for truffles!
And, as far as prices go, for example… this homemade truffle ravioli dish was 570 Lek (about USD $5.25 / 4.70 Euros). Now, it wasn't the biggest serving, yet the rich flavor was to die for. And, this glass of white wine was 350 (about USD $3.25 / 2.90 Euros).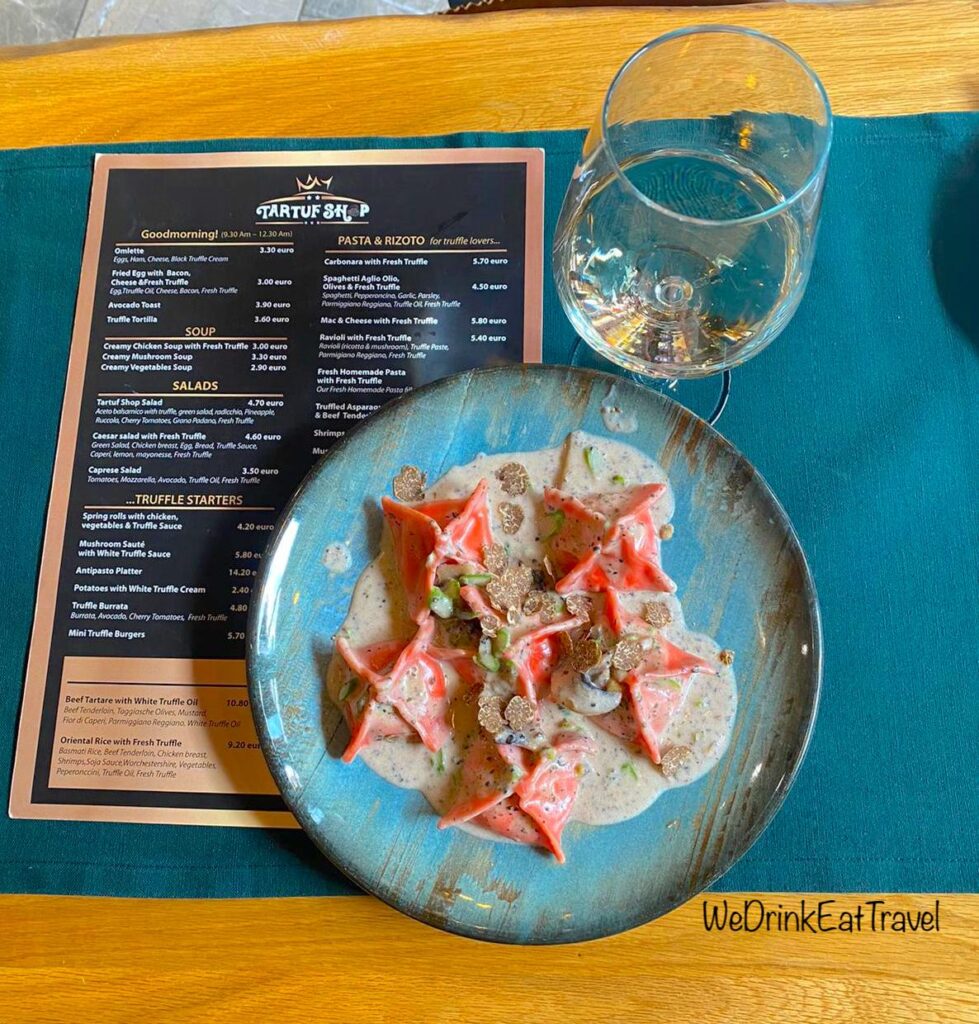 So, it's a bit more pricey than some other places in Tirana… yet, the quality and service is excellent.
And, from my point, it was one of the best restaurants in Tirana. So, if you're a truffle fan you MUST go to the Tartuf Shop when in Tirana. Or, if you want to try truffles for the first time, this is a great place to give them a go.
OK, all this talk about food is making me hungry! So, time for me to go and eat.
Yet, I trust that sharing some places in Tirana to try traditional Albanian food, and other delights… will be helpful on your travels.
And, while we did have a few unpleasant experiences, even shocking… it doesn't stop us from continuing to explore amazing food around the globe.
Like This? Share it and comment on it!
Note: All of our reviews and comments are our opinions and no-one else's. Even if we receive complimentary goods or services we share our opinions honestly.
You Might Be Interested In This Too…
How To Get FREE Accommodation While Travelling
10 Places To Visit In Gozo Malta For Breathtaking Views
Discover Some Interesting Things About Albanian Food You Need To Know
10 Picturesque Churches To See In Vienna Austria
How To Make Your Time In Tirana Albania Fun And Memorable
How To Get FREE Accommodation When Traveling
Here Are 7 Remarkable Things To Do In Berat Albania
10 Popular Drinks & Food In Skopje To Make You Happy
10 Awesome & Surprising Things To Do In Skopje Now
7 Top Reasons Why You Should Visit Bansko Bulgaria
Inspiring Vacations – Top 5 Things To Do In Malta