Having spent about 3 months in Macedonia's capital of Skopje, it was time for our next Balkan adventure. And, bordering the west of North Macedonia is Albania. Now, we have to admit… we didn't know a lot about Albania!
Yet, it sounded like a great idea at the time… as it'd be an opportunity to explore a new country. And, while in Skopje we learnt a little of the Albanian language. Confused about why?
Well, the owners of our favorite burek place in Skopje were from Albania. And, when we self-learnt some Albania words… they were wide-eyed and completely surprised.
Then, it was funny because it then felt like we became their best "tourist customers." LOL!
Plus, when we mentioned that we were thinking of visiting Albania next… you can imagine how excited they were! And, the first place they suggested was Tirana.
So, from one capital city to another… we chose our next destination of Tirana Albania.
And, in this travel blog, we'll highlight interesting and different things to do in Tirana… to help you have a great time.
Now, let's dive in!
Check Out the Colorful Buildings in Tirana
Back in the mid-1900's, Tirana's landscape was transformed… where masses of dull and dreary grey buildings swelled the city. And, it was around this time that the Communist era took over.
Yet, over time the modern Albania evolved. So with that, another transformation of Tirana took place. Albania's capital city was brought back to life.
Drab-looking buildings were painted over with vibrant colors… and patterns as designed by the artist-turned-Mayor, Edi Rama. Plus, new buildings would be constructed using bright colors… to help lift the spirits of the Albanian people.
When strolling around Tirana… the many colorful buildings gave the city a feeling of liveliness and happiness. It was pretty to see splashes of bright color dotted around the capital city…
Now, if museums and history interests you, then put this on your list of things to do in Tirana…
Take a Moment to Appreciate Albania's History at Bunkart 2
Now, you'll discover that one of the most popular things to do in Tirana is visit Bunk'art. And, as the name suggests… the Bunkart is a museum constructed using former bunkers/shelters.
So, we found out that there there is Bunkart 1 and Bunkart 2. Bunk'art 1 is outside of the main centre of Tirana… and it can be reached via public transport or car.
Bunkart 2 is a short walk from Skanderberg Square… so simple to access if you don't have much time to explore.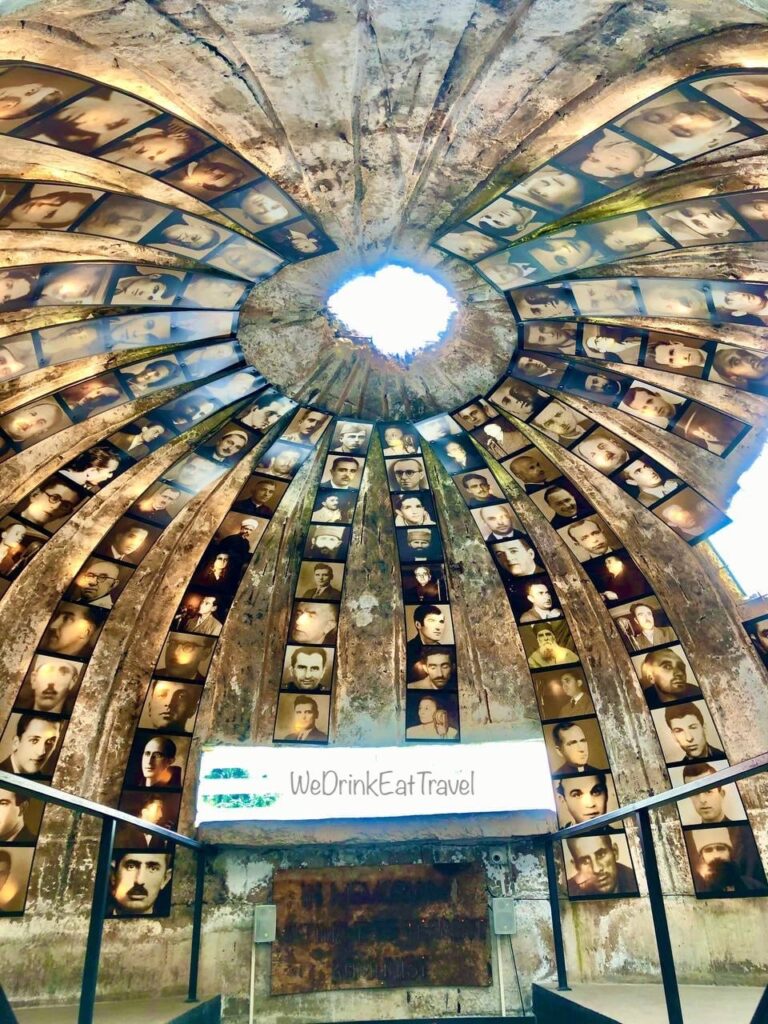 So, Bunkart 2, is the former anti-nuclear bunker for the Ministry of Internal Affairs… built in the 1980's. And, this converted bunker hosts 3 main exhibitions, covering events from 1912 to 1991.
It was surprising to learn that the bunker's entrance was specifically built… because originally the only way into the tunnel was from within the Ministry itself.
Relax in the Wide-Open Space of Skanderbeg Square
We'd seen pictures of Skanderberg Square, yet once we got there… we didn't realize how big it is.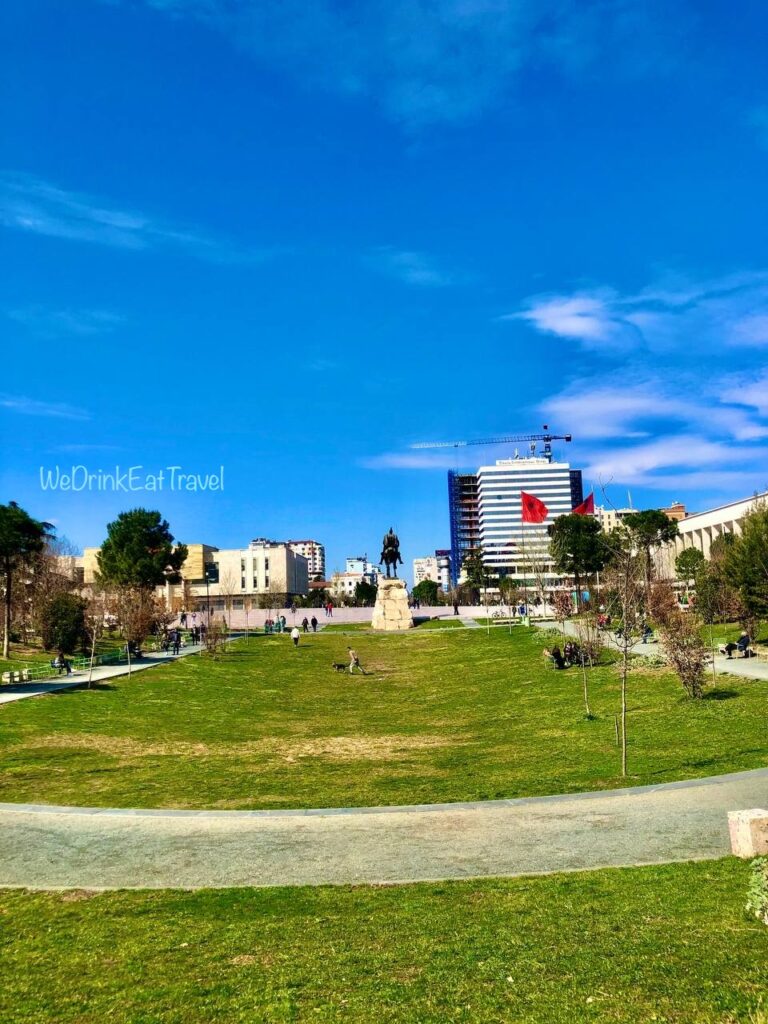 It's said that the entire usable area of Skanderberg Square is approximately 90,000 m2! So, making it one of the biggest Squares in the Balkan region.
Once we got there, we had to walk in the middle of Skanderberg Square. And, I twirled around the middle of the Square like a child. Ha ha ha! Why not, and enjoy the moment.
So, around the Square are artistic colourful seats… where locals and tourists alike, chill out and bask in the sunshine.
It's a pedestrian only area, which helps to make it more peaceful. And, from each corner there are many different landmarks and views… making it a photographer's delight.
These landmarks include the Bank of Albania, Palace of Culture… and the National Museum of History.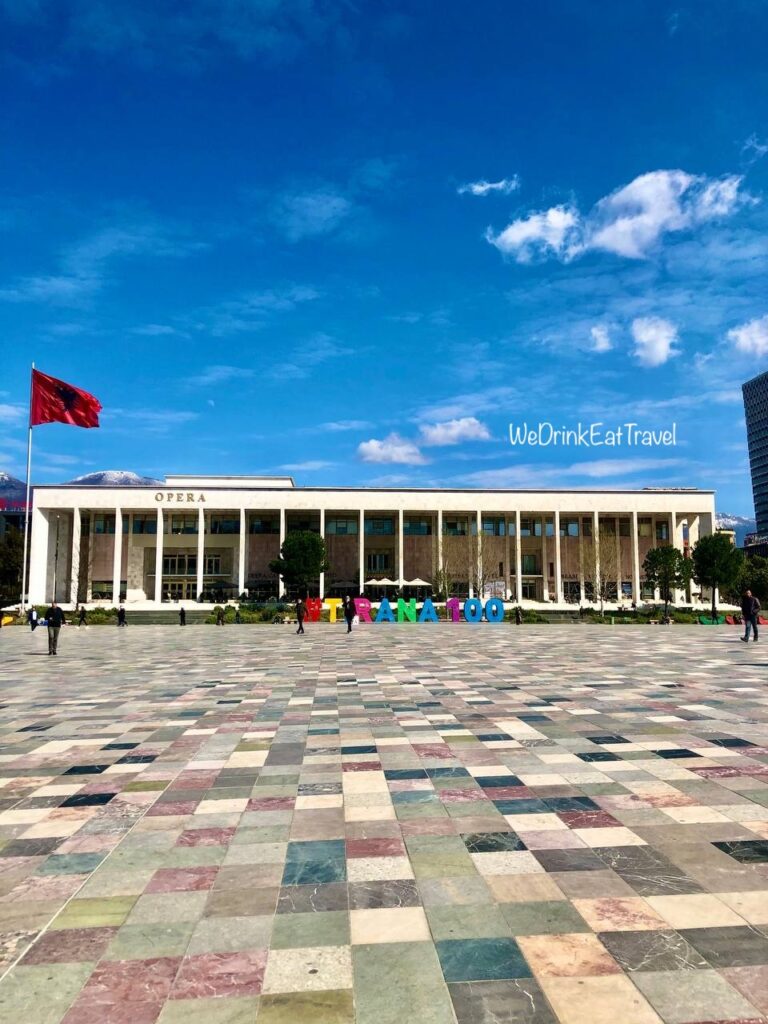 And, a stone's throw away from Skanderberg Square is this important Tirana landmark…
Take a Selfie at the Skanderberg Monument
When visiting Skanderberg Square, unless your eyes are closed, you'll see a huge monument. This key monument is of the Albanian nobleman and commander… Gjergj Kastrioti Skënderbeu (aka Skanderberg).
Skanderberg is a major hero for the Albanians… as he had the notable courage and power to take on the Ottoman Empire.
Odhise Paskali created the statue of Skanderberg, which was inaugurated in 1968. And, this was 500 years after the death of Skanderberg.
This statue is a prominent 11-meter tall structure. And, with the huge Albanian flag visible next to the grand Skanderberg Monument… it's a great photo opportunity and one for the memories.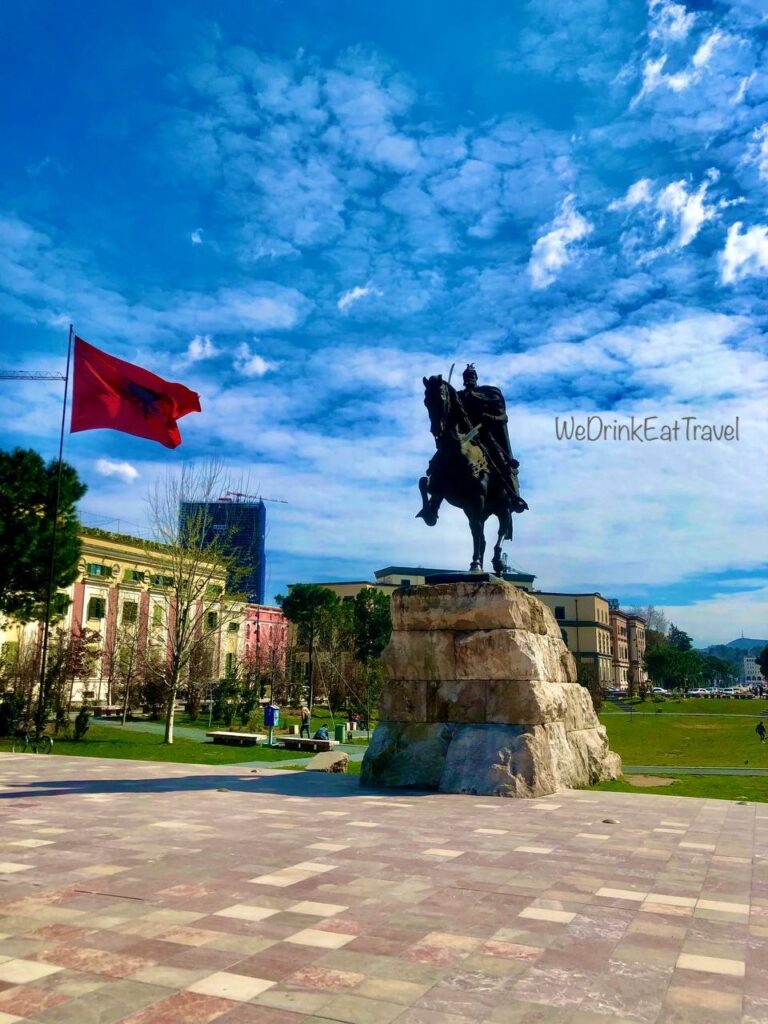 Visit the Historical Tanner's Bridge
Before visiting Tanner's Bridge, we hadn't done any research about it. So, we didn't know much about it. And, when we got there it was a surprise to us.
We thought that it'd be much bigger than what it is. Yet, what we discovered is that Tanner's Bridge is an 18th century Ottoman footbridge. Made of stone, its length is about 8 meters long, 3.5 meters high and 2.5 meters wide.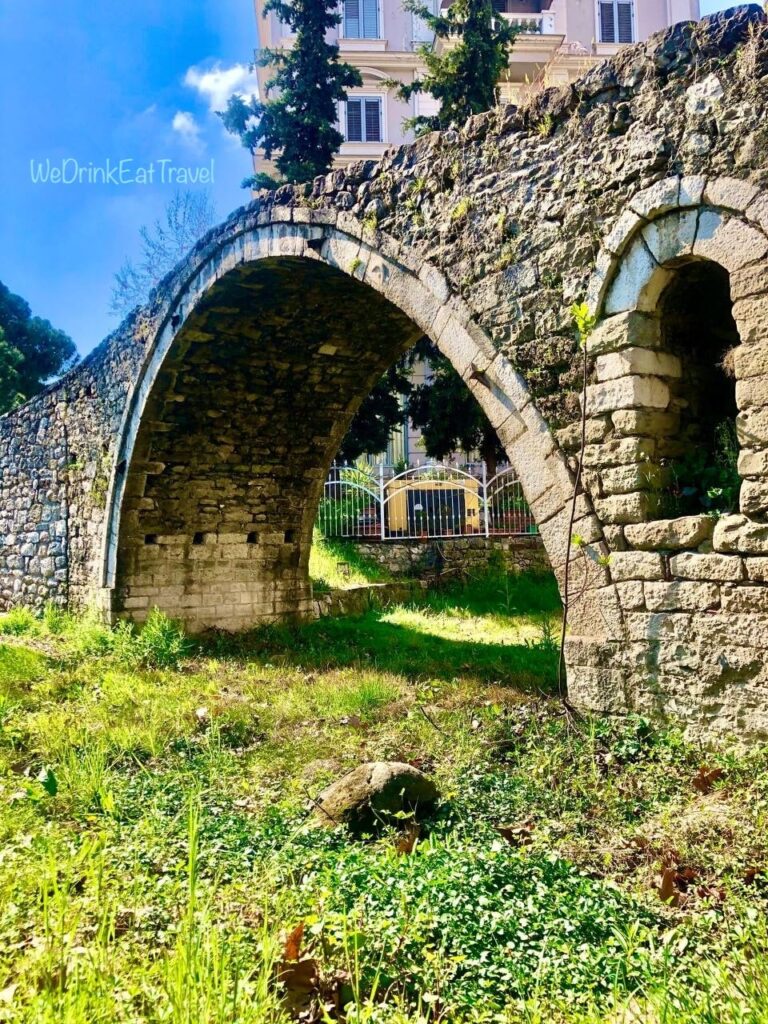 It plays a significant part in history for the Albanians… as it was the main gateway for delivering produce and livestock. So, helping to grow the economy and link traders with the communities for the progress of all.
And, as it's such an important landmark, it was restored and is still in use by pedestrians. Be careful in wet weather though, as it can be slippery!
Now, if you're wanting time out to reflect, put this on your list of things to do in Tirana…
Sit and Ponder About Life in a Cloud
What the heck are we talking about sitting in a cloud in Tirana, you ask?
One of the many artistic sculptures in Tirana include Reja The Cloud…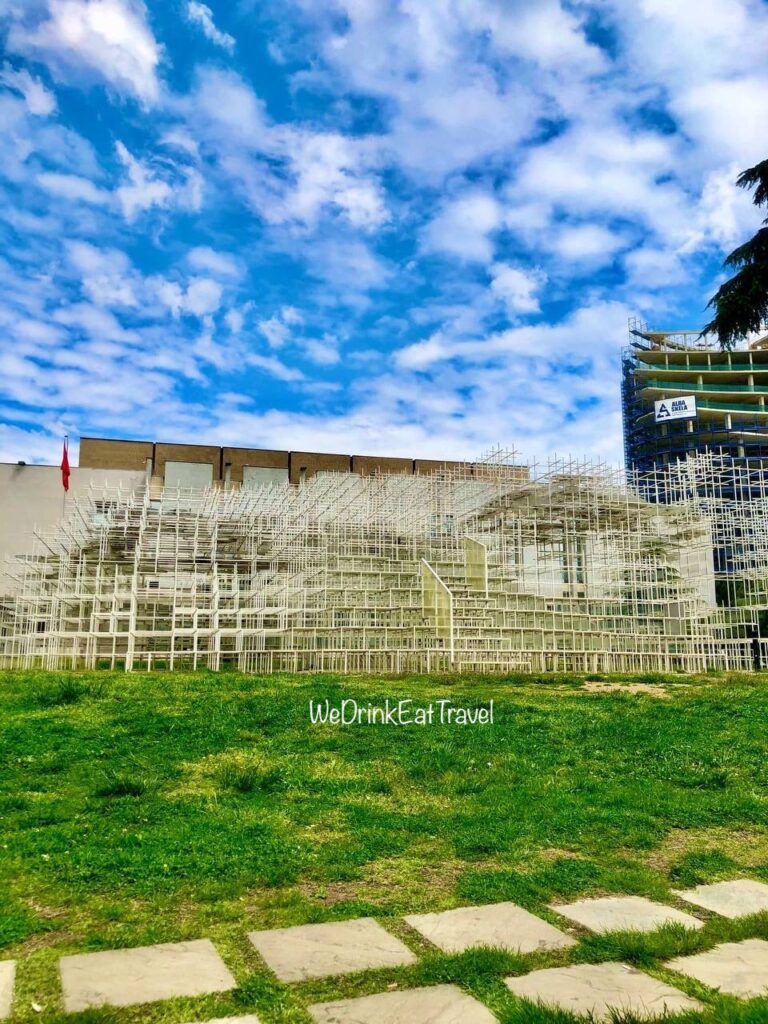 Now, you have to use your imagination of course! We waited patiently for the mass of tourists and locals to finish taking their pics in Reja The Cloud.
Maybe we were so calm and patient because of the relaxing vibes from The Cloud?!!
So, Reja The Cloud is just a couple of minutes walking, to these iconic places to visit in Tirana…
Ethem Bey Mosque and Tirana Clock Tower
Two of the most prominent places to go in Tirana are right next to each other. And, these are the Tirana Clock Tower and Ethem Bey Mosque.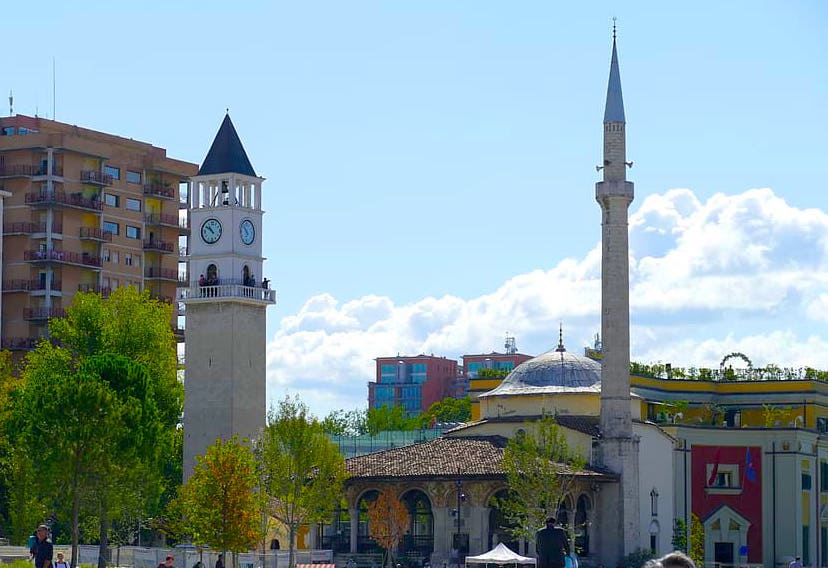 This mosque is extra special. While many other mosques and religious establishments were destroyed… Ethem Bey Mosque was a survivor. Plus, on January 18, 1991… a unique event happened at the mosque.
Even though it was closed under communist rule… about 10,000 people went into Ethem Bey Mosque carrying flags.
While you'd expect the powers that be would interject, they didn't. And, this event was said to mark the fall of communism in Albania… allowing the revival of religious freedom.
Now, nearby these 2 landmarks is this place to visit in Tirana…
Toptani Castle – Not What You Think!
If you get hungry from burning so much energy sightseeing, take a break at the Toptani Castle. Now, why would we suggest you take a break here? A castle means more sightseeing!
Yes, in most cases that would be true. Yet, Toptani Castle (aka Tirana Castle) is saturated with restaurants and cafes.
Before all that… it's said that Tirana Castle dates way back to the Byzantine period!
Yet, just before the 1800's, the Toptani Family made claim to the castle. But, wars would see the destruction of most of the castle. And, you'll be able to see some of the preserved ruins.
Yet, once inside, it has a modern feel. And, you don't even feel like you're in a castle.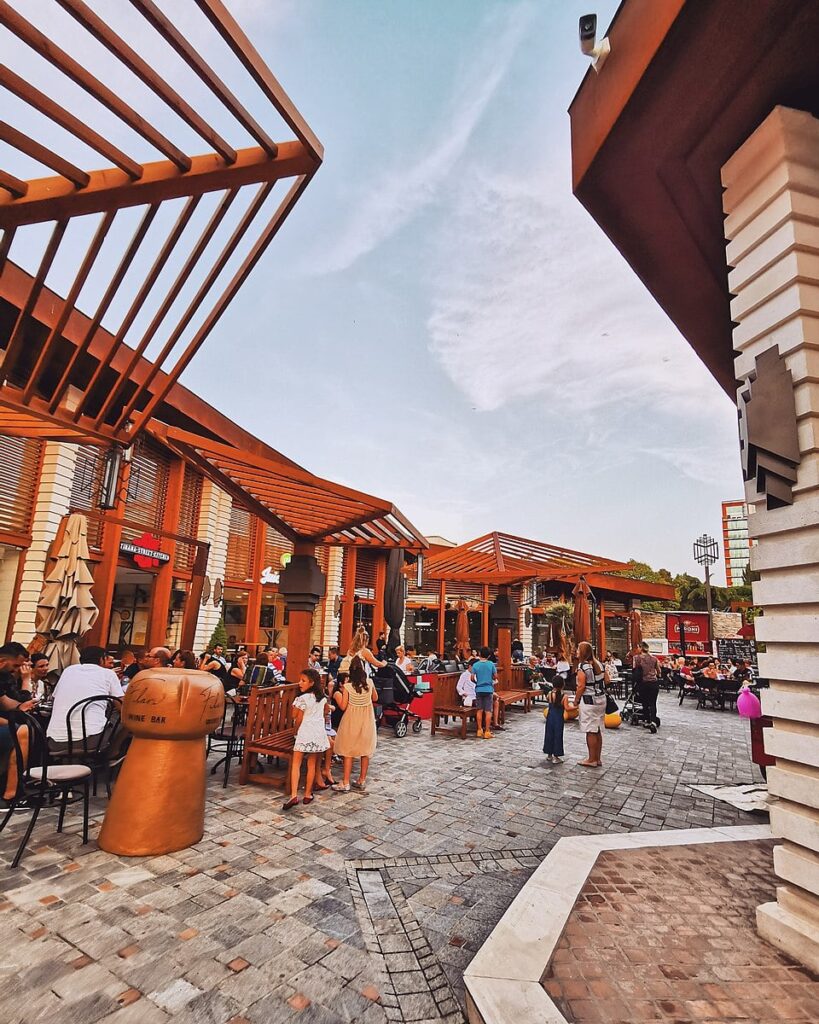 Here's a tip though… Try and avoid the peak times, especially when the sun's out. Otherwise you'll be hard pressed to find a seat at some of the places.
Be sure to check out Toptani Castle… as there are some amazing places to drink, eat, give your legs a rest, and people watch.
Check Out a Bit of Taiwan in Tirana
Now, you're probably thinking I'm going crazy here! Yet, let me explain…
In Tirana is a park by the name of Youth Park, where residents would gather with their children.
So, in the park, which covers about 29 hectares is a big fountain, which lights up at night. There's also some shops, cafes and restaurants that surround it.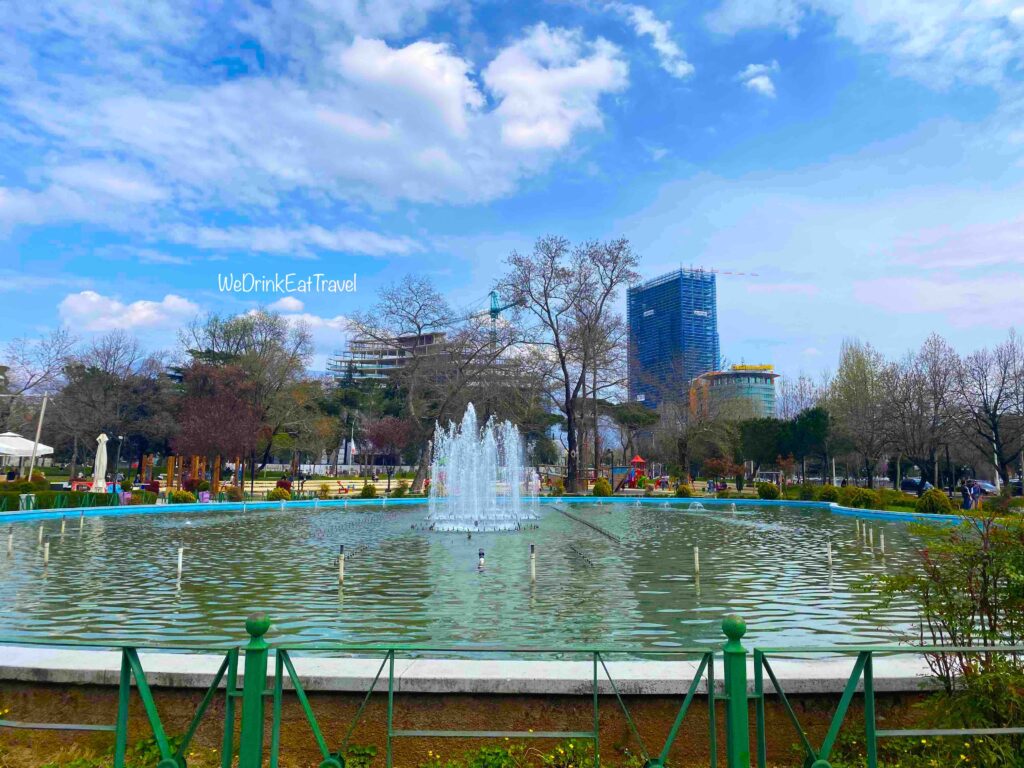 And, when you wander down the side of the road called, Bulevardi Dëshmorët e Kombit… there's a life size chess board!
Plus, on another side of Youth Park is a large building, which is the Taiwan Complex.
So, there are rumors about why the area is also known as Taiwan Park. Yet, for the sake of getting into an argument… it's also known as Taiwan as it's like a small island in the park.
Now, if you're interested in churches, then put this next landmark on your things to do in Tirana list…
See the Resurrection Cathedral of Tirana and its Massive Bell Tower
The Resurrection of Christ Orthodox Cathedral of Tirana… is a stone's throw away from Skanderberg Square.
Completed in 2012… it's said to be one of the largest Orthodox churches in the entire Balkan region.
This structure not only consists of the cathedral… it also has 3 chapels, residence of the Holy Synod, library, cultural center, a small museum, and more space!
Plus, what can't be missed is the prominent, huge bell tower.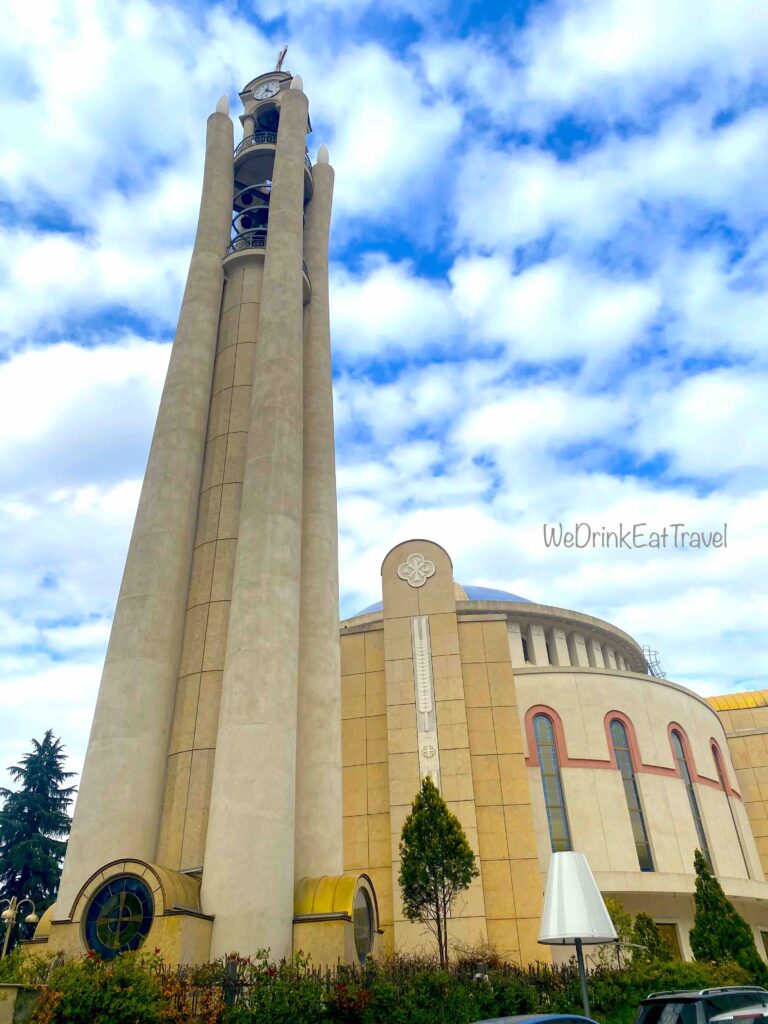 The bell tower is about 46 meters high, with a winding staircase leading to 16 bells. So, cover your ears when the bells start chiming!
Sample Some Goodies at the New Bazaar Tirana
Within easy walking distance of the city center is the New Bazaar Tirana. And, this is in the area called, Pazar i Ri. So, if market shopping takes your fancy… then you'll want to put this on your list of things to do in Tirana.
So, the New Bazaar Tirana has a main area where rows of stall owners sell produce… including fresh fruits, vegetables, meats, cheeses, honey, herbs and more.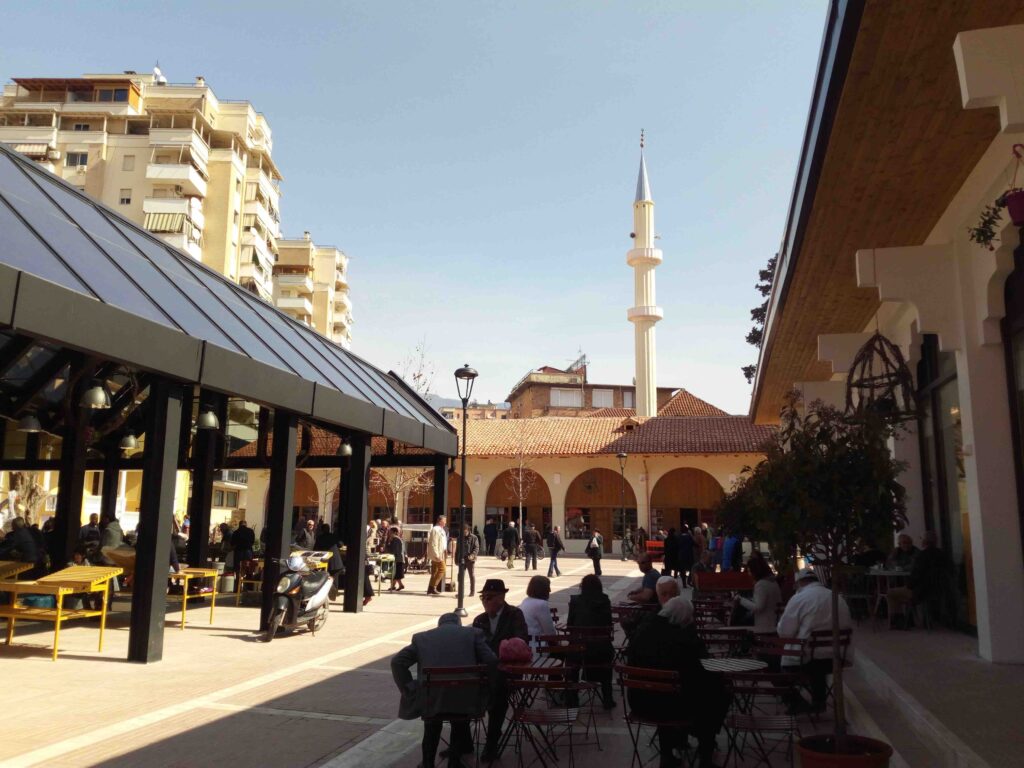 And, in the surrounding area are other little shops… as well as cafes and restaurants to watch the market in action. On the weekends is when the real hype of activity happens.
And, there are also events held in the New Bazaar Tirana area… making it a place to be for families and friends.
Chill Out at the Friendship Monument Tirana
There are many monuments you'll find when exploring Tirana. In fact, there's even a section of the Berlin Wall!
Yet, in a small park close to Skanderberg Square, is the Friendship Monument.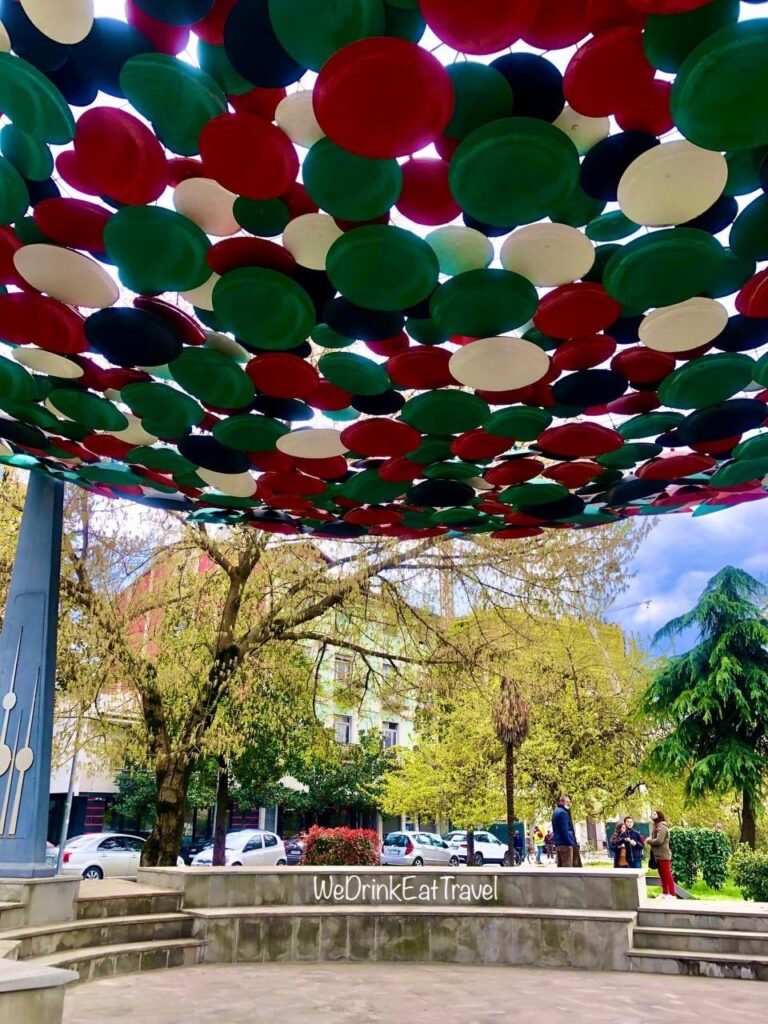 And, this artistic monument with its green, red, white and black discs, was built in 2016… to symbolize the friendship between the Albanians and Kuwaitis.
It's a cool little area to sit down, chill out… and give the legs a rest after lots of walking around sightseeing.
So, if you're wanting to experience a more stylish and vibrant atmosphere, put this on your list of places to visit in Tirana…
Check Out the Hip Area of Blloku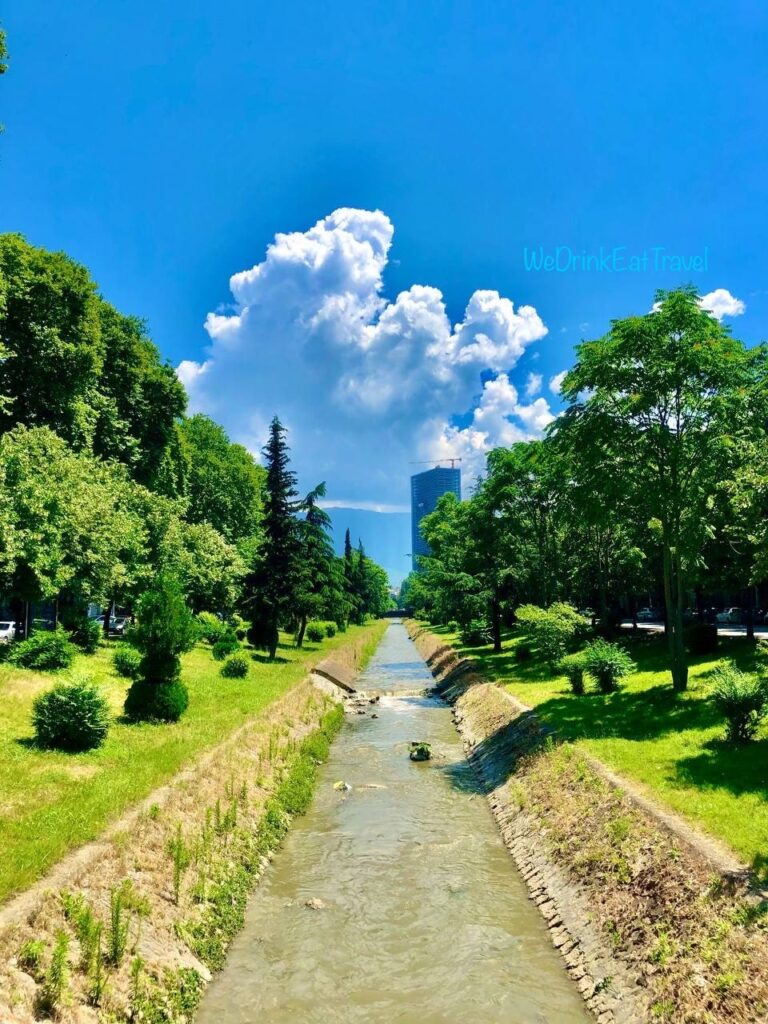 Our first accommodation when staying in Tirana was in the hip and happening Blloku area. This area is said to be the more upmarket and trendy area of Tirana. And, having been in different parts of Tirana, we'd have to agree.
There sure is a different vibe, with people seeming more conscious of their looks… and wearing more chic attire compared to other parts of Tirana.
So, the Blloku area is well known for an entertainment district… with great nightlife in Tirana too.
And, in Blloku we discovered we were spoilt for choice for restaurants from traditional to modern… fine dining to fast food of various cuisines. Plus, there are plenty of cafes, ice-cream places, bars, shops and more.
So, that's why many locals flock to Blloku for entertainment, nightlife… and to catch up with families and friends. And, as tourists, we recommend you put Blloku as one of the places to visit in Tirana.
Stroll Around the Grand Park of Tirana and Fake Lake
Now, when we were staying in the Blloku area of Tirana… we were only a couple of hundred meters away from the Grand Park of Tirana. And, the weird thing is… the Lake that's in the Park is called, the Artificial Lake!
Yes, you read that correctly. It's actually named the Artificial Lake. We thought that was strange… and that someone could've made a prettier name for it!
Even so, we still put this on our list of things to do in Tirana.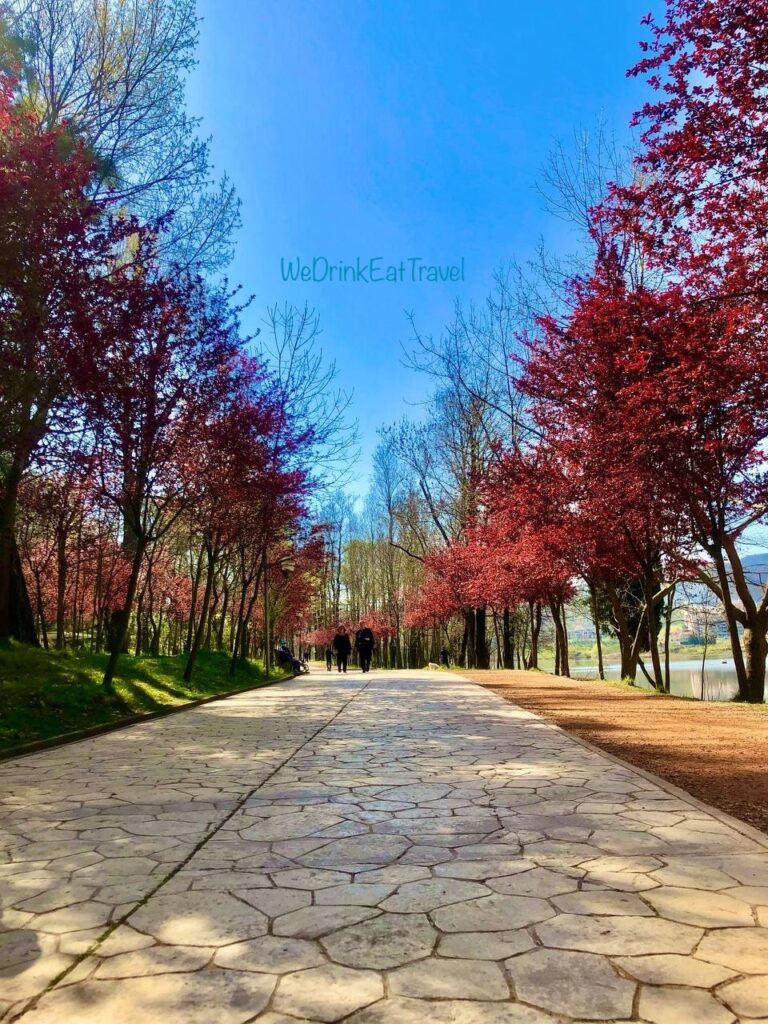 So, as we were walking to the Grand Park of Tirana and Artificial Lake… we could smell popcorn from the roving carts dotted around it. Then, as we got closer it was flooded with people.
From joggers, families, couples, through to nature lovers… there were all sorts of people at the park and lake area. There are activities for children, bike paths, water sports, and more.
Plus, if you want to relax there are many cafes, restaurants and even ice-cream places.
So, the last on our suggestions of things to do in Tirana is this…
Experience the Surprising Nightlife in Tirana
So, it was surprising to hear that Tirana has a lively nightlife with lots of bars and clubs. Yet, when we were in Tirana, there was a curfew until 8pm.
Yet, that didn't stop us from heading out and experiencing the nightlife as best we could. And, on several occasions we went bar hopping, trying local beers and Albanian rakia.
So, when we were out and about wandering in Blloku… a place that caught our eye was the mysterious looking Illyrian Saloon.
The wooden, unassuming exterior had several tables and chairs spread around. Then, when we went inside that wooden décor continued, with a real cozy atmosphere.
So, the music playing through the speakers was a compilation of hard rock music. I even heard the tunes from one of my all-time favorite bands, Bon Jovi :)
The service was attentive from the young staff that owned the bar and worked there. And, to our delight, they told us that a live band was playing that night.
So, we'd only intended to stay for a beer or two, to continue our bar hop… yet, it ended up being a longer night. Gotta love spontaneity sometimes.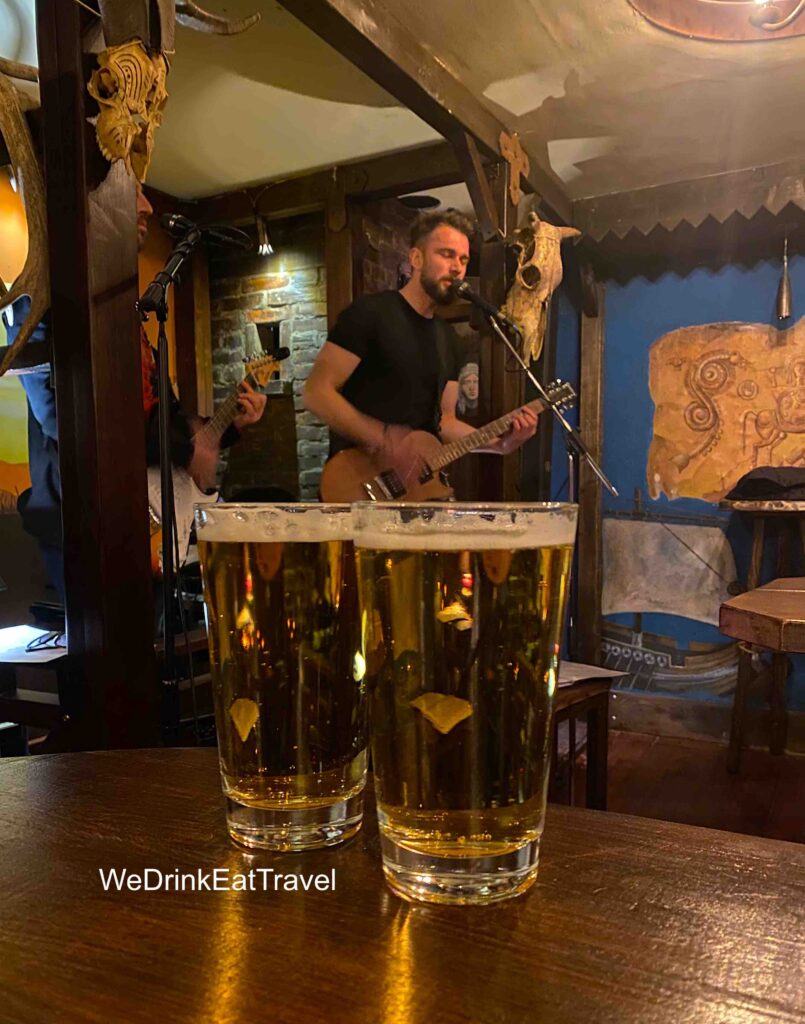 The band and music were awesome. And, for a Thursday night the Illyrian Saloon was rocking! It was packed with people, singing, drinking and having a jolly good time.
Plus, the bar staff gave us some free shots to make the night even more happy. Needless to say, the next day was a write off for doing anything. LOL!
So, despite the curfew, we still had a great time experiencing the nightlife in Tirana.
And remember, for a fun and awesome night out with live music… head on over to the Illyrian Saloon. Just make sure to check their Facebook page for updates.
And with that, it's time to wrap up our travel blog. We trust that by sharing these different things to do in Tirana Albania… it'll help with giving you a taste of what to explore.
Have you been to Tirana? What places to go in Tirana would you suggest for our fellow travelers?
Watch the We Drink Eat Travel Youtube video about Tirana, Albania…
Like This? Share it and comment on it!
Note: All of our reviews and comments are our opinions and no-one else's. Even if we receive complimentary goods or services we share our opinions honestly.
You Might Be Interested In This Too…
How To Get FREE Accommodation While Travelling
Here Are 7 Remarkable Things To Do In Berat Albania
10 Popular Drinks & Food In Skopje To Make You Happy
10 Awesome & Surprising Things To Do In Skopje Now
7 Top Reasons Why You Should Visit Bansko Bulgaria
Inspiring Vacations – Top 5 Things To Do In Malta
Thai Airways Review: From Melbourne Australia To Bangkok
7 Free Things To Do In Bangkok
Bangkok Public Transport: All Aboard For The Khlong Boat On Saen Saep Canal
Accommodation Review – Mercure Pattaya Hotel