When it comes to traveling… don't you love trying the different food and drinks on offer?
Now, if you haven't seen previous blogs and tips about food in Albania… as well as some interesting experiences on our food adventures in Tirana, check them out.
So, not only is trying new food a HUGE part of our travels, so is drinking!
We love our coffee, beers and wine. Yet, on our travels through the Balkan countries… we discovered some different drinks, brands and flavors.
So, in this travel blog post, we share some of the drinks we tasted in Albania. Plus, we highlight some bars in Tirana to enjoy some Albanian drinks.
Let's start with the non-alcoholic beverages first…
Non-Alcoholic Albanian Drinks
The Albanian Coffee Culture
Once we arrived in Tirana, which was our first destination in Albania… we noticed that there were lots of cafes. And, we discovered that when we saw the word, "bar" in front of a shop… that didn't always mean an alcoholic drinking bar. In many instances they were coffee bars.
At some of them they served alcohol, but the main seller was coffee. So, there's definitely a strong coffee culture in Albania. And, from morning until night there were plenty of locals sipping on coffee. How do they ever get to sleep drinking coffee at night?!
And, even though we expected the cafes to be quieter with many people at work… the cafes consistently had people in them. We were left wondering… does anyone work in Albania? LOL!
Yet, not only was going out for coffee a social thing… it was also for people to get together to discuss business.
So, it felt like every few shops we passed… coffee filled the air as we wandered the streets, especially in Tirana. Lucky for us, we love coffee and the aroma of fresh coffee beans!
And, depending on where we went, the price of say an espresso would be about 70 Lek (about USD $0.65 / 58 Euro cents). Now, that's incredibly cheap!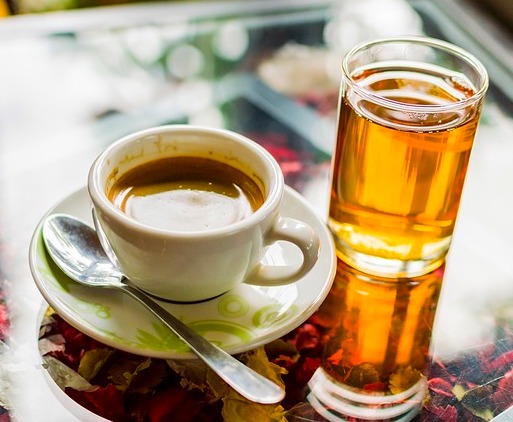 Caj Mali Mountain Tea
While we do love coffee, sometimes we like to have tea for a change. And, in Albania we discovered that there's a tea variety by the name of, caj mali… and is also known as Sideritis Raeseri.
This tea includes ingredients from the Sideritis syriaca plant in the mountains. So, that's why they also call it mountain tea. This pale yellow-colored tea has a pleasant, fragrant floral note.
Plus, this caffeine free Albanian drink is said to have beneficial medicinal properties. So, it may go down nicely, after enjoying the nightlife in Tirana… if hair of the dog isn't an option!
Have a Good Morning with Ayran
Ayran is a healthy yogurt drink that is commonly had in the morning.
Now, I'm not a huge fan of yogurt. Yet, this is the ONLY yogurt drink that I enjoy. Thanks to the Balkans for producing such a flavorsome yogurt drink!
You may be thinking that it's like any other yogurt drink, but NO! Ayran is thick, salty and savory. And, even though it's often had at the start of the day… as far as we're concerned, it's great to have any time of day or night.
And, what's commonly had with Ayran in the morning is a tasty byrek. Two savory delights to begin the morning, equals a happy and great start to the day!
Alcoholic Albanian Drinks
Albanian Beer
After about 5 hours on the road from Skopje to Tirana… it was time to hit the streets and get our first alcoholic Albanian drink.
And, we didn't know where to go so we just wandered around. Yet, we were both in agreeance that our first drink would be an Albanian beer.
When we found a bar in Tirana… we had to ask the barman for help about what beer to have, as we had no idea. So, one of the first local beers we tried was the Tirana beer. And, Birra Tirana is the biggest beer producer and the largest selling beer in the Albania.
Yet, there are many other local mainstream beers including… Korca beer, Kuqalashe, Stela, Kaon and Elbar.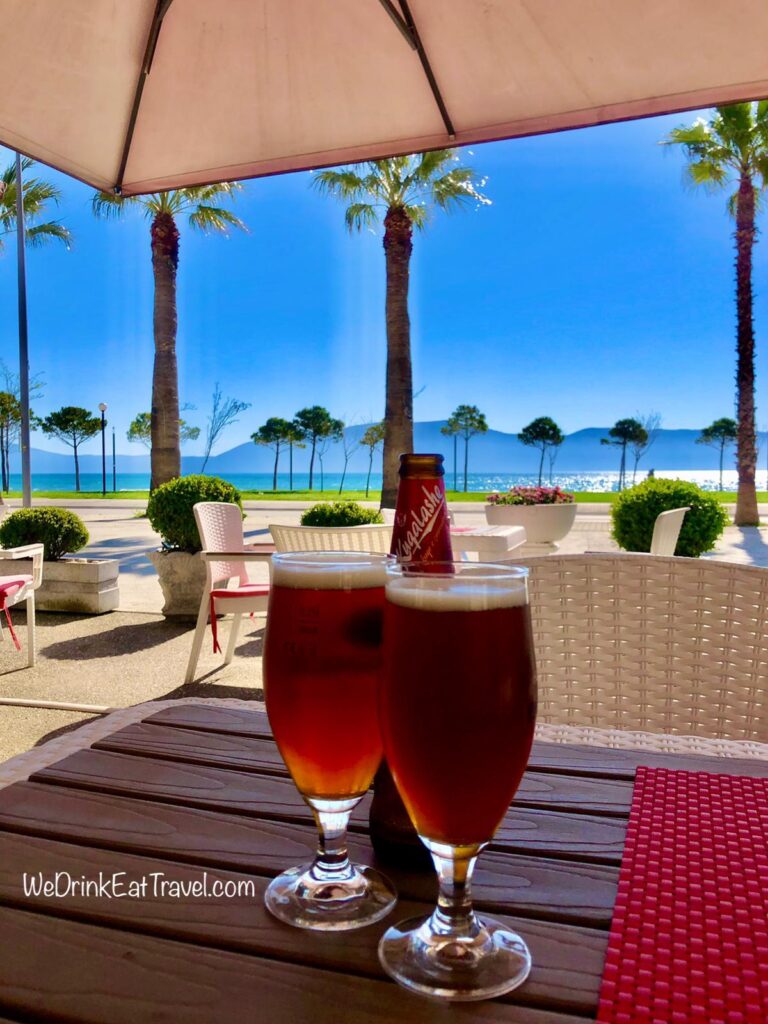 Plus, there's also local craft beers and microbreweries. And, I discovered at one of the many restaurants in Tirana by the name of, Spaghetti Western… that they were serving a microbrewery beer called, Puka.
It was the closest place near our accommodation in Blloku, who I knew serving Birra Puka!
Definitely give this beer a try, as it's different to the others we mentioned earlier. We had it via the tap, and it came out an amber-type color, slightly cloudy. For us, it could've been colder, but still it tasted good and we had more than one!
Now, as we've found everywhere… having beer in a can, then a bottle and via tap can produce different flavors. For example, Paul didn't like the flavor of the Korca beer in a can. Yet, he was happy to drink it when he could get from a bottle.
So, give the beers at least a couple of goes before deciding if you like them or not.
Wine in Albania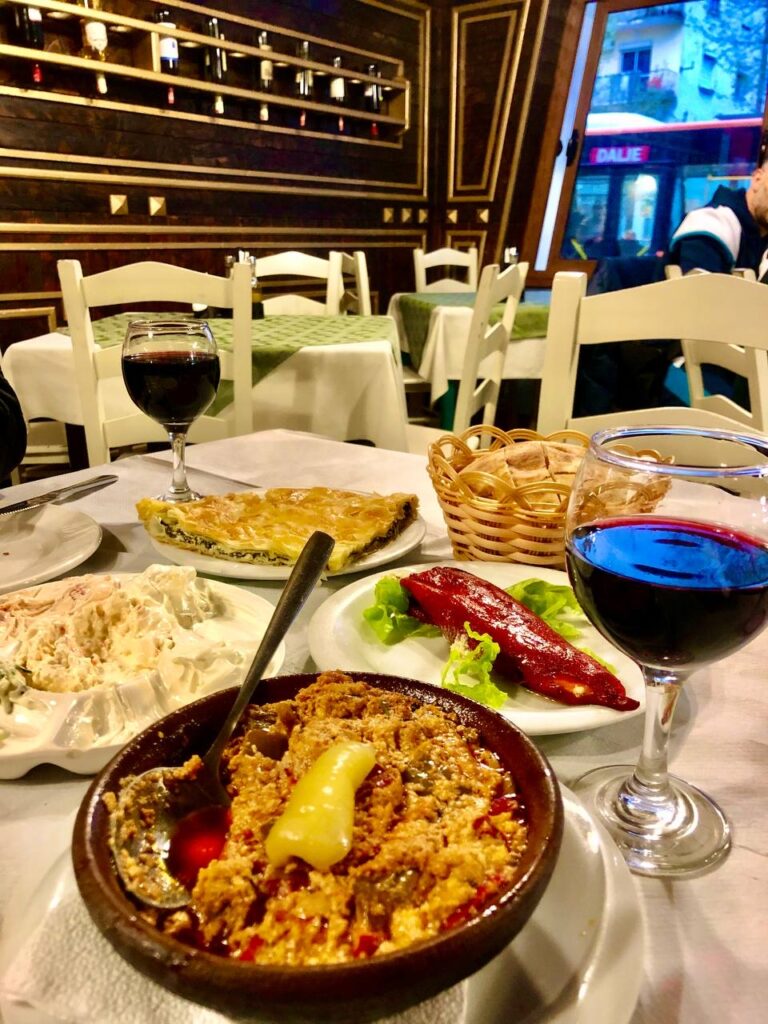 It was surprising for us to discover that Albania produces some decent wines. And, even more surprising is… wine production here is said to have started thousands of years ago!
When we were in the coastal town of Vlore… we wanted to admire the view and enjoy the sunshine with some bevvies of course.
So, Paul had a hankering for a German beer for a change from the Albanian beers. Yet, after I saw the drinks menu with a local Albanian wine of chardonnay… it had me at "hello!"
And boy, was it tasty and robust for a white wine. It was a more savoury type chardonnay, rather than sweet. Yet, I'm so annoyed I can't remember the brand of it! Too many wines and overheating in the sun maybe!
Plus, there are many red Albanian wines too… with varieties including Debine, Kallmet, Vranac and Serine.
It definitely was a pleasant surprise for us. Plus, it was great to have some decent red wines… especially with our traditional Albanian food!
Albanian Raki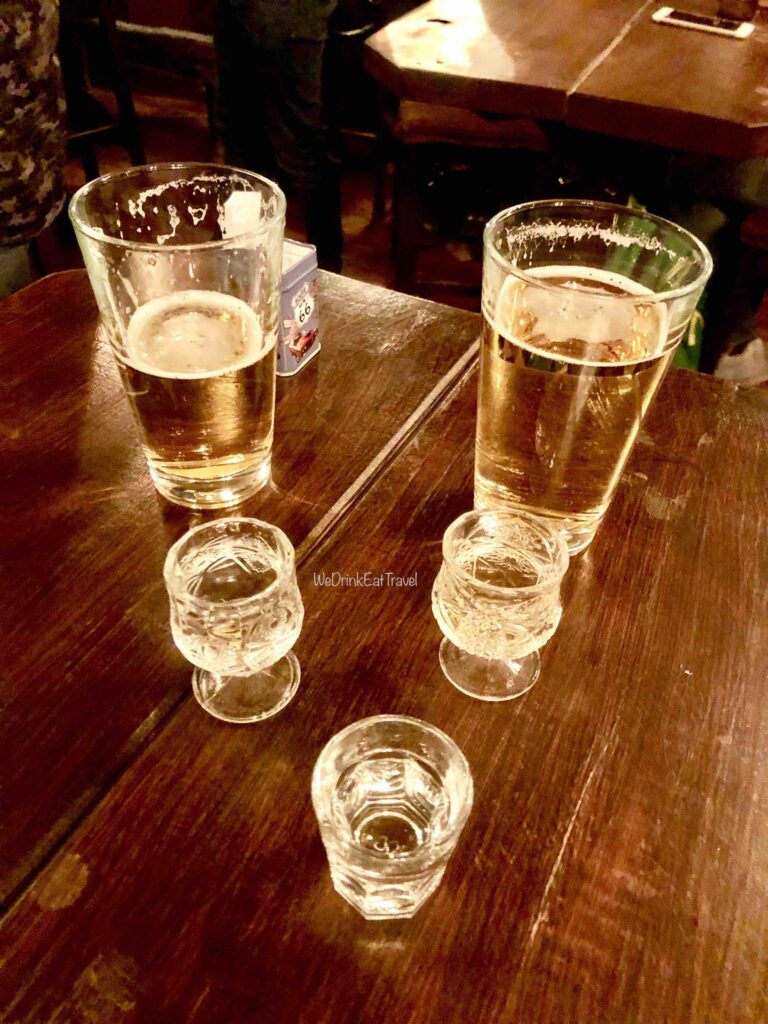 Now, you can't go to Albania and not try the Albanian Raki.
Although Paul and I aren't huge spirit drinkers, you almost can't escape tasting the raki. And, to our surprise, several of the bars we went to gave us complimentary raki.
So, we found out from locals that this was common… as the Albanians are very proud of their raki. And, it's also a good way to entice customers to keep coming back!
There are many different flavors of raki to try, from plum, cinnamon, nut and even herbal. Yet, make sure you span them out over time… as the alcohol percentage is around a whopping 40-50%.
Otherwise if you go hard, forget about sightseeing… as you'll be waking up the next day like a bear with a sore head!
It's acceptable to drink raki in the morning, but sipping it! Yet, for us, we'd usually have the Albanian raki at night time.
Nightlife in Tirana
It was surprising to hear that Tirana has a lively nightlife with lots of bars and clubs. Yet, when we were in Tirana, there was a curfew around 8pm.
Yet, that didn't stop us from heading out and experiencing the nightlife as best we could. And, on several occasions we went bar hopping.
And, prices are reasonable just about everywhere in Tirana to quench your thirst. From our experience, a 330ml beer out cost 250 Lek (about USD $2.30 / 2.05 Euros).
The difficulty is choosing which bars to try! So, here are some bars in Tirana you can put on your list to check out…
Tiki Bar
For a chic and cool bar in the Blloku area, head on over to Tiki Bar. You can find it on Rruga Perlat Rexhepi. This is one of the top places where the trendy Albanians hang out… for cocktails and beers with funky background music.
Komiteti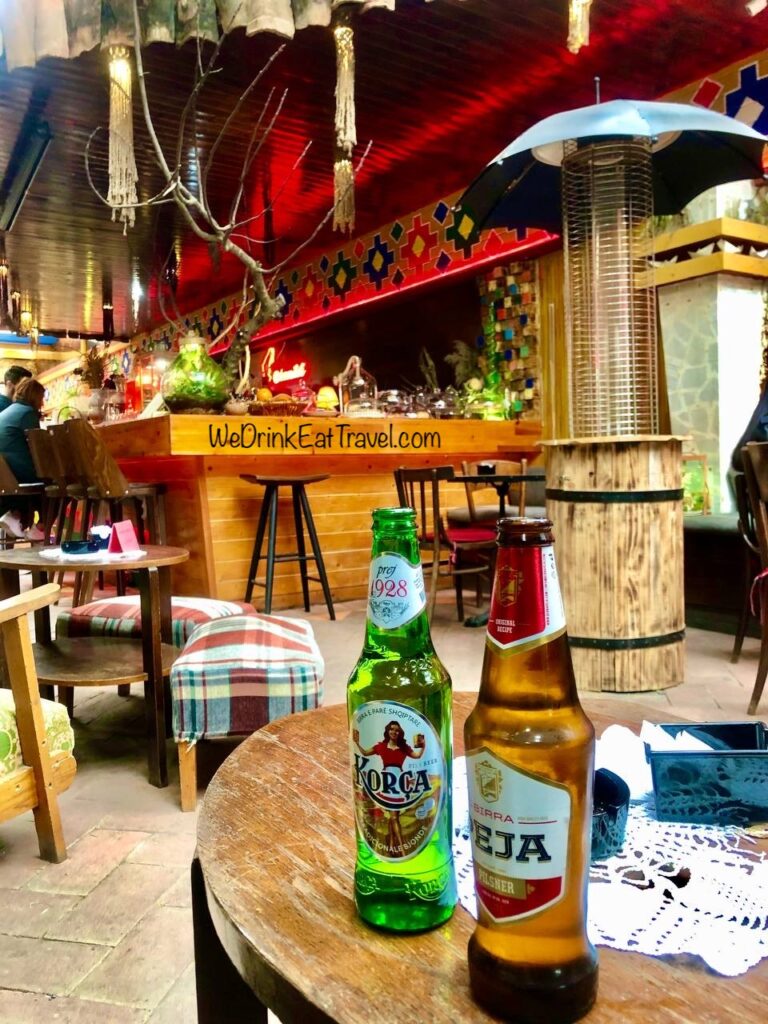 Komiteti is like a bar / café / museum. This is an interesting place, which has areas … full of Albanian memorabilia, relics, books, posters and more. Then, once you go past this area… there's another huge section which is very hip and relaxing.
Komiteti is actually a pretty big place… with different areas depending on what type of atmosphere you want.
So, definitely check out this Tirana bar.
Restorant Tymi
OK, so Restorant Tymi is not entirely a bar. Yet, it's a great place to try some different Albanian beers. Then, once inside there's lots of beer paraphernalia… with big tv screens to watch live sports, if that takes your fancy.
And, if you get the munchies, it serves some decent food, mainly meat based.
You can find Restorant Tymi on Kavaja Street. Also, there's a place down the road by the name of, Tymi King Pils. Yes, they are completely different… so don't get them mixed up!
Illyrian Saloon
We've saved our most favorite bar in Tirana for the end. And, this bar is Illyrian Saloon.
The Illyrian Saloon has outside and inside seating. And, although it's not a huge place compared to other bars… they make up for it with excellent service and atmosphere.
At this cool little bar, the owners also work there too. So, they're real proud of their bar and take the effort to look after customers.
Their English is great too, so we were able to have some interesting and informative conversations… when they weren't busy serving customers!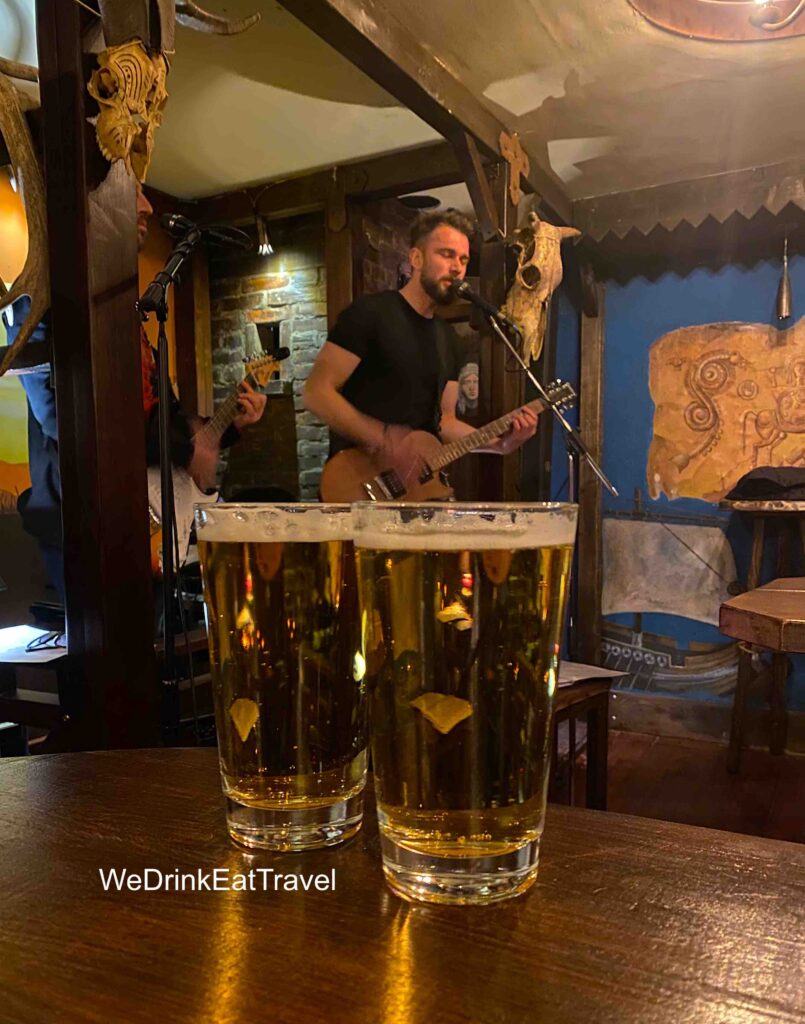 It's a very chilled place, yet they often have live bands too… to make the atmosphere even more fun and happy. The drink prices aren't overpriced and they have a decent selection for everyone.
Plus, if you get peckish they serve some small bites too to keep your belly full.
The Illyrian Saloon became our "local" when we were staying at our accommodation in Blloku.
And, once you go there, you'll understand why.
So there you have it… an insight into some of the Albanian drinks you can sample. Plus, many of you will be visiting Tirana. So, there are some places you can check out… to chill out or party on with the locals' nightlife in Tirana!
You Might Be Interested In This Too…
How To Get FREE Accommodation While Travelling
Here We Compare Food Places In Tirana That Are Surprising!
10 Picturesque Churches To See In Vienna Austria
10 Awesome & Surprising Things To Do In Skopje Now
7 Free Things To Do In Bangkok
10 Places To Visit In Gozo Malta For Breathtaking Views
7 Top Reasons Why You Should Visit Bansko Bulgaria
Discover Some Interesting Things About Albanian Food You Need To Know
How To Make Your Time In Tirana Albania Fun And Memorable
Here Are 7 Remarkable Things To Do In Berat Albania
10 Popular Drinks & Food In Skopje To Make You Happy