13 Interesting Places To See In Podgorica Today
After spending about 3 months in Albania, our Balkan adventures would continue on! And, our next destination for a short trip would be Podgorica in Montenegro.
Now, if you haven't been to Montenegro's capital city of Podgorica… you may have heard mixed stories and feelings about it. We've heard that people either love it or hate it. And, that's not because of the people!
For travelers who've visited Podgorica city and haven't enjoyed it, they've said things like… "It's one of the most boring capital cities in the world!"
Yet, we're all different in terms of what we like to see and do on our travels.
And, although Podgorica wouldn't have been our first choice in places to visit in Montenegro… we had to make a detour to Podgorica for personal reasons. And, in the end we were spending about 1 week there.
So, we want to share with you some places to visit in Podgorica and things to do. And, I trust that this will help you to decide if you go there, or if you decide to bypass it.
Let's begin!
Orthodox Cathedral of Christ's Resurrection
This magnificent landmark was one of the first sites that we saw. And, our eyes would have to be closed if we missed it… as it stands out with stature and so brilliantly in Podgorica city.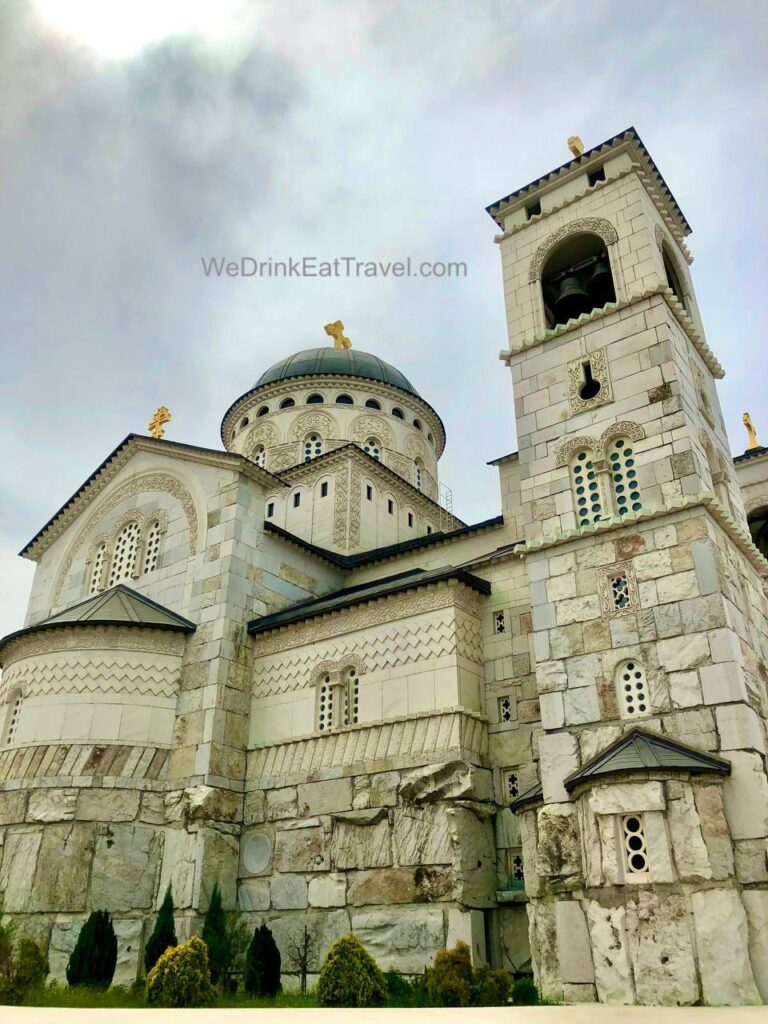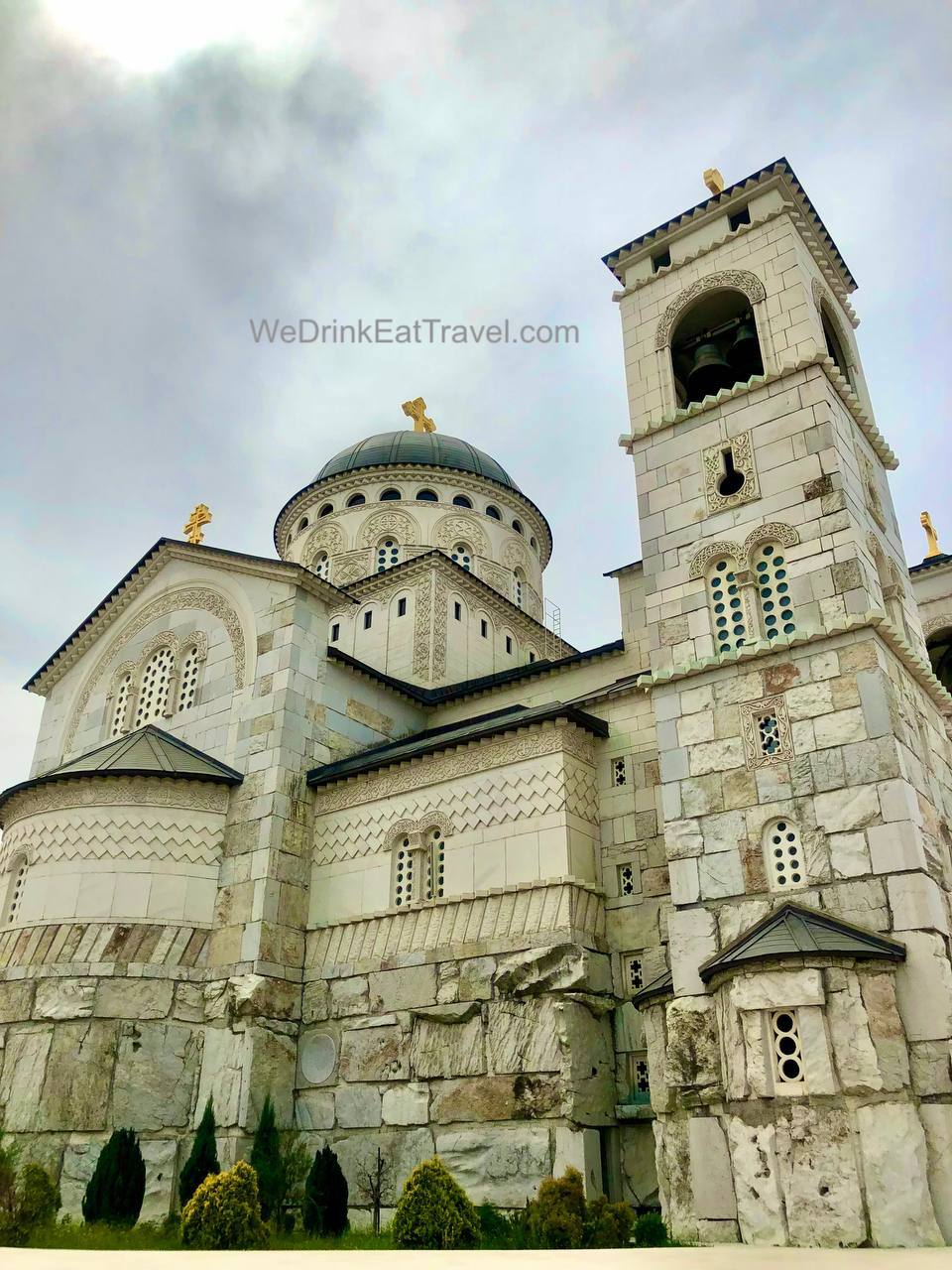 Construction of the Cathedral started in 1993… and building was ongoing for about 20 years. The towers are over 25 meters high, and within them are 17 bells. Now, that will definitely put a ring in your ears!
It looks breathtaking from the outside, and inside is beautiful too… with the colorful decoration and gold trimmings. Yet, we don't believe that photos give this church the justice it deserves!
Millennium Bridge Podgorica
Another important landmark to visit in Podgorica is the Millennium Bridge. Not only is this an icon for the Podgoricans, but for Montenegrins as a whole.
The design of the bridge was by architect Mladen Ulicevic… and was said to cost about a whopping 7 million euros. The cable-stayed bridge spanning about 170 meters, with 12 cables, 24 counterweights… and rising 57 meters high above the road, makes it eye-catching.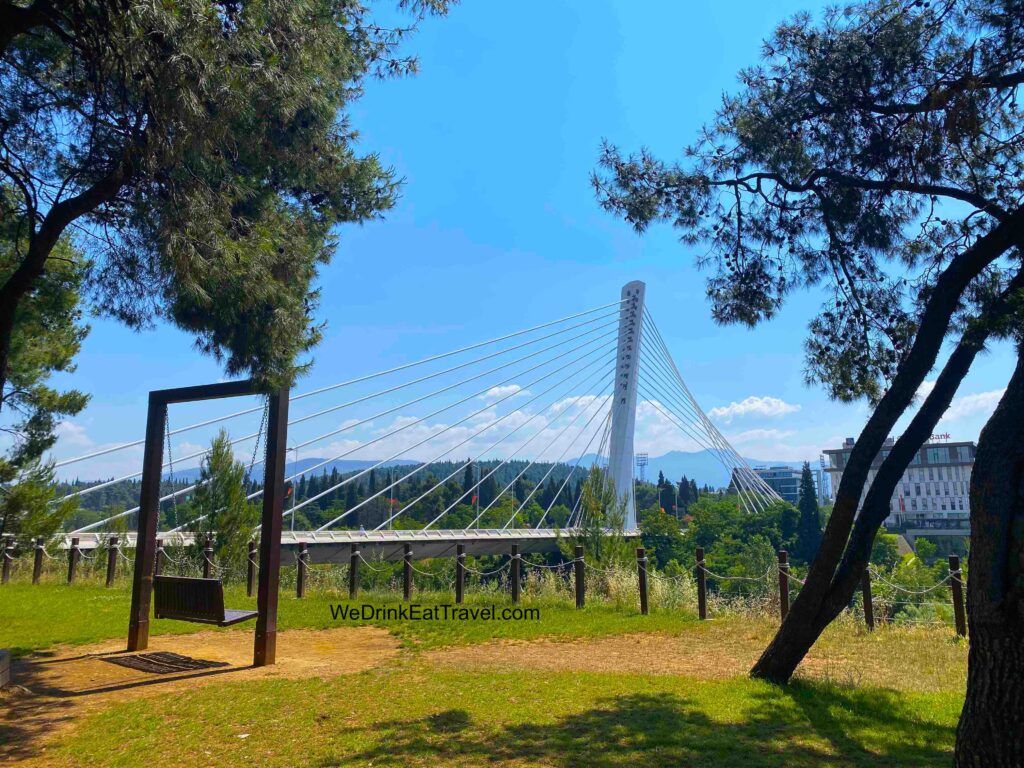 It took about 1 year to complete. And, on July 13, 2005, the opening of the Millennium Bridge took place… connecting the older town area of Podgorica to the new town area.
Moraca River
Now, when you're looking at the Millennium Bridge, you can't miss the wide, open river beneath it!
So, that waterway which is the main one running through Podgorica city is… the Moraca River. And, what was surprising about this river was how crystal clear the water is. Plus, the water is such a beautiful aqua color, and when the sun shines it's like it glistens.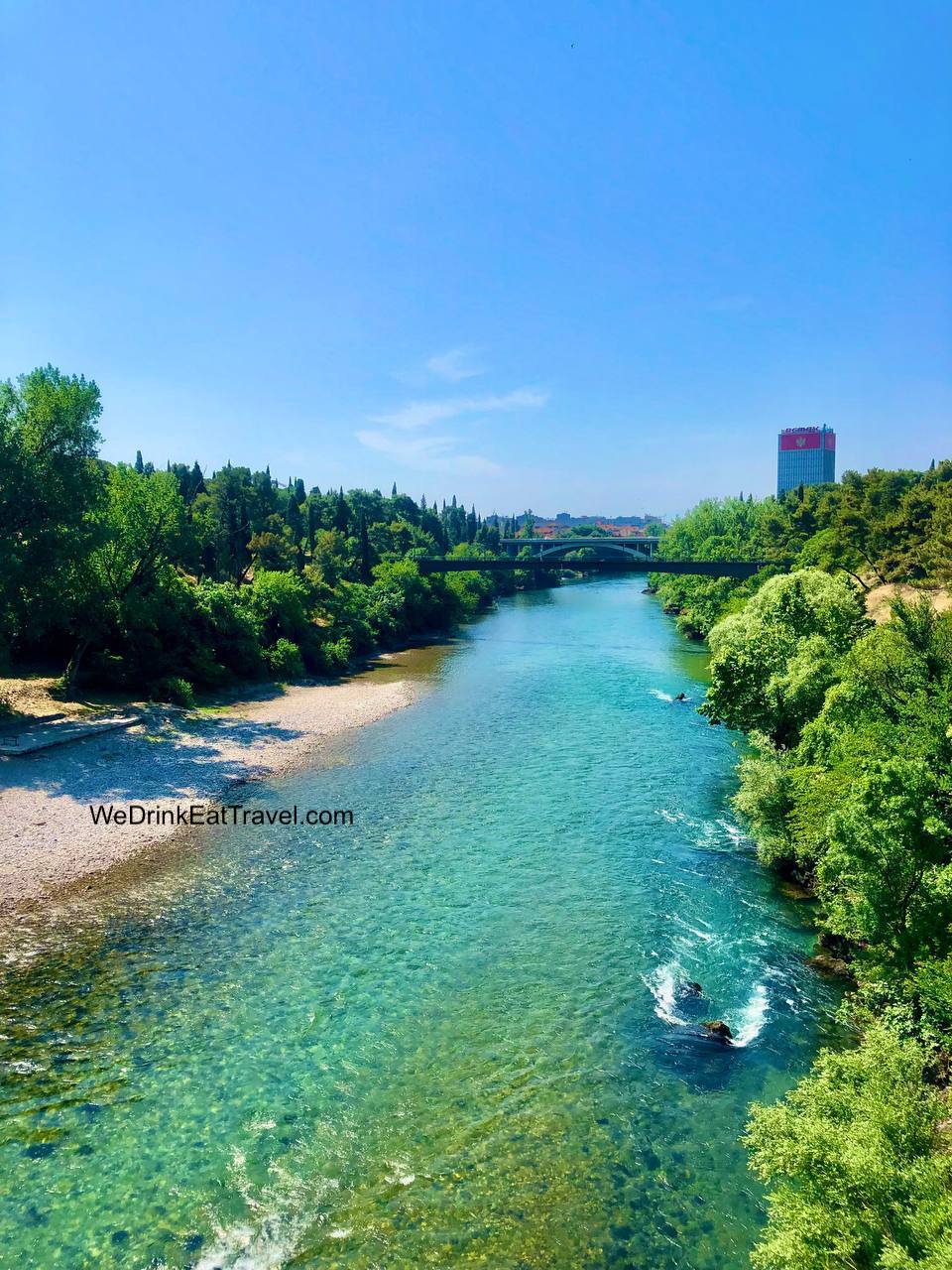 Along the river, there are several spots where you can head down… and dunk your feet in the water. When we went, in late Spring, we didn't see anyone swimming in it. Yet, we did see some people fishing in the river, and having picnics.
Gorica Park
Gorica Park the biggest park in Podgorica… where you can relax amongst nature and enjoy the serenity. Yet, it was surprising to discover that there's a not so peaceful area too… the adventure park!
That's right, at Gorica Park there are outdoor activities for the young… and young at heart. There's rock climbing, cable and rope walks, and more.
So, you could easily spend hours here, especially if you have a crack at some of the activities.
And, if you work up an appetite there are several places selling food and drinks… otherwise you could pack a picnic and enjoy some leisurely time out.
Also, during the Summer months… there are special events and other activities held at Gorica Park. So, it's a great spot to enjoy time with family and friends.
St George Church
From the biggest church in Podgorica of Cathedral of Christ's Resurrection, to a small church is… St George Church. Yet, what makes this church special is that it's the oldest one in Podgorica city.
It's said to have been built around the 10th century, sitting at the foot of Gorica Hill. And, when getting close up to the church… you can see the ancient character that has been preserved.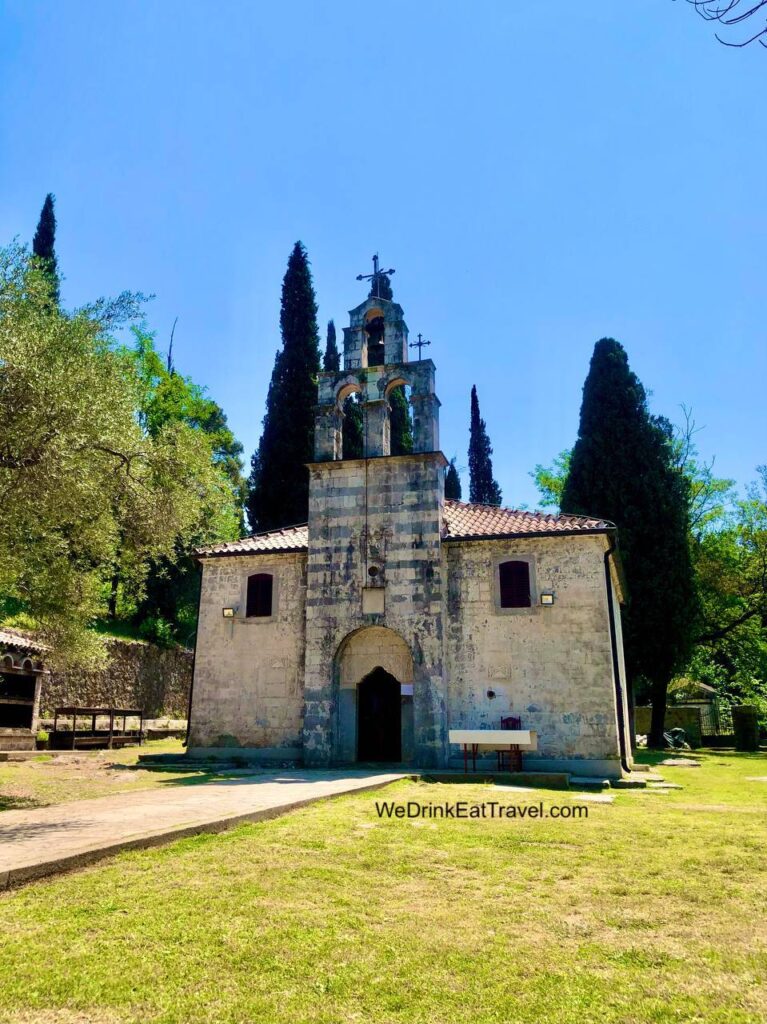 Surprisingly, it's said that behind the altar of St George Church is a "secret" passageway… which supposedly led to the Serbian state of Duklja!
Independence Square
So, when we think of a Republic or Independence Square for a country… we're picturing big and grand. And, a place where people are proud to congregate as a representation of freedom.
Yet, we have to admit we were disappointed with the Independence Square in Podgorica.
To us, it felt unloved and drab even with a fountain! Here's a pic we took of it in the middle of the day with lots of sunshine, and look how deserted it is…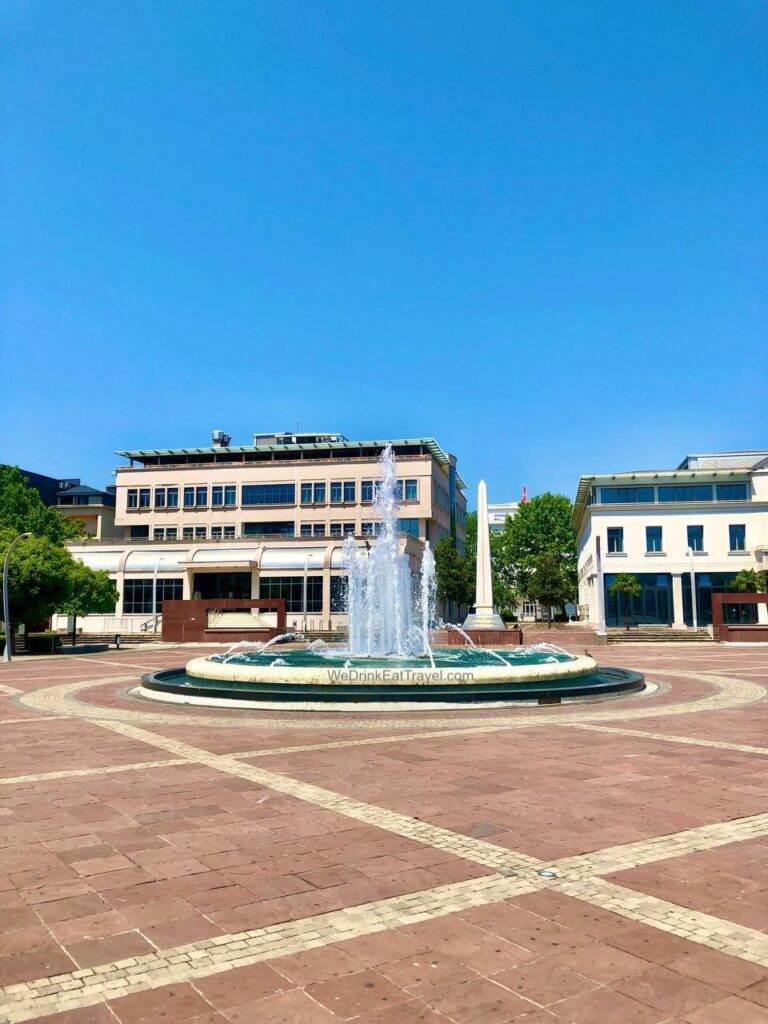 Old Ribnica River Bridge
This historical stone bridge is one of the things to do in Podgorica when you're here.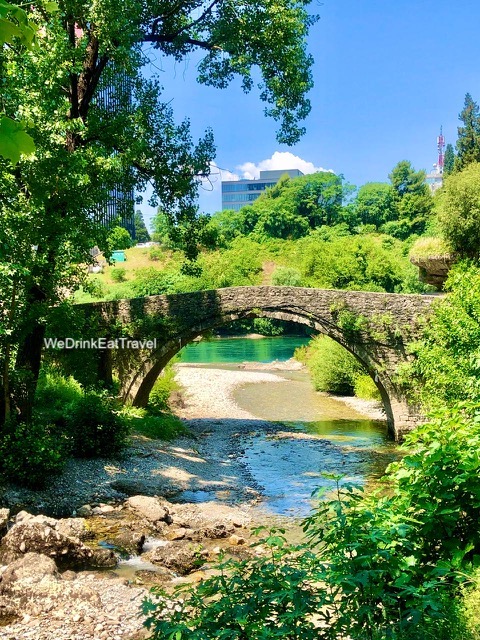 The construction of the Old Ribnica Bridge dates back to the Roman period. Then, in the 18th century… reconstruction of the bridge was directed under Ottoman rule. And, that's why you can see the Ottoman style of the bridge today.
When we were visiting the bridge… all sorts of people were there from families, groups of youngsters through to couples.
There aren't any tables or seats. Yet, there are different spots nearby the bridge, and closer to the river. Some people brought picnic blankets, even fold up chairs, and food to chill out.
So, take your pick of where to enjoy the greenery, water and sunshine.
Clock Tower (Sahat Kula)
When you're wandering through the old town area of Podgorica… one of the landmarks you're likely to see is the clock tower. It sure does stand out amongst the shops and homes that surround it.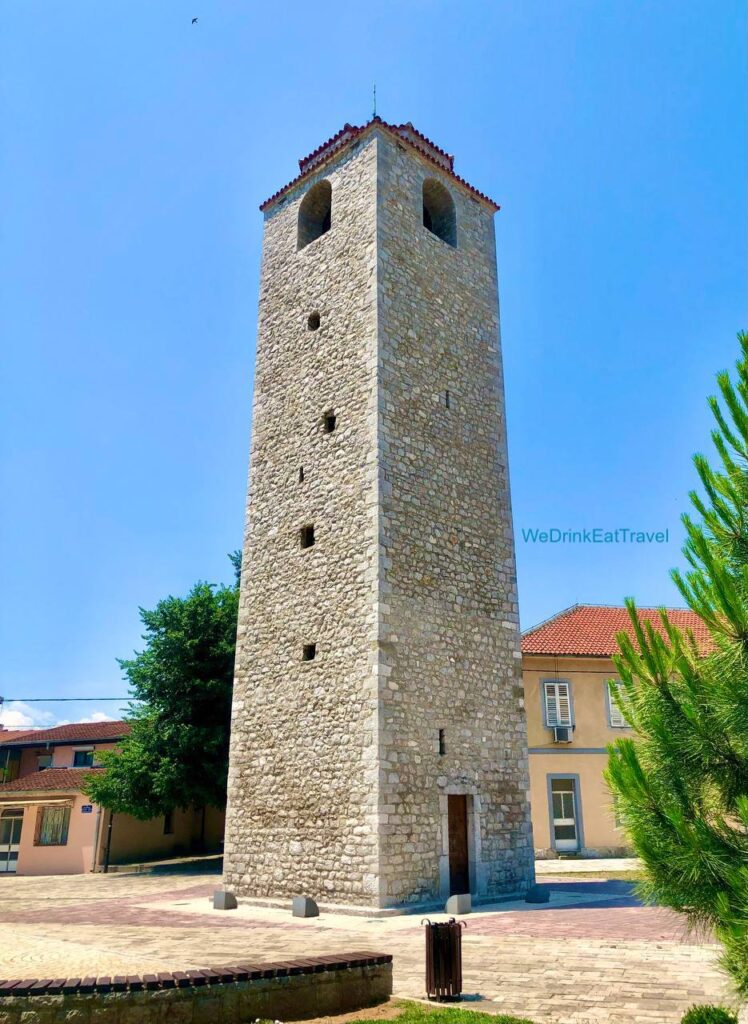 For us though… it didn't look like a breathtaking clock tower compared to others we'd seen. Yet, an interesting fact is that the clock tower was still intact, after the World War II bombing of Podgorica… and it's one of the few Ottoman landmarks that did survive.
So, from an historical perspective… it is a remarkable part of Podgorica's past that still stands strong today.
Petrovića Park and Palace
This is a quaint park, which is where the Palace of King Nikola was built in the 1890's. Nowadays, the Palace has been converted into a gallery… show casing works from local and international artists.
Oh, and get this…
While we were walking around the back of the Palace taking pics nearby the staircase… we were warned by a security guard that the US Embassy was next door. So, we had to be wary of not taking pictures of the Embassy! Not sure if anyone else had this warning too?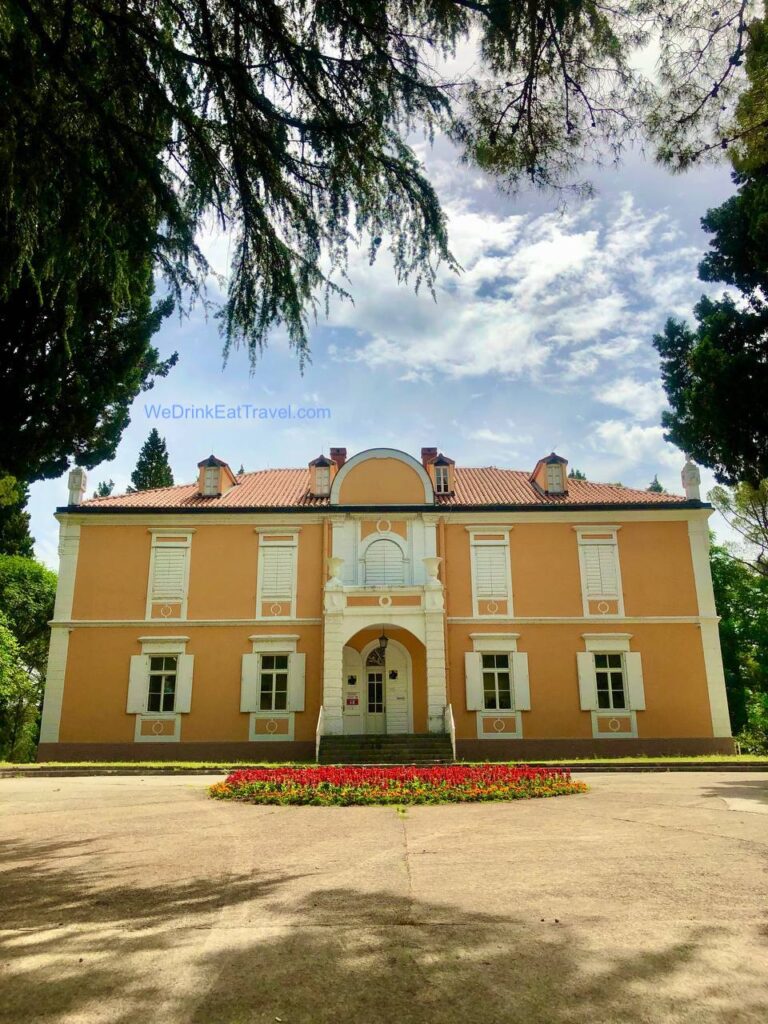 Need To Eat And Drink?
Here Are Some Places to Visit in Podgorica to Tantalize Your Tastebuds…
Hard Rock Café
OK, you might be thinking… why would we want to visit a Hard Rock Café in Montenegro? Surely, we'd want to try the local cuisine rather than a "burger joint?!"
Well, first of all we'd been having cravings for a while for a delicious big burger.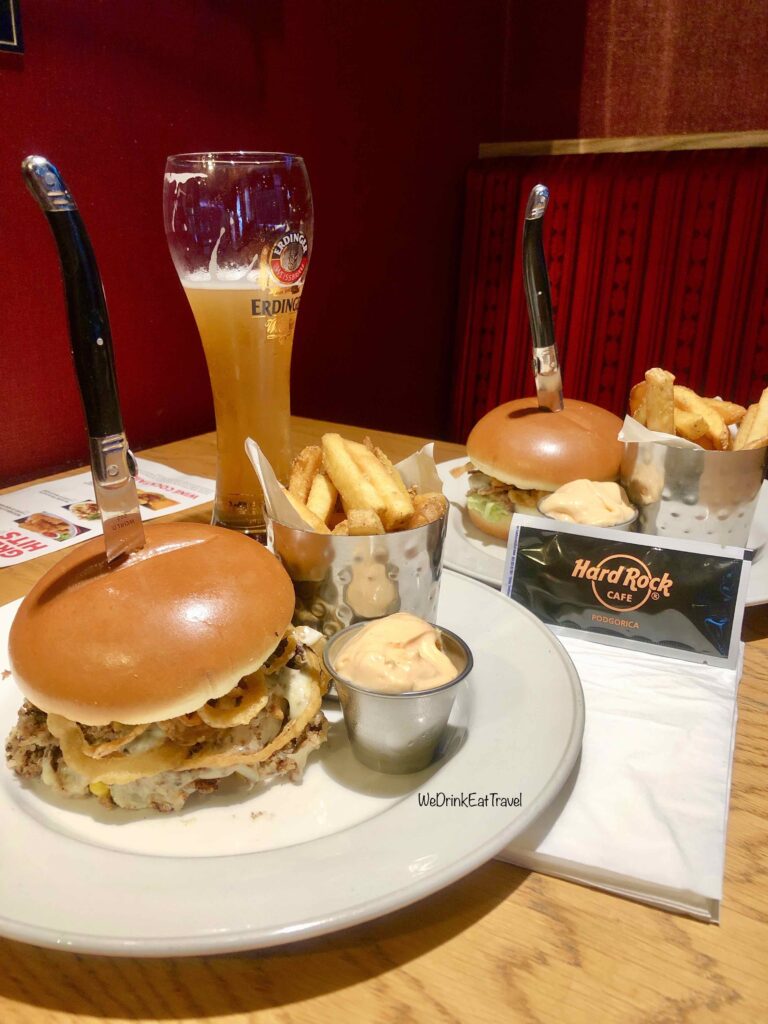 And, when we discovered that Podgorica has the only Hard Rock Café in the Balkans region… we had to take up the opportunity. Because who knew when we could visit another Hard Rock Café again?
And boy, were the burgers delicious and what we needed to satisfy our cravings… especially for a Hard Rock Café burger.
Craft Beers
There are many places to have an alcoholic drink or two or more in Podgorica. And, a popular area is in Downtown Podgorica. When we were there, we found it to fairly quiet during the day… yet, at night is when to go for a lively atmosphere.
If beer is your drink of choice, especially craft beer… then we recommend you check out PG akademija piva (PG Beer Academy). They have a decent range and selection of craft beers. From lagers, to weissbier to pale ales… there's sure to be something to please your tastebuds!
And, if you can't choose, then grab yourself a tasting paddle of beers. Cheers!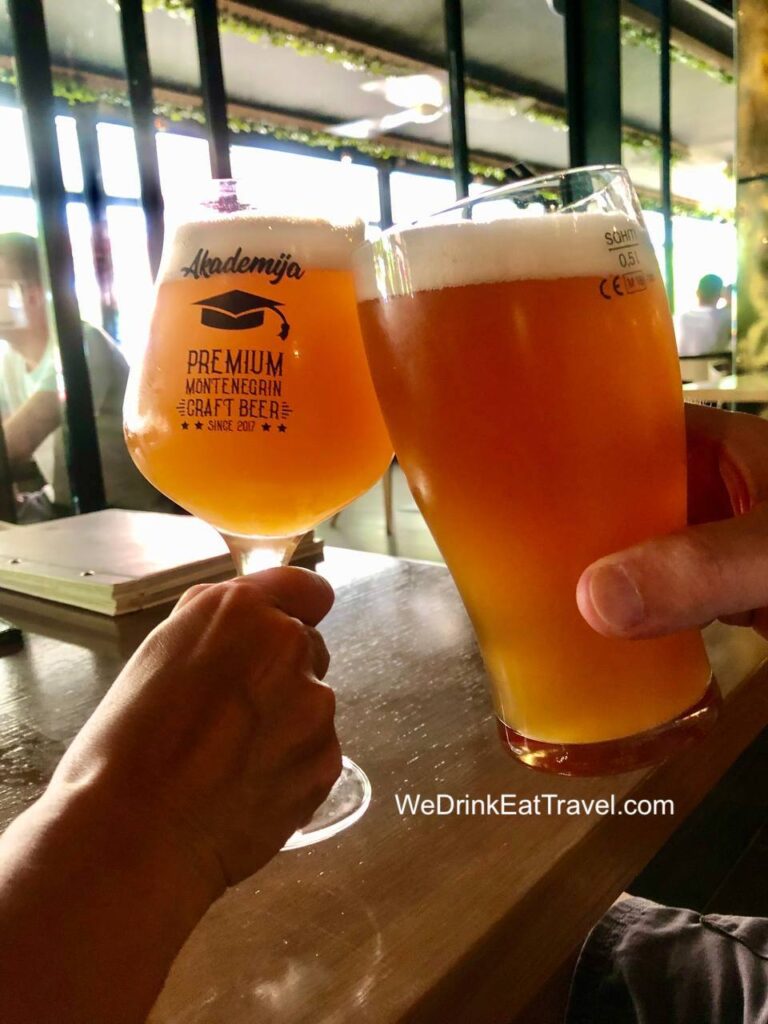 Bureks
If you've been keeping up-to-date with our travel blogs around the Balkans… then you'll know what food is a MUST. Yep, that's right, bureks!
There are many bakeries and buregdžinicas to try the local Podgorican bureks. And, a popular one behind the Orthodox Cathedral of Christ's Resurrection is… Pekara Zora.
This place usually has a line of people waiting, so you better be patient! For us the bureks were fine, and they were huge. Yet for us, they were a bit too "doughy." Worth a try, though.
Now, for a cute little buregdžinica, check out BLOK Burek.
When we got there, we had to wait to get a champignon burek. Sounds gourmet, right? We were happy to wait, as we knew it'd be fresh and piping hot. And, as we sat on the stools outside the shop, we could watch the world go by.
Then, when our bureks were ready, they were preseneted on a wooden board.
So, there you have 13 things to do in Podgorica and places to visit.
Yes, Podgorica is a small capital city compared to other places in the Balkans. Yet, one of the benefits is that it's easy to walk around to tourist sites, parks, eateries, bars and more. And, because of this you could spend a couple, or few leisurely days in Podgorica.
So, having been in Podgorica Montenegro for about 1 week, it wasn't the worst capital city we've been to. Even so, for us Podgorica wasn't the prettiest or action-packed capital city. And, we thought it'd be boring if we were to spend more time here.
Yet, why not check out what Podgorica city has to offer for yourself. Everyone's interests when exploring new places differs. So, you may end up loving Podgorica!
Like This? Share it and comment on it!
Note: All of our reviews and comments are our opinions and no-one else's. Even if we receive complimentary goods or services we share our opinions honestly.
You Might Be Interested In This Too…
How To Get FREE Accommodation While Travelling
Shop Until You Drop In Ratchada, Near Thailand Cultural Center MRT
Spotlight On Albanian Drinks And The Best Bars In Tirana
7 Free Things To Do In Bangkok
10 Places To Visit In Gozo Malta For Breathtaking Views
Discover Some Interesting Things About Albanian Food You Need To Know
10 Picturesque Churches To See In Vienna Austria
How To Make Your Time In Tirana Albania Fun And Memorable
Here Are 7 Remarkable Things To Do In Berat Albania
10 Popular Drinks & Food In Skopje To Make You Happy
10 Awesome & Surprising Things To Do In Skopje Now
7 Top Reasons Why You Should Visit Bansko Bulgaria