We've been enjoying our travels around the Balkan countries… and it's been a pleasant surprise. We've had many amazing experiences that will be in our memories forever. Plus, there's been some not so great times… yet, not everything can be perfect!
So, one of the Balkan countries we visited for a short time was Montenegro… as we had to make a detour to Podgorica, the capital city of Montenegro.
We spent about 1 week there and then had to leave Montenegro. Even so, we'll be back to visit other parts of Montenegro as it looks incredible in photos!
So, in one of our other travel blog posts… we highlighted 13 places to see in Podgorica city, as well as our thoughts about it.
Now, if you haven't seen that blog, check it out first by clicking HERE.
We had plenty of time to walk around and see some of the Podgorica tourist attractions. Yet, in one of our travel blogs about Skopje… you may recall that there are HEAPS of statues there!
Now, while Podgorica sure doesn't have as many statues… there are some monuments and statues we thought were interesting.
And, here's some of them that caught our attention…
Vladimir Vysotsky Monument
One of the most important prominent Podgorica tourist attractions is the Millennium Bridge.
And, when you're on the "new town" side of Podgorica, heading towards the Millennium Bridge… is a different type of monument. This one sure has an upbeat feeling when you look at it. And, that's because it looks like a fun, rock 'n roll statue.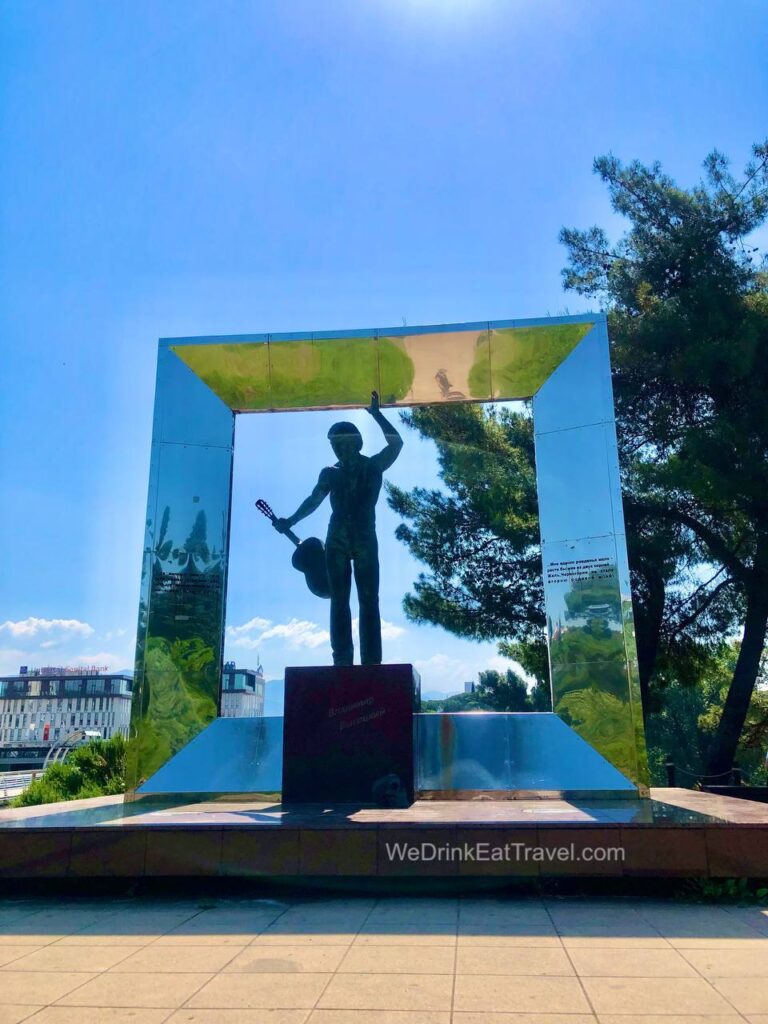 So, the monument is a tribute to Russian writer, singer, and actor Vladimir Visotsky. Yet, we've heard of others calling it the Russian Elvis Statue! Rock on!
Monument to Partisan Fighters
If you're heading to check out Gorica Park, then along the way is the Monument to Partisan Fighters.
This historical landmark was built in 1957… representing a mausoleum for fighters from World War II. Two commanding soldier statues guard the outside of it.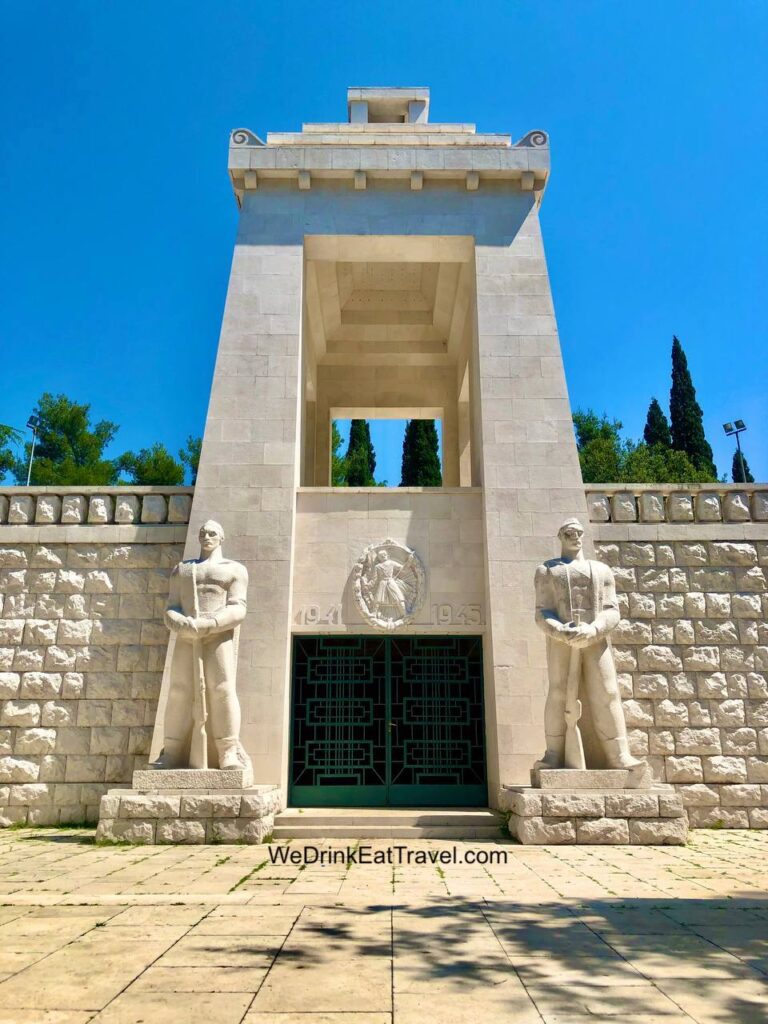 There's also another entry point to the monument if you miss the first path. Yet, the first one is better, as it has a big white staircase leading up to it… so it looks more dramatic when taking pics.
Petrovica Park Statue
Petrovica Park is a cute park, where King Nikola's Palace was built in the 1890's. Yet, the Palace has now been converted into a gallery… and displays the works from international and local artists.
There are a few spots to sit down and enjoy the serenity of the park. Yet, while you're taking a stroll through PetrovićaPark, you may bump into this cute statue…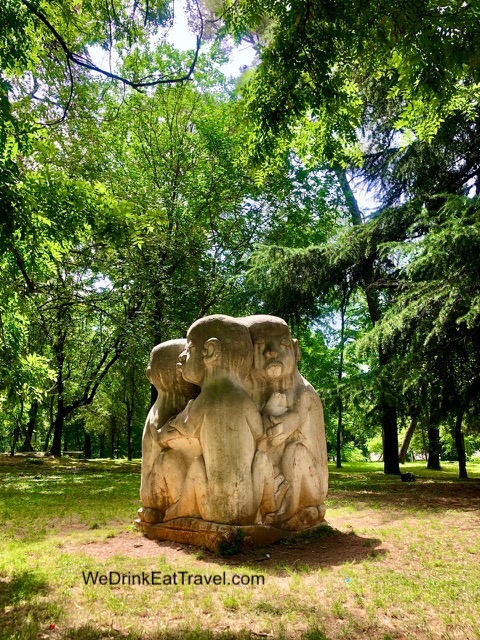 King Nikola Monument
For a small capital city, there are several parks in Podgorica where you can chill out! And, King's Park is no exception. The park, as the name suggests… is named after the former king of Montenegro, Nikola Petrovic-Njegos.
He was the ruler of Montenegro for decades, and in 1910… it was King Nikola who declared Montenegro a kingdom.
Petar I Petrovic Njegos
When you're strolling around near the University of Montenegro… standing tall is this huge statue.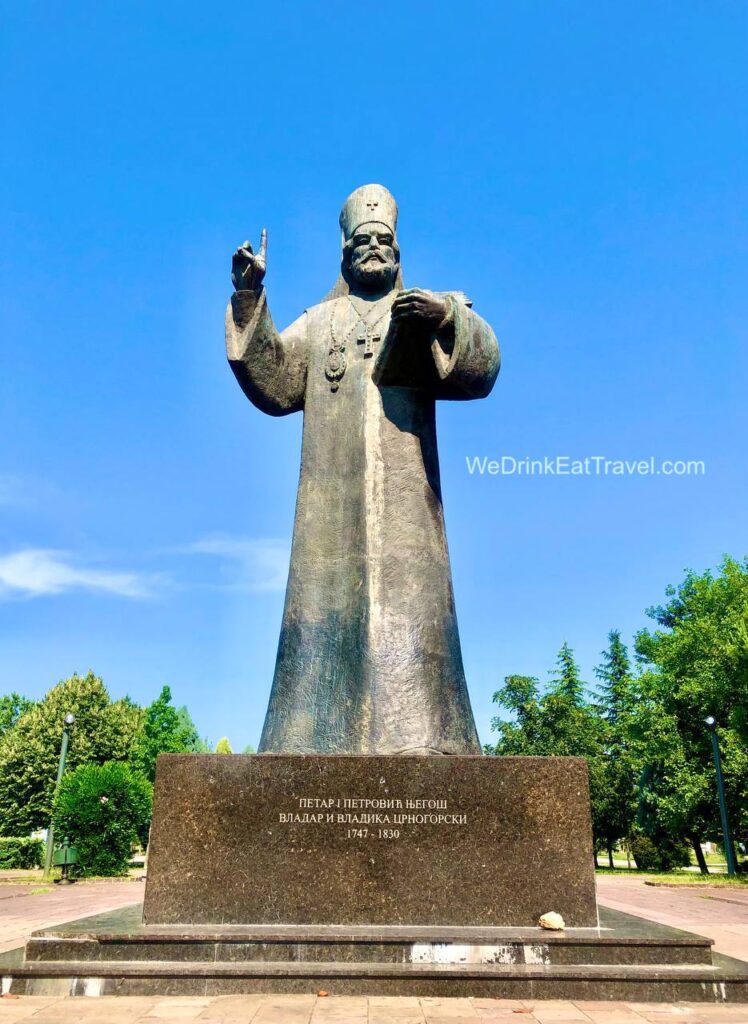 This monument is dedicated to Petar I Petrovic Njegos… who held the throne of Montenegrin bishops for decades.
During his life, he was also seen as a visionary, leader… and founder of the modern Montenegrin state.
Spomenik Jeleni Savojskoj Monument
If you're heading to the Dječiji Park area (also known as Children's Park)… you'll come across this svelte statue.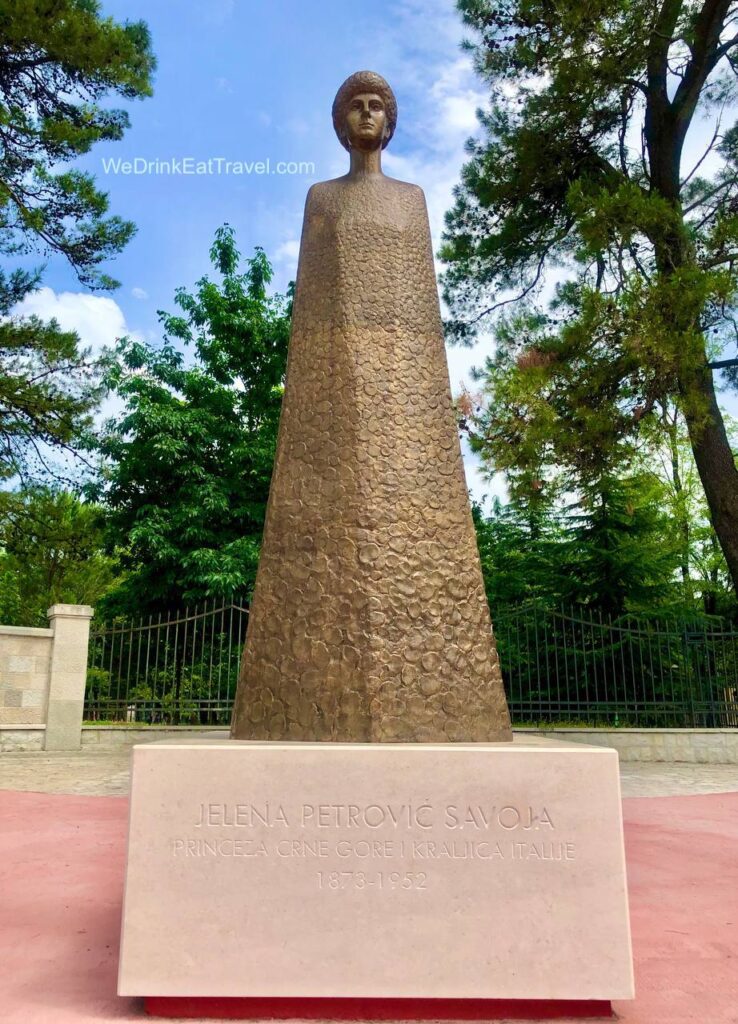 And, this is a monument to the Montenegrin princess Jelena Savojska… as created by the Montenegrin sculptor Adin Rastoder.
And, it's said that this was the first statue of a woman, that included her entire body!
Alexander Pushkin and Natalia Goncharova Monument
If you happen to be wandering near the corner of Njegoševa and Svetog Petra Cetinjskog Streets, you'll see this monument…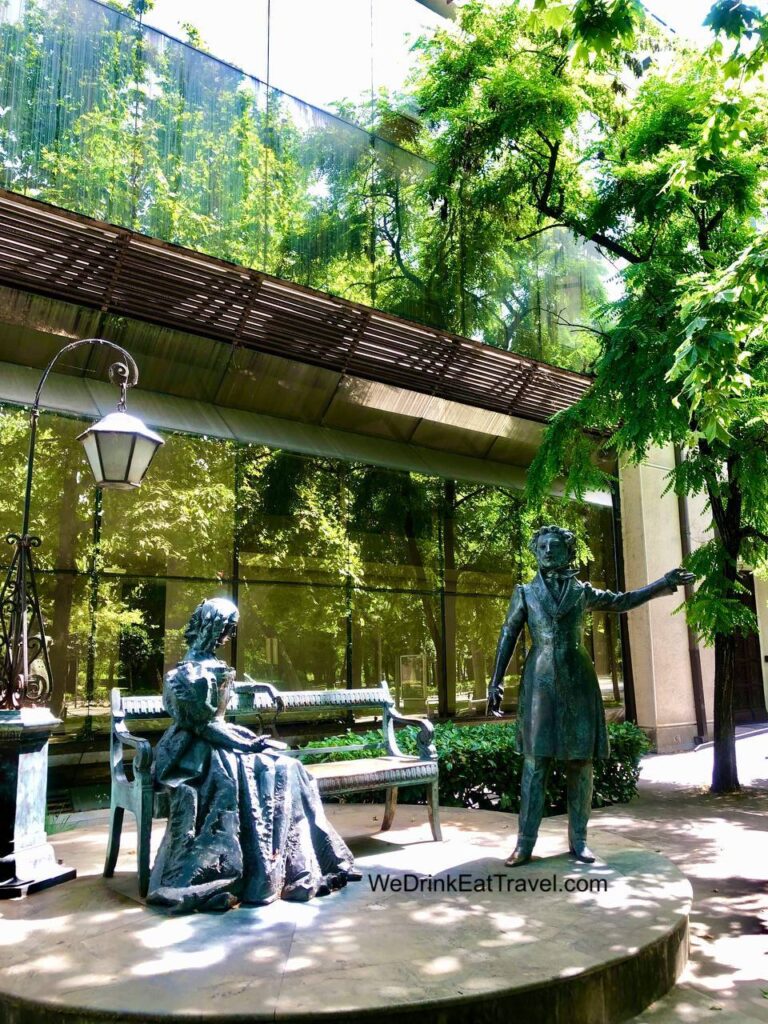 And, this is the monument gifted to the Montenegrins from the Russians… showing the friendship between the two. Alexander Pushkin is an historical figure, who is seen as one of the greatest Russian poets… as well as the founder of modern Russian literature
So, while Alexander Pushkin is reciting some poetry… there sits his wife, Natalia Goncharova, listening happily to her husband's words.
And, if you feel like being a part of the moment, take a seat next to Natalia and get a photo!
So, they are 7 different statues and monuments you can check out… outside of the other Podgorica tourist attractions you're likely to discover.
That's it for now, as we eat, drink and travel around the world!
Like This? Share it and comment on it!
Note: All of our reviews and comments are our opinions and no-one else's. Even if we receive complimentary goods or services we share our opinions honestly.
You Might Be Interested In This Too…
How To Get FREE Accommodation While Travelling
13 Interesting Places To See In Podgorica Today
Here Are 7 Remarkable Things To Do In Berat Albania
7 Free Things To Do In Bangkok
10 Places To Visit In Gozo Malta For Breathtaking Views
7 Top Reasons Why You Should Visit Bansko Bulgaria
Discover Some Interesting Things About Albanian Food You Need To Know
10 Picturesque Churches To See In Vienna Austria
How To Make Your Time In Tirana Albania Fun And Memorable
Shop Until You Drop In Ratchada, Near Thailand Cultural Center MRT
10 Popular Drinks & Food In Skopje To Make You Happy
Spotlight On Albanian Drinks And The Best Bars In Tirana
10 Awesome & Surprising Things To Do In Skopje Now