There are many places to visit in Karlovy Vary if you want to witness beauty.
And, when we did our day trip to Karlovy Vary… it was surprising to see how even more beautiful it is with our own eyes. It seems like everywhere we went, strolling along the streets and getting ourselves lost… there was always something amazing to look at around the corner.
And, in doing our research, we found out that there are several lookouts… where we could see Karlovy Vary from above. And boy, did we get spoilt with such breathtaking views.
So, in this We Drink Eat Travel blog… we'll run through 7 places to visit in Karlovy Vary to get some incredible views. Let's start with this popular one…
1. Deer Jump Lookout (Vyhlídka Jelení Skok)
Many tourists flock to the Deer Jump Lookout, not only for the views, but for this…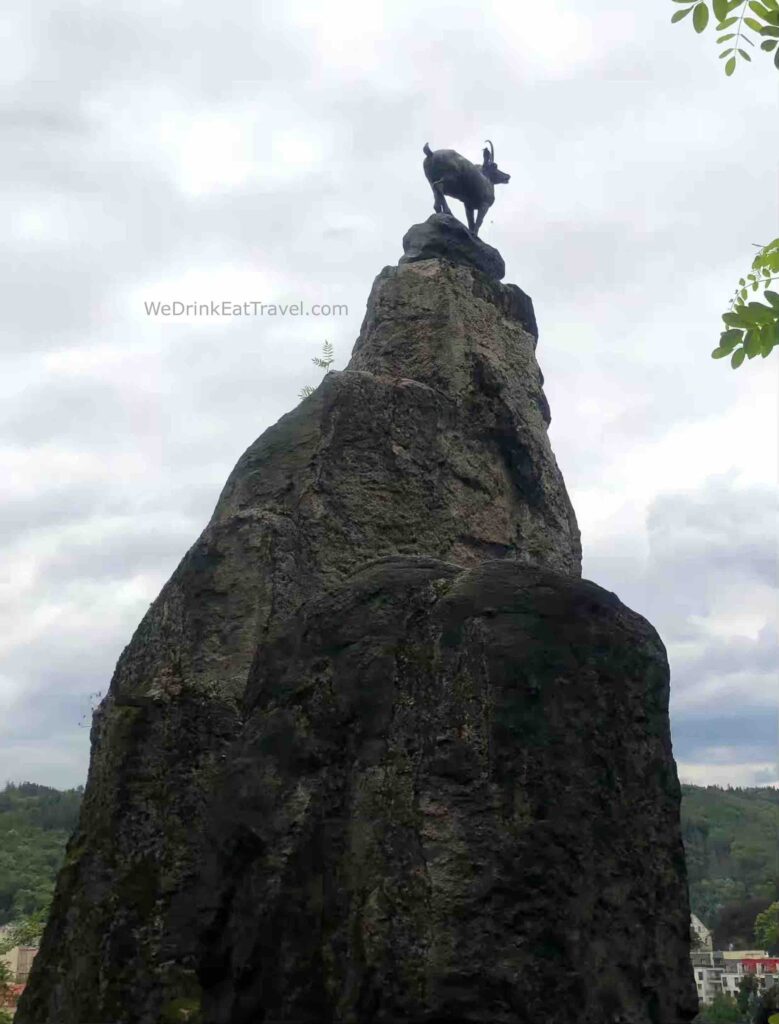 Yep, it's a massive rock on the edge of the mountain. Yet, if you look at the top of the rock, as it tapers at the top there's the infamous statue of a deer. So, this is a popular attraction as it's said to be one of the oldest lookouts in Karlovy Vary… having been built in 1804.
Now, one of the common ways to get to Deer Jump Lookout is from behind Hotel Boston… as this is the more direct route. Yet, what you need to know is that it's a very steep walk up. Plus, the steps are small. So, if you choose to take this path, be extremely careful.
Instead of taking this route, we made our way to Deer Jump Lookout… as we were walking through the lovely forest, down from Diana Lookout.
2. Diana Observation Tower
Many tourists and even locals, make their way to the Diana Observation Tower area. If you're keen on walking up through the lovely forest like us… then you can start behind the infamous Grandhotel Pupp.
There are signs to the Diana Tower and Lookout. Yet, if you're unsure, when you're facing the Grandhotel Pupp… to the far right of the hotel is a laneway that snakes its way behind. This laneway is by the name of, Mariánská.
And, at the end of this laneway is its namesake chapel, Mariánská kaple. Or, in English it's the Marian Chapel.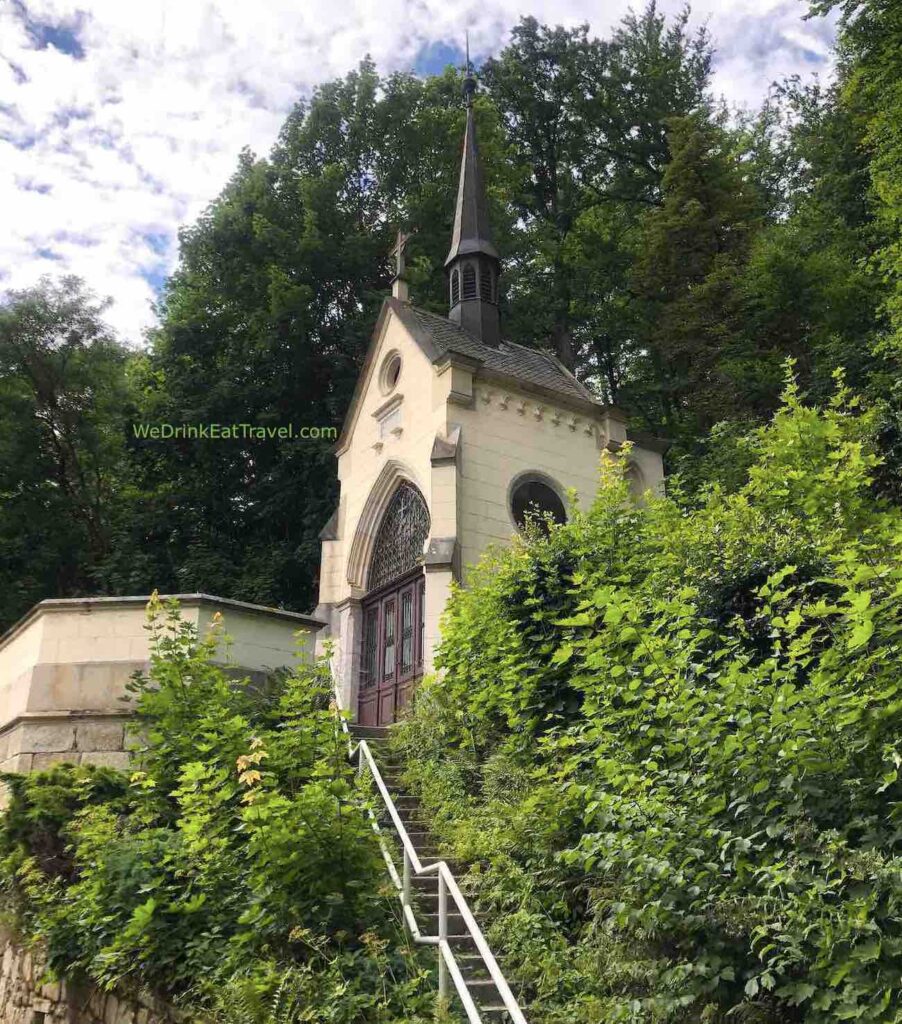 When you're in this area, you'll see painted markings for D1 and D2 hiking trails… which are for the main walks to the Diana Observation Tower.
We thought it was a gentle hike up, and didn't feel that steep.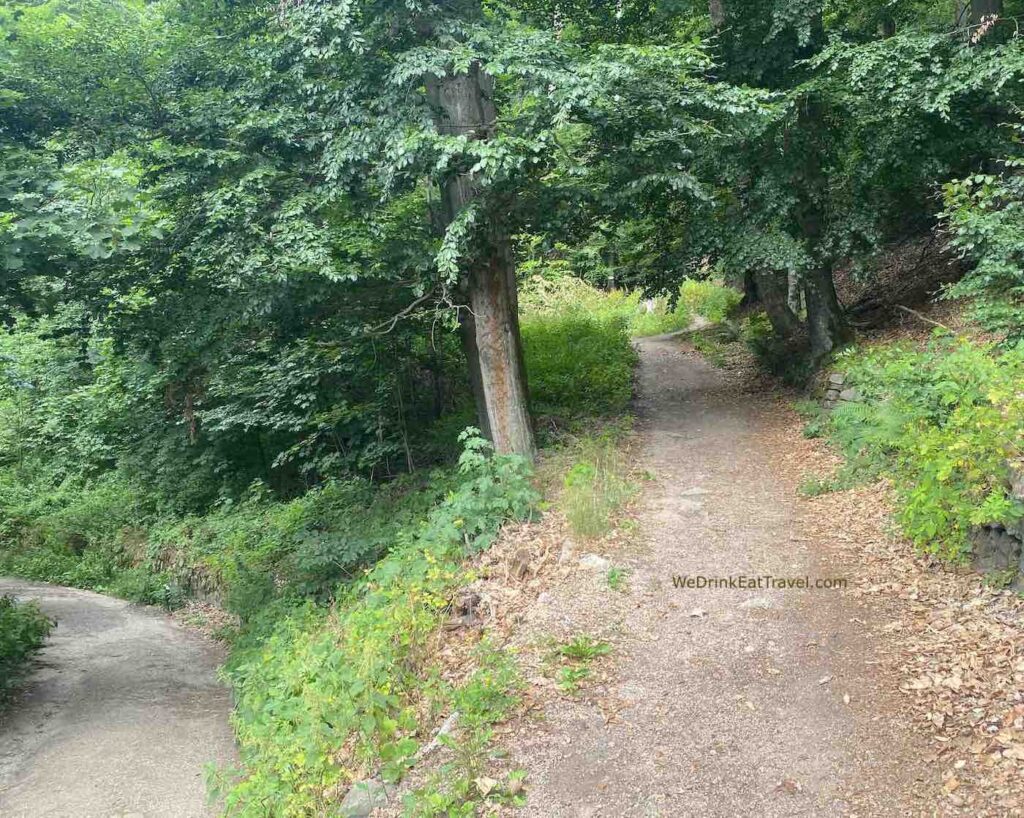 Then, when you get there you'll see the huge Diana Observation Tower…
Surprisingly it was free to enter. And, once you walk up the steps, you can wander around the top of the tower, to get views like this…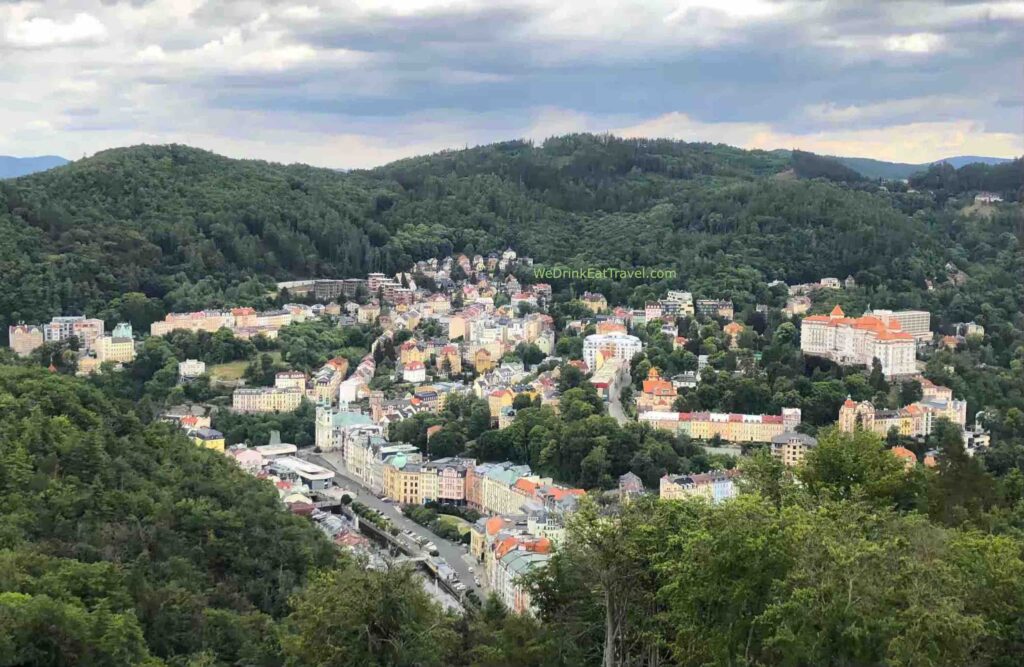 Now, if you don't want to walk up to the Diana Observation Tower, there is an easier way…
TRAVEL TIP: An Easier Way to Diana Lookout
If you don't have the time to walk up to the Diana Observation Tower… or you have an impediment, then the simplest way to get to the top is via the Diana Funicular. It runs every 15 minutes, and takes a few minutes to get to the top.
As the funicular only takes up to 40 people, you may need to wait patiently to get on board… especially during peak times.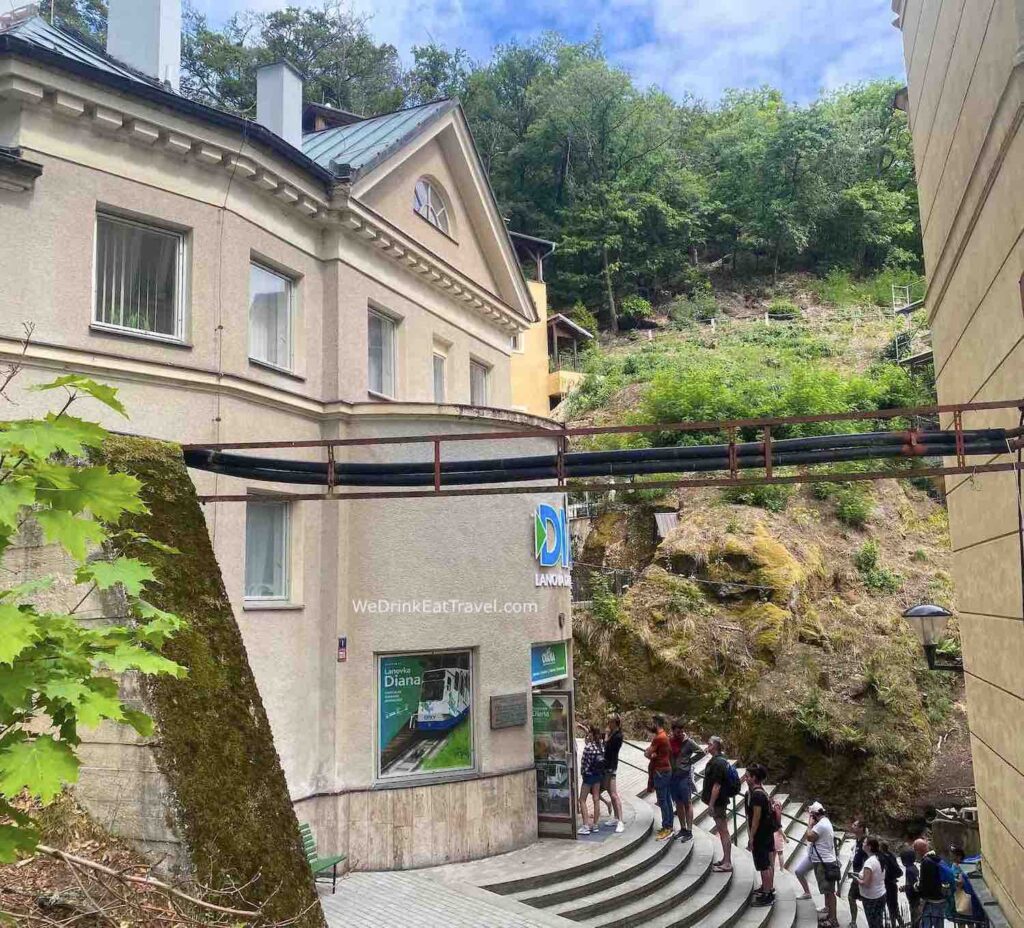 Now, at the time of writing this travel blog… the one-way price of a funicular ticket for a per person over 15 years of age is 100 CZK (about USD $4 / 4.10 Euros / 3.50 GBP). And, a return ticket is 150 CZK (about USD $6 / 6.10 Euros / 5.25 GBP).
So, this may be an option if you walking up to the Tower isn't an option.
3. Wolf's Ruhe
Now, when you're hiking up the mountain to Diana Lookout, here's one of the different places to visit in Karlovy Vary…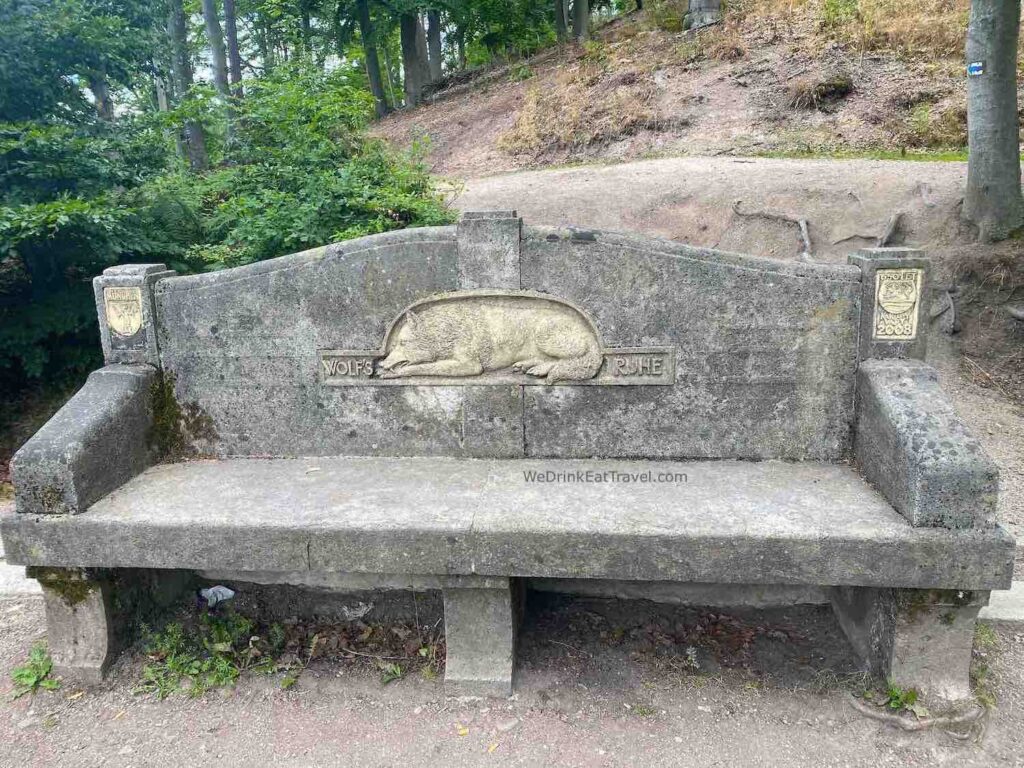 This seat is Wolf's Ruhe. When we saw it, we thought it'd be a great spot to take a seat. Plus, when you sit down, check out the view you get…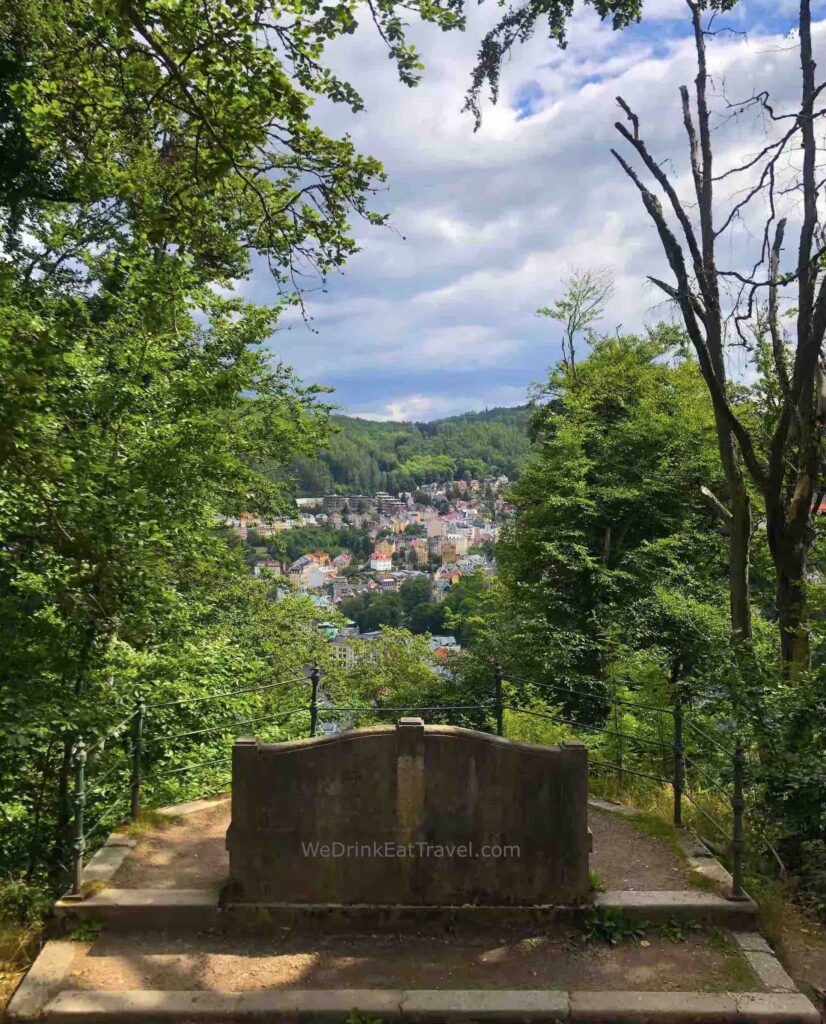 Be wary, if you think you're going to have it all to yourself, think again. Yes, it does look inviting and peaceful, with beautiful views. Yet, it's a popular place for tourists to take photos too!
4. Jean de Carro Park – One of the Places to Visit In Karlovy Vary that Many Others Miss
Now, we'd say that many tourists miss out on these views of Karlovy Vary. When we were there only a handful of tourists were in the area. Then, after they left, we had the entire lookout point to ourselves for a while.
So, the way that we went to get to the lookout point in Jean de Carro Park… was going on the path next to the Wellness Hotel Jean De Carro. And, after walking past this hotel, we kept walking along the cobblestone street path.
Now, if you're trying to find the exact lookout point where we were, say via Google… then look for the landmark by the name of, Socha Kočky. And, this is what that landmark looks like…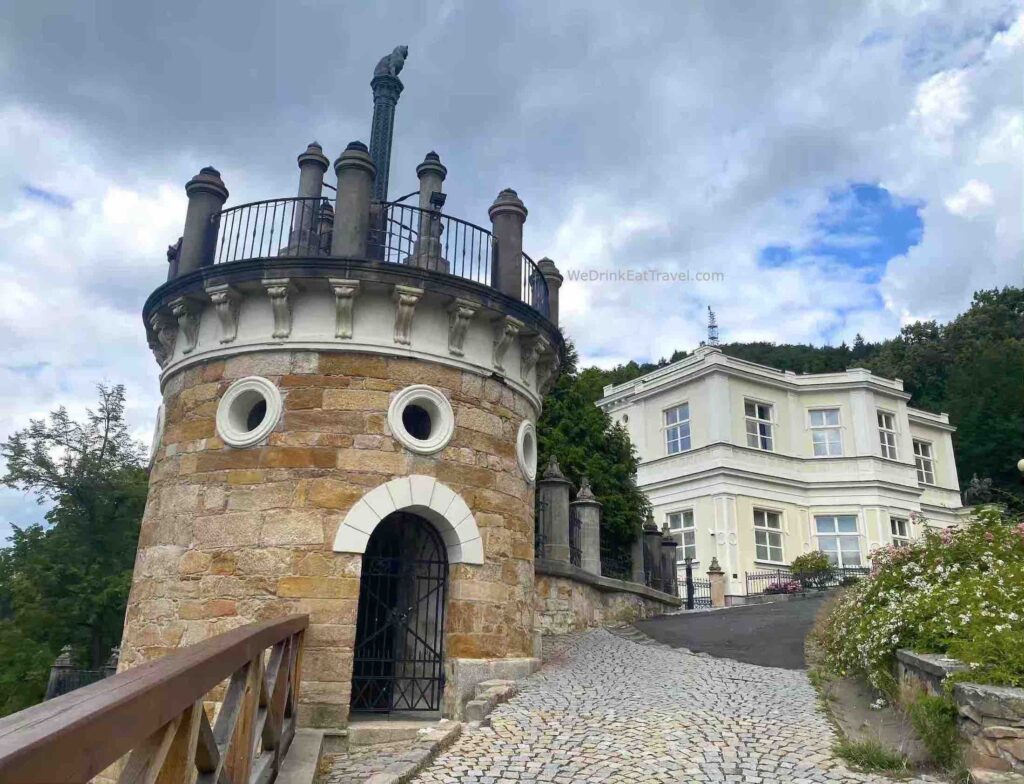 Then, when you look out beyond this, you see marvellous views of Karlovy Vary…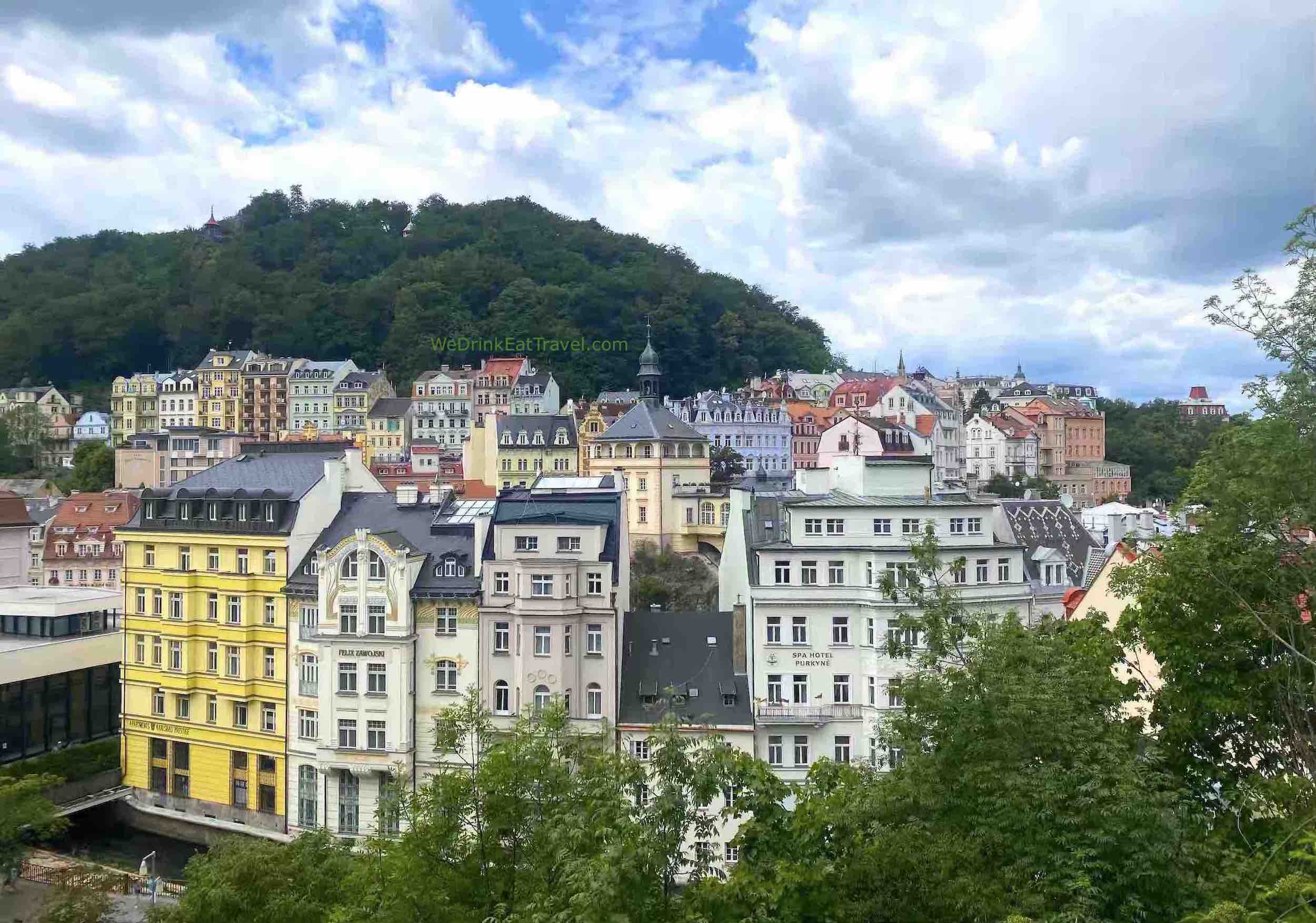 Now, having done a lot of walking, hiking up and down different hills… we'd seen many different beautiful views over Karlovy Vary. Yet, we'd have to say that this next lookout, gave us some of the most breathtaking views.
5. Peter's Height Lookout
You'll know when you're at Peter's Height Lookout area when you see this monument…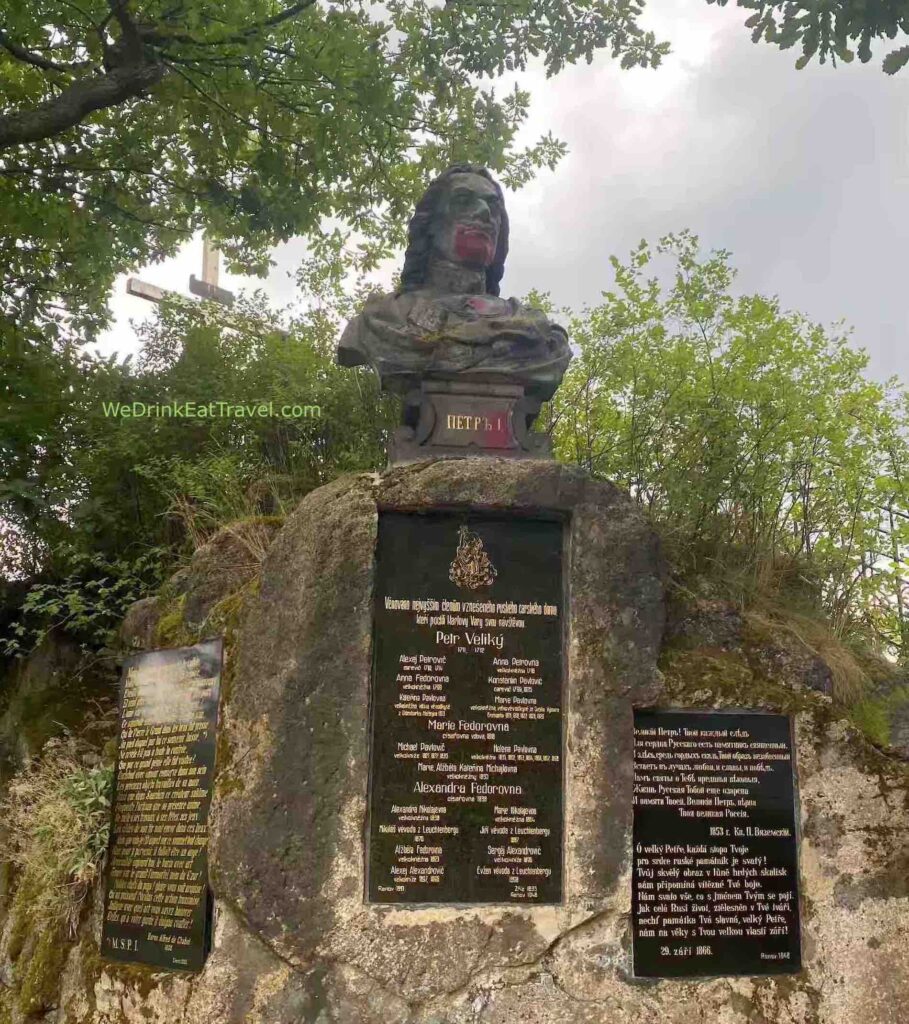 This monument is of Peter the Great, a victorious Russian Tsar… who in November of 1712 atop his horse, rode up this hill from Karlovy Vary town. And, while there are man-made paths to this area now… imagine it back then without any smooth paths, instead with rocky terrain.
And, as you make your way past the monument, there are steps leading up to a huge cross. It's said that there was a cross there back then, and Peter the Great had carved his initials into it. So, what you see today is a replica of that cross
Then, once you're at the top, here's one of the places to visit in Karlovy Vary… to get the most breathtaking views over this remarkable town…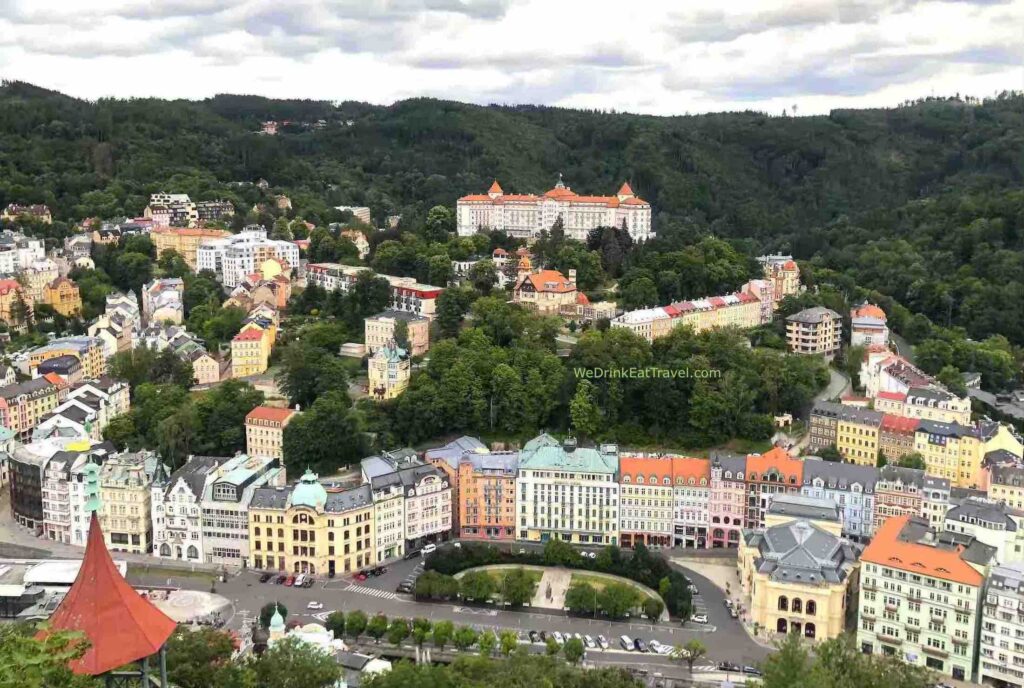 Now, here's another amazing place to see nearby Peter's Height Lookout…
6. Mayer's Gloriette Lookout
If you take a look at our previous photo from Peter's Height… you can see a gazebo with a red roof. And, that structure is the Mayer's Gloriette. It looks like a quaint place to be, especially from a romantic viewpoint.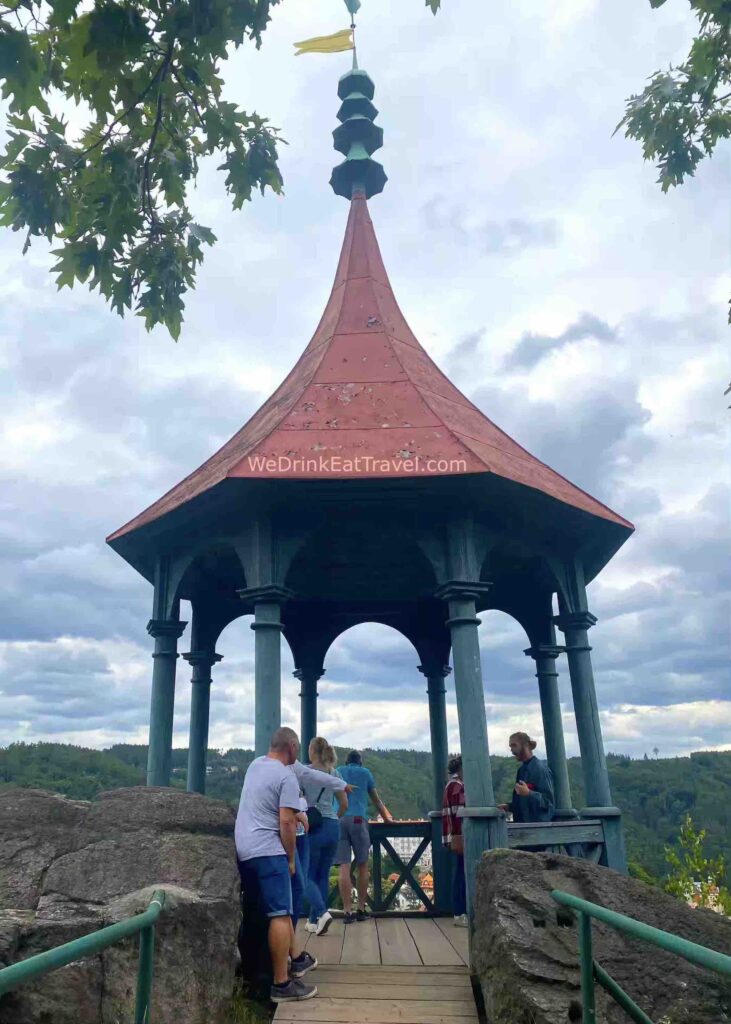 Yet, when we were there… unfortunately there were constant streams of tourists. So, we had to share the Mayer's Gloriette with others.
Even so, once there, take in the amazing views of Karlovy Vary…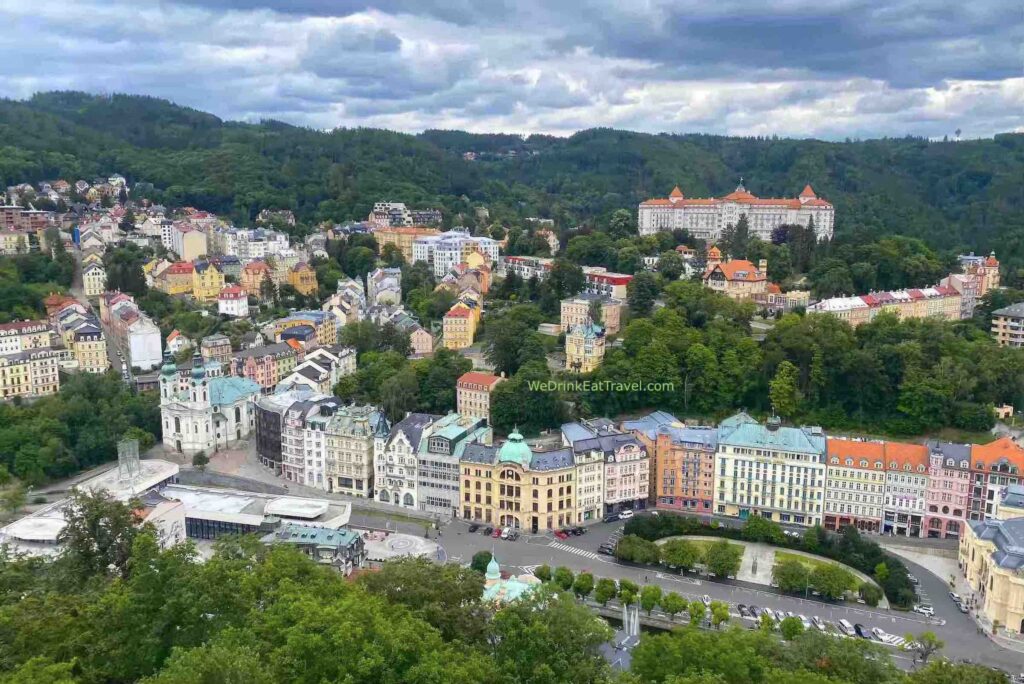 Now, this next place doesn't give bird's eye views over Karlovy Vary. Yet, we had to put this one in… as you can see on ground level, just how magical the town of Karlovy Vary is. 
Here's a couple of different places to visit in Karlovy Vary for alternate views…
7. Mlýnské Street to Stará Louka
There are many pedestrian-only streets in Karlovy Vary. Yet, the stretch between Mlýnské Street and Stará Louka is one of the most picturesque. Bordering one side of the Teplá River… we spent a lot of time taking photos while strolling up and down these streets.
You'll pass by many charming, tall colorful buildings… with rows of windows as far as the eye can see. And, as you walk on the wide spacious path… you'll also witness the beauty of the majestic Mill Colonnade, built in the late 1800's.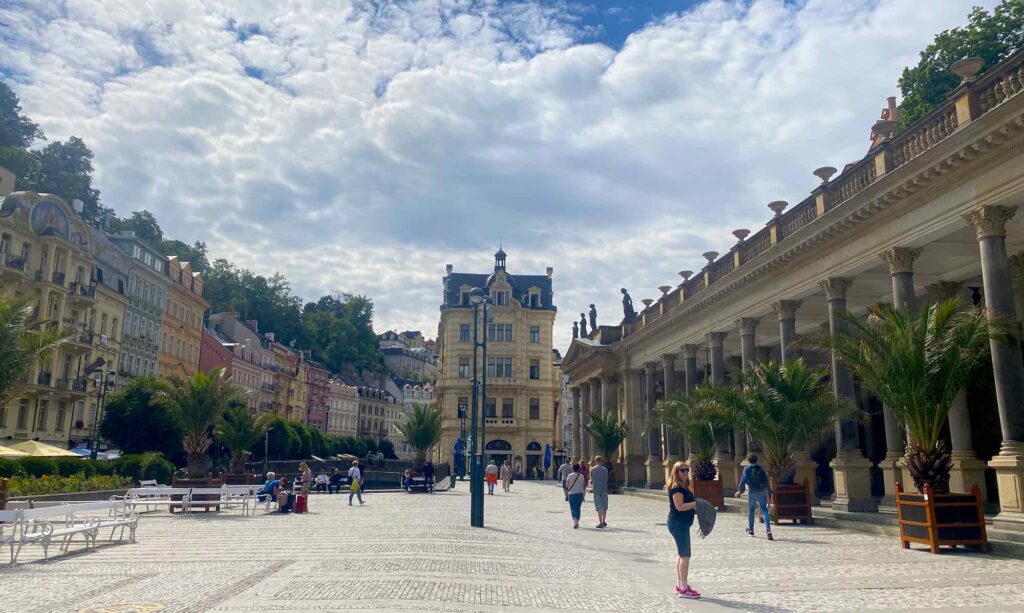 Plus, after wandering past many shops… we were wandering along Stara Louka. And, we had to stop along the way for some drinks and local foods. We could've sat there for hours admiring Karlovy Vary's beauty.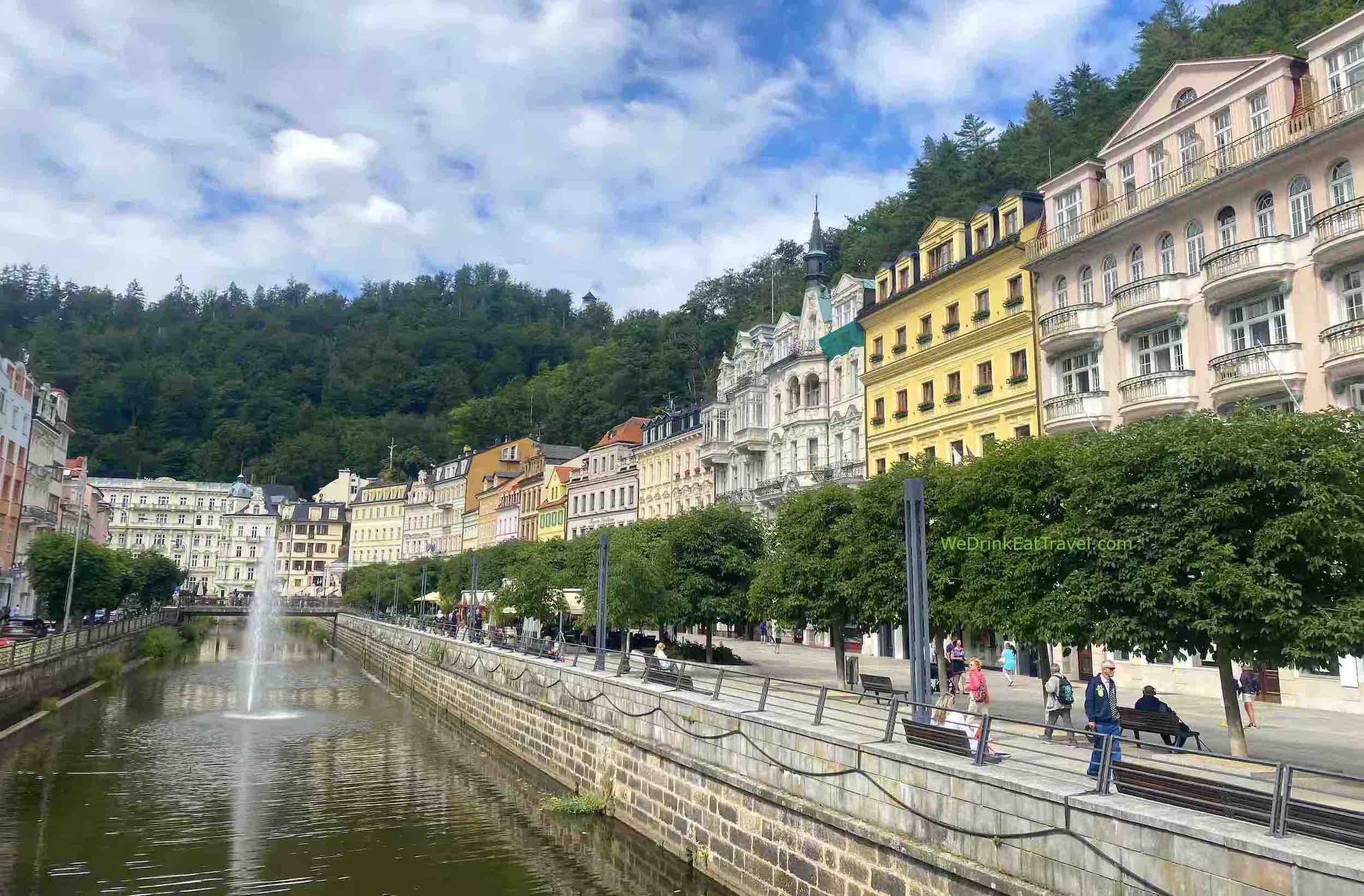 We trust that this blog has given you ideas for places to go in Karlovy Vary… so you can see different and amazing views of this town. And, with many walking paths through the forests, we're sure there are plenty more.
Having had the experience to explore Karlovy Vary… we know for next time that we need to spend much more time here! For us, a day trip is not enough to enjoy all that this town has to offer.
If you've been to Karlovy Vary… which place do you think was the best to get breathtaking views?
And, if you're looking at some unique experiences in Karlovy Vary… check out this guide.
You Might Be Interested In This Too…
20 Of The Best Things To Do In Karlovy Vary
25 Of The Best Things To Do In Kotor Montenegro
30 Awesome Free Things To Do In Prague, Czech Republic
10 Free Things To Do In Hue Vietnam
25 Amazing Things To Do In Dubrovnik Old Town
15 Interesting & Surprising Things To Do In Sarajevo Now
Check Out 15 Amazing Things To Do In Budva, Montenegro
Perast, Montenegro – Why You Need To Visit This Town
---
7 Awesome Places To Visit In Karlovy Vary For Amazing Views
Deer Jump Lookout (Vyhlídka Jelení Skok)
Diana Observation Tower
Wolf's Ruhe
Jean de Carro Park
Peter's Height Lookout
Mayer's Gloriette Lookout
Mlýnské Street to Stará Louka