When it comes to visiting the Czech Republic the town of Karlovy Vary may not be on the top of people's itinerary. Yet, it should be.
When we were in the Czech Republic, we made our base in Prague. And, if you've been to Prague… then you'll most likely have been gob-smacked by its beauty and history.
Not only that, it sure is a vibrant and exciting place to visit.
Yet, you need to make time to explore outside of the city of Prague. And, as we were fortunate enough to spend a lot of time in the Czech Republic… we were able to discover one of the most beautiful cities in Europe.
Karlovy Vary truly is a picturesque place. And, it's like you're in a dream world because it feels so magical.
Plus, this quaint town was put on the UNESCO World Heritage List in 2021… marking it one of the greatest spa towns in Europe. Karlovy Vary happens to be the biggest spa town in Czechia… with a tradition of providing spa services for over 600 years!
And, if taking spa treatments takes your fancy… you'll be spoilt for choice, as there are hundreds of hot springs and spas to choose from.
Yet, there's plenty more to do in Karlovy Vary as we found out.
So, in this We Drink Eat Travel blog… we'll highlight 20 of the best things to do in Karlovy Vary.
Now, we chose to take a bus from Prague to get to Karlovy Vary. And, after we got there around 9am, we took a stroll to this first landmark…
1. Smetana Orchards (Smetanova Sady)
Only a few minutes walk from the Karlovy Vary Trznice bus stop… is the beautiful Smetana Orchards. And, this was a great landmark to start our exploration of Karlovy Vary. That's because when looking down at the lush green manicured gardens, it was an amazing view…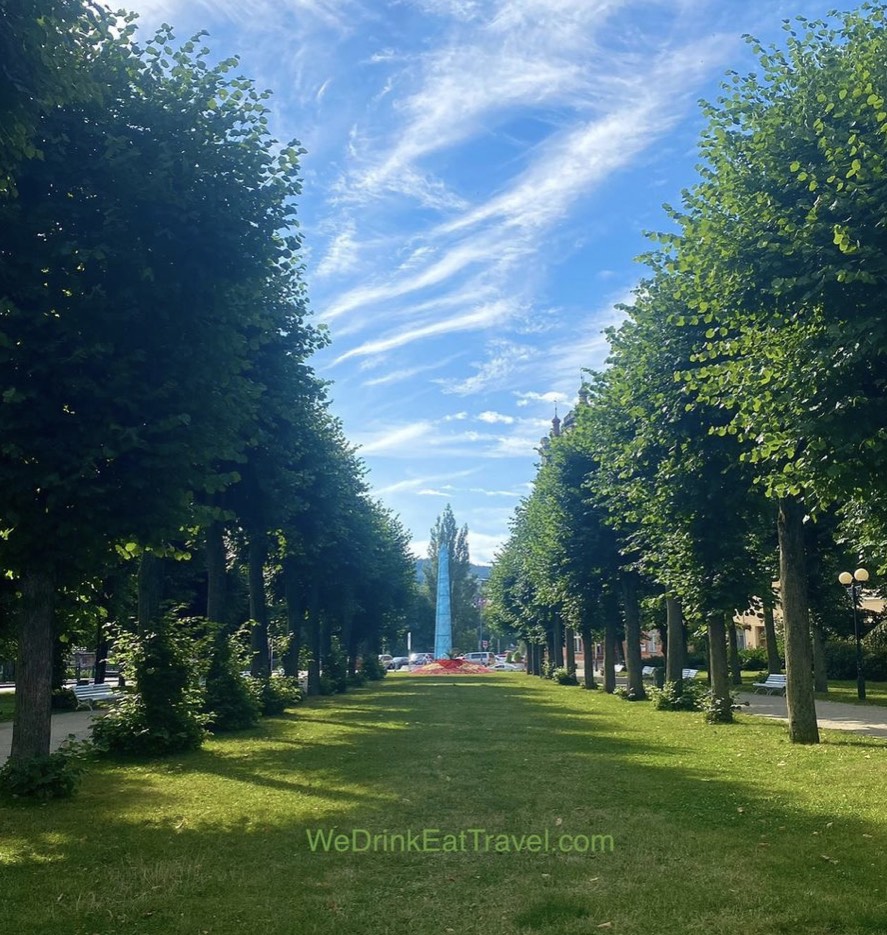 It looks picture perfect. Plus, what makes the area look even more grand is this…
2. Elizabeth Spa (Alžbětiny Lázně)
As we said earlier, there are hundreds of hot springs and spas in Karlovy Vary. And, the first one that we saw was the Elizabeth Spa. This majestic building with its ornate detail is over 100 years old… where its name was chosen in honor of the Empress Elizabeth.
There are over 50 health and wellness treatments available to choose from here… as well as a swimming pool area. Prices per person start from about 120 Koruna (4.90 Euros / USD $4.80 / GBP 4.20).
Now, one of the others things you can see in Karlovy Vary, for something different is this…
3. Karlovy Vary Flower Calendar
At the opposite end of the Smetana Orchards is this…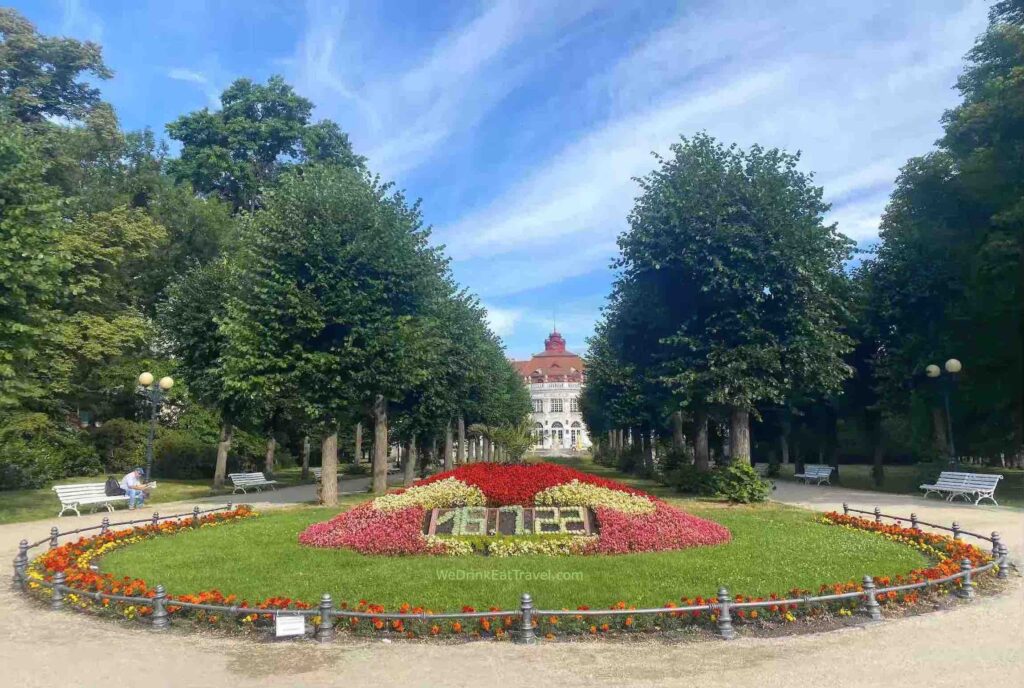 This is a floral calendar which is so bright, pretty and colorful. And, it's said that around the Summer months… the date of this calendar changes every day! So, plan your trip to Karlovy Vary accordingly, if you want to witness this beautiful display.
So, when it comes to architecture in Karlovy Vary, this next incredible building stands opposite the Flower Calendar…
4. Karlovy Vary Main Post Office
Now, when first looking at it… it wouldn't surprise us if you thought this building was a palace. Yet, no it isn't! Instead it's Karlovy Vary's main post office. Built during the time of the Austrian-Hungarian Empire rule… the detail is truly magnificent.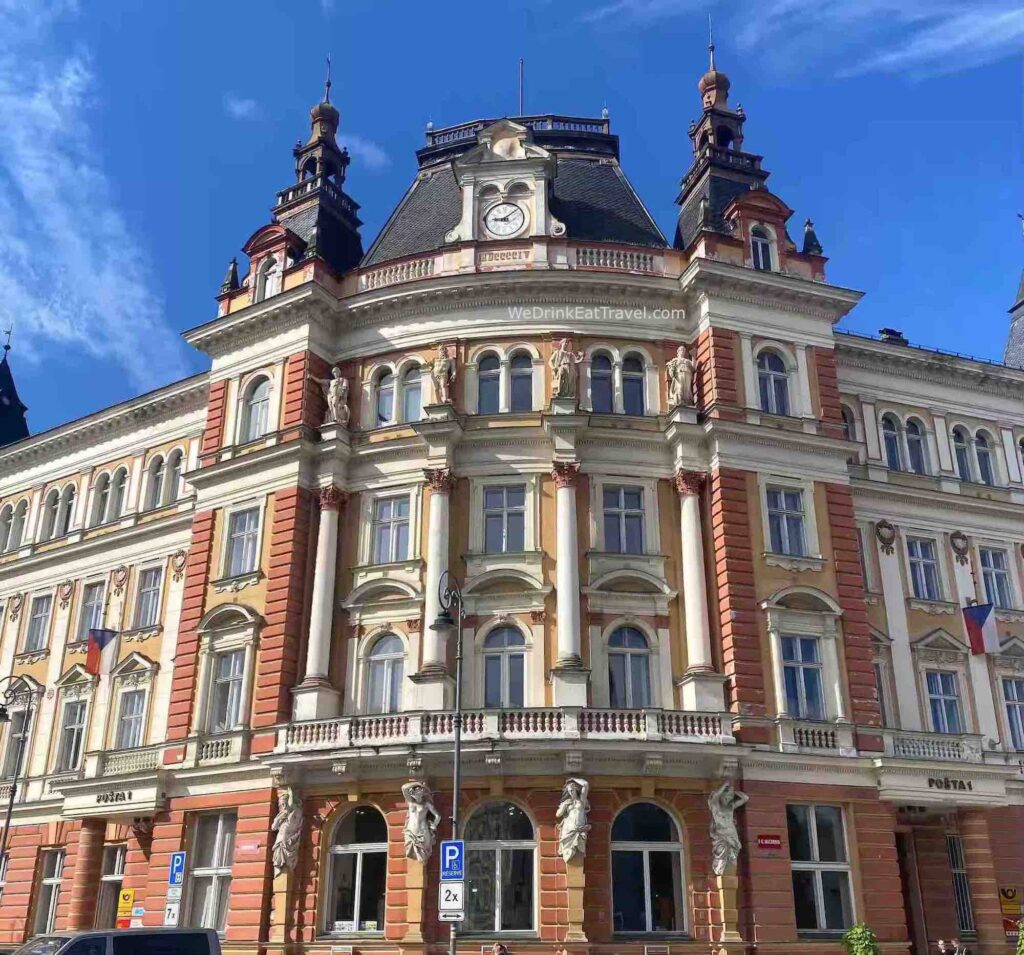 If you look at the centre of the building beneath the clock… there are 4 large pillars with different figures atop of each. And, these statues are said to represent telegraph communications, railway transport… as well as ship transport, and mail communications.
So, when you're standing in front of the post office, your eyes must be shut if you miss this next landmark…
5. Karlovy Vary Obelisk
This tall, shiny glass obelisk looks like it's balancing on top of 3 huge metal balls. Yet, we were given assurance that it is sturdy!
While a fountain surrounds the obelisk, when the sun is out… it helps to make this landmark glisten even more. Now, if you have a look back in our photo of the Smetana Orchards… you'll see the Obelisk shimmering right at the end, in the centre!
6. Take a Stroll Up Zahradní Street
If it's your first time in Karlovy Vary, you'll discover that there are so many beautiful streets to wander down… to admire the architectural beauty in this place. And, after having seen the main post office… we made the decision to continue our journey along Zahradní Street.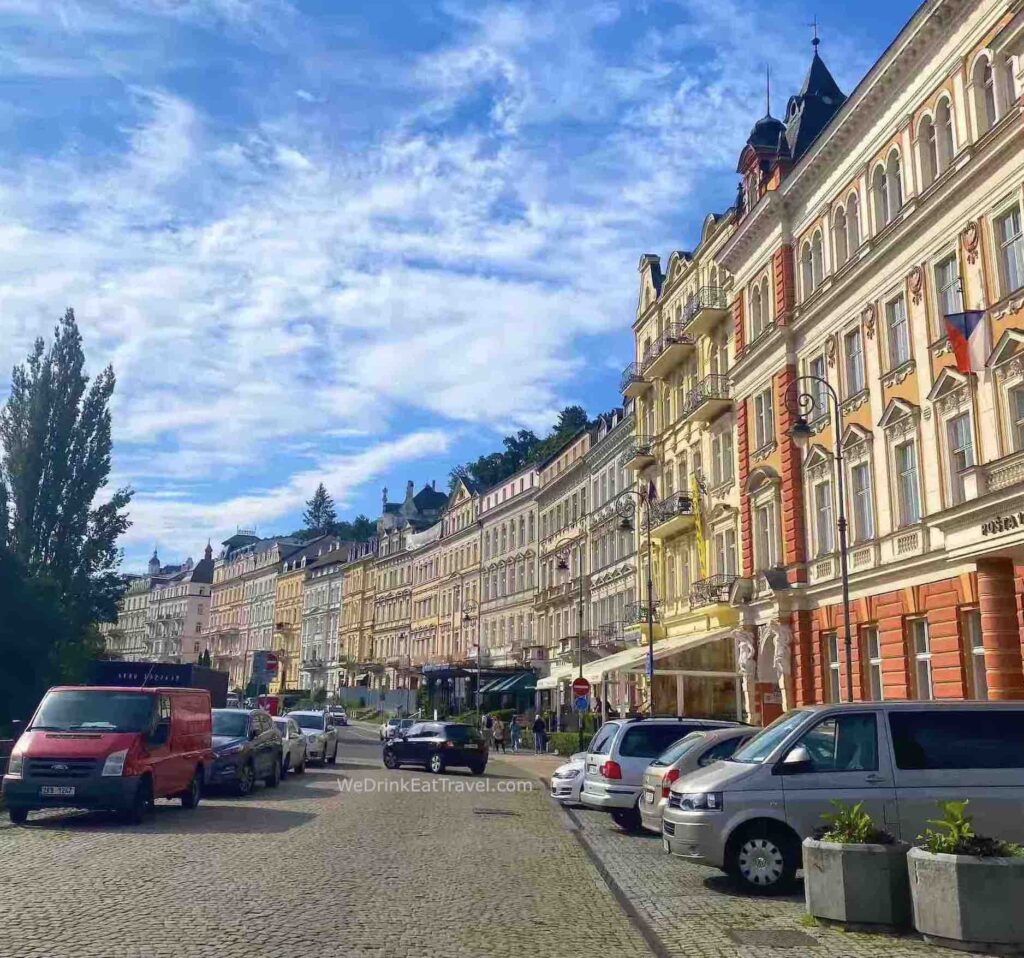 Along this cobblestone street, you'll see a collection of many colorful buildings… with their uniform, multiple rows of tall rectangular windows. Yet, it's so mesmerizing with each building a different pastel color… like, you're a kid in a candy store trying to choose the different flavors of your lollies.
Then, towards the end of this street, is one of the best things to do in Karlovy Vary…
7. Park Colonnade (Sadová kolonáda)
Karlovy Vary is known for being the "spa capital" of the Czech Republic. And, there are many mineral springs that attract locals and tourists alike. So, when you're near the end of Zahradní Street at Becher's Park… you'll see the Park Colonnade.
Here, in this elegant cast iron colonnade built in the 1880's, is the No. 15 Snake Spring. So, this is one of the places where you can taste the mineral water in Karlovy Vary. And yes, we did try the water at every spring that we went to!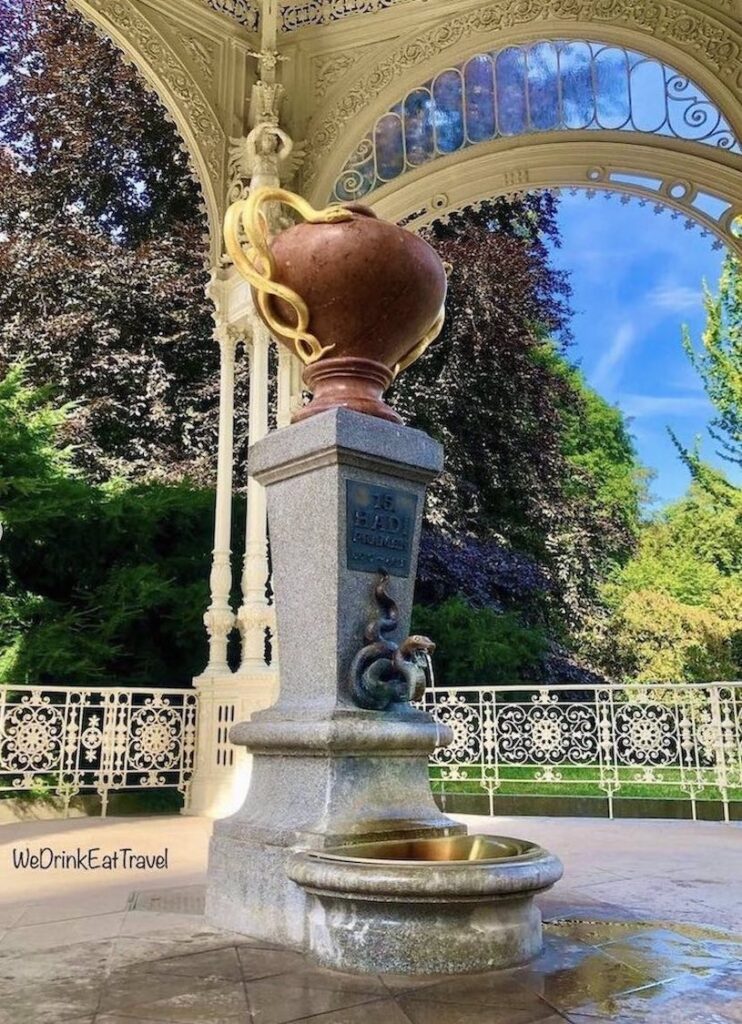 Now, the taste is not for everyone. Some of the springs have a sharper earthier taste… as the mineral content differs, and can be more pungent.
TRAVEL TIP for tasting the water at the Karlovy Vary mineral springs:
Now, as you're exploring the various mineral springs in Karlovy Vary… many of you will take the plunge to try the different tasting waters.
And, as they are all thermal, the temperature of the water can be up to around 75 degrees Celsius… (about 167 degrees farenheit). So, if don't have a suitable container, then there are stalls around Karlovy Vary selling these…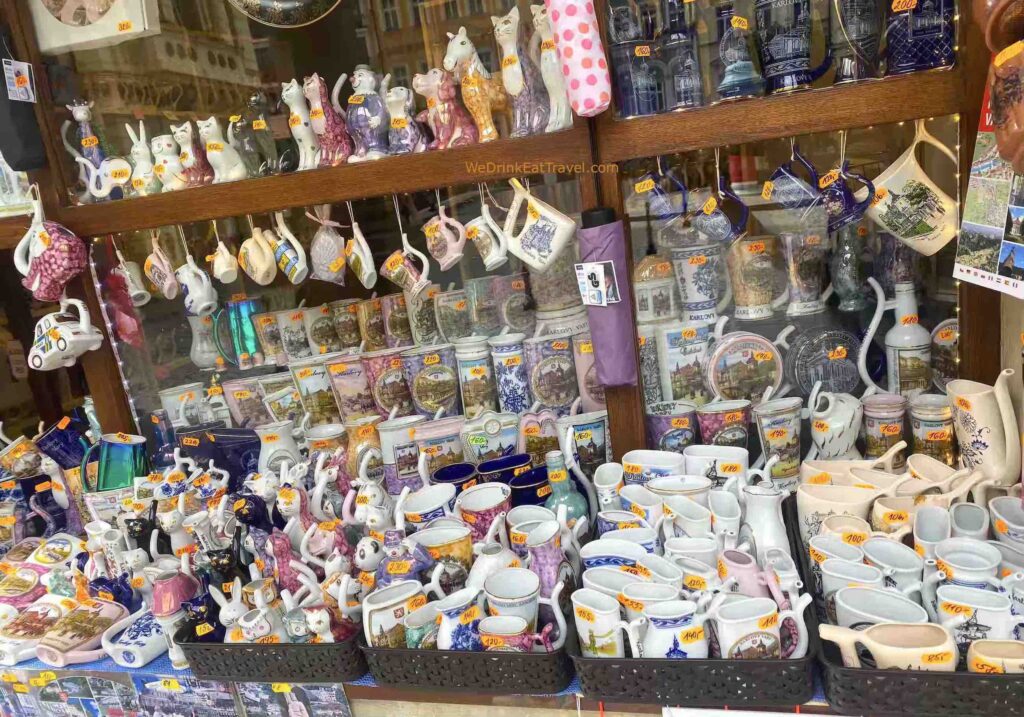 There are so many different styles and sizes to choose from. OK, it may seem touristy… but they do look charming. Yet, if you're in need of a container… you can get one starting from around 50 Koruna (2.05 Euros / USD $2 / GBP 1.75).
Plus, if size matters and you want one that looks more manly, there's lots of options. In fact, there's a style and size to suit everyone, even the kids… from rabbits, to cats, clowns, through to police cars!
8. Wander Along the Teplá River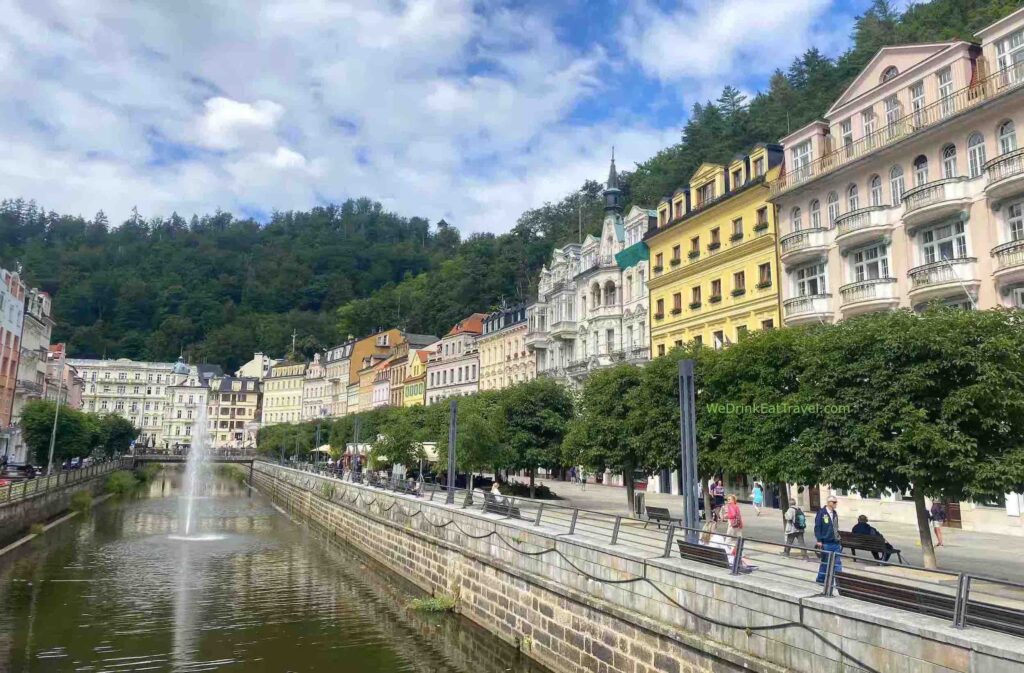 Now, you need to take a stroll along the waterfront here… especially if you want some picturesque and memorable photos. And, the side where we believe it's more remarkable… is on the Mlýnské nábřeží side of the river.
When you're strolling along the waterfront, it felt like we were in a different. It's hard to put it into context in a blog. But everywhere we would look… we would be blown away at how exquisite the buildings and environment were.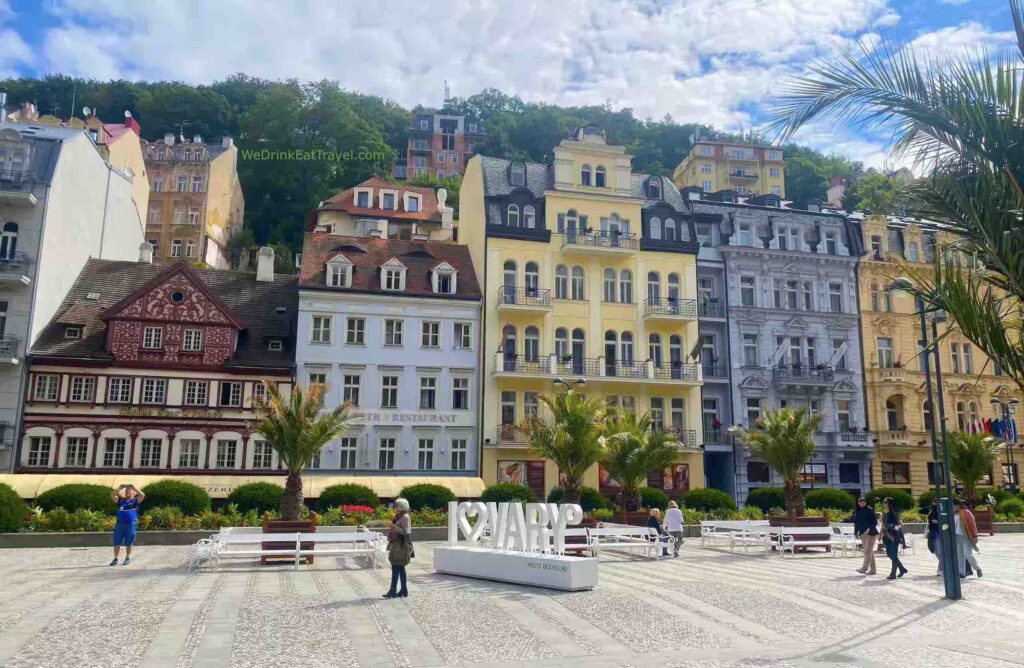 Plus, one of the most important landmarks in Karlovy Vary is here too…
9. Mill Colonnade
One of the most impressive colonnades in Karlovy Vary would have be this one… the Mill Colonnade.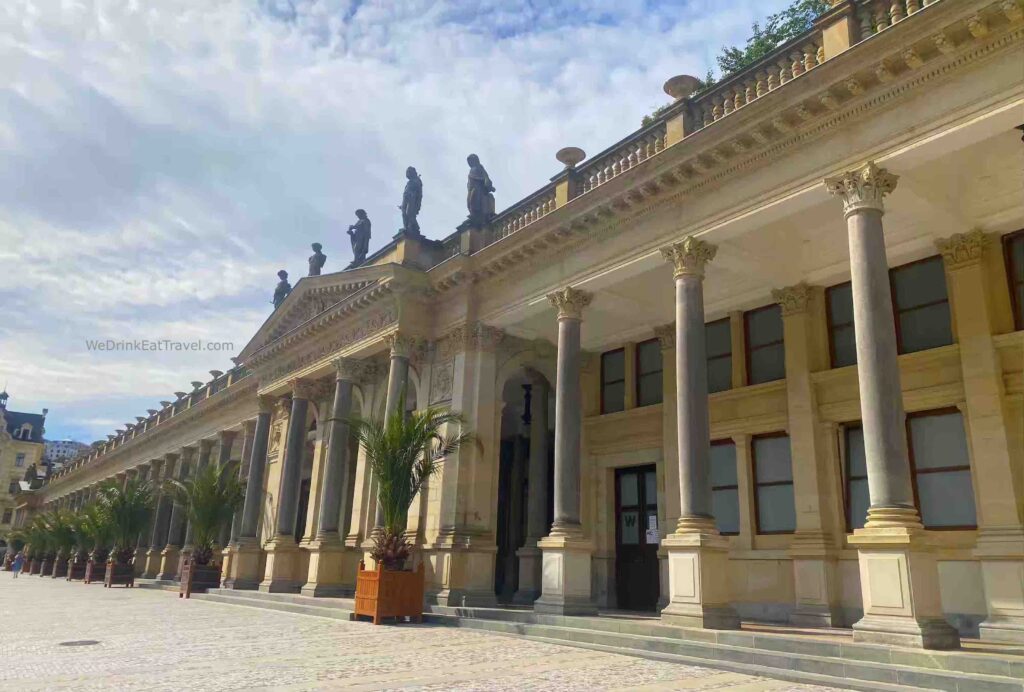 Built in the 1870's, this Neo-Renaissance architectural style colonnade is the biggest in Karlovy Vary… and houses several mineral springs.
And, remember to look up as you see 12 large figures standing on the colonnade. These are said to represent each month of the year. Yet, once you're within the Mill Colonnade it presents a truly spectacular views…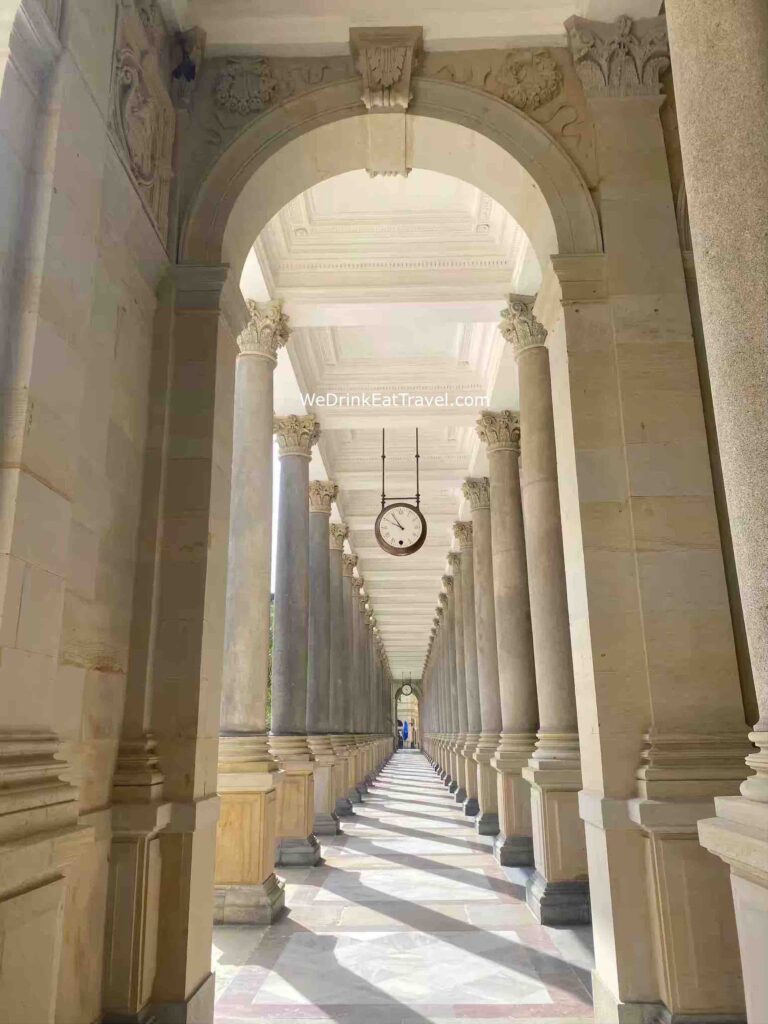 Now, for a completely different looking colonnade, you need to see this…
10. Market Colonnade
For us, this colonnade stood out in contrast to the others. With its striking Swiss style, and intricate detail that looks like lace… or even doilies! Yes, use your imagination here.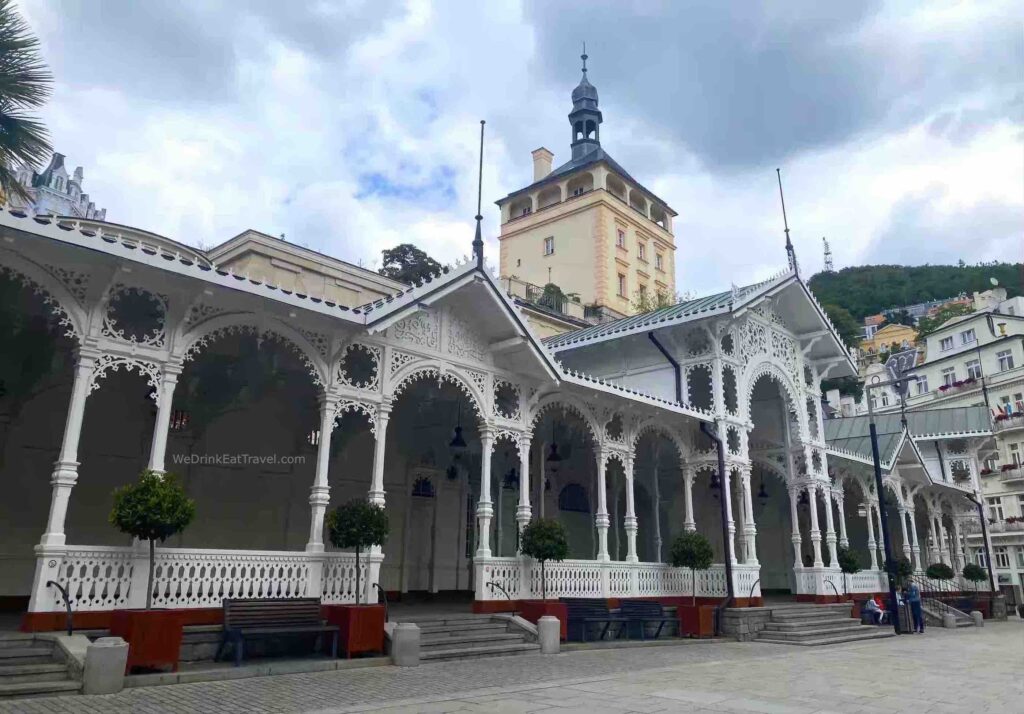 This colonnade was built from wood in the 1880's to cover the springs. Yet, one of the surprising things is that it was only supposed to be a temporary cover! Then, after more than a century of the structure still being there… it underwent re-construction in the 1990's and became a permanent fixture.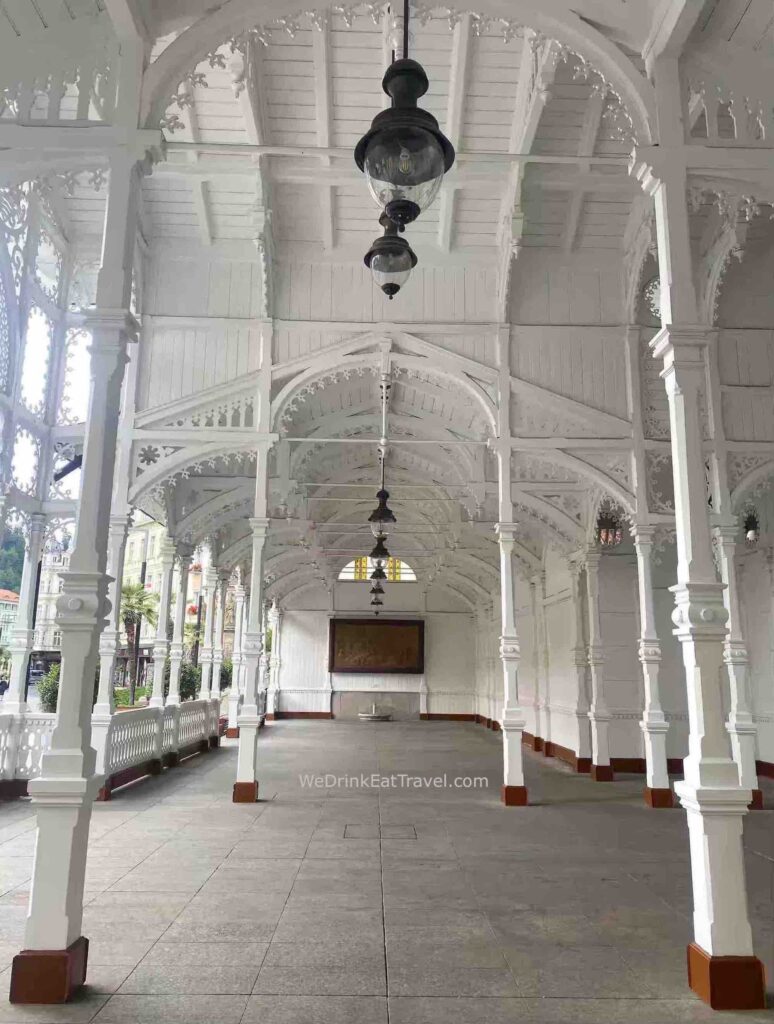 Now, only metres away from the Market Colonnade is this prominent monument…
11. Holy Trinity Column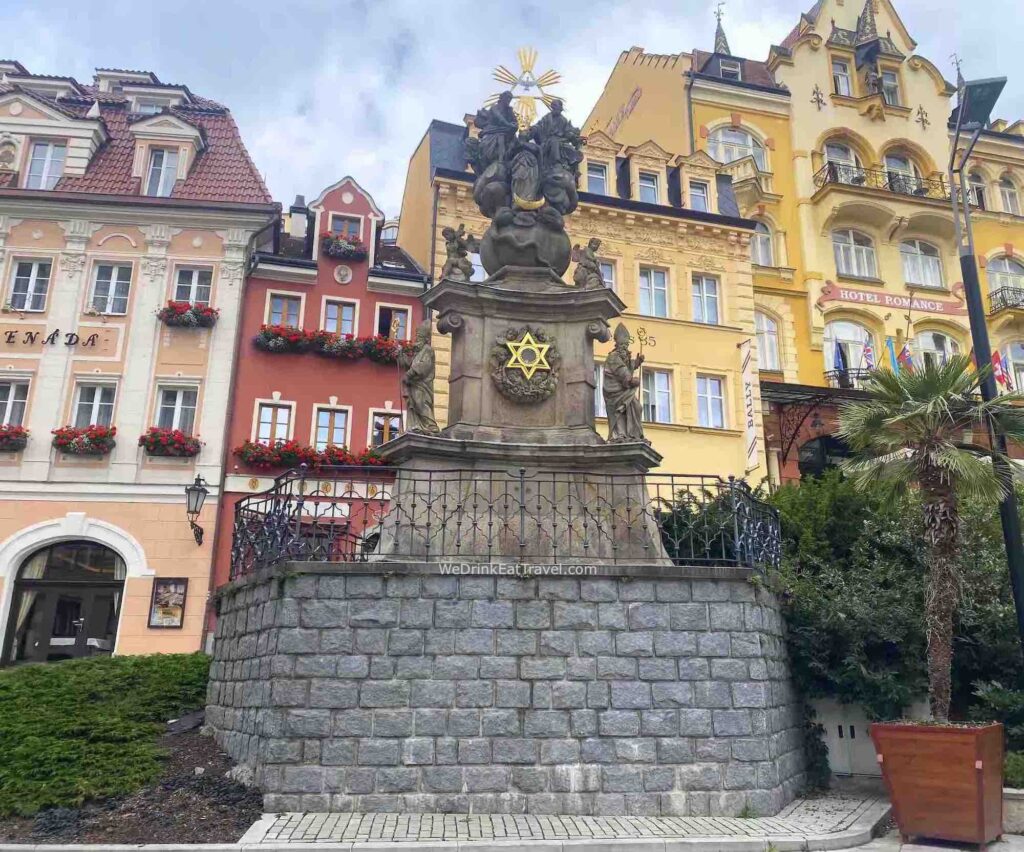 Like many cities in Europe, this Baroque-style monument was built following the plagues… that hit many of the countries and towns. Yet, the town of Karlovy Vary and its people were lucky… having not had the devastating impacts of the plague. Thus, the column represents the gratitude of the people… for protection from the disease.
So, next up on our list of the best things to do in Karlovy Vary is to see this…
12. Hot Spring Colonnade
While there are several colonnades in Karlovy Vary to see… the Hot Spring Colonnade is popular. We had to patiently wait to take photos and videos… so that we didn't have any people in them!
This colonnade has a surround of floor to ceiling windows… allowing natural light to flow through. And, the room has a high ceiling, which it sure needs… as the height as the water shoots out with a blast, to about 12 metres high!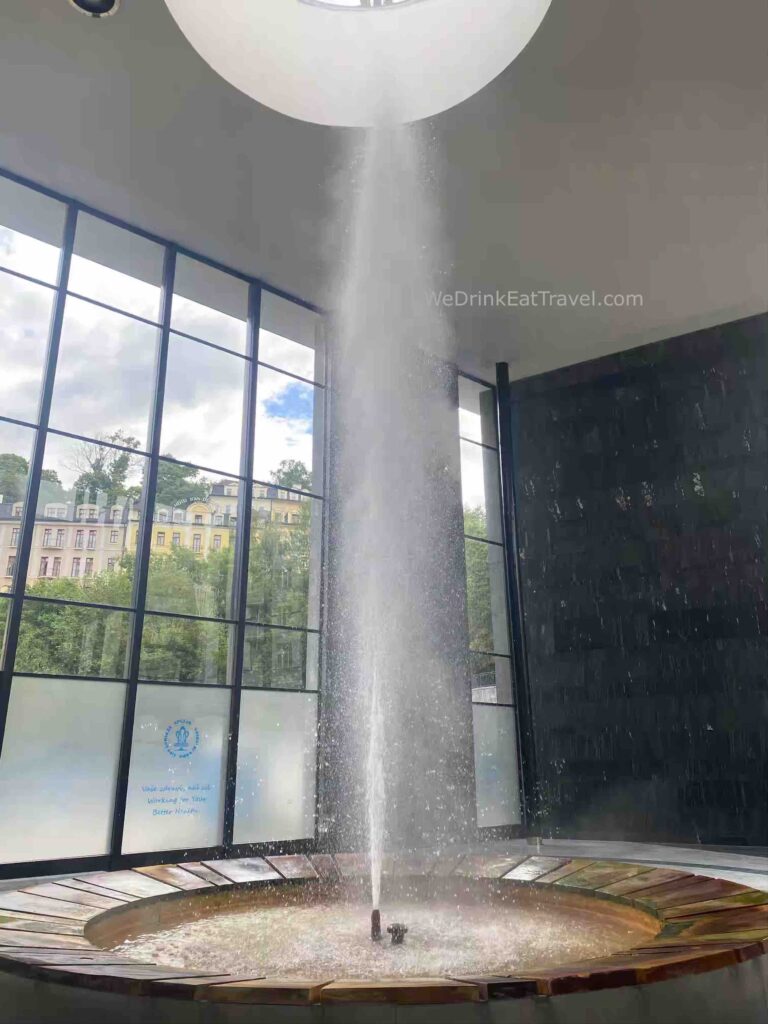 You can feel the heat and moisture within the room encircling you. So, it's a great place to be if you want some cosy warm comfort.
13. Relax and Recharge on the Riverfront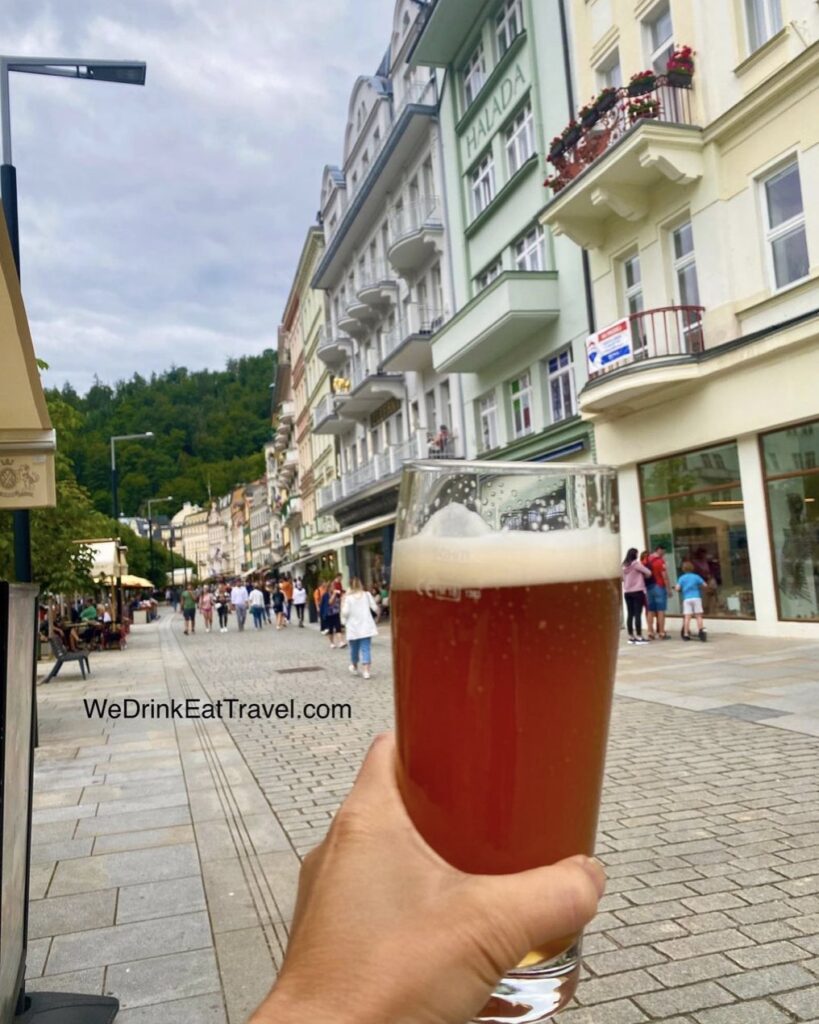 While you're in Karlovy Vary, you'll want to stop to relax to have some food and drinks. And, one area where you can enjoy amazing views in a wonderful environment… is on Stará Louka.
This quaint street is lined with a variety of shops and restaurants on one side… and the Tepla River on the other. And, we recommend it as a place to chill out, before continuing on your adventures. We could've sat there all day people watching and soaking up the beauty… yet, we were only there for a day trip.
Now, for you James Bond fans, you'll want to visit this place…
14. The Grandhotel Pupp in Karlovy Vary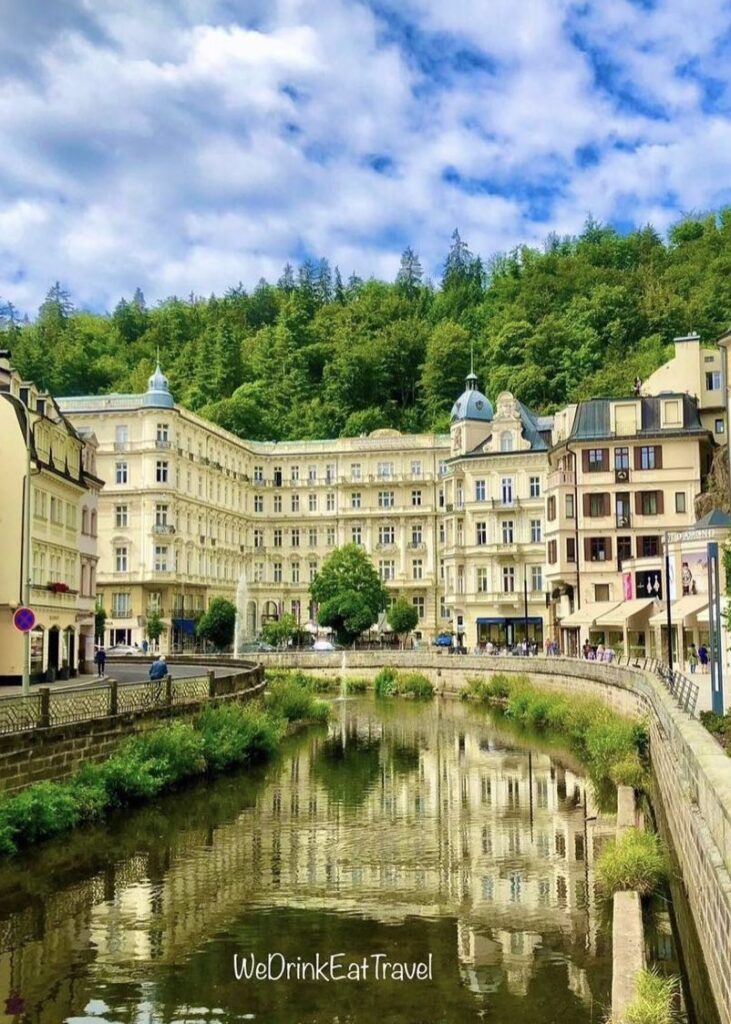 The popular James Bond film, Casino Royale features the Grandhotel Pupp. So, for the fans, why not replay the scenes when here in Karlovy Vary!
The history of this majestic and luxurious 5-star hotel dates back to 1701. And, not only does this hotel look incredible it's also unique. Did you know that each room in this hotel is different?
That's right, each hotel had its own unique style and character. Plus, with over 200 rooms, that's a lot of work to put into each! Can you imagine staying in each room?
15. Witness Some of the Most Breathtaking Views of Karlovy Vary
From our point of view, one of the things you must do in Karlovy Vary is to take a hike! And, if you're willing to walk up through the forest… you'll see some spectacular views over Karlovy Vary. And, when you do you can get breathtaking views like this…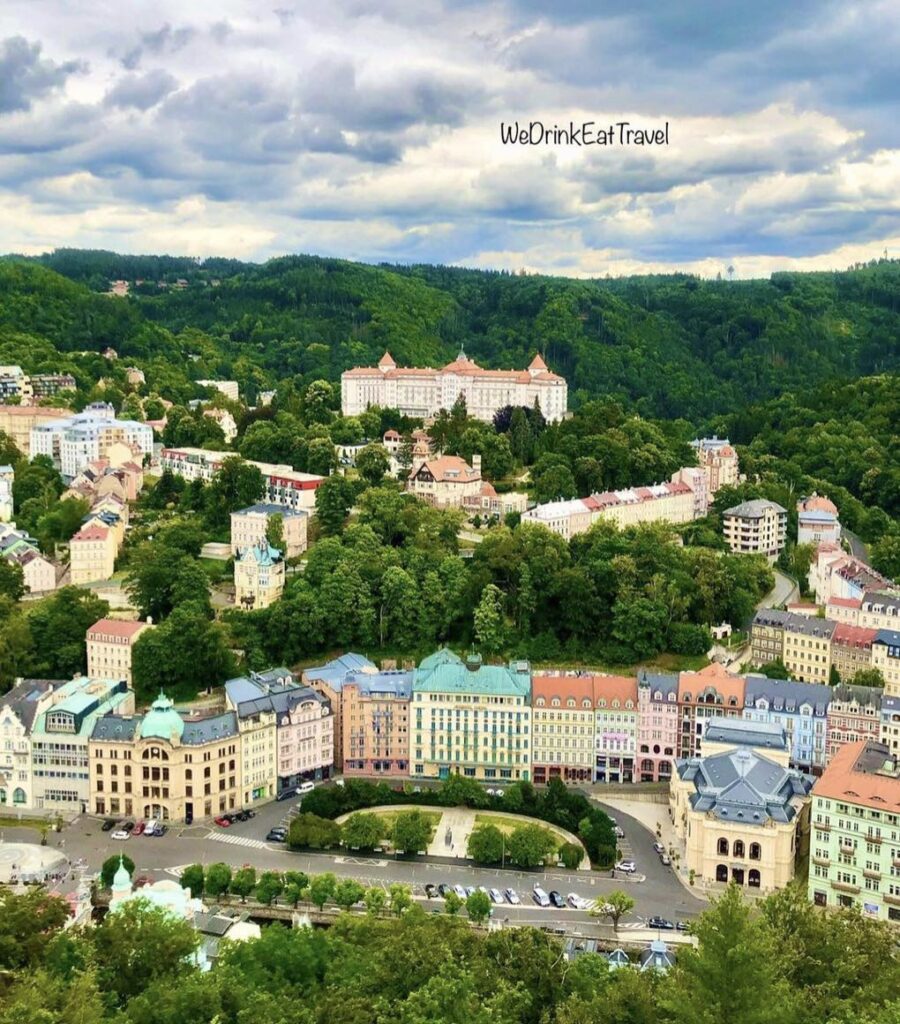 Now, in another travel blog… we'll give you more details on hiking to the lookouts around Karlovy Vary. Make sure you check it out as we give some helpful hints and tips.
16. Karlovy Vary Town Theatre (Karlovarské Městské Divadlo)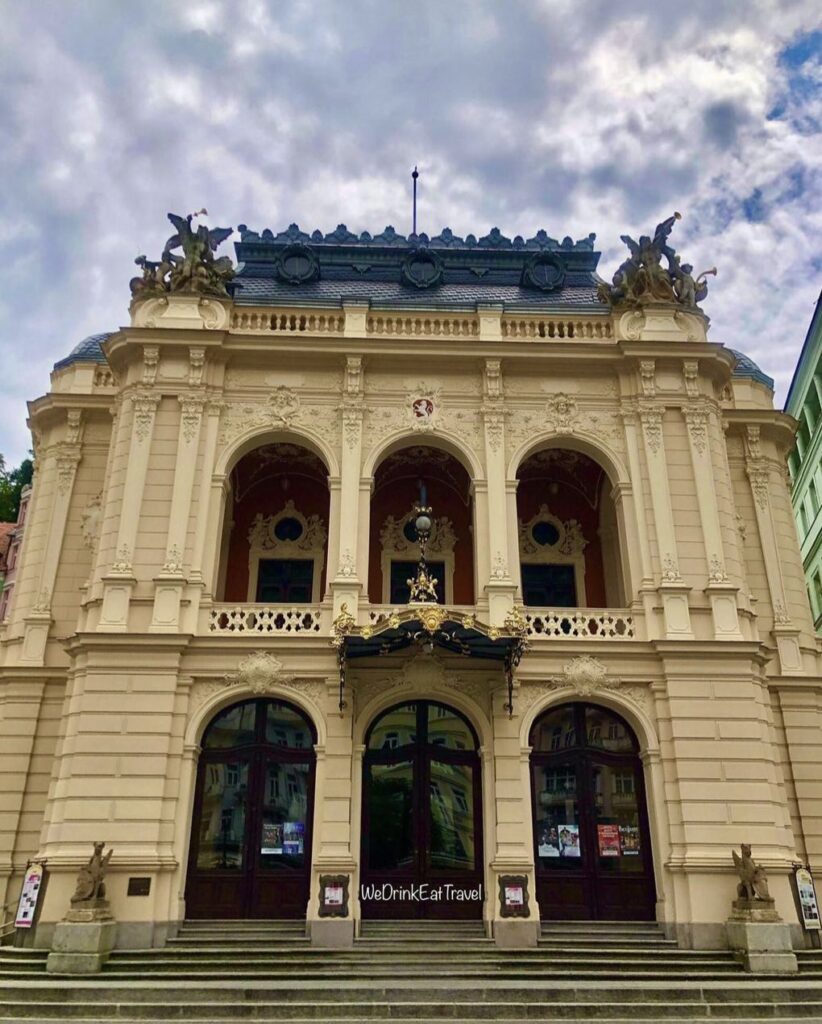 While there are so many architectural delights in Karlovy Vary… their theatre sure does stand out. Built in the 1880's, this Neo-Baroque style theatre is a masterpiece… as designed by various Viennese architects and designers. Unfortunately, while we were there, the theatre wasn't open.
Yet, we have seen and heard that the interior is as magnificent on the inside… as it is on the outside. So, make sure you check it out if you have the opportunity. This is a functioning theatre, so why not see a performance if you have the time. Or mingle with the celebrities during the International Film Festival.
17. Church of St Mary Magdalene (Kostel Maří Magdalény)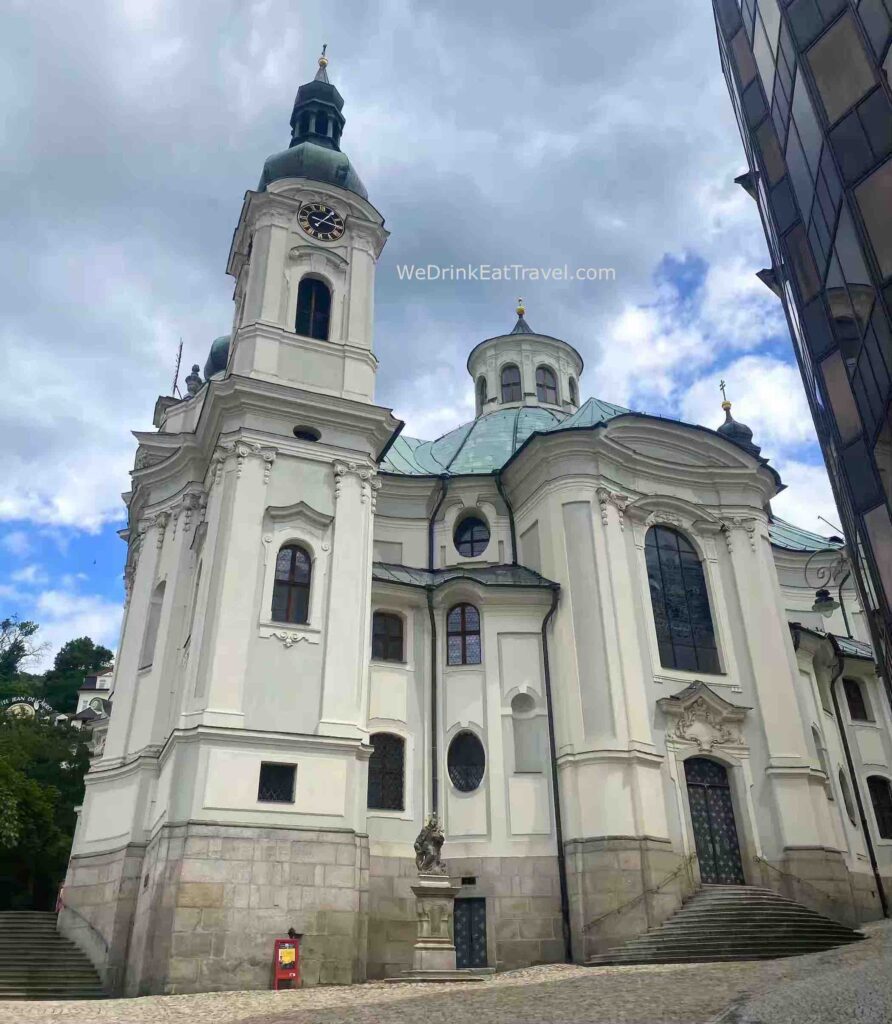 If you want to see an example of a beautiful Baroque-style church in a quaint town… then head on over to St Mary Magdelene's Church. Although it was built in the 1730's… the history of where this church is dates back to the 1300's.
Originally there was a gothic church here with a cemetery surrounding it. Yet, after undergoing a style upgrade in the 16th Century… the church suffered fire damage. And, rather than salvage it… the area was cleared to build the Church of St Mary Magdalene.
We recommend this as another area you should see in Karlovy Vary… especially if you want to view this town from a different perspective.
18. Jean de Carro Park (Sady Jeana de Carro)
Nearby St Mary Magdelene's Church is Jean De Carro Park. This landmark had less tourists around, which isn't a bad thing. Yet, you should take a walk uphill along the cute cobblestone street… which is nearby the Wellness Hotel Jean de Carro.
And, while you're there, check out the amazing views…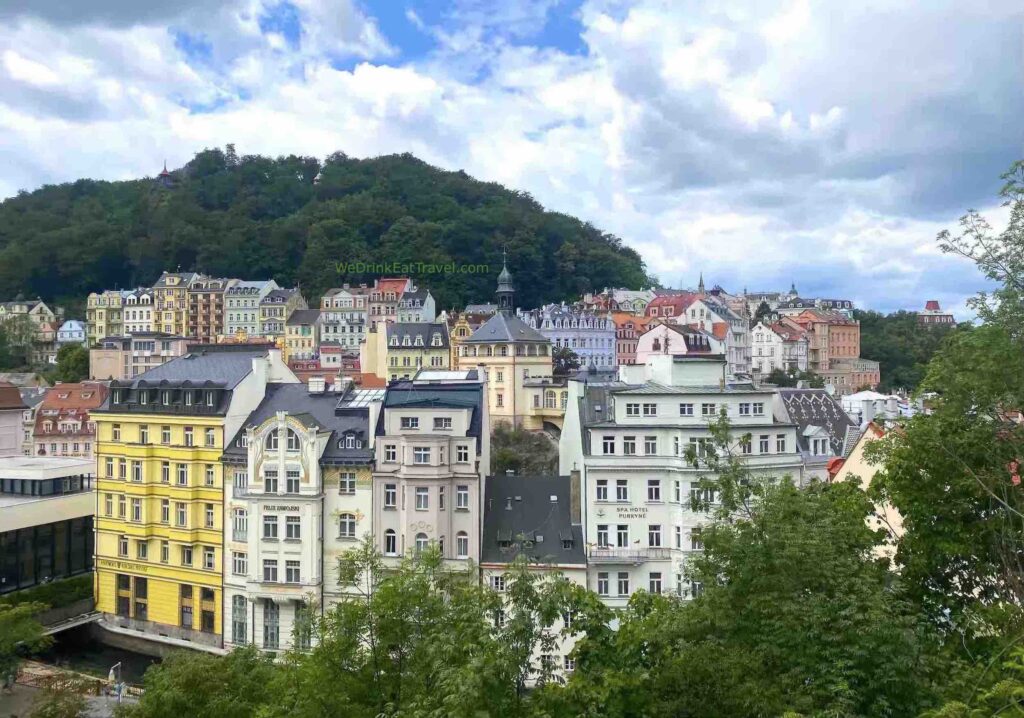 Now, for more incredible architecture, you need to see this…
19. Orthodox Church of St Peter and Paul
When wandering around Karlovy Vary… we were catching glimpses of gold in the sky, out the corners of our eyes. We thought we were going crazy in this dreamland, yet thankfully we weren't!
Instead, the gold that was glistening was from the Orthodox Church of St Peter and Paul…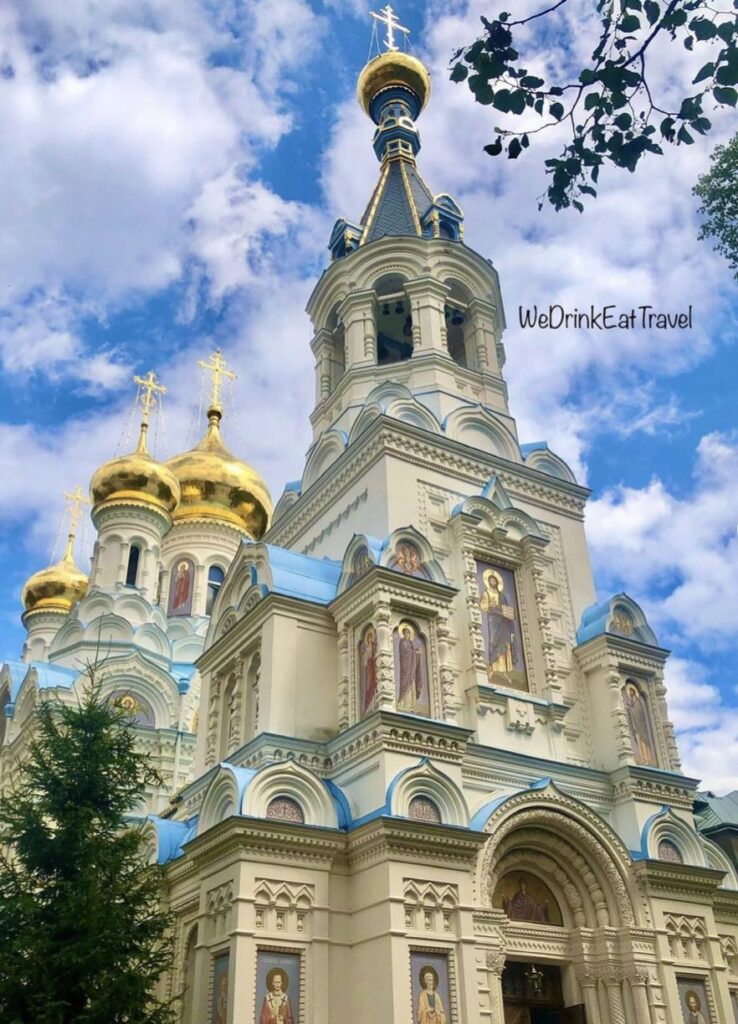 How magnificent is it? The church was built in the late 1800's in a beautiful Byzantine-style, with incredible detail. Plus, when you go inside… you'll be gob-smacked by its internal elegance too.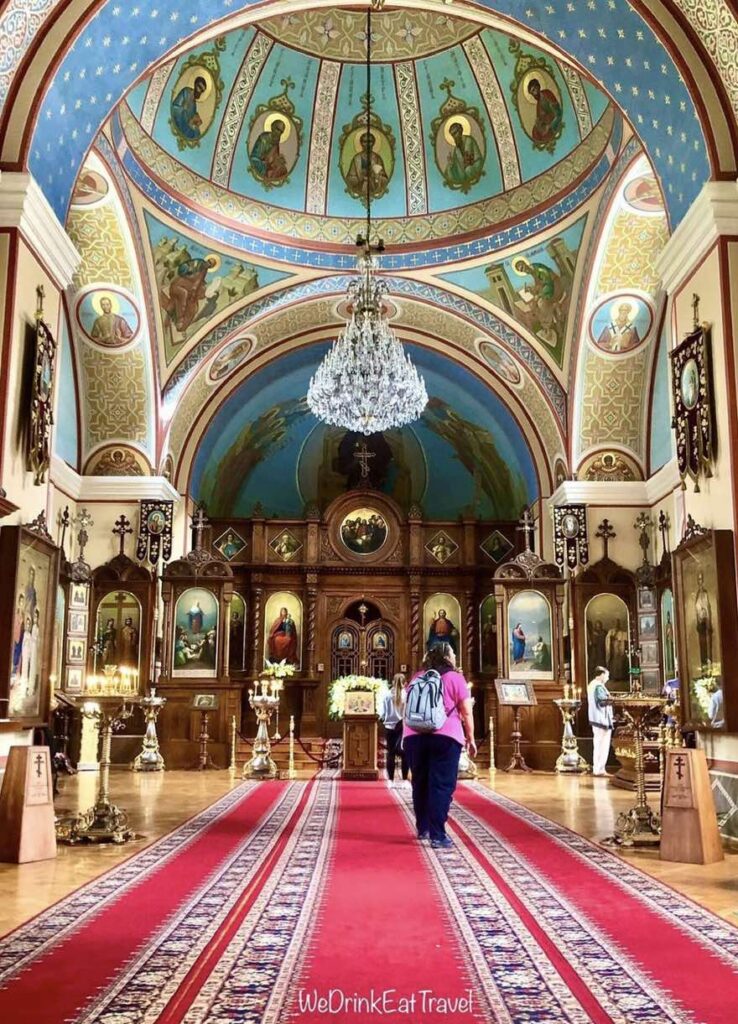 Whenever I look at photos of this church… it reminds me of something out of a fairytale.
And last, but not least on our best things to do in Karlovy Vary travel blog, is this…
20. Wander Through Masaryka Street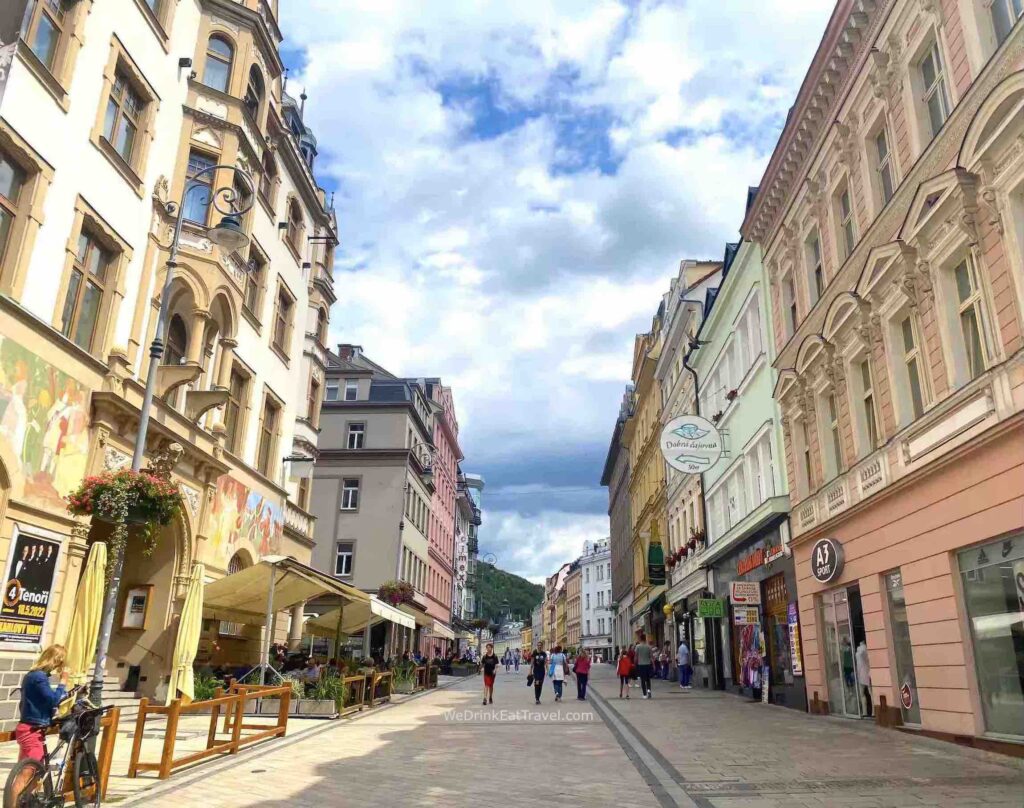 Masaryka Street is the main pedestrian walking street in Karlovy Vary. There are many pretty and bright colorful pastel buildings lining this street… where you can shop until you drop, or eat, drink and be merry.
And, while we didn't do any shopping here… we did enjoy some beverages and food, while watching the world go by.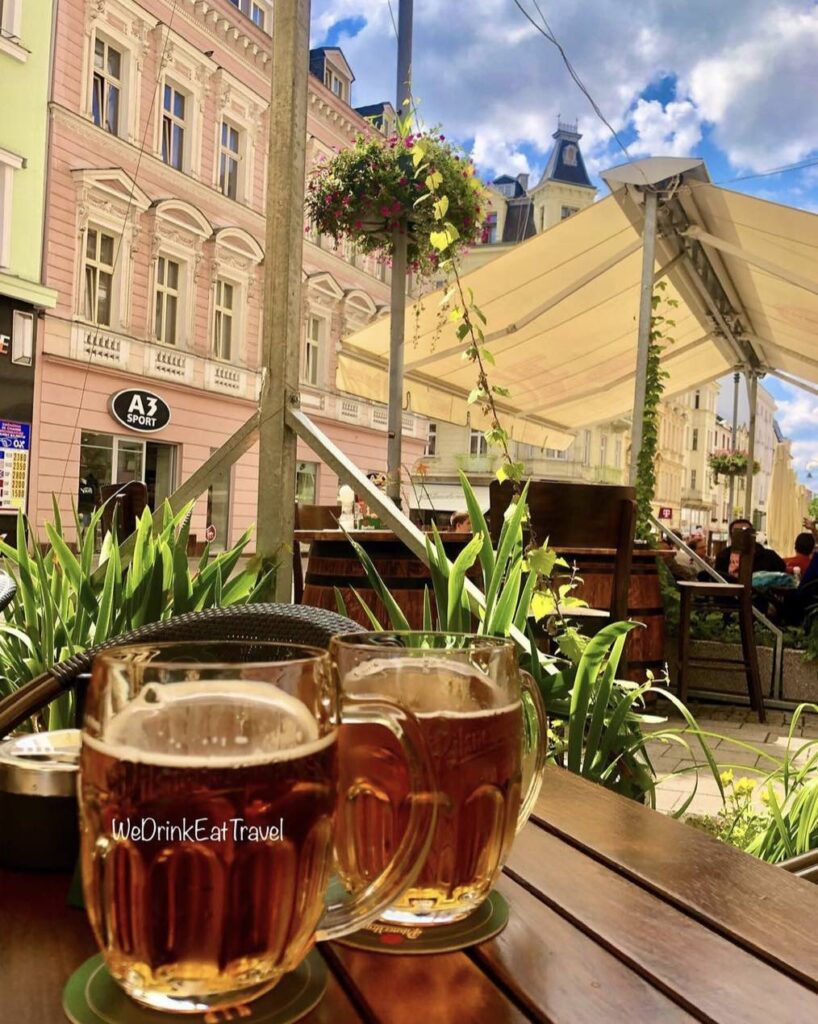 Plus, there are several other pedestrian only streets where you can experience similar vibes… such as
Wow, so that was 20 of the top things to do in Karlovy Vary, from our point of view. Now, there are plenty more things to do and places to see.
This UNESCO Heritage Listed Site is such an amazing place to visit. It oozes so much charm and everywhere you look there's beauty. Karlovy Vary is one of our favorite towns. It felt like the locals put a lot of effort in the upkeep of their town. And, that is refreshing.
From incredible architecture, to walking up hills to witness breathtaking views… through to relaxing in a gorgeous environment eating and drinking local cuisine. It sure was mesmerizing with everything Karlovy Vary has to offer… not to mention the health benefits from its hot springs!
Plus, even if you only have time for a day trip… it's easily do-able, as it only takes about 1.5 – 2 hours to get here from Prague. So, make sure you put it on your list of places to visit when in the Czech Repbulic. And, we trust that you'll have a great time too in Karlovy Vary.
And, if you're looking at some unique experiences in Karlovy Vary… check out this guide.
Watch Our Awesome Karlovy Vary YouTube Video…
You Might Be Interested In This Too…
Check Out Our Experience At The Courtyard Marriott Brno Hotel
One Of The Amazing Places To Visit In Cesky Krumlov
Interesting & Surprising Things To Do In Česky Krumlov
30 Awesome Free Things To Do In Prague, Czech Republic
Discover 12 Of The Best Bars In Belgrade, Serbia
25 Of The Best Things To Do In Kotor Montenegro
10 Free Things To Do In Hue Vietnam
One Of The Little-Known Top Things To Do In Dubrovnik
Night Market Bangkok: All Aboard For The Ratchada Rot Fai Train Night Market
---
20 Of The Best Things To Do In Karlovy Vary
Smetana Orchards (Smetanova Sady)
Elizabeth Spa (Alžbětiny Lázně)
Karlovy Vary Flower Calendar
Karlovy Vary Main Post Office
Karlovy Vary Obelisk
Take a Stroll Up Zahradní Street
Park Colonnade (Sadová kolonáda)
Wander Along the Teplá River
Mill Colonnade
Market Colonnade
Holy Trinity Column
Hot Spring Colonnade
Relax and Recharge on the Riverfront
The Grandhotel Pupp in Karlovy Vary
Witness Some of the Most Breathtaking Views of Karlovy Vary
Karlovy Vary Town Theatre (Karlovarské Městské Divadlo)
Church of St Mary Magdalene (Kostel Maří Magdalény)
Jean de Carro Park (Sady Jeana de Carro)
Orthodox Church of St Peter and Paul
Wander Through Masaryka Street