With our travels in Montenegro coming to an end… we had to decide where our final destination would be before we'd move on to our next adventures. And, at the time we were exploring the Tivat and Kotor regions.
So, nearby these areas, a short 25km away is the town of Budva.
Now, we did hear and read about travelers' different experiences… in the ancient town of Budva. Some of the reviews of Budva were positive… while others thought it was an OK place, but nothing great.
It's said that Budva is known for its party atmosphere and vibrant nightlife… especially during Summer. Plus, during the Summer time is one of the most important events on the Budva calendar… which is Theatre City. And, this is where they transform different areas of Budva, including the Old Town… to reveal various stages.
And, these stages are set up for a host of different activities to take place, such as drama performances… as well as music, art exhibitions, poetry readings, and more. Plus, each year the festival has a different theme. So, for fun and sun, Budva sounded like the place to be.
Yet, the only problem was… we were going to be in Budva during Spring! So, the exciting Summer Budva attractions that this town is known for… we'd have to miss out on for this trip.
Thus, our focus would be on seeing historical sites and amazing architecture. Plus, we would have the opportunity to explore another UNESCO Heritage Listed town in Montenegro. So, adding to our long list of UNESCO sites that we have seen… as We Drink Eat Travel around the world.
Now, despite the varying reviews from fellow travelers, including the negatives… this didn't deter us. At the end of the day… we'll never know what a place is like unless we go there ourselves.
So, for our last place to visit in Montenegro, we made the decision to visit Budva. Unfortunately, in the week that we were there… the weather was rainy and windy, except for 2 days. And, as you could imagine, we packed in as much as we could.
Thus, in this We Drink Eat Travel blog post… we share with you 15 things to do in Budva, Montenegro.
Let's get right into it now!
Old Town Budva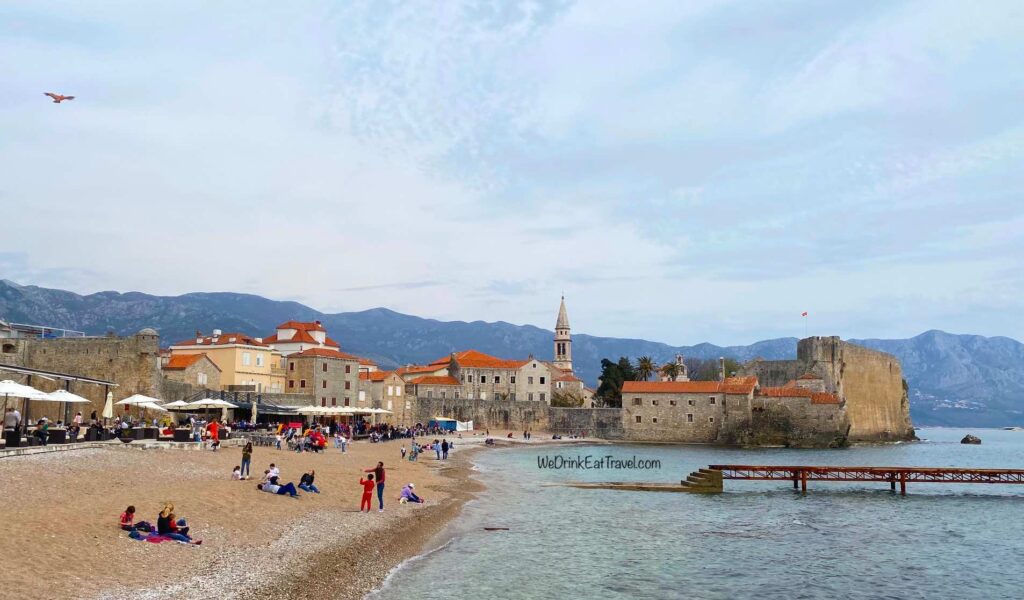 One of the most popular Budva attractions would have to be… the UNESCO World Heritage Listed, Old Town. The huge medieval-style stone walls, towers and gates surround a little town… which is over 2,500 years old! And, even to this day, people still live and work within this historic place.
Over these thousands of years, Budva has had several rulers including… the Ottomans, Greeks, Venetians, and Austro-Hungarians. And, their influences can be seen from the many incredible structures… as well as cultural artefacts that feature in the Old Town.
From museums, to churches, to bars and shops… there's many things to explore when visiting Budva Old Town.
Now, to get into the Old Town, it's free. And, while there are several entrances to the Old Town… here are 2 main gates where you can enter to explore this quaint place. And, there's a reason why we wanted to highlight these gates for you. Keep reading to find out…
Check out the Main Budva Old Town Gates
Now, there are 2 prominent gates where you can enter Budva Old Town. And, because it's not a huge area, you may as well make the time to see both gates. And, it's said that the reconstruction and preservation of these 2 following gates… was estimated at 13,226.15 Euros!
The Main Gate (Velja vrata)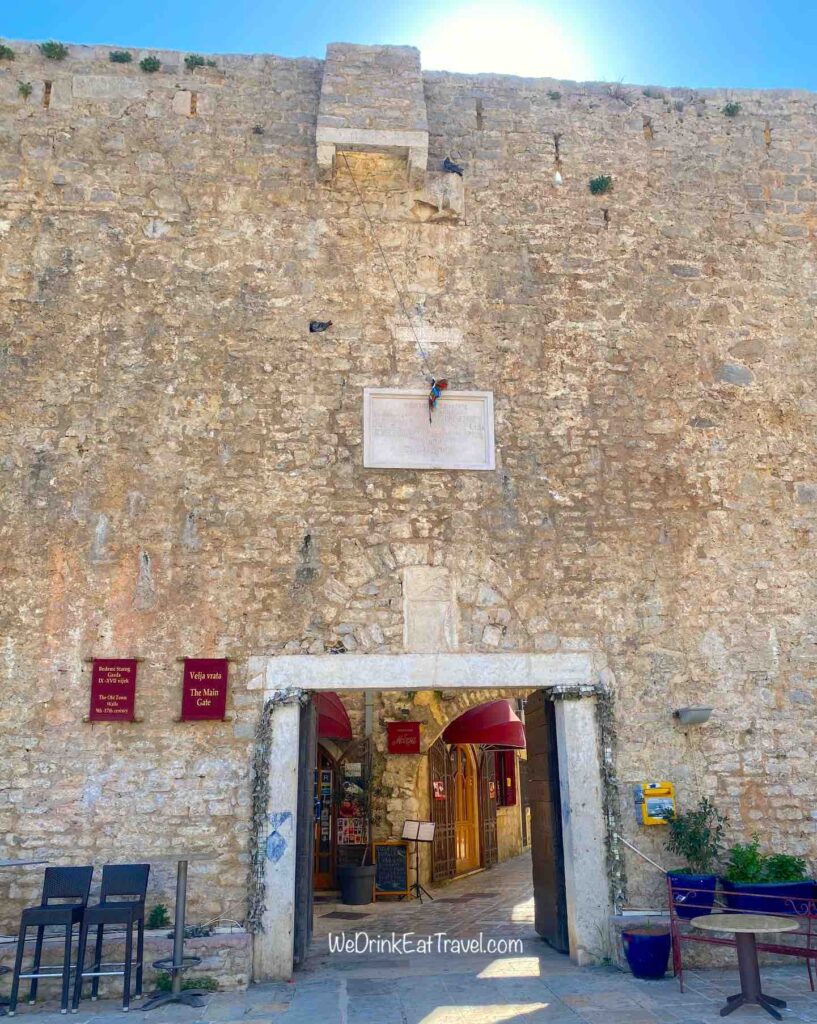 Pisa Gate (Vrata od Pizana)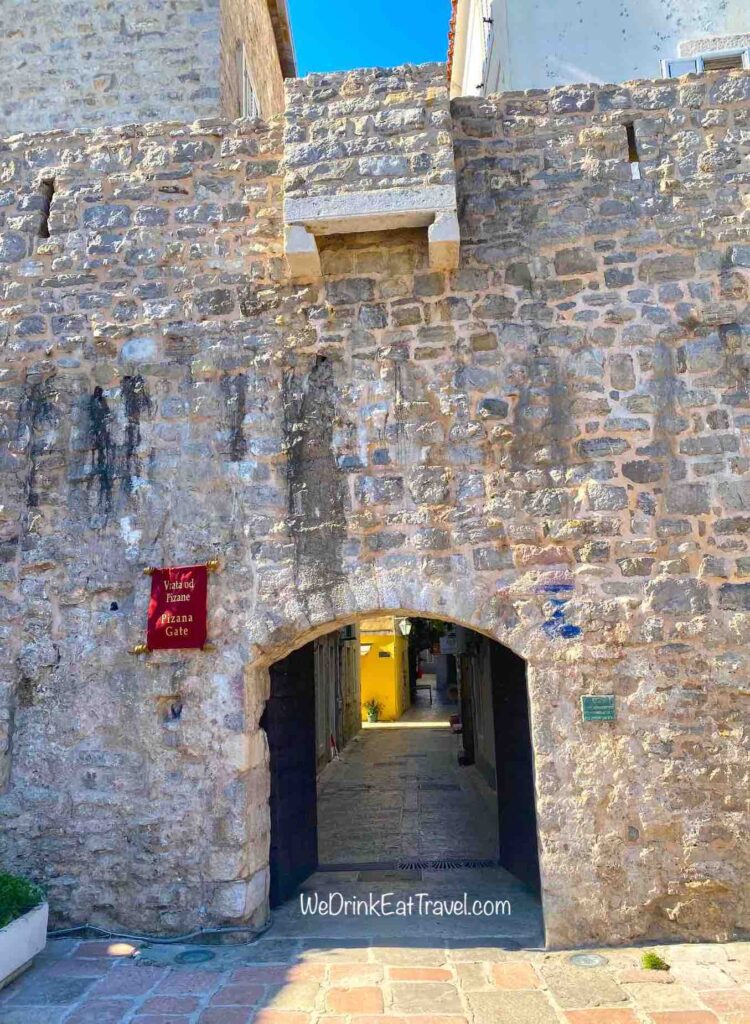 For such a small town, Budva does have many churches. And, within the Old Town itself, there are several that you can see, each with their own unique history…
Saint Ivan Church
Within Budva Old Town Churches Square is, St Ivan Church. With its tall and prominent bell tower it sure stands out, especially when you look at Budva from afar.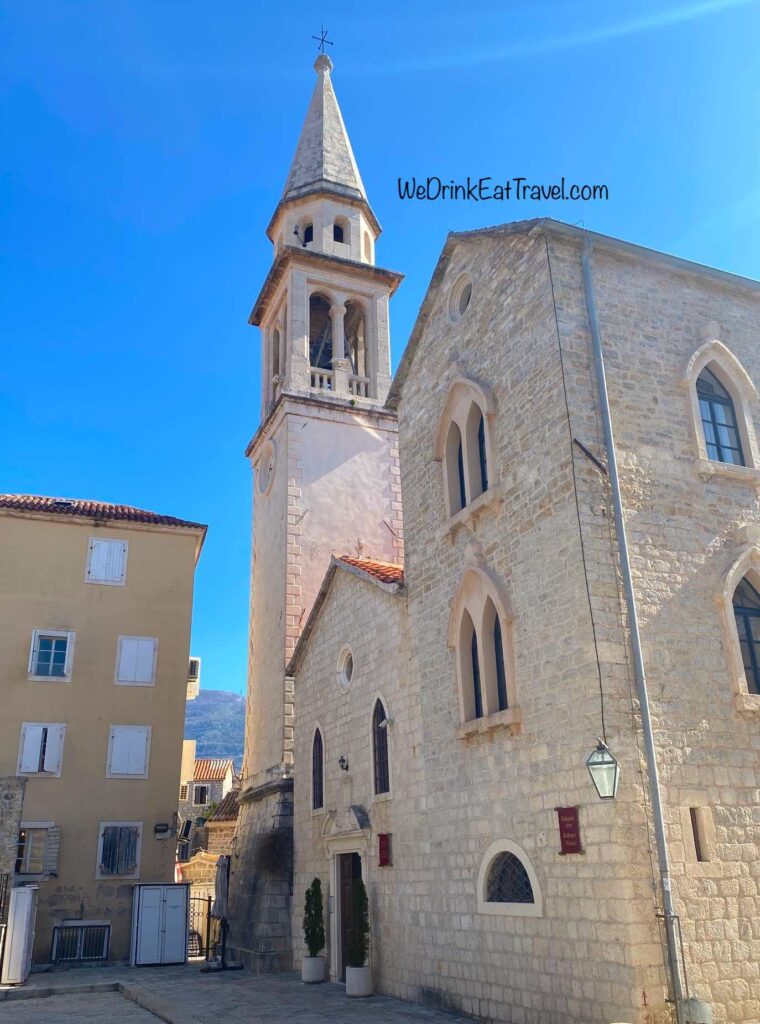 This church's history dates back to the 7th Century. And, within the Church are several valuable historical artefacts, including the glass mosaic of the Holy Mother of God of Budva… as well as several ornate paintings. Surprisingly, at the time of writing this travel blog… it's free to go in and view Saint Ivan Church.
Now, nearby St Ivan Church is another quaint church…
Church of the Holy Trinity
The Church of the Holy Trinity can be found in Old Town Budva, in Church Square. Even though it was built in the early 1800's, which is old… this Orthodox church is one of the youngest in Budva.
When looking at the Holy Trinity Church on the outside, the contrast of red and white stones give it a unique look… when you compare it to the other churches in Budva. Plus, the quaint tower with 3 bells adorns the church. Then, once inside, there are colourful and elaborate mosaics. The detail is amazing. Again, it was surprising that this beautiful church was free to enter.
And, while we're still on the subject of churches, a stone's throw away is this…
Santa Maria in Punta Church
Opposite the Church of the Holy Trinity, is Santa Maria in Punta Church… built in the 9th Century. When you get there, you'll see that it is part of the Budva Old Town City Walls.
It's said that within Santa Maria in Punta Church, several tombs have been found… as well as many important historical artefacts. Yet, nowadays, the function of the church is for art exhibitions and performances.
At the time we were there, it wasn't open. And, we're not sure if that's because we were too early?
Even so, worth checking out… as well as seeing the views of the Adriatic Sea and surrounding coastline.
Now, when you're at Santa Maria in Punta Church, you'd have your eyes shut if you didn't notice this…
Citadela Fortress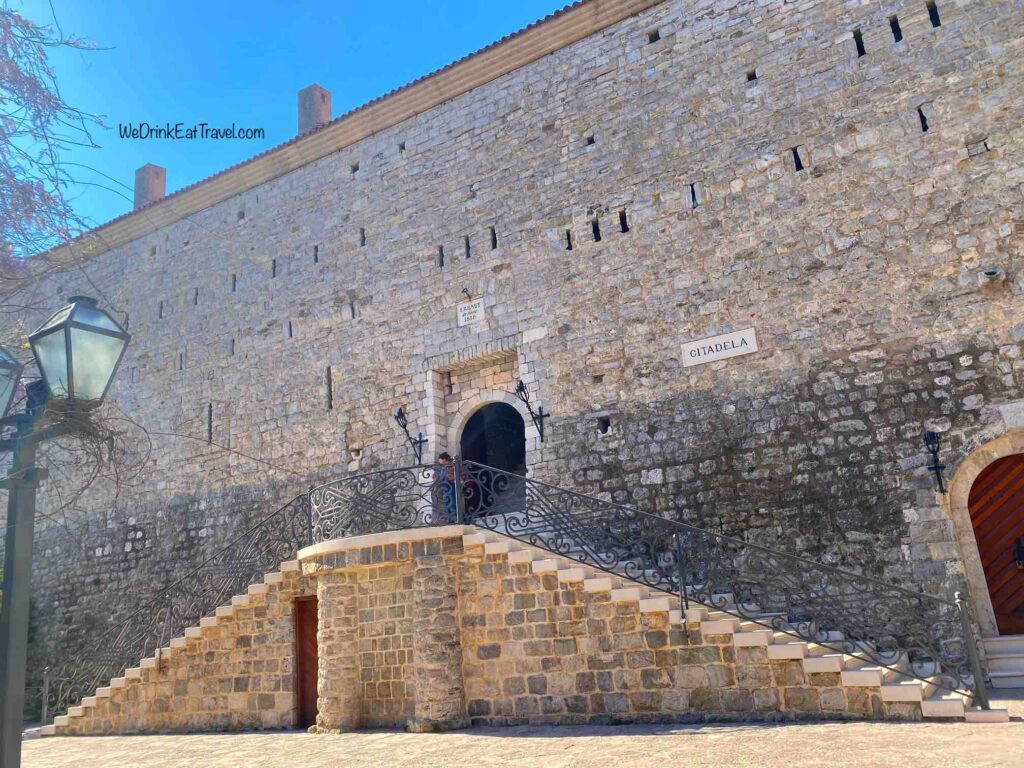 Located in a strategic position in the Old Town is another one of the popular Budva attractions, the Citadela Fortress… built in the 9th Century. As you'd expect with such an old fort… the Citadela suffered damage from battles and environmental elements. So, only certain parts of the fortress remain today. And, these include the barracks, city walls and gates. Believe it or not… there are apartments that form part of the Citadela complex too!
Plus, one of the most valuable artefacts in the Citadela is the library… which contains a collection of historic books, as well as unique hand-painted maps.
Towering high over the city… the Citadela provides amazing views of Budva and the Adriatic Sea. And, if you want to take advantage of these views… there is a restaurant, and areas where you can hold special events.
To get access to the Citadela, you will have to pay an entrance fee which is 3.50 Euros.
Stroll the Alleyways of the Old Town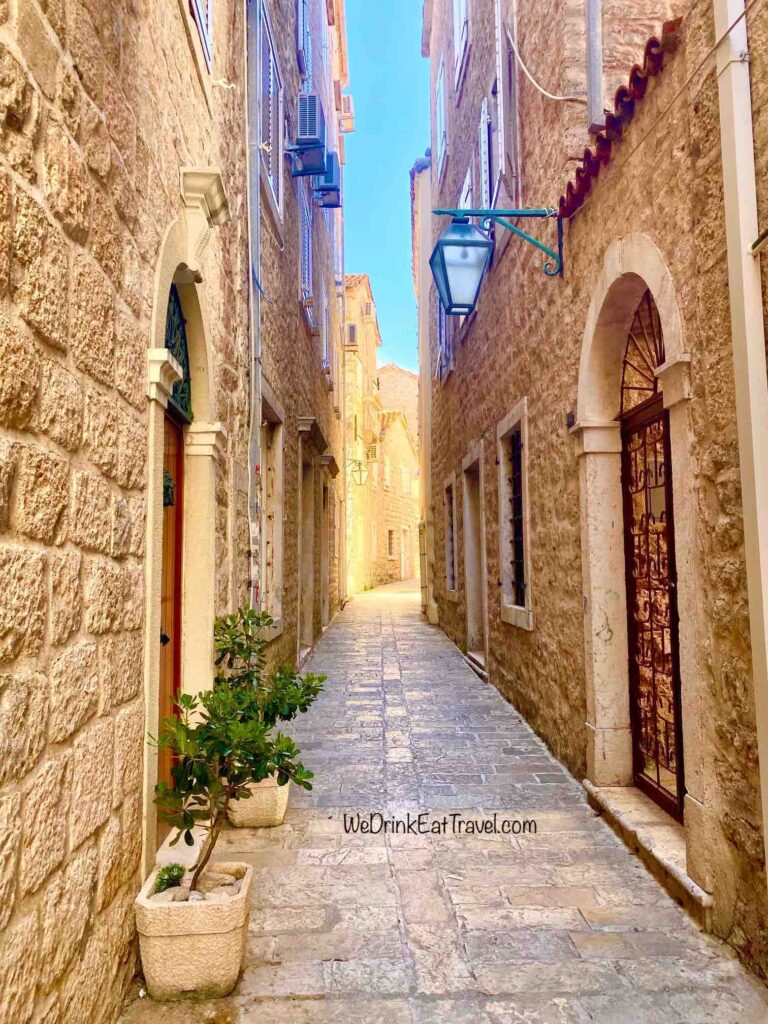 Although Budva Old Town is smaller than other Old Cities we've seen… it still has the charm of the cute cobblestone streets and alleyways. Plus, we love the medieval style architecture built from those ancient times.
In typical We Drink Eat Travel form, we always wander these alleyways without a plan. Yes, even though we had limited time, it was a must! We never know what we'll find as we explore.
There are many restaurants, cafes, souvenir shops, museums and squares that you'll discover. So, we did enjoy getting lost in Old Town Budva!
Eat Bureks in Budva
OK, so this will come as no surprise to our raving fans! In Budva we did try several places for bureks. And, our favorite place was Good Food.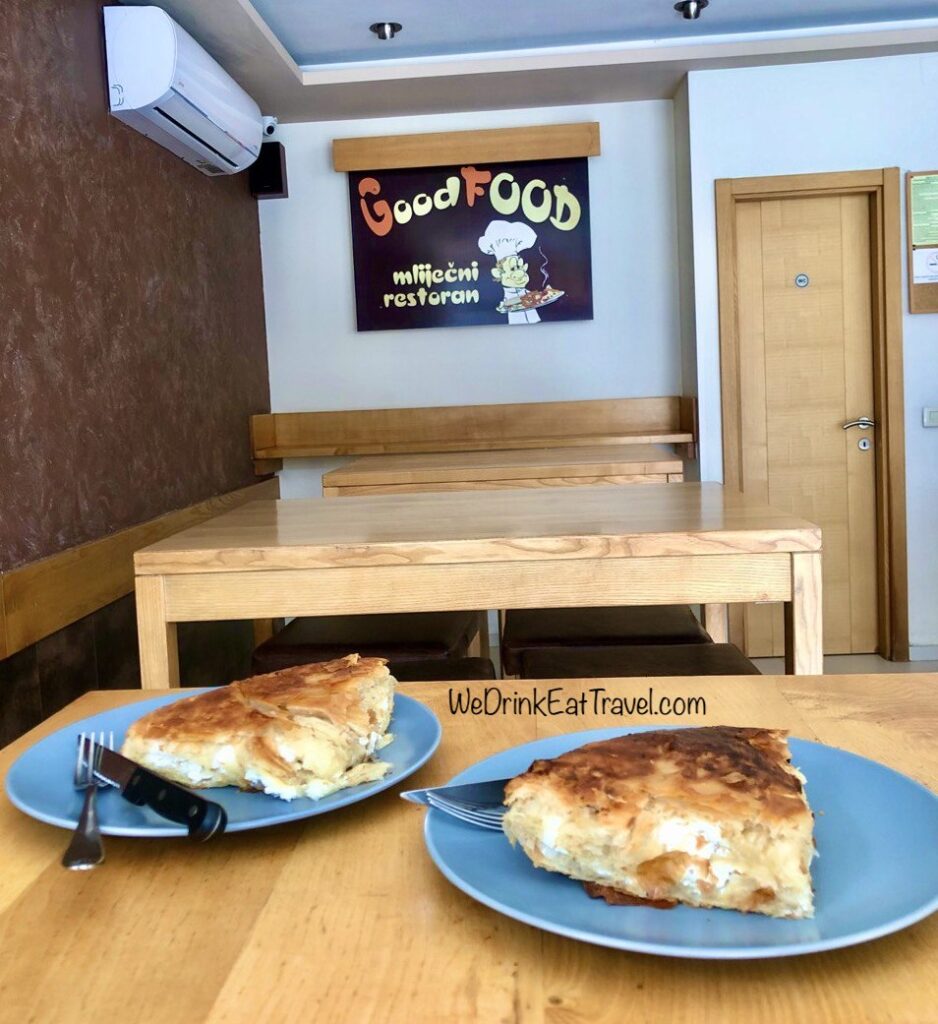 Now, Good Food does have more than 1 location. Yet, the one that we did prefer was on Nikole Tesla Street. Plus, it had several seats inside, which was handy when it was pouring rain.
They have different varieties of bureks, which cost 1.30 Euros each (about USD $1.40). And, not only that, they have lots of other savory delights and sweet treats. The prices are good value, especially considering how big the portions are. Plus, you can order freshly squeezed orange juice there too… amongst other drinks.
So, head on over to Good Food on Nikole Tesla Street… when you have a craving for some delicious savory and sweet snacks.
Statua Ballerina (Ballerina Statue)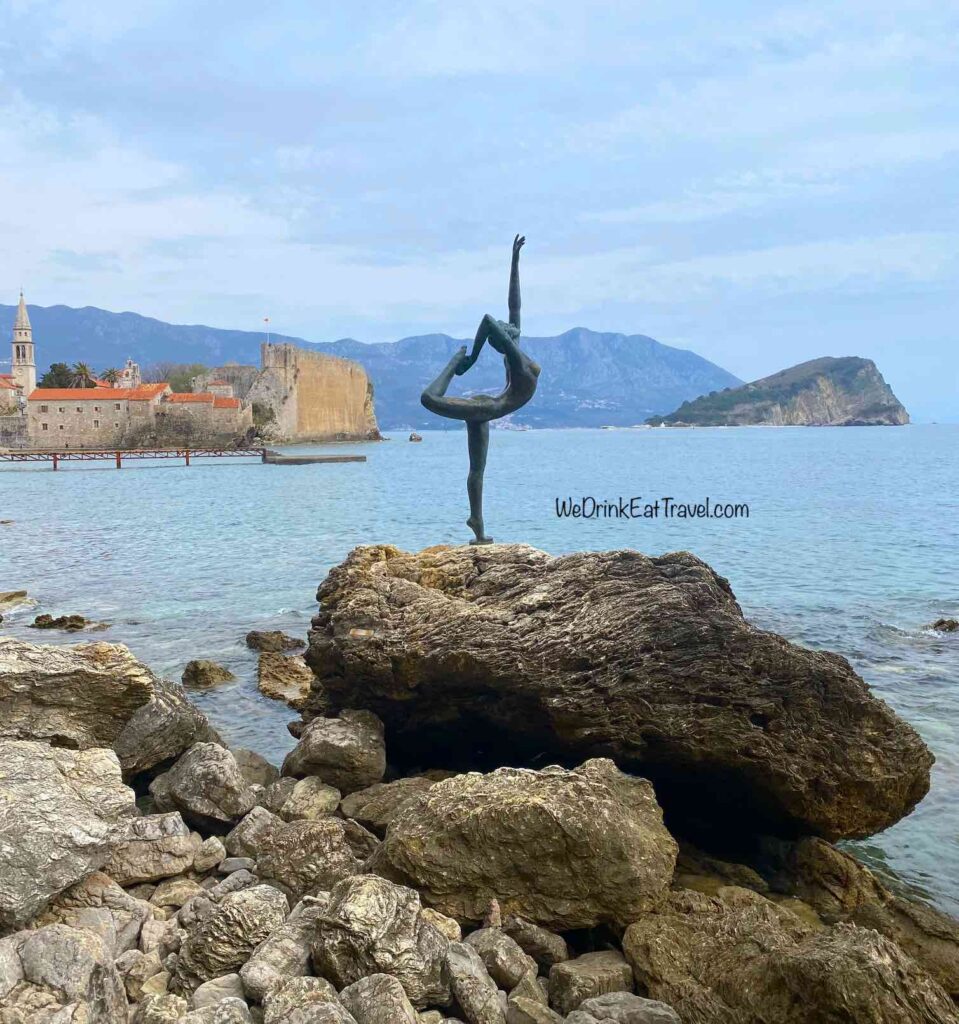 Another one of the most popular Budva attractions is the Ballerina statue… of which the design was by sculptor, Gradimir Aleksić. Now, while the sculpture looks like it's in memory of a ballerina, legend has it that it's not.
It's said that the Stauta Ballerina represents the love that was lost… between a young girl and a sailor from Budva. Every day she would wait for him to return, but he never did.

Now, if you're flexible enough and balanced to match the ballerina's pose… then it's a great photo opportunity with a lovely backdrop. We did see a few people try to mimic her. Otherwise, like we did, her beauty was enough for a memorable photo, without us in it… ha, ha, ha!
Rock Formations
After you've taken your selfies with the ballerina… make sure you keep walking along the path towards Mogren Beach. There are some other view points along the way, where you can take photos of the beautiful landscpae. Plus, you'll see these awesome-looking huge rock formations…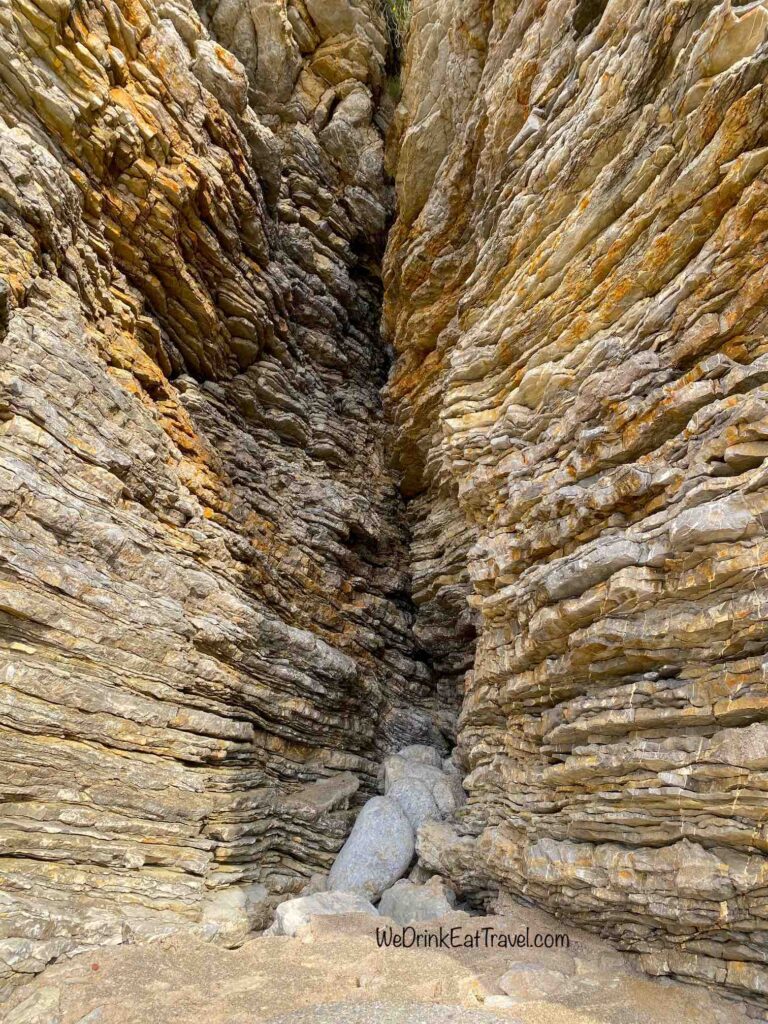 Next, is another one of the best places to visit in Budva…
Mogren Beach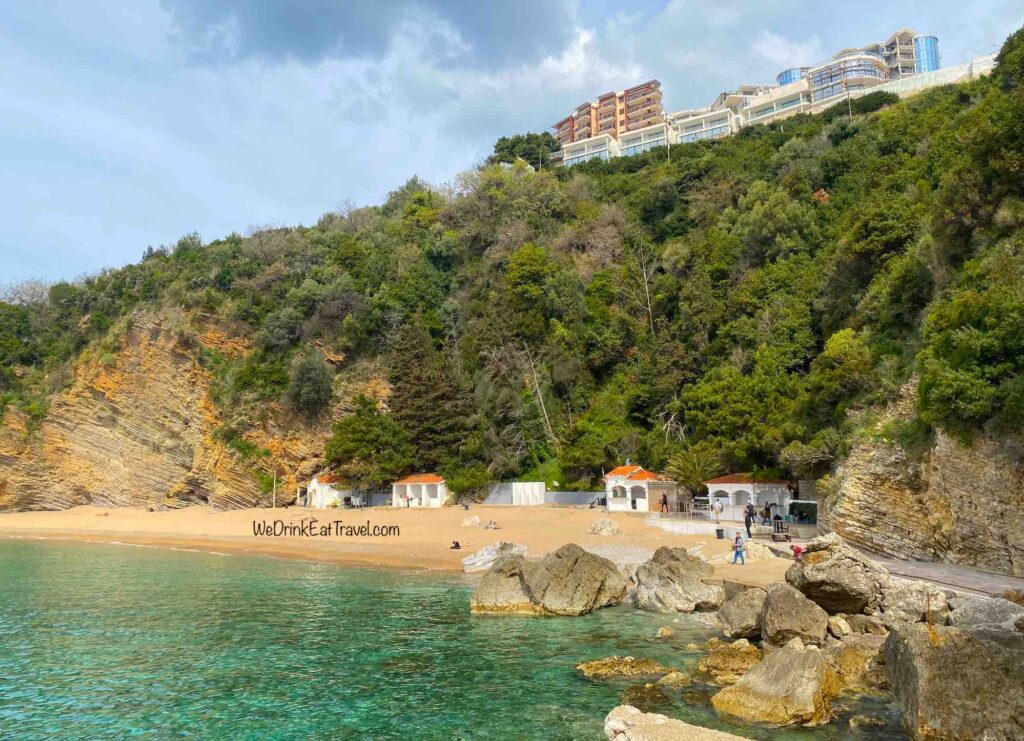 Mogren Beach is a popular beach in Budva. And, even though we were there in Spring, there were several people on the beach… enjoying the views, having picnics or dunking their feet in the water. It wasn't warm enough to go swimming yet!
Yet, we could see why it's a popular beach, as the views of the Old Town… as well as the "Hawaii" of Budva, Sveti Nikola (St Nicholas Island).
Also, at the time we were there, they were constructing little huts along the footpath. And, we suspect that they would transform into places where people could buy food and drinks.
Door in Stone
There's a little Budva attraction that is called, Door in Stone. And, when you go to Mogren Beach, you can reach this by going past the main beach area.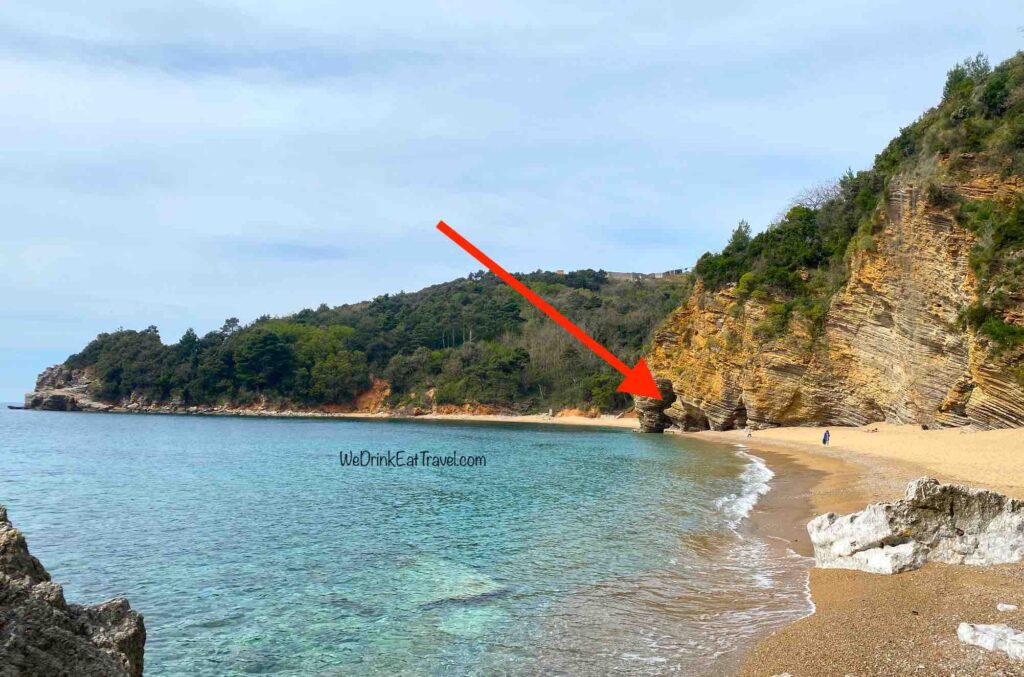 You'll know where to go as there'll be lots of people heading there.
When the water level was higher… it was funny watching people trying to work out how to cross through to the other side. Partly because they didn't want to get wet!
There is a narrow beam that you can walk on. Or, you can try to hop, skip and jump to get to the other side of the beach. Good luck in getting to the other side!
For more amazing and unique things to do in Montenegro, CLICK HERE
Budva Riviera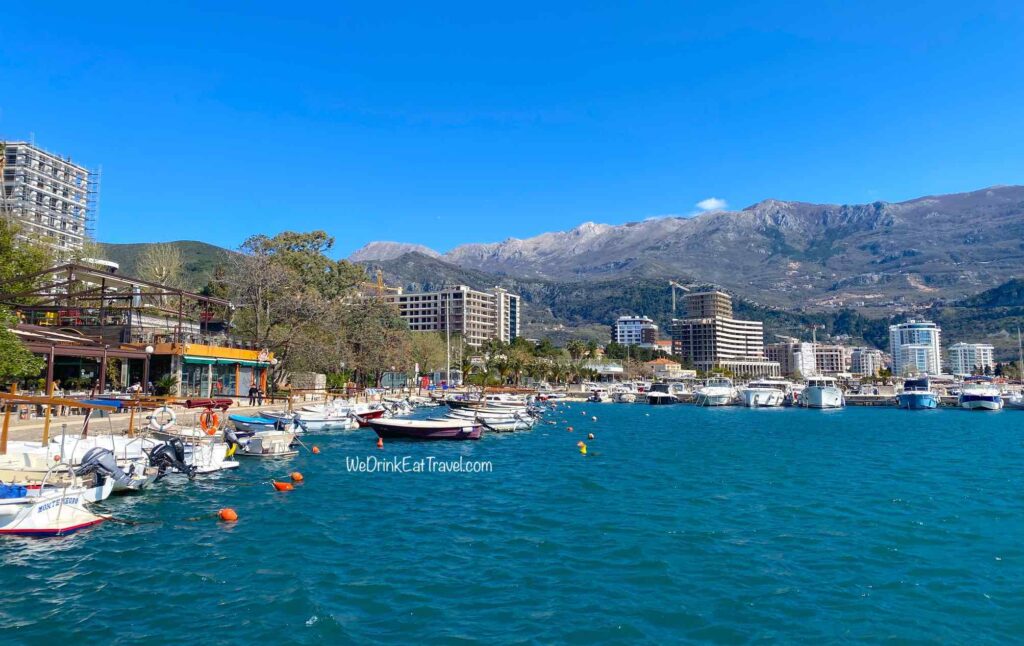 When walking along the waterfront in Budva… there are many boats the line part of the Riviera. Plus, there are heaps of bars, restaurants and cafes. And, this is most likely where the party scene happens during Summer.
Some of the restaurants set up tables and chairs right on the beach front. So, if you want to go barefoot in the sand, while eating and drinking at an establishment… there's plenty of places to choose from.
Interestingly, the Budva Riviera has a different atmosphere and look to it… when walking along it. For example, in one area there's a sandy beach with a laidback atmosphere. Then, in another section is a pebble beach… with a lively atmosphere filled with plenty of restaurants None of them look alike.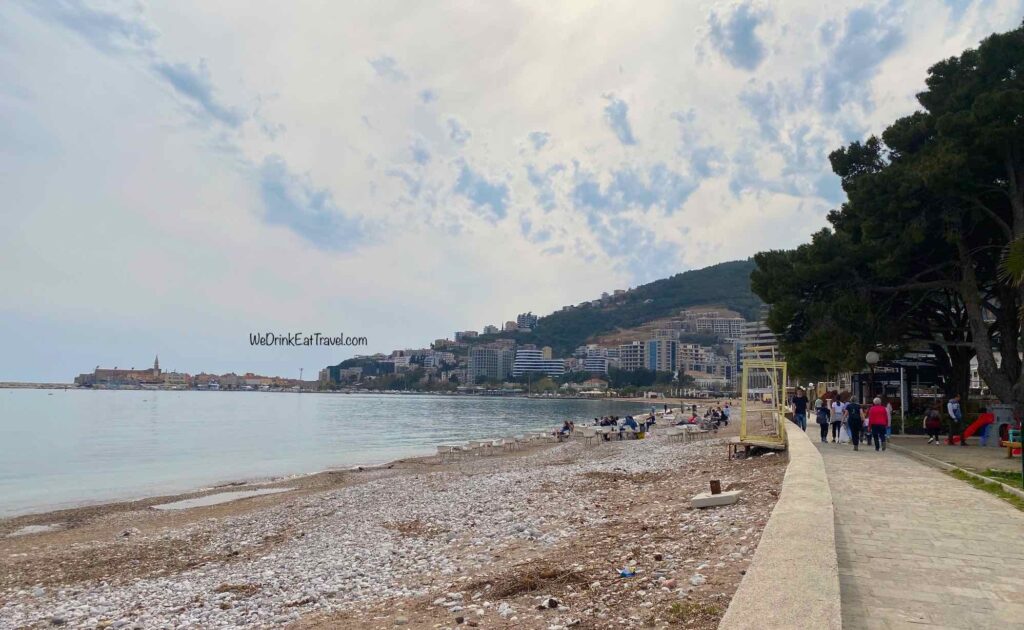 Luchki Park
If you want to relax in the surroundings of trees and parkland, head on over to Luchki Park. Set behind the Budva Riviera. It's a place to escape the rays of the hot sun, with lots of trees for shade.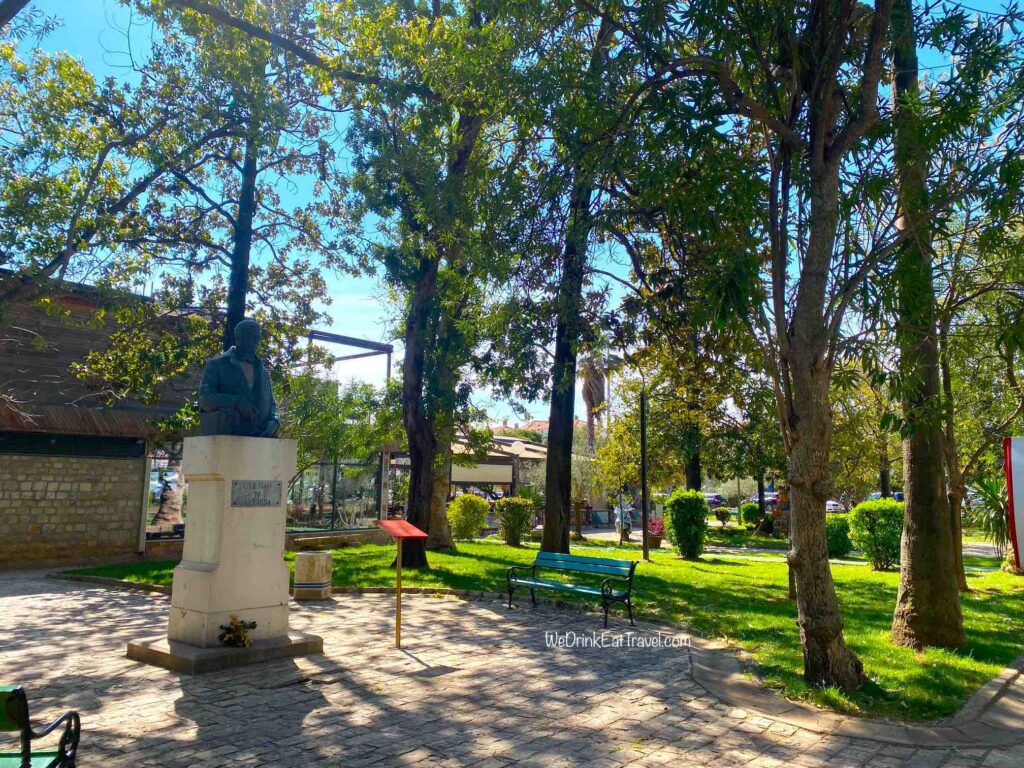 And last, but not least on our list of 15 things to do in Budva, is this interesting landmark…
The Big Bell
When we were strolling between Budva Old Town and the waterfront, we came across a HUGE bell…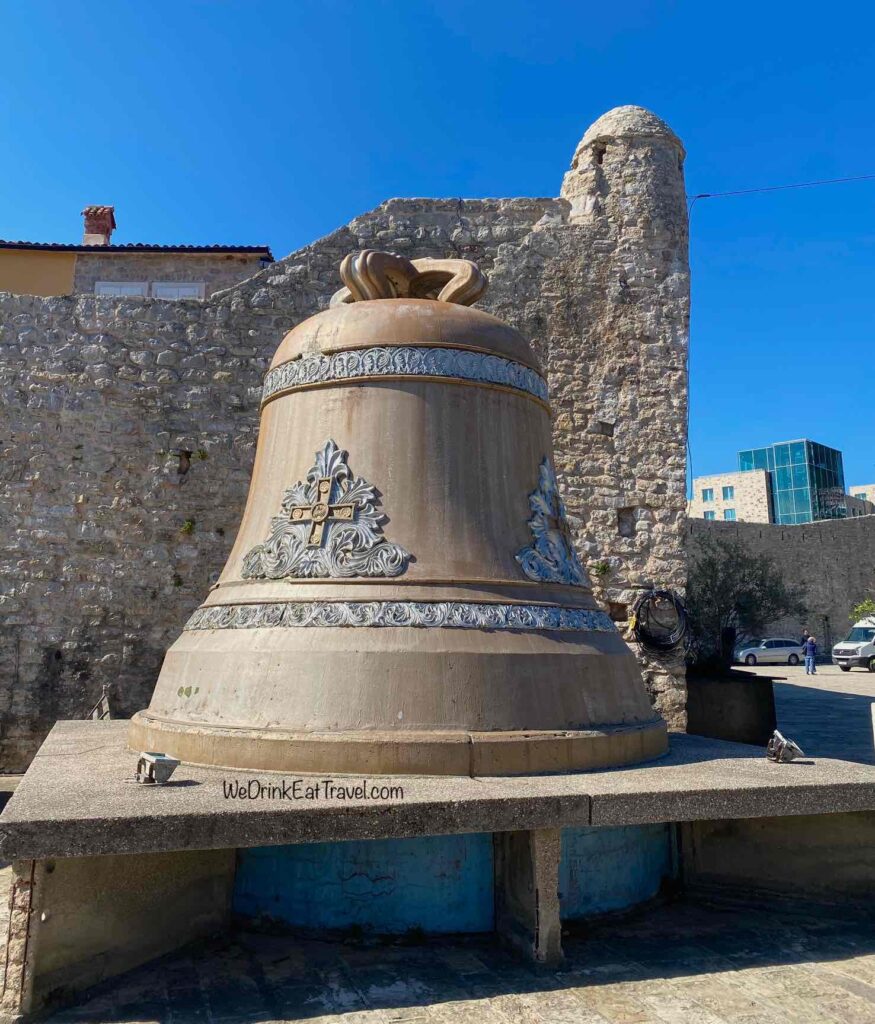 Now, we thought it was put in a random spot. It was like someone had said, "Where can we put this big bell?" And then someone else would say, "Here's a big open area. Let's just put it here!"
Even so, the golden Budva Big Bell has Orthodox crosses and artistic detail around it. Plus, what seems to be random again… is that in front of the bell is a big anchor. A bell and anchor? Yes, that's different!
It's said that his landmark was set up back in the days as a decoration piece. Thankfully it's not an eye-sore!
So, there you have 15 different things to do in Budva, Montenegro. This should help with your planning of what to do when for when you're in Budva. From ancient buildings, to amazing coastal scenery… through to vibrant waterfront bars and restaurants.
Enjoy your time in Budva, and we hope that unlike us… you'll get some great weather!
Like This? Share it and comment on it!
Note: All of our reviews and comments are our opinions and no-one else's. Even if we receive complimentary goods or services we share our opinions honestly.
You Might Be Interested In This Too…
How To Get FREE Accommodation While Travelling
21 Of The Best Free Things To Do In Vienna, Austria
One Of The Little-Known Top Things To Do In Dubrovnik
Perast, Montenegro – Why You Need To Visit This Town
One Of The Amazing Things To Do In Kotor Montenegro
Hiking Kotor Fortress – Things You Need To Know
25 Of The Best Things To Do In Kotor Montenegro
Where To Eat In Tivat For The Best Fast Food
Ultimate Tivat Hiking Trail For The Most Breathtaking Views
Check Out 16 Things To Do In Tivat Montenegro
13 Interesting Places To See In Podgorica Today
The Ultimate Guide To Vietnamese Coffee
7 Tips For Handling A Vietnam Taxi Scam
Here Are 7 Remarkable Things To Do In Berat Albania
7 Free Things To Do In Bangkok
10 Places To Visit In Gozo Malta For Breathtaking Views
7 Top Reasons Why You Should Visit Bansko Bulgaria
10 Picturesque Churches To See In Vienna Austria
How To Make Your Time In Tirana Albania Fun And Memorable
Shop Until You Drop In Ratchada, Near Thailand Cultural Center MRT
Spotlight On Albanian Drinks And The Best Bars In Tirana