We've been ticking off our list of visiting countries in the Balkans region.
Having stayed in Bosnia and Herzegovina (BiH) for about 3 months… it became evident when speaking with locals that it's a complex situation in BiH. They were expressing their mixed feelings and thoughts about living there. And wow, was it an eye-opener when we dug deeper.
Yet, in this blog post I won't go into the political chaos that impacts the residents of BiH.
Now, having been in BiH for almost 3 months, we also had mixed experiences… some great and some not so good.
Yet, we did get to experience BiH when transiting seasons from Spring to Winter, and boy… was it such a contrast.
From warm sunny days, through to the ice-cold chilly days… from beautiful clear blue skies to a pretty snow-covered capital city. It sure was lovely to have experienced both.
Now, in this travel blog post, I'll highlight 15 things to do in Sarajevo, the capital of BiH… to help give you an insight into this city, and it's interesting history.
Things to do in Sarajevo #1 – Baščaršija (Sarajevo Old Town)
Whether you're an international or local tourist… one of the top places to see in Sarajevo is the Old Town (Bascarsija). The first time we went it was a beautiful sunny day, on a weekend. And, it sure was a bustling place to be.
The history of Sarajevo Old Town dates back to the 15th century… when it was and still today is a central hub of Sarajevo. And, if you've visited bazaars in other parts of world… you'll experience a similar feeling in the Old Town of Sarajevo too.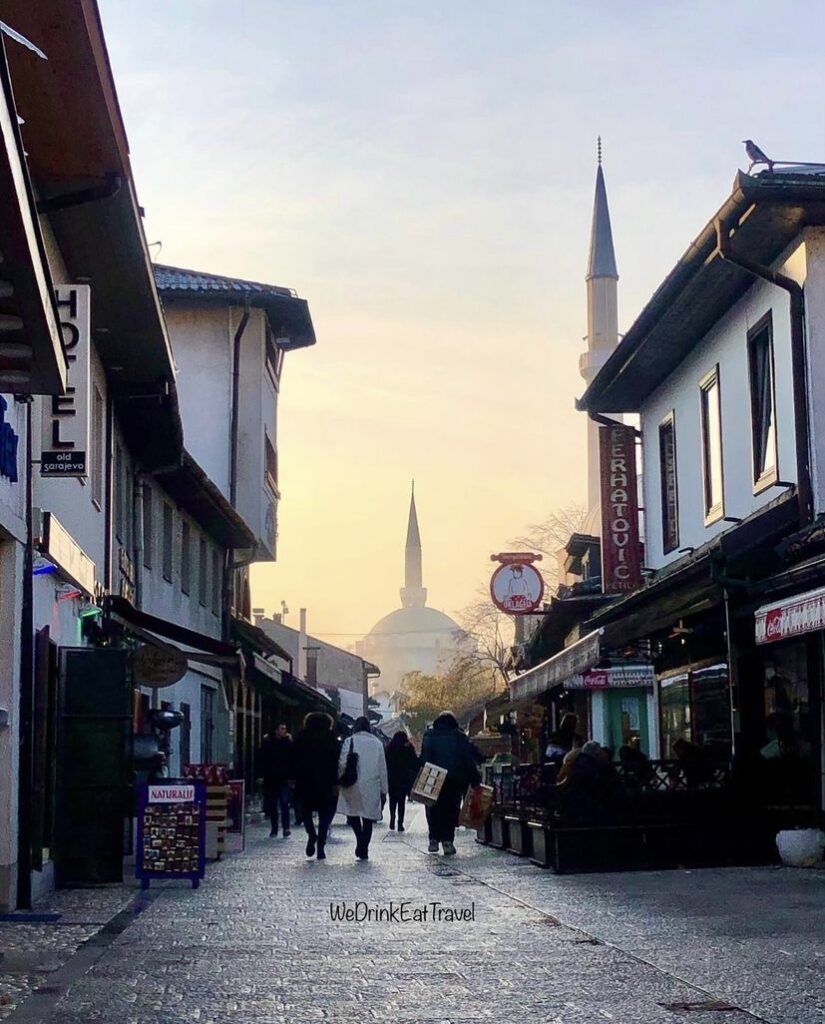 As you wander down the cobblestone streets and alleys of the Bascarsija… you'll see many small shops, cafes and eateries. There are baklava shops, teahouses, bag shops, souvenirs… through to metalware shops.
And, with lots of cafes to choose from… take a break, relax and watch the world go by. Now, once you're at the Old Town there's another key landmark that you can't miss…
Things to do in Sarajevo #2 – Sebilj Sarajevo
First of all, you may be wondering what is sebilj? A sebilj is a fountain made from wood and stone… which is commonly built in public squares or key intersections. These types of fountains were common during the era of The Ottoman Empire.
The sebilj in the Bascarsija area of Sarajevo was built in 1753. And, it's said to be only surviving sebilj here.
Now, I mentioned earlier that you can't miss this landmark… and that's because you'll see the flock of pigeons around the fountain. That's why it's also known as Pigeon Square Sarajevo.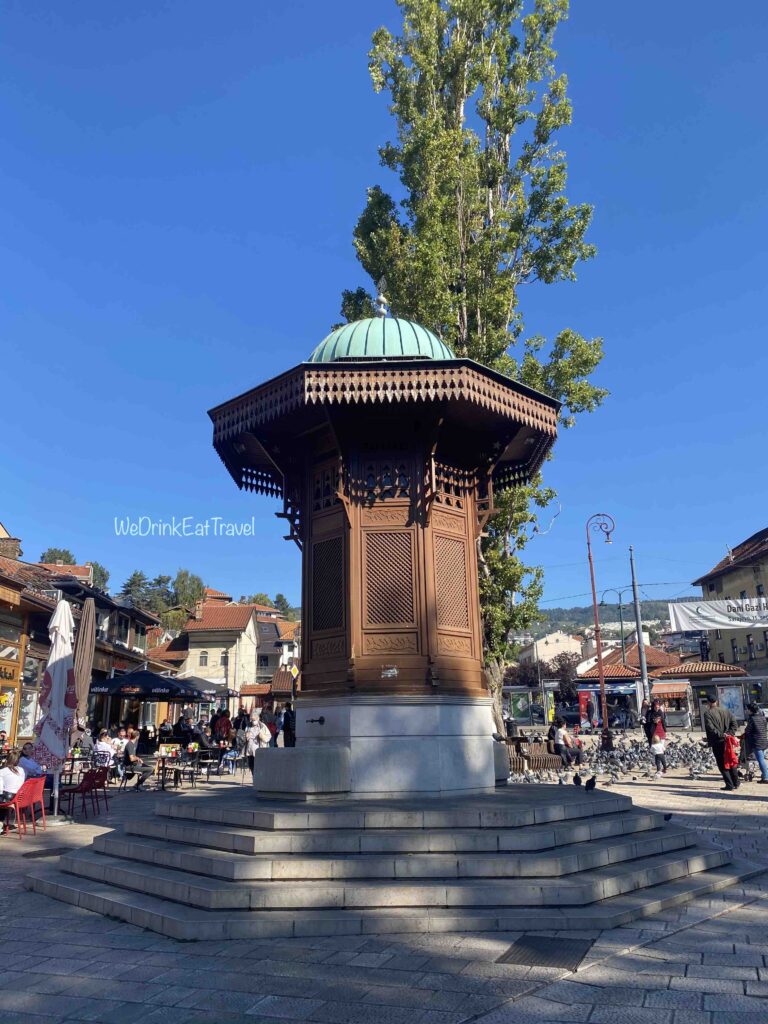 And, you'll see lots of people taking selfies… feeding the pigeons, or chasing them away!
I don't know about you… but hanging out with pigeons and being swooped by them isn't my thing! Yet, it's great for a photo opportunity… and to witness a last standing important landmark in Sarajevo's history.
Things to do in Sarajevo #3 – Latin Bridge
One of the key bridges to see in Sarajevo is the Latin Bridge.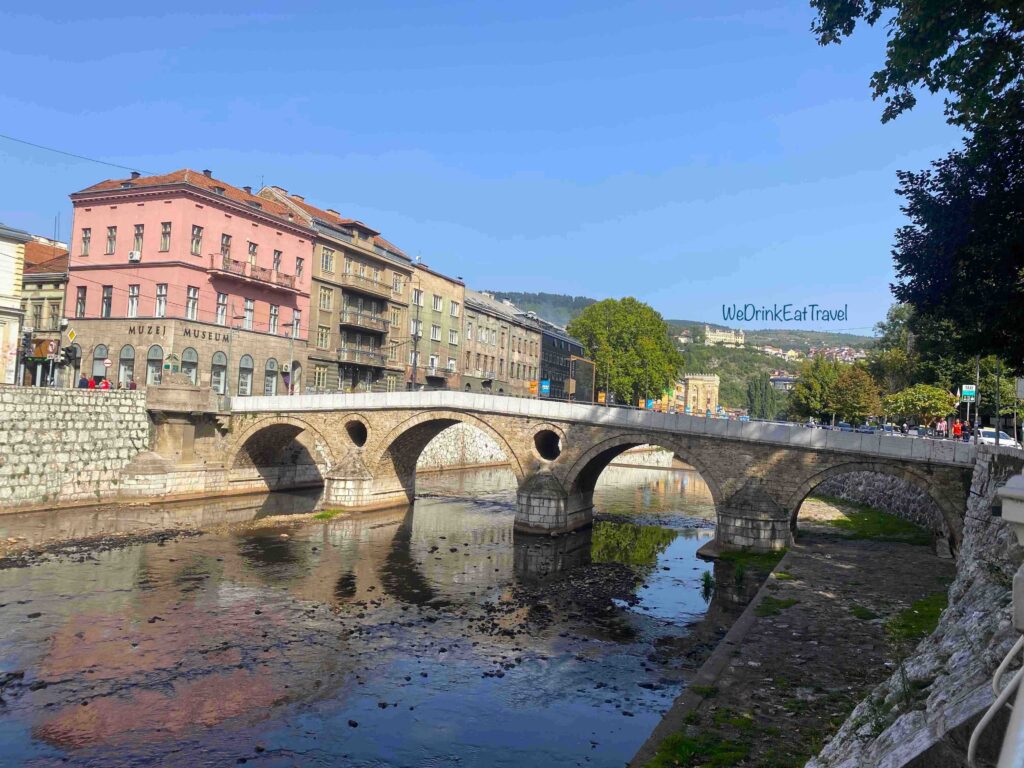 Now, while it may not look as grand as other bridges you may have seen on your travels… the Latin Bridge plays an important part in Bosnia's history.
Back in June of 1914, Archduke Franz Ferdinand and his wife had been assassinated… on that very bridge. And, it was this event that led to the start of World War I.
So, as we were walking across the bridge… I felt pins and needles flowing through my body where this historical event took place.
And, thinking about it, out of all the places in Europe it could happen, it was in Sarajevo… a place that many people would not think to visit on their travels.
Things to do in Sarajevo #4 – Gazi Husrev Beg Mosque
If you don't have much time to spend in Sarajevo, one of the most popular mosques you'll most likely visit is… the Gazi Husrev Beg Mosque.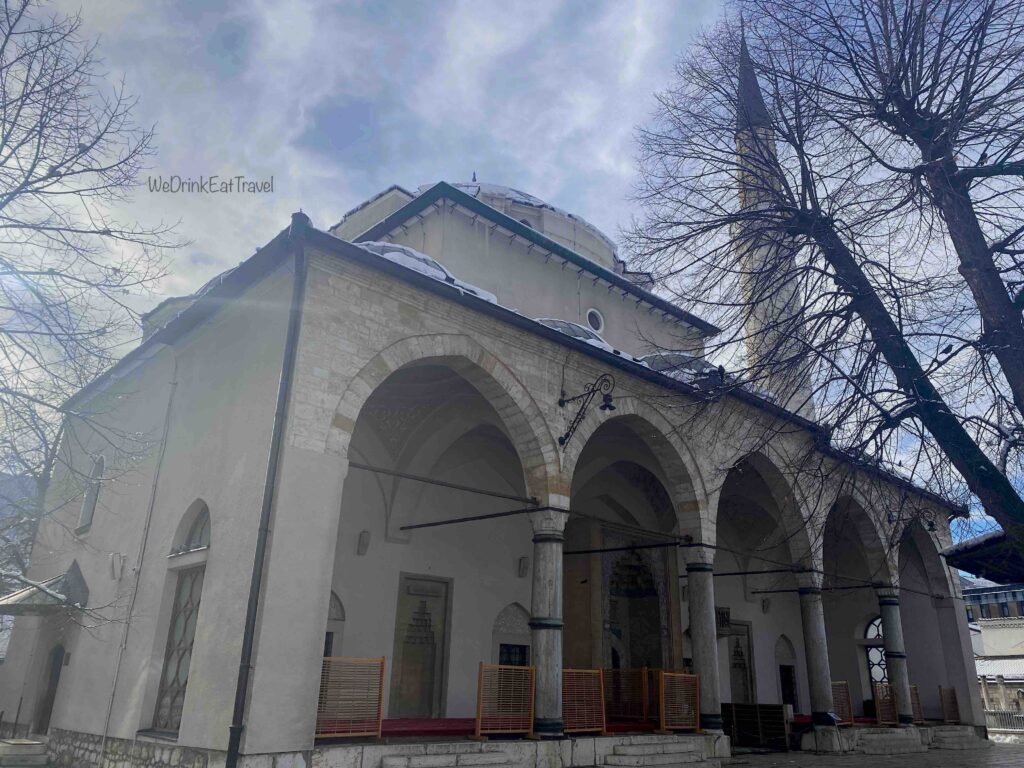 This mosque, built way back in 1530's is the largest in Bosnia and Herzegovina. It's convenient location in the Sarajevo Old Town makes it a must to visit. Although it was damaged during the Siege of Sarajevo in the 1990's… the Gazi Husrev Beg Mosque was restored.
This mosque features the familiar Ottoman architecture… and outside is a large courtyard with a fountain. And, right next to the Gazi Husrev Beg Mosque is this other landmark in Sarajevo…
Things to do in Sarajevo #5 – Clock Tower Sarajevo
Standing at around 30 metres… the Sarajevo Clock Tower is the tallest clock tower in the country.
So, we found out that there was something significant about this clock. And, that's because it shows a lunar time, otherwise known as "a la Turca."
The clock ticks for 12 hours at the time of sunrise, and then at sunset… as well as changing at various times throughout the year. And, because of that, there's a muvekit (aka timekeeper) to ensure that the clock's time is accurate. What a job to have!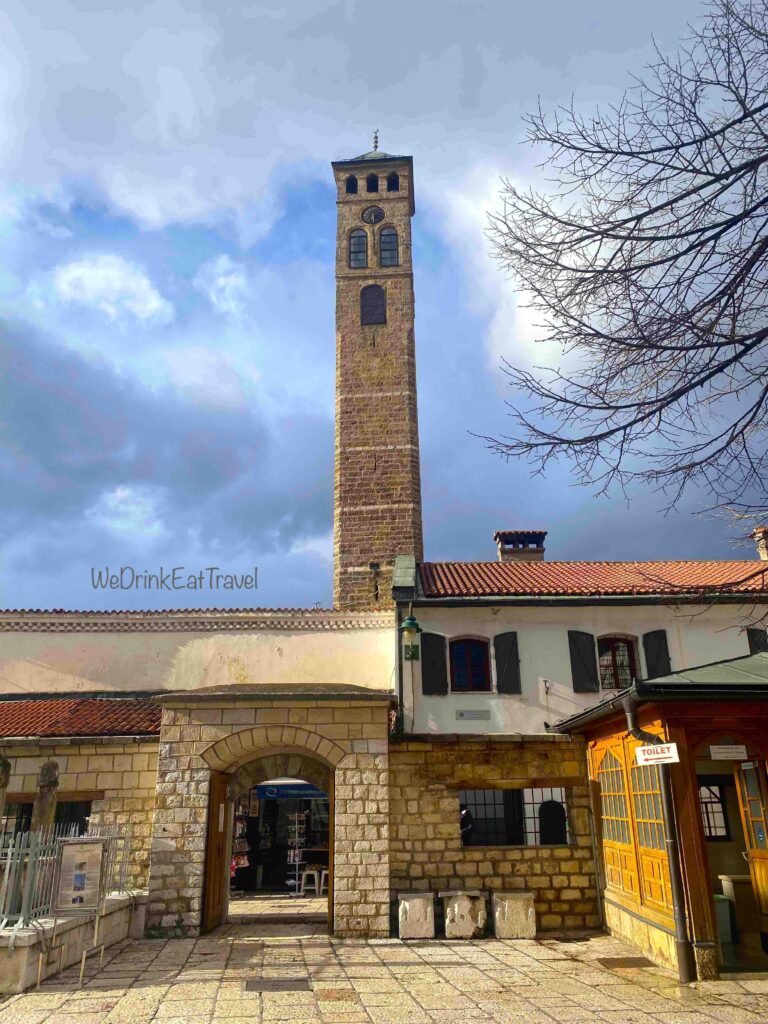 Things to do in Sarajevo #6 – Sarajevo City Hall
One of the most striking and more "modern-looking" buildings you'll discover is… the Sarajevo City Hall (Vjećnica).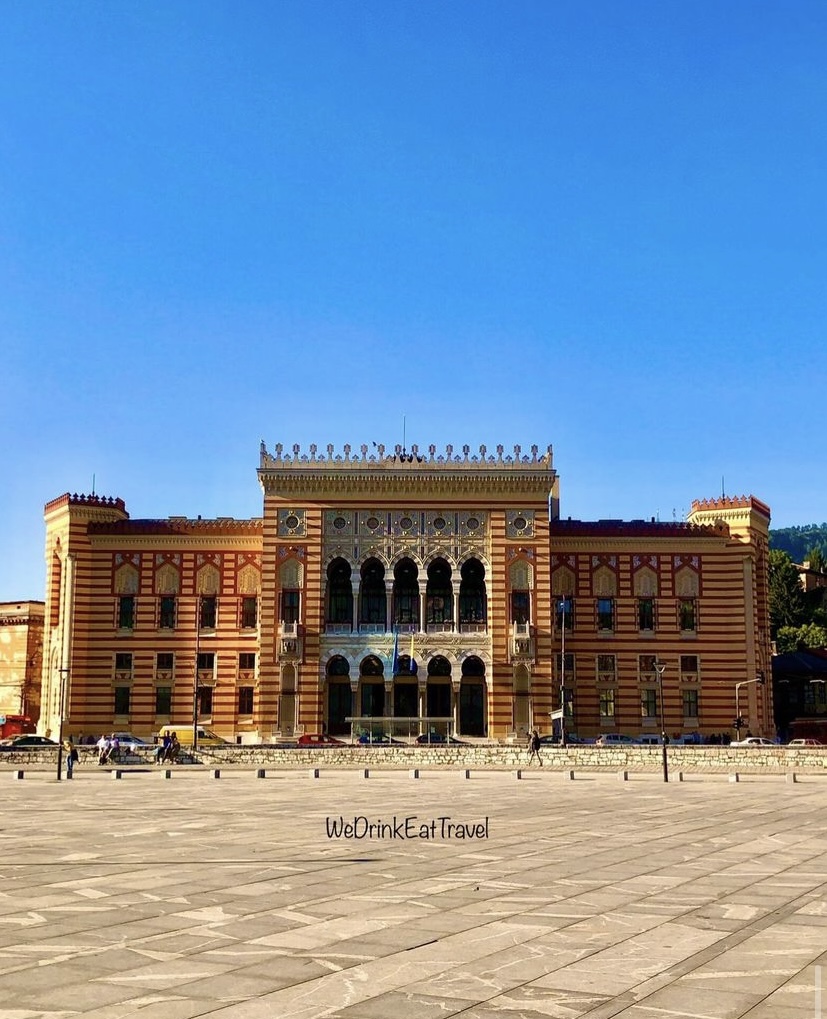 The architecture of this building is an example of the Austro-Hungarian era. This City Hall was built in the late 1890's. Yet, during the Siege of Sarajevo damage to the building was significant. Thus, Sarajevo City Hall underwent a major refurbishment.
If you have time, be sure to visit it during the day and night… as when the sun goes down the building looks beautiful.
And, if you're interested in architecture, there are many other magnificent buildings to see including… the Fine Arts Academy, Church of Saint Anthony of Padua, Avaz Twist Tower and Ali Pasha's Mosque.
Things to do in Sarajevo #7 – Sarajevo Rose
Now, while there are ancient buildings to see and cute cobble stoned streets to wander down… there are some reminders of the harrowing times the people were subject to.
So, you may notice when you walk around Sarajevo, are markings similar to this in the concrete…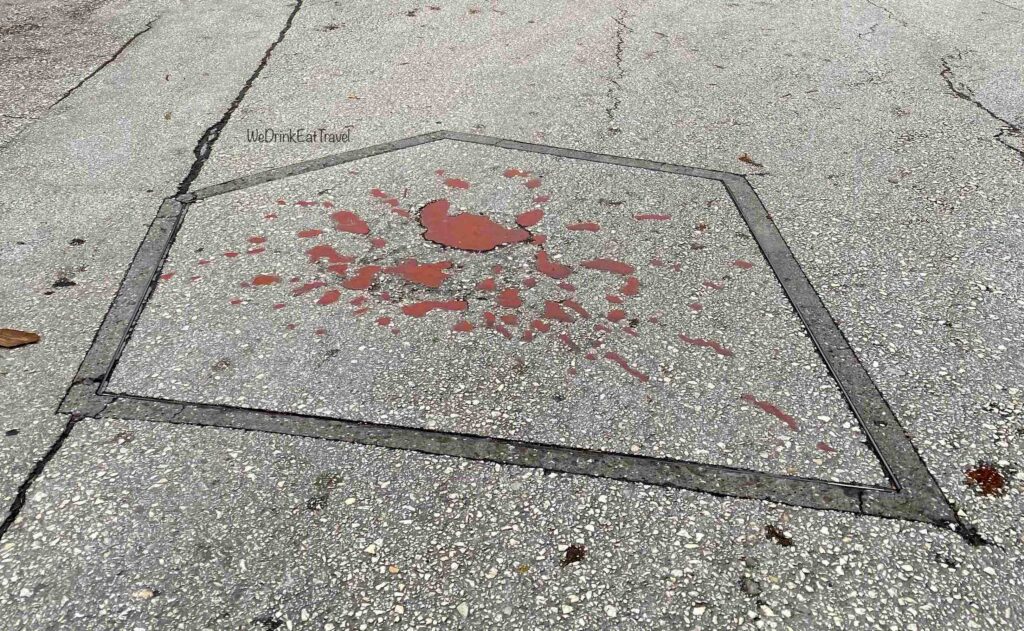 And, these are important in the history of Bosnia and Herzegovina… as the indents in the concrete are from the explosion of mortar shells. In memory of the people who passed during this time… red resin was added to represent the blood-shed.
I don't know about you, but every time I saw one of them… I had to walk around the Sarajevo Roses and NOT through them.
Things to do in Sarajevo #8 – Jewish Cemetery Sarajevo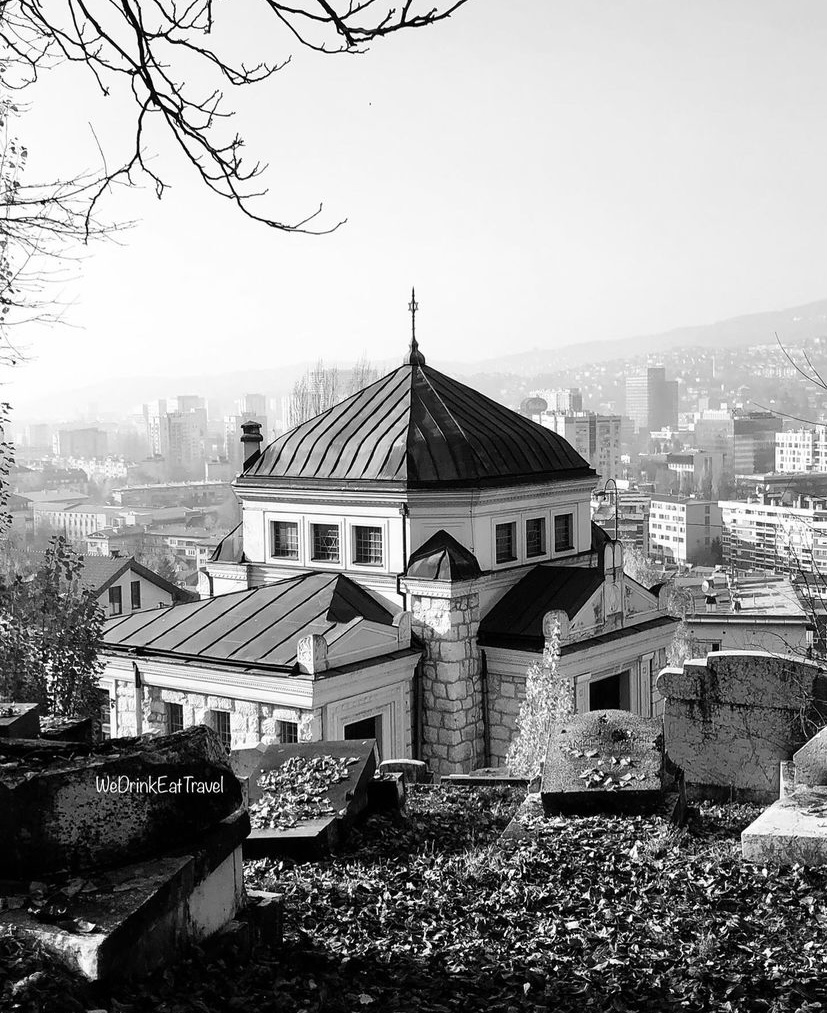 We found out that the Sarajevo Jewish Cemetery… had been put forward to be listed as a UNESCO World Heritage Site. And, as such we delved a little deeper and made the long walk from our apartment to this cemetery.
Now, while we don't usually visit cemeteries for a touristic site… we thought that this is a must see in Sarajevo. It's said to be the largest Jewish cemetery in the South East of Europe.
And, when you walk further up the cemetery you can see sweeping views of Sarajevo… as the cemetery was built high up on Trebevic mountain.
Things to do in Sarajevo #9 – Mount Trebevic & Surrounds
Speaking about Trebevic Mountain, this is definitely a place to visit in Sarajevo. Now, you may be able to hike up it, yet there may not be easy hiking trails. Yet, for us, as our Airbnb accommodation was a stone's throw away from the gondola… that was our choice for getting up the Mount Trebevic.
Now, just so you know, there are 2 different pricing structures to ride the gondola… one for tourists and one for locals. So, on our travels we have seen this before, for example at certain places in Thailand.
Yet, it was no big deal for us… with the price being 20 Bosnian Mark per person for a return ticket (about USD $11.60 / 10.25 Euros).
Once we were on our way up the gondola, there were magnificent views of Sarajevo. And, it was even better as we reached the top and walked around…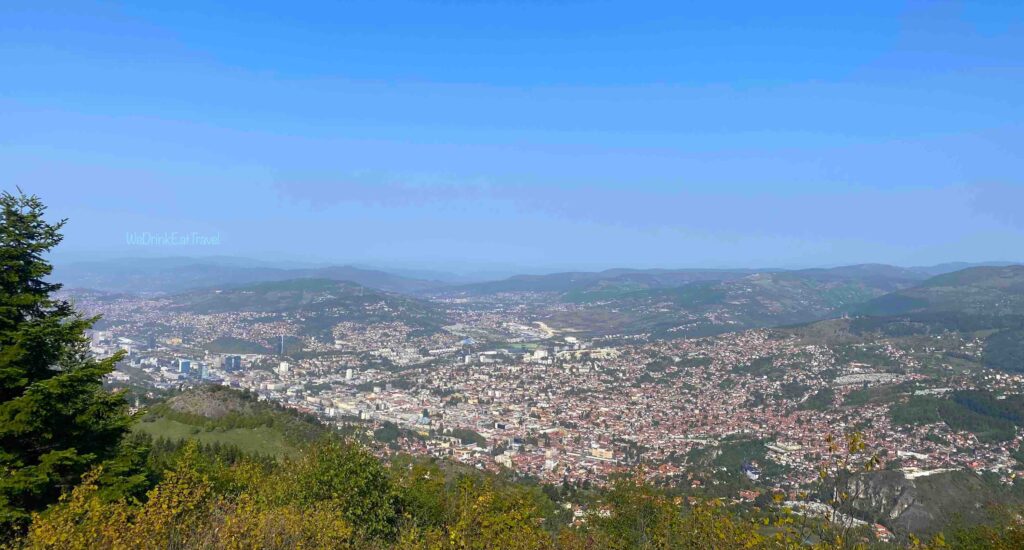 Back in 1994, there was the Sarajevo Winter Olympics with events held on Mount Trebevic. So, when you're at the mountain… take the opportunity to walk on the old Winter Olympics Bobsled Track, covered with graffiti!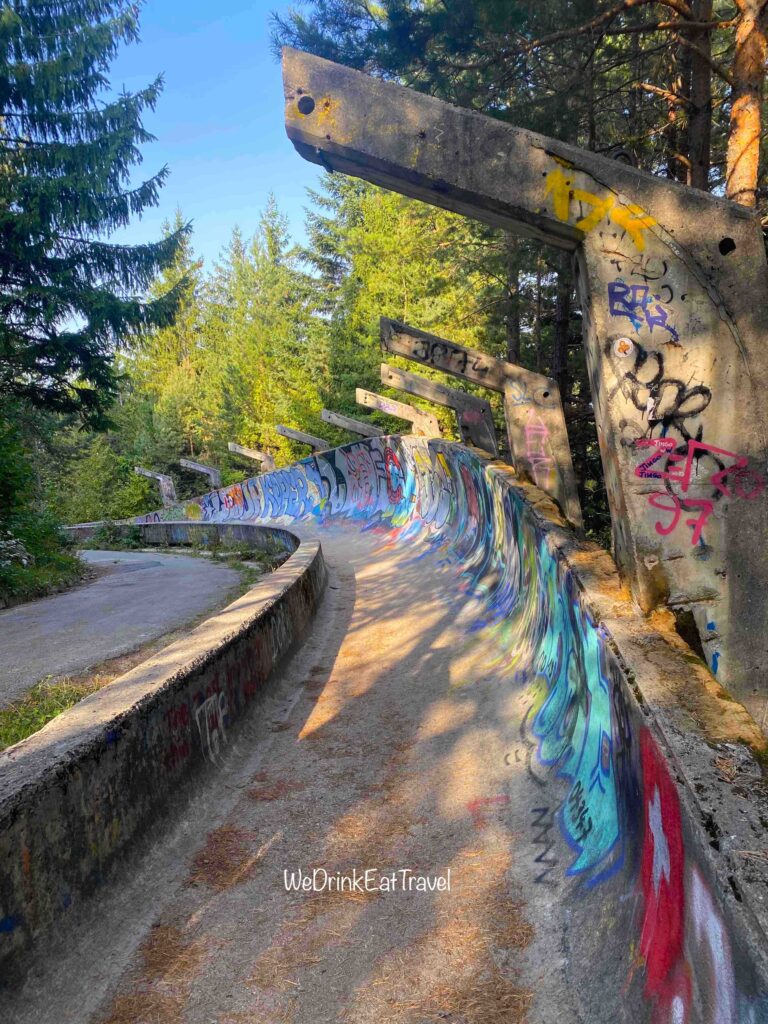 Plus, around the lower area of the Sarajevo bobsled track, with a walk through the open forest is… the remains of the Bistrik Tower (Bistrik Kula).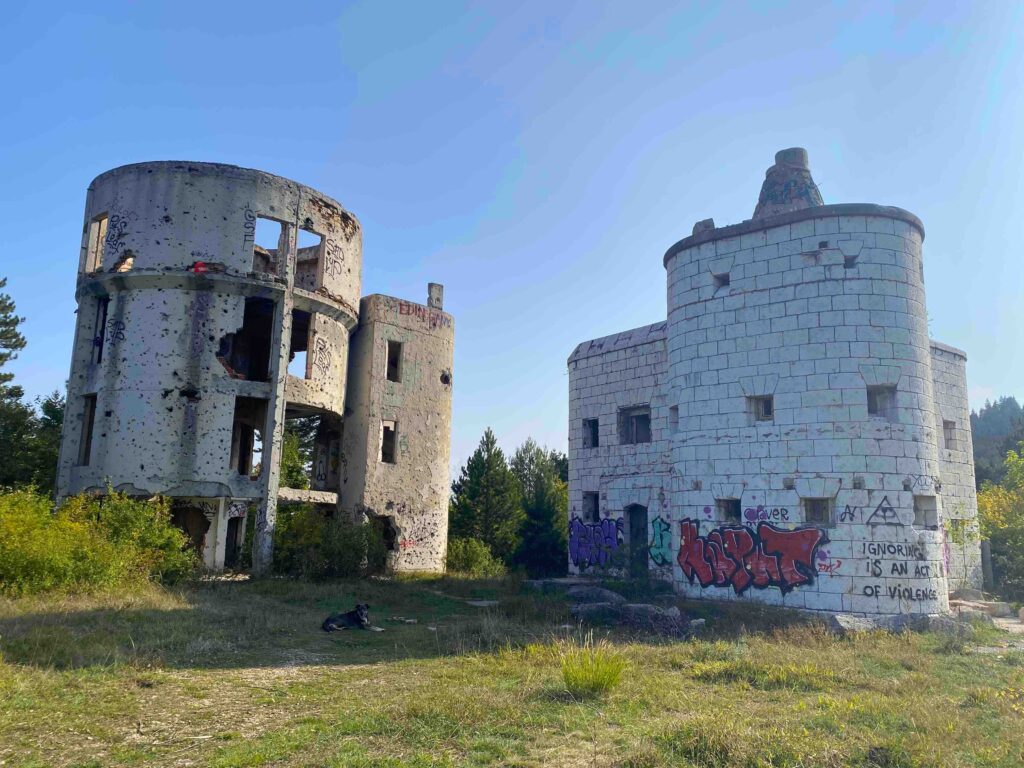 Bistrik Tower, was an Austro-Hungarian fortification, and you'll see the many bullet holes. Yet, after after World War II its use as a fort was no longer needed. So, then it was transformed into an observatory. And, the views from the top are awesome.
Things to do in Sarajevo #10 – Yellow Fortress
If you're up for a walk from the centre of Sarajevo to see some amazing views for free… then head on up to the Yellow Fortress.
The Yellow Fortress is one of the forts that made up the defensive wall of Vratnik… one of the oldest towns of Sarajevo. And, one of the great things is… this 18th century fortification is only about a 15 minute walk from Sarajevo centre.
So, if you're pressed for time… you can still visit an historic fortress, and witness incredible views over the city for free.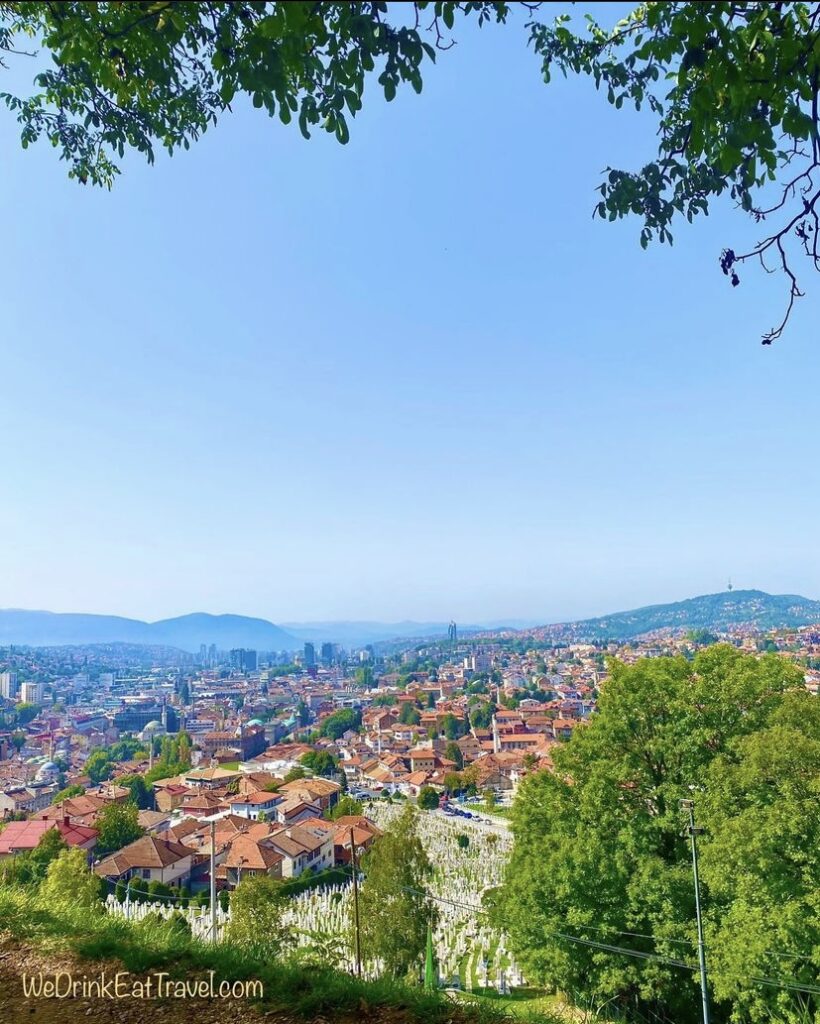 Things to do in Sarajevo #11 – Eternal Flame (Vječna Vatra)
The Eternal Flame Sarajevo is a monument… in dedication to the those who lost their lives during World War II.
Behind the flame is an inscription. And, you'll notice that it's written in three different colors… blue, white and red, which also signifies the colors of the former Yugoslavian flag.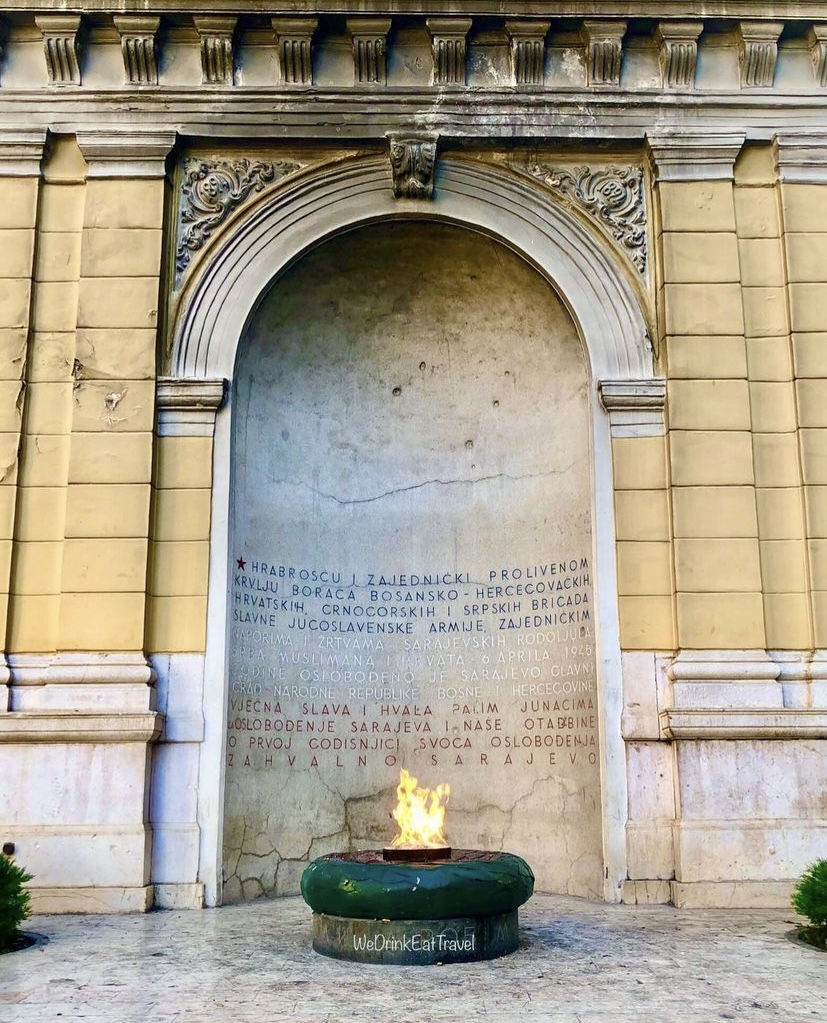 You can find the Eternal Flame at another of Sarajevo's tourist attractions…
Things to do in Sarajevo #12 – Ferhadija Pedestrian Street & Meeting of Cultures
Once you've experienced the sights, food and drinks in the Sarajevo Old Town, as you continue to walk down the main street of Saraci, you'll see this on the ground…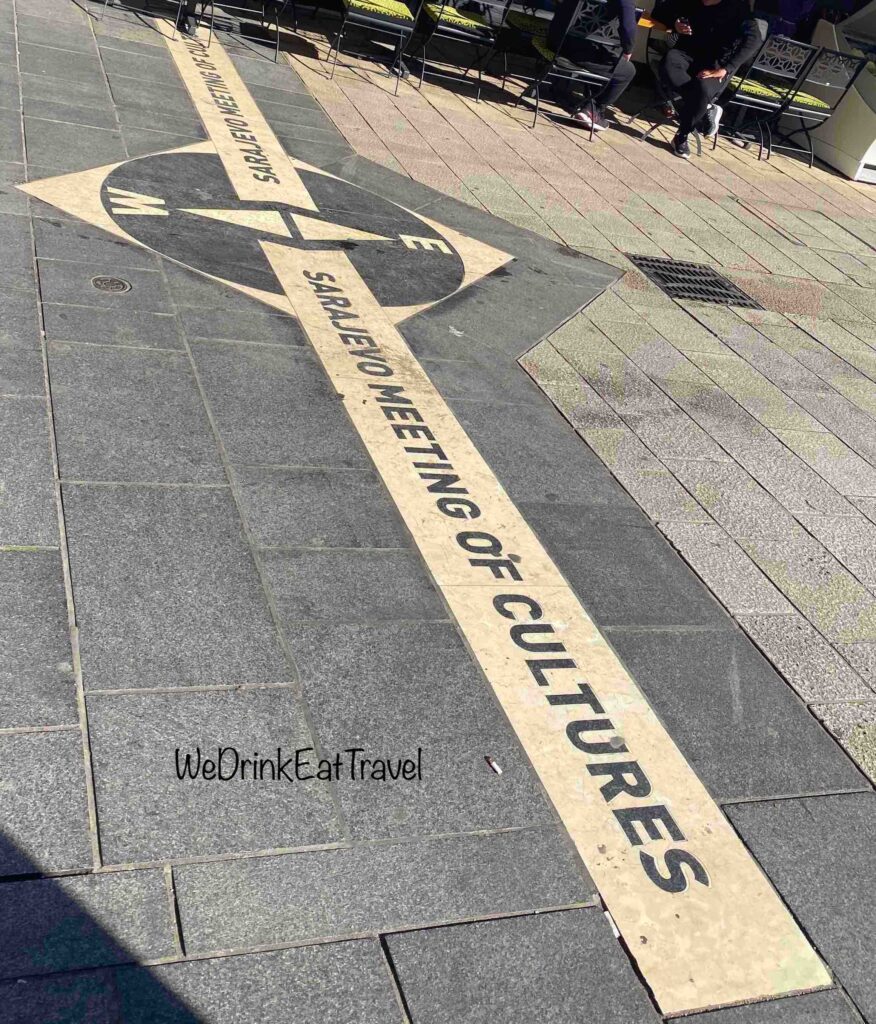 This is a symbol linking the 2 main cultures of East and West that were brought together. The East is the Ottoman and Islamic representation… whereas the West signifies the Austro-Hungarian and Christians.
And, once you walk over this sign, you'll notice how different the environment is. Gone are the Ottoman style small shops, little cafes and many cobble stoned streets. Instead are more mainstream and upscale stores, bars, pubs, modern restaurants and more.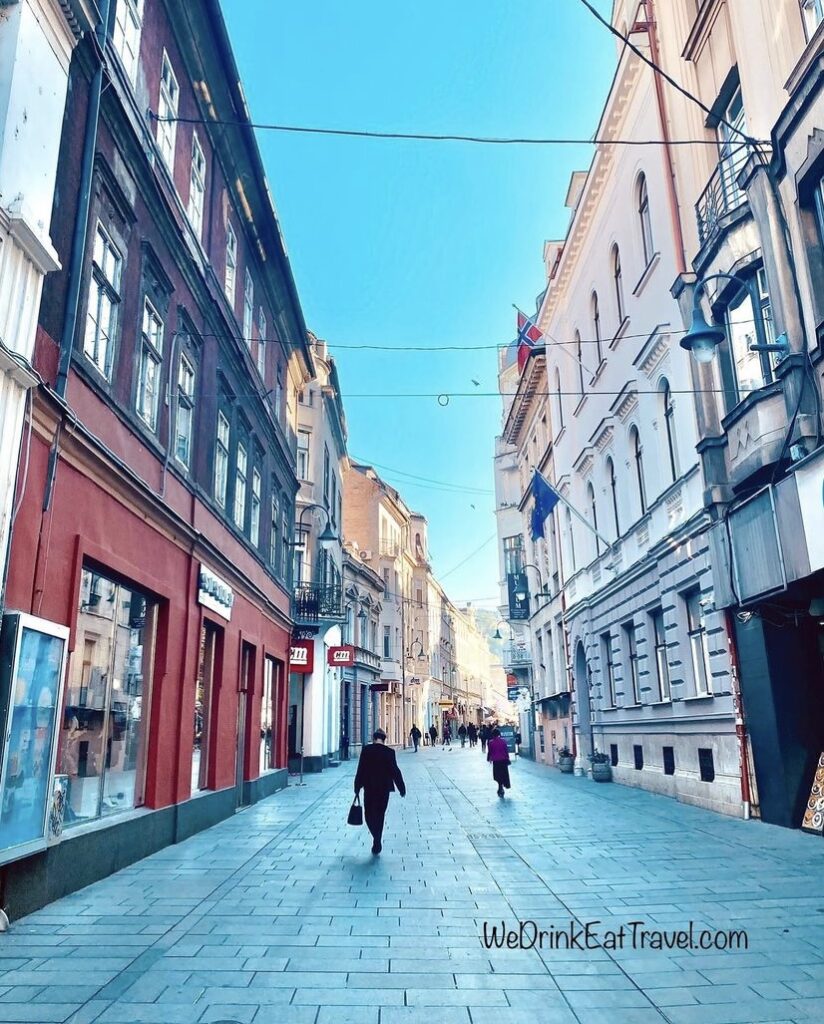 Things to do in Sarajevo #13 – White Fortress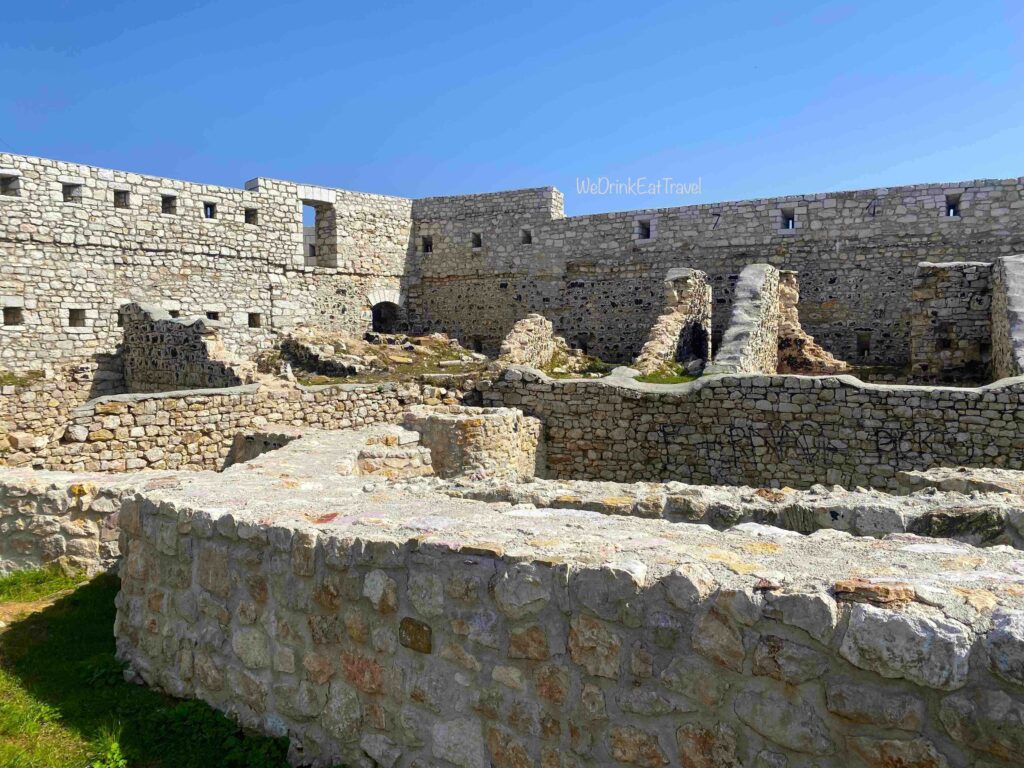 If you're up for some walking from the centre of Sarajevo to witness some great views… then take a walk to the White Fortress.
To get there, we found that it's not sign posted that well. We took a few wrong turns through neighborhood streets… yet the locals were helpful and we got there eventually.
We didn't realize it, but there's an entrance fee to get in and see the White Fortress. Yet, it's only a small fee of 5 Bosnian Mark (about 2.55 Euros / USD $2.90).
The exact date of when the fortress was in construction is said to be unknown. Yet, estimates have the White Fortress dating back to around the 1500's. You'll see the remnants of the fortress… as well as wide sweeping views of Sarajevo.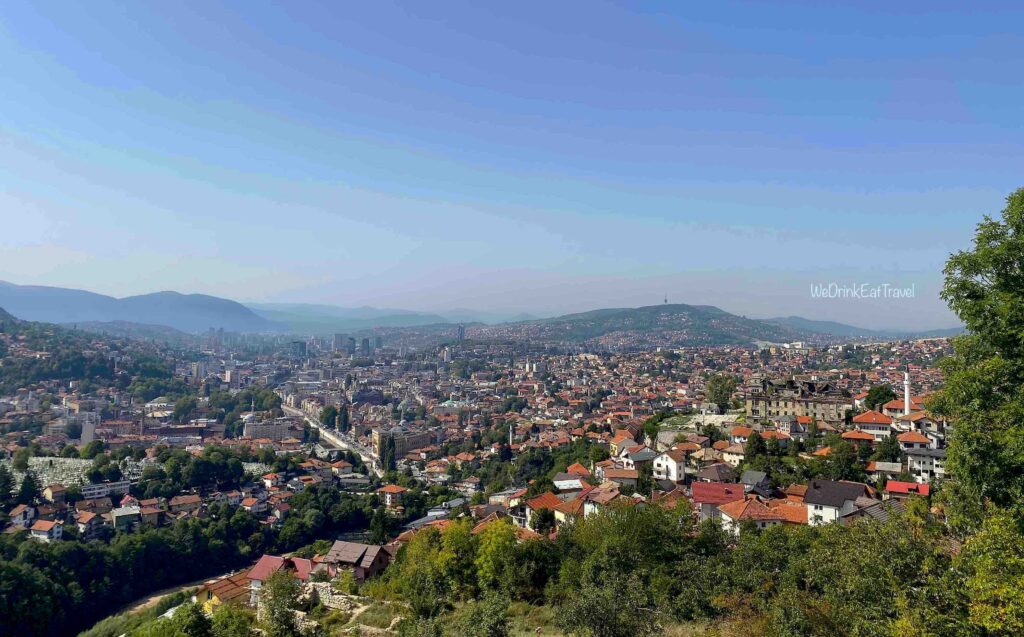 Things to do in Sarajevo #14 – Ilidža
consider heading to Ilidža.
So, when we were there we had some "fun" with the public transport. We thought we could take the tram all the way out to Ilidža. Yet, what we didn't realize was that they were upgrading the tram system. And, in broken English the tram driver said we had to get a bus to get there.
Yet, it wasn't clear where the stop was. So, we ended up walking about 20 minutes to get to Ilidža, and thankfully it didn't rain otherwise it would've been unpleasant… as there's no cover!
So, after our walk we were in need of some food. And, there's a little burek place we recommend for delicious and reasonably priced bureks. It goes by the name of, Buregdžinica Zvrk. It's a smaller burek shop which is in the bus terminal area.
We did a taste test of a cheese burek and a potato burek. And, we both agree that the potato bureks are delicious… with a hint of curry and flaky, flavorsome pastry. For 2 bureks it cost 3.50 Bosnian Mark (about 1.80 Euros / USD $2). Of course, Paul couldn't stop at 1 burek and had to get more!
Now, that aside… the main attraction for us to see in Ilidža is the walk to Vrelo Bosne. This is a woodland area with a park, cafes, pool and more. Yet, it's a lovely stroll through the woods via the main path…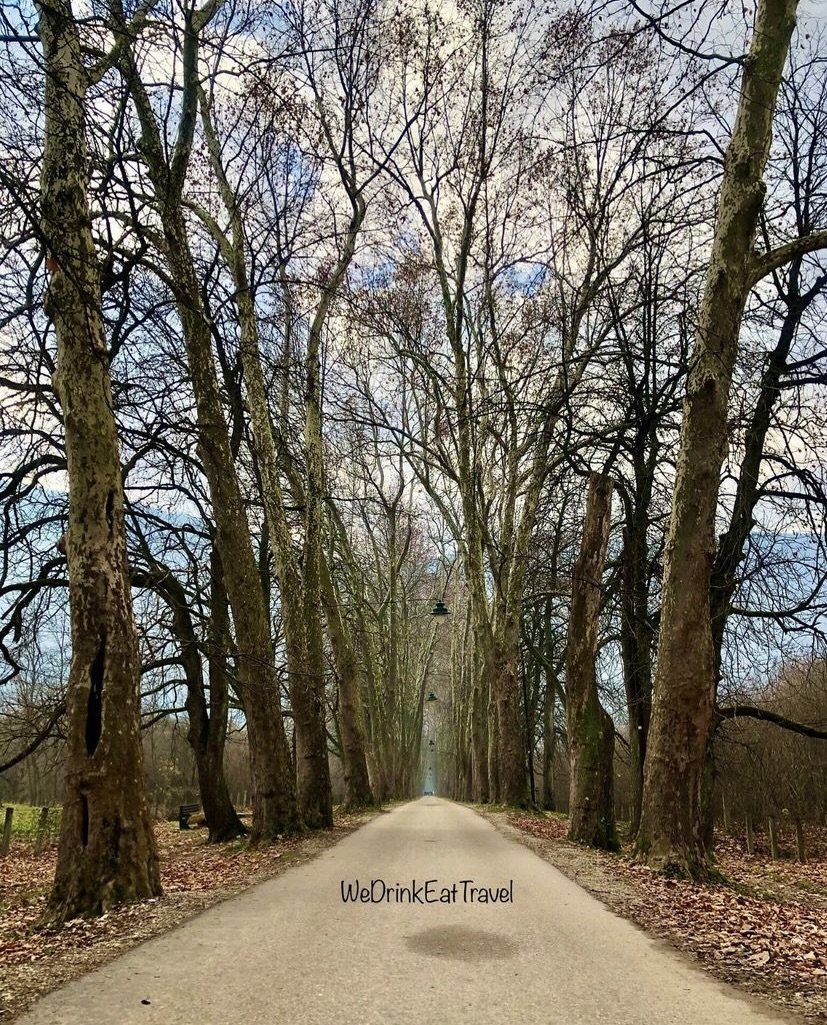 Things to do in Sarajevo #15 – Markets
While we were in Sarajevo, we bought up lots of produce when we wanted to cook at our apartment. And, where we were the more convenient places to buy produce were at the supermarkets.
Yet, for fresher and better produce there are markets. And, one of the most popular you'll hear about is the Pijaca Markale.
So, not only is it known for being a big undercover outdoor market for fresh fruit, veggies, clothes, household goods, and more… an important event happened here.
During the Siege of Sarajevo, in 1994, this market underwent one of the biggest massacres. Here, in the first instance tragically 68 innocent people lost their lives… and about 150 more suffered injuries. And, as you walk around the market, you will see one of the most prominent Sarajevo Roses.
Now, only a few minutes walk from the Pijaca Markale… is another market which is fully undercover in a building. And, we didn't realize that we had walked past it several times! That's because there's not an obvious sign for us to show that it's the City Market.
Yet, once you find it, inside are many stalls selling lots of homemade produce. From cured meats, to homemade cheeses, ajvar, stuffed peppers and more… there were lots of yummy local goods to get your hands on.
Now, in the Bascarsija area of Sarajevo, is the Old Town Market. And here, it reminded us of the market shops that we were walking through in parts of Turkey. You can find an array of fragrant spices, herbs, bag shops, jewellery and more.
So, they were 15 things to do in Sarajevo and of course… there are heaps more places to see. On our travels and talking with others… we found that many people do not put Bosnia and Herzegovina on their list of places to visit.
Yet, if you're in the area then why not check out BiH. And, with these 15 things this to do in Sarajevo, the capital of BiH… it will help in putting a list together to see some of the top sites and have memorable experiences.
Like This? Share it and comment on it!
Note: All of our reviews and comments are our opinions and no-one else's. Even if we receive complimentary goods or services we share our opinions honestly.
You Might Be Interested In This Too…
How To Get FREE Accommodation While Travelling
13 Interesting Places To See In Podgorica Today
Here Are 7 Remarkable Things To Do In Berat Albania
7 Free Things To Do In Bangkok
10 Places To Visit In Gozo Malta For Breathtaking Views
7 Top Reasons Why You Should Visit Bansko Bulgaria
Discover Some Interesting Things About Albanian Food You Need To Know
10 Picturesque Churches To See In Vienna Austria
How To Make Your Time In Tirana Albania Fun And Memorable
Shop Until You Drop In Ratchada, Near Thailand Cultural Center MRT
10 Popular Drinks & Food In Skopje To Make You Happy
Spotlight On Albanian Drinks And The Best Bars In Tirana
10 Awesome & Surprising Things To Do In Skopje Now