When we were staying in Kotor, Montenegro… it was suggested to us several times to take a half day or day trip to Perast. And, after doing a little bit of research about it… we found that it looked like such a quaint and pretty town.
It's said that Perast dates back to the Neolithic perio… and had high involvement in maritime trade. And, in the 1300's documents were found detailing a shipyard in Perast.
So here, many craftsmen were mentioned building sailboats… as well as transporting goods. Then, in the 16th Century and beyond… Perast was noted as a significant nautical base on the Adriatic Coast, and to protect Kotor Bay.
Now, when you visit Perast, you'll notice different architectural styles… including Venetian and Baroque. And, the amazing architecture combined with the breathtaking landscape… makes a half day or day trip from Kotor to Perast a must.
So, we waited until we got a sunny day to witness the beauty that Perast has to offer.
How To Get From Kotor To Perast
To get from Kotor to Perast, there are several options you can choose to do. Of course, if you have a hire car or your own transport… this will be the quickest option. So, with that you can get from Kotor to Perast in about 15 minutes… depending on the traffic conditions.
Otherwise, you could choose to get a taxi or a private driver… which would take about the same amount of time. Yet, the price would be around 10-20 Euros one way.
Another option is if you want to ride a bike there. Yet, good luck with that! We wouldn't do it, as you'll discover why in this travel blog post soon.
So, one of the cheapest and simplest ways is… to get the Blueline bus from Kotor. And, this is the option we chose.
The main stop to get the bus from Kotor to Perast… is on the major highway called, Jadranska Magistrala (Adriatic Highway, the E80/E65). The bus stop is between the Gurdic Gate of Kotor Old Town, and the Green Market.
And, on the road next to the kerb… you'll see a large section painted in yellow for the bus to stop. When there aren't any buses, you'll see lots of cars parking there… to drop people off to get their produce from the Green Market, and head off again. Here's a photo of what the surrounding area looks like.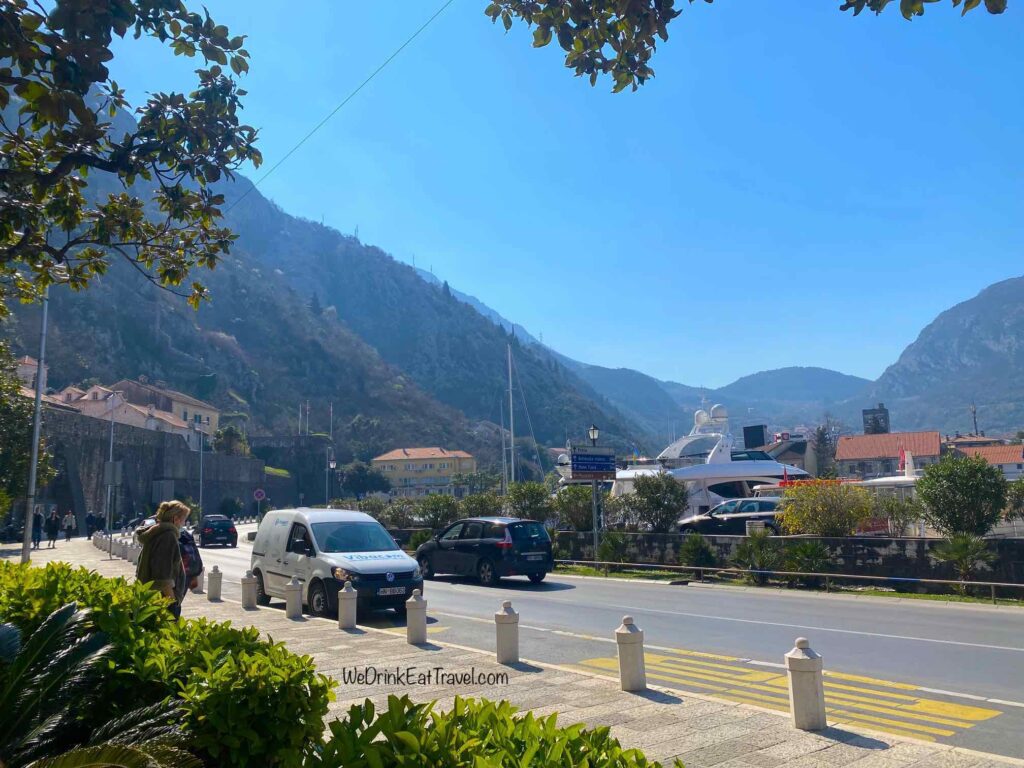 Now, there is another bus stop near Kotor Old Town… which is near the Kamelija Shopping Centre and Voli Supermarket.
Look out for a big white bus with the company name of, "Bluelines" on it, like this…
The main destinations will be written on a board on the bus dashboard. Now, don't worry if you don't see a destination of Perast on the board.
All we did was when the bus was at the stop, we simply said the word Perast. And, the bus driver will let you know if he stops in Perast or not. Yet, when the bus driver saw us before we even said anything, he asked, "Perast?"

Now, in the low season our understanding is that the bus runs every hour. We were told it should arrive around 15 minutes past the hour. The bus we took came by at 10:20 on a Saturday morning. We hear that there are more services during the Summer season.

The bus ticket is a measly 1 Euro per person. The bus makes stops as several points along the way, even unplanned ones too!

The road to Perast is narrow in some sections. So, when a truck or bus was coming in the opposite direction… our driver had to slow down a move to the right as much as possible. And, while doing this, our bus driver who looked like a grand young age of 80… was having a jolly good time chatting and laughing with the locals. Yep, we felt safe… LOL!
Yet, to get your mind off that… there are some lovely views to be seen on the bus trip from Kotor to Perast.
Then, as we got closer, the bus driver was yelling out Perast… and that was most likely for the benefit of the tourists! Yet, where the bus stopped was outside the town centre. And, we suspect that's because someone on the bus, who had a lot of luggage… wanted to be dropped off earlier, so it was more convenient to his accommodation. Good old country towns!
So, the bus from Kotor to Perast took about 30 minutes… even though it didn't feel that long.
Our First Sneak Peek Into the Town of Perast
So, even though the first stop wasn't in the town centre of Perast… we decided to get off at that point. In fact, we walked a bit further back to where the town of Perast starts. And, remember what we said earlier… that Perast is a tiny town that spans a tiny 1km.
So, here was our first glimpse of Perast…
And, as we got closer into town, there were some restaurants on the waterfront setting up.
Plus, there was this incredible view of the sea and mountain landscape…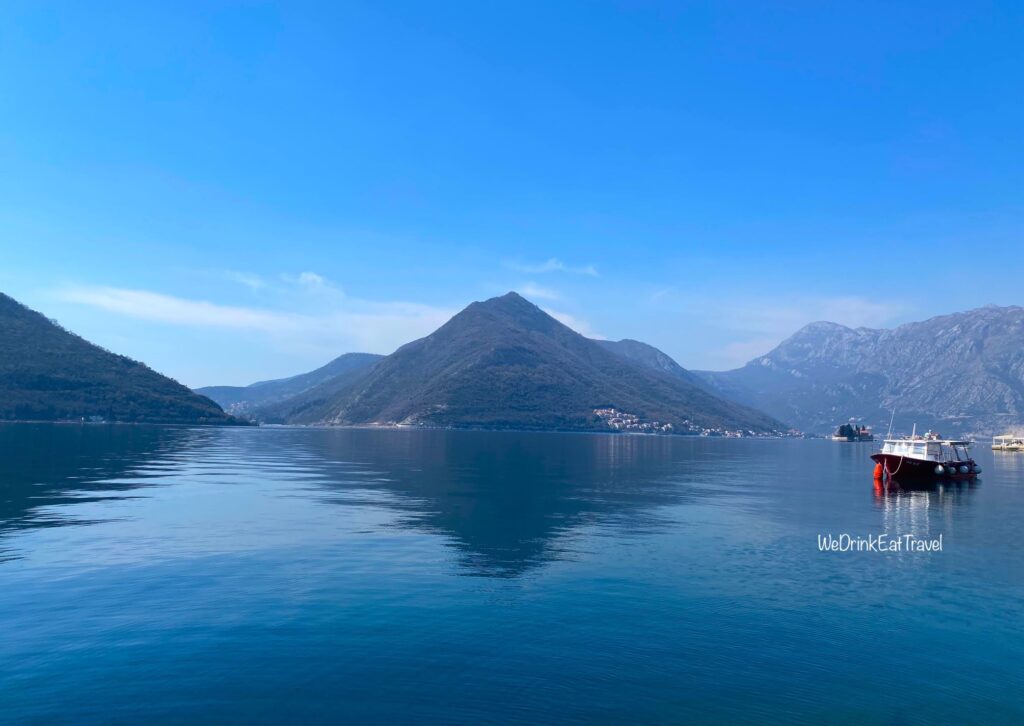 Yet, one of the most popular things to do in Perast… is to go to Our Lady of the Rocks Island.
A Boat Trip in Perast
So, when you get to the town centre, there'll be several people touting their services for a Perast boat tour. And, you'll get varying prices depending on where you want to go, and for how long.
Now, the further north we went past Perast town centre… there were even more Perast boat trip organizsers. Yet, be wary that there are some shady looking characters. And, under their breath they'll offer you a "good price for a boat tour." It's up to you what you do, but we avoided them!
We saw one place where several families, couples and single people were using their services. So, here's what it looks like…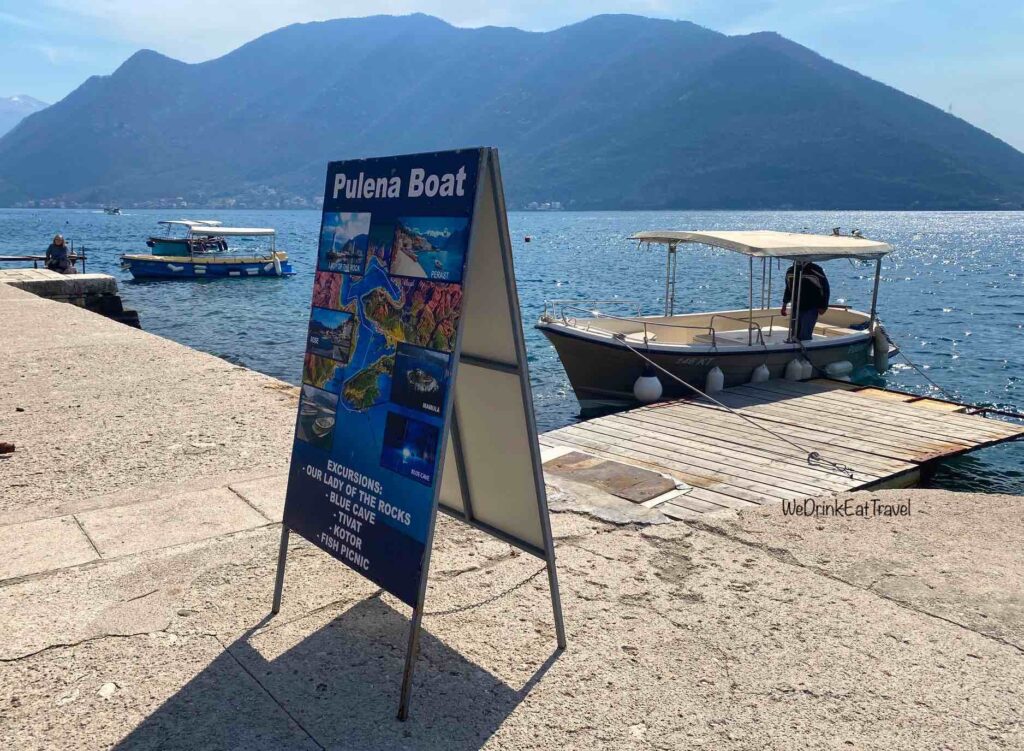 Now, he said that to get his boat from Perast to Our Lady of the Rocks… was 5 Euros per person. Was this a tourist price or a price for all? Nevertheless, we made the decision to take the trip with this operator… considering we'd seen several others using their services.
So, for 5 Euros they would take us past the tiny island of St George… and then to Our Lady of the Rocks Island. Then, they would pick us up in about 30 minutes to go back to Perast.
If the truth be known, if we had the choice we would've gone to the Monastery. When you compare the two landmarks…we found that the 12th Century St George Church and Monastery had more character. Yet, we did find out that there is a cemetery there as well.
Yet, we were told that we couldn't visit this historic landmark. So, we had to admire it from the boat…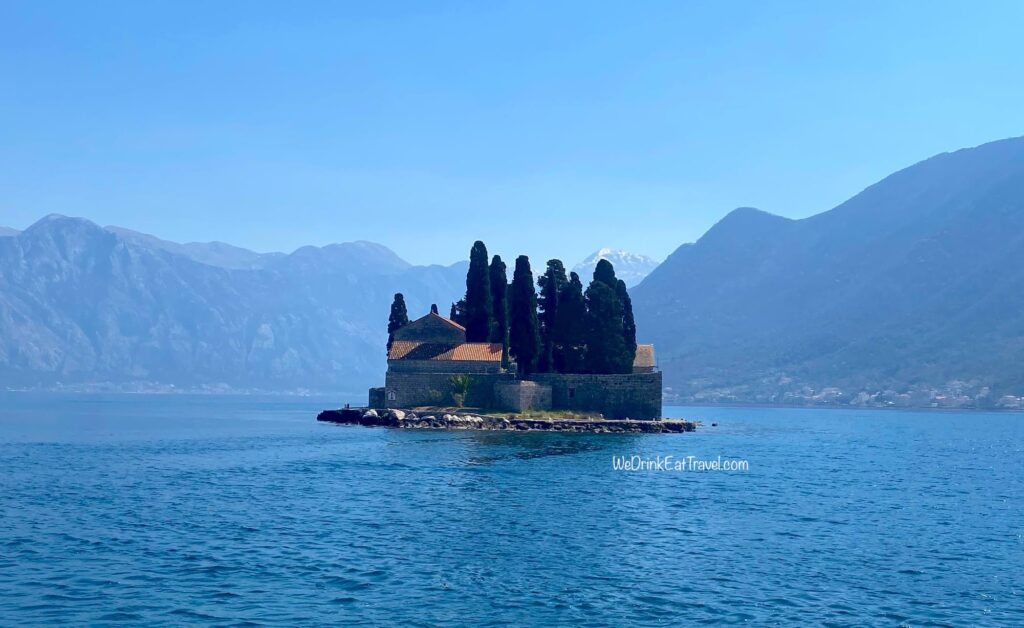 And, although it was a short boat ride… we could get some beautiful photos in the bay of Boka Kotorska. It sure looks breathtaking!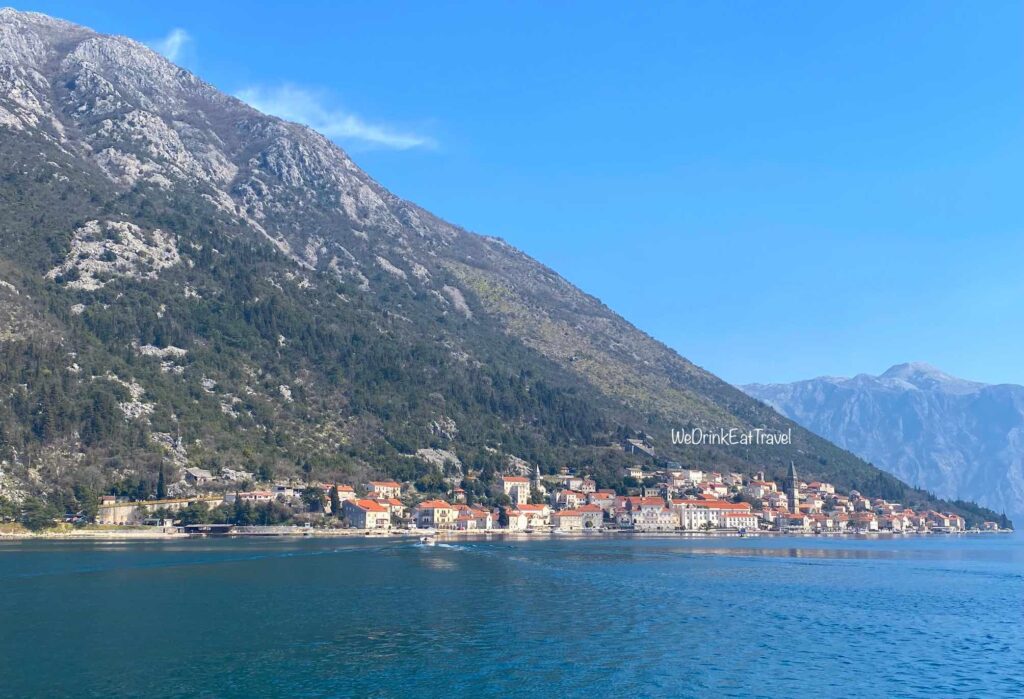 Our Lady of the Rocks Island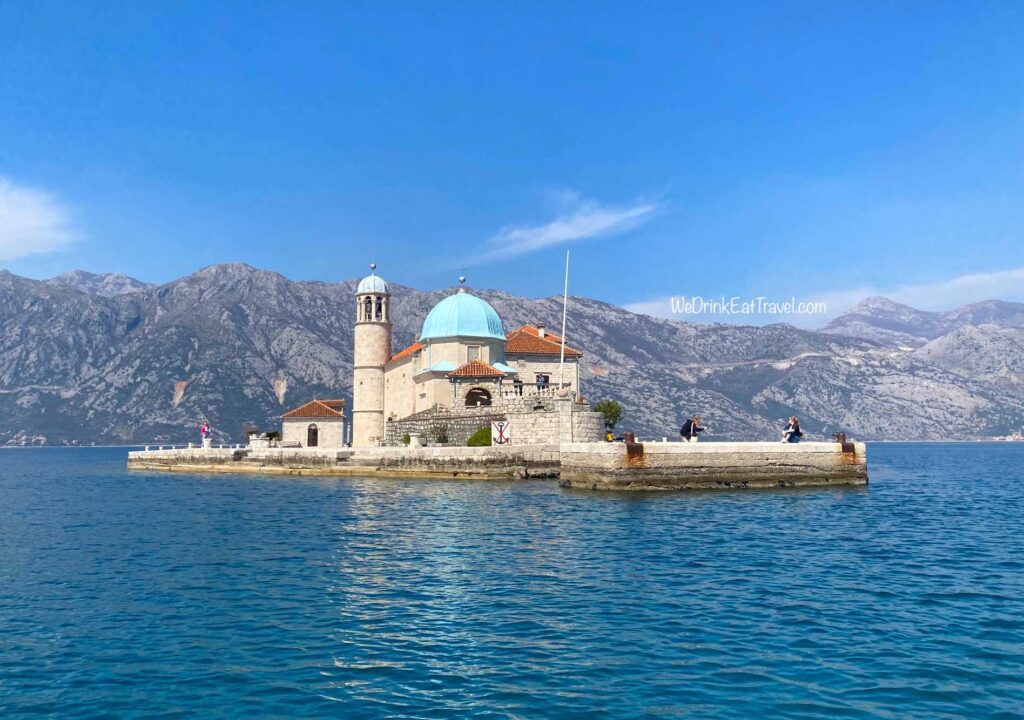 Our Lady of the Rocks is a man-made island, created in the 15th Century. And, legend has it that on July 22, 1942… two fishermen from Perast found a symbol of the Virgin Mary on a rock by the sea.
Then, each time they came back from their journey, they laid a rock in the sea. So, over time, the island was built from the accumulation of rocks.
Nowadays, it's still a tradition of throwing rocks into the sea. Plus, there's an annual event held on July 22 called, Fašinada. And, this is where the locals take their boats into the water in procession… dropping rocks in the area.
So, when you get to Our Lady of the Rocks Island… you can do a tour of the church and museum for 2 Euros. Yet, once you step inside this Catholic church… one of the first things you'll notice is the altar.
The striking maroon color of this ornate altar… is the backdrop for the centrepiece sculpture by, Antonio Capellano. As well as the painting in the middle of the altar, done by Lovro Marinov Dobricevic, in the mid 1400's. The intricate detail of this altar is striking, especially when you look up close.
Unless you do a tour, we had lots of time to spare on Our Lady of the Rocks Island.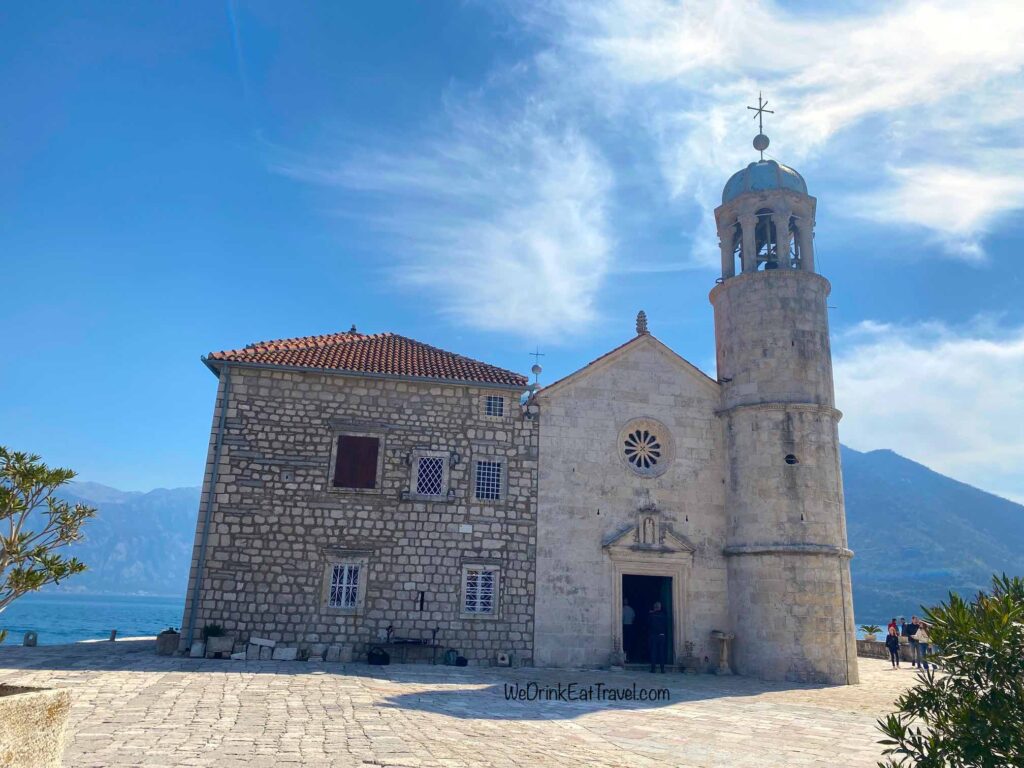 Yet, if you're wanting to do the tour… you'll need to allow enough time for the tour alone. So, this is important when you're choosing which tour operator to go with.
Also, when we got there around 10:45am, there were already a few groups there. Yet, as we were leaving even more boat loads of people "rocked" up… and the church was busy with groups of people on tours.
Check this out for the best tours of Perast and surrounds.
The Quaint Little Town of Perast
Now, for such a small town that has a few hundred population, and spans only about 1km… Perast has several churches, more than a large town! And, one of the most prominent in the centre of town on the waterfront is, St Nicholas Church. This history of this church is interesting, as it combines 2 different churches.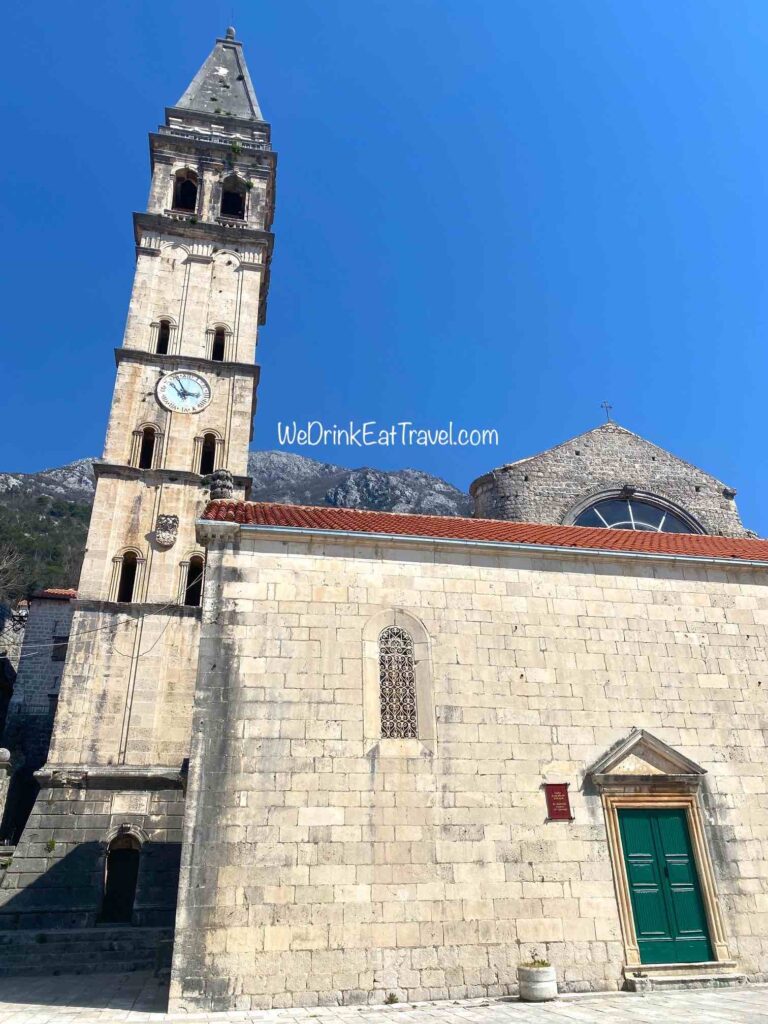 The first church was built in the early 1600's. Then, a new one was being built in the mid 1700's but it wasn't completed. So, you'll be able to see that there are 2 different architectural styles to St Nicholas Church.
Unfortunately when we were there, the church wasn't open. Others have said that you can go up to the bell tower, and see amazing views over Perast… for a fee of 1 Euro.
So, what we did instead to get a birds eye view of Perast… is we walked up to Our Lady of the Rosary Church, built in the 17th Century. And, next to this is the Zmajević Palace, both of which were not open when we were there.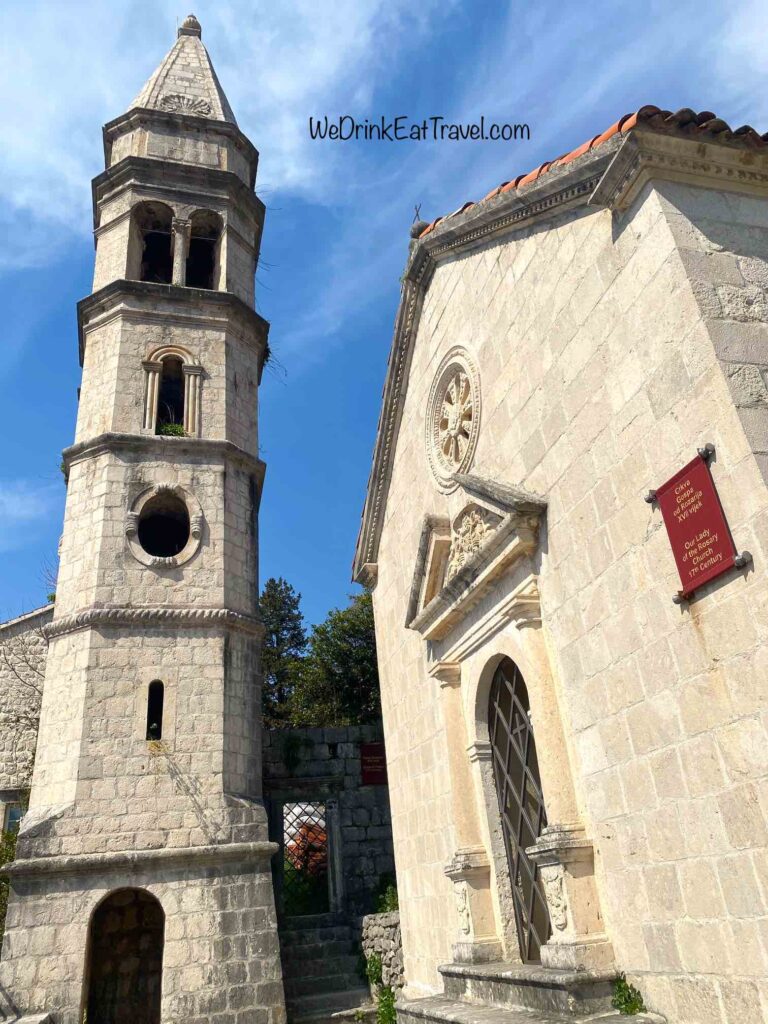 Then, we took some steps further up behind this church… to the main road nearby Bella Vista Zmukic Guesthouse. And, from here we could get some beautiful views of Perast and it's amazing landscape…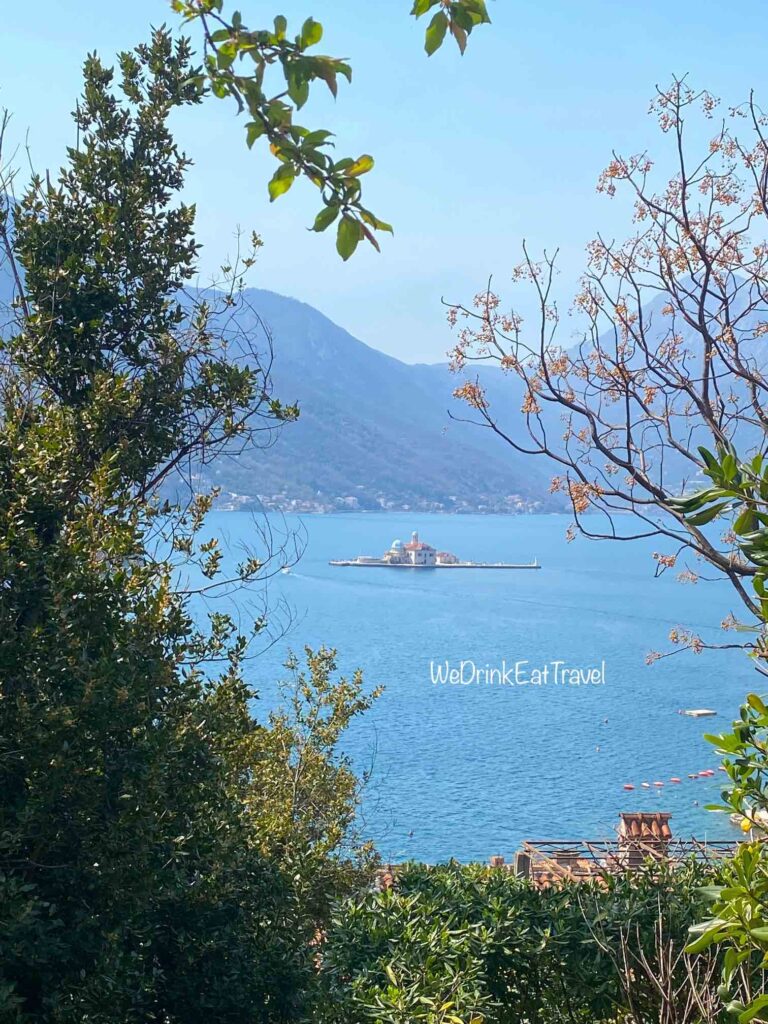 We also wandered around the backstreets of Perast. Yet, as it is such a small town, we didn't get lost! It was interesting though to have a look around… seeing the old stone houses, walls and alleyways.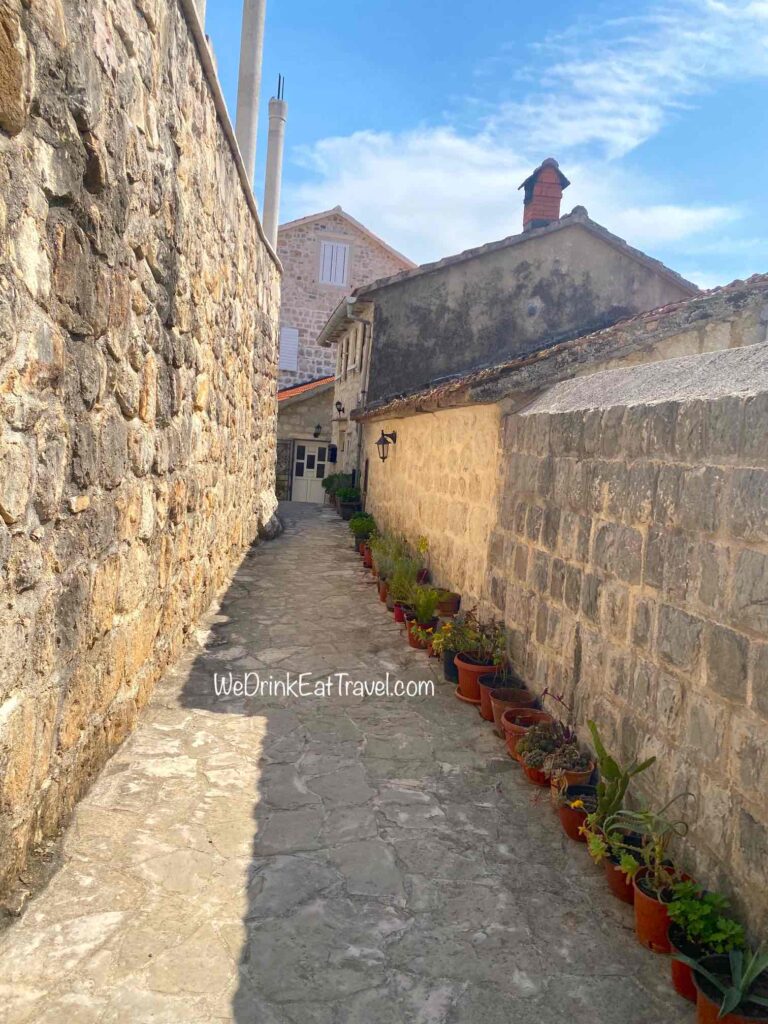 One of the other notable buildings you'll see in Perast is this…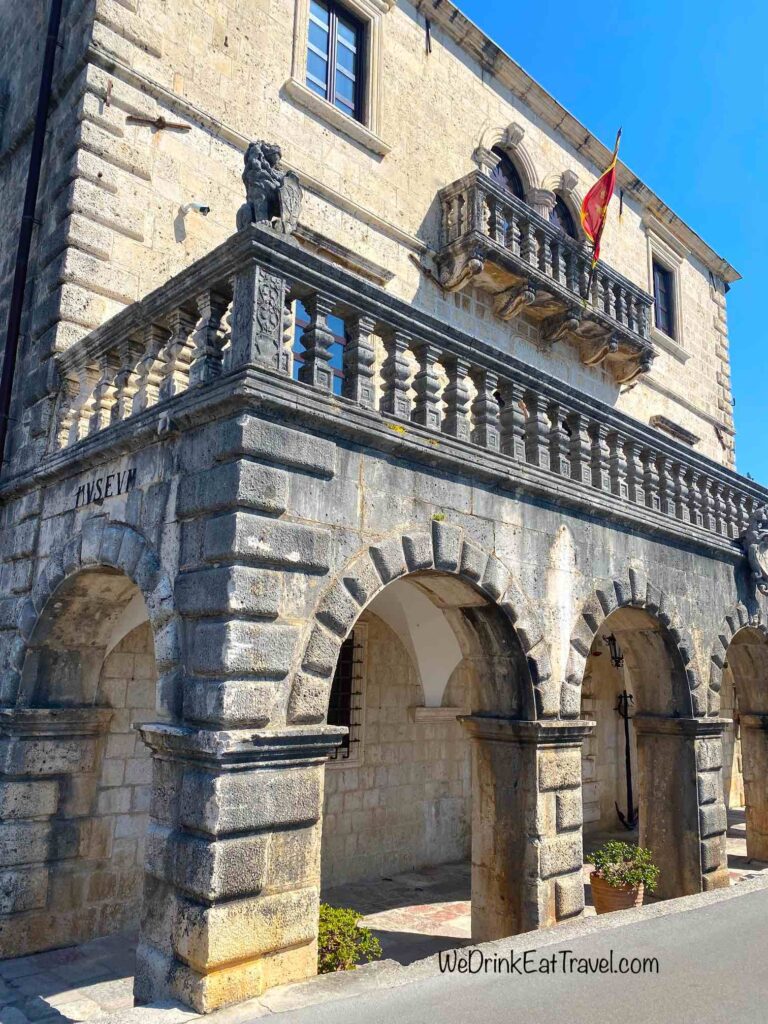 This is the 18th Century Baroque-style Bujovic Palace, which houses the Perast Museum. And, it's said that many of its artefacts were via donation of locals and their families. Then, more pieces in the museum were brought in, making the museum bigger in the 20th Century. It does have many maritime artefacts… yet for 5 Euros we didn't think it was worth the money to check it out. But, if that's your thing then go for it!
There are many other buildings and churches you can see while in Perast… some in better condition than others. Yet, if you're not in a hurry then take your time strolling around.
Relax and Enjoy the Views in Perast, Montenegro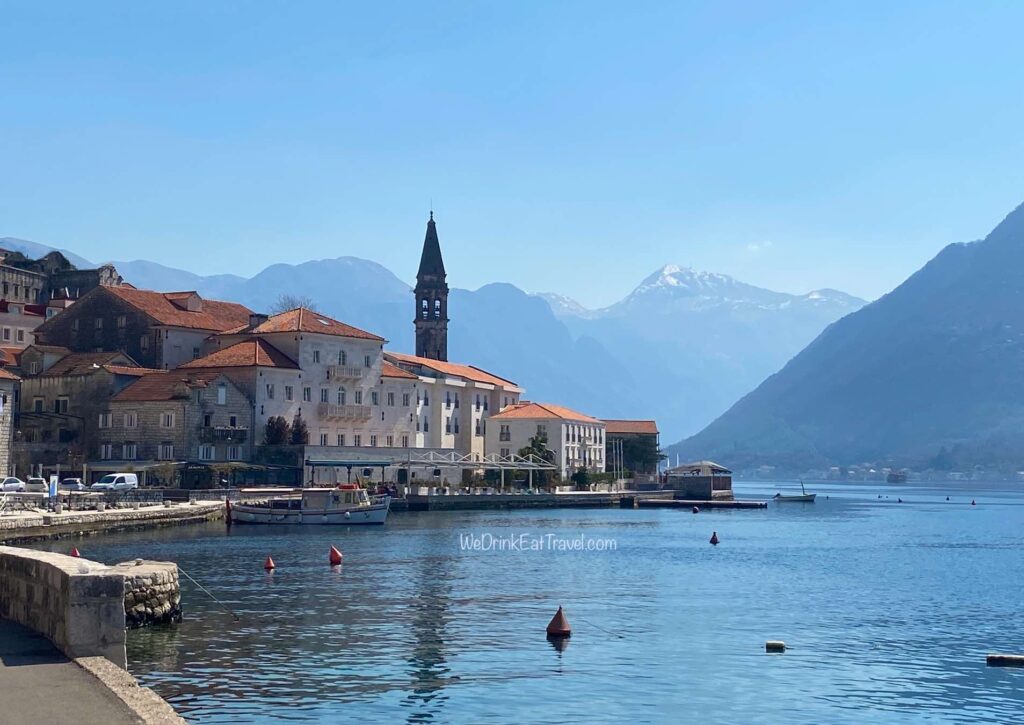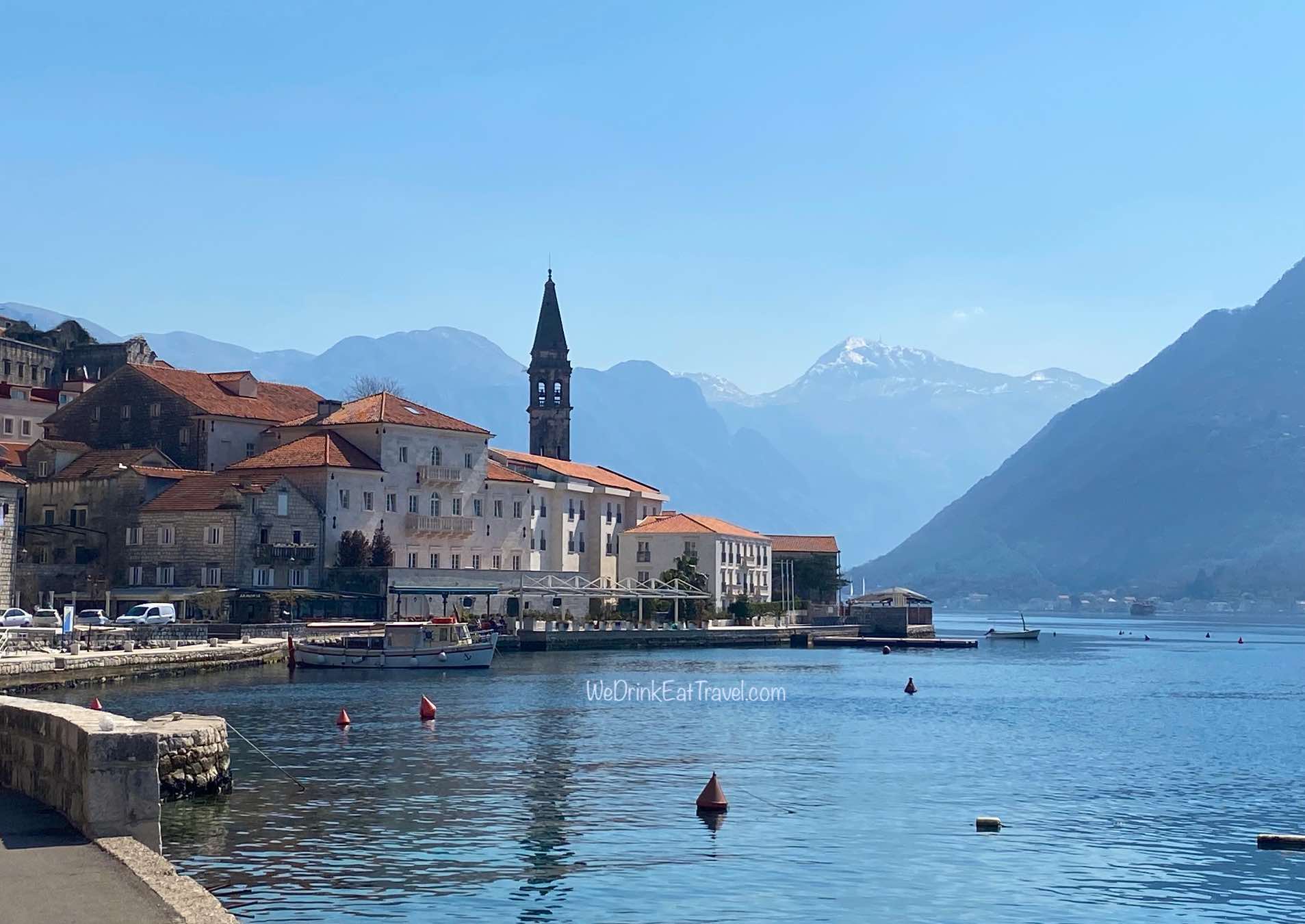 Now, when you're in Perast… you can take in the amazing views at one of the restaurants or cafes dotted along the waterfront. Of course, many of them serve fresh fish and other seafood, if that takes your fancy.
Or, pack yourself a picnic and grab a seat along the waterfront. If you want a less busy area, head further north past the centre of town… and there are a couple of seats under the shade of trees.
Otherwise, if you're only doing a half day trip of Perast, buy an ice-cream or snack… and soak up the laidback atmosphere and breathtaking landscape, before heading back.
So, to get from Perast to Kotor, we took the Bluelines bus again. And, the main bus stop is in the centre of town, with a seat and shelter. Yet, if you do happen to miss it… wave the bus driver down, as he will most likely stop and let you on. We found that although there are the main routine stops… the bus may stop at other places along the way!
We did enjoy our half day trip to Perast, which is picturesque and laidback. If you do have the time, we recommend you go there.
Have Fun!
Like This? Share it and comment on it!
Note: All of our reviews and comments are our opinions and no-one else's. Even if we receive complimentary goods or services we share our opinions honestly.
You Might Be Interested In This Too…
How To Get FREE Accommodation While Travelling
One Of The Amazing Things To Do In Kotor Montenegro
Hiking Kotor Fortress – Things You Need To Know
25 Of The Best Things To Do In Kotor Montenegro
Where To Eat In Tivat For The Best Fast Food
Ultimate Tivat Hiking Trail For The Most Breathtaking Views
Check Out 16 Things To Do In Tivat Montenegro
13 Interesting Places To See In Podgorica Today
The Ultimate Guide To Vietnamese Coffee
7 Tips For Handling A Vietnam Taxi Scam
Here Are 7 Remarkable Things To Do In Berat Albania
7 Free Things To Do In Bangkok
10 Places To Visit In Gozo Malta For Breathtaking Views
7 Top Reasons Why You Should Visit Bansko Bulgaria
10 Picturesque Churches To See In Vienna Austria
How To Make Your Time In Tirana Albania Fun And Memorable
Shop Until You Drop In Ratchada, Near Thailand Cultural Center MRT
10 Popular Drinks & Food In Skopje To Make You Happy
Spotlight On Albanian Drinks And The Best Bars In Tirana