One of the destinations high on everyone's places to visit in Croatia is, Dubrovnik. And, you'd be crazy to not visit this gorgeous medieval town… with the nickname of the "Pearl of the Adriatic." When you go there, you'll understand why Dubrovnik has this endearing name.
The history of Dubrovnik dates all the way back to the 7th Century… where then it was known as Ragusa. Yet, like many countries and cities in Europe, Dubrovnik had its fair share of rulers… from the Venetians to the Ottomans, for example.
Yet, it in the 9th Century the siege of the Saracens began. And, this is when Dubrovnik would start building its city and defences… such as the iconic Dubrovnik Old Town Walls.
So, from this point on and for centuries later… attacks on the city would damage this charming town. Plus, Dubrovnik would also suffer massive destruction through natural disasters, such as earthquakes. 
Yet, with the help of key leaders, and the resilience of the local people… they would continue to re-build and re-store Dubrovnik, to the beauty you see today.
Then, in 1979, Dubrovnik Old Town was added to the prestigious… UNESCO World Heritage Listings. Since then, major re-developments have been occurring… to continue to help preserve this incredible landmark.
Now, with that vast history… you'll understand why there are many things to do in Dubrovnik Old Town. And, if you take your time… you could spend a couple days, exploring the old city of Dubrovnik. Plus, if you love architecture then this is definitely a place you'll love to explore.
So, in this We Drink Eat Travel blog post… we'll share with you 25 top things to do in Dubrovnik Old Town.
Let's get right into it now…
Pile Gate
While there are several entrances to Dubrovnik Old Town… we thought that Pile Gate was the most grand out of all the gates. It looks so commanding when you first lay eyes on it. Plus, when walking across the huge drawbridge leading to the entrance… it's like taking steps into a whole new world.
And, with Pile Gate, after walking through this entrance…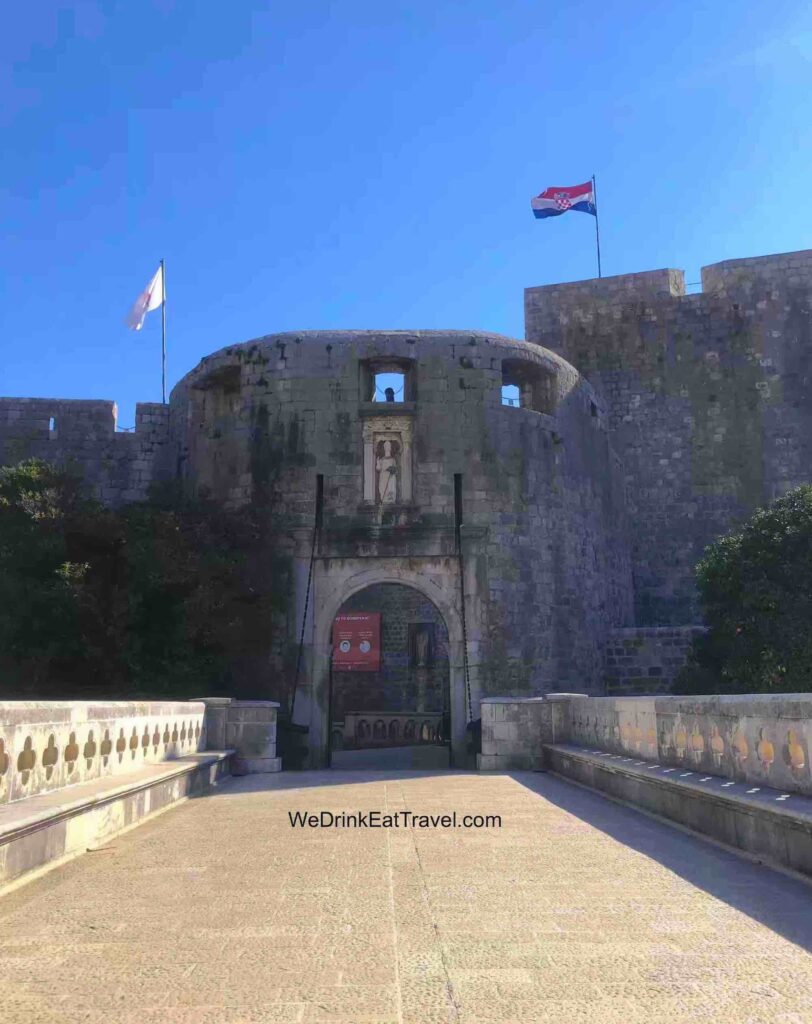 You'll discover that there's a smaller, second gate!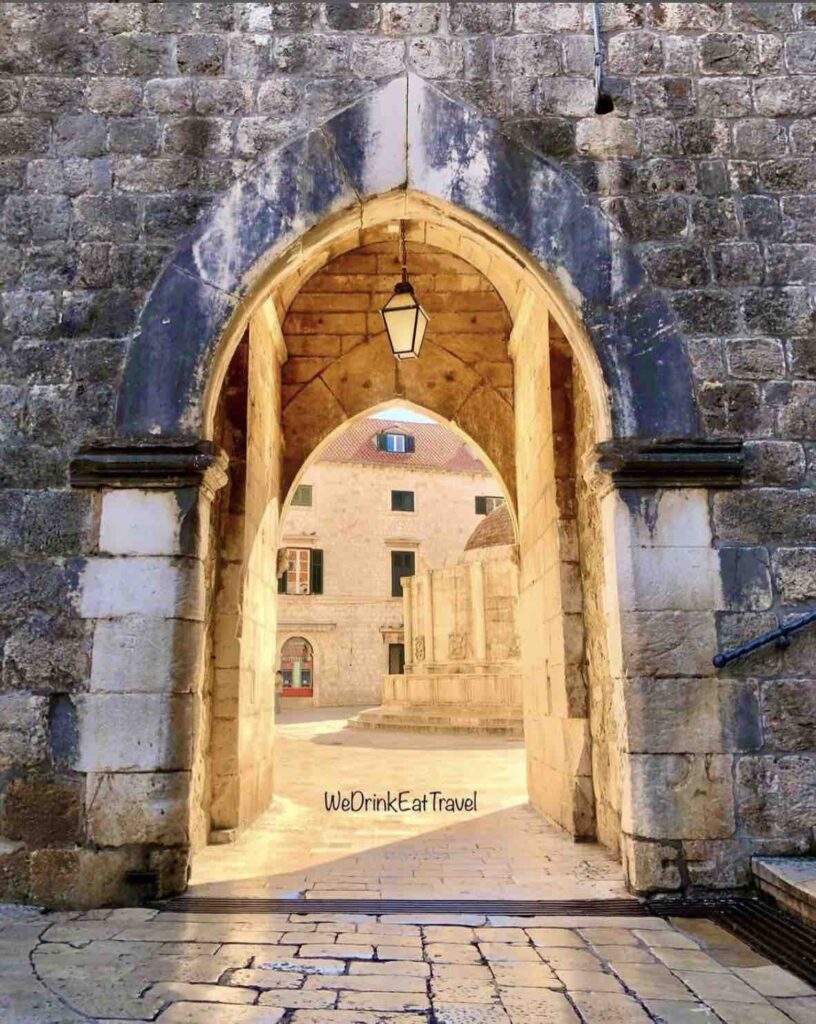 Then, after strolling through this entrance, take your first look inside Dubrovnik Old Town…
Onofrio's Fountain
After entering the old city of Dubrovnik via Pile Gate… one of the landmarks you'll see is Onofrio's Fountain.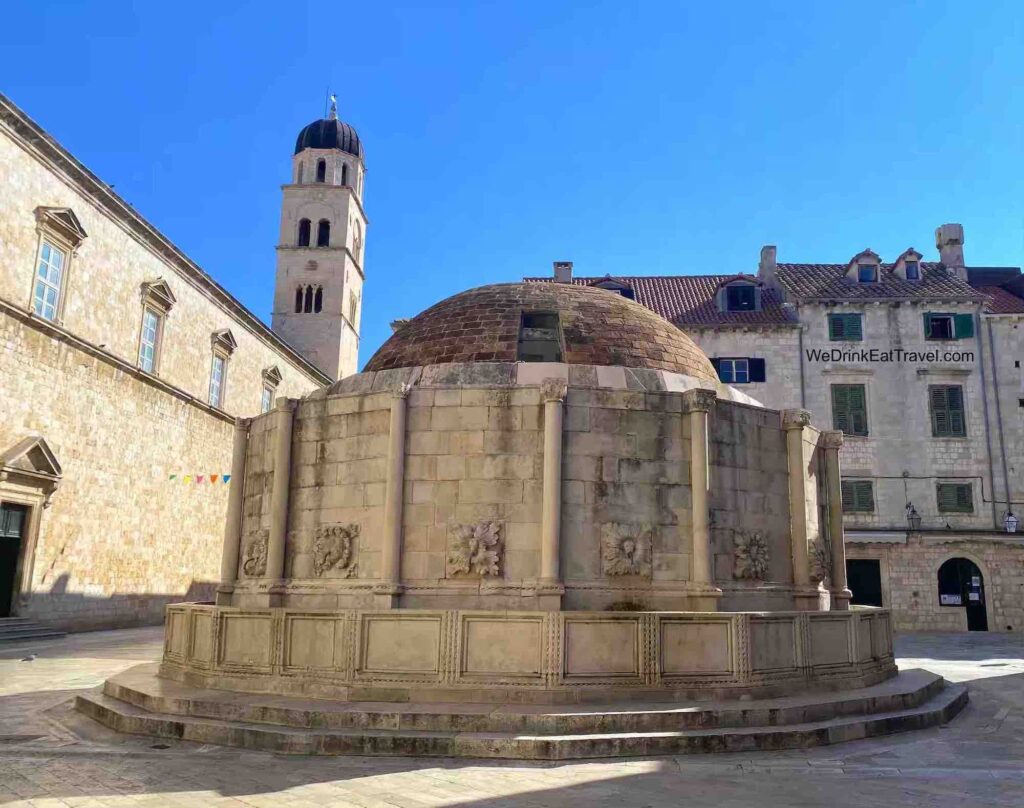 The design of this aqueduct system for the people of Dubrovnik, was by an Italian architect… Onofrio di Giordano della Cava.
When you walk around the fountain there are 16 taps. And, each of these faucets are made up of carved out faces, with such intricate detail.
Church of Holy Savior
Now, next to Onofrio's Fountain is the Renaissance-style Holy Savior Church.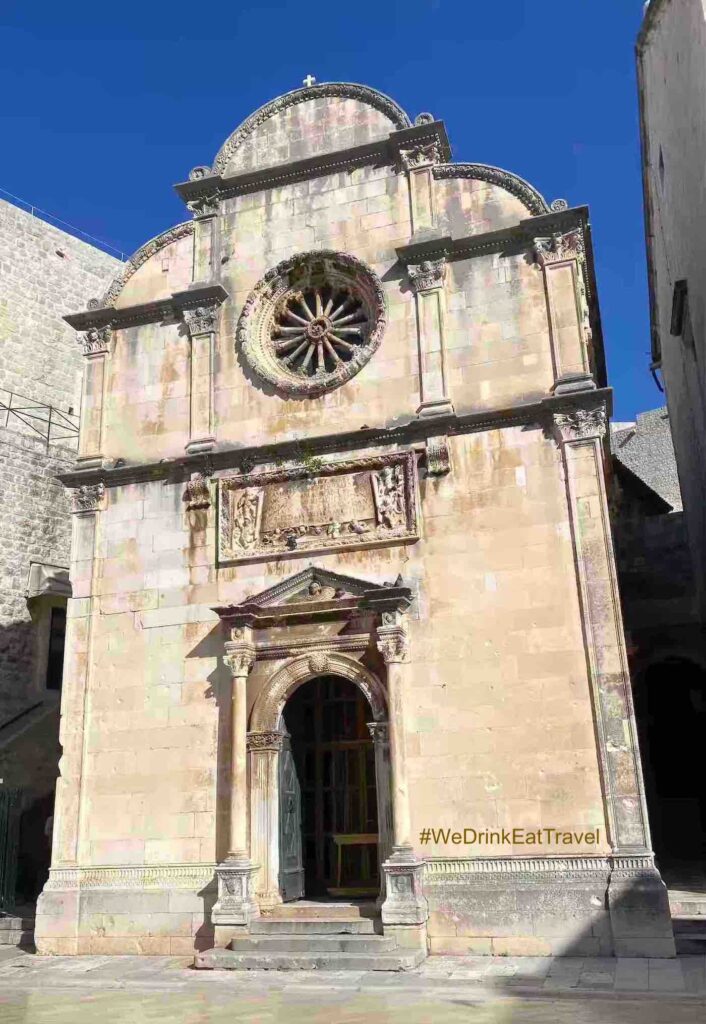 In 1520, Dubrovnik was hit by a strong earthquake. And, it's said that this church was built… to thank the Gods for saving the town from destruction.
And, right next to the Church of Holy Savior, is this Dubrovnik Old Town attraction…
One of the Oldest Pharmacies in Europe
The Franciscan Monastery Dubrovnik, was built back in the 13th century. And, as part of this complex it includes 2 cloisters, library… and an old pharmacy. Yet, you may be wondering what the attraction is with going to a pharmacy?
Not only does the Franciscan Monastery have the oldest pharmacy in the Dubrovnik… it's one of the oldest functioning pharmacies in the world. Plus, this complex has wonderful architecture… with its mix of Gothic and Baroque styles.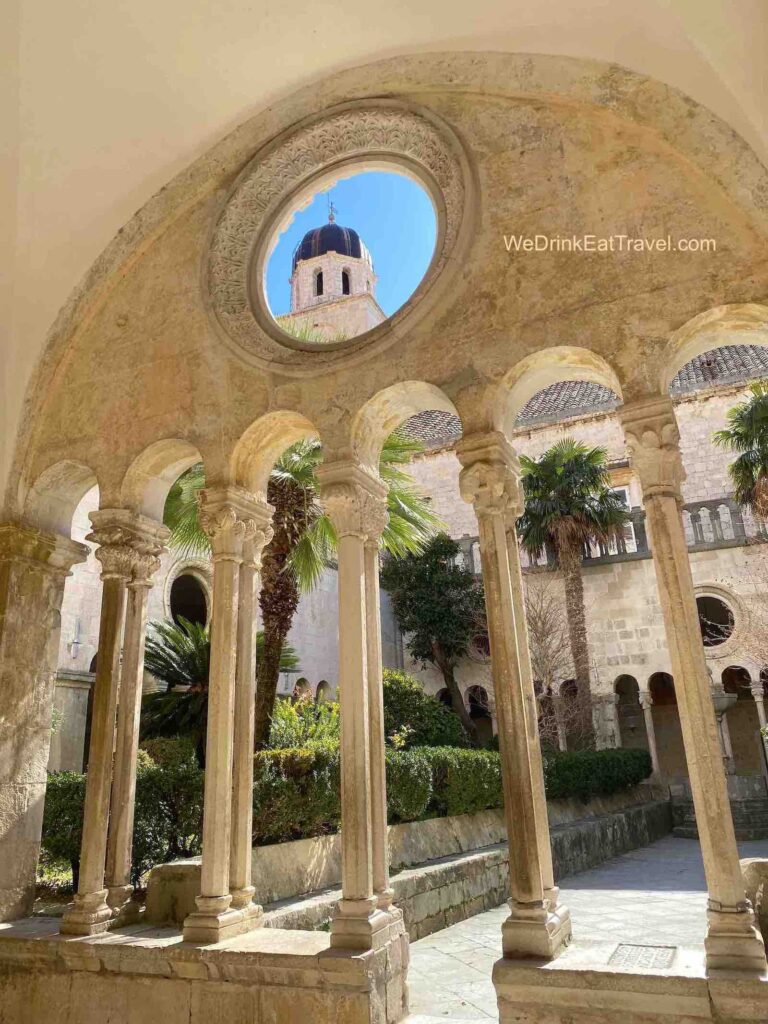 Also, so you know… the Franciscan Monastery including the old pharmacy is free to enter, with the Dubrovnik Card. 
Stradun is the main street in Dubrovnik Old Town, which divides the South and North sections. This major street spans about 300 metres… where on either side it's flanked with souvenir shops, restaurants, cafes and more.
Placa Street (Stradun)
What makes this street so picturesque, is how all the buildings are made with the bright limestone. Plus, they have those iconic, forest green window shutters… to give it a beautiful continuity from start to finish.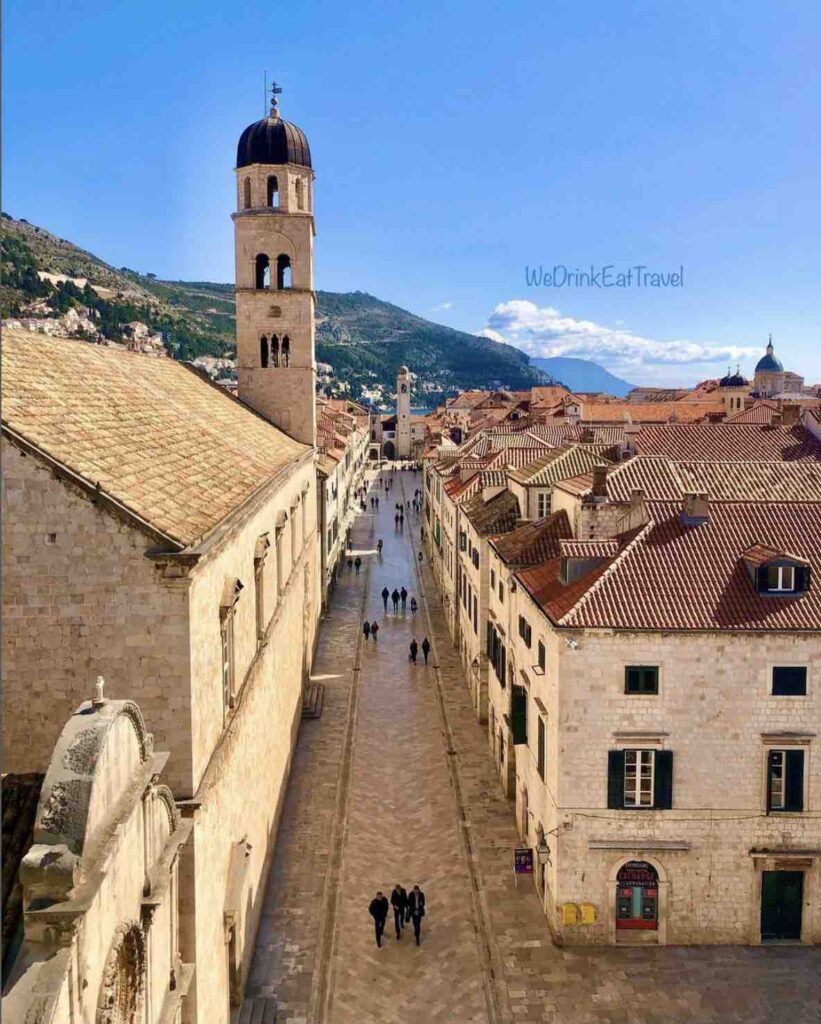 Dubrovnik Clock Tower
Right at the end of Stradun in Luza Square, at the Ploce Gate entrance side is… the Dubrovnik Clock Tower.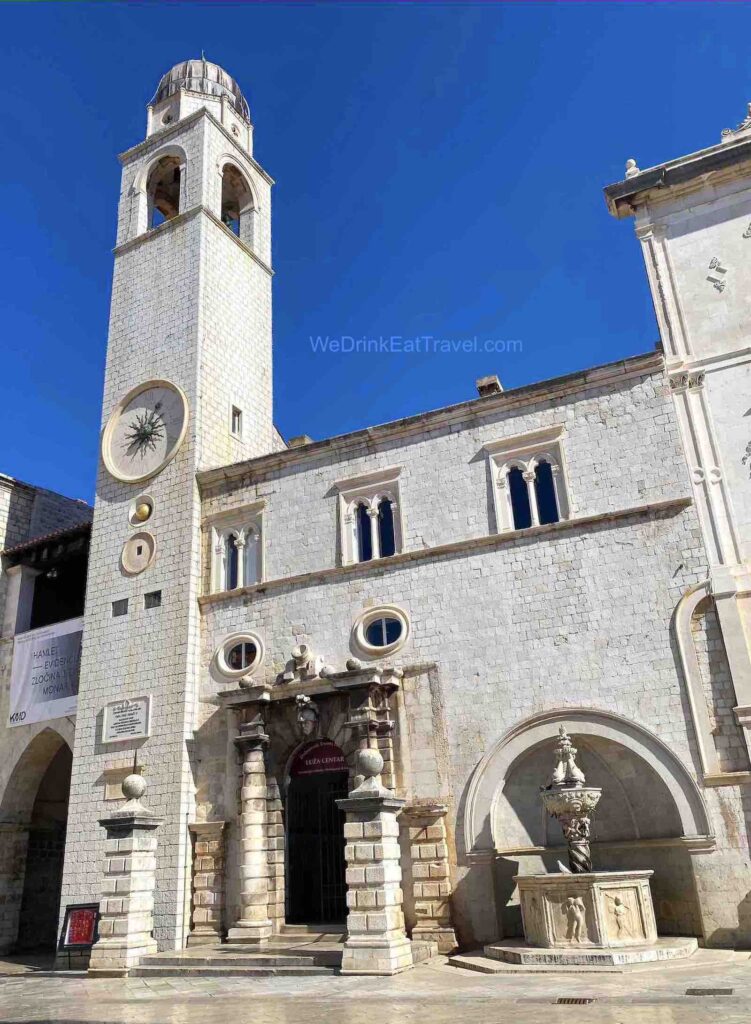 Majestically standing tall at about 30 metres (about 100 feet)… the City Bell Tower was originally built in the mid-1400's.
Yet, what makes the Dubrovnik Clock Tower unique, is the Zelenci. And, what this is are the 2 green figures, Maro and Baro… who strike the enormous bell that you can hear, cascading through the town.
Marin Držić Theatre
One striking building that stands out next to the clock tower is Marin Držić Theatre… which is within the Dubrovnik Town Hall. This striking building, which was built in the mid 1800's was named after Marin Drzic.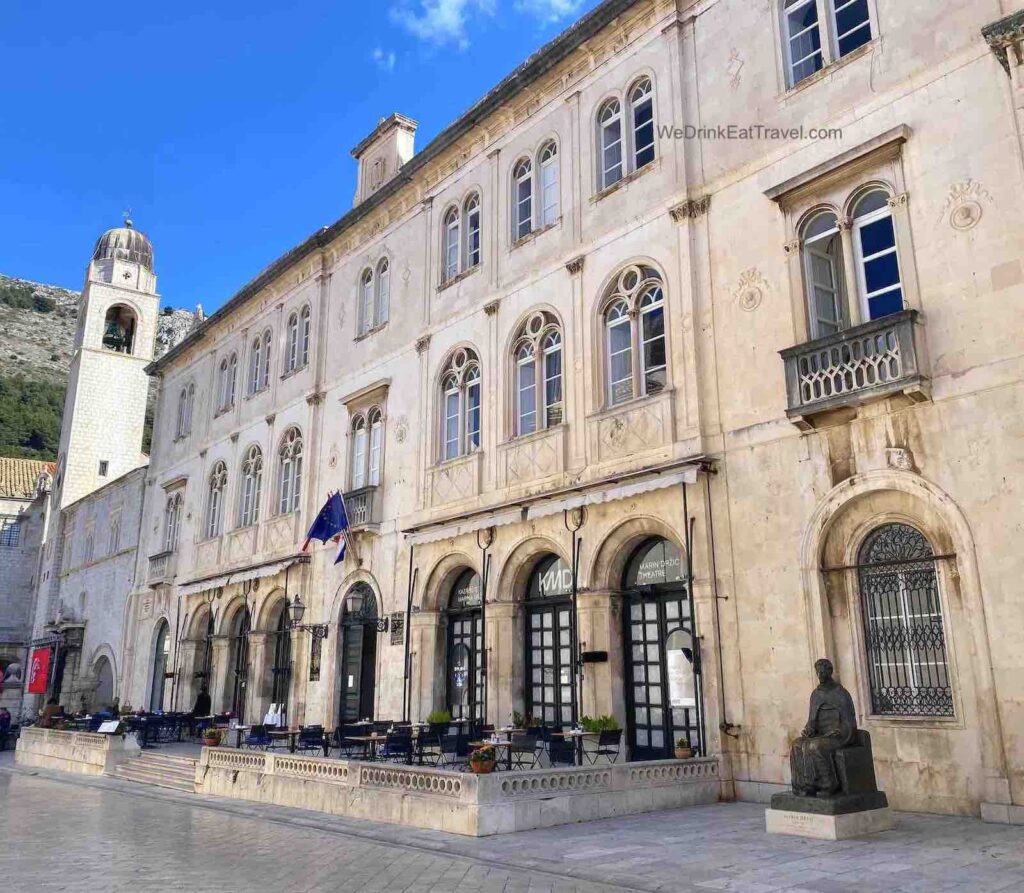 Marin Drzic, born in the early 1500's is a famous writer… where his creative writing was comedic, and used in many plays. He was often referred to as the Shakespeare of Dubrovnik! And, in front of the Theatre is a bronze statue, built in memory of him.
Sponza Palace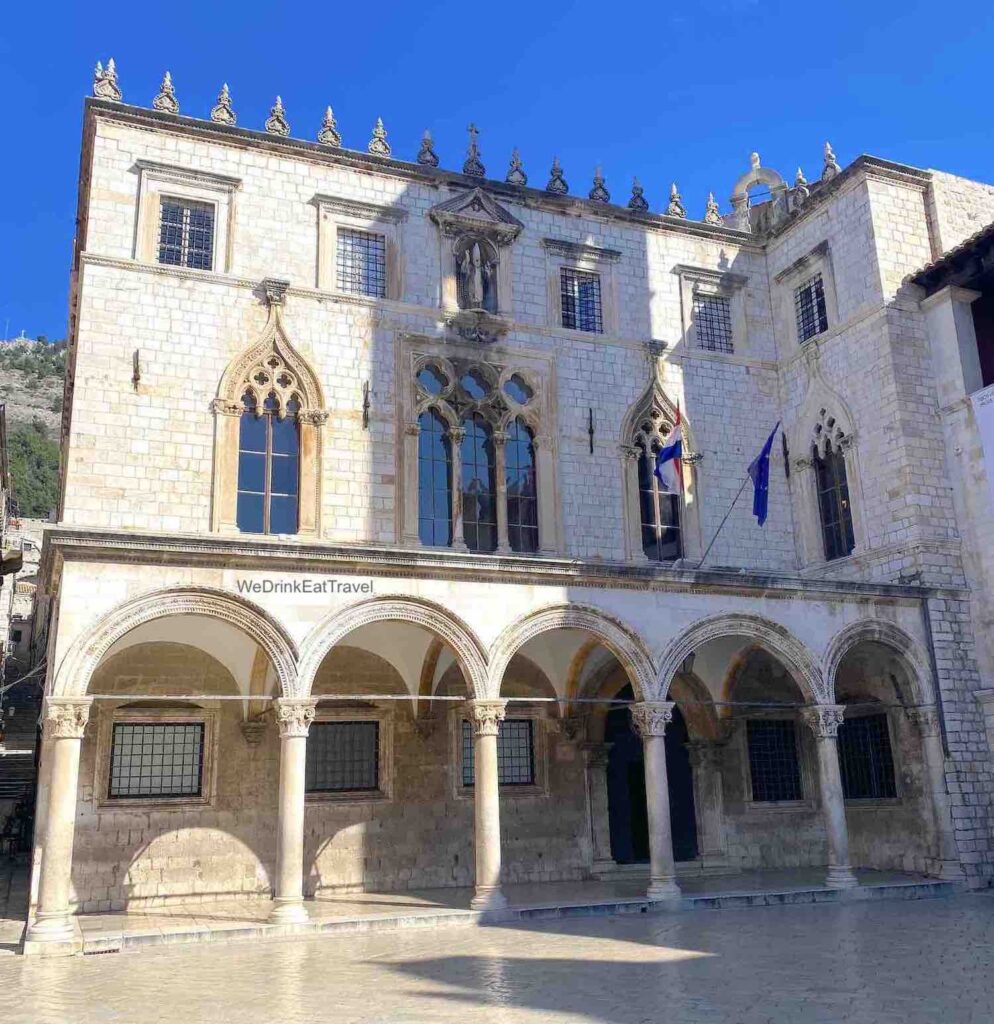 So, behind Orlando Column is Sponza Palace… which is one of the few buildings in Dubrovnik Old Town that would survive the earthquake in 1667. This Gothic-Renaissance style building was built in the early 1500's… where it would house several state offices, as well as the mint, armoury and treasury, to name a few.
And, once you step inside the entrance of Sponza Palace, you'll see the striking courtyard…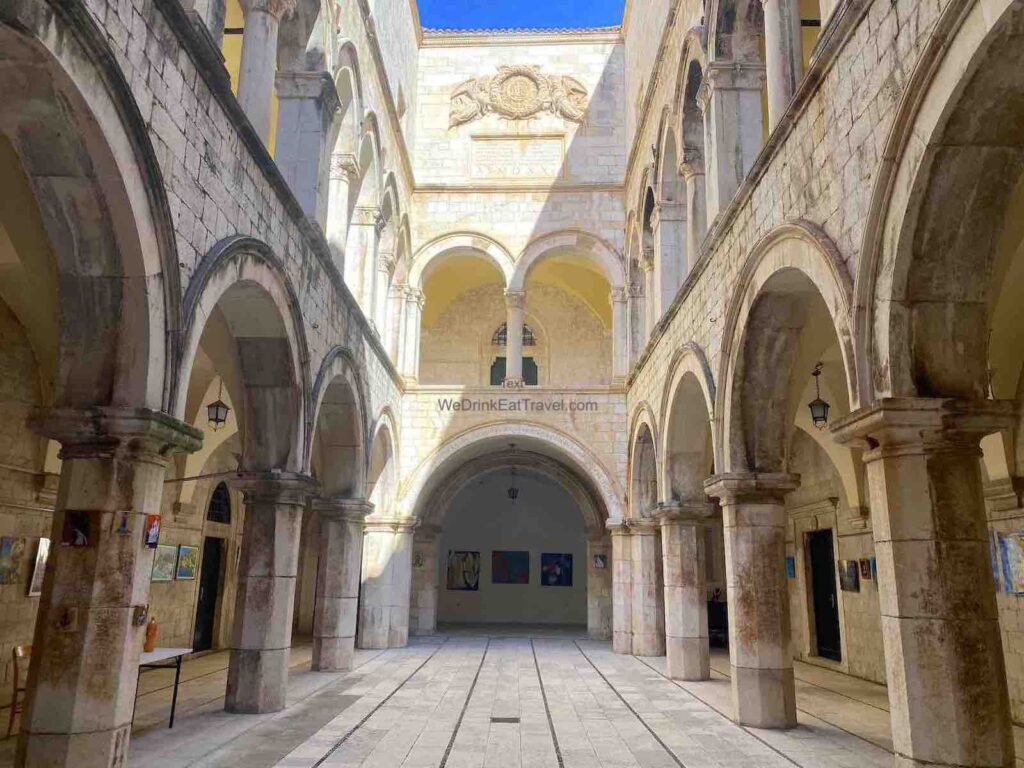 Now, another building in close proximity to Sponza Palace, is…
Rector's Palace
Rector's Palace was built from the late 13th Century… with a mix of Gothic, Renaissance and Baroque architectural styles. And, from the outside of this building, you'll be mesmerized by the colonnade and the intricate detail.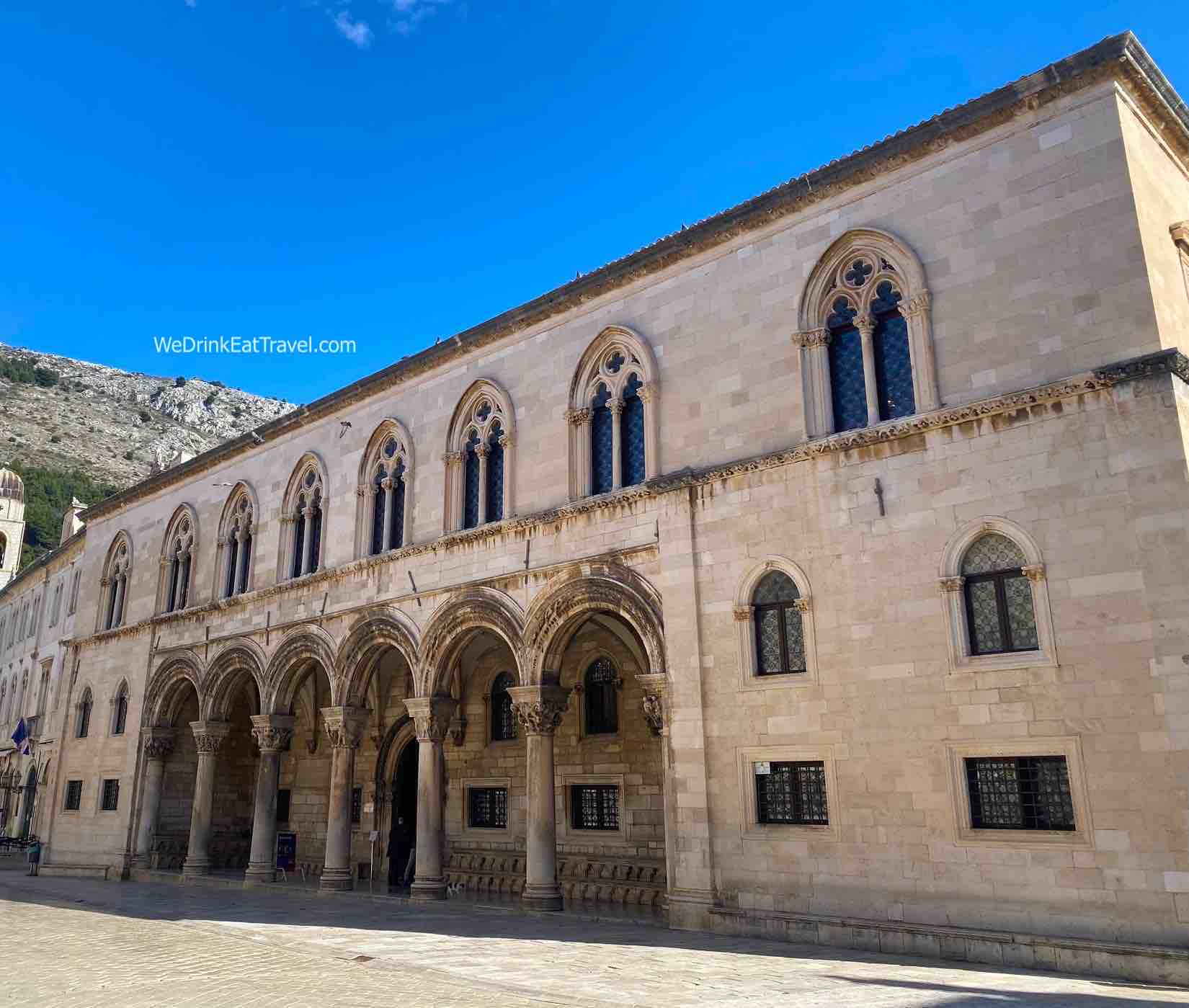 So, within Rector's Place is the Cultural Historical Museum. And, to go in to see this museum, you'll need to pay an entrance fee. For adults it will cost 100 Kuna (about 13.30 Euros / USD $14).
TRAVEL TIP: When you buy the Dubrovnik Card, Rector's Palace is included in this package. So, you can save money and see multiple attractions.
Dubrovnik Cathedral
In Dubrovnik Old Town is this striking cathedral. And, while we were there, construction was happening around it. So, trying to get a pretty picture of Duborvnik Cathedral was challenging… LOL!
Yet, this magnificent Romanesque-style cathedral, built back in the 12th Century is incredibly beautiful. And, here's something that will blow your mind…
It's said that in 1981, during reconstruction of Dubrovnik Cathedral… another church was discovered beneath it! Now, doesn't that make you wonder what else is yet to be discovered?
Jesuit Stairs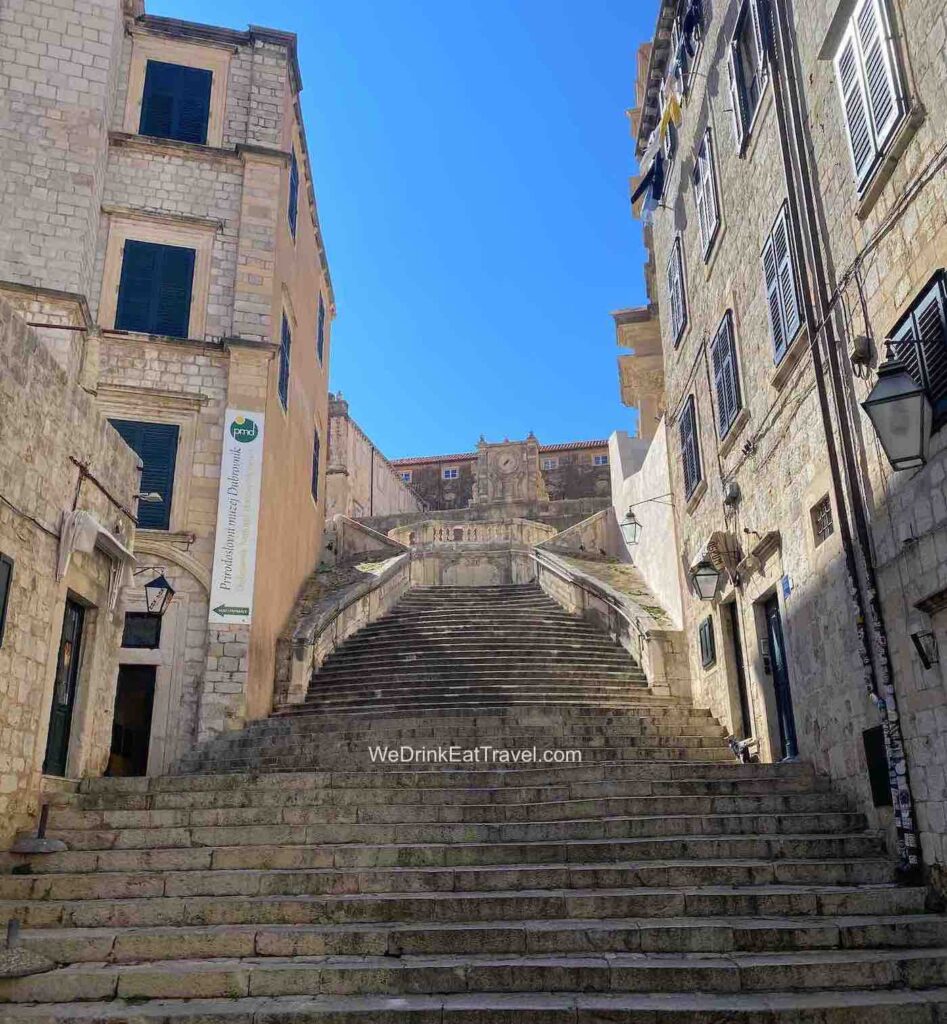 When you're wandering around Dubrovnik Old Town, you'll the striking Jesuit Stairs. And, Game of Thrones fans will immediately identify with this landmark… as the "Walk of Shame." So, while we would patiently wait for other tourists to leave so we could get a pic without anyone in it… the challenge was also waiting for the many cats to leave too!
Church of St Ignatius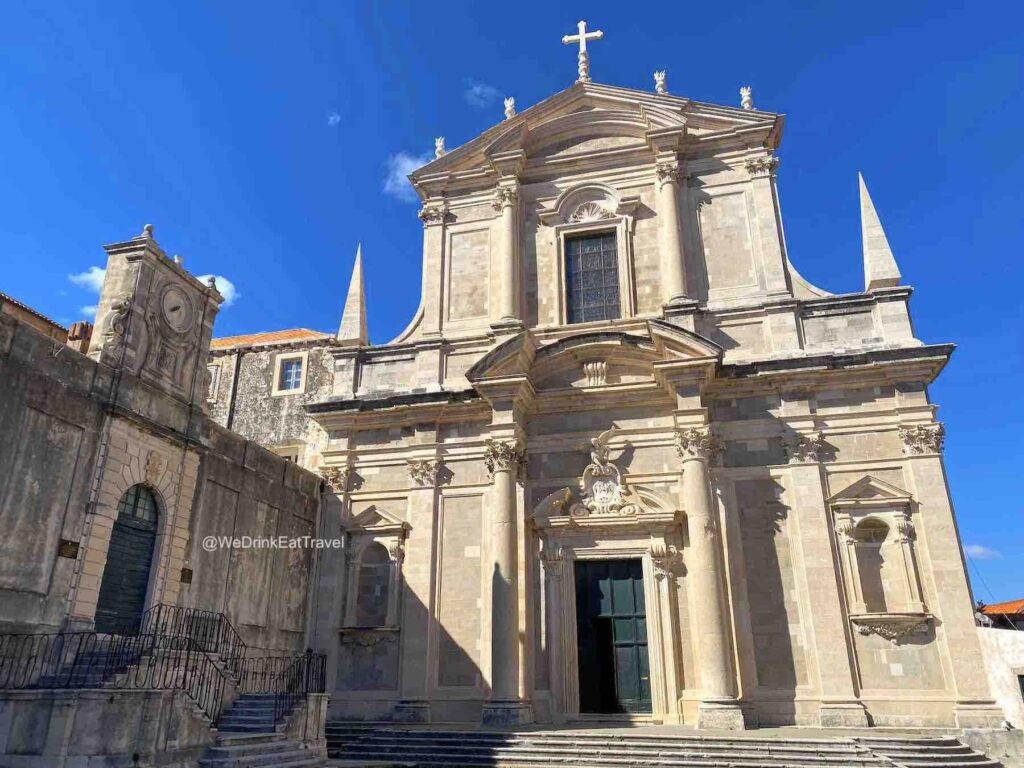 The Church of St Ignatius is a stone's throw away from the Jesuit Stairs. And, the detail of this Baroque-style Church of St Ignatius, is breathtaking with its intricacy and beauty… not only on the outside, but on the inside too.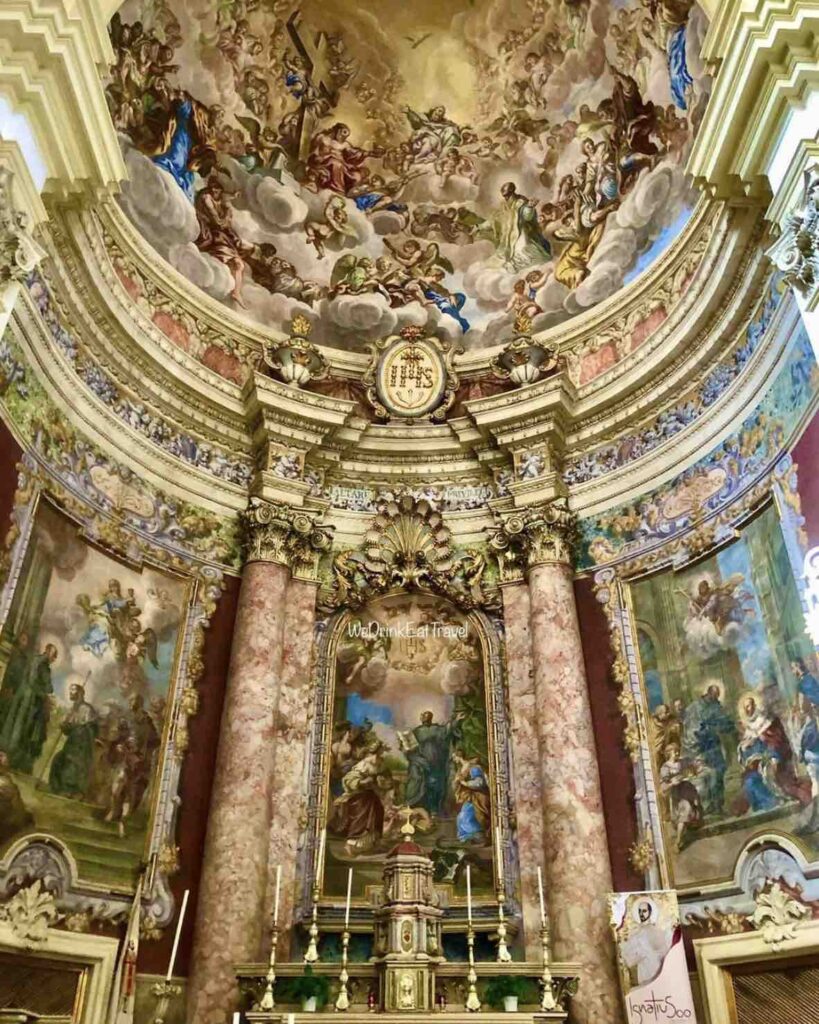 When you look at the bell tower, take note that within is one of the oldest bells in Dubrovnik… dating back to the mid 1350's.
Now, if you're still in town before the sun goes down, you should put this on your list of things to do in Dubrovnik…
See Dubrovnik Old Town at Night
Once you've seen the beauty of Dubrovnik Old Town by day… make sure you head in as the sun goes down. Many of the landmarks are lit up, making it look truly magical at night time.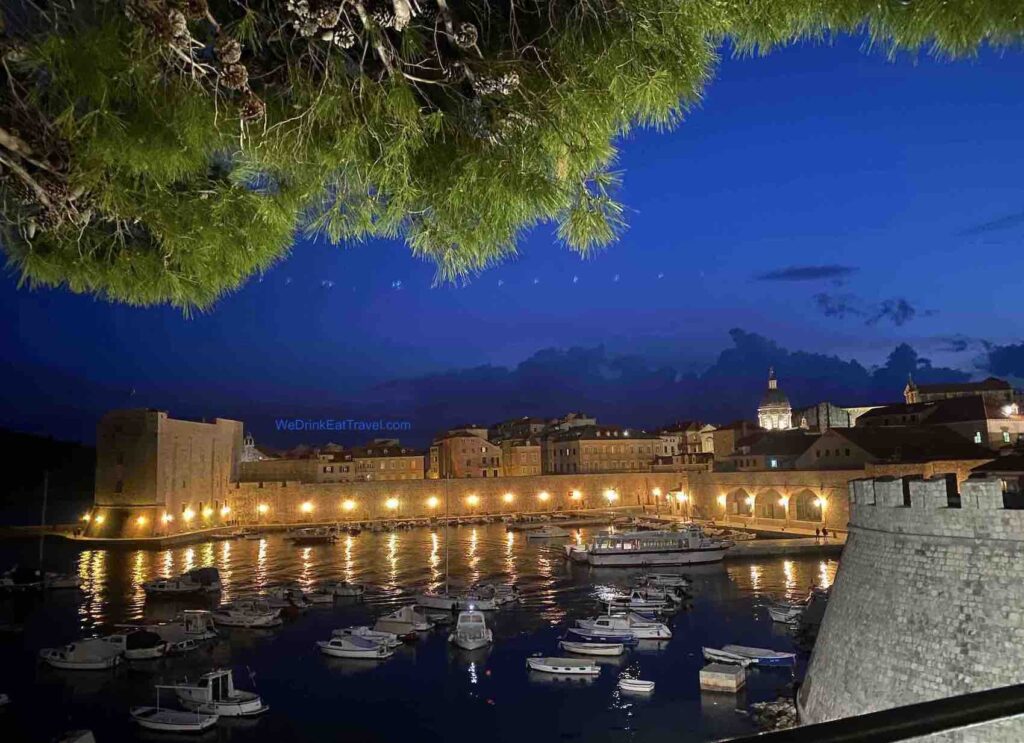 Church of St Blaise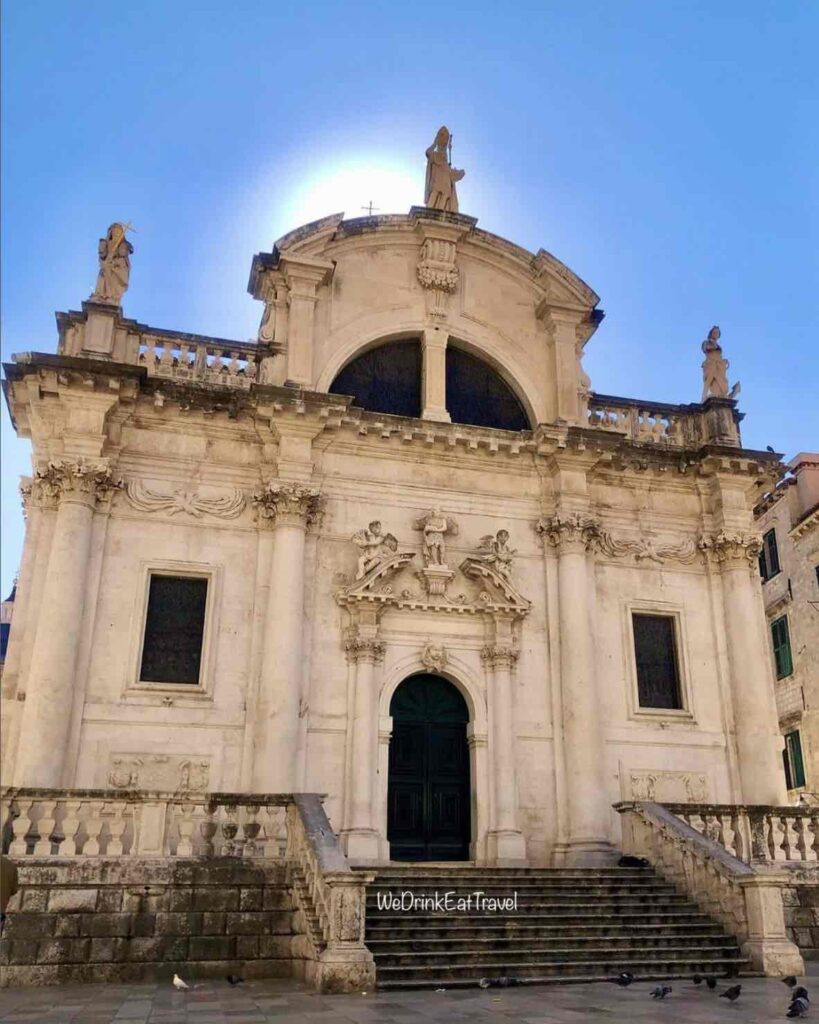 This key landmark is named after Dubrovnik's patron saint, St Blaise. And, it's said that in the 10th Century, through the direction of St Blaise… he was instrumental in saving Dubrovnik and its people from an attack by the Venetians. 
This baroque-style church that you see today was built in the early 1700's… following a fire that demolished the original St Blaise Church. And, one of the major changes was that the front of the church would face the main street of Placa.
Get Lost In Dubrovnik Old Town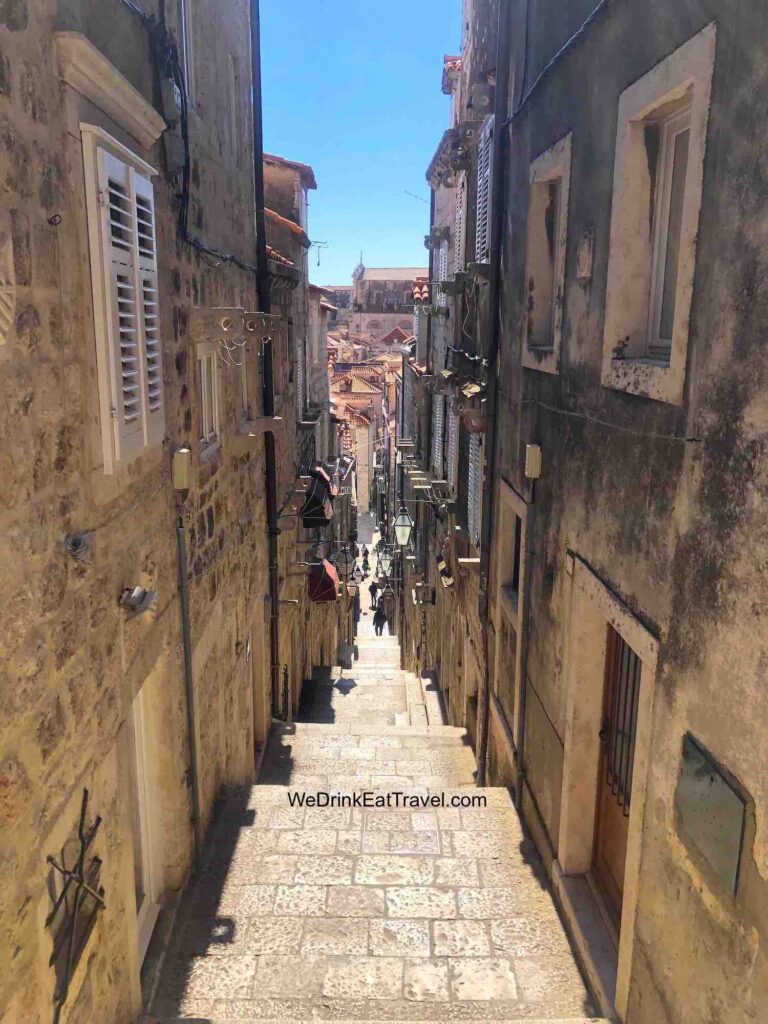 There are many laneways, alleyways and streets to get yourself lost in. And, of course, that's what we always do… to help us to explore new and different things. You never know what you'll end up discovering. So, take your time and have fun getting lost in Dubrovnik Old Town!
Minceta Tower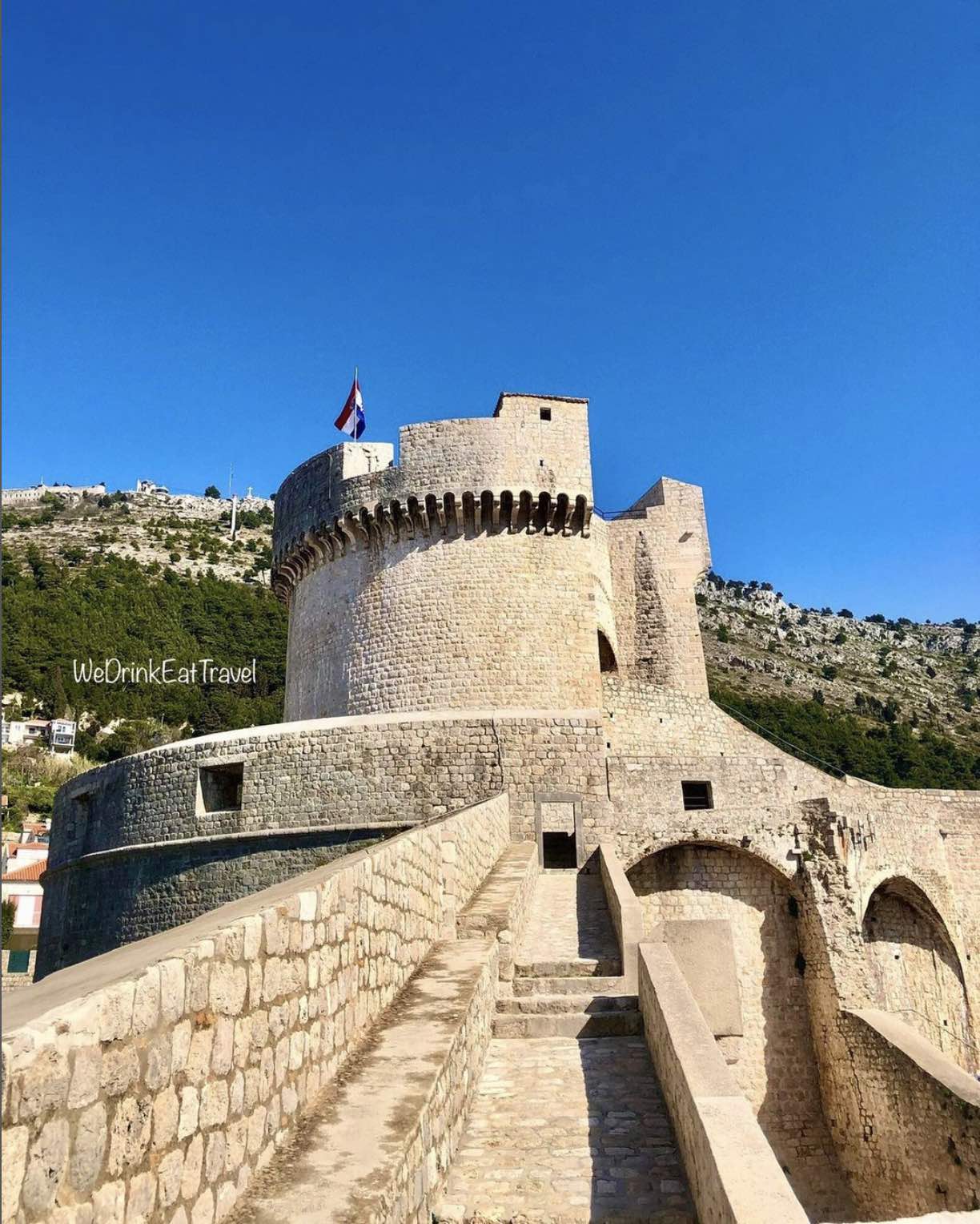 When you look at the old city of Dubrovnik from afar or high above, such as at Mount Srd… one of the features that stands out is the Minceta Tower. And, that's because this 14th Century tower is the highest part of Dubrovnik's main defences.
When you get to the top of this medieval looking tower, not only will you feel like the "King of the Castle"… there are magnificent 360 degree views to be seen.
Gundulic Square
So, when we were exploring Dubronvik Old Town, we came across Gundulic Square… which was far less busy than other parts of the town. Around the square are various shops and cafes, that surround an important monument. And, this monument is of Ivan Gundulić, a Dubrovnik local born in the late 1500's. His talents were vast, being a poet, politician and artist.
Get the Best Ice Cream in Dubrovnik Old Town
If you go to Dubrovnik, especially when the weather is warmer… you'll see the many ice-cream shops trying to entice you with their colorful varieties. And, our favorite place to have a treat or two of ice-cream in Dubrovnik Old Town… was at Sladoledarna Ice Cream Shop.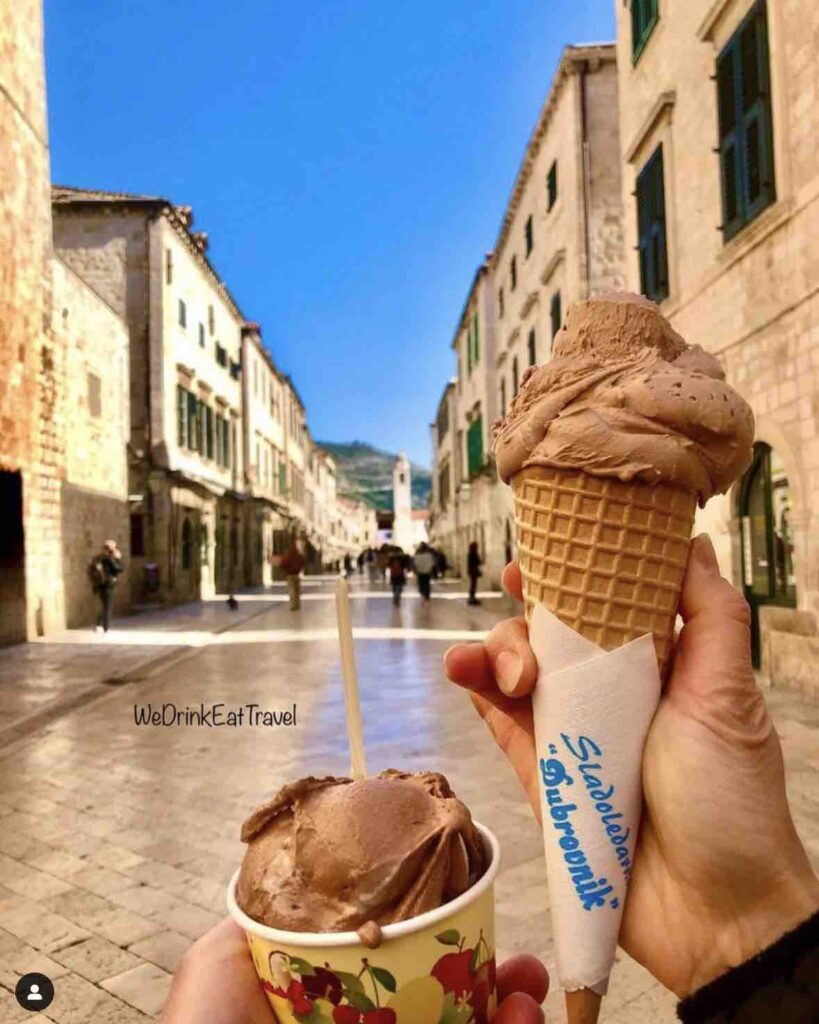 Not only was the service excellent, they were friendly and helpful. One time, we were a few cents short of 2 ice-creams. Yet, the server told us in English not to worry about it. And, most importantly, their ice-creams are yummy! So yes, we went there more than once!
Church of St Nicholas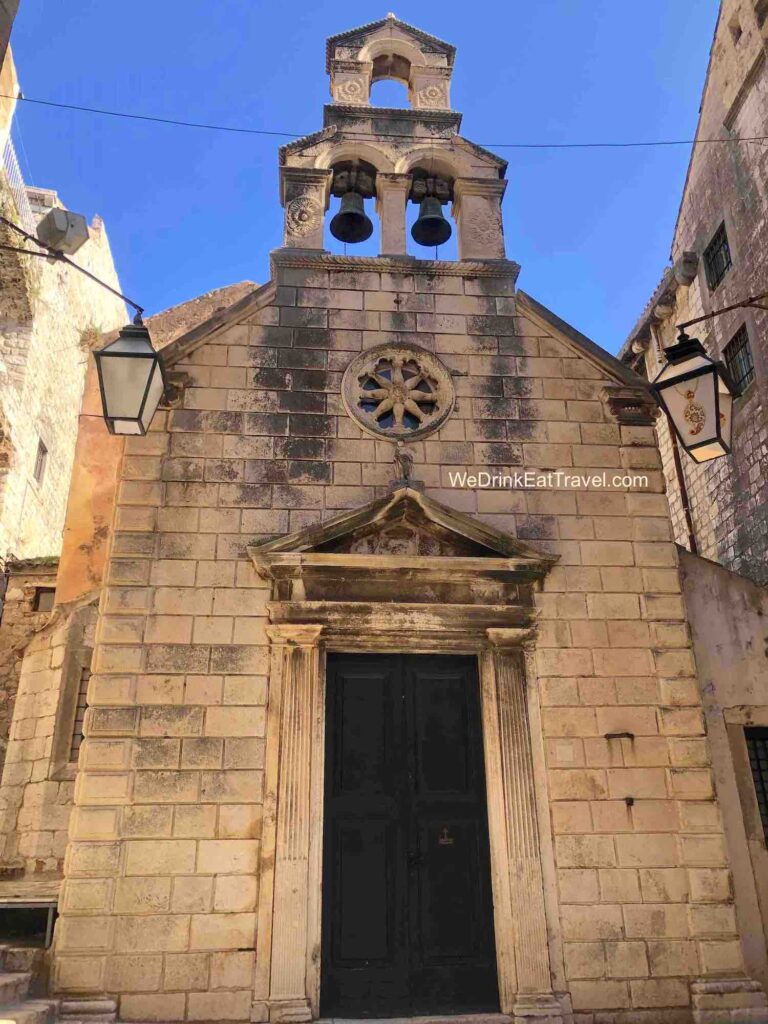 For such a small place, it's incredible how there are many churches in Dubrovnik Old Town! And, in this travel blog we've highlighted some of the biggest churches in this town. Yet, there was a charming little church that we had to stop and photograph… as it was a contrast in style and size!
And, the little church that you see below is, the Church of St Nicholas… with its pretty bell tower housing 3 bells.
Ethnographic Museum Rupe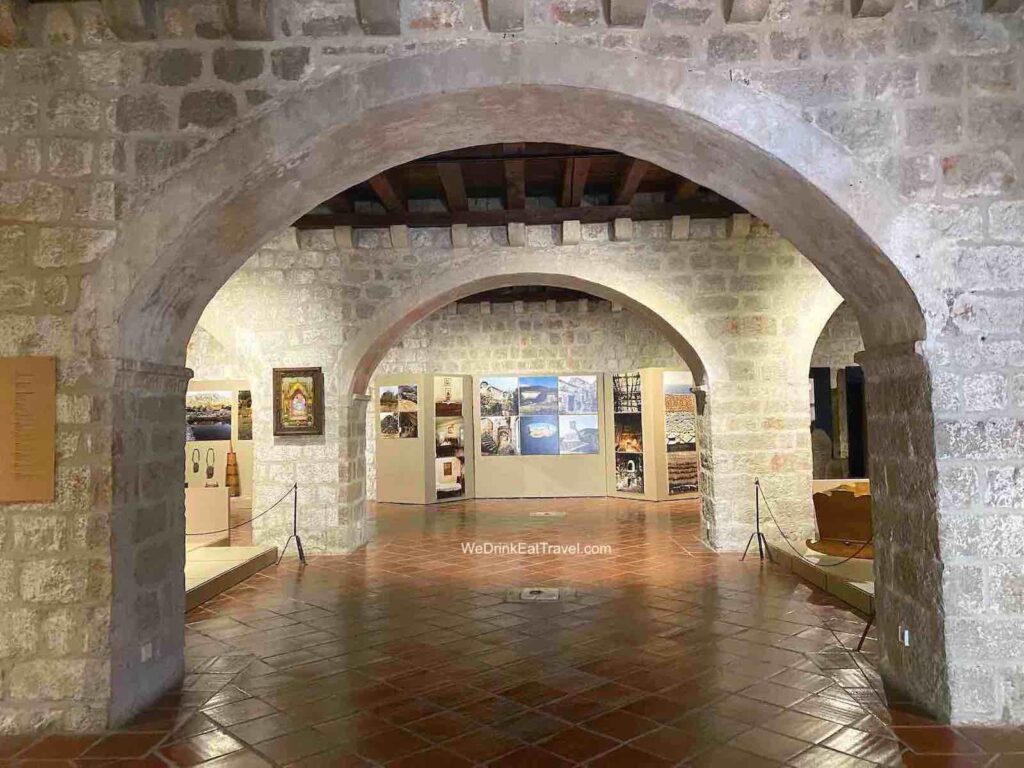 Now, this is one of the things to do in Dubrovnik Old Town… if you're interested in learning about the traditions, history and culture. In this museum there are over 6,000 artefacts for you to explore.
So, when you walk into the museum, you'll initially notice the huge brick archways. And, the site of the Ethnographic Museum is actually in Dubrovnik's former granary.
Take note that the cost to get into the Rupe Ethnographic Museum for an adult is… 130 Kuna (about 17.30 Euros / USD $18.20). Plus, for schoolchildren and students, the price is 50 Kuna each (about 6.70 Euros / USD $7).
Yet, if you buy the Dubrovnik Card, then entry to the Ethnographic Museum is included. We recommend you do this, rather than pay a separate entrance fee.
Bokar Fortress
One of the key Dubrovnik Old Town landmarks you'll notice is a huge… cylindrical structure that juts out from the cliffs, which is Bokar Fortress. The construction of this fort started in the mid-1400's, as a main protector of Pile Gate from the Western side. And, from here, there are some amazing views of the Adriatic Sea and surrounds.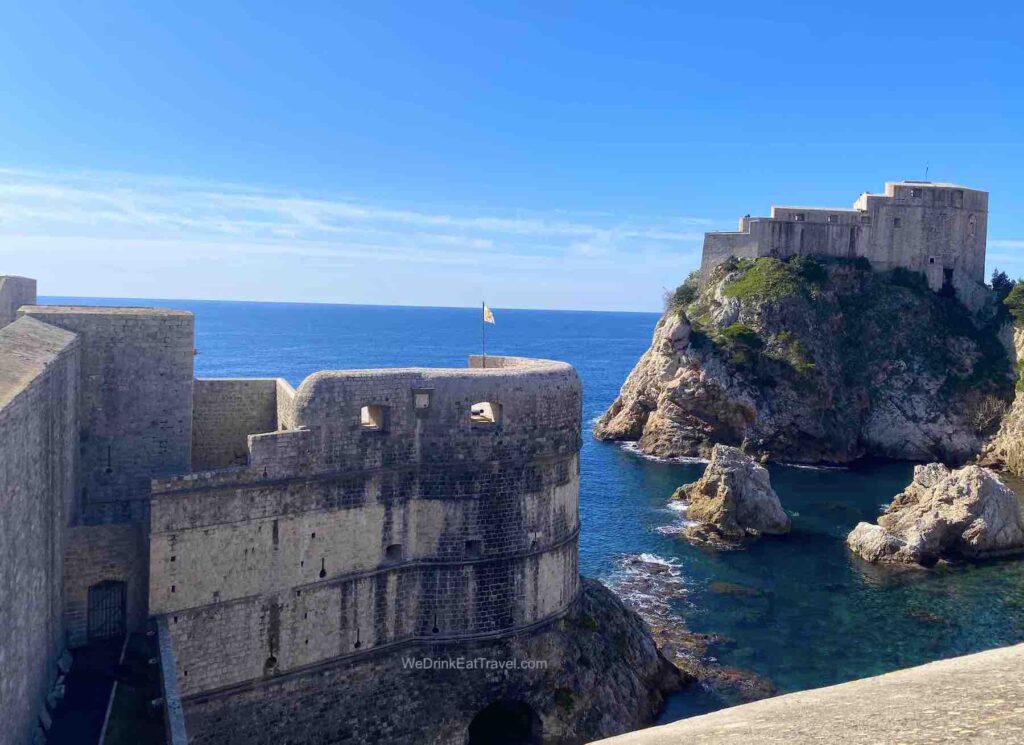 St John Fortress
Another fort that forms part of the Dubrovnik City Walls is, St John Fortress… of which its construction began in the mid-1300's. Whilst it doesn't look as impressive at St Lawrence Fortress… it was key in helping to defend Dubrovnik from attacks. Yet, nowadays the fort houses the Dubrovnik Maritime Museum and Aquarium.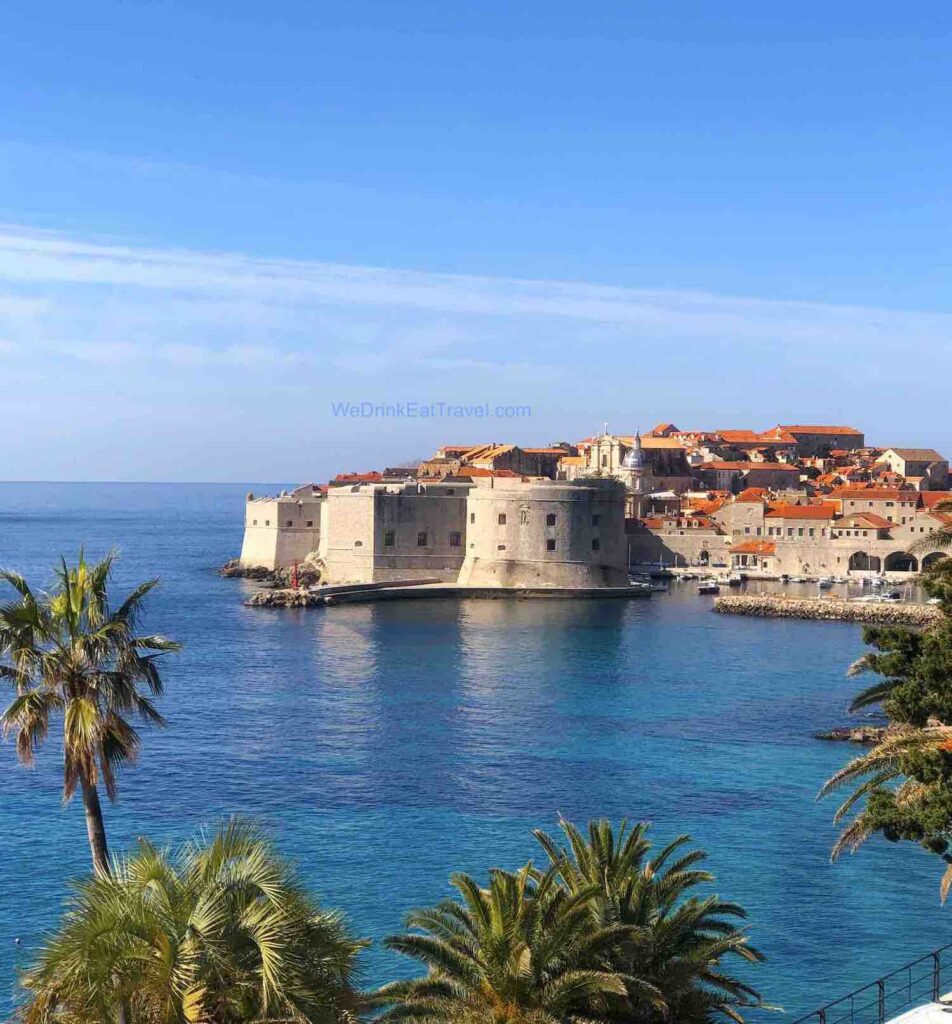 And, while you're here taking photos of the St John Fortress, you'll also be in the vicinity of this…
Old Port of Dubrovnik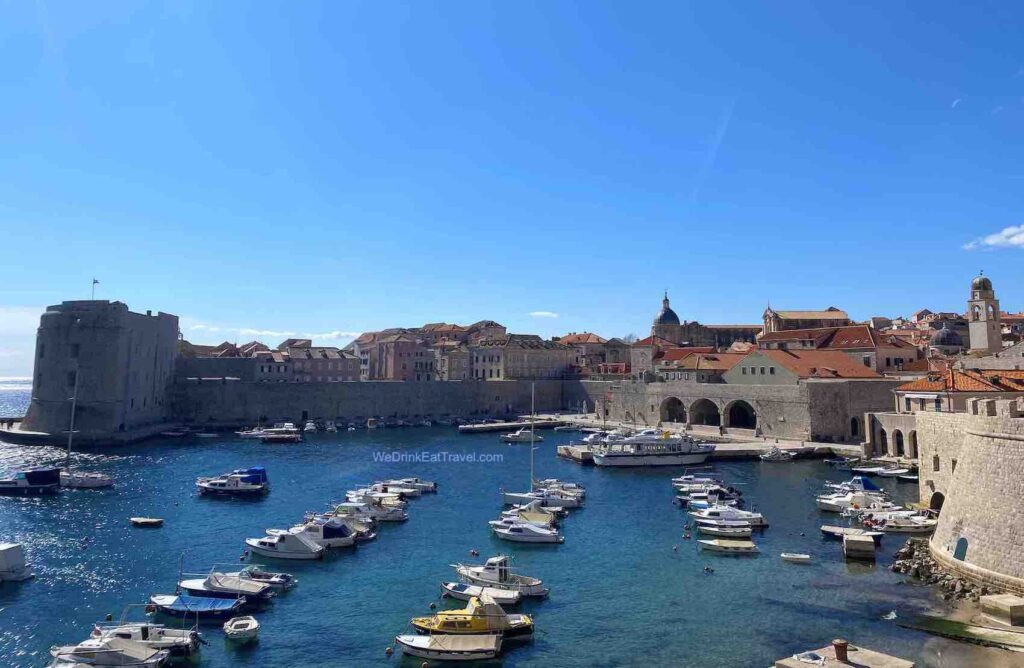 So here, you'll see the boats and yachts of the locals. Plus, it will not be surprising if you get someone yelling out to you for a tourist boat trip… maybe out to Lokrum Island or around Dubrovnik.
Plus, within the Old Port of Dubrovnik, you'll be able to see a building that has 3 arches. And, these are actually vaults, where back in the days was used for building ships. Want to know something interesting about these vaults?
It's said that when the ships were being built… the opening of the vaults would have covers on them using bricks. And, that's because the locals didn't want their ship-building secrets to be divulged! Then, once the ships were ready to be let out to sea, they would have to break down the brick covers. WOW, what a lot of work, right?
Now, as you'll be busy sightseeing, one of the other things to do in Dubrovnik Old Town is…
Relax in the Old City of Dubrovnik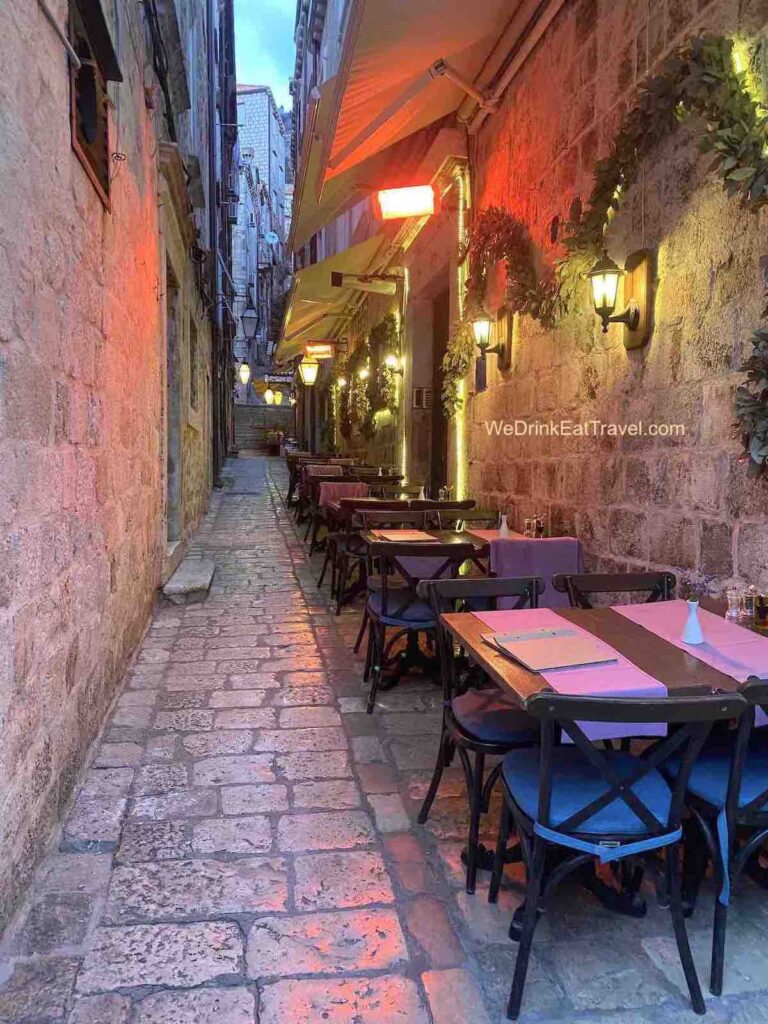 There are plenty of cafes, restaurants and bars to enjoy the magnificent views of the old town. From Italian through to Indian, local cuisine, cliff bars, and fine dining through to fast food… there's something to eat or drink to cater for everyone's different tastes. And, as you'd expect being in the historic old town… the prices are generally higher than in other parts of Dubrovnik.
And last, but not least, is one of the best things to do in Dubrovnik Old Town…
Walk the Dubrovnik Old City Walls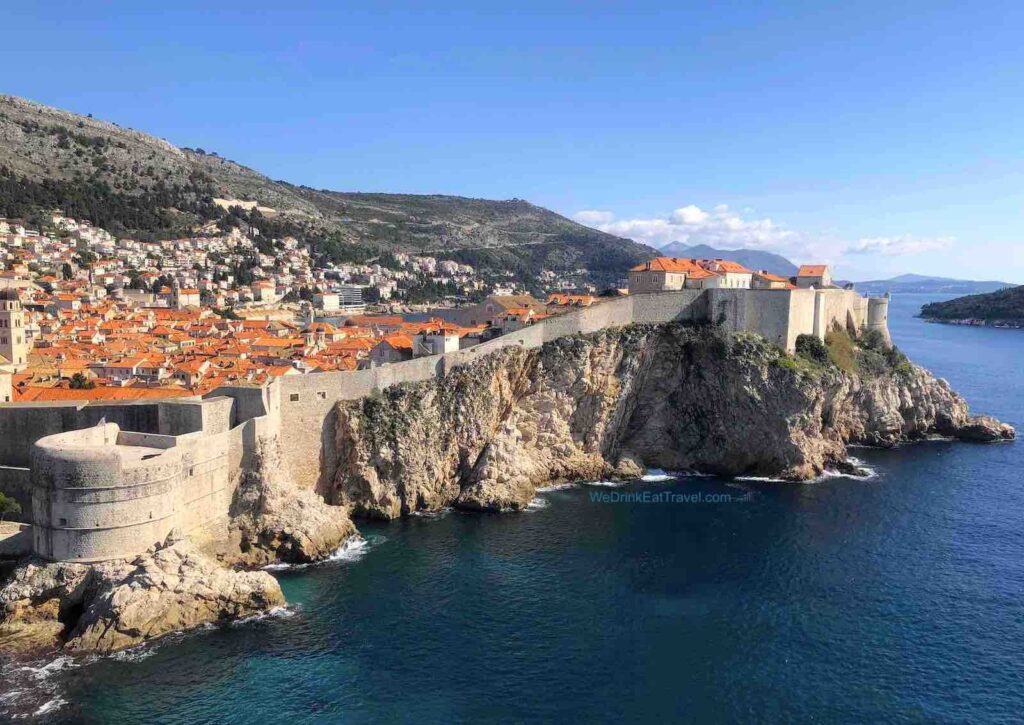 For us, we HIGHLY recommend that you walk the Dubrovnik Old Town Walls. The views that you'll get of the Old Town, the neighborhoods… through to the Adriatic Sea and beyond, are breathtaking. And, by doing this you'll also understand why Dubrovnik Old Town was put on the UNESCO World Heritage List.
The length of the walls are just under 1,950 metres (about 6,400 feet). Plus, the at the tallest part of the walls, it reaches a height of about 25 metres (about 82 feet). So, if you were limited on time, you could walk the entire perimeter of the walls… in about 1 hour. Yet, that is walking at a fast pace, which we DON'T recommend.
So, there is a cost of 250 Kuna (about 33.30 Euros / USD $35) per adult to walk the Dubrovnik Old Town Walls. And, for persons under the age of 18, the cost is 100 Kuna (about 13.30 Euros / USD $14).
TRAVEL TIP: If you're going to pay the price of 250 Kuna to walk the walls… go and buy a 1 Day Dubrovnik Card for the same price. And, by doing this you'll get access to many other Dubrovnik attractions, discounts off other activities… as well as special deals on food and drinks.
Whatever you do decide to do… YOU MUST go and walk around the Dubrovnik Old City Walls.
So, there you have it… 25 top things to do in Dubrovnik Old Town. We recommend you put this high on your list of places to see in Croatia, let alone Dubrovnik. It truly is a beautiful and picturesque place, with an incredible history.
Like This? Share it and comment on it!
Note: All of our reviews and comments are our opinions and no-one else's. Even if we receive complimentary goods or services we share our opinions honestly.
You Might Be Interested In This Too…
How To Get FREE Accommodation While Travelling
One Of The Little-Known Top Things To Do In Dubrovnik
What You Need To Know About The Dubrovnik Card Now
Check Out 15 Amazing Things To Do In Budva, Montenegro
Perast, Montenegro – Why You Need To Visit This Town
One Of The Amazing Things To Do In Kotor Montenegro
Hiking Kotor Fortress – Things You Need To Know
25 Of The Best Things To Do In Kotor Montenegro
Where To Eat In Tivat For The Best Fast Food
Ultimate Tivat Hiking Trail For The Most Breathtaking Views
Check Out 16 Things To Do In Tivat Montenegro
13 Interesting Places To See In Podgorica Today
Here Are 7 Remarkable Things To Do In Berat Albania
7 Free Things To Do In Bangkok
10 Places To Visit In Gozo Malta For Breathtaking Views
7 Top Reasons Why You Should Visit Bansko Bulgaria
10 Picturesque Churches To See In Vienna Austria