As we were spending almost 3 months in Prague, Czech Republic… we had to explore and do some day trips from Prague. While there are many places to go to, all with their own unique features… the first place we chose visit was Cesky Krumlov.
Cesky Krumlov is about 175km south of Prague… with its history being said to date back to the mid 1200's.
One of the most powerful and influential families, the Rožmberks… held reign for about 300 years. And, over this time they would build one of the first landmarks being Cesky Krumlov Castle… while helping to shape Cesky Krumlov into a bustling town.
Plus, centuries later, different rulers would expand on the town… turning it into an economic and cultural hub.
Oftentimes, Cesky Krumlov has references to it as the little Prague. What's more, the interesting thing is… the historic centres of these places were both put on the UNESCO World Heritage List in 1992.
Now, having seen some photos and videos of Cesky Krumlov… it sure does look quaint in its own right.
And, one of the most prominent tourist attractions is the castle and surrounding area. The castle complex is the 2nd biggest in the Czech Republic… with the 1st being of course, the incredible Prague Castle.
Did you know that Cesky Krumlov is made up of 2 different parts? One section is Latrán being The Old Town area… and the other part is the Inner Town. Both areas offer many different amazing sights to see, and things to do.
So, let us share with you our exciting day trip to Cesky Krumlov from Prague. Discover some of the things we got up to. So, then you can add them to your list… for when the time comes for you to make the trip to this beautiful town.
Getting to Cesky Krumlov
First of all, there are several transport options to get to Cesky Krumlov. And for us, we were going there from Prague. So, there were many options for us to choose from including… getting a bus, train, hiring a car, rideshare, or organizing a taxi, for example.
The options you can choose would depend on your budget, how much time you have… or even how early you want to get up!
For more detail on the transport options, check out our blog, "Here Is How To Get To Cesky Krumlov From Prague." This gives you some helpful information on the different options… as well as travel tips and approximate costs.
Now, getting back to the things to do…
We began our exploration of Cesky Krumlov in the Old Town area… near the corner of Chvalsinska and Latran streets.
And, one of the most popular tourist attractions is Cesky Krumlov Castle (Státní hrad a zámek Český Krumlov). So, to start the exploration of the castle grounds from where we began, one of the first landmarks you'll see is this…
Budweiser Gate (Budějovická Gate)
Built in the late 1590's… the main purpose of the Budweiser Gate was to protect the Latran area and its people. And, although there were 9 gates that were part of the Cesky Krumlov Castle… this is the only one that has been restored and remains standing today.
It's so unique in terms of how it looks on each side. So, before you go through the gate it looks like this…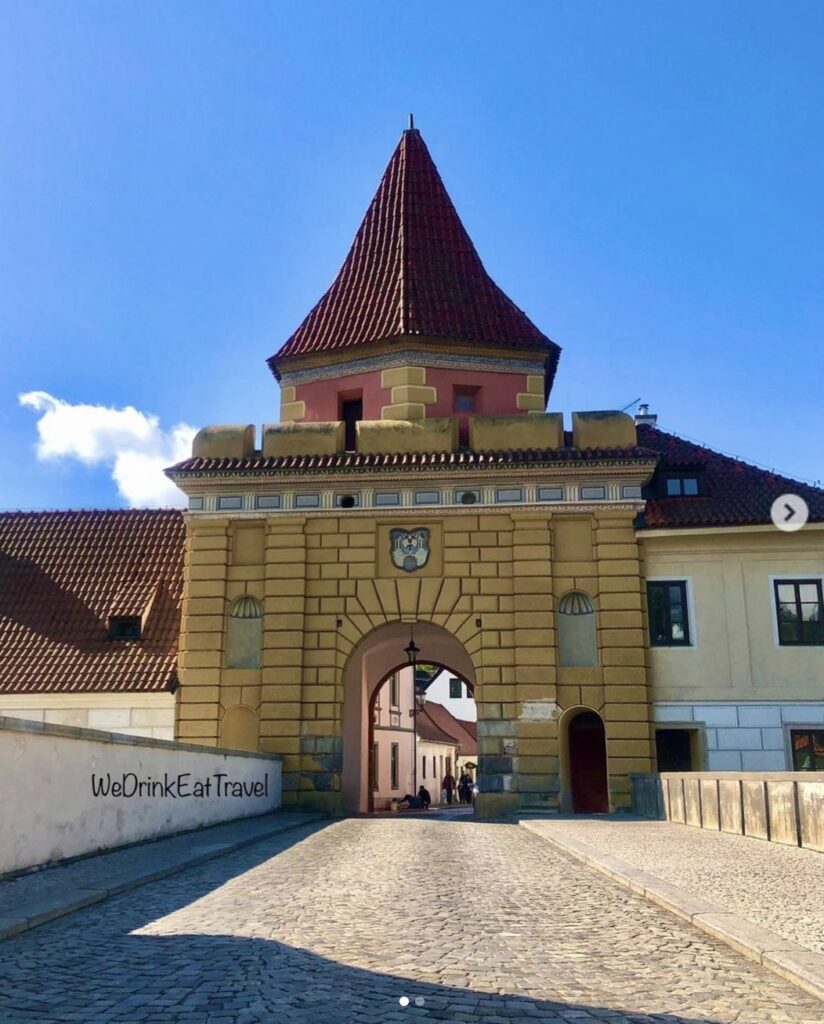 Then, after passing through the gate, it has a completely different look…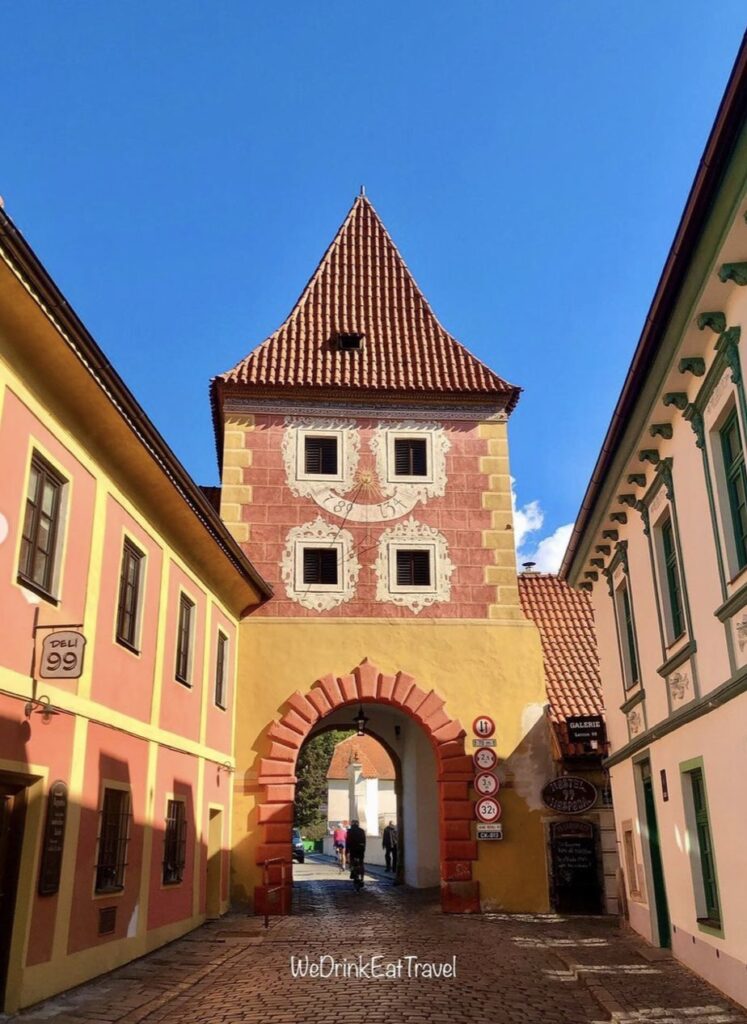 And, if you look at the top half of this side of the gate, it resembles a smiley face… don't you think?
Next on our list of things to do in Cesky Krumlov, in particular the Castle complex… you get a 5 in 1 special…
Wander Through the 5 Courtyards of Cesky Krumlov Castle
That's right, you read correctly that there 5 courtyards within the castle complex! Now, who really needs all those courtyards? Yet, if you can, then I guess why not! So, let's take a sneak peek into them…
1st Courtyard
So, after seeing the Budweiser Gate, keep going down Latran Street… with the cute cobble stone ground and beautiful buildings surrounding it. Then, you'll notice a 3-storey grey building, which is the Apotheka Bar. And, next to it is the Red Gate. So, the area here is where the first courtyard is…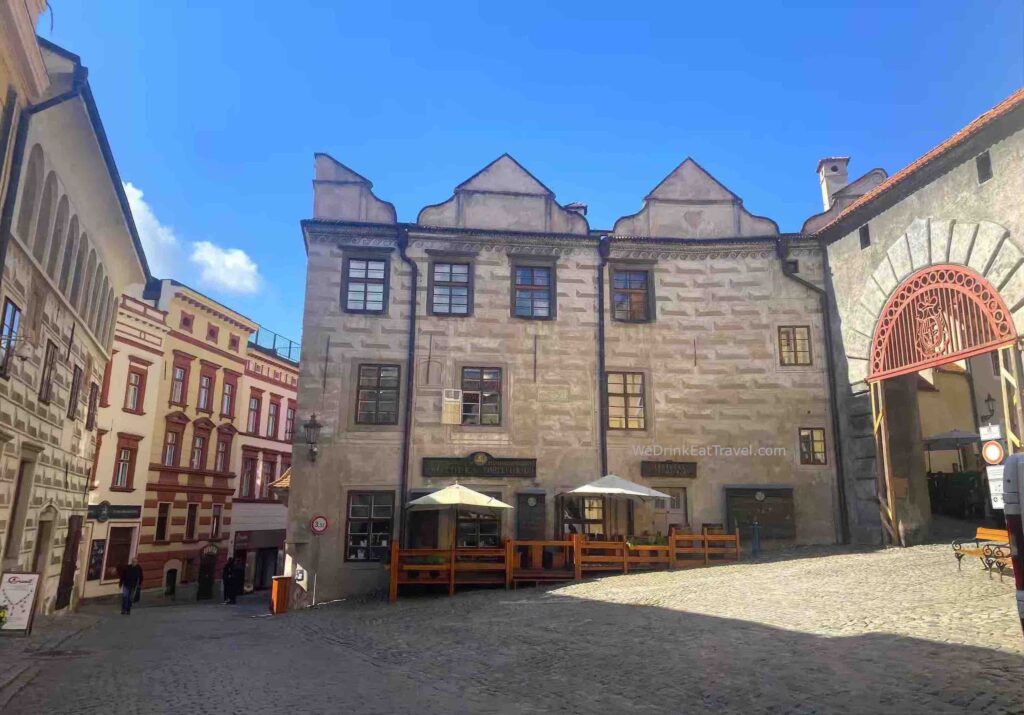 2nd Courtyard
After walking through the Red Gate, you'll then arrive at the second courtyard.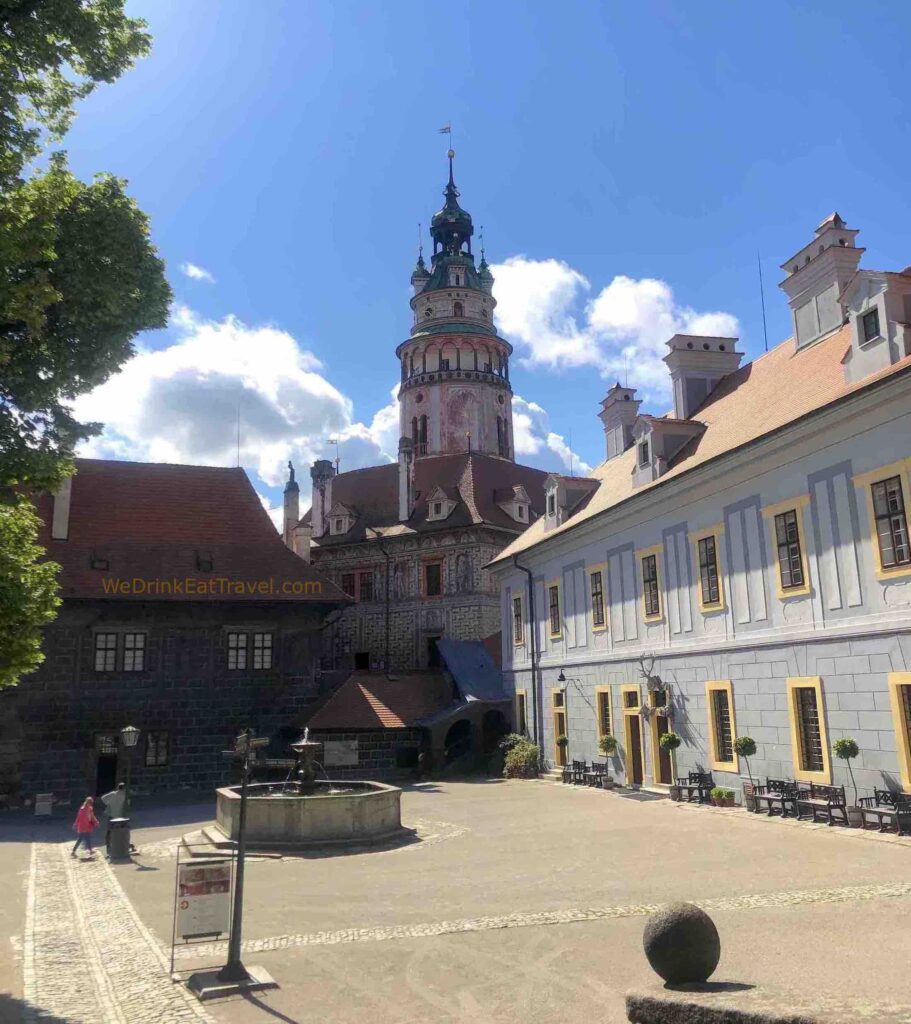 And, here there are many landmarks including a mid-1600's fountain, the former Mint… as well as the Dairy and a MAJOR tourist attraction, which I'll go through later.
You'll also find the tourist information office for the castle complex here, which occupies the old granary site. So, you can find out what tours are available… or you can check out other tours or unique things to do HERE.
3rd Courtyard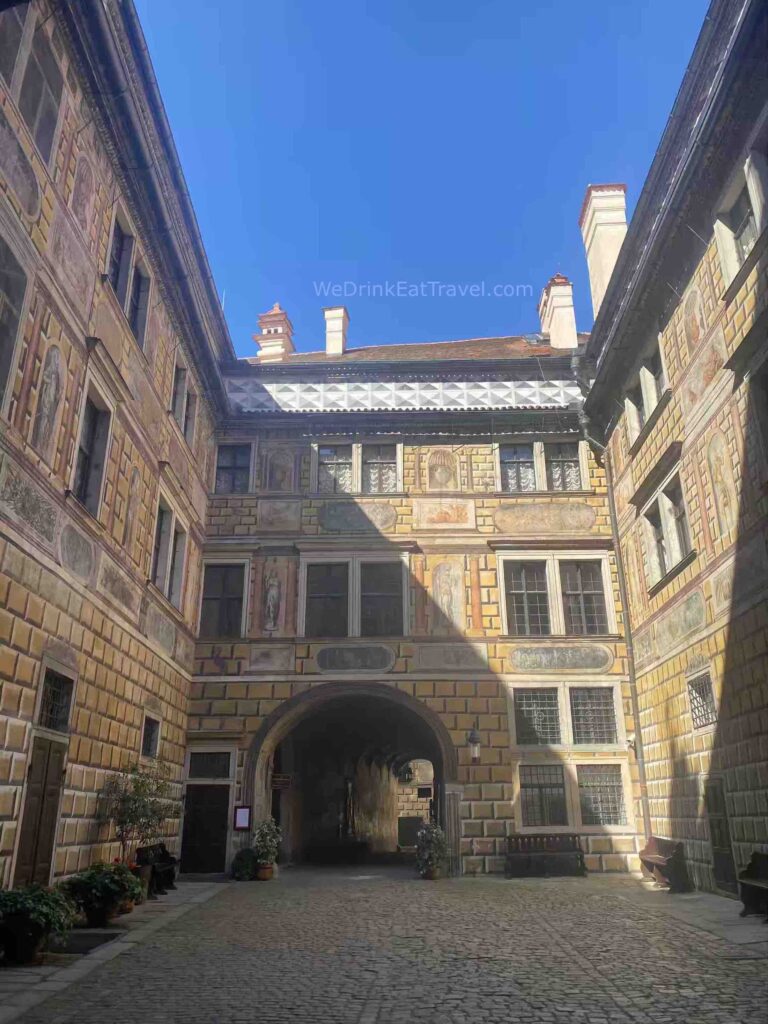 Once you enter the third courtyard, you'll be in the Upper Castle area of the complex. Here, you'll immediately notice the difference in surroundings between here… and the first 2 courtyards. Why not take a seat here… to take in the Renaissance style architecture of the palaces, and enjoy the serenity.
4th Courtyard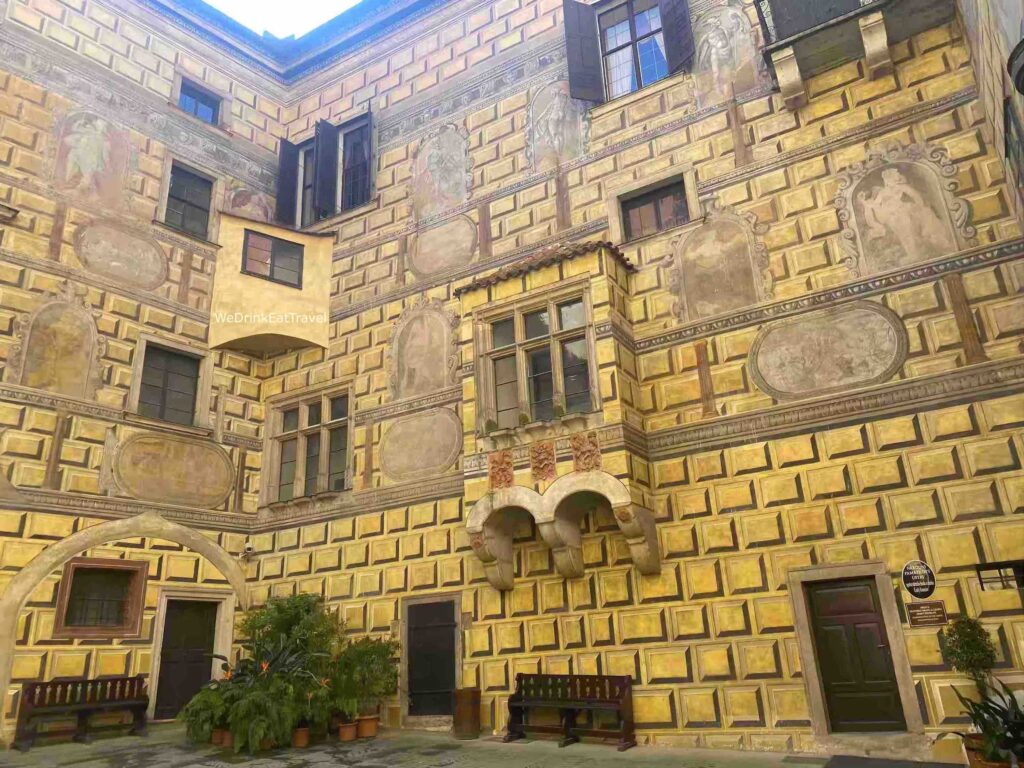 Similar to the third courtyard, this one also has Renaissance style architecture… which is also adorned with frescos. It's said that the frescos in the fourth courtyard are slightly older… dating back to around the late 1500's. Yet, it's unknown who was the developer of them.
5th Courtyard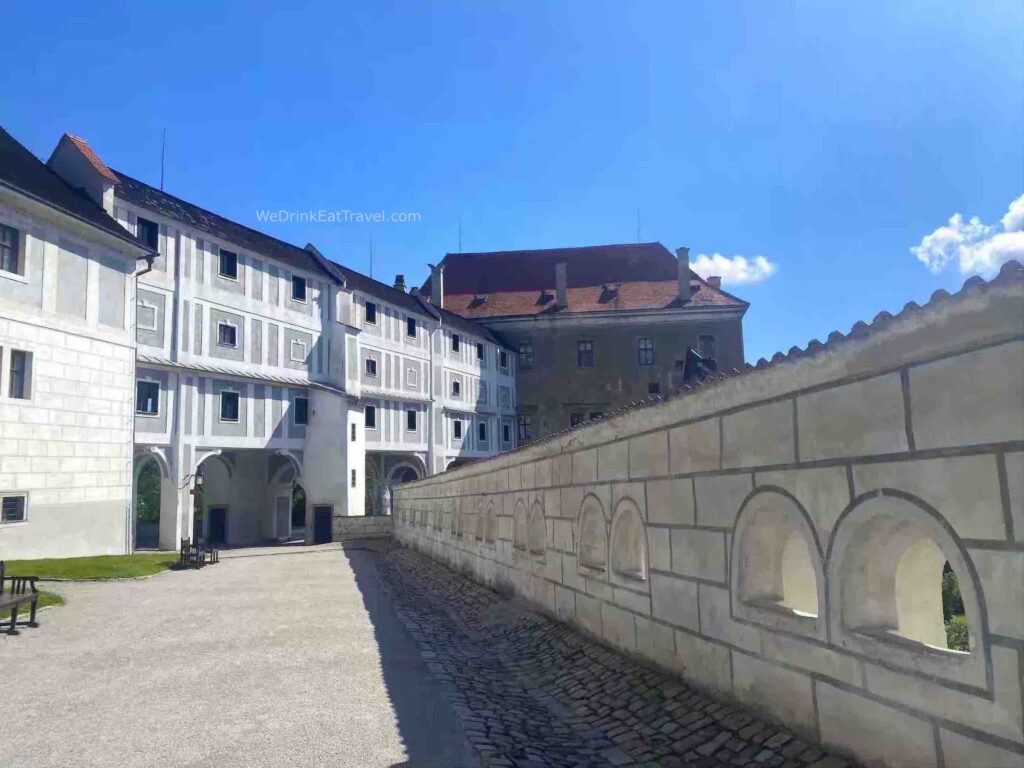 Last but not least is the fifth courtyard of the castle complex. And here, there are landmarks including the Castle Theatre and Renaissance House. Wow, so there you go, 5 different courtyards where to regal families could relax and entertain. Very sumptuous!
So, next on our list of things to do in Cesky Krumlov, is one you can't miss…
Český Krumlov Castle Tower (Zámecká věž Český Krumlov)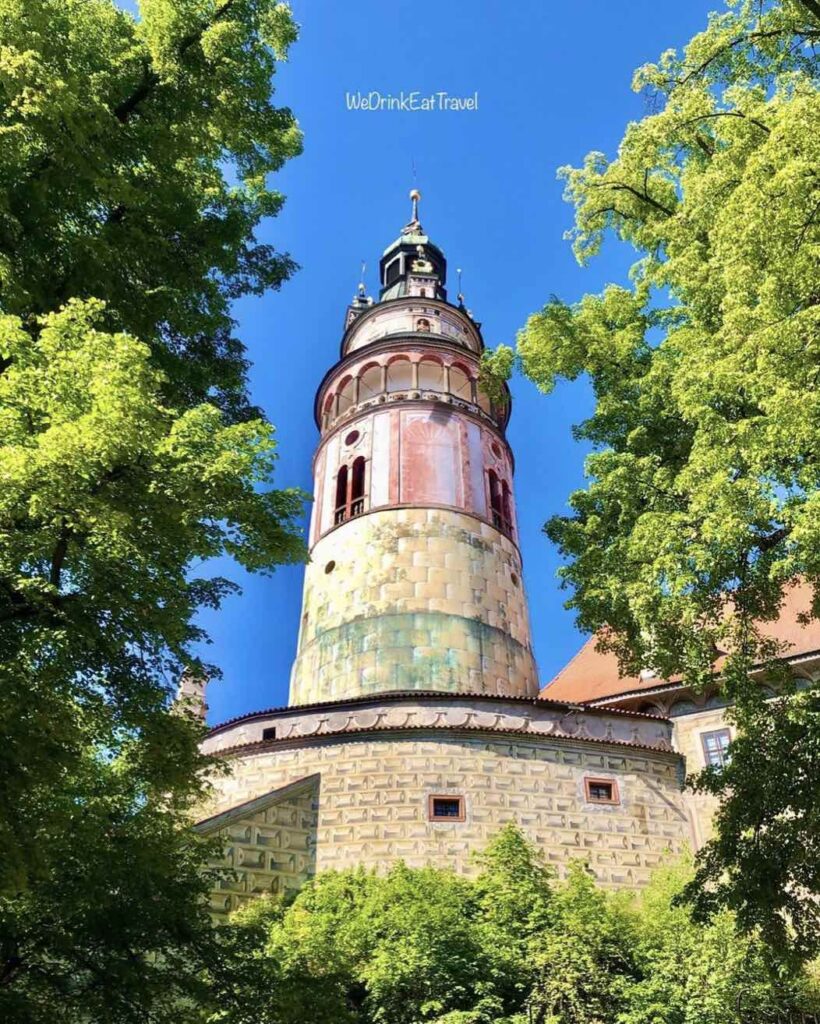 This landmark often has references to it as the "Little Castle." And, as one of the main features of Cesky Krumlov… you can see its beauty when looking at the town from above. or at other vantage points. I'll go through this later.
The remarkable tower stands at a complete height of around 86 metres. And, within the tower is a gallery, as well as 4 bells. One of the bells dates back to the early 1400's, and weighs about 1,800 kilograms… with a diameter of about 1.5 metres! How grand is that?
It has a striking mix of Renaissance and Gothic architectural styles. So, along with the impressive detail and mix of bright colors… they all combine to make this castle tower a magnificent photo opportunity from many angles.
Cesky Crumlov Castle Gardens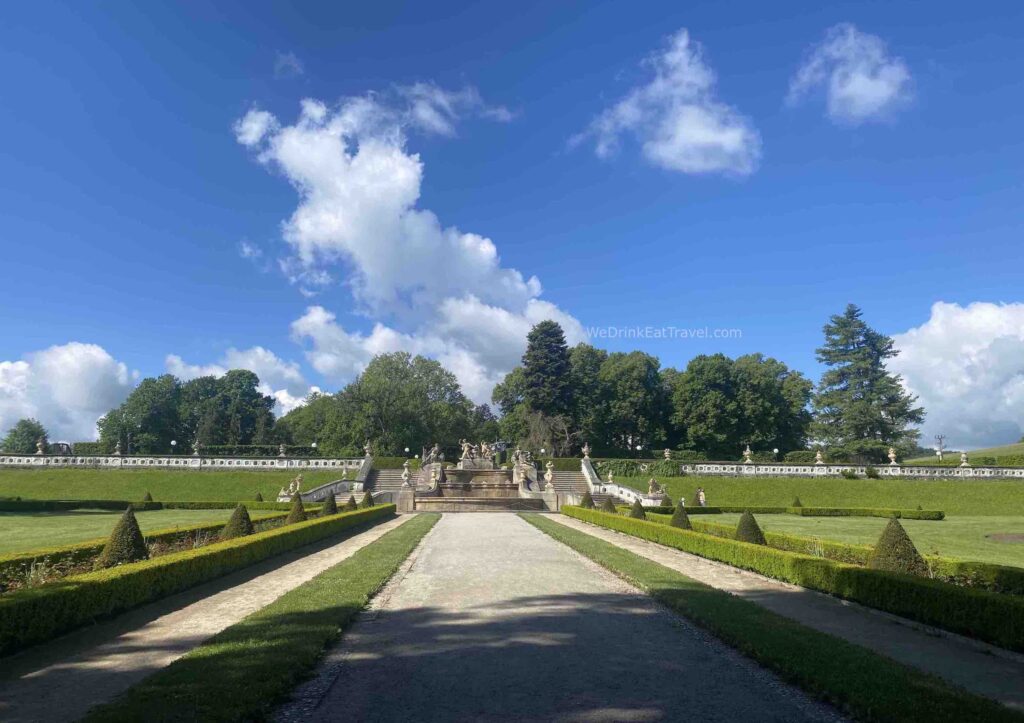 If you love wide open spaces with lots of greenery, then you'll need to see the Castle Gardens. Covering a whopping 11 hectares… no doubt there are many things to see and do here, apart from seeing greenery.
The palatial gardens contain many statues… as well as an elaborate staircase, fountain, and more. Plus, check out these well-manicured massive hedges!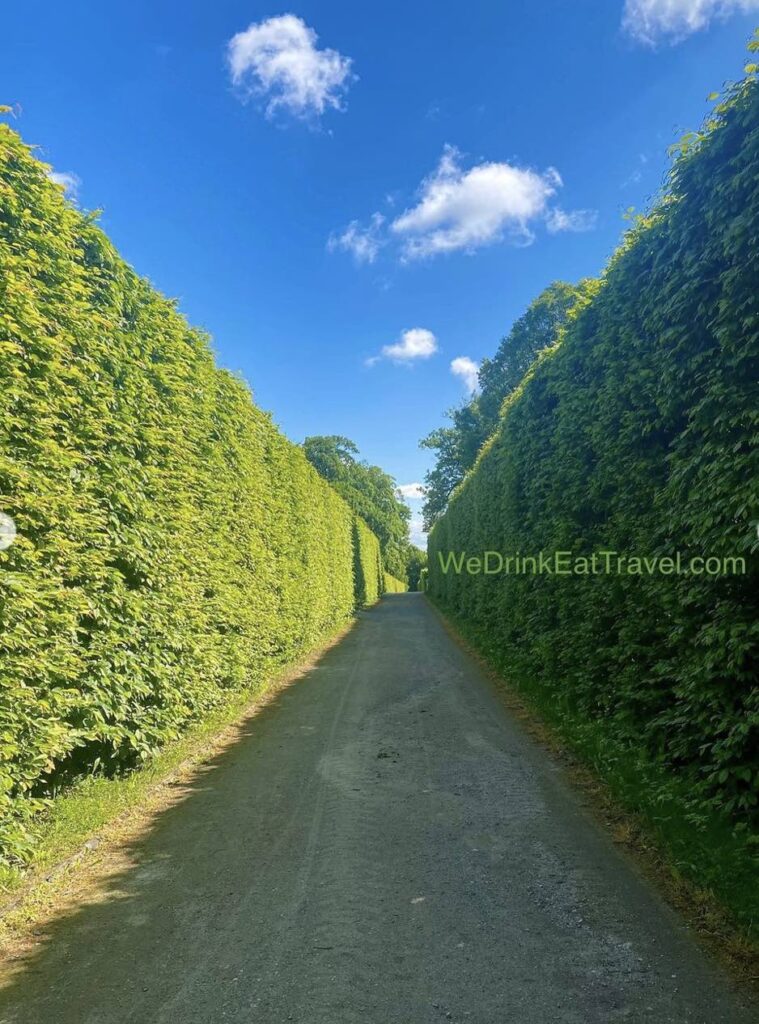 Some of the landmarks within the Castle Gardens you can see include… the Bellarie (Letohrádek Bellarie), which is the Summer Palace. As well as the Castle Riding Hall (Zámecká jízdárna), Zámecký Park … and a Revolving Auditorium.
Remember, the Castle Gardens are huge… so you'll need to allow ample time if you want to look at everything within it.
Now, this is something you need to put on your list of things to do in Cesky Krumlov…
Cloak Bridge (Plášťový most)
When you're walking in the area of the 4th Courtyard, you walk across the 3-storey Cloak Bridge. Construction of this magnificent bridge began from the 17th Century. It does have some lovely detail as you walk across it…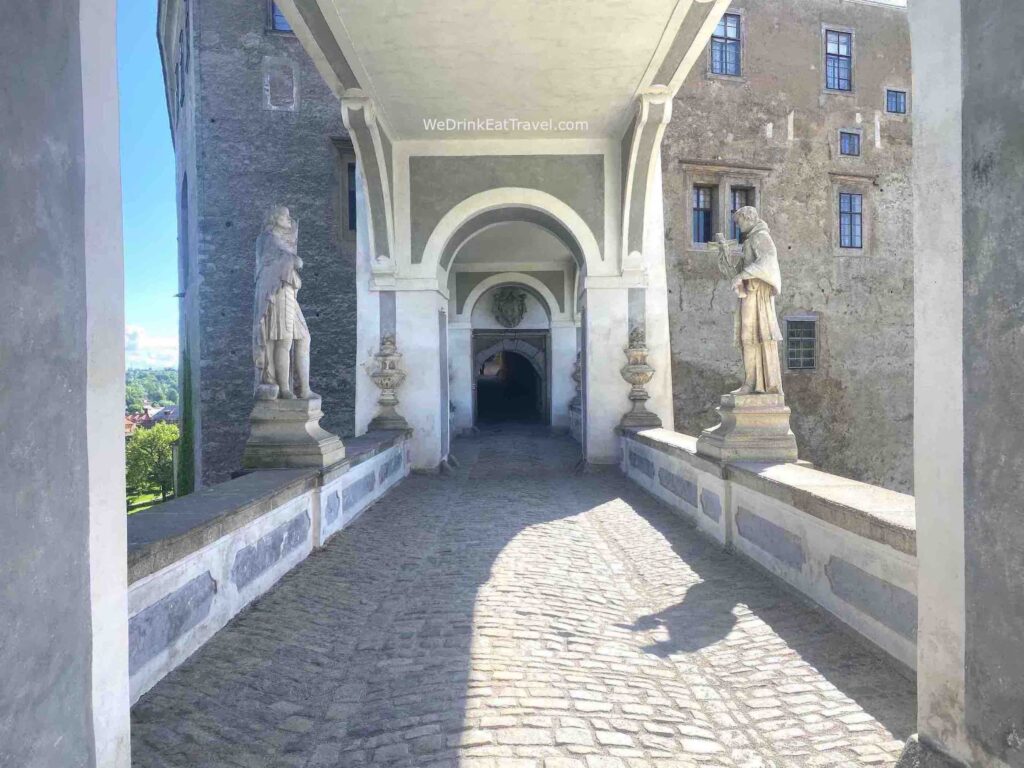 Yet, after seeing the castle complex, you MUST go down to the ground level. And, that's because from here, you'll be able to see how impressive this structure is…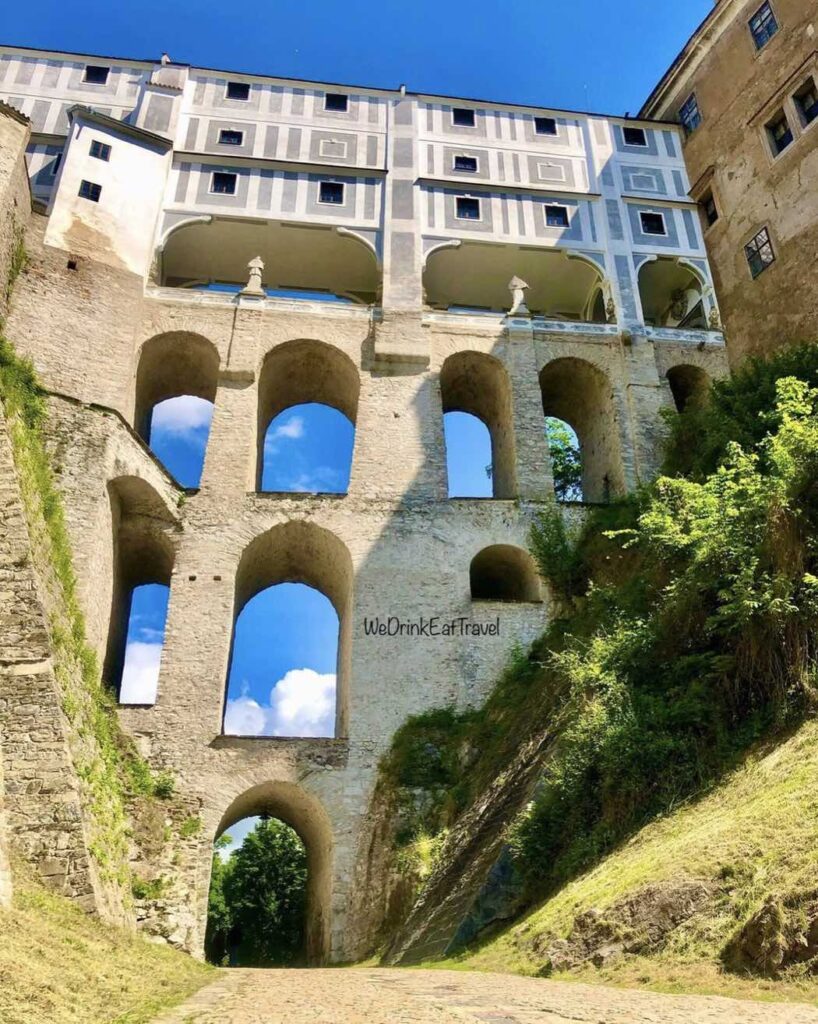 Then, after seeing the Cloak Bridge… there's a wooden bridge Lávka pod Zámkem, that will connect you to the Inner Town. Yet, before exploring the Inner Town… stop a little while on the bridge, to soak in the beautiful views that surround you.
St Vitus Church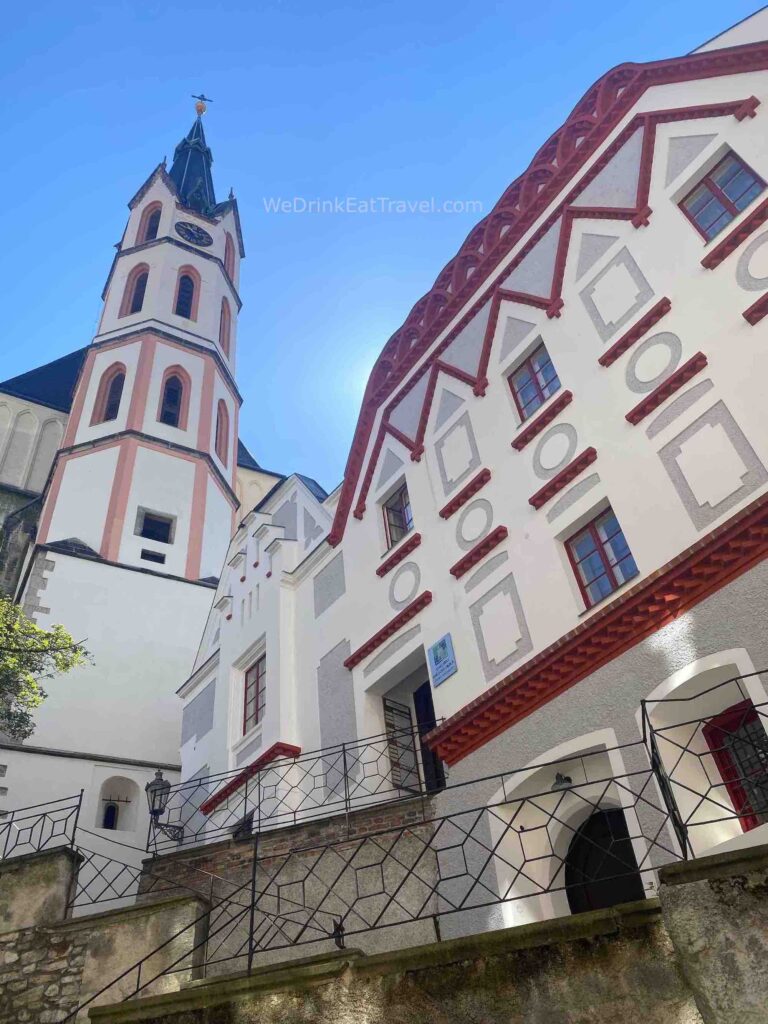 The St Vitus Church dates all the way back to the early 1300's. It's a strikingly beautiful church with its bright pink and bold red colors. It's said that in and around the church… members of the ruling families, such as the Schwarzenbergs, have their burial places here.
Unfortunately, when we were there, it wasn't open. So, hopefully when you visit, you'll get the opportunity to see how amazing it is inside.
Svornosti Square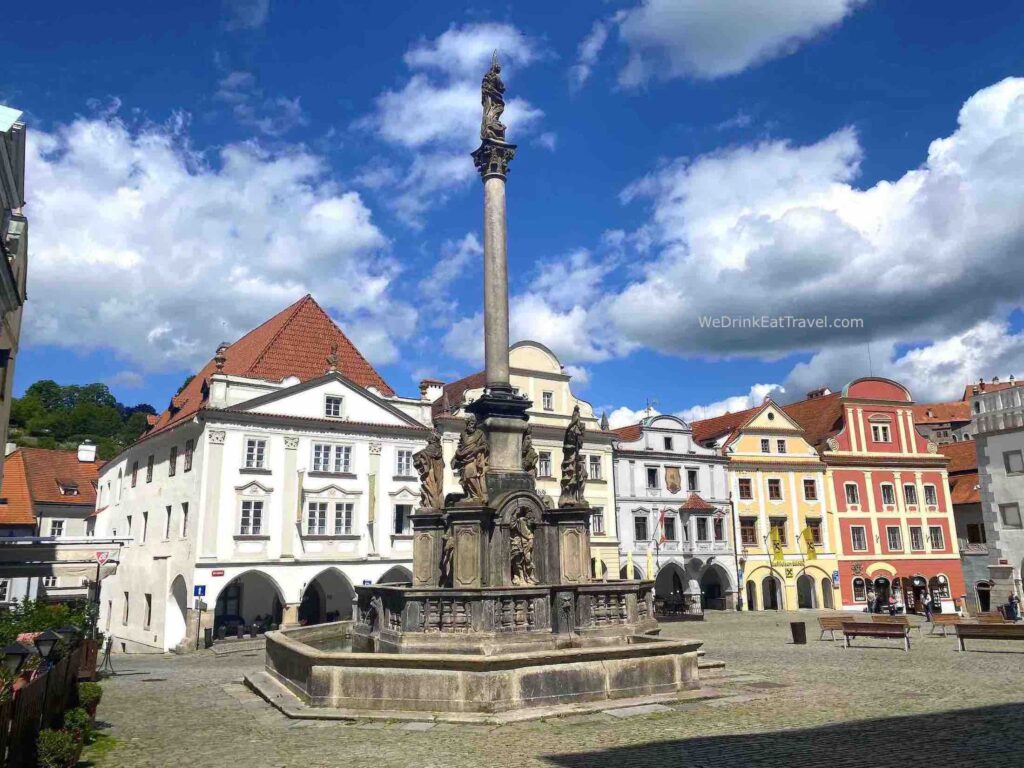 This square is said to have been in development from the 13th Century. Within the central area is a tall monument, which was built in the early 1700's…
So, this monument was built to signify the end of the plague… that wreaked havoc in the town in the late 1600's.
Surrounding the monument are many colorful and different buildings… with one of the most important being the Town Hall. It's so picturesque here, and you can sit in the square enjoying the atmosphere… while having a bite to eat or some drinks.
Seminarni Garden (Seminární zahrada)
If you're wanting to see Cesky Krumlov from a different viewpoint… then head on over to the Seminarni Garden. Before entering the garden, opposite it you'll notice a large attractive, white and beige building. Nowadays it's the Hotel Ruze. Yet, originally it was a college!
Then, once you walk into the garden, you'll see some benches, trees, and this apricot color building…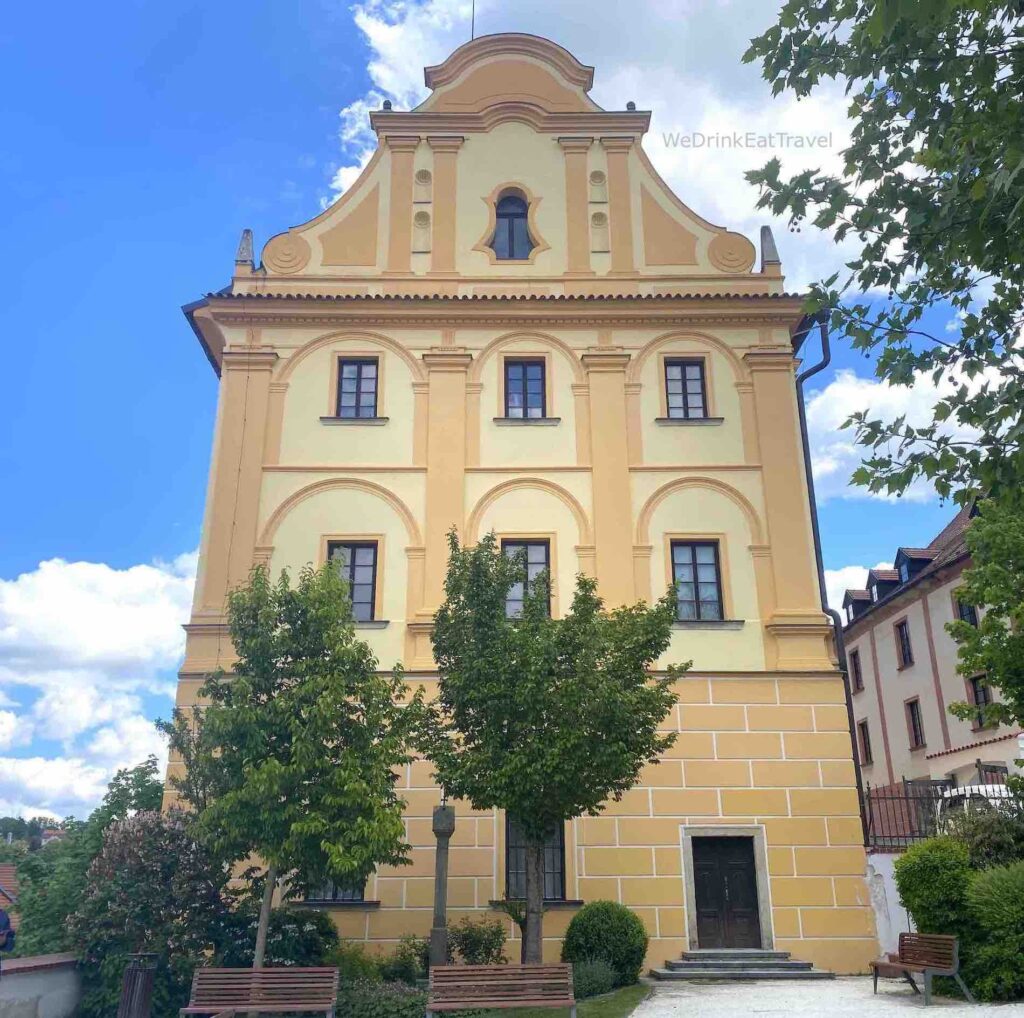 This was formerly the Jesuit Seminary… which is said to have been one of the first key buildings, built with the Baroque architecture. Today, the building houses the Regional Museum.
Now, while you're here in the Gardens, head on over to the edge of the park. And here, you'll witness some lovely views over Cesky Krumlov…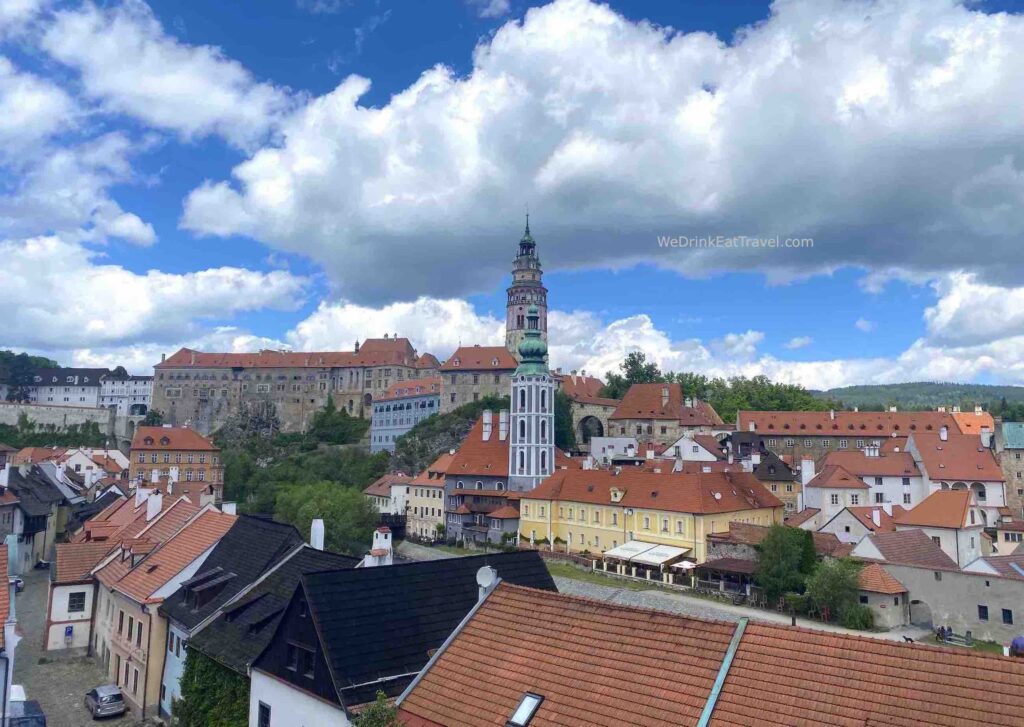 So, one of the things to do in Cesky Krumlov, is to go see this quaint area…
Latrán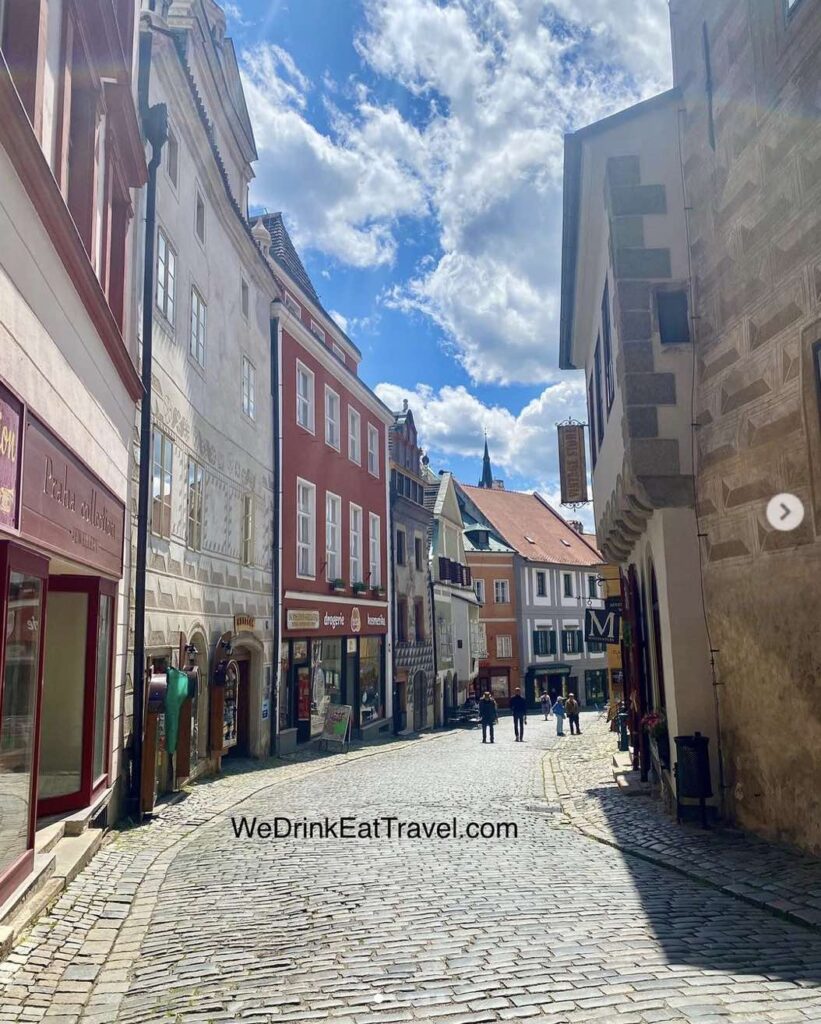 The term "Latrán," is derived from the Latin word, "latus"… of which one of its meanings is "side." And, as the location of the Latrán area was outside of the main town… this is how it got its name.
Remember the Red Gate and the cobble stone streets I mentioned earlier? This is where one of the entrances of the Latran area is. And, as you continue down the main winding street… you'll see many magnificent ancient and beautiful buildings. It truly looks magical.
And, one of the landmarks at the other end of Latrán, is this…
St Jost Church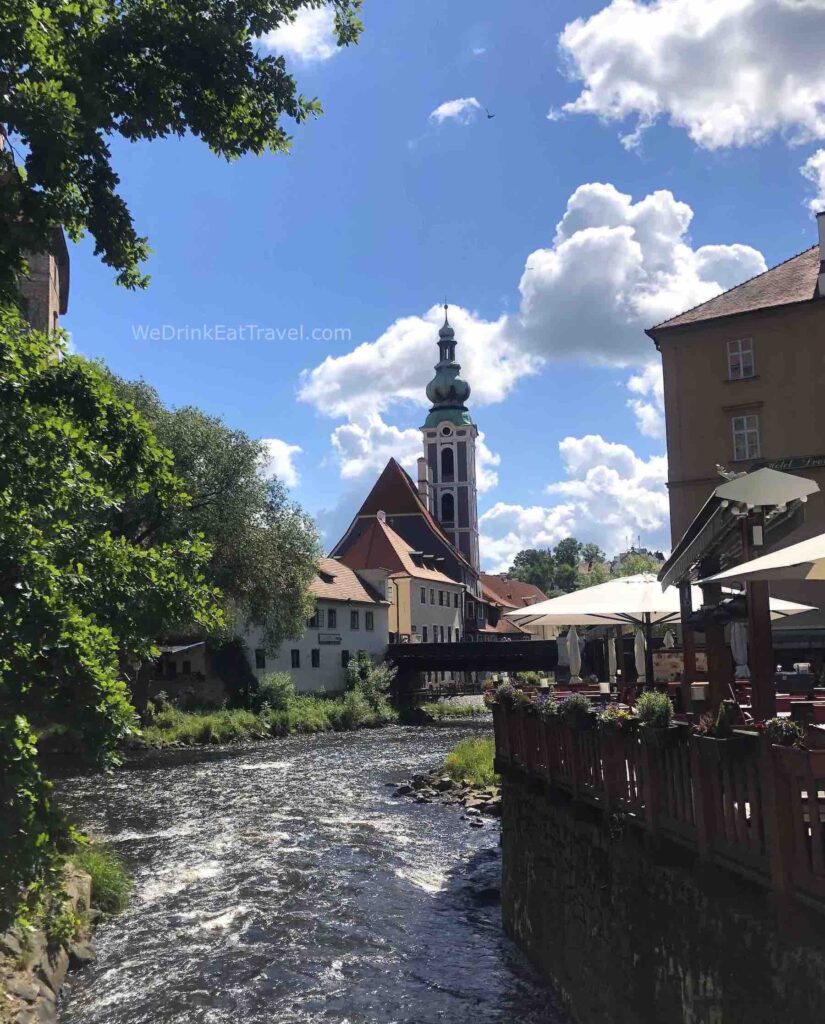 St Jost Church dates back to the 1300's. Yet, over the centuries it has undergone several reconstructions. And, this is another building that stands out, thanks to tall grey color tower… with its contrasting bright white strips.
And, this next landmark is where the Latran area ends, or starts depending on your journey…
Lazebnicky Bridge (Barber's Bridge)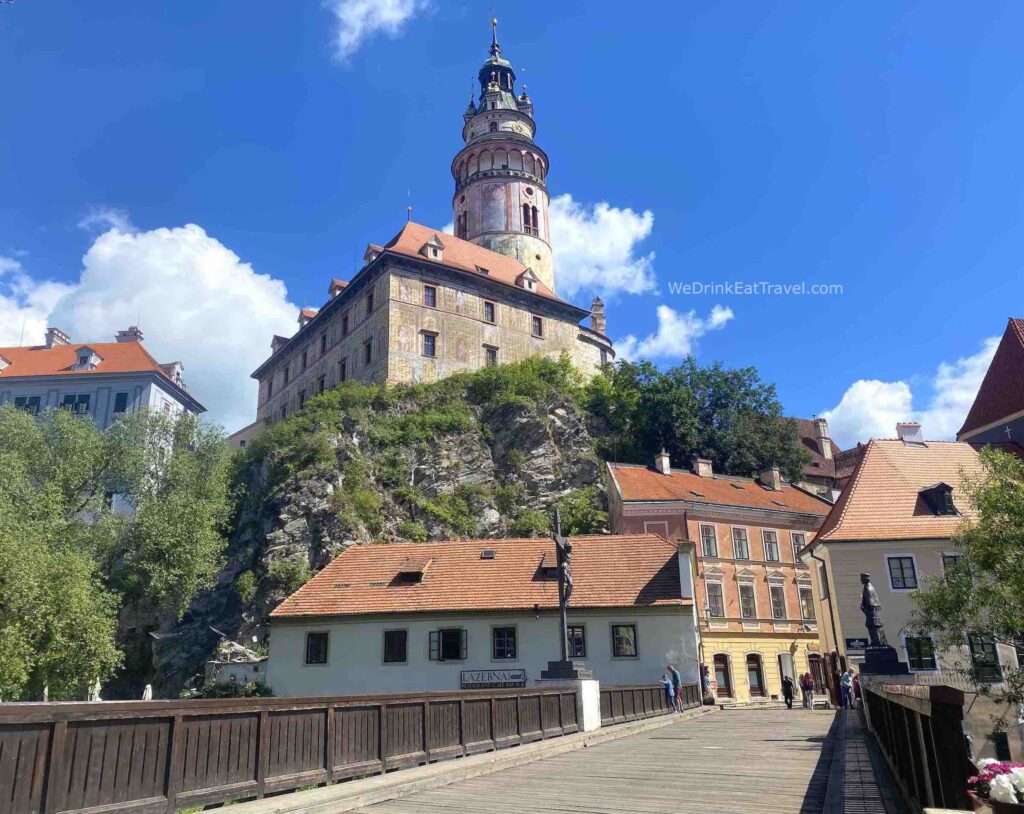 The wooden Lazebnicky Bridge is a great place to get amazing pics of the "Little Castle" and Tower… as well as many other shots of the bridge itself, the town, Vlatva River, and St Jost Church.
One of the difficulties will be getting photos without anyone in it… or with as little people as possible in your pics!
For a quiet area in the middle of town, here's where you should go…
Monastery of the Minorities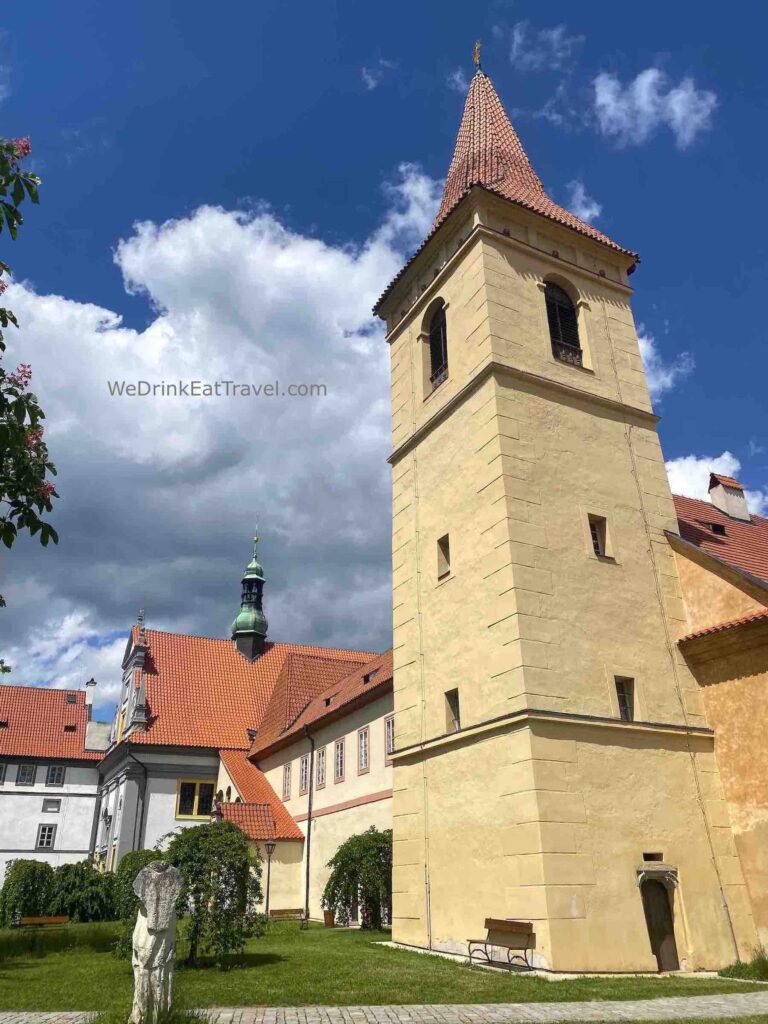 While strolling around the quaint cobble stone streets of Cesky Krumlov… we wandered into an area of the Monastery of the Minorities complex. This is the second largest complex after the Castle, dating back to the mid 1300's. Yet, to our surprise, it was quiet.
There were a few seats in the area, and when we were there… in comparison to other parts of the town it was peaceful. There was only us and another couple in the grounds.
As you can see, there are different buildings that make up the complex including… the former Poor Clares Monastery and Minorite Monastery.
Nowadays, in the premises… there are cultural, historic and educational workshops and exhibitions that take place.
So, for a surprising and fun thing to do…
Dine in a Medieval Cave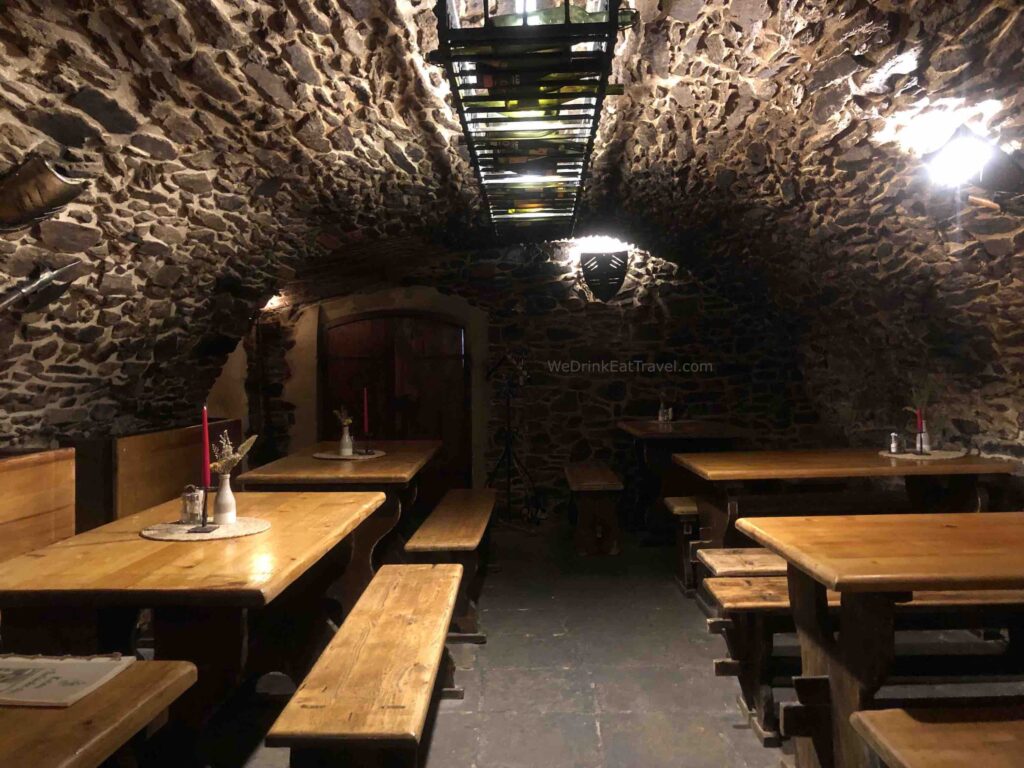 There are many cute and quaint places to eat and drink in Cesky Krumlov. Yet, we did some research… and found that to our surprise there's a medieval, cave style restaurant. So, we thought that it would be fun to check it out.
Now, when we got to the restaurant, there was no-one else there. So, we had the choice of sitting out the front or inside… or they did have an alfresco area too. And, even though it was sunny at the time… we made the decision to sit inside amongst the medieval atmosphere in the cave.
We had the entire area to ourselves. And, after getting our big beers… we wandered around taking photos and videos, like we were knights or something like that! Ha ha ha!
The place that we went to was, Krčma Šatlava. It has a lot of character, plus the staff here are friendly and helpful. It is a heavy meat-based restaurant, with platters being a specialty too. Yet, if you're vegetarian there are a few options. And, make sure you ask if they can cater to your dietary requirements.
Beers are cheap, with a 500ml tap beer costing only about 49 Koruna (around $2.05 USD / 2 Euros / 1.75 GBP).
So, if you want a different dining experience in a medieval cave… head on over to Krčma Šatlava.
Now, last but not least, here's something you MUST do…
Witness One of the Most Breathtaking Views of Cesky Krumlov
When you're walking between the 2nd and 3rd courtyards of Cesky Krumlov Castle… make sure you stop at different points along the way.
We found a couple of small areas on the left side of the path, overlooking the river… that many people ignored. Yet, here were some of the best views of Cesky Krumlov…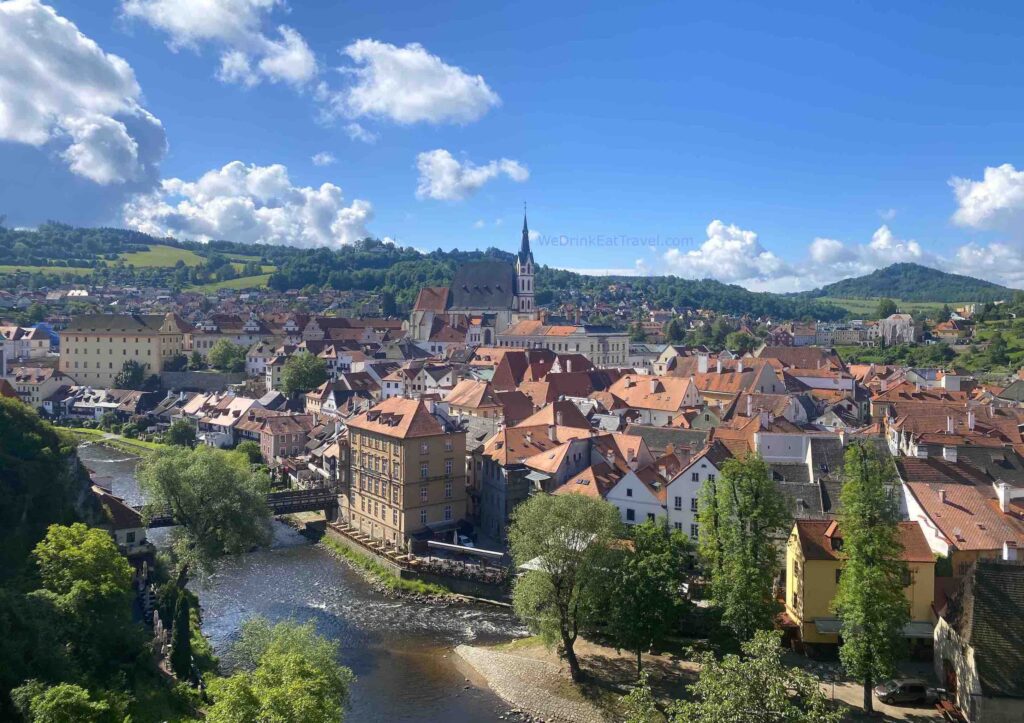 There are many other viewing points overlooking Cesky Krumlov. Yet, you'd have to agree that this is spectacular, right?
Cesky Krumlov is such a beautiful and picturesque town. And, in this We Drink Eat Travel blog… we ran through some of the interesting and surprising things to do in Cesky Krumlov.
It sure is worth doing a day trip. And, if you want to take some time out to relax to slow travel… you could turn it into a weekend trip or even longer.
Yet, regardless of how long you go for… you must explore the amazing and massive castle complex. Plus, you could get lost wandering through the small cobble stone streets… through to dining in a medieval cave restaurant. Or, you could witness some of the most breathtaking views in the Czech Republic.
So, we trust that gives you some ideas to put on your list of things to do. ENJOY!
Have you been to Cesky Krumlov? If you have, what were the top things that you did there?
Watch the We Drink Eat Travel Youtube video about Cesky Krumlov…
You Might Be Interested In This Too…
Here Is How To Get To Cesky Krumlov From Prague
30 Awesome Free Things To Do In Prague, Czech Republic
Things To See In Prague, Czech Republic – Interesting Statues!
21 Of The Best Things To Do In Belgrade, Serbia
Top Recommendations For The Best Pizza In Belgrade, Serbia
7 Surprising Things You Should Know About Belgrade Fortress
25 Amazing Things To Do In Dubrovnik Old Town
One Of The Little-Known Top Things To Do In Dubrovnik
What You Need To Know About The Dubrovnik Card Now
Perast, Montenegro – Why You Need To Visit This Town
One Of The Amazing Things To Do In Kotor Montenegro
10 Free Things To Do In Hue Vietnam
Where To Eat In Tivat For The Best Fast Food