When we were in Belgrade, Serbia, we did a LOT of walking and sightseeing. Plus, we had friends there at the time, which meant socialising and having fun.
And, not only do we love trying different foods… we love trying different beverages too when in new places. Needless to say, we went to explore many Belgrade bars, pubs and restaurants.
From trying local craft beers through to the rakia… we were up for trying new drinks in Belgrade. Plus, the nightlife in Belgrade is so vibrant and diverse. Yet, with these places, many of them are open during the daylight hours… if you want to start drinking early ;-)
So, in this We Drink Eat Travel blog post… we'll run through 12 of the best bars in Belgrade, Serbia. And, after reading this, you may want to check out our top pizzas in Belgrade blog… or our Ultimate Guide on Food in Belgrade, to appease your bellies after sessions of drinking!
So, first up on our list for one of the best bars in Belgrade is…
Mama Shelter
Mama Shelter is actually a hotel with a restaurant, indoor bar area… as well as a rooftop bar section. Even though the indoor and outdoor areas are big, it can get busy. And, we understand why. It has a lively and fun atmosphere, with lots of different beverages to suit many tastes.
Note that as it is part of a modern hotel… the prices are a bit more on the pricier side than other places. For example, a glass of wine may cost around 500 RSD depending on what you get (about 4.25 USD / 4.30 Euros / 3.60 GBP).
Or, a pint of beer starts from around 350 RSD (about 2.95 USD / 3.00 Euros / 2.50 GBP).
Yet, why not splurge while you're enjoying yourself in Belgrade! And, in the scheme of things… it's still cheap when comparing to other places in Europe, Australia or the US!
You can find Mama Shelter at Rajiceva Shopping Center, on Kneza Mihaila 54A.
Gunners Pub
If you want a place to try lots of different beers local and imported… then head on over to Gunners Pub. With over 16 beers on tap, as well as more than 80 beers in a bottle… you'd be hung over like a bear with a sore head trying lots of them!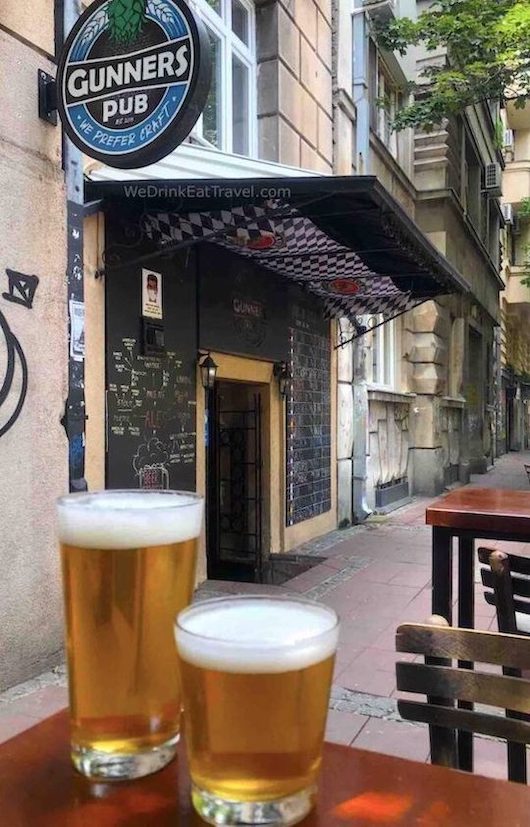 The staff are laidback, yet attentive. And, if the choices are overwhelming, the staff are happy to provide suggestions according to your tastes… or even to try something new, like a raspberry sour beer!
And, you can choose to sit outside at the front of the pub, if you want to people watch… and take in the fresh air. This would have to be one of the best pubs in Belgrade. Plus, the prices are great for what you get.
For example, a 500ml beer starts from around only 280 RSD (about 2.35 USD / 2.45 Euros / 2.00 GBP). Now that's damn cheap!
You can find Gunners Pub on Braće Jugovića 2a.
Red Bar
When you're exploring the Bohemian Quarter of Belgrade… you should stop down the main street of Skardarlija and have a drink or few. There are many places you can try down the cobble stone streets. Yet, one of the bars we recommend is the Red Bar.
Now, don't be fooled by the name. Even though much of the building is a red color, don't go looking for red seats… as the seats are covered by lime green cushions!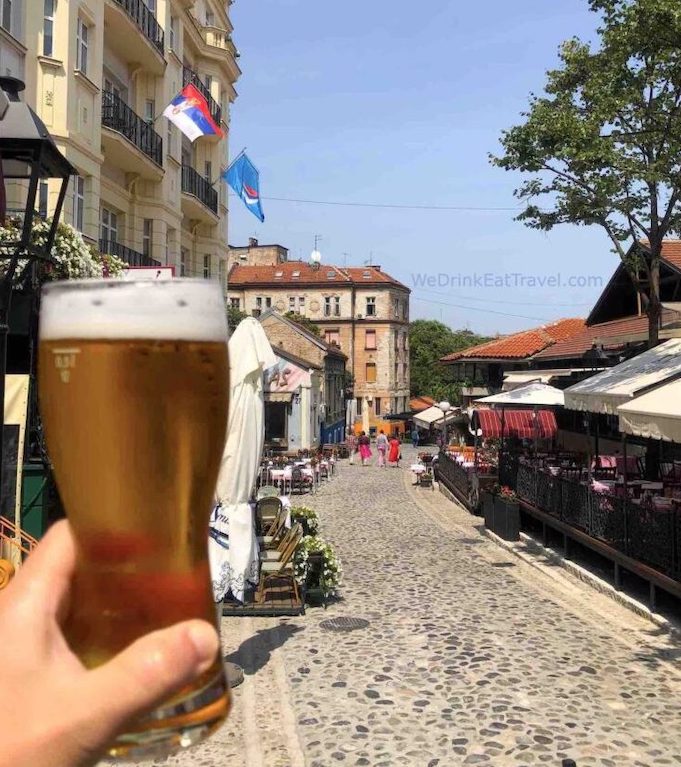 They have a range of drinks from shots, to wine, beer, soft drinks, cocktails and more. And, considering the historic location, the prices are relatively inexpensive. For example, the price of a local 500ml beer, starts from about 280 RSD RSD (about 2.35 USD / 2.45 Euros / 2.00 GBP).
You can find the Red Bar at Skadarska 17.
Blaznavac
This is one of the best bars in Belgrade… with a mix of locals and tourists in a funky atmosphere. There's ample seating outside on the footpath, out front of the bar… as well as lots of different sections inside.
And, you'll know you're at the right bar when you see this eccentric multi-colored elephant!
Plus, the drinks menu is extensive, with something for everyone. Plus, the drink prices are very reasonable for such a funky place. For example, a glass of 500ml beer starts from about 250 RSD (about 2.05 USD / 2.15 Euros / 1.80 GBP).
You can find this cool bar at 18 Kneginje Ljubice.
To find more unique places to drink or for some fun experiences, CLICK HERE.
Cigla Bar
For a boutique type place to enjoy some drinks… make your way to Cigla Bar. While this place may be smaller than some, it is a cozy place to hang out… even though it's nearby Republic Square and the main pedestrian street of Kneza Mihaila.
For a small place, it does have a decent range of different beers… as well as other drinks.
There is seating out front too, so you can people watch. Otherwise, as the seats are relatively close together… you may end up chatting with locals or other tourists.
You can find Cigla Bar at Čika-Ljubina 11.
For all you "sinners" out there, you need to check out this place…
Sinnerman
If you're looking for a rooftop bar in Belgrade, then why not check out Sinnerman. OK, so it was a little difficult for us to find… and we ended up having to ask a few locals where the "rooftop bar" is.
There's an entrance to an office-type building and you need to find the lifts. Then you take the lifts to the top floor. And, after you wander around a little, you should find the entrance which looks like this…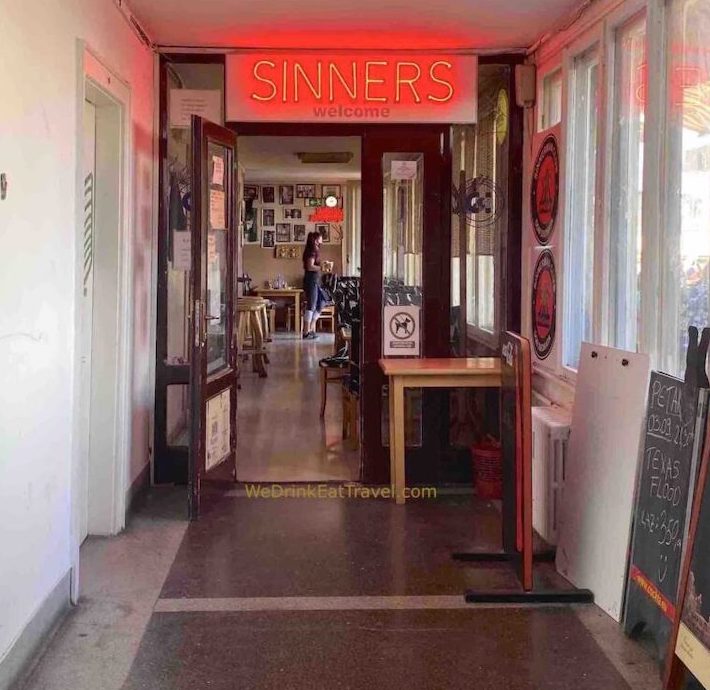 Then, make your way to the outdoor area and seats by the wall, to get views like this…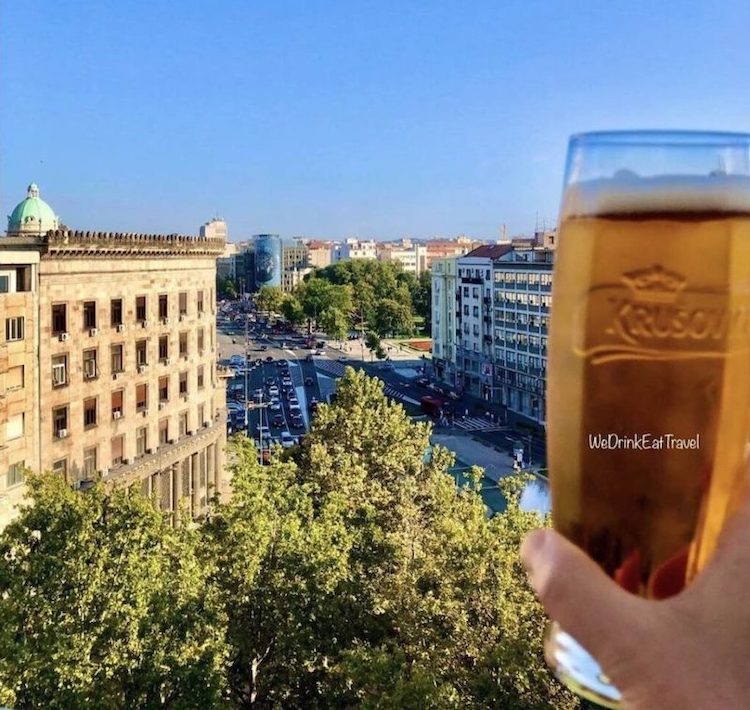 This place is also has jazz performers too, if that's the genre of music you enjoy.
You can find Sinnerman at Trg Nikole Pašića 5.
Jolly Roger Pub
For a lively atmosphere at night time, head on over to the Jolly Roger Pub. During Summer it gets packed outside, with people having all sorts of drinks. And, there's an extensive food menu too. Plus, sometimes there are live bands. So, the music combined with cheap drinks equals a jolly night out!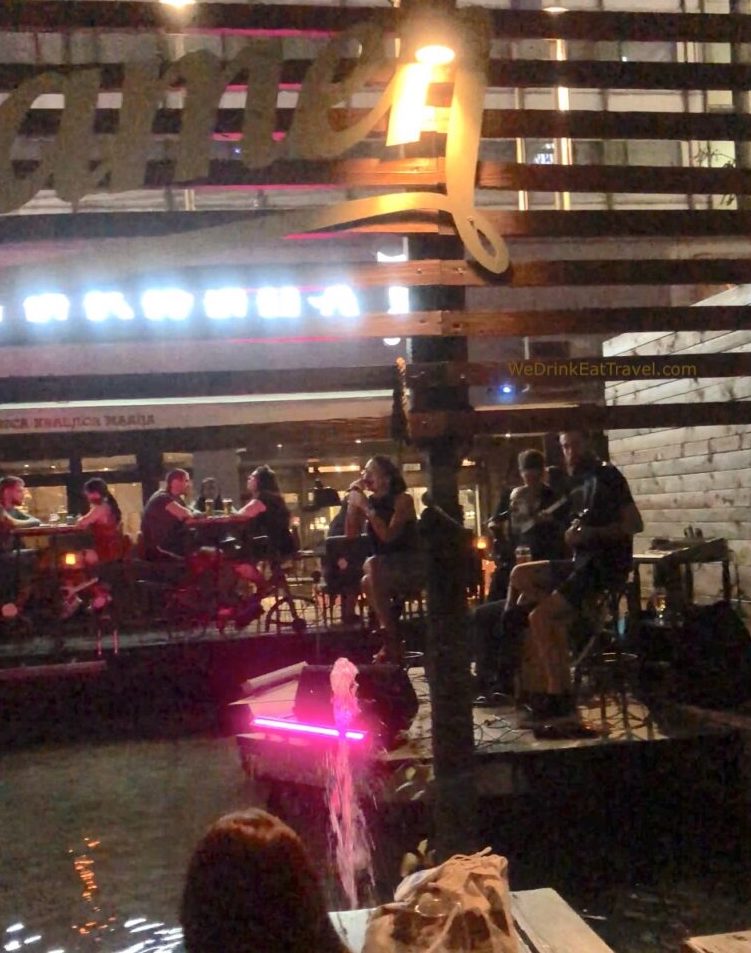 When we've gone there, it's been real busy. Yet, we found that the staff were attentive, and would acknowledge us…. even when serving other customers.
Now, when you're trying to look for this place… remember that you need to head DOWNSTAIRS from the main road. Otherwise, you'll be looking for ages!
You can find Jolly Roger Pub at Kraljice Marije 1.
Now, here's one of the best bars in Belgrade… for a bird's eye view of the Danube River and Belgrade.
Gardoš Pub
One of the landmarks you may go to see in Belgrade is Gardoš Tower… built way back in the late 1890's. And, when you're nearby here… you should stop off at Gardos Pub for a brew or two and enjoy the views.
They have a range of drinks, including local rakija. And, when we went to have some beers, we were given a small complimentary plate of nuts.
So, the prices of drinks are reasonable… considering the prime location and amazing views you can get. For example, a 500ml beer costs from around 250 RSD (about 2.05 USD / 2.15 Euros / 1.80 GBP).
You can find this bar in Belgrade at Grobljanska 5.
Cigla & Krigla Pub
For a local Belgrade pub atmosphere not too far from Tasmajdan Park… head on over to Cigla & Krigla Pub.
When you step inside, the interior is dark with several tables and bar seating. We sat everywhere… LOL!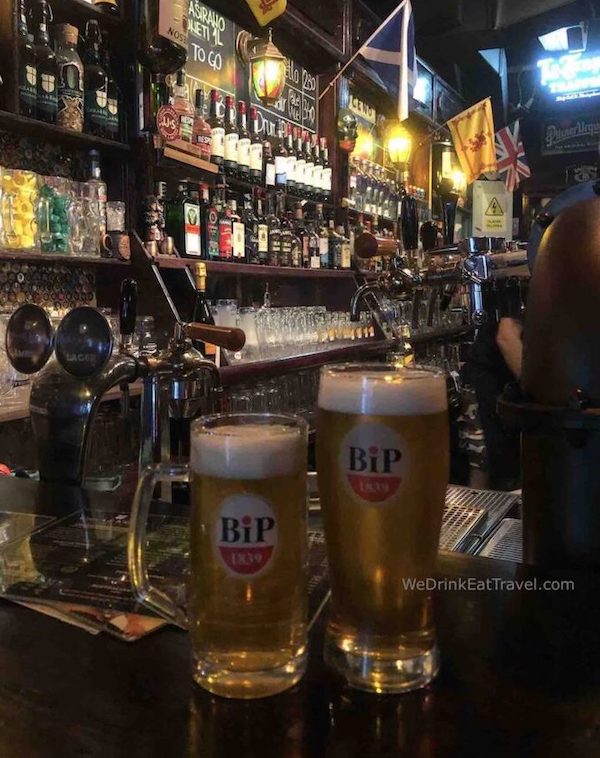 Yet, we recommend you head upstairs to their outdoor terrace area… when the weather is good, of course.
Beers are dirt cheap… starting at around 200 RSD for a 500ml draught beer (about 1.70 Euros / 1.80 USD / 1.45 GBP).
You can find Cigla & Krigla Pub at Dalmatinska 44.
Street Caffe Ada
When you're hanging out for some "beach time" in Belgrade… then you'll most likely end up at Ada Ciganlija. It's lovely to spend a day out here… whether you're on your own or with family and friends. Plus, there are LOTS of places to enjoy some beverages by the beach.
And, one place we recommend is the Street Caffe Ada. It has a very chilled atmosphere, with big umbrellas to shade you from the blistering hot sun. It was so relaxing we couldn't stop for just one bevvy!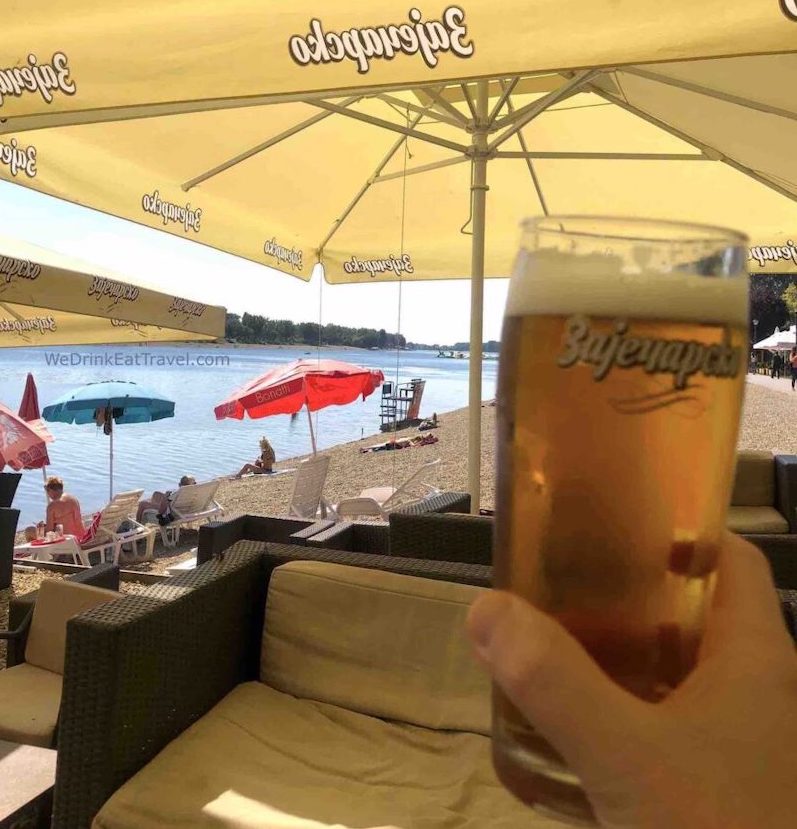 You can find this place by the waterfront at Ada Ciganlija.
Boho Bar
We would have to recommend Boho as one of the best bars in Belgrade… especially considering its location, which is in the Belgrade Fortress complex.
At night the views are magical overlooking the fortress which is beautifully lit up like this…
Plus, the city skykline and river are breathtaking while enjoying some beverages. And, depending on when you go there may be some live music. It feels like you're in another world when you go to Boho Bar. So, check it out and enjoy!
You can find this bar in Belgrade at Kalemegdanska Terasa bb.
Gentleman Bar
Now, you've just read the name of this bar… yet it's not the type of place you may think it is. The Gentleman Bar is a great local's hang out for drinks in the area of Voždovac. Of course, if you're passing through as tourists you're more than welcome!
The service here is friendly and when it gets hot outside… they put on the air-conditioning for relief from the heat.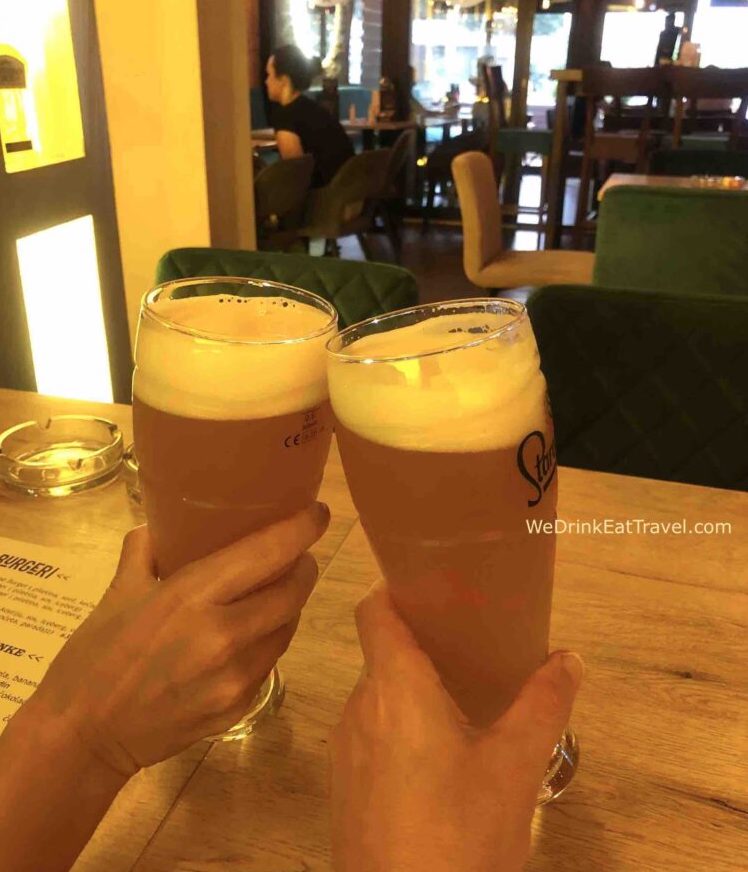 From morning through to late night, this place is open to quench your thirst. And, on the weekends, they usually have live bands playing. Most of the time it's local music. Yet, every now and again there'll be some songs that you'll know!
It has a great vibe and drinks are cheap. Plus, if you're feeling hungry, they do have food you can order. Yet, our recommendation is to head on over to Piano Loco for some delicious food!
You can find the Gentleman Bar at Vojvode Stepe 275.
So, there you have it, 12 of the best bars in Belgrade, Serbia you can check out.
Belgrade is such a vibrant and fun capital city. There's so much to do in Belgrade. So, when you're out sightseeing, or you want to relax after your big days out… there are heaps of bars where you can chill out or party hard!
From rooftop bars, to craft beer places, through to the funky establishments… or beach side bars, there's something for everyone to enjoy some drinks.
So, when you were in Belgrade… where were the top places you'd like to have a drink?
You Might Be Interested In This Too…
21 Of The Best Things To Do In Belgrade, Serbia
Top Recommendations For The Best Pizza In Belgrade, Serbia
7 Surprising Things You Should Know About Belgrade Fortress
25 Of The Best Things To Do In Kotor Montenegro
21 Of The Best Free Things To Do In Vienna, Austria
25 Amazing Things To Do In Dubrovnik Old Town
One Of The Little-Known Top Things To Do In Dubrovnik
What You Need To Know About The Dubrovnik Card Now
Night Market Bangkok: All Aboard For The Ratchada Rot Fai Train Night Market
10 Free Things To Do In Hue Vietnam
Check Out 16 Things To Do In Tivat Montenegro
13 Interesting Places To See In Podgorica Today
7 Free Things To Do In Bangkok