When you're in Thailand there are so many places to shop until you drop! From high end shopping, to indoor air-conditioned market style shopping… through to cheap outdoor local markets.
Regardless of what style of shopping you love… then Thailand should be on your list of destinations to check out.
And, many tourists flock to the likes of Chatuchak Weekend Market, which is absolutely HUGE. So, because of its sheer size, it can get overwhelming shopping there.
Yet, if you want a smaller night market than this, still with cheap prices, and lots of places to eat and drink… then one place to check out is the Ratchada Rot Fai Train Night Market.
Now, there aren't trains running through this market, if that's what you're thinking! So, the original Train Market used to be on a section of the SRT's railway yard on Kamphaeng Phet Road… and that's where it got its name.
So, the bigger of the train night markets is at Srinakarin. Yet, a lot of tourists head on over to the Train Night Market Ratchada outlet… as it's easier to get to and closer to Bangkok city center.
The products sold at the Train Night Markets are said to focus on vintage and antique type items. Yet, on our visits, there were lots of other stuff.
So, in this blog post, I'll run through the Train Night Market Ratchada. Thus, it'll help give you an idea of what to expect. And, I'll throw in some helpful travel tips too.
How To Get To The Train Night Market Ratchada In Bangkok
Now, one of the easiest ways to get to the Ratchada Night Market is via the MRT.
And, if you need help with how to use the MRT, check out our blog post HERE.
So, the best MRT stop to get off at is the Thailand Cultural Center MRT.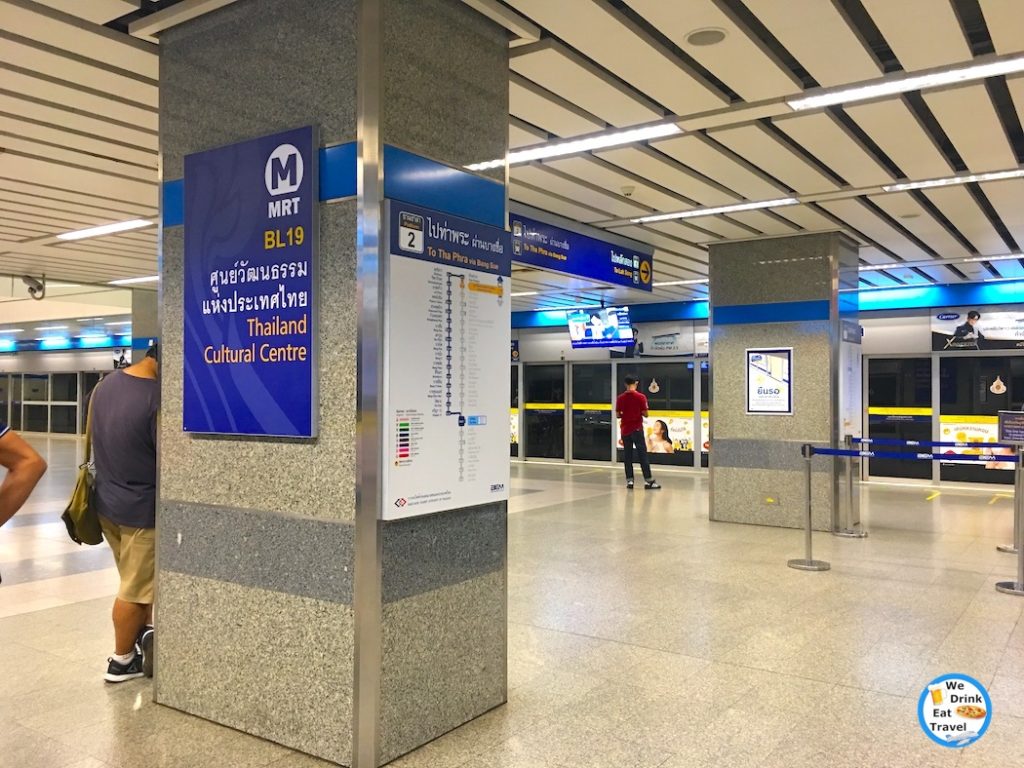 Then, when you arrive at the station, take Exit 3.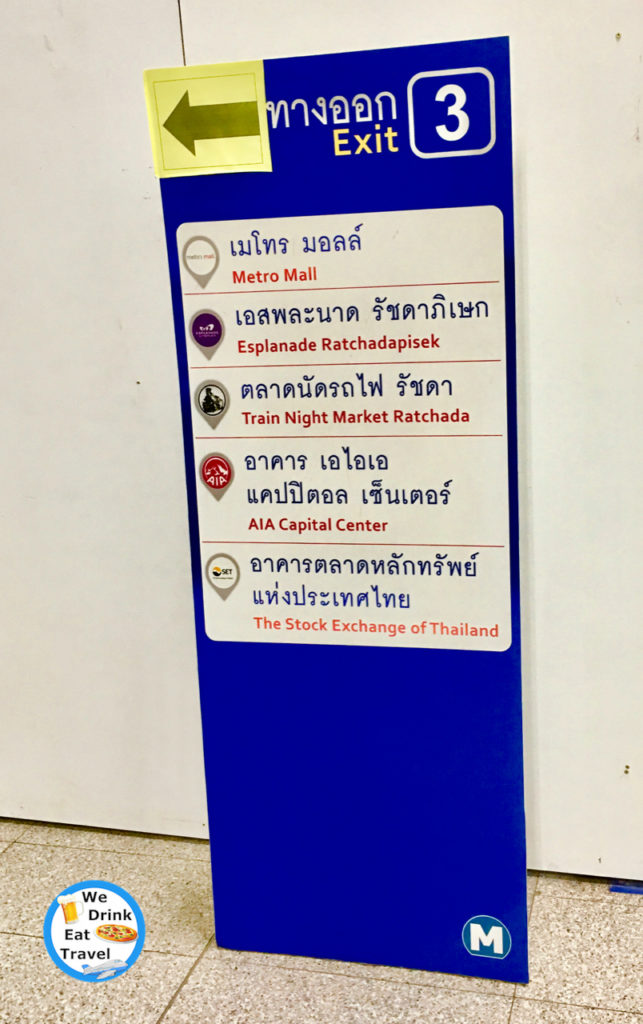 And, after you've left the station you'll be on Ratchadaphisek Road.
Then, as you're facing this main road, veer left on the footpath and walk straight ahead. And, in about 100 meters or so you'll see the entrance to The Esplanade Shopping Center…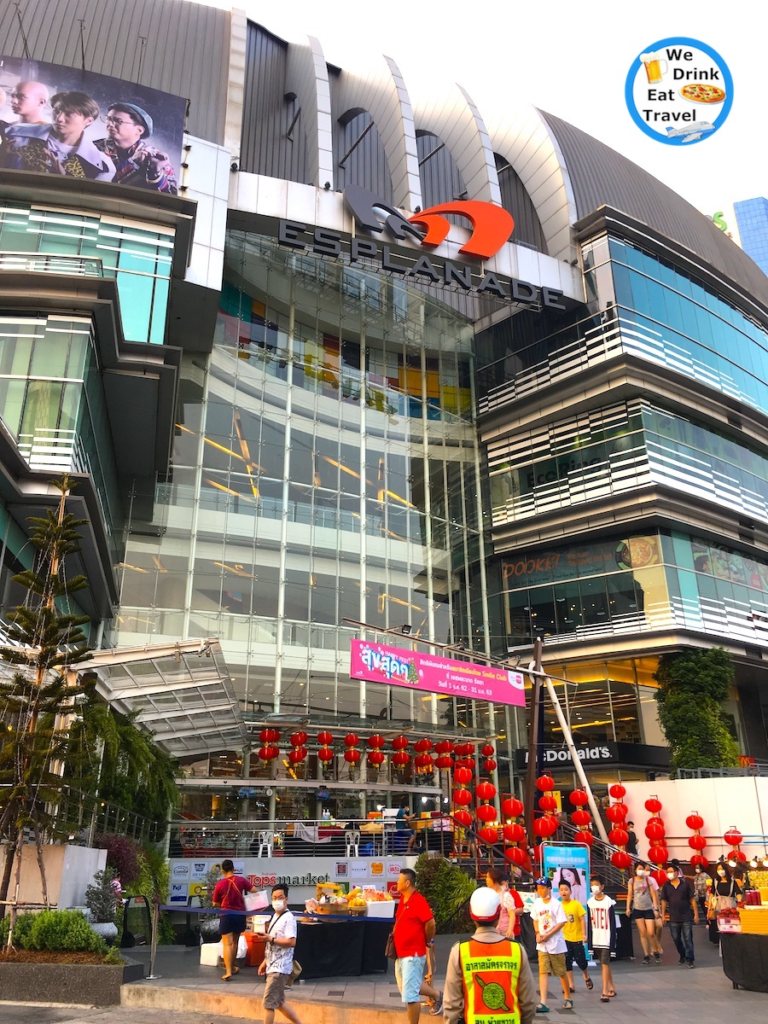 Then, there'll be a large road on the left with lots of motorbike taxis.
So, walk down this road and follow it all the way round. Then, you'll see the sign for the Ratchada Rot Fai Train Night Market, in Thai language.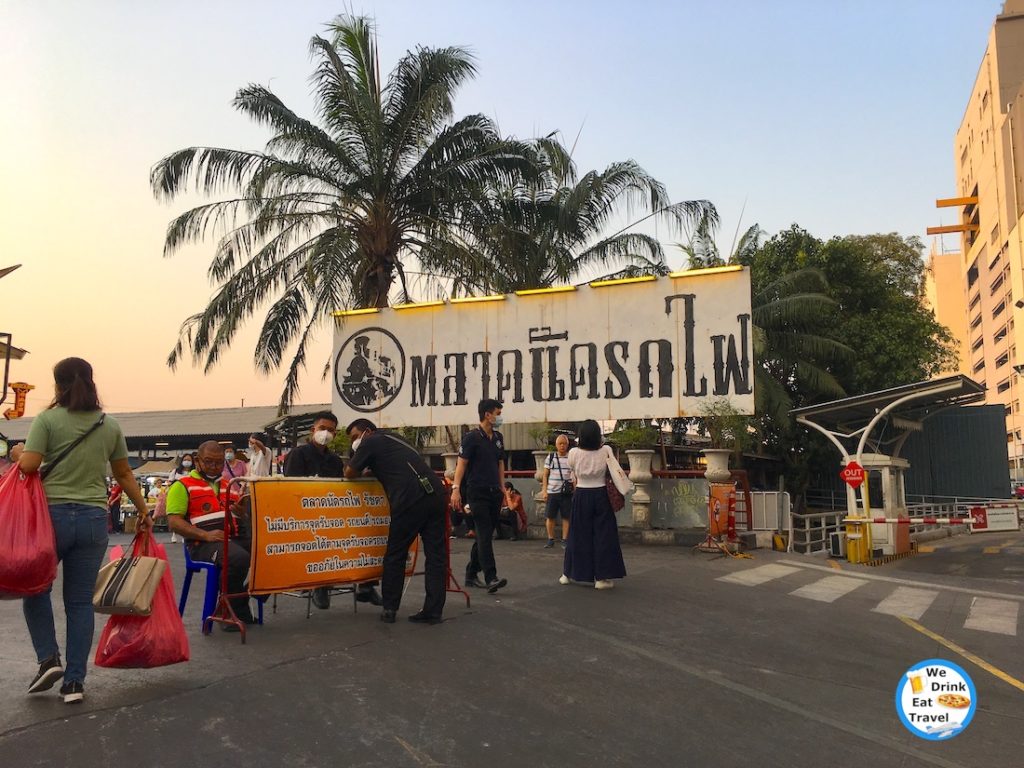 Ratchada Night Market Opening Hours
So, the signs when entering the market show that it opens from 5pm until 1am. Now, we've been here at varying times throughout the night. And, one time the earliest we were here was around 5:15pm.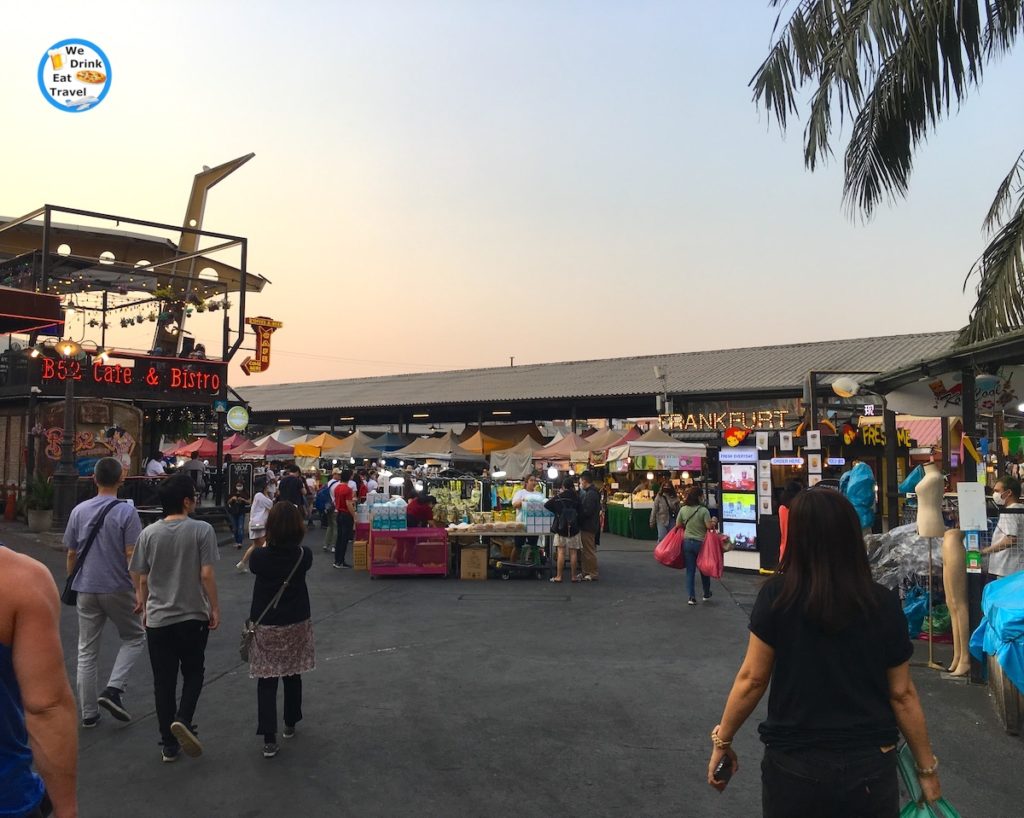 So, at that time many of the stalls, bars and eateries have yet to open. But, one bars that seems to be open right from the start is B52. And, once you enter the market, it's one of the first places on your left.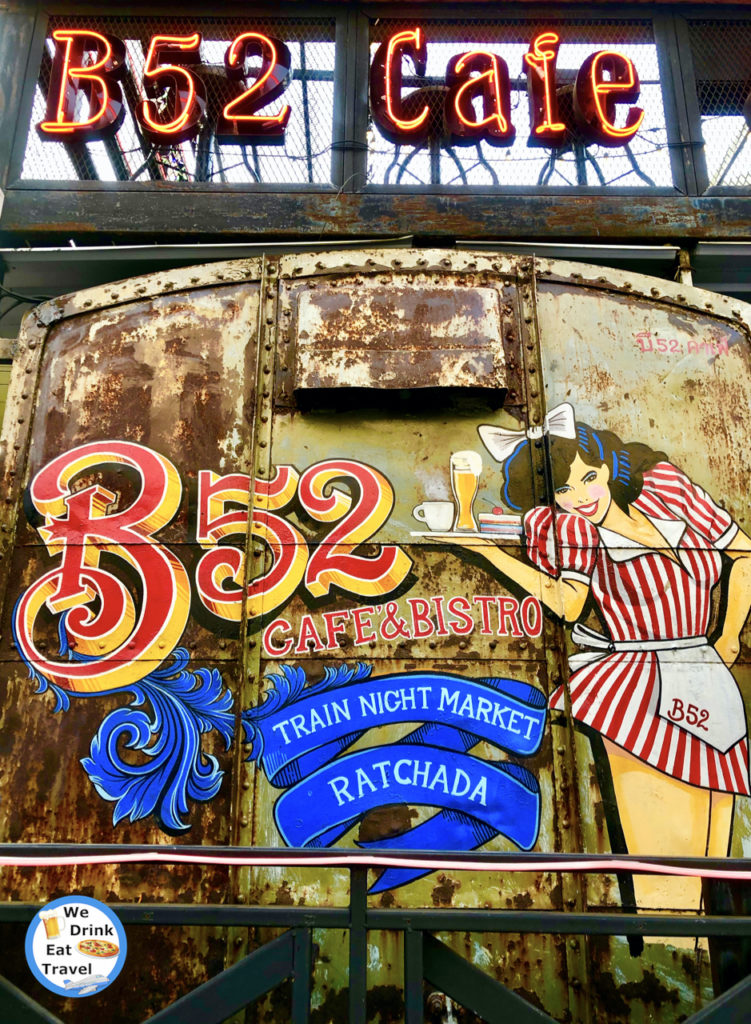 And, it's a great place to sit either downstairs or upstairs to watch the world go by.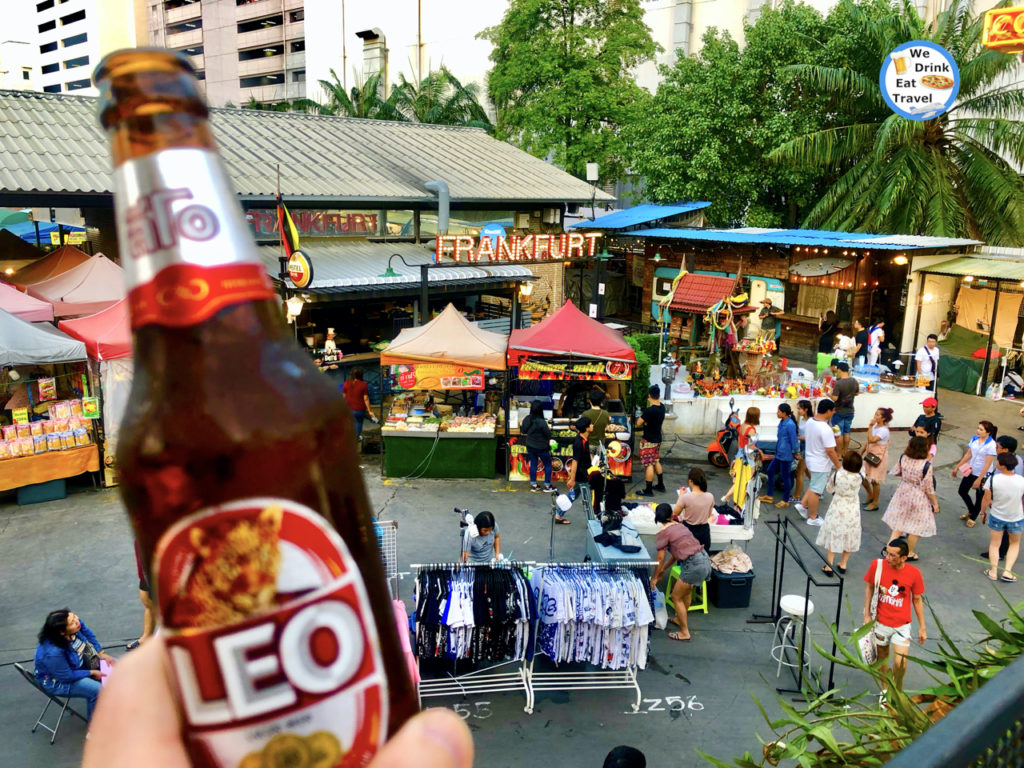 The Stalls At The Ratchada Rot Fai Train Night Market
As I said earlier, the theme of the Train Night Market Ratchada Bangkok… is around vintage and antique style items. Yet, when we were strolling around the stalls, to us that didn't seem evident. And, there were more non-vintage type products being sold.
So, we saw many stalls selling standard clothes, shoes, accessories, and jewelry. As well as the touristy type Thai patterned clothes.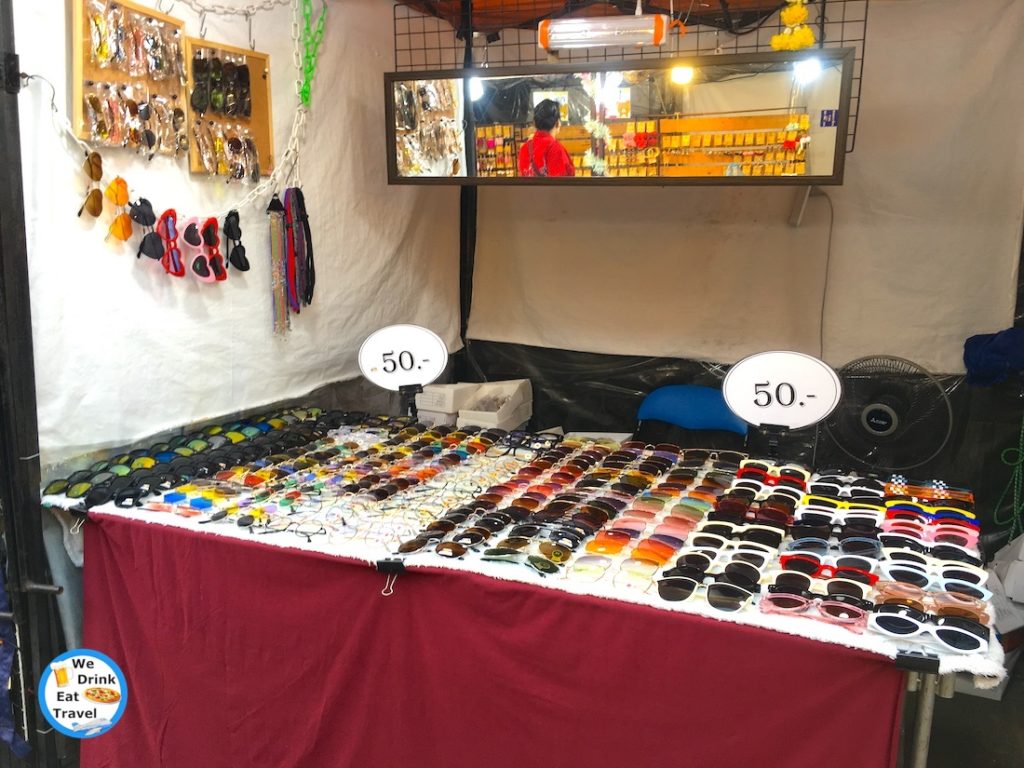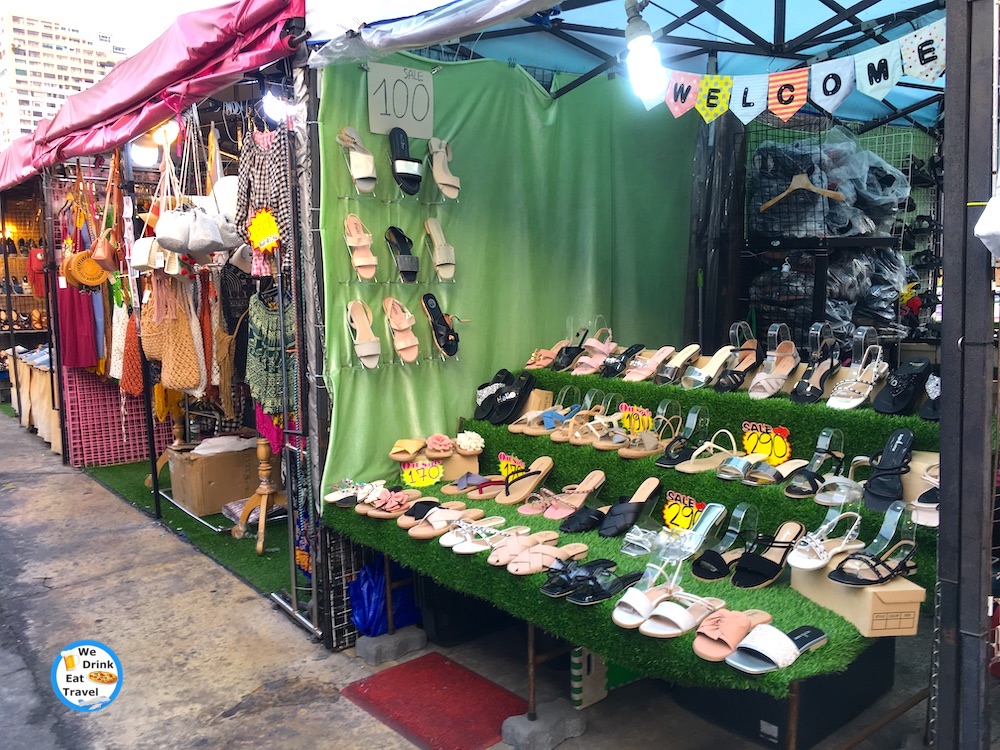 Plus, other stalls were selling face masks (due to the corona virus outbreak), soaps, souvenirs and more.
Then, there are plenty of food stalls selling a variety of things…. from fresh fruit, roti, sushi, seafood platters, meat balls on sticks, juices, mango sticky rice, and HEAPS more.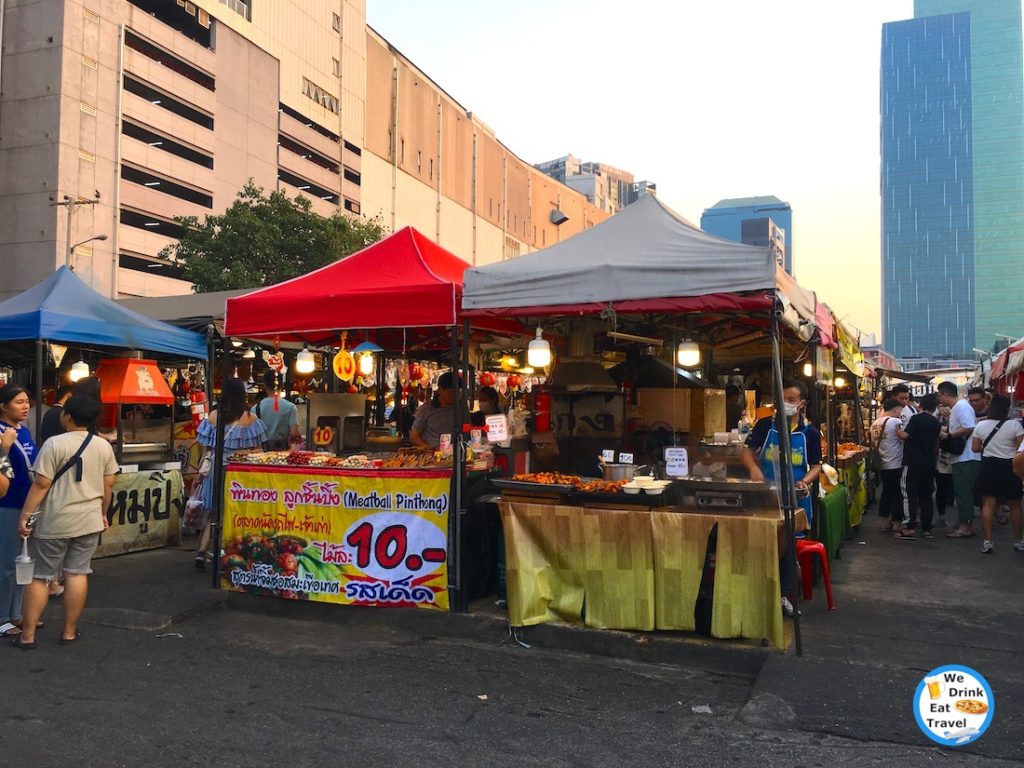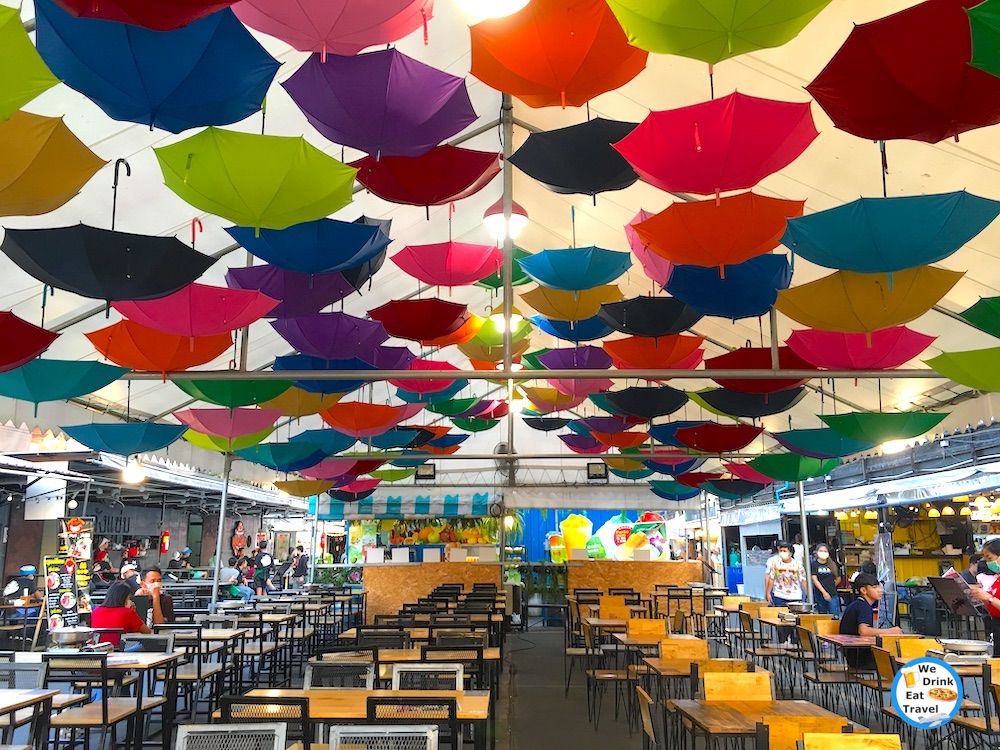 Yet, we must warn you that if you're vegetarian, there aren't a lot of options.
So, here's a photo of the roti we tried, which was OK.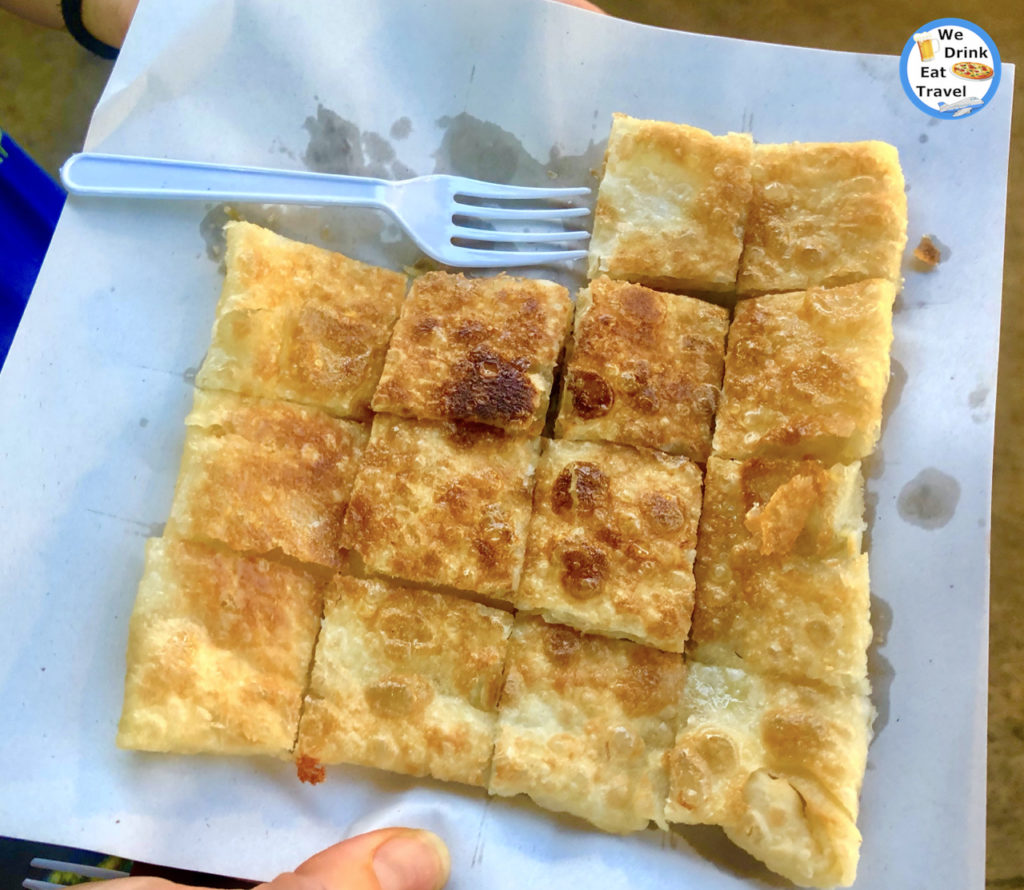 But, we wouldn't go back and get it again, as we prefer the more chewy type texture rather than crispy.
Also, in one corner of the market is a large undercover area. And here, it sells a lot of packaged food type products.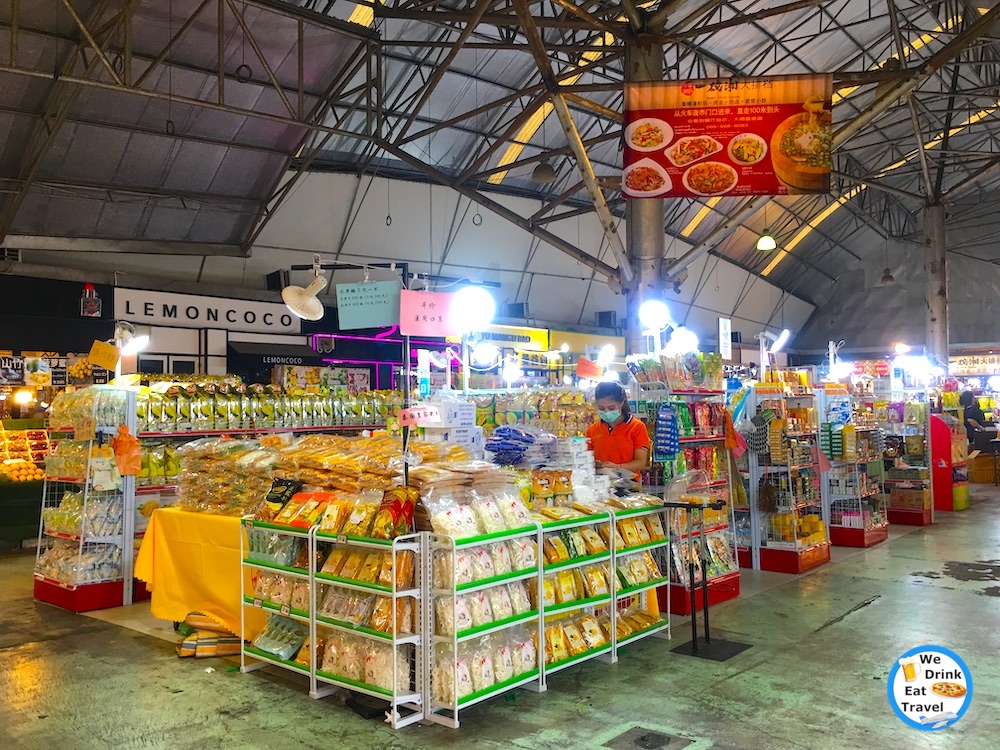 And, as is common in Thailand, there are a few places where you can get a massage too.
---
TIP:
If you want to avoid crowds and going slower than snail's pace through the market stalls… best to get to the Ratchada Night Market before 7pm. Then, you can chill out at the many bars!
---
Cheap Bars Galore At The Train Night Market Ratchada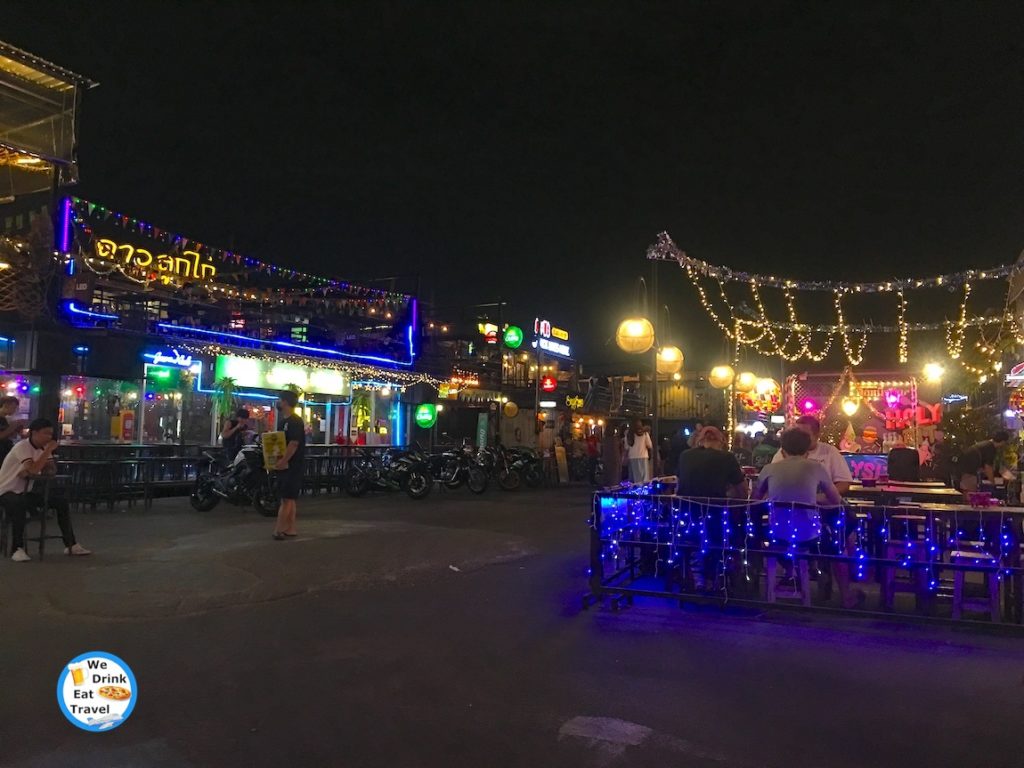 Now, at this market is a section dedicated to bars. But, many of the places don't serve ice cold beers, which is normal for the Thais.
Yet, there are plenty of drink specials and deals. For example, some bars sell 3 large 630ml Leo beers for 240 baht (about 7.30 USD / Euros).
---
TIP:
So, to get beer deals like this, the Thais would normally buy the 3 beers at once. Then, they would also order glasses with a bucket of ice. And, they would either put the beer bottles in the ice, and / or put ice in their glass.
Be aware though, some places will charge you for the ice, which maybe around 30 baht. So, best to ask beforehand if they charge for ice.
Yet, if you're a "farang" (foreigner)… some of the bars will charge you the full price per beer, if you don't buy them in lots of 3. So, even if you drink the equivalent of 3 beers individually… you may not get the special deal!
Sounds a bit crazy, right?
Yet, going out shouldn't be hard work. So, do whatever fits within your budget and needs.
So, of the many bars that we went to at the Ratchada Night Market… the coldest beers we had were at Impala Bar…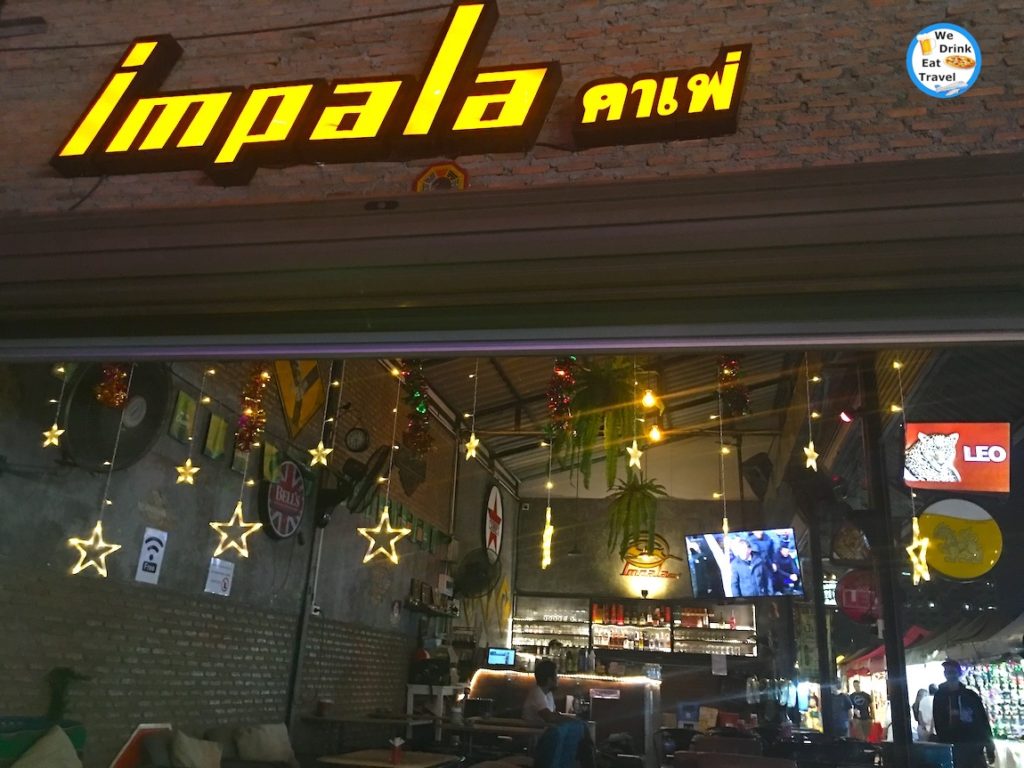 Then, the next best was at B-52.
Yet, we must warn you that if you're not keeping an eye on the bill at Impala Bar… then they may keep the change you're expecting.
This did happen to us, although it was only 20 baht. And, that was surprising to us, as we've rarely experienced this on our travels in Thailand.
The Toilets At Ratchada Rot Fai Train Night Market
So, there are toilets at this market and you'll have to pay 3 baht for the privilege to use them.
And, to get to one lot of toilets, after walking through the entrance… veer to the left, past B-52 bar until you reach the end of the street. Then, you'll see a big undercover market area.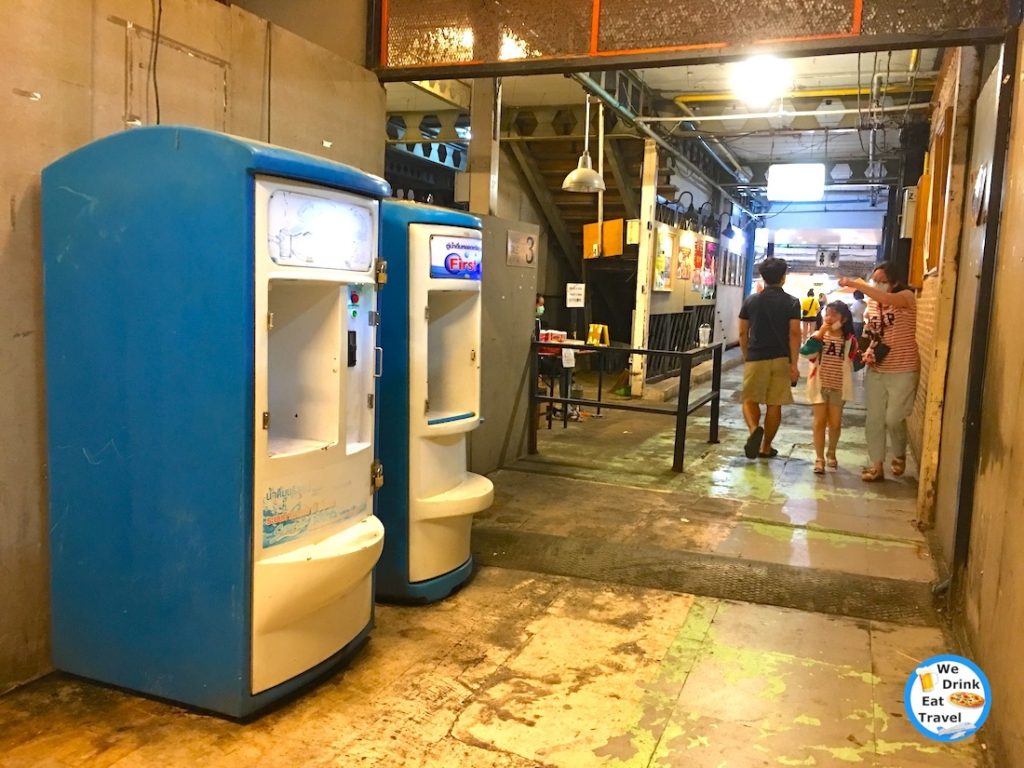 Then, there are signs for the toilet pointing to the rear of this section. Yet, I found these toilets to be the most dirty and disgusting! Plus, they're squat toilets.
So, the other block of toilets is within the main area with all the bars…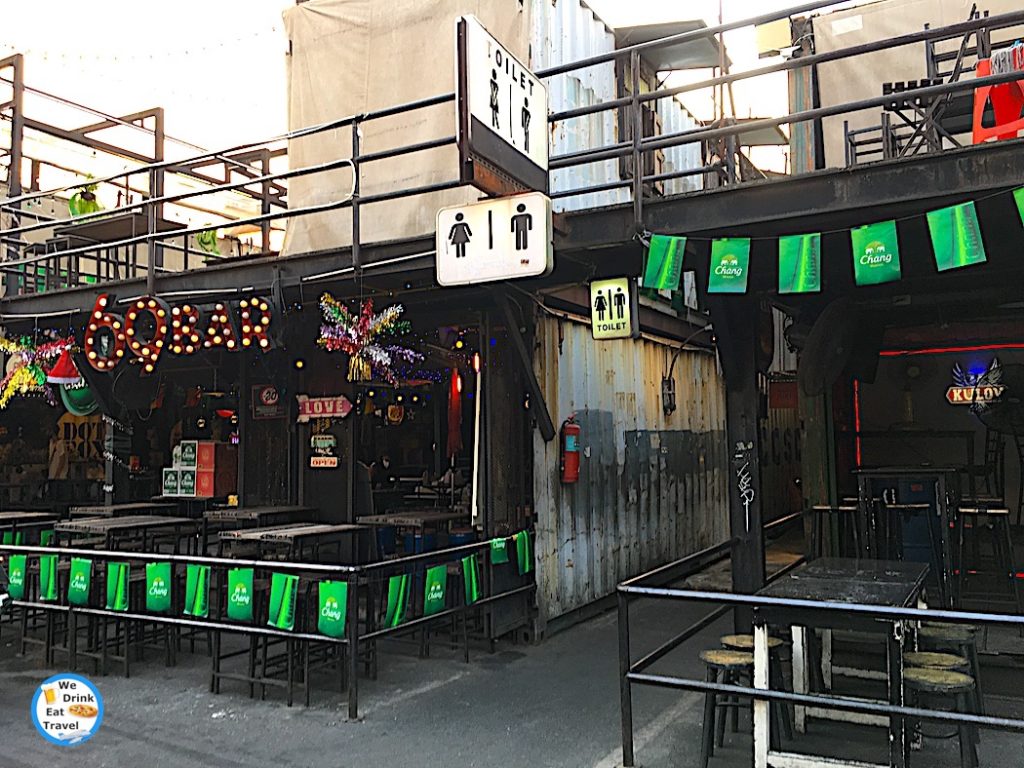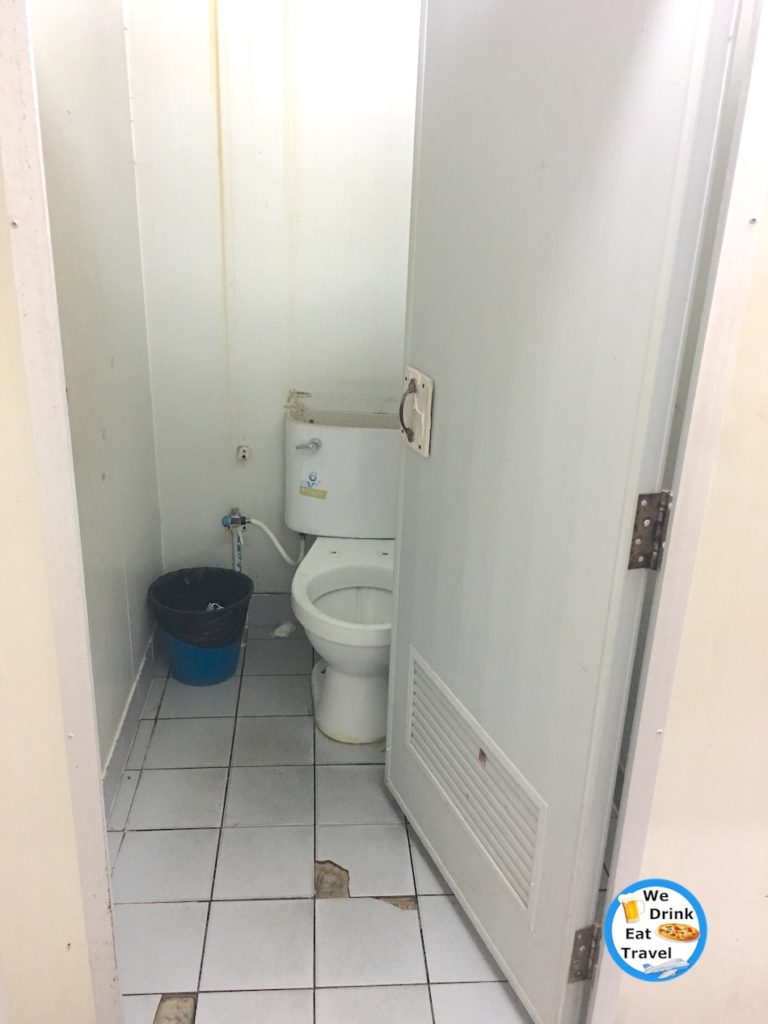 And, these western style toilets are slightly better than the others. Although they're still not the best.
---
TIP:
If you can't bear to go to the toilets at the Ratchada Night Market… take a few minutes walk out of the market, to The Esplanade Shopping Center. These are much cleaner and more pleasant. Yet, sometimes when nature calls you need somewhere much closer!
---
So, if you're planning on going to the Train Night Market Ratchada in Bangkok… we trust that this gives you some insight and tips before you get there.
And, as a result of the corona virus scare, the number of tourists have significantly dropped. So, that's because a lot of the Chinese tour groups haven't been going there.
Yet, when the tourism gets back into full swing… be prepared for crowds and masses of people weaving through the stalls.
Even so, when we were staying at the Prom Ratchada Residence and Spa… it was convenient to go to the Ratchada Night Market for drinks. And, there are plenty of bars to choose from, to watch the tourists and see the world go by.
Then, if you're still keen for more shopping, eating or drinking… there are more options outside of the Rot Fai Train Market. And, you can check them out HERE.
Yet for now, we hope you enjoy your travels in Thailand!
You Might Be Interested In This Too..
15 Of The Best Things To Do In Siem Reap
Chatuchak Weekend Market: 7 Top Things You Need To Know
How To Get To Chatuchak Market In 2 Ways
How To Go To Platinum Fashion Mall Bangkok By BTS
What You Need To Know About The Bangkok Canal Boat On Saen Saep
Bars In Danang – 7 Of The Best Places
VAT Refund Bangkok: How To Get Money Back On Your Shopping
What You Need To Know About Pub Street Siem Reap And The Nightlife
Is Kuala Lumpur Worth Visiting? 15 Interesting Things To Know
27 Of The Best Things To Do In Bucharest
Thai Airways Review: From Melbourne Australia To Bangkok
Thailand Food – Being Vegetarian In Thailand
Need Accommodation?
Find Your Perfect Vacation Accommodation
Want Cheap Flight Deals?
Looking For The Latest Flight Deals? Click HERE
Get Real Cashback From Your Vacation!
Discover How You Can Get Cashback From Your Vacation Bookings