Accommodation: Courtyard Marriott Brno Hotel
Location: Holandská Street 12, Brno, Czech Republic
Loyalty Program or Deals Used: Velocity Frequent Flyer
Research and Booking
When we were looking at a trip to Brno from Prague… initially we were thinking about doing a day trip.
Yet, as we had been staying in apartments for a lot of our travels… we thought it would be a pleasant change to stay in a hotel, even for an overnight trip.
So, when we were doing our research looking at hotels in Brno Czech Republic… a thought came into my head that I had frequent flyer points that were going to expire. I didn't have many points, and there wasn't enough to redeem for flights.
Yet, rather than losing them, it'd be nice treat to ourselves to a night in a hotel. I have to let you know that it was a "last-minute" decision to go to Brno. Thus, when it came to researching hotels… we found that we didn't have a great deal to choose from. Plus, we were traveling in peak season! Could we have put more challenges on ourselves? Ha, ha, ha!
Even so, after looking around on the Velocity Frequent Flyer Hotels website… we found the 4-star hotel, Courtyard Marriott Brno. And, although the hotel reviews were largely positive… we thought we would check it out for ourselves.
So, read on to find out what we thought of the Courtyard Marriott Brno Hotel, and our experiences…
The Location of the Courtyard Marriott Brno Hotel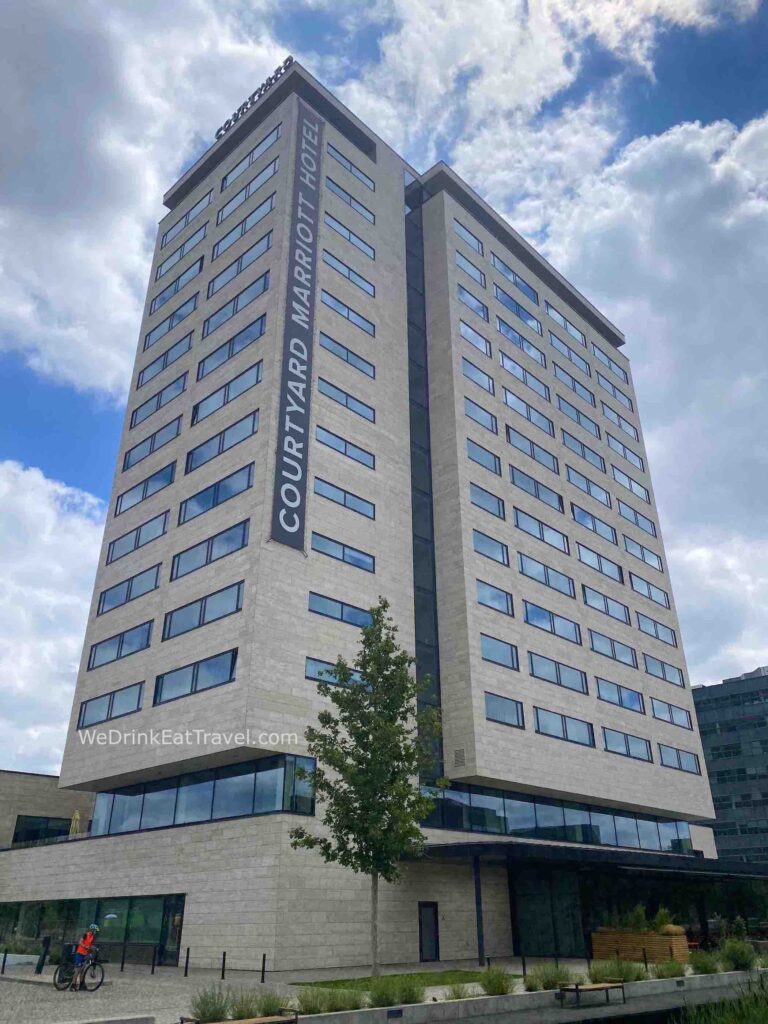 The Courtyard Marriott Hotel in Brno is relatively new, having its opening in 2016.
Now the location of this Marriot Hotel is not in the town centre of Brno. Yet, it's only about 1.8 kilometres south, which we thought was reasonable. So, from our point of view we could still walk into town with ease.
Yet, when we were there, the surrounding area wasn't attractive. It felt like we were in an industrial area, where there were some developments taking place. Plus, it was nearby train lines and major roads. It was drab and grey.
So, with that in mind, I guess the hotel management tried to make it aesthetically pleasing… by developing a little man-made lake, with some seats and grassy areas.
Who knows, maybe over time the environment around the hotel will look beautiful.
What Room Did We Choose in the Courtyard Marriott Brno Hotel?
Now, there are several room types in this Marriott hotel. Yet, as I said earlier, as we were booking late, we didn't have all the options available to us. Plus, that may also be because Velocity only had a certain amount of rooms and types available… for frequent flyer redemptions.
So, room types at the Courtyard Marriott Brno Hotel include standard rooms with a king bed, studio rooms… and even rooftop suites. Now, that would've been amazing! And, it looks pretty spectacular on their website.
Yet, reality was I only had about 17,000 Velocity Frequent Flyer Points to redeem. That's not a lot. Plus, we knew that weren't going to spend a lot of time in the room… as we'd be out sightseeing and doing activities. So, no point in wasting money on a lavish room we couldn't enjoy.
Now, a MUST for us was to gorge on a 4-star hotel buffet breakfast, to start our day.
Then, after reviewing our options… we made the decision to get a standard room which would include buffet breakfast. Yet, to enable us to redeem this room type with breakfast… we had to use the points plus pay option.
So, in the end we could redeem 15,400 out of the 17,000 Velocity points. Plus, we would need to spend AUD $42.68 (about 671 Koruna / 27.40 Euros / GBP 24 / USD $26.80).
Now, why didn't I redeem the full 17,000 points you may ask? OMG, that's a rant for another travel blog post! Fellow Velocity points collectors and redeemers… you know what I mean!
OK, so a standard room per night, WITHOUT breakfast is about 2,000 Koruna (about 81.70 Euros / GBP 71.20 / USD $79.80 / AUD $126.80). Yep, the Australian dollar is crap.
Even so, we were happy to fork out the extra amount and use the points… for this 1 night stay at a Marriott hotel.
So, let us take you inside the hotel, starting off with our check in experience.
Checking into the Courtyard Marriott Brno Hotel
We got to Brno about 9:30am, yet the check in time was for 3pm. We did request during booking if we could check in earlier. Yet, this was subject to availability on the day. Thankfully we didn't have much to carry around!
Now, after we did a bit of sightseeing… we then gave the hotel reception a call to see if we could check in earlier. And, to our delight the staff were accommodating… advising that we could check in at 12 noon. Awesome!
After walking from Brno town centre, then strolling over the Svratka River… we saw their man-made lake. And, after walking past that, we found the entrance to this Marriott hotel.
Then, as we were going through the automatic glass sliding doors… we found that the reception area was a surprise! First of all, it was huge. The ceiling was high and to the right of us the wall had some interesting artwork…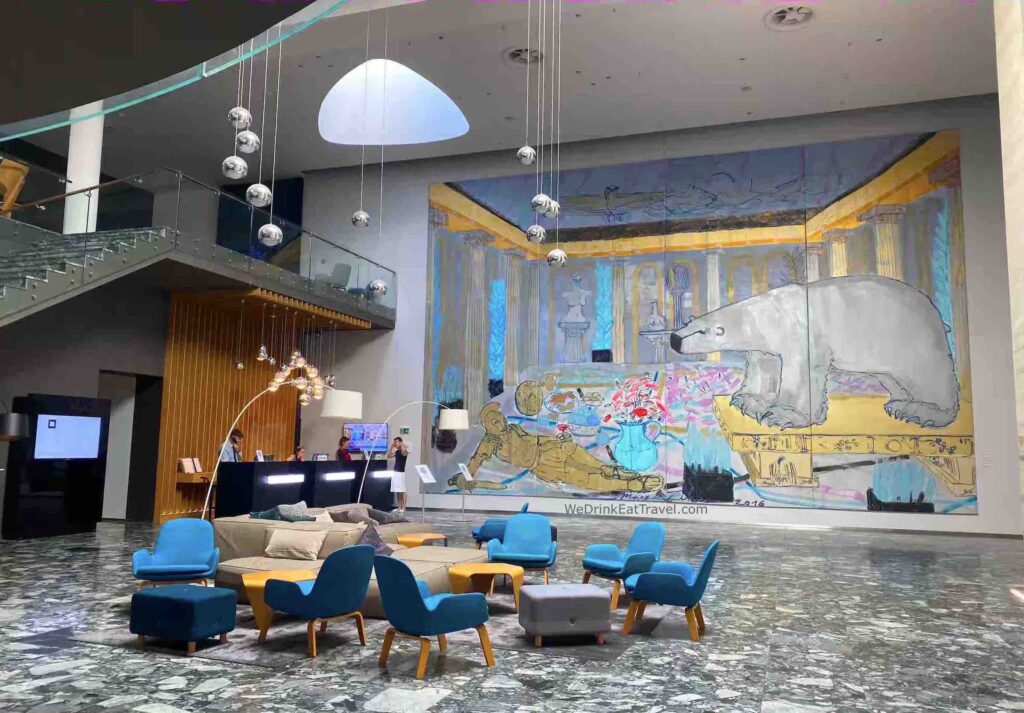 There were a few people in front of us, so we kept gawking at the surroundings. To the left of us was a large seating area with a variety of lounges, chairs and tables. It felt open and spacious, with a modern look.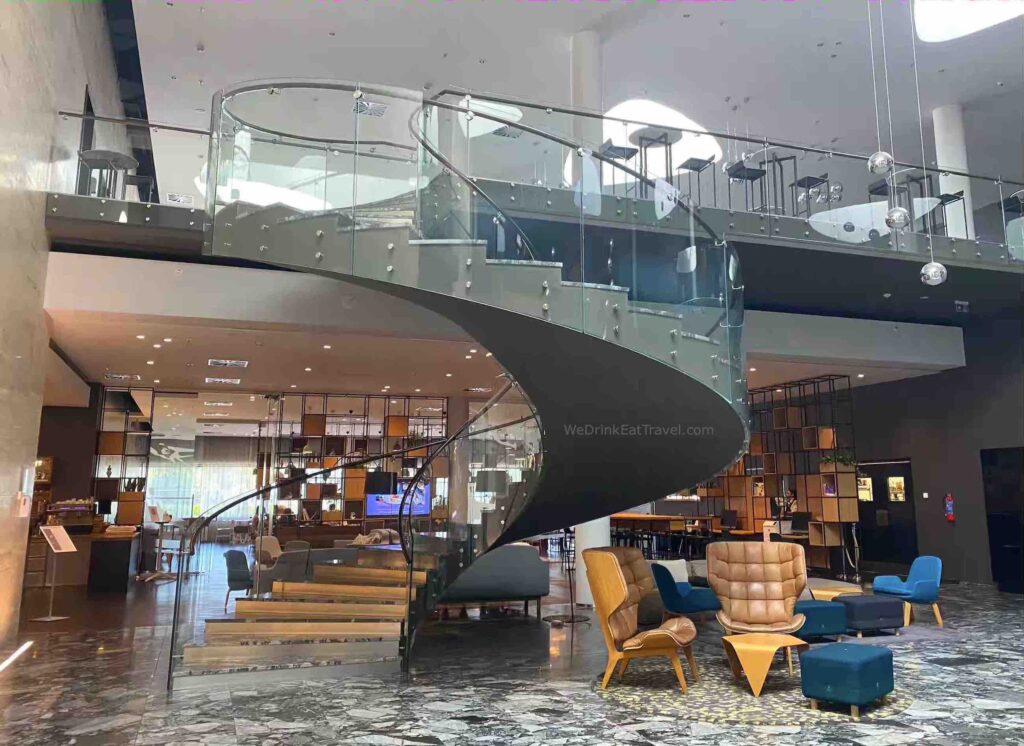 So, when it came to our turn for checking in… the staff member who was serving us came across as pleasant, professional and efficient.
Now, we had to pay a tax on top of the booking we had already paid for. We weren't expecting this. Yet, it was a tourist tax of only about 1 Euro per person per night… so nothing to scream about. We must have missed it in the fine print!
Even so, minutes later we were given a card to access our room… with the staff member pointing in the direction behind us to access the lifts. So, off we went, eager to see what our room would be like.
Our Courtyard Marriott Hotel Room
The corridors leading to the hotel rooms had carpet on the floor. This can be helpful to drown out any noise from the wheels of rolling suitcases.
And, although there were pictures on the walls, we felt that the color tone was a little bleak. Even so, we weren't going to be sleeping in the corridor so that didn't matter! Just an observation to share with you.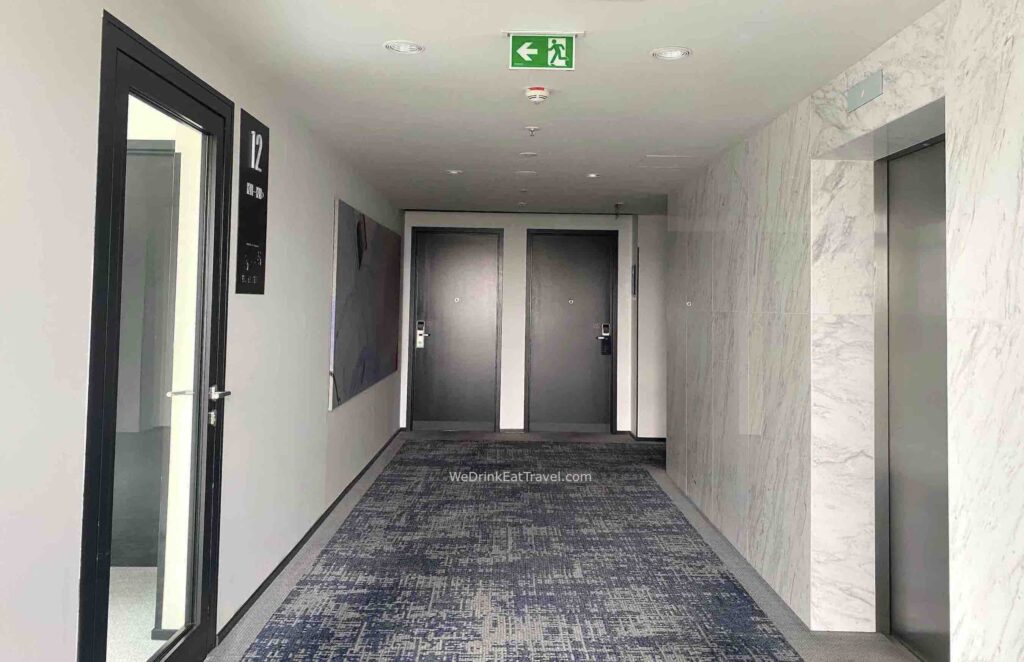 Then, after unlocking the door with our keycard… we had to push hard to open the heavy door. And, this is was our first glimpse of our hotel room…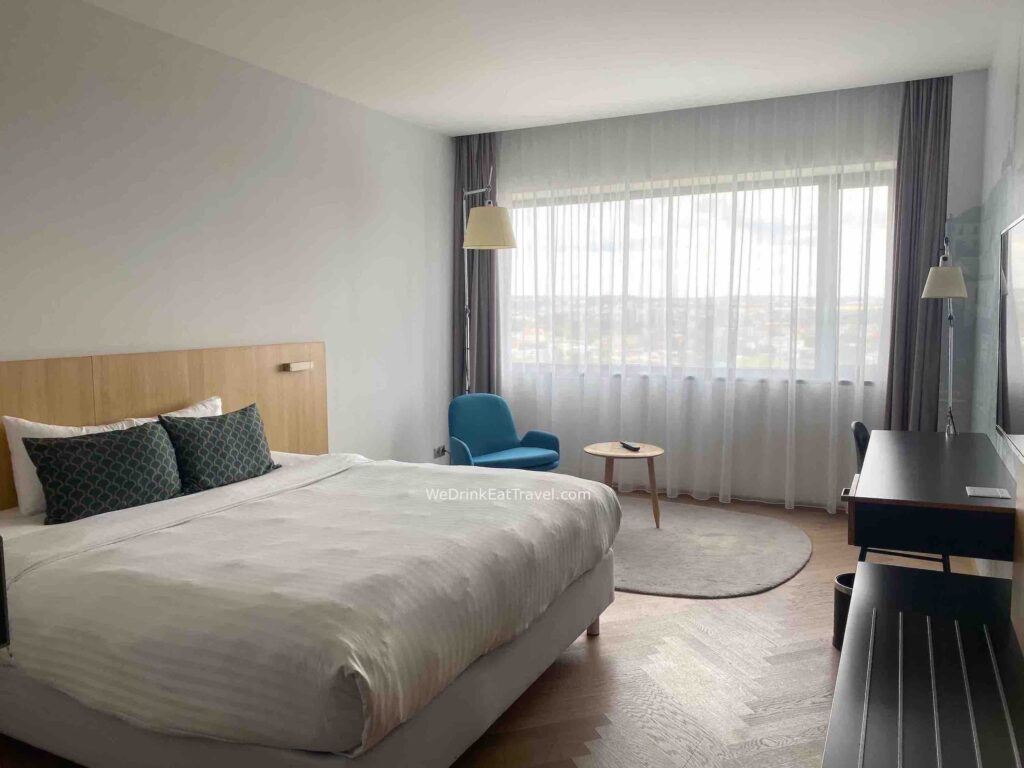 So, one of the first things that came to our attention was the BIG king size bed. It was very inviting! We both love big beds, even though I'm not tall. Plus, we can confirm that from our perspective… the bed was really comfy, as too were the pillows.
On either side of the bed were handy side tables… as well as power outlets and lights.
What we also did like were the large windows… to allow lots of natural light to beam through into the room. Furthermore, there were both sheer curtains… as well as thick black out curtains. So, that did help with keeping the room dark for a better night's sleep. Big thumbs up!
Then, after we went to pull the sheer curtains open to check out the view, here's what we saw…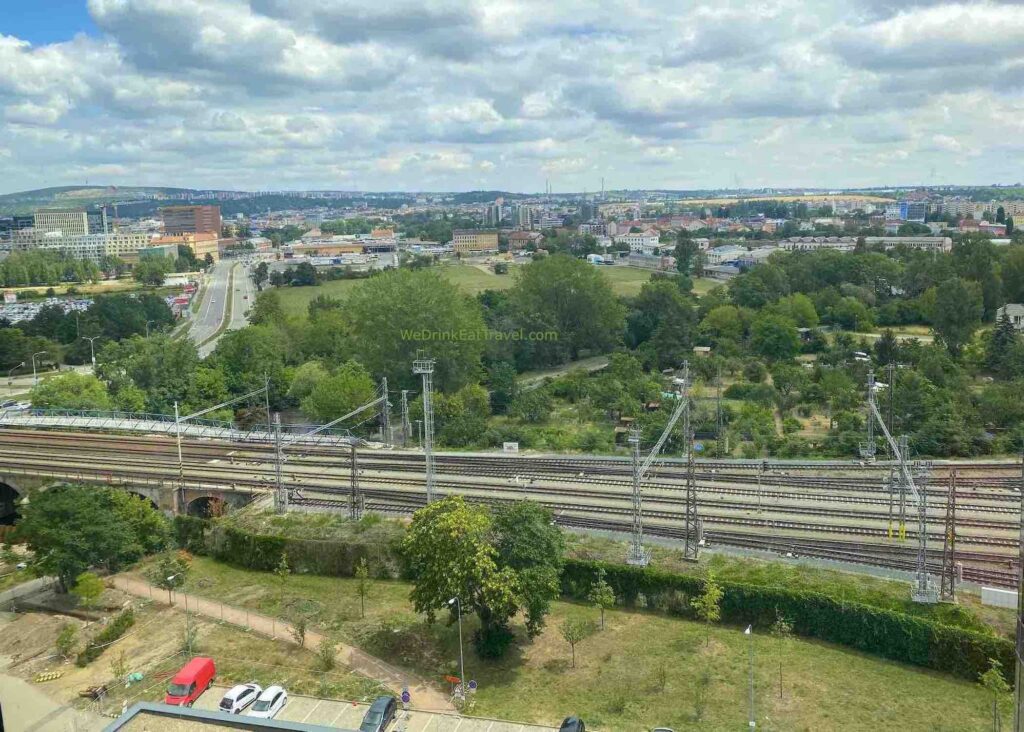 OK, it wasn't the most appealing of views, but at least it was quiet in the room… even with the train line and major roads nearby the hotel. So you know, there are room options that have views to Spilberk Castle.
Now, in our standard hotel room was also a comfy chair and small coffee table. Plus, there was a handy desk and chair. Then, next to that was some shelving. And, above this was a big TV, that we didn't really use. The only thing we put on for a short while was Youtube.
We were expecting that for a 4-star hotel, there'd be complimentary water bottles. Yet, there were none. It was no big deal for us… but we thought we should let you know to set your expectations.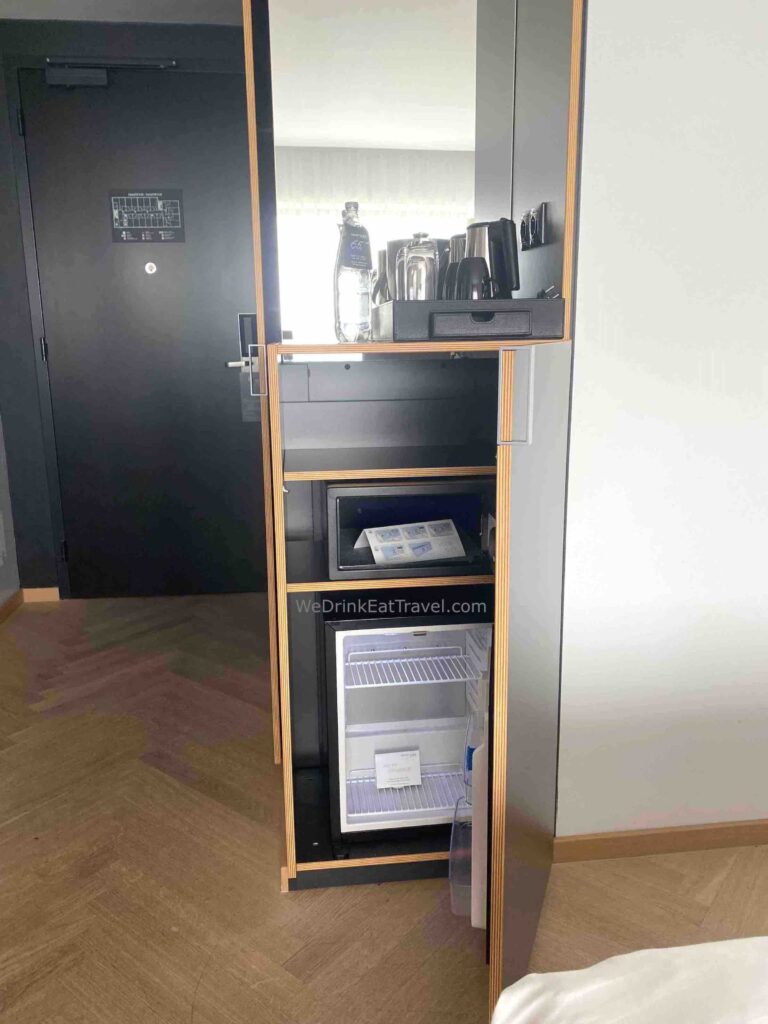 Even so, there was a kettle, and in a small drawer there was complimentary tea and coffee…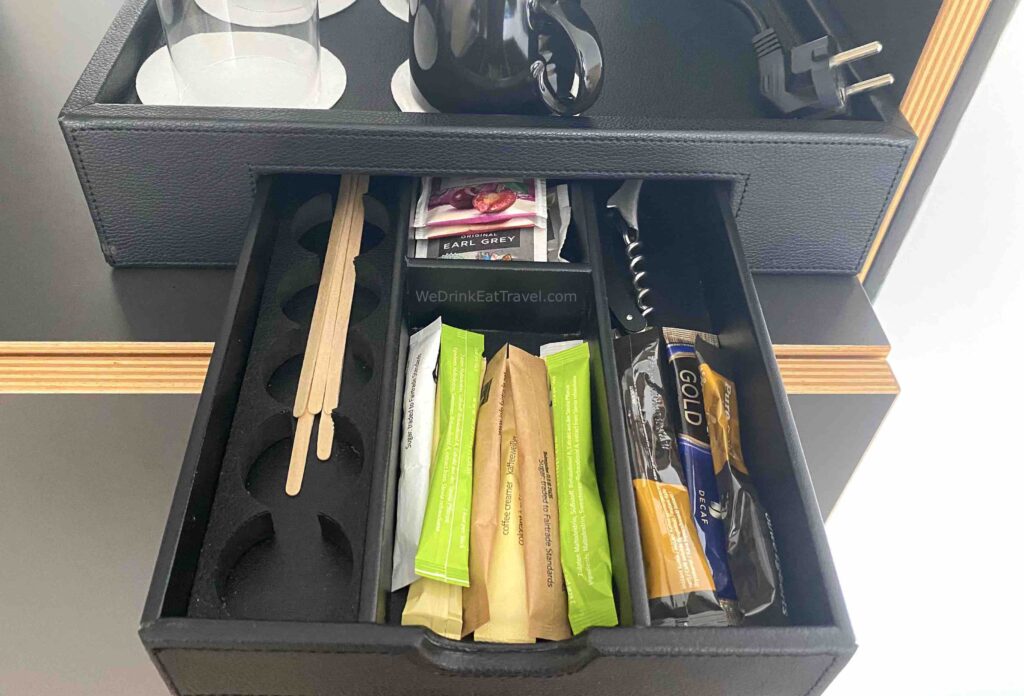 Plus, underneath all this was a cupboard that had a small fridge… as well as a safe, and some storage space.
And, next to this area was a closet area with several coat hangers, iron and ironing board.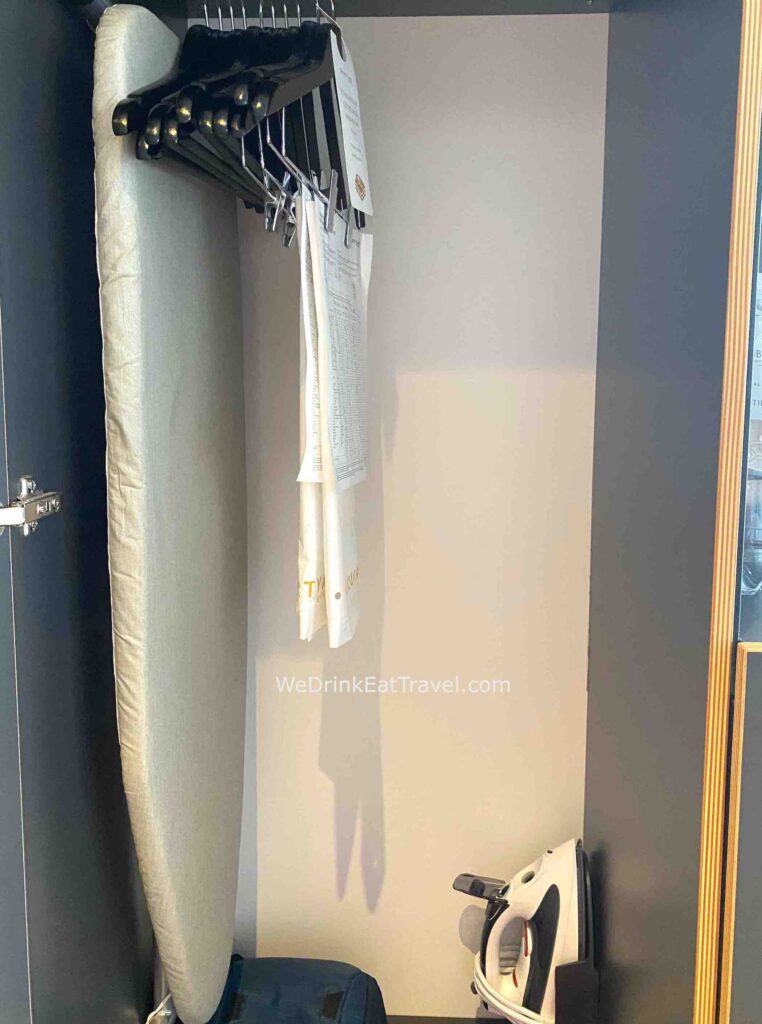 All in all, it felt spacious and we did like how everything was newish.
The Bathroom
So, when we went to check out the bathroom, after opening the door this is what we saw…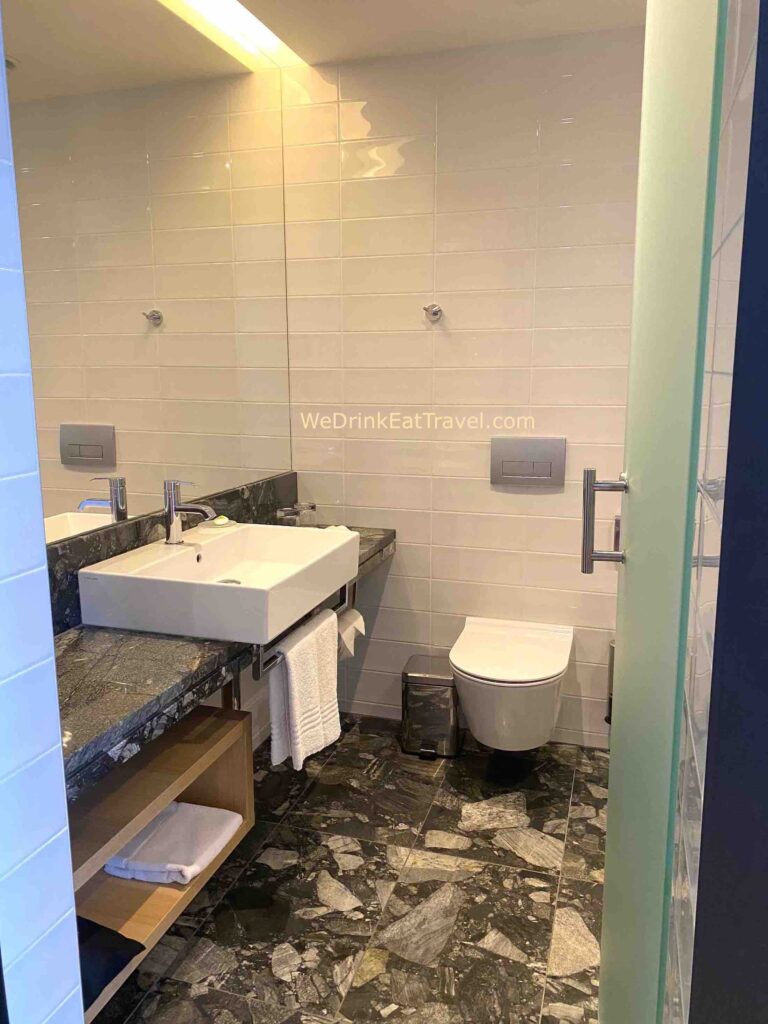 The bathroom was sparkling clean and was still looking in new condition. So, no grubby mould build up or bad smells, which was great!
One of the first things that stood out for me was the huge mirror. It was wide and tall. Now that's how mirrors should be done! Then, beneath this was a sink with some storage space… as well as a hairdryer.
And, next to the sink was a set of amenities including soap, glasses and tissues. A word of warning, we didn't get toothbrushes or toothpaste… which we were expecting for a 4-star hotel.
Plus, there were 2 bath towels, 2 hand towels, a bath mat… as well as different areas to hang them on. We don't understand why at hotels they provide towels… yet nowhere to hang them on in the bathroom!
The shower area was a decent size. So, we could wash ourselves, without having to worry about whacking our elbows on the walls. And, inside the shower was shampoo, conditioner and liquid soap. Again, it was pristine clean.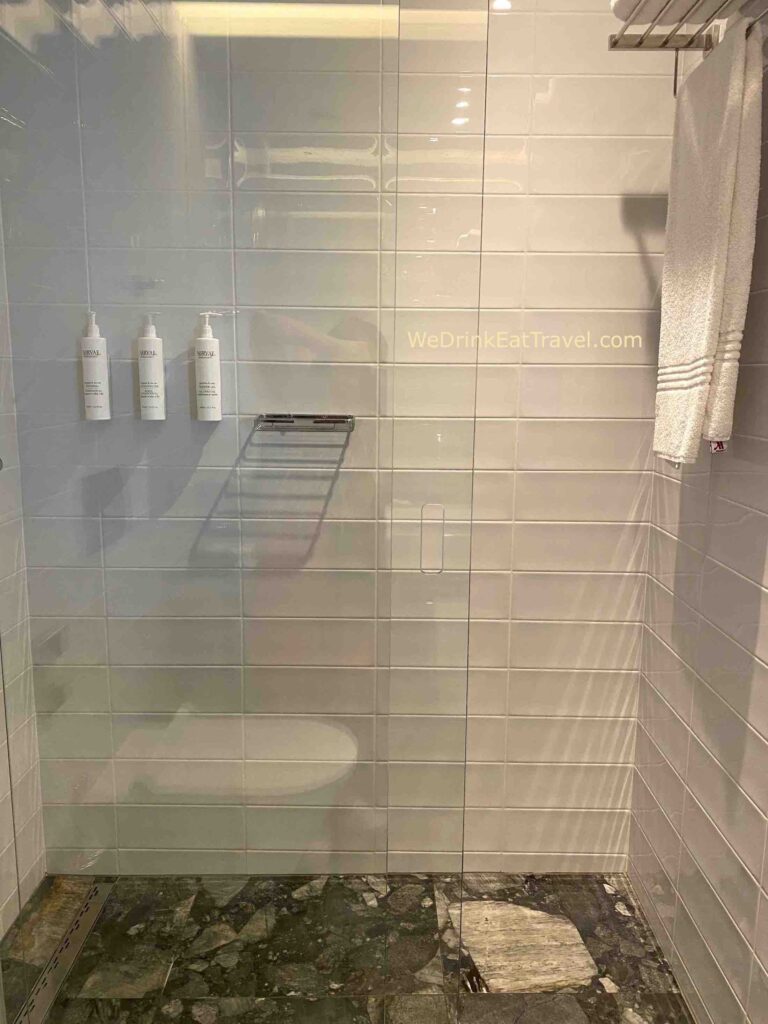 Now, one of the defining features of this bathroom is, you can heat the floor yourself! There's a control panel beneath the magnifying mirror…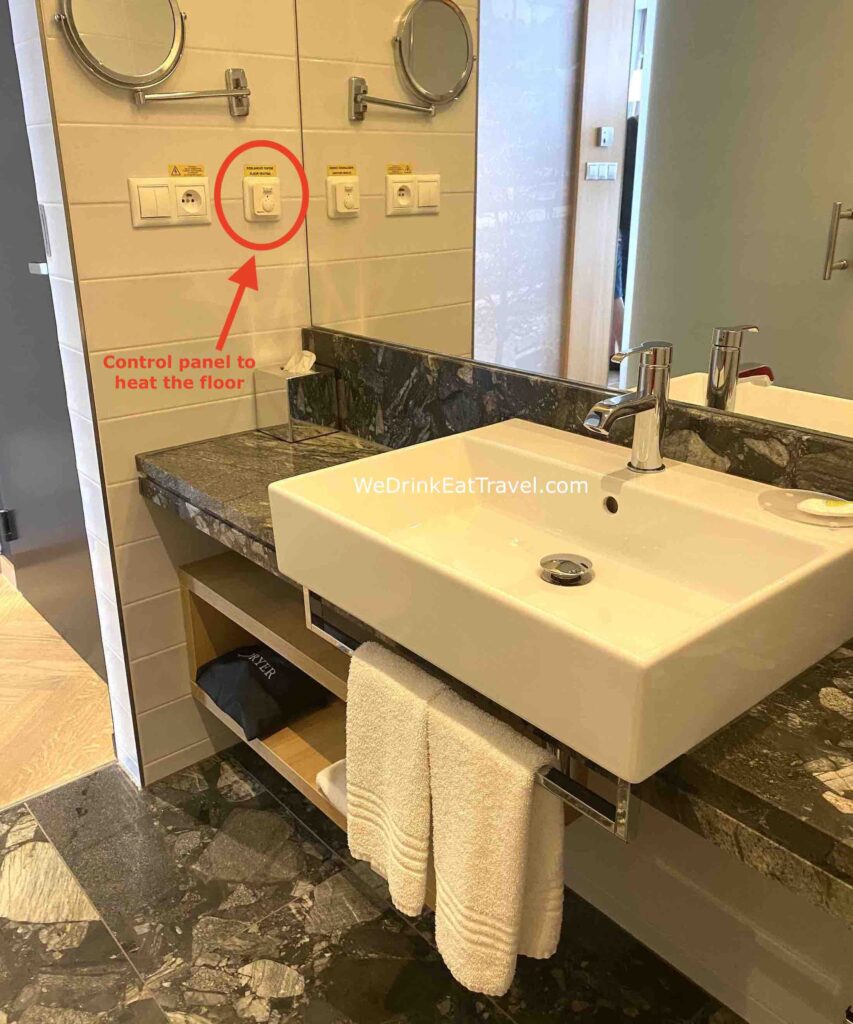 Although we didn't need it, we had to test it out of course. And yes, the floor did get toasty warm. So, this is a genius feature for when the blistering cold weather hits in Brno.
Breakfast at the Courtyard Marriott Brno Hotel
We chose the option in our hotel booking to include buffet breakfast. And boy, were we looking forward to it! Now, while we've had some magnificent buffet brekkies… others have been underwhelming. So, we didn't set high expectations at this Marriot hotel.
The breakfast area was in their restaurant by the name of, The Yard… which is on the ground level.
Now, there was lots of different seating and we had plenty of options to choose from. So, we chose a window seat towards the back, next to the windows. Thus, we could people watch from within the restaurant as well as outside.
On first glance, the buffet breakfast area didn't seem that extensive to us. Yet, it was surprising once we went up to check it out.
Now, there are several hot food options.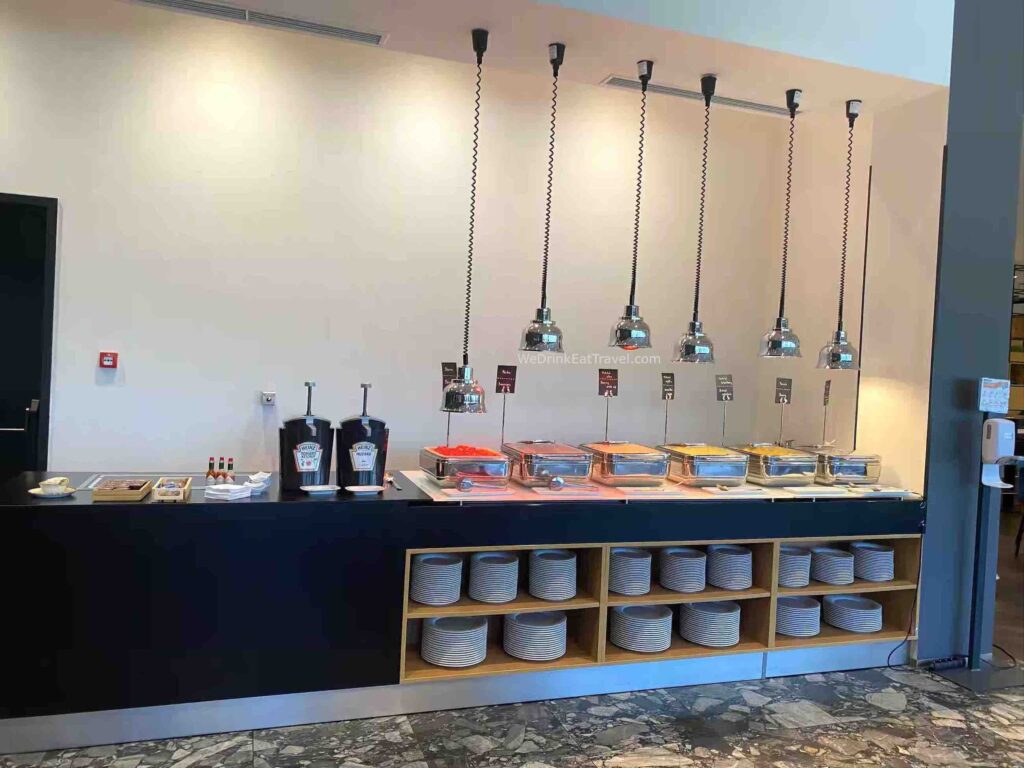 Or, you could stick to the continental style breakfast foods… like cereals, yogurt, toast, fruit and pastries.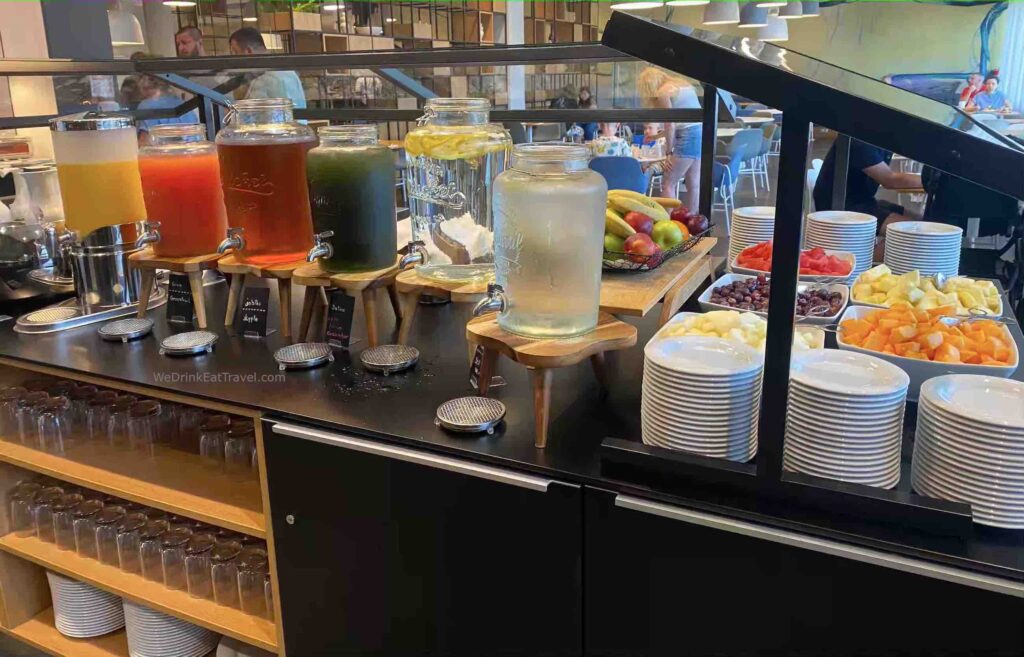 And, one of the great things we love about being in Europe… is all the different and delicious cheeses. So, needless to say, we did have lots of cheese at breakfast!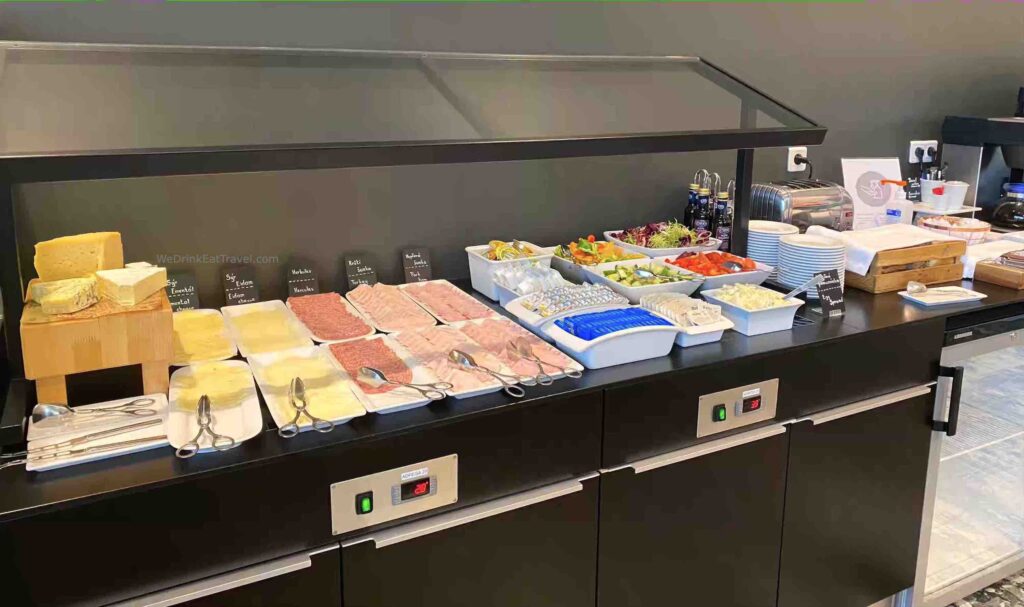 Oh, and by the way, if you like potatoes… you MUST try their baby potatoes as they are so flavorsome! I haven't had such mouth-watering potatoes in such a long time. I know, they're "just" potatoes, but they are truly exquisite. You must try them.
So, there was surprisingly a lot of different foods on offer… even though the area did on first glance, look small. Thus, it was a filling and delicious buffet breakfast… to give us heaps of energy to last throughout the day. We were happy and full.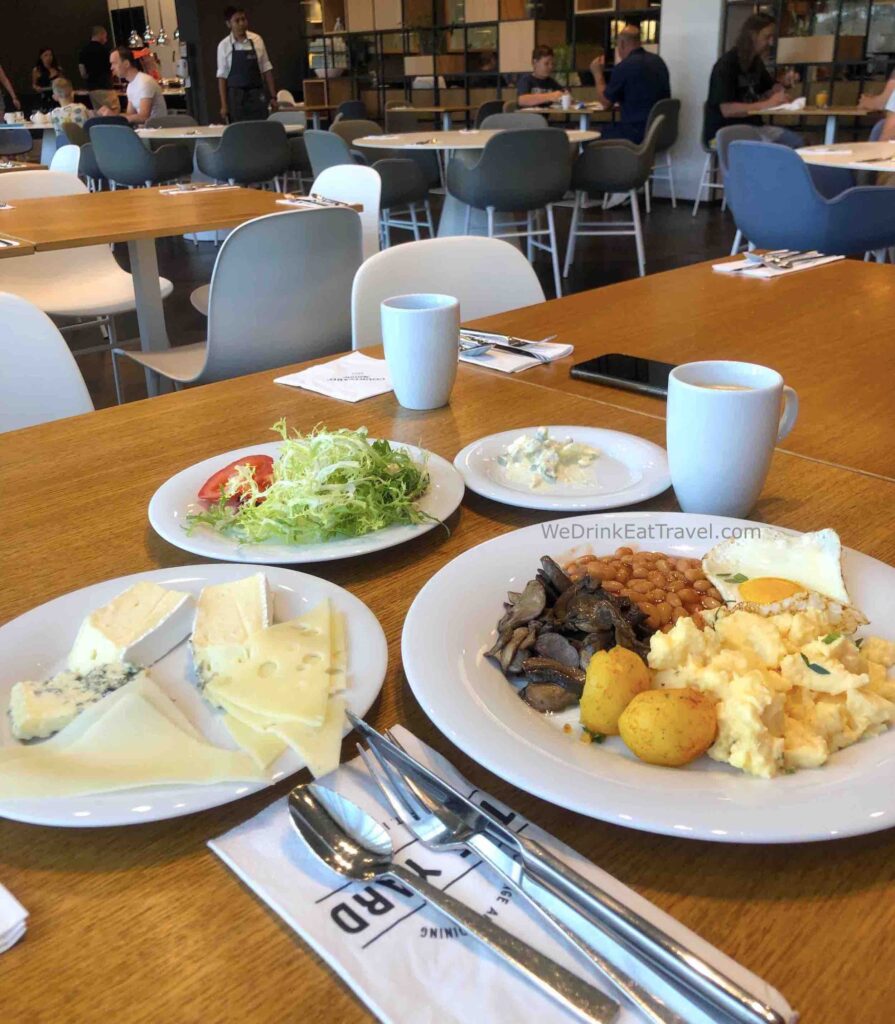 Also, a big thumbs up to the restaurant staff as they were attentive… taking away our empty plates quickly. And, as we were watching them they were particular about cleaning up after guests had left their table.
What's Around the Courtyard Marriott Brno Hotel?
If you feel like breaking a sweat in the hotel, on the top floor is a fitness centre / gym. Yet, as we weren't there for a long time, we didn't use it. So, we can't tell you what we thought of it. Even so, we assume the equipment would be in good condition… considering that the hotel was open in 2016.
Now, as I said earlier on, the surrounding environment is not attractive. Yet, the hotel's location is beside the Svratka River. So, you can go for a walk, jog or run. Or, if you can get access to bicycles you can cycle along the river too.
When we were feasting on our buffet breakfast… we saw several people using the path along the river. With the amount of food that we ate at breakfast… we should've been using that path to burn some calories afterwards!
While The Yard has indoor dining… they also have an alfresco area looking over the man-made lake area. So, it's a comfy area to chill while having some beverages, food or snacks.
Within walking distance is a Billa supermarket, which is about 500 metres from the hotel… as well as a couple of mini mart type stores. So, it's convenient if you need to grab some essentials… maybe like toothbrushes and toothpaste!
Yet, at the time of writing this travel blog, if you want to go to restaurants, cafes, bars or shops… you'll need to walk much further. Or, the better option is to simply head into Brno town centre.
So, about 1.5 kilometers away from the hotel is one of the major landmarks in Brno… the Cathedral of St Peter and Paul. Thus, we did walk there and did more sightseeing from here… including exploring Spilberk Castle and Brno town centre.
We Drink Eat Travel Wifi Speed Test
With the wifi at the Courtyard Marriott Brno Hotel, we had the option of 7 days worth of free access… or we could pay 250 Koruna for 1 day of premium wifi access. So, as we were only staying for 1 night, and wouldn't be in the hotel room much… we chose the free option.
Then, when we were doing the wifi speed test, this is what we got…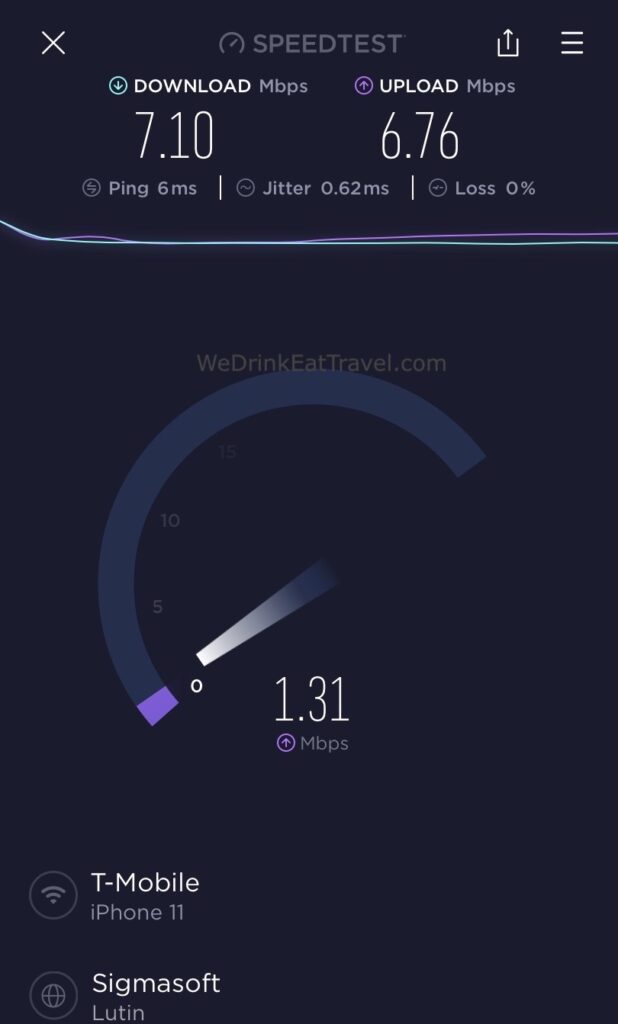 So, the download speed we got was 7.10 mbps, and for the upload it was 6.76 mbps. Thus, not fast speeds for the wifi. Even so, it was fast enough to do simple tasks like check emails… and look up things on the internet.
Our Final Thoughts About the Courtyard Marriott Brno Hotel
Our overnight stay at the 4-star Courtyard Marriott Brno Hotel was a happy one. It was refreshing to get away from Prague to see other parts of the Czech Republic.
As the hotel was built in 2016… the amenities within the hotel that we were able to experience was clean, new and refreshing. While the area around the hotel isn't appealing… the man-made lake zone in front of the hotel was a convenient place to chill out.
The standard room that we made a booking for… using Velocity Frequent Flyer points and the plus pay, was worth it from our perspective. The room had a comfy king bed… with a seating area to relax. Plus, there was plenty of natural light coming through the huge glass windows.
The bathroom was clean and had enough amenities to make our stay enjoyable… even though it didn't have any toothbrushes or toothpaste. It was also ingenious to have the option to heat the bathroom floor, using a self-control panel.
And, our buffet breakfast at the Yard Restaurant was surprisingly more than enough. We could fill our bellies with lots of tasty choices including pastries, yogurt, hot food, a variety of beverages… through to salads, fruit and yummy cheeses.
There was free wifi in our hotel room. While the speeds were under 10 mbps, if we were desperate we could buy premium wifi. Yet, it was fast enough to do basic tasks, like surfing the net or checking emails.
This Marriott hotel isn't in the town centre. Yet, it's only about 1.5km to one of the major landmarks in Brno… being the St Peter and Paul Cathedral. And, from here you can continue to explore all that this town has to offer.
So, in light of all this… we'd recommend the Courtyard Marriott Brno Hotel for your stay in Brno. Happy travels!
Did you stay at the Courtyard Marriott Hotel when you were in Brno? What did you think of it? Which other 4-star hotels in Brno Czech Republic would you recommend?
You Might Be Interested In This Too…
Here Is How To Get To Brno From Prague
Interesting & Surprising Things To Do In Česky Krumlov
30 Awesome Free Things To Do In Prague, Czech Republic
7 Amazing Things You Must Do In Prague
Discover 12 Of The Best Bars In Belgrade, Serbia
25 Of The Best Things To Do In Kotor Montenegro
25 Amazing Things To Do In Dubrovnik Old Town
15 Interesting & Surprising Things To Do In Sarajevo Now
Night Market Bangkok: All Aboard For The Ratchada Rot Fai Train Night Market
Check Out 15 Amazing Things To Do In Budva, Montenegro
10 Free Things To Do In Hue Vietnam
Hiking Kotor Fortress – Things You Need To Know
Here Are 7 Remarkable Things To Do In Berat Albania