Want to know effective and efficient ways of how to get from Prague to Karlovy Vary? Then keep reading!
Now, although we were staying in the Czech Republic for about 3 months… we didn't have our own car or motorbike to get around. So, we chose to use the public transport system.
And, there are many positives about the public transport system here, including… several different transport options, regular services many of them on time, and it's cheap.
Thus, we had some decent experience about getting around the Czech Republic. So, when it came to planning a day trip from Prague to Karlovy Vary… it didn't take long for us to decide how to get there and back.
Yet, if you have no idea, want some help or information… then keep reading. Because in this We Drink Eat Travel blog… we run through how to get from Prague to Karlovy Vary, from our experience.
Getting From Karlovy Vary to Prague Using Car Services
We had the luxury of staying in Prague for a longer period of time than most tourists. Thus, when it came to traveling around the Czech Republic and sightseeing… we could take our time.
And, with Karlovy Vary only about 130km west of Prague… it's such a short distance and by car should only take about 1.5 hours.
Even though we had lots of time to spare… we understand that with many of you, your time is precious. Thus, you may like to consider taking a taxi, or using rideshare services like Uber and Bolt… or booking a private car.
Now, what's great about using the rideshare apps is… you would know in advance approximately how much the total fare would be.
Note, that the fare you see is an ESTIMATE only. So, depending on your route, other fees may be added, such as tolls. Plus, if there are less drivers available… you may have to wait before a driver can get to you.
So, with a private car and driver, you know what the total price will be. And, when you pre-book the service… the driver should be at your place, about 5-10 minutes before your departure time. So, from our point of view… this is the most convenient and comfortable out of all the public car-type services.
Overall, when you use these services outside of peak times… you can get to your destination quicker than using other transport options. Thus, if saving time is important for you, so you can spend more time in your destination… then consider using a taxi, rideshare or private car.
Yet, there is one important thing you need to know. And, that is, for getting to Karlovy Vary from Prague by using a car-type service… it would cost about 3,800 Koruna (about USD $160 / 155 Euros / GBP 133). Now, this may be expensive for some of you.
So, a few things to think about when planning your transport using a car service.
Taking the Train from Prague to Karlovy Vary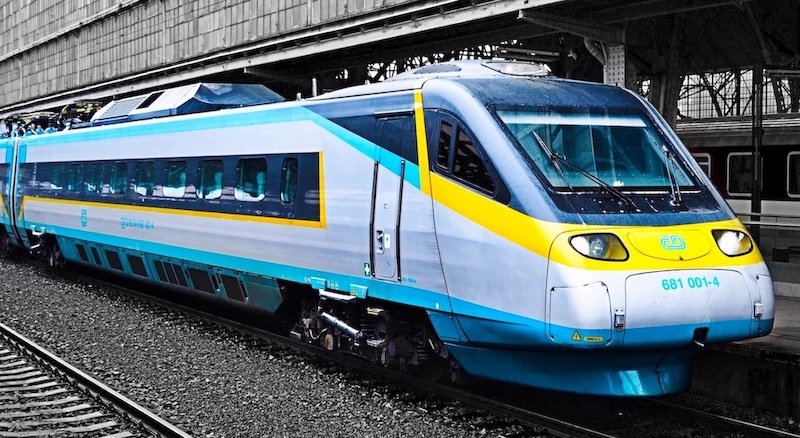 If you're considering taking the train to Karlovy Vary from Prague… then the main operator is České dráhy. And, there are multiple services throughout the day at varying prices.
Now, prices for a one-way ticket in second class… start from about 215 Koruna (about USD $8.80 / 8.70 Euros / GBP 7.50). While it is cheap in comparison to using the car services… it would take anywhere from 3.5 hours up to 4 hours. And, the 3.5-hour service is the FAST service!
Yet, we were visiting Karlovy Vary for a day trip only. So, like us, it may not be ideal to spending so many hours getting there!
So, last but not least, we were almost 100% certain… our next option on how to get from Prague to Karlovy Vary, would be the best.
Taking the Bus from Prague to Karlovy Vary
As with our other trips in the Czech Republic… the major bus operators for getting to Karlovy Vary is Flixbus and RegioJet. Now, while we were sure that we'd want to leave early morning from Prague… we weren't certain about our departure time from Karlovy Vary. And, that's because we did seem to have a lot on our itinerary for this quanit town!
Now, with RegioJet there was only about 1 bus service per hour. Plus, the trip time with RegioJet would take about 2 hours and 15 minutes. Yet, the one-way fare was 7.5 Euros (about 185 Koruna / USD $7.40 / GBP 6.45). So, that's very inexpensive, and would be appealing for many of you.
Yet, it was an easy decision to choose Flixbus for leaving Prague… as they had plenty of services starting from 7am. For example, they would have about 4 bus services within the hour!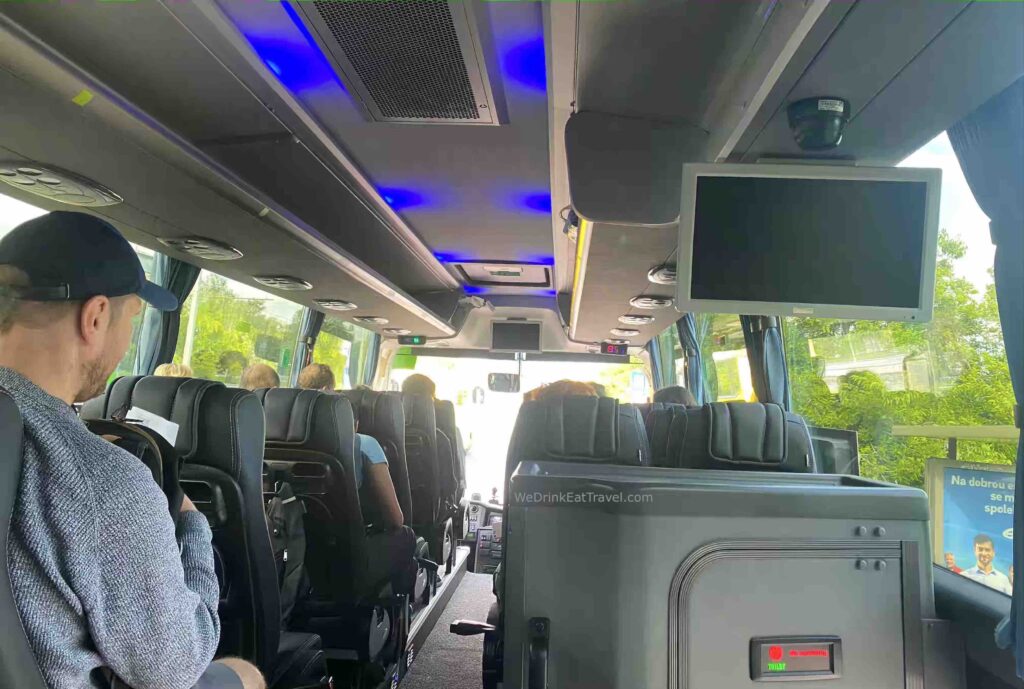 Another positive, is that the bus trip would only take about 1.5 to 2 hours… depending on the departure station. And, the price for a one-way ticket from Prague to Karlovy Vary… starts at 5.99 Euros per person (about 150 Koruna / USD $5.95 / GBP 5.15).
NOTE: The are additional fees for reserving a seat with Flixbus… which may be around a couple of Euros, depending on the type of seat. Yet for us, we were happy to pay the extra cost to get seats we would prefer… to help make our trip more enjoyable.
Now, for the return trip back to Prague, we didn't take the same trip…
Taking the Bus from Karlovy Vary to Prague
Now, we of course had to choose our return journey. And, as we said earlier… we weren't sure how much time we'd need to explore Karlovy Vary.
Thus, for convenience and flexibility… we chose RegioJet for our return leg back to Prague. And, one of the main reasons why is at the time of writing this… RegioJet have a flexible cancellation policy.
So, if we were to cancel our booking at least 15 minutes BEFORE our departure time… we could get a full refund. Plus, if we were to change the booking at least 15 minutes before the departure time… we wouldn't have to pay any change fees.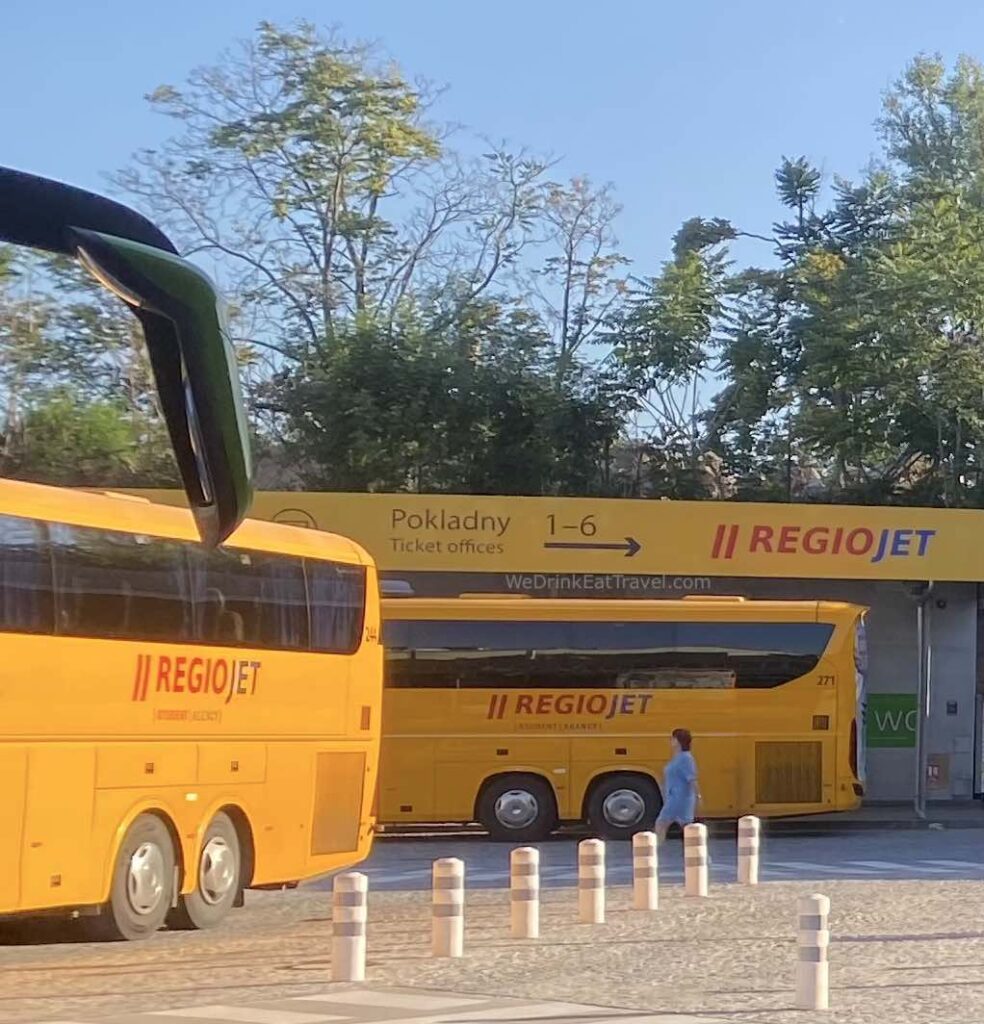 NOTE: You may have to pay additional fees… if the new fare is higher than your original fare.
Plus, if you're considering using RegioJet's cancellation or change service… make sure you're aware of how many seats are available, if you're thinking of changing it. And, that's because if the seats are filling fast… you don't want to cancel your original booking, then find that there are no more seats available on the other bus!
Travel Tips When Using the Karlovy Vary Flixbus Service:
While there are lots of convenient services leaving from Prague to Karlovy Vary, with Flixbus… make sure you double check where the bus leaves BEFORE and AFTER you make your booking. As the buses could leave from Prague Hradčanská Station… or even from Prague ÚAN Florenc, for example.
Furthermore, there are 2 main bus stops in Karlovy Vary… the Karlovy Vary (Terminál) and Karlovy Vary – Tržnice. So, remember to check your departure stations… as you don't want to miss your buses, and ruin your trip.
Another Travel Tip When Using the Public Transport in Czech Republic
Now, you do want to be prepared when planning your trips… especially if the locals don't speak your language and vice versa.
So, another thing we found when using the public transport… is that sometimes the notifications on the ticket may not be what happens on the day!
For example, in the below picture… the notification advises that due to works, the bus will not stop at Karlovy Vary – Tržnice. Instead, it will go direct to the Karlovy Vary Terminál bus stop.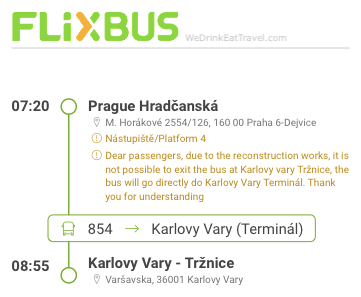 Now, our intention was to depart at Karlovy Vary – Tržnice. Yet, it wasn't a big deal, as the bus stops are not that far away from each other. Well, at least they let us know in advance. Then, we could adjust our plan accordingly.
So, as we were getting into Karlovy Vary… the Flixbus did stop at Karlovy Vary – Tržnice! It was a surprise to us. Yet, this was great, as that's the bus stop we wanted to get off at. BONUS!
In light of all that… be prepared as things can change at last notice, or without you realizing!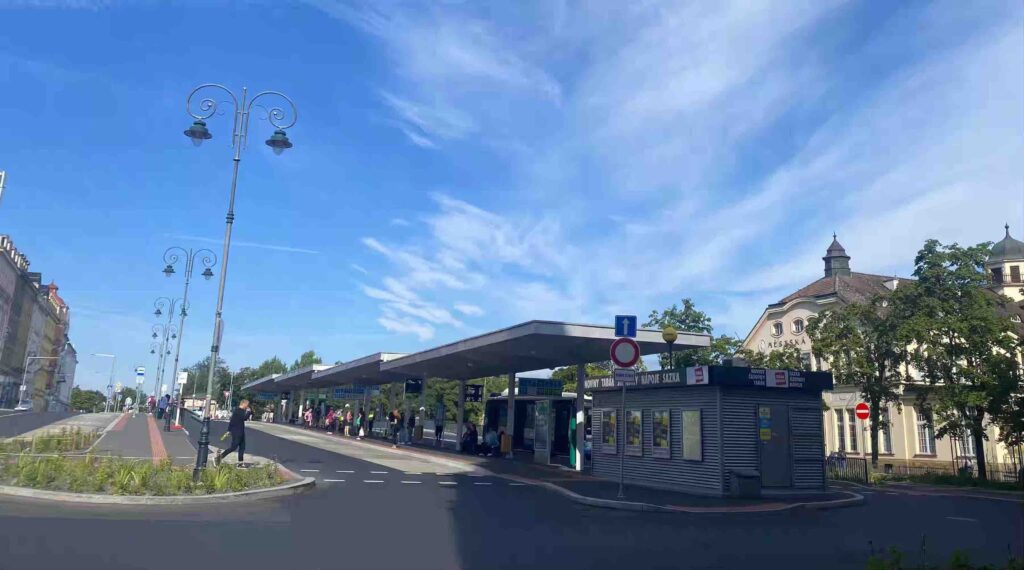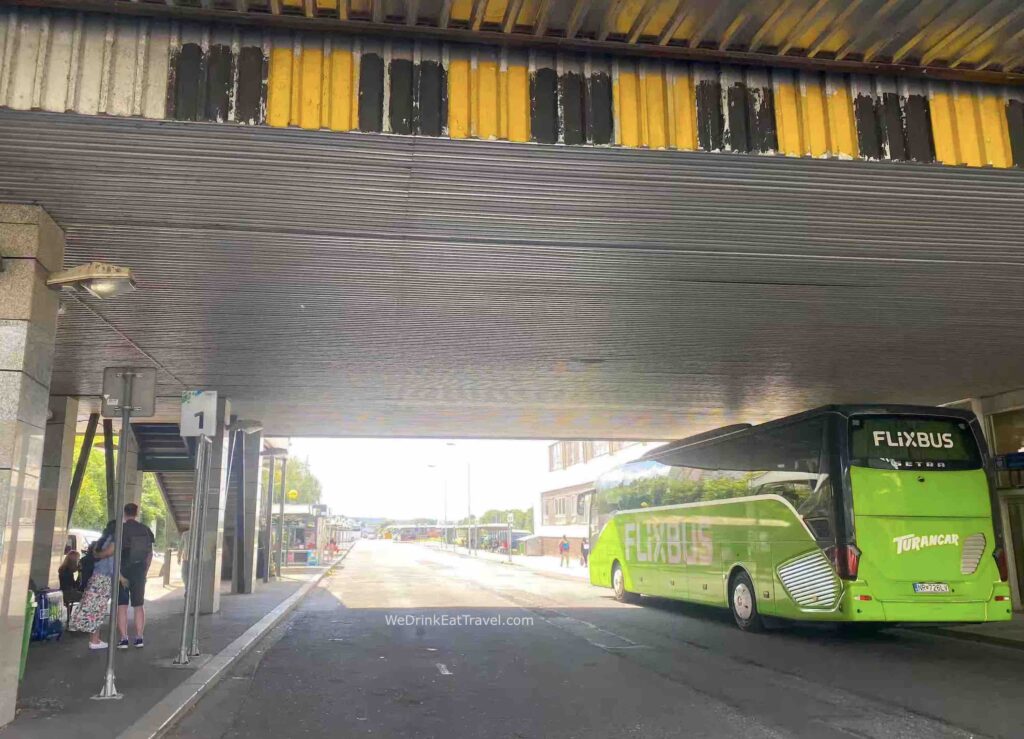 In the End We Had a Great Trip to Karlovy Vary
There are several options to get to Karlovy Vary… whether that be using car services, train or bus. And, we were happy with our choice… of using the bus service offerings from Flixbus and RegioJet.
Both buses were relatively comfy and clean. Now, in saying that we didn't use the toilets! So, we can't comment on that aspect.
And, the trip took between 1.5 to 2 hours… which was a comfy timeframe, for a daytrip from Prague. Thus, it did allow us to pack a lot into our trip to Karlovy Vary. Plus, with all that time we had in Karlovy Vary… we did discover that it's one of our favorite places in the Czech Republic.
So, we trust that this travel blog helps… for when you're thinking about how to get from Prague to Karlovy Vary, and vice versa.
And, if you're looking at what to do in Karlovy Vary, check out this guide.
You Might Be Interested In This Too…
20 Of The Best Things To Do In Karlovy Vary
Check Out Our Experience At The Courtyard Marriott Brno Hotel
Here Is How To Get To Brno From Prague
One Of The Amazing Places To Visit In Cesky Krumlov
Interesting & Surprising Things To Do In Česky Krumlov
Here Is How To Get To Cesky Krumlov From Prague
30 Awesome Free Things To Do In Prague, Czech Republic
7 Amazing Things You Must Do In Prague
Discover 12 Of The Best Bars In Belgrade, Serbia
21 Of The Best Things To Do In Belgrade, Serbia
7 Surprising Things You Should Know About Belgrade Fortress
25 Amazing Things To Do In Dubrovnik Old Town
15 Interesting & Surprising Things To Do In Sarajevo Now
What You Need To Know About The Dubrovnik Card Now
Check Out 15 Amazing Things To Do In Budva, Montenegro
Perast, Montenegro – Why You Need To Visit This Town
Ultimate Tivat Hiking Trail For The Most Breathtaking Views