You need to know that there are many other things to do in Siem Reap besides seeing the Angkor Temples! And, having had chats with many tourists… more often than not they only stay for a few days.
Yet, we do have an advantage. And, that's because we consider ourselves slow travelers. So, that allows us to chill out… and to take our time staying in a destination longer than most. Thus, we can leisurely work our way around, exploring the sights at each place.
So, when we went to Siem Reap, rather than staying for a few days like most tourists… we were staying there for a few weeks! And heck, did we need it as the weather was tremendously hot. Otherwise, it would've been tough for sightseeing.
Also, by chatting with some of the locals, we found even more places to visit… as well as some interesting cultural information.
And so, in this We Drink Eat Travel blog… we'll share with you 15 top things to do in Siem Reap, Cambodia.
Try Some Cheap Eats in Siem Reap
For such a small town, it was interesting to discover… that Siem Reap has a chock-full of eateries! And, while we do like trying different foods from fine dining to cheap eats… we were in heaven when it came to street food.
So, if you're on a budget or wanting to try some Cambodian street food then Siem Reap is where it's at. Because, for a dollar or two, that will get you a meal! Yes, that's right, we're not joking.
And, one of the best places to get some tasty cheap eats… is along the Siem Reap River. Many of them won't set up until the sun starts going down. Yet, when they do, you'll be spoilt for choice. 
While many of the carts have tasty Cambodian food, there's roti, sweets, noodles galore… and, even through to a cart that has hand-made pizza, cooked in a wood fire oven!
We'd have to say that… trying the street food is one of the best things to do in Siem Reap. And, that's because we had so many amazing and delicious dishes.
Royal Independence Gardens
On the corner of Charles De Gaulle Street and National Road No. 6… is the Royal Residence. Yet, this was off limits to the public. So, while we were in the vicinity, we did have a look around. And, after taking a little stroll, we came across the Royalty Independence Gardens.
It's said that these Gardens got its name back in the 1950's. And, this was as a result of King Sihanouk and General Lon Nol… who were planning to free Cambodia, from the French colonial stronghold. 
Now, when we were there, we had the entire gardens to ourselves… not even a local was in sight! Mind you, they were likely taking shade from the blistering hot weather.
Yet, it was surprising to discover that… there weren't many seats here where people could relax and chill out!
Made in Cambodia Market
If you're a lover of quaint, hand craft local markets then one of the best things to do in Siem Reap for you… is to head on over to the Made in Cambodia Market. Now, we almost didn't see this market… as the stalls are set several meters back from the main street.
So, you need to look out for a sign that looks similar to this…
As we were wandering through… we did find that this market is small in comparison to others in the town centre. Yet, there are some lovely handmade jewelry pieces… accessories and artwork you can check out.
Go to Siem Reap's Umbrella Street
The infamous bright and colorful umbrella streets are iconic around the world… including cities like, Bucharest. Yet, we didn't expect to see a street of this type in Siem Reap. Thus, it was a surprise!
Now, to get to Siem Reap's umbrella street… you need to make your way to Alley West. And, we had to stop to take some photos and videos… as we didn't think anyone would believe us!
Some of the umbrellas are sadly missing. Yet, these colorful umbrellas still bringing a fun and unique atmosphere… in the centre of Siem Reap. And, while you're here… there are several shops, restaurants, boutiques and bars to stop and check out.
So, one of the best things to do in Siem Reap, and one that's popular is to go to this place…
Pub Street
Pub Street does have places that open during the day. Yet, it is quiet as most tourists are out exploring the sights. So, if you have time, go during the day and night as you'll see a massive contrast.
After the sun goes down, Pub Street is a hype of activity. You'll be spoilt for choice with its many bars, pubs and restaurants. Plus, the area is lit up with a tremendous amount of colorful lights and decorations.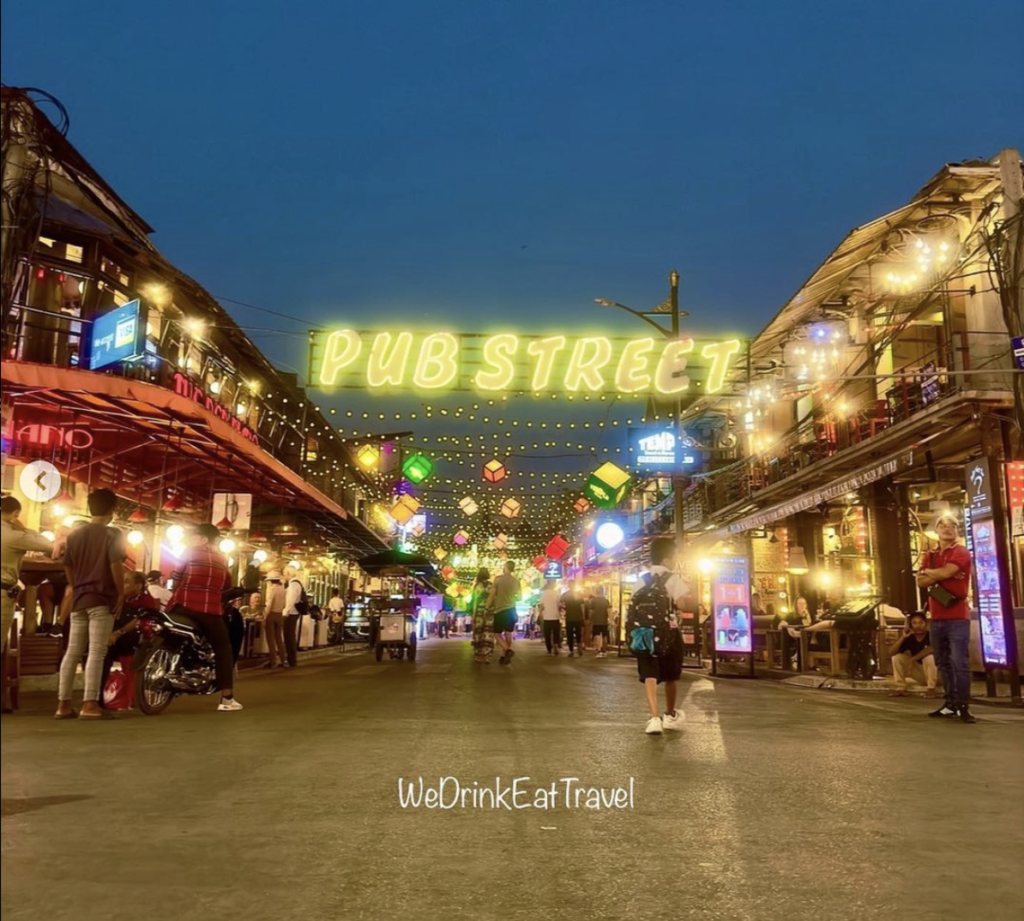 This sure is an entertaining place. And, we spent several nights there people watching and seeing the world go by… amongst some roaring music!
Now, if you're looking for some nightlife in Siem Reap, with a less touristy atmosphere… then head on over here…
Sok San Road
Sok San Road is only meters away from the hype of Pub Street, nearby Alley West. At the time of writing, a major landmark from the Pub Street area to look out for… is the 7-Eleven store. By the way, we thought that prices were exorbitant here, and ridiculously overpriced.
Now, there are many restaurants on Sok San Road, serving traditional Cambodian food… through to Thai, Italian, Mexican, and even Greek food.
Yet, when you stroll further along Sok San Road… you'll discover that there are lots of small bars to have a drink or two, or more. In most of the bars down this road… prices are slightly cheaper than in the Pub Street area. And, the atmosphere seems more laid back. 
Yet, if you're wanting to belt out some tunes and blast the area with your voice… there are a few places where you can do that too!
Now, a word of warning, depending on where you go, whether that be Sok San Road or Pub Street… sometimes the beers are barely cold. And, that for us, that's a big turn off. So, it was a matter of drinking up pronto, and we'd bar crawl to the next place. Otherwise, we did see people ask for ice, if that's your thing.
If you're eager to shop 'til you drop… then this may be one of the best things to do in Siem Reap for you…
Phsar Chas Market
It was surprising to find that there are a huge amount of markets in Siem Reap. Yet, one of the most iconic is the Phsar Chas Market… which is also known as the Old Market.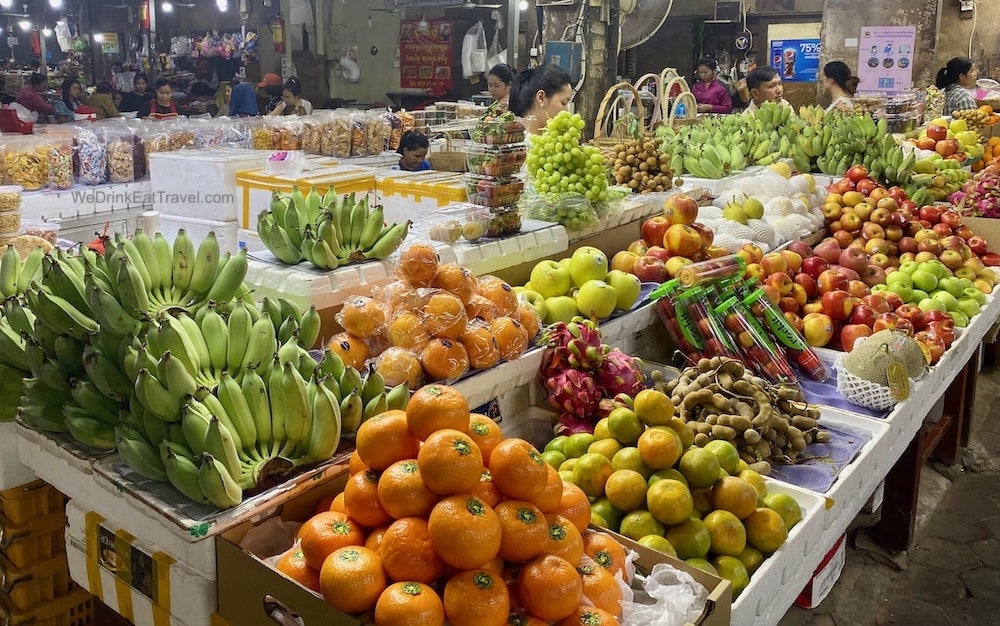 This market is open during the day and night. Yet, it was surprising to see that there were hardly any tourists in sight… as we went to check it out during the day. Inside in the central area, are fruit and vegetable stalls, along with local eateries… as well as stall owner selling second hand clothes.
Now, at night time there are more stalls open creating a bustling marketplace… especially in the outdoor areas surrounding the Old Market. So, you'll find an array of clothes, shoes, accessories, homewares, souvenirs and more.
Get ready to put your bargaining skills in action… as you'll need to haggle if you want to pay a reasonable price!
Chill Out Near Wat Damnak
For some words of wisdom and inspirational, take a relaxing stroll around Wat Damnak. Now, while there is a temple and grounds here… on the Eastern side is a large pond area, with grass and trees.
We did see several people, mainly locals taking a seat to eat and drink.
Yet, what was interesting is that as you're strolling around… there are random quotes put up around the area like this…
So, if you're eager to get some words of wisdom… then you should go to Wat Damnak.
Now, here's one of the best things to do in Siem Reap… if you're after something quirky and fun.
Eat the Biggest Burger in Siem Reap
It was a surprise for us, to discover that there was a Muslim quarter in Siem Reap. And, the key reason why we were visiting this area… is because we found out about a MAMMOTH vegan burger.
So, if quantity is what you're after and at a cheap price… then you should try the vegan burger at Kebab & Falafel Time Halal & Vegan Food & Cafe. Yes, that's a mouthful to say!
Now, the burger sure was big, and the sauce had a distinctive taste. If you can fit the entire burger in your mouth, then you sure are a legend!
Sadly, when we were there… the chips were soggy and didn't taste fresh. Yet, as we were ravenous and hadn't had brekkie, we ate everything.
Even so, we did get to meet the owner. And, she is a sweet, passionate lady who seems to take delight in serving her customers.
They do have other a large variety of other dishes. So, if you happen to be in the area… stop by the Muslim Quarter in Siem Reap, and see what you can devour.
Take a Joy Ride
Now, if you've ever been to Thailand… then you will may have ridden on a tuk tuk for an entertaining experience. Well, in Siem Reap the fun local rides are taken up a notch.
So, if you're looking for some fun things to do in Siem Reap… you can experience a ride in a traditional tuk tuk or remorque. Now, there is a difference between them… even though you'll hear them often called the same by locals and tourists.
So, the remorques have a "trailer" at the back of the bike, and they look like this…
Whereas, the tuk tuk is a three-wheeler tiny vehicle that looks similar to this…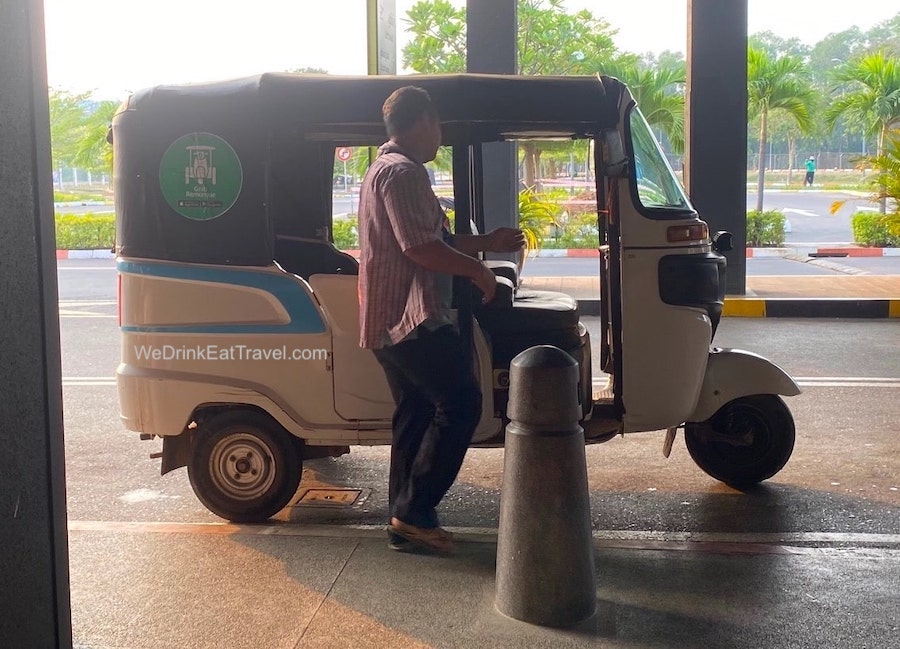 They're such awesome little vehicles and are cheap to get around. You can hail them from the street. Yet, more often than not… the prices the drivers will quote you, will be ridiculously expensive.
Instead, you can use the Grab app… which is common in many places around Asia. And, the great thing is, you don't need to have a local sim to be able to take advantage of the benefits.
Now, to give you an idea of cost… a 3km ride via the Grab app will cost around 6,000 Riel for the 3-wheeler. And, the remorques, remember that have the motorbike and trailer… costs about 7,500 Riel for a 3km ride.
So, there's not much difference in terms of price. Yet, if you're after more space then remorques are the way to go.
And, the other benefit about using Grab… is that you can get a fare estimate before riding. Thus, if you want to haggle with a driver… at least you'll know what a fair price is to pay.
Wat Preah Prom Rath
If there's a temple with gold, gold, more gold and striking bold colors… then you can see it at Wat Preah Prom Rath. This 16th Century Buddhist temple is nearby the centre of Siem Reap… making it easy to get to by foot.
This temple was different to others we'd seen in Siem Reap. And, as we were wandering around the complex… it was captivating, like a story was being told.
There was even a sculpture that we thought was gory, especially for a Buddhist temple!
Even so, it's a peaceful place to see intricate details of this local ancient temple.
Miss Wong Cocktail Bar
One of the best things to do in Siem Reap, if you want to take a step back in time… is to have a drink or bite to eat at Miss Wong.
Now, once you step inside the building of Miss Wong Cocktail Bar… be prepared to be wowed, as you see the magnificent décor. It's stylish, sophisticated and oozes class… while having an old-style oriental bar atmosphere. 
We must give credit to the owner… as he's done an amazing job in creating such a unique bar in Siem Reap. Plus, the service is attentive, friendly and helpful.
Surprisingly, it only cost USD $2 for a small can of Angkor beer in such a chic place. And, it comes with complimentary crisps that were super tasty.
Stroll Along the Siem Reap River
On first glance, the Siem Reap River is not the most stunning of waterways! Yet, we did take a long walk one day, to take a look for ourselves. 
And, along the way we saw some locals… having picnics or relaxing under the shade of the many trees.
Also, there are different displays, artworks and statues along the Siem Reap River… albeit looking like they were randomly put up.
Then, at night time, we saw a lot of people at the Siem Reap pedestrian bridge. And, as we got closer it did look pretty… with the glistening lights reflecting off the river.
Check Out Some Live Music
We do enjoy chilling back, having a brew or two listening to some music… whether that be solo artists through to rock bands. And, in Siem Reap there are some places where you can do this at night time.
Now, most of the live music places are in or around the Pub Street area. Yet, we did find some great places nearby Alley West, such as Beatnik Bar. We did like this bar because even outside of the live music… they were playing some awesome tunes.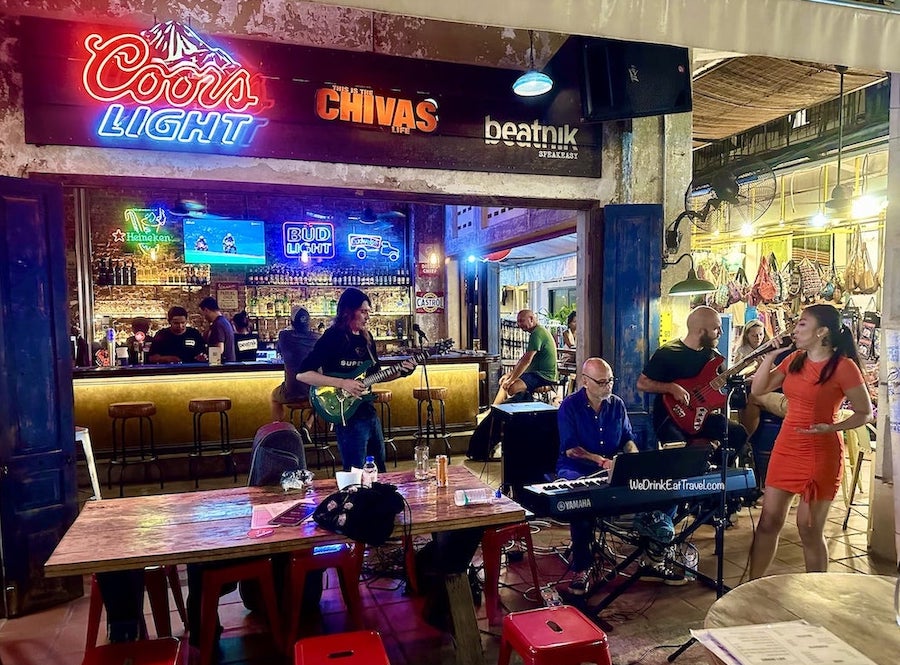 Plus, the local beers were cold and cheap at only USD $1 all day, every day! And, the staff here were attentive too.
We're almost at the end of our blog, sharing the top things to do in Siem Reap. Yet, we did want to leave you with this…
TRAVEL TIP: Beat the Heat in a Pool
When we went to Siem Reap in March, it was hot, hot hot! And, every time we went out… there was never a time when we wouldn't perspire, even at night. Even so, if you're spending the day exploring the temples… you'll discover that you could get heat exhaustion.
That's why we recommend that you book accommodation with a functioning pool. Thankfully, that's what we did! And, this was welcome… after a tiring and sweaty half or full day of sightseeing in Siem Reap.
So, we got great deals through Agoda! Plus, as we were Platinum Status with Agoda… at the time of booking we were able to get extra benefits. And, this did include early check-in, for example.
Of course, the perks differ and is available at selective accommodation… at various times throughout the year. Even so, it's nice to have some elite benefits!
Well, there you have it, 15 things to do in Siem Reap, besides the Angkor Wat Complex! And yes, while we did mention a couple of other temples to see in central Siem Reap… they sure are different, and unique in their own right.
Many tourists don't spend a lot of time in Siem Reap, as their focus is to see Angkor Wat. Yet, for such a small town it was surprising to see that it a vibrant nightlife. Plus, the alcoholic drinks are astonishingly cheap.
And, if you're a foodie then you'll have an awesome time. As there's so much variety and cuisines on offer… from cheap and delicious $1 USD meals, to fine dining.
There are also local artists displaying their creations… throughout the various markets and boutiques in Siem Reap.
Whatever you decide to do, we hope you have an amazing time!
You Might Be Interested In This Too..
Chatuchak Weekend Market: 7 Top Things You Need To Know
How To Get To Chatuchak Market In 2 Ways
How To Go To Platinum Fashion Mall Bangkok By BTS
What You Need To Know About The Bangkok Canal Boat On Saen Saep
Bars In Danang – 7 Of The Best Places
VAT Refund Bangkok: How To Get Money Back On Your Shopping
Is Kuala Lumpur Worth Visiting? 15 Interesting Things To Know
27 Of The Best Things To Do In Bucharest
Thai Airways Review: From Melbourne Australia To Bangkok
Thailand Food – Being Vegetarian In Thailand
Need Accommodation?
Find Your Perfect Vacation Accommodation
Want Cheap Flight Deals?
Looking For The Latest Flight Deals? Click HERE
Get Real Cashback From Your Vacation!
Discover How You Can Get Cashback From Your Vacation Bookings