Platinum Fashion Mall is another shopping mecca in Bangkok. It claims to be Thailand's largest wholesale and retail shopping destination. Yet, is it? Let's take a look…
The Platinum Fashion Mall is in the Pratanum area of Bangkok. This area is known as the wholesale shopping haven. The Mall is on Petchburi Road. It's said that there are over 2,840 shops in Platinum Mall. Wowee!
Now, there's many ways you can get here… whether it's by BTS, bus, tuk tuk, taxi, motorbike, car or walking.
In this blog post, I'll go through how to go to Platinum Fashion Mall from Sukhumvit… in particular from Chit Lom BTS Skytrain.
The Chit Lom BTS stop is on the Sukhumvit line (light green line).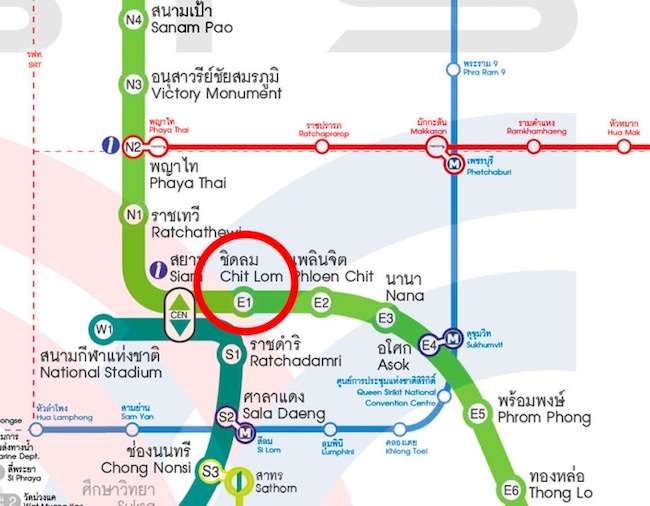 From Chit Lom BTS, look out for the signs for exit 6. Keep walking and following the signs for exit 6. By taking exit 6, this will lead you to the Ratchaprasong Skywalk.
From Chit Lom BTS all the way to Platinum Fashion Mall it's undercover.
Along the way you'll pass the Intercontinental Hotel, which will be on your right hand side.

Then you'll see a sign like this for Gaysorn Village leading to the right…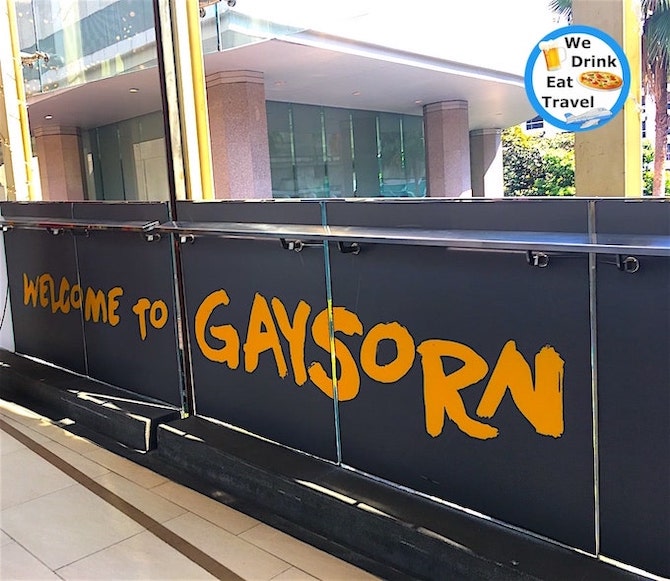 Follow this pathway until you get inside Gaysorn Village. By now you'll be grateful for the air conditioning!
Once inside, hop on the escalators up to level 2, which is the next level up. As you enter level 2 you'll see a concierge desk. Then as you head right, you'll see a sign like this…
Keep following the signs to take you to the Cocoon. You'll know when you've reached the Cocoon, when you see something like this…
Walk through the Cocoon, then past lifts on your right. After this you'll see escalators going down…
Take these escalators down. Once you've exited Gaysorn Village say "good-bye" to the air conditioning!
You'll then be on the Ratchaprasong Skywalk… and you'll see something like this, which is CentralWorld Shopping Center and Zen.
Keep walking down the Skywalk…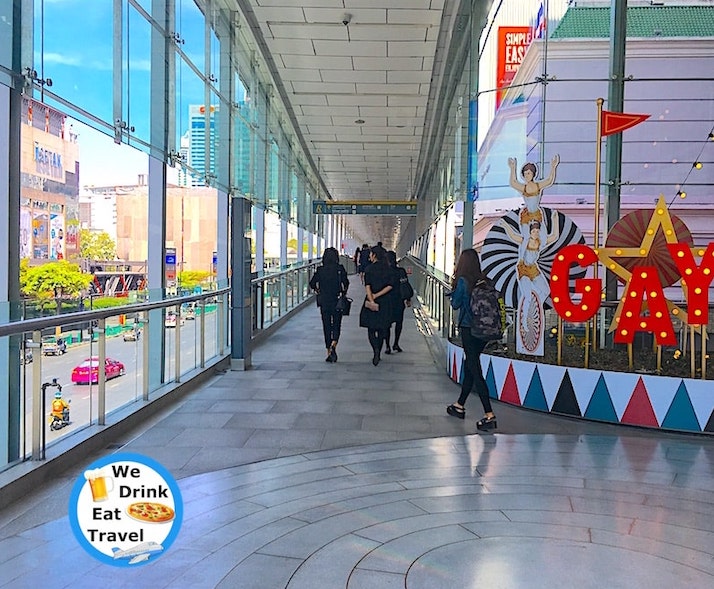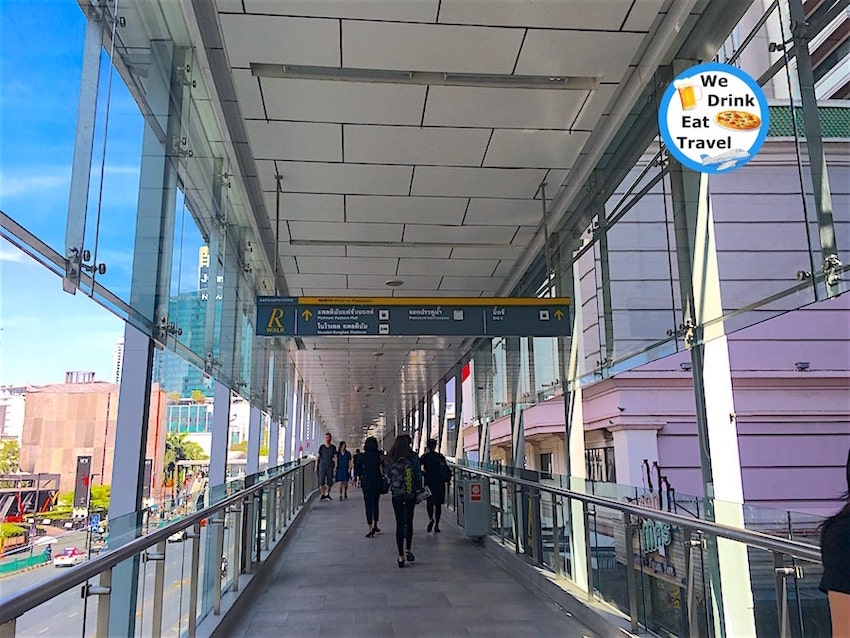 As you go further along the Skywalk you'll see Isetan Shopping Center on your left, and then the Novotel Hotel…
Keep following the Ratchaprasong Skywalk, and just after you pass the Big C Superstore which is on your right hand side… you'll see stairs going down. DON'T go down these stairs!
Instead, admire the view, then turn left to take you across the other side of the road…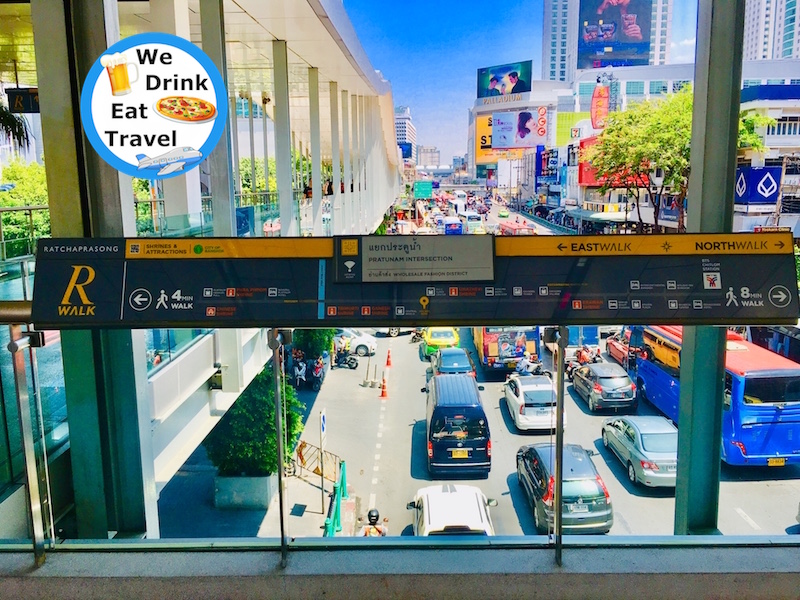 Follow the signs to Platinum Fashion Mall and keep walking along the Skywalk. Eventually you'll see the Mall…
You'll then pass by the Saen Seap Canal and Pratanum Pier.
Then, there are several options at the end of the Skywalk… Choose the one that suits your needs best…
If you take the stairs down, this will lead you outside the Novotel Platinum Pratanum Hotel. As you walk on the path ahead, you'll see a variety of food trucks and stalls.
So if you want a feed before you shop 'til you drop, take a look at these food stalls. There are lots of food options once you get inside the Mall too, as I'll show you later.
Otherwise, head left and follow the signs to the other entrances.
I personally chose to follow the route to take me to Zone 3 first. Zone 3 is in a separate building…
Then once you're done shopping there, you can head on over to Zone 1 and 2, which are in the same building.
TIP: If you want to stay in air conditioned comfort… you can cross over from Zone 3 to Zones 1 and 2 via the walkway on the second floor.

TIP 2: Zone 3 is smaller, yet if you're looking for shoes I'd say this is far better than Zones 1 and 2.
Here are some photos of the Platinum Fashion Mall… I thought you might like a sneak peek!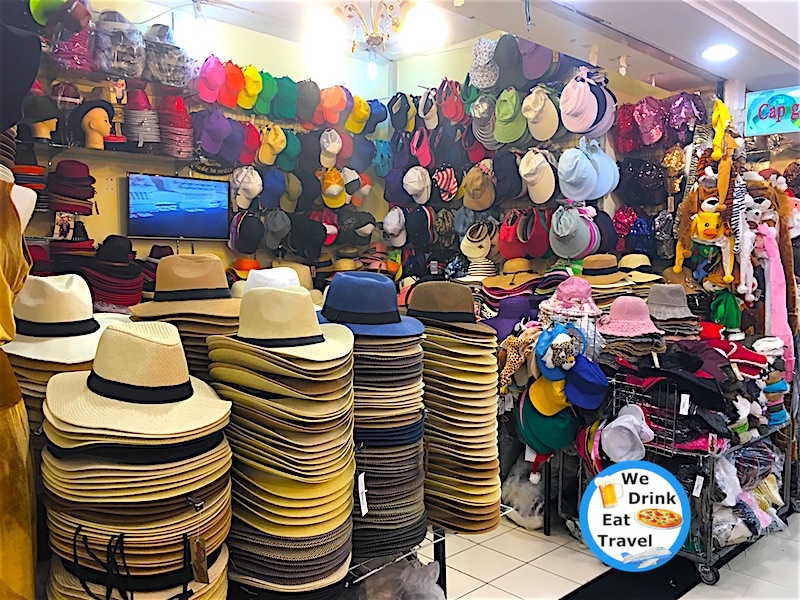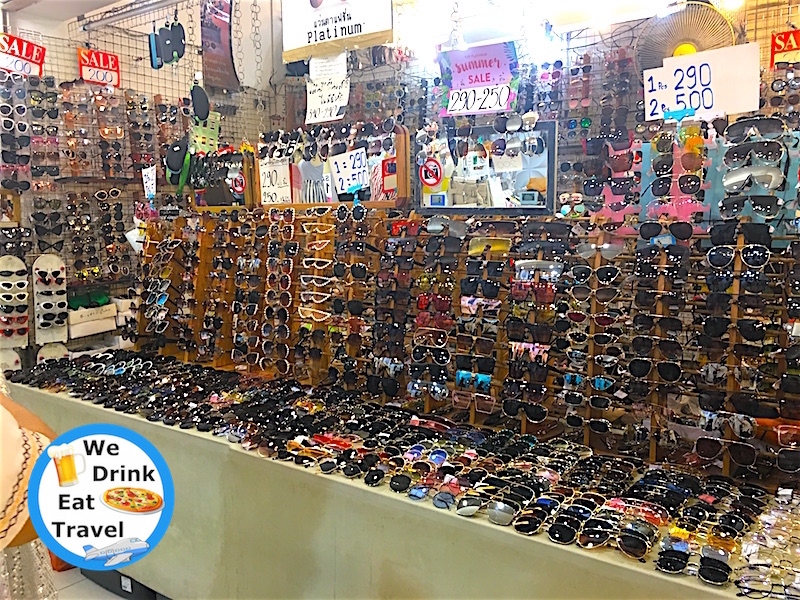 Here is the directory for each of the zones…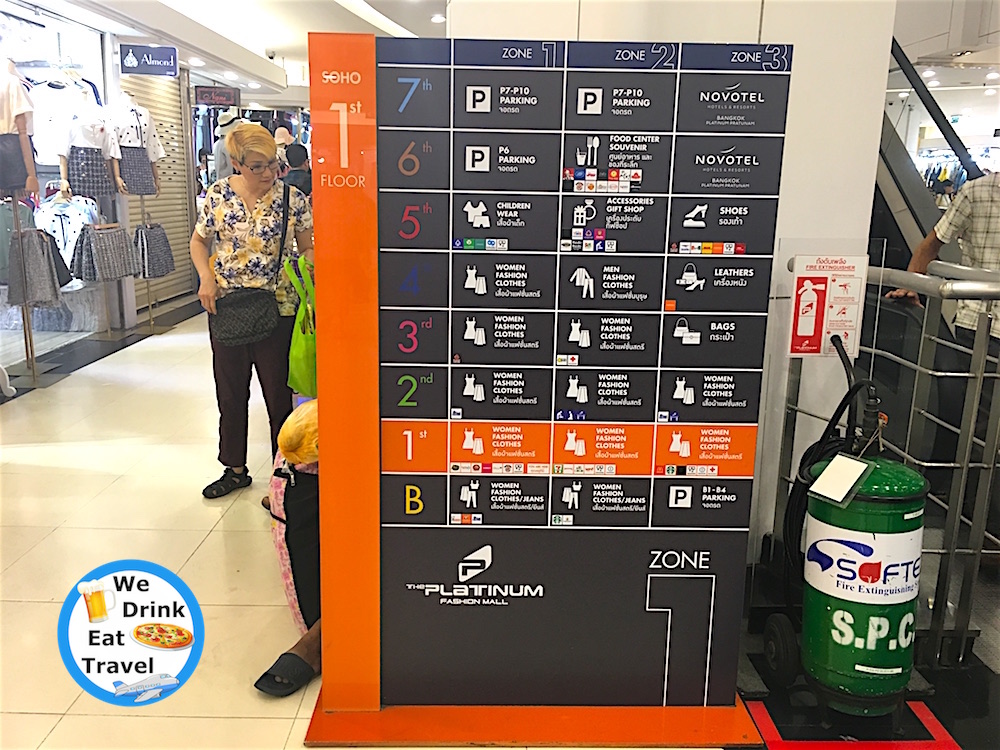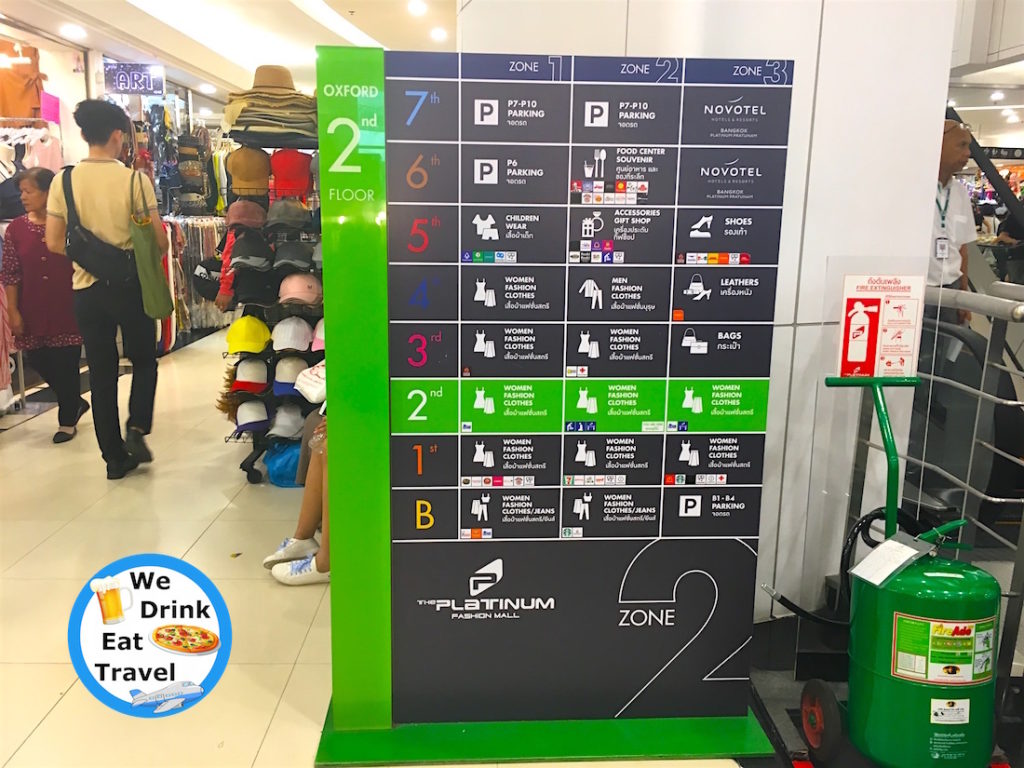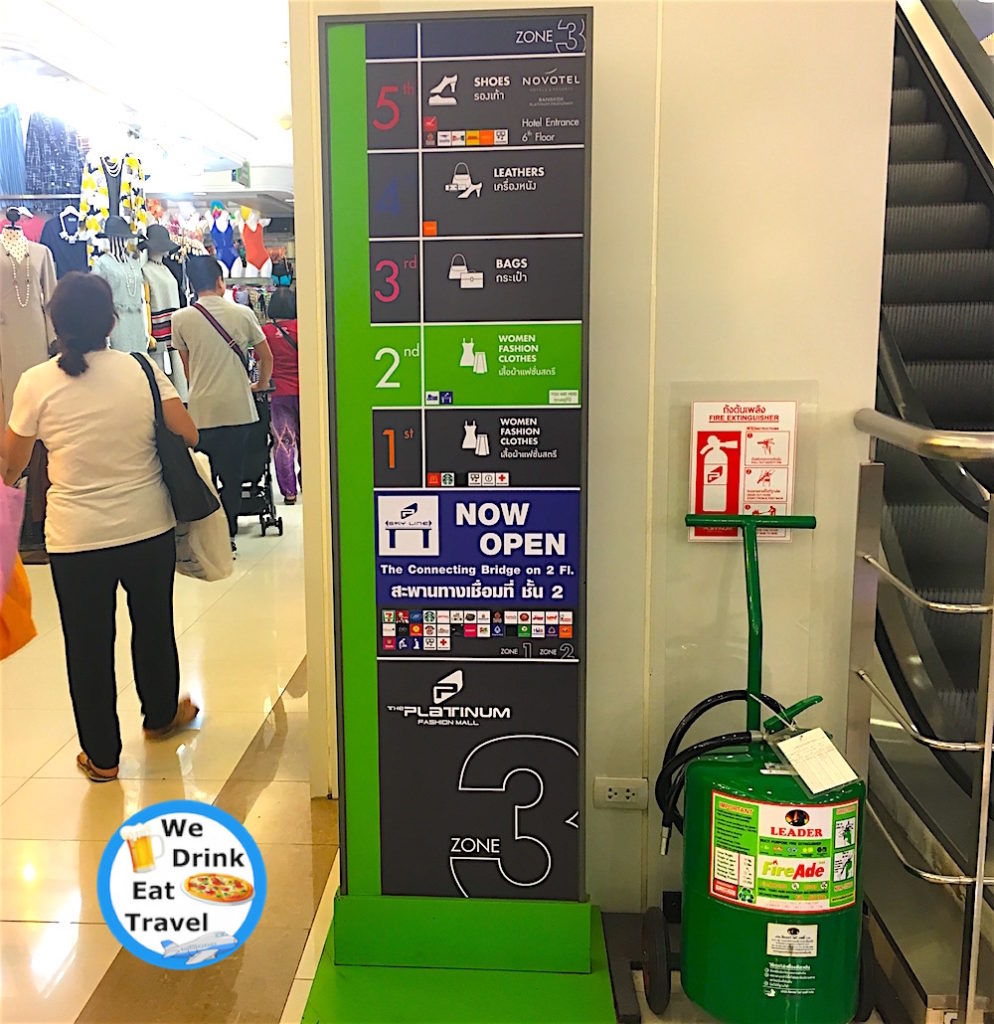 Be aware of this though… Even though it says Shoes are on the 5th floor in Zones 1 and 2, unless I've completely missed it there aren't any… just for kids.
So if you've been to Platinum Fashion Mall and found women's shoes on the 5th floor of Zones 1 and 2… can you let me know please!!
For men's clothes and accessories, you'll find a huge range on level 4 of Zones 1 and 2.
Feeling hungry? Here's a roving food cart that comes to you!
There's also a massive food court. Try and find an empty seat!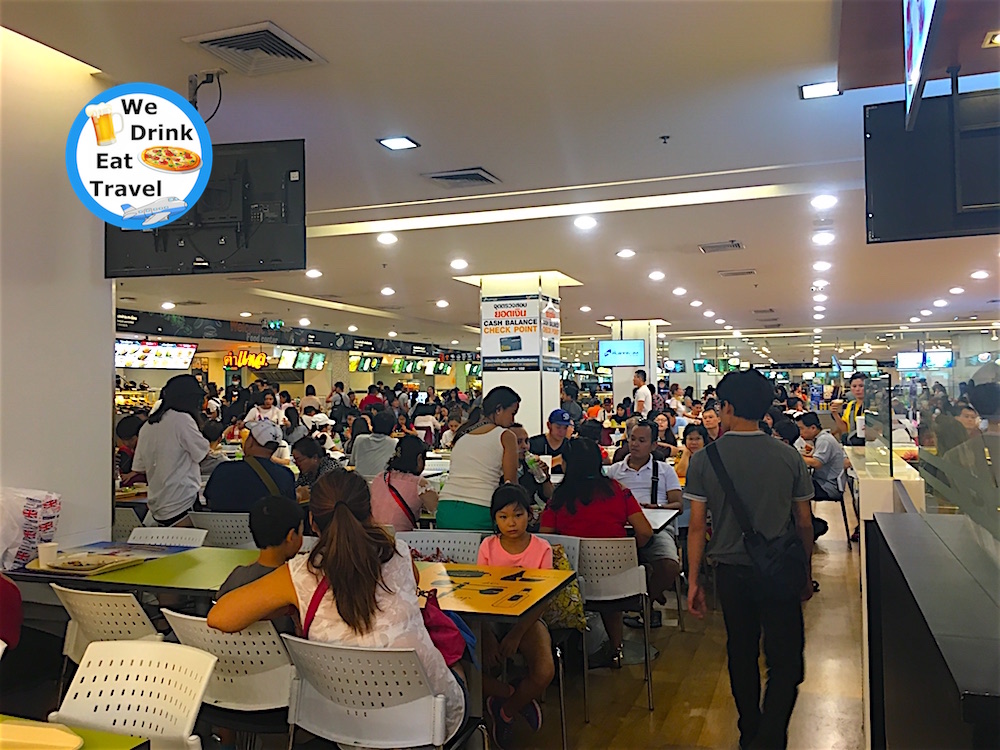 With over 2,800 stores, you could spend all day… and even all night here if you really wanted to!
Yet, on this visit it got overwhelming. So I didn't look at as many shops as I'd wanted to…
Now, if you're wanting to discover other things to do in Bangkok… get the help from experienced guides, to help make your trip more enjoyable!
You Might Be Interested In This Too…
Discover The Best Website To Book Flights And Hotels
Hanoi Nightlife: 7 Bars In West Lake Hanoi To Check Out
27 Of The Best Things To Do In Bucharest
25 Of The Best Things To Do In Kotor Montenegro
30 Awesome Free Things To Do In Prague, Czech Republic
10 Free Things To Do In Hue Vietnam
25 Amazing Things To Do In Dubrovnik Old Town
15 Interesting & Surprising Things To Do In Sarajevo Now