After a long hiatus away from our hometown of Melbourne, Australia, that was out of our control… in many ways it was a relief to finally be able to get back home.
And, while we had a magnificent time catching up with family and friends… there was something missing. So, as you fellow travel addicts would appreciate… we were eager to leave home again, to explore this world we live in.
Now, while there were more flights operating… it wasn't the same as before the Covid pandemic hit. There were far less ideal choices available for us to choose from.
Some of the airfare prices did look attractive on face value. Yet, when we were looking further into them, adding on other items like seats, extra baggage and so forth… it wasn't worth spending our money.
In the end, after much deliberation and hesitation… we ended up booking our flights with Qantas Airways. And, as we'd had several consecutive terrible flights… they surprisingly were the most reasonable, in terms of flight times and prices. Then, when it came to our flight with them, it became even more surprising.
Thus, in this We Drink Eat Travel blog, we have to share our interesting experiences with you… about our Qantas flight from Melbourne to Singapore.
Our Qantas Flight Booking Details
Route: Melbourne Tullamarine (MEL) – Singapore Changi (SIN)
Flight: QF35
Aircraft: Airbus Industrie A330
Depart: 13:05
Arrive: 18:15
Journey Time: 7 hours, 55 minutes
Seats: 56J and 56K
Other items that were part of this Qantas Melbourne to Singapore flight fare was:
30kg of checked luggage
One piece of carry-on baggage up to 7kg, plus 1 small personal item
Meals, drinks and snacks
In-flight entertainment with headsets
It was a dreary day in Melbourne, as we were waiting for our flight to go to Singapore…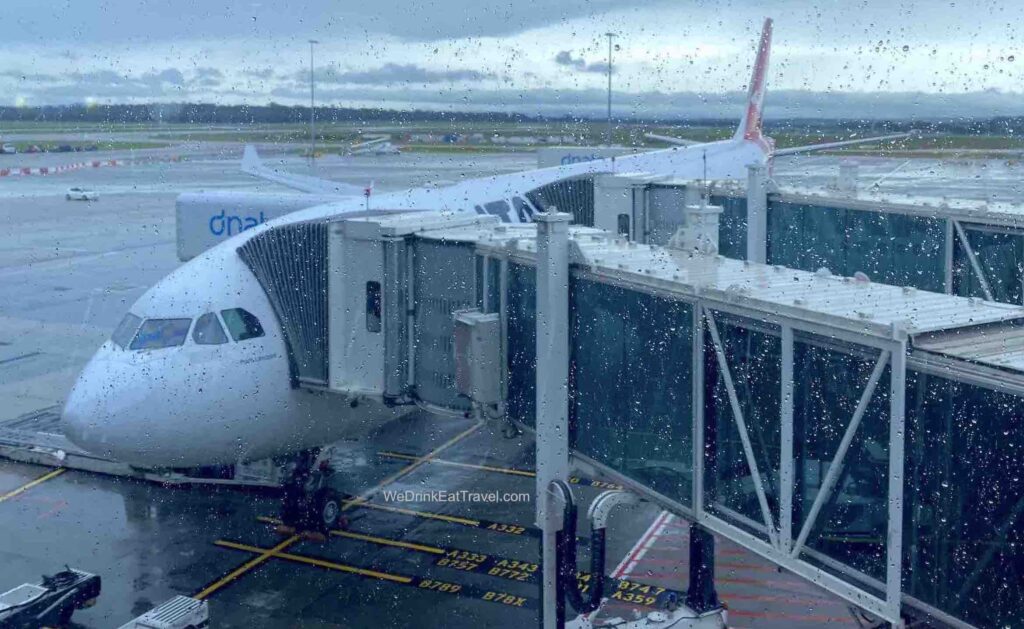 Yet, before we knew it, after having some beers it was time to board our flight!
Our Qantas Economy Seats
One of the positive things about our flight booking, when done directly through the Qantas site is this… Even at the lowest Qantas Frequent Flyer level, we didn't have to pay extra to reserve our seats.
So, outside of that… for this flight it would cost from AUD $40 to select and book one seat. Now, from what we recall that seems more pricey than other airlines. Even so, if you want to avoid paying the fee… simply sign up as a Qantas Frequent Flyer member!
Now, we're one of those couples who prefer to have the 2 seaters on a flight… when available. And, let's face it, we're sure most couple would want that too!
So, when we saw the seat configuration during the booking process… it was in a 2-4-2 format. And, the best part was… there were heaps of double seaters for us to choose from. Thus, in the end we chose 56J and K. WOO HOO!
Here's a photo of the seats on our plane…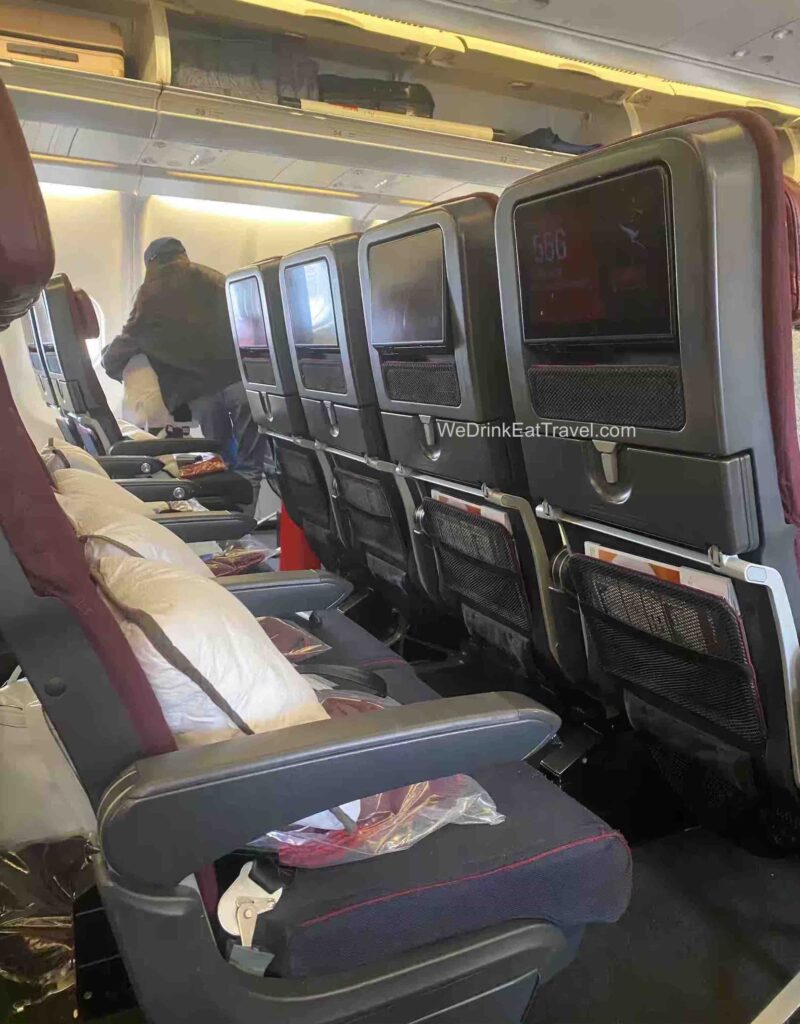 In terms of seat comfort and roominess it was reasonable. And, it was pokey around the tray table area if the person in front was to recline. Yet, that seems to be normal with economy class seats.
The in-flight entertainment offering was extensive, and the headsets were basic… yet they did the job. Thus, it was effective to help pass the time for our 8-hour journey.
Now, on some of the flights regardless of airline… the air-conditioning has been dreadful. Yet, we're happy to report that on this Qantas economy flight… the control panel above us was working, and the air temperature was comfy for us.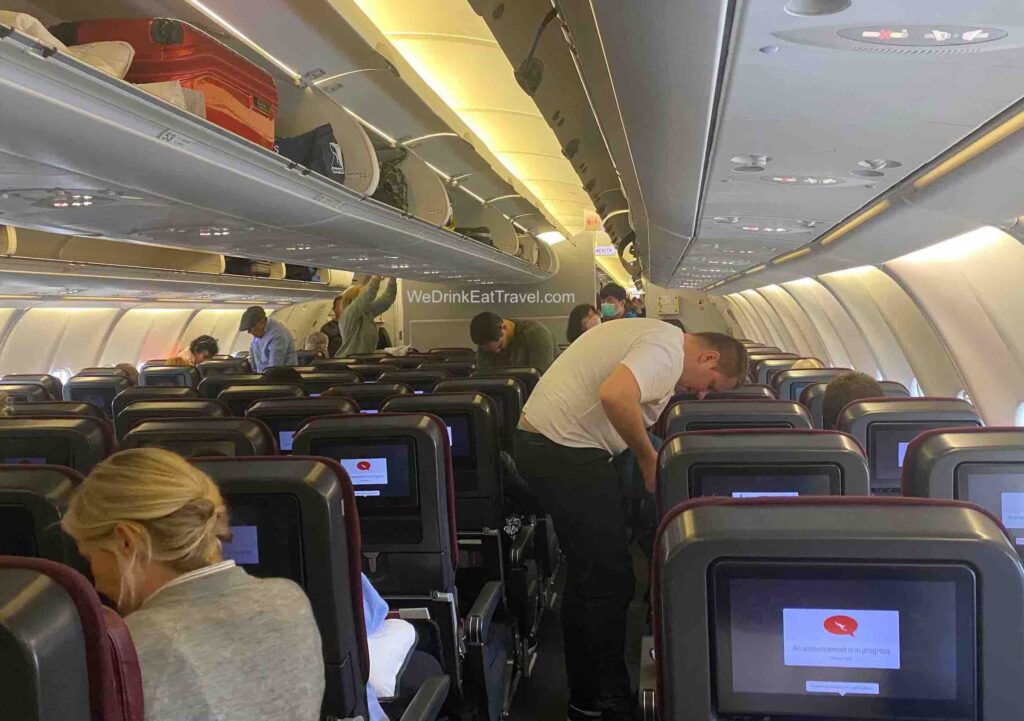 Qantas Amenity Kit
When it comes to amenity kits on airlines… I'm always curious to open them up and see what "essentials" are put in them. So, when it came to seeing what goodies would be in our Qantas kit, here's what we got…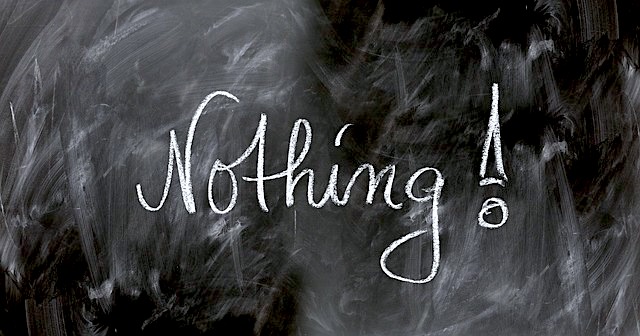 That's right, we didn't get an amenity kit. We had a look around in case they had forgotten to put one on our seats. Yet, it was astonishing that none of the seats in the economy class section had any.
Thank goodness that there was at least a pillow and a blanket… to help elevate the level of comfort during the flight.
Now, as we're big foodies… we have to go into more detail for you about the catering on this flight!
Our Qantas Economy Food and Drinks
Our Qantas food experiences in the past has been to sum up… atrocious. Where we can, we pre-order special meals with the airlines. And, with Qantas, we'd rather forget some of those horror catering experiences. Yet, let's face it, those memories still stay with us.
For example, staff blaming us for not ordering or re-confirming our special meal requests. Then, they want to have an argument to show that they're right. Yet, when we produce screen shots with evidence… do you think they would apologize to us? No!
And, when they claim that gluten free is fine for a vegetarian… then we had to wonder if they were dropped on their head as a baby. Hey, there are even more shocking incidences than these!
Needless to say… we set our food expectations on this Qantas Melbourne to Singapore flight incredibly low.
So, for this flight we were able to order special meals in advance. And, having had bad experiences… we did triple check our order closer to our departure date as well.
Plus, one of the things we always do when making travel bookings as we said earlier… is to take screen shots of everything relating to the booking and inclusions. Then, if something doesn't stack up… we'd have proof.
Now, all that aside… let's get into the food and drinks on our Qantas flight.
Our First Qantas Economy Food Experience After Leaving Melbourne
When the flight attendants were walking the aisles to offer meals and refreshments… we're always curious as to what drinks they have, especially the alcoholic varieties. Yet, as we said earlier… our expectations regarding the meals we'd get on Qantas was very low.
And so, after leaving Melbourne, first up was a light snack and drink.
Then, as the flight attendants were approaching our seats, we had an initial shock! We had to do a double take… when the passengers in front of us were getting their refreshments. And, we were looking at each other with eyes wide open, mouths gaping.
So, when the flight attendant was asking what drinks we'd like… we had to confirm if what our eyes saw were correct. And, while we got a nut and cracker mix for a snack pack… we both chose the Little Creatures Pacific Ale beer.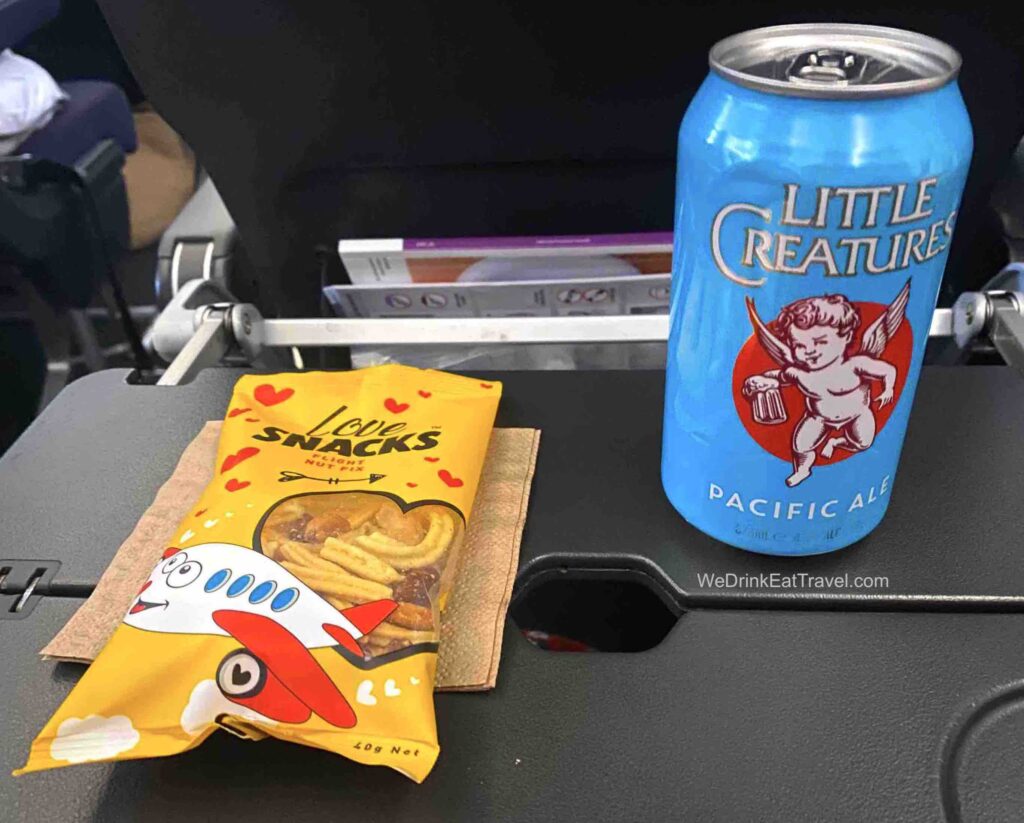 Now, this was surprising to us and having flown Qantas previously… it was rare to get a beer of this calibre in economy class. Thus, we had to take advantage of having a gourmet beer on our Qantas flight, more than once… ha ha ha!
So, needless to say, that's a huge thumbs up from us to start our food journey.
Our Main Qantas Economy Meal
When it came to the main meal, we weren't sure what to expect. Then, as the flight attendants came by… our tray of food was placed on the table. And, after ripping off the foil covering, here's what we had to devour…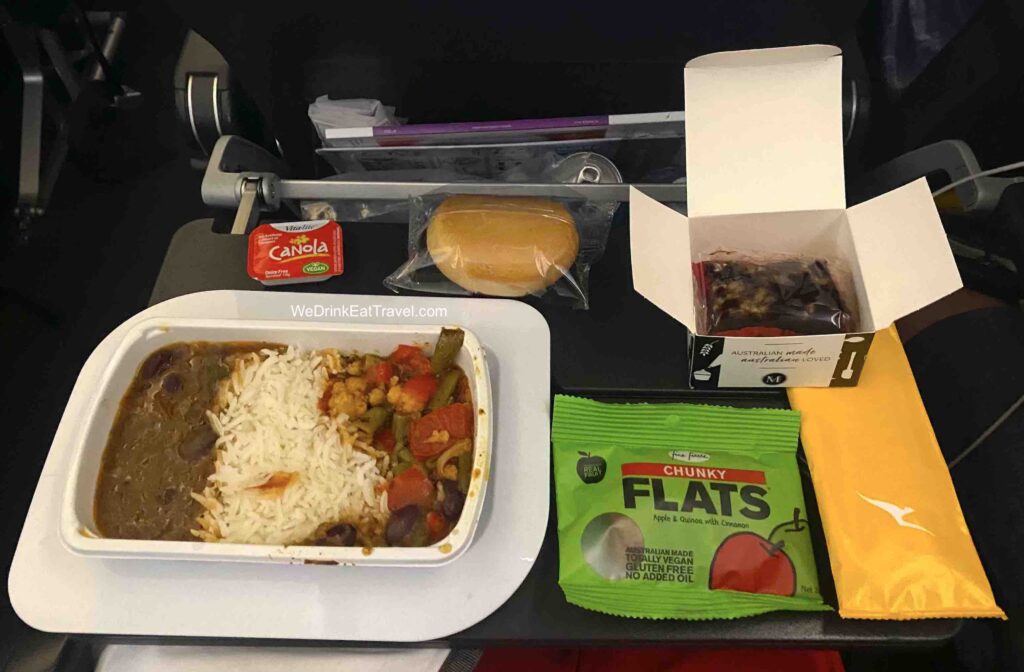 It was a Rajma curry masala with vegetables and rice. Plus, there was a bread roll… as well as a small pack of Fine Fettle brand, Apple and Cinnamon snacks. And, the dessert was a gooey chocolate brownie cakey type sweet.
To our delightful surprise, the curry and veggies were fragrant and delicious. It was actually pleasant to eat!
Our Qantas Economy Meal Before Landing In Singapore
Well, after watching a couple of movies, we were getting close to Singapore. And, I was starting to get hungry. Then, as the cabin crew were no-where in sight, my nose began twitching.
So, they were busy preparing the final meal before landing. And, I was trying to decipher what the food aroma was, flowing through the plane… hence the nose twitches!
Then, as we had a pre-order of special meals… ours were the first to arrive. And, what we got was a pumpkin, lentil and green pea roti dish. It sure did smell delightful. Then, after opening the package, this is what we saw…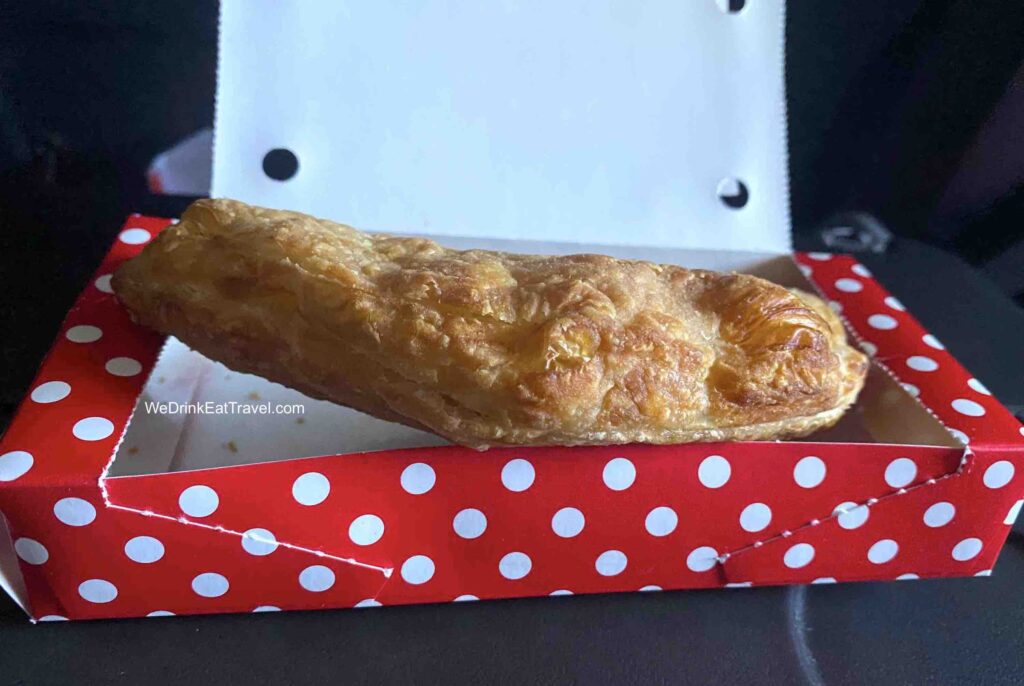 OK, it didn't look like something you'd want to flaunt, on the front cover of a foodie or travel magazine. Yet, after one bite, my mouth was calling for more… as the roti had some yummy flavors. And, surprisingly the pastry was tasty too.
Gee Qantas, wonders will never cease!
Our Qantas Melbourne To Singapore Flight Review Summary
While we did have hesitation with which airline we should book with for our flights leaving Melbourne… in the end we chose Qantas Airways. It wasn't our first choice. Yet, when comparing flight prices and times… it was the best of a "bad bunch."
And, after having years of consistently dreadful flights and food offerings… we have to admit that Qantas did excel this time.
From the moment we set foot inside the plane… the cabin crew were pleasant and attentive. And, when you're stuck on a plane for hours… the food and drinks play an important role in the flight enjoyment.
Yet, after our first experience, it was a pleasant surprise for us… especially for Qantas economy food and drinks. They had some top-notch alcoholic drinks available, which was tremendous plus for us.
And, even though the food didn't look worthy for a front cover photo… what we had to eat was very tasty.
So, our Qantas flight from Melbourne to Singapore was much better than our expectations. And, after a result of this positive experience with Qantas… they're now back on our radar, for potential airlines we may fly with in the future.
You Might Be Interested In This Too…
Discover The Best Website To Book Flights And Hotels
Is Dubrovnik Worth Visiting? Fascinating Facts You Need To Know
What You Need To Know About The Bangkok Canal Boat On Saen Saep
Turkish Airlines Review – You Need To See Our Astonishing Experience
27 Of The Best Things To Do In Bucharest
10 Free Things To Do In Hue Vietnam
25 Of The Best Things To Do In Kotor Montenegro
30 Awesome Free Things To Do In Prague, Czech Republic
15 Interesting & Surprising Things To Do In Sarajevo Now