When we were in Malaysia… one of the areas we were staying in was Chow Kit, Kuala Lumpur. And, from here, we had easy access to get to one of the popular tourist attractions in KL… the Batu Caves temple site.
It's said that the where the Batu Caves lies… the surrounding area is over 500 million years old! And, the wider area includes several caves such as… the Villa Cave, Swamp Cave, Cistern Cave and Itchibawa Cave.
Plus, within the Batu Caves itself, there are several shrines and temples.
One of the biggest annual festivals is Thaipusam… which attracts millions of tourists and worshippers from around the globe. Yet, year round you can go visit the Batu Caves.
And, a couple of the most defining features that people flock to see… is the gigantic Lord Murugan Statue, as well as the rainbow color steps. Yet, while the steps do look amazing, it has been a point of contention for years… as we'll explain later on.
Plus, when visiting the caves, there are some things you need to know. So, we'll run through those helpful tips… as well as sharing our experience of visiting the Batu Caves KL.
So, let's begin with describing how we got there.
How To Get To Batu Caves
There are several ways to get to the Batu Caves… such as a taxi, using Grab, walking, bus, cycling or catching the train. If you're planning on driving yourself to the Batu Caves… there are parking lots there, which will cost a few Ringgit.
Or, another popular way is get a car or bike using the Grab app. Taking a Grab is so cheap and convenient. And, having used it several times, we felt safe each time. Plus, you don't need a Malaysian sim to be able to use it.
Yet for us, we chose to take the train… as we were only a few hundred metres away from a train station to get there.
Now, there are a few different types of trains in the Kuala Lumpur public transport system. And, the main type to get to Batu Caves is the KTM Komuter train.
For us, we would be catching the train from Putra KTM Station. Then, from there it'd only be 5 stops to get to the Batu Caves KTM Station. Yet, for some of you it may take longer… as you'd be coming from around the KL Central area.
So, rather than trying to work out ourselves how to get to the temple… we took the effortless way and went to the ticket counter where we'd get the help of an attendant.
He gave us a Komuter Card, which was 5 Malaysian Ringgit each (about 1 Euro / USD $1.15 / GBP 1). Plus, the return fare from Putra Station to Batu Caves… was an extra 5 Malaysian Ringgit per person.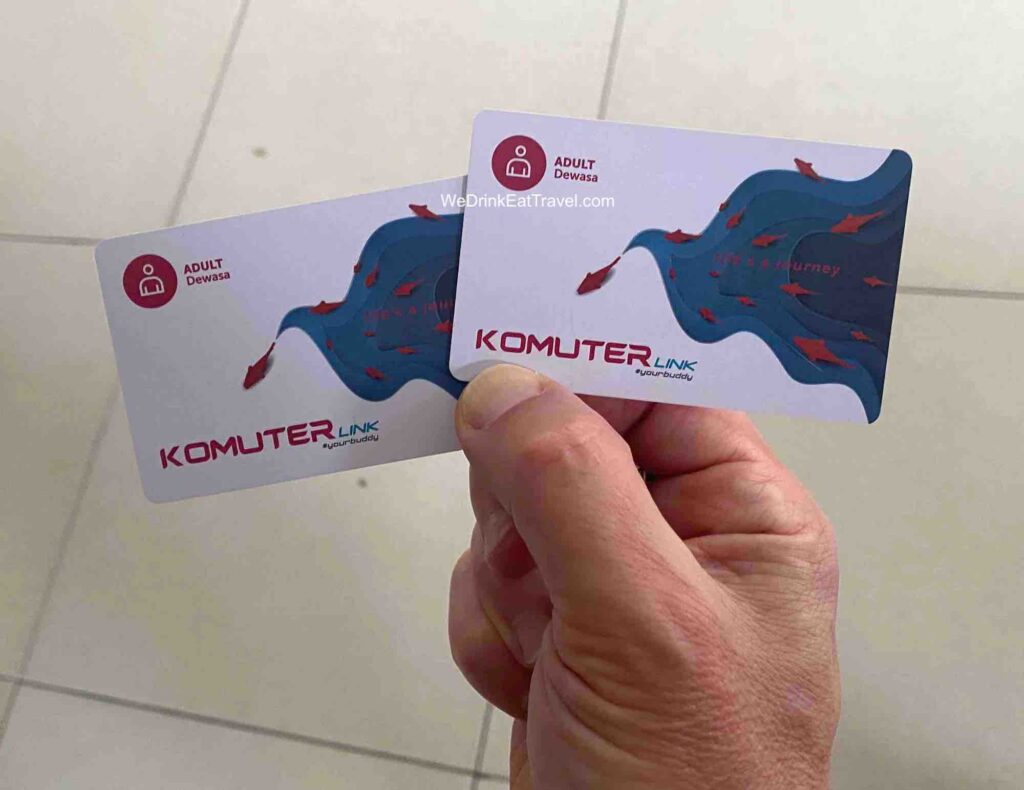 Then, after buying our tickets… we had to go through the barriers by tapping our card on the reader.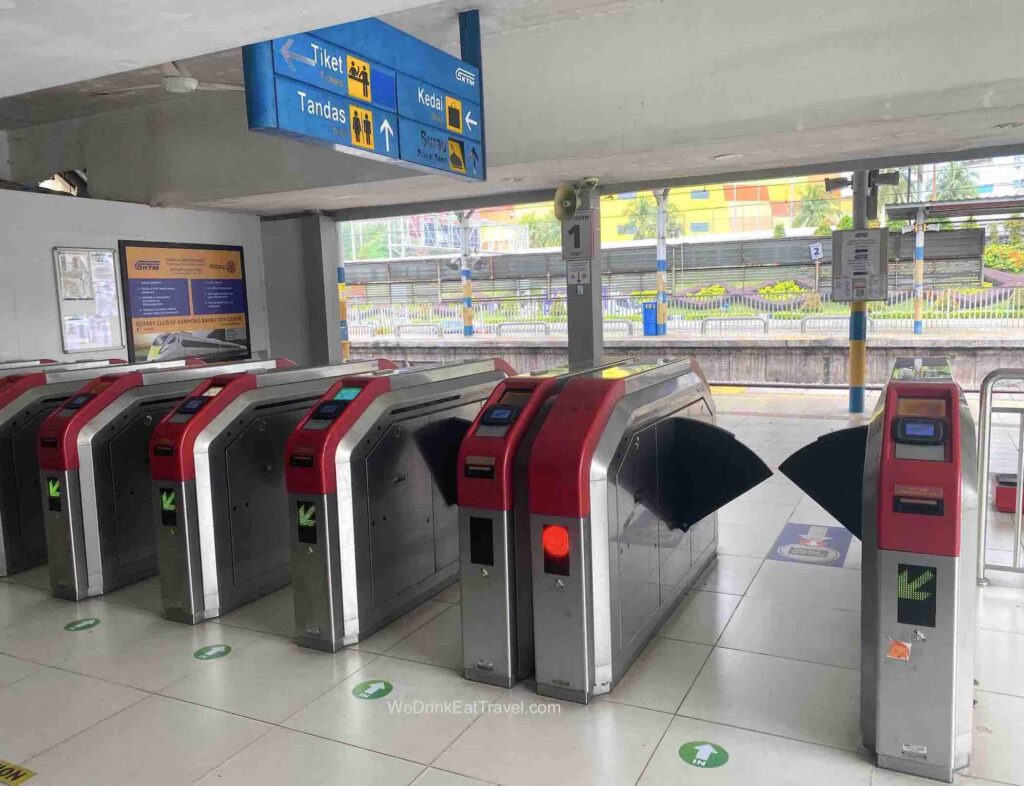 While we were waiting on the platform, we saw that there were some signs… showing the direction of the trains, which was helpful.
Travel Tip:
The KTM Komuter trains have carriages that are for females only. And, we only found this out when we were in the carriage. Because, apart from Paul and a few other male tourists, everyone else was female.
No-one had said anything to us on while we were on the carriage, yet we saw the signs inside. Plus, after leaving the train it shows signs indicating, "Female Only Carriage." Well, we before getting on the carriage we saw lots of pink… thinking that it was advertisements.
So, that's a travel tip for you to remember… to look out for female only carriages when catching the trains in KL.
Here's a pic of the inside one of the carriages we were on…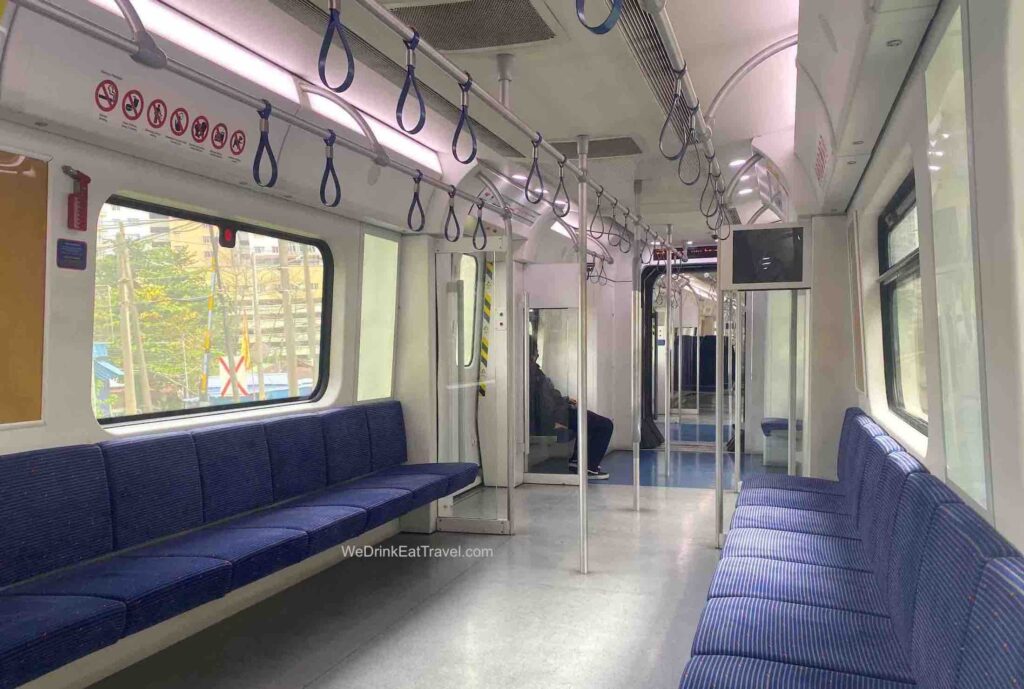 And, once we got off at the Batu Caves Station… we were following the crowds to find the entrance. By the way, it's easy to work out which way to go. Because as you walk down the platform, you'll catch a glimpse of the caves and the huge Lord Murugan statue.
Now, on your way to the Batu Caves and the main area… there are other things to see and do. And, we'll run through some of them now.
Things To Do In The Batu Caves Area
Lord Hanuman Statue & Sri Anjaneyar Temple
If coming from the Batu Caves KTM Komuter Station… you'll wander past a huge, striking green statue. And, this statue standing at a height of around 15 meters is of Lord Hanuman… the Hindu Monkey God. And, when we went to visit this area there sure were lots of monkeys!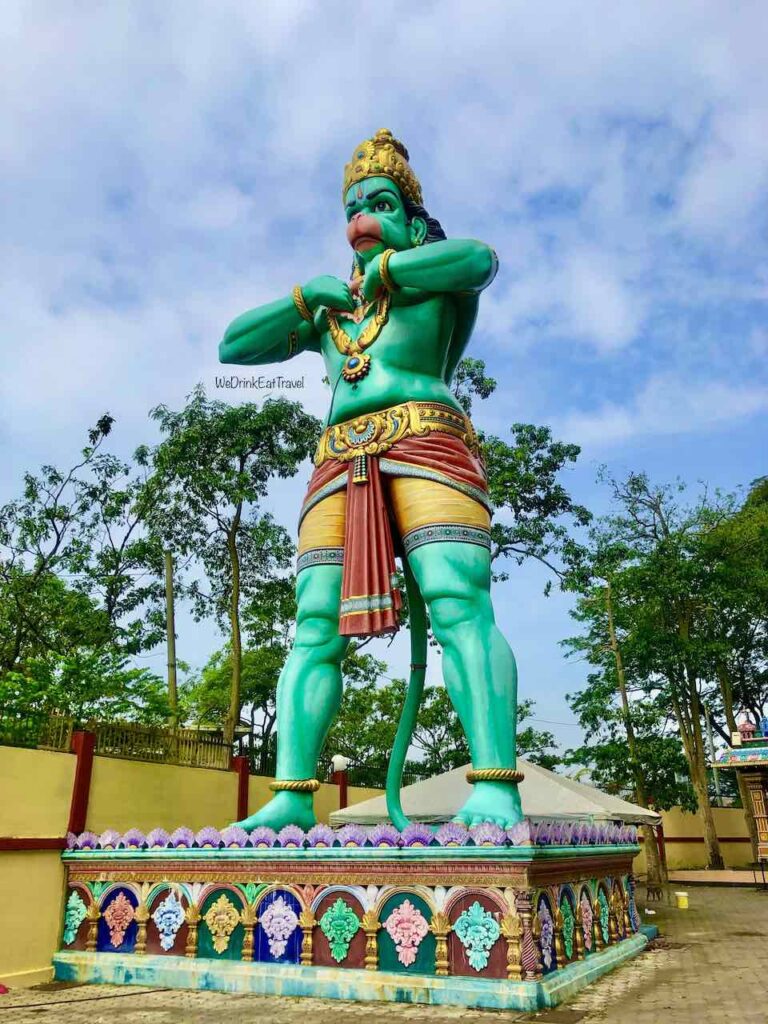 Then, behind the Lord Hanuman Statue is the Sri Anjaneyar Temple. And, it's said that when visiting this temple… many people pray there for strength, and to get rid of evil spirits.
After this, you'll see a colossal structure…
Sri Alarmel Mangai Samedha Sri Venkatajalapathi Temple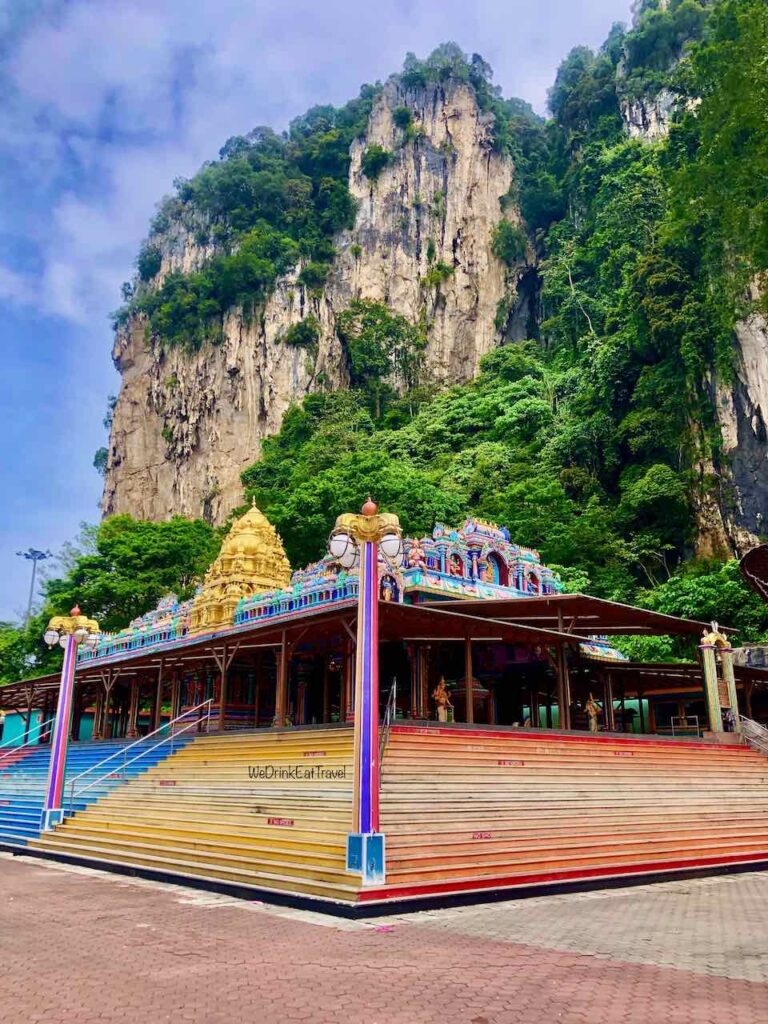 This temple looks incredible… with the 400 million year old limestone caves as its backdrop. Each section of stairs is boldly painted with different, bright colors. And, it's said that people come here to primarily pray for protection.
Now, if you look to the back corner of this temple, you'll see a huge eagle statue…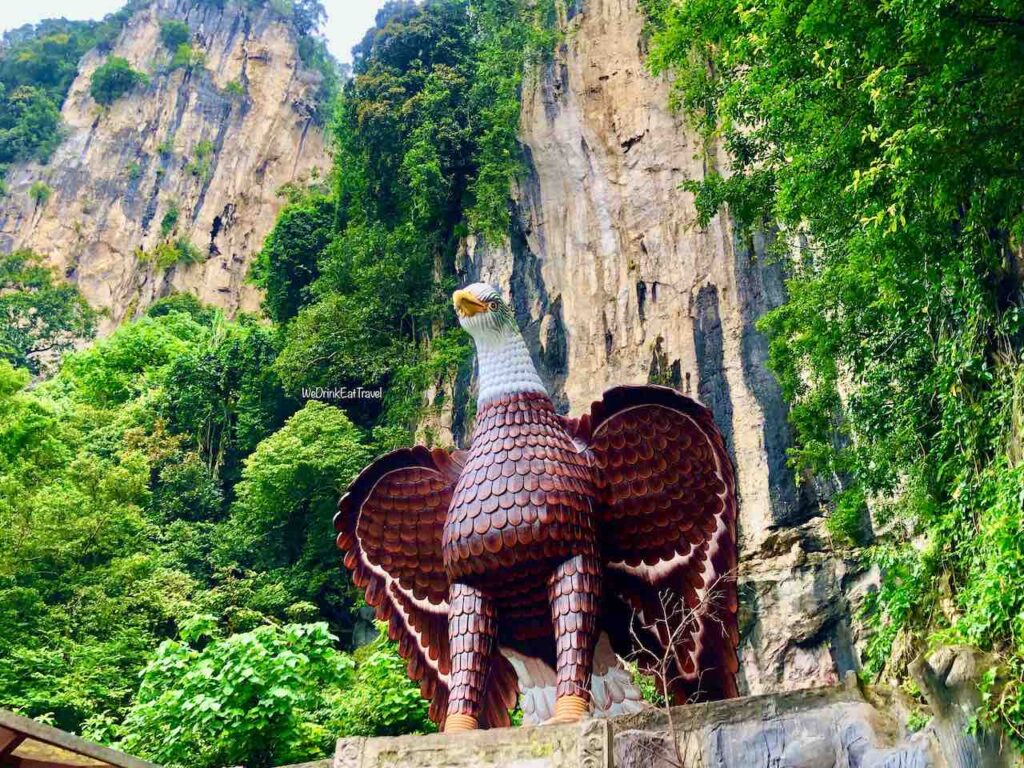 A Secret Stop For Breathtaking Photos
As you continue wandering you'll see several stalls selling snacks as well as other trinkets.
Yet, opposite these stalls is a small pond area. And, here is a top place to get some beautiful and different pics of the Lord Murugan statue… as well as the main Batu Caves temple area.
We found that many tourists would miss this, as they focus on going to the main site. So, remember to stop by as you can get stunning photos like this one…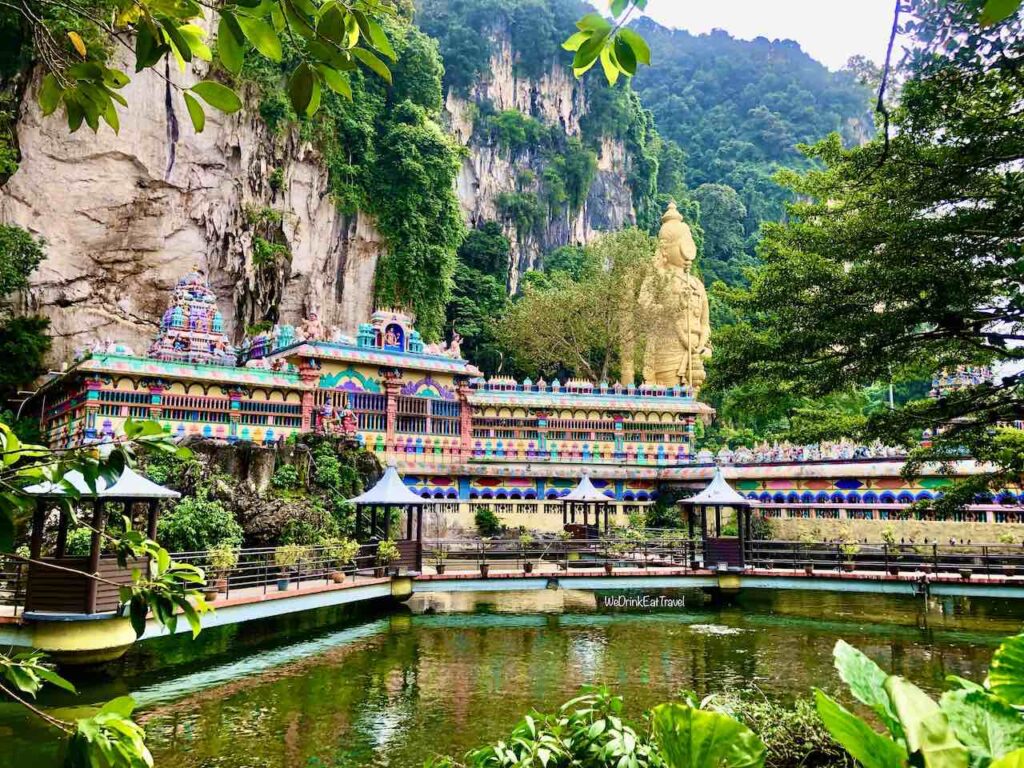 Sri Ganesar Temple
One of the most majestic and grandiose temples on the site, is the Sri Ganesar Temple.
This temple sits at the base of the main Batu Caves area… bordering the huge open square. This long and pretty temple has beautiful rainbow colors and intricate details… where many people pray to receive good luck.
Lord Murugan Statue
One of the prominent landmarks at the base of the Batu Caves is the 40+ metre tall, Lord Murugan Statue. This is one of the biggest statues of a Hindu deity in the world. And, with its striking, solid gold color… it certainly stands out in front of the limestone caves.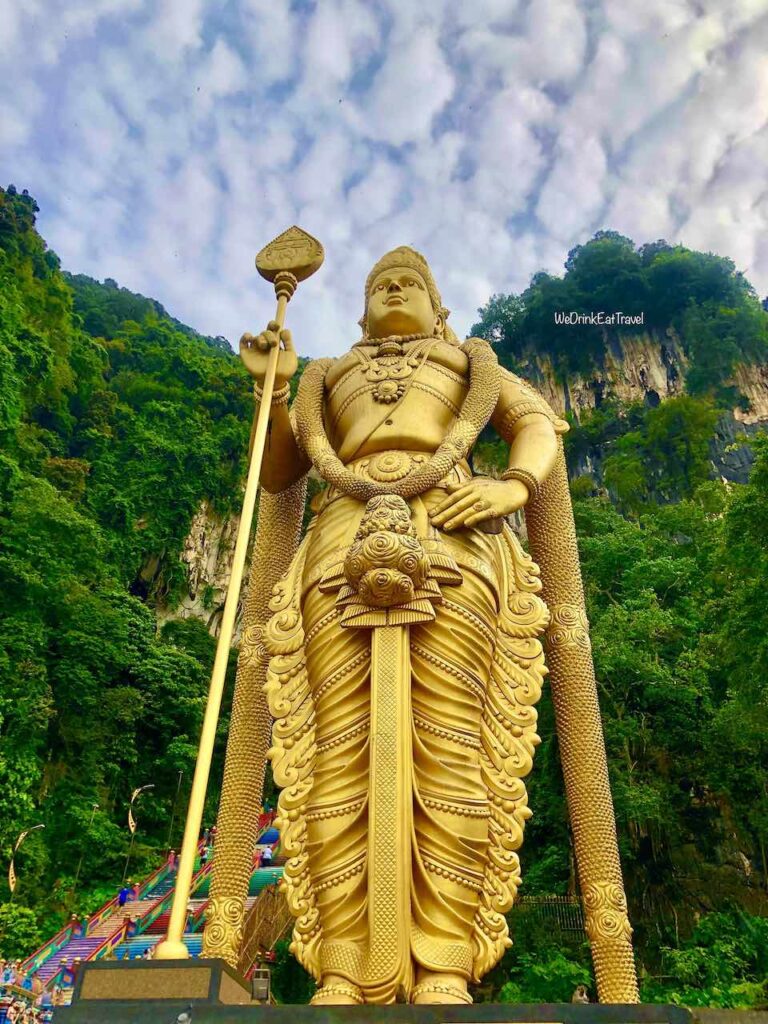 Thousands of people make the pilgrimage during the Thaipusam festival… to worship Lord Murugan, the Hindu God of War.
And, the next major tourist attraction at the Batu Caves is…
The Majestic Batu Caves Steps
One of the defining features of the Batu Caves is the magnificent rainbow steps. So, to get to the top to the temple area… you'll need to walk up these 272 controversial steps.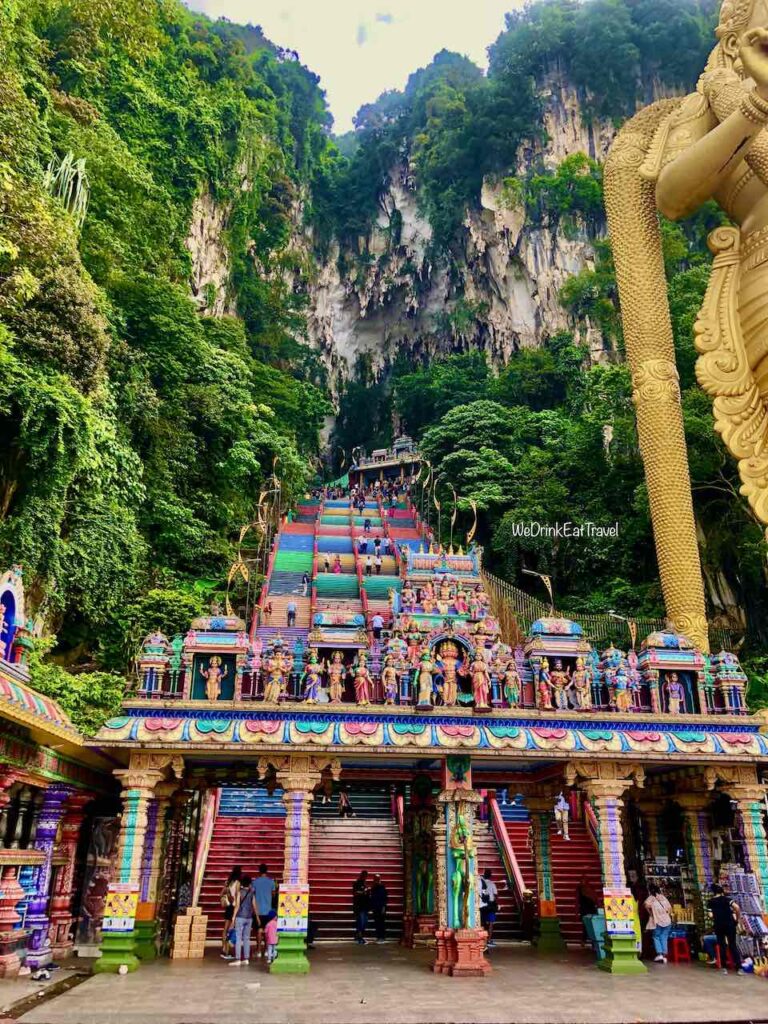 Now, you may be wondering what we mean by "controversial?"
In 2018, a decision was made were the steps would receive a renewal… by having them painted in a variety of bright colors. And, from a tourist perspective it made the lead up to the Batu Caves temple an amazing sight to be seen.
Yet, as this falls under the Malaysia Heritage Listing, which is different to UNESCO… it's said that the painting of the steps had not been given prior approval. Thus, breaking the Malaysian heritage rules and was in danger of losing its status.
So, unbeknown to many tourists, it still is one of the top attractions in KL and Malaysia. Not only for being one of the most popular Hindu temples outside of India… yet, also because of its majestic, bright rainbow color steps. And, its even more busy during the Thaipusam festival.
Now, as you make your way to the top towards the temple… make sure you stop while you're on your way up, as there are some amazing views to be seen. You'll most likely see monkeys roaming around on your walk up too.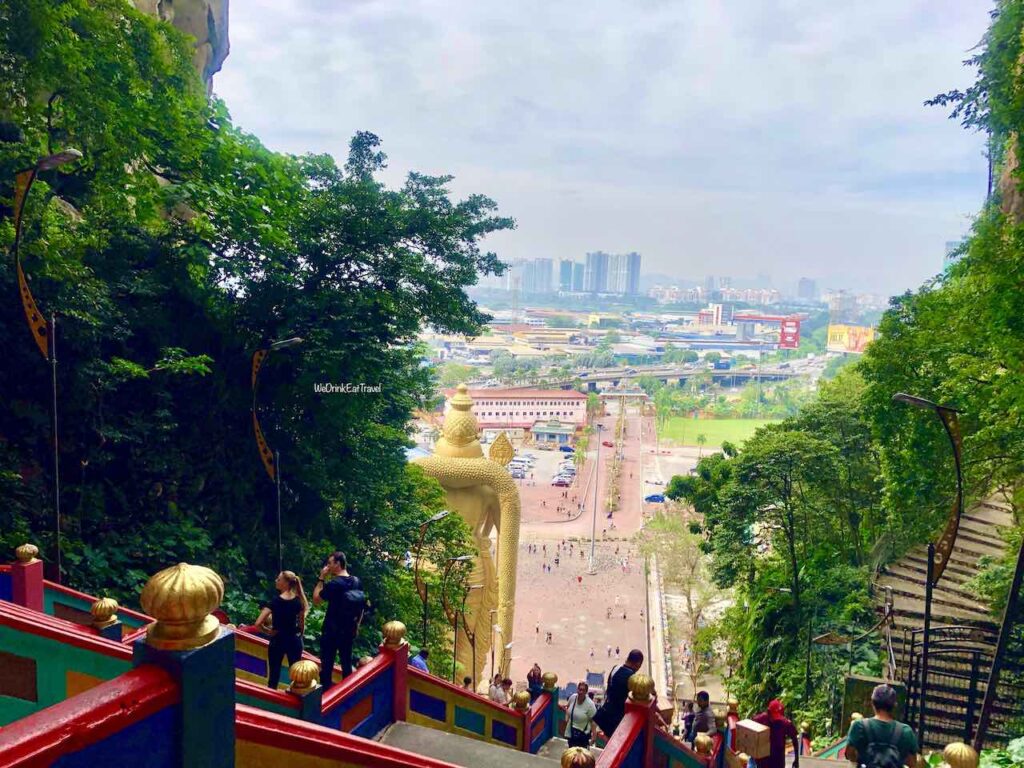 Then, after climbing up the 272 Batu Caves steps, here's a glimpse of what you'll see inside…
Sri Velayuthar Temple
Once you're inside the Batu Caves… one of the most prominent landmarks you'll see is the Sri Velayuthar Temple. And, here's a pic of the tremendous sight you'll witness…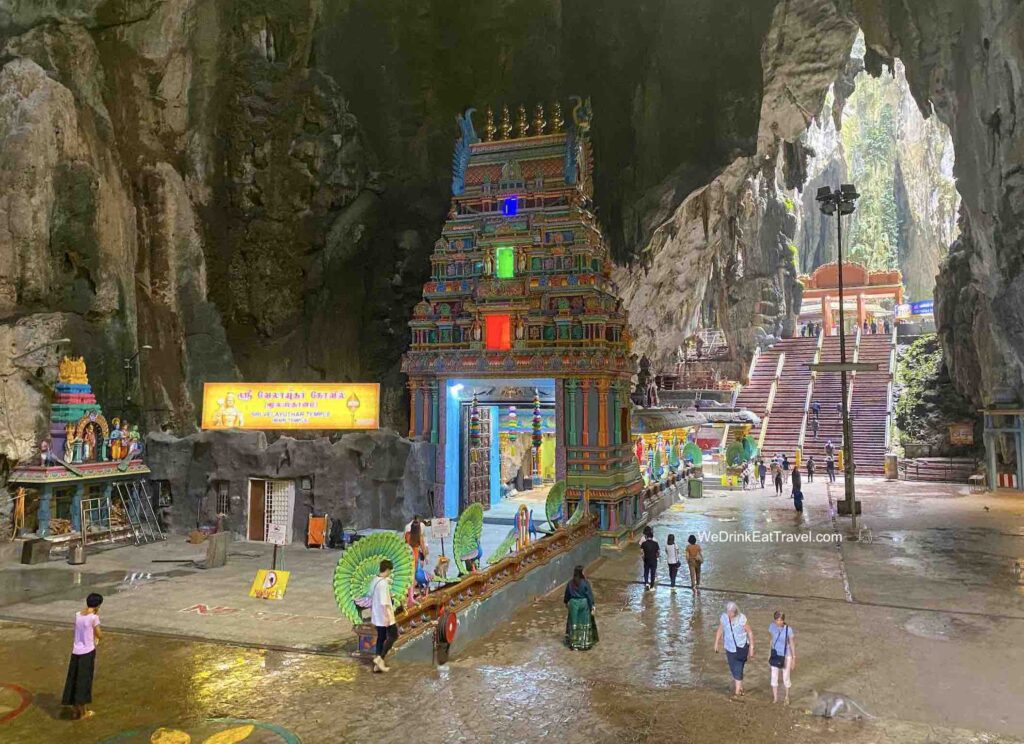 The rainbow colors of the temple are lit up and the detail is incredible.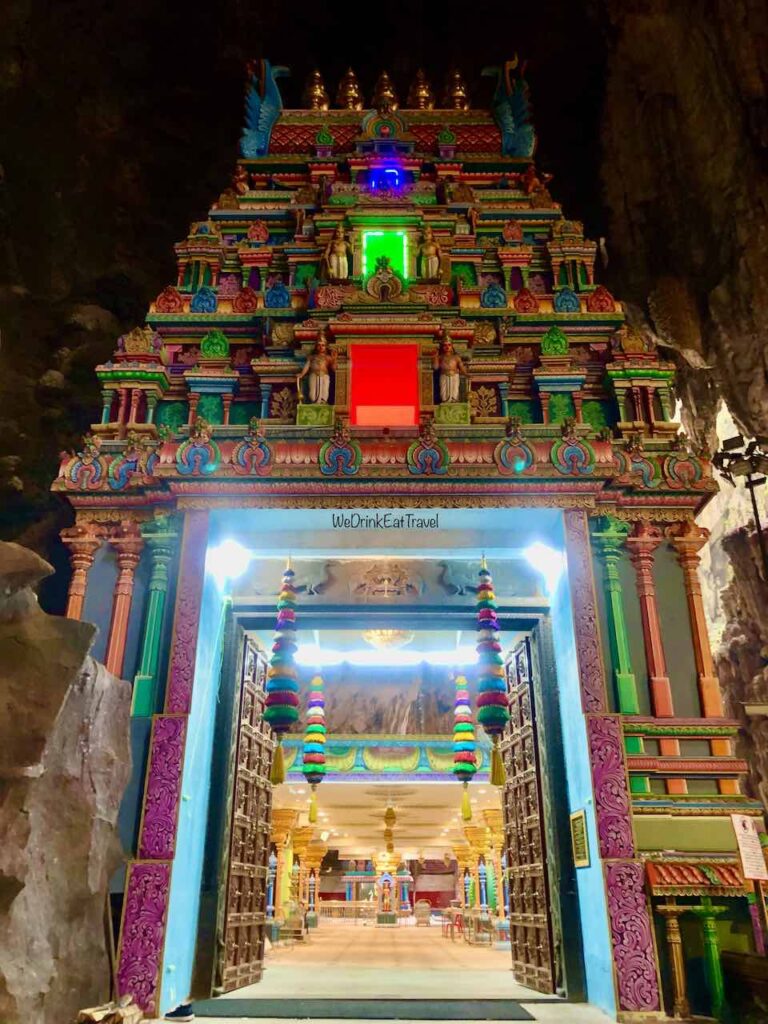 Now, when you get inside there'll be lots of monkeys and their families spread out in the area… lounging or scampering around. So, be mindful of your belongings as some will try to snatch them from you. Don't tempt them with anything as they could get aggressive!
Then, as we were wandering down we could see how amazing and picturesque the limestone caves are.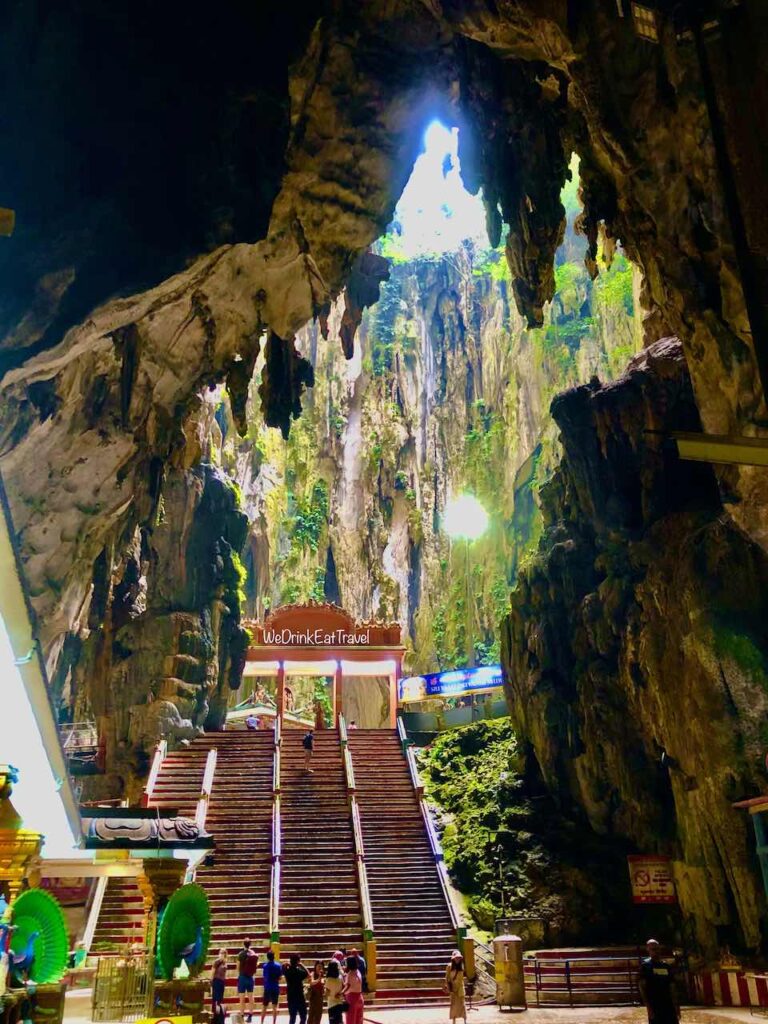 From this main section… you'll see that there are some steps leading up to another part of the Batu Caves.
Lord Murugan Temple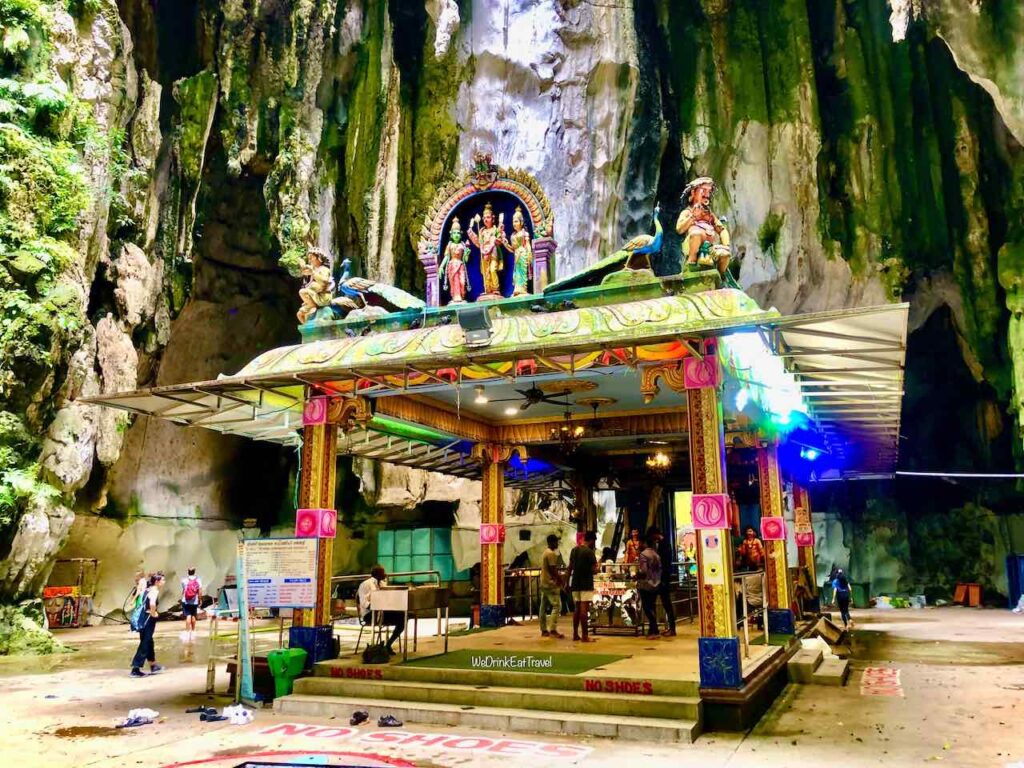 While this may not be the biggest temple, it sure is impressive. And, that's partly because surrounding it are the magnificent limestone cave structures. Plus, the natural light and rays of sunshine the light up the area is breath taking.
So, when inside this area, we were doing 360 degree turns, as well as looking up and all around… as it truly is incredible.
Things You Need To Know When Visiting The Batu Caves
Now, having seen some of the things you can do at the Batu Caves site… you'd have to agree that it is an amazing place to visit in KL. And, to see something as wondrous as this, you may be wondering how much it costs?
Well, would it surprise you if we said that there is no fee to enter the Batu Caves? That's right, you don't have a pay a single cent. So, make sure you take advantage of this and put it on your list of places to visit when in KL.
Yet, there are other attractions where you'll need to pay. And, at the time of writing this blog, that includes the Dark Cave, featuring flora and fauna… which you can learn about via a 45-minute tour. Unfortunately, when we were there it wasn't open.
Or, there's the Cave Villa… which is an art gallery as well as having live animals including reptiles. We didn't go in, as this wasn't of great interest to us. Yet, if the Cave Villa is something you fancy checking out… then you'll need to pay an entrance fee.
Best Time To Visit the Batu Caves
Now, when we got to the Batu Caves around 9:30am… there was already a steady stream of tourists there. So, if you're wanting to avoid exploring the site with lots of people… aim for around sunrise.
So, we spent about 1.5 hours exploring the area, taking photos and videos. Yet, if you want to go on tours or explore beyond the Batu Caves temple area… make sure you allow for more time. Plus, by around 11am is was busy… and bus loads of tourists were rolling up.
While this is a major tourist attraction, it's also a functioning Hindu Temple… where many people make the pilgrimage for worshipping.
So, be respectful in how you dress… and also when you're taking photos or videos. And, if you intend on going into any of the shrines… you MUST take your shoes off before entering.
And finally, we did mention our furry "friends" before… the monkeys. Now, while they may look cute, especially the babies… you're better off not provoking them or getting too close.
We did see some instances, where for example a tourist had a bottle of a sugary drink. And, a couple of monkeys took a shine to them and their drink. So, the monkeys were adamant about getting that drink… squealing and swiping until they got their way!
Now, with that, we trust that this We Drink Eat Travel blog has been helpful. Enjoy your trip to the Batu Caves! And, admire the magnificent surroundings you'll be in… when exploring this ancient site.
See Our YouTube Video About The Amazing Batu Caves…
---
You Might Be Interested In This Too…
Discover The Best Website To Book Flights And Hotels
Our Qantas Flight From Melbourne To Singapore Was Actually Astonishing
Is Dubrovnik Worth Visiting? Fascinating Facts You Need To Know
What You Need To Know About The Bangkok Canal Boat On Saen Saep
Turkish Airlines Review – You Need To See Our Astonishing Experience
27 Of The Best Things To Do In Bucharest
10 Free Things To Do In Hue Vietnam
25 Of The Best Things To Do In Kotor Montenegro
30 Awesome Free Things To Do In Prague, Czech Republic
15 Interesting & Surprising Things To Do In Sarajevo Now