When we look back on the Covid pandemic which struck the world in late 2019… while it was dreadful for many people, it was different for us.
As you know, we love traveling around the world. And, our plan was originally to travel through awesome South East Asia again. Yet, unpredictable events would unfold… where we would have to embark on a different journey . Even so, we were able to explore new destinations… and ones that we hadn't thought of visiting.
Then, after about 2.5 years away from our home in Australia… restrictions were dropped and we were able to finally travel back.
Yet, with less airlines and flight choices available at reasonable prices… it was an interesting process looking for flights to get from Bucharest back to Melbourne. And, get this…
Some airlines were charging astronomical prices. In our research, one of the airlines was charging over 4,000 Euros for one person… for a one-way trip from Bucharest to Melbourne. And, that was in economy class! That's ridiculous, and "skyway" robbery if you ask us.
Now, to cut a LONG story short… we did end up choosing Turkish Airlines to get us back home from Bucharest. As we had to take multiple flights for our trip back to Australia… we'll focus on the leg from Istanbul to Kuala Lumpur.
So, let's kick off this We Drink Eat Travel blog… as we share our Turkish Airlines review, and some astonishing experiences.
Our Turkish Airlines Flights, Price and Inclusions
Route: Istanbul (IST) – Kuala Lumpur (KUL)
Flight: TK60
Aircraft: Boeing 777-300ER
Depart: 1:30
Arrive: 17:15
Journey Time: 10 hours, 45 minutes
Seats: 52B and 52A
The journey for our trip home was going to be a long, yet hopefully cheerful one! And, in booking our flights we did go direct to the Turkish Airlines website.
So, our flights would begin from Bucharest Henri Coandă International Airport, at 10:00PM. Way too close to our bedtime. Yet, as we would discover… there wouldn't be much sleeping for us!
Then, after about a 1 hour flight, we'd have a layover in Istanbul Airport for about 2 hours. Now, we have to admit that we're not huge fans of Istanbul Airport. We find that it's too warm inside for our liking, and the food options are dull.
Plus, they have an atrocious system to use their free wifi. Line up, get a ticket and you get free wifi… for only 1 hour. Want more? You need to go do the entire process again. Crazy, right?
Sorry, we digress!
Now, after our long-haul flight of about 11 hours from Istanbul to Kuala Lumpur… we'd have about a 5-hour layover. And finally, our last leg from KL to Melbourne would take off around 10:00PM… for about 7.5 hours of flying.
All up, the total flight time would be a whopping 27 hours!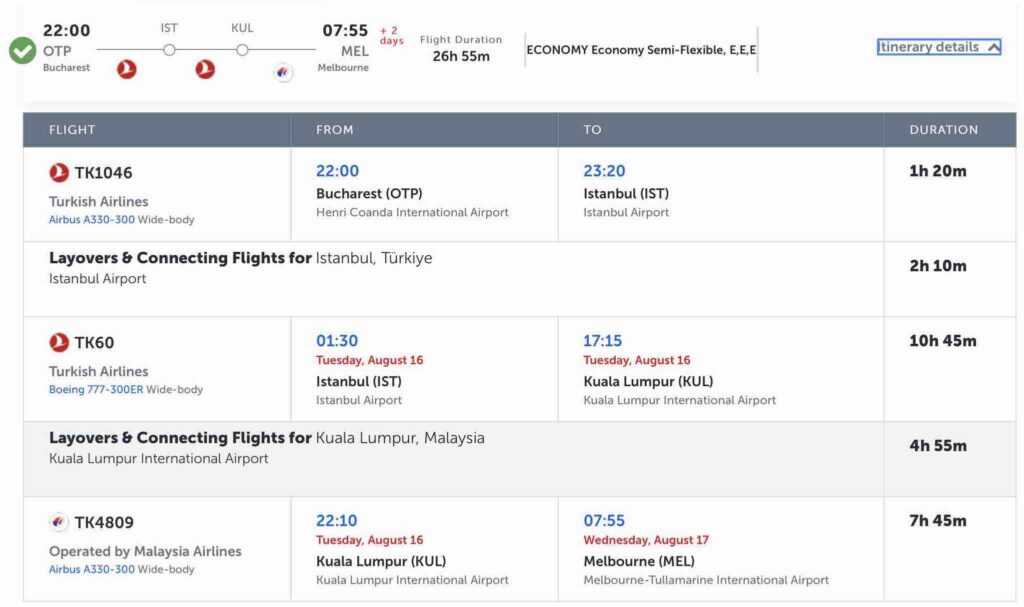 The base price for these Turkish Airlines economy class flights for the two of us… including a codeshare with Malaysia Airlines for the last leg, was 9,618 RON. That's about 1,6900 GPB / USD $2,060 / 1,9600 Euros / AUD $3,070. Now, that price did not include seats.
So, for both the 2 x Turkish Airlines flights… we made the decision to pay extra for being able to choose our seats. And, we had to fork out an extra 380 RON… that's about 67 GPB / USD $81 / 78 Euros / AUD $121.
With the Malaysian Airlines leg… we couldn't choose our seats via their website. Plus, we couldn't even select our seats with the Turkish Airlines customer service centre… as they told us they didn't have access to that information.
In the end, we could choose those seats for free when we got to Kuala Lumpur Airport… once we were in the transit area.
So, the GRAND TOTAL of our Turkish Airlines economy class flights for the two of us… was 9,998 RON (about 1,760 GPB / USD $2,140 / 2,040 Euros / AUD $3,200). And, to re-iterate, that was for 2 x one-way tickets back to Melbourne, Australia… from Bucharest.
Now, when factoring all those flights, that was a decent fare price… especially considering the hefty amounts other airlines were charging!
Other items that were included in this fare was:
30kg of checked luggage
8kg of carry on baggage, plus 1 personal item
Meals, drinks and snacks
In-flight entertainment
Our Turkish Airlines Economy Class Seats
As we said earlier, we had to pay extra to be able to reserve our seats. And, we're happy to fork out the money for it, as of course… we prefer sitting together.
Otherwise, we'd be having our drinks and doing our festive cheers across the aisles. And, after a few times we're sure the other passengers would be over our antics… especially if they're trying to sleep!
Now, the economy class seat configuration for our flight from Istanbul to Kuala Lumpur… was in a 3-3-3 format. Yet, as we were looking online from the front, towards the rear of the plane… our eyes lit up. And, that's because rows 51, 52 and 53, were in a 2-3-2 format.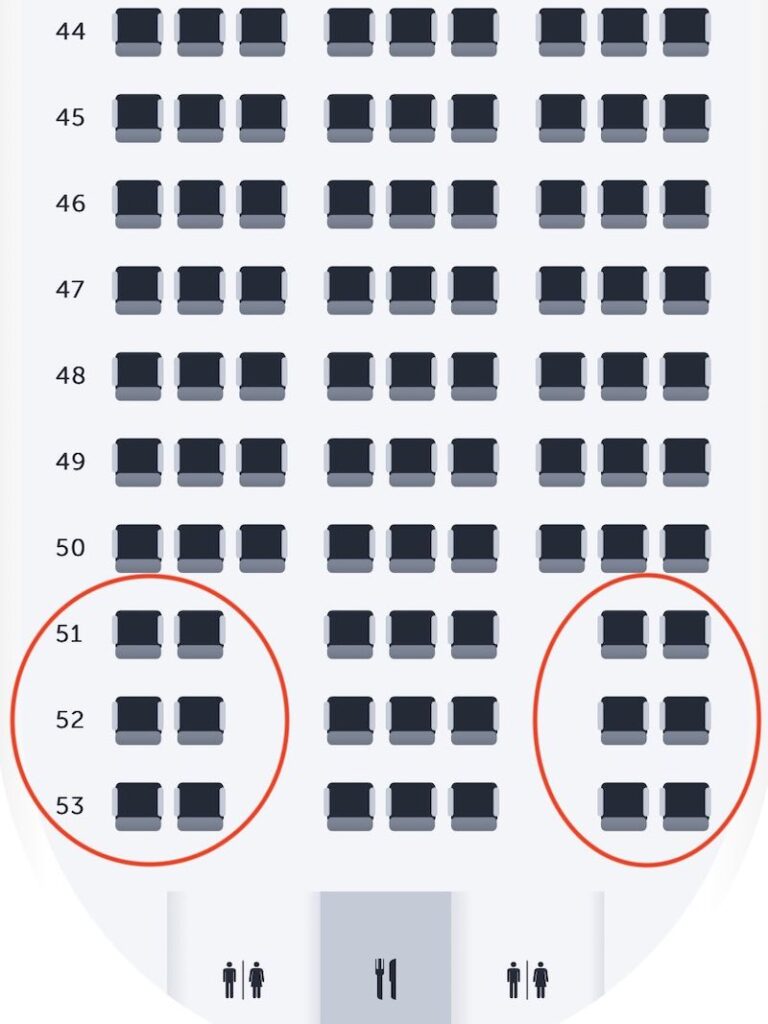 And, as soon as we saw that there was availability for the 2 seaters… we promptly grabbed them. Yet, we made sure we didn't choose the very back row seats… as most of the time they don't fully recline back. So, not comfy, especially on a long-haul flight.
The plane was full so we're glad to have made our bookings earlier, to get the 2 seaters…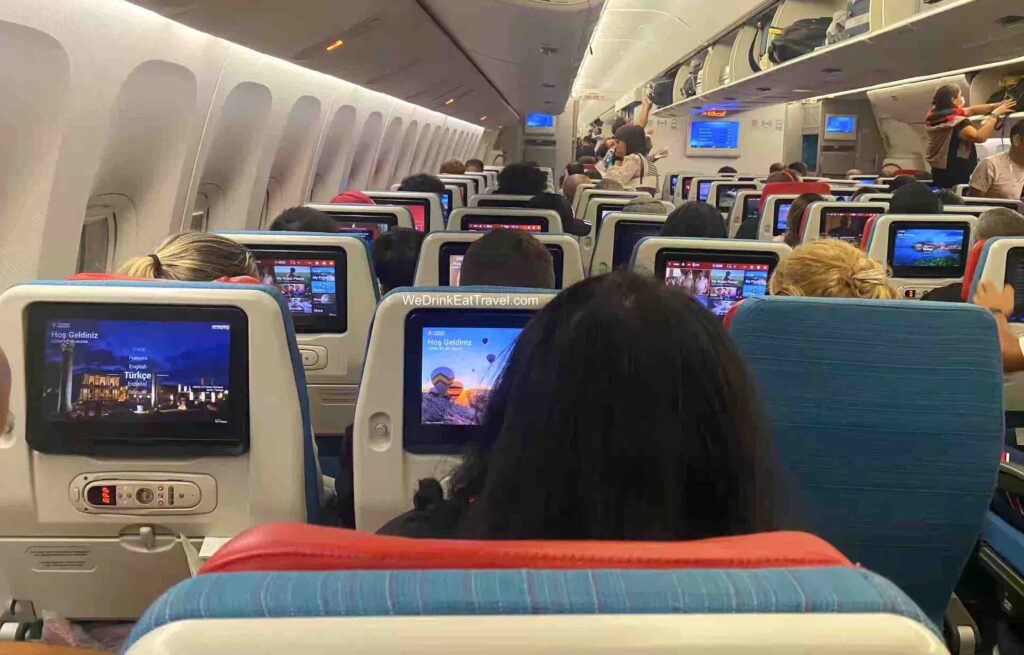 On flights, I almost always have plenty of room to stretch out. And, by being short in height that is a tremendous help. Yet, for Paul, as he's just over 5'11"… sometimes it can feel like his knees are almost touching his chin.
On this flight, it wasn't as roomy as other economy class airlines. Even so, he could still recline back with ease… and stretch out his legs without feeling uncomfortable.
The other positive thing was that the seats, seat pocket and tray tables were clean.
We've been on some terrible flights… where it was like someone had sprayed their can of soda all over the tray tables. Then, it felt like they'd left it there to dry up to a disgusting sticky mess… and no-one, not even the flight cleaning staff would bother to clean it!
Turkish Airlines Economy Class Amenity Kit
Since the pandemic… we've found that some of the "normal" inclusions were no longer part of the airfare. Yet, with Turkish Airlines it did appear that this was not the case. So, it was a pleasant surprise to see that we were given an amenity kit.
And, even more surprising was that the amenity kit was by the Italian designer brand… Mandarina Duck. And, in the amenity kit was…
Lip balm
Eye mask
Toothpaste and toothbrush
Ear plugs
Socks
Slippers
So, thumbs up for having an amenity kit in economy class… and with some useful products.
Our Turkish Airlines Economy Class Food
For years during the pandemic as airlines weren't flying… we were getting around visiting other countries and cities, via a private car with driver.
Yet, our first flight after almost 2 years from Prague to Bucharest… was atrocious and deficient. Especially since we had a booking with their most elite flight class.
Now, while we have flown Turkish Airlines before… this time we were going on a long-haul trip for almost 11 hours. So, this would be our first longer flights since the pandemic easing.
Thus, to avoid huge disappointment… we purposely set our expectations low about the food we would be receiving on our flights. And, the food and drinks that we had on our flight from Istanbul to Kuala Lumpur… was astonishing.
We always order a special meal in advance, for which a fail-proof bonus is… you are one of the first passengers to get your food. So, that will help to ease any hangry emotions that may come about… ha ha ha!
And, with Turkish Airlines they have several special meal options. Thus, if this seems like an appealing option… remember to take a look on their website at those various categories.
So, not long after take-off our meal service would kick off with a small bottle of water… as well as a tasty snack pack of olive flavour cracker biscuits.
We were starting to get ravenous, even though it was "sleeping hours" for us. Thus, when we were given our main meal… we were ripping off the covers of each dish, eager to devour them. Yet, what we would discover was interesting…
Check Out Our Astonishing Turkish Airlines Economy Class Meal
So, when it came to our main meal here's a pic of what we were given…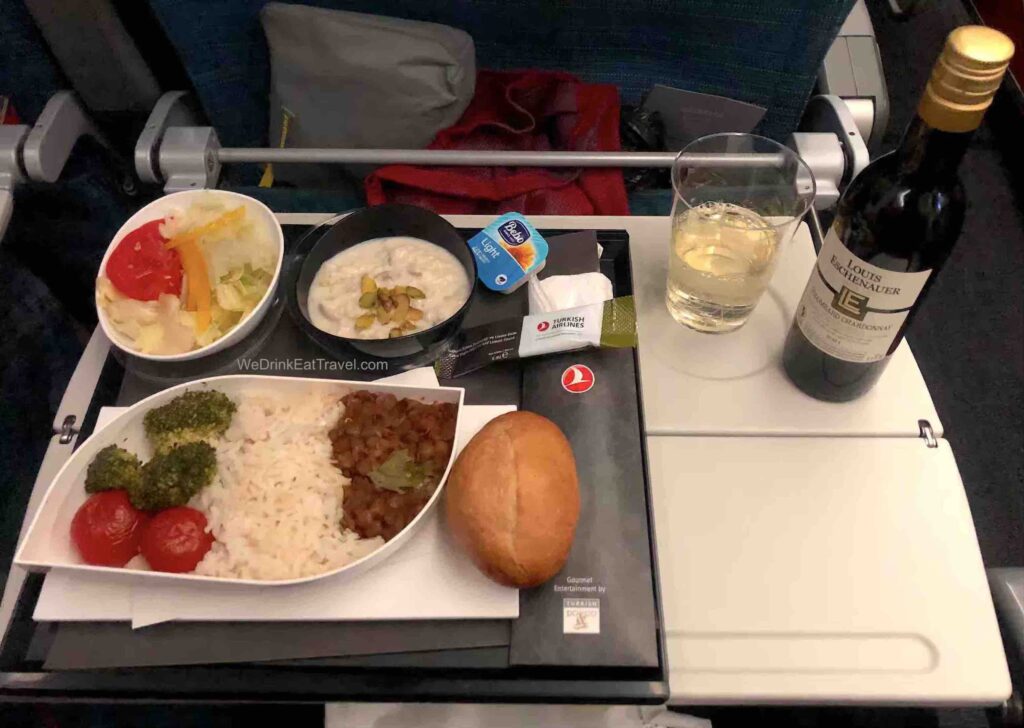 A couple of wrinkly cherry tomatoes and 3 pieces of over-cooked broccoli… with a ration of plain white rice, and a baby size portion of dull dahl.
Yes, it was about 2:30 in the morning local Turkish time. But who cares? We still hanker for a proper and yummy meal… that didn't look like it had been re-heated multiple times.
And, look at that salad… would you rave on and recommend that to your friends? It looks like leftovers that had been thrown haphazardly into the bowl. Oh wait… there was a sachet of extra virgin olive oil and lemon sauce, to jazz it up!
Finally, the yogurty rice porridge dish was sombre as well. It too was deficient in flavor and was bland.
There is a positive though, and the most impressive part of this meal was… the alcohol. Thus, we had a few more beverages to satisfy our tastebuds and be jolly.
Rise and Shine, It's Breakfast Time!
For most of the flight, we didn't get much sleep. Yet, Paul did nod off for an hour or so… for our 27 hour journey! And, as we were coming close to Kuala Lumpur… it was time for "breakfast."
Now, after the uninteresting main meal many hours ago… we were hoping that this would be better. So, as the waft of food was filling the cabin… the staff were turning the lights on in preparation for meal service.
Then, not long after those pleasant aromas were drifting through the plane… here is the Turkish Airlines economy class meal we were given for our "breakfast"…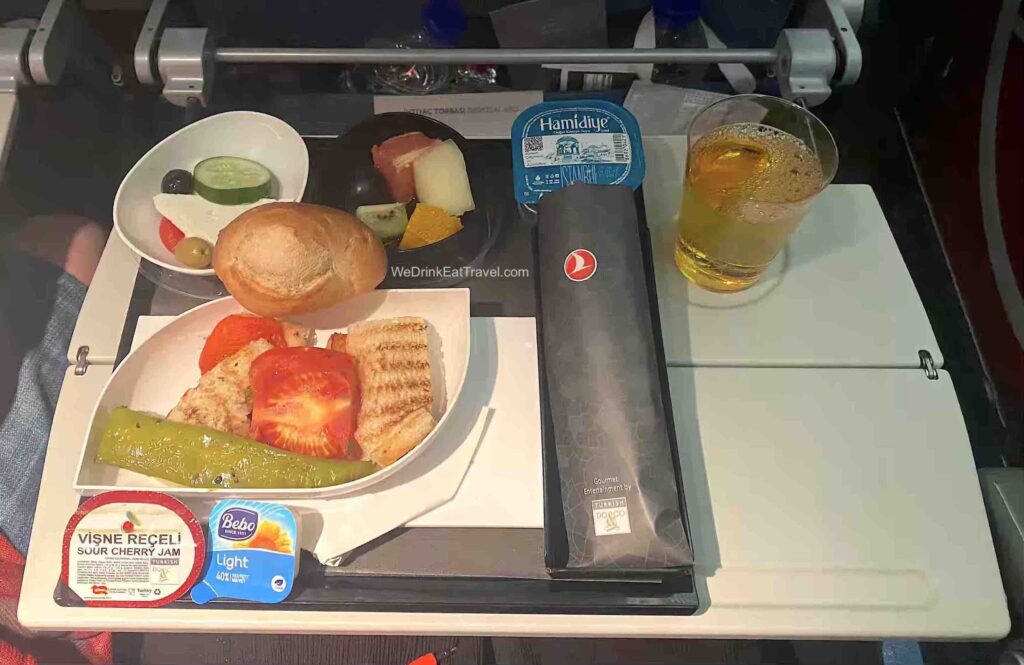 YAWN! If Paul has fallen asleep… he normally wants me to wake him up when the meals come round. And, after shaking his shoulders to wake up… I instantly knew that Paul was not ecstatic. He took one glance at the meal, and went back to sleep! Not worth the effort of waking up for.
Now, can you guess what the best part of this meal was for us? If you look back at the photo… it was that tiny wedge of cheese. If we could've had a plate full of that cheese, then we would've been on cloud 9.
Having flown Turkish Airlines several times… we have to say that overall their meals have been appealing. Yet, on this flight, it was underwhelming. Did the regular chef have a day off?
After this dismal food experience… we must show you what we got on our earlier flight from Bucharest to Istanbul, with Turkish Airlines. And, keep in mind that the flight time was only about one hour.
We thought that we'd be getting a snack like some crackers or nuts. No way, it was a proper light meal, with alcohol…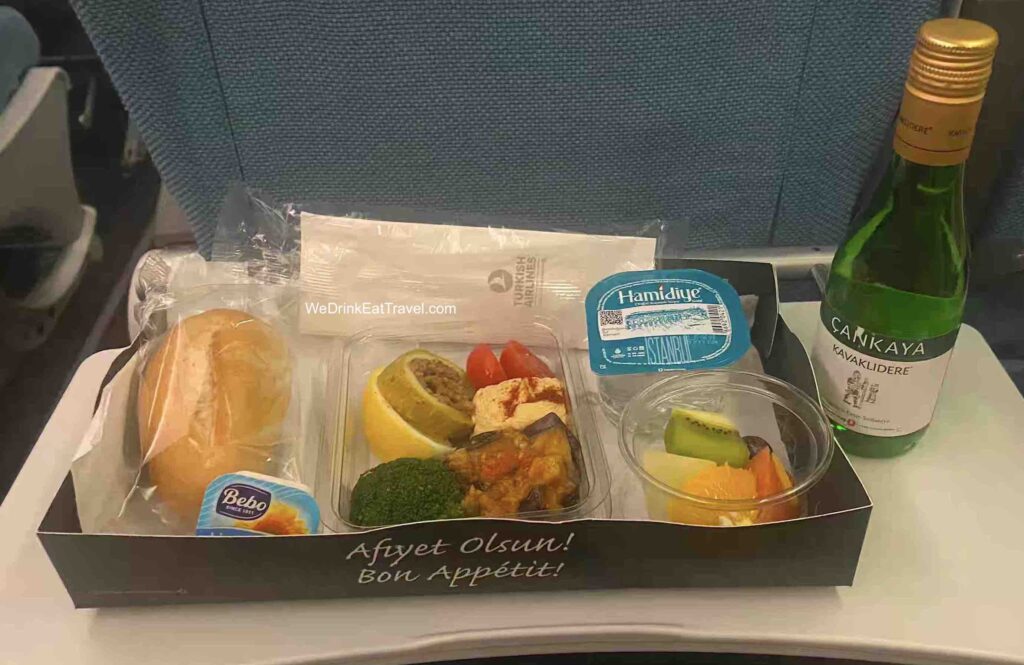 Not only did that astonish the heck out of us… the flavors in the meal were so damn delicious. It was tastier than some of the food in restaurants we've been to! Every mouthful was gourmet.
Our Turkish Airlines Review Summary
Our experience on the Turkish Airlines Economy Class flight from Istanbul to Kuala Lumpur… was OK, but not outstanding. The huge let down was the food. And, we had flown this airline before where the food was delicious and flavorsome. Yet, on this flight, it was underwhelming.
In saying that, the alcohol they were serving was great!
Although the seat configuration was largely in a 3-3-3 format… we were so glad to have snatched up the 2 seaters towards the back of the plane. And, for economy class it was relatively comfy.
Plus, it was a surprise to receive an amenity kit… especially by the Italian designer brand, Mandarina Duck. Sounds posh for economy class… ha ha ha!
While the food was lacking in quality… the overall service from staff was largely attentive and positive. So, thumbs up there.
Plus, while some of the flights we've been on were uncomfortably hot… on this journey the air conditioning was working well. What's more, each time when going to the toilets they were clean. Thank goodness! And, in general the overall cleanliness was excellent.
Now, the BIG question is… would we fly Turkish Airlines in the future?
YES. And, it would be interesting to experience their business class… with their award-winning meals. We'll let you know when that happens!
So, keep checking in and enjoying the journey with us… as we drink, eat and travel around the world. Remember, if you prefer to watch videos of our experiences… head on over to our YouTube Channel.
ENJOY!
You Might Be Interested In This Too…
Discover The Best Website To Book Flights And Hotels
27 Of The Best Things To Do In Bucharest
10 Free Things To Do In Hue Vietnam
How To Go To Platinum Fashion Mall Bangkok By BTS
25 Of The Best Things To Do In Kotor Montenegro
30 Awesome Free Things To Do In Prague, Czech Republic
25 Amazing Things To Do In Dubrovnik Old Town
15 Interesting & Surprising Things To Do In Sarajevo Now
Check Out 15 Amazing Things To Do In Budva, Montenegro