With so many interesting things to do in Mostar… we had to share some of the top things we did with you. We did spend a lot of time in Sarajevo during the Spring time. And, we wanted to take advantage of this beautiful weather to do some other sightseeing… before Winter hit.
Mostar is about 130km south-west of the Old Town of Sarajevo. And, this quaint town… is one of the landmarks in Bosnia and Herzegovina, that's on the UNESCO World Heritage list.
Mostar had multiple rulerships, with the Ottomans in the 15th and 16th centuries. Then in the late 1800's, it was under Austro-Hungarian rule… until after World War I when it saw its demise. And later, it was to become part of Yugoslavia.
Thus, similar to Sarajevo there is a mix of cultures and religions… making Mostar an interesting place to visit in Bosnia and Herzegovina.
So, in this travel blog, we'll share with you 12 amazing things to do in Mostar. Now, let's start with the most popular and significant landmark…
12 Things To Do In Mostar, Sarajevo…
Old Bridge (Stari Most)
Mostar is home to the UNESCO site of the Old Bridge (Stari Most). This bridge was a new addition to the UNESCO World Heritage Listings in 2005.
The Old Bridge of Mostar was originally built, predominantly using wood. Yet, in the mid 1500's under Ottoman rule… Stari Most went under re-construction to transform into a stone bridge. For many years it was a significant landmark.
Yet, during the time of the Bosnian war in 1993, destruction of the bridge had taken place. All was not lost, though. As Stari Most underwent a major refurbishment… to have it built as close to its original appearance.
So, while we did have a rough self-guided walking tour of Mostar planned out… our first stop was to see the Old Bridge, even though it was in the middle of our travel itinerary! So, we did have to backtrack a little.
Yet, the great thing is, as we got there before 9:30am… there weren't many people on Stari Most. So, we could see the beauty of the Old Bridge of Mostar from many vantage points… without hoards of people!
Clock Tower (Sahat Kula)
To see the old-world Sahat Kula, Mostar Clock Tower… take a stroll down the cute walkway of Bajatova.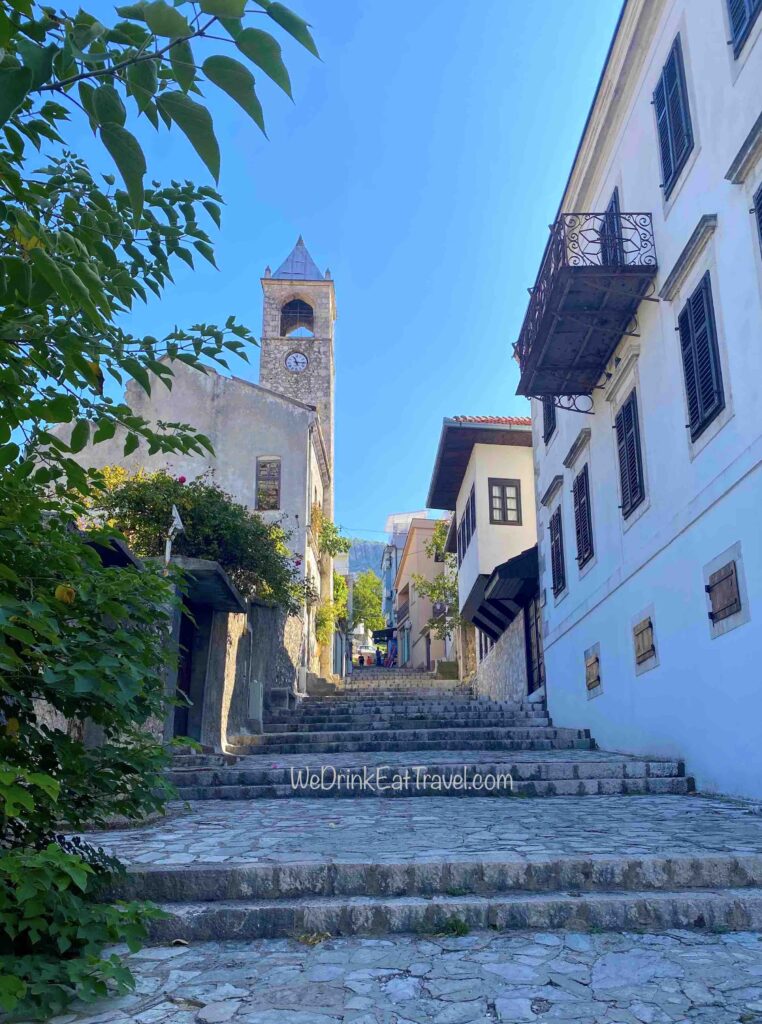 This clock tower that was built in the 1600's, stands at around 16 metres high (about 52 feet). It's said that at the time, Fatima Kaduna Saric, had the clock tower built on higher ground… so that it could be seen from different parts of the town.
The old clock was in use until 1926. Yet, this was another landmark that was damaged, and had gone under re-construction. And, when you get close to the clock tower… you can still see the bullet holes from the war.
Crooked Bridge (Kriva ćuprija)
The Crooked Bridge crossing over the Radobolja River is like a small version of the Stari Most. In fact, it was built before the construction of Stari Most. And, some say that it was a pilot project… with the intention to build a bigger version of the bridge, which would be Stari Most.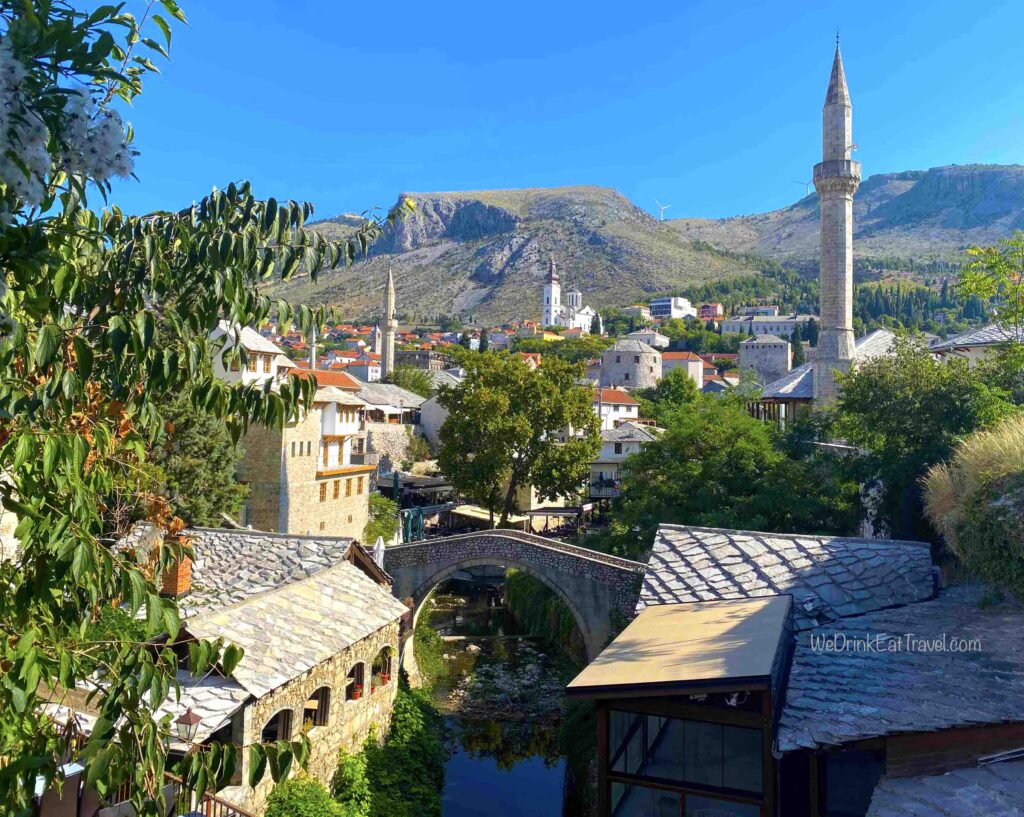 As with both of those bridges, they have a semi-circular structure, arch and made of stone. While the Crooked Bridge may appear as grandiose as the Old Bridge of Mostar… it sure is still quaint with its cobblestone paving. Now, speaking of cobblestones…
Wander Down the Cute Alleyways of Mostar
There's something about cute cobblestone streets that makes us want to get lost amongst them! And, in the Old Town of Mostar there are many to choose from. They're lined with restaurants, cafes, sweet shops, souvenirs, and more. So, there's lots to look at when you stroll around.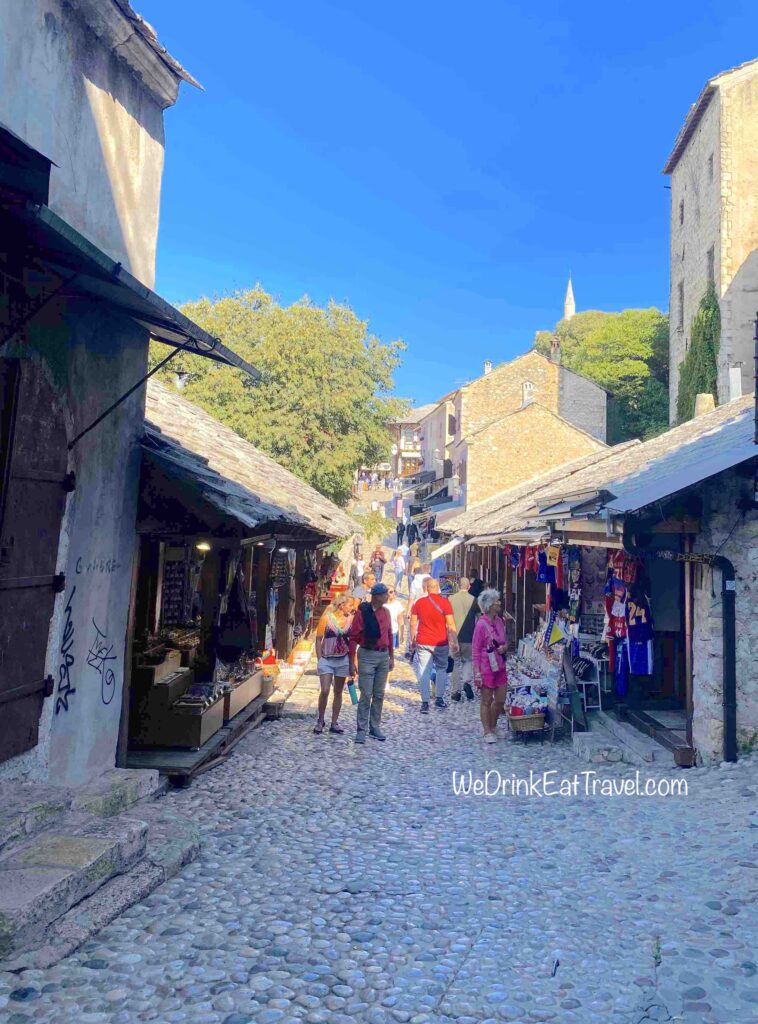 Make sure you walk with care though, as we did see some people slip and fall over. The slippery cobblestone suckers!
Koski-Mehmed Pasha's Mosque
If you want to see one of the biggest mosques in Herzegovina… then have a look at the Koski-Mehmed Pasha's Mosque. Built in the early 1600's, this grand mosque sits on the cliffs by the banks of the Neretva River.
When you're standing on the Stari Most, you can clearly see the mosque. The tall, prominent minaret… and the dome stand out amongst the greenery and buildings surrounding it.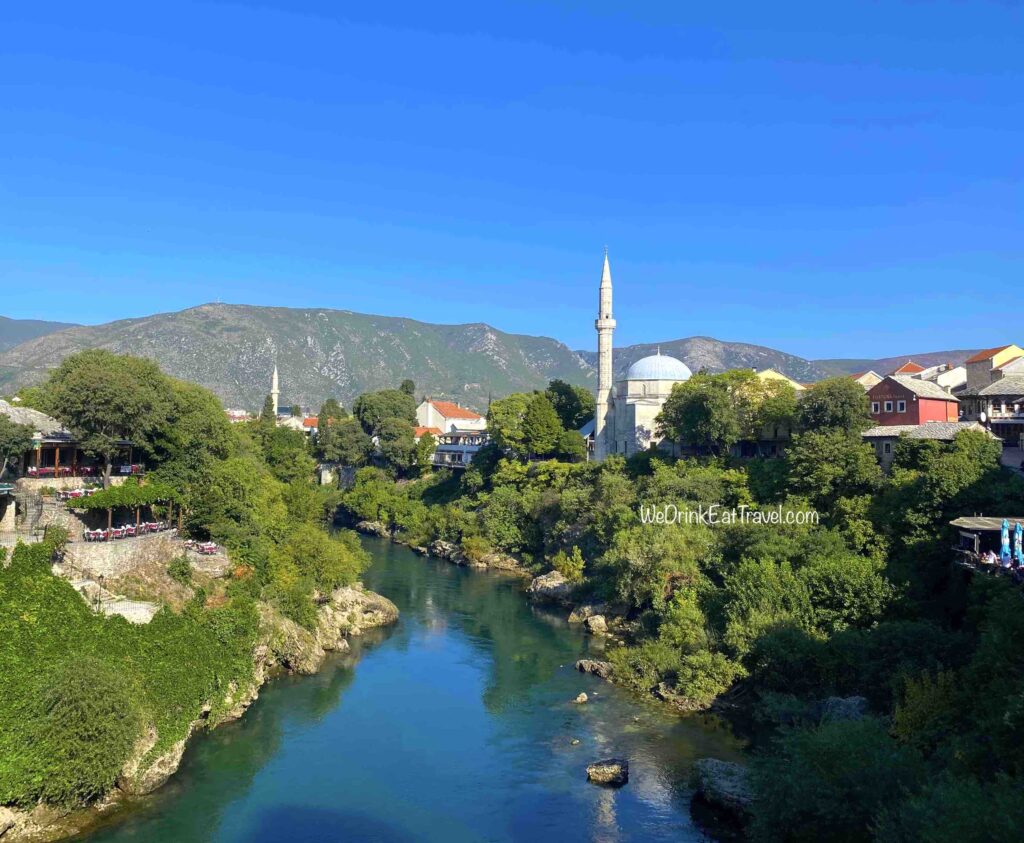 Mostar Peace Bell Tower
When we were looking up this landmark online, it was a little confusing to say the least. Because in the location of where the Mostar Peace Bell Tower is… there were several other buildings stated as being there.
For example, it said that Church of St. Peter & St. Paul was there. Yet, the old bell tower of this Church used to be there, but was destroyed during the war.
So, in its place the Francisan Church and the Mostar Peace Bell Tower was built.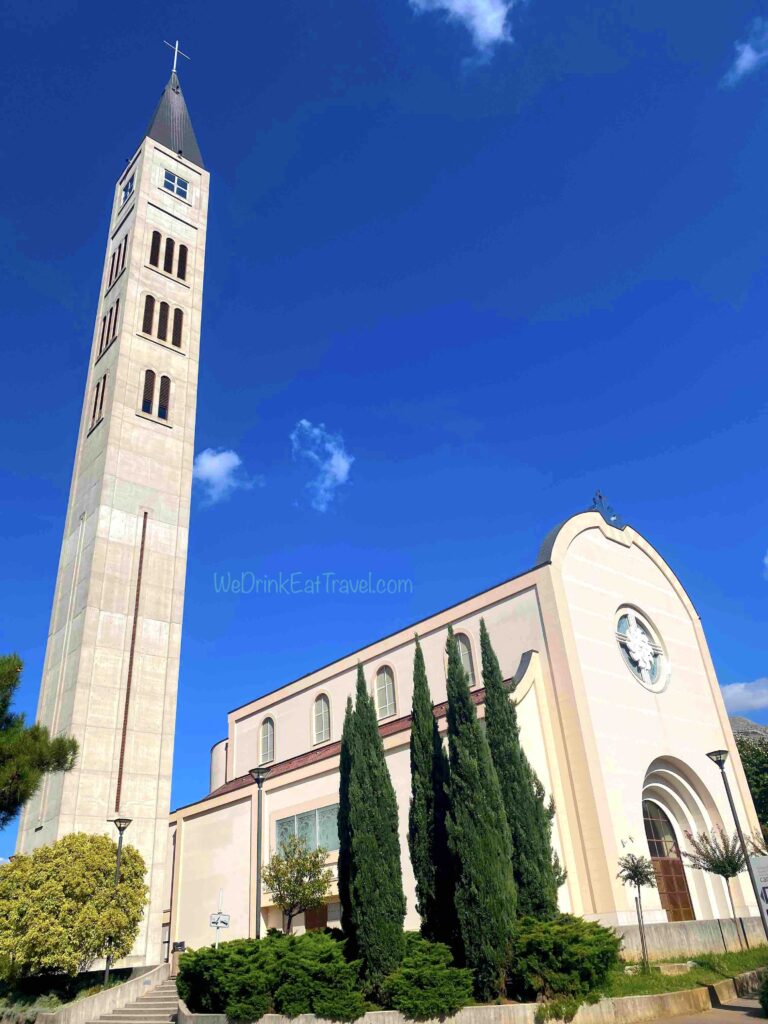 The Bell Tower is said to be the largest building in Mostar, at a height of about 80 meters. As it's about 1km outside of the main Mostar Old Town area, we were the only tourists there.
We heard that you can go to the top of the Mostar Peace Bell Tower. Yet, when we were there, it didn't appear to be open. Or, maybe we went during break time!
Witness the Remains of Buildings from the Bosnian War
During the Bosnian War in the late 1990's, there were numerous atrocities. And, Mostar was a town that had suffered significantly as a result.
And, when walking around the town of Mostar… there are still many buildings standing showing the harrowing aftermath.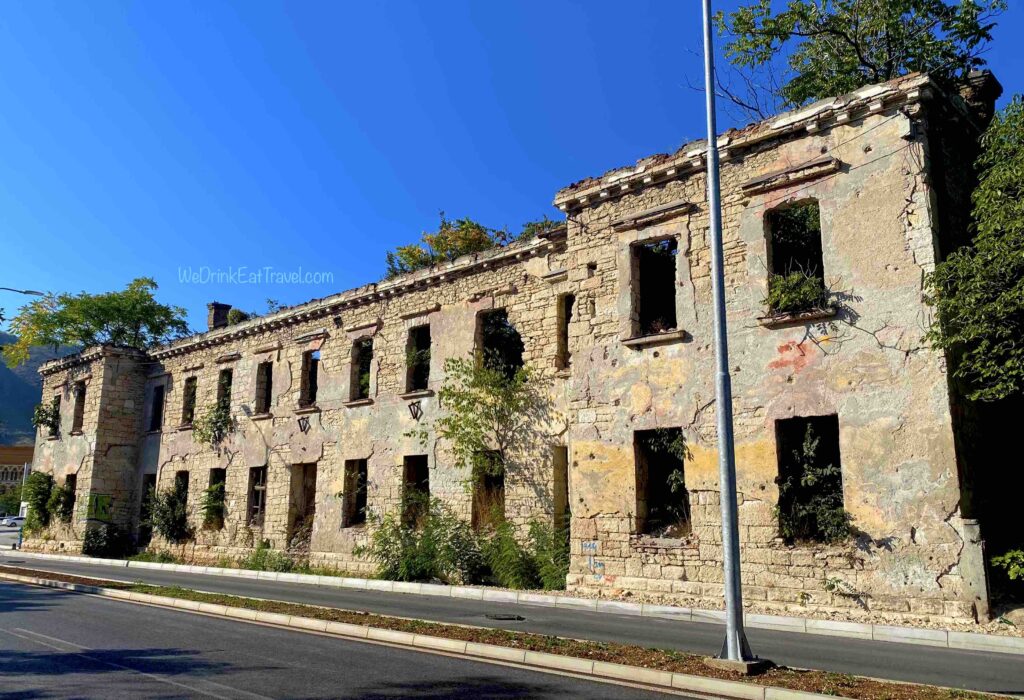 It's surreal and in some ways eerie… because when you think about it, in the scheme of things it wasn't that long ago that the War took place.
Cathedral of the Holy Trinity / Pravoslavna Crkva Svete Trojice
The Cathedral of the Holy Trinity is a Serbian Orthodox Church, that was built from the 1860's. Unfortunately, like many landmarks in Mostar… this Church was destroyed in the Bosnian War.
Yet, there was a positive note, with the reconstruction of the Holy Trinity Cathedral. A Bosniak, a Croat, and a Serb came together… to anonymously help donate money for part of its redevelopment.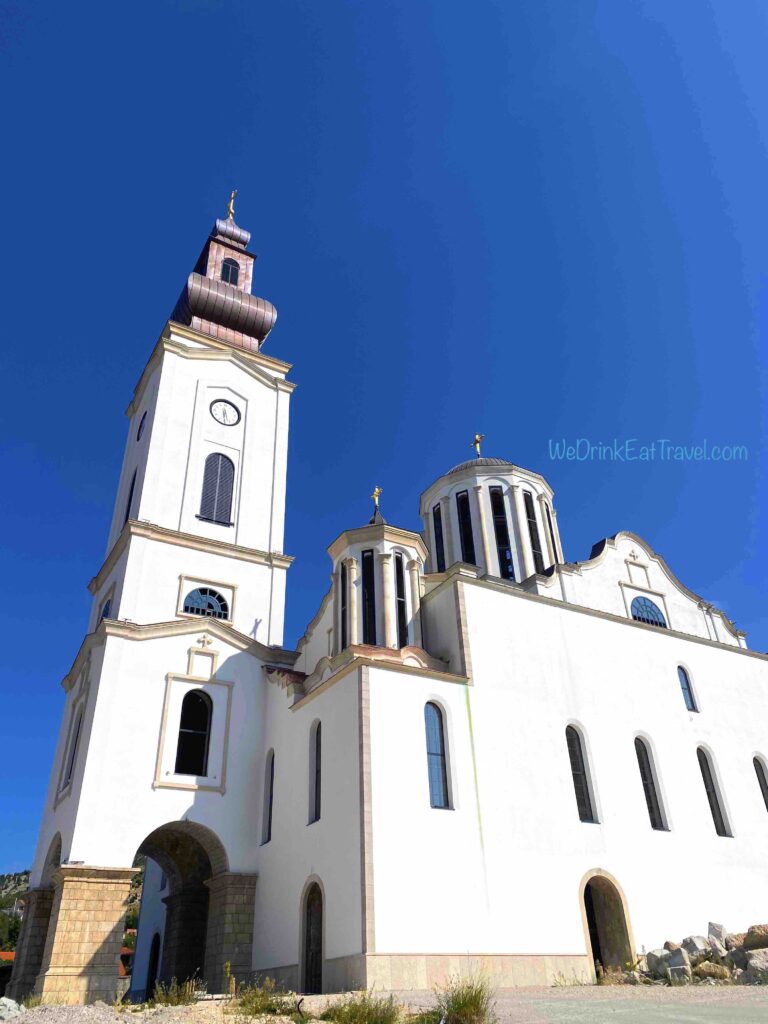 When we went to look at the Church, it was still under reconstruction… with rubble and materials surrounding parts of Cathedral. We just cut out most of the rubble from the photo for you!
Relax with Some Drinks and Food
When spending a day trip from Sarajevo to Mostar, we had to re-fuel to get more energy to walk around. Because, when we go sightseeing we can walk HEAPS. Yep, sometimes we walk for more than 10km (over 6 miles) on our sightseeing trips!
So, needless to say we stop to have a drink or two, and a bite to eat. Now, there are plenty of places to eat and drink in Mostar. It really depends on what atmosphere you want. For example, you can enjoy the view of the Mostar Old Bridge.
Or, you can get amongst the hustle and bustle, in the Old Town and watch the world go by…
We did both!
Yet, in the Old Town a stones throw away from Stari Most… we recommend you check out Caffe Stari Grad.
We quenched our thirst with ice cold beers at 2 Euros (about USD $2.30) for a pint. The staff were friendly and attentive… and it was great to rest our feet as we people-watched, and enjoyed the bustling atmosphere.
Of course, we had to try a burek or two on our trip to Mostar!
And, we tried some cheese bureks, which were 2 Bosnian Mark each (about 1 Euro / USD $1.20). Unfortunately, nowhere near as tasty as the burkes at our favourite bakery in Sarajevo… Pekara Edin!
Park Zrinjevac
Zrinjevac. This park is the biggest in Mostar, covering an area of about 3 hectares… and named after the noble Zrinski Croatian family.
Park Zrinjevac had undergone revitalization in 2007… so locals and tourists alike can enjoy the park to relax, and have fun. Now, there's one monument in the park that most people wouldn't expect…
This Bruce Lee monument was random, especially in a small town such as Mostar.
Yet, this life size statue of Bruce Lee was unveiled in Park Zrinjevac in November of 2005. And, it's said that his monument is to represent the union and peace of the Croats and Bosniaks… where war and diversity had previously dominated.
Now, while you're in Park Zrinjevac, here's a landmark that stands out…
Spanish Square
The Spanish Square is the biggest of its type in Mostar. It was built in 1995… in commemoration of the Spanish soldiers who lost their lives during the Bosnia War.
There are several key buildings and landmarks in, and surrounding the Spanish Square… including Mostar City Hall, Park Zrinjevac, as well as this prominent building…
This building which was founded in the late 1800's, is actually a high school in Mostar… otherwise known as a gymnasium. Quite elaborate for a high school building, right?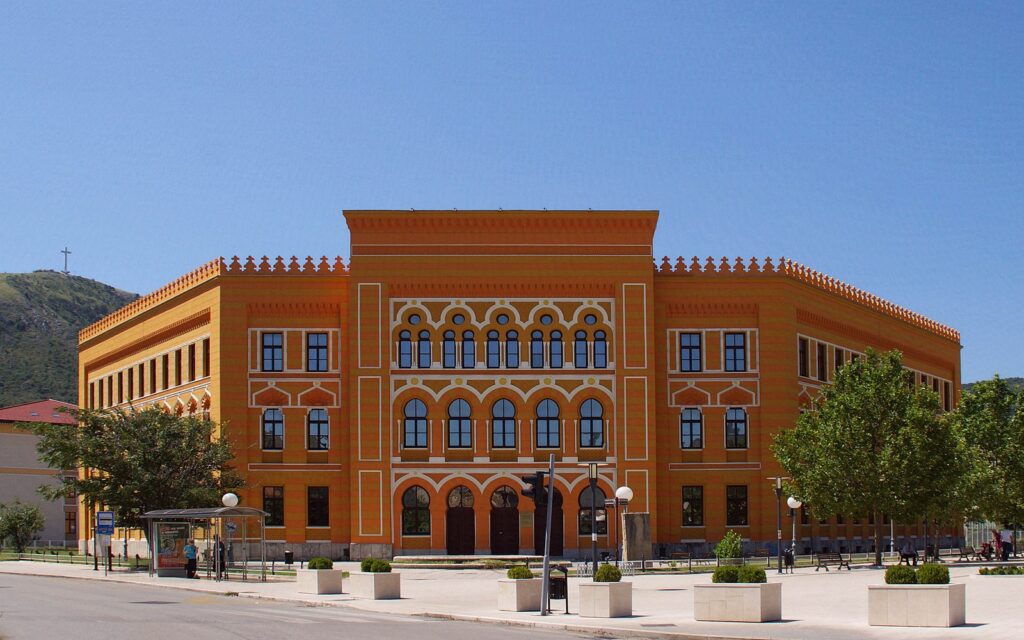 And last, but not least on our 12 amazing things to do in Mostar is this…
Get a Bird's Eye View Over Mostar
Now, we were wanting to get a different view of Mostar. And, having walked for several kilometres out of the centre of Mostar… we were walking on a main motorway by the name of IV Boyne.
There were cars screaming past, with not much space between us and them! Plus, it was a little daunting when buses were ploughing through. And, as we had to leave enough time to get back to the bus station to get back to Sarajevo… we pulled the pin at this point.
And, while we were here, we took some pics of Mostar including this one…
Of course, we don't recommend that you roam motorways, let alone busy ones!
How to Get to Mostar From Sarajevo
When we were looking at options of how to get to Mostar from Sarajevo… we narrowed it down to taking the train. We bought our tickets online at the www.zfbh.ba The website has an English translation button, which was helpful.

The website is easy to navigate, and the process of purchasing tickets was simple. Plus, what was surprising is that when we made contact with them via email… we actually got a helpful response!
We've had several occasions when we've made contact with companies via email, even hotels… and, we either get a lacklustre answer, or NO response at all!
So, after doing a little research, we also chose to buy train tickets for the first class carriage. The difference between the first and second class tickets was only 7.90 Bosnian Mark (about 4 Euros / USD $4.60).
So, for 1 adult return train ticket on first class from Sarajevo to Mostar… the price was 27.30 Bosnian Mark (about 14 Euros / USD $15.85).
When we had a look at the times there were only 2 options from Sarajevo… one in the morning and one late afternoon. So, for a day trip to Mostar from Sarajevo, we had to make the most of our time… thus, we bought tickets for the 7:15am train leaving Sarajevo.
Just so you know, you can't pre-select seats. Thus, if you have a preference for seats make sure you get there early, especially in second class. The second class carriages were full, and some people were pushy. 
The First Class Train from Sarajevo to Mostar
For us, first class was quiet, comfy, and we had no-one seated with us.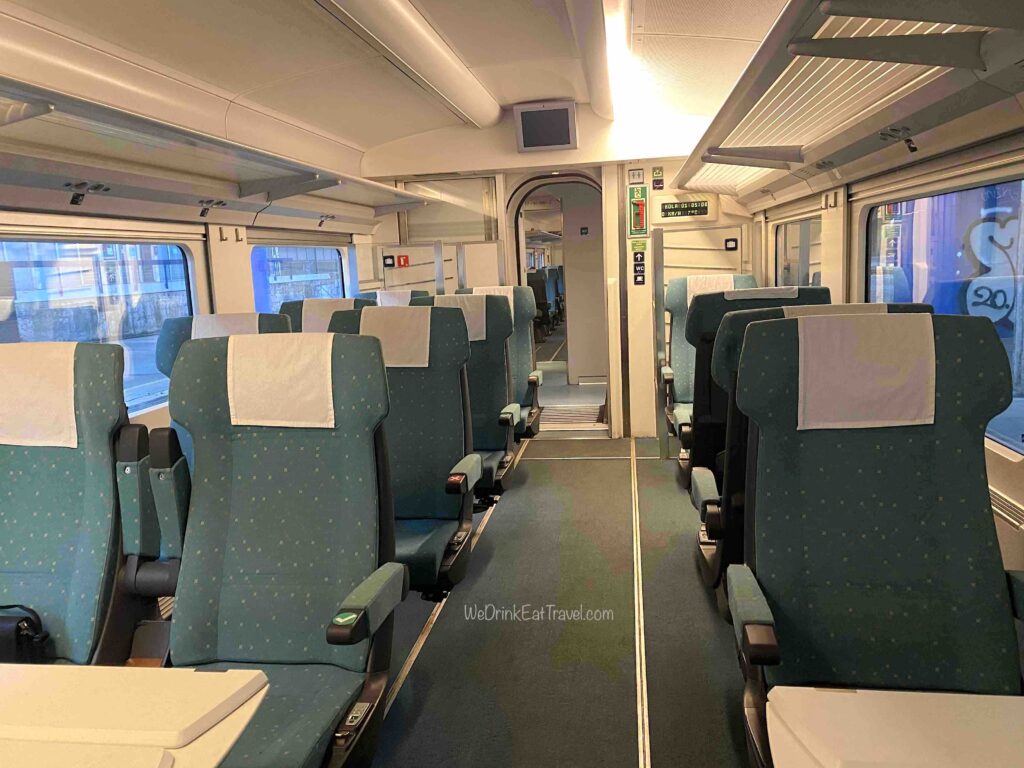 So, the trip took about 2 hours. And, there are some lovely views along the journey. Yet, the only downside is that on our trip the windows were dirty… so we couldn't get clear and great pics of the scenery.
For the return journey from Mostar to Sarajevo, there were 2 departures… one in the early morning and one in the evening. We of course chose the one that was to depart at 5:09pm.
Yet, when it was about 10 minutes out from the departure time… there was an announcement in Bosnian language, that the train would be about 40 minutes late. So, as there were a few shops nearby… we bought some beers and sat on the platform drinking, while we were waiting!
TRAVEL TIP:
When you're at Sarajevo station, there is a window/desk for online bookings. Yes, you will need to push past other people in line to get to that window. Yet, it does cut out lengthy waiting time. Make sure you have the confirmation email and ID to show staff.
So, there you have it… 12 amazing things to do in Mostar.
Mostar is a quaint, small town listed on the UNESCO World Heritage List. The Old Bridge is definitely the highlight. The clear turquoise waters of the River Neretva, contrasts against the stone bridge… especially on a bright sunny day.
There are many things to do in Mostar, depending on if you want a jam-packed day out… or to relax and take your time.
From getting lost amongst the cobblestone streets, to having a long lunch, to seeing historical landmarks… through to witnessing the remnants of a war-torn town… Mostar has a lot to offer.
Plus, it is an easy day trip from Sarajevo to Mostar, when you're staying in the capital of BiH.
So, if you have the opportunity… we recommend putting on your itinerary a trip to beautiful Mostar.
Watch the We Drink Eat Travel Youtube video about Mostar, Sarajevo…
Like This? Share it and comment on it!
Note: All of our reviews and comments are our opinions and no-one else's. Even if we receive complimentary goods or services we share our opinions honestly.
You Might Be Interested In This Too…
How To Get FREE Accommodation While Travelling
15 Interesting & Surprising Things To Do In Sarajevo Now
13 Interesting Places To See In Podgorica Today
Here Are 7 Remarkable Things To Do In Berat Albania
7 Free Things To Do In Bangkok
10 Places To Visit In Gozo Malta For Breathtaking Views
7 Top Reasons Why You Should Visit Bansko Bulgaria
Discover Some Interesting Things About Albanian Food You Need To Know
10 Picturesque Churches To See In Vienna Austria
How To Make Your Time In Tirana Albania Fun And Memorable
Shop Until You Drop In Ratchada, Near Thailand Cultural Center MRT
10 Popular Drinks & Food In Skopje To Make You Happy
Spotlight On Albanian Drinks And The Best Bars In Tirana
10 Awesome & Surprising Things To Do In Skopje Now