If you're an Aussie and wondering where to watch the AFL in Bangkok then keep reading! We understand that some of you die-hard fans… can get grisly if you can't watch a match, especially when you're on holidays.
Plus, what can make things more challenging… is when you're in a country where no-one gives a damn about AFL!
It can get tiresome when you go from bar to pub to restaurant… asking, or even pleading if they show the AFL. And, asking to watch it live can be a big deal too.
It seems that no-one understands how awesome this game is… except for the Aussies, and a handful of others who aren't Australian!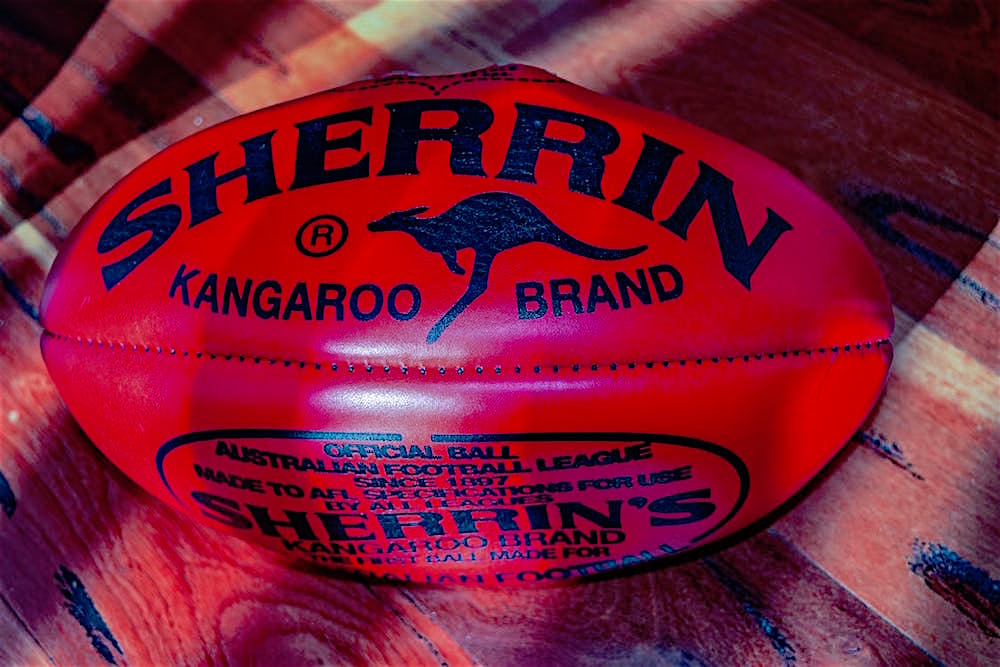 Now, thank goodness that when you're in Bangkok Thailand… there are some places that'll show AFL matches and they'll be live.
So, for you Aussie Rules fanatics, here's where to watch the AFL in Bangkok Thailand.
The Down Under Bar & Grill
Usually when we write about a list of places to go or visit or see… we sometimes leave the best until last. Yet, as we know you're eager to find out… we're kicking off with what we believe is the best place, to see the AFL in Bangkok.
As you can imagine, with a place calling itself "The Down Under Bar & Grill"… there's a high chance it'll show the AFL. And, yep, this is a sure fire place to get your hit of footy.
To give you some background, on one of our trips to Bangkok … we were staying outside of the touristy area, so that we could explore a different environment. And, that area was in Huai Khwang. So, we were hoping that there'd be somewhere close by. Yet, from what we found, NOPE, no AFL.
So, plan B was to take the public transport into the bustling tourist area of Sukhumvit.
Down an Alleyway…
Now, the main reason why many people may miss going to The Down Under Bar… is that it's towards the back end of an alley. Plus, there aren't any promotional signs on Sukhumvit Road… or none that we could see anyway, to showcase this bar.
Yet, as you wander down Sukhumvit 7/1 Alley… you can't miss it. As there's plenty of Aussie paraphernalia. And, once you step inside… you'll have some friendly ladies welcoming you in.
Then, of course, you need to have the mandatory beer, which they serve cold! And, if beer isn't your thing, then there are plenty of other drinks.
Plus, they have LONG happy hours that last until 7pm. So, a small local beer in a bottle of 330ml during happy hour… is only 80 baht (about AUD $3.50). Now, that's cheap, and an outstanding price for the tourist area of Sukhumvit. And, if you want a decent meal or snacks… they can help you with that too.
And, they even have stubby holders with the AFL teams. Yet, sadly for us… we were unable to get our stubby holders of choice, with our teams. So, you can imagine how tragic it was, drinking our beers from stubby holders of opposing teams!
Now, more than likely there will be other Aussies there too. So, prepare yourself for some friendly rivalry, which is all part of the fun!
So, in case you're wondering… The Down Under Bar does show other live sports apart from AFL. Be sure to ask the staff… as they are very helpful and accommodating where they can be.
And, on another note, they do have resident kitty cats!
Options for Getting to The Down Under Bar & Grill 
Now, The Down Under Bar & Grill is on Sukhumvit 7/1 Alley. And for us to get there from where we were… we took the MRT from Huai Khwang to Sukhumvit.
Then, we made the decision to walk from the Sukhumvit MRT station to the bar. So, that's about 1.2km, and it took us around 10 minutes to get there. 
Yet, if you want to reduce the walking time, you could get a Grab or tuk tuk. Otherwise, the Sukhumvit MRT stop is an interchange station.
So, in this instance it means that you could transfer to the BTS lines. And, in particular the BTS station you would walk to is Asok. Then, from there it's only 1 stop to Nana BTS… and then a stroll of around 200 metres.
So, there is a key reason why we would walk from the Sukhumvit MRT. And, that's because we would have to walk to Asok BTS, then normally wait in a line to buy the train ticket. After that, we'd have to get up to the train platform… then wait for the train, go one stop to Nana, and walk to the bar.
Thus, after all that we could've been at The Down Under Bar & Grill by then… and enjoying ice cold beers!
Alternatives for Where to Watch the AFL in Bangkok
Now, if you want to watch the footy in the heart of the major tourist of Sukhumvit… head on over to Nana Soi 4. And here, there are some bars that will show the AFL live.
Even so, here's something strange that we found. There may be bars promoting that they have live screening of AFL matches. Yet, after going inside the bar… we couldn't see any screens broadcasting the footy. And instead, it might have soccer or even snooker showing… but no AFL.
Then, when we would ask the staff where the AFL is… they would shrug their shoulders and say, "Sorry." Or, they would look at you with a blank face. Why promote the matches if you aren't going to show them? ARGH, very tragic!
Now, be aware that with some places, even though they may show the game… you may have to watch the match with loud music, blaring in the background.
So, if you want to be able to hear the commentary, as well as be on vibrant Soi 4… then we recommend you go to Fitzgerald's Irish Pub.
Fitzgerald's Irish Pub – A Great Alternative for Where to Watch the AFL in Bangkok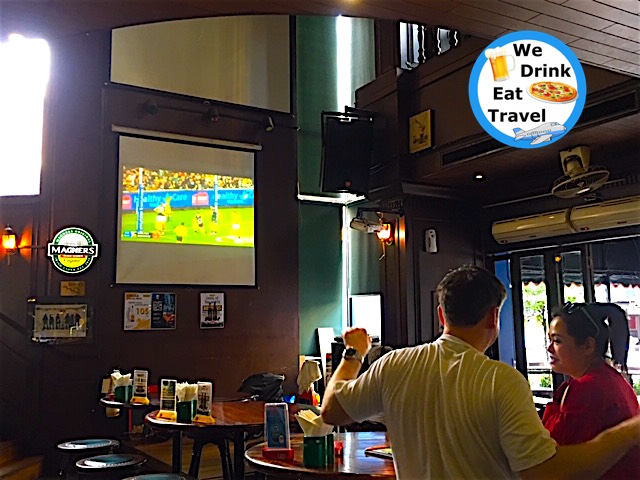 Now, who would've thought that an Irish Pub would be our saviour… in looking for a place to watch the AFL live, on Sukhumvit Soi 4. Yes, it is an Irish Pub, yet it has a great variety of live sports that they televise.
And, these live sports include… cricket, snooker, UFC, boxing, English Premier League and more. Thus, if you're a sports fanatic, you'll be in heaven at Fitzgerald's.
So, unlike The Down Under Bar, the awesome thing is it has air-conditioning. Thus, if you've been out and about in the steaming hot Bangkok weather… it's a top place to cool down, while chilling out watching the footy.
And, at Fitzgerald's, they also have happy hour! Who doesn't love happy hours? Plus, if you want a hearty meal or snacks, they can whip those up for you too.
Now, the staff here are very accommodating and want to ensure that you have a good time. For example, they'll turn off the music and turn up the volume for the TVs… so that you can hear the commentary.
So, we have to tell you a funny story… with a time when we went to Fitzgerald's, to watch an AFL match. And, it was funny at one stage, because before the final quarter was about to start… a George Michael song came booming over the speakers!
And, we weren't sure what was going on…
Then one of staff saw that the fourth quarter was already in play. And, the look on her face was priceless!
So, she was scurrying to hastily turn the music off. Then, she then came over to us apologising… and soon enough the volume for TVs was blaring. So, without even prompting any of the staff, they would provide great service – thumbs up!
Now You Know It – Where to Watch the AFL in Bangkok Thailand
There you have it, our top place of where to watch the AFL in Bangkok… which is The Down Under Bar & Grill. And, some of the things that we thought was great about this place… was all the awesome Aussie paraphernalia.
Plus, the service was exceptional, the beers were cold, and they had great happy hours… especially considering they're in the popular Sukhumvit tourist area.
And, if you're getting those stomach grumbles and pangs, they can whip up some food or snacks… while you're chilling out watching the AFL game, over a beer or two or more!
Now, an alternative to The Down Under Bar if you want to be in the heart of bustling Soi 4… is Fitzgerald's Irish Pub. And, yes, while it's an Irish Pub, it not only shows live AFL matches… but a great variety of other sports too including cricket, boxing, and English Premier League.
Yet, regardless of which of these venues you choose… you can rest assured that you can watch your team live, in action in Bangkok.
Now, dare we say which teams we support? Maybe that can be for another time!
Enjoy your time watching the AFL in Bangkok!
You Might Be Interested In This Too..
15 Of The Best Things To Do In Siem Reap
Chatuchak Weekend Market: 7 Top Things You Need To Know
How To Get To Chatuchak Market In 2 Ways
How To Go To Platinum Fashion Mall Bangkok By BTS
What You Need To Know About The Bangkok Canal Boat On Saen Saep
Bars In Danang – 7 Of The Best Places
VAT Refund Bangkok: How To Get Money Back On Your Shopping
Is Kuala Lumpur Worth Visiting? 15 Interesting Things To Know
27 Of The Best Things To Do In Bucharest
Thai Airways Review: From Melbourne Australia To Bangkok
Thailand Food – Being Vegetarian In Thailand
Need Accommodation?
Find Your Perfect Vacation Accommodation
Want Cheap Flight Deals?
Looking For The Latest Flight Deals? Click HERE
Get Real Cashback From Your Vacation!
Discover How You Can Get Cashback From Your Vacation Bookings