If we were to ask you where else would you visit in Czech Republic outside of Prague… we'd say that most likely you wouldn't be saying Brno. Even though Brno is the second largest city in Czechia… many tourists often overlook visiting this town.
When looking at photos and comparing it to other places… yes, Brno may not appear as quaint or breathtaking. Yet, if you look beyond that and dare to go explore this city… you'll find that there is a lot to see and do in Brno.
Plus, it's easy to get to Brno from Prague, even if you want to do a day trip.
We found it to be a surprising place to visit in the Czech Republic. And, it has a laidback ambiance, where it's so easy to immerse in that relaxing zone.
So, keep on reading… as you'll discover some interesting and top things to do in Brno, Czech Republic.
Freedom Square
Freedom Square is one of the most important and popular areas in the town centre of Brno… of which its history is said to date back to the 13th Century. There are many historic buildings, shops, restaurants and attractions… that are in Freedom Square. And, when you come here in Summer, there'll be plenty of different festivals and events held here… making it one of the most vibrant places to be in Brno.
So, there are several of Brno attractions that are within this famous square… that you should check out.
The Plague Column Monument
This Baroque-style feature was built in the late 1600's, as a reminder of the plagues that wreaked havoc in Brno. At the base it depicts a tomb, with 4 saints standing atop of it. And, in the centre of the monument is a column, with the Virgin Mary. It stands out on its own, yet when the sun shines on it… the gold elements stand out and glisten.
Brno Astronomical Clock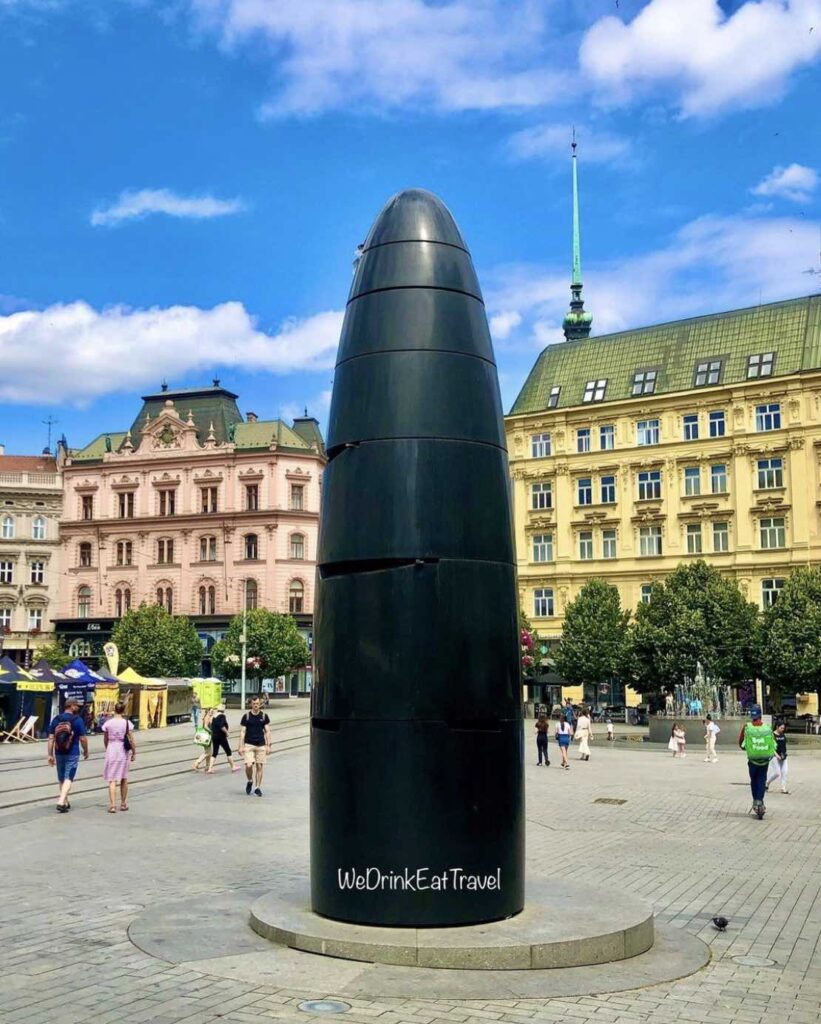 Yes, what you see is a clock! This black granite clock in the shape of a bullet, amongst other things… is said to be controversial amongst the locals. It was built in memory of the end of the Thirty Years' War. And, at 11am every day… marbles will fall out of this clock that you can keep. Interesting and different? Yes!
Brno Old Town Hall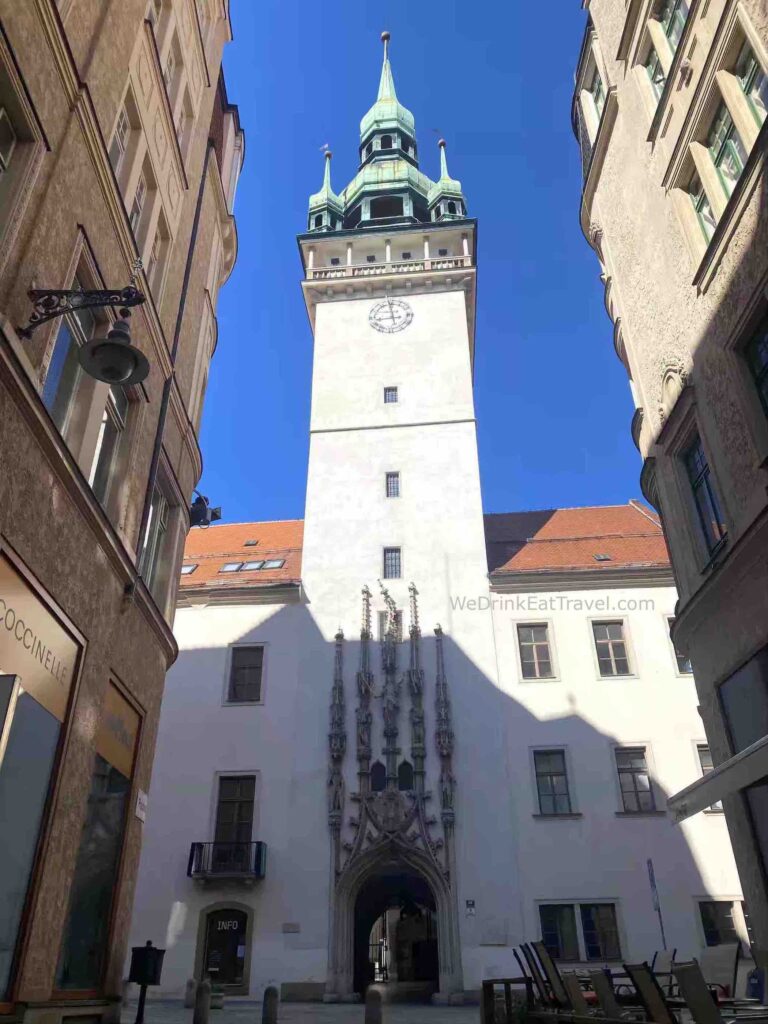 Now, one of the top things to do in Brno is to visit the Old Town Hall. Nowadays, this it houses exhibitions, events and various performances. Yet, one of the things we recommend that you do… is to walk up the stairs of the >60m tower to the top.
Whilst you'll need to pay the entrance fee of 90 Koruna (about 3.70 Euros / USD $3.80 / GBP 3.20)… we believe it's worth it, as you'll see some amazing views over the city.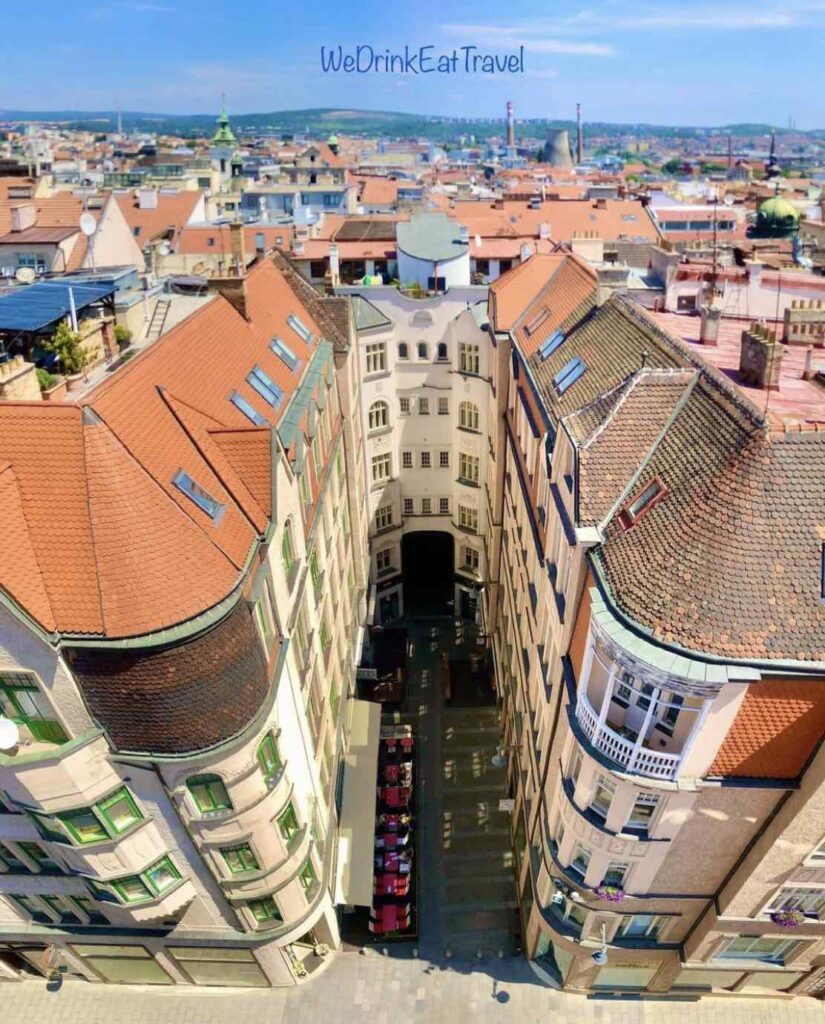 Masarykova Street
One of the most busy and prominent pedestrian streets in Brno is Masarykova Street. And, while it is a busy thoroughfare with plenty of shops and eateries lining it… back in the 12th Century it was a bustling area too, for trade relations.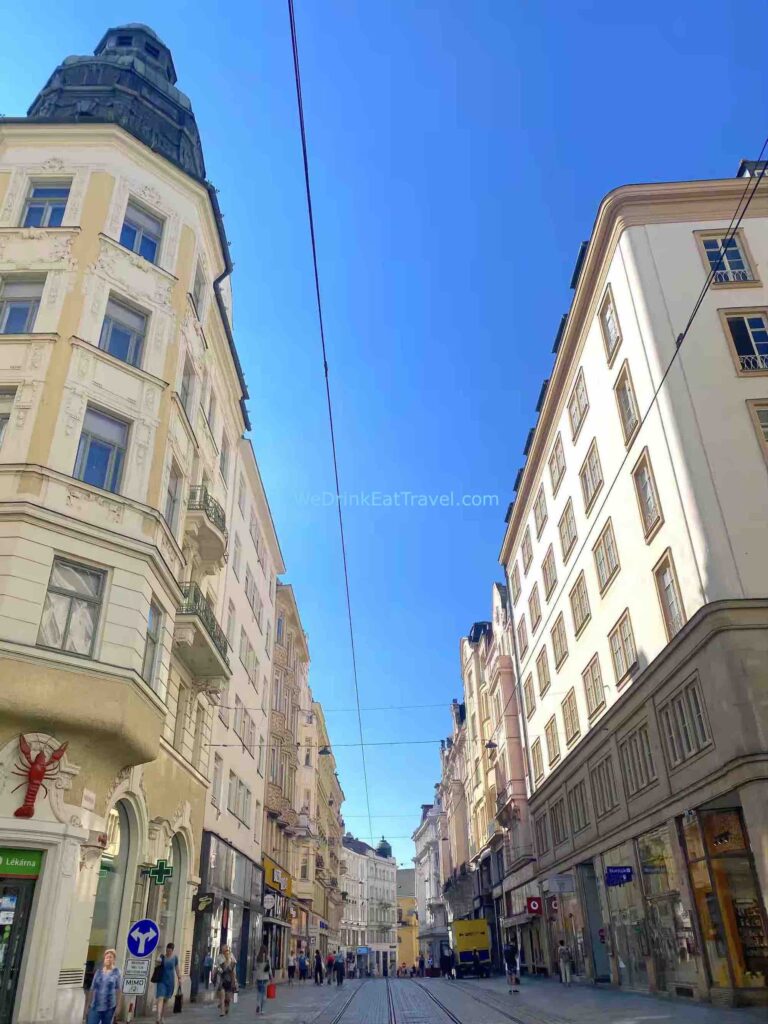 Yet, did you know that this street was actually re-named to Victory Road in the mid-1950's? Even so, nowadays the many of the locals still call it Masarykova… which got its name in honor of the first Czech president, Tomáš Garrigue Masaryk.
Now, another street you should check out is this one…
Minoritská Street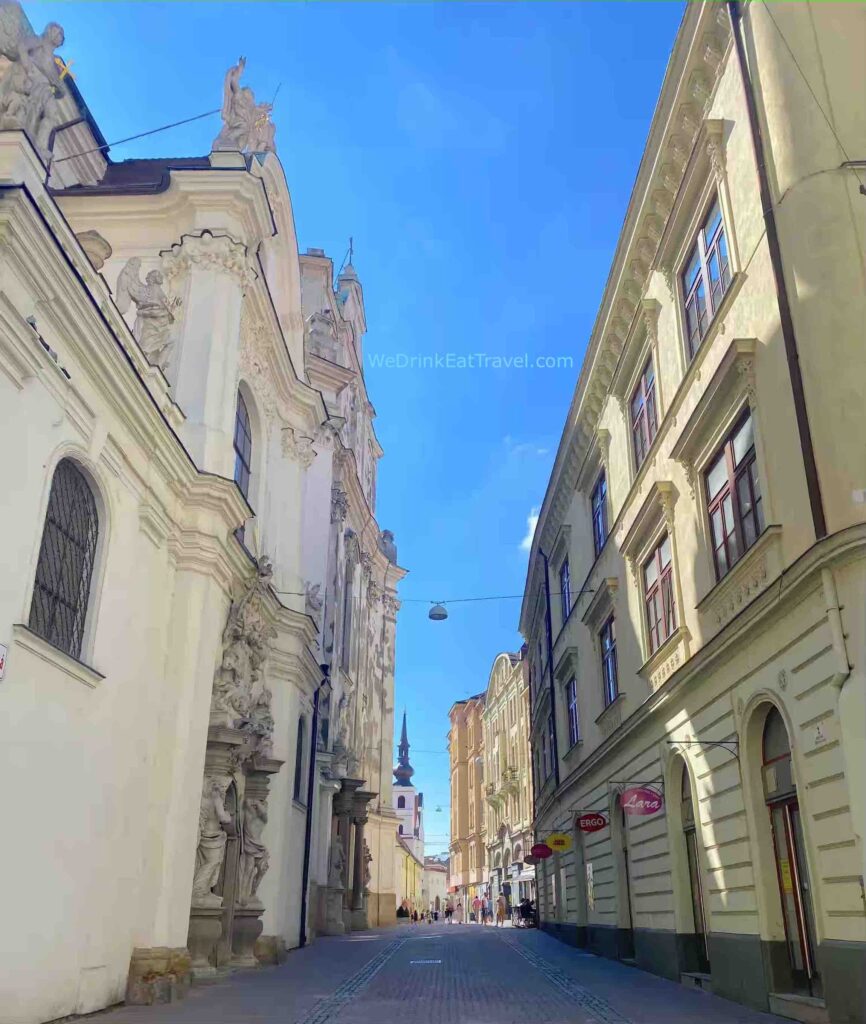 This pedestrian walking street is much quieter than Masarykova Street… yet, it does have some interesting landmarks to see. While you stroll down this street, there are many shops and eateries that you can check out. There are also many tall, colorful buildings lining the street.
Plus, one of the notable landmarks on Minoritská Street… is the Church of Saint Johns and Loreto Chapel. When looking at it from the outside… it has commanding and distinct features, feeling as though it's teasing you to come inside. And, once we did, the detail and luxury was mind-blowing.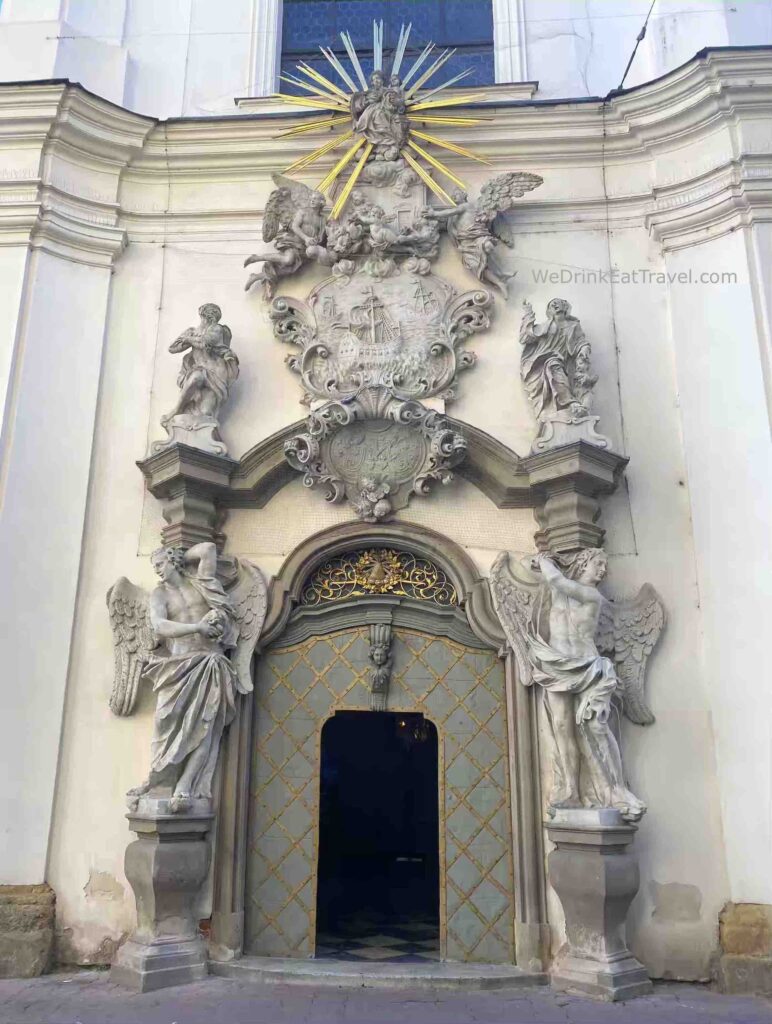 Cathedral of Saints Peter and Paul
When we were staying in the Courtyard Marriott Brno Hotel… one of the closest landmarks to our accommodation was the Cathedral of Saints Peter and Paul. This gothic-style cathedral sure does stand out in the town of Brno… sitting high on a hill that's made of rock, which is said to be over 700 million years old!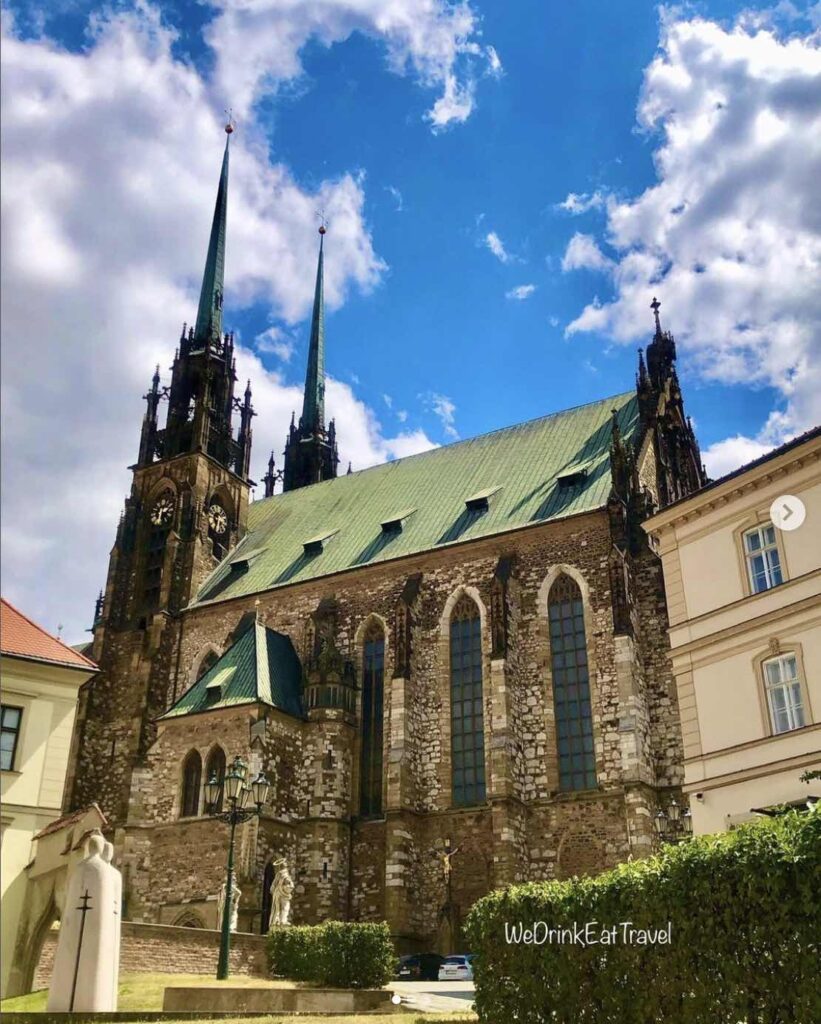 Denis Gardens
If you're looking for a place to chill out amongst some greenery… then head on over to Denis Gardens. The garden area is large and spacious, where you can take a seat to relax. Plus, you'll notice a big obelisk structure put up in the 1800's… in memory of the end of the Napoleonic Wars.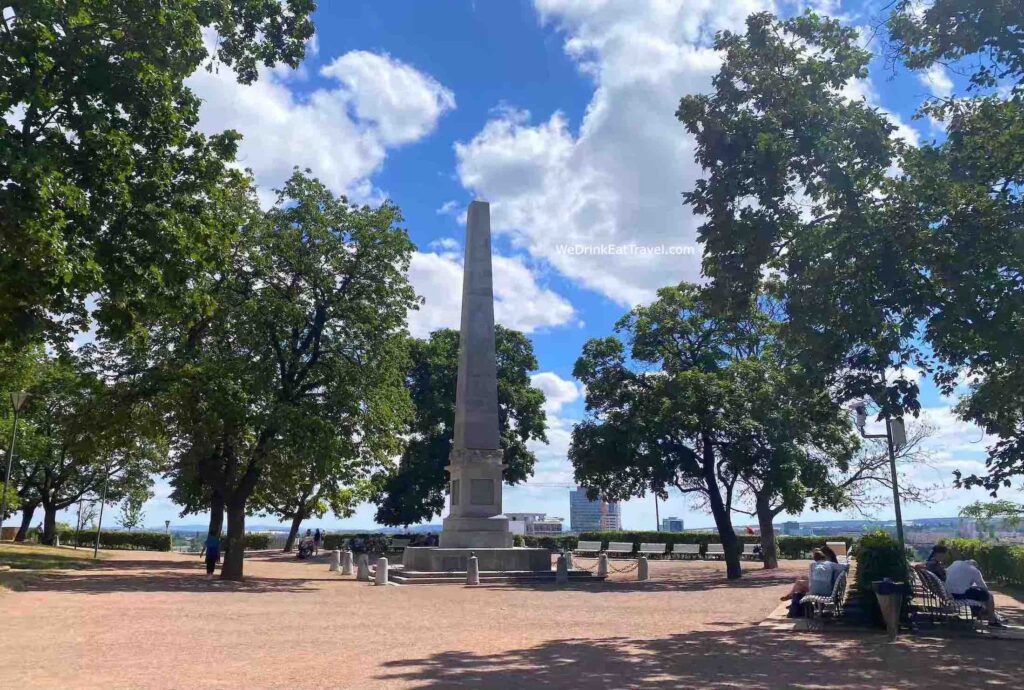 When you head to the edge of the terrace… you can witness some different views over Brno.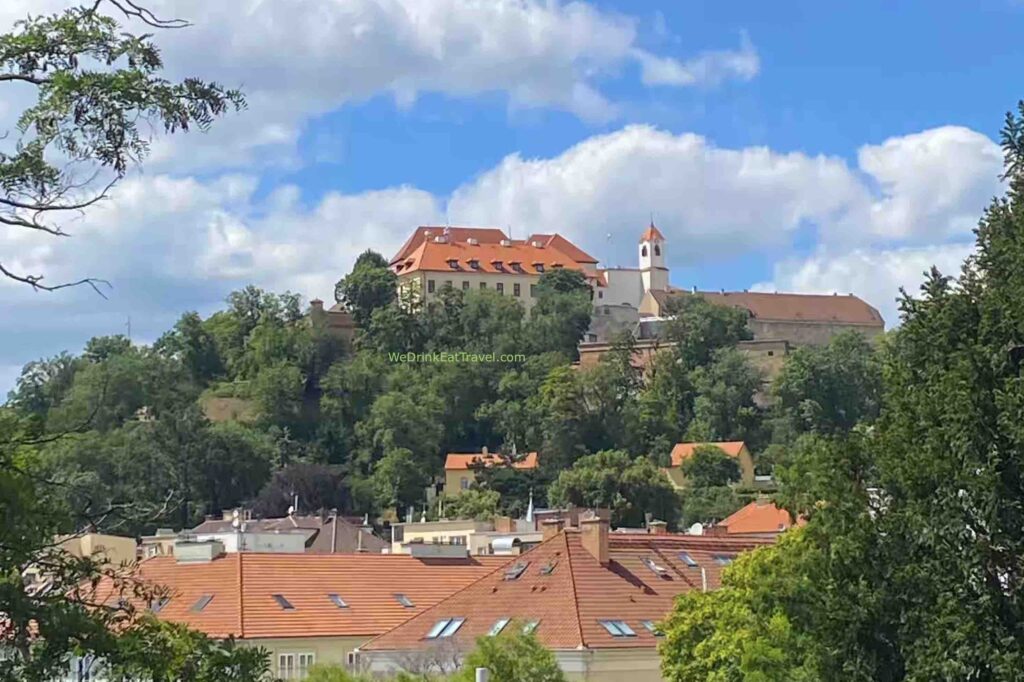 Moravian Square
On the northern edge of Brno town centre is another square… which is one of the largest in Brno. And, this is the Moravian Square. Even so, to us there were hardly any tourists here in comparison to other parts of Brno. This square is divided into different sections. Yet, if you're looking for some interesting things to see in Brno… check out these notable landmarks in the southern part of Moravian Square…
The Statue of the Knight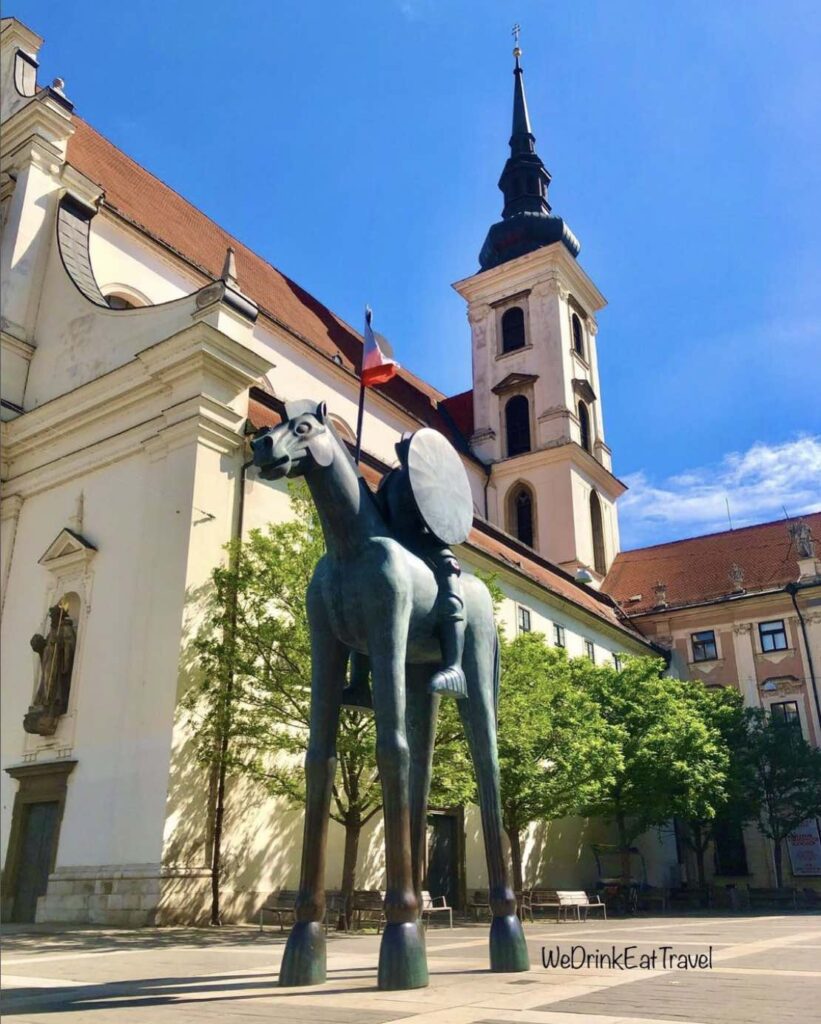 One of the defining features in Moravian Square is the Statue of the Knight. The horse part of the statue has unusually disproportionate long legs… in comparison to the rest of its body. And, the knight looks like a dwarf in comparison to the horse. Yet, if you really want to see a dwarf-like feature… then stand in between the legs of the horse and get someone to take a photo of you!
Now, when looking opposite this, there's another statue which looks quirky…
The Statue of Justice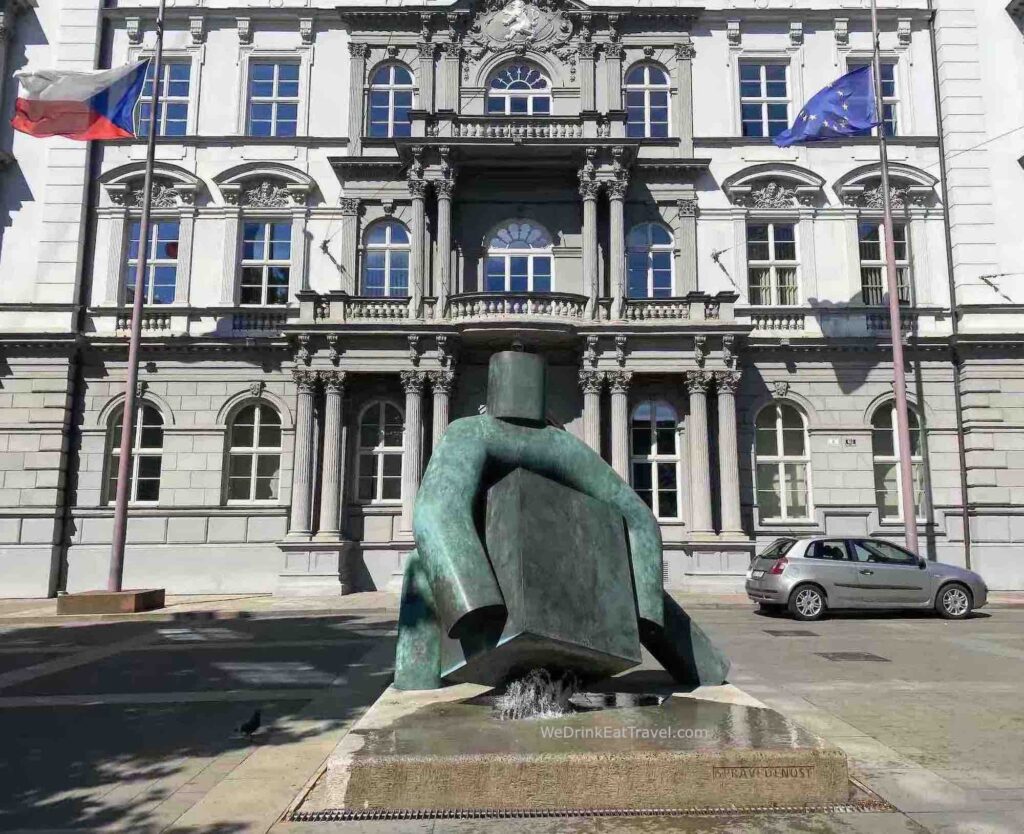 This interesting statue put in front of the Supreme Administrative Court in 2010… is said to signify justice. It's said that the sculptor, Marius Kotrba, was trying to depict that justice is a strong principle. Yet, justice is not always upheld.
Thus, the statue is trying to lift a heavy block, and the flow of the water beneath it… is sometimes strong, or sometimes weak. So, justice sometimes prevails and other times… the powers that be take justice into their hands to control it. Speak with locals about it… and you may get different views of what the Statue of Justice is all about!
Church of St Thomas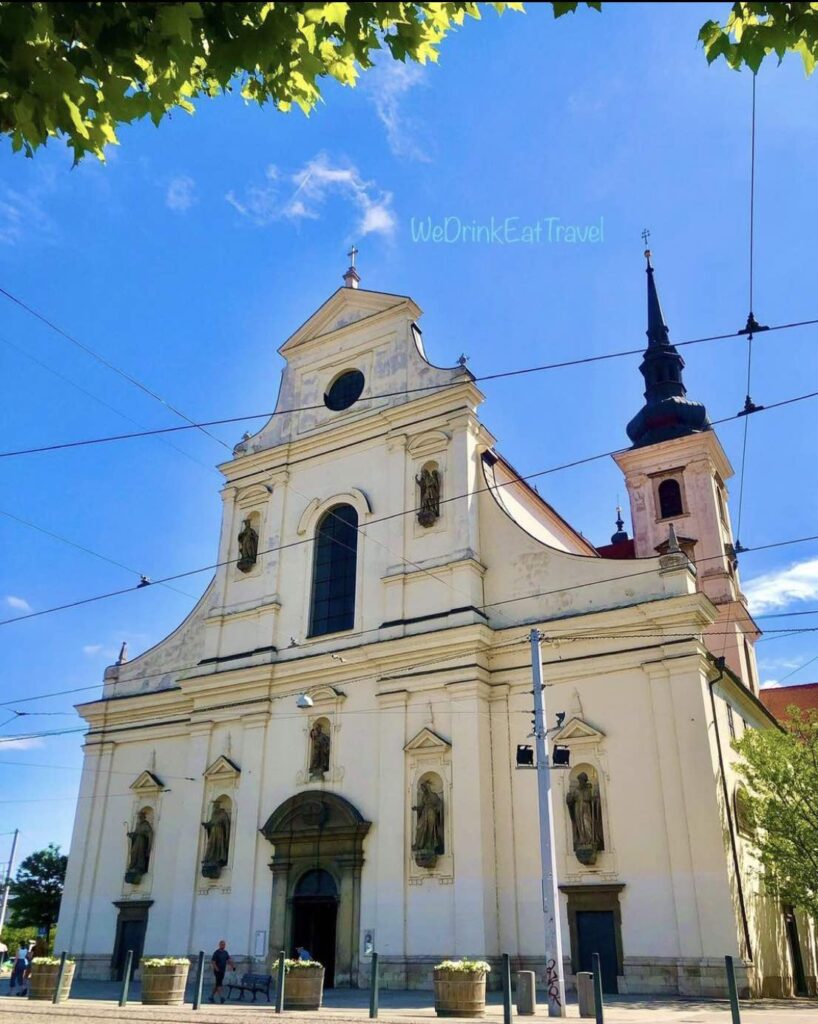 This Catholic church dates back to the 14th Century… when it was first built for the Augustinian Monastery. Yet, the site of where this church stands, and the building itself… underwent a lot of destruction over centuries. Talk about bad luck! Even so, architect Jan Křtitel Erna, gave "life" to the Church of St Thomas in the 17th Century… with the Baroque-style that you see today.
Governor's Palace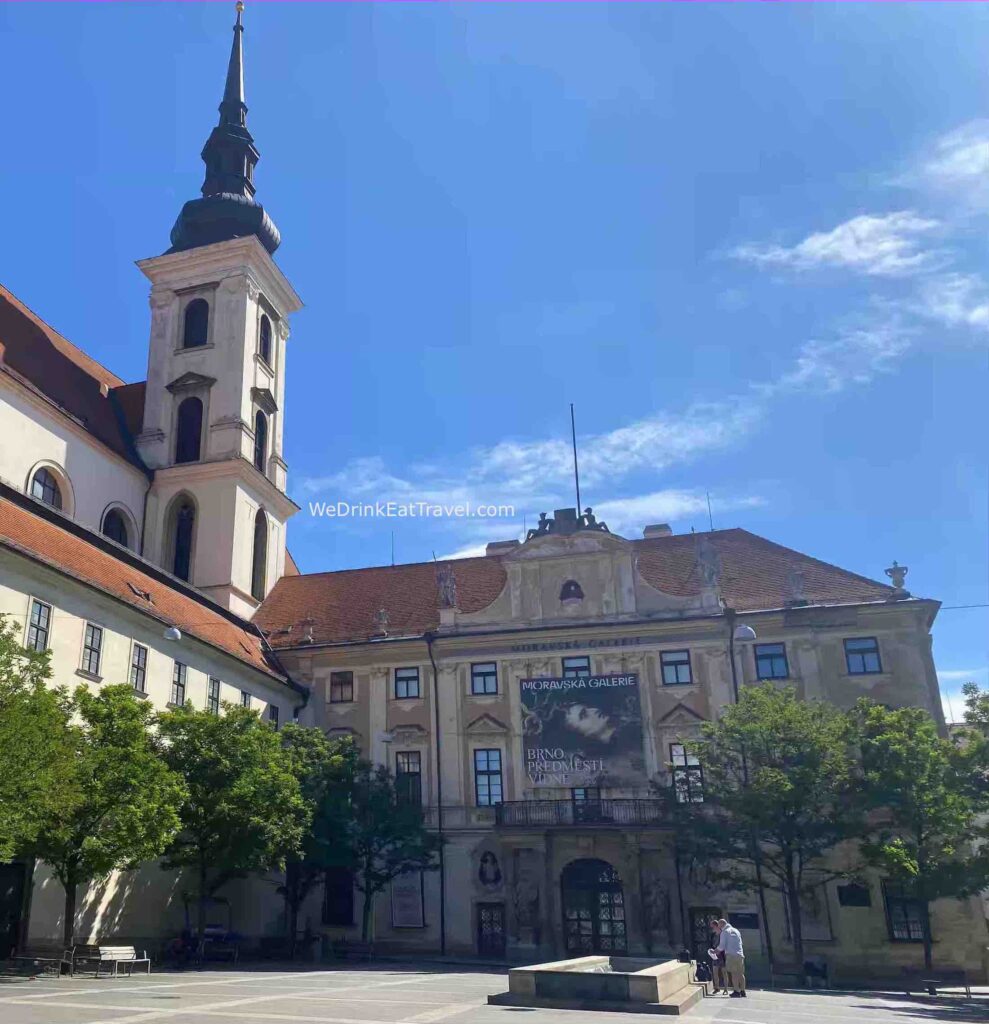 The Governor's Palace is this Baroque-style building… that sits alongside the Church of St Thomas. While it's history dates back to the 14th Century as a former monastery… nowadays this building is home to the Moravian Gallery. And here, there are over 200,000 artwork pieces that feature within its collection. And, during the year the are other various seasonal exhibitions held here too.
Now, one of the top things to do in Brno for locals and tourists is this…
Vegetable Market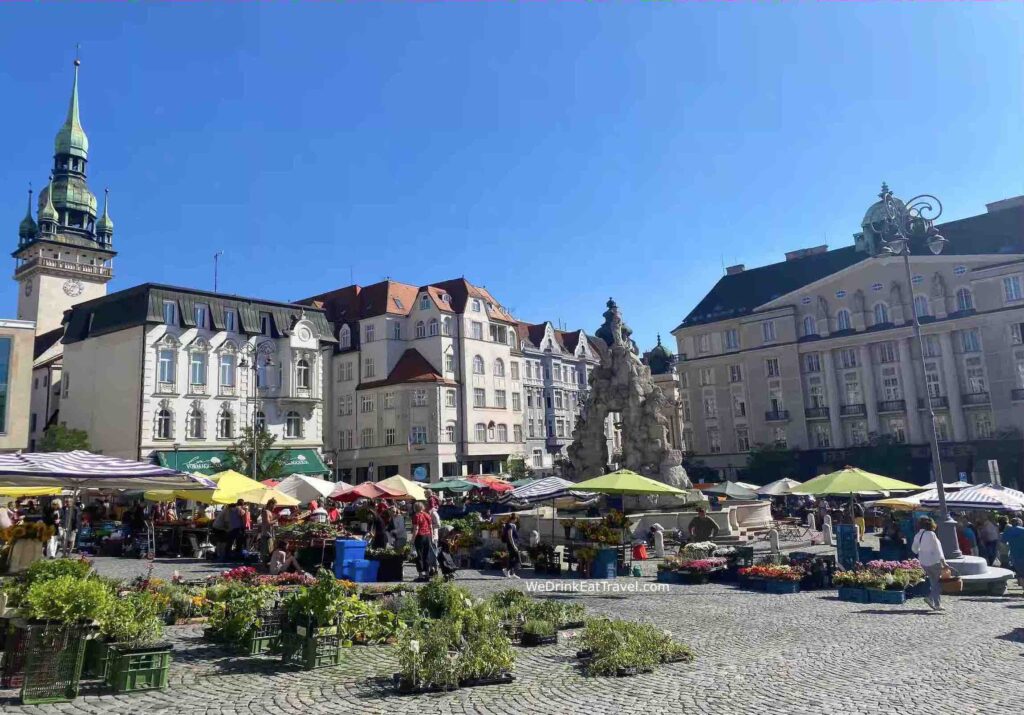 The Vegetable Market has a long history dating back to the 13th Century. And, not only that, the Square where the Vegetable Market is in… is said to be one of the oldest in the Czech Republic. You may also hear that it's known the Cabbage Market… which is what many of the locals call it.
Now, when you get there it's a vibrant and colorful display of fresh fruit and veggies… as well as other items, such as homemade pastries.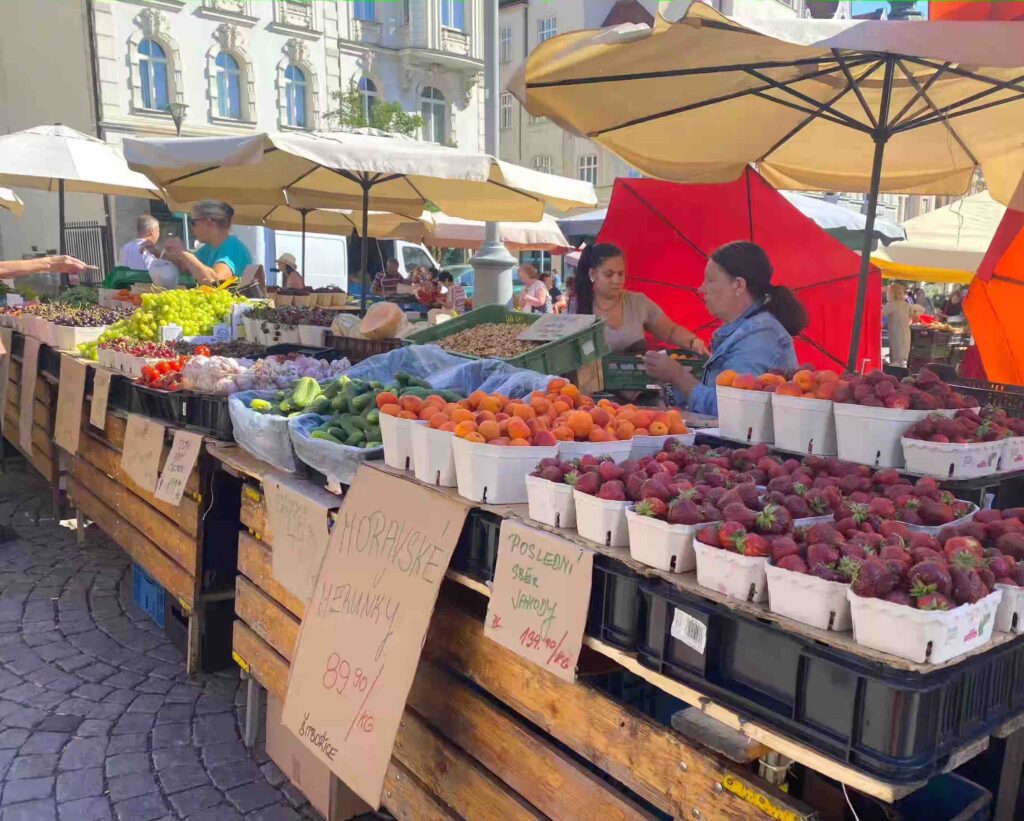 Plus, when you're taking a look or buying up at the market, make sure you wander around the square… as there's lots more Brno attractions you can check out. And, one landmark you cannot miss unless you have your eyes aren't open, is this…
Parnas Fountain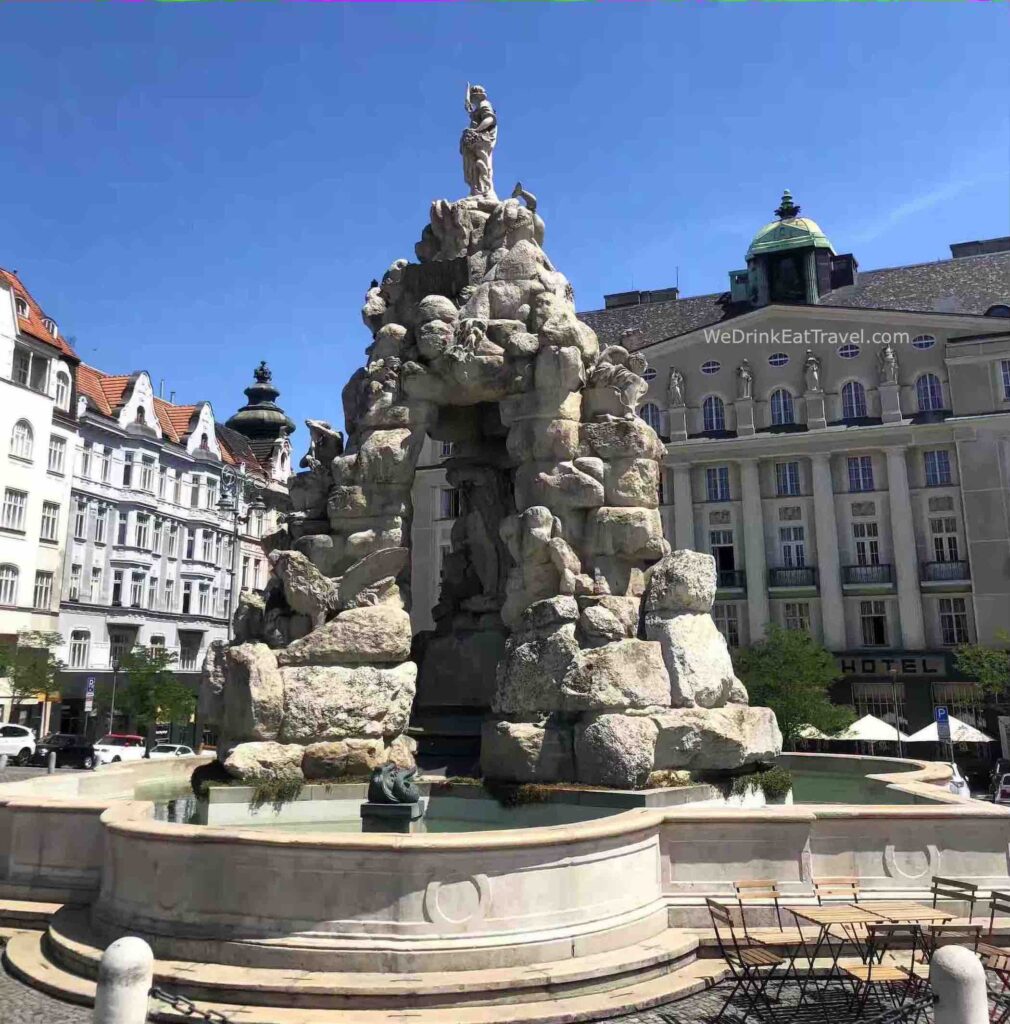 This huge structure is Parnas Fountain, which was built in the 1690's… and is said to be one of the most important monuments in Brno. When seeing it from afar… it appears as though there's lots of big rocks on top of each other. Yet, upon looking at it closer… this Baroque-style fountain is made up of mythical and symbolic characters. And, this includes Hercules with the 3-headed dog, Cerberus.
Now, for those of you who are classical music lovers, meters away from this is…
Wolfgang Amadeus Mozart Sculpture
While you're looking around this Square at its beauty… watch out for a pole like structure in front of the Brno National Theatre. And, when you look up at the top of the column… you'll see a bronze statue of a young Mozart, balancing on a clavichord.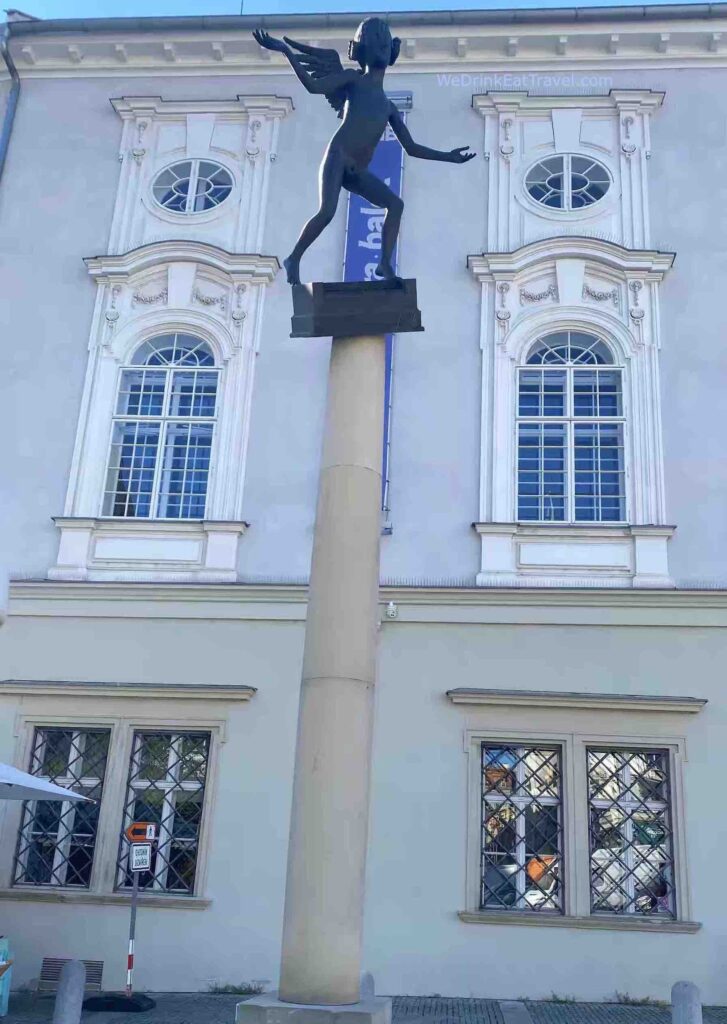 While it's said to represent his immense talent, freedom of expression, and joy… you'll notice that there is one wing on his back. And, this was to signify his tragic end.
After immersing ourselves in all that wonderful history, we saw a few vibrant colorful buildings nearby…
Moravian Museum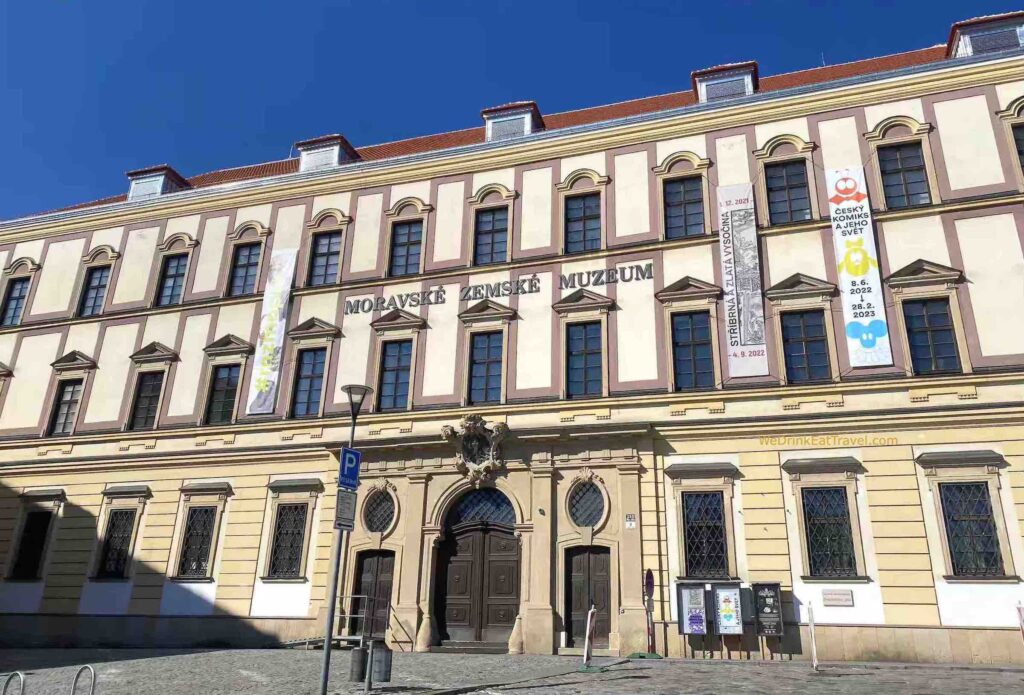 The large yellow building you see with lots of perfectly aligned windows… is the Moravian Museum. Now, this is the second oldest and second biggest museum in the Czech Republic… which houses hundreds of thousands of pieces.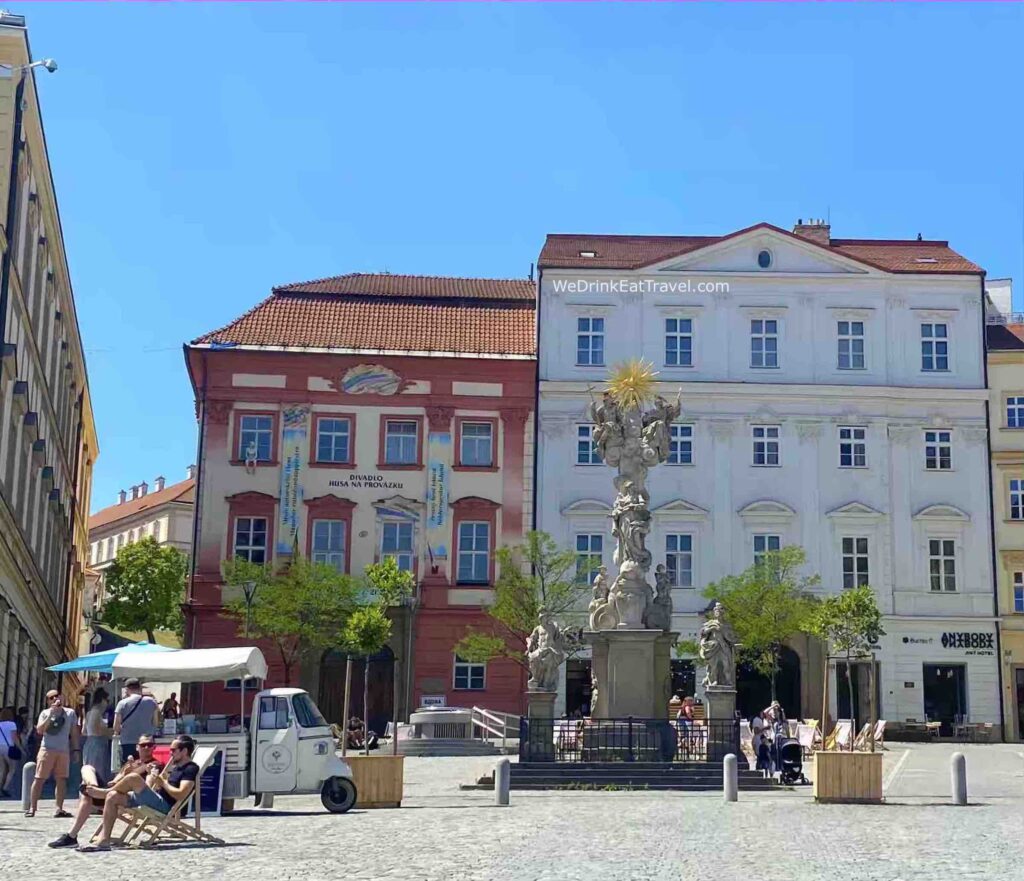 And, the deep red color building you can see in the photo is, Dietrichstein Palace… one of the oldest Baroque-style buildings in Brno, which is the main exhibit building of the Museum. So you know, the pieces here are geological and science in nature.
Špilberk Castle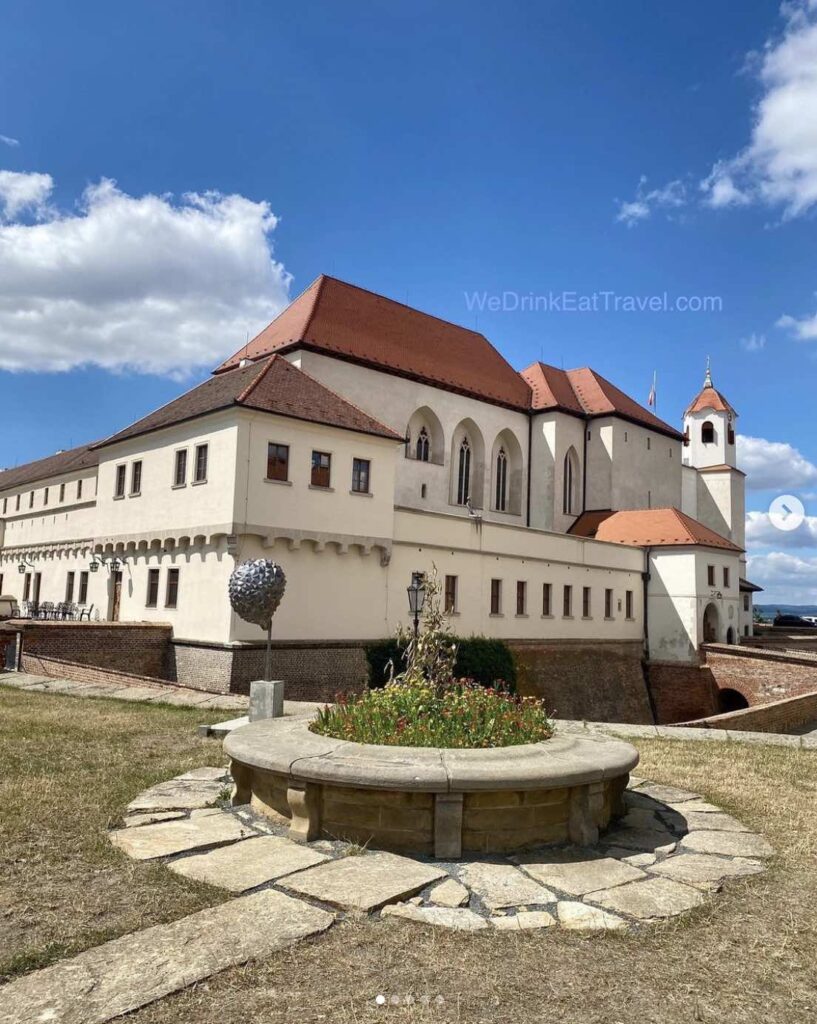 One of the most top landmarks in Brno to visit is, Špilberk Castle. This 13th Century establishment had several functions. Not only was it a residence for the Moravian margraves… it also was a fortress to protect the town of Brno, as well as being a prison!
There are lots of different sections in Špilberk Castle to explore. And, you can get some amazing views over Brno from here.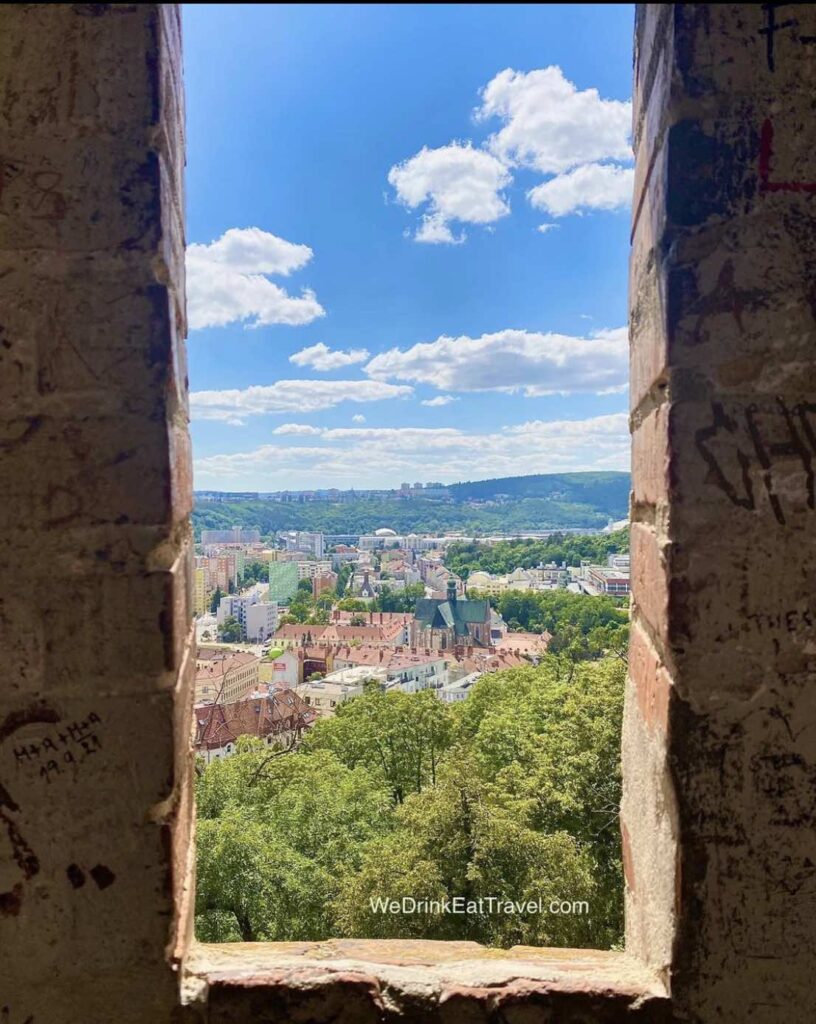 Now, if you want to relax and enjoy the atmosphere, do this…
Drink Beer and Watch the World Go By
There are lots of places to eat and drink in Brno. Yet, when you want to give your feet a rest and enjoy the surroundings… grab a drink or more in the centre of Brno. One of the places we chose was, Středověká krčma, on Svobody Street.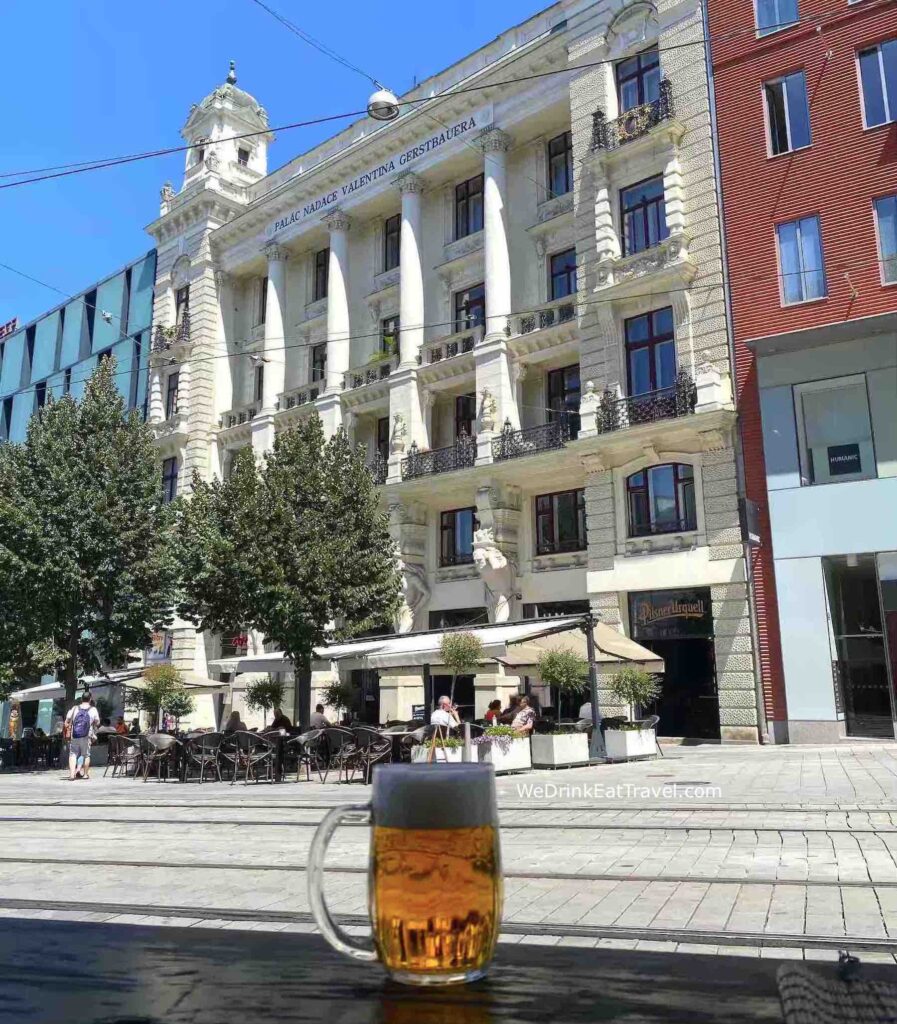 And here, we would enjoy cheap cold Czech beers while people watching. Plus, every now and again we'd see trams… of which the Brno tram network is the oldest in the Czech Republic.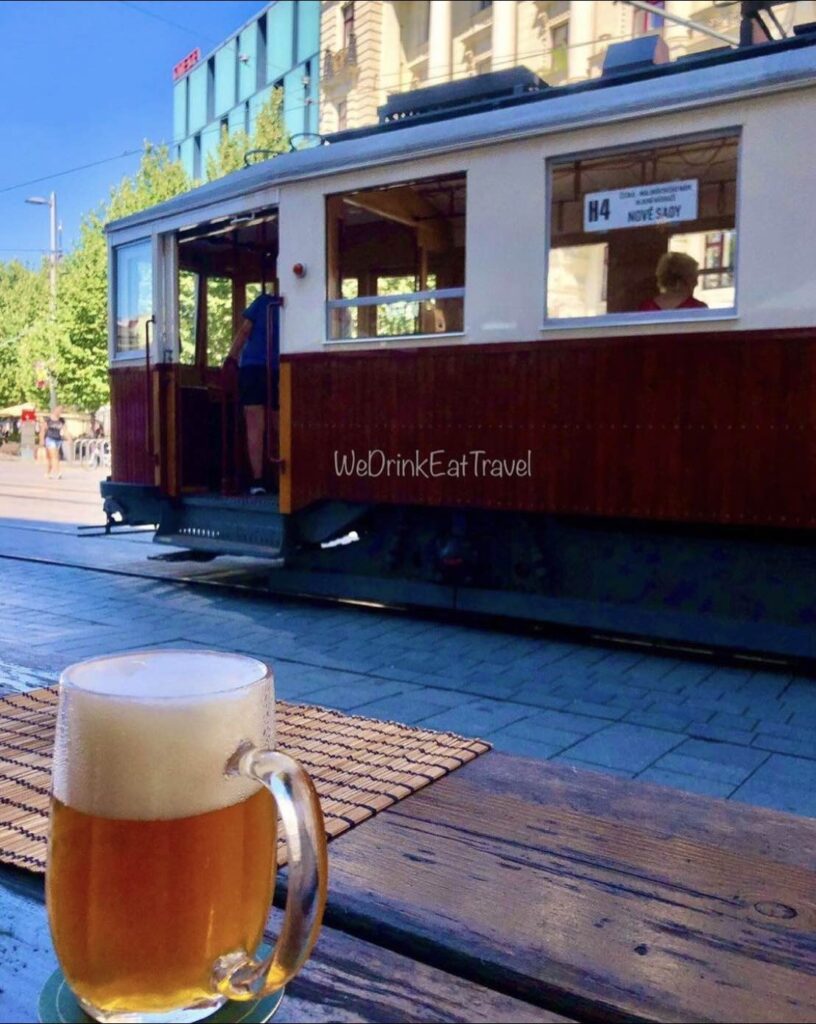 Malinovsky Square
One of the first landmarks we saw after getting to Brno from the station is Malinovsky Square. And, this area was given its name in honor of a Soviet marshal… who in April 1945, made way to liberate Brno.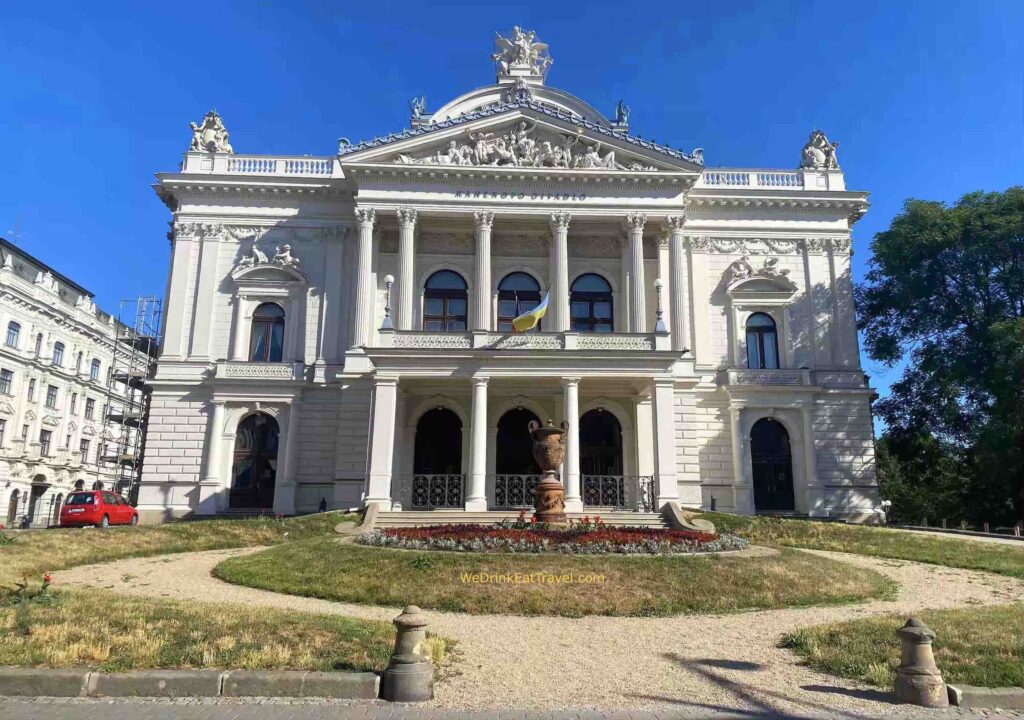 The eye-catching building you see in our photo is a significant theatre… which underwent several name changes. In the 1880's this theatre was known by the name of, German City Theatre. Then, in the early 1900's it became the National Theatre of Brno. Then, in the 1960's there was another renaming the Mahen Theatre… after the local dramatist, Jiří Mahen.
St James Square
Here, the main landmark is the gothic-style Church of St James, built in the 13th Century. Unfortunately, when we were there, it was undergoing some renovations…
Even so, when we did a twirl and had a look around the area… within St James Square we saw some other interesting buildings. And, these include the National Primary School…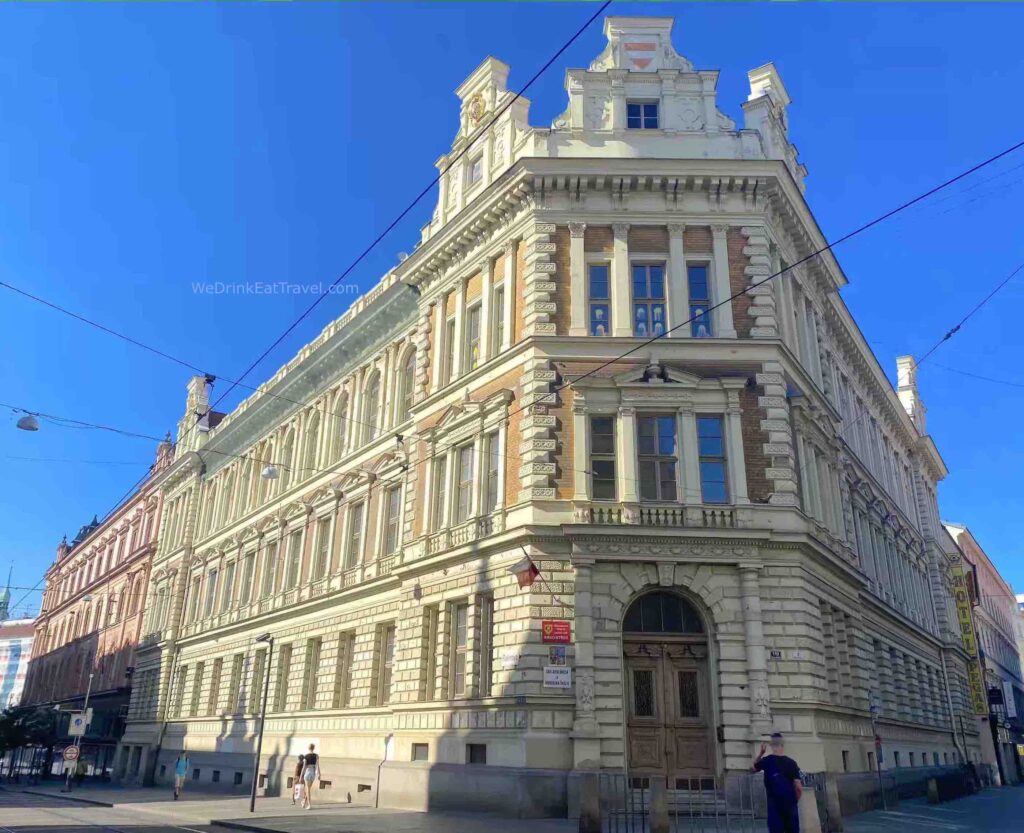 As well as this building, where if you want to satisfy a sweet tooth… it has a delectable praline and chocolate store, selling many delectable treats.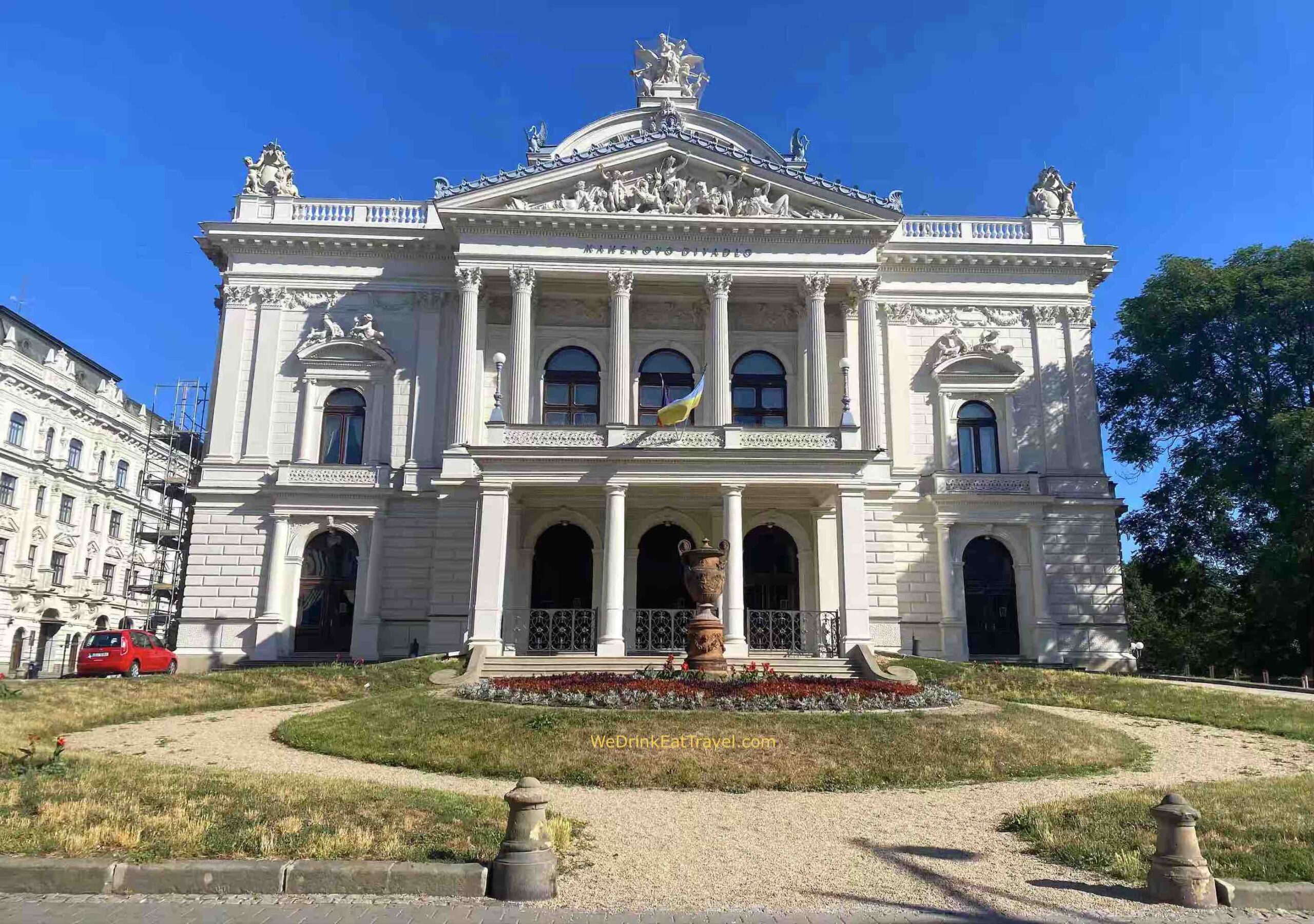 Now, before we finish up this We Drink Eat Travel blog… we want to include this last item for you as it's different!
Interesting and Quirky Gate
From the Church of St James, wander down Rasinova Street for about a minute. And, when you get to number 2 Rasinova Street… there's a large yellow building with lots of shops. Now, keep your eye out for a big archway between the shops, as it has this cool gate…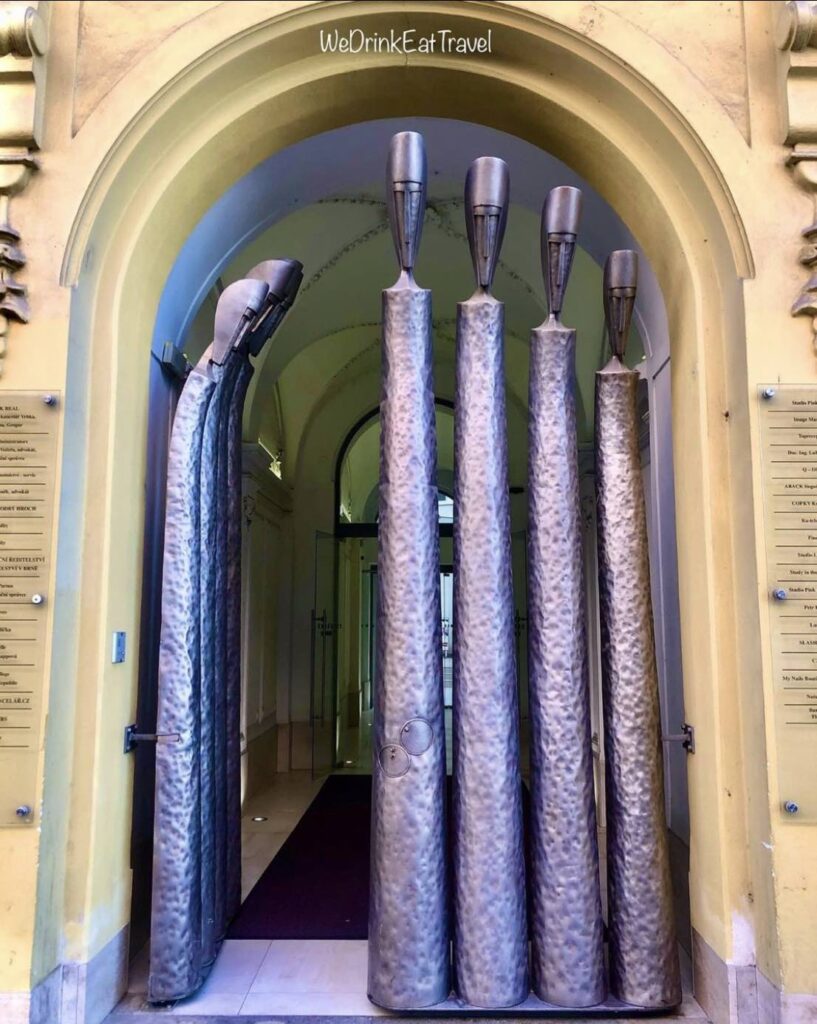 Someone was thinking outside the square when designing this gate!
There you have it… 21 interesting things you can do in Brno, Czech Republic. So, with a big list like this… you sure will have plenty to choose from when you visit Brno.
If you can spend more than a day here, then we recommend it for a more relaxing trip. And, you can check out our review of where we stayed while in Brno.
Now, while it doesn't ooze the charm and quaintness of Prague or Cesky Krumlov… we believe Brno is worth visiting. It will surprise you at how much more there is to do here. It has such a laidback and carefree atmosphere, that was simple to ease into.
Have you been to Brno before? What were you favorite things to see and do?
Watch the We Drink Eat Travel Youtube video about Cesky Krumlov…
---
You Might Be Interested In This Too…
Check Out Our Experience At The Courtyard Marriott Brno Hotel
One Of The Amazing Places To Visit In Cesky Krumlov
Interesting & Surprising Things To Do In Česky Krumlov
30 Awesome Free Things To Do In Prague, Czech Republic
7 Amazing Things You Must Do In Prague
21 Of The Best Things To Do In Belgrade, Serbia
7 Surprising Things You Should Know About Belgrade Fortress
10 Free Things To Do In Hue Vietnam
Perast, Montenegro – Why You Need To Visit This Town
---
21 Interesting and Top Things To Do In Brno
Freedom Square
The Plague Column Monument
Brno Astronomical Clock
Brno Old Town Hall
Masarykova Street
Minoritská Street
Cathedral of Saints Peter and Paul
Denis Gardens
Moravian Square
The Statue of the Knight
The Statue of Justice
Church of St Thomas
Governor's Palace
Vegetable Market
Parnas Fountain
Wolfgang Amadeus Mozart Sculpture
Moravian Museum
Špilberk Castle
Drink Beer and Watch the World Go By
Malinovsky Square
St James Square