If you haven't been to Prague, Czech Republic, then you better plan ahead… as there are heaps of things to do. It's such a beautiful, cultural, historical and fun capital city to explore.
And, with said, it's no surprise that the Prague historic centre is one of the UNESCO World Heritage Sites… in the Czech Republic.
Yet, while it's great to have so many choices for sightseeing… sometimes it can get confusing. Thus, it makes travel planning a headache. And, who wants to be stressing out when you're on vacation? NO-ONE.
So, in this We Drink Eat Travel blog, we want to share with you our thoughts on… the 7 top things you must do in Prague, Czech Republic.
Let's get started with this iconic landmark…
Prague Castle
The history of Prague Castle dates as far back as the 800's, making it a very ancient historical landmark. And, within this huge complex, which spans approximately 70,000 square metres (about 18 acres)… there are many places to see.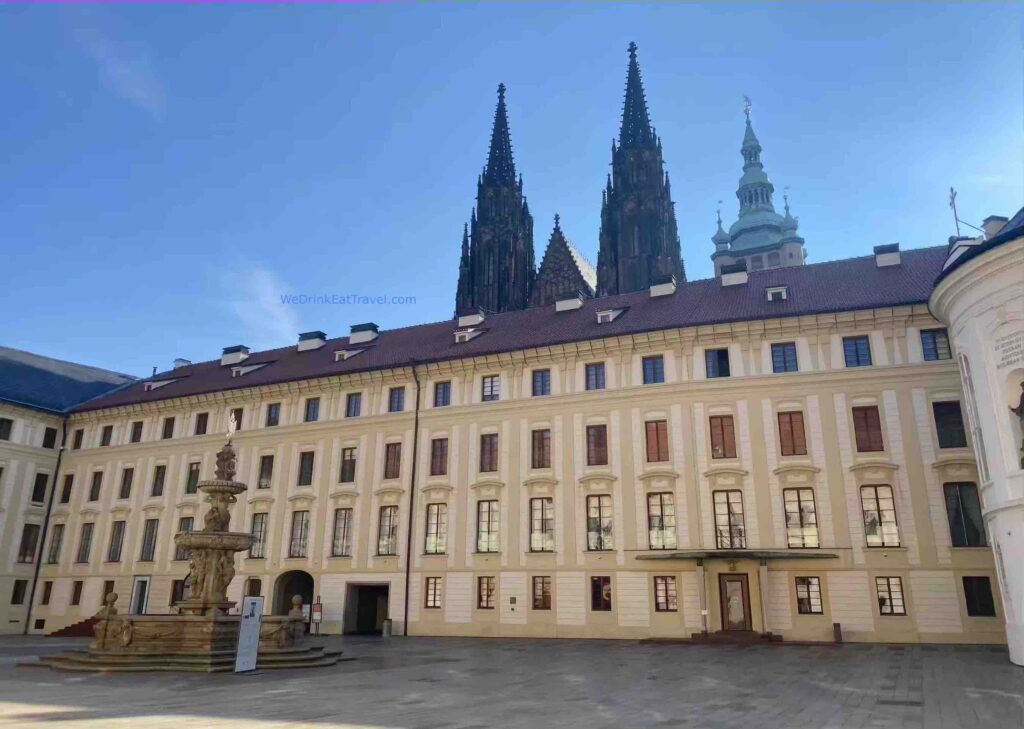 Yet, it wasn't always this big. Over time this complex has undergone many changes… to rebuild and construct new buildings to suit the rulers.
One of the original founders was Prince Bořivoj of the Premyslides dynasty. He would initiate the construction of the Premyslides Fortress. And, one of the first prominent structures was built here was the Church of Virgin Mary. Unfortunately, after suffering through destructions, it was not rebuilt. So, only remnants of the structure remain today.
Yet, following this, some of the most significant structures would be built… that still exist now.
And, this includes St Vitus Cathedral as well as St George's Basilica… both founded in the earlier years of the 10thCentury. When you look at them, their architecture, design and color are completely different… yet they are both amazing.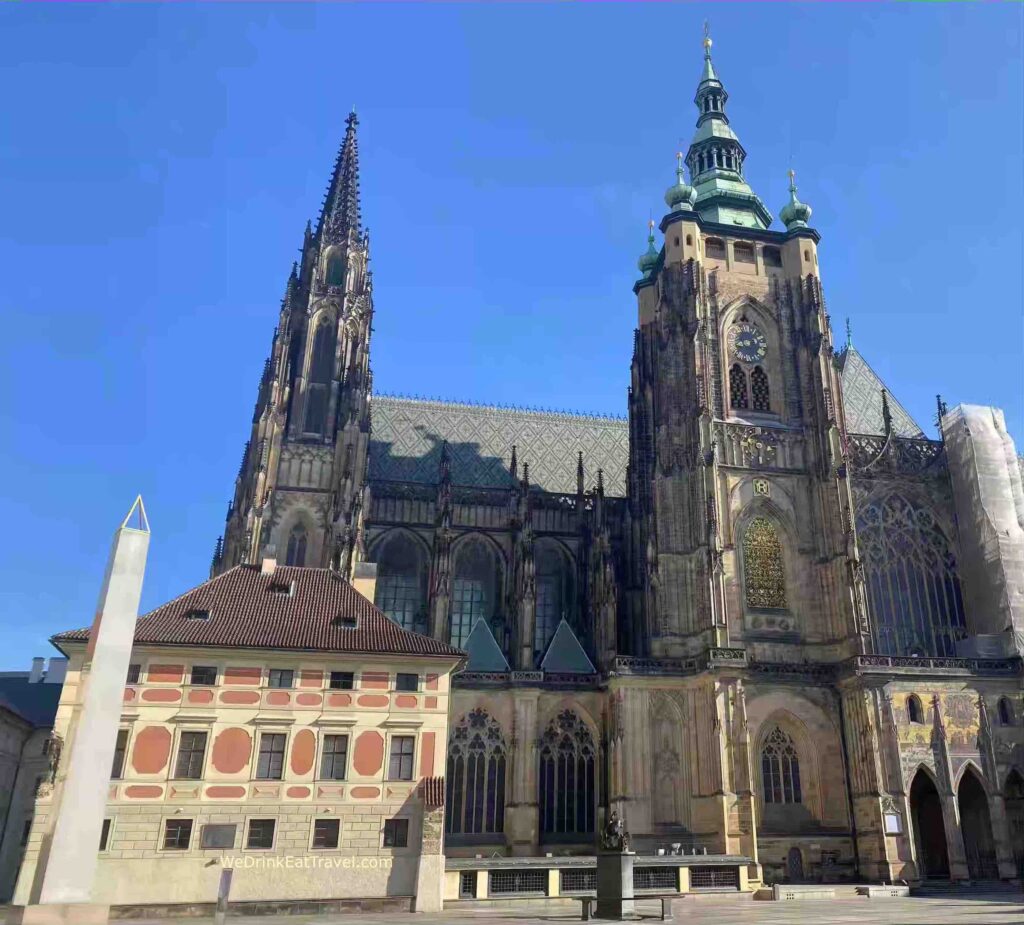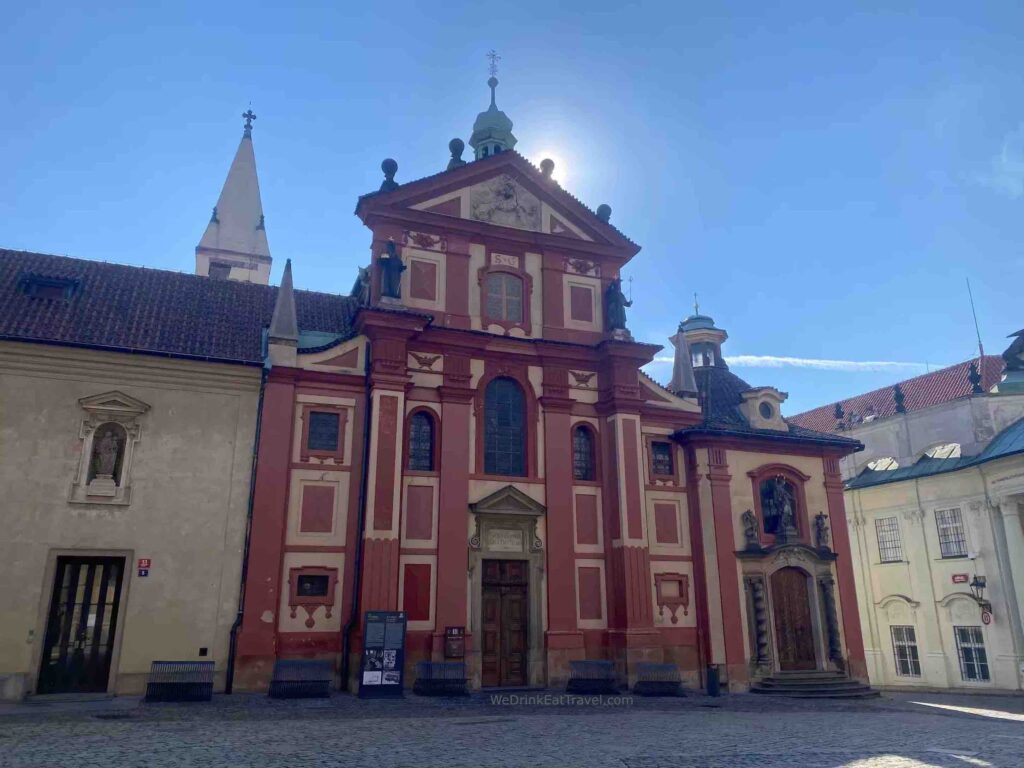 Nearby St Vitus Cathedral is the Old Royal Palace… home to the various Emperors and their families. The main material used to build the original residence was wood. Yet, over time the palace had additions to suit the needs of the families. The most significant include Vladislav Hall and All Saints Chapel.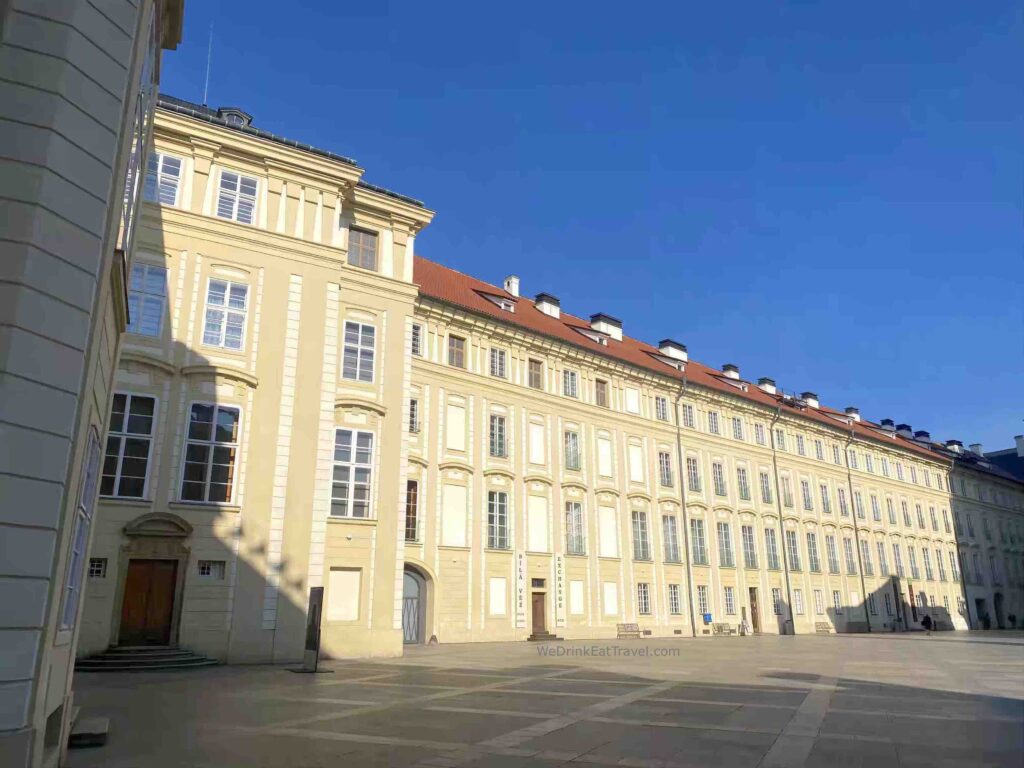 There are several gardens that you can wander around. And, you can imagine how the royals would relax outside in these lavish environments. Plus, if you want magnificent views over Prague, then you should visit the South Gardens…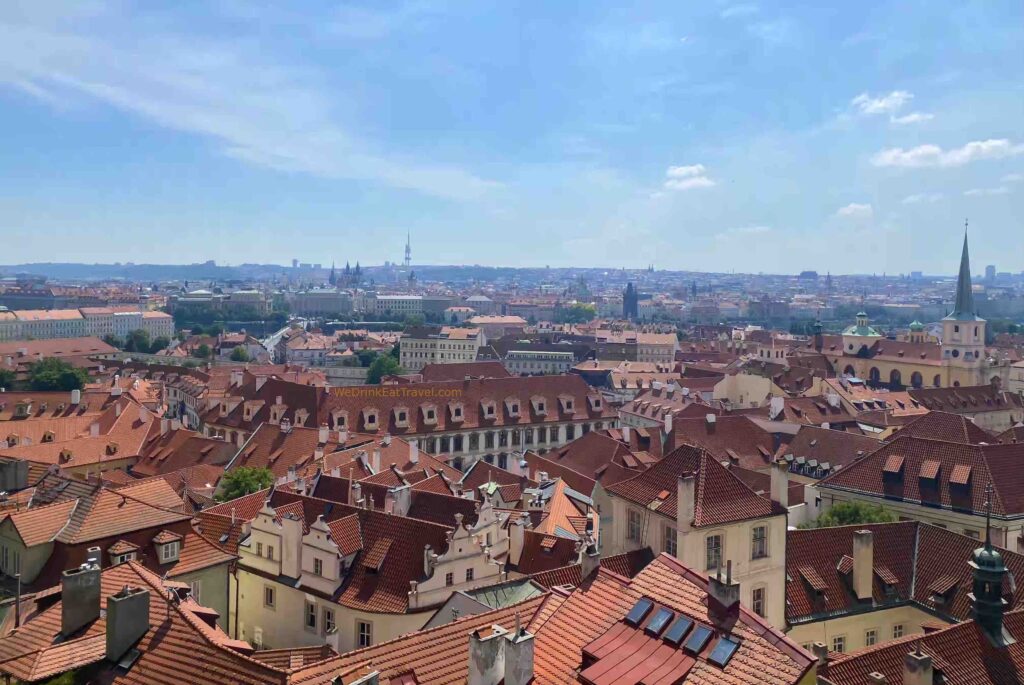 Now, make sure you plan your visit at Prague Castle… so you can watch the changing of the guard, which happens hourly. Yet, for the full procession which includes a band… head on over to the main gates at 12 midday.
It appears very formal, proper and precise in their routine. And, I don't know how the guards manage to keep straight faces all the time! Must be lots of training.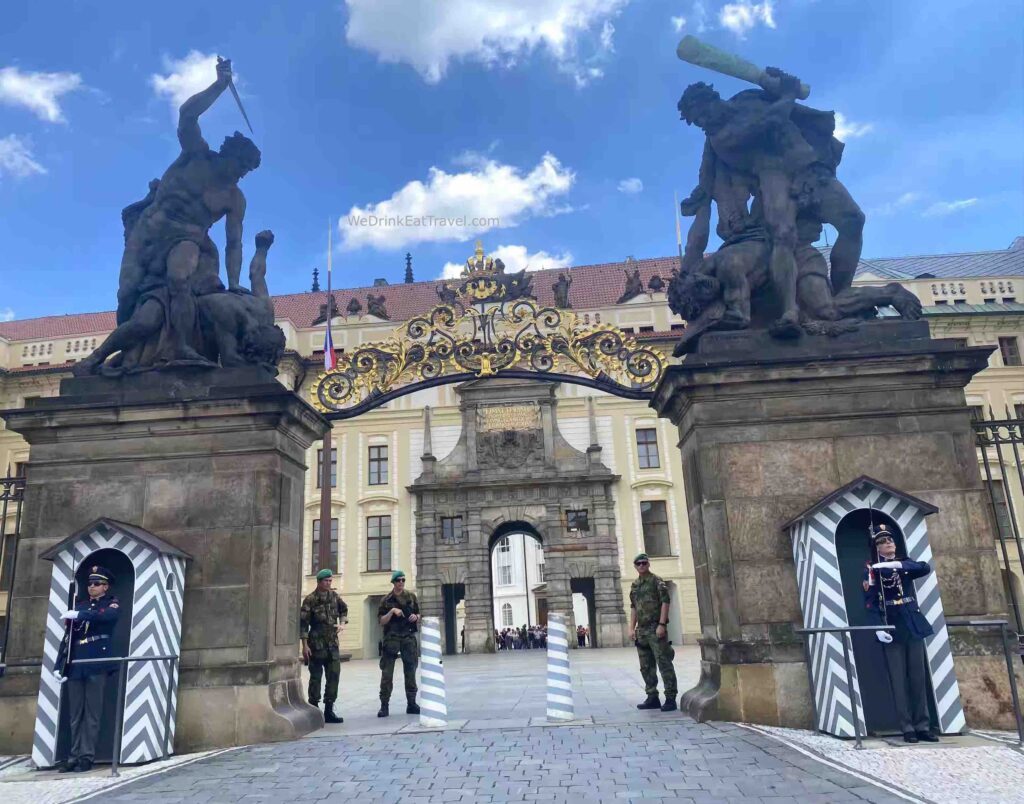 Next is something you must do in Prague… otherwise we don't understand why you went to this beautiful city!
Explore Prague Old Town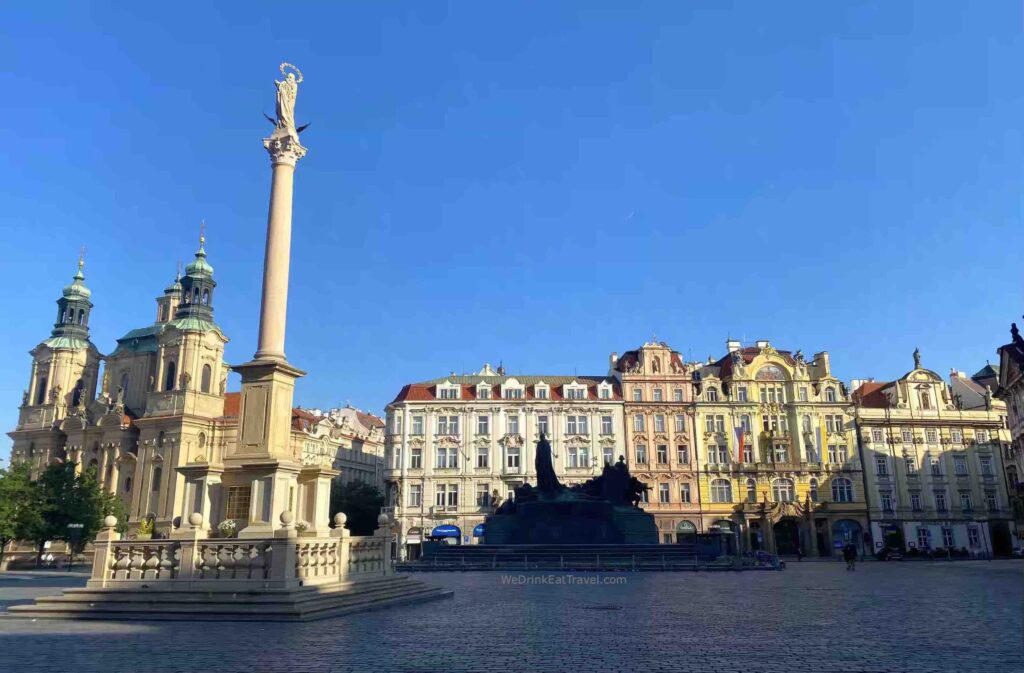 There are many historical landmarks in the Old Town of Prague… dating back as far as the 10th Century! It was an important area in Prague, serving as a central marketplace hub… amongst other things.
When you get to Prague Old Town, you'll fall in love with this area of the city. It has old world charm, mixed with a vibrant and lively atmosphere.
And, your breath will be taken away at the astonishing architecture and buildings. They have been reconstructed and restored… to the beauty and colorfulness you see today. You'll then understand why this is on the UNESCO World Heritage List. Having been to Prague twice now… we always remember how incredible the architecture is.
So, for something fun to do, if you don't care who's watching… Why not stand in the middle of the Old Town Square, and twirl around like a little child! It really does have a magical atmosphere.
Now, you could spend days exploring the historical sights of Prague Old Town… and getting lost in the many quaint streets. Plus, you need to allow time for enjoying the many cafes, restaurants and bars to re-enegize… admire the scenery, or to people watch. So, if you have limited time, plan well!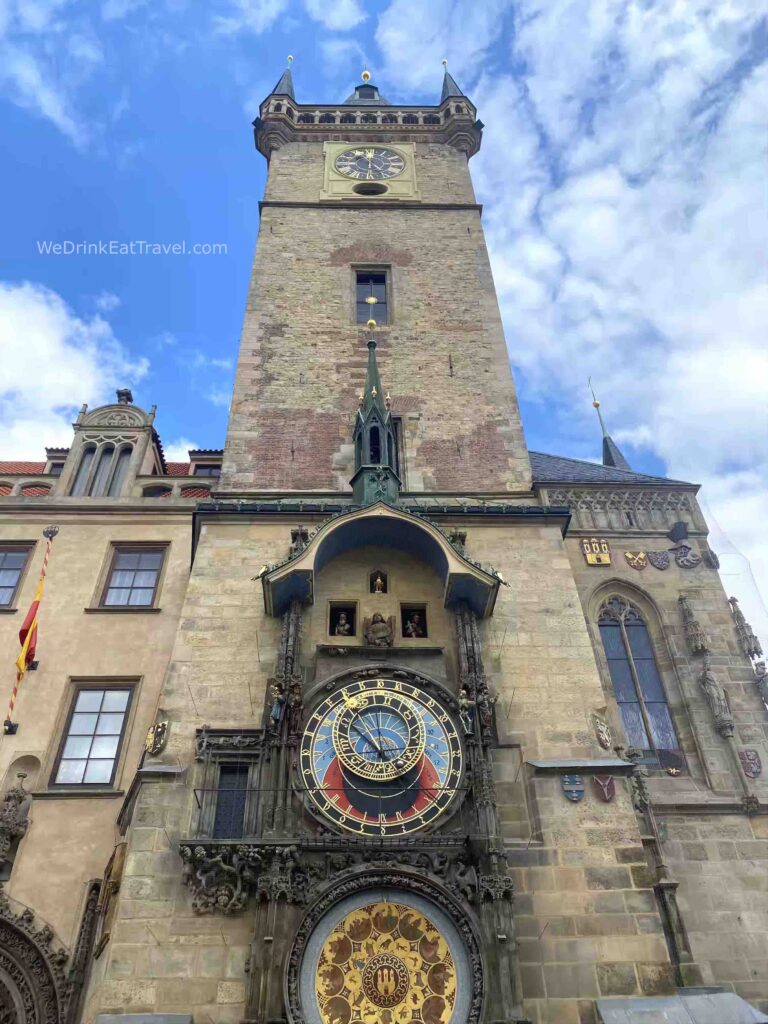 Some of the amazing places in the Old Town you could see and do are:
The 13th Century Havel Market
The One and Only Cubist Lamp Post in the World
Church of Our Lady before Týn
Shop Until You Drop Down Pariska Street
Now, this next activity is something you must do in Prague…
Walk Across Charles Bridge
When you're visiting Prague Old Town, there are several ways you could reach it. Yet, one of the most infamous ways is to walk across Charles Bridge.
One of the key reasons is that this is Prague's oldest bridge, which was built in the mid-1300's. And, this was because the former structure that was there, Judith Bridge… had been severely damaged by floods.
The construction of the new bridge was led by the auspices of Charles IV. And, it took about 45 years to complete, coming into fruition in 1402!
When you're walking across the iconic Charles Bridge… you could enter via Lesser Town Bridge Towers or the Old Town Bridge Tower.
When you look at the Lesser Town Bridge Towers… you can see that the 2 towers are clearly different in height and style, joined by an arched gate. The smaller of the towers resembles a Renaissance style. Whereas the taller tower takes on a gothic style look.
Then, the Old Bridge Tower at the other end of Charles Bridge is completely different. Back in the days, this strikingly beautiful tower was used by the Czech Kings… for their coronation processions. And, if you're happy to pay a fee… you can walk up 138 stairs to see a bird's eye view of Prague.
Even so, whichever entrance you choose to walk across Charles Bridge… you'll discover that there are many statues that line the bridge on either side.
And, between the years of 1683 to 1928… there were 30 statues of Saints that were put up to decorate Charles Bridge. Plus, from this bridge… you can see magnificent views of the Vlatva River and beautiful Prague.
It does get VERY busy with lots of tourists walking across. And, that's why we recommend you get there before 8:30am in the peak season… so that you can enjoy Charles Bridge and the surrounds in a more quiet environment.
Visit Letna Park
One surprising thing that what we found after staying in Prague for a few months… was that there are plenty of parks and green areas. Yet, if you only have a certain period of time in Prague and want to see a different style of park… then we highly recommend you visit Letna Park.
Letna Park is about 1.5km from the centre of Prague Old Town. So, it can be easily reached by foot. Plus, you'll pass by many beautiful buildings and landmarks along the way. Yet, if you're not up for walking, then there are several public transport options.
You'll find that both locals and tourists head on over to this park… to enjoy what it has to offer.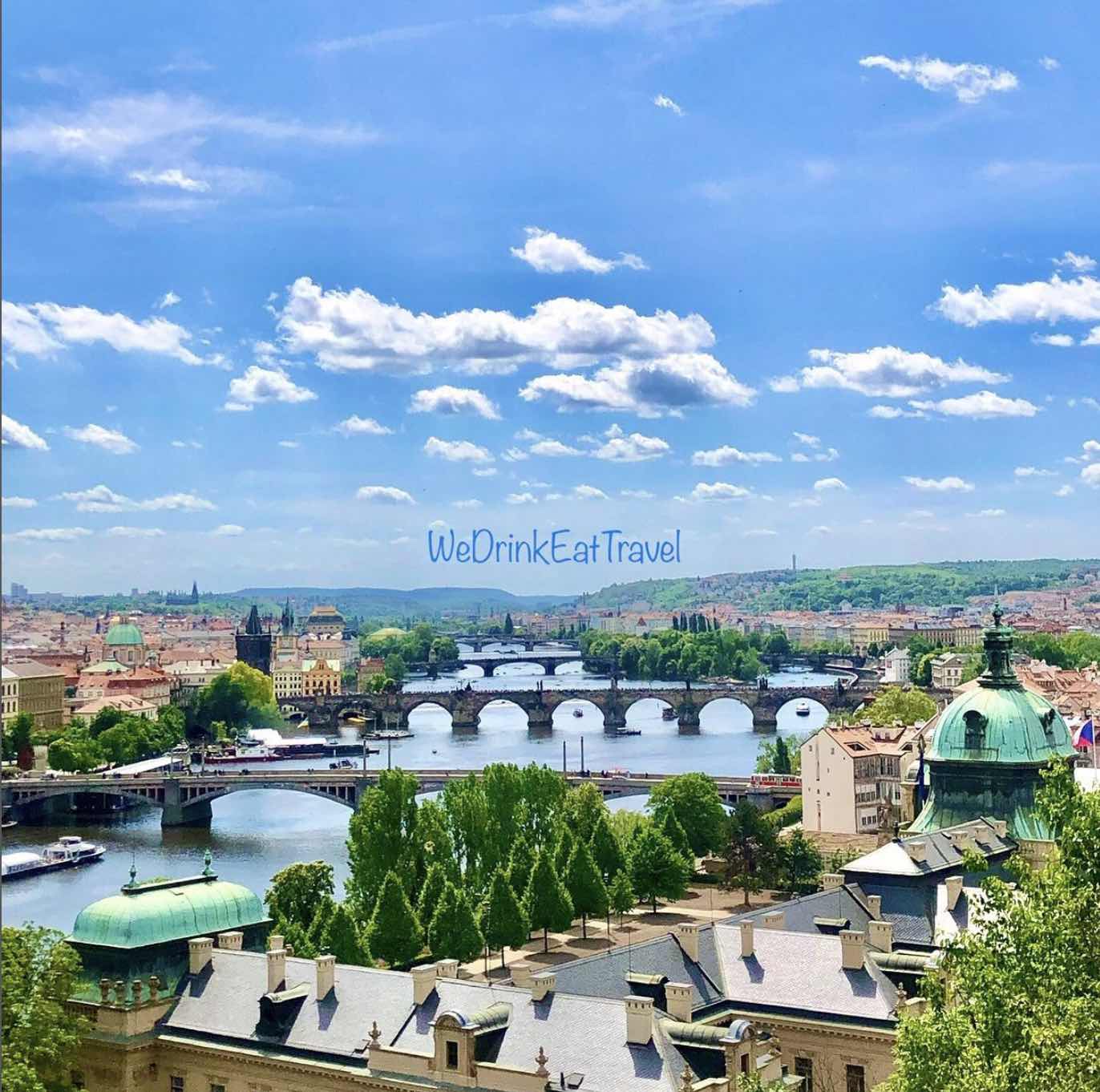 So, while you can enjoy sitting in the park, amongst the lush green grass and trees… there are many other things you can do at the Park. And, this includes the Prague Metronome, Hannau Pavilion… as well as one of the biggest beer gardens in Prague.
Of course, we had to check out the beer garden! Ha, ha ha! We do recommend that you stop by the Letna Park beer garden. It's a great environment to experience during both the day and night times.
Not only that… you can incredible views of the Vltava River, Prague Old Town and beyond.
Check Out One of the Many Prague Festivals
If you love festivals then this is one of the things you must do in Prague. And, we're not just talking about music festivals either. Whether it's arts and crafts, cultural, food or alcohol… you will have lots to choose from. By the way, don't worry if you have kids… there are many options for the little ones too.
Yet, the great thing is these festivals happen all over Prague, and not just in the city centre. So, this can help to "force you" to see other areas of Prague, that you never thought of.
We were in Prague from late Spring until the middle of Summer… and we saw that there was something new every weekend, and even on weekdays.
Depending on what the festival is and what it includes… with some of them you won't need to pay to get in. And, this is great if you're on a budget… or if you simply want to stroll around and have a sneak peek at what's on offer.
Some of the festivals we went to included:
Prague Beer and Burger Festival (Pivo a Burger)
Karlin Street Food Festival
Australia and New Zealand Festival
The Witch Burning Festival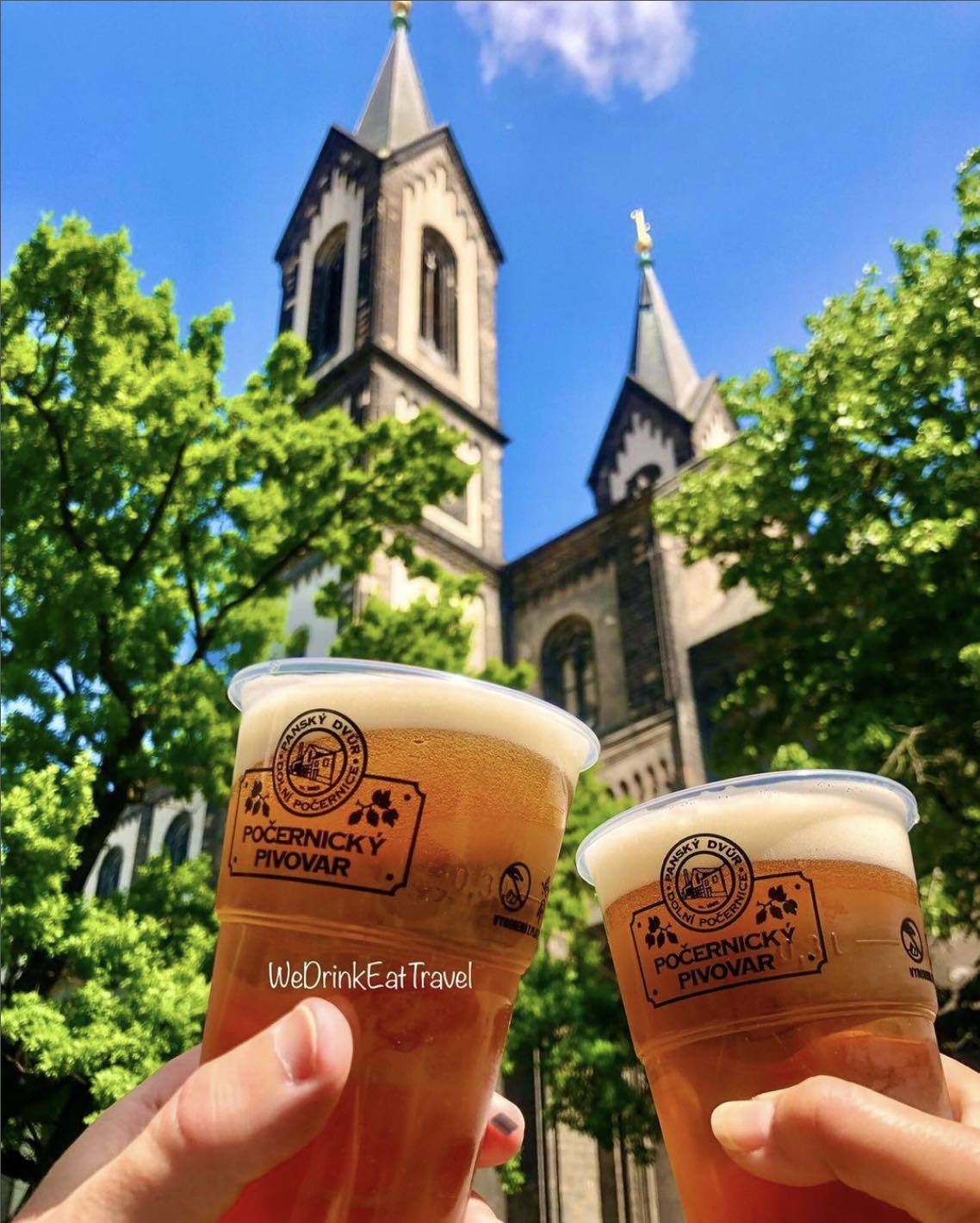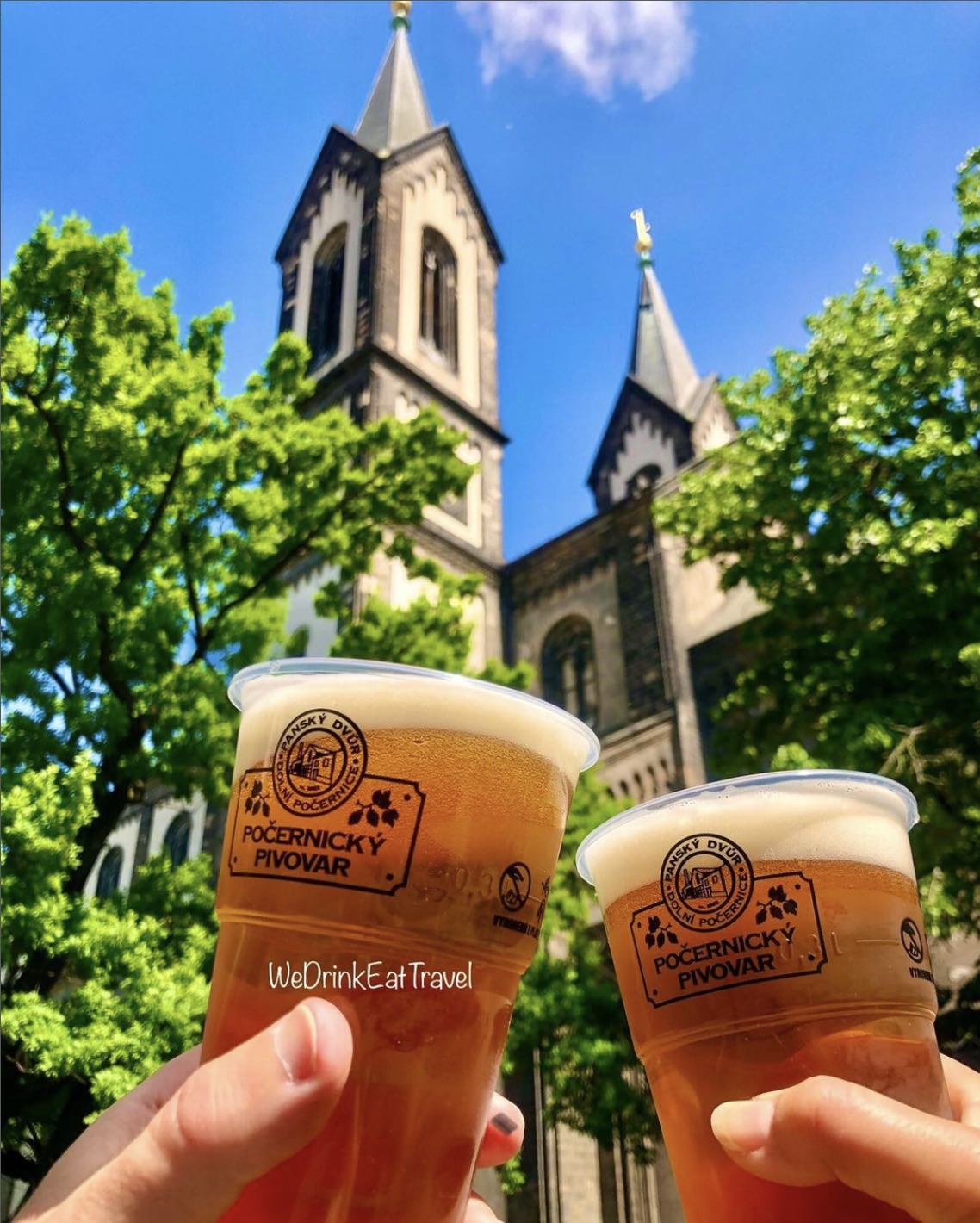 So, they were a few of the events that we went to check out… but there are heaps more! Plus, we found that many popular and old school bands would go to Prague. There's something about this capital city that makes you go, WOW.
Now, next on our list of things you must do in Prague is this…
Walk Around Prague to See the Popular Sights and Discover New Ones
There are many amazing landmarks and attractions in Prague that you don't want to miss. While there are various public transport or ride-share options you can use to get around… we like to walk around. Because you never know what you'll find on foot.
And, when you get to the Prague Old Town area, for example… it's easy to see many sights as you stroll around. Plus, like us, you'll most likely discover some amazing architecture… or places you never thought of going to by walking.
Now, if you have limited time you may like to plan ahead… spending some time putting together self-guided walking tours.
Or, if you want the work to be done by someone else, or hear from the locals… then you can go on the various free Prague walking tours available.
Alternatively, if there are specific things you want to see or do, or for a unique experience… there are paid walking tour options.
Simply do what works for your budget, time and resources.
So, for example, we did our own self-guided walking tour of Vysehrad. This is one of the lesser known Prague attractions, yet one we recommend you see if you have time. We did a little bit of research beforehand to find out what there was to see and do.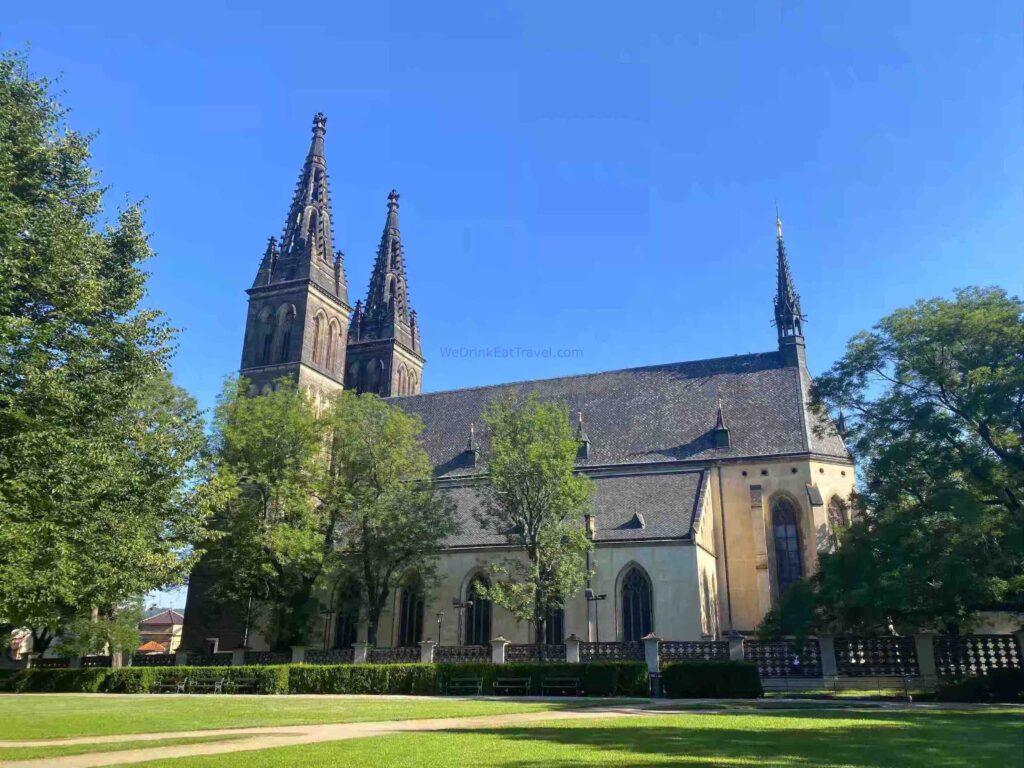 So, your walking tour of Vysehrad could include:
Stulcova Street
Saints Peter and Paul Basilica
Vysehrad Cemetery
Vysehrad Gardens
Kaple Panny Marie Šancovské
Rotunda of St Martin
Leopold Gate
Plus, when you're walking around, you can discover some great bars or eateries… to help you relax and refuel for more sightseeing.
Next on our list of things you must do in Prague, is to experience this…
The Prague Nightlife
When you're in Prague, you'll discover that it has a vibrant nightlife. And, whether it's for eating or drinking or dancing the night away… you'll have heaps of options to choose from. So, whether you're 21 through to 61, you need to check it out.
Now, what we're talking in our travel blog when it comes to the Prague nightlife… are the many bars and pubs you can go to.
There are even organized nightlife tours like pub crawls, if you want someone to lead you… astray! Ha ha ha!
And, if you want to experience what it's like cruising down the Vlatva River… then why not join one of the booze cruises on offer. There are various companies that offer them, with different packages to suit…whether if it's you want hours of fun, partying for a short or long time.
Or, you could plan out where you want to go yourself. So, you may start off going to a few of the places on your list. Yet, as the night goes on… you'll probably throw those plans out the window. Alcohol and navigating maps isn't a great mix!
And, if you need some ideas on where to go… check out our blog on, "Prague Drinking Guide – 10 Of The Best Places To Go." This will help to give you ideas of different places to experience the nightlife in Prague… as well as some other places to visit during the day time too.
As our followers would know, we love our beers. And, what's great about Prague is that they have lots of different beers. Plus, what's even better is that the beers are so cheap! You can get a pint of beer and enjoy gawking at an amazing view… or have fun in a vibrant atmosphere, for as little as 50 Koruna, for example (about 2.05 Euros/USD, 1.75 GBP).
Plus, there are lots of cocktail bars, wine bars, beer halls, clubs and everything else in between. So, you'll have lots of choices to make the most of the bustling Prague nightlife.
Now, here's a helpful travel tip: Make sure you bring some cash with you… and, that's because some places only accept cash payments. So, you don't want to be fumbling around at night time trying to work out what to do!
And, for all you night owls out there… some of the clubs close in the wee hours of the MORNING. So, you could knock 2 things off your list by enjoying the Prague nightlife… and then staying up to see a beautiful sunrise.
So, there you have it, 7 things you must do in Prague, Czech Republic. And, when you get there you'll discover that there are plenty more things you can add onto the list. Prague truly is a beautiful capital city, with lots of old-world charm. So, we hope you enjoy it as much as we did! 
You Might Be Interested In This Too…
7 Surprising Things You Should Know About Belgrade Fortress
25 Of The Best Things To Do In Kotor Montenegro
25 Amazing Things To Do In Dubrovnik Old Town
15 Interesting & Surprising Things To Do In Sarajevo Now
Check Out 15 Amazing Things To Do In Budva, Montenegro
Where To Eat In Tivat For The Best Fast Food
Ultimate Tivat Hiking Trail For The Most Breathtaking Views
13 Interesting Places To See In Podgorica Today
Here Are 7 Remarkable Things To Do In Berat Albania
7 Free Things To Do In Bangkok