When we were traveling through the Balkans… we were loving discovering new countries that we never really thought about. Yet, we've had some of the most memorable experiences. So, if you've never thought of visiting the Balkan region, you MUST go! 
We have plenty of blogs, photos and videos to help inspire you… and provide travel tips.
Now, one of the places we hadn't thought of visiting was Belgrade, Serbia… let alone the country. And boy, are we glad we did. This is one of our favorite places in the Balkans! The food, the culture, the people, the history, the sights… you must visit Belgrade. 
Belgrade has a interesting and vast history, spanning back to around 7,000 years… making it one of the oldest cities in Europe, let alone the Balkans. 
We found that there were so many things to do in Belgrade, as well as places to visit. Yet, one of the top things on our list of places to see in Belgrade was… the majestic Belgrade Fortress.
It's said that this is one of the most visited attractions in Belgrade… with over 2 million people per year going to see the Belgrade Fortress. Now, that's a lot of visitors! And, once you discover how magnificent it is… you'll want to put it on the top of your list as a must see in Belgrade.
So, keep reading as we share with you 7 surprising things about Belgrade Fortress… that you may not know, and to inspire you to go experience it!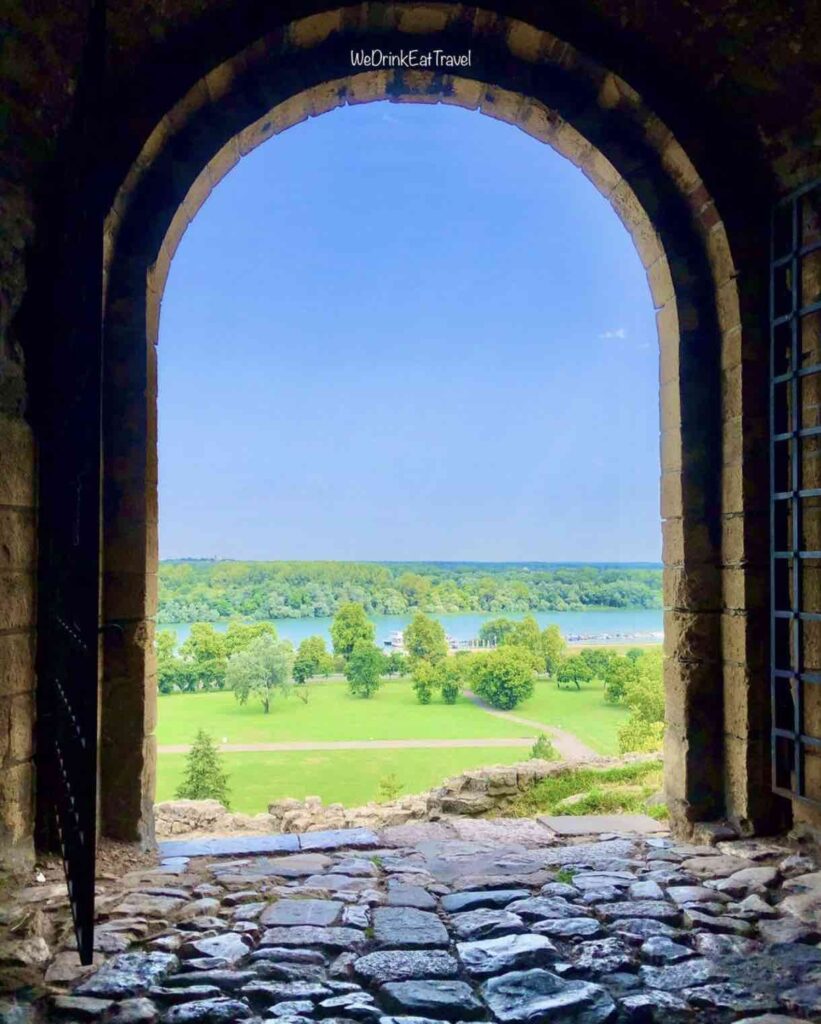 The Belgrade Fortress Area was Founded in the 1st Century AD
Belgrade has a unique and long history. And, it's said that the first settlement of the Belgrade Fortress area, dates back to the 1st Century AD… during the Roman Period.
The former name of the area, was "Singidunum." And, this is made up of a tribal name, "Singi"… as well as the Celtic word of, "dunum," which means town.
Yet, over time the different rulers would change its name.
So, when the Slavs took charge, it became known as "Beli Grad," (White City)… as the fortress had been built of white stone. Plus, it was dominating the city skyline, sitting atop the white limestone ridge. Then, it became known as "Beograd", which you'll commonly see.
Belgrade Fortress was Destroyed and Modified Many Times
Being such an ancient and important site… since its inception, Belgrade Fortress underwent a lot of destruction over its history. It's said that over 100 battles took place at the fortress. Plus, with the different rulers… additions and modifications were made to strengthen and reconstruct it.
And, this includes the initial stages to build a solid wall around the area. Plus, major battles with the Byzantines from the 11th Century… resulted in them building up the fortress with several strategic towers, ramparts, and more.
In the early 1400's under the rule of Despot Stefan Lazarevic… new walls and towers were built, a new castle, as well as a division of the town.
The battles and rebuilding continued thereafter… with the Turks and Austrians, as well as after World War 1, to name a few more.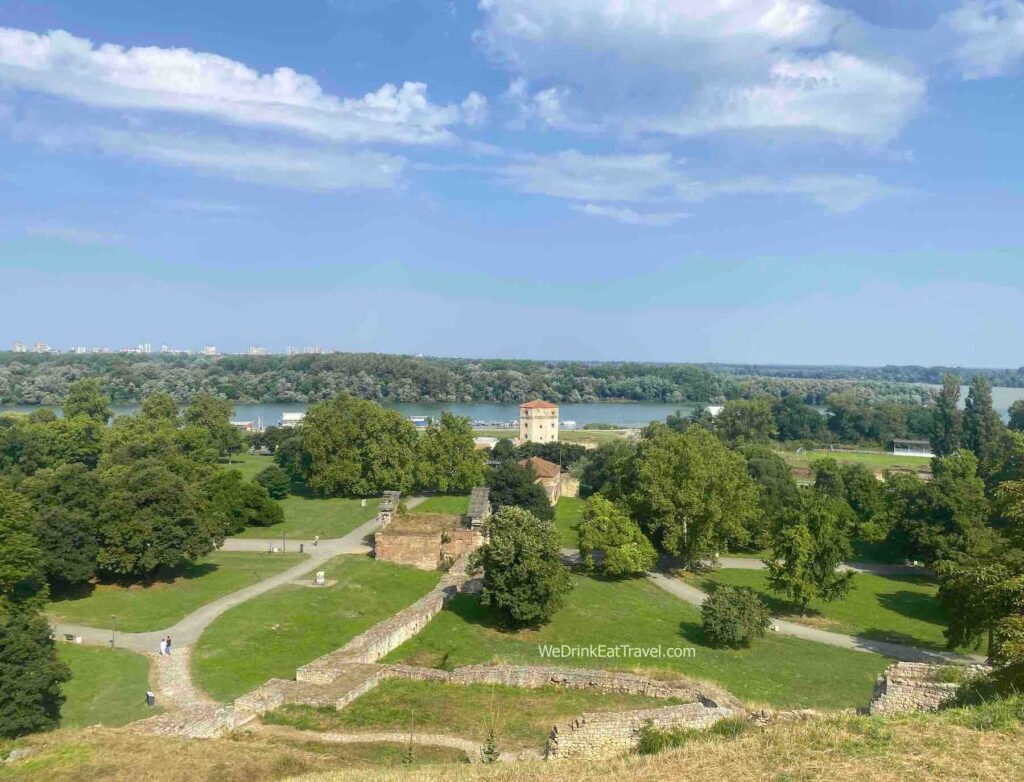 So, the entire Belgrade Fortress complex that you see today… was mainly from construction around the 18thCentury, and also including modern day restorations. It showcases the history of triumph, resilience, and dedication… to protect the town and its people.
Plus, it's development helps to preserve this historic area, so that in the current day… we can learn about it and enjoy this incredible landmark.
Belgrade Fortress Consists of 4 Main Sections
The Belgrade Fortress was built in a strategic location, and sits over 125 metres atop a ridge… overlooking the Danube and Sava Rivers, for incredible landscape views. Yet, did you know that it is made up of 4 different sections?
So, here are the 4 areas of Belgrade Fortress, and some of the landmarks you can see in each…
1. Upper Town
The Upper Town section of the fortress, also known as Gornji Grad in Serbian… has undergone several transformations since it was first built. So, some of the landmarks you can see, when strolling through the Upper Town include…
Eastern Gate with Dizdar's Tower
Fortress Cannon and the Austrian Gate
Damad Ali Pasha Turbe
Monument to Despot Stefan Lazarevic
Monument to the 1456 Turkish Seige
Mehmed Pasa Sokolovic's Fountain
Roman Well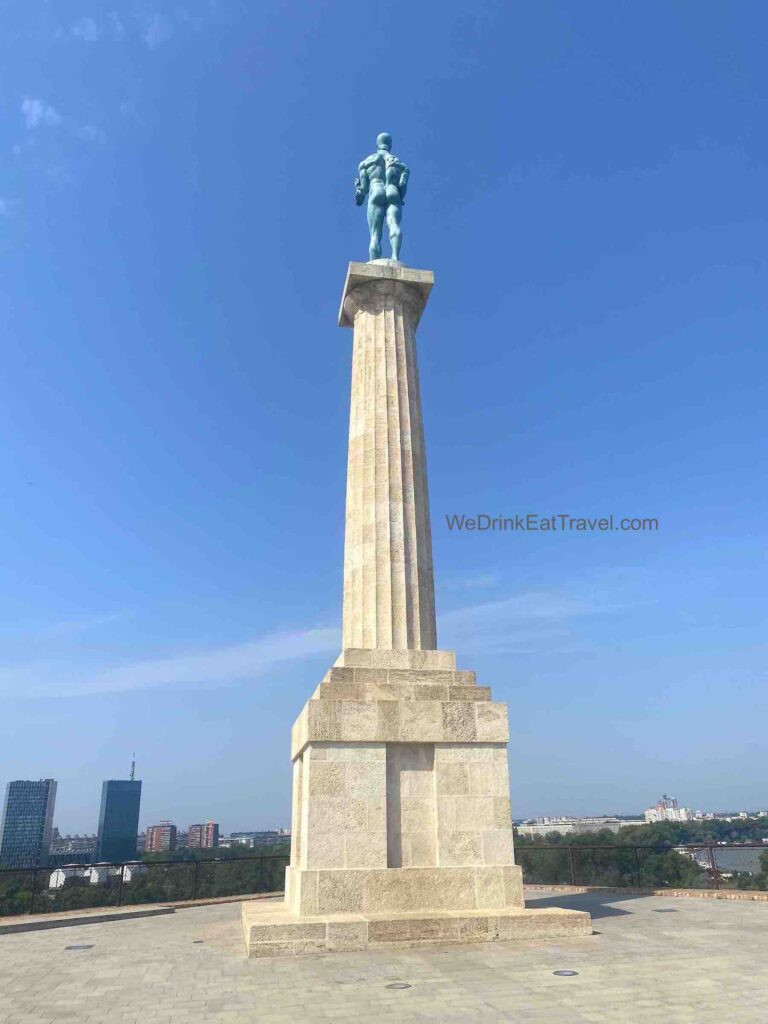 2. Lower Town
The Lower Town section of the Belgrade fortress, also known as Donji Grad in Serbian… is as the name suggests at the lower level of the complex. The main entrance to this area is nearby the picturesque Danube and Sava Rivers. And, here are some of the landmarks you can see in this section…
The Gate of Carl VI
Nebojsa Tower
The Old Turkish Bath
Gunpowder Storage Area
Remains of Metropolitan Palace
St Petka's Church
Ruzica Church
Ossuary of the Belgrade Defenders
Jaksic's Tower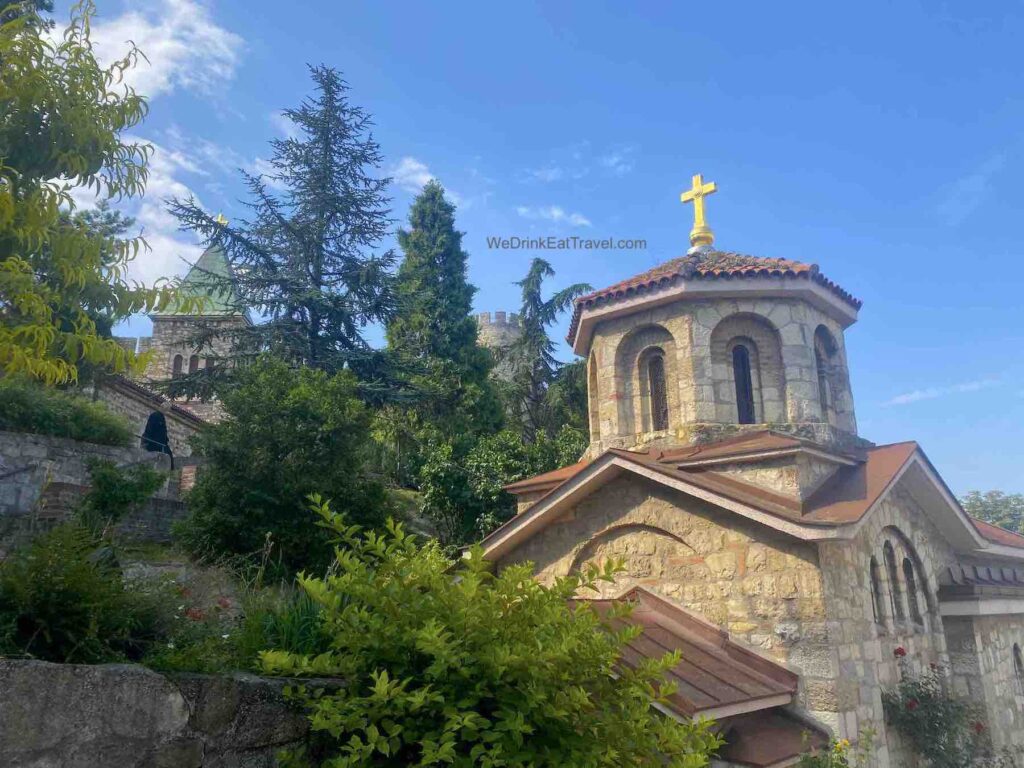 3. Little Kalemegdan Park
You can find the Little Kalemegdan Park section of Belgrade Fortress… on the Eastern side of the complex, nearby the trendy and vibrant Dorcol neighborhood. And, one of the key landmarks here is the Belgrade Zoo.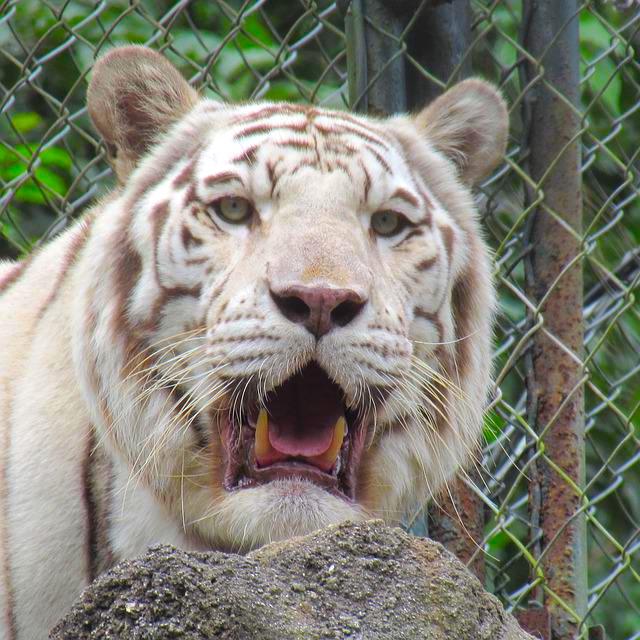 Plus, the other notable attraction here is, Cvijeta Zuzoric Art Pavilion.
We found this section of the entire complex to be the less visited area… and therefore the most quiet. So, if you still want to be in the vicinty but away from it all… head on over the Little Kalemegdan Park section.
4. Large Kalemegdan Park
You can find the Large Kalemegdan Park section of Belgrade Fortress… on the Southern side of the complex. And here, you'll discover a big and beautiful park area… with wonderful views overlooking the fortress and Belgrade.
So, some of the main landmarks here includes…
Monument of Gratitude to France
Fisherman's Fountain
Military Museum
Karadorde's Gate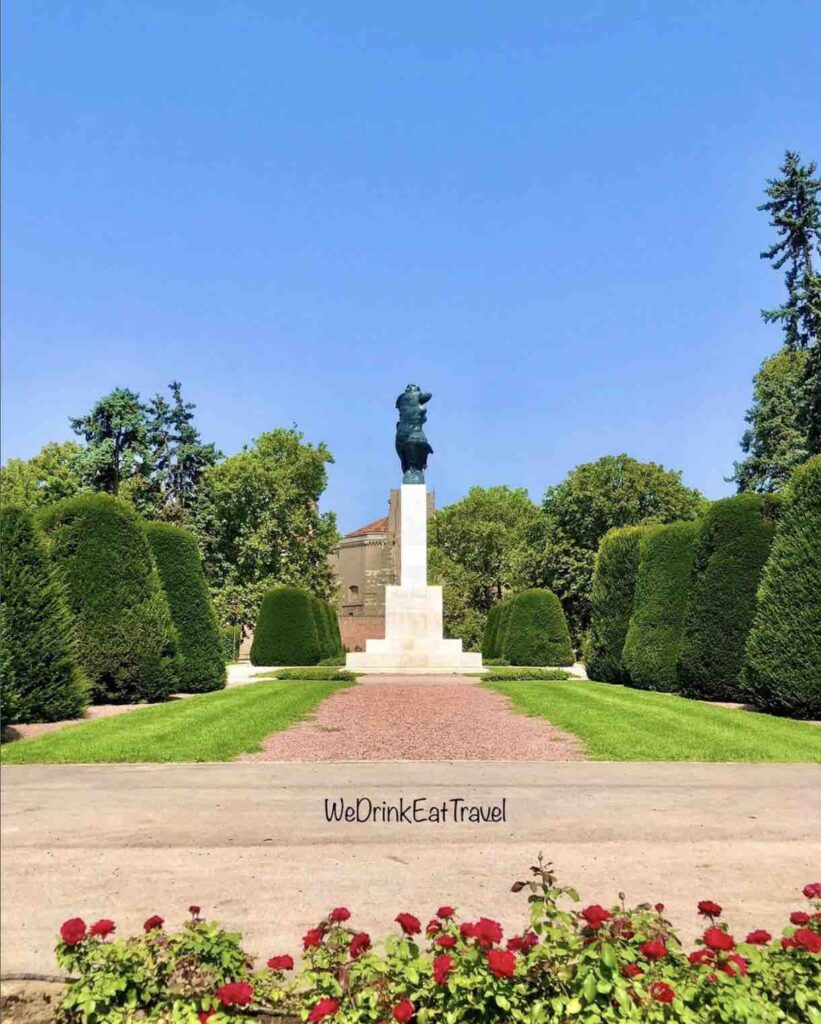 There's Something for Everyone at the Belgrade Fortress Complex
When you're in the grounds of Belgrade Fortress and Kalemegdan… because of its huge size you could spend hours here. Yet, you'll also find out that there's actually lots of other things to do for everyone.
Now, please be mindful that with some of these next activities, you may need to pay.
As you're wandering around exploring, you may want to re-energize. So, why not grab a bite to eat, or have some refreshing drinks at the bars and restaurants. Plus, you'll be spoilt with amazing views, in an awesome environment. One of our favorite places was, Boho Bar, and it's especially magical at night.
Now, if you want to get in touch with your cultural side… there's also museums and galleries. Plus, during Summer there are more activities… including concerts and pop up art exhibitions. Plus, there are small stalls that are set up, selling snacks, drinks, ice-cream and souvenirs.
And, if you're feeling sporty, there's even tennis and basketball courts.
Plus, for the kids entertainment or for the young at heart… there's also the Dino Park. And here, on display are various dinosaur life-size replicas. You can even hear them roar!
Or, you can simply relax on the seats in the shade of the trees… or you can pack a picnic and enjoy some quality time with family and friends.
So, when you think about it… you could spend a whole day here.
The Belgrade Fortress Entrance Fee is ZERO
That's right, you read that correctly. It was so surprising to learn that anyone and everyone can get in to see Belgrade Fortress… WITHOUT having to pay an entrance fee. When you think of other Fortresses of this calibre, and in a big capital city… how many of them are free to see? Not many in our experience!
Plus, it's open all day, all night, every day of the year.
And, in 1979, the announcement was made… to make Belgrade Fortress a Monument of Culture of Exceptional Importance. So, making it one of the most notable structures… and having the highest protection by the Republic of Serbia.
So, for such an historical and incredible landmark… we were so grateful to experience the Fortress in all its glory, for free. And, this is one of the many reasons why it makes Belgrade so affordable for all types of travelers from backpackers… through to families.
If you get a chance, you should visit Belgrade Fortress at night time too… because it looks so incredibly breathtaking, and the atmosphere is amazing.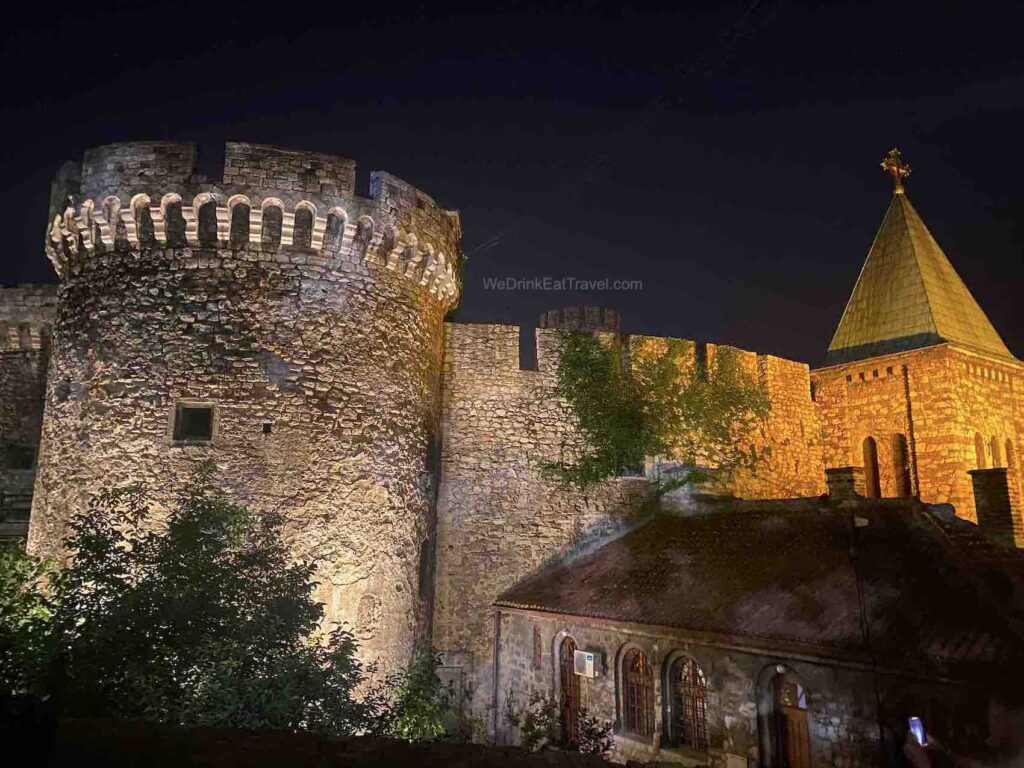 The fortress is lit up with different colored lights, showcasing the different structures and artefacts. Plus, the views from the complex are magnificent. In Summer especially, lots of locals and tourists alike, flock to the fort at night.
Belgrade Fortress has LOTS of Gates!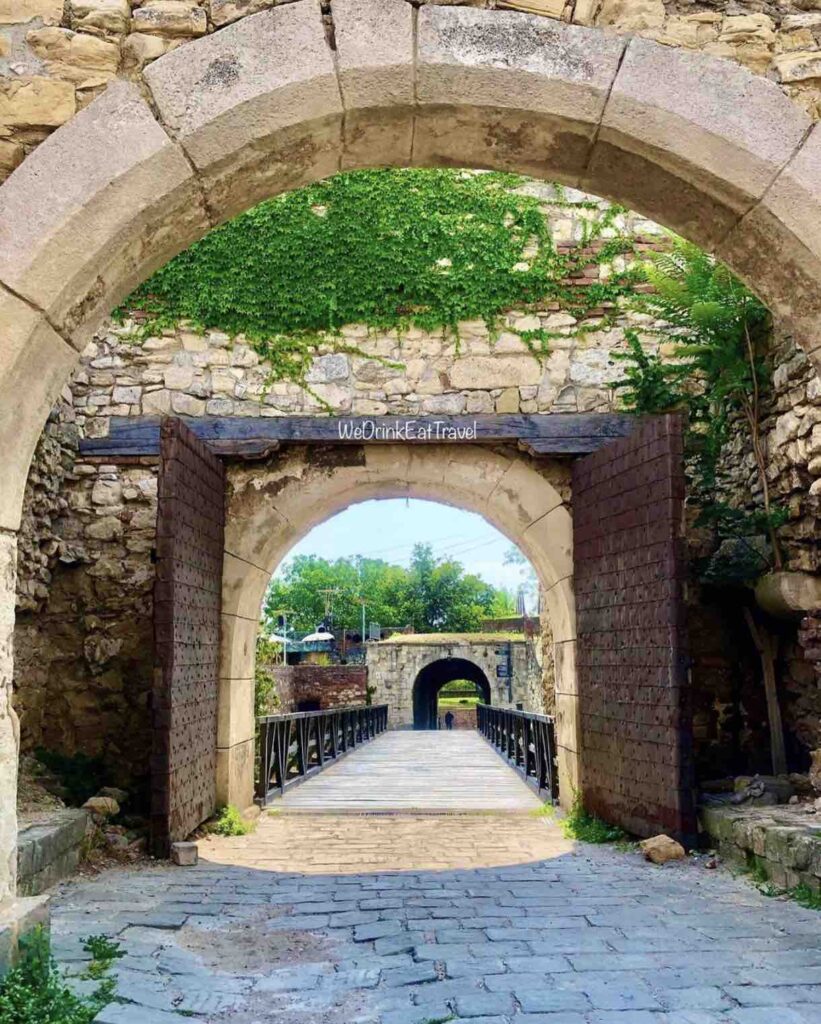 Now, it was surprising to find out that the Belgrade Fortress has about 20 different gates. Many of them were built around the 18th Century, having to be re-built after destruction… or as a new strategic structure for the fort.
Even so, each gate is unique, having its own architectural style… ranging from medieval façades to Baroque.
While there are many gates, when you go to visit Belgrade Fortress… you may find that not all of them are open to visitors. Yet, there'll be a few main gates that you'll most likely enter the fort.
So, if you're coming from the city centre or Republic Square area… one of the popular ways is via the main pedestrian street of Knez Mihailova. Then, you'll walk through Kalemegdan Park… to one of the main gates being Stambol Gate.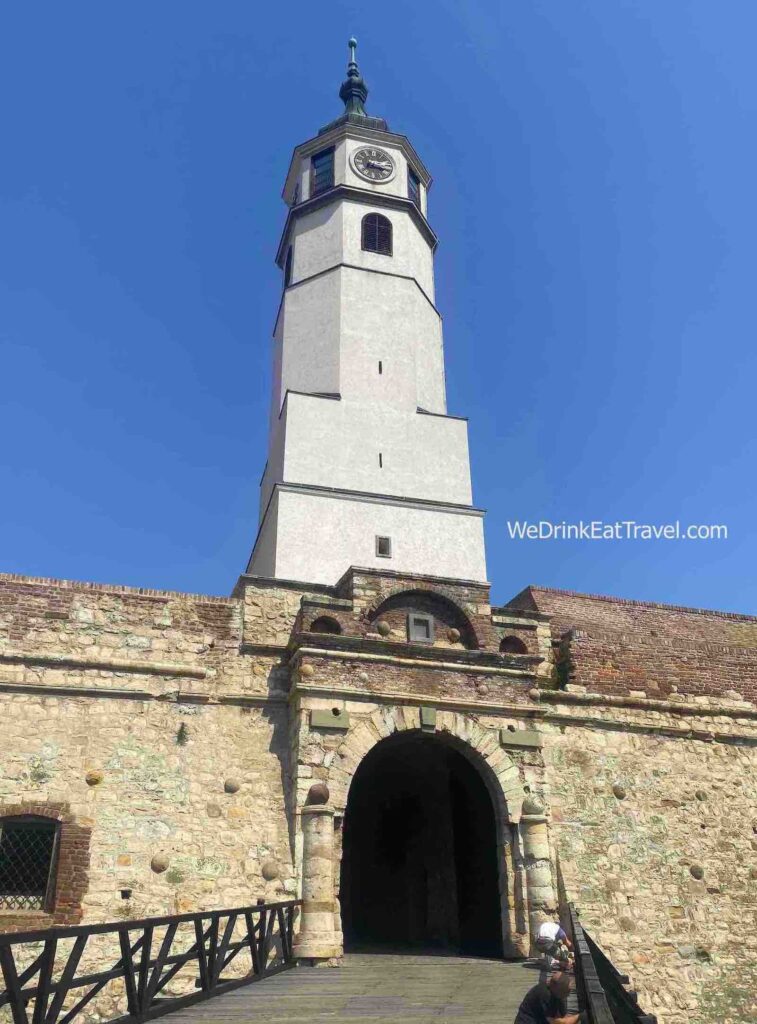 And, if you're coming via the Lower Town area, one of the main gates is Vidin Gate. Yet, one of the most jaw-dropping entrances is via Zindan Gate…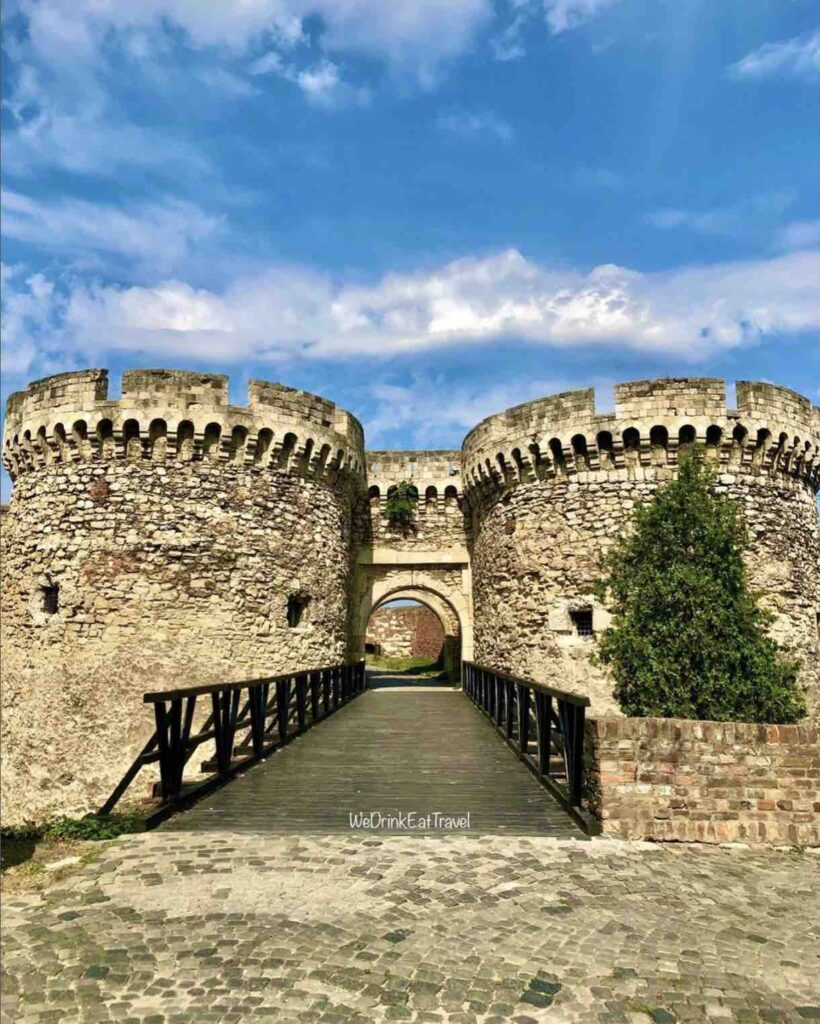 This gate was first built in the mid 1400's… and its 2 huge cylindrical towers dominate this part of the fort. Because of its photo-worthy presence… we had to be patient to get a pic without anyone in it!
Save Money When Seeing the Tourist Attractions in Belgrade Fortress
Now, as we said earlier, it's free to get into Belgrade Fortress and Kalemegdan Park. And, after exploring these areas, that may be enough for you to be content.
Yet, if you're keen to see more of the history and artefacts in detail… you can pay to see them. And, this includes the Roman Well, Nebojsa Tower, the Military Bunker, the Big Gunpowder Warehouse… as well as the Casemates, Sahat Tower, Inner Stambol Gate Exhibition.
An individual ticket starts from RSD 50 (about 0.45 Euros / USD, 0.35 GBP) right up to RSD 300 per tourist attraction. So, that could mean spending over 1,000 Dinar (about 8.50 Euros / USD, 7.30 GBP) to see them all! Now, in the scheme of things this is still cheap, in comparison to other places in the world.
Yet, there is a combination ticket that costs just RSD 450 (about 3.90 Euros / USD, 3.25 GBP). For students, pupils and pensioners it's a reduced price of RSD 350.00 per ticket.
And, this combination ticket gives you entry into 5 of the attractions: the Roman Well, Nebojsa Tower, Military Bunker, Sahat Tower… as well as the Big Gunpowder Warehouse. Plus, the great thing is you don't have to see all those landmarks in one day. So, you can take your time and relax.
Yet, if you prefer to have a local guide take you around on a tour… then that may be a great option. You could go underground and have rakias or wine… and hear the locals share their stories with you. To see what's on offer, CLICK HERE.
Belgrade Fortress – A Must See Attraction
So, there you have it… 7 surprising things you may not have known about Belgrade Fortress. We're still gobsmacked that for such an ancient, grandiose landmark… it's free to get in and explore this magnificent structure.
And, we're sure that when you go, you'll be blown away at how amazing it is. Plus, remember that if you have time… go to the fort at night time, as it has a different atmosphere and is absolutely stunning.
You could even grab a bite to eat or have some drinks in the complex. Or, if you want to save money… bring your own food and drinks to have while taking in the amazing landscape.
There's so much to see and do at the fortress, that you could spend a whole day there!
Have you been to Belgrade Fortress? What was your favorite part when you went to see it?
Like This? Share it and comment on it!
Note: All of our reviews and comments are our opinions and no-one else's. Even if we receive complimentary goods or services we share our opinions honestly.
You Might Be Interested In This Too…
How To Get FREE Accommodation While Travelling
21 Of The Best Free Things To Do In Vienna, Austria
25 Amazing Things To Do In Dubrovnik Old Town
15 Interesting & Surprising Things To Do In Sarajevo Now
One Of The Little-Known Top Things To Do In Dubrovnik
What You Need To Know About The Dubrovnik Card Now
Night Market Bangkok: All Aboard For The Ratchada Rot Fai Train Night Market
Check Out 15 Amazing Things To Do In Budva, Montenegro
Perast, Montenegro – Why You Need To Visit This Town
One Of The Amazing Things To Do In Kotor Montenegro
10 Free Things To Do In Hue Vietnam
Hiking Kotor Fortress – Things You Need To Know
25 Of The Best Things To Do In Kotor Montenegro
Where To Eat In Tivat For The Best Fast Food
Ultimate Tivat Hiking Trail For The Most Breathtaking Views
Check Out 16 Things To Do In Tivat Montenegro
13 Interesting Places To See In Podgorica Today
Here Are 7 Remarkable Things To Do In Berat Albania
7 Free Things To Do In Bangkok
10 Places To Visit In Gozo Malta For Breathtaking Views
7 Top Reasons Why You Should Visit Bansko Bulgaria