If you ever get the opportunity to go to Bucharest, Romania… then you'll discover that there's a whole lot of awesome things to do here. For us, aside from indulging in the local foods and drinks… we're also lovers of architecture, and the fascinating stories behind them.
So, when we were in Bucharest exploring all around this capital city… it was common to see many churches and other religious sites. It's mind blowing to see some of the extreme detail and elaborateness… that goes into designing and developing these landmarks.
And, sometimes being the biggest doesn't mean it's the best. As we've found not just in Bucharest but around the world… some of the smallest churches are magnificent too.
Plus, the other thing is… when it comes to churches, you don't have to be religious to admire them. Oftentimes for us, we're in awe of the architecture and detail… and the stories that have made the churches what they were and are today.
If we can, we aim to avoid the weekends especially Sundays… as there are far too many people for us to admire the buildings. Yet, we've found in several cases… that these periods are the only times when they're open.
So, if you have your heart set on going into these landmarks, best to check ahead as their opening times may vary.
Now, in this We Drink Eat Travel blog… we'll share with you 13 different and interesting churches in Bucharest, Romania.
Let's begin with this one…
1. Stavropoleos Monastery Church
As the name suggests, the origins of this captivating church is Greek. It's said that a Greek monk and businessman by the name of Ioanichie, had the desire to build this church. And, in building the church, it was his way thank his holiness for the Inn… as a result of a business venture he was able to establish.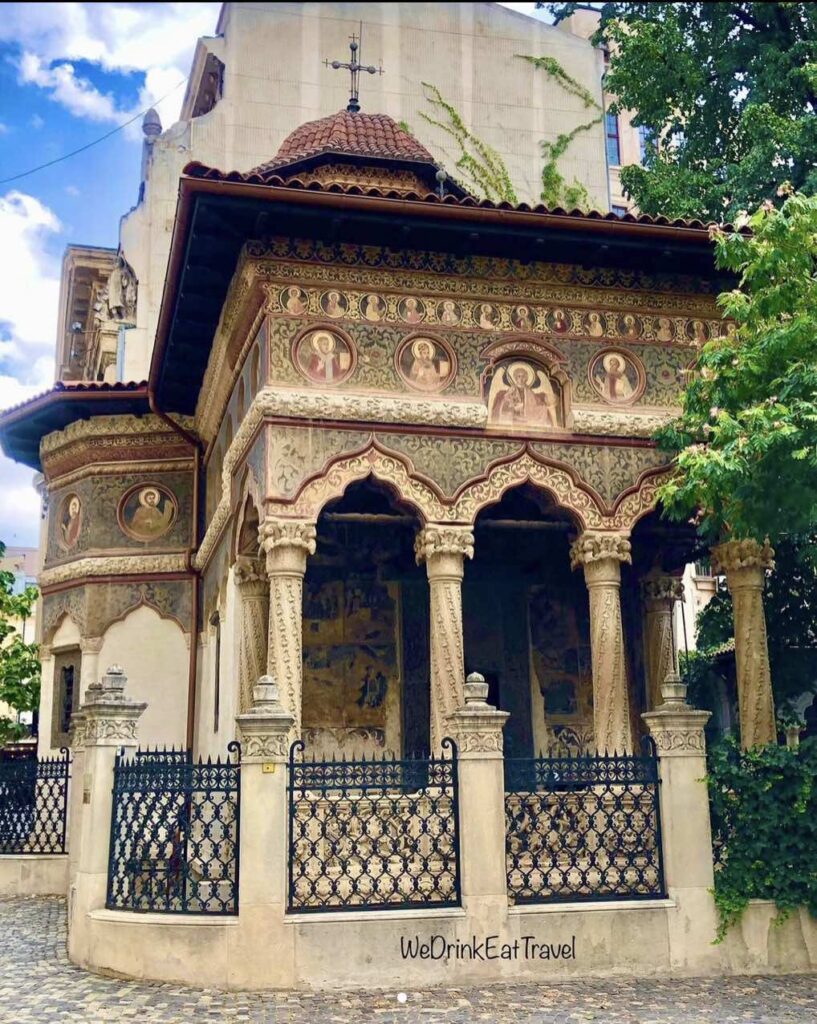 So much detail has gone into the creation of this grand 19th Century church… from the columns through to the motifs. And, if you think the exterior looks amazing… check out how it looks on the inside!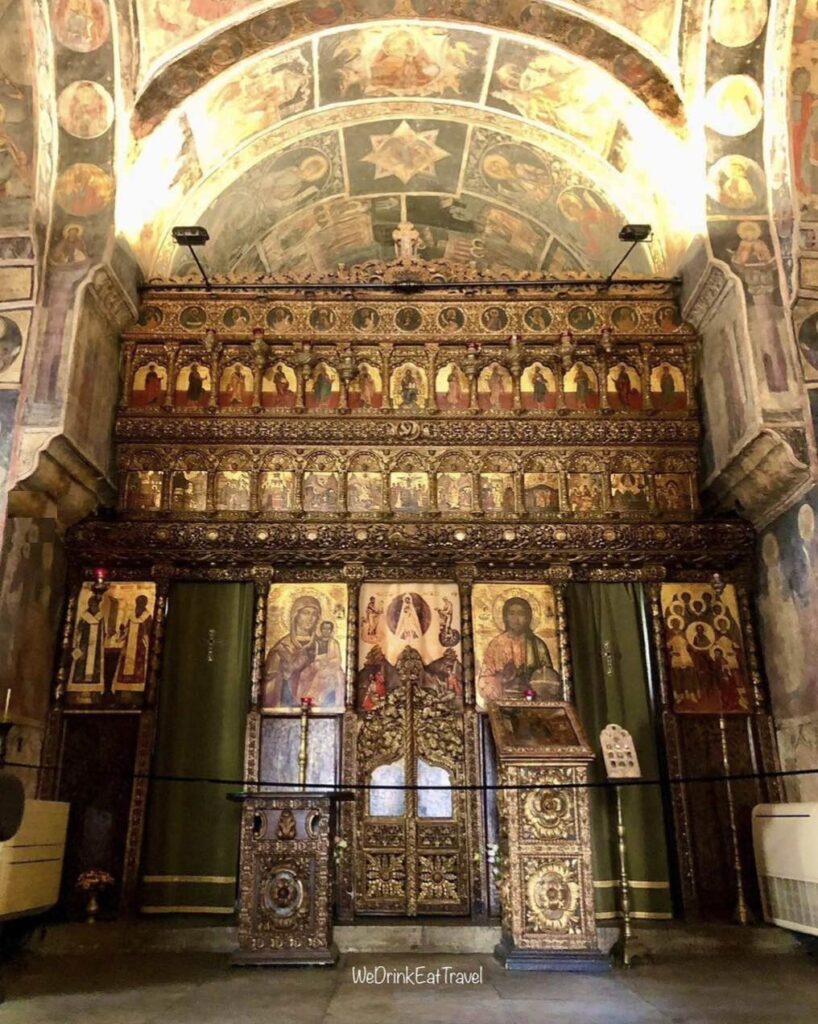 2. St Anthony's Church
When you're in the South-West corner of Bucharest Old Town, go check out St Anthony's Church. This ancient, 16th Century church features minute red and white brick detail. And, it looks even more astonishing when the sun is out… with the garden bed showcasing pretty, vibrant red and pink flowers.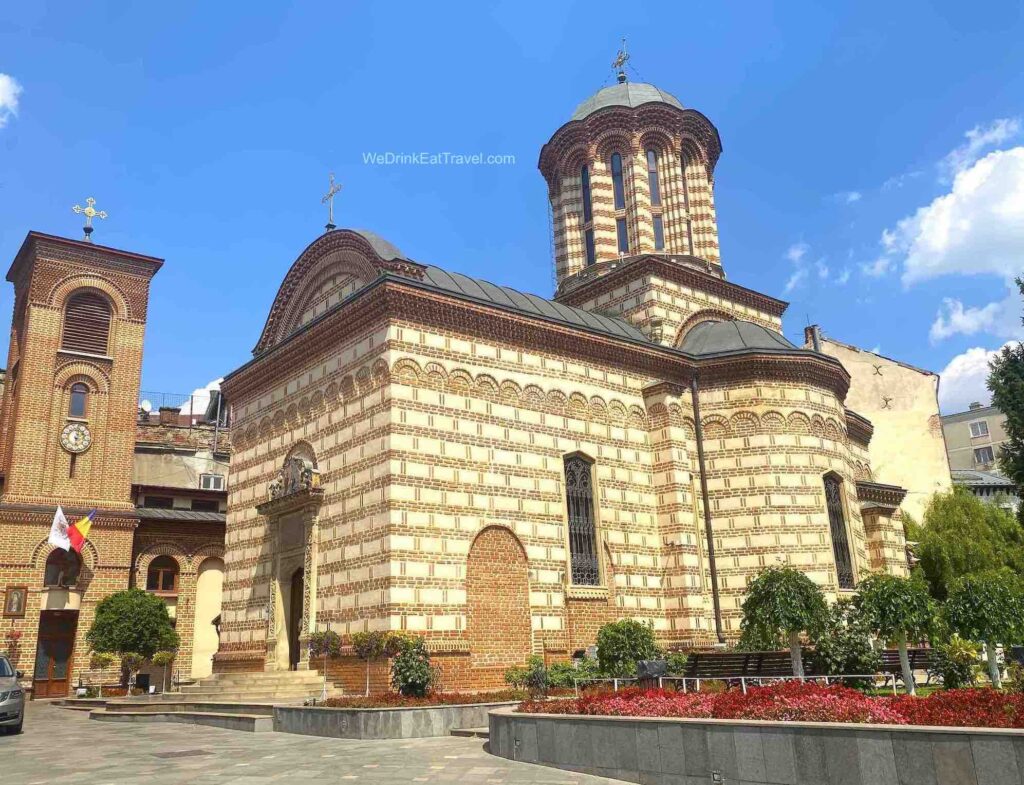 Now, take a look at the inside!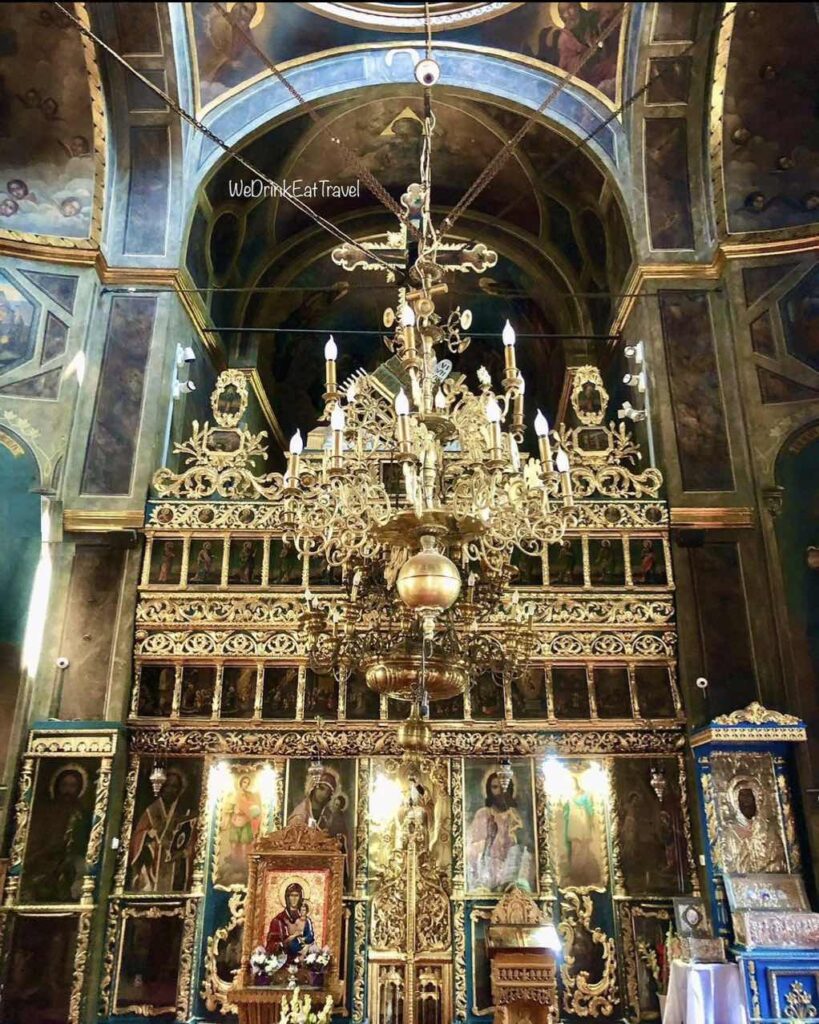 3. St Nicholas Russian Church
A stone's throw away from University Square is the Russian Orthodox St Nicholas Church. Built in the early 1900's… this church has the classic onion domes, that dominate the skyline as you look at it.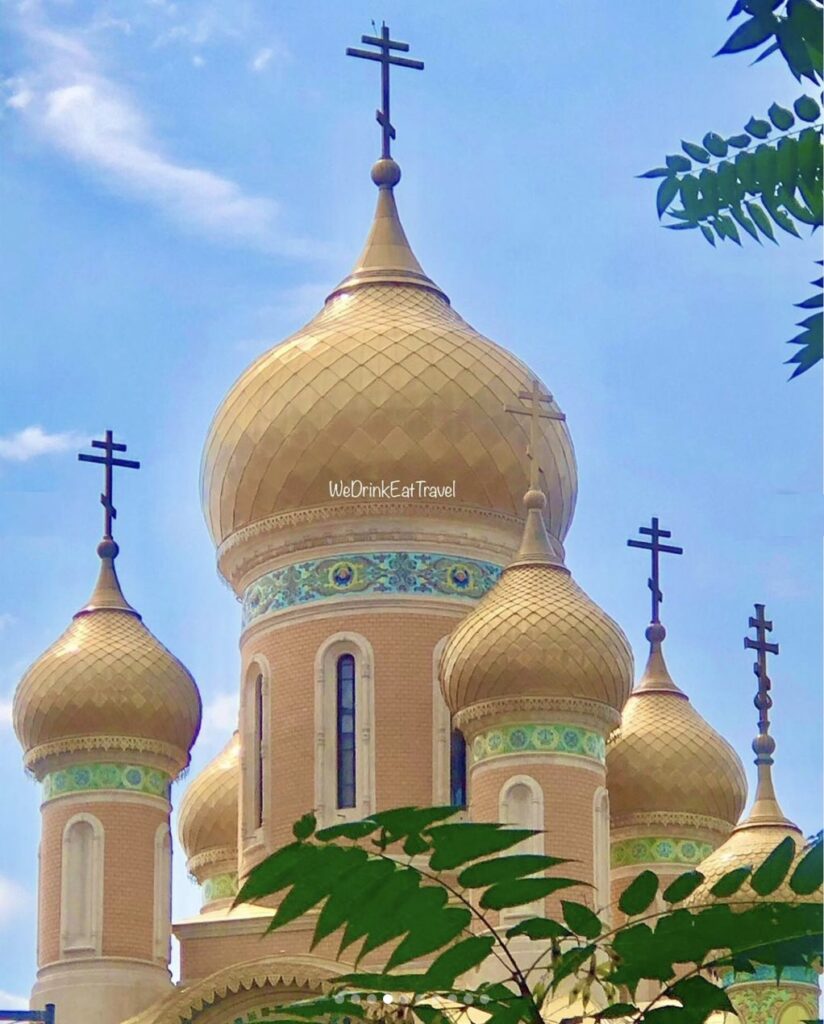 And, another of the defining features similar to many churches of this type… is the striking gold that glistens at every angle.
Now, when we went to see St Nicholas's Church our hearts sank… as there was a lot of unsightly scaffolding surrounding the bottom part of it! So, for this travel blog we put in a more striking photo of the church without any obstructions. Then, you can see how majestic it is.
4. Kretzulescu Church
When you're checking out the landmarks in Revolution Square… across from here is Kretzulescu Church. While this church may be small in comparison to many others… it sure does have a tremendous history.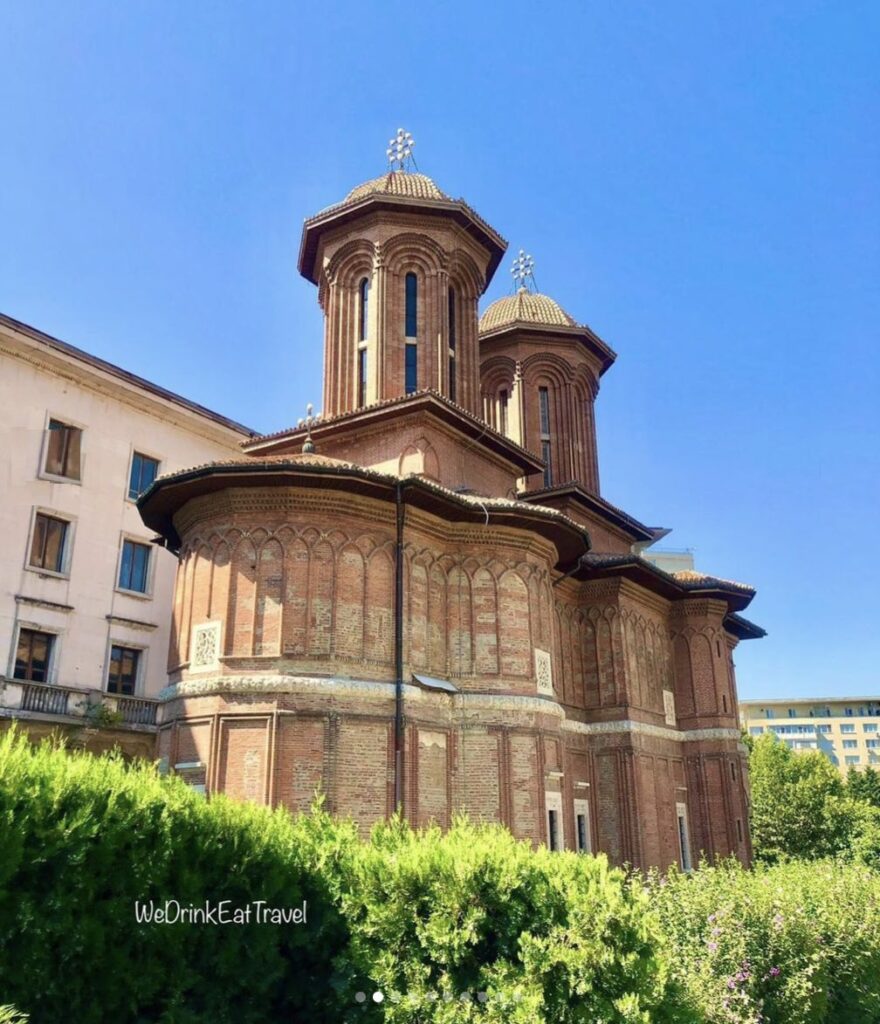 Built in the 1720's during the Communist occupation… this quaint church with the Romanian Brâncovenesc architecture, was on the plans to be destroyed!
Yet, thanks to monumental efforts by some key architects… Kretzulescu Church would survive, and remain in place with restorations over time. So, the story is fitting, with the church being near Revolution Square!
5. St Joseph's Cathedral
Now, after gorging on our gigantic buffet breakfast at the Radisson Blu Hotel Bucharest… with bellies bulging, we slowly made our way around the corner to, St Joseph's Cathedral.
Built in the late 1800's… this cathedral is the main place of worship for the Roman Catholic Archdiocese of Bucharest. It has aspects of Gothic and Roman architecture. And, one of its defining features is the tremendous rose window above the entrance.
Next, is one of the most popular and prominent cathedrals in Bucharest…
6. The Patriarchal Cathedral of Saints Constantine and Helena
Just outside of Bucharest Old Town on Dealul Mitropoliei, is one of the town's most important Romanian Orthodox religious sites… The Patriarchal Cathedral of Saints Constantine and Helena.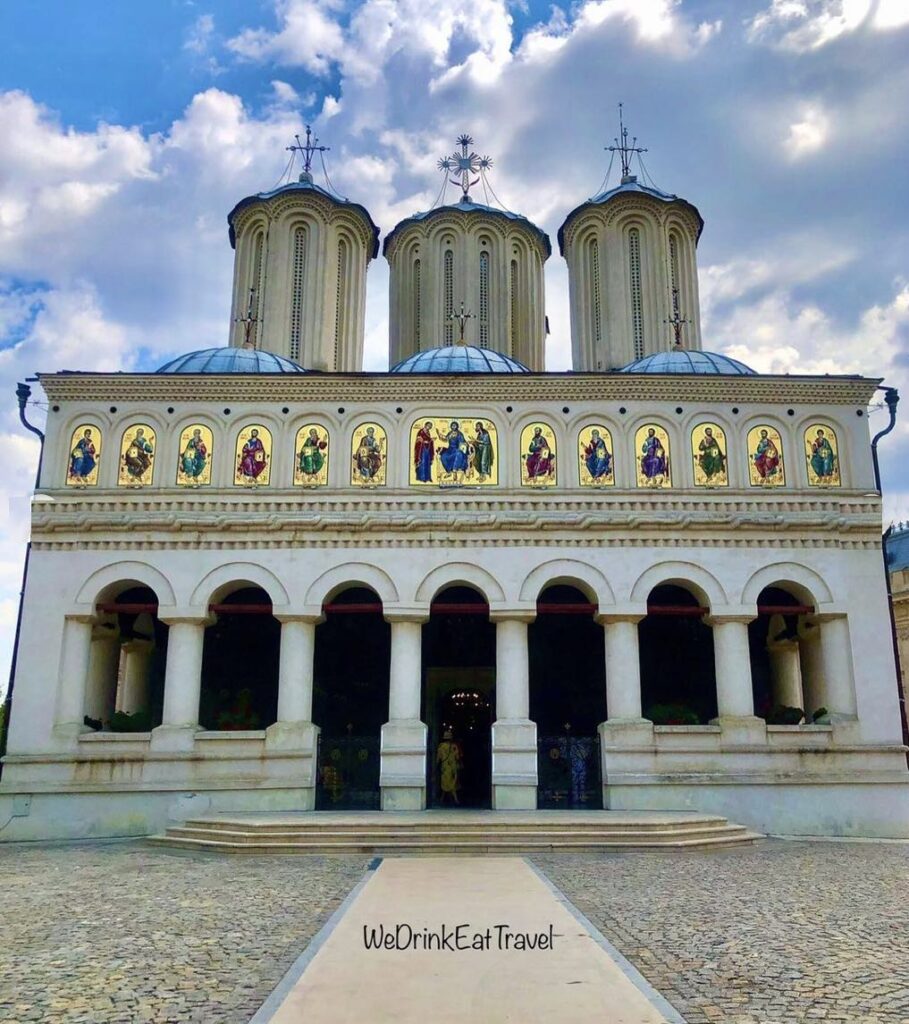 Originally built in the mid-1600's, it was founded by Prince Constatin Serban Basarab… who took his inspiration from the Curtea de Arges Monastery. As with many of the religious sites in Bucharest, it embraces the Brâncovenesc style… also known as Romanian Renaissance or Wallachian Renaissance.
Now, make sure you dress appropriately when planning your visit to this cathedral… as you'll want to go inside and see how astonishing it is. Here's a sneak peek for you…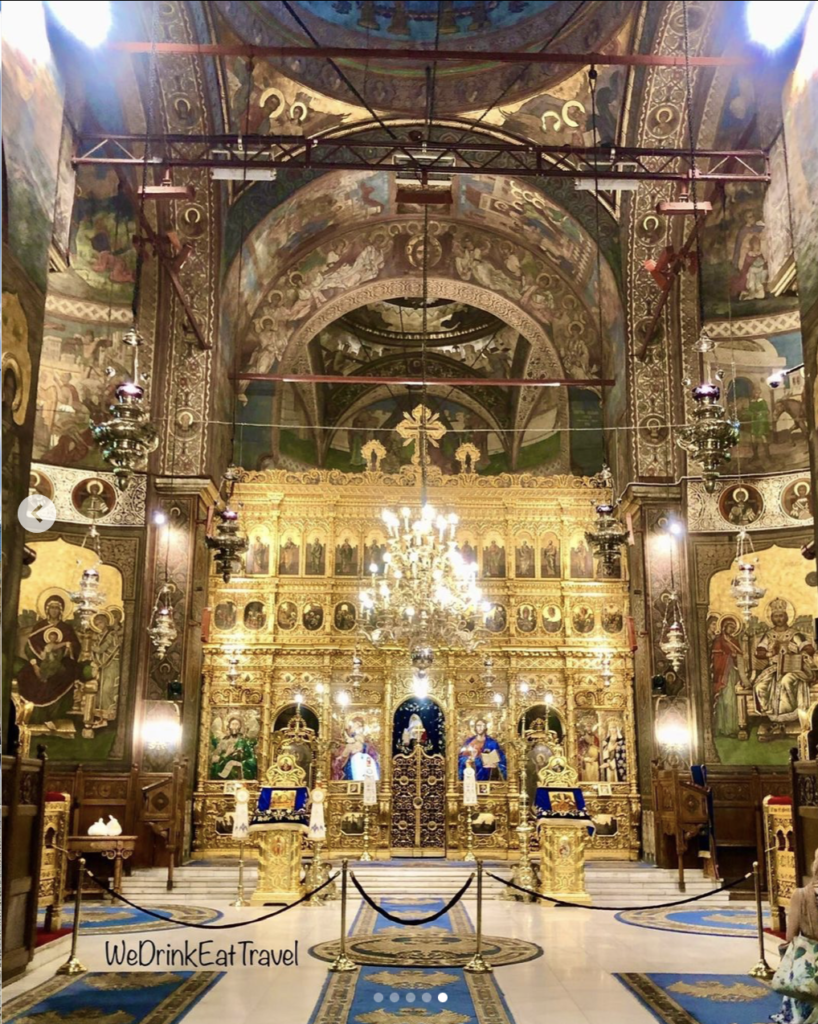 7. St Nicolae Vladica Din Prund Church
On the corner of Bulevardul Regina Maria and Strada Justitiei, near the Patriarchal Cathedral of Saints Constantine and Helena… is St Nicolae Vladica Din Prund Church. It's a mouthful to pronounce!
Now, while this 18th Century church may not be as popular as others in Bucharest… because it's so close to the Patriarche, we recommend you take the short walk to have a look.
And, one of the striking features of this church… is its lemon-yellow trimmings, that stand out amongst the stark white of the building.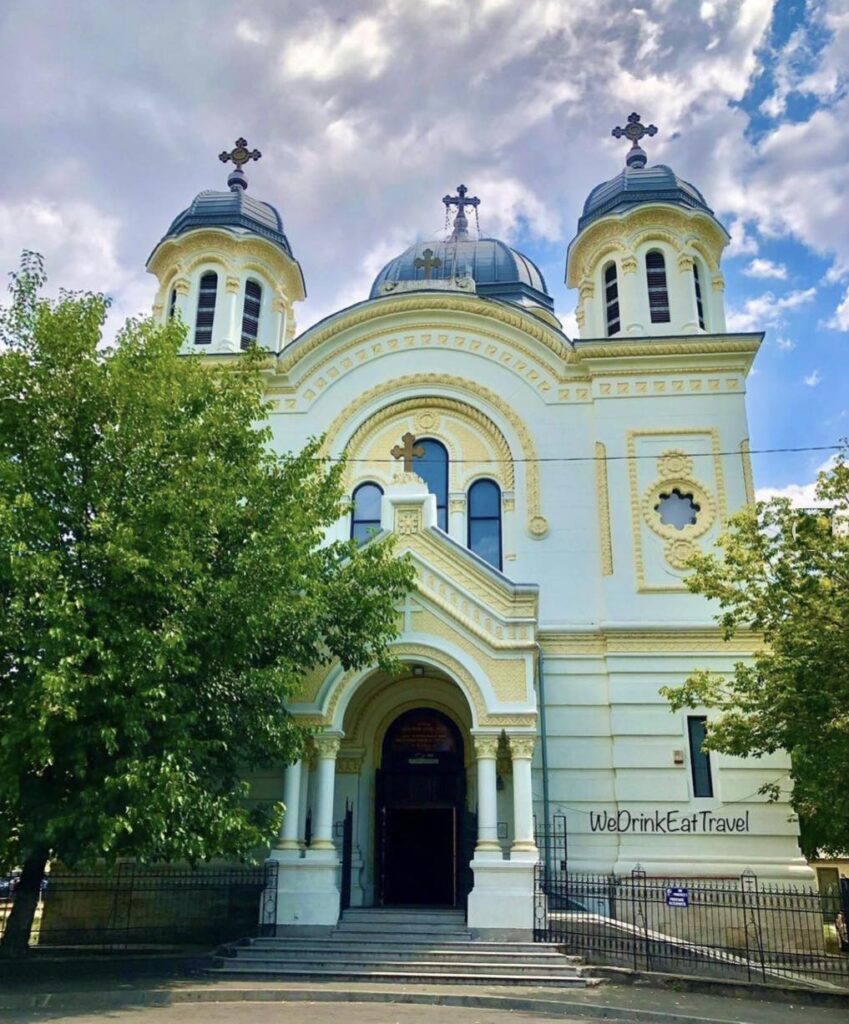 Plus, wander inside as from top to bottom it's colorful and pretty.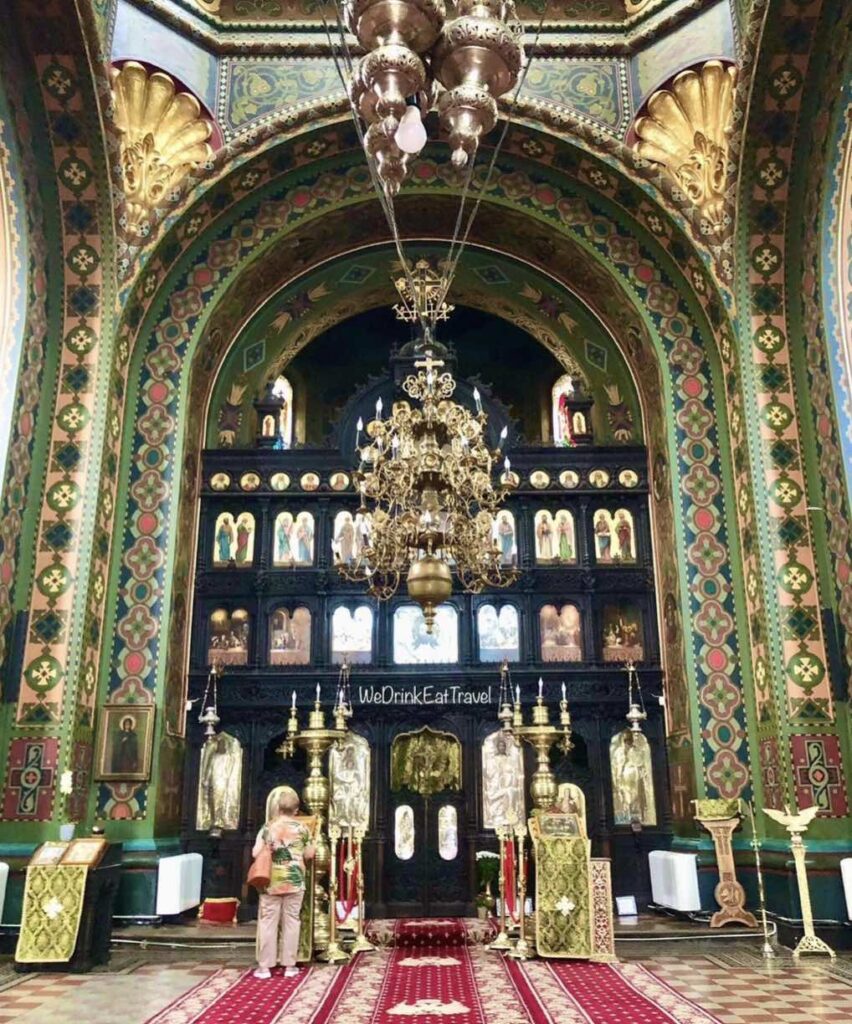 8. Church of St Eleutherius
Nearby Bucharest National Opera House is the majestic Church of St Eleutherius. The design of this church was drawn up by Architect, Constantin Iotzu… featuring a Byzantine style.
Yet, of the many churches that we'd seen while exploring Bucharest, this one surely was magnificent… with its rows of alternating deep red and bright white bricks.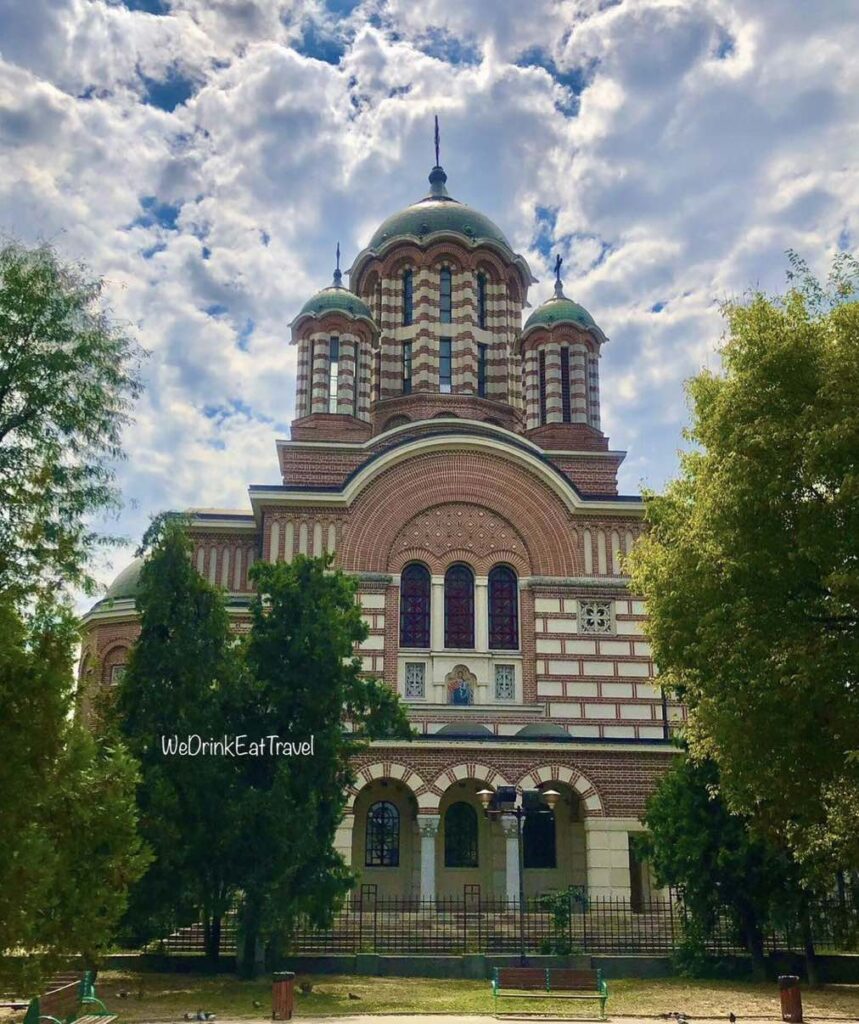 9. Cașin Church
A few hundred metres away from the popular landmark Arcul de Triumf… is the Cașin Church. This gigantic Romanian Orthodox church is "newer"… in comparison to many of the others we've seen.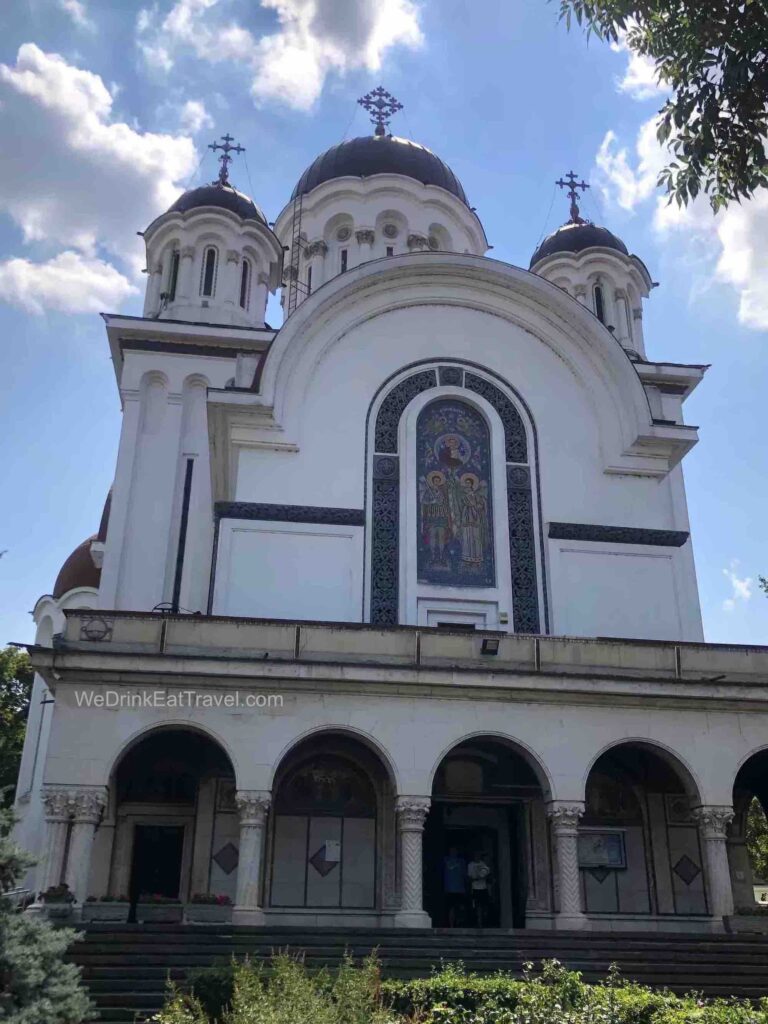 Built in the 1930's, architect Dimitrie Ionescu-Berechetit, won a contest to design the Cașin Churc. It has a mix of Brâncovenesc style and Byzantine architecture. And, with its highest dome reaching a colossal 50 metres… it sure stands out among the skyline.
10. Zlatari Church
When we were admiring the many magnificent landmarks along Calea Victoriei… this cute little church sparked our interest. There were many other people going in and out of this church. So, we had to wait patiently to get photos.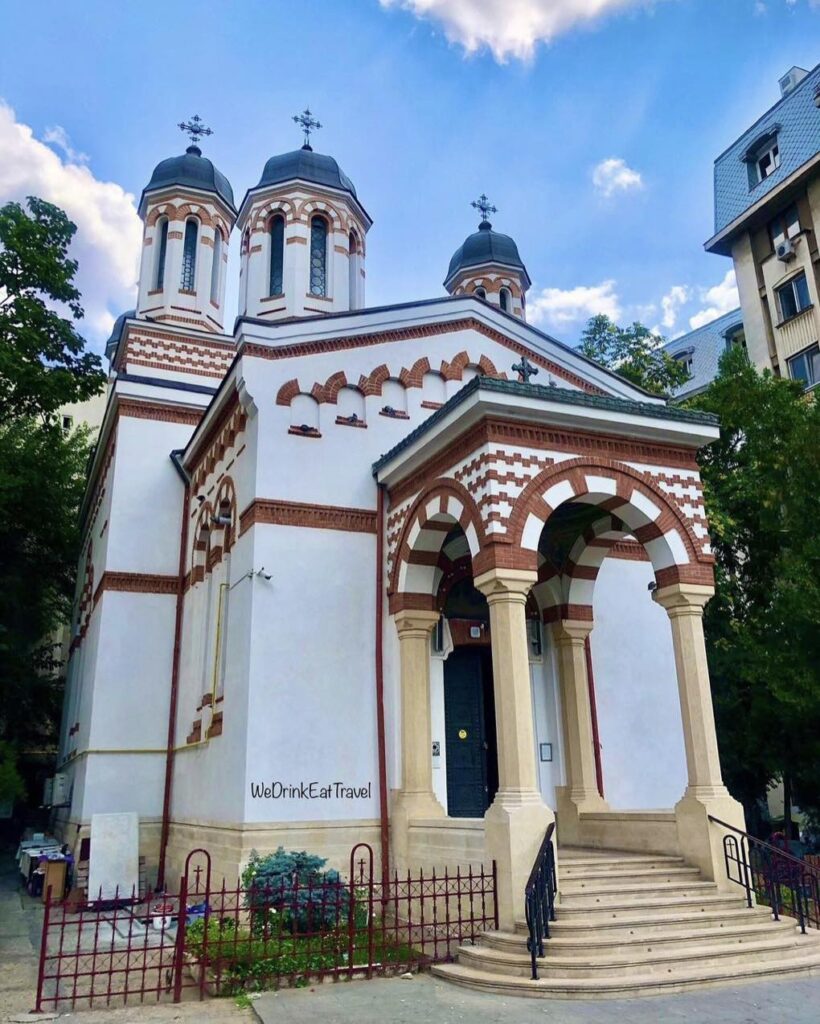 It contains relics of St Cyprian the Mage, who was the patron saint of witches and sorcerers. And, it's said that if you touch his arm… this will help ward off curses, spells and negativity!
While you're deciding whether or not to do that… wander inside to see how breath taking it is.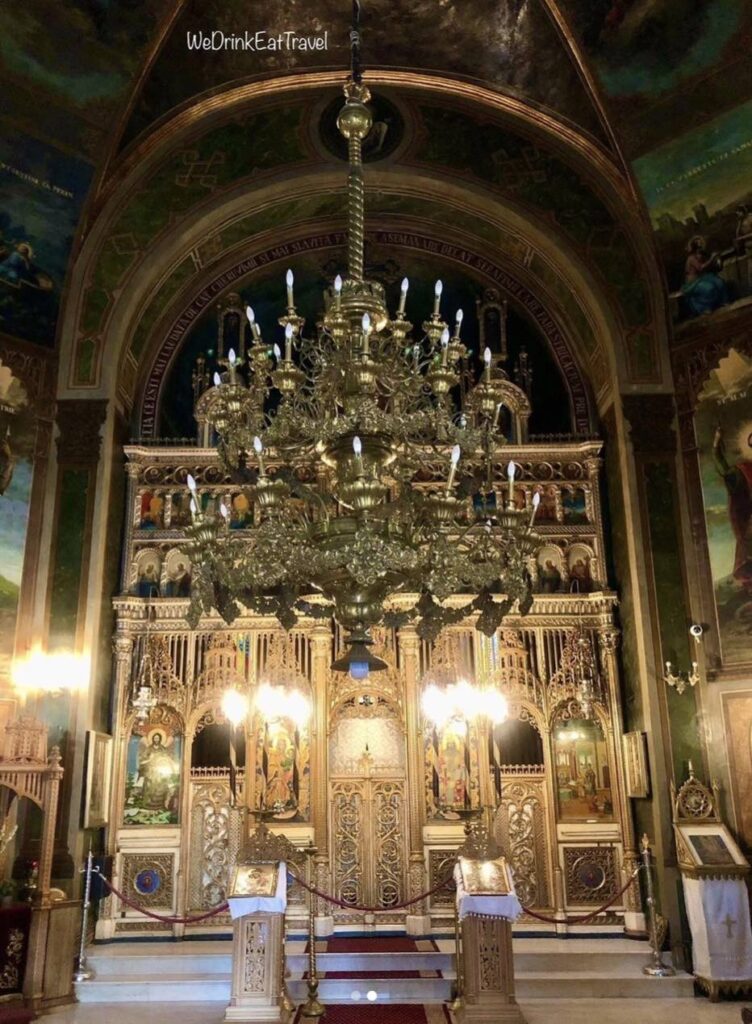 11. Saint John Chrysostom Church
After we went for a gigantic buffet breakfast at the JW Marriott Bucharest Grand Hotel… we thought we should walk back to our accommodation in the Old Town, to burn some calories!
And, only a couple of minutes away was a completely different looking church.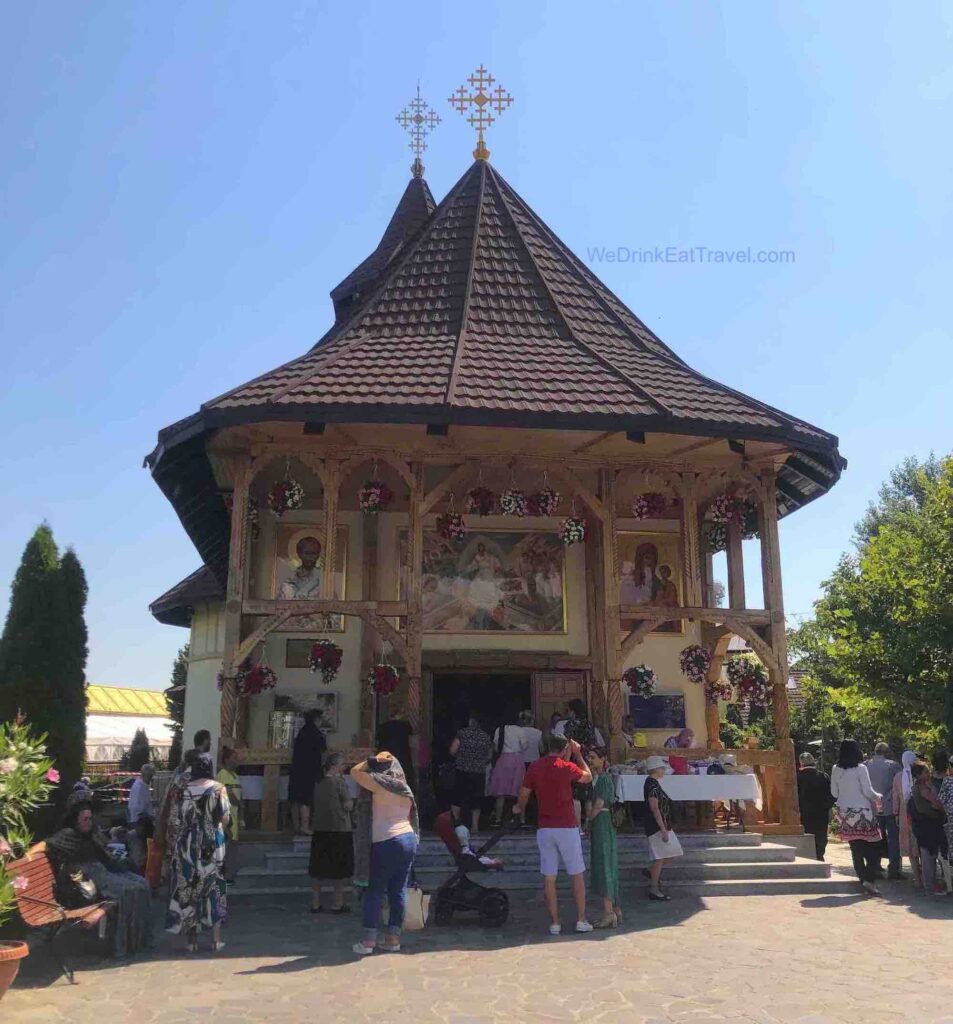 This is Saint John Chrysostom Church. It's a quaint wooden church that also has a landscaped garden area. Yet, at the time we there was a special service. So, we gave respect and made our way slowly back to Bucharest Old Town, bellies full.
12. New St George Church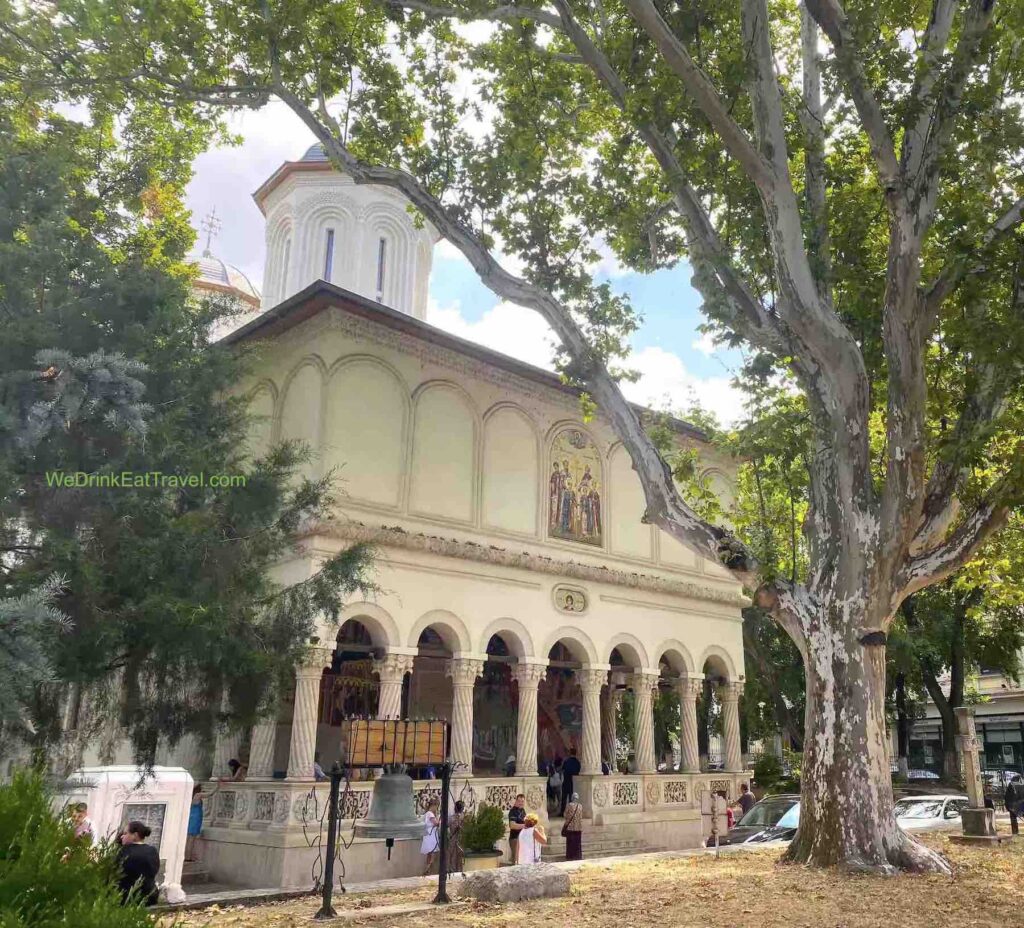 Now, don't let having the word "new" in this church's name, make you think that it's modern. The history of the New St George Church actually dates back to the late 1600's. Yet, it's said that a more ancient church was in the same area… prior to the New St George being built.
The characteristic Brâncoveanu style architecture dominates this church. And, when inside, it's astonishing to see the rainbow of colors throughout the church… from its many elaborate paintings. Plus, when you wander around the grounds, you'll see an enormous sun dial.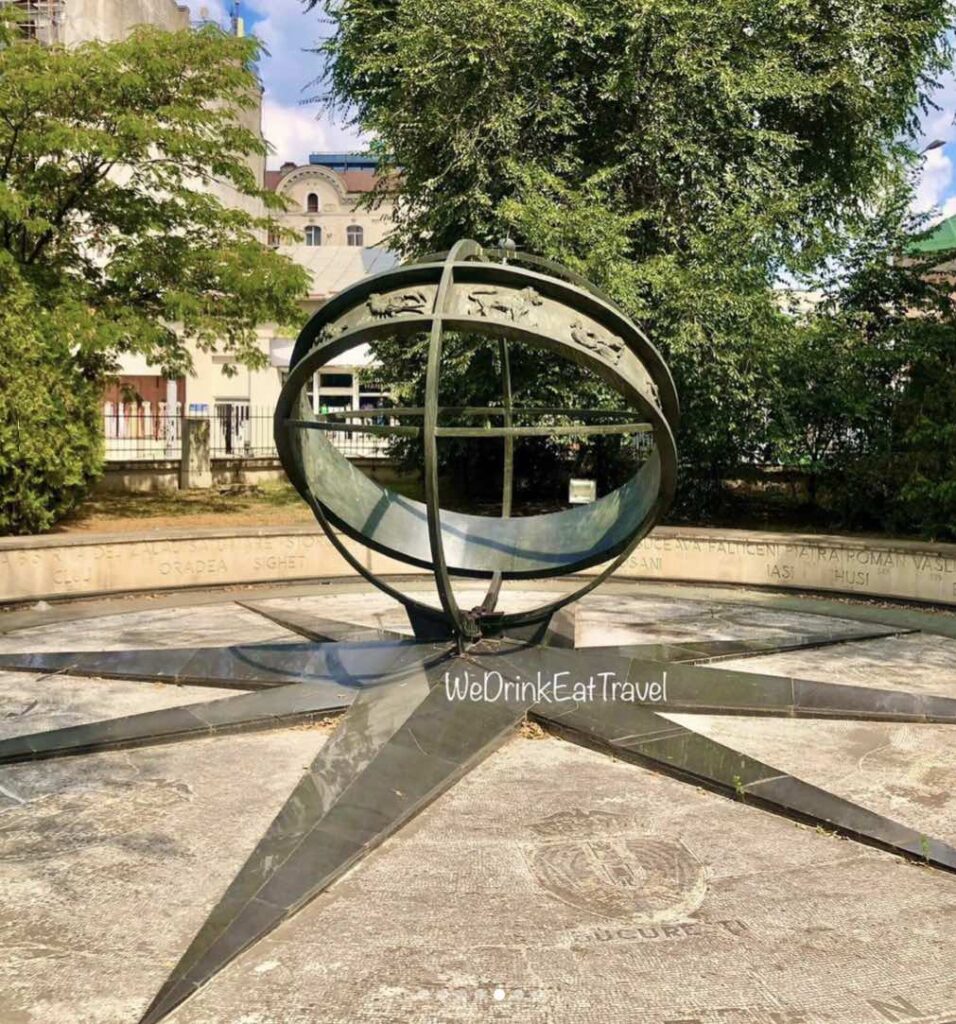 And, last but not least is this church…
13. White Church
When we were on our way to indulge in a buffet breakfast at the 5-star Radisson Blu Hotel… we wandered past this quaint, yet stunning church.
It stood out with its solid white building, and the baby-blue color domes… snuggled between tall buildings, with contrasting styles.
What makes it even more interesting is that unlike most of the churches we've highlighted… the history of this church is unclear. Some say that the White Church may date back to the late 1600's or early 1700's… where it was found on the estate, owned by one of the most noble families, the Văcărescu's.
So, there you have it… 13 amazing churches in Bucharest, Romania. And, trust us when we tell you that there are plenty more that you can see.
We always find it fascinating exploring the various architectural styles of churches and other buildings… especially when they showcase their unique designs. And, the great thing about admiring churches around the world… is that you don't have to be religious to appreciate their greatness.
Remember to check out our We Drink Eat Travel YouTube channel… as we understand that some of you are visual and like to watch videos instead. We trust that by watching and interacting with us in YouTube… you'll find inspiration for your next travels. ENJOY!
You Might Be Interested In This Too…
Discover The Best Website To Book Flights And Hotels
27 Of The Best Things To Do In Bucharest
How To Go To Platinum Fashion Mall Bangkok By BTS
25 Of The Best Things To Do In Kotor Montenegro
30 Awesome Free Things To Do In Prague, Czech Republic
10 Free Things To Do In Hue Vietnam
25 Amazing Things To Do In Dubrovnik Old Town
15 Interesting & Surprising Things To Do In Sarajevo Now
Check Out 15 Amazing Things To Do In Budva, Montenegro