When you're in Kotor, Montenegro, you'll see some of the most picturesque views in Europe. With its mountain landscape and clear, turquoise colored water from the Bay of Kotor… it's a photographer's delight. Plus, you can treat yourself to some delicious Montenegrin food and drinks.
Yet, if you want to combine both of those in one activity… then what you're about to discover is one of the things you must do when in Kotor.
So, if you've read our previous, We Drink Eat Travel blog posts on Kotor… you'll be aware that we've mentioned the Rakia Man several times. So now, in this blog… we're going to run through our experience of getting there, and being there! Then, you have the knowledge and tips before you go.
Hiking Kotor Mountain for Montenegrin Food and Drinks
If you're hiking Kotor Fortress using the "Secret Entrance," that we detailed in a previous blog… then you'll know that you can take a detour to the Rakia Man. To find out about the "Secret Entrance" when hiking to Kotor Fortress, CLICK HERE.
Now, if you're going to look at Google Maps to find the Rakia Man… then look for a place called, Cheese Shop. Oh, and by the way, even if you don't like cheese or rakia… there's other home-made produce you can try like pomegranate drink, wine, and meats.
So, to get to the Rakia Man, look for the hiking route for the Ladder of Kotor… which starts at the end of Trabacina Street, nearby River Skurda. And, on Google Maps you'll see something called, Start of the Ladder of Kotor. And, from here there's a hiking trail with lots of switchbacks… winding all the way up the mountain.
Now, don't let that windy path deter you, as it's not as hard as it looks. Surprisingly, the walk up this path is not that steep, and has a gentle incline most of the way. It does get rocky in some parts, yet don't worry if you don't have hiking boots. It's do-able with normal sneakers, as that's what we did.
So, as you get higher the views of the switchbacks, hiking trail and Kotor is awesome…
Then, after 25 minutes or so depending on how fast you walk… you'll reach a place that looks like this…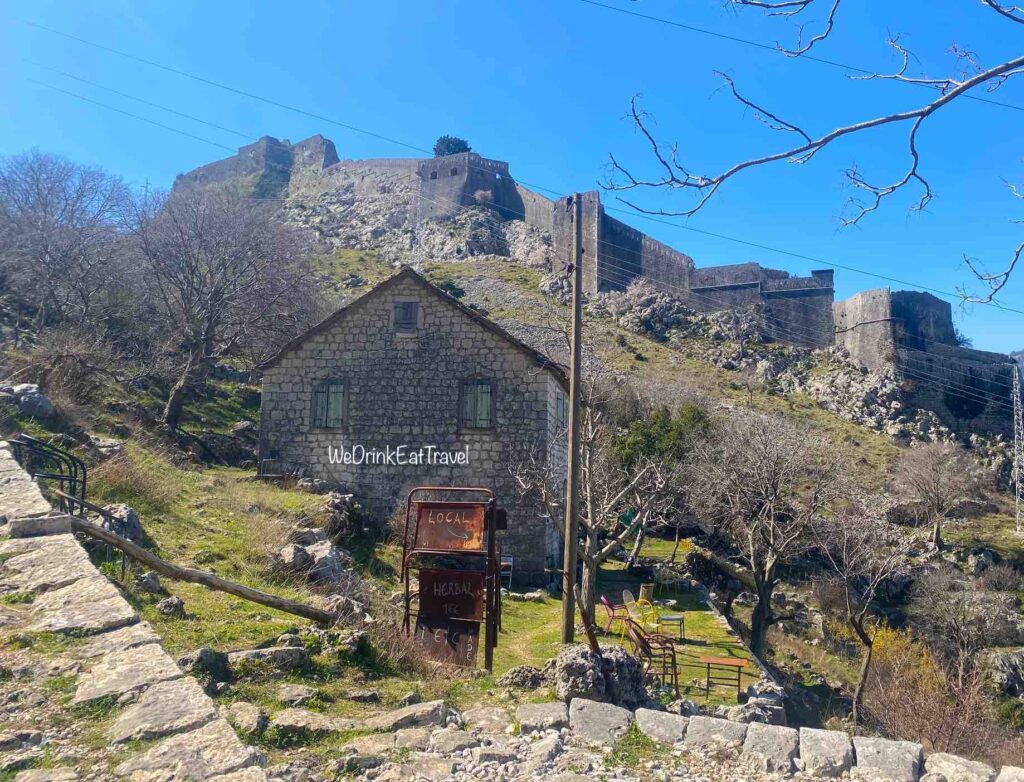 Now, this is NOT the Rakia Man's place. Yet, if you don't intend on going further up the mountain… then you could stop by here for refreshments. However, we highly recommend you keep walking up as the views are incredible… and from there it's not that far anyway. Plus, you need to try his local Montenegrin food and drinks.
At this point, it's like a T-intersection. So, you can either go left or go right. And, to get to Rakia Man's place you need to follow the switchbacks on the left. If you take the path to the right… then on the way are the remains of a little dilapidated old church, Sveti Juraj. And then, the path can take you to Kotor Fortress, for the "Secret Entrance."
Hello, Is Anybody Home?
So, after about 35 minutes of walking for us and stopping to take pics, we got to a place that looks like this…
And, this is the Rakia Man's place, otherwise known as the Cheese Shop. It's an unassuming place, with lots of cats roaming around. Now, if you're not sure if it's open… simply walk up the steps and yell out a, "Hello." Eventually, someone will come out.
So, go on past the front door of the home… because this is where tables and chairs have been set up undercover. There are many tables and chairs to cater for hungry and thirsty folks like us. Yet, when we were there it was only us.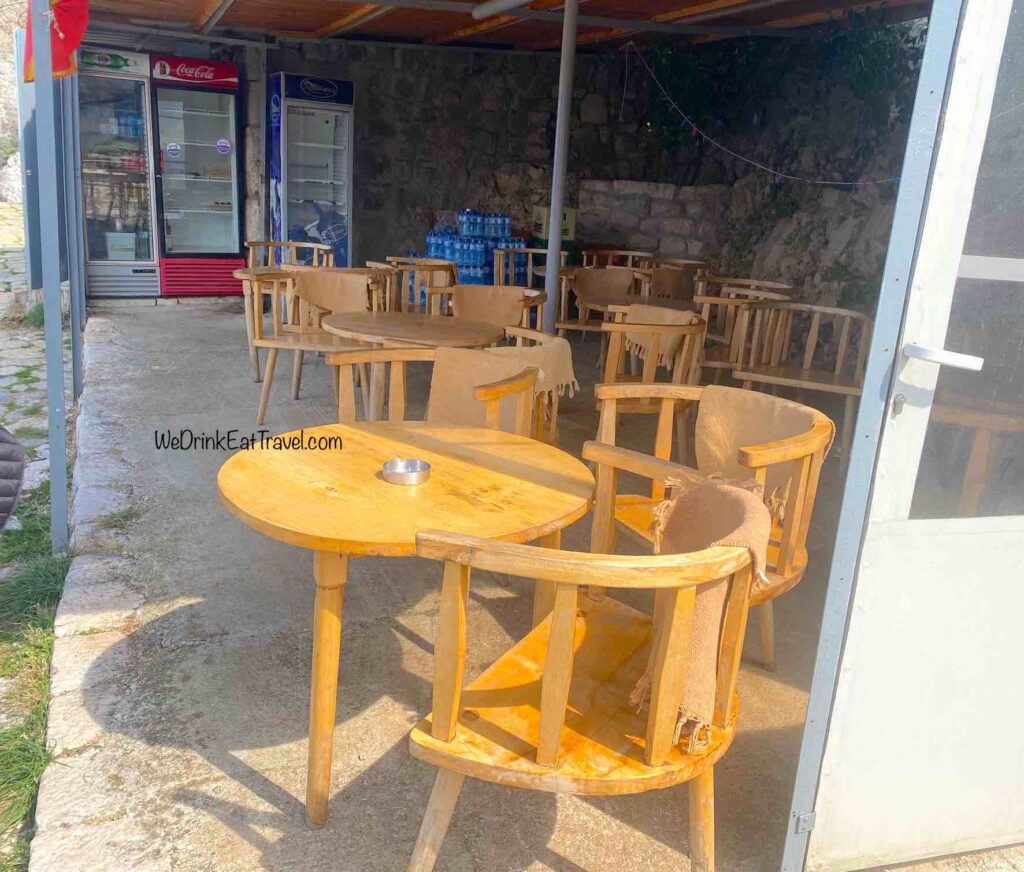 And, it was even more surprising that at the Rakia Man's place… there are toilets, separated for males and females. So, he must get a decent number of people coming to visit!
As we were looking around the area, an older gentleman came out who must've been the Rakia Man. Oh my gosh… he is REAL! He is so proud of his place, and happy to pose for a photo…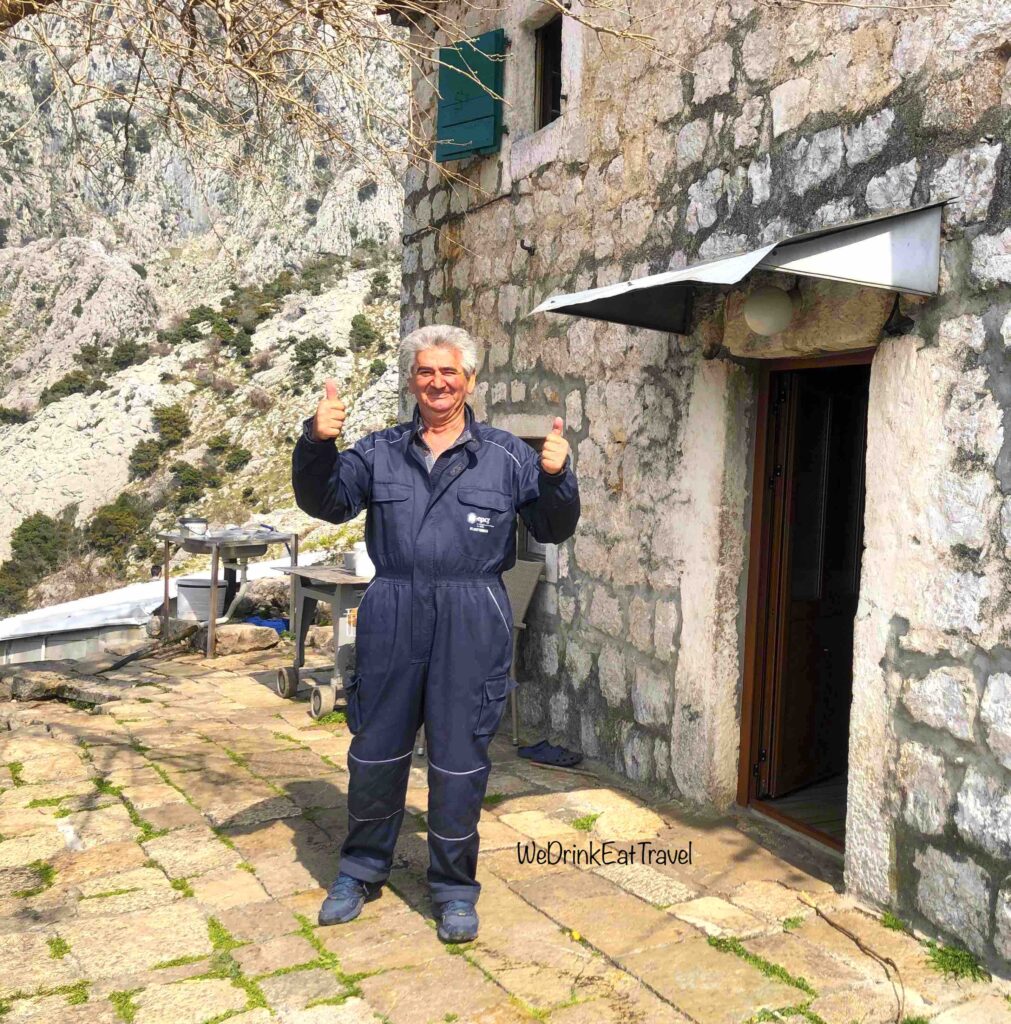 Relax With Amazing Views and Montenegrin Food and Drinks
So, we already made ourselves comfortable in one of the front tables and chairs. And, while attempting to speak to him in the Montenegrin language that I'd learnt… he understood! Don't worry, you'll be able to get by.
He has a fridge full of home-made goodies, as well as other standard food and beverages. We could go to the fridge and pick what we wanted. So, we had a couple of rakias, which were like rocket fuel… with an amazing view in front of us.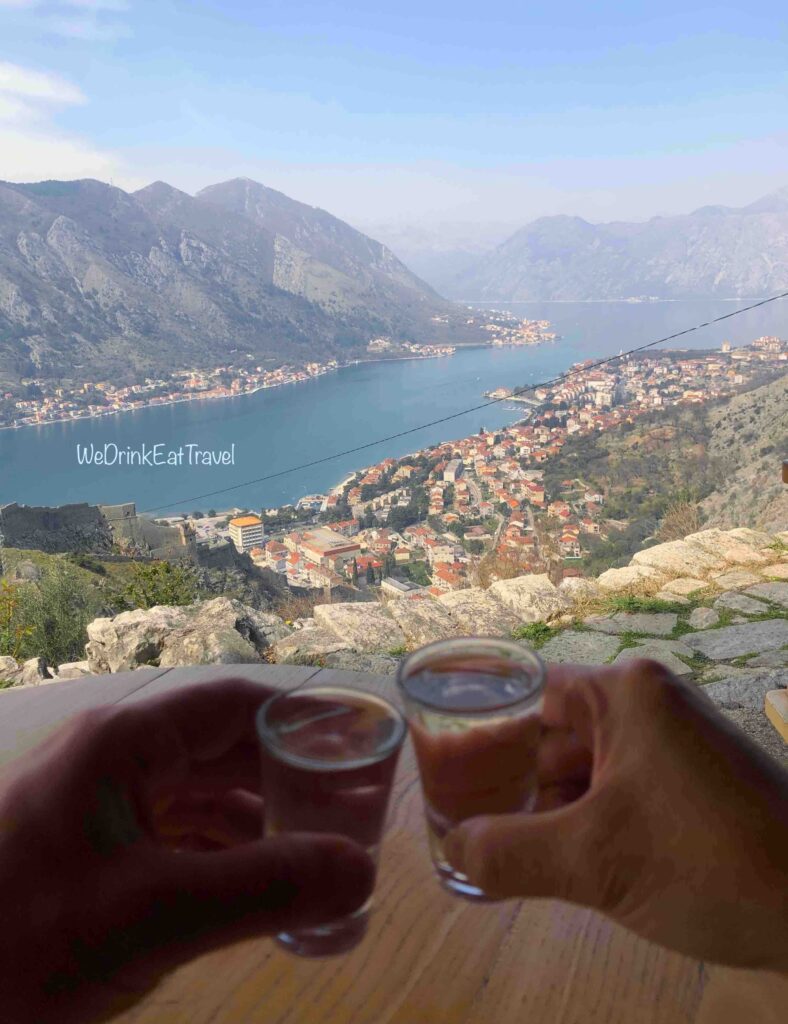 And, at 2 Euros for a shot of rakia, you could down quite a few if you wanted!
Plus, we had some bread, goats cheese, a glass of red wine filled to the brim, and a beer.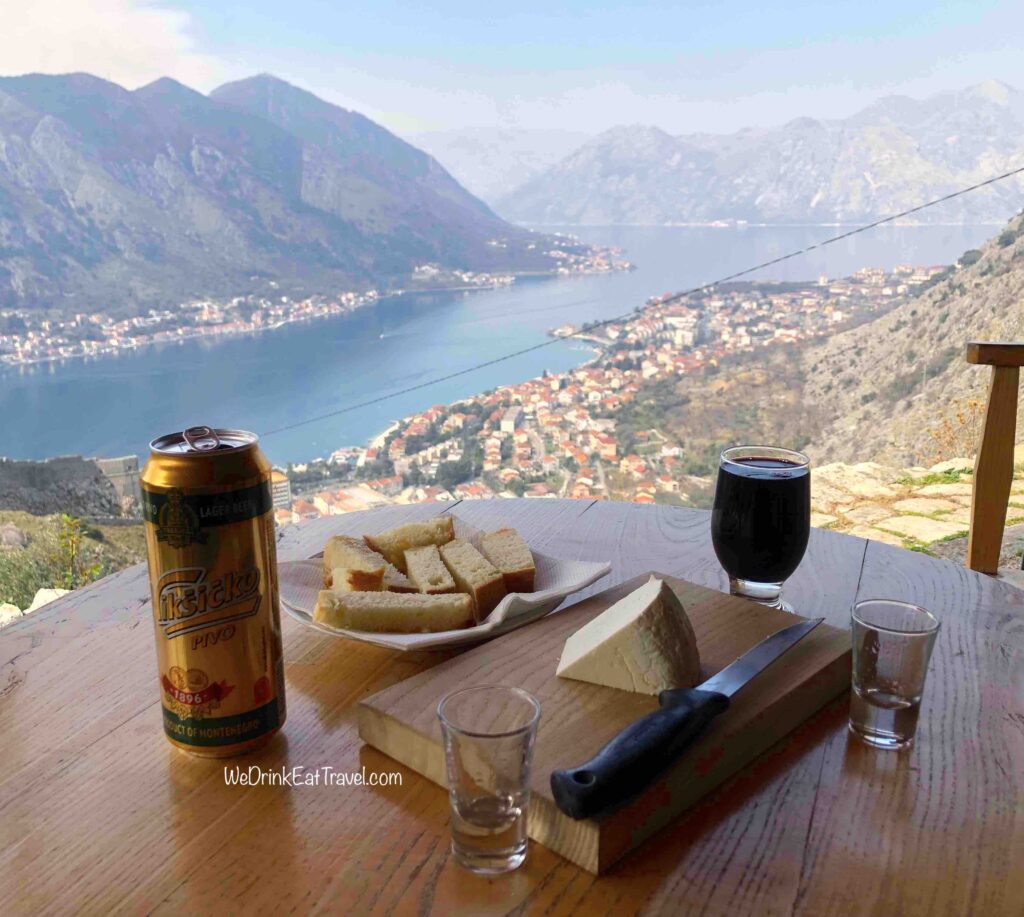 So, the price for all that including the 2 rakias, was 15 Euros. We thought it was cheap, especially because it included home-made produce. Plus, the amount of wine that was given was more than decent, maybe around 250ml? Anyway, it was much more than the measly pour of a glass of wine in Croatia… which is only about 100-125ml. Yet, you get charged a ridiculous amount, for a "mouthful" of average wine in some places.
Now, we could've stayed longer at Rakia Man's place. It was so relaxing and peaceful. Plus, he was so friendly, laid back, and the cheese was to die for! Yet, we had our plan to walk further up the mountain… and zig-zagging along the already windy switchbacks didn't seem like fun!
So, we stopped to sit down at one point and here's the view we took in…
Kotor is one of the best places to visit in Montenegro. And, we highly recommend that if you can make the time… do yourself a favor, and make your way up to the Rakia Man's place. It's a memorable experience for some great local hospitality… as well as delicious home-made Montenegrin food and drinks.
ENJOY!
For more gourmet and fun travel experiences CLICK HERE…
Like This? Share it and comment on it!
Note: All of our reviews and comments are our opinions and no-one else's. Even if we receive complimentary goods or services we share our opinions honestly.
You Might Be Interested In This Too…
How To Get FREE Accommodation While Travelling
25 Of The Best Things To Do In Kotor Montenegro
Where To Eat In Tivat For The Best Fast Food
Ultimate Tivat Hiking Trail For The Most Breathtaking Views
Check Out 16 Things To Do In Tivat Montenegro
25 Awesome Things To Do In Split, Croatia
Amazing Vidova Gora Hike On Beautiful Brac Island Croatia
What You Need To Know: Great Things To Do On Brac Island
Here Are 12 Amazing Things To Do In Mostar
15 Interesting & Surprising Things To Do In Sarajevo Now
13 Interesting Places To See In Podgorica Today
Shop Until You Drop In Ratchada, Near Thailand Cultural Center MRT
7 Free Things To Do In Bangkok
10 Places To Visit In Gozo Malta For Breathtaking Views
10 Picturesque Churches To See In Vienna Austria
How To Make Your Time In Tirana Albania Fun And Memorable
Here Are 7 Remarkable Things To Do In Berat Albania
10 Awesome & Surprising Things To Do In Skopje Now