Being slow travelers, we were taking our time going through the Balkan region. And, certain circumstances "forced" us to visit countries in this area. Yet, this actually became a blessing in disguise… as we were able to explore and discover some amazing new destinations.
So, when we were in Belgrade, Serbia, we spent almost 3 months there. And, this gave us the opportunity to take our time to immerse ourselves in a new place.
Plus, one of the most important things for us when we travel… is to try lots of different foods and drinks. And, that of course is what we did in Belgrade.
So, in this We Drink Eat Travel blog, we'll run through some of the best food in Belgrade… from fast food through to upmarket dining. Sit back, relax with a brew, and enjoy! Oh, and by the way, if you start to get hungry while reading this… we take full responsibility, ha ha!
Bureks in Belgrade
Now, to start off, those of you who follow us on our travels know that we love our bureks! And, when we were in Belgrade we of course tried LOTS. Whether it was in the city centre or in the outer areas while we were exploring… we would always seek out places to grab a burek.
And, having eaten probably hundreds of bureks on our travels… we'd say that we are professional burek critics now!
Now, having bureks for breakfast is common for the Serbians, along with a yogurt. And, with so many bakeries around you'll be spoilt for choice. The most common are cheese bureks or meat. Yet, depending on where you go, there'll be other varieties like… spinach and cheese, potato, or even pizza burek!
Yet, one of the best bureks we had was at a place called, Panini. For a big, thick slice of burek pie filled with delicious salty cheese… it only cost 110 Dinar (about USD $0.95 / 1 EUR / 0.75 GBP). This is ridiculously cheap!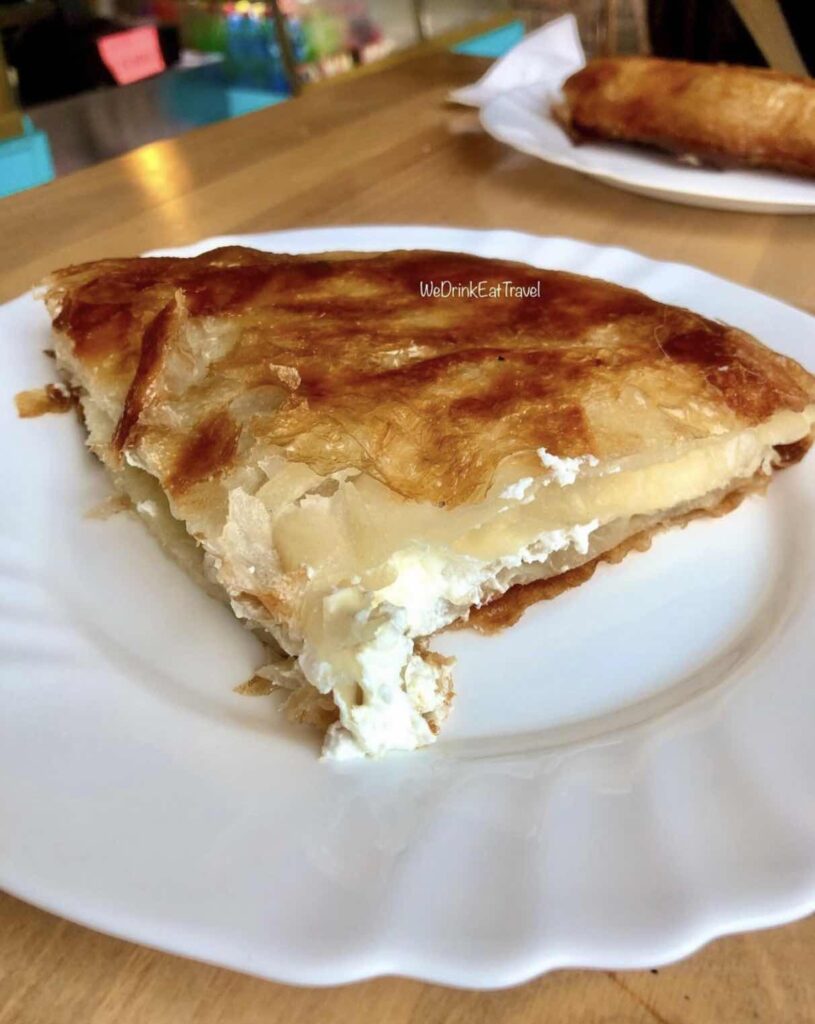 Plus, the ladies who would serve us were friendly and lovely. Now, this bakery is out of the city centre, yet if you're in the area you MUST get a burek here.
You can find Panini on Vojvode Stepe, Voždovac.
So, just in case you can't get out to Panini… there are hundreds of bakeries that will satisfy your burek cravings. Yet, if you want some of the best food in Belgrade for savory and sweet treats, head on over to this place…
Pekara Trpković for Sweet and Savory Treats
We did mention one of the best places before to get a burek was at Panini. Yet, if you're looking for a place in the city centre… we must give an honorable mention to this bakery, Pekara Trpković.
Although we found that their bureks were incredibly flavorsome, they are oily. They pack them in aluminium foil, but be careful… as it can get messy with oil seeping through, dripping all over your hands or clothes. Yes, we have first-hand experience with that happening!
This popular bakery seems like it's always busy… with a line of people each time we've been, or have seen when we pass by it. But then again, it's tiny inside and you won't be able to sit down. Although, there are tables out the front for standing only.
Yet, while you're waiting in line, you'll drool over the food in the window.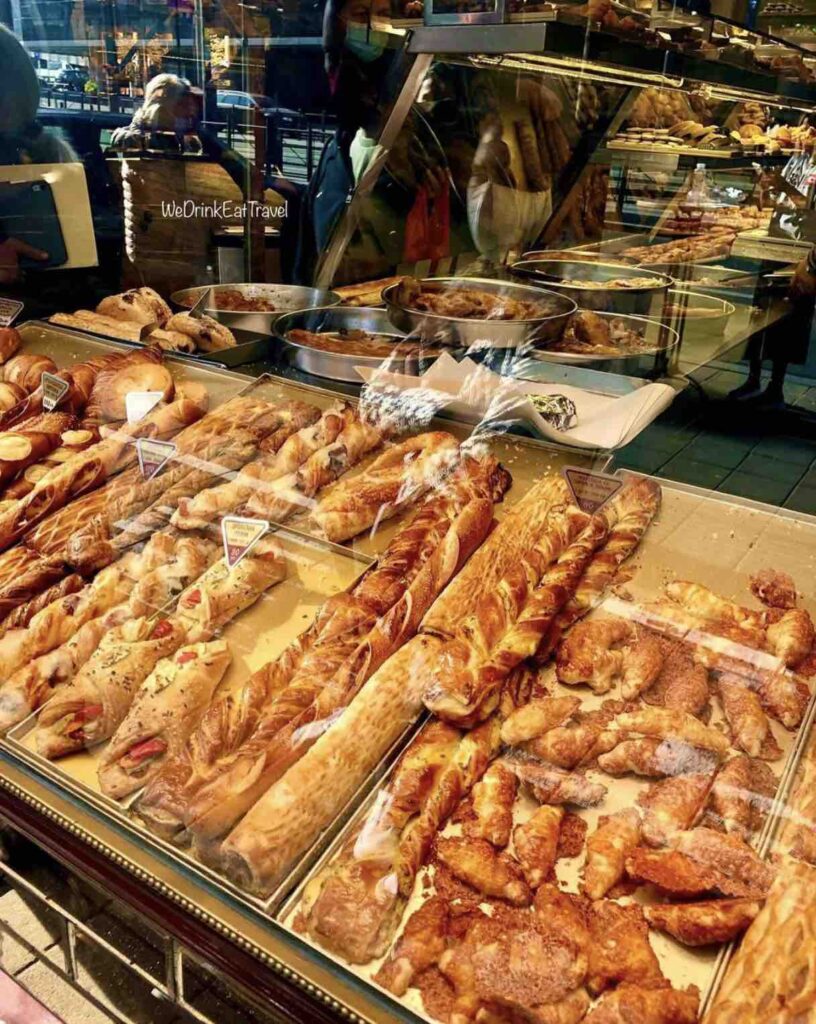 And, not only do they have a variety of different bureks… they offer a huge assortment of other savory and sweet delights you'll love.
So, a travel tip when you're going to Trpković bakery… There is one line for people who want bureks, and another line for people who don't want bureks. And, more often than not… the line with the most people are those who want bureks.
Tradtional Serbian Food from a Restaurant with No Name
After we went to see the Belgrade Fortress and Kalemegdan Park complex… we had a craving for some ajvar and beer! And, at the Southern point of the large Kalemegdan Park… you can walk a few hundred metres, to have some traditional Serbian food.
Yet, this place which claims to be the oldest restaurant in Belgrade, in a building over 200 years old… doesn't really have a name. And, one of the significant features of this restaurant, is the question mark that sits above the doorway…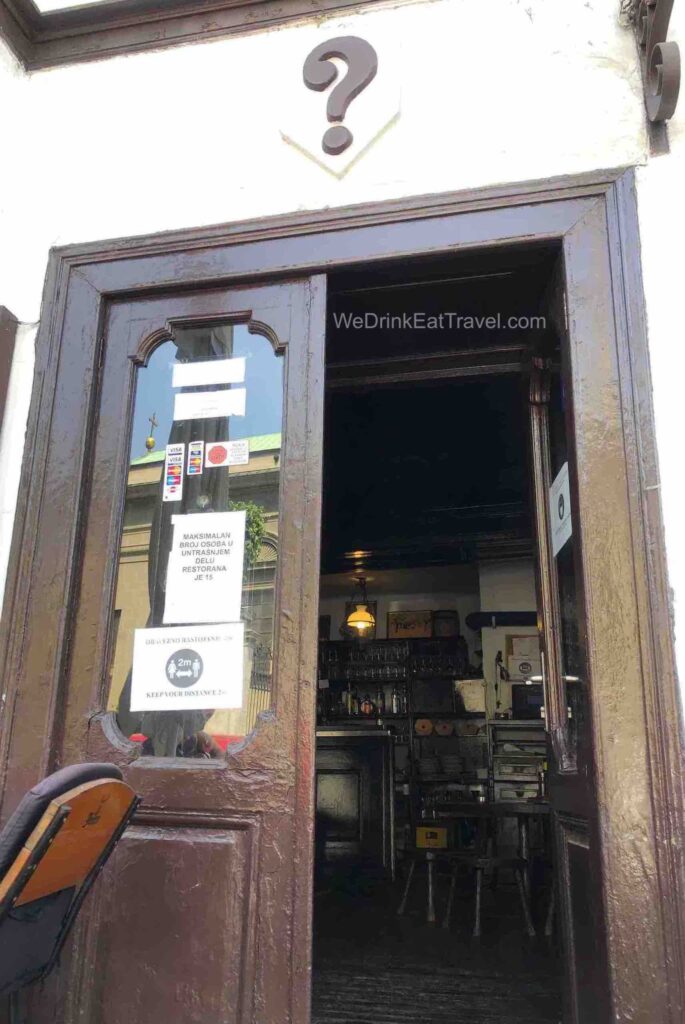 So, the story is that the owner of the restaurant at the time wanted to call it a certain name… which would have affiliations with a church. Yet, it's said that the church would not allow their name to have links to a tavern. Then, there was a great debate.
Thus, while all this conflict was happening, a question mark sign was put above the entrance. And to this day, it's still known at the Question Mark. Or in Serbian language, Znak Pitanja.
This place produces some of the best food in Belgrade… using 200 year old recipes that have been passed onto generations. Not only is the food tasty, the prices are reasonable for such an historic place.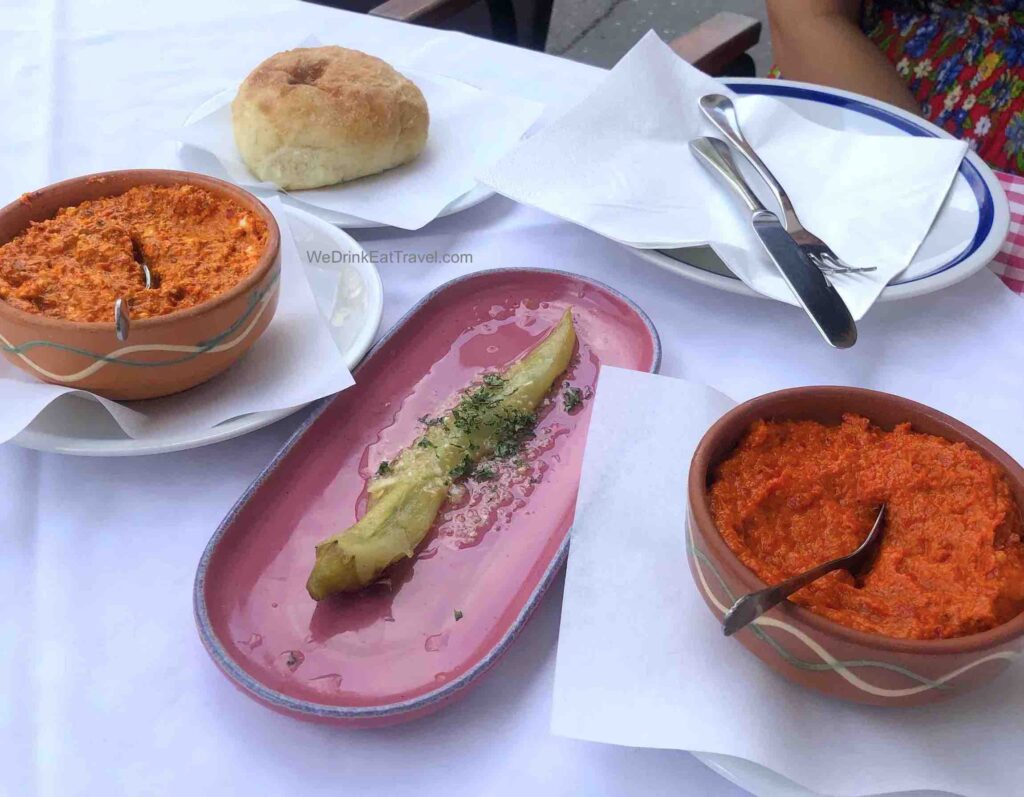 You can find the Question Mark restaurant at, Kralja Petra 6.
For amazing gastronomic experiences on your travels, CLICK HERE
Upmarket Dining on Traditional Serbian Food in Belgrade
If you're wanting to have traditional Serbian food, while taking it up a notch… then head on over to Restoran Kovač.
This restaurant is more fine dining, in comparison to the Question Mark tavern, and bigger. It caters for the solo diner, to couples, through to families. Plus, there are different sections inside the restaurant, as well as an alfresco area.
Yet, on this occasion, we chose to sit inside the section with the fancy interior. And here, the tables are layered with pristine white placemats… with the silver cutlery perfectly laid out. The lights are covered by elegant lampshades, to provide some calming mood lighting.
The menu is extensive, and they have a large wine cellar that you can peruse… to find some matching wines for your dishes.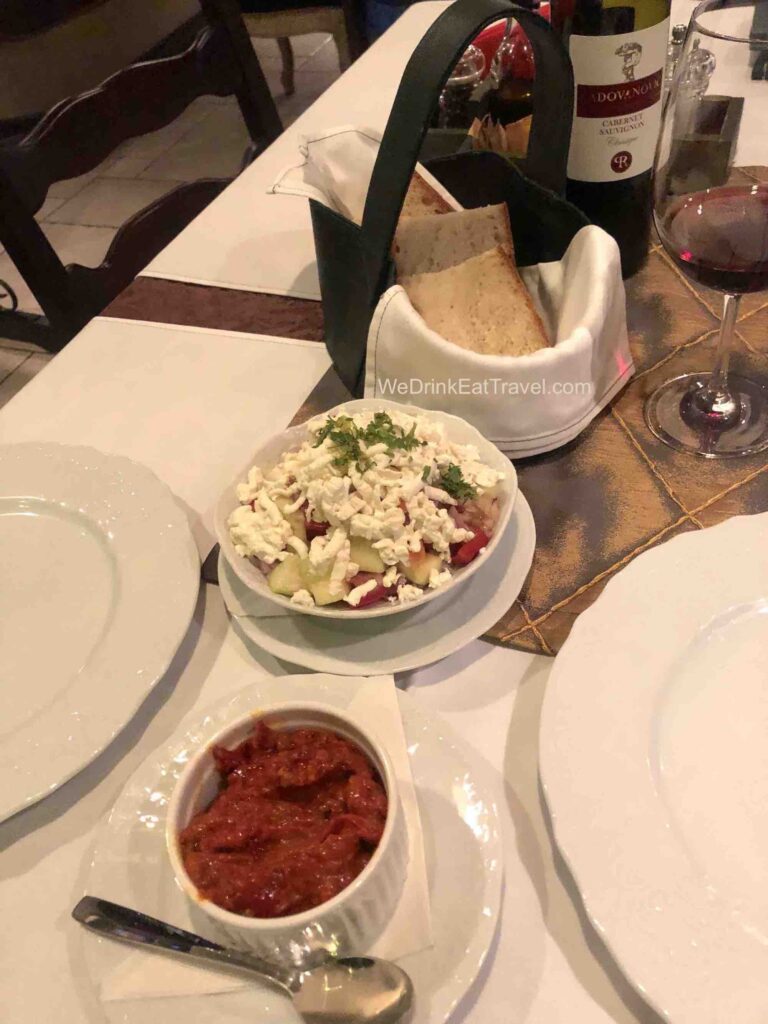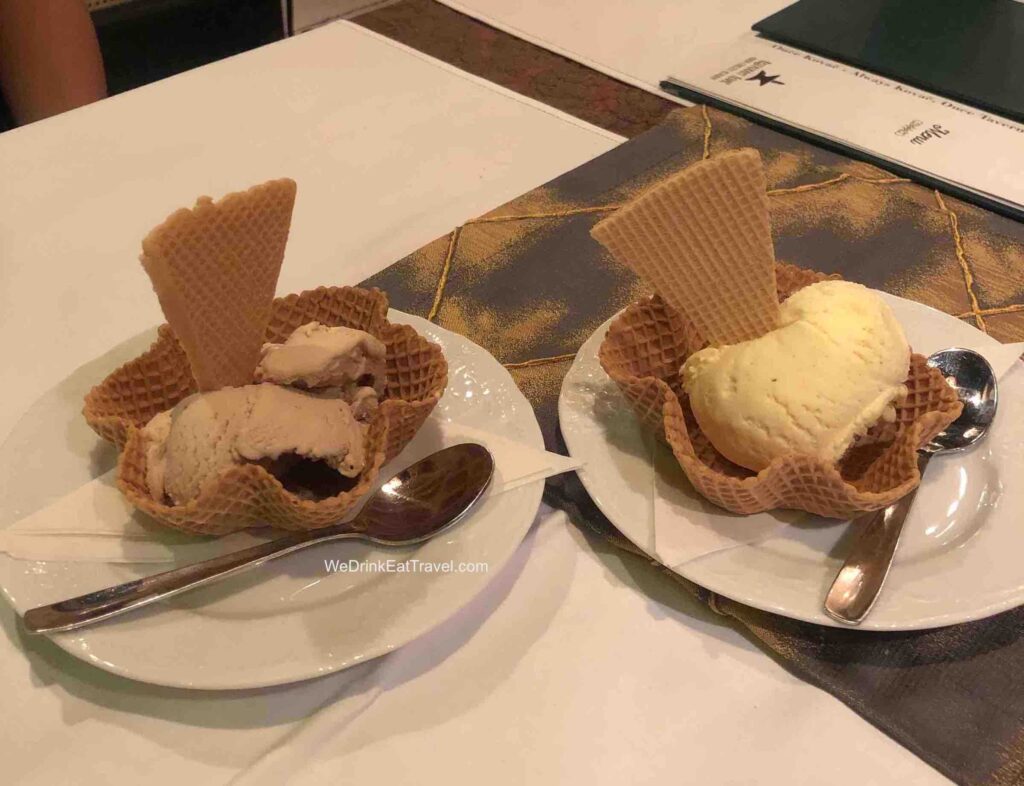 Now, there is something you should know about Restoran Kovač…
Depending on when you go, there may be live music! When we were there on a Saturday night, there was a 4-piece roving band. So, if you have any requests… they'll come to your table to play their instruments and sing… loudly.
Now, we've heard that you'll need to give them a healthy tip to play at your table.
Yet, if you're thinking about requesting music from legendary bands like Bon Jovi… then unfortunately you'll be disappointed! Nope, this is traditional Serbian music. So, needless to say, we didn't have any requests!
Plus, when they were performing at the table, other guests in the restaurant would sing a long too. So, try some traditional food, with a unique Serbian atmosphere at Restoran Kovač.
You can find this restaurant in Belgrade at, Bulevar Oslobođenja 221.
If you want some of the best food in Belgrade that ISN'T traditional, then go to this place…
Pizza in Belgrade
Now, when you're in Belgrade and craving a pizza, there are plenty of options. Thus, it was hard to narrow it down to one place. Yet, in this travel blog we'll mention one of our top recommendations for pizza in Belgrade. Then, we'll do another blog about top places for pizza in Belgrade… as you'll want to know about that!
So, if you want "to die for pizza," head on over to… Mama Shelter.
This is a great place if you want a vibrant atmosphere from day through to night. As it's part of a hotel, there are lots of different people who go to this restaurant. And, there's lots to choose from at Mama Shelter's menu.
Yet, after seeing all the mouth-watering dishes we could have… we had to try their Black Truffle pizza. Now, this maybe seasonal so if they don't have it – SORRY, you miss out! We also got the Margherita pizza too.
And, oh my goodness, they were both so gourmet… especially the black truffle pizza. Their pizzas are wood-fired, which adds to the delicious flavor.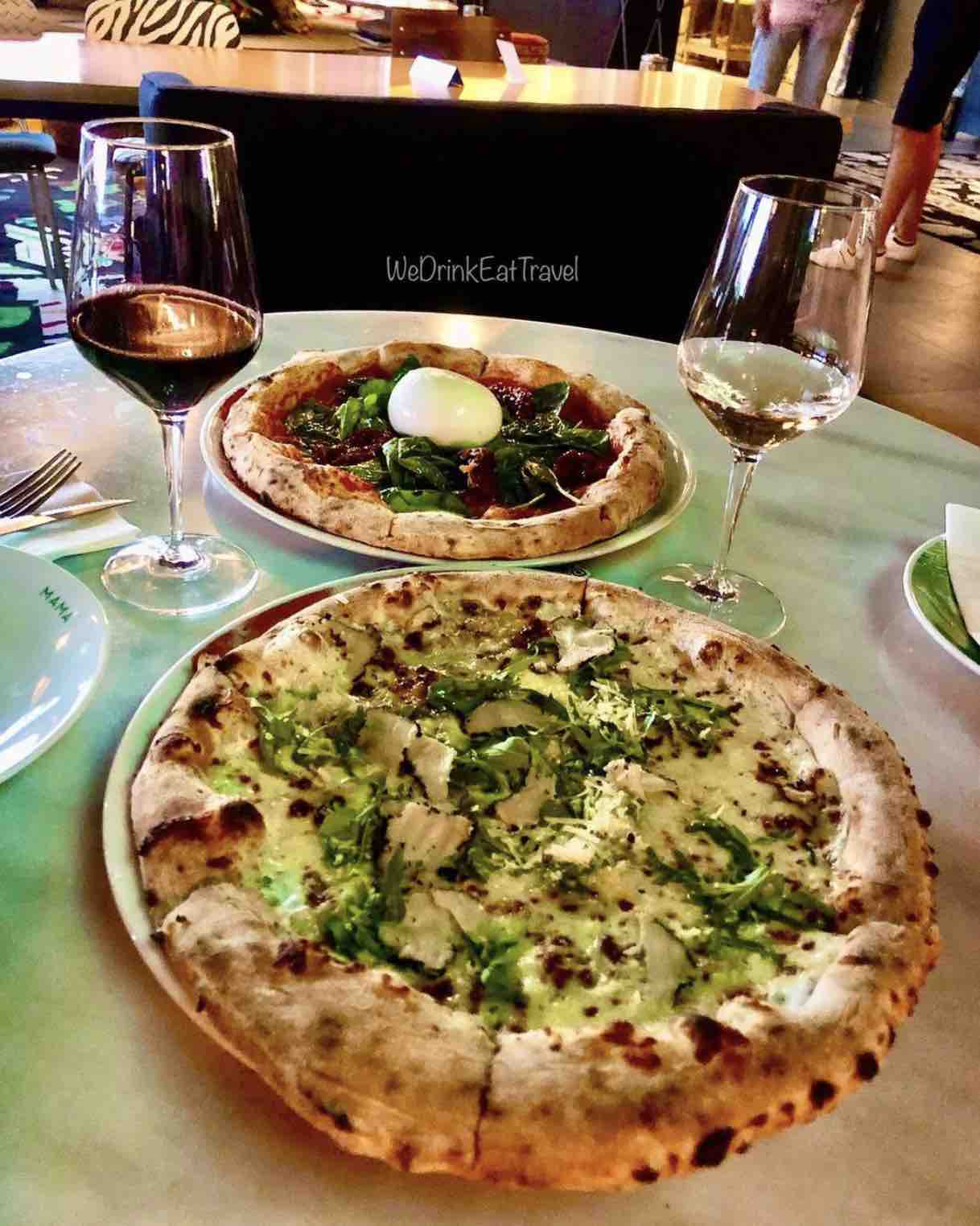 You can find Mama Shelter in the Rajiceva Shopping Center, at Kneza Mihaila 54A.
If you want to try some of the best food in Belgrade under the one roof, you must do this…
All You Can Eat in Belgrade
It's said that the most important meal of the day is breakfast. So, one day we took this to heart… and made the most of this essential meal by going to a buffet restaurant. Plus, we thought that if we were going to go all out, we'd do it in style.
So, we went to the Two Kings Restaurant at the Hilton Belgrade Hotel.
There is plenty to choose from, including local dishes. You will NOT leave hungry. And if you do, you haven't eaten enough!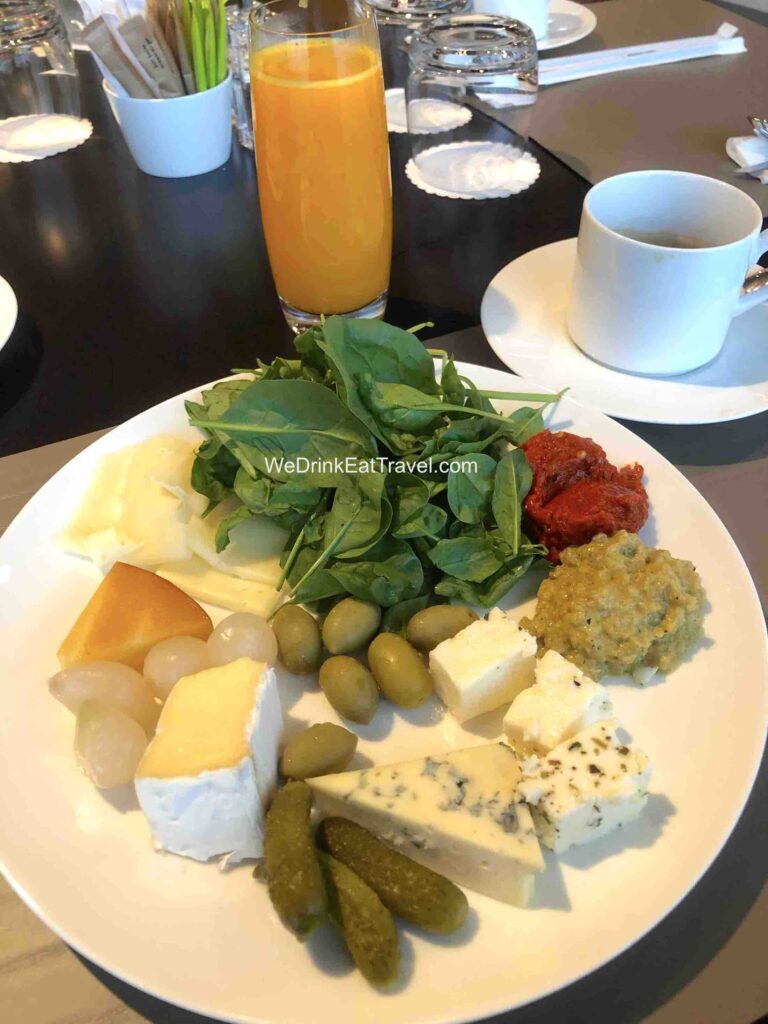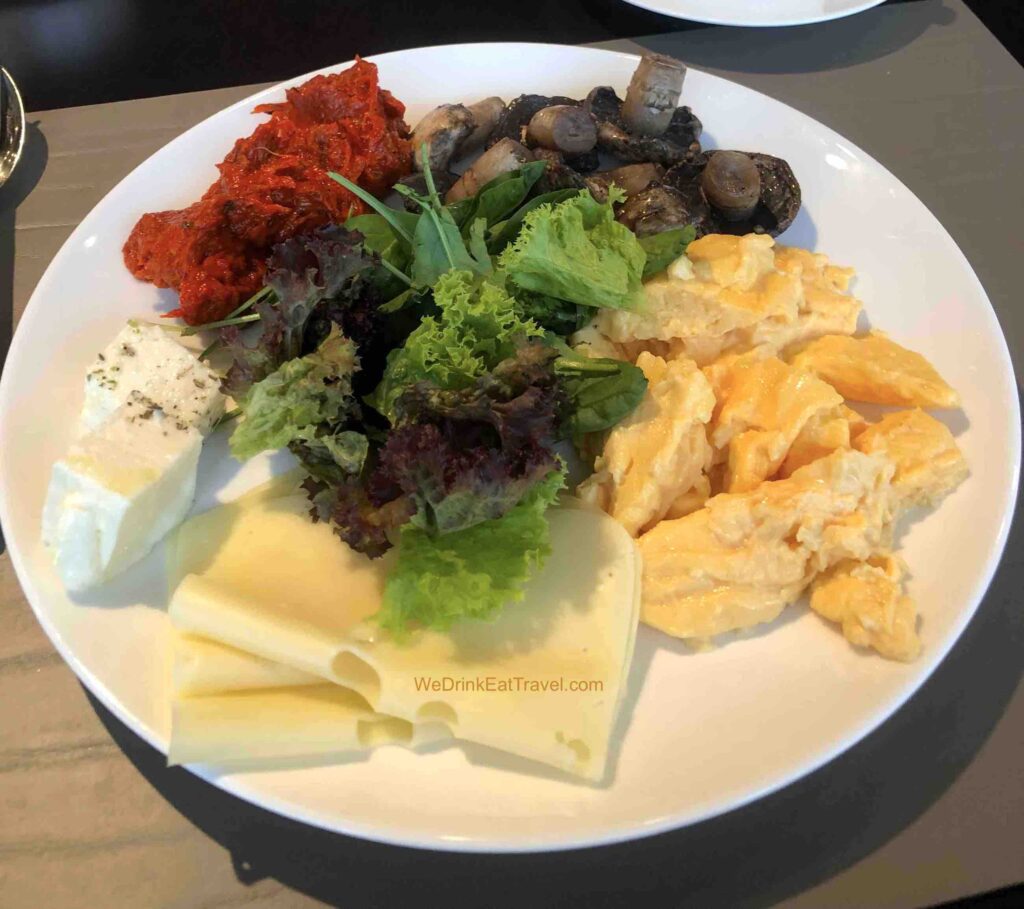 So, if you're looking for a place that has the best breakfast in Belgrade… for an all you can eat buffet, in an upmarket environment, then head on over to the Two Kings Restaurant.
The price per person is 2,180 Dinar (about USD $18.80 / 18.50 Euro / 15.70 GBP). Now, you have to agree, this is extremely cheap!
You can find this restaurant in the Hilton Belgrade Hotel at, Kralja Milutina 35.
Ravishing Red Spread
We weren't sure what to title this scrumptious food. Yet, even though we had LOTs of this in Belgrade… it wasn't our first encounter with this amazingly delicious food.
There are versions of it around the Balkans, and it was surprising to me… that it became one of Paul's favorite "spreads." And, what we're talking about is, Ayvar.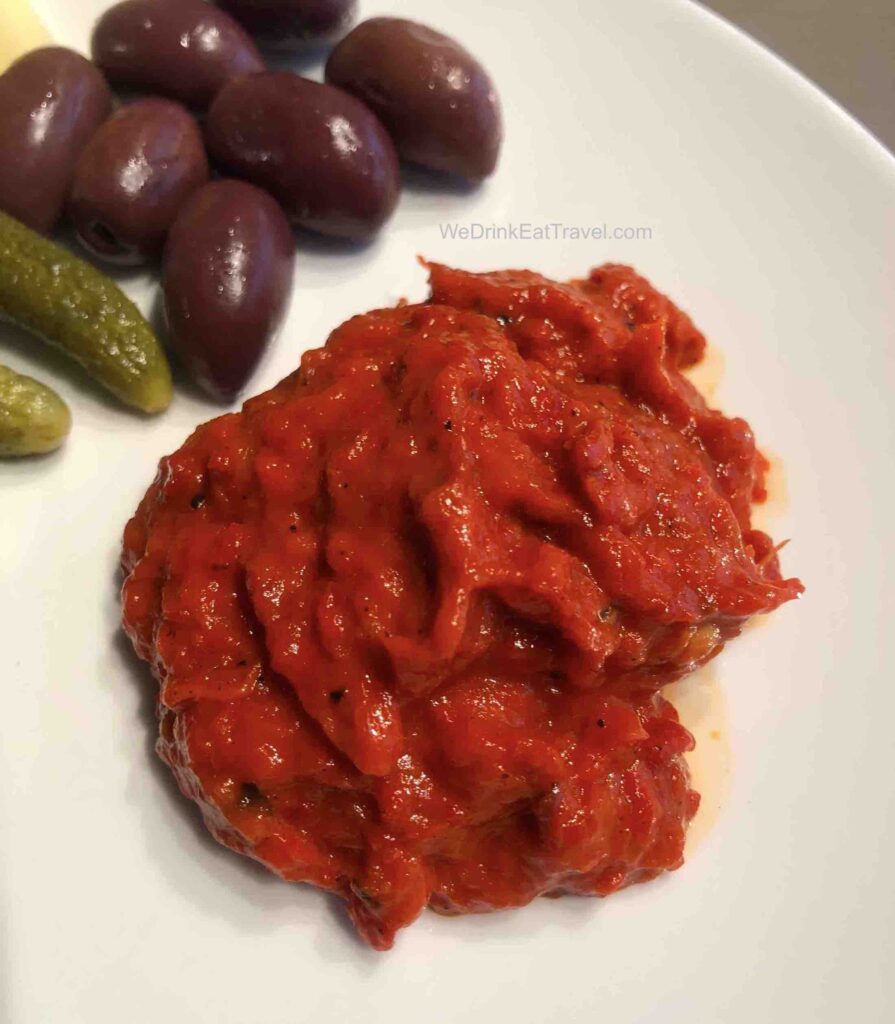 Yes, this flavorsome Balkan delight is a dish we LOVE. We had it on toast, in wraps, or even on its own. Plus, if you want a kick to your Ayvar, there's also a spicy version too.
You'll find it almost every menu in Belgrade restaurants serving traditional food.
Now, some of the best food in Belgrade isn't Serbian food! And, if you happen to have a craving for some homemade Asian noodles… we can recommend a great restaurant.
Flock to the Wok in Belgrade
Having been traveling around the Balkans for over a year… we did miss some of the yummy food we could easily get back home in Melbourne, Australia. Yet, what we did discover, is that when it comes to food in Belgrade… it's surprisingly multicultural.
And, when we found out that there was a place that did hand pulled noodles… we were out the door in a flash!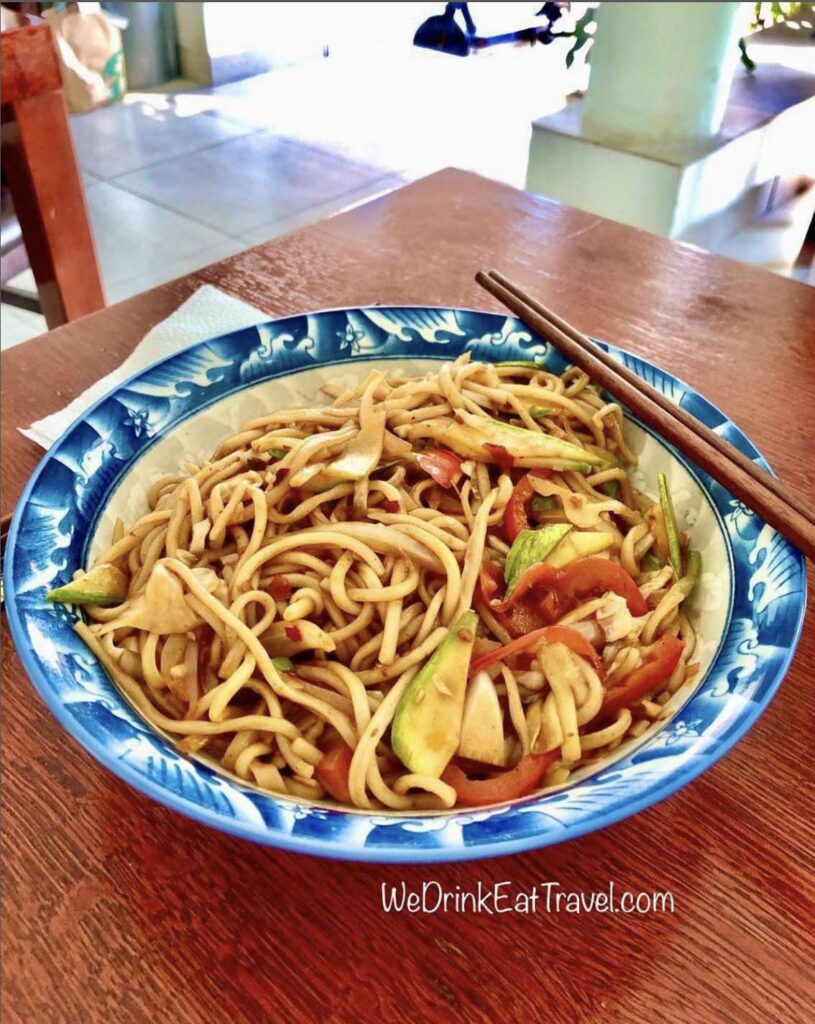 While you're waiting for your meals to arrive… you can watch the chef make your noodles. He's quick and makes it look effortless. It's an amazing skill that one day we will have to try for ourselves. We're sure that many attempts will be needed before we even make something decent!
So, a place that we recommend you check out for hand pulled noodles is, YXlanzh d.o.o.
You can find this restaurant in Belgrade a stone's throw away from the popular farmer's market, Zeleni venac. The address of YXlanzh d.o.o. is, RS Београд, Jug Bogdanova 6.
Beautiful Balls of Love
Many of the locals in Belgrade that we spoke to… were describing some doughy balls that we should try. They said that there are lots of different types of balls from savory to sweet. And, the balls that they're talking about is called, knodle.
You'll find versions of knodle throughout the Balkans, as well as in other parts of Europe.
So, the place where we recommend you try knodle is at Ferdinand Knedle.
And, if you're unsure about if you should try one… once you see the display cabinet full of colorful, flavorsome dough balls, you'll want to try one or more.
There are plenty of options to choose from including… the sweet delights of caramel wth Belgian milk chocolate… through to wild strawberry and white chocolate, or dark chocolate with orange.
And, if you prefer savory, then choices include… spinach and mozzarella, mushrooms with truffle and smokey chicken.
So, one knodle will cost between 110 RSD to 200 RSD. We recommend that you try both savory and sweet ones. It was surprising for me because as a sweet tooth… I actually preferred the savory variety, out of the ones that we tried anyway.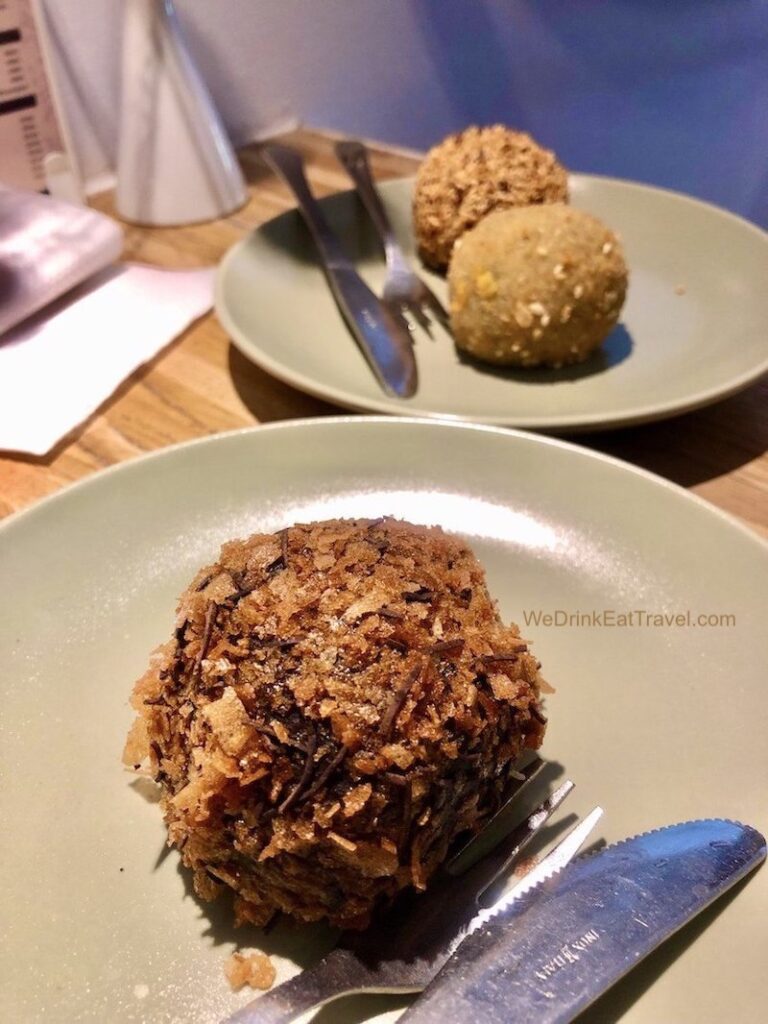 Even so, the flavors are strong and varied, with a choice to suit all tastes. Gee, imagine trying ALL the different flavors… you'd be all balled out!
There are several outlets of Ferdinand Knedle in Belgrade. Yet, the one that we went to was close to Republic Square at, Cara Lazara 19.
Cevapi
As we're vegetarians, we won't be eating this traditional Serbian food of cevapi. Yet, as it's so popular we've put it in our travel blog… and our Serbian friends would be shocked if we didn't!
And, if you love sausages let alone meat, then you must try cevapi when in Belgrade. This sausage is made of minced meat, usually pork and or beef… mixed with some herbs and spices, then grilled over a hot flame to give it that charcoal flavor.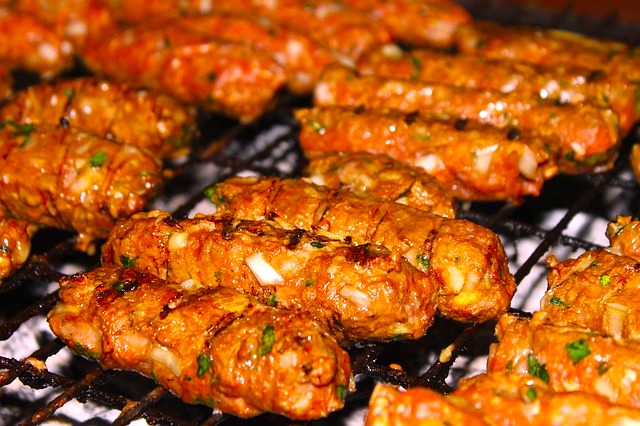 Have them on their own, dunk them in ajvar, served with fries… or quite often the cevapi are eaten in flatbread with some cheese.
There are HEAPS of places in Belgrade that will serve up this popular dish. So you won't have any problems finding somewhere. You might have problems though, with not being able to stop eating them. Ha, ha, ha!
Oh, here's something interesting to hear from our Serbian friends and other locals… they mentioned to us that some of the best cevapi is in, Sarajevo! So, check that out if you go to Bosnia and Herzegovina.
A Belly Full in Belgrade, Serbia
There you have it, our thoughts on the best food in Belgrade!
And, while the local traditional Serbian cuisine is delicious… sometimes we did crave other tastes and flavors. It was a pleasant surprise to see how multicultural this capital city is when it comes to food.
So, when you explore Belgrade, you will be spoilt for choices. And, for those who are budget conscious… there are many options. Yet, if you want to dine in an upmarket environment, then there are lots of choices too.
Whatever you decide to eat, enjoy your foodie experiences on your travels!
You Might Be Interested In This Too…
Top Recommendations For The Best Pizza In Belgrade, Serbia
7 Surprising Things You Should Know About Belgrade Fortress
21 Of The Best Free Things To Do In Vienna, Austria
25 Amazing Things To Do In Dubrovnik Old Town
15 Interesting & Surprising Things To Do In Sarajevo Now
Night Market Bangkok: All Aboard For The Ratchada Rot Fai Train Night Market
Check Out 15 Amazing Things To Do In Budva, Montenegro
Perast, Montenegro – Why You Need To Visit This Town
One Of The Amazing Things To Do In Kotor Montenegro
10 Free Things To Do In Hue Vietnam
7 Free Things To Do In Bangkok
10 Places To Visit In Gozo Malta For Breathtaking Views