Croatia has been on our list of places to visit for a while. And, finally we had the opportunity. So, we made the trip there after our long stay in Bosnia and Herzegovina.
The first places to visit in Croatia for tourists would be the vibrant capital city of Zagreb… or the UNESCO town of Split, or experience the medieval quaintness of Dubrovnik.
Yet, our first place to check out was Brac Island, with a population of about 13,000.
And, not only was Brac Island a lesser touristy place in Croatia to visit… we went there in Winter too! So, this would be an interesting experience, especially as first timers in Croatia.
So, here are 10 things to do on Brac Island Croatia… especially during the Winter season. Oh, we'll also share with you another place to visit on Brac… yet, we weren't sure if we have included it as a top place to visit on Brac Island.
You'll have to read on to find out more about what we mean.
Nevertheless, let's explore Brac Island…
See the Beauty of Zlatni Rat Beach All to Yourself
OK, so most people would visit a beach during Summer time to soak up the rays, get a tan… or enjoy a beverage or 2 or more in the beautiful warm weather. Yet, have you ever been to a beach during Winter?
Well, we went to Zlatni Rat Beach (otherwise known as Golden Horn) during Winter. And, Zlatni Rat has been named as one of the most beautiful beaches in the world!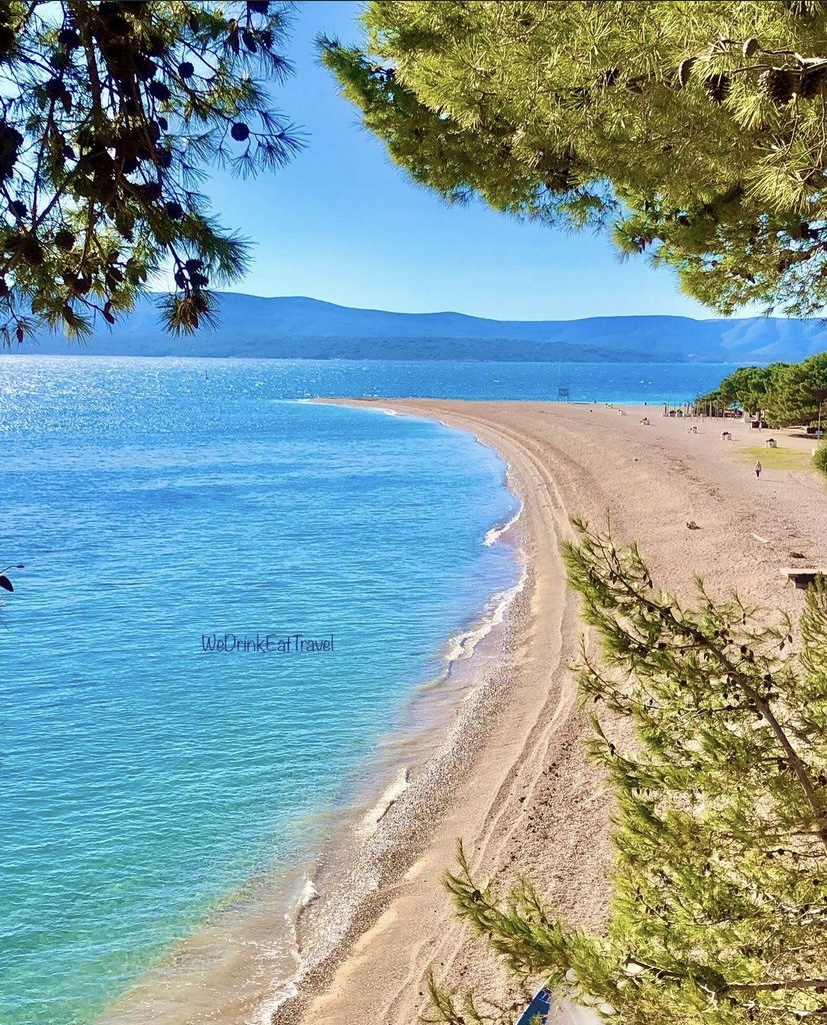 So, while it was in Winter, we did have the entire beach to ourselves. We did wear jackets, that did protect us from the chilly wind. Yet, after sitting in the sunshine for about 10 minutes, we were toasty warm.
Now, it certainly wasn't warm enough… so that we'd head down to the nudist beach a few kilometres away!
At Zlatni Rat, it's so beautiful and the water is so clear. If you bring your own food and beverages… you could have a secluded picnic in an incredible environment, with jaw-dropping scenery.
Be warned, the beach is not sandy, and is covered with small pebbles. Now, if the outdoors is appealing but beaches aren't your thing… then here's another of the top things to do on Brac Island…
Hike Up To Vidova Gora For Breathtaking Views
Now, if you're looking for a decent hike with rewarding views of the Dalmatian coast in Croatia… then head on over to the town of Bol. Now, while Bol itself is a pretty town, this is the starting point for a hike up to Vidova Gora.
Vidova Gora is the highest mountain on Brac Island… as well as out of all the islands in Croatia. And, its peak reaches a height of about 778 metres.
Now, the starting point is near the corner of Novi Put and Bracka Cesta. At the time of writing, near this intersection is the Studenac Supermarket.
And, look out for a sign that looks similar to this…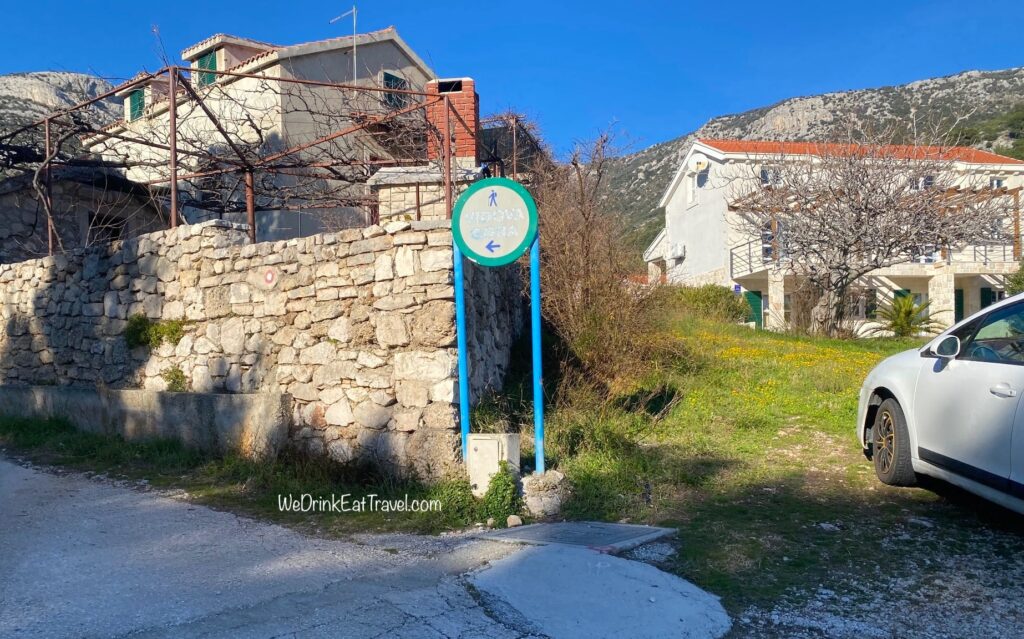 It took us about 2 hours up and 2 hours down, not wearing hiking shoes. We don't hike up mountains very often, but we do enjoy walking lots. So, if you're not used to walking a lot or don't have a reasonable level of fitness… you may want to re-consider hiking up to Vidova Gora.
Yet, if you do make the trek up, you will be rewarded with breathtaking views of Croatia…
Take note of the hiking markers in red and white… because to get these amazing views, you will need to pass through a gate. And, then you'll need to walk through the car park to the viewing point.
Focus on walking to the tower that looks like this…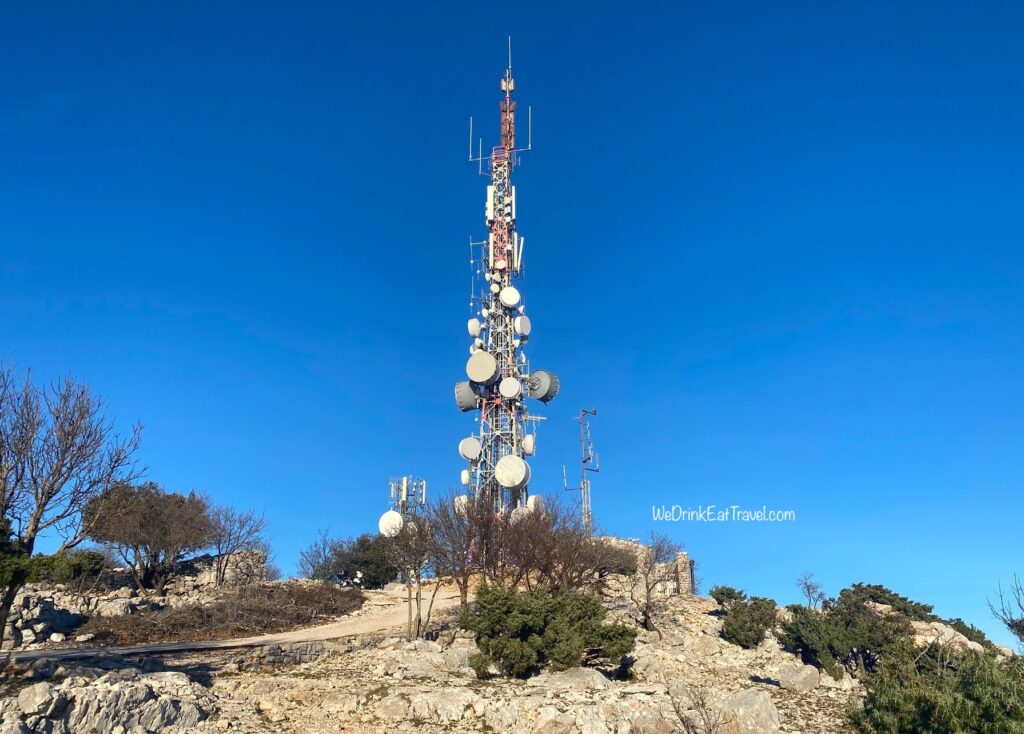 One of the great things about hiking in Winter, is that we didn't sweat like pigs! And, when we got to the top, there were only about 5 people there.
So, next on our list of things to do on Brac Island is…
Have A Coffee And Bureks In The Sunshine
Even though we were in Croatia for the most part of Winter… this country is said to have about 300 sunny days per year. And, while we were on Brac Island, for most of the time it was sunny. Although, you will want to have warmer clothes and a jacket… as it does get cold because of the cool ocean winds.
So, you can enjoy a coffee or other beverages at the cafes around the island. BUT BEWARE… not much is open in terms of restaurants in Winter on Brac Island.
When we were made a stop at each of the towns… there was always at least 1 café that was open. And, it was mainly the locals who would go there… soaking up the rays while they could.
Yet, most foodie places would be closed, even the bakeries. Except at Supetar, where it was usually busy, with many ferries docking there.
So, when we had our usual cravings for bureks when visiting the small towns… oftentimes we had to go to the supermarkets!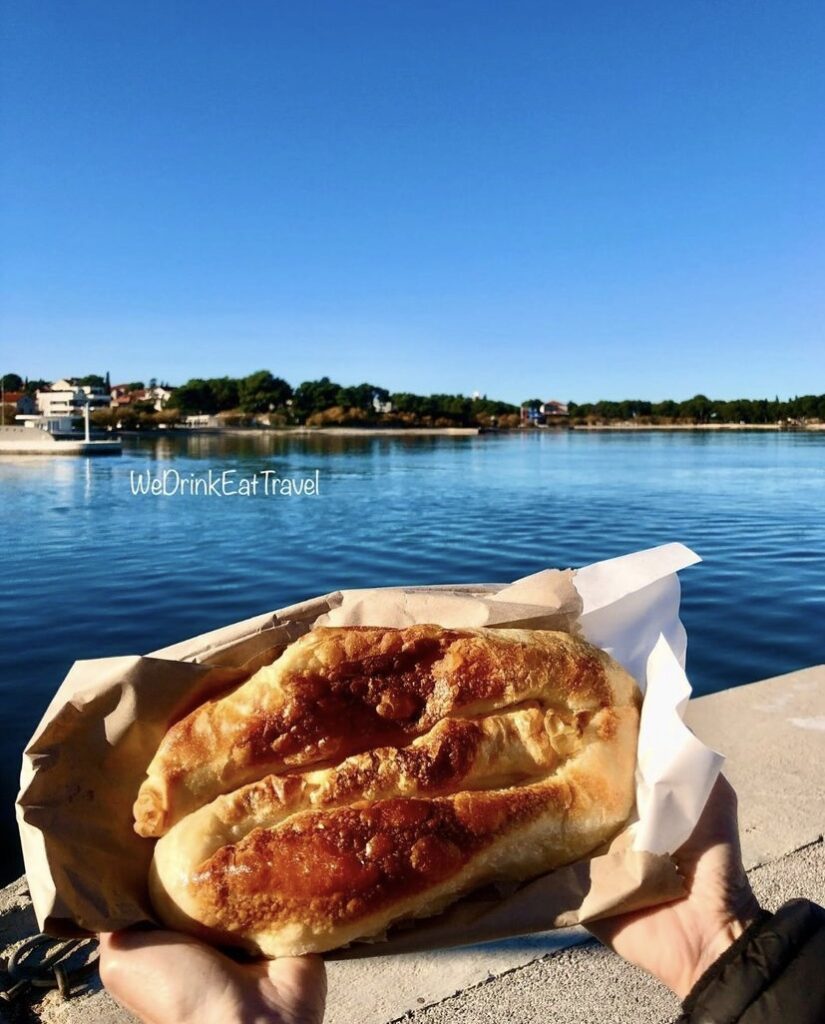 In saying that… a lot of the bureks we had at the supermarkets were surprisingly decent. And, in some cases better than ones we'd had at some bakeries in Croatia!
So, if you're wanting to experience a food gastronomy on Brac Island… you're best to wait until Winter has finished.
Now, it goes without saying that, visiting a place outside of high season has its benefits…
Take Photos Of Amazing Scenery WITHOUT People In It
If you love taking photos of amazing landscapes then you should go to Brac Island. And, this is one of the other best things to do in Brac, especially in Winter.
Plus, the best part is, there's hardly a tourist in sight.
So, if you don't have patience waiting for hoards of tourists to pass so you can get those amazing shots… you won't have a problem with that in Winter, on Brac Island.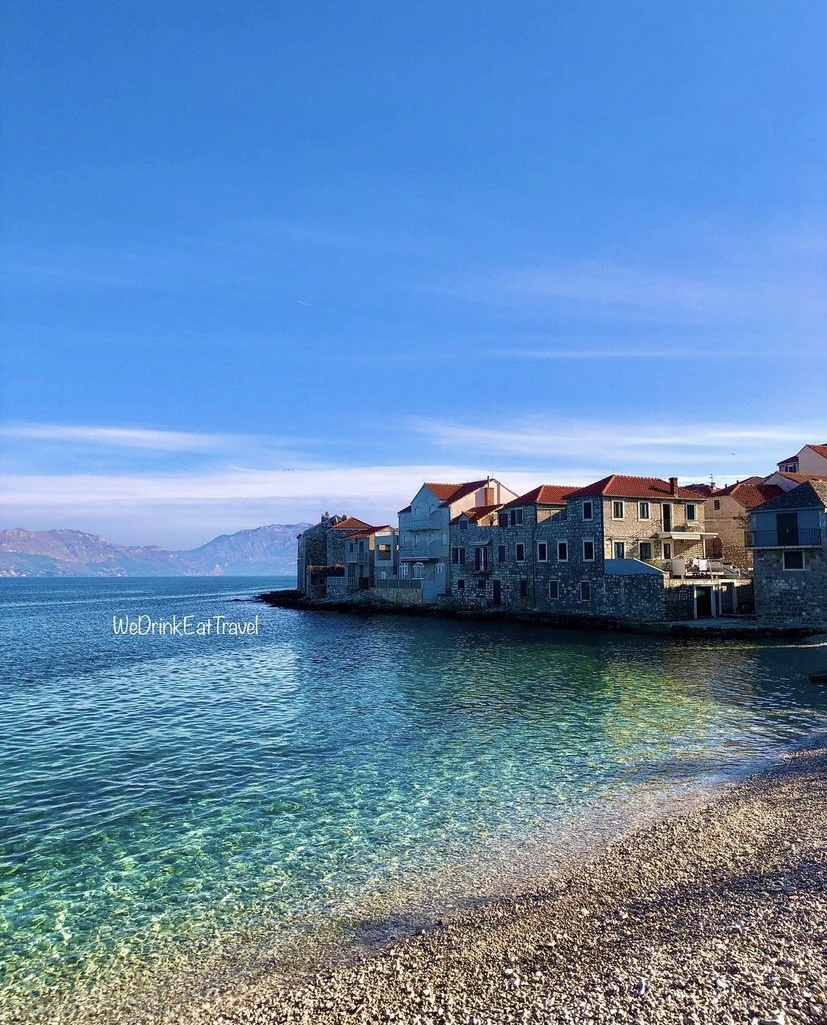 Now, the next couple of things to do on Brac Island is a must… if you want to tantalize your tastebuds!
Devour The Amazing Home Grown Citrus Fruits
In winter, you'll still see homes with their home grown lemon, mandarin or orange trees. Unfortunately, a lot of the "fresh" produce in supermarkets globally… aren't actually fresh.
Yet, if you have the opportunity to try the citrus fruits freshly picked off the tree… then you'll enjoy the rich, sweet, robust flavors of juicy oranges, for example. They sure are delicious. And, it'd been a long time since we had such delicious and fresh fruit.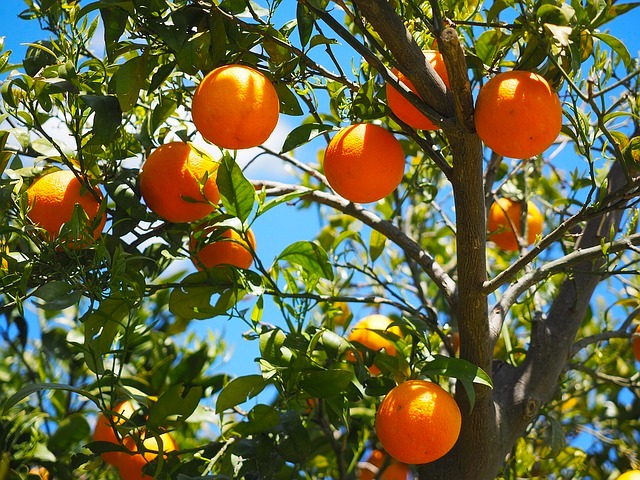 We were wondering when the last time was we had such fresh and yummy produce… and, that brought us back to when we were in Bansko Bulgaria, over 1 year ago!
Enjoy Some Homemade Extra Virgin Olive Oil
Now, this is the smart thing about Croatians, especially as we saw on Brac Island… many homes were growing their own produce. So, thumbs up there!
Plus, Brac Island is also known for their amazing olives and olive oils. It's the largest olive growing region in Croatia, with over 1 million olive trees on Brac Island!
And, if you go during harvest season… expect most of the island to be involved in one way or another. Plus, it's said that if you help out… you get a litre bottle of the liquid gold for free!
It wasn't harvest season when were there, Yet, we did taste a homemade extra virgin olive oil. And, oh my goodness, was it robust and flavorsome.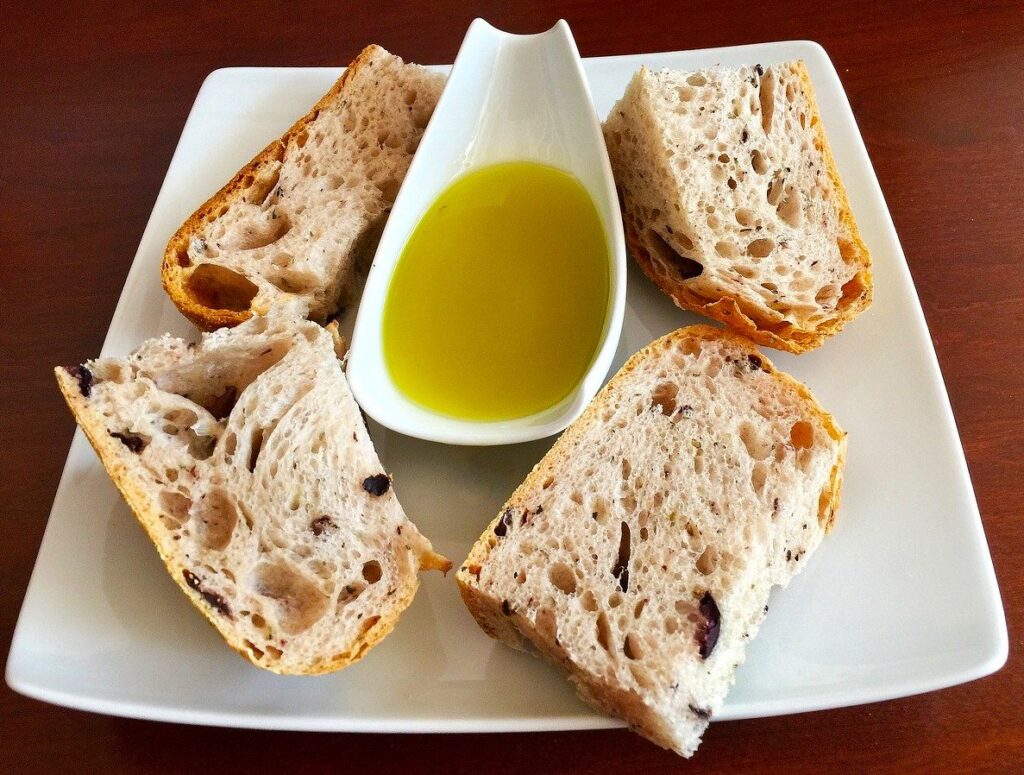 Plus, a lot of the homemade olive oils we saw, were sold in regular old plastic bottles. Yet, of course… the bigger producers would sell them in the glass bottles with fancy labels.
Even so, one of the best things to do on Brac Island, especially if you're a foodie… is to try the local olive oils.
See Many Charming Churches
For such a small island, we thought that Brac Island has lots of churches. Yet, we're pretty sure there's no way near as many in comparison to Malta, though!
Many of the churches that we saw were beautiful. From the tiny, quaint churches such as this in Zlatni Rat…
Through to the majestic ones such as Krista Kralja in Selca…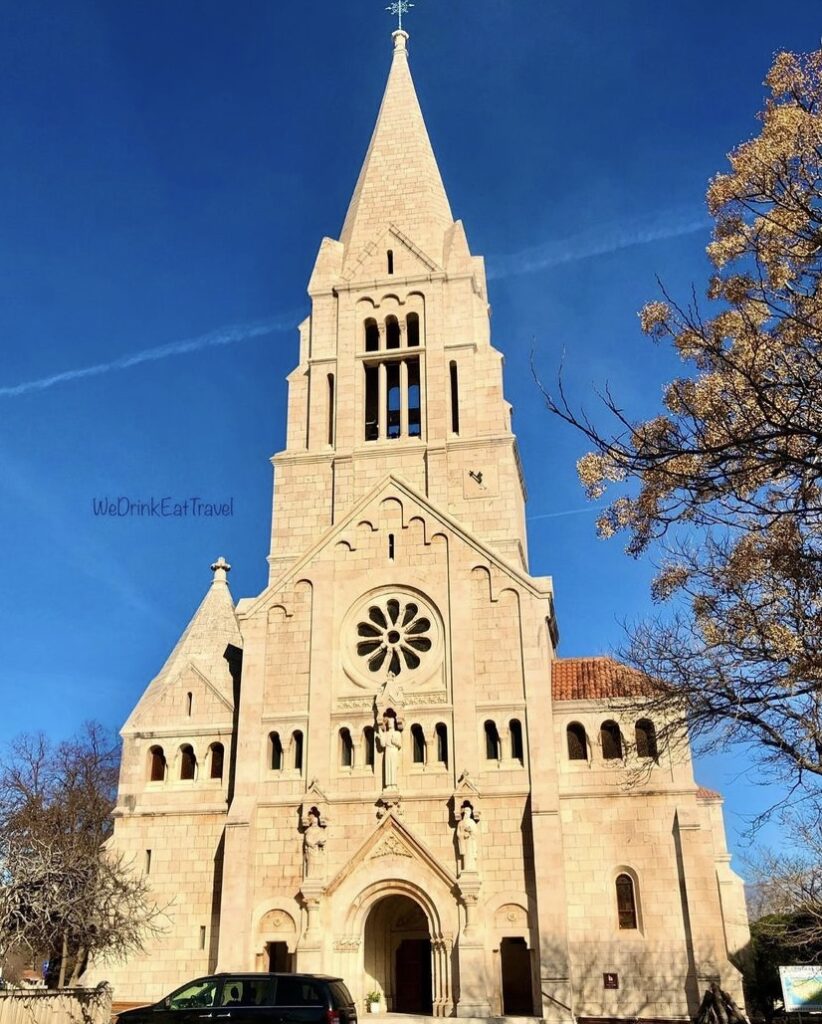 You'll always discover a church on your travels around Brac Island.
Many of them are made of the popular sand stone. And, the use of this bright stone makes them stand out, especially with a clear blue sky as the backdrop.
Discover The Many Quaint Towns On Brac Island
When driving around Brac Island, we found that there were many cute towns… such as Selca, Bol, Supetar and Splitska. Yet, one of the towns we found really picturesque is Povlja.
So, on one side of the town you can see wide-sweeping views of the ocean… as well as the towns lining the Dalmatian Coast opposite Povlja. This is a more secluded area of Povlja, with white rocks and pebbles covering the ground. The water is so blue, and so clear. It truly is beautiful.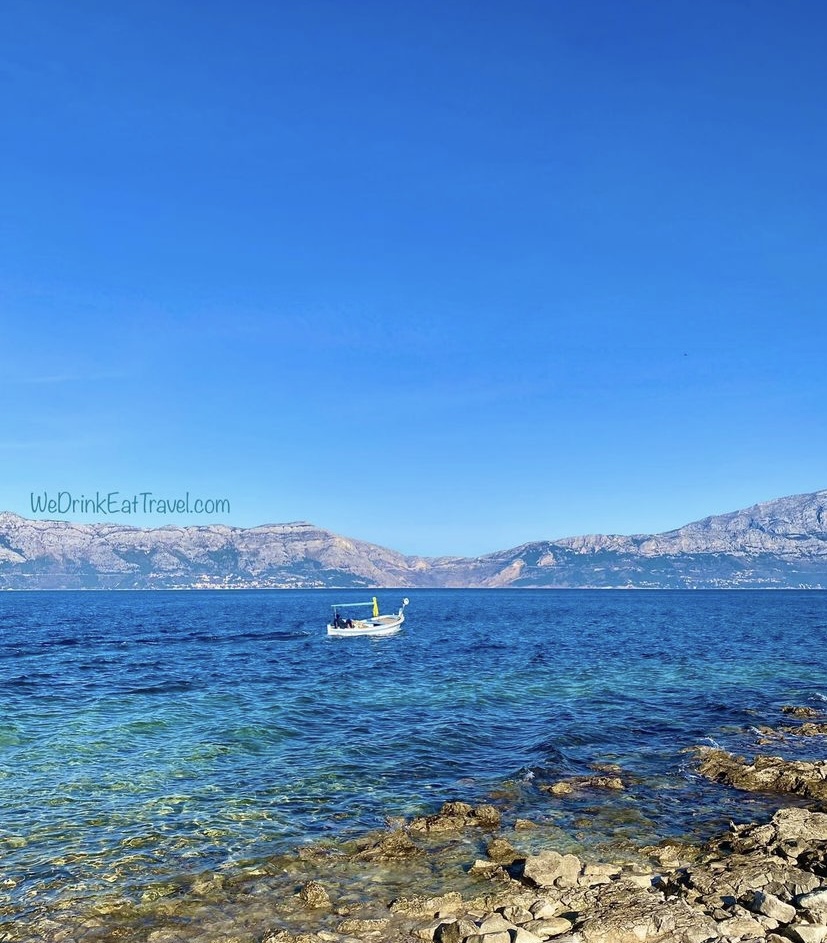 Walking, Hiking and Biking Trails
One of the things to do on Brac Island, especially if you love the outdoors… is to discover the island by hiking or biking. Of course, as mentioned earlier the hike up to Vidova Gora is a must do for incredible views.
Yet, there are other trails such as the Herkules trail in Splitska, or from Bol to Vidova Gora, or around Zlatni Rat. Plus, there's the 135km Via Brattia tourist trail… which connects several of Brac Island's historic locations.
Many of the paths are signposted, or have trail markings painted in red or blue.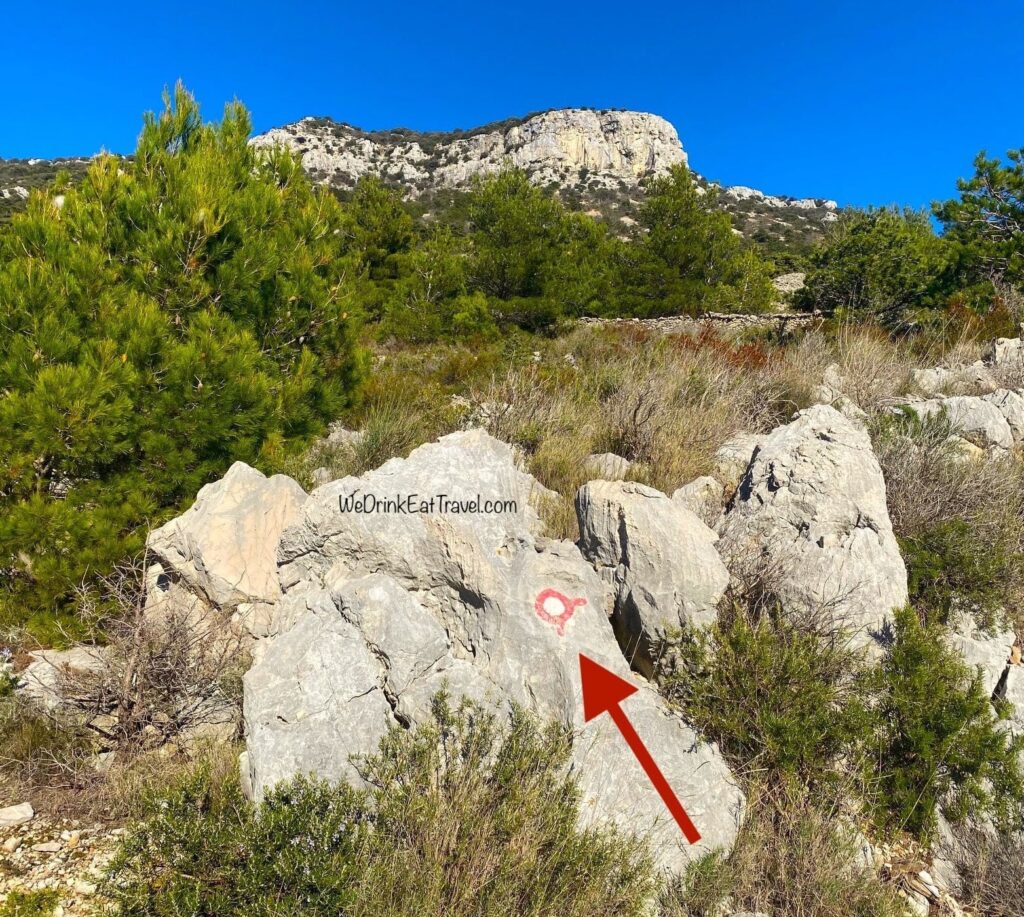 Whichever path you take… enjoy the fresh air, impressive views, and gorgeous scenery of Brac Island Croatia!
Stop At The View Points Around Brac Island For Amazing Views
When we were driving around Brac Island… we found that they had various view points where we could park and stop. And, most of the time they sure picked great spots for incredible views.
And, here are a couple of our favorites around the island.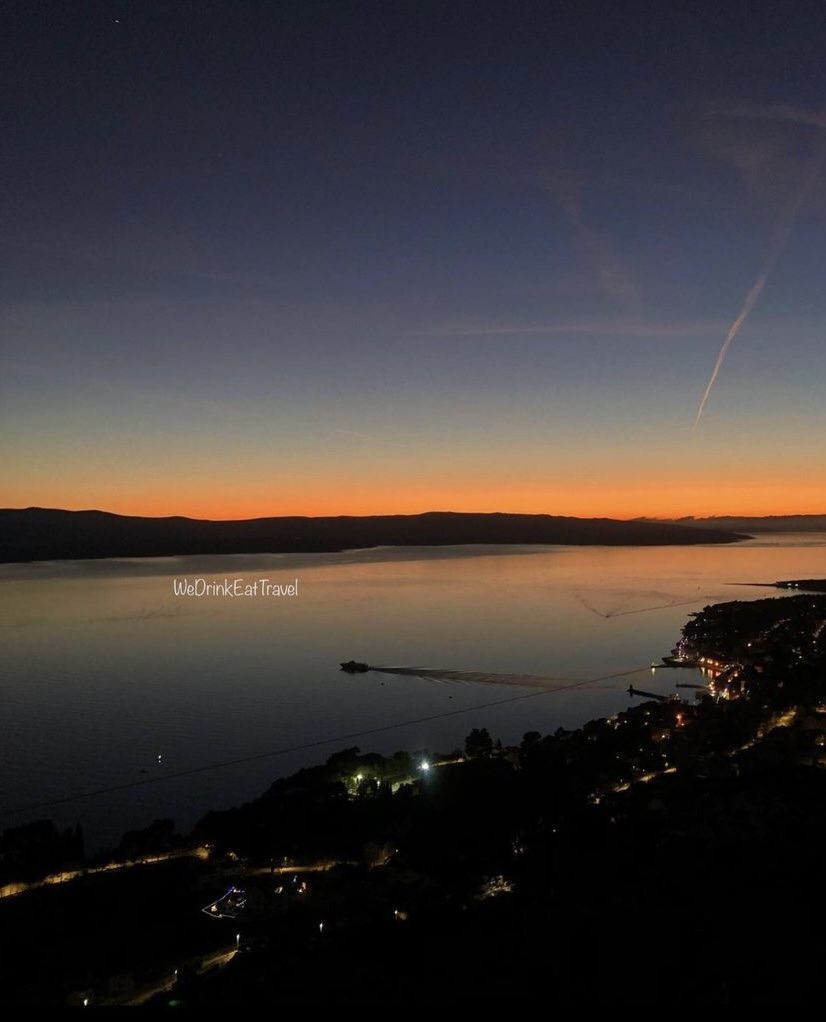 A few times we'd just miss the entry point to the viewing points as we were driving by. Yet, that's one of the great things about going to Brac Island in Winter… we could quickly back track as there was no other traffic around!
Now, with this next historical landmark… we weren't sure if we should have put it in this travel blog post. Yet, so you understand what we're talking about, read on…
To Do Or Not To Do – Blaca Monastery?
Now, we were debating if we should include Blaca Monastery… on our list of things to do on Brac Island. So, let us tell you the story so you can make up your mind.
Around the South side of Brac Island is Blaca Monastery… which is a 16th century monstery that was built in the side of a cliff. Now, that in itself sounds amazing. So, we made the decision to head out there.
We didn't have any satellite navigation… or access to a sim with google maps to help get us there at the time. And, the signage to get there was minimal to say the least. There were a couple of wooden signs, which were in need of replacement or updating.
Then, as we were driving along… we were in doubt a few times as to if we were going the right way.
The road to Blaca Monastery was quite rough and rocky. We were wondering how treacherous the road would be if a heap of rain had flooded it! Yet, we made the decision to persist for another 5 minutes. Luckily we did… as we eventually found the entrance to the walkway to the monastery.
Now, based on our research we were expecting the walk to Blaca Monastery to be about 25 minutes. Yet, we think it took us about 45 minutes!
The pathway there is pebbly and rocky most of the way. You don't need hiking boots, but that would make it more comfy.
Plus, we didn't think that the walk to Blaca Monastery was that pretty. Yet, in saying that, the stone walls leading to the monastery did fascinate us. A heap of work went into building them, we thought!
So, after about 35 minutes we still hadn't got to the monastery. Oh well, at least we burning some calories from eating lots of bureks. Ha ha!
Then, when we finally got there it was underwhelming. We were expecting jaw-dropping views. Now, don't get us wrong, it sure was different… as most monasteries aren't built into a cliff! Yet, based on photos we had seen online… those photos made Blaca Monastery look better than what we saw with our own eyes.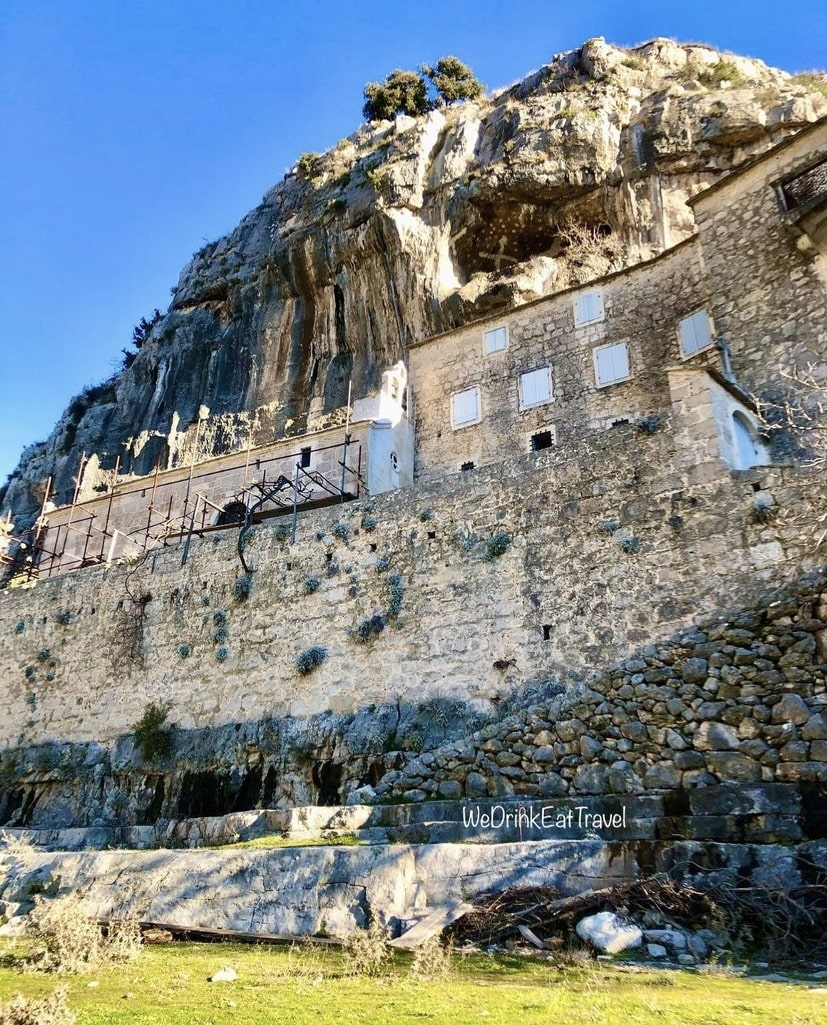 We'd have to say that if you can get views from the opposite side of Blaca Monastery… then you'd have better photo opportunities, and a better appreciation of its beauty.
So, we thought we'd share our opinions with you… to help you make your own decisions about visiting Blaca Monastery.
How To Get To Brac Island From Split
There are many services to get from Split to Brac Island, including ferries, catamarans… or even a private yacht! Yet, as we were going to Brac in Winter, transport services to get there were limited.
So, the option we had available to us… was to take one of the Jadrolinija ferries from Split to Brac Island.
Now, we didn't have a car to bring across with us… but this is the ferry to take if you do. As the catamarans are for foot passengers only.
Taking the Jadrolinija Ferries From Split to Brac Island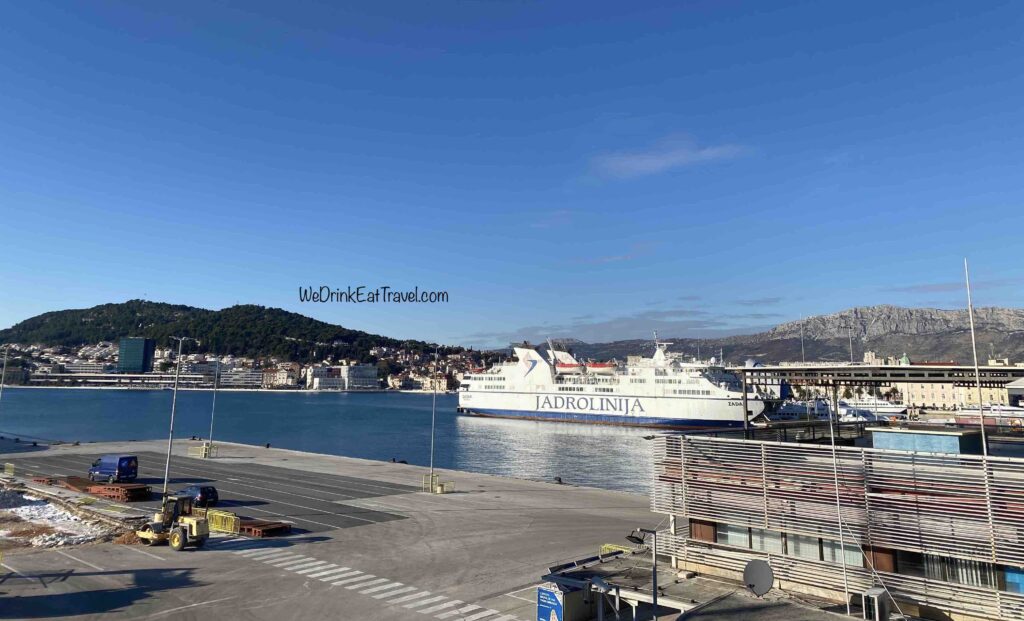 There are different points on Brac Island that the Jodrolinija ferry arrives at… including Milna, Supertar and Bol. Yet, the one we had to take was from Split to Supetar.
We bought our tickets online at the Jodrolinija website. And, for 1 adult for a one-way ticket, the price was 28 Kuna (about 3.70 Euros / USD $4.20). We thought that was cheap.
They sent an email for confirmation, and it also had a barcode on it. We didn't have to print the ticket out. Instead, we just showed them the mobile phone with the barcode, which they scanned.
Jodrolinija recommend that you get there about 45 minutes before your ferry departs. In Winter, we thought that was way too early. Yet, that's something you'll need to work out, in terms of your comfort level.
The Jodrolinija ferry left on time. It's a reasonable size ferry, and maybe as it was Winter… we had an entire seating area to ourselves, that would otherwise fit about 10 people.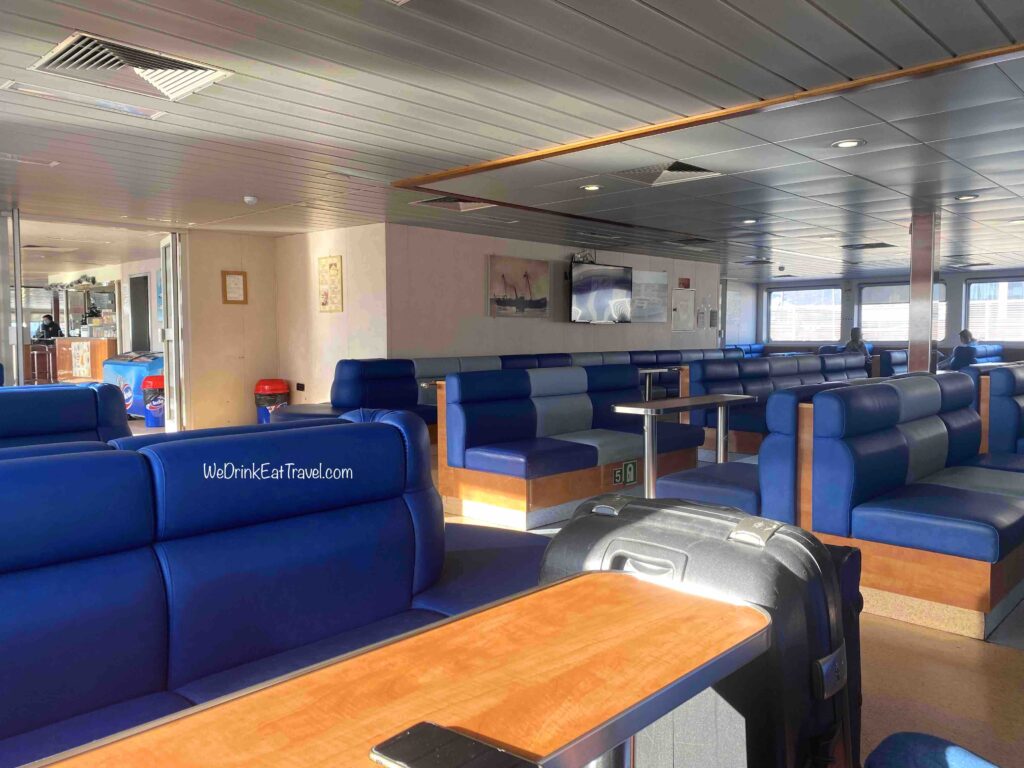 There's also an outdoor seating area. Yet, there were even fewer people up there as the breeze was cold!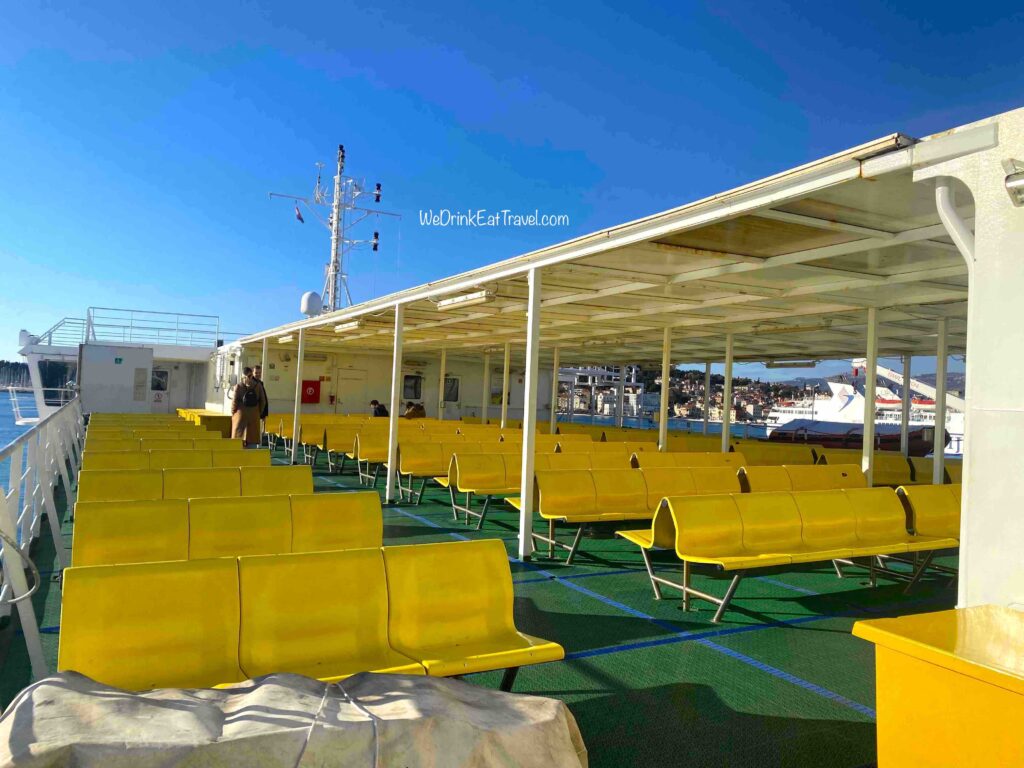 There were services on board where you could buy some drinks and snacks. Yet, we'd already had bureks that morning so we were all good!
By the way, we found that the wifi access was intermittent… or didn't even work. So, don't rely on it, or even getting access to it!
The journey from Split to Brac Island (Supetar) took about 1 hour. It didn't seem as long as that, and was quite pleasant.
Remember to check the ferry schedules, as there are less departures in Winter. And, as they say, the schedule can change at any time!
Other Things To Note About Things To Do On Brac Island In Winter
1. Reduced Public Transport Services
In Winter, the ferry schedules and other public transport options either DO NOT operate… or offer reduced services. So, if you don't want to be stranded or waste time, or lose out on money… best to check the transport websites or contact them directly.
In the peak season there are plenty of options. Yet, the downside is that there are heaps more people visiting… so expect travel delays on roads, or not getting on transport services you need if you don't plan ahead.
2. Most Restaurants Are Closed
In Winter, Brac Island is a quiet place. So, if you want a party atmosphere, don't go to Brac in Winter. Yet, if you're after a peaceful and pleasant environment to chill out, it's a great time to visit Brac.
When restaurants are open, be warned that if you're vegetarian, let alone vegan… the choices will be limited, or others may adapt their menu to suit.
3. Tourists Sites/Activities May Be Closed
If you had your heart set on wine tastings and gourmet trails, for example… take note that wineries may be closed. Plus, other tourist attractions… such as water sport activities are unlikely to be operating.
Yet, when open, enjoy activities like stand up paddling, snorkelling, kayaking… through to parasailing and jetskiing.
4. Pay Less For Accommodation
One of the biggest expenses when it comes to traveling is accommodation.
Yet, one of the huge benefits of visiting Brac Island in Winter, is you can get some awesome deals on accommodation… including up to 50% discount per night! The great thing is, you can get cheap accommodation in all of Croatia… and not just in Brac.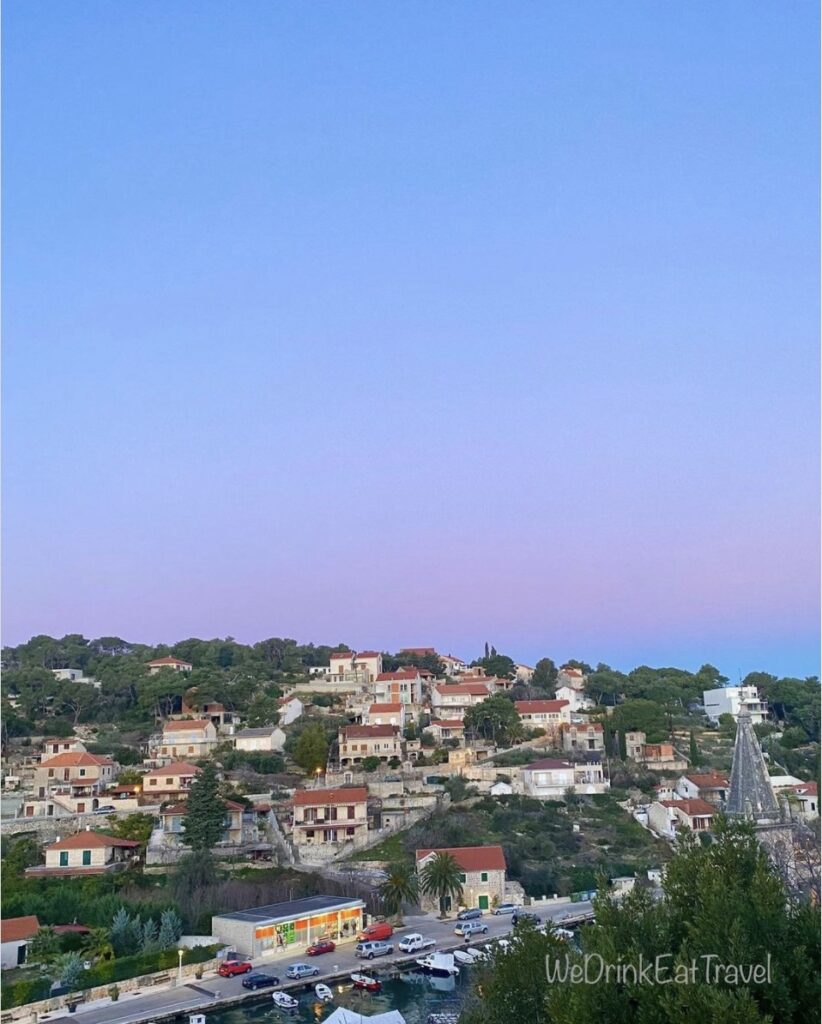 So, while we were expecting our first destination in Croatia to be a larger town… it ended up being Brac Island. And, having spent several weeks there, we love it.
In Winter, it's such as peaceful and charming Island. In many towns, even though the locals know you're a tourist… they'll greet you with a nod of the head or a "hello" in Croatian.
OK, so many restaurants or cafes are closed. Yet, it's a great opportunity to enjoy the natural surroundings.
Croatias experiences about 300 days of sunshine per year. So, when you travel to Brac Island or around Croatia in Winter… hopefully you'll have lovely weather like we did.
So, we recommend that you include Brac Island on your list of places to visit in Croatia.
Like This? Share it and comment on it!
Note: All of our reviews and comments are our opinions and no-one else's. Even if we receive complimentary goods or services we share our opinions honestly.
You Might Be Interested In This Too…
How To Get FREE Accommodation While Travelling
15 Interesting & Surprising Things To Do In Sarajevo Now
13 Interesting Places To See In Podgorica Today
Here Are 7 Remarkable Things To Do In Berat Albania
7 Free Things To Do In Bangkok
10 Places To Visit In Gozo Malta For Breathtaking Views
7 Top Reasons Why You Should Visit Bansko Bulgaria
Discover Some Interesting Things About Albanian Food You Need To Know
10 Picturesque Churches To See In Vienna Austria
How To Make Your Time In Tirana Albania Fun And Memorable
Shop Until You Drop In Ratchada, Near Thailand Cultural Center MRT
10 Popular Drinks & Food In Skopje To Make You Happy
Spotlight On Albanian Drinks And The Best Bars In Tirana
10 Awesome & Surprising Things To Do In Skopje Now