When we were staying in Kuala Lumpur, the capital city of Malaysia… there were lots of things to do and see here. Yet, outside of the main touristy area of KL, we did discover that there are other places to go… that is, if you have the desire and time to travel further out.
So, as we were staying in KL for several weeks… we found a place that did look interesting for a day trip from KL. And, one place that we decided to check out was, Putrajaya.
Putrajaya is where the administrative federal territory of Malaysia is located… about 30km South of Kuala Lumpur. Thus, many government corporations and offices can be found here. Yes, it may conjure up images of dull, concrete buildings.
Yet, it was surprising to discover that… Putrajaya is also known for being one of the biggest wetlands areas in Malaysia. Plus, one of the main tourist attractions in Putrajaya is the Pink Mosque… where heaps of tourists come to see this magnificent site.
Even so, it was great to find… that there are many other fascinating places to see while here. That's why, in this We Drink Eat Travel blog… we'll run through 12 things to do in Putrajaya. Yet, before we start… we'll share with you how we got to this interesting city.
How To Get From Putrajaya, From Our Experience
For us, one of our Airbnb accommodations that we stayed in was in Seri Kembangnan… which is about 15km from the centre of Putrajaya. So, the most efficient and easy way for us to get there… was via a Grab car.
So, for a 15km Grab ride using their app, it only cost us 21 MYR. And, that's about USD $4.80 / 4.50 Euros / 3.95 GBP. Now, in our eyes that's very cheap!
Plus, when we were researching other ways, that was the most convenient for us. Furthermore, it would be quicker than catching the public transport. Well, we at least made sure to avoid the peak traffic times anyway. So, in the end, it only took about 15-20 minutes.
It was hot and humid the day we were going. So, being in air-conditioned comfort from door-to-door was a bonus!
Now, most tourists would be staying in KL rather than in Selangor. So, if you're coming from say around the Petronas Twin Towers… then it's about double the distance from where we were. Thus, making it about 30km to get from there to Putrajaya.
And, if you weren't planning on using Grab, or a similar rideshare car service from that area… you'd need to take multiple forms of public transport to get to Putrajaya.
Plus, you have to factor in… that it could take at least 2 hours to get to Putrajaya from the Petronas Towers area. Or, it could even be up to 3 hours depending on the traffic conditions!
Yes, it would be cheaper than taking a Grab or taxi. Yet, you just need to weigh up if time or budget is more important for you.
So, if you plan on getting there via public transport for just a day trip, plan your itinerary wisely… especially when you see what you could do there. And, with that… let's kick off the first landmark on our list of things to do in Putrajaya.
Putra Square (Dataran Putrajaya)
Our Grab driver dropped us off at the exact location we put in as our destination… which was in Putra Square. This gigantic ring-shaped area is popular for holding events… as well as having several important landmarks surrounding it.
Now, when we got to Putra Square it was around 9:30am. And, there were some tourists but it wasn't chock full.
Yet, at around 10am many bus loads of tourists came flocking in. And, one of the things that they'll do, just like we did… is take photos in front of the huge Putrajaya sign.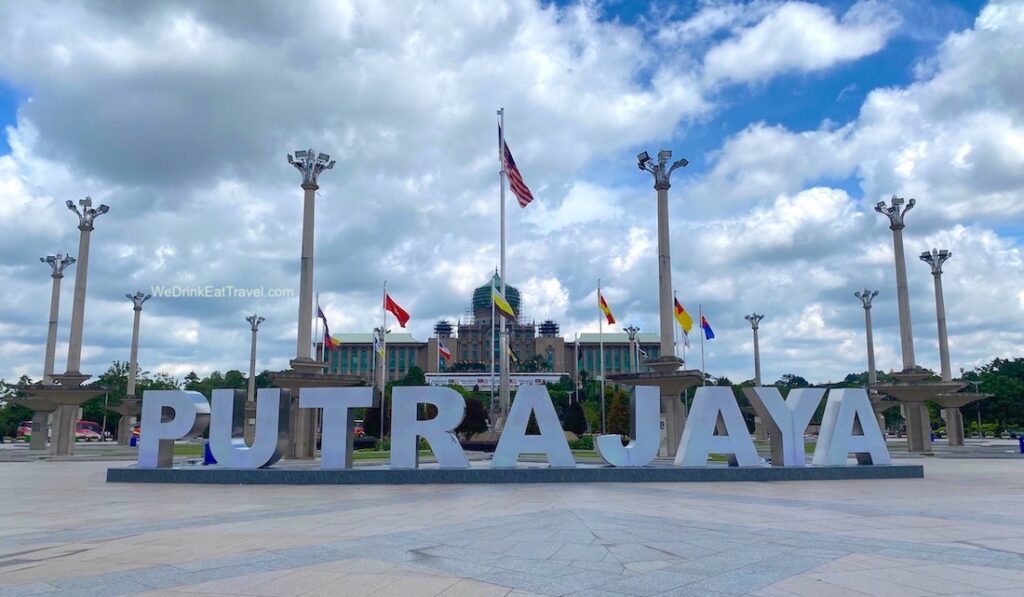 We had to wait at least 10 minutes before we could get a photo without anyone in it! In hindsight, that was the first thing we should've done. Yet, there is reason why we didn't.
And, that's because we made our way straight to one of the most prominent attractions in this area… the Putra Mosque.
Putra Mosque (Pink Mosque)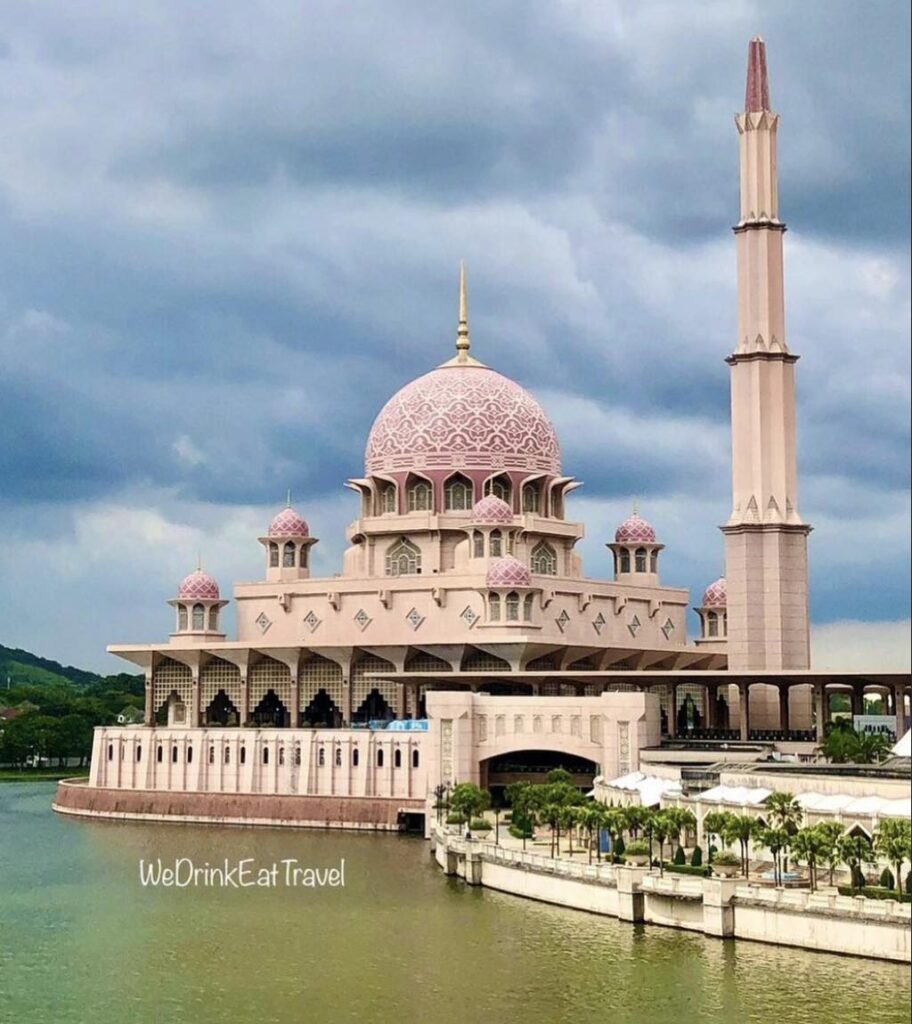 Built in the late 1990's… this mosque also goes by the name of the Pink Mosque. And, that's because the granite material that was used to build the mosque… has a rose color. Plus, this striking color not only dominates the outside of the mosque… the interior mirrors the same captivating pinky color too.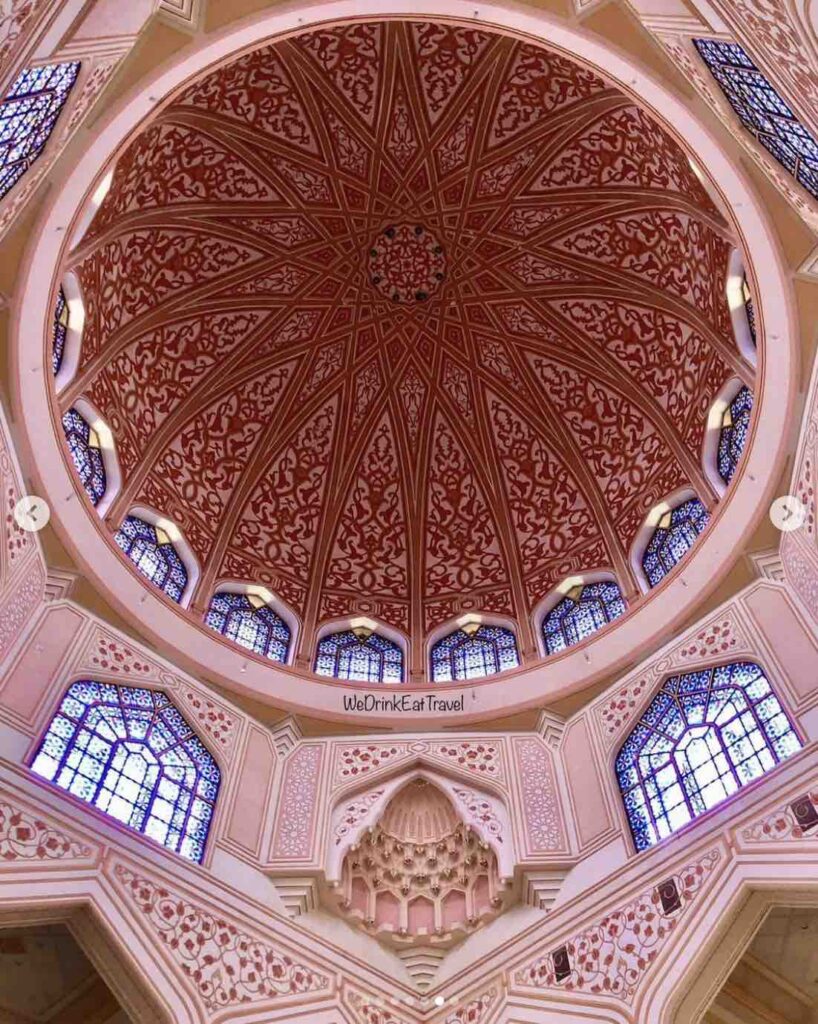 And, it sure does looking majestic, especially when looking at it from afar. Plus, there are some lovely views to witness, when you stroll around the Pink Mosque.
Now, there are strict clothing rules that every person must adhere to. Yet, don't worry if you aren't wearing the correct attire… as the security will provide you with a robe, which has a hood. And, this is given during your visit for free.
Yet, if you're not keen on wearing this re-usable robe… then make sure you cover exposed skin. Plus, for females your head and hair must have a covering too.
When Paul put his robe on, the staff were having a joke with us… and saying that he was like a character from Harry Potter! Yes, the robes do make you look like a wizard.
Even so, with all those formalities aside… the Putra Mosque sure is a magnificent site to witness. And, when we went to visit… the security told us that just before we came, staff had taken down scaffolding that was covering the mosque. So, it was our lucky day!
Perdana Putra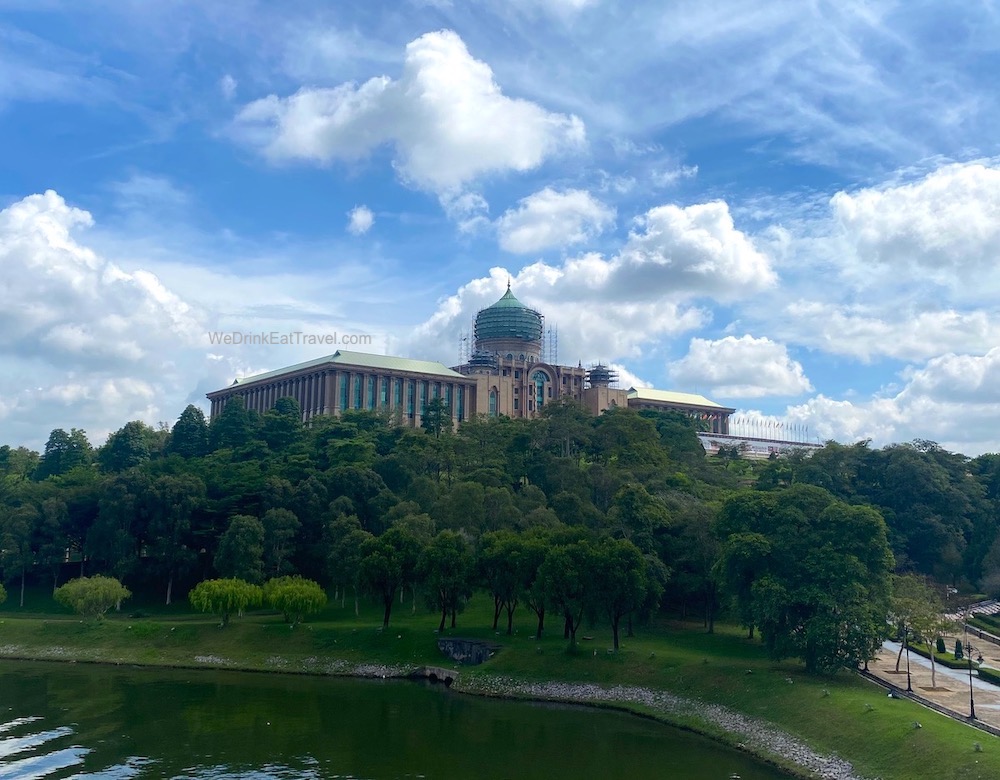 On the other side of Putra Square is Perdana Putra… which houses the Prime Minister's Office, as well as other government divisions. Unfortunately, during our visit… this building did have scaffolding surrounding parts of it.
Even so, it sure did look grand, with its 6-storey high stone building… contrasting with the green color of the onion domes and windows.
Tangga Putrajaya Steps
One of the top things to do at Putrajaya that we highly recommend is… the Tangga Putrajaya Steps. When you see it from across the road… it sure does look like a colossal amount of steps to walk up.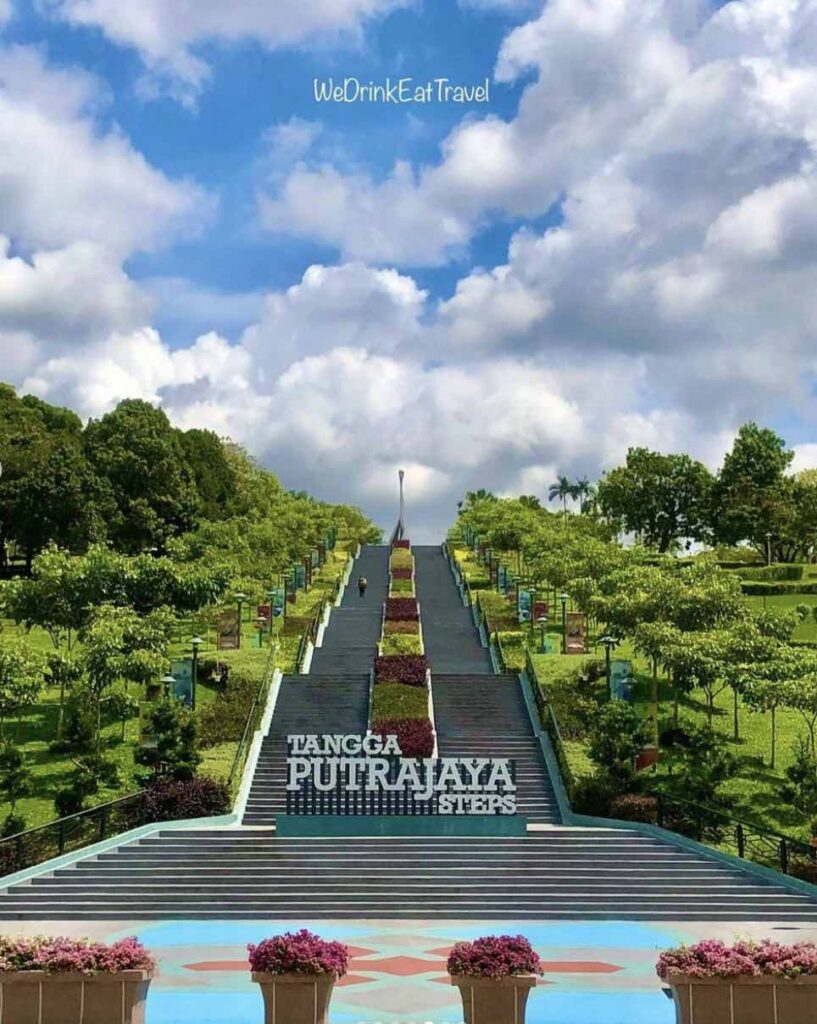 Yet, take your time walking up this 200-metre long staircase. And, that's because along the way… there are some pretty features to stop by and check out. Be wary that when walking up the steps, there isn't much shade.
And, remember to turn around to look at the magnificent view of Putrajaya from the steps.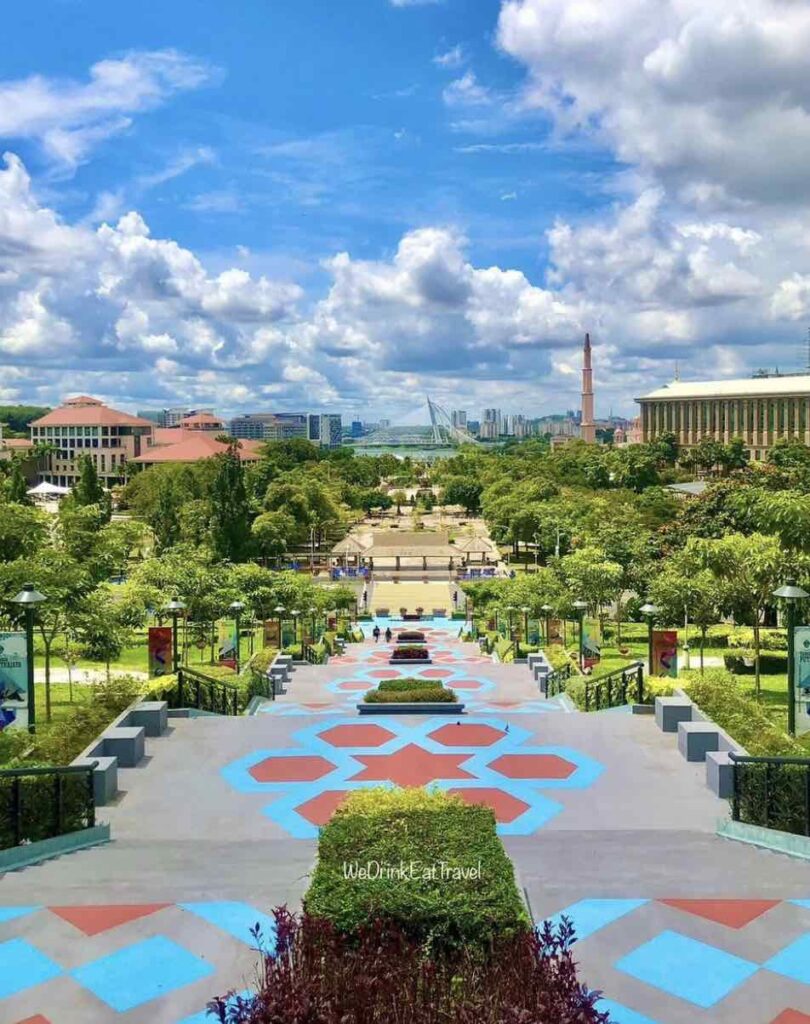 Secret Garden Putrajaya
Now, when you reach the top of the Putrajaya Steps… you'll come to an area that's known as the Secret Garden.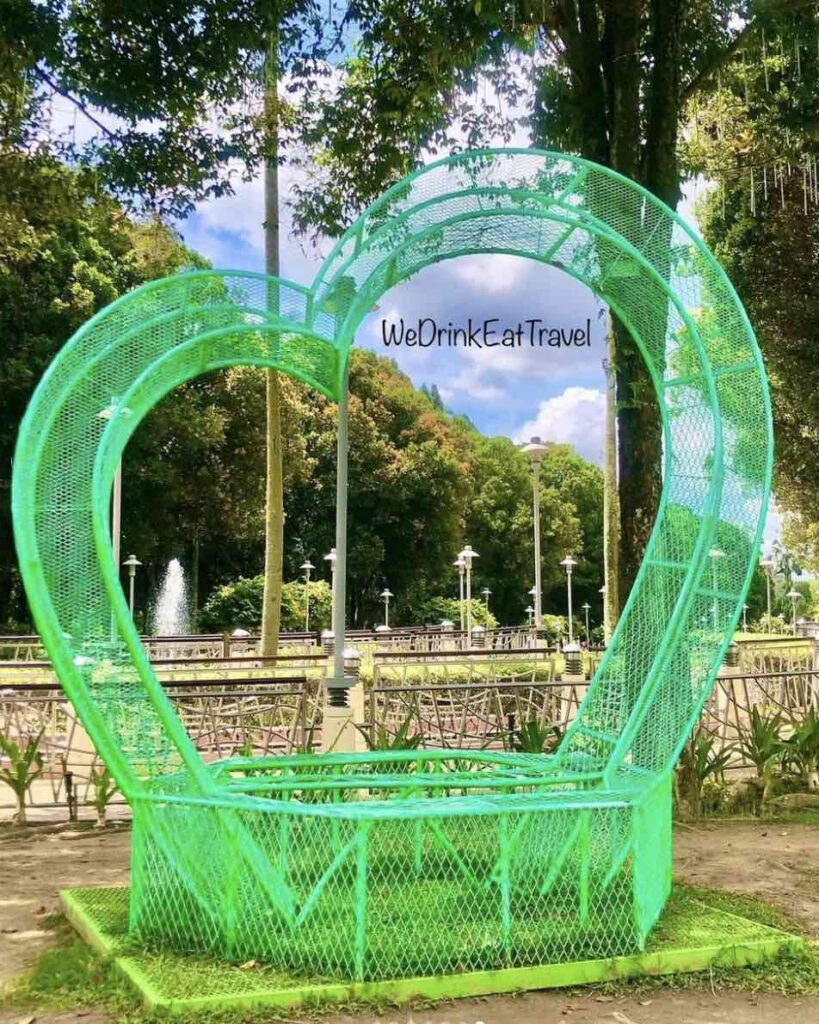 So, while it's a place you can chill out in during the day… at night time it becomes a brilliant display.
The garden is drenched with colorful, stunning rainbow color neon lights… that showcases the Secret Garden and its features. So, if you want to see a sparkly, magical garden display at night… extend your day trip, or spend a night in Putrajaya.
If you want to be in touch with nature and enjoy a relaxing atmosphere in Putrajaya… head on over to the Botanical Garden. So, when we went there was no entrance fee. And, surprisingly with every other landmark we went to see in Putrajaya… they were all for free.
Putrajaya Botanical Garden (Taman Botani Putrajaya)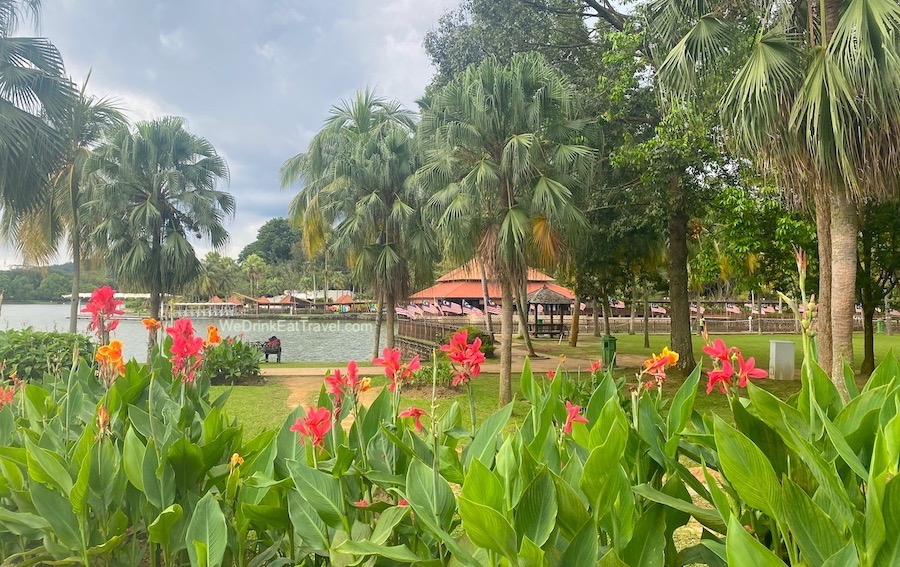 The garden area covers just under 100 hectares, thus it's one of the largest in Malaysia. And, in the complex are several different sections you can explore… including the Vine Garden, Floral Garden and the pretty Lakeside area.
Now, we had read about others recommending visiting the Moroccan Pavillion. Yet, when we were there is was undergoing renovations. So, we hope that when you go there, you'll be able to experience its beauty.
Putrajaya Boulevard (Persiaran Perdana)
When you're at Putra Square, you'll notice a wide and long street that looks to be endless. This is the main road covering about 5km through Putrajaya… which has plenty of space for pedestrians and road traffic.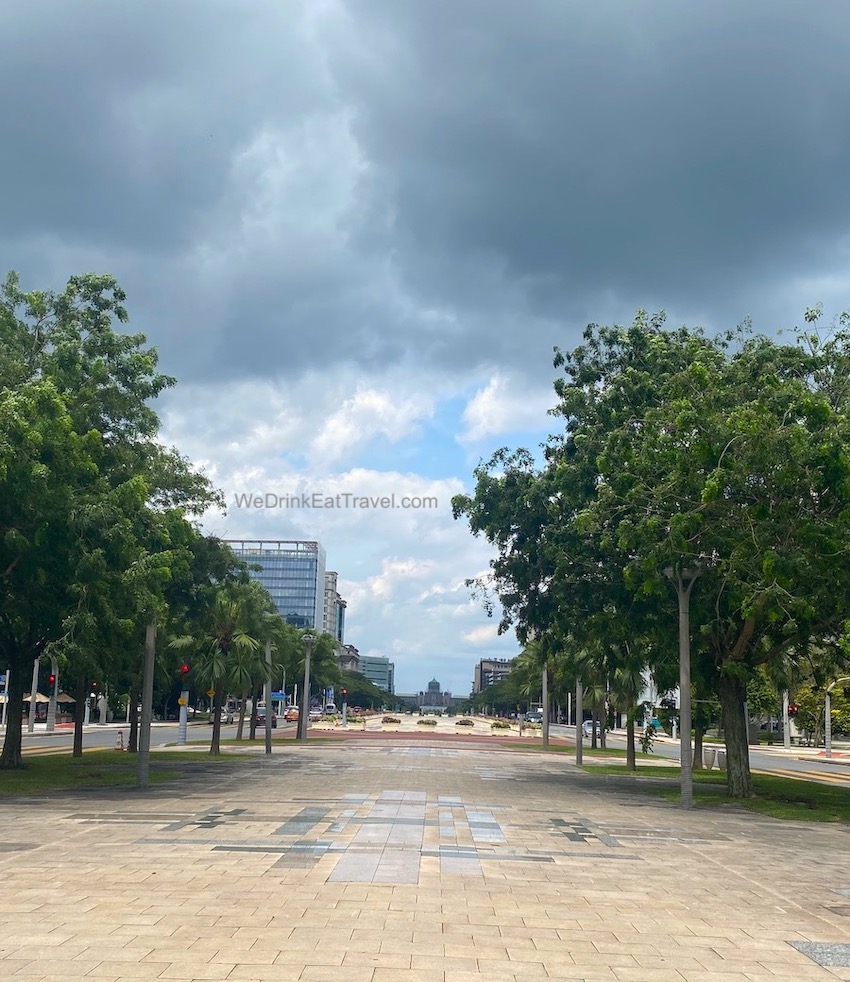 Thus, if you're wanting to walk the entire boulevard, make sure you allow a lot of time! During the middle of the day when we were walking down the boulevard… it was like a ghost town. As there were hardly any people around.
And, we guess that it was because the humidity and heat in the middle of the day would turn people off… as there's no shade from the sun. We were just the crazy ones who chose to do it. Yet, there are some stalls along the way, where we could quench our thirst.
Now, while you're strolling along Putrajaya Boulevard… there are some sites along the way to check out.
Perbadanan Putrajaya
This huge silver looking structure that will catch your eye, while walking down Persiaran Perdana… is the Putrajaya Perbadanan. And, while it's a structure you wouldn't go into to visit as a tourist, as it houses corporate offices… it does look striking on the outside.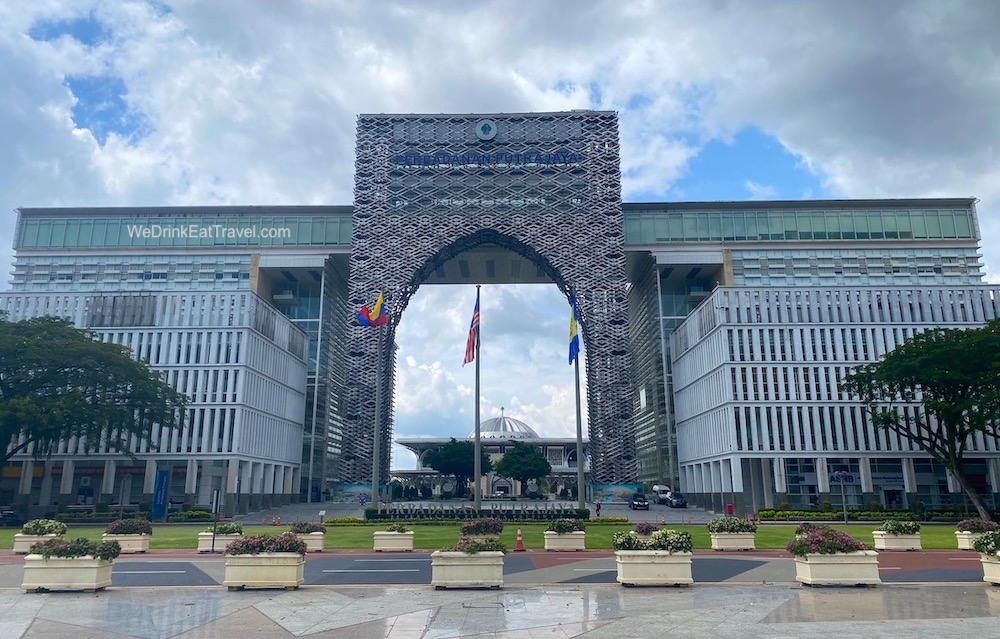 Similar to the Secret Garden, if you want to witness a light-filled display… come here at night time to see the buildings from a different perspective.
So, while you're in the area, opposite this is another gigantic building…
Mahkamah Persekutuan Malaysia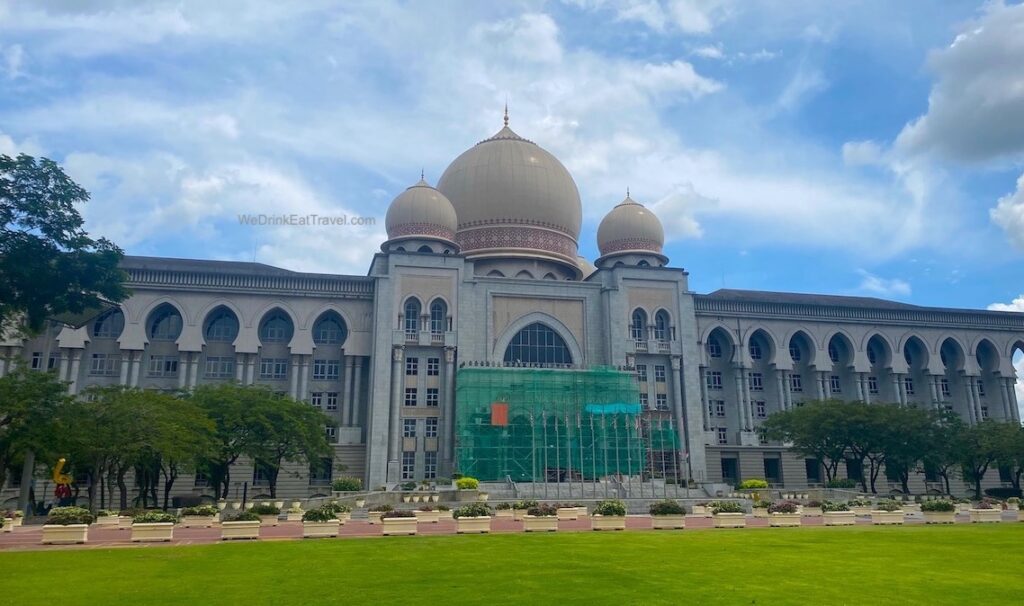 This huge structure is the Federal Courthouse of Malaysia… of which its history dates back to the mid-1900's, when Malaysia and Singapore were still one nation. Yet, over time when Singapore was to become its own country… the court system underwent changes too.
During our visit there, scaffolding was covering a part of the front of the building. So, it was a bummer… as we were wanting to take pictures of this grand courthouse. Even so, we could use our imagination… and look beyond the scaffolding to admire its beauty!
Now, the Putra Mosque is one of the main attractions when visiting Putrajaya. Yet, if you have the time… you should put this on your list of things to do at Putrajaya.
Masjid Tuanku Mizan Zainal Abidin / Masjid Besi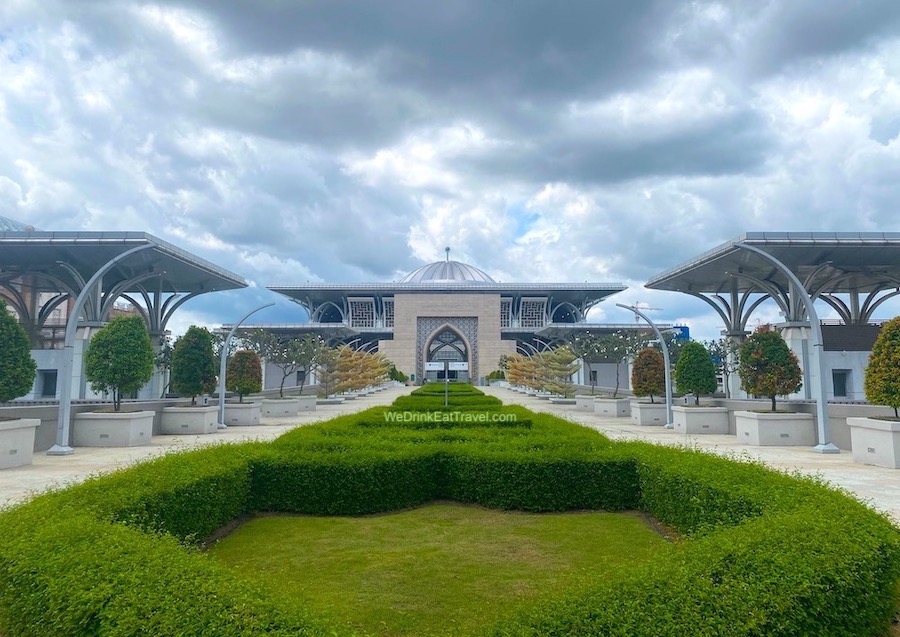 This is known as the Iron Mosque… which is the second largest after the Pink Mosque in Putrajaya. And, the reason for it having this name… is because about three quarters of the mosque was built with steel.
It certainly is a contrast to the Putra Mosque. And, like the Pink Mosque, strict clothing regulations are in force here. Yet, rather than the maroon color robes… you'll be given blue ones here. Plus, the feeling is different with its open-air environment… and the mesh structures surrounding the mosque.
Now, we do recommend that to see the Iron Mosque from a different perspective… head on down to the waterfront. And, while you're by the water, you'll most likely see this next landmark…
The Millennium Monument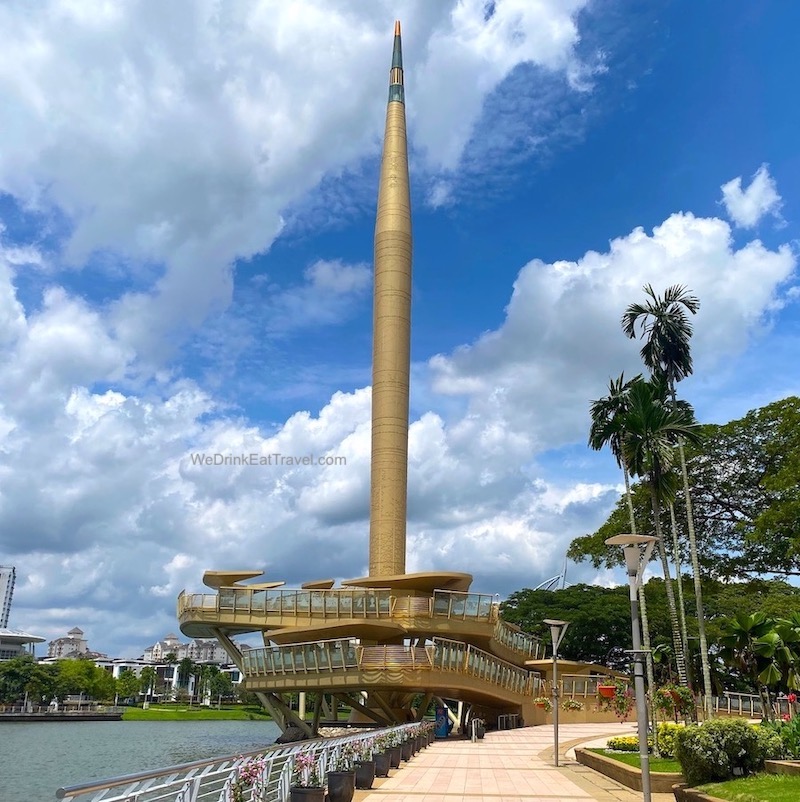 Built in the early 2000's… the striking gold Millennium Monument stands at a height of just under 70 metres. And, it's said that the design of this monument was based on Malaysia's national flower… the hibiscus. Yes, we guess we can see some resemblance!
Putrajaya Lake
When you're strolling around town, you'll no doubt pass by Putrajaya Lake. This man-made lake covers an area of around 400 hectares… and its completion was in the early 2000's. These wetlands are an important part of Putrajaya… including providing a habitat for flora and fauna.
And, at certain times throughout the day… a massive fountain will explode from the depths of the lake, with a picturesque display.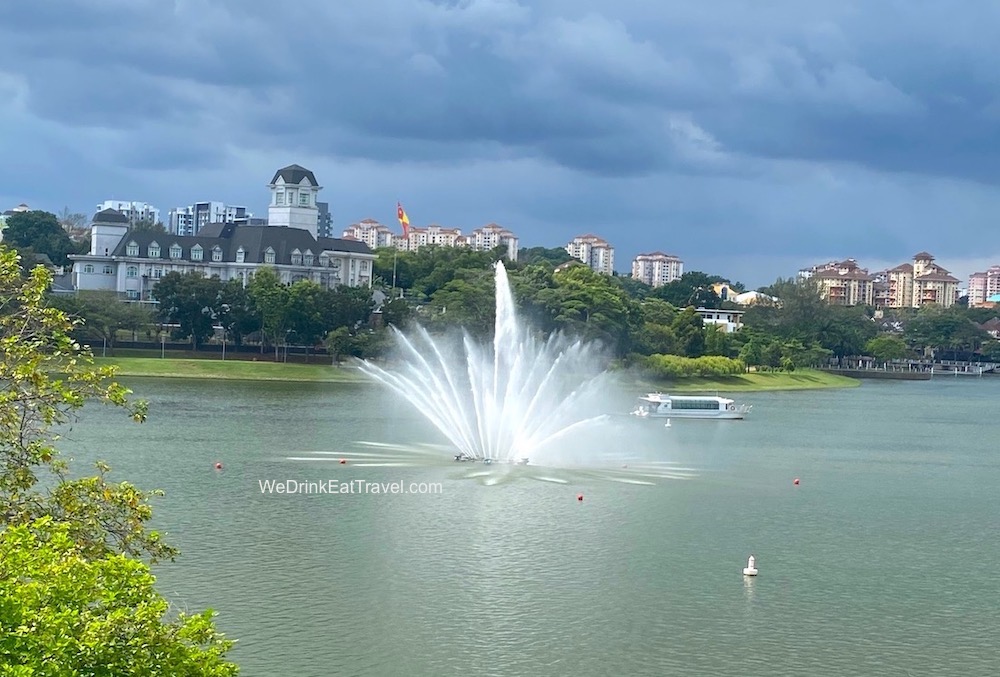 So, there you have it, 12 things to do in Putrajaya that we could fit in a day trip. Now, there are other things to see… yet we trust that some of these will help to fill your itinerary when you go.
Now, just before we finish up, here's a way to start your day trip to Putrajaya…
Kick Start Your Day Trip to Putrajaya With a Feast
Before you begin exploring, if you want to start your day with a feast… then head on over to the Le Meridien Putrajaya. You can find this in the IOI Resort City area… where there are several luxury hotels, as well as a huge shopping mall.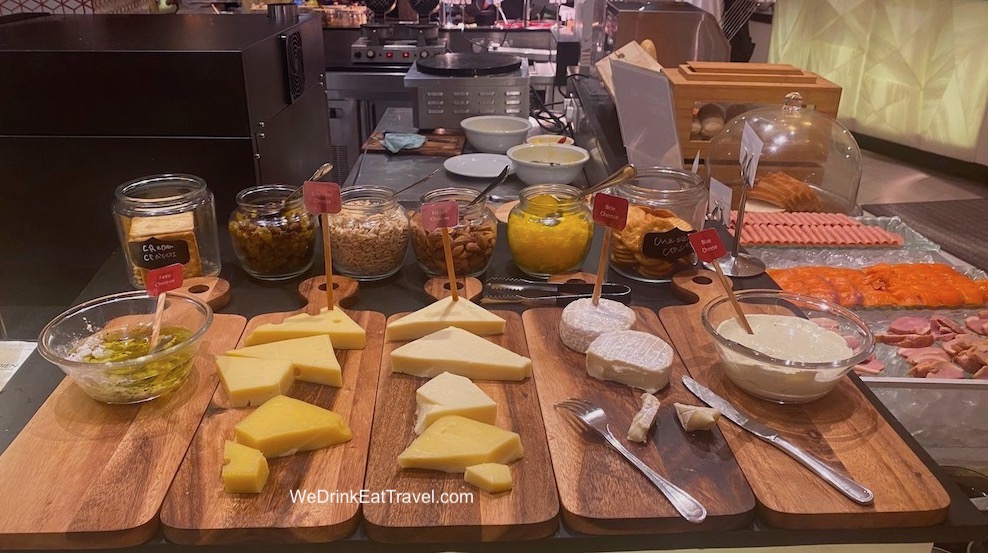 There are many different cuisines you can try from Chinese, Japanese… through to Western continental breakfast items. They'll also prepare freshly squeezed juices on request… as well as cook eggs to order in a variety of ways.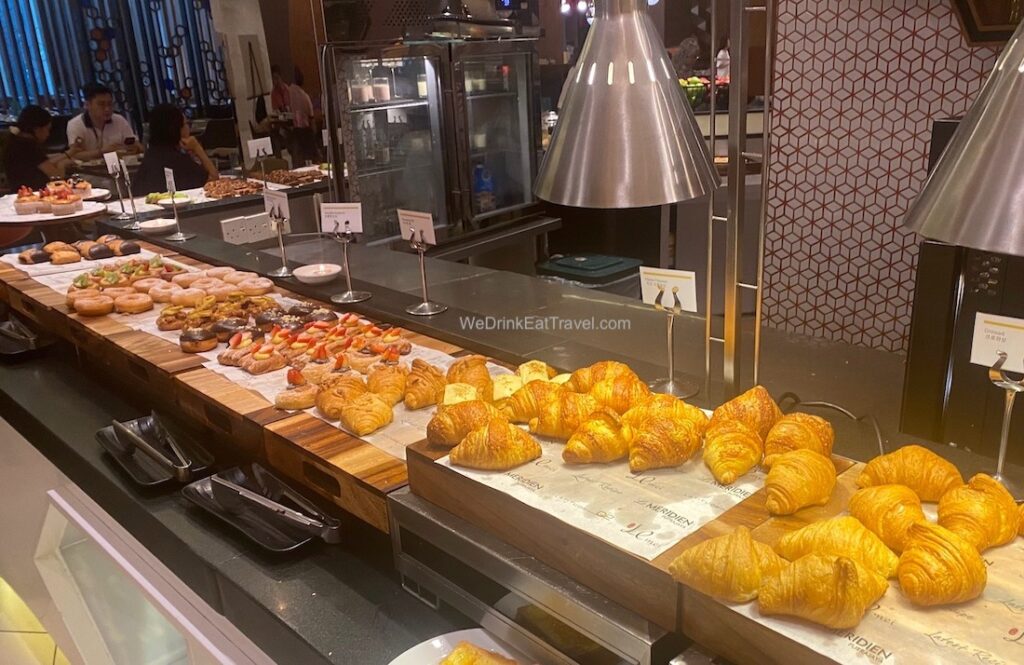 Now, if you happen to be vegetarian, the choices are far less. Yet, you won't leave hungry.
We did notice that there were lots of families at breakfast. And, we did discover that there was a roving clown in the restaurant during breakfast!
So, if you have kids, then this will help keep them amused. And, that's because the clown makes those fancy balloons… by twisting them into all sorts of designs and characters. We're sure that he'd make a balloon for the "kids who are young at heart" too!
For 1 adult, the breakfast was only 68 MYR… which is about 14.50 Euros, USD $15.60 or GBP 12.30. So, that is an extremely cheap price for a 5-star buffet breakfast! And, by the end of it you'll be chock full, with lots of energy to see the attractions.
Whatever you decided to do, we hope you enjoy your time in Putrajaya!
You Might Be Interested In This Too…
Discover The Best Website To Book Flights And Hotels
See One Of The Most Amazing Temples In Malaysia – Batu Caves KL
Our Qantas Flight From Melbourne To Singapore Was Actually Astonishing
Is Dubrovnik Worth Visiting? Fascinating Facts You Need To Know
What You Need To Know About The Bangkok Canal Boat On Saen Saep
Turkish Airlines Review – You Need To See Our Astonishing Experience
27 Of The Best Things To Do In Bucharest
10 Free Things To Do In Hue Vietnam
25 Of The Best Things To Do In Kotor Montenegro
30 Awesome Free Things To Do In Prague, Czech Republic