Accommodation: Ibis Styles KL Fraser Business Park
Location: 1, Jalan Metro Pudu 2, Fraser Business Park, 55200 Kuala Lumpur, Wilayah Persekutuan Kuala Lumpur, Malaysia
Loyalty Program or Deals Used: ALL Accor Live Limitless
Research and Booking
One of the main reasons for staying at this Ibis Styles hotel, was that we saw a promotion with ALL Accor… where we could get some hefty bonus points. And, as we were already going to be in KL… it'd be a no brainer to take advantage of the offer, to easily earn more reward points quickly.
Now, as part of the promotion… we could earn a minimum of 2,000 Accor bonus points, or even more. And, at the time of writing… we could redeem 2,000 points against participating hotels, for the value of 40 Euros.
So, that was a bonus, considering we were looking for some short-term accommodation.
We do need to let you know, that at the time… we had ALL Accor Platinum Status. And, that would mean we'd get extra, great perks that most others don't have access to… including free breakfast, early check-in and late check-out.
Thus, make sure you remember this, because if you choose to stay at this hotel… these are not standard inclusions.
The Location of the Ibis Styles KL Fraser Business Park
As the hotel name suggests, this Ibis Styles Hotel is in the Fraser Business Park precinct. Its location is about 5km South of the Petronas Twin Towers in a straight line. So, in the scheme of things it's not that far from the main KL attractions.
Now, after hearing that it's in a Business Park, you may be imagining a complex full of grand high-rise buildings… with some pretty green areas dotted throughout.
Yet, when we were getting closer and exploring the vicinity, it wasn't like this. Fraser Business Park is a small area, boasting several hotels, residences and offices. Yet, it's by no means glamorous, and without parks to relax in.
Later on we'll explain what else is around the hotel… to help you decide if it's somewhere you'd like to stay.
What Room Did We Choose?
As with many of the Ibis and Ibis Styles Hotels… the choice of room types are less, in comparison to others. And, for our 6-night stay, we would stay in a Standard Room with Queen Size bed.
In the description of the room on the Accor website it had, "Trendy and Comfortable." Well, we would be the judge of that… LOL! Plus, it would include free wifi, safety box, kettle, coffee, tea and more.
The size of the room according to the hotel is about 24m2… so from our perspective not big. Yet, in the description…. it said that the room would also include a day bed. So, it'd be interesting to see if we felt cramped or not.
Now, the total price that we paid for 6 nights in this room type, was 914.36 MYR. So, that's about 198 Euros / USD $215 / GBP 175. Did we think it was worth the amount that we paid? Keep reading to find out!
Checking into the Ibis Styles Kuala Lumpur Fraser Business Park
We took a Grab car to get to the hotel. And, while there were signs on the road pointing to the hotel's entrance… it felt like we were going around in circles!
And, after some twists and turns, we made it the main lobby entrance of the hotel. The first impressions were that the area was huge. And, overall it did look plain. Yet, to spruce up the area a little… there were huge bright and colorful panels in a mix of yellow, aqua and purple.
So, after arriving at the hotel check-in counter… the staff member was very efficient in checking us in.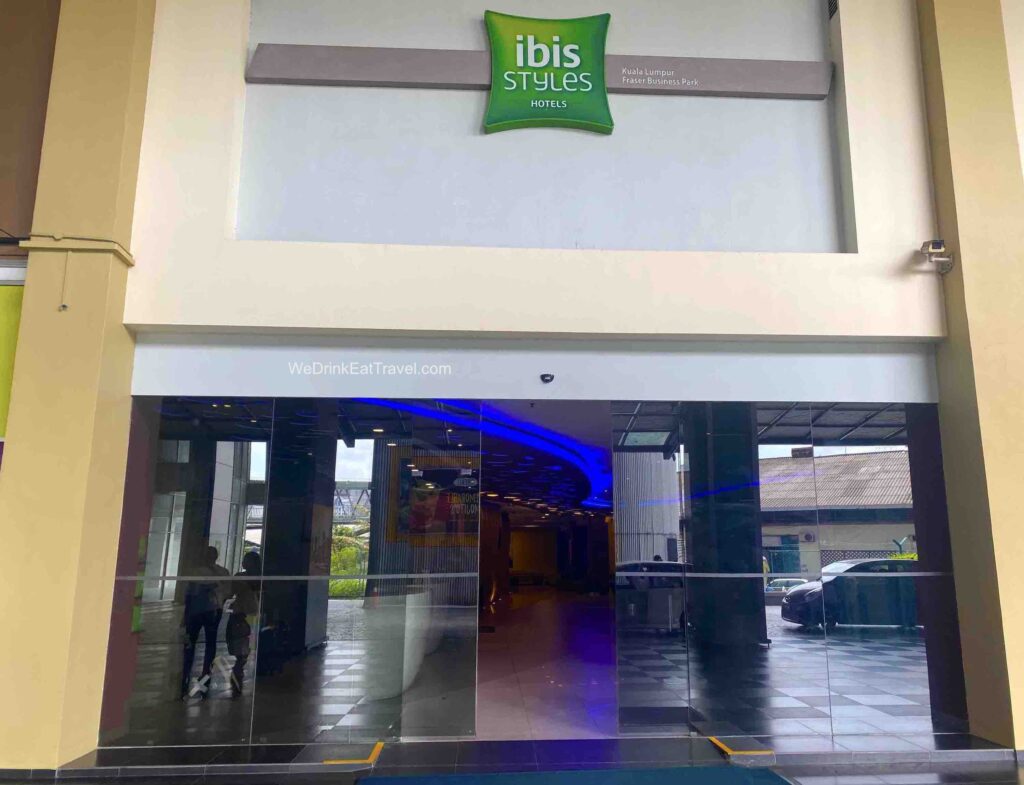 As part of our ALL Accor Platinum Status, we would also get free buffet breakfast. So, the staff member gave us breakfast passes… of which we'd need to hand over before entering the breakfast room. That did seem to be old fashioned to us. Yet, we'll reveal the importance of these breakfast vouchers soon.
In addition to these, we also were given 2 free drink vouchers. Then, within minutes we would be rapidly on our way up to our room.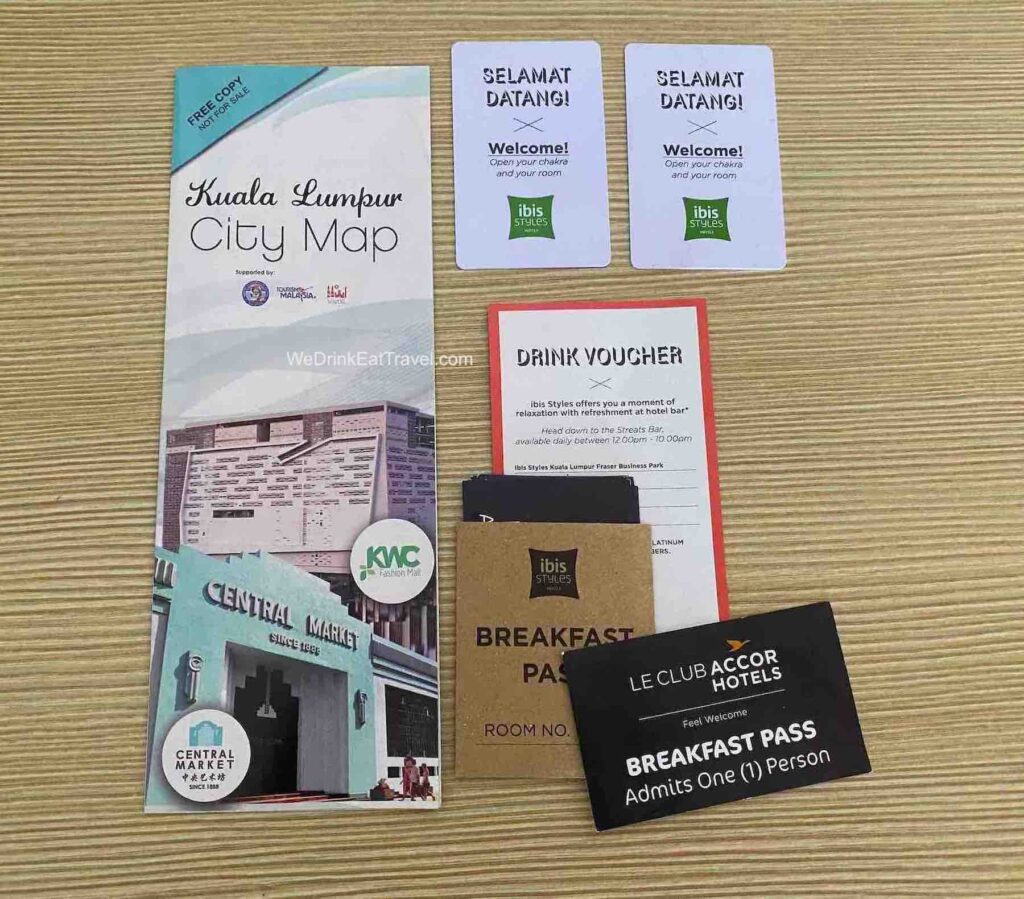 Our Ibis Styles Hotel Room
As we said earlier, we would be staying in a standard queen room. So, when we were making the booking, we also put in some special requests including… a room on a higher floor, away from the lifts and an early check-in. And, all those requests we got, which was great.
Now, once we opened the door to our room, this is what we saw…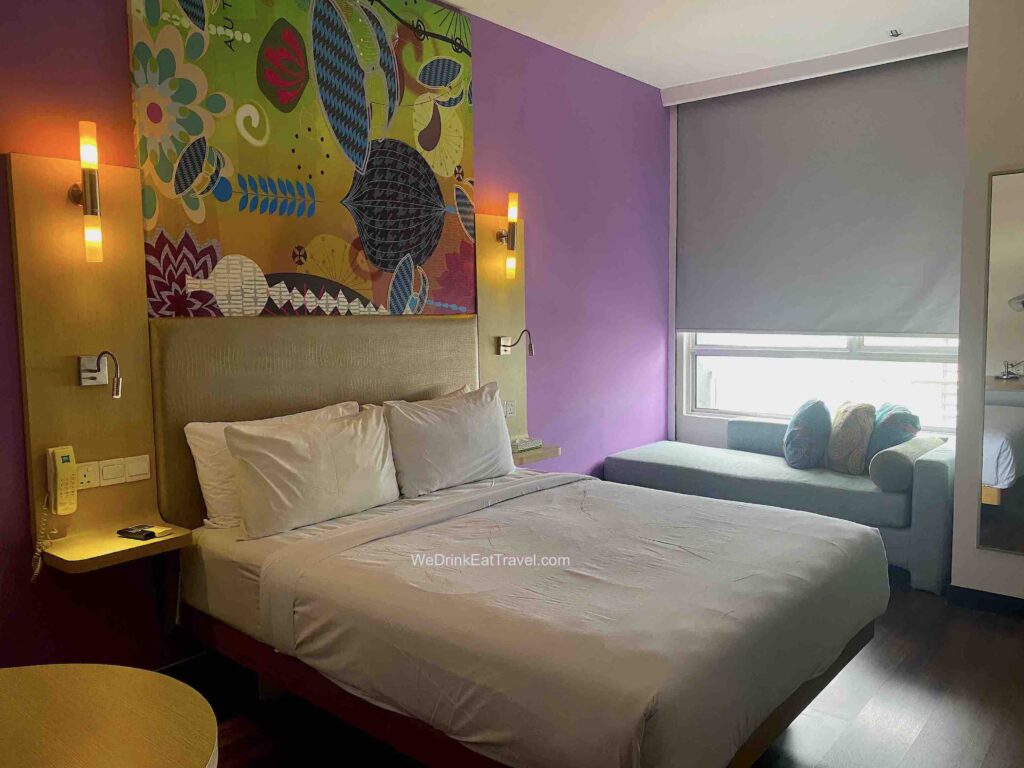 So, it did look similar to what was on the hotel's website. And, it was handy to have the daybed to chill out on. There was also a useful full length mirror… which again was surprising for a hotel of this calibre.
There was also a big desk, chair, small fridge, kettle, tea, coffee, glasses and mugs… as well as 2 complimentary bottles of water that would be given daily.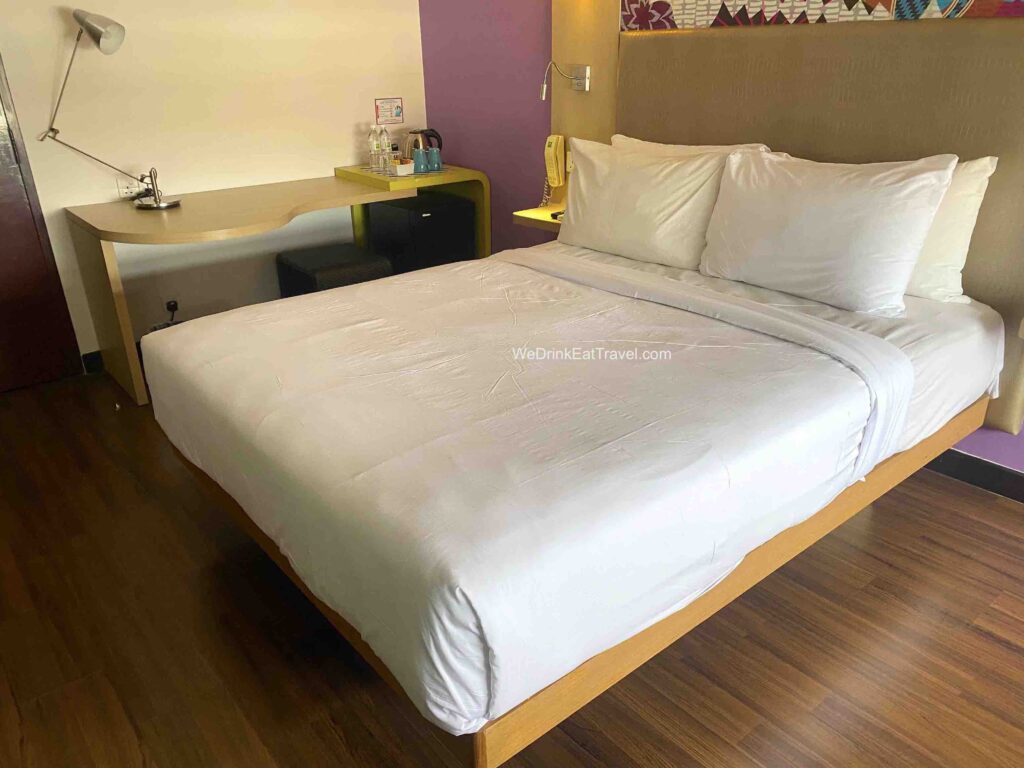 In the area where the safety box was… there were a couple of fresh unused pair of hotel slippers. We never use hotel footwear where it's not in fresh packaging! Plus, in that area there were a variety of coat hangers… as well as a luggage storage area, opposite.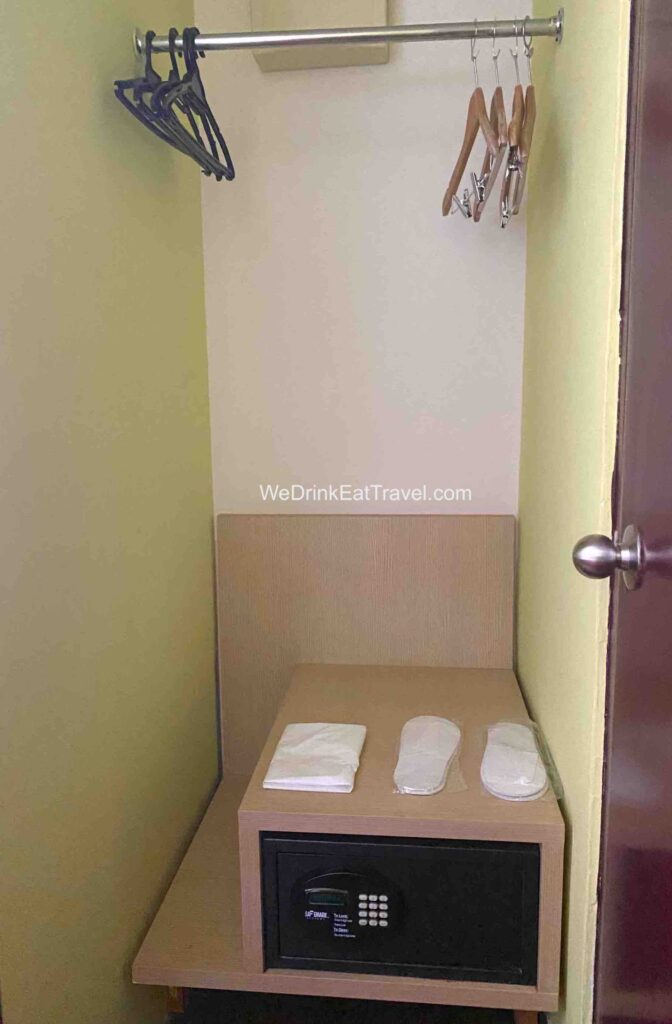 The air-conditioning was powerful and was working well. Much needed in hot and humid KL!
The Bathroom
After opening the door to the bathroom, the first feeling was it's small! On one side of the bathroom was the shower.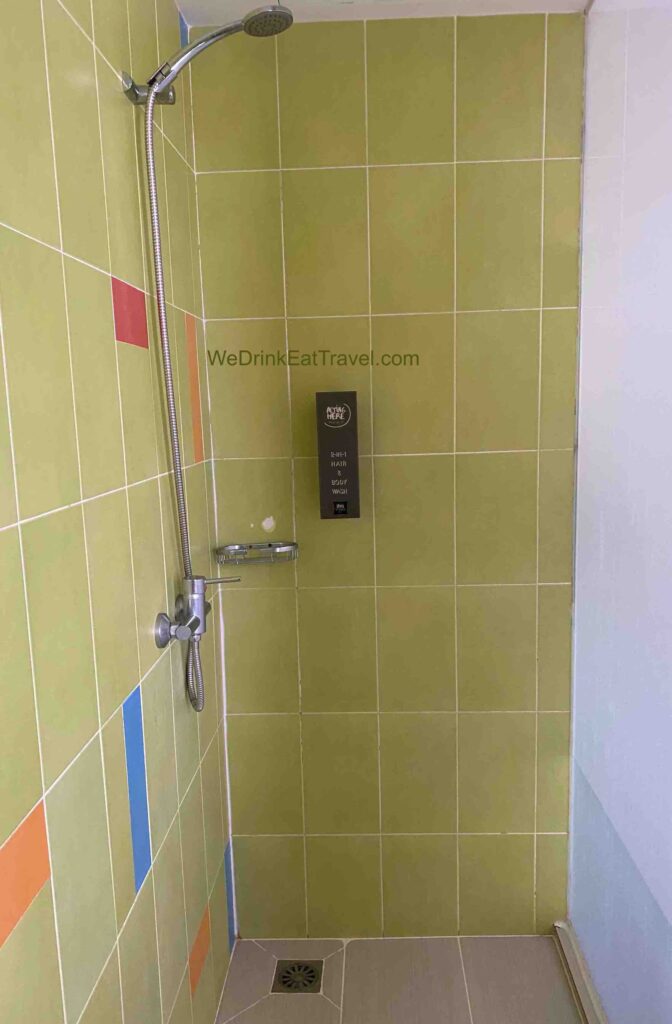 And, opposite that was the toilet and basin area.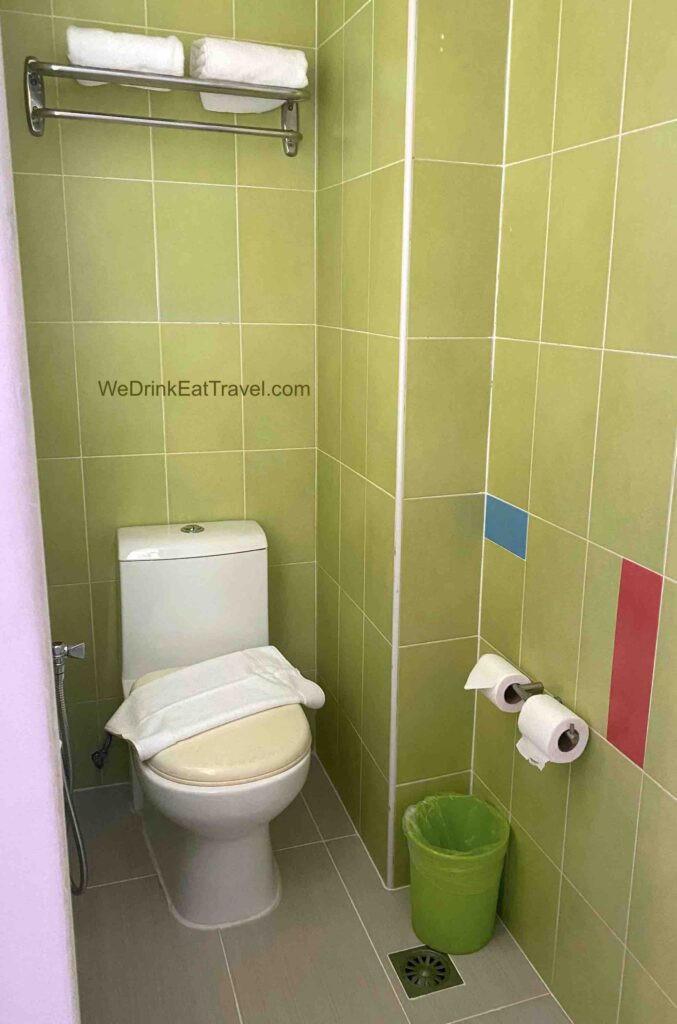 The amenities in the bathroom included toothbrushes, soap, cotton buds, hairdryer… as well as a 2-in-1 liquid hair and body soap in the shower.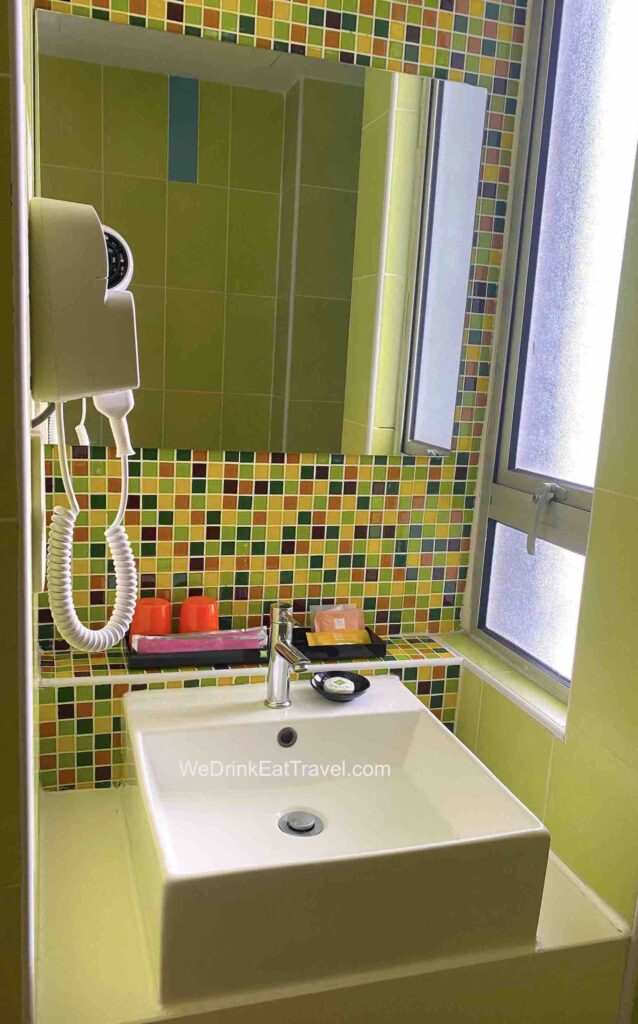 The bathroom did feel a little pokey, yet it did the job. Make sure you don't go swinging your arms around in the shower area… as you could hit them against the wall and end up with bruises!
Now, while the room was compact, it did have the essentials and was CLEAN.
Breakfast at the Ibis Styles KL Fraser Business Park
Remember how we were saying earlier, that we were given breakfast passes? Well, the first morning we went to breakfast… we thought that everyone would have to give their vouchers to the staff upon entering.
Yet, as we were approaching the restaurant, as soon as we began to pull out our breakfast passes… the staff immediately ushered us to a different area. And, what we found out was that there was a separate breakfast area for ALL Accor Members.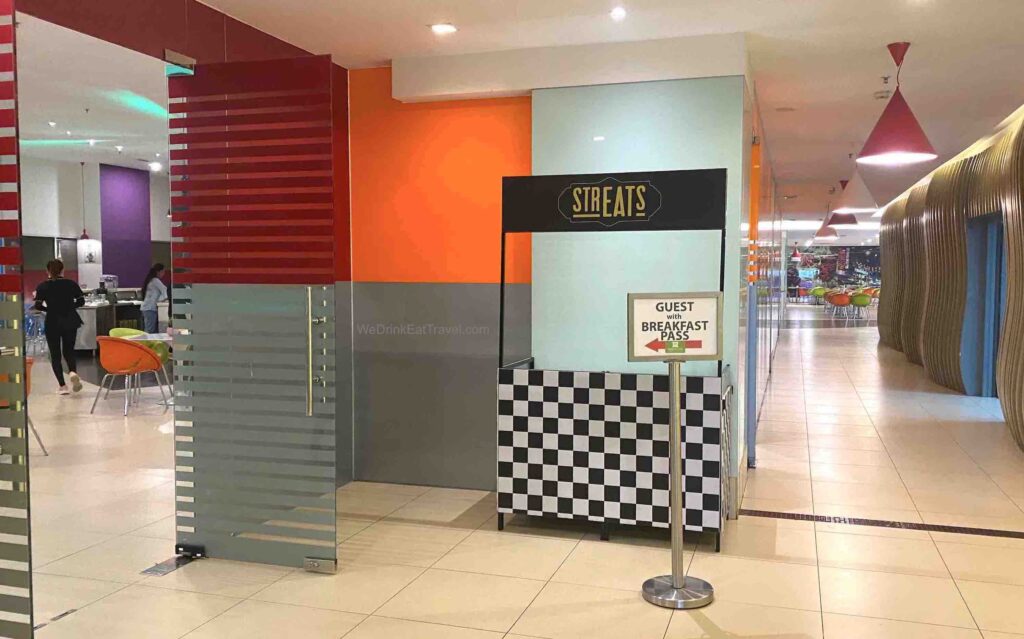 Now, we weren't sure if that was for elite members or for every level of membership. Even so, it was a more quiet and pleasant environment… in comparison to the main restaurant area. Plus, the surprising thing was… we weren't expecting a separate area to eat, in a hotel of this type.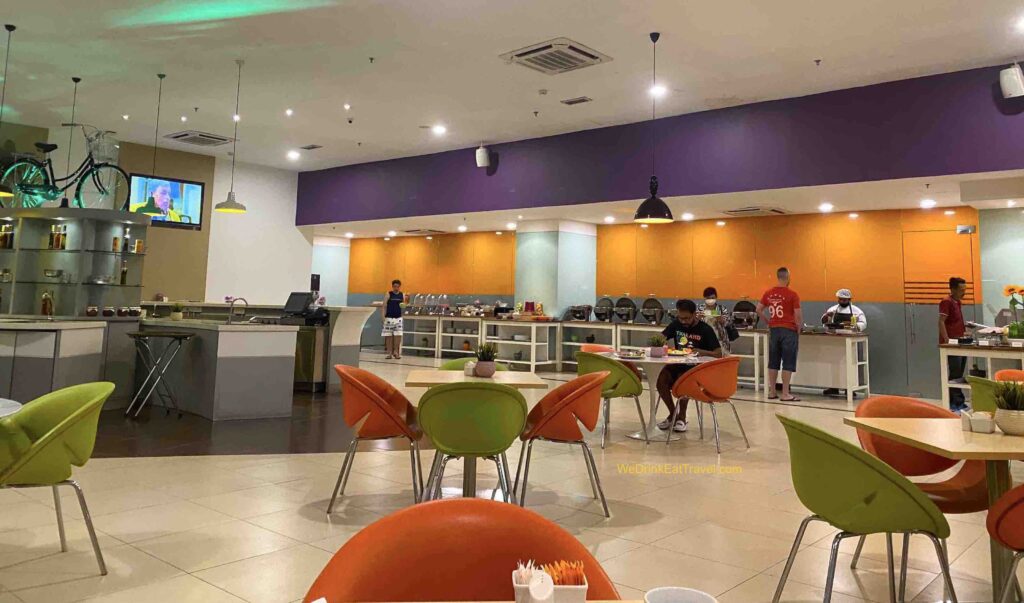 And, when we saw people who were trying to enter WITHOUT a pass… they were directed to the main breakfast room. Oh, you have to love elite status!
It was spacious, and felt comfy while having a relaxing breakfast. Every day there'd be different choices of food. And, on some days there'd be a chef making freshly made omelettes to order.
Surprisingly there were many choices, and was more than enough to fill up on. Plus, we did enjoy some of the curries, as they were so flavorsome.
Now, one stand out thing about breakfast was the staff. They were polite and attentive, even during busy times. The food was replenished often too, which was great. And, we have to give credit to the food and bev manager there… as he was managing everything efficiently.
Amenities at the Ibis Styles Kuala Lumpur Fraser Business Park
When we saw other people's reviews about this hotel, there were photos of a pool. And, we thought that this would be great to take advantage of… especially with the stifling KL humidity.
Yet, after speaking with the staff at the check-in counter… they did confirm that their hotel does NOT have a pool. The pool is only for use for people in the adjoining apartment complex. Plus, there's a sign on the pool fence gate that states this.
We could've snuck in, but not worth the hassle of a potential squabble. We instead took comfort in the air-conditioning in the room!
We never had the need to use them, but there are internet stations that guests can use for free…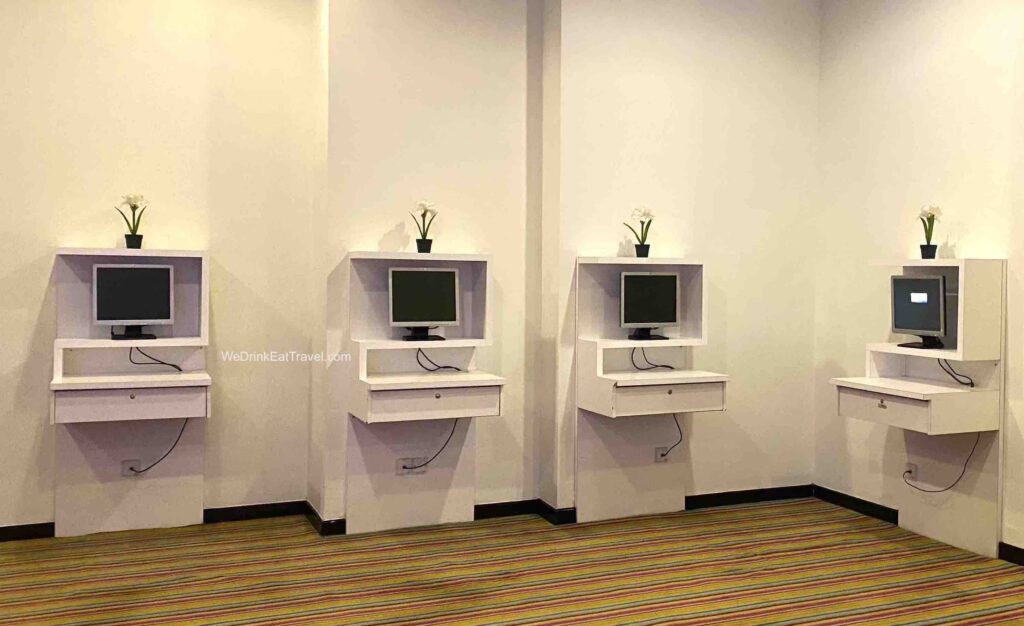 There are also tables and chairs set up outside the front of the hotel. And, we did see many people using them.
Now, at one stage we did sit out the front… and that's because the power had gone out. Thus, the elevators weren't working. And, we didn't see any points walking up many flights of stairs… to sit in a sweltering hot room without air-conditioning.
Sadly, the power was out for a couple of hours. Yet, it was a pleasant surprise that while we were waiting outside… the staff would bring complimentary bottles of water for us. That was an unexpected and generous gesture. We did joke that ice cold beers would've been even better!
Going to the Abyss
Now, you may be wondering what we mean by this?
Well, we do enjoy keeping fit as we eat, drink and travel around the world. The more calories we burn, the more we can eat and drink right? Ha, ha, ha!
So, we did discover that there is a gym in this Ibis Sytles hotel. Yet, the thing is, the staff don't mention it on check-in. Plus, there's no clear signage showing where it is. It's not even listed in the directories within the lifts! Strange.
The gym is on the same level as where you can get breakfast. So, instead of going towards the restaurant, go in the opposite direction… and there'll be a door. Then, after opening the door you need to veer right, and keep walking all the way down a long corridor.
It was so quiet walking down this corridor, and appeared darker. Plus, it felt like we'd been walking forever, until we finally saw a sign for the gym!
Even so, most of the equipment is in good condition. And, that may be because few people know about it, so it rarely gets used. But hey, that was great for us as we could work out in peace… because each time we would use it, there was no-one there.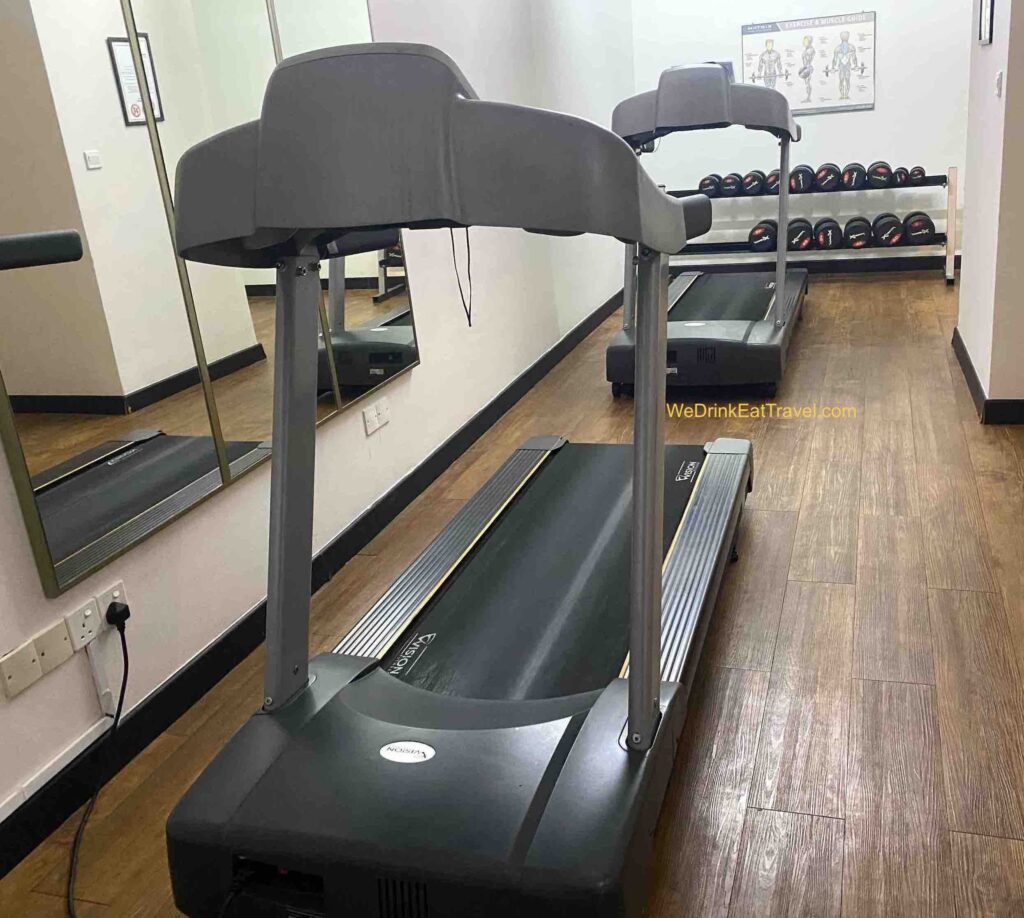 What's Around the Ibis Styles KL Fraser Business Park?
If you're after a vibrant environment, then this is not the area to hang out. In saying that, there was a nightclub nearby. And, it was like they were open every night until late. Thus, if you're a light sleeper and don't have earplugs… you may not have the best sleep. On the other hand, if you can't beat 'em, then join them!
There are a few 7-Elevens, mini-marts and a supermarket… within a few minutes walk of the hotel. So, it's easy to get snacks, drinks, essentials and so forth. Plus, if you're after a meal… there are some restaurants within a comfortable walking distance too.
Around a 10 minute walk via a skywalk, is the Chan Sow Lin LRT train stop.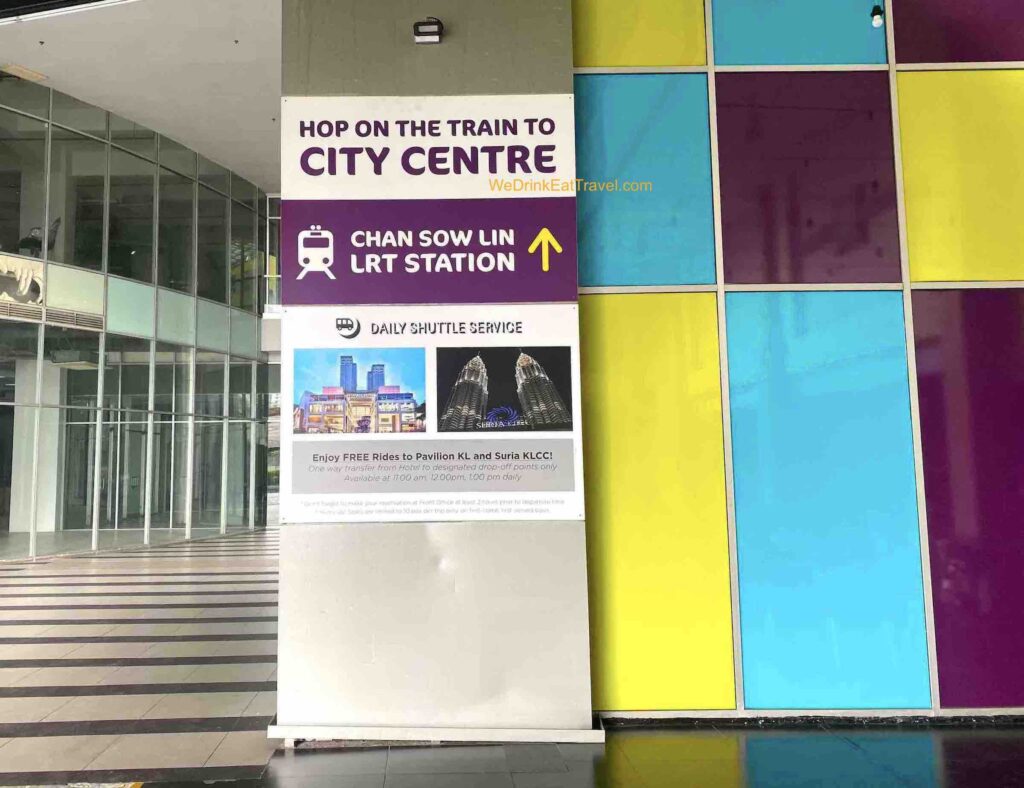 Now, it's convenient having this nearby… as we made use of it to get around and see some the KL attractions. For example, it would only be 4 stops to get to the KLCC area… which was less than 20 minutes on the train.
Now, to get to the Chan Sow Lin LRT station… we had to go through an abandoned shopping centre!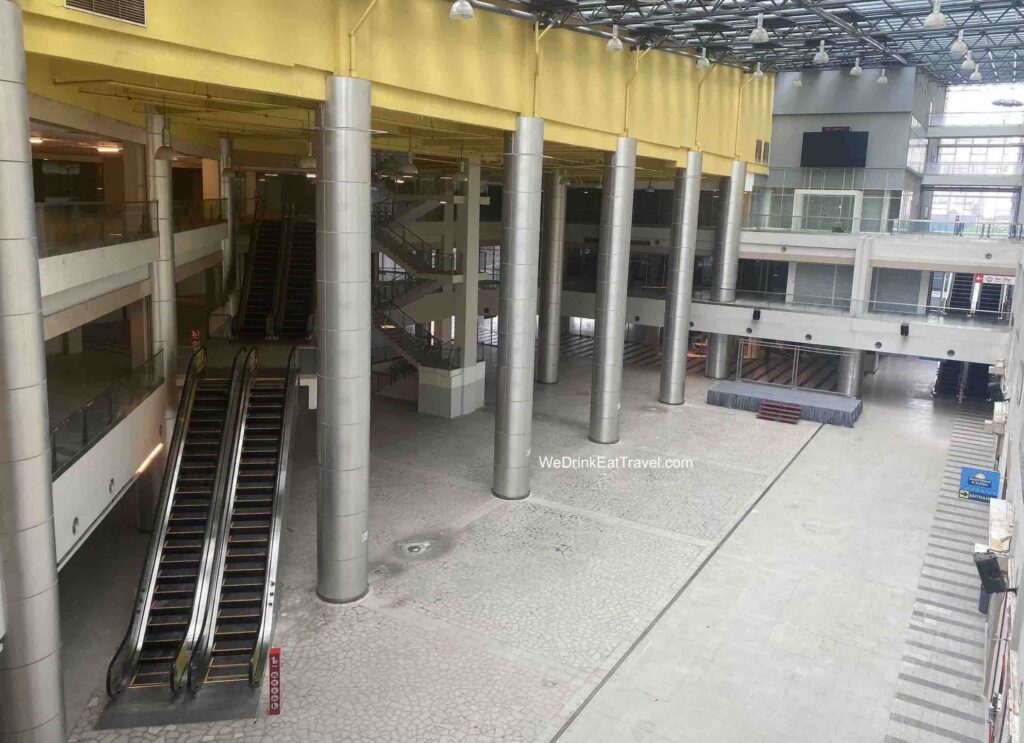 OK, it may sound creepy. Yet, as we were wandering up and down the different levels, it didn't feel that bad. And, every now and again we saw a security guard walking around.
The funny thing was, although there were only a handful of shops operating… the air-conditioning was on in the shopping centre, plus there was free wifi. Didn't make sense to us!
See Our YouTube Video About This Abandoned Ghost Shopping Mall in KL…
---
We Drink Eat Travel Wifi Speed Test
As per usual, we always test the wifi speeds at every accommodation we go to. Even though places advertise certain speeds… we've found that it's not always the case. Sometimes surprisingly better, but usually inferior than we're led to believe.
Now, at this Ibis Hotel in KL… the download speed was 4.86mbps and the upload was 4.43 mbps. So, from our perspective it was slow and deficient for our needs. Even so, it was good enough to check emails, social media, or to do basic internet surfing.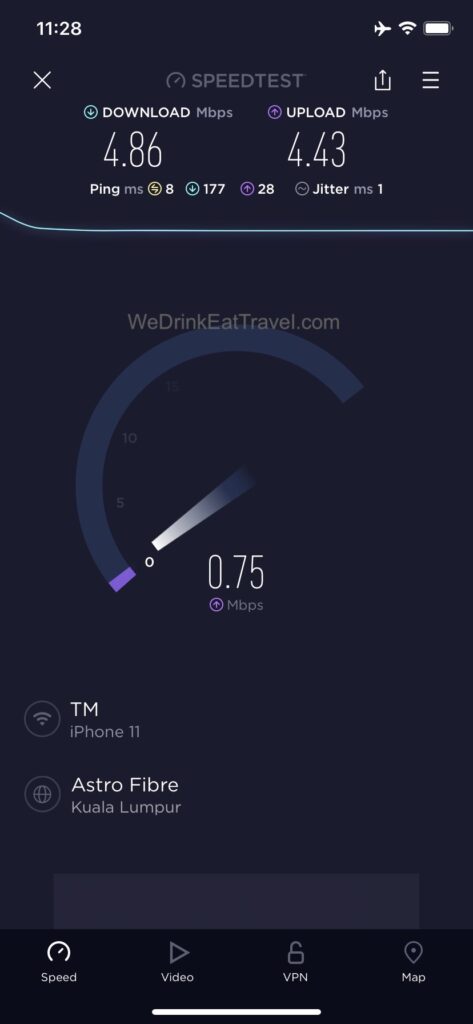 Our Final Thoughts About the Ibis Styles Kuala Lumpur Fraser Business Park
We chose to stay at this hotel as it fit in with our plans for KL. Yet, one of the main reasons was to boost our loyalty points with the ALL Accor Program.
Now, while there's nothing that exciting around the hotel… it's not the worst hotel that we've stayed in. Positives are that the staff were efficient and attentive. And, overall the hotel was clean throughout.
While the room did feel compact… it did have a day bed to relax, as well as many essential amenities that we weren't expecting.
As ALL Accor members, we had our own separate breakfast area… away from the hoards. So, we could eat in a relaxing and peaceful environment.
While the hotel doesn't have a pool… the air-conditioning in the room was powerful and cooling. Plus, it does have a gym, and each time we went… no-one else was working out at the same time. Furthermore, the equipment was in good condition.
It was convenient having public transport close by within walking distance… so it was easy to get to KL Central. There are also a few mini-marts and even restaurants within walking distance… where we could happily feed our bellies, and get supplies.
Yet, the rooms were on the smallish side for us, and the wifi speed wasn't that great… at less than 5mbps up and down. So, while there are many positives… for us, we'd only stay here again for a short stay, if we had a need for it.
You Might Be Interested In This Too…
Here Are 12 Interesting Things To Do In Putrajaya Malaysia
See One Of The Most Amazing Temples In Malaysia – Batu Caves KL
Our Qantas Flight From Melbourne To Singapore Was Actually Astonishing
Is Dubrovnik Worth Visiting? Fascinating Facts You Need To Know
What You Need To Know About The Bangkok Canal Boat On Saen Saep
Turkish Airlines Review – You Need To See Our Astonishing Experience
27 Of The Best Things To Do In Bucharest
10 Free Things To Do In Hue Vietnam
25 Of The Best Things To Do In Kotor Montenegro