We had such an awesome time traveling through Europe… and specifically the Balkan Region. And, it was surprising traveling through the Balkans… as many of the destinations there were not high on our list. Yet, it sure was a tremendous experience.
Now, it was sadly coming to the end of our adventures in Europe. Yet, on the other hand it was exciting… as we FINALLY had an opportunity to get back home to Australia, after about 2.5 years!
So, after our amazing time in the Czech Republic for almost 3 months… it was time to leave. Yet, when we were doing our in-depth research to co-ordinate and plan getting home… an opportunity came up to visit Romania.
And, we hadn't been to this European country before. So, it would be another new destination we could tick off our list. Plus, in going to Romania… we would have been almost all of the countries, in the captivating Balkan Region.
Now, due to our travel plans and accommodation… we would base ourselves in the capital city of Bucharest.
We have to admit… we didn't know much about this capital city. And, as fellow travelers you may be wondering, "Is Bucharest worth visiting?" We also had similar thoughts before going there.
Now, we're fortunate that we have the luxury of being slow travelers. Thus, having the time to explore new destinations at our own pace… and taking it easy. Yet, we understand that many of you don't.
So, your time is precious and when going on vacation… you'll want to spend it wisely, in amazing places. That's why in this We Drink Eat Travel blog… we share 5 useful things you need to know BEFORE you visit Bucharest.
Let's begin with this one…
1. Bucharest is Known as the Little Paris of the East
Now, it was surprising for us to learn that Bucharest has this endearing name of… the Little Paris of the East. And, from a geographical point of view… these 2 capital cities are at total opposite ends of Europe from each other.
Yet, centuries ago there were some wealthy Romanians… who left Bucharest to discover Paris. And, after having lived there… they had the dream of bringing "Paris" back home to Bucharest.
Thus, buildings were built in the French architectural styles. And, they spoke the French language in Bucharest too.
Yet, as a result of the atrocious wars, and then with Communist rule… many of the French-inspired buildings underwent hefty damage. Thankfully, some of them would undergo restoration, to keep the "Little Paris" alive.
Now, if you've ever seen photos, videos or even been to Paris… then you'll know it's a stunning capital city.
And, one of the most popular attractions in Bucharest is the Arc de Triumf…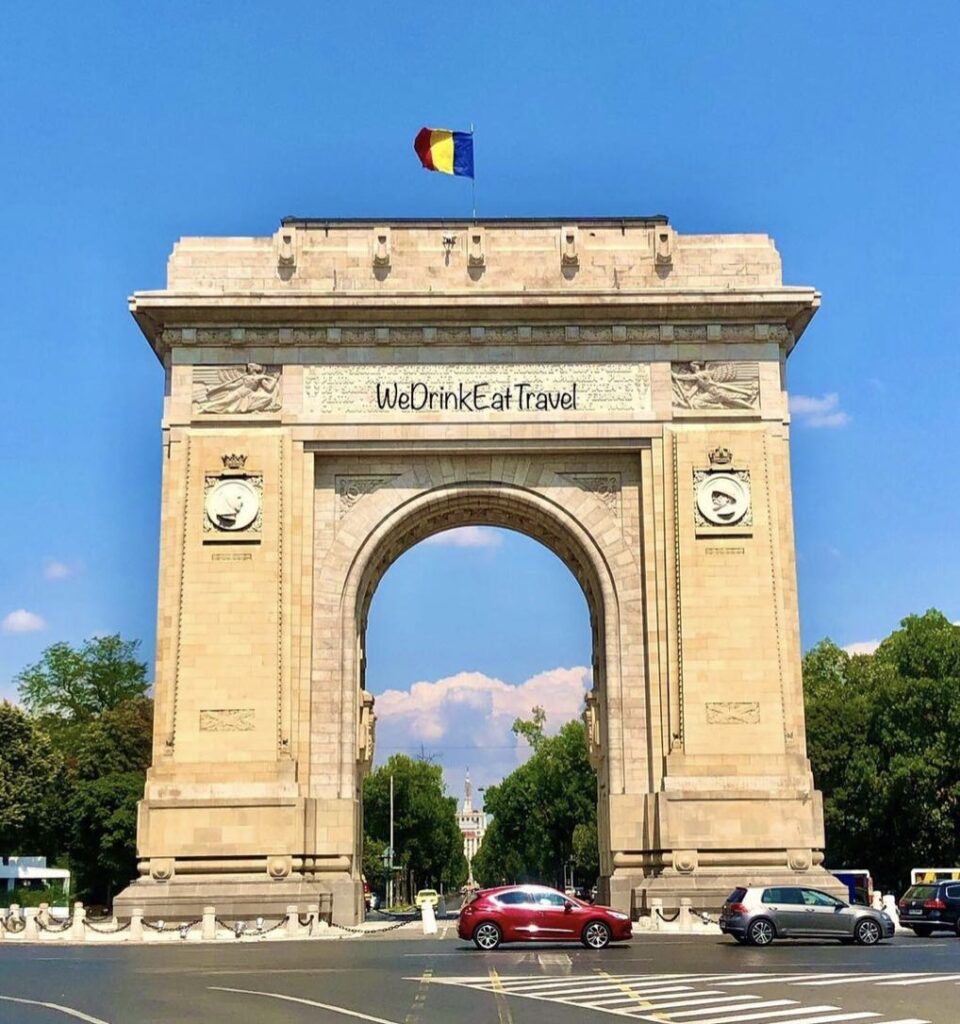 It sure does look magnificent, and does resemble Paris' Arc de Triomphe. Yet, from our perspective, the stark reality is this…
If you're expecting Bucharest to ooze the charm and romanticism of Paris… it doesn't. It does have some aspects of it. Yet, please don't fill your mind with the visions and atmosphere of Paris… as you will leave feeling disappointment.
Yet, if you're up for an enormous cheese fest, then Bucharest sure does have that…
2. An Ancient City Which Needs More Love
Bucharest is an ancient city… with its history said to date back to the mid-15th Century. And, when you learn about what this city, and its people had to endure over centuries… its remarkable that they have been able to rebuild some of its awesome buildings.
Yet, what we found is that when we went further out of the Old Town area… in some parts it felt like there was a huge lack of love and attention.
Some old buildings where the structure did look fascinating… were dilapidated and neglected. Plus, some of the gardens were looking desolate, and uninviting.
Now, we understand that Romania is one of the poorer countries in Europe. So, we can't expect everything to be perfect and pristine. Yet, being part of the European Union… we thought that the upkeep would've been better.
Plus, there was something that would surprise us more, after sadly seeing the seeming lack of care. And, that is hearing about this…
It was incredible to discover that a mind-blowing amount of ~7 Million Euros was spent… on re-developing Unirii Square, and its 40+ fountains!
Now, the fountain show is an outstanding feature in Bucharest. Yet, we thought it was excessive. Especially when you consider… the fountain sound and light show doesn't run throughout the entire year.
Could some of that money have been better spent elsewhere? We think you'd be in agreeance with us!
In saying all this, in comparison to some of the more popular European capital cities… Bucharest seemingly had less rubbish on the streets. So, definitely a big thumbs up for general cleanliness.
3. Bucharest "Not So" Old Town 
Bucharest is an old city in comparison to many other places in the world… with its history going back to the 1400's, as we said earlier. Yet, would it shock you if we told you that… some of the buildings in Bucharest Old Town, are from the 21st Century?
Now, there are still some ancient buildings in the Old Town area.
Yet, it's more like the "New Old Town." A lot of development was put into the Old Town, to make it an entertaining hub for locals and tourists to gather. And, if that was their goal, then they sure did achieve it. 
It is a bustling area with many shops, historical sites, bars and restaurants. Plus, it was surprising to discover… that the nightlife in Bucharest Old Town is vibrant.
There are several bars open from the daytime… all the way to the wee hours in the morning. From places pumping out loud dance music, through to wine bars… there are options for everyone.
There are many places to eat, drink and be jolly. With restaurants serving local cuisine to phenomenal vegetarian meals… through to huge meat platters, to French style bistros.
The environment is bustling with the chatter and laughter… from locals and tourists. People watching is also fun as the night goes on! Drinks are cheap, even in the touristy Old Town area.
With 500ml beers in a pub selling for as cheap as 10 RON (about 2.05 Euros / GBP 1.75/ USD $2.15). And, cocktails from about 25 RON (about 5.10 Euros / GBP 4.40 / USD $5.30).
So, in the end, while it may not be as ancient as you may think… Bucharest Old Town is still a great place to explore.
4. Bucharest Attractions Are Spread Out 
We were staying in Bucharest for almost 1 month. So, we could take our time exploring Romania's captical city. And, we generally prefer to walk around to see attractions… because we may discover more fascinating things on foot.
Yet, if you're planning on spending only a couple of days or so in Bucharest… be aware that the some of the major attractions are spread out over the city.
For example, to get from the Arcul de Triumf to the Palace of Parliament by walking… the distance is about 6km (about 3.7 miles). So, that's a mammoth walk, especially if it's incredibly hot or even snowing!
So, we did have to plan our walking itinerary better… to explore different areas of Bucharest on foot.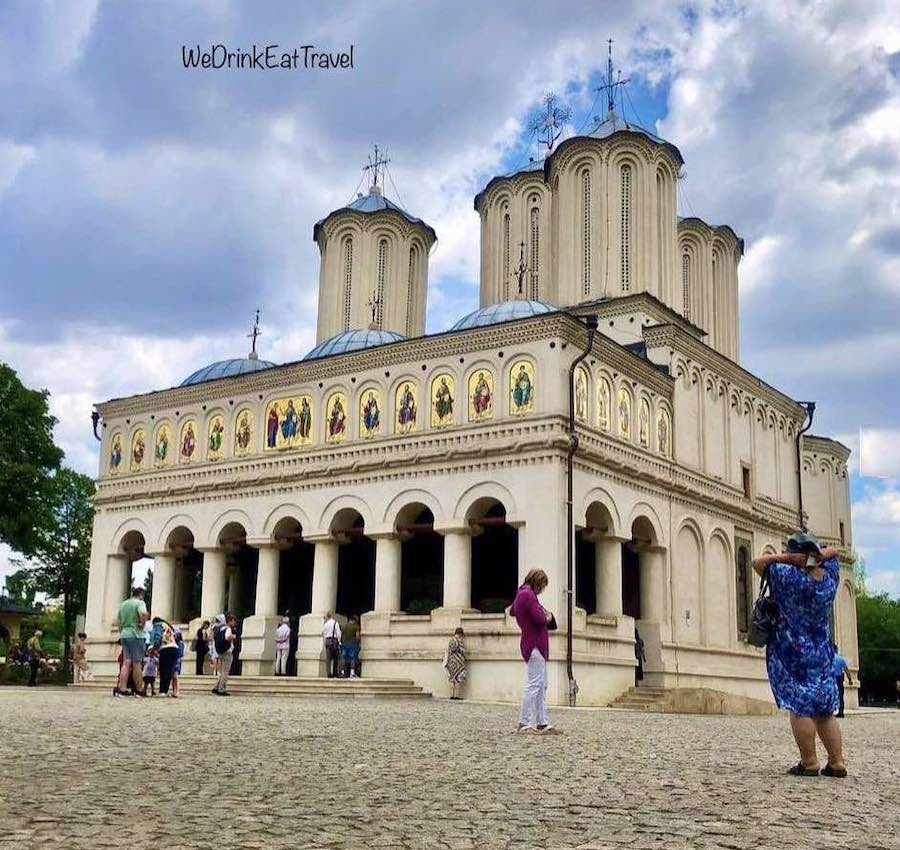 Yet, if you don't have much time in Bucharest… you can use the many buses, trolleybuses, trams and trains, to help you get around effortlessly. For example, a daily bus ticket only costs about 8 RON (around USD $ 1.90 / 1.70 Euros / 1.40 GBP).
Or, they do have handy rideshare services like Uber. So, to get from the Palace of Parliament to the Arcul de Triumf… it could cost around 22 RON (about USD $ 4.70 / 4.50 Euros / 3.90 GBP).
Thus, even though the sights in Bucharest may be spread out… if you want to use public transport, it's cheap and effective.
5. Bucharest Has the Heaviest Building in the World
Now, remember how we made mention of the Palace of Parliament earlier on? Did you know that at the time of writing this… the Palace of Parliament is the heaviest building not only in Europe, but in the WORLD!
And, it features in the Guinness World Records, so it's official. 
The construction of the building was in the 1980's. So, in the scheme of things it's not that old.
Yet, this gigantic structure is made up of 700,000 tonnes of steel and bronze… as well as 1 million cubic metres of marble. Plus, there's 3,500 tonnes of crystal glass… and 900,000 cubic metres of wood. Mind-blowing, right?
So, if seeking out Guinness World Records, or unique buildings is high on your list… then go to Bucharest as you'll find it here.
Before this travel blog you may have been wondering… "Is Bucharest worth visiting?" And, we trust that by sharing some of our experiences in Bucharest… this will help set some expectations around visiting this European capital city.
For us, spending almost 1 month is a long time in Bucharest. And, unless you're planning on using this as a base… we'd say you'd only need to spend a few days or so here.
Bucharest's history is centuries old. And, when you visit there are some incredible ancient buildings and artefacts to see.
Remember, that some of the major attractions are far apart from each other. So, if you want to save time or walking lots is strenuous… you can see the major attractions, by using the handy public transport services.
Yet, we do recommend that you walk along the popular main street of Calea Victoriei… as there are many awesome sights to see along the way.
Take some time to relax at one of the many bars, cafes or restaurants… to enjoy some delicious food, with fantastic service.
And, if you're wanting ideas of things to do in Bucharest… make sure you check our blog HERE.
You Might Be Interested In This Too…
Discover The Best Website To Book Flights And Hotels
27 Of The Best Things To Do In Bucharest
10 Free Things To Do In Hue Vietnam
25 Of The Best Things To Do In Kotor Montenegro
30 Awesome Free Things To Do In Prague, Czech Republic
25 Amazing Things To Do In Dubrovnik Old Town
15 Interesting & Surprising Things To Do In Sarajevo Now
Check Out 15 Amazing Things To Do In Budva, Montenegro